An anonymous quote aptly states that 'everyone should believe in something. I believe I should go to the beach'. How apt. And what beach could be more beautiful than one next to the brilliant azure Mediterranean Sea?
The Mediterranean coast is famous for its natural attractions, ancient and enduring culture, incredible architecture, celebrity pizzazz, and gorgeous beaches.
As a top global destination, this coastline draws millions of visitors every year, whether to the best family resorts in the Mediterranean, glorious secret hideaways in France, Italy, Spain, Portugal, Greece, or one of its many spectacular island nations. No matter what your port of call, you'll find a sparkling ocean and stunning beaches.
Whether you're seeking water activities, looking to see and be seen, or yearning for secluded solitude, this inspirational coastline offers it all. So, to help you find your perfect sandy playground or sanctuary, here is our list of the best Mediterranean beaches, in no particular order.
Cala Coticcio Beach – Sardinia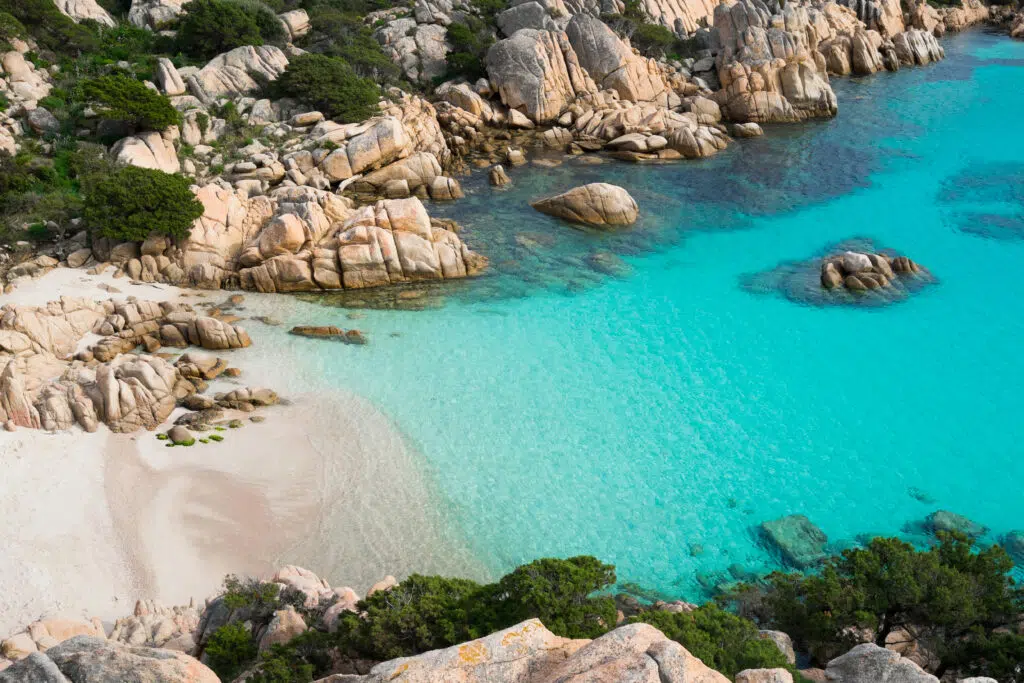 The second-largest island in the Mediterranean, Sardinia boasts 1600kms of coastline dotted with countless appealing Mediterranean Sea beaches alongside cool, clear waters. Among these jewels is Cala Coticcio beach, on the east side of Caprera in La Maddalena National park.
There are two bays, both protected by buoy lines so that you can enjoy the water in peace. Small but exquisite, Cala Coticcio is perfect for swimming and snorkelling with a breathtaking view. So, grab your mask and fins and head out to meet curious schools of silvery Saddled seabream. For the more adventurous, the bay also offers exciting dive sites where you can see moray eels, groupers, stingrays, and more. Don't forget to bring your towels, parasols, and refreshments.
Getting to this secluded Sardinian beach requires a little extra effort, but you won't regret it. Take the ferry from Palau to La Maddalena island, then cycle, drive, or bus to the Arbuticci fortress where your hike will begin. Alternatively, rent a boat or join a boat tour departing from Palau, Baia Sardinia, La Maddalena, or Cannigione.
Read More: Best Beaches in Sardinia
Cala Salada & Saladeta – Ibiza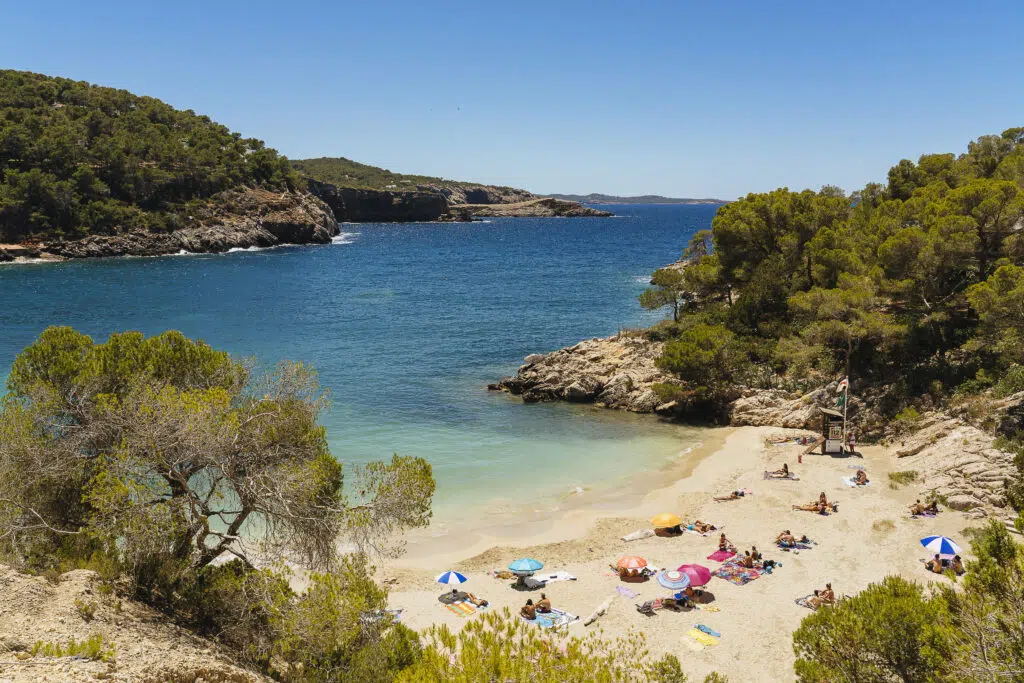 The Spanish island of Ibiza is a well-known and loved getaway destination offering relaxation, inspiration, and excitement for visitors of all ages, along with some of the best beaches on the Mediterranean.
Tucked away in a cosy cove near San Antonio is Cala Salada & Cala Saladeta beach, two of the Island's loveliest beaches. Surrounded by green forested hills, the sandy bay offers calm, shallow turquoise waters for sunbathing, swimming, or cliff jumping (after checking the water depth).
For energetic explorers, head to the nearby Ses Fontanelles overhangs, famous for their Bronze Age cave paintings. It's a long walk but well worth it for the cultural treasures and incredible views.
Onsite amenities include parking, toilets, showers, parasols, sunbeds, pedalos, and lifeguards, with disabled access to facilities and the water (in Cala Salada only). Fill up on local seafood cuisine at the restaurant and keep cool with ice creams and cold drinks from the kiosk.
Cala Salada beach is a 15-minute bus or car drive from San Antonio. Aim to get there early if driving, as the small car park fills up quickly, and you'll be turned away if it's full. Alternatively, hop on a water taxi for a fuss-free ride.
Read More: Best Beaches in Ibiza / Best Places to Stay in Ibiza
Platja de Ses Illetes – Formentera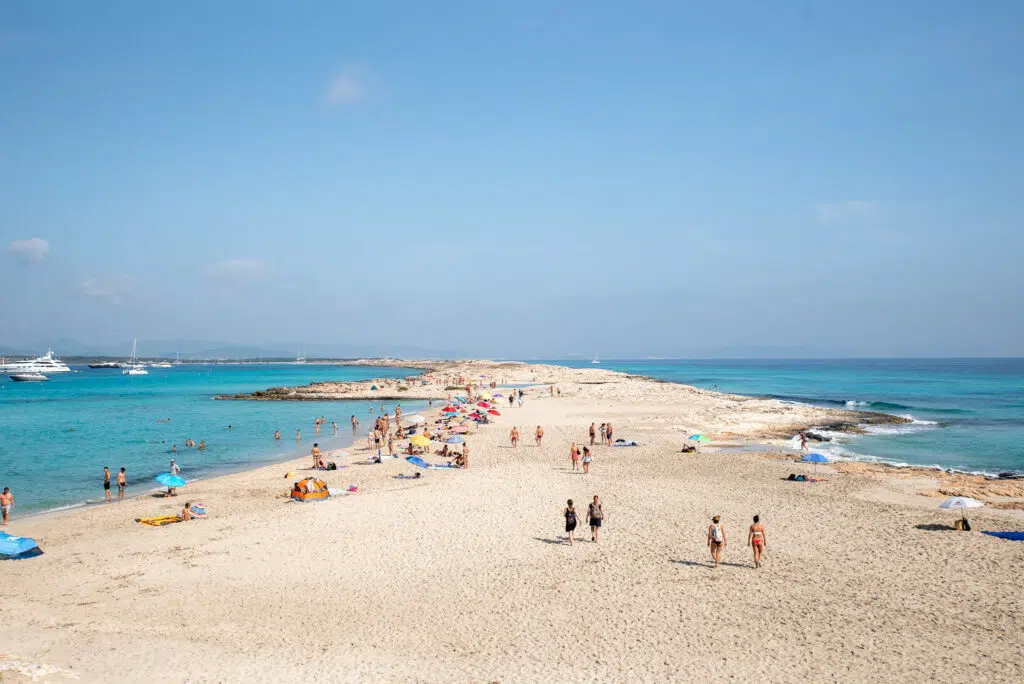 Platja de Ses Illetes is the most renowned beach in Spain's Formentera Island and is rated one of the best and most beautiful Mediterranean beaches in Europe.
North of Formentera Island in the peninsula of Es Trucadors, this striking beach offers crystal clear waters due to increased oxygenation, and unique pink sand thanks to red coral dust washed up from the Mediterranean. The extended shallow seabed provides a pool-like water paradise on this double-sided beach.
Whether you're seeking serenity or a wilder experience, this relatively unspoiled natural haven is for you. Like other beaches in Formentera, Ses Illetes welcomes naturism – feel free to undress and relax. At the same time, remember to bring your own shade, sunblock, water, and snacks.
The Island Council of Formentera requests a small entrance fee to keep numbers down. So, to enjoy this Mediterranean beauty in peace, arrive early. You can reach Ses Illetes beach on foot or by bicycle for free, or by car (electric vehicles are also free), bus, taxi, or scooter.
Read More: Best Beaches in Formentera / Best Things to do in Formentera
Cala Macarelleta – Menorca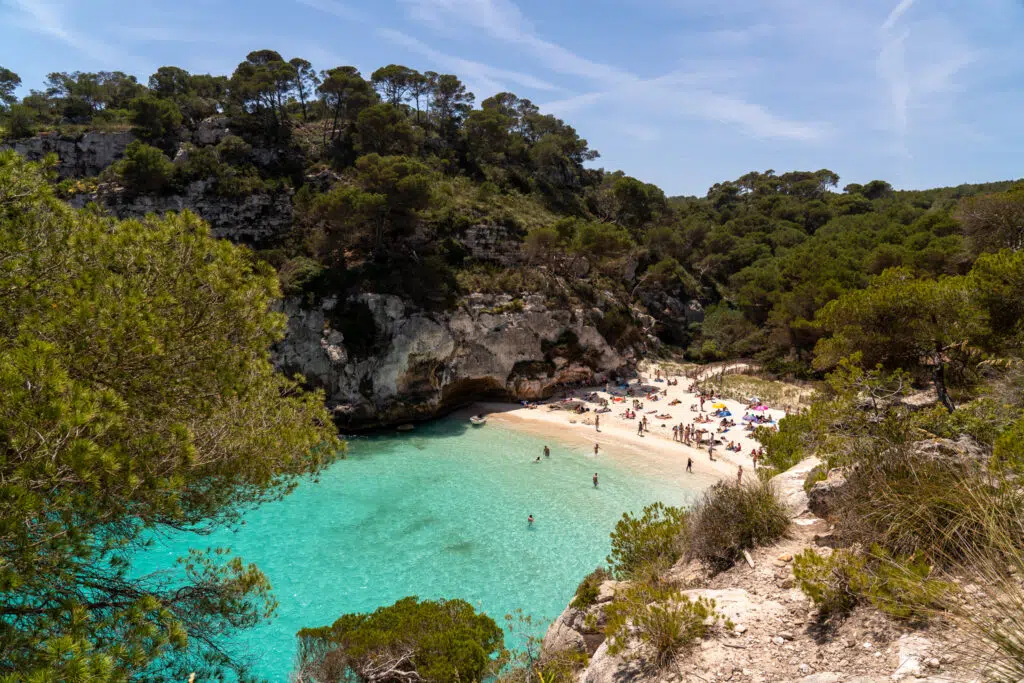 Menorca is one of the best holiday destinations in the Mediterranean, with the beautiful Cala Macarelleta beach situated on the island's southwest coast within an Área Natural d'Especial Interes, a protected natural region.
Cala Macarelleta is picturesque perfection with glittering turquoise waters and glowing white sands. The cove is surrounded by vaulted grey limestone cliffs blanketed by verdant pine forests. Cala Macarelleta is ideal for swimming, sunbathing, snorkelling, diving, and naturism.
The natural splendour of the beach is unspoilt, so bring towels, light refreshments, and shade. For toilets and restaurants, the beach is adjacent to the equally gorgeous Cala Macarella, which offers amenities.
Getting to this stunning hidden beach in Menorca is easy. You can hop on a bus from Mahón to Cala Galdana or Ciutadella and then another directly to Macarella. The five-minute walk along the cliff to Cala Macarelleta offers spectacular views. In the summer months, you aren't permitted to park at Cala Macarella (only buses or taxis can), so if bringing your own car, park at Cala Turqueta and walk the 1.9km picturesque journey along the Camí de Cavalls instead.
Read More: Best Beaches in Menorca / Best Places to Stay in Menorca / Best Things to do in Menorca
Caló des Moro – Mallorca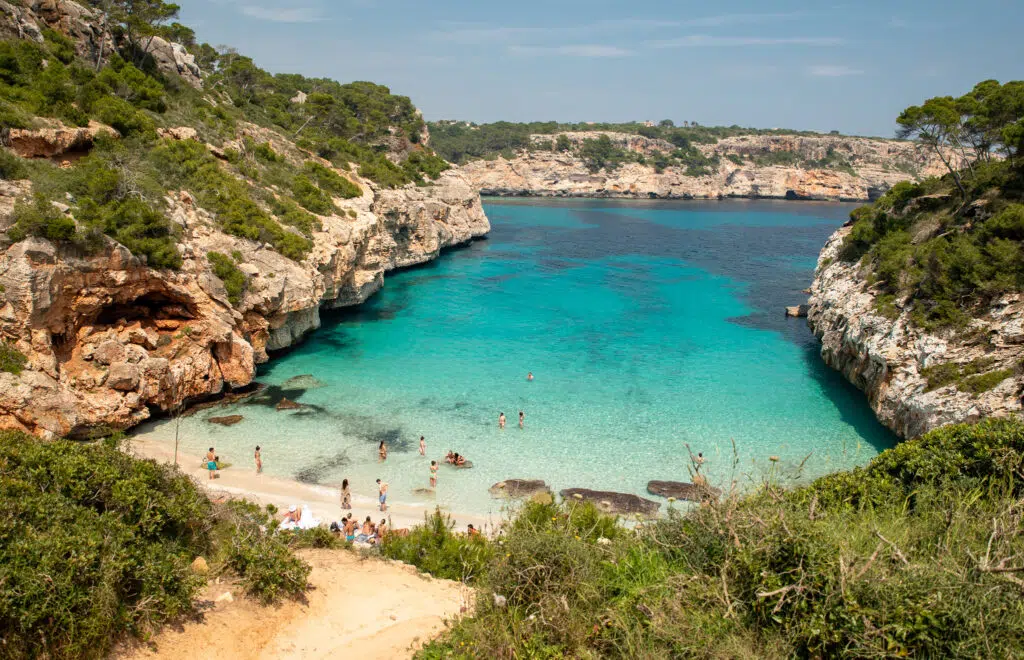 This superb beach is in the southeast of the beautiful Island of Mallorca, just six kilometres from Santanyi, and is considered a bit of a hidden gem (to non-locals at least).
This small yet lovely beach offers luxurious fine-grained sand and bright, brilliant blue water. Nestled between sheer cliffs, the protected beach is ideal for safe swimming and hours of engaging snorkelling.
The exquisite, harder-to-find beach offers calm shallow water, perfect for families with young children (assuming they can manage the walk-in). In addition, the beach and water are peaceful, with no water sports and a limited beach area. At the same time, with no nearby amenities or dining facilities, don't forget your towel, parasol, water and snacks. As this well-loved spot can get busy, especially on weekends, arrive early to secure your spot.
Although more hidden, it's fairly easy to reach. Follow the local signposts, take advantage of the free parking, and then descend the steep flight of stairs to this Island paradise.
Read More: Best Beaches in Mallorca / Best Places to Stay in Mallorca
Navagio Beach – Zakynthos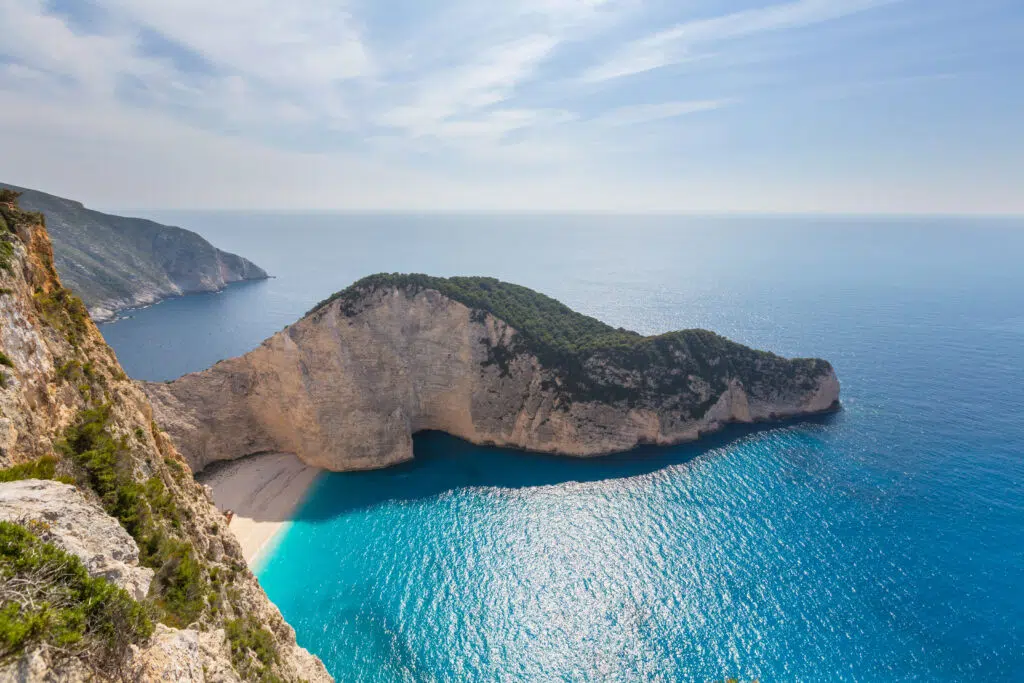 This legendary beach on Zakynthos among Greece's Ionian Islands is a visual marvel. With its striking 650-foot white cliffs and pop of bright sand contrasting with the intensely azure sea, Navagio Beach is undoubtedly one of the world's most magnificent and eye-catching locations. No wonder it's considered among the best places to visit in the Mediterranean.
This pristine beach, also known as Shipwreck (due to the large shipwreck still visible on the sand) or Smuggler's Cove, offers breathtaking photo opportunities. Crowds of visitors come to view the spectacular sight from a distance by boat or from the cliff-top viewpoint. This popularity makes spending more than 20 minutes here challenging, so book an early tour or hire a private boat. Importantly, stay safe by keeping well away from the cliff edge.
A 45-minute drive from Zakynthos brings you to the cliff-top viewpoint, providing free parking, souvenirs, drinks, and takeaways. But you can't access the beach itself from here. To enjoy the beach, book a boat tour for the most stunning views of this dramatic location; plenty of affordable options are available.
Related Reading: Best Places to Visit in Europe in August
Monterosso Fegina Beach – Cinque Terre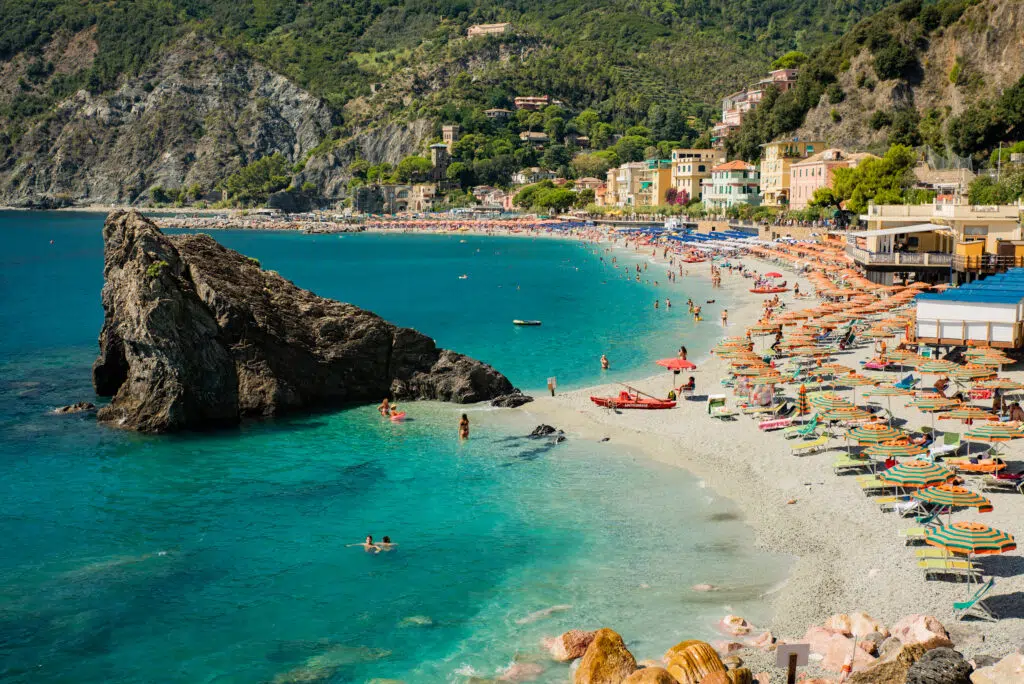 Monterosso in Italy's Cinque Terre offers a selection of the most charming beaches of the Mediterranean.
From buzzing social locations to the chance for sandy solitude, the area provides the right beach for everyone if you look carefully. The best among these is the stunning Monterosso Fegina Beach. This option is the largest beach available, easily accessible as you alight at the train station.
The beach is divided into free and paid areas, the free area in front of the station, with sunbeds and parasols for rent in the paid areas. Summer months bring crowds, so expect lots of company at this popular location. Book ahead or arrive early for your space at the lido.
This brightly outfitted sandy beach is close to amenities and a choice of bakeries, shops, and bars, so you can indulge while you relax.
Read More: Best Beaches in the Cinque Terre / Visiting the Towns of the Cinque Terre
Lindos Beach – Rhodes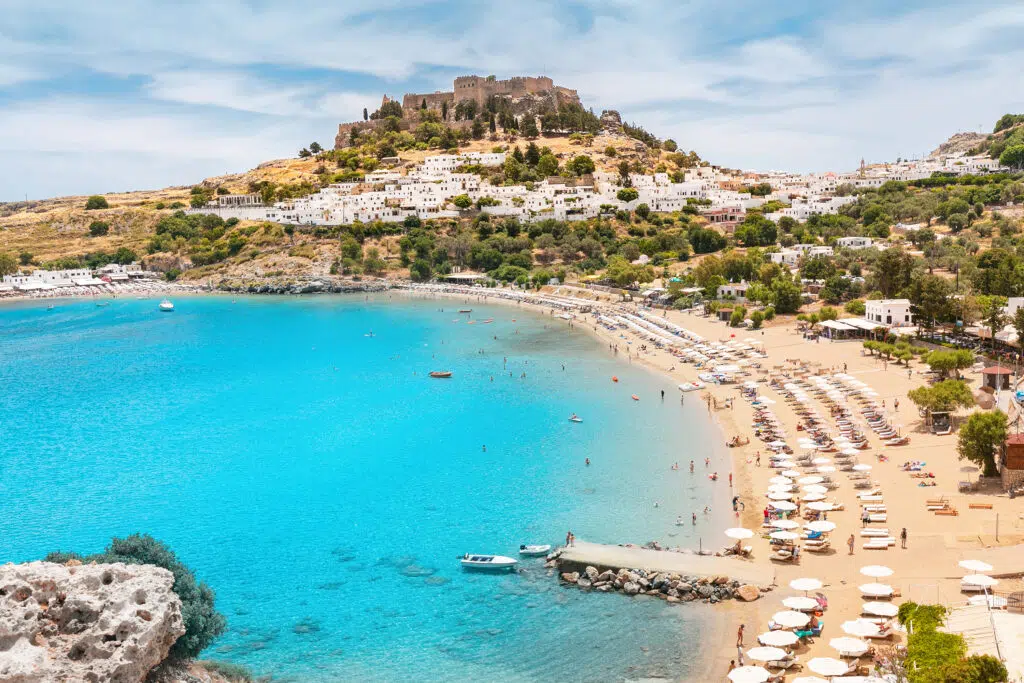 Greece's famous Island of Rhodes offers exotic Mediterranean island vacations, with a wealth of scenic, cultural and seaside attractions, including wineries, medieval architecture, exciting nightlife and exceptional Mediterranean beaches. Among the best beaches in Rhodes is Lindos Beach, at the foot of the ancient ruins of the Lindos Acropolis.
This generously proportioned sandy haven (it's actually two beaches) is well-frequented without being overcrowded. It is perfect for relaxed swimming, water and beach sports, snorkelling and scuba diving, with clear shallow water ideal even for small children. The sheltered bay invites boats and yachts, adding to the gentle and breezy Mediterranean ambience.
The way to Lindos Main Beach is well signposted and easy to find. Convenient amenities include parking, loungers, toilets, showers and taverns offering tasty fish plates and mezedes.
Read More: Best Beaches on Rhodes / Things to do on Rhodes
Lotu Beach – Corsica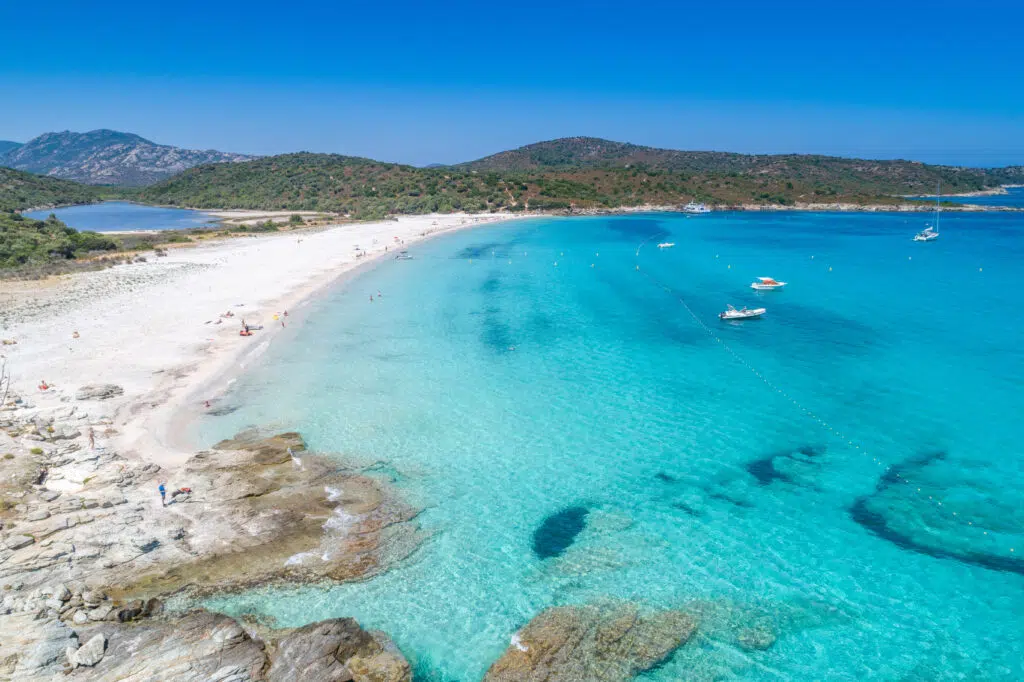 This exquisite beach springs from the island's dry bristly landscape like a sparkling blue dream, a closely guarded secret among Corsicans. Lotu Beach is remote, virgin and wild, offering a rare uncrowded Mediterranean beach experience.
Plage de Lotu offers warm sand and some of the purest water in Corsica, sheltered from the wind by modest hills blanketed with aromatic maquis, a protected, scented paradise.
Harder to access and therefore relatively untouched, at Lotu, it's just you, the sea, the sky, and lots of sunshine. Beyond the rough track connecting beach to bush, there are no amenities available. So, bring what you need with you, including sunblock and a parasol for shade – plan to arrive early to make the most of this gorgeous location.
We don't recommend driving there in your rental car. Instead, get there via ferry, departing from Saint-Florent, or join a four-by-four beach tour.
Read More: Corsica's Best Beaches / Where to Stay in Corsica
Seitan Limania – Crete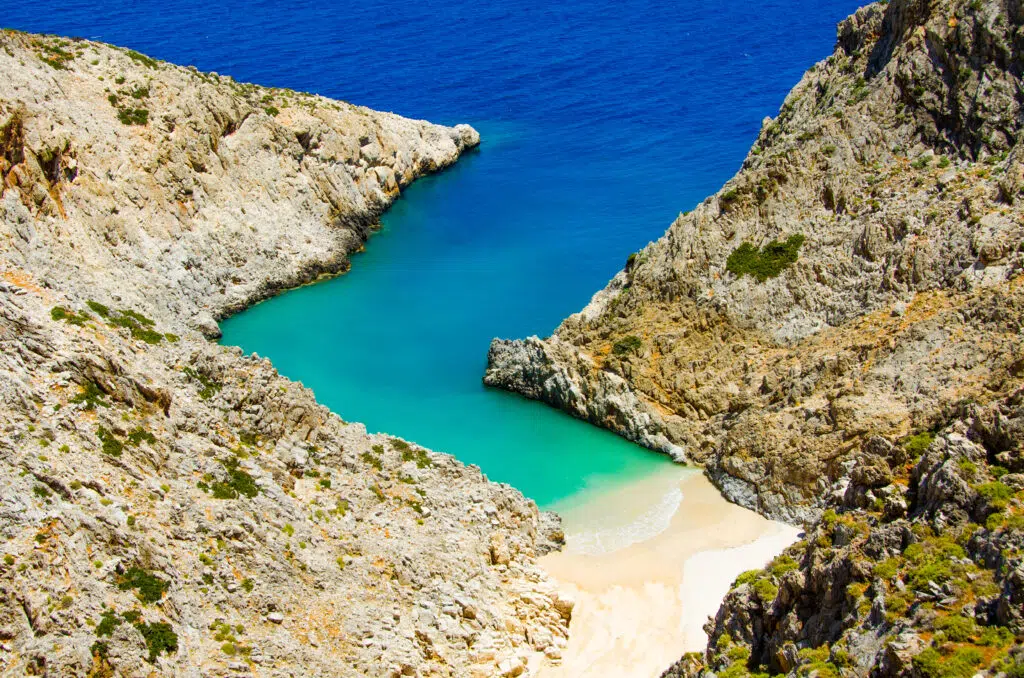 A hidden Cretan jewel is a glittering white beach meeting the vivid blue sea in a rugged rocky canyon.
Just 22 kilometres from Chania, this dream come true is one of the best beaches in Crete, Greece, located on the peninsula of Akrotiri. Even the name Seitan Limania is exciting, wild, and wonderful, meaning 'devil's port'. While the beach itself is protected, the waves beyond can be dangerous.
Although the cliffs afford some shade and shelter, you won't find tourist amenities here. So please bring your own towels, parasol, drinks, and snacks. In addition, now accessible by car, know that this small yet heavenly gem can get crowded.
To get there, park your car and follow the narrow 'wild goat's trail' to the beach. The nature and elevation of the path require sturdy closed shoes and is not suitable for unfit, less mobile people or small children. Importantly, ensure you leave enough time and energy and enough fluids to tackle the steep return to the car.
Related Reading: Best Places to Visit in Europe in April
Chiaia di Luna beach – Ponza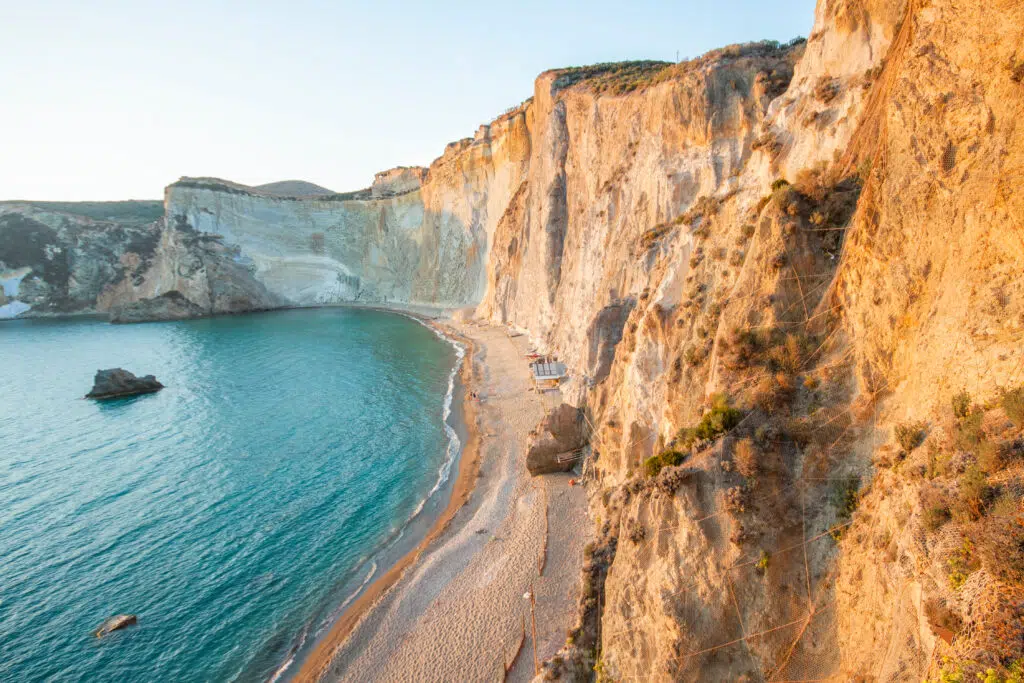 This narrow slip of sand in a cove at the foot of a soaring rocky amphitheatre is a beautiful and beloved beach on the island of Ponza in Lazio, Italy.
Offering a fine sand and gravel beach and glorious turquoise water, Chiaia di Luna is managed, offering free access and moderate attendance in the high season. The beach's wild aspect is a joy for beachgoers and boaters alike, perfect for swimming and snorkelling and providing visitors with beach equipment rental, a bar kiosk, and boat trips.
Get to Ponza from the mainland by ferry. From there, this stunning beach can be reached by boat from Ponza's easily accessible port.
Related Reading: Most Beautiful Italian Islands
Plage Notre Dame – Porquerolles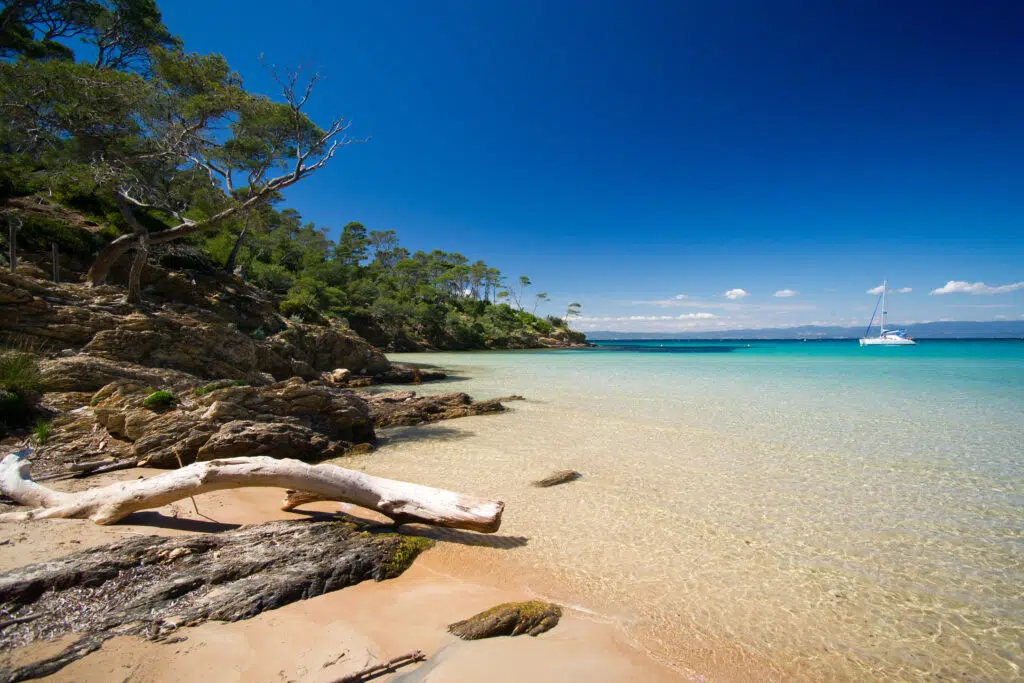 The Île de Porquerolles is just off the French mainland, a heady mix of vineyards, woodland, and sunny Mediterranean seaside. It's also home to one of the most beautiful beaches in France.
Once privately owned, the island is now a national park. While the island supports a small and picturesque village, a church, a fort, and a lighthouse, further development is restricted for preservation purposes.
Nestled among shady pine and eucalyptus trees, Plage Notre Dame is off the beaten track, sheltered, quiet, wide, and flat with yachts bobbing in the distance. The bay offers a Caribbean feel in the heart of the French Riviera. However, amenities are limited beyond occasional vendors, so pack your blanket, picnic basket, and plenty of water.
If you're on a yacht of your own, anchor out in the bay and enjoy. For everyone else, hop on a ferry from Hyères, or you can walk or cycle.
Read More: Most Beautiful Beaches in France / Stunning French Islands to Discover
Myrtos Beach – Kefalonia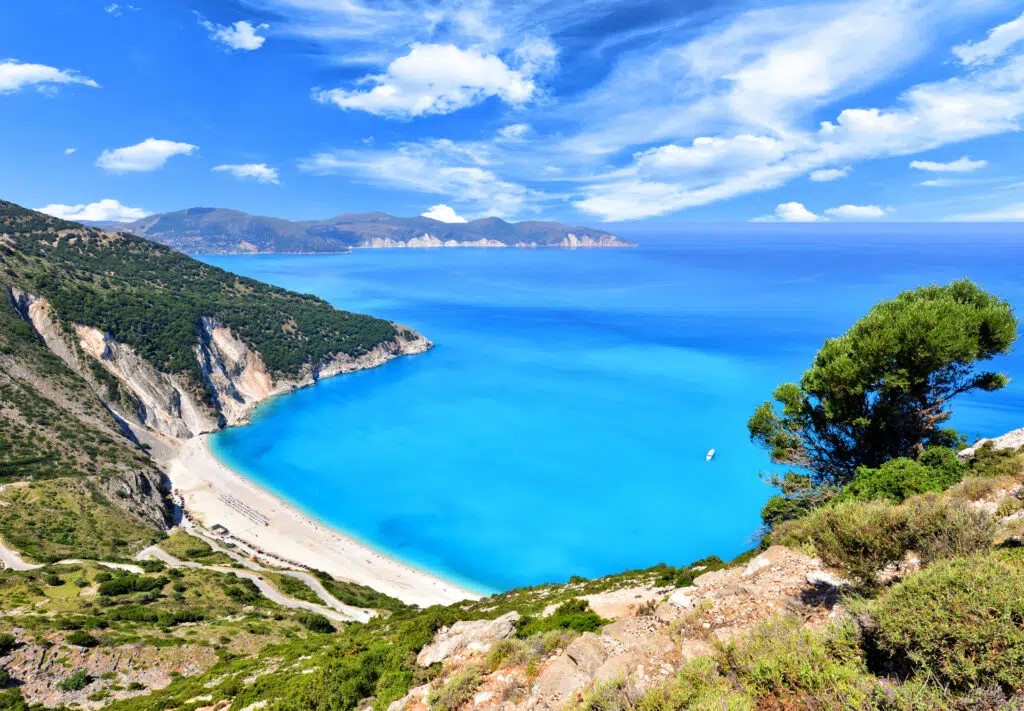 Myrtos Beach on the Greek island of Kefalonia is the quintessential natural Mediterranean beach. Located in Pylaros, the beach is situated at the foot of two green-swathed mountains, Agia Dynati and Kalon Oros.
With its striking bright white one-and-a-half-mile crescent, Myrtos has been called 'one of the most dramatic beaches in Greece'. The idyllic beach is composed of smooth cobblestones weathered to pebbles as you approach the surf.
To get there, take the steep and winding road from Divarata. In addition, a bus service from Pylaros departs from the Agia Efimia harbour area during the high season. Private parking, several tavernas, a beach bar, beach loungers, and parasols are available.
Related Reading: Best Places to Visit in Europe in September
Golden Horn Beach – Croatia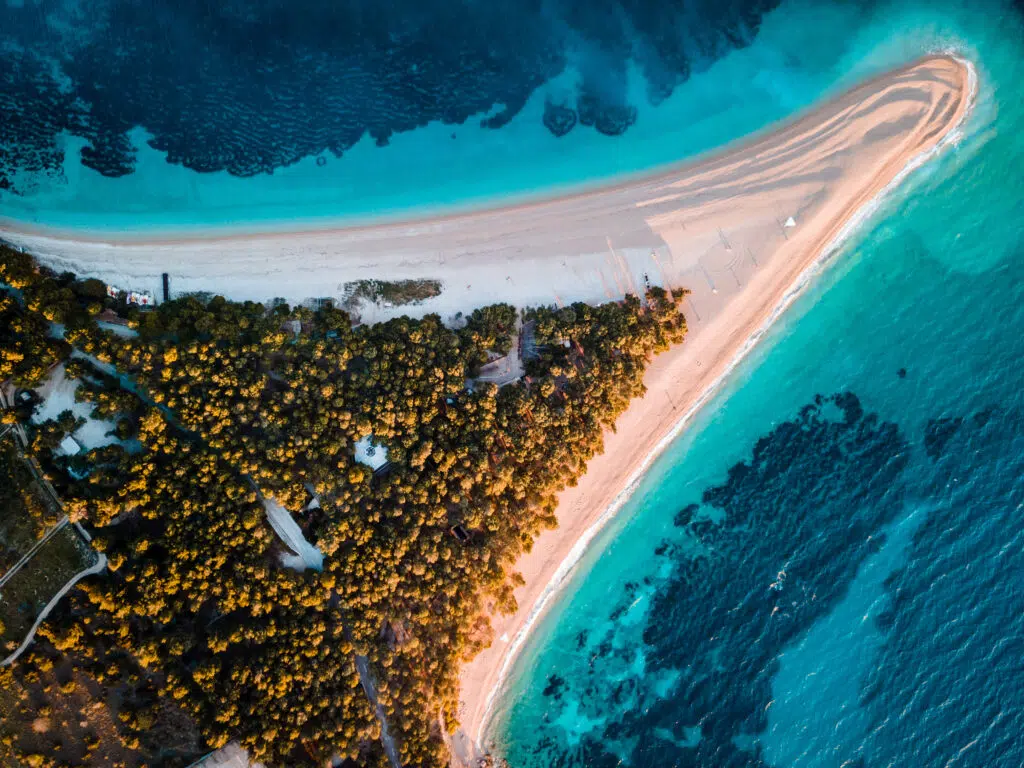 Croatia's Golden Horn (Zlatni rat) Beach is one of the most beautiful and famous on the Adriatic, globally recognisable and frequently on Europe and the world's best beach lists.
This unusual and uniquely shaped 500-metre-long pebble beach is in Bol, to the south of the island of Brač. The beach's dynamic, ever-changing golden spear reaching out from the forest is hugged by a clear and azure sea. You'll also find beach and sports equipment rental, refreshments, delectable dining, and anything else you forgot to bring.
Getting there from the centre of Bol is easy. Enjoy a scenic 15-minute stroll or hop on the tourist train if travelling with kids.
Related Reading: Best Places to Visit in July in Europe
Isola dei Conigli – Italy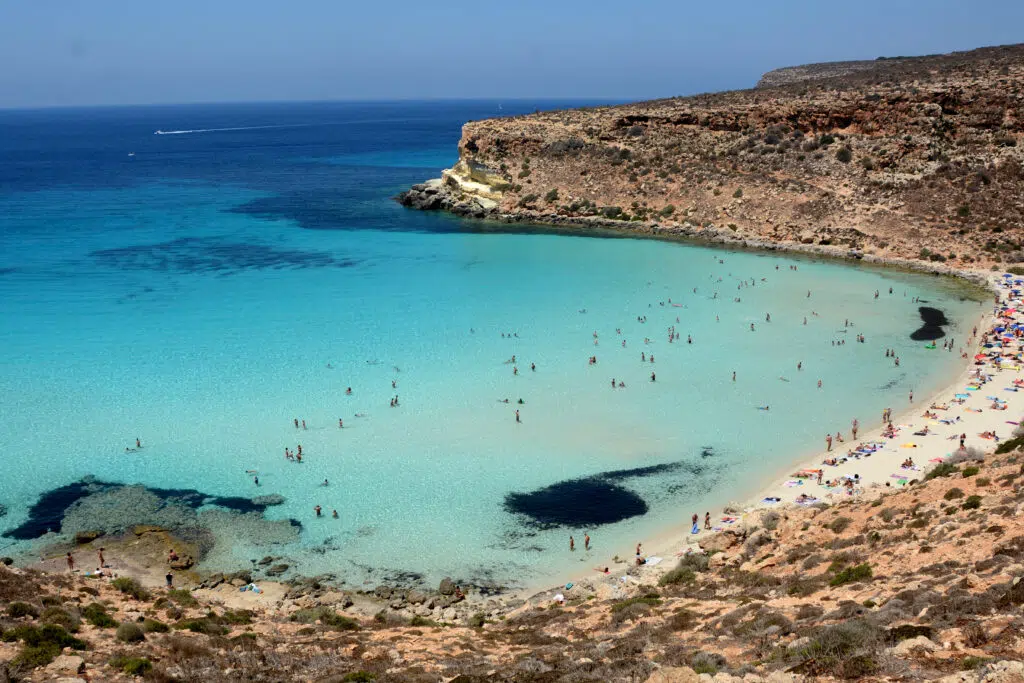 Isola dei Conigli in Sicily, or Rabbit Island, could well be home to 'the world's most beautiful beach', with its exquisite clear water in every hue of blue, and its delightful fauna.
Regularly crowned one of the best beaches in the Mediterranean, this sandy haven is part of a large cove on the southwestern part of the island of Lampedusa. Falling within a nature reserve, the Area Marina Protetta Isole Pelagie, the tiny islet boasts vibrant marine life, including dolphins, and supports a flock of royal seagulls and a lizard species. The beach is also a nesting destination for sea turtles between June and September, when the beach is closed at night to protect the eggs.
This gorgeous natural beach also offers shallow waters perfect for swimming, snorkelling, and scuba diving, or head out for a marine safari cruise.
To get there from Lampedusa, take the ferry from Trapani on the Siremar and Ustica Lines.
Related Reading: Most Beautiful Italian Islands
Calanque d'En Vau – France
This spectacular shingle beach lies at the mouth of a magnificent gorge. Flanked by high cliffs and offering sparkling clear water, the beach is well protected from the elements providing a calm and welcoming turquoise haven for swimming and kayaking.
Calanque d'En Vau is situated within the Calanques National Park, an area of sea, land, and urban areas between the bustling city of Marseille, and the charming fishing village of Cassis in France. It's a much-loved area by the locals, who flock here for hiking, swimming, climbing, and paddling. There are many stunning beaches within the park, but Calanque d'En Vau remains a steady favorite because of its dramatic scenery and tranquil location.
There are numerous ways to reach the beach at Calanque d'En Vau, most of which will require a bit of effort. You can hike the Calanques of Cassis trail, walk the inland route from the Col de la Gineste, or take to the seas. Kayaking is a fun way to reach the calanque from Port Miou. Or you can catch a boat tour from Cassis. Do note though that most tours won't allow time for jumping into the water here, and boats aren't allowed more than halfway down the calanque.
Read More: Hiking to Calanque d'En Vau / Hiking the Calanques de Cassis / Guide to the Calanques National Park
Tsigrado Cove – Milos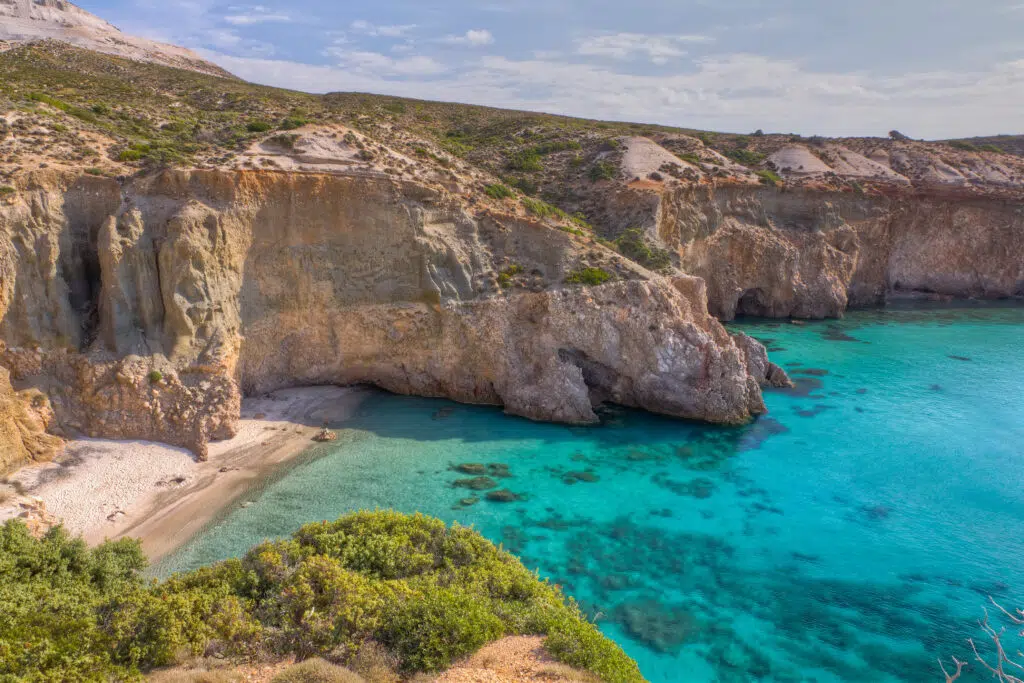 This secluded beach in Milos, Greece, offers exceptional scenery combined with the excitement of reefs, caves, and cliff jumps. Often discovered by accident, this outstanding location quickly becomes a favourite.
The beach is challenging to access, sandwiched between impressive volcanic cliffs. Descending requires the help of a wooden ladder and ropes. The effort is worth it, however. Swim across the shallow waters to explore hidden inlets, arches, and caves. Don't forget your mask, snorkel, and fins, as the beach offers some of the best snorkelling in the Mediterranean. Should you choose not to climb down to the beach, the views from the cliffs are equally satisfying.
To get there, rent a car or a scooter, readily available within walking distance of the ferry.
Try to get there mid-morning or afternoon, as the beach falls into shade later in the day. In addition, with no amenities available, ensure you bring your own parasol, towels, and refreshments.
Mali Bok Beach – Croatia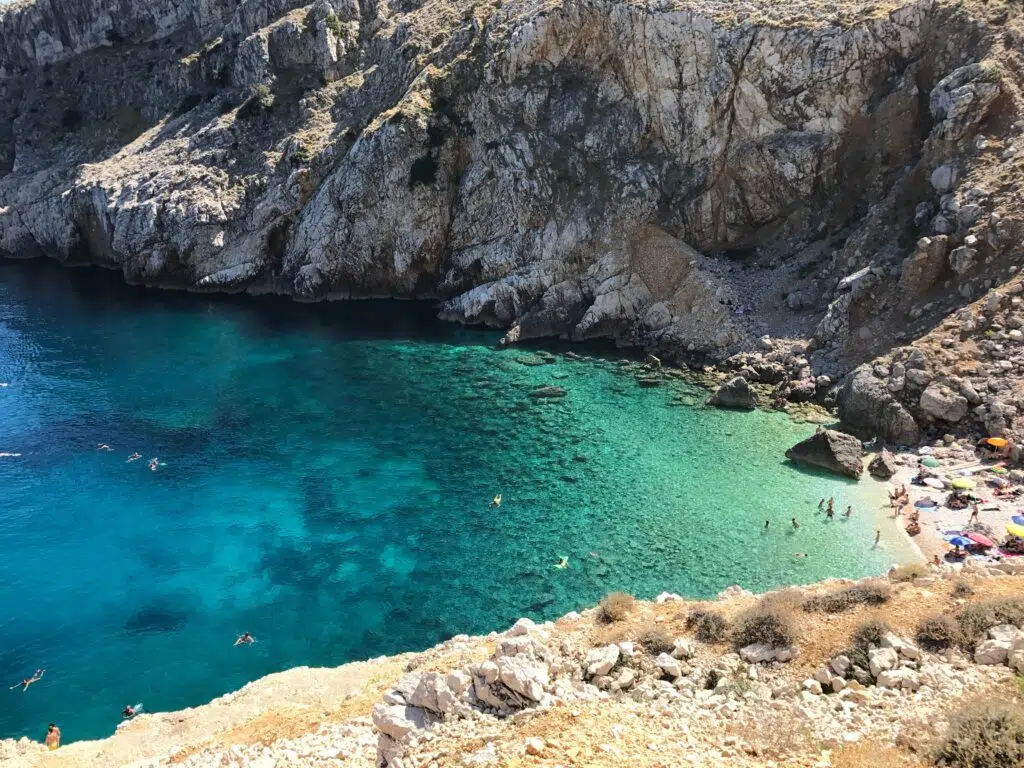 Close to Orlec on the island of Cres is the stunning Mali Bok Cove. Its pebble beach and calm, clear waters are protected by cliffs, offering shade and shelter, with a steep path winding down to the small family-friendly beach.
This beautiful beach is described as remote and romantic, a natural and untouched Croatian heaven. The beach is perfect for swimming, snorkelling, and picnicking, but bring your own blanket, parasol, and refreshments as this lovely location is amenity-free.
You can find Mali Bok Cove easily by following the signs from the village of Orlec.
Red Beach – Santorini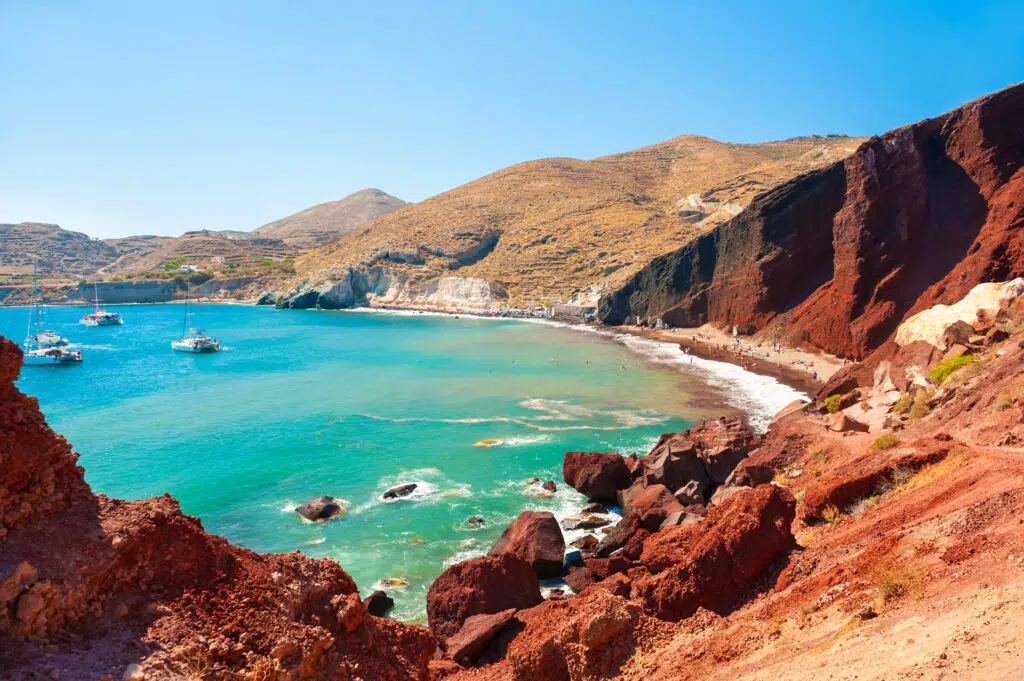 Iconic Santorini in Greece is famous for the signature blue and white of its elegant cliffside architecture, among the most coveted and best Mediterranean beach holidays. However, it also offers a unique red beach situated on the southern end of the island, on the shore of its dormant volcano.
Thanks to the black, red, and white Santorini caldera volcanic rock and dust, the sand, and cliffs of Red Beach are a striking rich rusty colour. The effect where this colourful landscape meets the deep blue sea and azure sky is startling and memorable.
The variegated pebble beach is popular but not too crowded, offering amenities such as parasols, sunbeds, and refreshment canteens. The water is calm and ideal for swimming, with fascinating rock formations and delightful marine animals, perfect for snorkelling.
Near to the renowned Akrotiri Excavations site, the beach can be reached by car, bus, or boat from the town of Fira. From there, take the trail to Red Beach and enjoy.
Related Reading: Best Places to Visit in Europe in May
Ölüdeniz – Turkey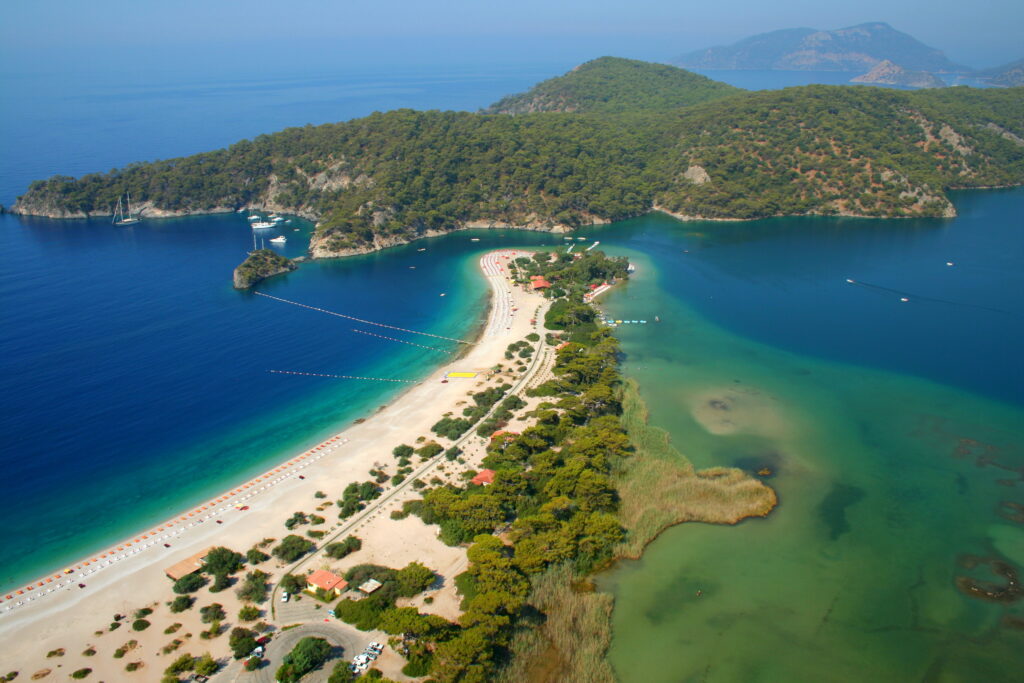 This legendary blue lagoon and long sandy 'spit' is located next to a national park at the foot of Mount Baba.
The town and stunning beach are just 15 kilometres from Fethiye, offering swimming, beach, and water sports. The spectacular scenery and views can also be enjoyed from a paraglider launched from the mountain's slopes for the highly adventurous.
While the delightful public pebble beach is free, the lagoon and beach are part of the protected Ölüdeniz Tabiat Parkı, requiring an entrance fee. Amenities include toilets, showers, loungers, sunshades, paddle boats, and cafés. The beach is easily reached by car, but avoid the high season. The location's beauty and appeal make it popular and crowded.
---
Finally, we appreciate how hard it is to choose among these enticing destinations. However, given their outstanding locations and incredible beauty, we feel there is no wrong choice. As Ralph Waldo said, 'live in the sunshine, swim the sea, drink the wild air', and where better than on one of the best beaches in the Mediterranean?