Many visitors to Menorca fly into Mahón, then continue swiftly to a beach resort without giving the diminutive capital a second glance. However, before you hop in your hire car in search of sun-kissed sand, you should give Mahón (or Maó as it's known locally) a chance to charm you.
The city is an absolute treasure, with a scenic natural harbour, bustling local markets, tree-lined plazas and a handful of interesting museums and historical sites to discover. You can even hop on a boat tour to visit an exclusive island art gallery or former leper colony!
On the edge of Mahón, a stone fortress with a storied history awaits, and 10 minutes away, there's a lush natural park awash with endemic flora, fauna and hiking trails leading to virgin beaches and lighthouses. Did I also mention that the city has an incredible foodie culture?
Discover the best things to do in Mahon, as I have over countless visits to the blissful island (we love Menorca so much we bought a holiday home here!).
Top Things to do in Mahon
There are dozens of Mahon attractions catering to history lovers, culture buffs and foodies. In the list below, I'll show you my favourite things to see in Mahon, so you can begin to plan your own exciting Menorca itinerary.
Take a Water Taxi (or Drive) to La Mola Fortress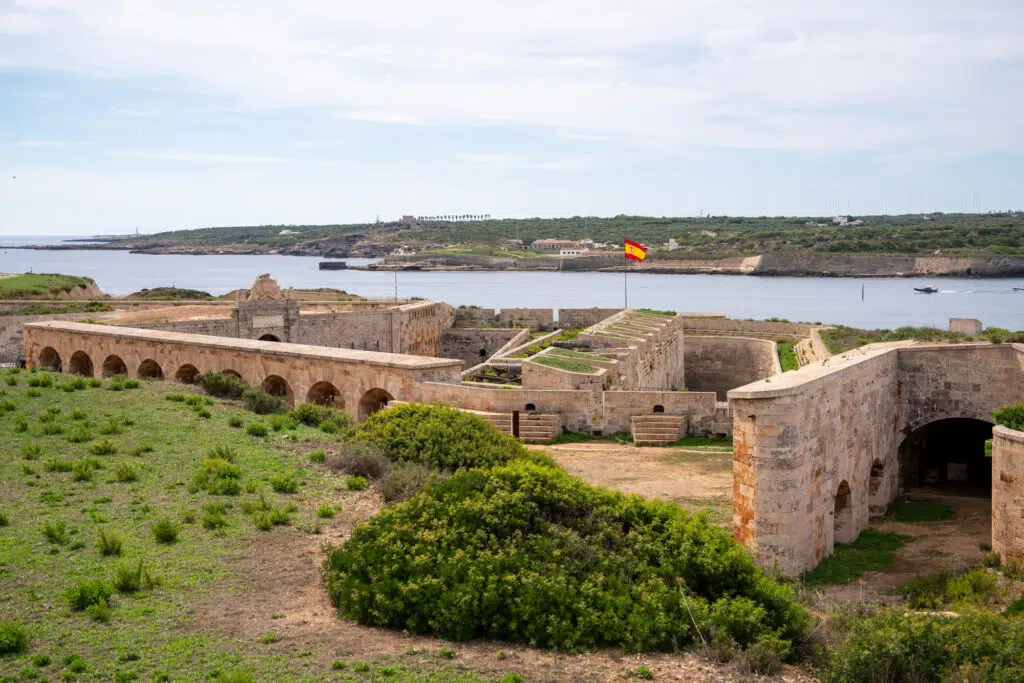 Arriving at 19th century Mola Fortress by boat gives you an insight into how the soldiers stationed there would feel watching incoming fleets approaching from the sea. This defensive fort was built on a strategic position at the entrance to the harbour, to deter the British from reclaiming Menorca as their own. It was also a trading hub, conveniently located on an ancient shipping route from North Africa and Gibraltar to France.
On a guided tour, the stories of this historic structure reveal themselves. Stand in the old military residences and find observation points offering spectacular views. In the surrounding landscapes, go birdwatching and discover endemic flora and fauna.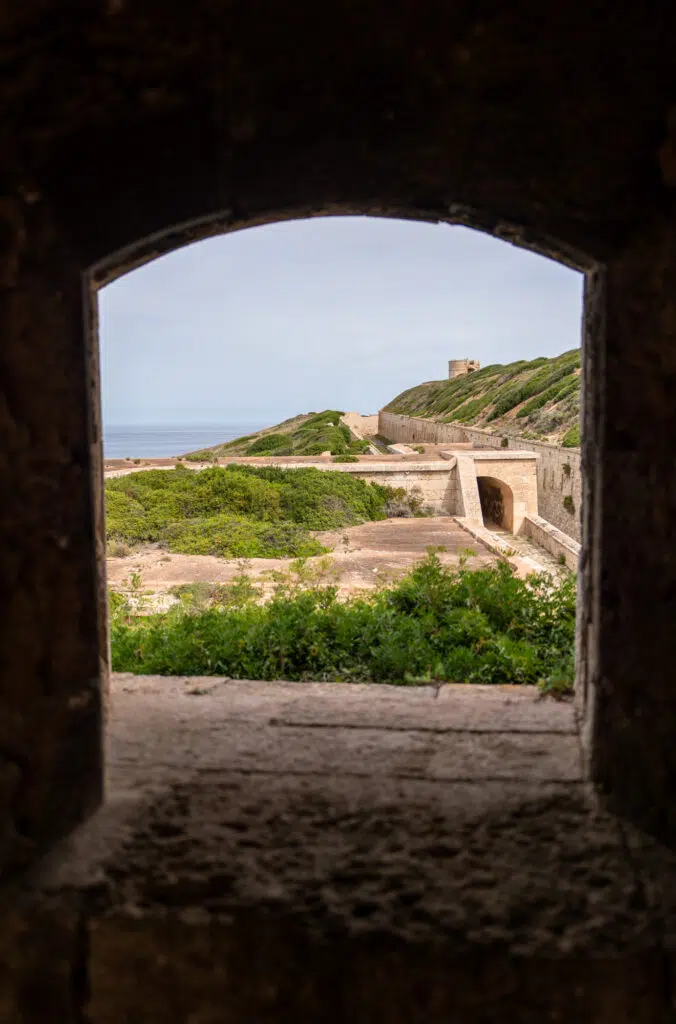 If you visit during the summer season, you'll be treated to cultural days, weekly stargazing evenings and atmospheric sunset tours. Alternatively, make your trip early in the morning and be the first person in Spain to see the sunrise that day.
Tip – If you don't have a car available, you can take a water taxi to La Mola from Mahon Port. If you do have a car, there's free parking near the entrance. Allow around 2-3 hours to wander the fort and gardens.
Historic Shopping at Mercat del Claustre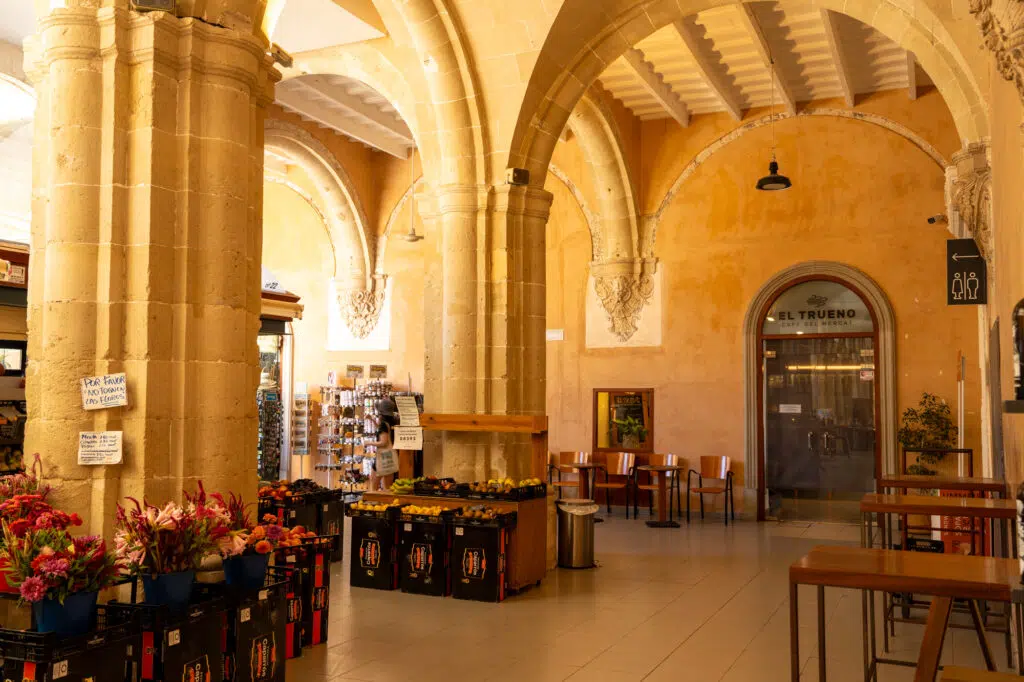 Mercat del Claustre is as impressive from the exterior as it is inside. Adjoined to a church, it dates back to the 18th century, with many market stalls on the ground floor tucked away in the old monastic cells. The building has an unusual history with many tales to tell, not least during its time as a court and a prison.
Today though, it's a buzzing, colourful space. Often used for cultural events, and displaying Menorca's finest fresh vegetables and handicrafts including Avarcas (Menorcan sandals), woven wicker bags and fragrant flowers.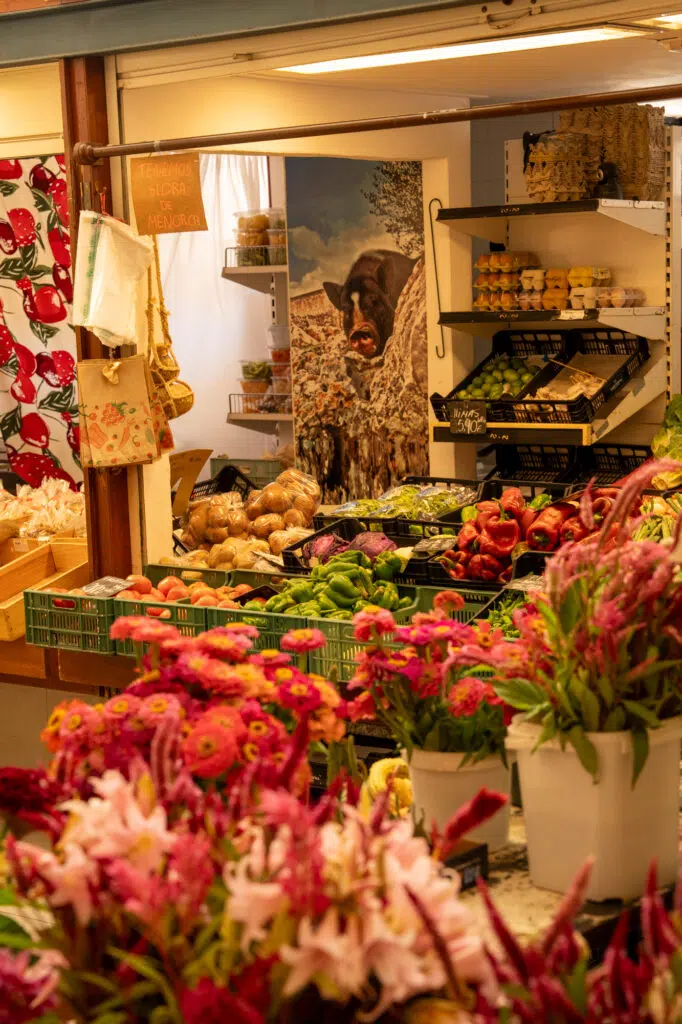 You can spend time in the tapas bars, conversing with locals while sipping espresso, listening to live music, watching flamenco performances or simply picking up a few gourmet picnic items, (including ensaïmada – a Balearic island pastry), to satisfy you for the rest of the day.
Take a Meander around Mercat des Peix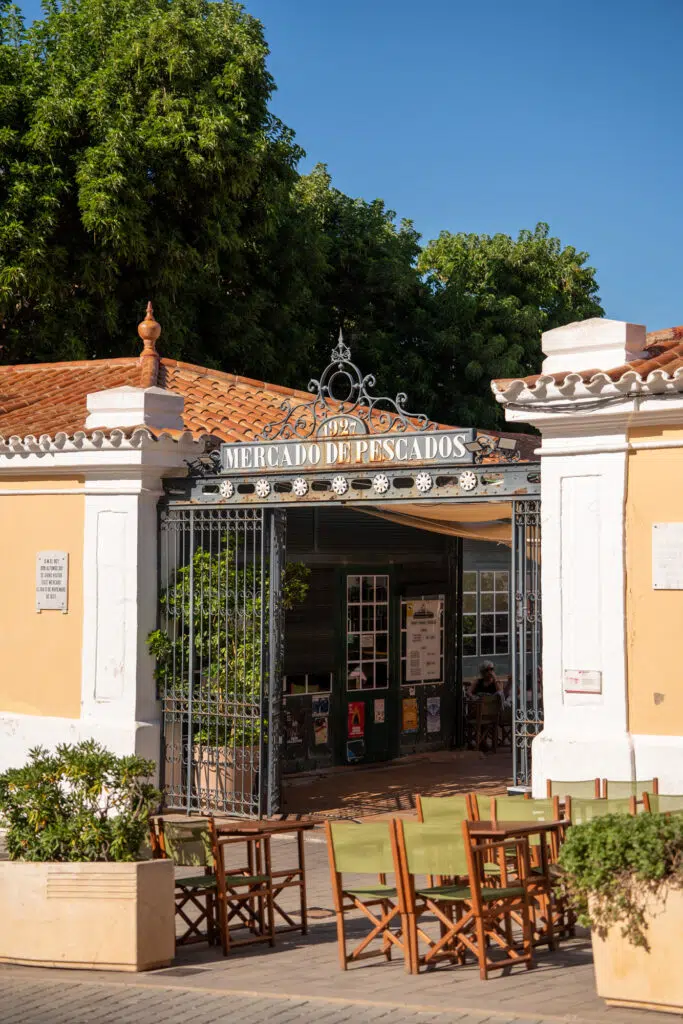 The Mahon fish market is more than you would expect. The market dates back to the early 1900s and is a vibrant hub in the city where the day's freshest catches are haggled over, while the jovial cacophony of daily conversation fills the air.
However, skip across the hexagonal courtyard and you'll find the town's trendiest pintxos bar. Here, the vibe is more subdued, but you'll still find there's plenty to keep your senses satisfied while browsing the colourful and intricate delicacies on display.
Choose a selection of Spanish tapas, order a Balearic beer or refreshing gin pomadas, and settle into a stool to people-watch in the lively space.
Art on an Island at Hauser & Wirth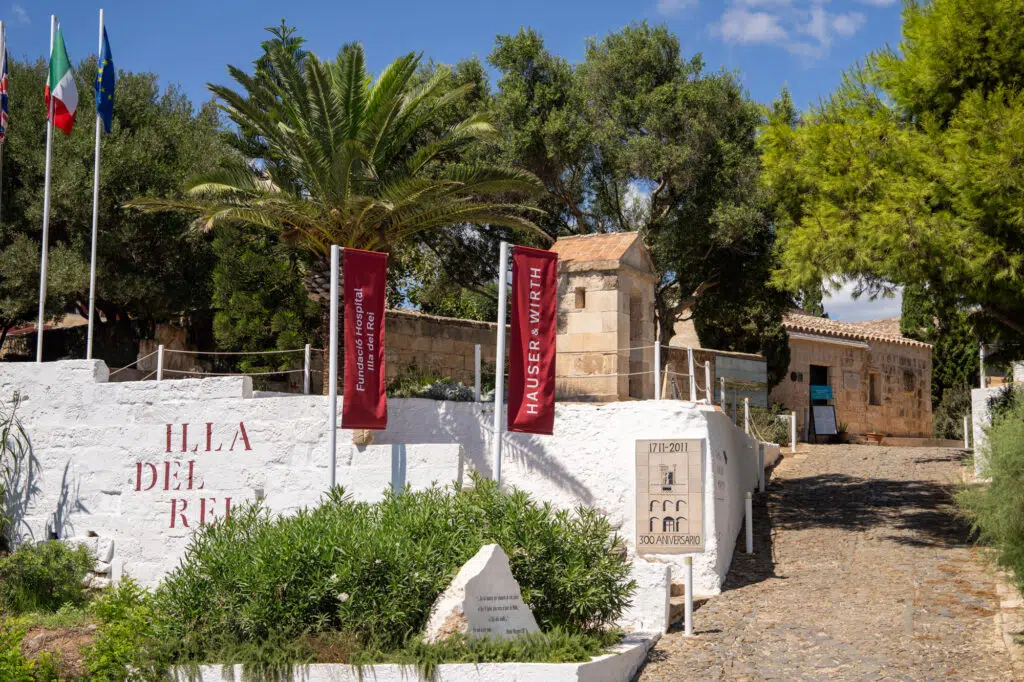 Hauser & Wirth recently set up residence in Illa del Rei, an island within Mahon Harbour. A contemporary art gallery, maritime museum, Mediterranean gardens, and a rustic restaurant beneath the olive trees – there's plenty to keep you occupied for a few hours or more.
The island is small and easy to walk around, saturated in lush greenery with shaded walkways, sculpture trails and wildflowers. The changing exhibitions are presented in a stark white gallery space that allows the art space to shine. While the old naval hospital nearby has been restored and the rooms reconstructed to tell the tales it has lived.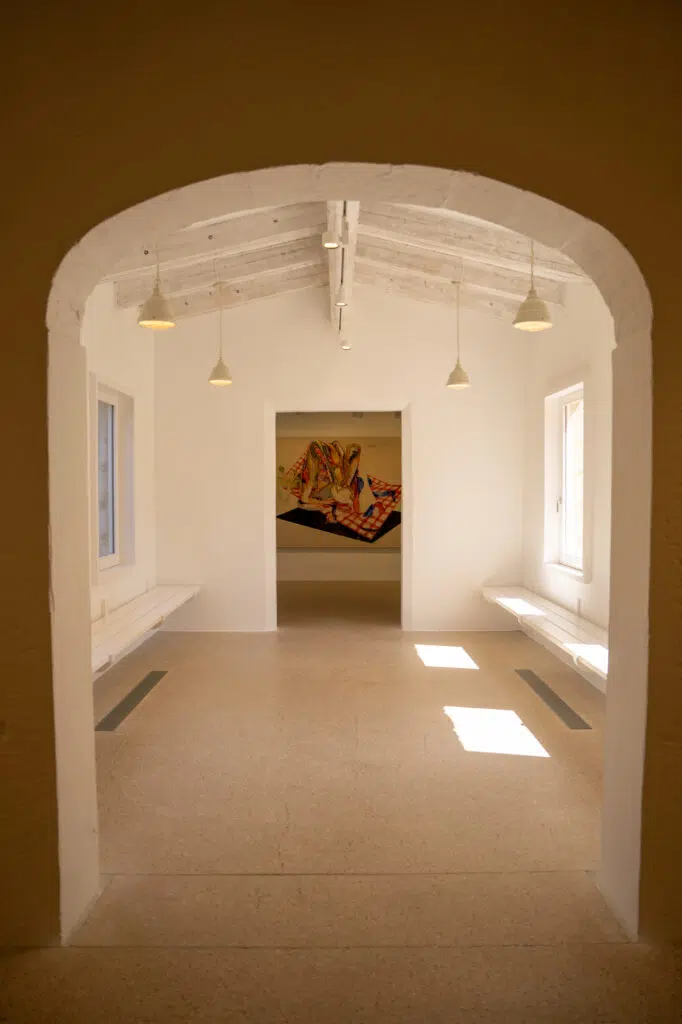 Take your time to discover how the gallery fuses art with nature, conservation and sustainability. Photograph the outdoor sculptures along the garden trail, ponder the meaning behind Thomas J Price's "Reaching Out", and don't miss searching for Martin Creed's neon-illuminated "water" sign as you depart on the ferry back to Mahon.
In addition to the art on Illa del Rei, you can spot endangered lizards, marvel at the views, take part in creative workshops, and dine in the delightful onsite restaurant, Cantina, owned by local vintners.
Tip – Entrance to the art gallery and naval museum is included in your ferry ticket, which can be booked online in advance, or paid for on the ferry. Look for the yellow boat with Illa del Rei on the side.
Discover Elegant Décor and Interiors at C'an Oliver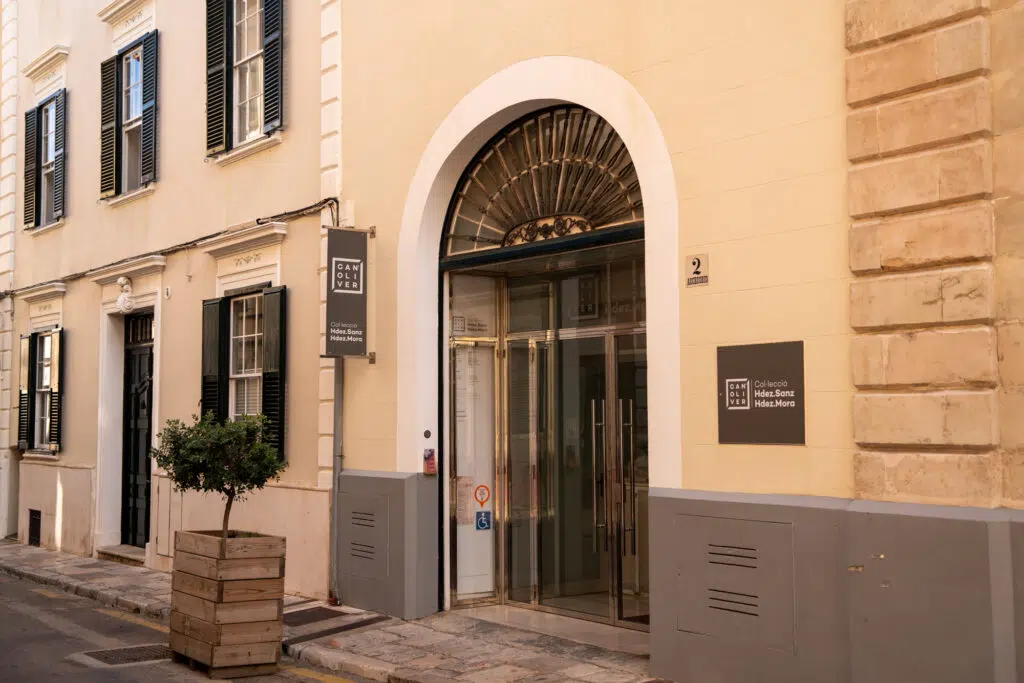 If you adore all things art and interior design, add a visit to C'an Oliver in central Mahón to your Menorca itinerary. The house, dating to the 1800s, was built for the affluent Oliver family. The exterior exudes historical romance, but it's inside that you'll find the real treasures.
The paintings here all depict Menorcan themes. There are antiques, intricate frescoed ceilings and a sweeping grand imperial staircase lovingly crafted from wrought iron. The staircases are flanked by beautiful, mythically inspired murals.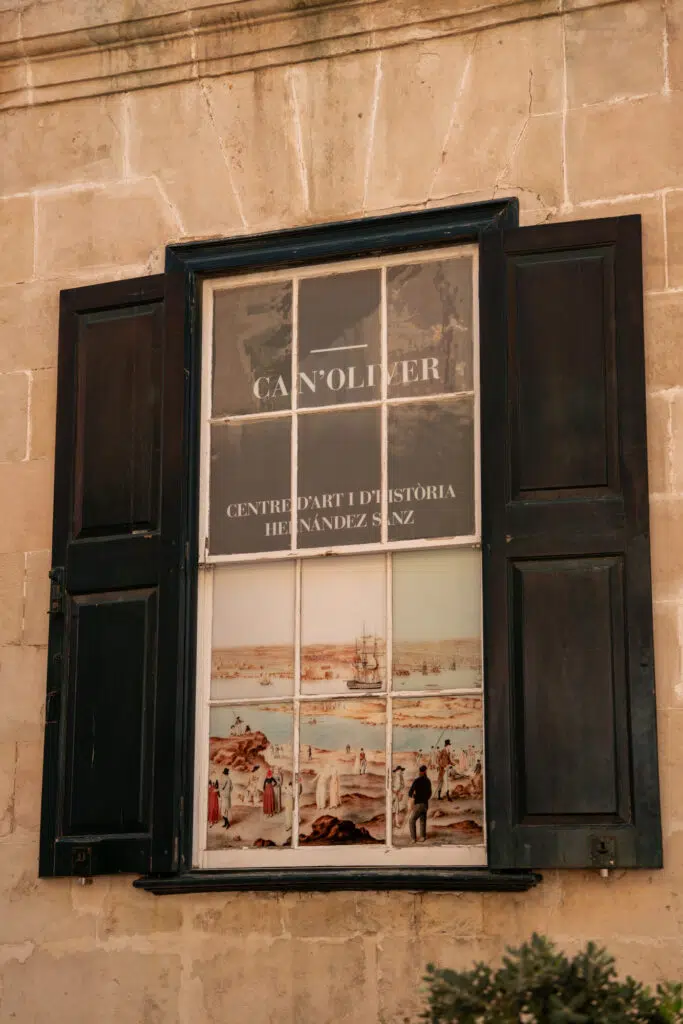 Arrive just before sunset (museum hours permitting) and climb the watchtower for the best views of Mahón.
Tip – As with most attractions in Menorca, the museum is closed for most of the afternoon, shutting its doors and not reopening again until 6pm (most days in the summer, and fewer in winter). So save this one for a pre-dinner potter. Combine it with a trip to the art gallery across the road, Galeria Kroma, where you can pick up locally made prints as a unique souvenir.
Explore the Trepucó Talayotic Settlement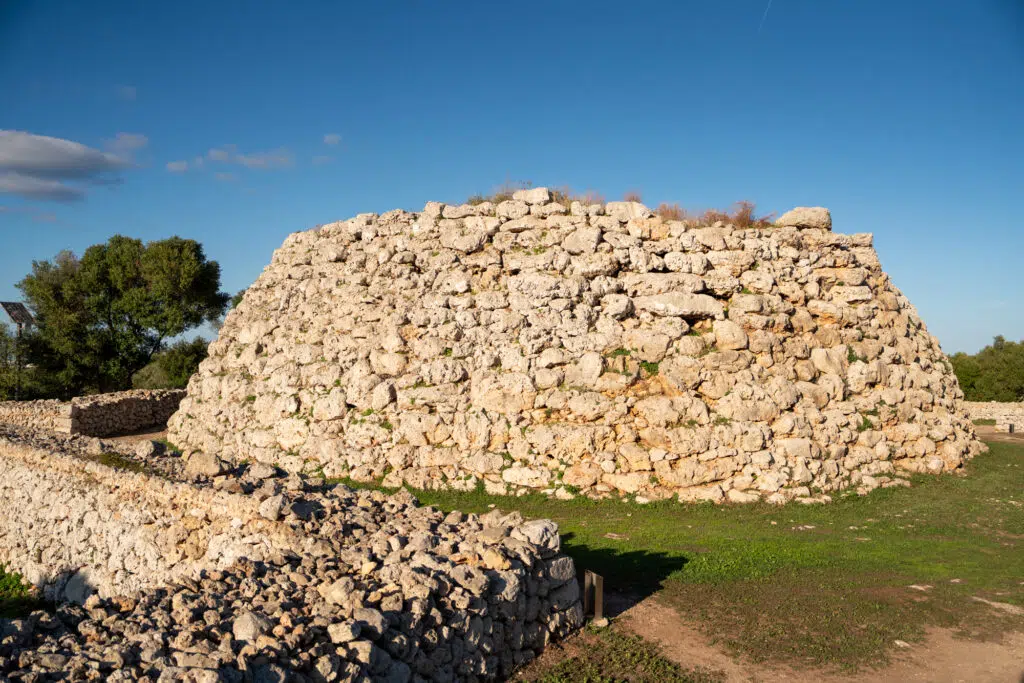 Menorca has been inhabited since prehistoric times, and one of the best places to see evidence of these ancient Balearic occupants is the Trepucó Talayotic Settlement on the outskirts of Mahon. The largest, and most significant remnants of the Talayotic culture, this site offers invaluable insight into the rich history of Menorca.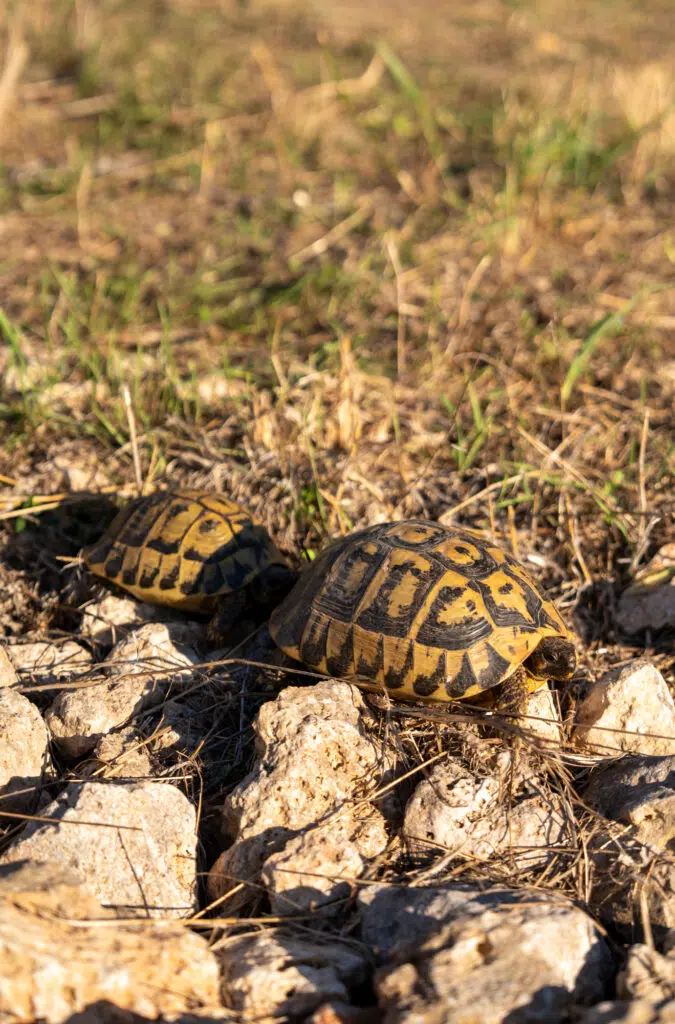 To visit, you can walk or take a short drive 2km from the centre of town. Entrance is free, and there are a number of information boards within the complex to explain the various points of interest, which include the large central talayot, and the striking t-shaped taula which was used as a place of worship.
Avert your eyes from the megalithic monuments, and you may be lucky enough to see the current-day occupants of this primaeval land; Hermann's tortoises!
See the Only Remaining Gate of the Medieval City Walls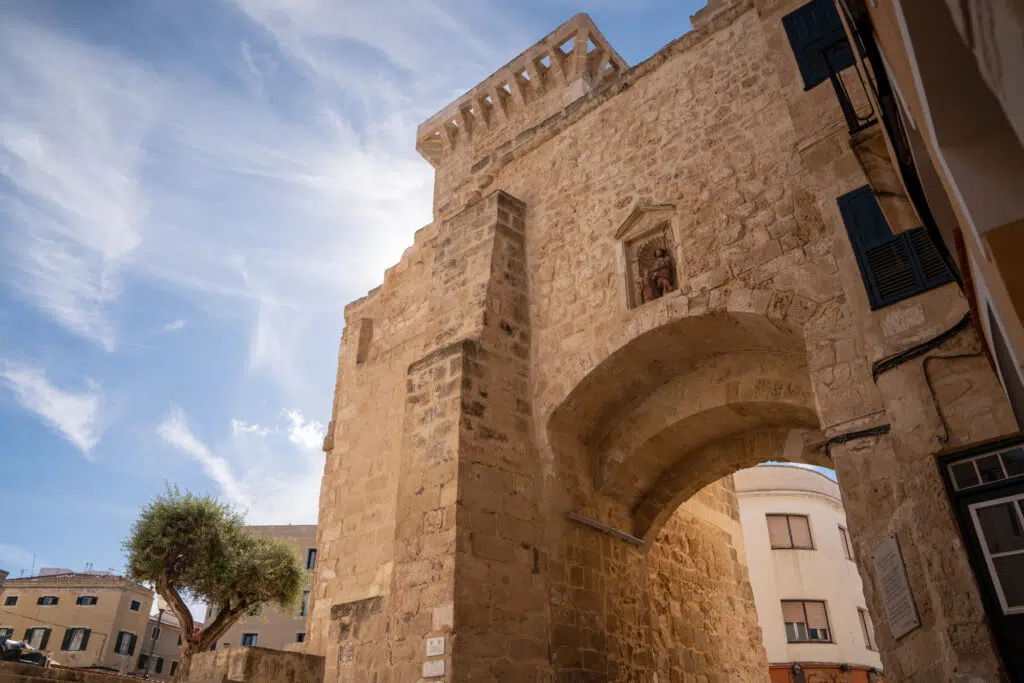 Once upon a time, the city of Mahon was encircled by medieval walls, as a way of defending the old town during its troubled past. Today, the only remnant of this fortification is the Gate of Sant Roc.
Constructed in the 14th century, in a Gothic style, the gate and attached towers have undergone several reconstructions and alterations, and evidence of this reinvention can be seen on the structure today.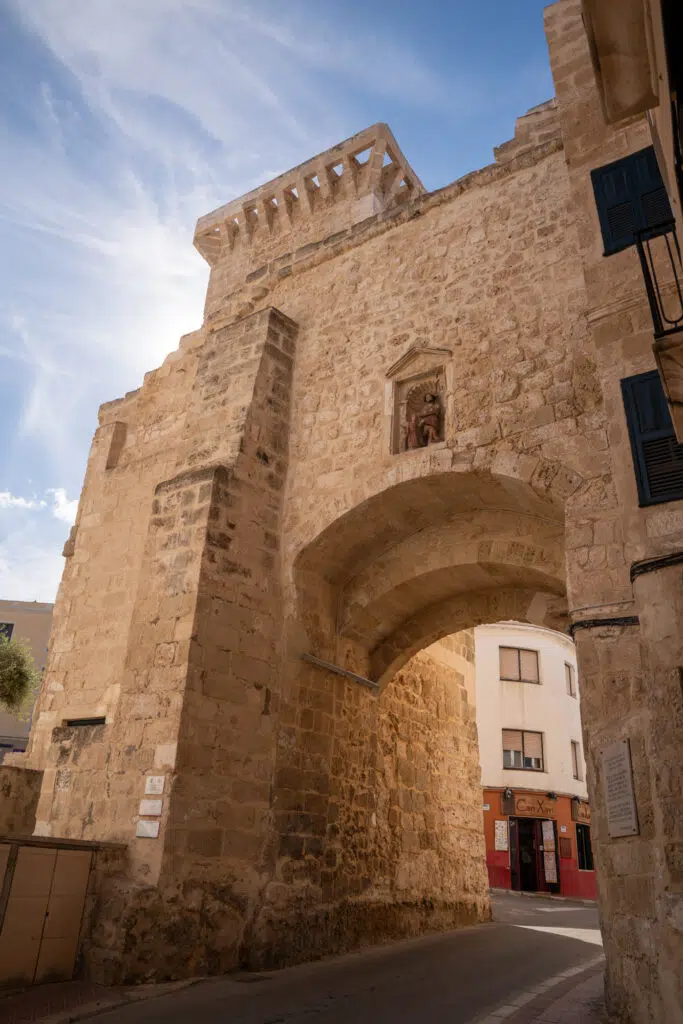 Seemingly hidden in plain sight, I only noticed this gate on my most recent visit to Mahon, despite having been here multiple times. And I'm sure I'm not the only one to overlook it.
The nearby Place Bastion is the perfect spot to settle in for lunch while admiring the view of the gate, or simply take a stroll through the stone arch as you explore the streets of Mahón on foot.
Step Back in Time at Museu de Menorca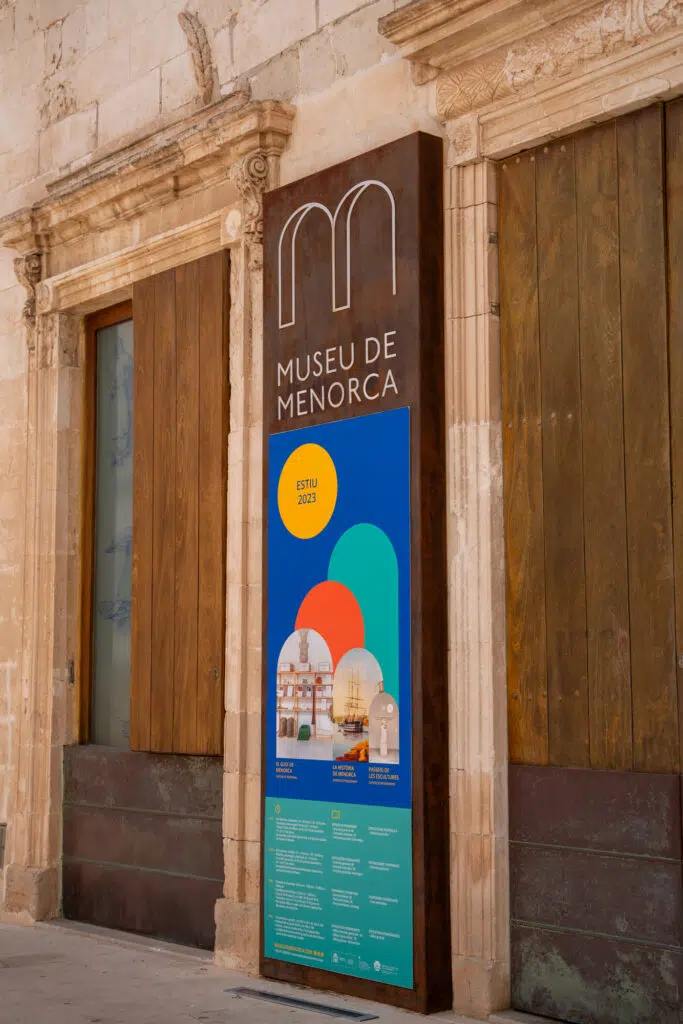 If you're wondering what to see in Mahón when the weather isn't so agreeable, be sure to make a stop at the interesting Museum of Menorca.
It's set inside the stunning Sant Francesc de Maó convent, and takes you on a thrilling journey through Menorca's different timelines. With sizeable collections of sculptures, antique maps and even Talayotic jewellery, this place gives you a true insight into the turbulent history and culture of this now tranquil Balearic island.
Highlights include the "Petit Museu" where kids can learn about the history of Mahón and Menorca in a fun and interactive way, the workshops and events which include mosaic making and treasure hunts, and the unique collection of Menorcan artworks and artifacts.
Shop for Menorcan Shoes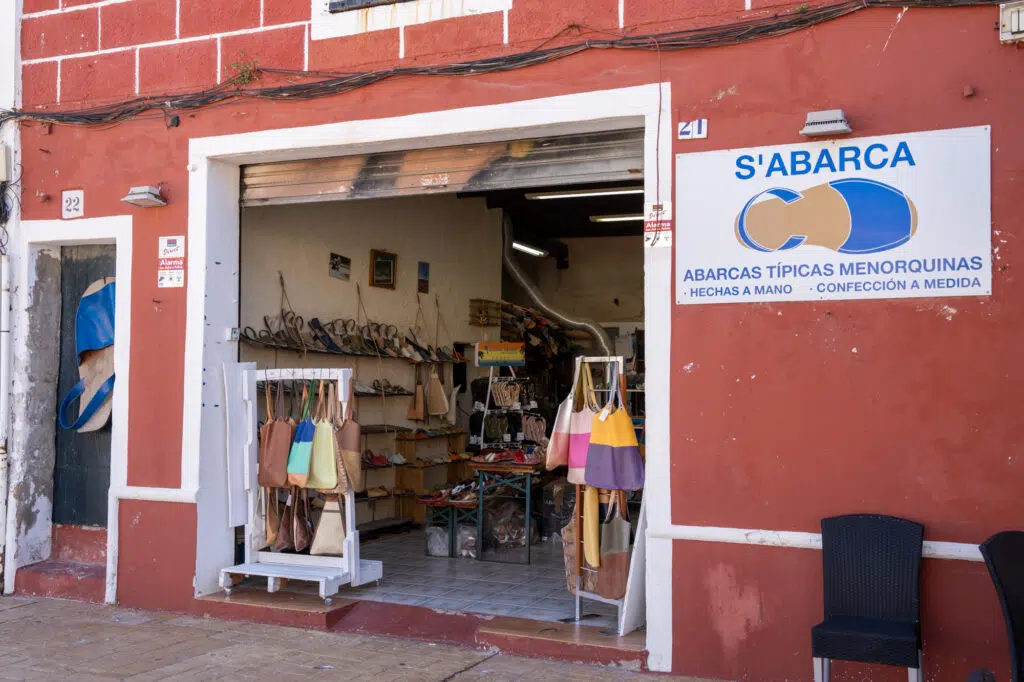 Spain is well-known for its shoemaking prowess, and it's likely if you've travelled to the Spanish mainland before, that you've encountered espadrilles at some point. Many of these sandals are handcrafted in family-run businesses handed down through the generations. In Menorca, it's no different, except the islanders' shoe of choice is known as the 'Avarca' or 'Minorquines'.
Avarcas are trendy sandals once the chosen footwear of peasants – and now revered by people worldwide with a penchant for all things stylish. They are comfortable, unisex and available in multiple styles and colours inspired by the landscapes of Menorca.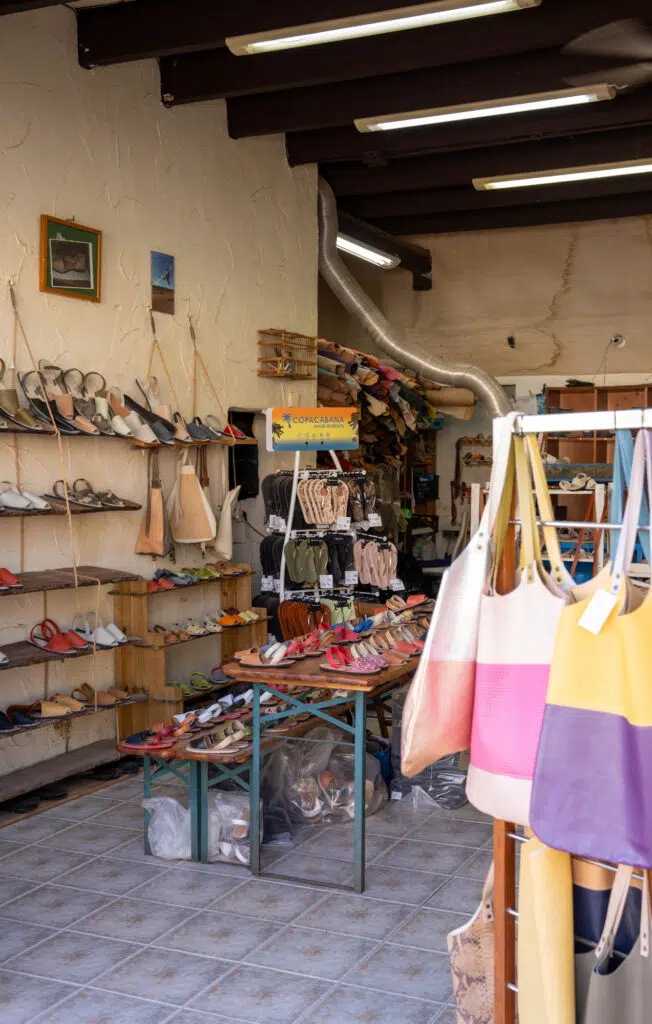 Most designs are made from leather or suede, however, you can also find vegan versions available at certain shops throughout the island.
While you can pick up a pair of Avarcas in many stores, local markets, and clothing stores all across the island – go a step better and order your own customised pair made at S'Abarca on Mahon's waterfront.
Enjoy a Cheeky Tipple at Xoriguer Gin Distillery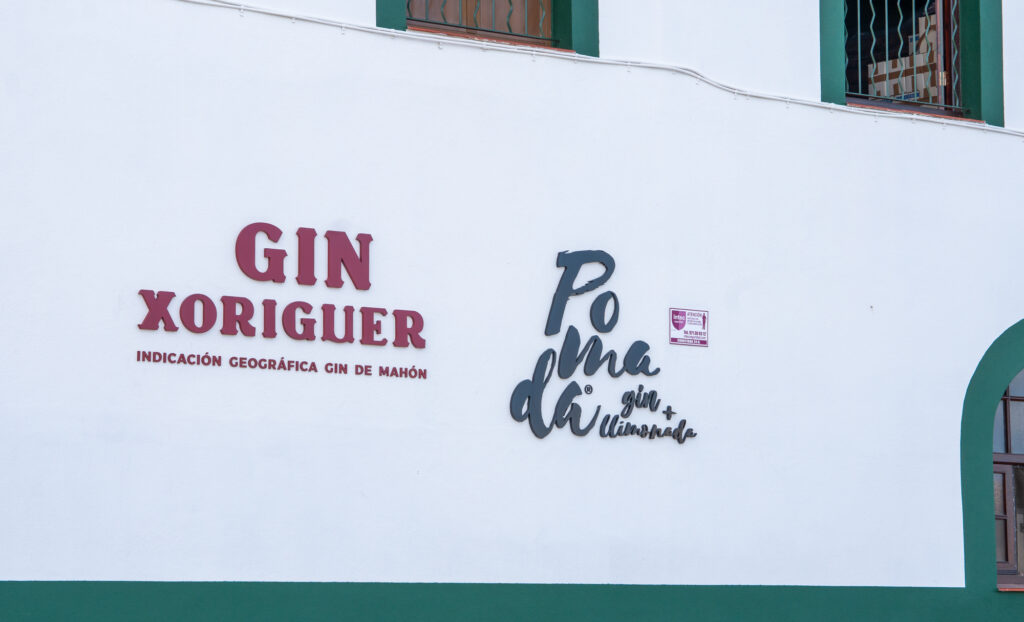 A short walk down a zigzag staircase from the Menorca Museum, you'll find the Xoriguer gin factory. The distillery/tasting room has a room filled with old copper vats in the back, shelves of botanically infused gins, and an area for sampling them if you wish to try before you buy!
If you're wondering why and how gin found its way to Menorca, it's the fault of the British. As a strategic stronghold and naval base in the 1700s, sailors were unable to find gin – their drink of choice – on the island, so a group of Mahón innovators got together to find a solution.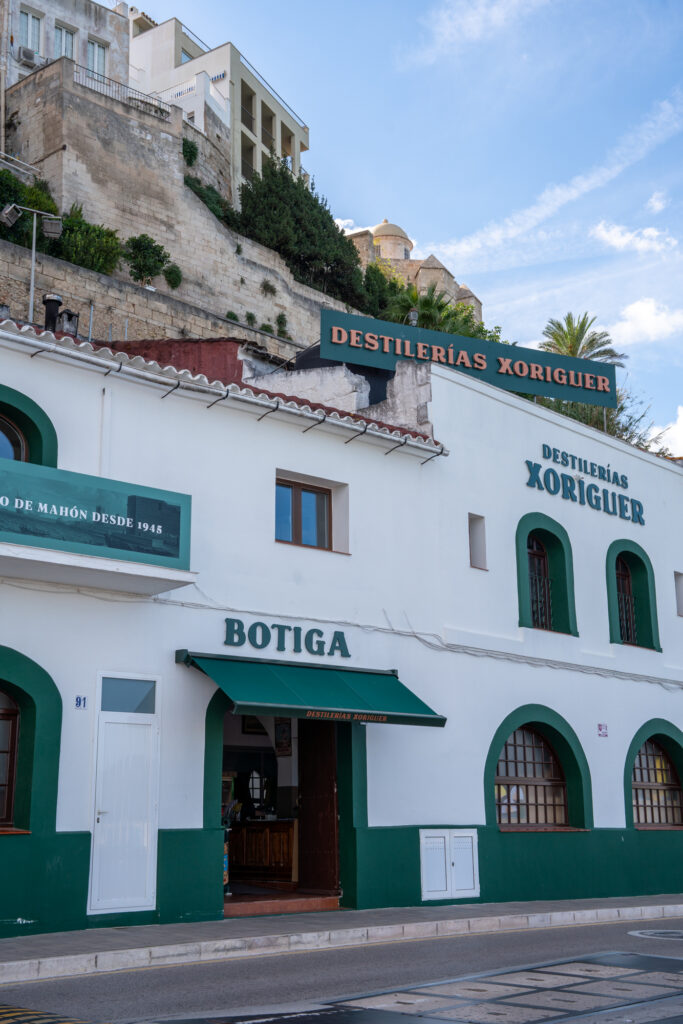 As juniper berries weren't native to Menorca, they had to import them, which wasn't too much of a problem, being on several trade routes. The shrewd business partners also figured out a way to distil the gin using wine alcohol from Spanish vineyards. It was an ingenious invention, and today Mahón gin is revered throughout the island and beyond.
The popular drink is often consumed at fiestas or on balmy summer evenings in leafy plazas in the form of pomada – a local cocktail of gin mixed with cloudy fresh lemonade – trust me, it tastes a whole lot better than it sounds!
Visit the Oldest Opera House in Spain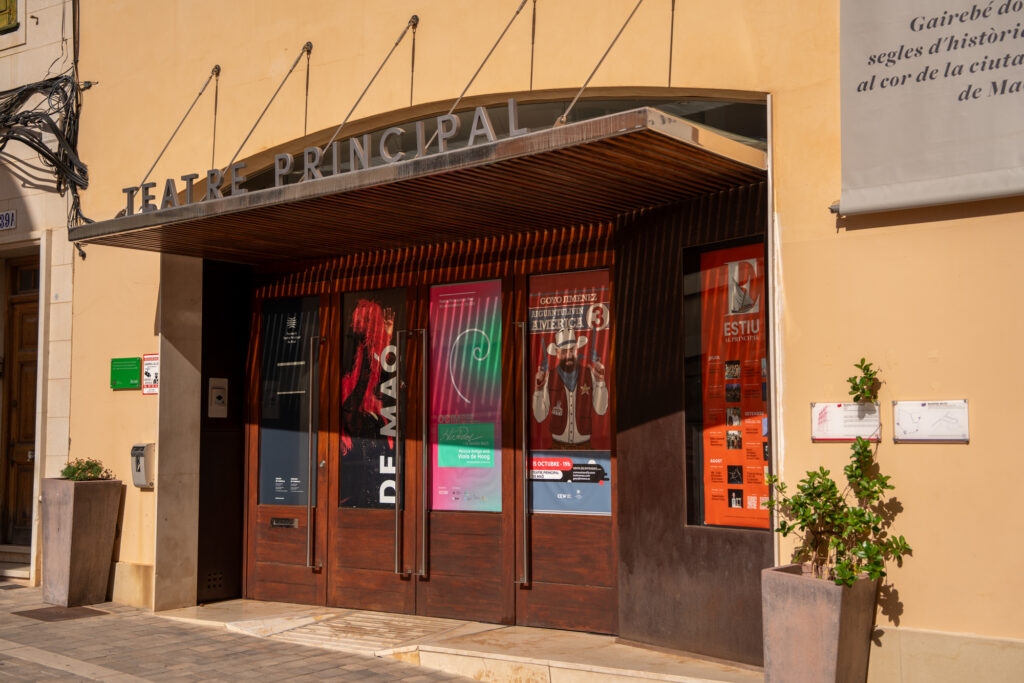 If you know the difference between Carmen and Madame Butterfly and know your Puccini from your Verdi, then you may wish to take a tour of Teatre Principal de Mahón! This is Spain's oldest opera house, designed in the 18th century.
The interior is similar to the famous La Scala in Milan – designed in the same, classic horseshoe style. On a guided tour, visit the gilded balconies, step inside the elegant boxes and check out the magnificent acoustics on stage.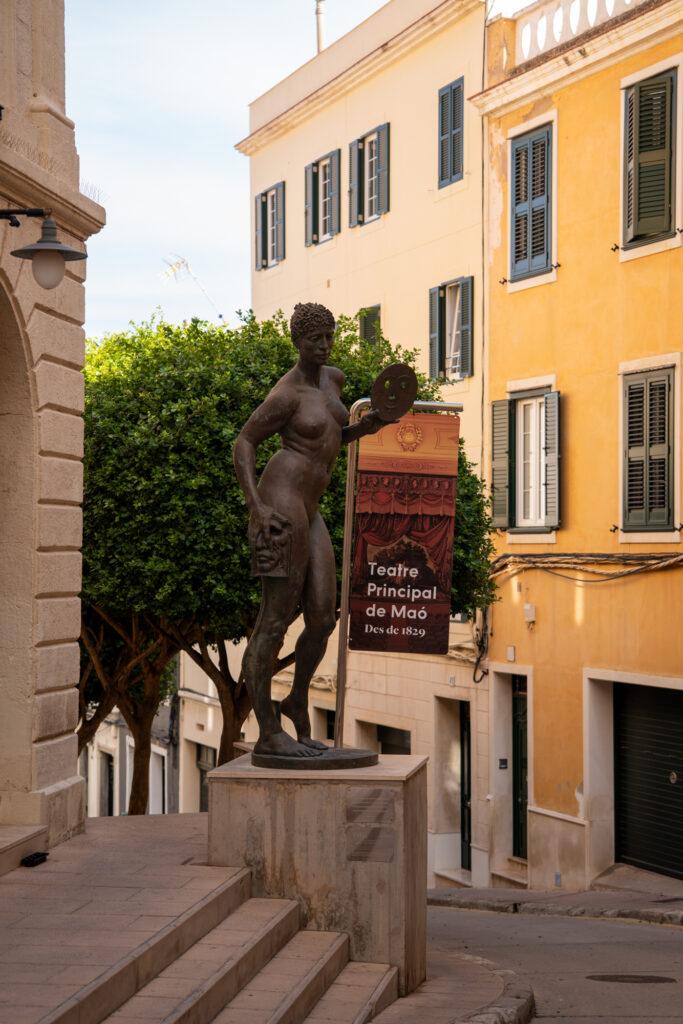 Although the French used to watch comedies here during their island rule, visiting the theatre has, in recent years, translated into a much-loved Menorcan pastime. Operas are shown here throughout the year, with some of the greats having performed here.
A seasonal tour is a great way to get behind the scenes, to learn the stories, or book a ticket to enjoy live music in this historic, romantic setting.
Experience Menorca's Coastline on a Boat Trip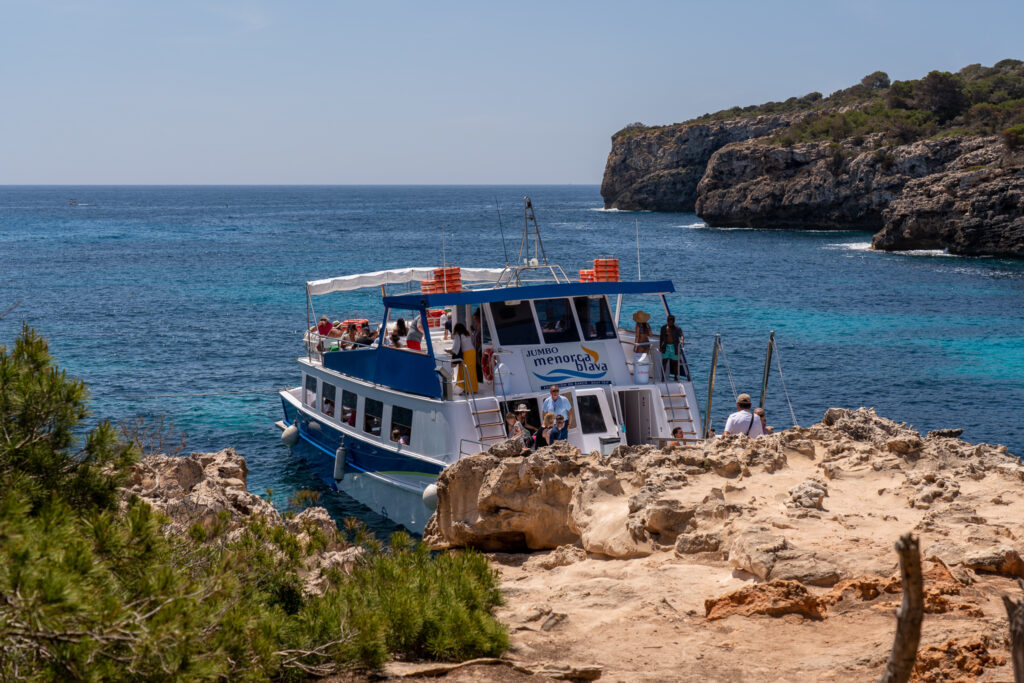 If you've been thinking about what to do in Mahon to keep the kids entertained, consider taking a boat trip along the coastline. There are a range of boat trips available, departing from Puerto Mahón, complete with activities suitable for all ages.
Choose from sailing tours to beautiful golden sandy beaches, complete with snorkelling opportunities. Or jump on a glass bottom boat to discover the underwater world without getting your feet wet!
Walk along the Coast to Es Castell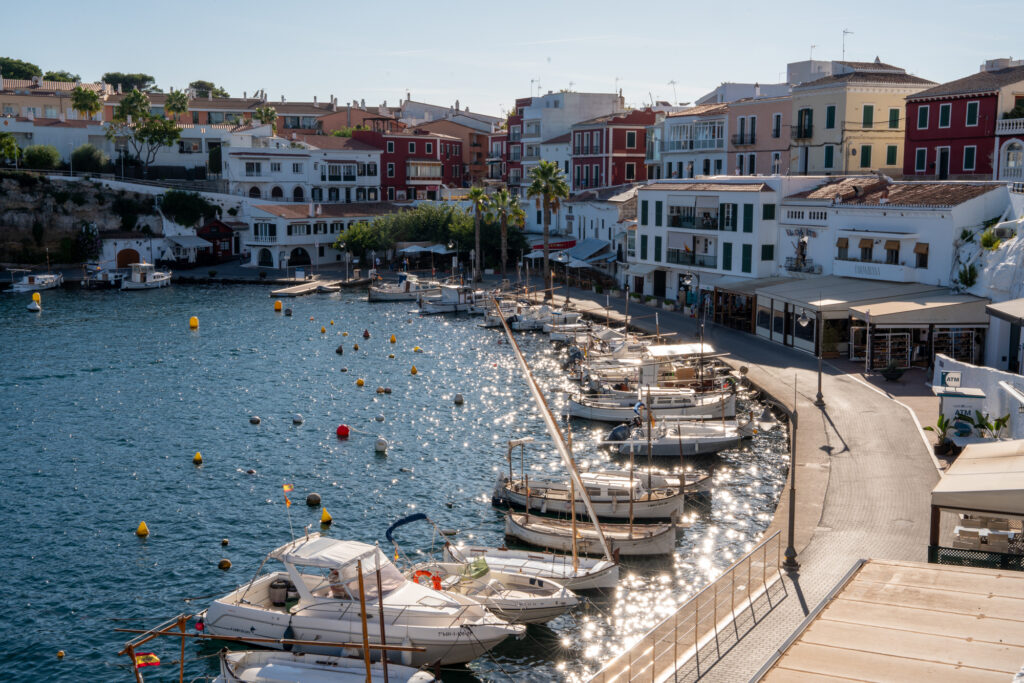 For a change of scenery, the pretty village of Es Castell is less than a 45-minute walk along the coast from Mahón. The charming fishing town is brimming with pastel-coloured houses, typical Menorcan bodegas and traditional restaurants by the water's edge.
On the walk, you'll pass by Illa de Rei (the island of Hauser & Wirth fame) sitting pretty in the harbour, and if you arrive on a Tuesday morning, there's a local market selling trinkets and clothing.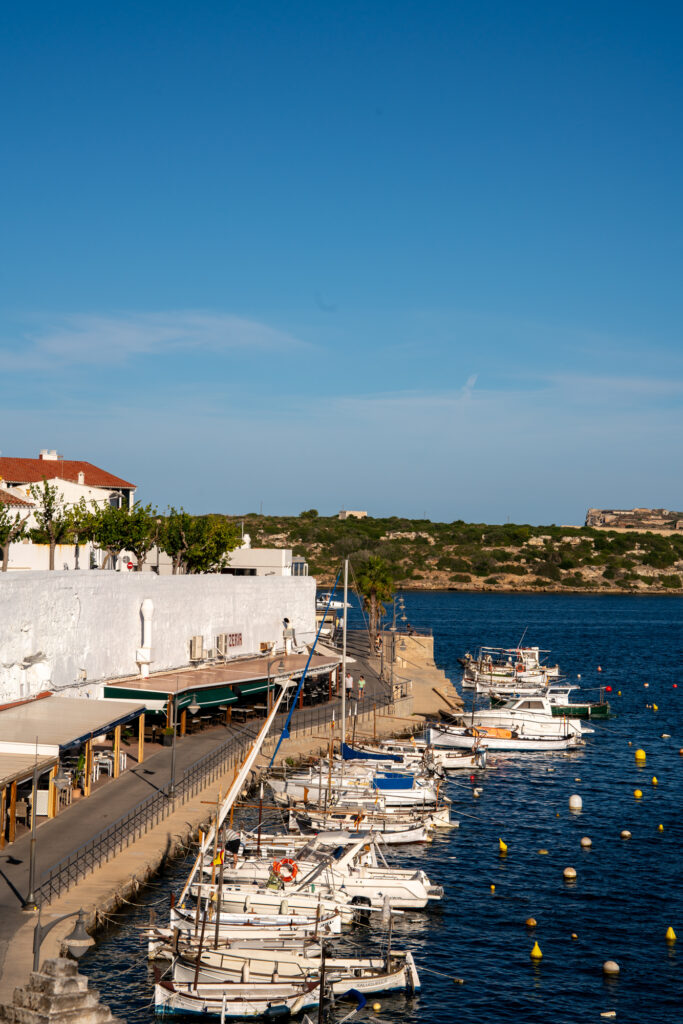 Alternatively, walk here late in the afternoon or early evening and settle into a comfy chair at a seafront tapas bar, sipping pomada as boats come and go from the bustling harbour. During the summer months, the village also boasts a night market with many stalls selling delicious artisan foods.
---
Where to Eat in Mahon
Mahón is a gastronomic wonderland with charming, traditional tapas bars and bodegas, gelaterias and even restaurants set aside the city's fish market! You can sample everything from Mahón cheese to sausages, local gin and Malvasia wine. I've listed a few of my favourite city dining spots so you can sample delicious Balearic cuisine for yourself.
Sa Botiga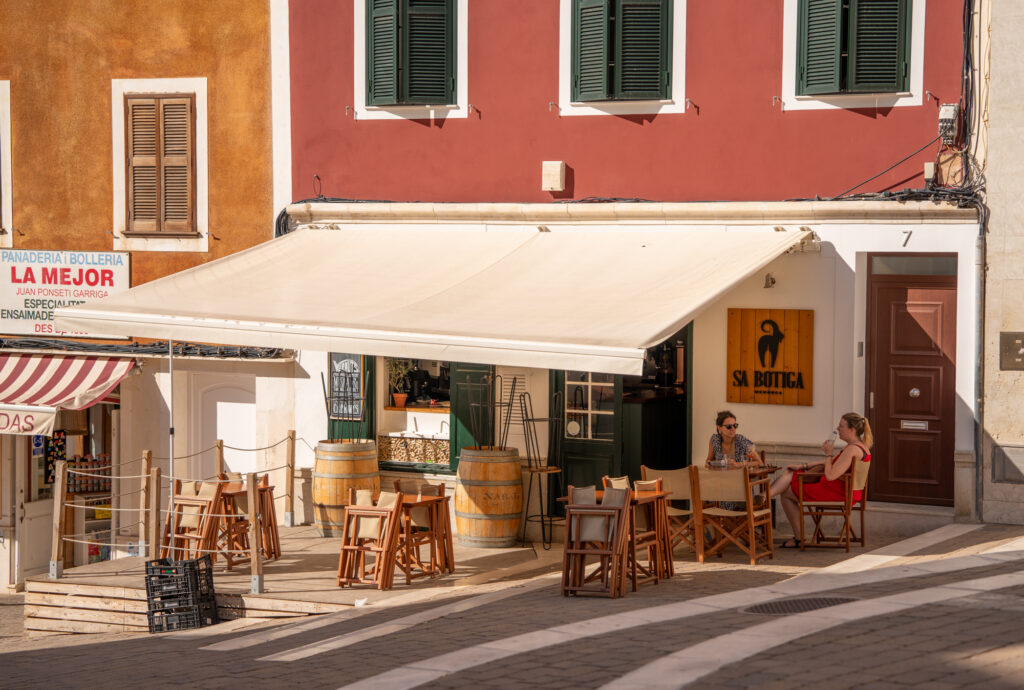 Near the bustling fish market of Mahón you'll find the popular café/bar known as Sa Botiga. Here, you can immerse yourself in the city's atmosphere while feasting on typical Menorcan and Mediterranean cuisine and fine tapas dishes.
The bar menu is reasonably priced – great if there are a group of you travelling together. Their speciality is the llonguet sobresada accompanied by regional cheese. They also have an extensive wine list and during summer you can listen to live music as you dine.
Bar Pasaje de Madrid al Cielo
This lovely, reimagined tapas bar specialises in Menorcan and Spanish cuisine. Here, you can feast on delights such as croquettes, stuffed pickles, black caviar with shrimp drizzled in saffron sauce and much more. The gazpacho is great for veggies and vegans and the tapas plates cater to all tastes.
Cala Vegana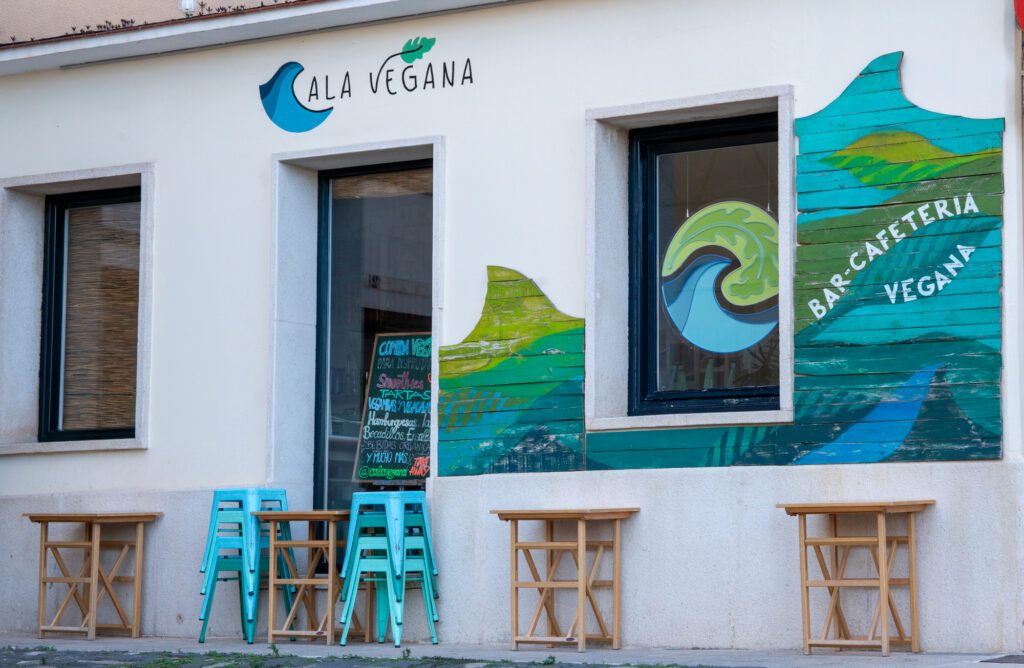 I love this cute all-vegan café with outdoor seating in Mahón serving everything from plant-based burgers and fries to pizzas, Vegan calamari, nutrient-packed salad bowls and decadent desserts (including their famous carrot cake and tiramisu).
The menu is huge with options for all the family. Pop in for a smoothie or grab a takeaway before heading out on a day trip.
---
Day Trips from Mahon
If you're planning on staying in Mahon during your holiday, it's well worth planning some adventures outside of the city too, as the island of Menorca is an enchanting place to discover. With natural parks such as S'Albufera d'Es Grau, secluded pristine beaches hemmed between rocky coves, and historic sites, this island is a pleasure to explore.
Here are a few of my favourite things to do near Mahon to add to your Menorca itinerary.
Discover the Scenic Wonders of Camí de Cavalls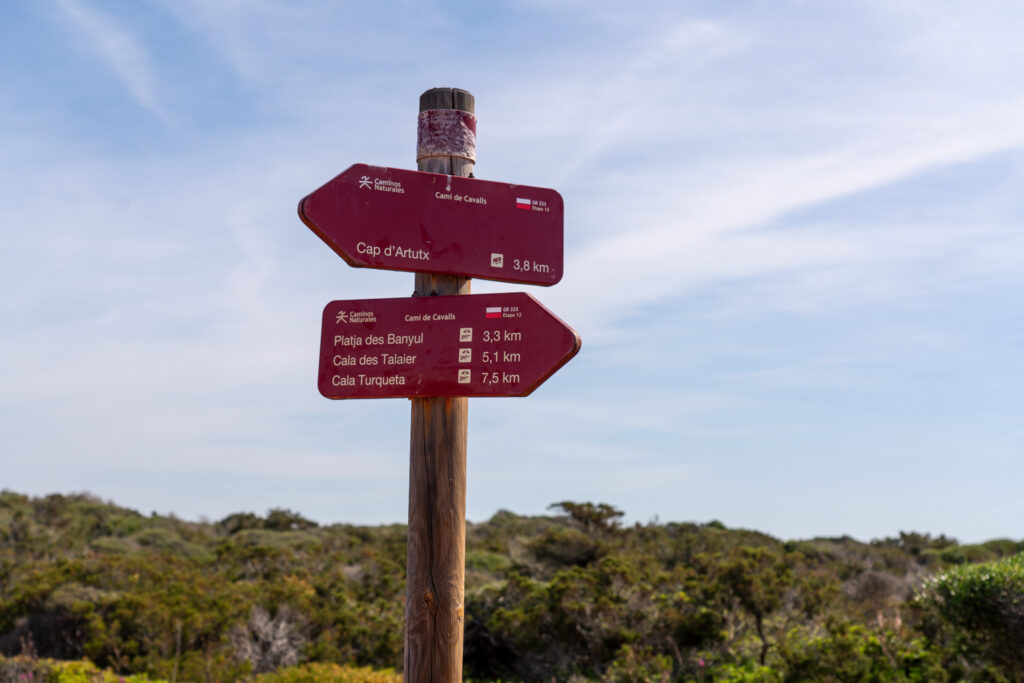 I love spending time in nature, hiking in the great outdoors, taking photographs and finding those secluded spots that few tourists know about. If you're seeking a similar experience, trekking the Cami de Cavalls is the way to go – it's undoubtedly one of the best things to do in Menorca.
This coastal route takes you around the entire island – 185 scenic kilometres give or take. The 'Way of the Horses' weaves each town and seaside resort together along the coastline like one big, beautiful tapestry.
Don't worry, you don't have to complete the entire route – there are actually 20 short stages with different trails to experience. One of the best (in my opinion) is just 10 kilometres north of Mahón. The hiking trail transports you along the Cami de Cavalls from Es Grau beach to Favaritx lighthouse.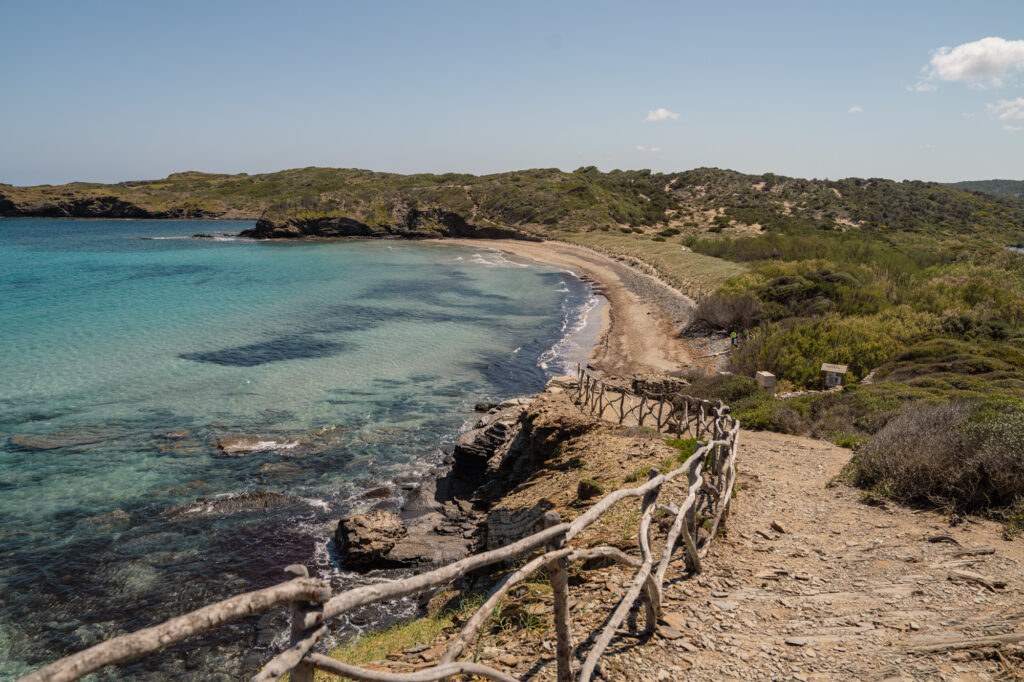 On this route, you'll discover s'Albufera des Grau Natural Park with its wonderfully diverse flora and fauna, scented pine forests and rustic beaches. The park is a haven for birdlife and home to the endemic Balearic lizard.
Further highlights include Rambla Tower, Turtle Cove and Favaritx lighthouse – the finale of the route. The hike takes around 3-4 hours at a steady pace, but you will want to pack snacks, plenty of water, and take a break on the beach for a refreshing swim break!
Spend a Day in Mahon's Twin City – Ciutadella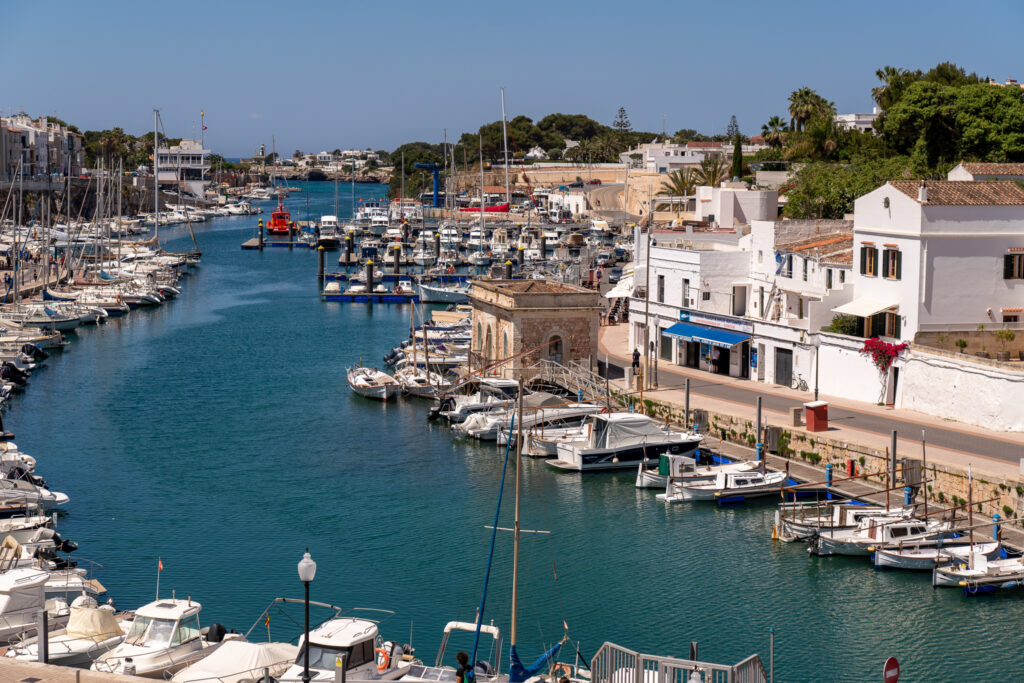 If you love Mahón, you'll also adore the historic capital of Menorca, Ciutadella. Located on the opposite side of the island, it's accessible in just 45 minutes by car, or public bus.
The city centre is awash with pastel-coloured houses, winding lanes and hidden cathedrals, punctuated with pretty plazas and adorned with the prettiest harbour on the island.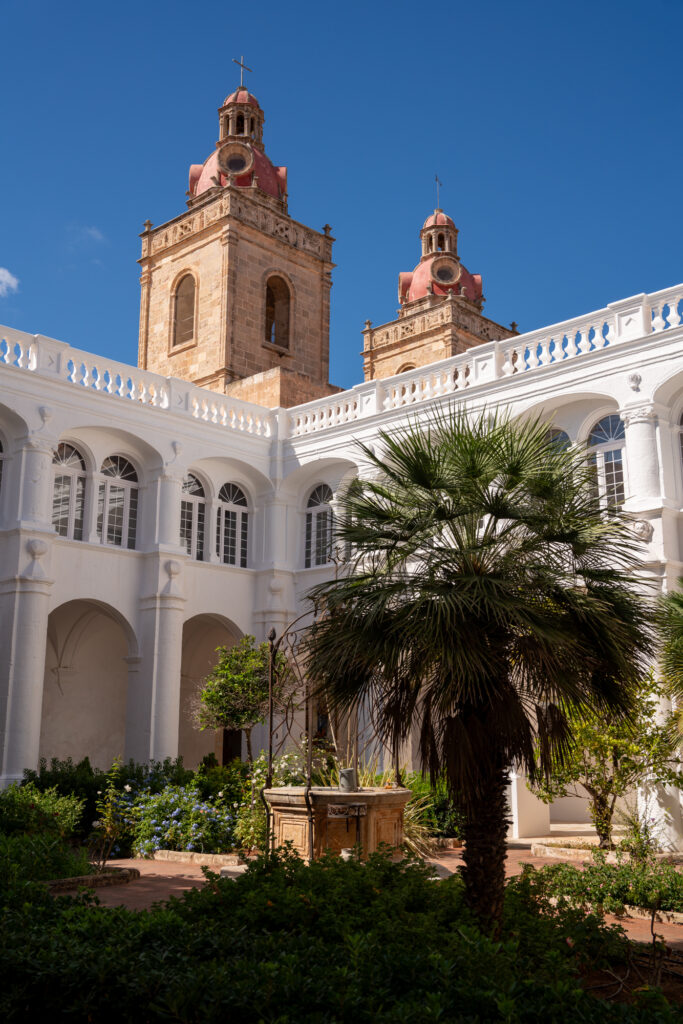 Some highlights to see while you're here include Ciutadella Cathedral, built atop an Arabic mosque with beautiful, stained glass windows. Make a stop at the 17th-century Cloisters of Saint Augustine showcasing collections of religious artefacts and discoveries dating to the Talayotic era. Take a break at Mercat Municipal de Ciutadella for lunch, or try New Wave on Plaza de la Libertad for a selection of delectable veggie and vegan offerings.
In the afternoon, you can pop into historic Casa Olivar to gain more insight into city life through a selection of photographs, antiques and frescoes. Or substitute this activity for a boat trip, before sipping local wine while marvelling at the best island sunset at Pont d'en Gil.
Finding the Best Beaches Away from the Capital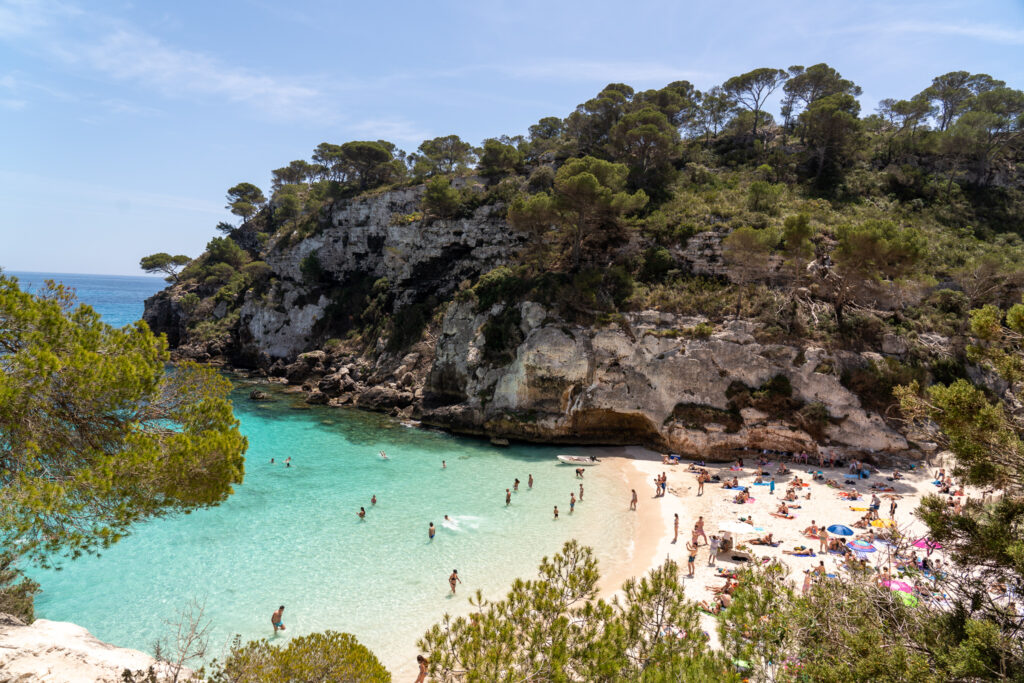 It's fair to say Mahón isn't the best place in Menorca for beaches. Many of the finest stretches of sand are located a short distance away from the capital. Spend a day at Arenal d'en Castell, a horseshoe cove with soft sands and shallow waters – the perfect place for swimming.
For those seeking a bit more solitude, Cala en Vidrier near Es Grau is perfect for solo adventurers and couples seeking peace and solitude. There's nothing better than lounging on pristine sands next to turquoise waters with very few people in sight. You can also walk a section of the Cami de Cavalls to get here.
Or hit up the local's favourite, Cala Mesquida – although you'll need to arrive early to secure a coveted car park.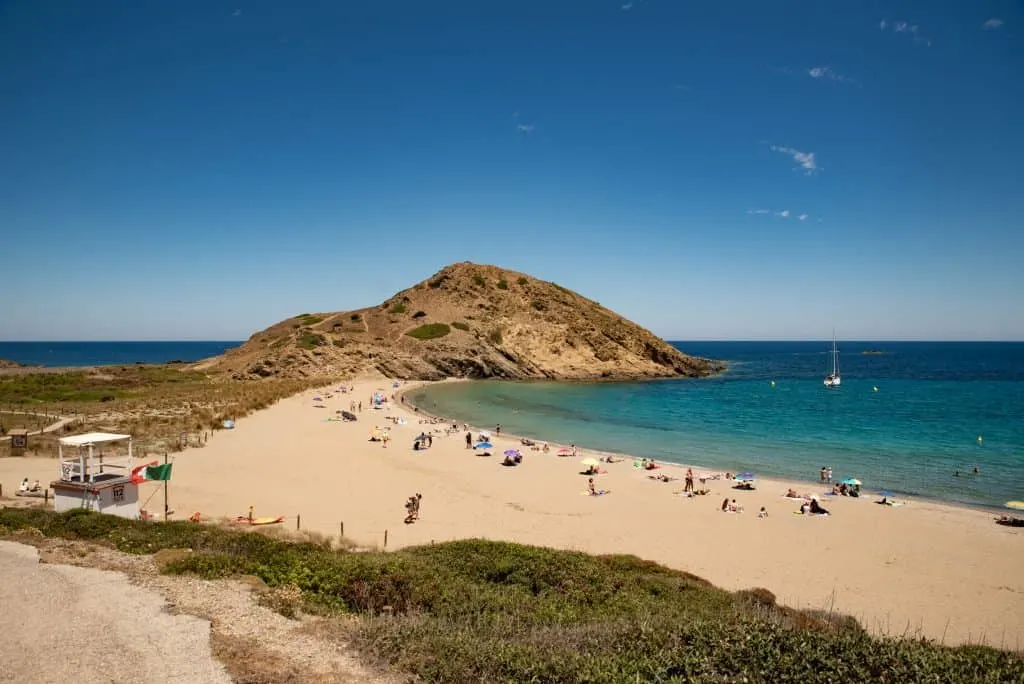 Families will enjoy spending a lazy day on sun-drenched Son Saura (Son Parc). Set amid verdant greenery, it has snorkelling opportunities and safe swimming areas for little ones. Here, you can hire pedal boats, dine in beachfront restaurants, or walk along the coastal path to more secluded coves. Stay until the last rays of the day and you'll also witness the most spectacular sunsets.
On the southern coast, Cala Macarelleta is perhaps the most picturesque on the island. You can follow the Cami de Cavalls to get here, bring a gourmet picnic and spend all day at this little slice of paradise.
Read more about the best beaches in Menorca here.
---
How to get to Mahon
Most tourists travelling to Menorca choose to fly into Mahón Airport. The small but efficient airport is served by a few budget airlines, with many operating reasonably priced, direct flights from destinations throughout Europe.
The public transport system makes it super easy to reach the city centre from the airport upon arrival. The L10 bus operates a half-hourly service during the day, or you can arrange a private transfer to your hotel in the city.
If you're travelling from mainland Spain or France, or the neighbouring Balearic Islands, you can also travel to Mahón by ferry.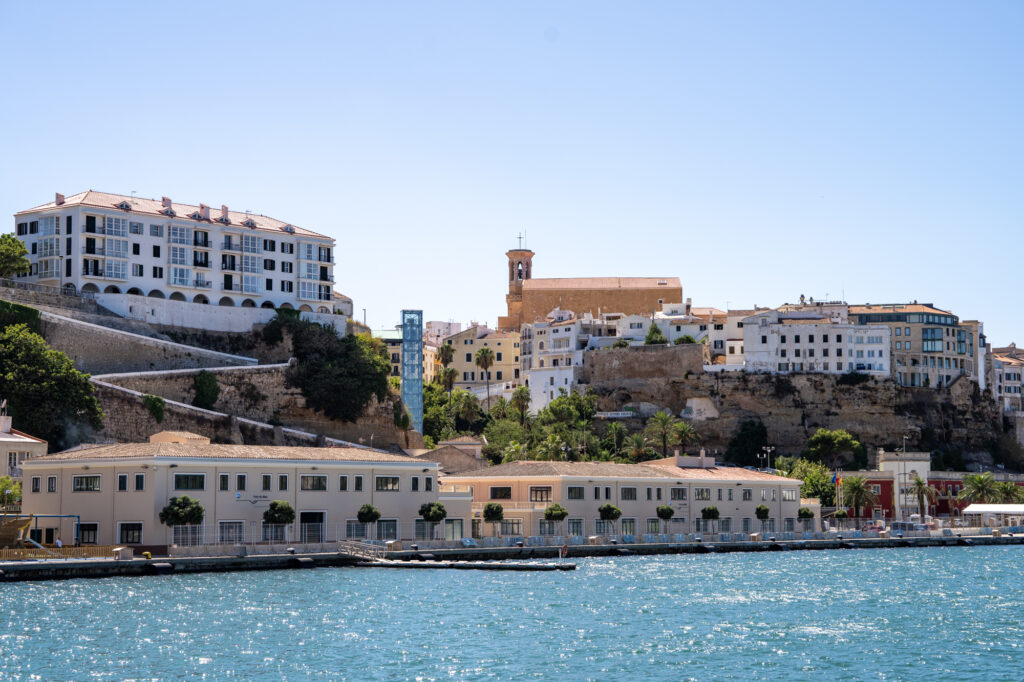 If you're travelling to Mahon as a day trip from other areas of the island, you'll find frequent bus services running into Estacio d'Autobusos de Maó.
Or, if you're travelling to Mahón by car, the island is very easy to navigate. The city is joined to Ciutadella at the opposite side of the island via the Me-1 autopista and it's just a 45-minute drive. Several quieter roads transport you from the main autopista to coastal towns such as Fornells, Arenal d'en Castell, Cala en Bosc, Binibeca and S'Algar.
It's also relatively easy to park in the city as well. You can park down by the port of Mahon and climb the steps or take the elevator to the city centre, although these are usually paid parking spaces. For free parking, head to Carrer de Sant Sebastia or Carrer de la Bellavista. Both streets are around a 10-minute walk to Moll de Llevant, Mahón Cathedral and C'an Oliver.
---
I hope this article encourages you to spend a little more time in the city of Mahón. I'm sure you'll thoroughly enjoy your time in the Menorcan capital city, exploring the history, culture and sampling the delicious food and drinks. I recommend combining Mahón and Ciutadella trips with a beach stay to experience the very best of this beautiful, unspoilt Mediterranean island.