Vella i bella, the old and beautiful Ciutadella – historically the capital of the island – sits on the western shores of Menorca. It's a city of picturesque streets sprinkled with honey-coloured houses. Quaint bodegas and trendy bars line street corners, and are the perfect places in which to sample pomada – a famous island cocktail. Nearby, fine restaurants offer unique dining experiences focused on fresh Menorcan ingredients.
If you're seeking things to see in Ciutadella, you'll be spoilt for choice.
From delving into the city's heritage to exploring prehistoric archaeological sites or markets bursting with fresh local products and produce, there's much to captivate travellers. Beautiful beaches are on hand for spending lazy days soaking up the sun or swimming in clear turquoise waters, and the sunsets are most certainly insta-worthy.
The former capital city is a favourite of many Menorca visitors, myself included. In this article, I'll cover a few of the best things to do in Ciutadella, to help you gain the most from your stay.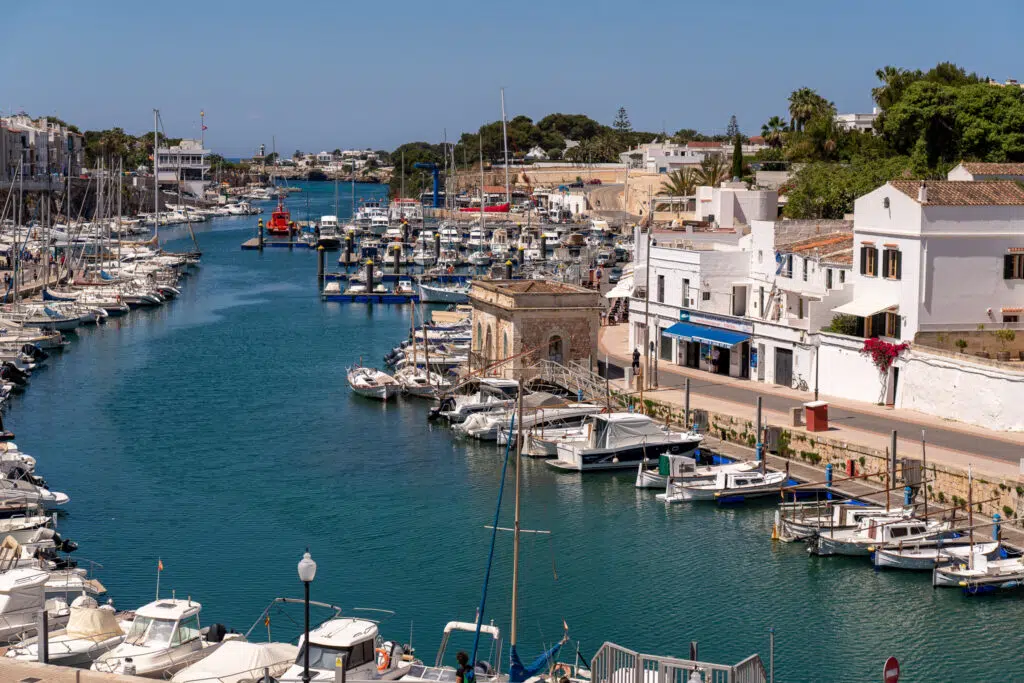 ---
Top Things to do in Ciutadella
Ciutadella is rich with history, culture and leisure experiences – and that's just within the city centre. In the verdant landscapes surrounding, both coastal and inland, you can explore reimagined quarries with summer concerts, walk coastal hiking trails, relax on white sand beaches and see prehistoric archaeological sites. Below, we'll look at some of the best activities in the city and things to do near Ciutadella to inspire your visit.
Browse Fresh Produce at Mercat Municipal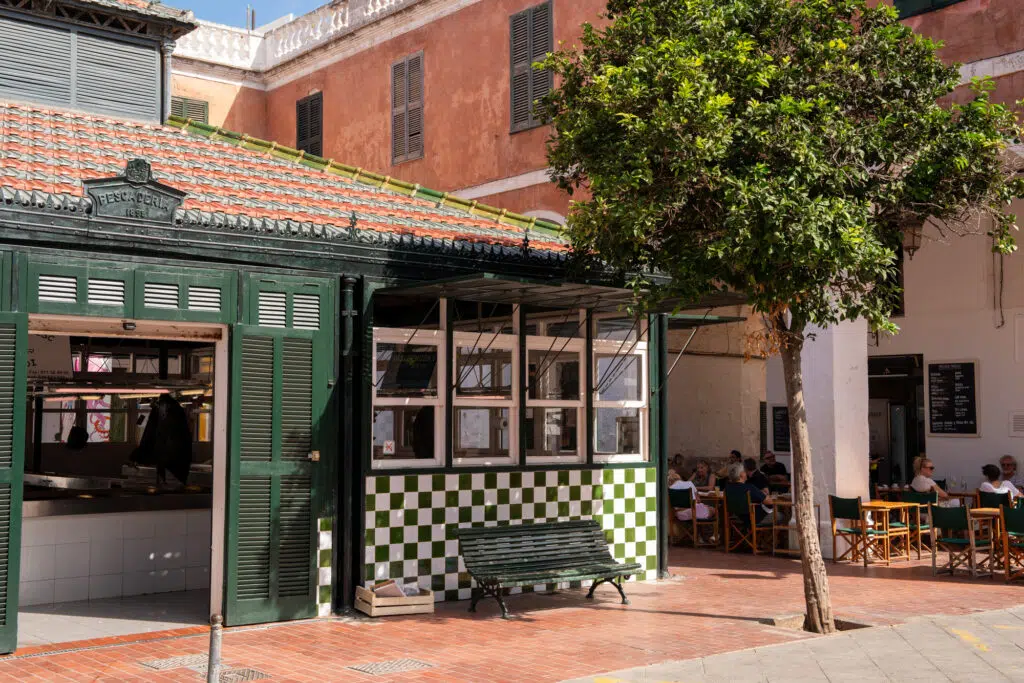 Mercat Municipal attracts visitors not only with its colourful displays of fresh produce, but also with its exquisite 19th century architecture. Tiled in green & white, the central market cuts a striking figure in the heart of the old town area of Ciutadella.
Visit in the morning to experience the market in full swing, and get a taste of island life at its best. It's a sensory overload with sights, smells and sounds cajoling for your attention.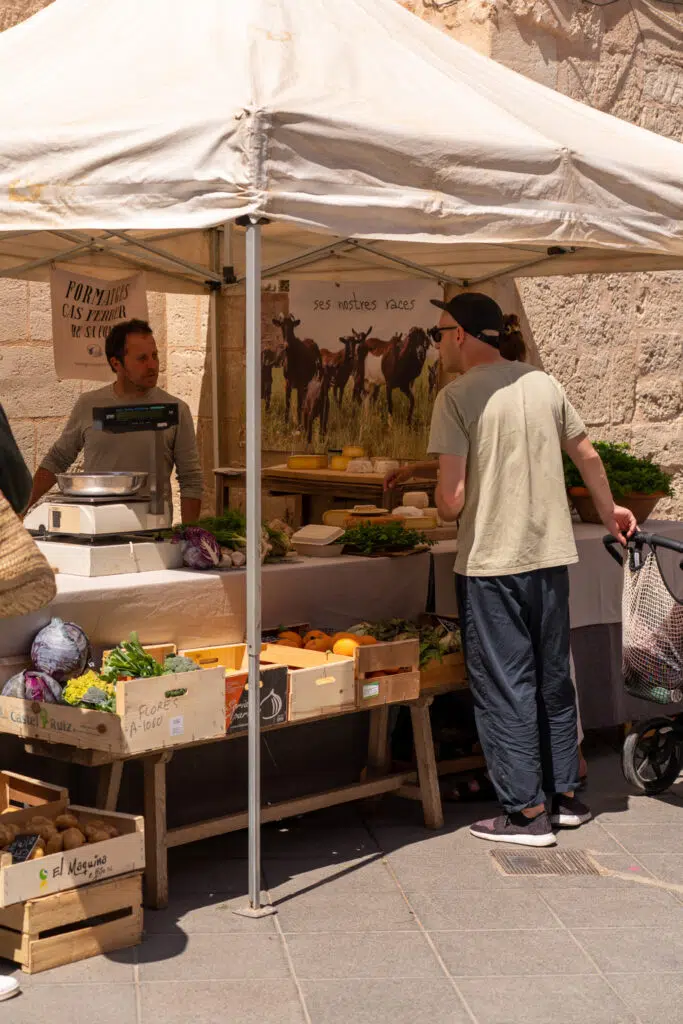 At lunchtime and in the evenings, visitors join local families to dine on tapas and platters of fresh fish at the restaurants surrounding the market. Events are held outdoors here throughout the year, in addition to a number of gastronomical festivals in summer. It's one of the top Ciutadella attractions you won't want to miss.
Dine and shop under the Arcades of Ses Voltes
Ses Voltes (The Arcades) are a highlight of Ciutadella for many visitors. With an old-world ambience, the former market is home to chic boutiques, souvenir shops, cafes, bakeries and a wide range of restaurants.
Steps from the Cathedral of Santa Maria and the port, you can gain respite from the midday sun beneath white-washed arcades, breaking for a refreshing drink or lunchtime treat. Browse stores selling hand-crafted Menorcan sandals, Avarcas, or sample local delicacies from a pasteleria (bakery).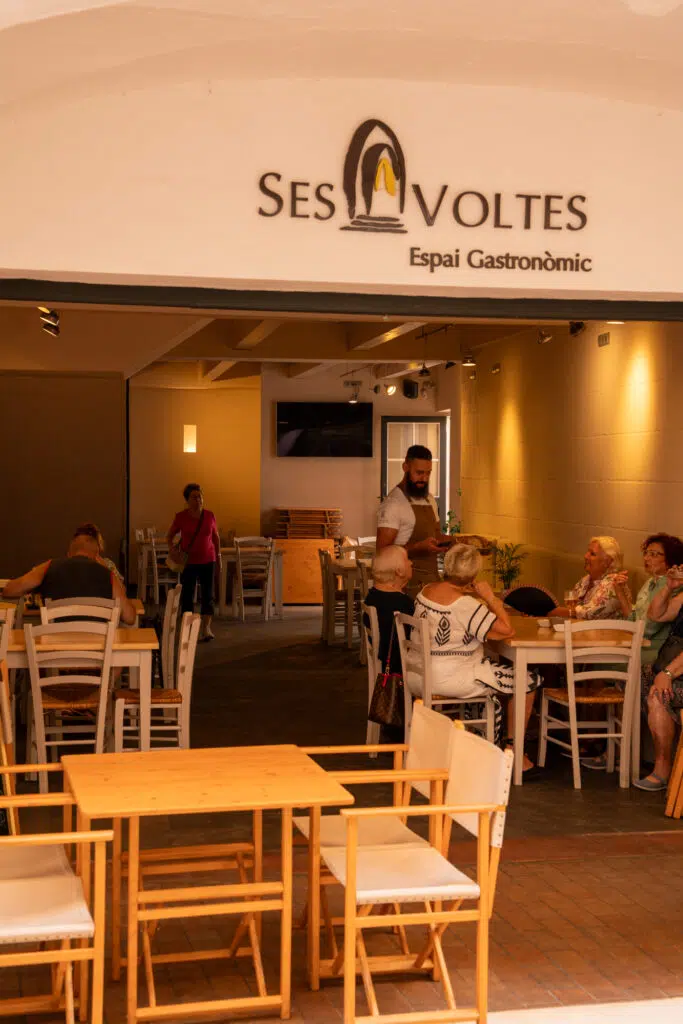 In the evenings, the atmospheric location is illuminated by lanterns; enjoy a romantic or family meal alfresco beneath the arches or make a stop for a G&T or glass of vermouth, both popular island drinks.
Watch the Cliff diving at Cala en Brut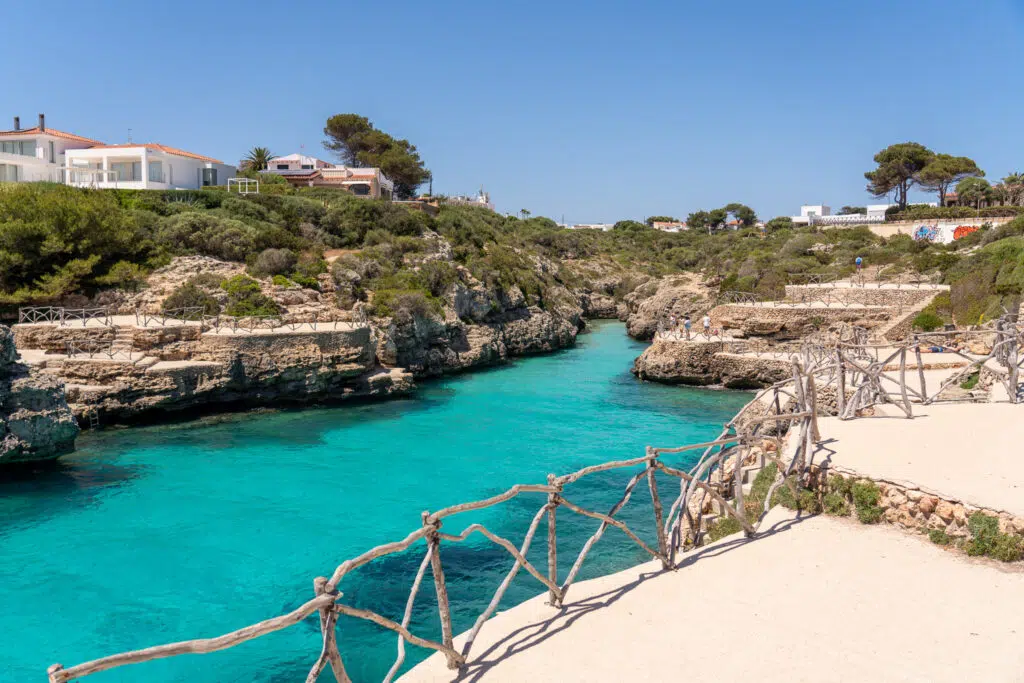 Cala en Brut is a popular spot for cliff diving, located a short drive or bus ride from Ciutadella. Although there's no beach here per se, the picture-perfect cove is an ideal place to soak up the sunshine or swim and snorkel in clear, calm waters. The cove is often referred to as the Blue Lagoon for its turquoise pools.
Arrive early in the day and find a spot on the paved platforms to sit and watch, as daring adrenaline junkies jump into the waters below. Don't worry if you don't fancy partaking in the pastime yourself, there are plenty of ladders and steps leading to the sea as well!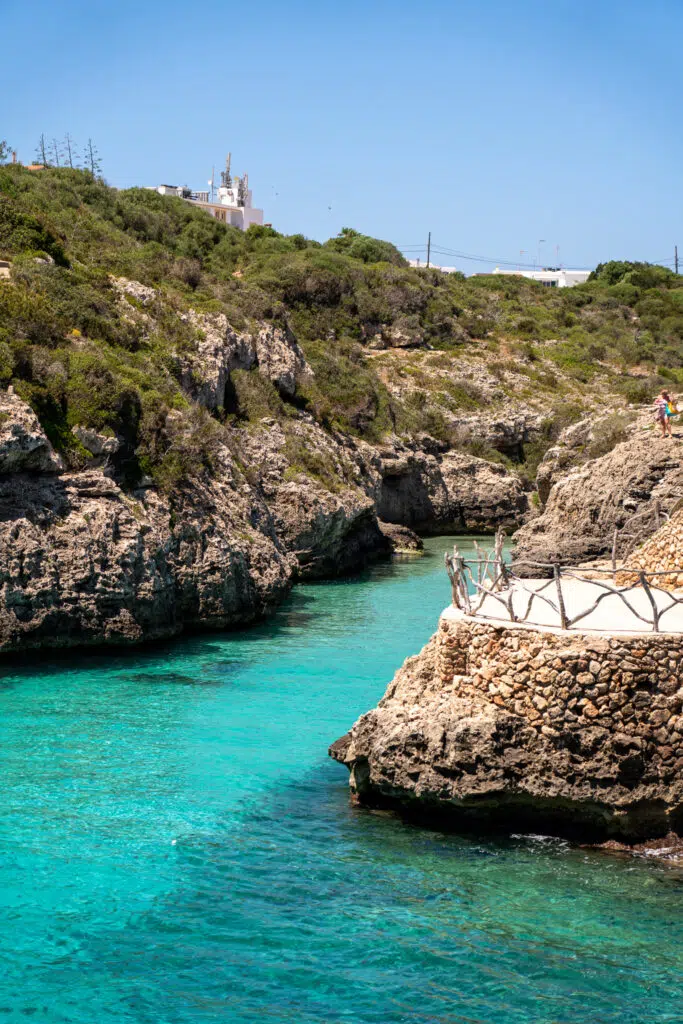 A trip to Cala en Brut can also be combined with a stroll to the observation deck, Mirador des Vermells, or to the nearby Aqua Centre Menorca for pools with fun slides if travelling with younger kids.
Walk to Pont d'en Gil for the Sunset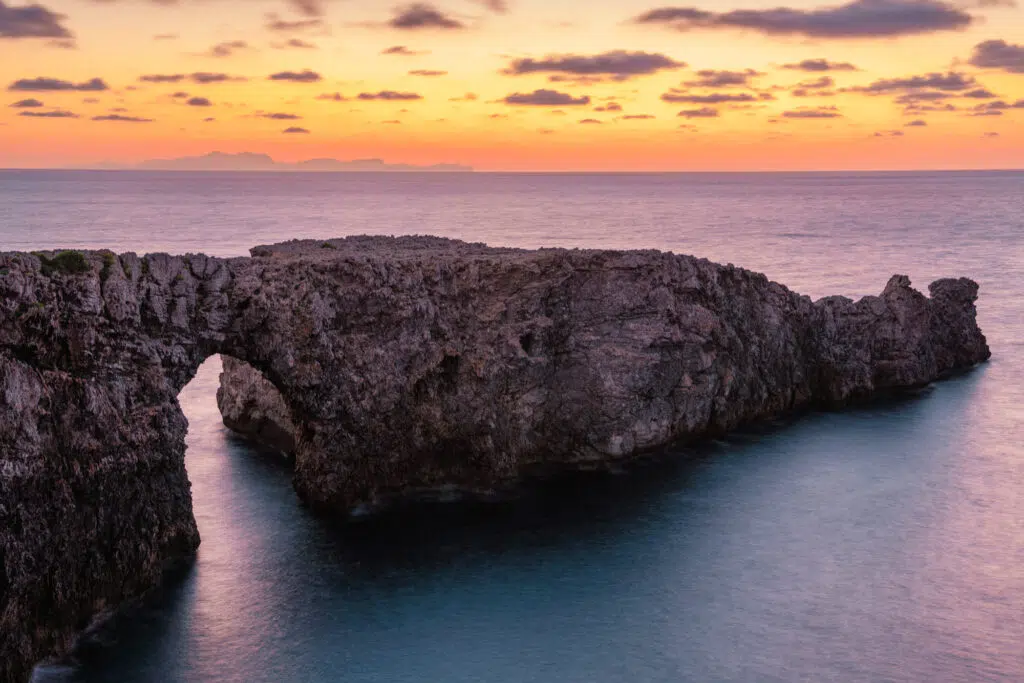 Pont d'en Gil is a natural arch that reaches out into the Mediterranean Sea. Many visitors staying in Ciutadella tend to view the attraction from the deck of a boat, however, walking along the famous coastal trail – Camí de Cavalls – is my preferred route.
It takes around 2-3 hours to walk from Ciutadella to Pont d'en Gil at a steady pace, covering a distance of around nine kilometres. Admire the flora and fauna of the Menorcan coastline and see the ships as they depart for the mainland on your journey.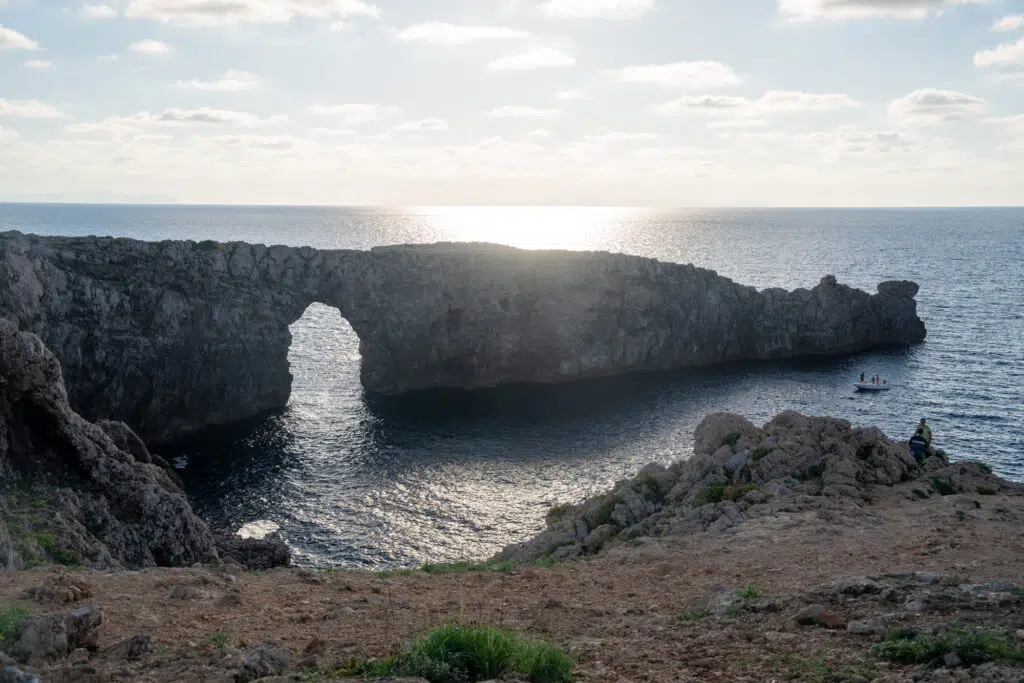 If you don't fancy walking, especially if it means retracing your steps at night, you can just drive to the dedicated parking lot (find it here) and stroll the final 500m from there.
The most beautiful time to visit is during the golden hour when the sky illuminates the sea – and you can often catch glimpses of Mallorca in the distance too. Afterwards, settle into a waterfront seat at Eolo Chillout Sunset Bar with a cheeky cocktail and watch the sun disappear below the horizon.
Learn about Menorcan History at Castell de Sant Nicolau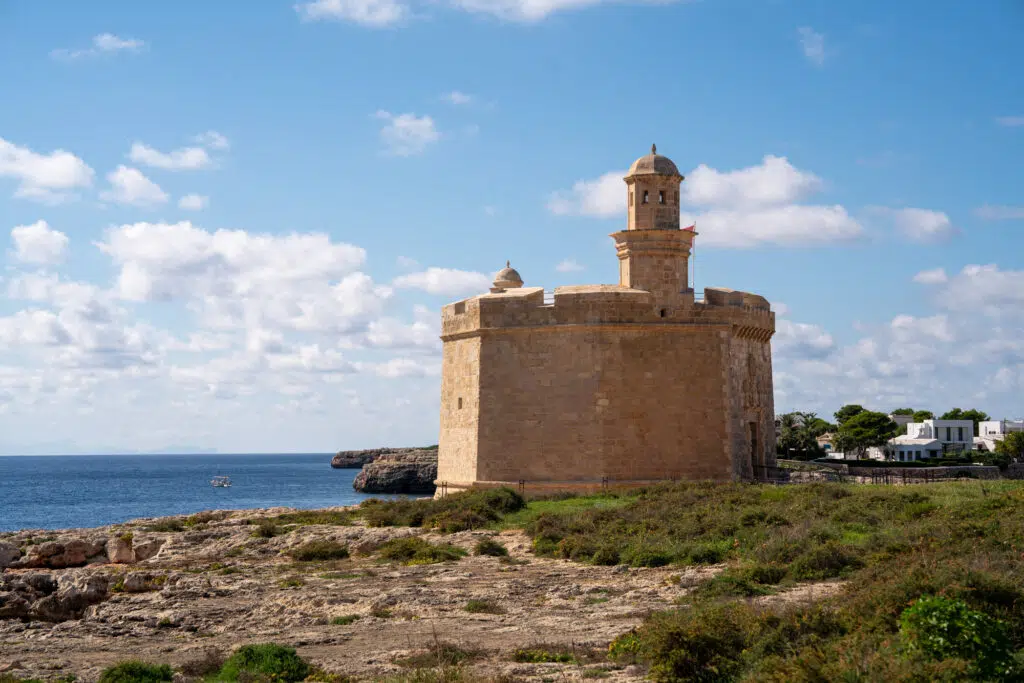 If you've been wondering what to see in Ciutadella for history buffs, Castell de Sant Nicolau is a great starting point for exploring the port area. Throughout history, as Menorca was once situated on a major shipping route to France, there were always those who sought to conquer the island. The hexagonal watchtower/fort at the harbour's entrance was one of many constructed in the late 18th century to deter such would-be invaders.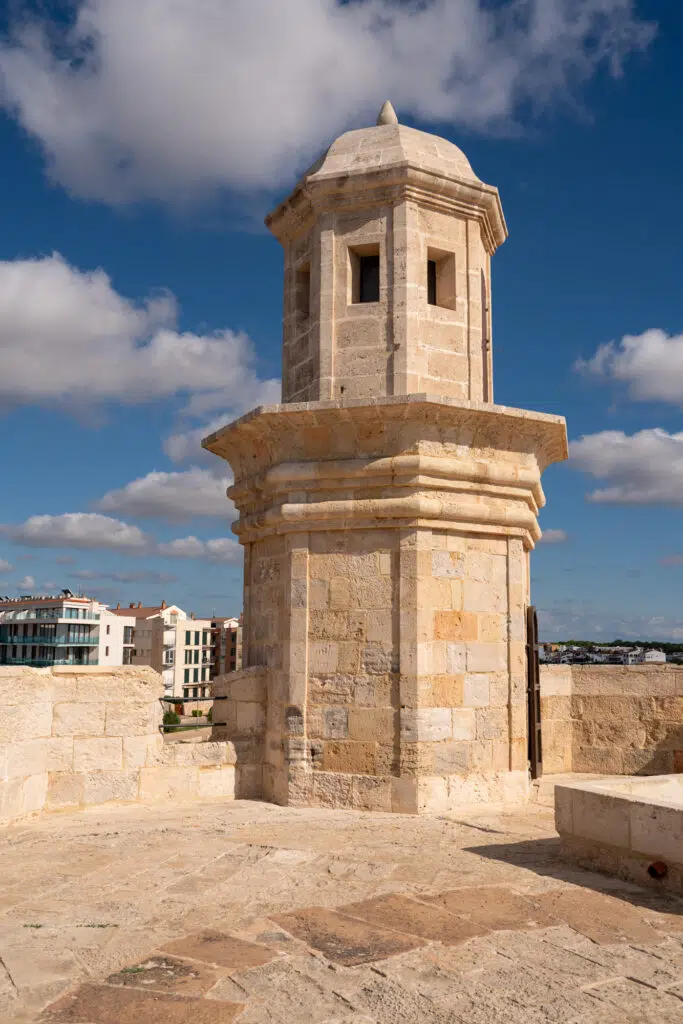 Originally there was an armoury inside and it also served as a garrison for soldiers. Many would scan the horizon from the rooftop to check for incoming ships. Take a walk around the site, discover canons, and ancient artefacts, and imagine life centuries ago when people worked and patrolled the shoreline here.
The castle has exceptional views of Platja de sa Farola on the opposite side of the bay and you can often see fishing boats arriving into and departing from the old port. Entrance is free, but time on the top terrace is limited to 15 minutes.
Check out the Beaches of Sa Farola & Beyond
On the northern shores of Ciutadella port, you'll find Sa Farola. You can't really call it a traditional beach, as there are no long swathes of sand. Instead, this secret spot is more of a collection of tiered platforms nestled along a shallow inlet for swimming.
Admire views of luxury whitewashed villas flanked by greenery, enjoy a romantic or family picnic, take a refreshing dip in the Mediterranean or walk from the city to catch the sunset.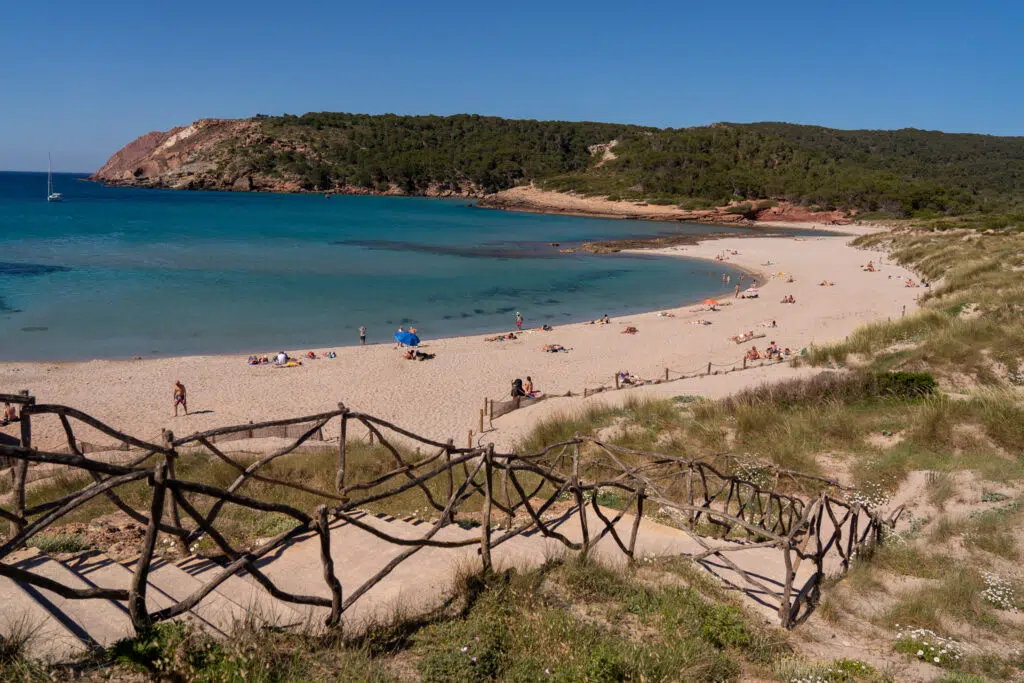 If you prefer your beaches to be of the sandy variety, Cala Algaiarens and Platja des Bot are pretty areas flanked by hills and surrounded by lush vegetation. The two beaches are busy in the high season, but both are great for families with safe swimming areas, around 20 minutes by car from Ciutadella.
One of Menorca's most famous beaches is also nearby – Cala Macarelleta. This paradise spot has appeared on numerous advertising campaigns for the island, thanks to its crystal clear waters and picturesque landscapes. It's a sun trap, with little wind and the soft white sands are perfect for soaking up the sun. Read more about the best beaches in Menorca here.
Step Inside the Cathedral of Ciutadella de Menorca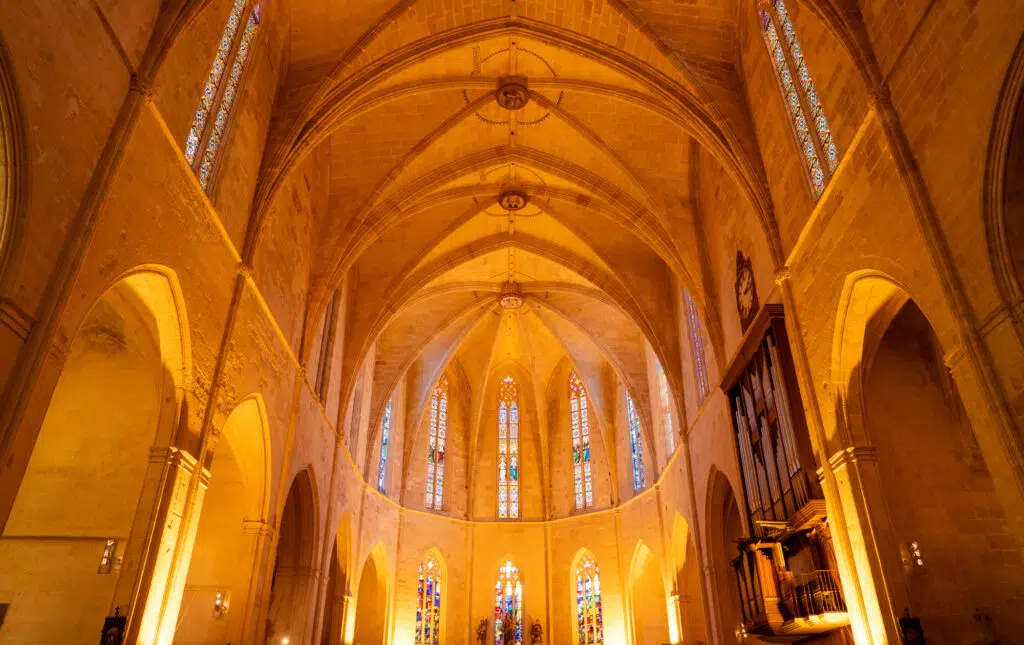 Constructed on the site of an old mosque from when Arabic forces ruled Menorca, Ciutadella Cathedral is one of the most beautiful on the Balearic island.
The iconic Cathedral of Santa Maria is a 14th century architectural gem, designed in a Catalan Gothic style, and it is perhaps more impressive inside than it is from the exterior.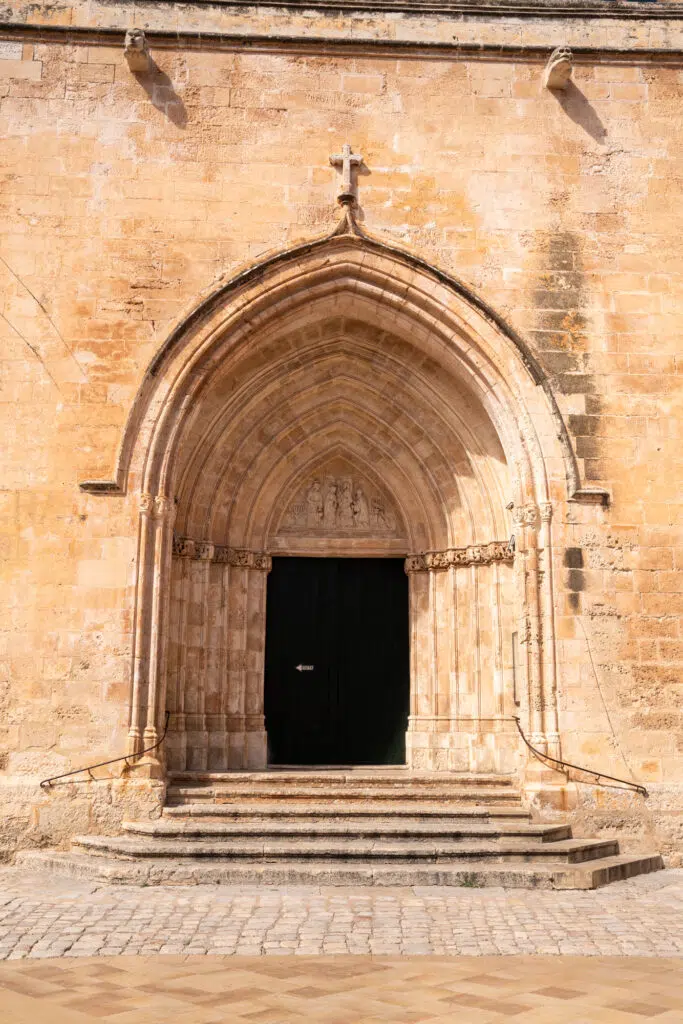 Some highlights include the main nave with narrow stained glass windows. The arched windows cast a kaleidoscope of colour on the flagstones as ribbons of sunshine stream through them. See the great altar, a Roman marble throne blessed by the Pope, and stay to listen to the choir at mass in this magical minor basilica.
Explore Antiques and Lavish Interiors at Casa Olivar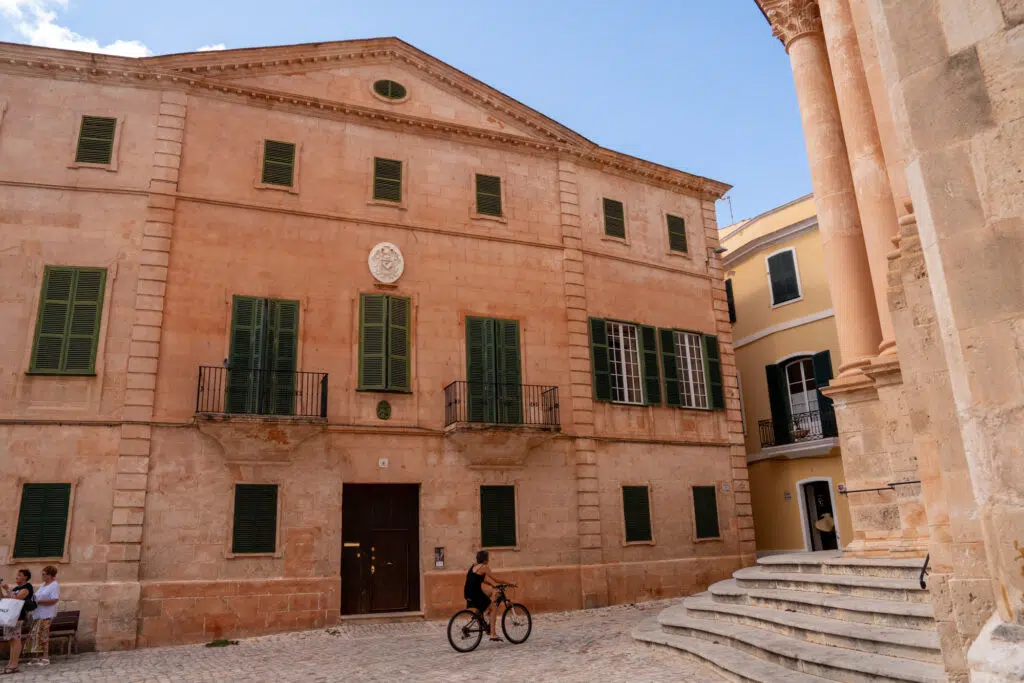 Between Ciutadella Cathedral and Plaça d'Es Born – the city's main square, is the notable Casa Olivar. This grand mansion is a must-visit for anyone with a penchant for interior design or Menorcan history.
Step inside to discover how one of the island's wealthiest families once lived. Explore elegant rooms lit by opulent crystal chandeliers, and see 19th-century antique furnishings, hand-woven tapestries, frescoes and Italian marble tables.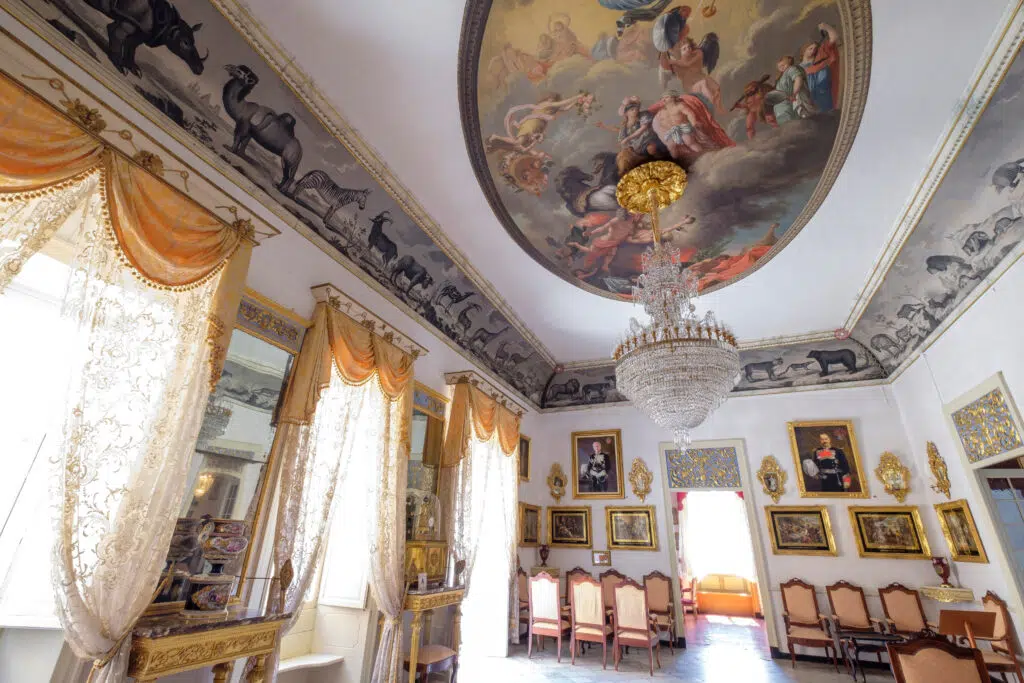 The house is akin to a living heritage museum and recent generations of the Olivar family still reside here to this day. If you're only visiting Ciutadella for the day, you can combine this visit with a trip to the cathedral, Torre Saura Palace, Plaça d'Es Born and the port, as all are within a short walk.
Cloisters of Saint Augustine & Socors Church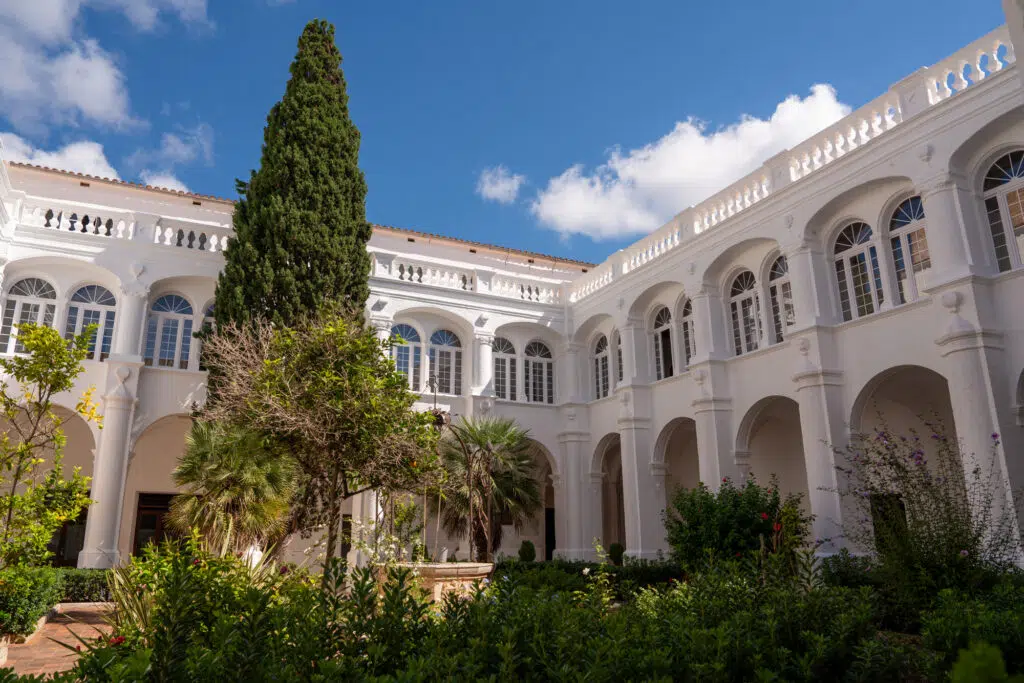 After visiting Ciutadella Cathedral, enjoy a short walk to the Cloisters of Saint Augustine. In this intricate building, the Diocesan Museum resides, containing a plethora of unique collections. Expect to see items pertaining to island archaeological discoveries from the Talayotic period, along with religious art and artefacts.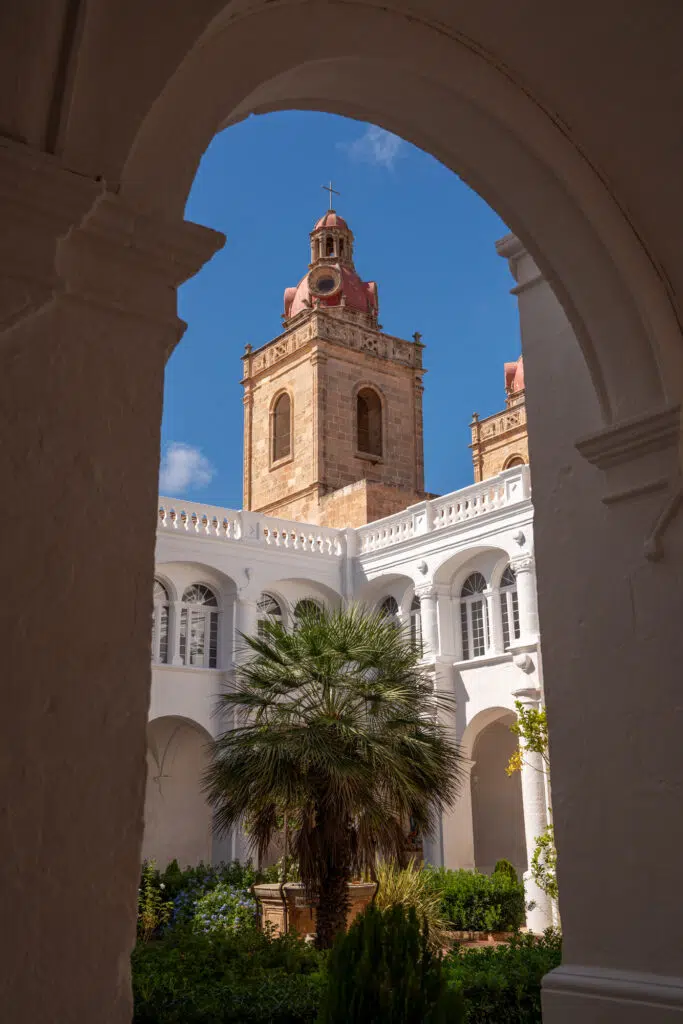 While walking around, discover old maps, Roman sculptures and relics from the earliest settlers on the island. Pause to photograph the courtyard and cloisters, painted in the most brilliant shade of white, or sit on the bench overlooking the idyllic interior courtyard, taking a moment to immerse yourself in peace and tranquillity in the heart of the city.
The small entrance fee includes entrance to the cloisters, Socors church, the convent, and the nearby Ciutadella Cathedral. So leave adequate time to explore (as all attractions close fairly early in the afternoon).
Discover the Historic Architecture of Plaça d'es Born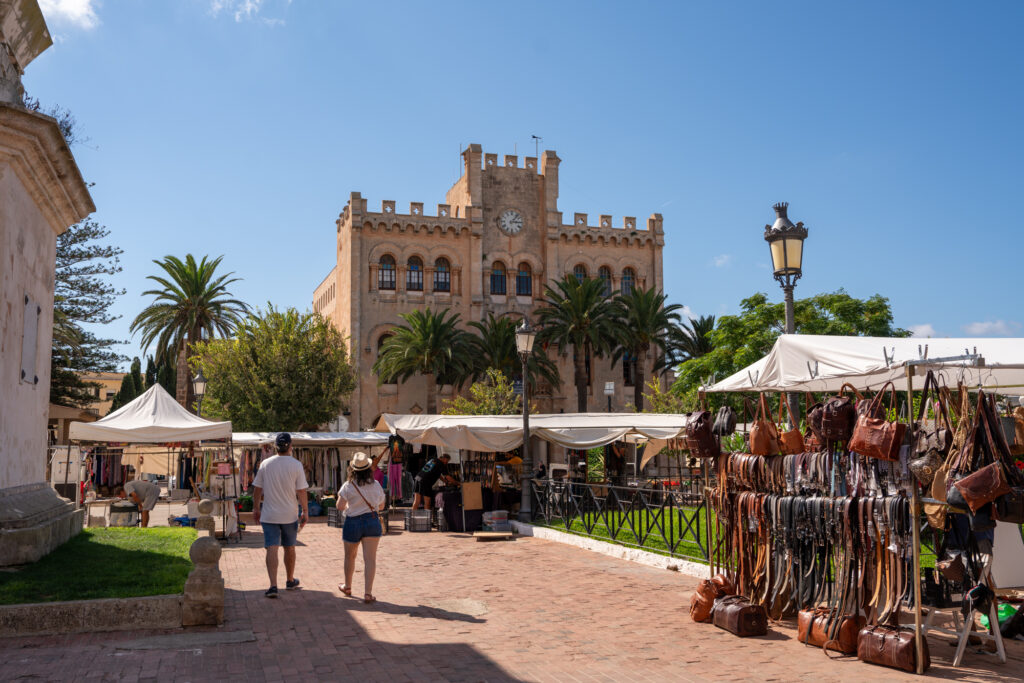 Plaça d'es Born is Ciutadella's main square, reached by a network of enchanting medieval streets. It's lined with grandiose 19th-century residences and popular attractions such as the impressive, neo-classical Torre-Saura Palace.
The square is fringed with palm trees, and in the centre, you'll discover a 22-metre-high Egyptian obelisk – built in honour of city folks who perished during an invasion from the Turks. Open-air morning markets are often held in the square on Fridays and Saturdays, and in summer, an evening handicrafts market takes place.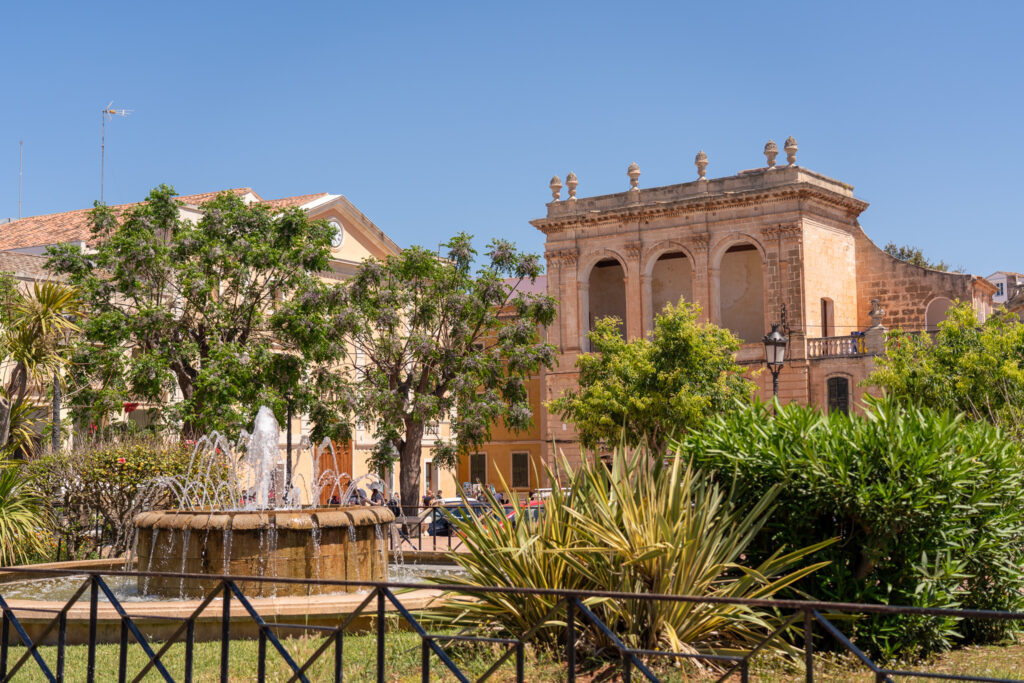 One of the most emblematic buildings to look out for is the Town Hall, once an ancient castle. Nearby, the historic Bastió del Governador (medieval wall) offers the ideal spot to view the old port below. The 14th-century fortress is a perfect place to learn about Ciutadella's military history and is a popular place for photography.
Spend an Evening in Port de Ciutadella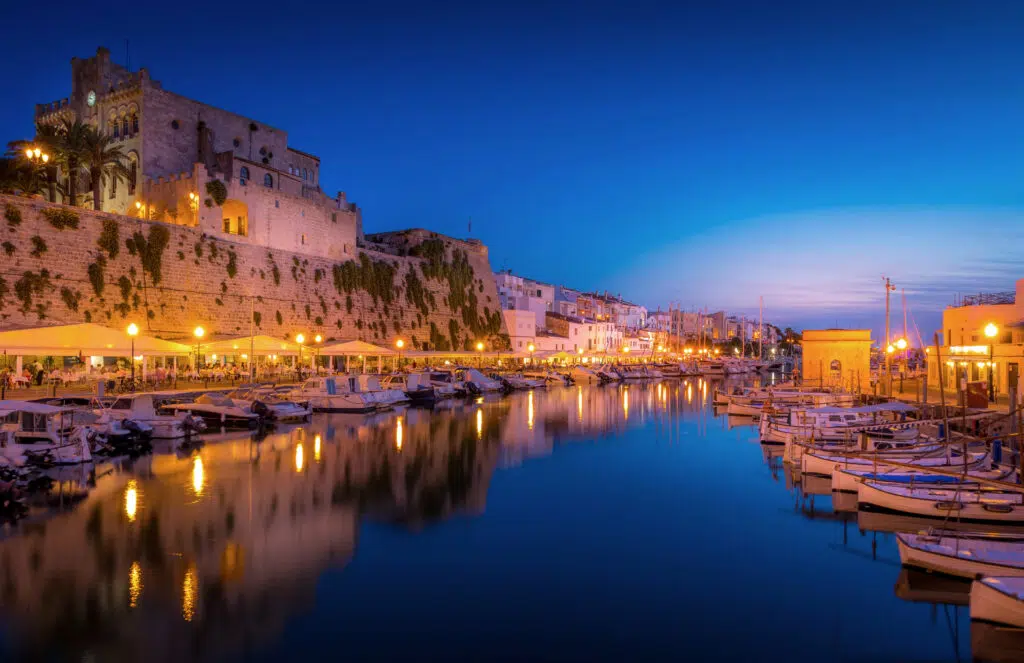 Accessible via Plaça d'es Born, the Port of Ciutadella has a buzzing atmosphere, which can be experienced during the day, or in the evening.
Watch traditional fishing boats as they bob up and down on the water, shop for local crafts and souvenirs of your Menorca stay or simply kick back on a café terrace with a café con leche and observe the action around the marina.
If you're venturing here after sunset, the port area boasts abundant seafood restaurants. This is also where most of the city's nightlife is concentrated. Quaint bodegas are located inside historic fishermen's houses and there are even a few nightclubs including Kopas Club, Latin-themed L'Herba and Jazzbah playing live jazz, techno and EDM music courtesy of local DJ's.
Get Lost in Lithica's Maze and Gardens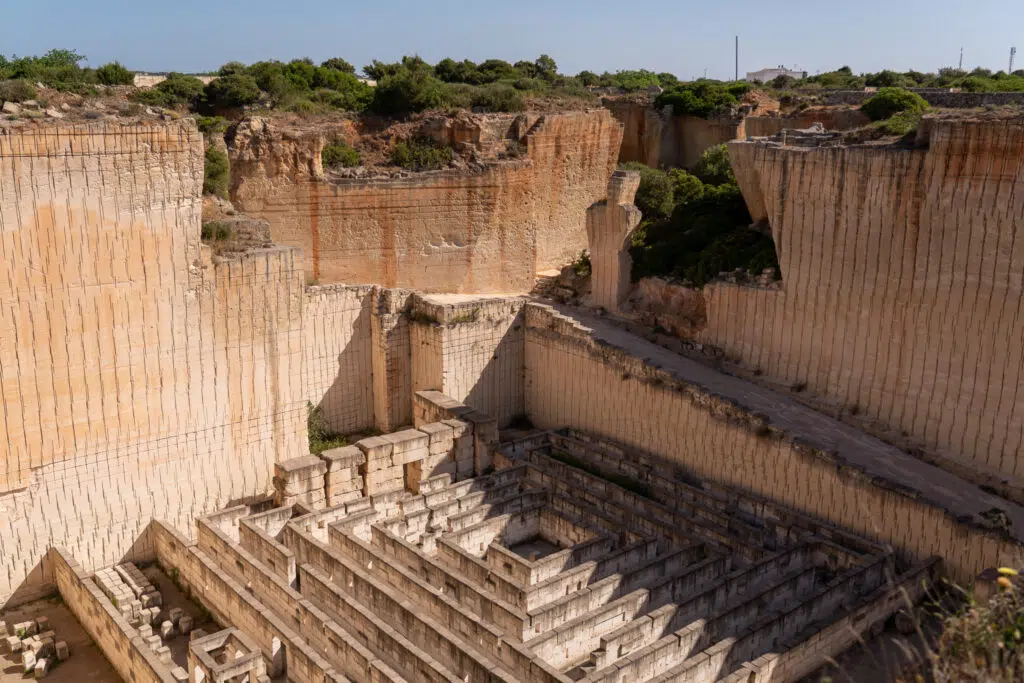 Lithica is located in a former quarry, a 10-minute drive or half-hour walk from Ciutadella. The sandstone quarry lay abandoned for years until a local non-profit decided to transform the area into a playful zone of culture and entertainment.
Visitors can get lost for a while in a giant stone labyrinth, admire rustic landscapes and sculptures or learn about the botanicals growing in the medieval gardens. Family activities take place throughout the year too, including stonemasonry workshops and photography classes, both of which can be booked in advance.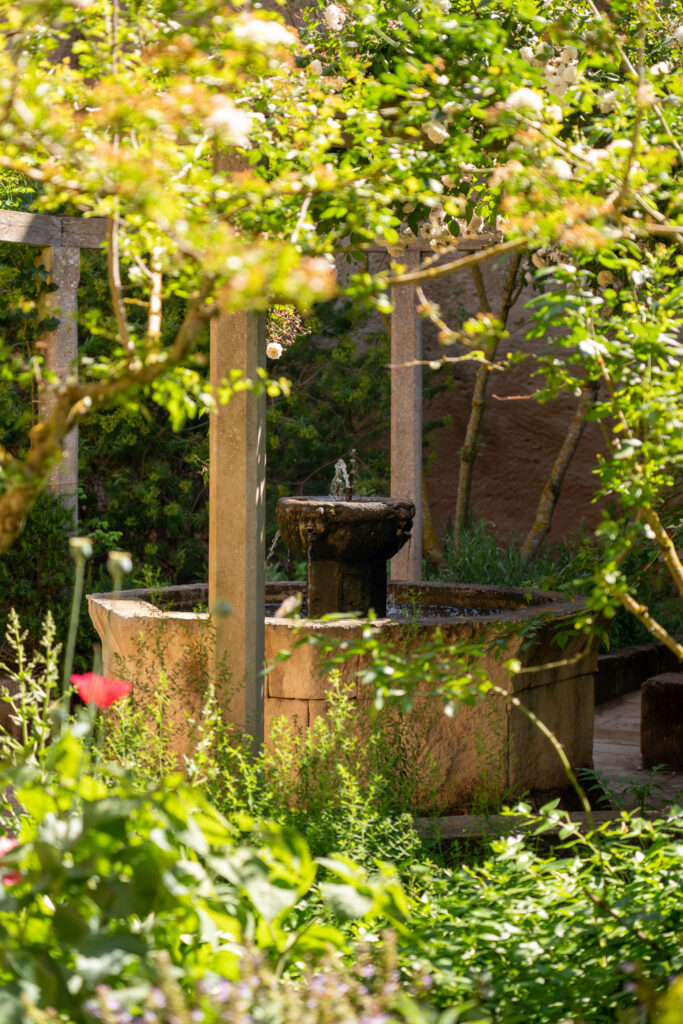 During the summer months, epic light shows are projected onto the walls, and live folk, jazz and baroque music festivals take place at nightfall. The Lithica site is open year-round in the mornings for visits, and all day during the summer season.
Delve into Menorcan pre-History at Naveta d'es Tudons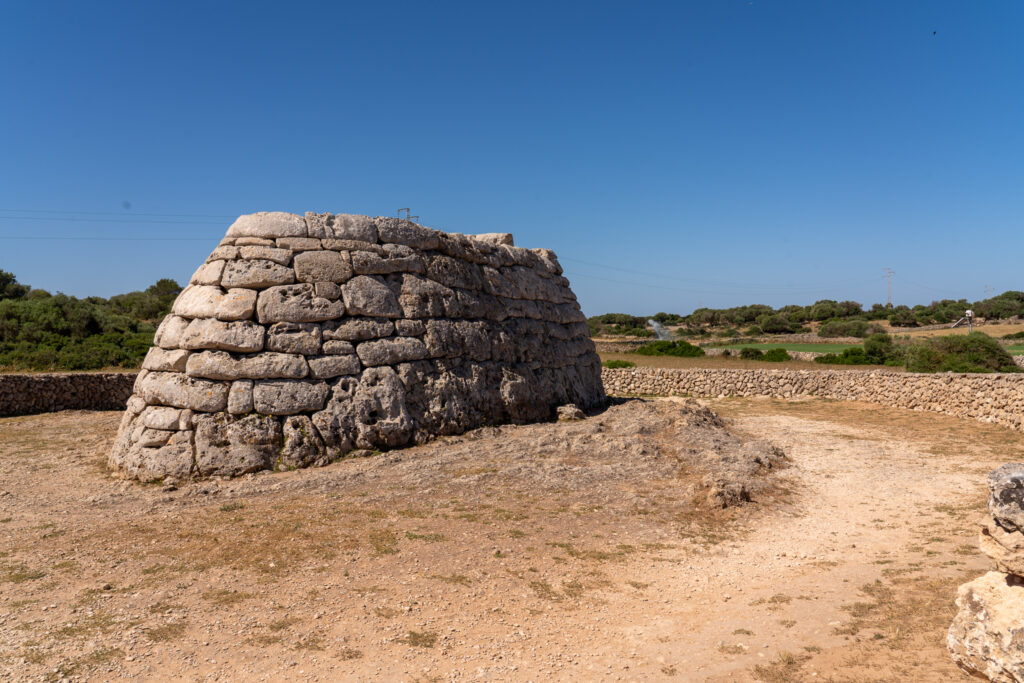 After spending a morning wandering through the mazes and gardens of Lithica, head for Naveta d'Es Tudons nearby. This ancient site dates back centuries with its focal point being a megalithic funerary chamber.
It's the most important structure from the prehistoric era in the Balearic Islands, and remarkably, in almost pristine condition. A local archaeologist first stumbled across the chamber in the 19th century, calling it "naveta" the Catalan word for boat. He mistakenly believed that it was a type of Egyptian temple until it was proven to be a collective tomb much later.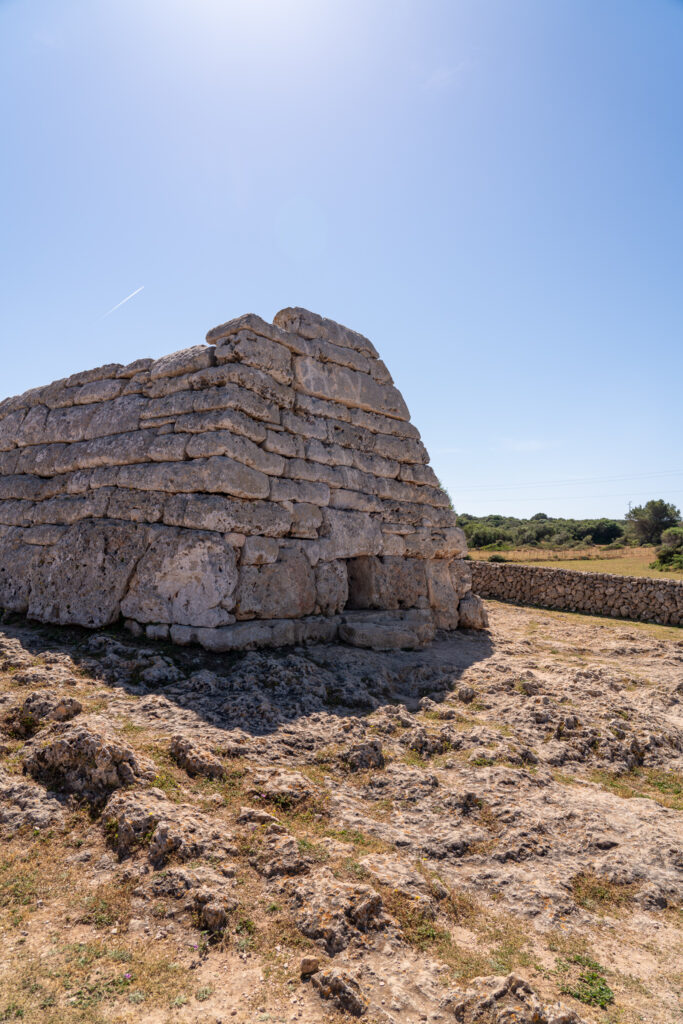 Many archaeological finds were discovered during the excavation process including ceramics and jewellery. It's a fascinating place to visit, offering a glimpse into another era of life many centuries ago on the island of Menorca.
Sip Pomadas in a Palace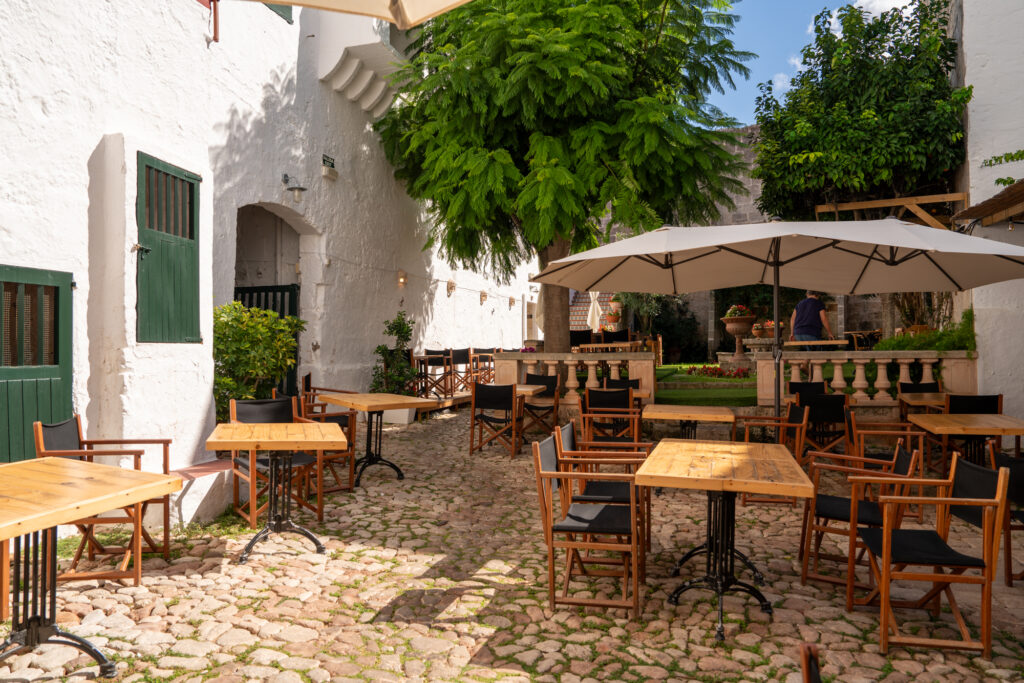 Tucked away inside 17th century Palau Salort on Carrer Major des Born, you'll discover something that's a little bit out of the ordinary. Inside the grand Palace lobby, you'll find the trendy Moriarty Restaurant & Bar.
Here you can sip pomadas (local Menorcan gin and cloudy lemonade) in ancient, elegant surroundings, step into decorative garden spaces and courtyards illuminated by atmospheric lights, and feast on dishes created from local produce.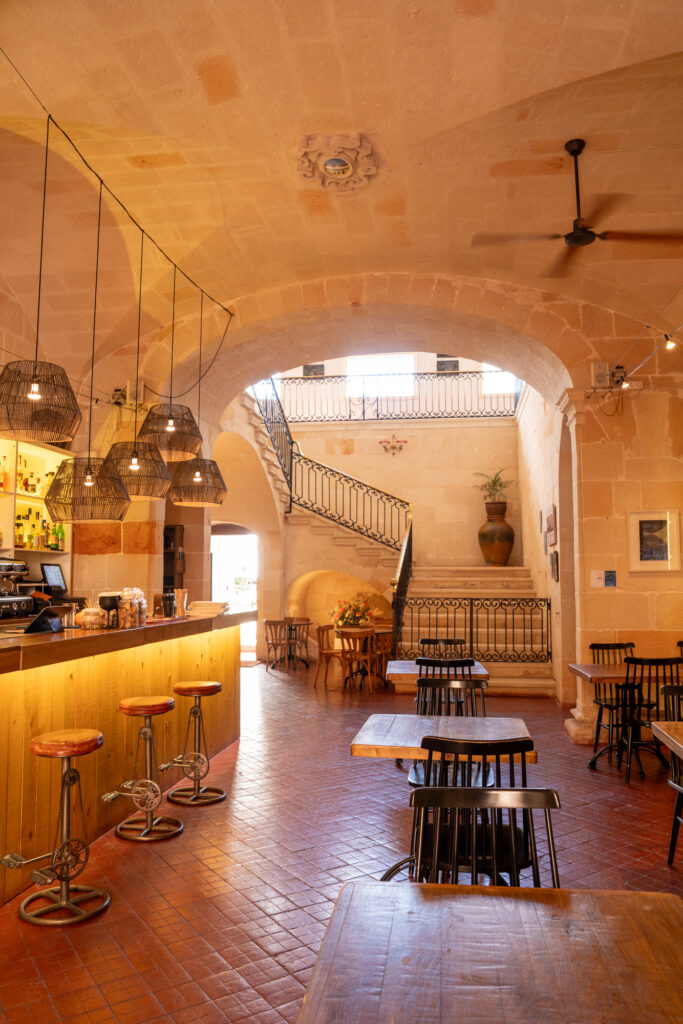 Try the Menorcan cheese board served with tomato marmalade and grapes, or tapas such as the 'papas arrugadas' – potatoes with homemade sauces, or the aubergine tempura with honey.
Enjoy a Memorable Excursion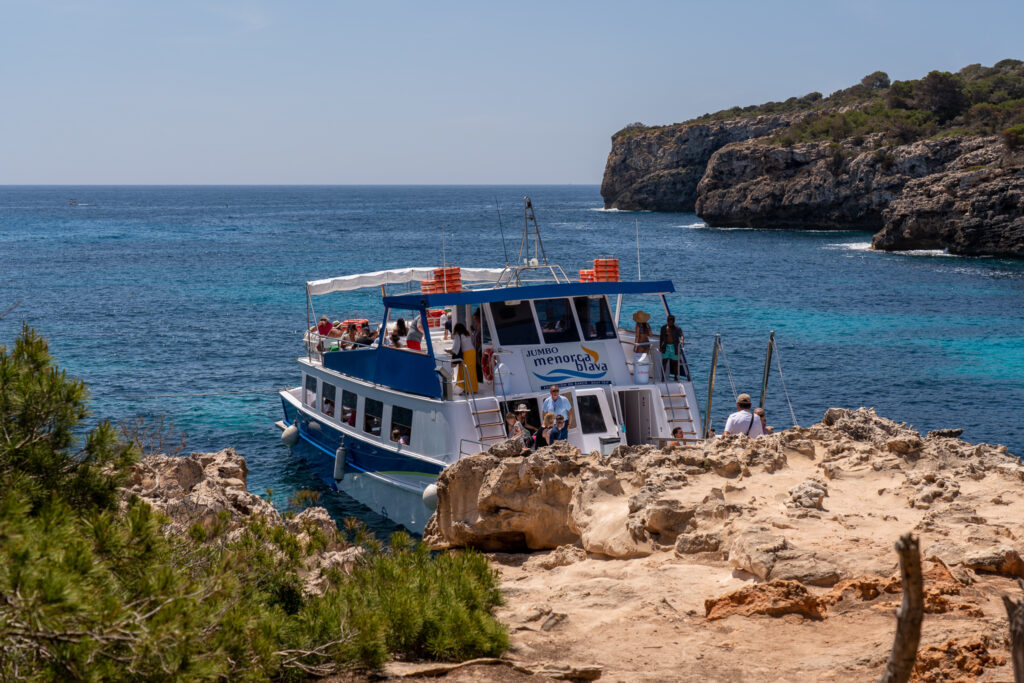 If you're looking for what to do in Ciutadella with younger family members, hop aboard a boat trip. On a half-day or full-day sailing trip, you can enjoy swimming, snorkelling, venturing to secluded coves and learning all about the Menorcan coastline and marine life below.
Make stops at some of the most beautiful Menorcan beaches such as Cala Macarelleta, Son Saura and Cala Turqueta. Relax aboard the boat taking in the natural landscapes, pass tiny villages and sip sangria while soaking up the sun on the deck.
Afterwards, feast on a mouthwatering paella with your travelling companions. It's a wonderful day out – suitable for most ages, plus you gain access to incredible beaches and see parts of the coastline that you may otherwise miss out on.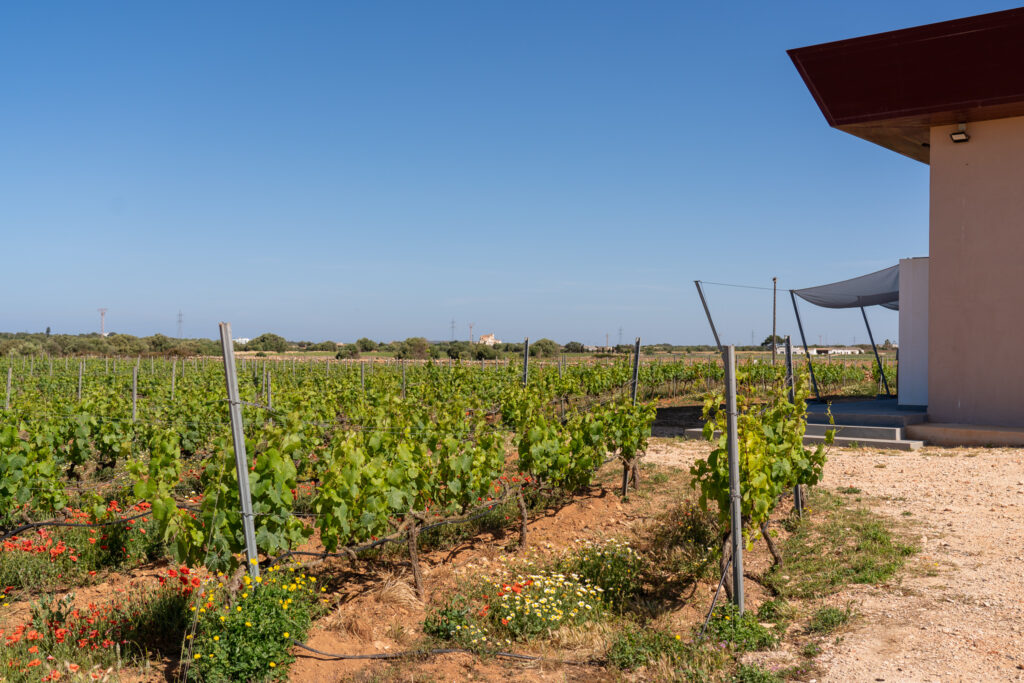 Alternatively, visit a family-owned winery to sample locally produced wines, or enjoy a thrilling stargazing session under Menorcan skies. The skies over the island are designated as a Starlight Reserve. On a tour you can see the constellations, learn about how astronomy ties in with mythology and discover how to recognise the different star systems and planets through state-of-the-art equipment.
For more day trip ideas, check out the best things to do in Menorca, here.
---
Where to Eat in Ciutadella
Menorca's dining scene is centred around fresh local produce deriving from land and sea. You can discover everything from local tapas and seafood to unique takes on Spanish classics, veggie dishes and gelato.
This fabulous restaurant is positioned in the heart of Ciutadella next to a pretty church. With outdoor seating beneath parasols, a light and airy indoor space and menus serving Menorcan and Mediterranean cuisine, you're sure to find a dish to tantalise your taste buds!
For those with a sweet tooth and a penchant for ice cream, Can Padet near Mercat Municipal in Ciutadella is a great place to be. This delightful bakery has been in the same family for decades and is owned by a renowned pastry chef.
It's a premier local spot for freshly baked pastries, cakes and breads, and of course their legendary homemade ice cream. Try unusual flavours such as cardamom, pumpkin or tangerine, or pop in to sample their famous ensaïmadas or freshly squeezed orange juice.
The gourmet plates are created from fresh local ingredients – specialities include avocado hummus with garlic shrimp, ensaïmada with vegetable confit, pinsa romana (hand pressed pizza), burgers and pasta.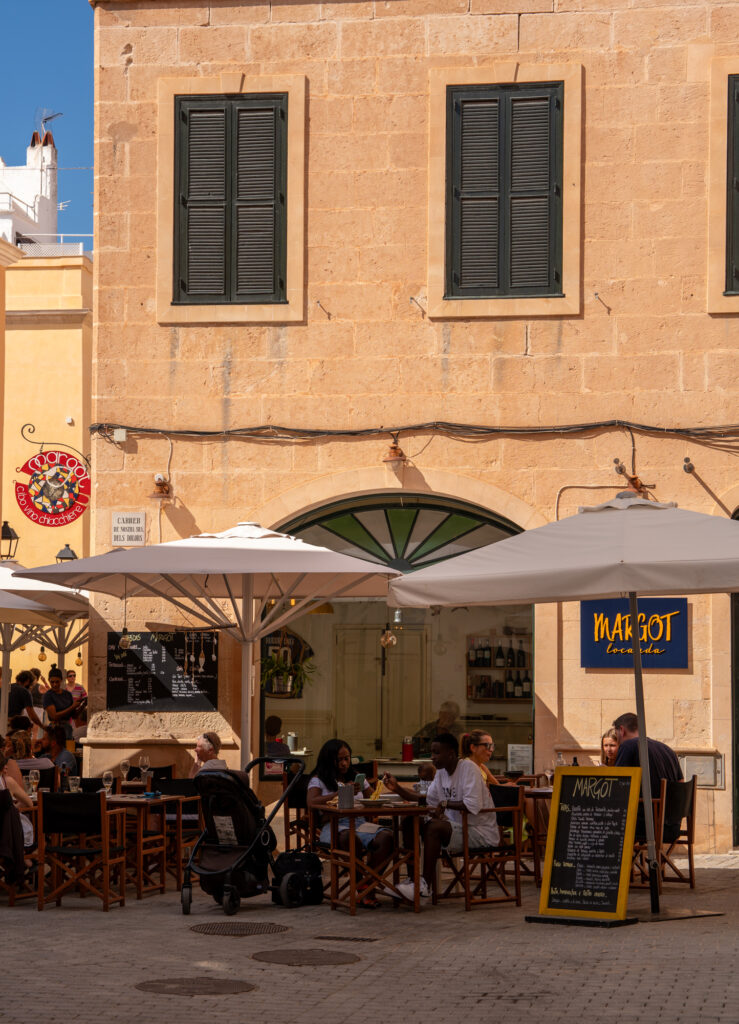 In a delightful setting by the waterfront, Coral Menorca thrills diners with flavourful dishes, veggie and gluten-free options and some of the best sunsets on the island!
With a kitchen helmed by renowned chef Federico Giomi whose mantra is "eat local, eat honest", you know you're in for a fresh, seasonal, culinary treat. Order from an extensive menu of signature dishes, sip cocktails on the reimagined terrace and experience one of the best restaurants on the island.
If you're searching for a different kind of dining experience head for Cuk-Cuk Restaurante. Unlike other eateries where menus grace tables and dinner is served to you, in this rustic house in central Ciutadella, you choose the dish and learn to prepare and cook it yourself!
Select your dish from a list of Mediterranean stews, paella dishes and fideua, and enjoy tastings of Menorcan delicacies before sitting down to dinner in the idyllic garden with like-minded foodies. Although it may not sound like a relaxing holiday dining experience, it's a unique activity, you'll get to meet new people and discover how to cook a favourite dish!
---
How to get to Ciutadella
Getting to Ciutadella usually involves flying into Mahon Airport on the other end of Menorca. This is the only airport on the island and the point of entry for the majority of visitors. The airport is served by several airlines with short-haul flights arriving from a variety of European cities.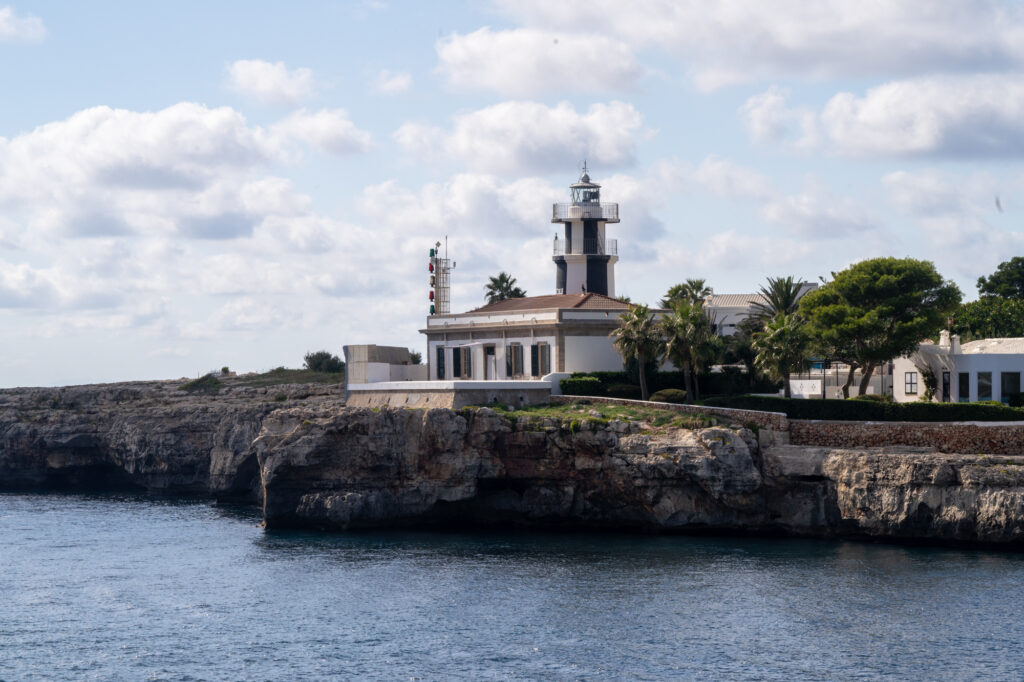 To reach Ciutadella from the main airport in Menorca, you can take the public bus into the capital Mahon, and then transfer at the bus station to Ciutadella.
There are two buses – the express – number 14, operating on weekdays and the L01 which usually departs every hour daily. The tickets are a little over €5 one way and the journey time is around an hour to reach Plaça de la Pau in Ciutadella.
If you prefer to rent a car, driving in Menorca is straightforward. There's one main road stretching from Mahon to Ciutadella that takes around 45 minutes by car, and lots of quieter roads span off from here towards the popular coastal resorts. Taxis are also a convenient way to get from the airport to Ciutadella, particularly if travelling in a group when costs can be split.
If you're wondering where to park your rental car in the city, there are several free parking spots. I normally head straight to the free parking lot on the northern side of the port (find it here), but depending on where you are staying in Menorca, there may be a parking lot closer to you.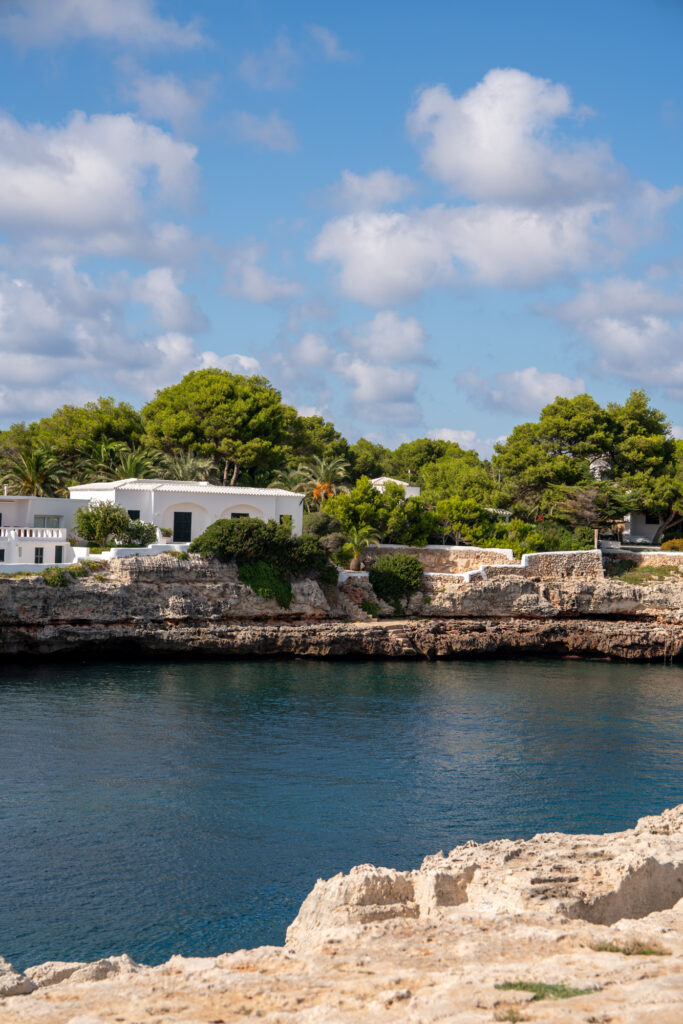 If you're travelling from the French or Spanish mainland, you may wish to travel by ferry to Ciutadella from Toulon or Barcelona. There are also several ferries a day from the neighbouring island of Mallorca. My preferred site for checking ferry timetables and prices is Ferryhopper.
---
I hope this article has encouraged you to visit Ciutadella and explore its many historic and cultural attractions. The charming city and its surrounds are a highlight of this small Balearic island – infused with picture-postcard streets, incredible dining spots and the most beautiful beaches. There's something for everyone, whether you're visiting on a day trip from elsewhere on the island or planning to spend your entire holiday in Ciutadella!