Beautiful beaches may be a given when visiting an island in the Mediterranean. But is it possible to still find true hidden gems? Beaches untouched by mass tourism and hidden away from the public eye? Absolutely!
With a little perseverance and a lot of scouring Google Maps, I've done the hard work for you to find 10 incredible Mallorca beaches that deserve the title of most beautiful. Some are situated on the edge of a small town, others are completely wild in their surroundings, but all have something special about them.
Let me introduce you to (in my opinion) the top 10 beaches in Mallorca!
Read more: The Best Places to Stay in Mallorca Spain
---
Things to Know About Visiting Mallorca's Beaches
Mallorca is a remarkable island in Spain, and as such it's becoming increasingly popular with holidaymakers. It's important, especially when visiting the hidden beaches of Mallorca, to respect what makes them so special in the first place. Their natural beauty. So with this in mind, think about the following before you go:
Take supplies with you. Many Mallorca beaches in this list do not have shops nearby.
More importantly, take everything back home with you. This includes any rubbish you've created during your stay. You won't necessarily find trash cans nearby, so you'll have to take it with you to dispose of/recycle later. Bring a spare bag for this purpose.
Wear reef-safe sunscreen if you plan on swimming to protect the delicate underwater eco-system.
Bring sturdy footwear for navigating sometimes difficult terrain to and between the beaches.
Respect the local communities – park in designated spots, even if it costs you a few euros to do so.
Be considerate of others. Some of these beaches are very small. So perhaps save the hefty sun umbrella or Bluetooth speaker for beaches where you won't be ruining someone else's fun.
---
Mallorca Beaches Map
I've created a map of the best beaches in Mallorca to help you navigate the island. Be sure to click on the icon to check the address of each beach.
---
PLAYA DE CALA BARQUES
Cala Barques was the first beach we visited in Mallorca. We arrived on the ferry from France at the ungodly hour of 6 am and although we'd arranged an early check-in to our holiday rental, we still had a few hours up our sleeve to kill. We decided to head to the small resort of Cala Sant Viçenc to watch the sunrise.
Cala Sant Viçenc was one of the places I was thinking about staying when we were booking our trip to Mallorca, so I was curious to check it out. Separated from the large resorts around Port de Pollença and Port d'Alcudia (where our ferry docked) by a large mountainous ridge, it hinted at being a laid back spot to enjoy the island.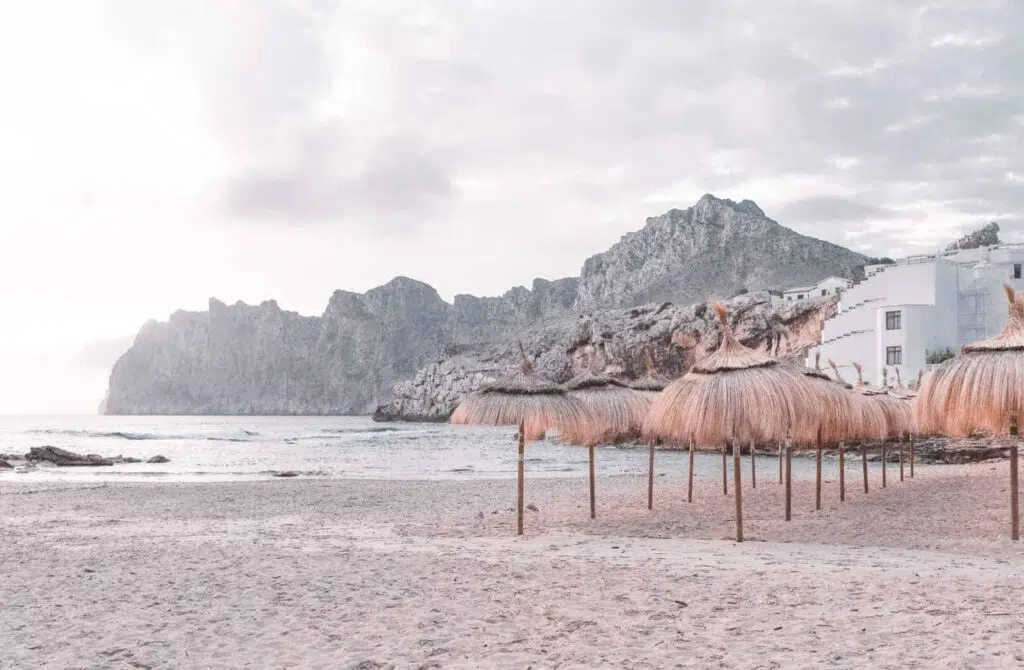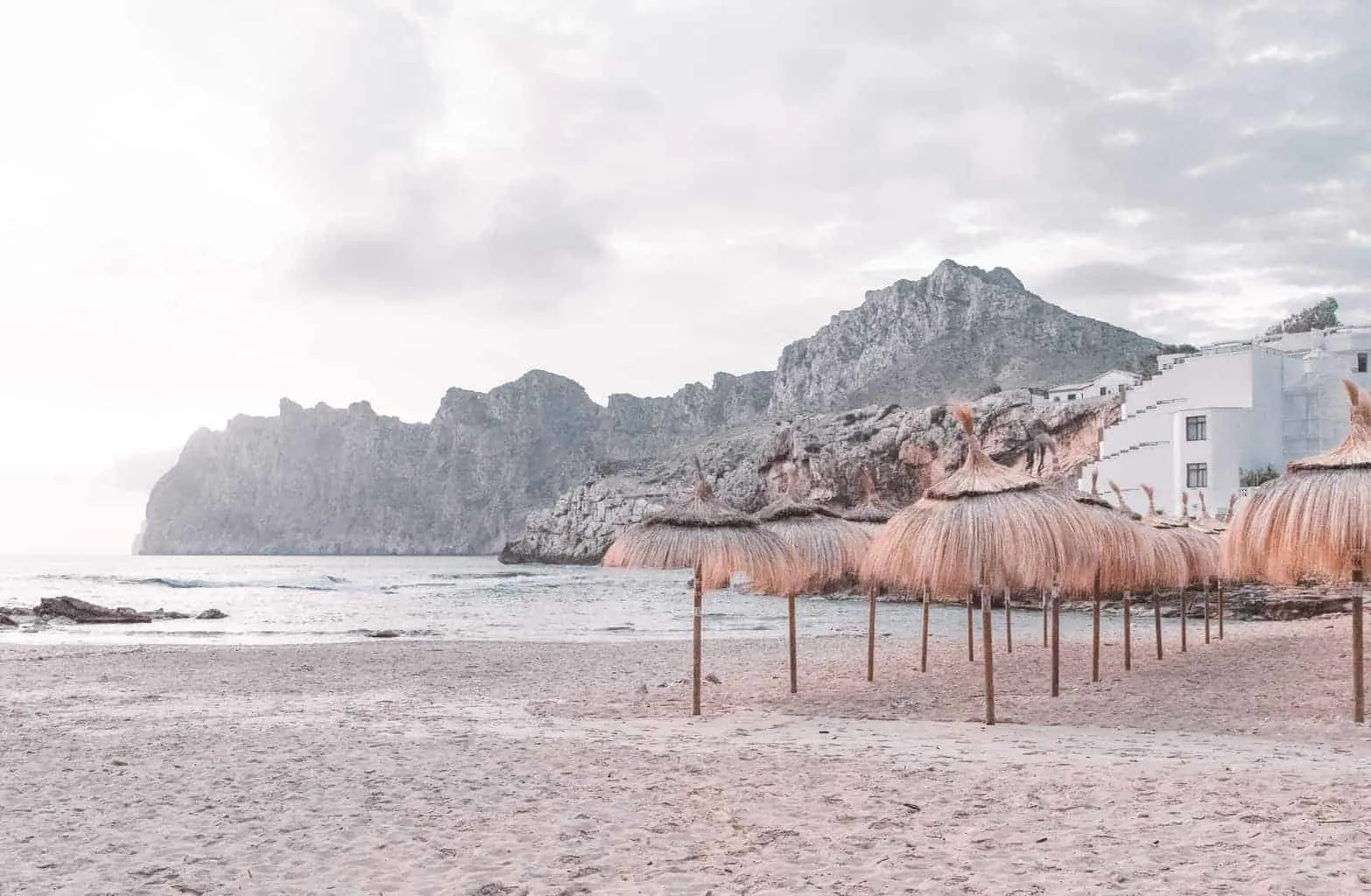 On a sleepy Sunday morning, it was certainly quiet, and we were the only souls on the street. We parked near Cala Barques and wandered down through the beachside restaurants and past quiet hotel lobbies to the beach below.
It was a beautiful time of day to discover this serene beach. Goats took centre stage as they sauntered across the sand and climbed the impossibly steep beachside cliffs. Bleating all the while.
With time to spare, we wandered over to the left side of the beach where you can walk past a little boat hut and up to another vantage point. On the other side, you can walk around the headland to find two other beaches in close proximity. The petite Playa de Cala Clara and Playa de Cala Molins that feels a little more built-up than Cala Barques.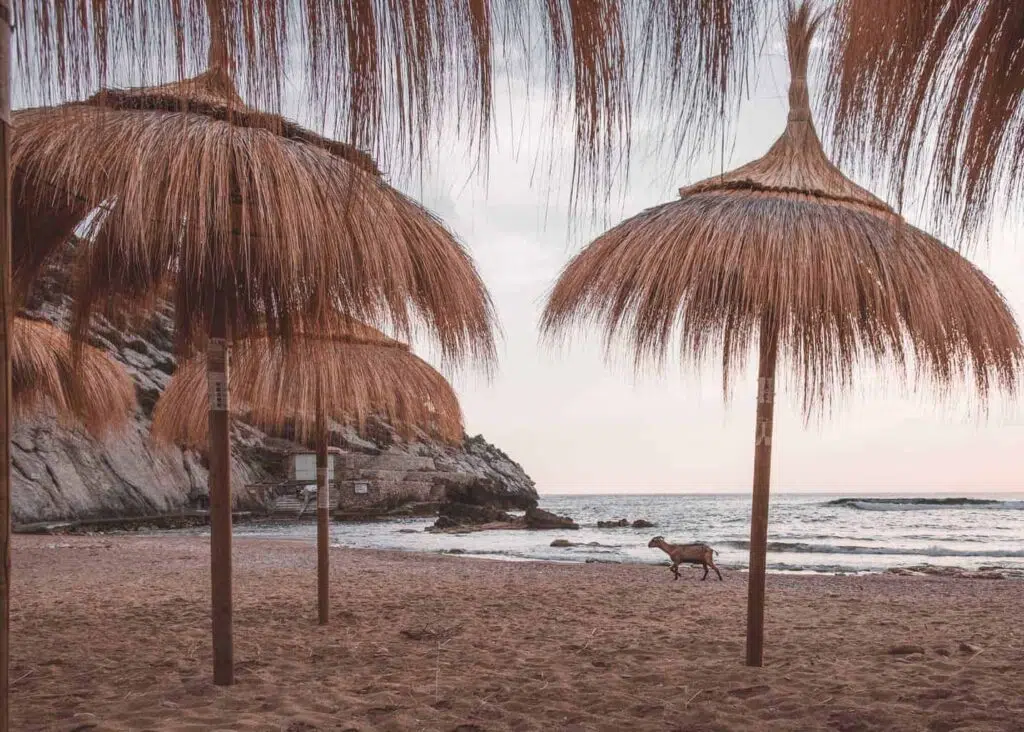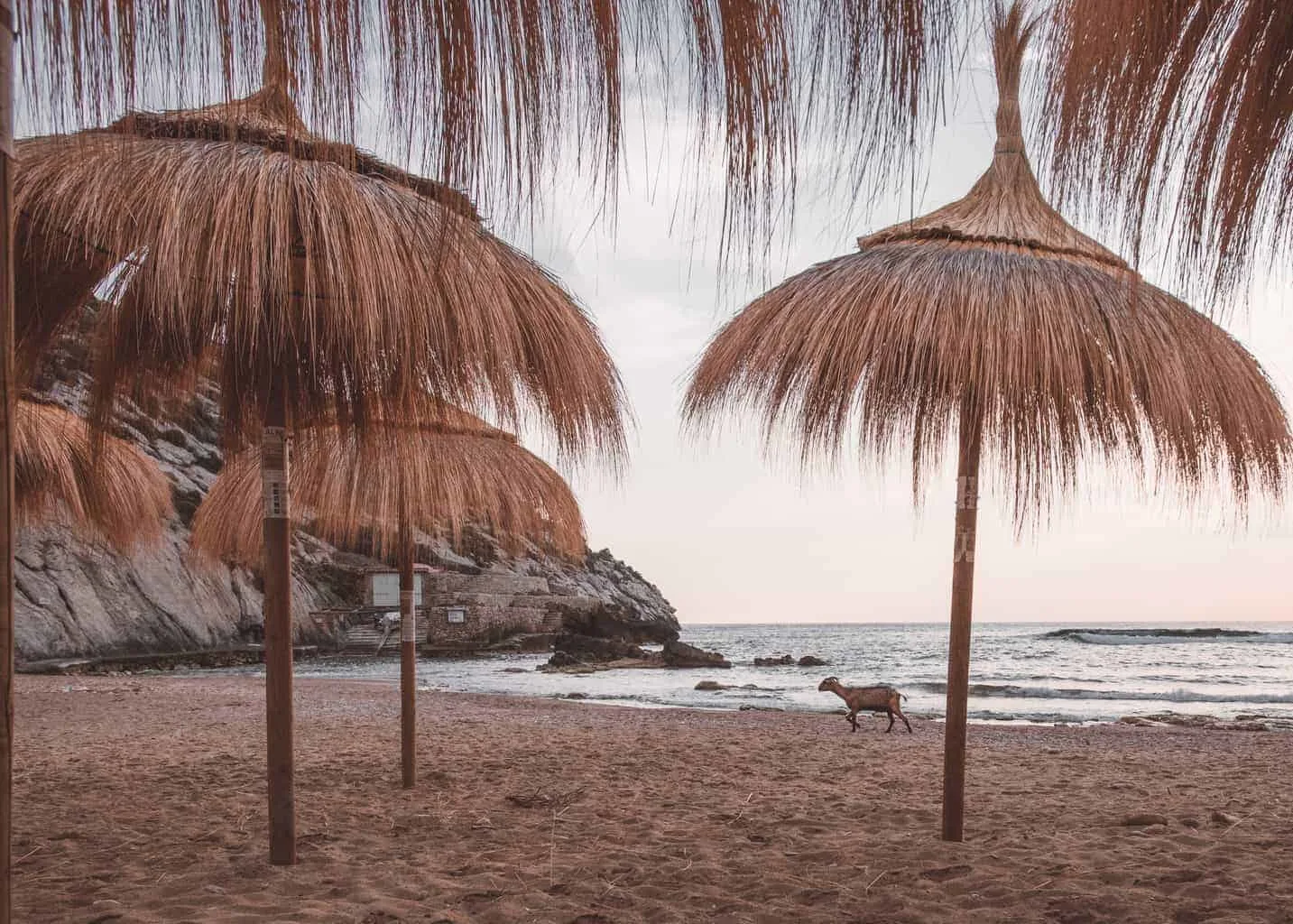 What makes Cala Barques one of the best beaches in Mallorca?
We loved that this Mallorca beach still felt a little wild. The goats roaming around, the rocky landscape, and the fact that it was only built up on one side. I'm sure it'd still get busy in the height of summer, but there are other beaches you can walk to if you're seeking a little more solitude.
How to get there / things to know
Cala Barques was one of the easier beaches to reach. Located at the end of the main road in Cala Sant Viçenc, I'd recommend finding a park wherever you can and then walking the straight line to the beach.
The car park at the end of the road may be open when you arrive (it was blocked off when we visited) but it's likely to get full quickly in the busier months.
---
CALA VARQUES
I'd spotted Cala Varques on the satellite view of Google maps and was determined to discover it. What I didn't realise, was just how tricky that would turn out to be!
Let's get this clear right off the bat, Cala Varques is not the most family-friendly of beaches in Mallorca. I'd go as far as saying that you shouldn't even attempt to reach this beach with kids until they're well capable of climbing!
As it turned out, I didn't realise this until we got near the beach, and so my husband and son stayed behind as I clambered over a 6ft wall, through a hole in the fence, and over a smaller wall to reach the dirt track to the sand.
Once I found my way, I followed the path through the bush until it revealed the most picture-perfect beach before me. The beautiful white sand cove was unsurprisingly quiet, with people sunbathing and chilling under the mid-May sun.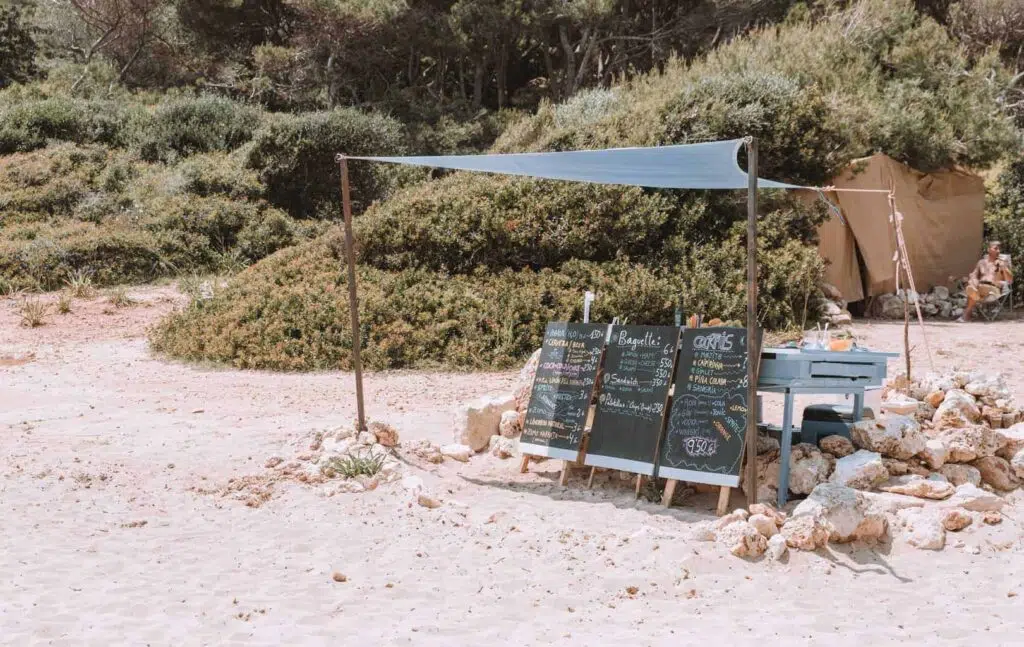 Several boats were moored in the bay, taking full advantage of not having to run the gauntlet faced by those arriving on foot. The water was incredibly clear and the low lying land surrounding the beach made it perfect for exploring further afield.
I had to pull myself away from the view to return to my waiting family, but it'll be top of my list when I return to Mallorca – it was such a stunning stretch of coastline.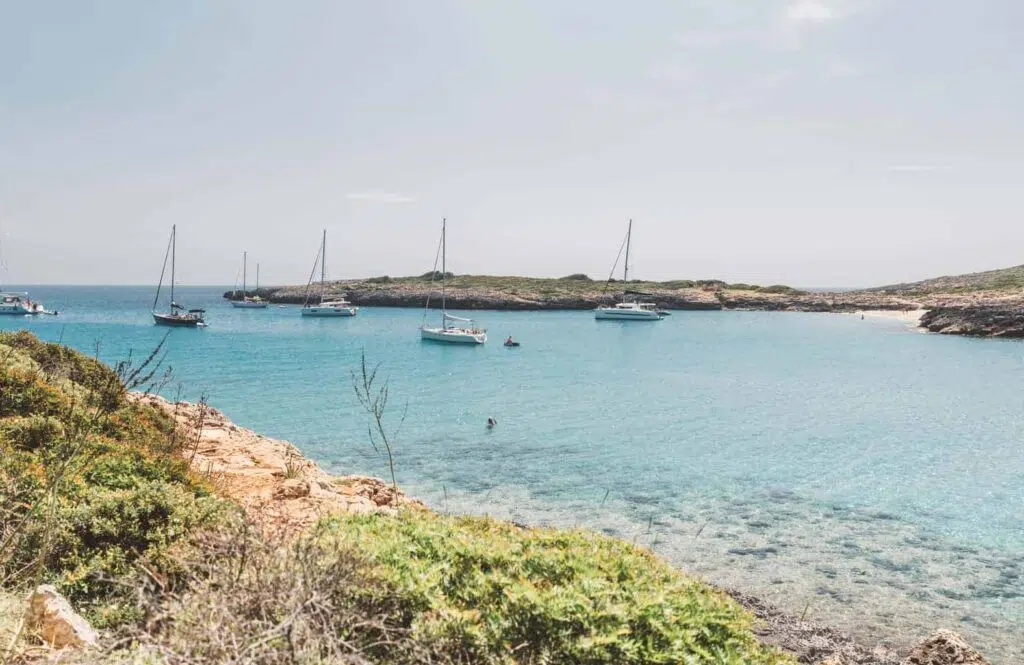 Why is Cala Varques one of Mallorca's best beaches?
Its inaccessibility makes this beach suitable for only the most intrepid of visitors to Mallorca. Which in turn, makes it a fairly special spot. There is a small beach shack selling snacks and drinks (presumably brought in by sea) and the overall feeling is that of a laid back, chilled vibe.
Perfect if you're looking for a more 'grown-up' scene. It's also one of the best places in Majorca for snorkelling!
How to get there / things to know
As I mentioned, getting to Cala Varques is no walk in the park. Don't attempt to turn down the small road leading to Cala Varques on Google Maps. It's narrow, parking is forbidden (although plenty still try), but most annoyingly it's incredibly hard to turn around!
Instead, park at the "Fig Parking Place" marked on the map and walk down. Once you get to the end of the road, you'll be met with a closed metal gate. But don't let that put you off. Instead, look for the star and arrow pointing to your right where you'll need to scale the 6ft wall (easier than it sounds due to the conveniently placed rocks), through the field, and over another shorter wall. From here the walk is fairly self-explanatory. There's a small hut selling refreshments on the beach, but little else.
---
CALA MESQUIDA
While Cala Mesquida doesn't quite cut it as one of the most secluded beaches in Mallorca, it's still relatively wild and rugged despite being located next to a fairly built-up resort area.
We decided to pop by on a whim on our way to Cala Torta (below), and I'm glad we made the diversion. Surprisingly, parking was free in this busy little town so we left the car and wandered down to the beach via the scenic staircase. I kept stopping on the way down to take photos as it was just so beautiful..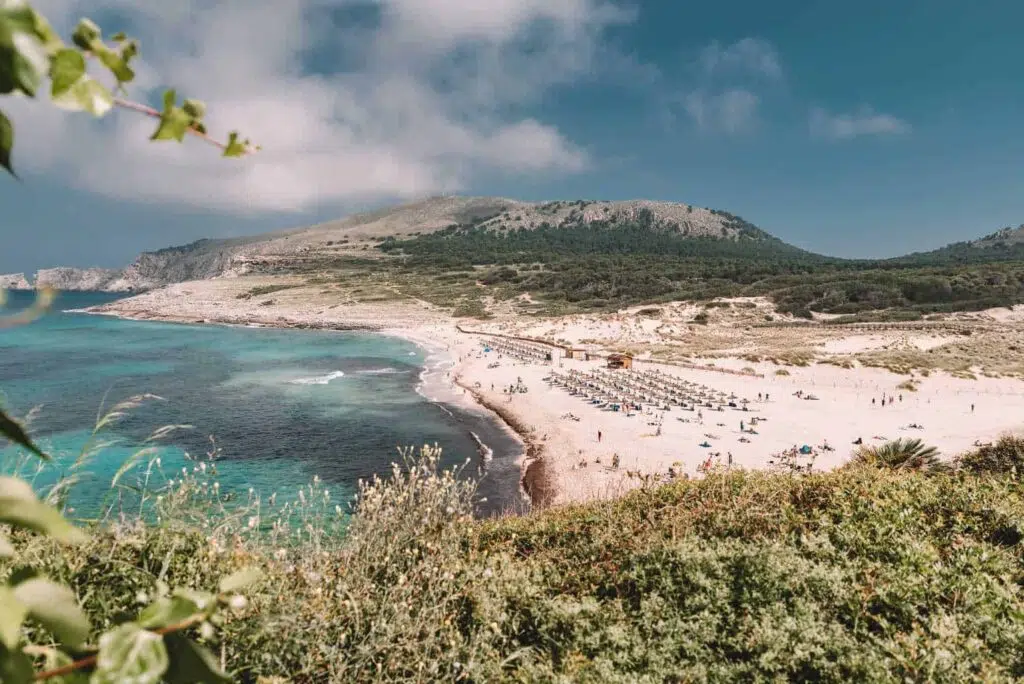 Once on the beach, the sheer number of beach umbrellas and sun loungers hinted at how busy it must get in summer. But yet it still managed to look amazingly natural with the surrounding dunes and untouched countryside framing the beach.
A favourite for families, kids were happily wading in the shallow shoreline while their parents chatted nearby. Other groups had set up camp on the far end of the beach where the pearly white sand rolled uninterrupted into the sea.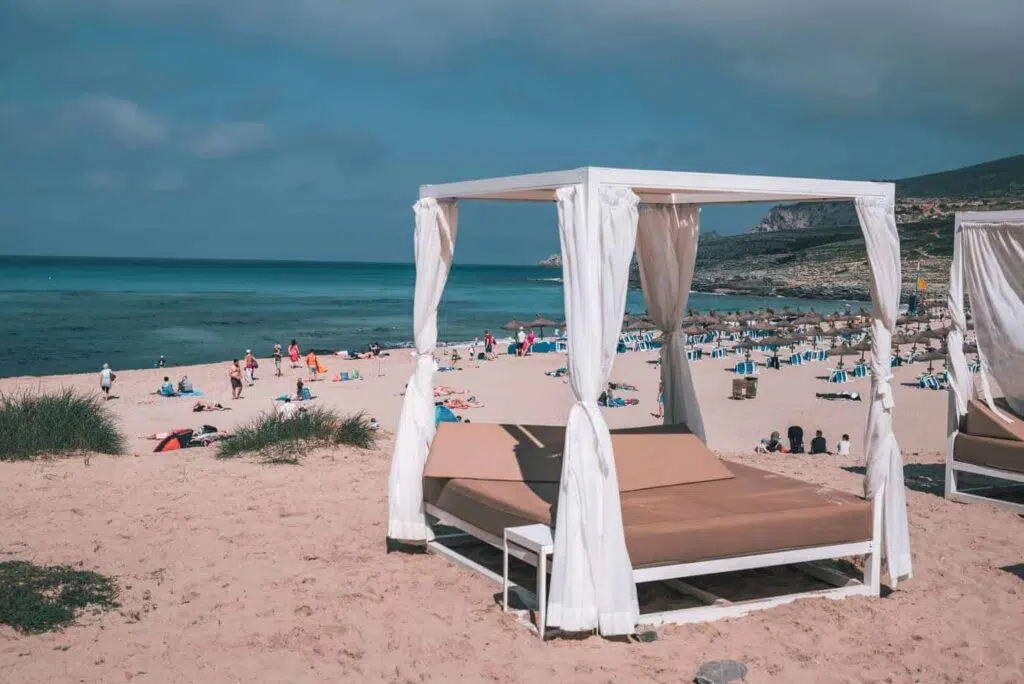 What makes Cala Mesquida one of the best Majorca beaches?
Although developed, Cala Mesquida still manages to remain largely untamed and even wild on the far end of the beach. It's proximity, yet separation, from the resort next door, means you get the best of both worlds. Relax on a beautiful, natural beach in the morning before heading up a flight of stairs to grab lunch at a nearby restaurant.
How to get there / things to know
If you're holidaying with kids I'd recommend Cala Mesquida as one of the best areas to stay in Majorca. It's small enough to not feel crowded, and there are plenty of places to stay in the area. From here, you can also discover many other great beaches in the area such as Cala Torta (below) and the series of sandy coves up the coast to Cap Farrutx.
---
CALA TORTA
Google earth is my planning buddy when mapping out holiday ideas. And it's beaches like Cala Torta that hook me in from the first glance. From above, the beach cuts a deep slice into the landscape. It looked expansive and totally wild from the photos online, and I was determined to see if the reality met my expectations.
Heading off from Cala Mesquida, we had to backtrack quite a way inland before veering back in the direction of the coast. And when we arrived, we found half a dozen cars in the dusty car park suggesting we weren't the only ones with such an idea on this hot and dry day!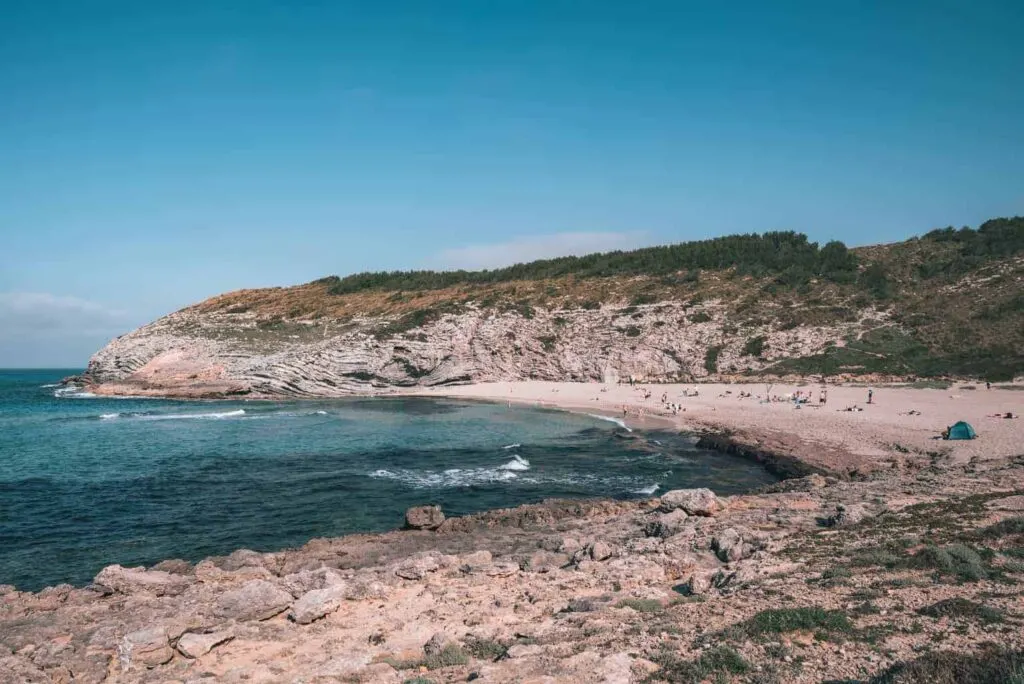 Walking down the sandy funnel, we arrived at the beach to find a calm scene before us. Despite the cars we passed, the beach is large, and there's enough room to accommodate plenty more people comfortably. As the afternoon wore on, local families continued to arrive until late in the day suggesting this was a favourite spot among those in the know.
A young german shepherd pup playfully chased seagulls while we indulged in a lazy picnic lunch. Afterwards, I walked up and over the hill to peek at the neighbouring Cala Mitjana o S'Aduaia, but it lacked the same breed of charm that was bestowed upon Cala Torta and remained deserted despite its easily accessible location right next to a coastal road.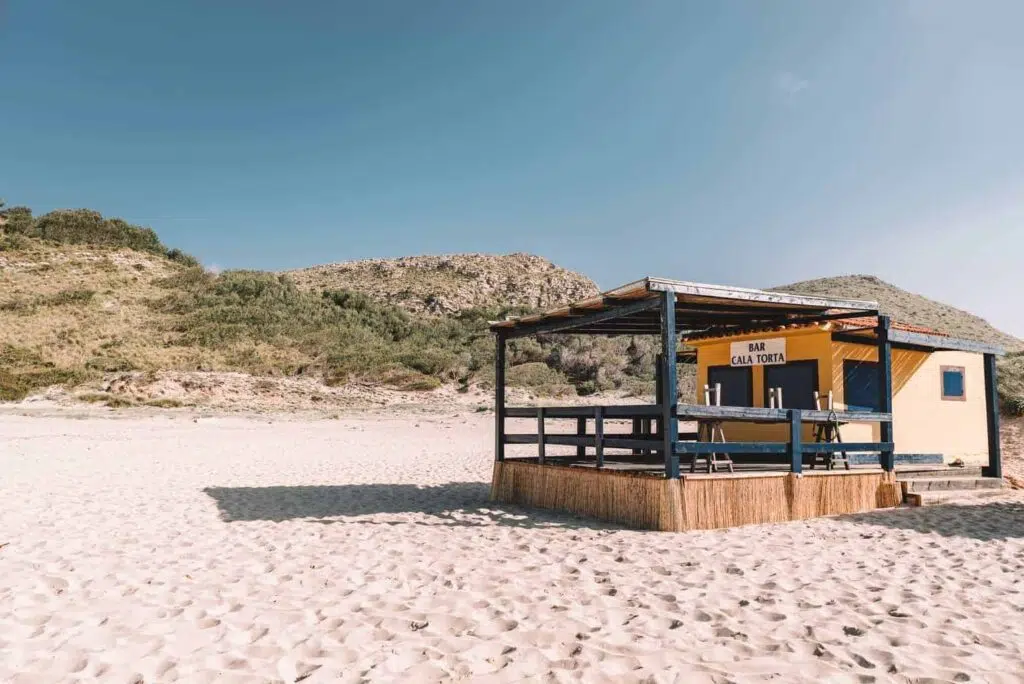 What makes Cala Torta one of the best secret beaches in Mallorca?
Cala Torta remains totally unspoiled, despite being much loved by the locals. It's a wide and deep beach, perfect for those who want to play a game of soccer or beach volleyball.
And its position makes it a great spot to launch off on a coastal walk around the rugged coastline.
How to get there / things to know
I wouldn't recommend taking a rental car to Cala Torta. The final 1km or so leg of the journey is down a gravel/dirt road with plenty of potholes. A 4WD isn't necessary, but a good sense of adventure is! Parking is free. There's a small beach bar that's open in the summer months, but no other amenities are present at this secluded beach.
---
CALA TUENT
When I was looking for things to do in Mallorca, there's one beach that really caught my eye – Sa Calobra. I was determined to visit, but as it's a famously treacherous drive down, I wanted to see if we could make the most of our time on this part of the island by visiting some other beaches in the area. Enter Cala Tuent.
The road to Cala Tuent stems off the main road to Sa Calobra. Once you've driven the worst of the sharp twists and turns, the turnoff is on your left. From here, the road was much more manageable and surprisingly quiet. We stopped at a viewpoint on the way down to appreciate the scene from above.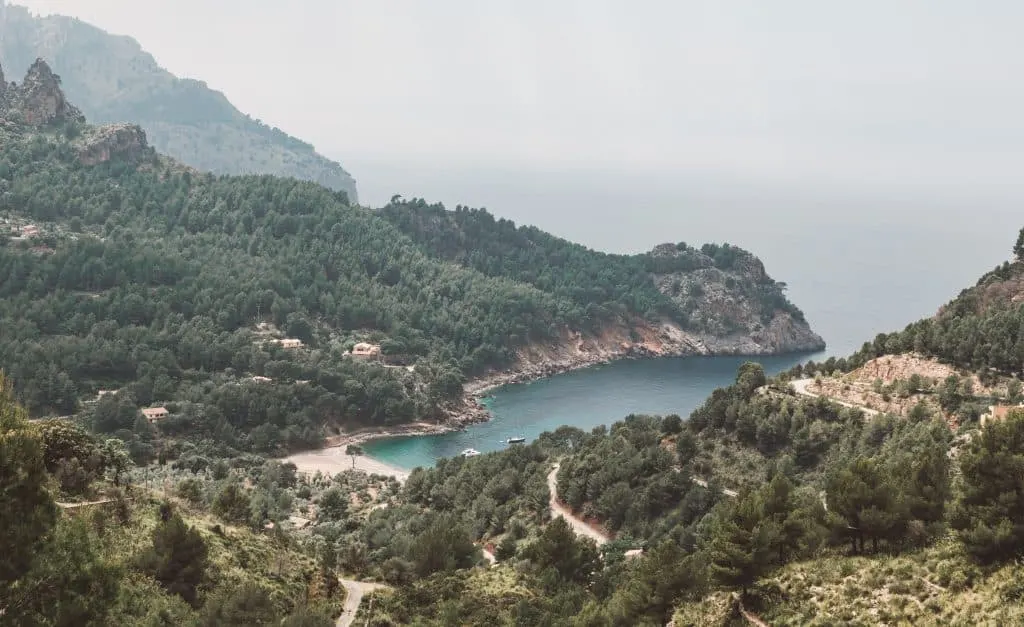 Carrying on down the road we managed to park very near the beach, on the side of the road. Cala Tuent really feels like a hidden gem tucked between towering mountains. It's undeveloped, apart from a lone beach shack, and totally tranquil.
The day we visited, there were only a handful of people on the beach, unlike the much busier Sa Calobra next door. Wander behind the beach to visit the curious farmyard animals that live among the olive trees. The horse will gladly relieve you of any spare apples!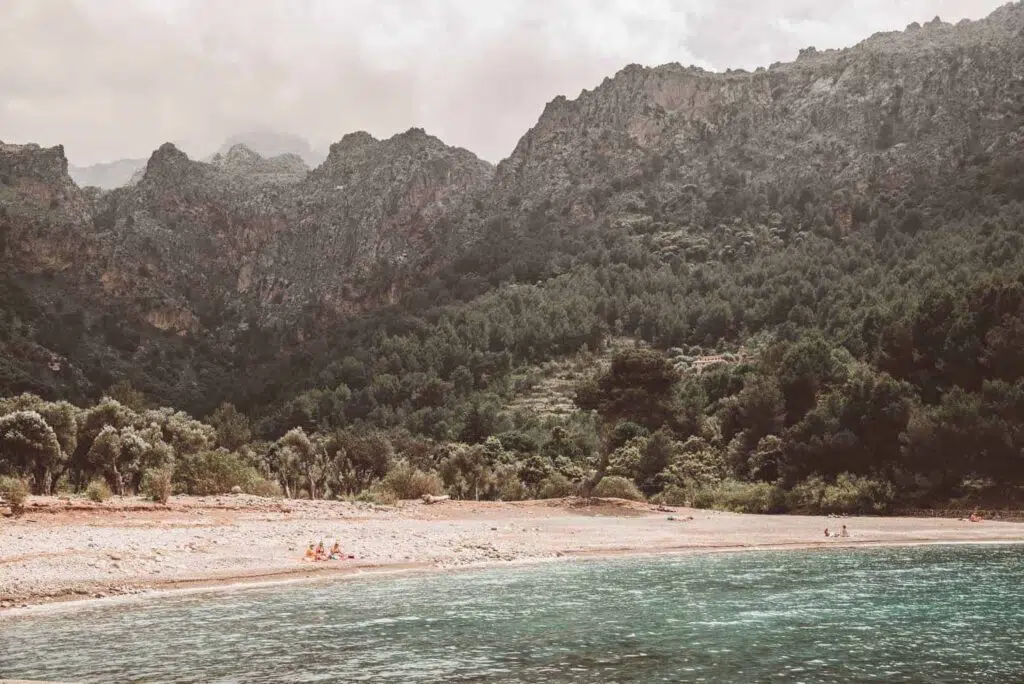 Why is Cala Tuent one of the best places in Mallorca?
The setting really makes this beach stand out among the others. It's a little harder to get to, but the journey is well worth it. Plus, the water in this inlet had a really special colour – it was the most incredible teal/green, and in usual Mallorcan style, it was beautifully clean & clear.
How to get there / things to know
The road to Cala Tuent isn't a walk in the park. It is well maintained, and well signposted, but it's full of twists and hair-raising turns. So if you (or your kids) get car sick, this may be one to leave off the itinerary. Once you're at the beach, there's little more to do than relax with a good book. Car parking near the beach costs €5/day or €1/hour.
---
SA CALOBRA
As I mentioned, Sa Calobra was high on my list of places to visit while on Mallorca. Not only for the beach itself but also for the infamous drive to get there. I'd read accounts of how terrifying the road to Sa Calobra is, and it's certainly not for the inexperienced! But in reality, if you're a fairly confident driver who is used to driving on narrow European roads, there's nothing to fear.
We set out from our centrally located accommodation mid-morning, and even though it was an overcast day, it was clear we weren't the only visitors headed for this unique beach. The skinny road was swarming with cyclists and I admired their determination as they tackled the menacing mountain before them.
Turning off towards Cala Tuent, we had to backtrack back over the hill to reach Sa Calobra afterwards. Luckily, this meant the crowds had thinned a little as the tour buses were departing for the day.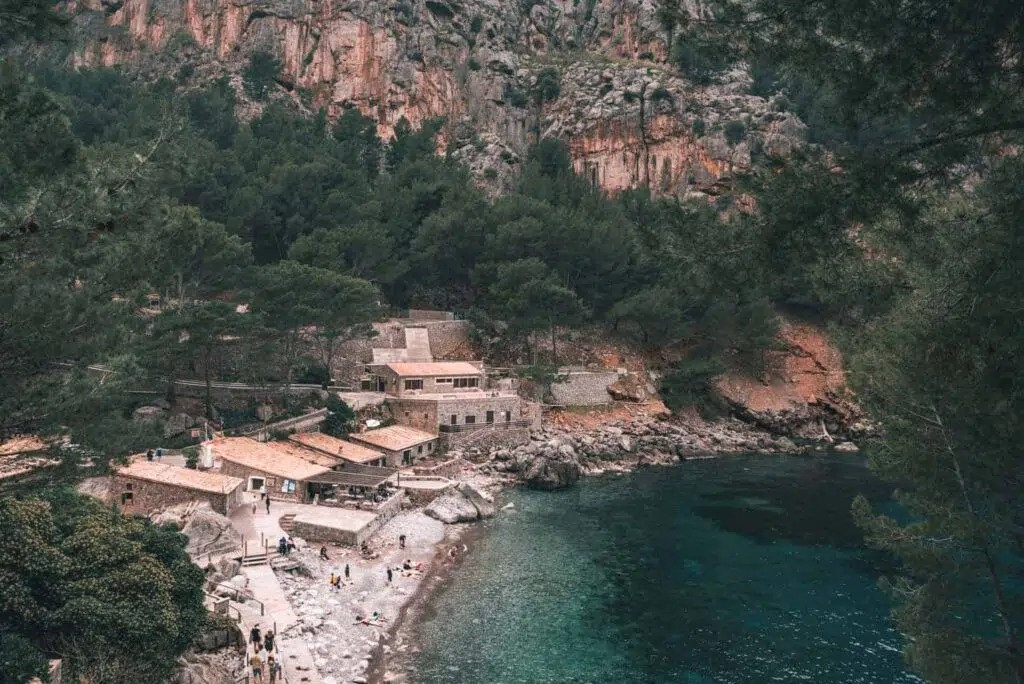 When you reach Sa Calobra, you'll have to pay for parking, which is considerably steeper than over the hill at the lesser-known Cala Tuent. But we paid our dues and set off down to the water.
The first spot you reach is quite built up, but the small pebbled beach is very picturesque in its own right. Wander further down the path to your right and eventually, the tourist shops and cafes will give way to a rustic and unspoiled view.
Follow this route around the bends and through dimly lit tunnels until you reach the spectacular Sa Calobra beach. Flanked by two towering cliffs that only rebellious goats would have the gall to climb, it really feels like you've reached somewhere special. And even on an overcast day, it was easy to appreciate its beauty.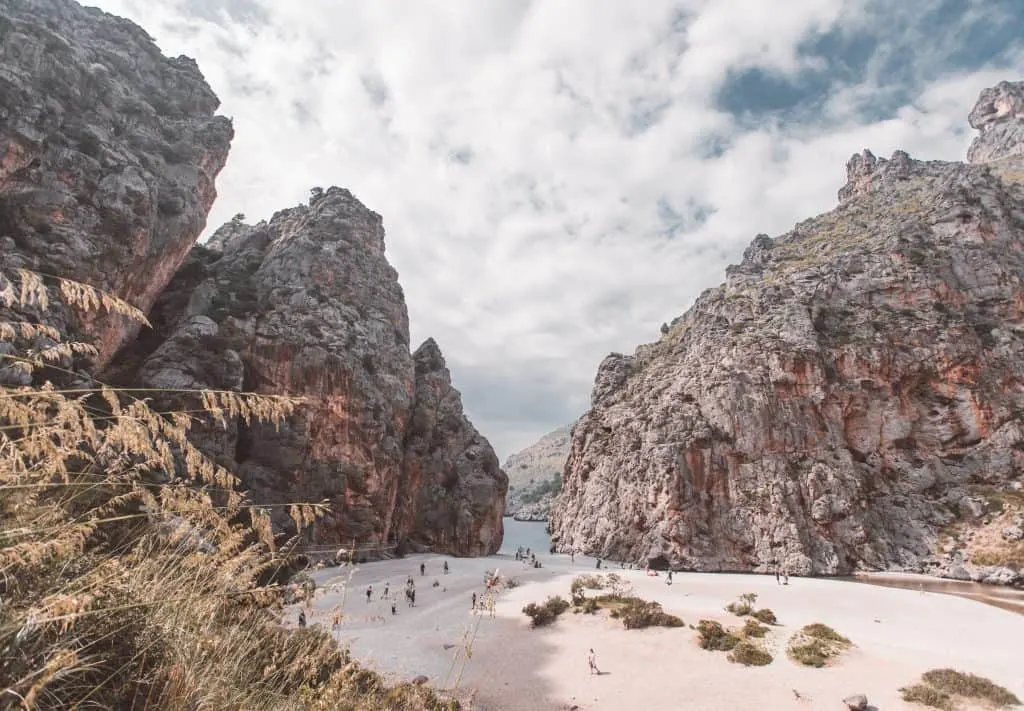 Why is Sa Calobra one of Mallorca's best beaches?
It's no hidden gem, but it would be remiss to not include Sa Calobra one of the top beaches in Mallorca. I love that its position, tucked away in nature, means it'll never be developed. And it's this tranquillity that really adds to its charm.
The dramatic landscape is the perfect setting for a day at the beach, and it'd also be a pretty sweet spot to moor your yacht if you're that way inclined!
How to get there / things to know
The road to Sa Calobra is a difficult one, so take it easy on the way down. Once you arrive, you'll have to park in the paid lots which charge you hourly. We were there for under 3 hours and paid €8.60 – which had to be paid in cash. Follow the signs to Sa Calobra past the cafés and shops, but know that once you get there, there aren't any facilities close by.
CALÓ DES MORO
There seems to be a correlation between how hard a beach is to find in Mallorca, and its beauty! Caló des Moro was another beach that initially eluded us, as the track to reach it is quite inconspicuous. However, this stunning Mediterranean beach was worth the journey.
We parked at the southern end of Cala Llombards, quickly snapping up the last car park near the entrance to our walk. Initially, we headed in the direction of Cala s'Almunia. And after exploring the beach here for some time we wandered up over the cliffs to find Caló des Moro.
As the beach is situated within a private reserve, there's a fence to walk through which initially threw us off. But after watching a few others saunter through it, we tentatively did the same. A short walk down a dusty path, delivered us to the beautiful Caló des Moro.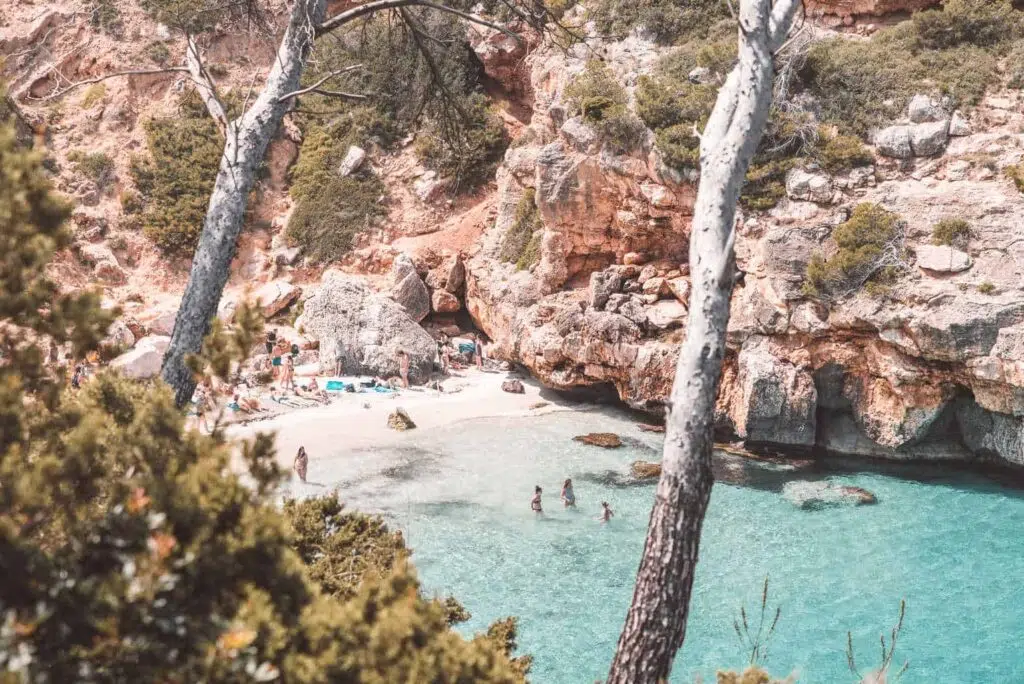 I initially decided to walk past the beach and around the headland to get another view of the area, and it was incredible! On one side you have the small but perfectly formed beach, and on the other, the sheer cliff gives way to the endless Mediterranean sea.
The path leading down to the beach is steep and unforgiving and could be tricky if navigating very young children. This is not a beach for a family day out, but rather a secluded space to snorkel, sunbathe and soak up your surroundings.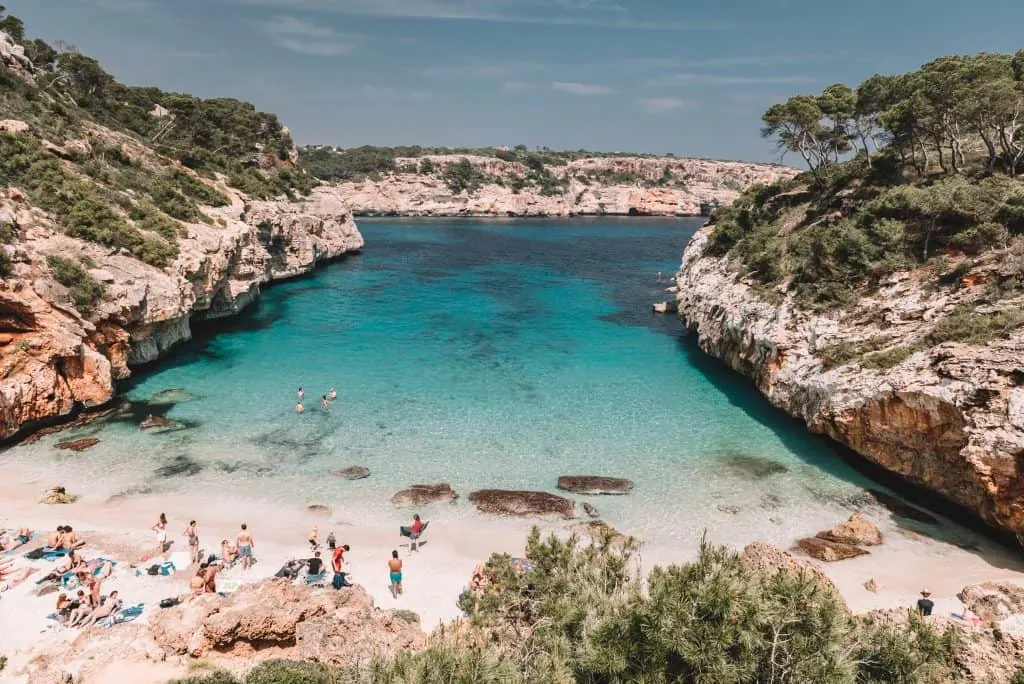 What makes Caló des Moro one of the best beaches in Mallorca?
The beach and its surrounds were once destined to be turned into a holiday resort. Seeing what damage had been done in other parts of the island, a local family decided to step in and save the once quite derelict spot from its fate and turned it into a sanctuary instead.
Their careful preservation of the land really shows and it's a testament to their love of the area. Its seclusion and advantageous position certainly help position it as one of the (if not the) most beautiful beaches in Mallorca.
How to get there / things to know
It's advisable to set out for Caló des Moro in the morning, as parking is in short supply. And even when you do snap up a car park, you'll most likely be faced with a bit of a walk. As you approach the end of Carrer des Caló des Moro, you'll find a sign to Cala S'Almunia beach and a set of concrete stairs to descend.
You can get to Caló des Moro this way – via Cala S'Almunia – and around the headland. Or, just before you reach the aforementioned staircase, you can look for the stone wall with a low wooden gate marked "privado". Against your better judgement, this is, in fact, the proper way to Caló des Moro and you won't be chased off the property by an angry proprietor – just make sure you go through the right gate!
As with the other secret beaches in Mallorca, there are no facilities once you get to the beach, or in the immediate surroundings, so take what you need with you for the day.
---
S'AMARADOR
S'Amarador beach wasn't really on my radar when we visited Mallorca. But I'm always drawn to the natural beauty found in nature parks and so the Mondragó Natural Park caught my eye when I was looking for a good walking spot on the island.
We drove to the edge of the park and left our car in a shady car park before proceeding on foot. The walk was indeed spectacular as it cut through the low lying shrub and windblown pine trees. Occasionally the bush would reveal a peak of the teal blue water that was waiting in the distance.
As we neared S'Amarador beach, there was a viewpoint looking over the bay and it's a vision that has stuck with me ever since. The turquoise sea and bright white sand perfectly complemented the rust-coloured cliffs and sage green shrubbery that surrounded the scene. Yachts were moored offshore – hosting afternoon drinks or serving as a pit stop for swimmers.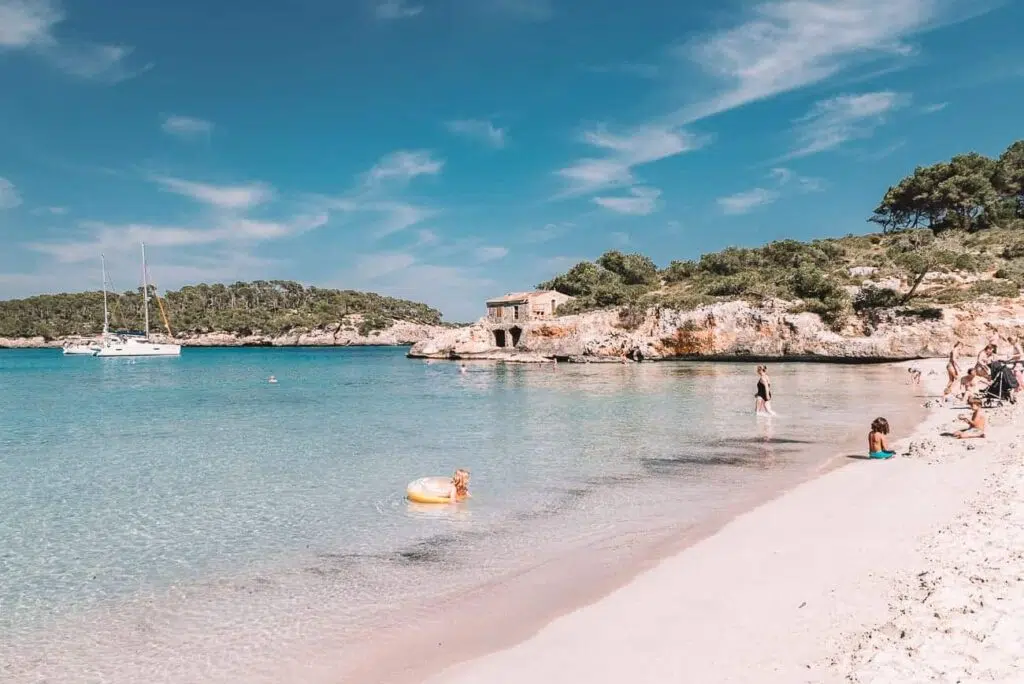 We continued around the bend to the beach, which was busy but not crowded. We set up shop on the sand and settled in for an afternoon in the sun. Around us, people swam in the shallow water, played frisbee on the beach, or relaxed with a beer from the beachside bar.
This beach has more of a family-vibe and there is plenty of space to spread out. From S'Amarador beach you can wander along the path etched into the cliff to Cala Mondragó. Although still pretty by anyone's standards, Mondragó is smaller, more built-up (has a restaurant right on the beach), is busier, and generally just lacked that little something 'extra'.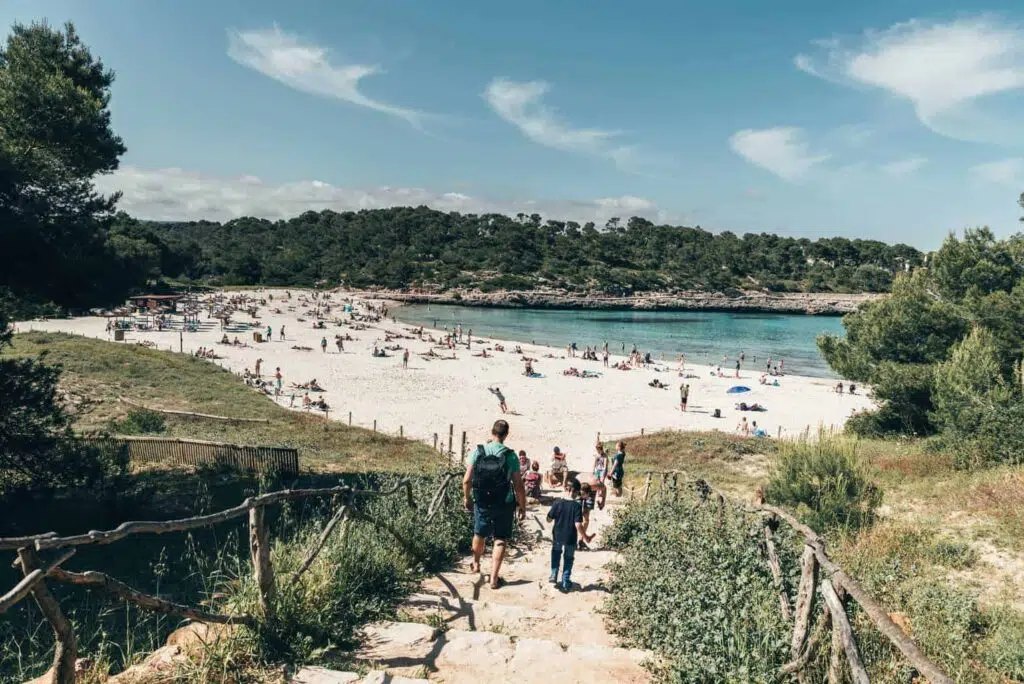 Why is S'Amarador one of the top beaches in Mallorca?
When you're surrounded by nature, overlooking a calm, clear bay, with yachts floating completely still on the horizon, you'll be left with no doubt why this beach in Mallorca is one of the most beautiful on the island.
Its privileged position within a natural park helps aid its allure also. S'Amarador is a great beach for kids too, with its shallow and safe swimming conditions.
How to get there / things to know
The best way to reach the beach is to park at the car park on Strand Cala Mondragó, Parkplatz, and proceed on foot. There is a fee to park here, which was €5/day when we visited, but this is donated to charity.
You can walk directly to the beach, or take the more scenic coastal path which branches off to your right. I'd highly recommend this option if you're able! Once you reach the beach, there's a beach bar selling food & drinks. And toilets are available.
---
CALA D'EN BORGIT
I mentioned that Cala Mondragó wasn't one of my favourite beaches, but there's more to be discovered around the coast from S'Amarador! Keep walking past the nook that houses Mondragó beach, around the headland and through the thick bush, and you'll eventually land yourself at Cala d'en Borgit.
A tiny beach tucked between the trees, it's perhaps easy to bypass this beach in favour of the more popular beaches on the island. But if you want an authentic piece of paradise, this is where you'll find it…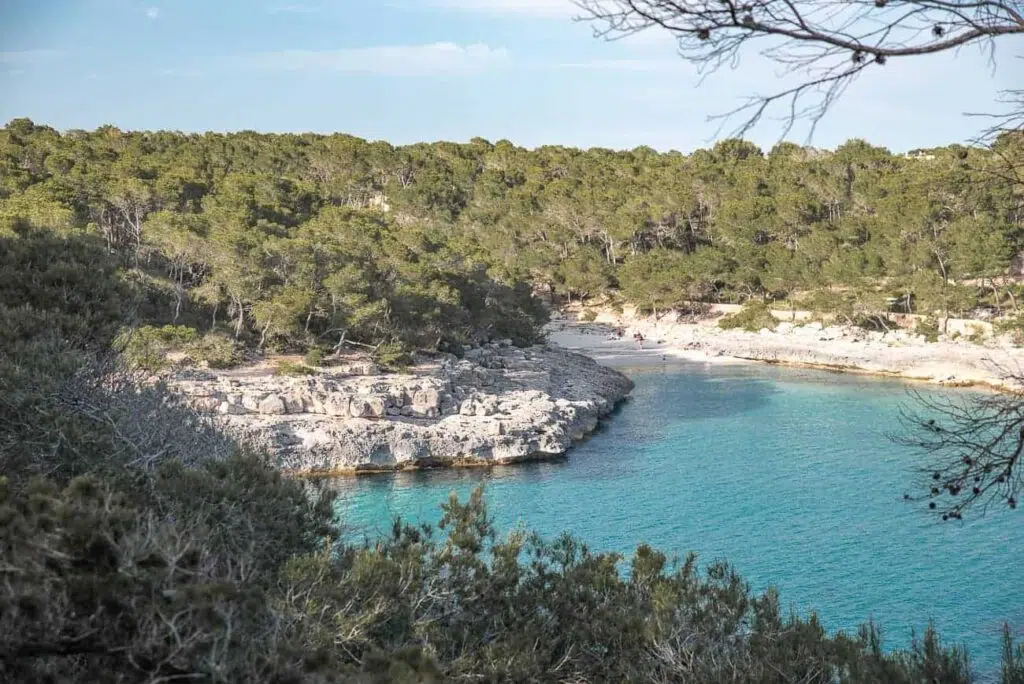 We arrived late in the afternoon to find just one other person enjoying the beach. Granted, the sun had moved on from this sheltered spot and probably taken the last of the sun worshipers with it.
But I could see its potential as a fabulous sandy nook tucked away from the busyness, and I was kicking myself for not finding it earlier in the day.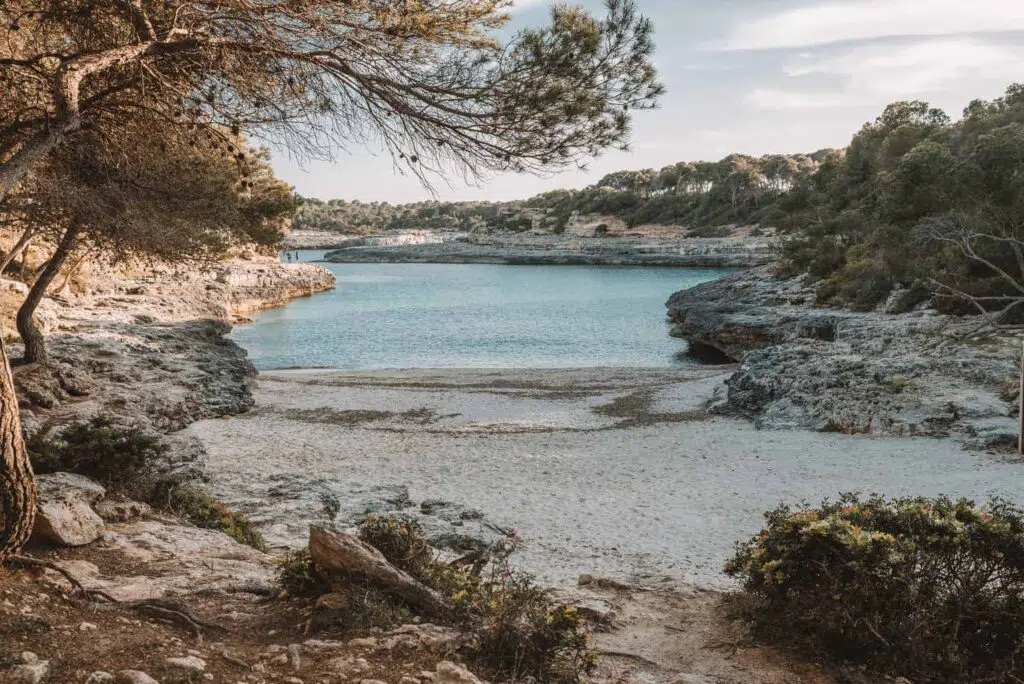 What makes Cala d'en Borgit such a special beach in Mallorca?
Its seclusion, its somewhat secret nature, and its surroundings. It's the beach to head to when you want a slice of paradise all to yourself (well, almost..).
How to get there / things to know
From S'Amarador take the coastal path to Cala Mondragó and then continue around the headland until you reach Cala d'en Borgit. You'll get an amazing view of this little beach as you round the bend!
There are no facilities at this beach, but it's not far to walk back to Cala Mondragó if you need food/drink or bathroom facilities.
---
CALA S'ALMUNIA
The day we stumbled upon Cala S'Almunia, we'd initially set out to find another beach all together – Caló des Moro. We did eventually find our destination, but not after taking our time to explore the delightful Cala S'Almunia and its surrounds.
Walking down steep stone stairs delivered us into a shallow bay surrounded by a rocky coastline. To our right was a small sandy bay, only big enough for the few sunbathers resting on its shores. And to our left was the petite settlement surrounding Cala S'Almunia.
Not your traditional beach, Cala S'Almunia seems to exist solely as a launching point for its resident's boats. But that hasn't stopped locals using the rocky bank as a secluded spot to lay out the beach towel and take a dip in the impossibly calm and clear water.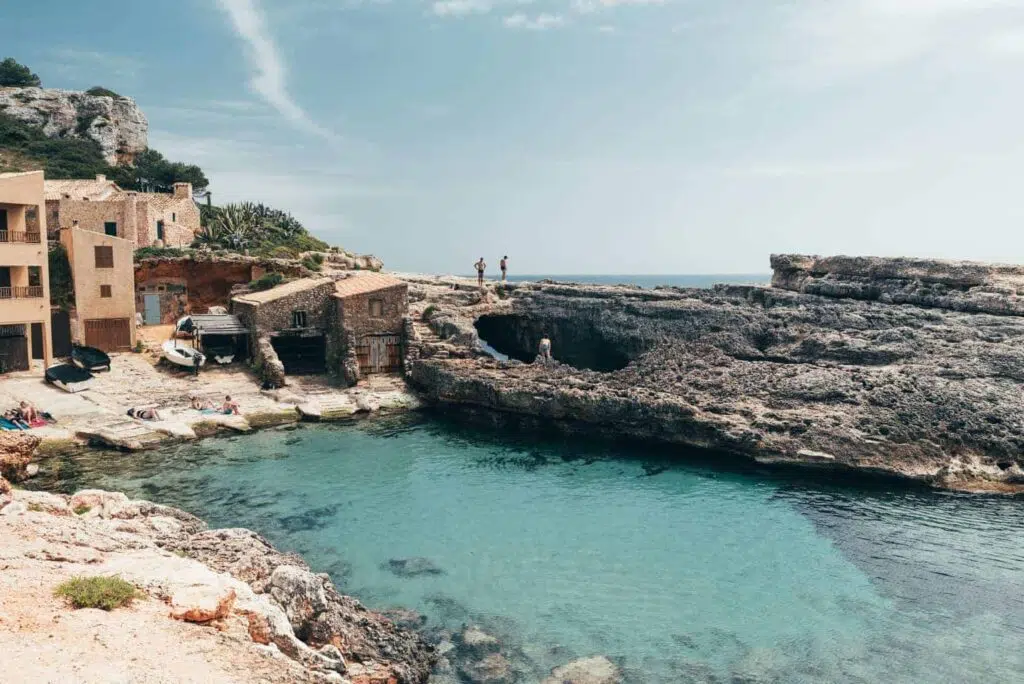 A few adventurous swimmers jumped off cliffs into a natural swimming hole, while others headed around the bank for a scenic spot to soak in the views. It's certainly a beach with a difference. And the lack of sand doesn't hinder its appeal at all.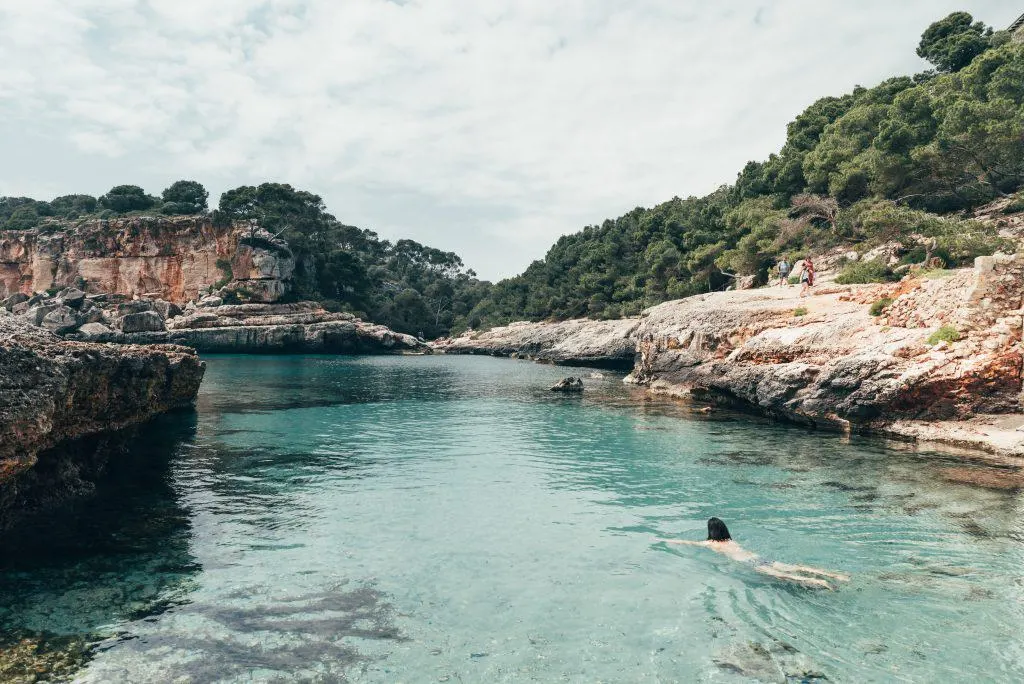 What makes Cala S'Almunia one of the best beaches in Majorca?
The unpretentious nature of the surroundings really sets this beach apart. It offers an insight into how the locals live and enjoy the nature (quite literally) on their doorstep. It's not the most beautiful beach (unless you count the wonderful stone buildings behind it) but it makes for a fab swimming spot.
How to get there / things to know
As with Caló des Moro, proceed to the end of Carrer des Caló des Moro where you'll find a large sign pointing to the beach. Walk down the staircase and you can choose to wander over to the right side which is sandier, or the left side with its stone houses.
Or, do what the locals do and set up shop right on the rocks in front of you!
---
---
Visiting any of Mallorca's beaches is a truly rewarding experience. But taking the time to seek out a true hidden gem – a beach tucked away out of plain sight – takes the adventure to a whole new level! Which of Mallorca's most beautiful beaches will you be adding to your bucket list?
Pin this for later!