The fourth-biggest Canary Island still packs a pretty punch on the holiday scene, having been one of Europe's most popular tourist hotspots since the seventies.
From its distinct lunar landscape to its stunning beach scene and action-packed watersports offering, there's a whole host of Lanzarote sights that keep the holidaymakers coming back year after year.
And whether you're travelling on a couples holiday, a family holiday or you're a solo traveller, you won't find yourself wondering what to do in Lanzarote for long.
If you're looking for adrenaline-fuelled adventures or laid-back beach days, this handy guide lists some of our best things to do in Lanzarote.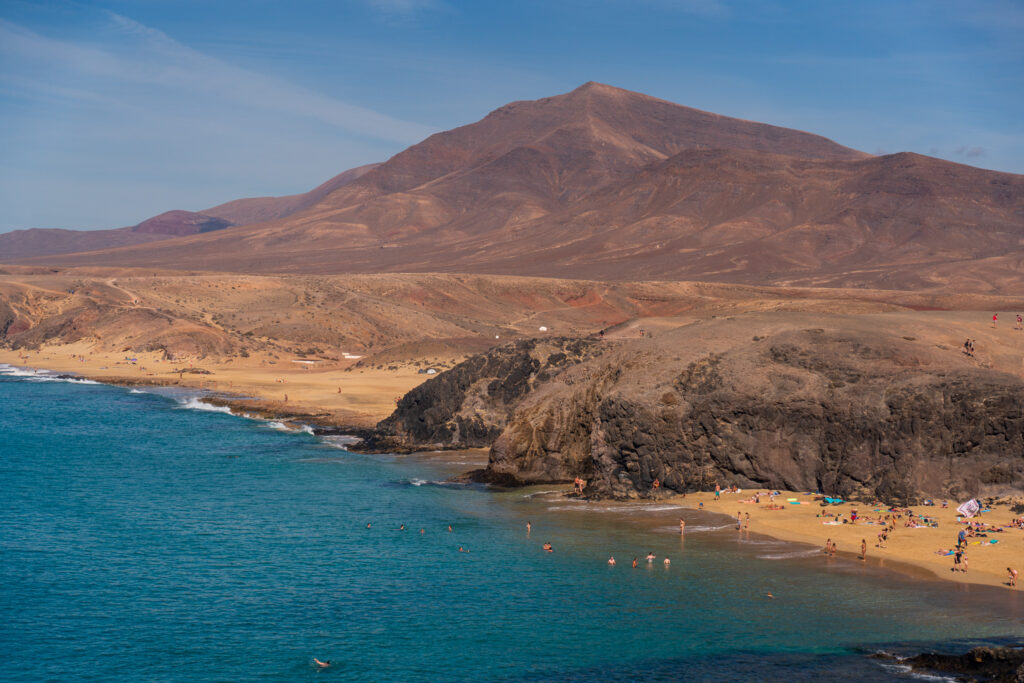 ---
Top Things to do in Lanzarote
Often called the 'Island of Eternal Spring', Lanzarote is blessed with year-round sunshine, with temperatures rarely dipping below 21°C even in the winter months.
This is an island of great diversity and contrasts. In the mornings, tourists can browse local markets or visit cactus gardens and subterranean lava tubes, at lunchtime, cook dinner over a grill using heat from a volcano, and in the afternoon hike through national parks to beautiful beaches and end the day with cocktails at sunset.
Whatever relaxed, activity-driven or fun-packed criteria you have in mind for your next holiday, our list below shows some of the top things to do in Lanzarote, to tempt you to book your trip!
Sprawl out on Lanzarote's Beautiful Beaches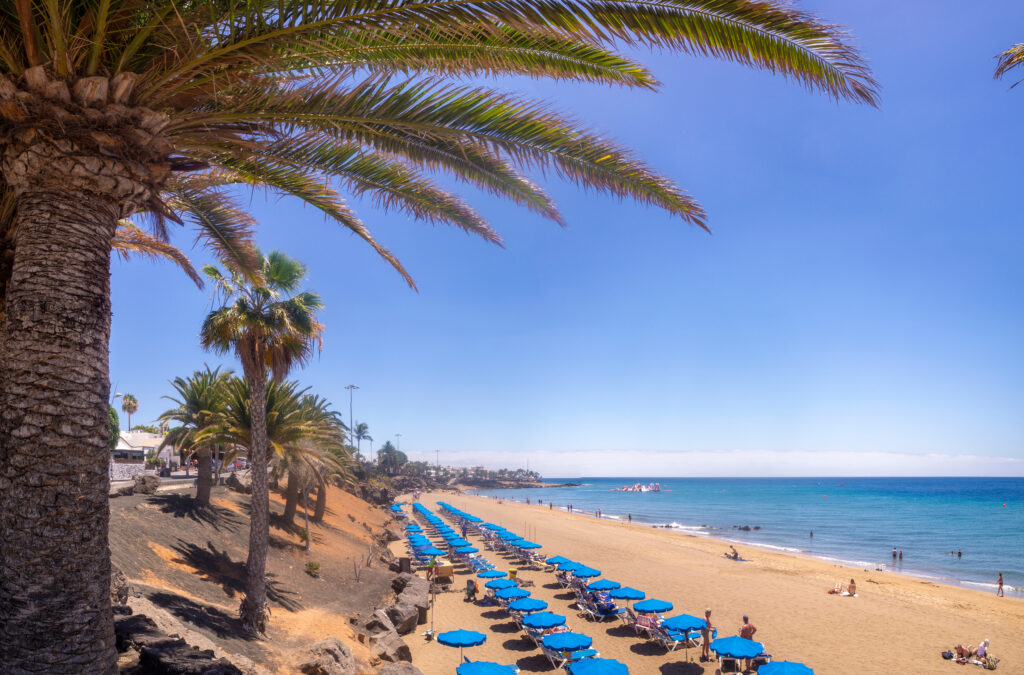 Some of the island's most popular, and family-friendly beaches, are in Puerto del Carmen on Lanzarote's east coast. This former fishing village is the island's oldest and busiest tourist destination, with a handful of golden sandy beaches to keep holidaymakers soaking up the sunshine.
Relax on Playa Grande, a one-kilometre-long, palm-fringed stretch of beach, backed by a promenade dotted with bars, restaurants, and nightclubs. If you're seeking a quieter location, the town's Playa Chica is the perfect spot for snorkelling and scuba diving and Playa de los Pocillos offers a laid-back vibe and shallow waters for families with kids.
To the south of the island, Playa del Papagayo mesmerises with jade green waters and is adored by families and couples. Enjoy a delicious ocean-inspired lunch in the "chiringuito" or arrive in time for spectacular sunsets.
Avid surfers can head to northwest Lanzarote to Playa Famara. This seemingly, never-ending beach, flanked by blackened cliffs is great for catching the swell, plus, as one section is also a naturist beach, clothing is optional.
Further north, Playa Caleton Blanco near Órzola is an Instagram hotspot with soft white sands, crystalline waters and contrasting black lava rocks. It's totally unspoilt and the natural swimming pools that the tides create are perfect for a refreshing dip.
Read More: Best Beaches in Lanzarote / Best Beaches in the Canary Islands
Take a tour of Timanfaya National Park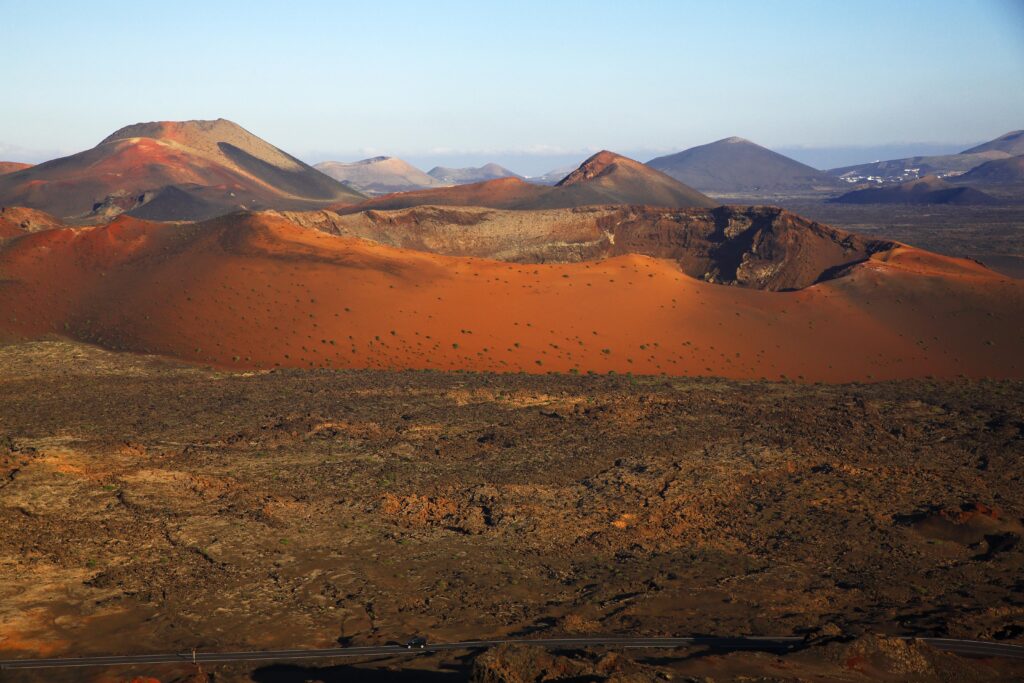 Timanfaya National Park in central Lanzarote covers a vast 51km2 area and is solely created from volcanic soil.
The unusual terrain was a result of volcanic eruptions that took place in Lanzarote between the early 17-1800s. There may be little vegetation here, but the fiery orange and red colours are simply breathtaking.
The area is popular with outdoor enthusiasts who come to hike the other-worldly trails and photographers who arrive to capture the warm colours of this Martian-like landscape.
You can discover parts of the National Park on your own, but to get the full experience, head to the visitor centre which features exhibitions and audio-visual guides of the park, before setting out on a guided bus tour. There is an entrance fee to visit the park (currently €12 for adults and €6 for children aged 7-12), but this fee includes the bus tour.
On your journey, be on the lookout for volcanic cones and lichens, then come back to the visitors centre to watch the geothermal demonstrations, or to enjoy an epic dining experience in El Diablo restaurant where dishes are cooked on a furnace using heat from the volcano.
Alternatively, you can book a guided tour of the park below:
Bag yourself a bargain at Teguise Sunday Market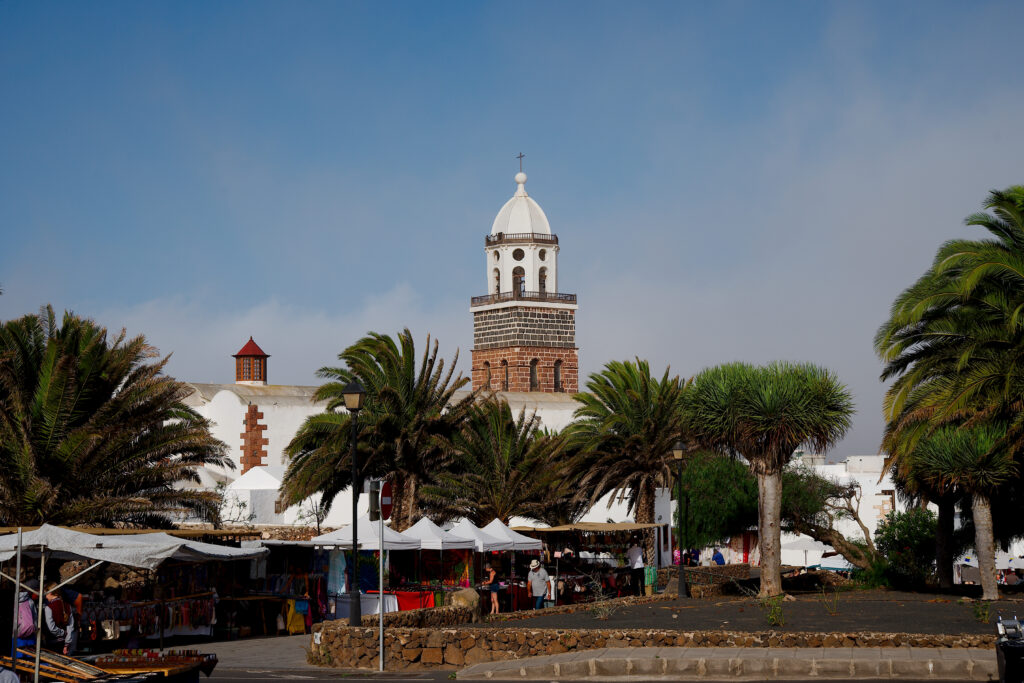 Teguise was the capital of Lanzarote from the 15th to mid-19th century. The picturesque town is located around 10 kilometres inland in the central region (not to be confused with the coastal resort, Costa Teguise), and has a fascinating history to uncover, which involves real life pirates!
Most tourists make the trip to Teguise for its Sunday morning market when quiet plazas and cobbled streets transform with lively stalls and colourful vendors.
The market first opened in 1982 with just 16 stalls, and today, this has grown to 400+, selling everything from organic cotton clothing, bags and souvenirs to jewellery made from volcanic rocks. Check out the works of local artists while browsing and sampling some of the delicacies produced on the island.
The stalls, however, are only one small part of this lively market experience. Canary Island dancers, panpipe bands and hair braiders all turn up on Sundays, curating a fun carnival atmosphere for all.
Top tip: It's common practice in Lanzarote to haggle on the prices at the market, so don't be afraid to give it a go. The market is open from 9am – 14.00 and public buses operate from most coastal resorts.
Burn some rubber on a Guided Buggy tour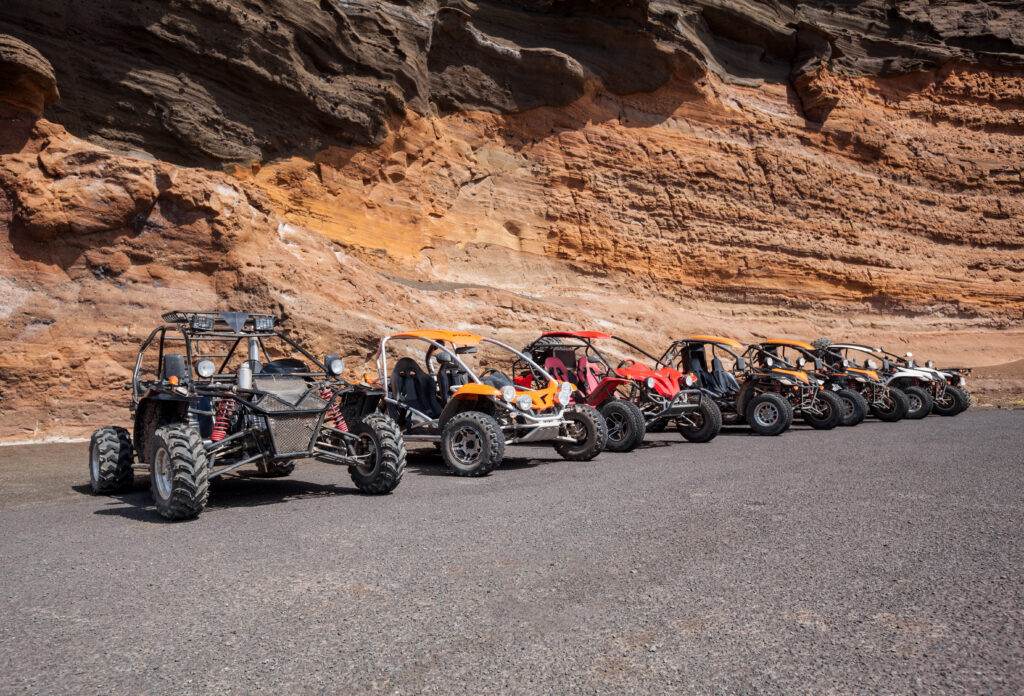 One of the more unique activities in Lanzarote involves a dune buggy, but this is not an activity for the faint-hearted.
Adrenaline seekers can hop on a buggy tour to traverse rugged roads and landscapes on this white-knuckle adventure. The route winds through pretty towns and villages, incorporating some off-road shenanigans too, where the rubber is burned on dusty roads offering outstanding views of Lanzarote's volcanic terrain.
Visitors get to choose from a relaxed buggy ride which reaches top speeds of 50 km/h or opt to go full turbo with a bigger buggy with speeds of 80km/h!
The legendary Lanzarote artist César Manrique has creative installations all over the island, therefore, you'll likely spot one or two on your travels. However, the delightful Cactus Garden in Guatiza is one of the finest, set in a former volcanic ash quarry. It was the last project he undertook before his death in 1982.
The garden boasts more than 4,500 different cactus plants from 450 different species from five continents, and among the highlights is an 8-metre tall cactus at the entrance, which makes for a fantastic photo opportunity. Don't miss the restored 19th-century windmill formerly used for grinding corn, which stands at the garden's highest point.
You can enjoy a guided tour of the garden or explore at your own leisure, and if you fancy a break – a coffee shop sells snacks and drinks coupled with outstanding views.
If possible, time your visit to coincide with late afternoon, when the cactus shadows appear to stretch and create strange mysterious shapes on the ground.
Discover Lanzarote's green lagoon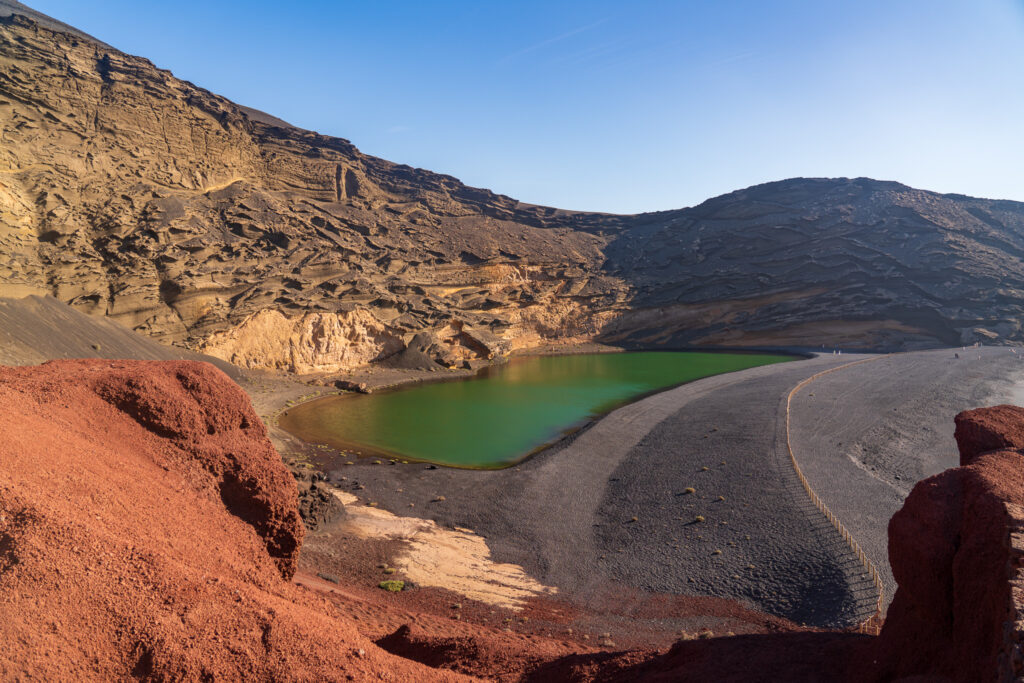 On the island's west coast, the small seaside village of El Golfo is home to one of Lanzarote's most unusual attractions.
El Golfo is the left-over cone of a volcano which has been eroded by the sea over time. Beneath the crater, filled with bright, almost neon green waters, is El Largo Verde, or The Green Lagoon. This crescent shaped body of water lies between the russet crater walls and black sand beach of El Golfo, creating a dramatic visual.
The lagoon gets its unique colour from the volcanic minerals and micro-organisms in the water, plus, it's free to visit, making it a popular destination for a self-drive excursion.
It is prohibited to swim in the lagoon; however, you can capture some exceptional photos for your social media channels! There are also several superb seafood restaurants nearby and the area is famed for its beautiful sunsets.
Dine in a volcanic cave at Los Jameos del Agua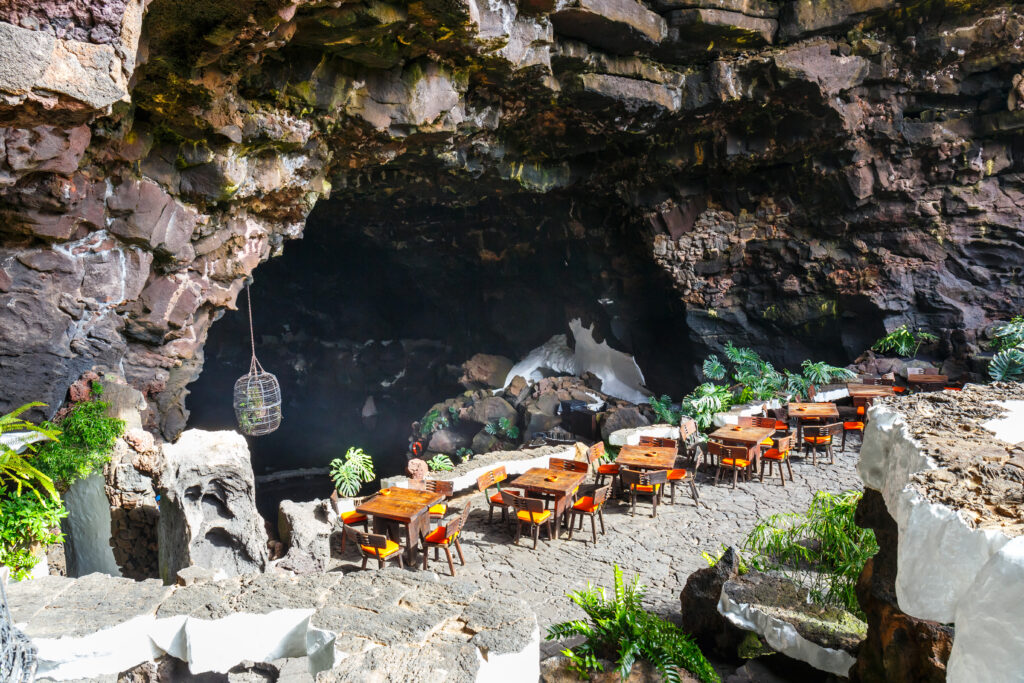 From the creator of the Cactus Gardens in Guatiza, Los Jameos del Agua, near Órzola in the north, is one of the most unusual, mystical, and must-see attractions on Lanzarote.
The word "Jameos" refers to an opening in the lava tubes caused by the eruption of Volcan de la Corona, and this site is part of a 7km long tube created by the lava flow.
The space was designed by César Manrique around two large caves, one with a crystalline lagoon and the other, home to a natural concert hall formed from basalt salt. The latter boasts extraordinary acoustics and magical music concerts are performed here, accompanied by dinner, throughout the year.
The other lagoon grotto is home to over 70 endemic species, including thousands of native, endangered albino blind crabs. These crabs are so small, that from a distance all you can see are tiny white spots in the water but look closer, and you can observe the might and majesty of these incredible, one-centimetre-long creatures.
Learn to Surf or Windsurf in Lanzarote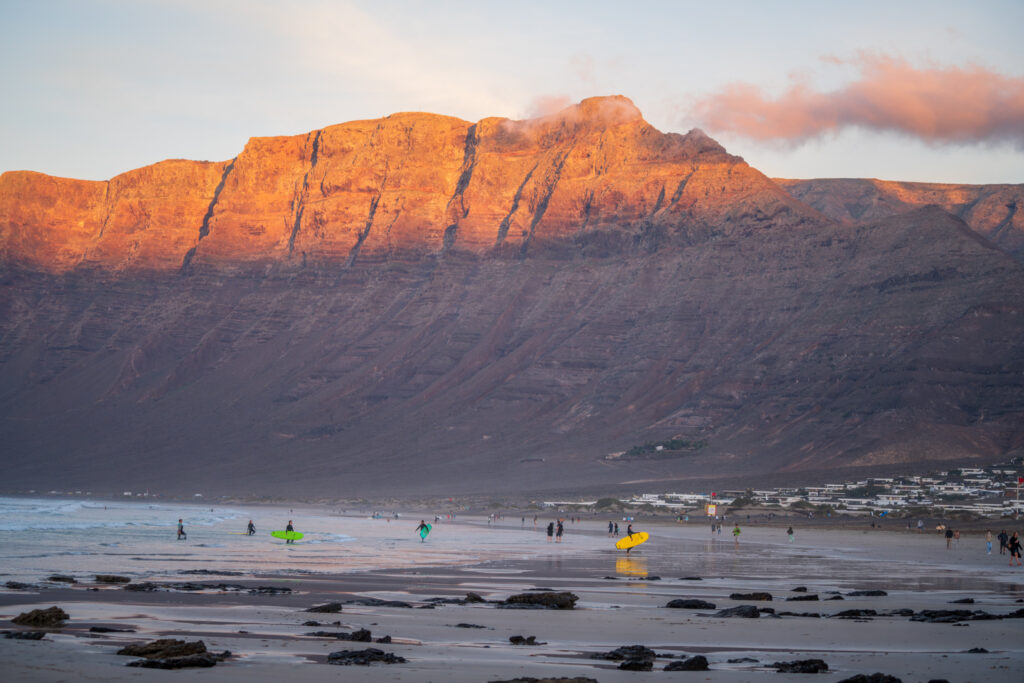 Lanzarote attracts water sports enthusiasts from all around the world. So much so, it's even been nicknamed the "Hawaii of Europe".
One of the top surf spots is the non-touristy Famara Beach on the northwest coast. It also caters to windsurfers, kite surfers, hang gliders and the odd naturist. The beach stretches for almost six kilometres, and it has even been used as a filming location for the movie "Broken Embraces" starring Penelope Cruz, such is its natural beauty.
Novice surfers are catered for at Famara Beach with several surf schools nearby, or if you're staying on the east coast, try Las Cucharas in Costa Teguise. The waves are the ideal size for beginners and there's also windsurfing, scuba diving and pedal boat hire.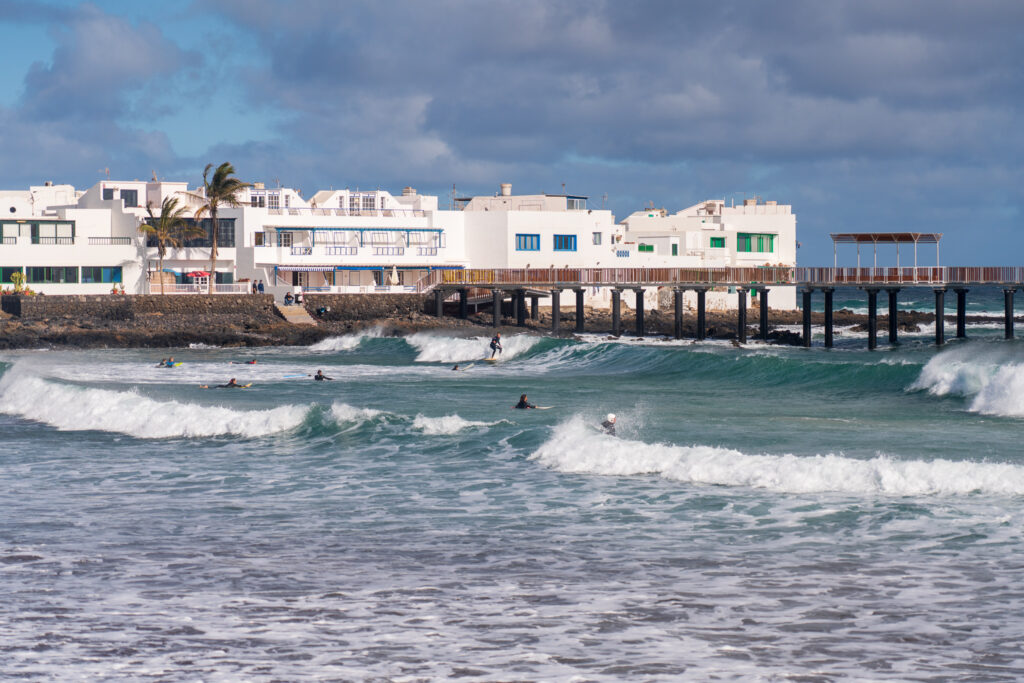 In Arrieta, beginner and intermediate surfers will encounter a regular swell, although it can get quite windy along the northeast coast. However, the pros outweigh the cons, as lifeguards patrol the beach and there are great options for satisfying post-surf hunger pangs.
Book your Famara Beach Surf Lesson here.
Taste Lanzarote's Finest Wines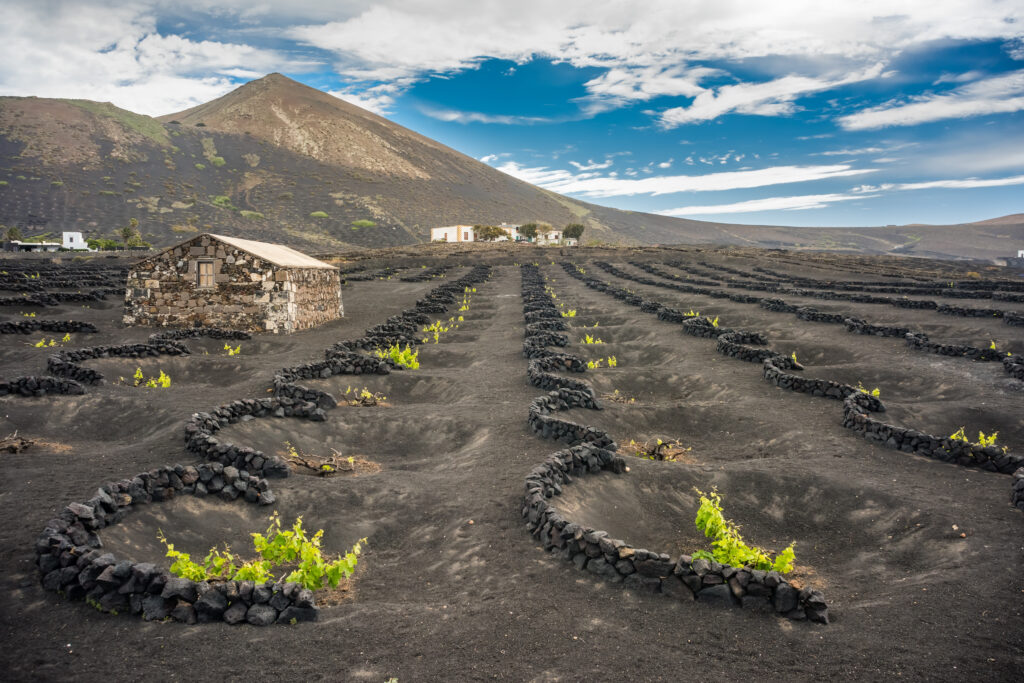 The island of Lanzarote has a history of viniculture and many of the wineries are dotted around the central region of the island. The Malvasia family of grapes are mostly grown here, curating a delicious sparkling and sweet wine, perfect to pair with cheeses, salads, and fish.
If you're thinking of hiring a car in Lanzarote, head to Bodegas El Grifo, the oldest winery in the Canary Islands dating back to 1775. The complex encompasses a huge 60-hectare vineyard, a museum, and warehouses with storage for over a million litres of the finest vintages.
Bodega La Geria is one of the most visited on Lanzarote. The harvest takes place in July, so if you're on the island, visit then to see the entire wine-making process take place. The bodega offers tours year-round if booked in advance, plus, there's a fabulous restaurant on-site.
Finally, Bodegas Rubicon offers free entry to their Yaiza winery to see the barrels, exhibition and tasting rooms. You'll have the opportunity to sample wines in the cellar and can feast on tapas in the restaurant with views across Timanyfaya National Park.
Take a Day trip to La Graciosa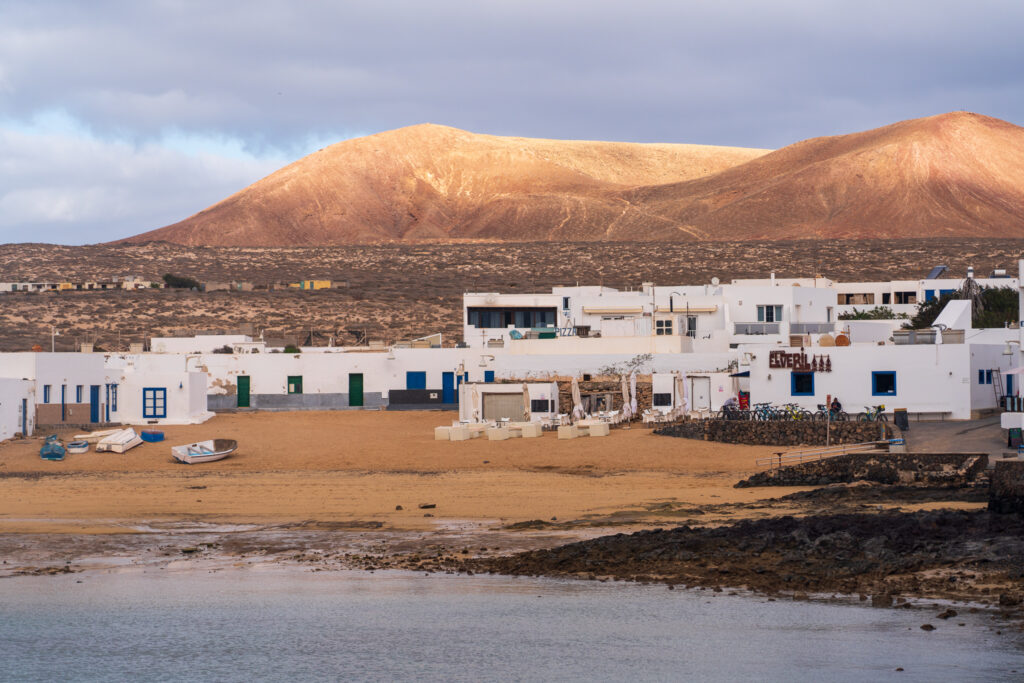 The island of La Graciosa is the smallest Canary Island at just 8km long, nestled off the northwest tip of Lanzarote. It's peppered with unspoilt volcanic landscapes, and remote sandy beaches, and offers the ultimate rugged adventure.
The only way to reach this beautiful isle is by ferry. The good news is, there are around 20 a day, and the journey from Órzola to Caleta de Sebo only takes half an hour. You can book your ticket on GetYourGuide (as I did) which will save you from having to line up at the ticket office on the day.
The island is part of Europe's largest marine reserve – Chinijo Archipelago Nature Reserve. It's the perfect place to connect with nature and try scuba diving for the first time.
There are exquisite beaches with soft golden sand and crystalline waters – La Cocina and La Francesa to name a couple. And as the island is completely car-free (except for the few local cars), you'll enjoy exploring the gravel roads on foot, bike, or by guided jeep safari.
The main port town Caleta de Sebo is thoroughly captivating and picturesque, with white-washed houses, sandy streets, traditional fish restaurants and bakeries (pastelerias). There's also the World's Smallest Museum to visit, Museum Chinijo, where visitors can learn about marine life and the island's heritage.
Conclude your visit at sunset at El Veril cafeteria or stay a night or two to really immerse yourself in island life.
Tip: If hiring a bike, make your life easier by making it an electric one! There are plenty of places to hire them from in the main town where you'll alight your ferry. And they provide you with a route map of the island too.
Explore Los Ajaches National Park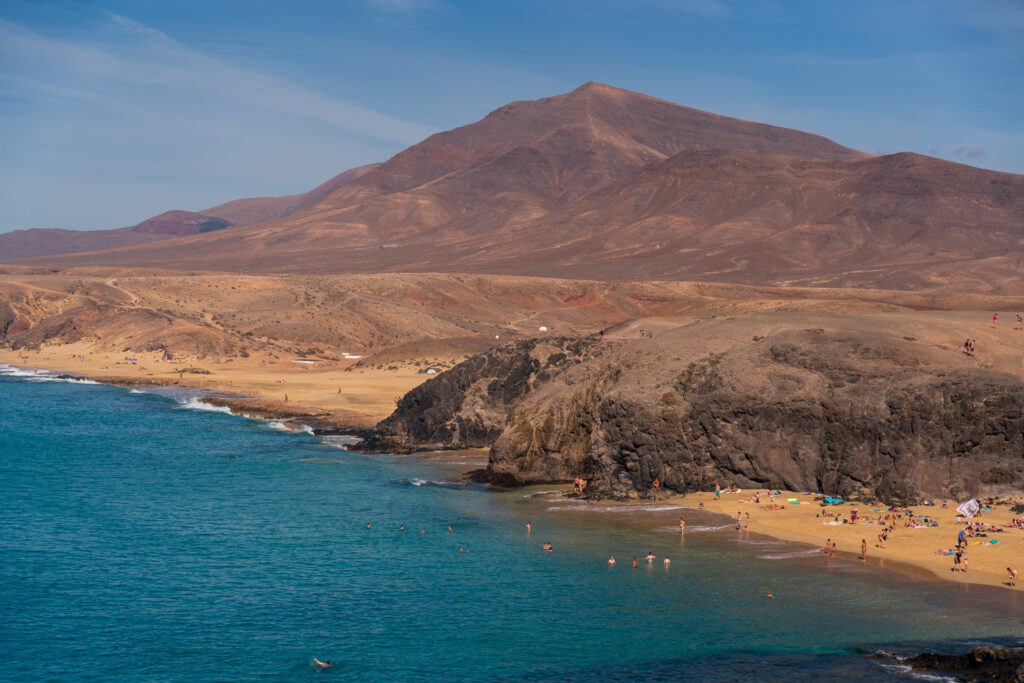 Los Ajaches on the southern coast of Lanzarote is part of a volcanic massif beset by deep red and tan-coloured Martian landscapes.
The region is a veritable combination of high peaks, gorges, and cliffs, which sweep down to the coast – ending at beautiful beaches such as Papagayo and Playa de la Cruz.
The national park is home to abundant archaeological discoveries, and there are several kilometres of trails to experience, although most routes are steep and should only be undertaken by experienced hikers.
Begin your trek from the charming village of Femés, a small white-washed town punctuated with palm trees, set at the foot of the mountains. The village is known for its cheese, and visitors seeking picnic delicacies can pop into Quesería Rubicon to purchase items from local traders.
While walking along the trail observe kestrels, majorera lizards and explore ancient caves. Admire the prickly pear cactus in its natural habitat and see goats as they wander the terrain. There are plenty of stunning viewpoints where one can stop for a picnic and photograph panoramic vistas.
For a more relaxed hike, start from the coastal town of Playa Blanca and take the dedicated trail to Playa Mujeres. From there it's easy to beach hop your way along the coast.
Complete your journey at beautiful Papagayo beach, timed perfectly for cocktails and dinner as the sun sets over the horizon.
Tip: You can also drive into the park, but be aware that there is an entry fee (€3 when I visited) and it's only payable by card. The beaches are signposted and there is ample parking available once you reach them.
Family Fun at Aqualava Water Park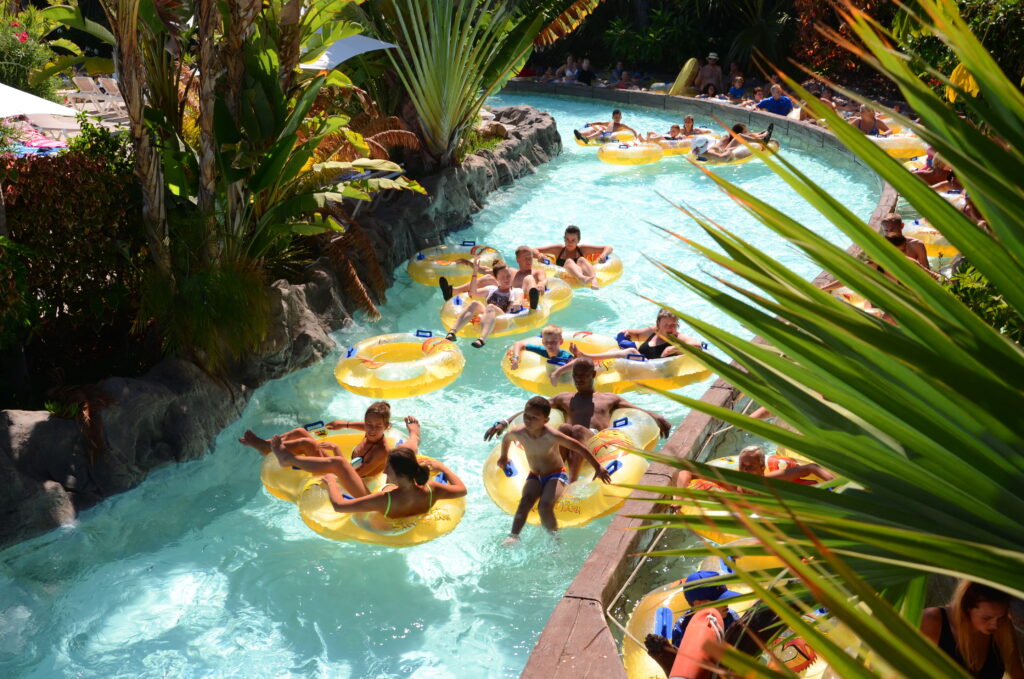 At Aqualava Waterpark in Playa Blanca, they take full advantage of the island's geothermal activity. It's used to heat the pools, helping to keep the cold at bay during winter months.
It's also no surprise that the theme of the park is volcanoes. The features are modelled on the spectacular scenery of the island. It's a place where visitors can plummet down fast-paced waterslides, drift along lazy rivers on inflatables or sun worship on the man-made beach.
There's plenty to entertain young children too, with an animal-themed splash park, slides, toadstools, and tipping buckets, and those in search of an adrenaline fix will discover a number of hair-raising slides with varying twists and turns.
The waterpark, which is open year-round, boasts a handful of shops and cafes for lunch, plus, there's a dedicated bus service from Puerto del Carmen and Costa Teguise on Mondays, Wednesdays, and Fridays.
Cueva de los Verdes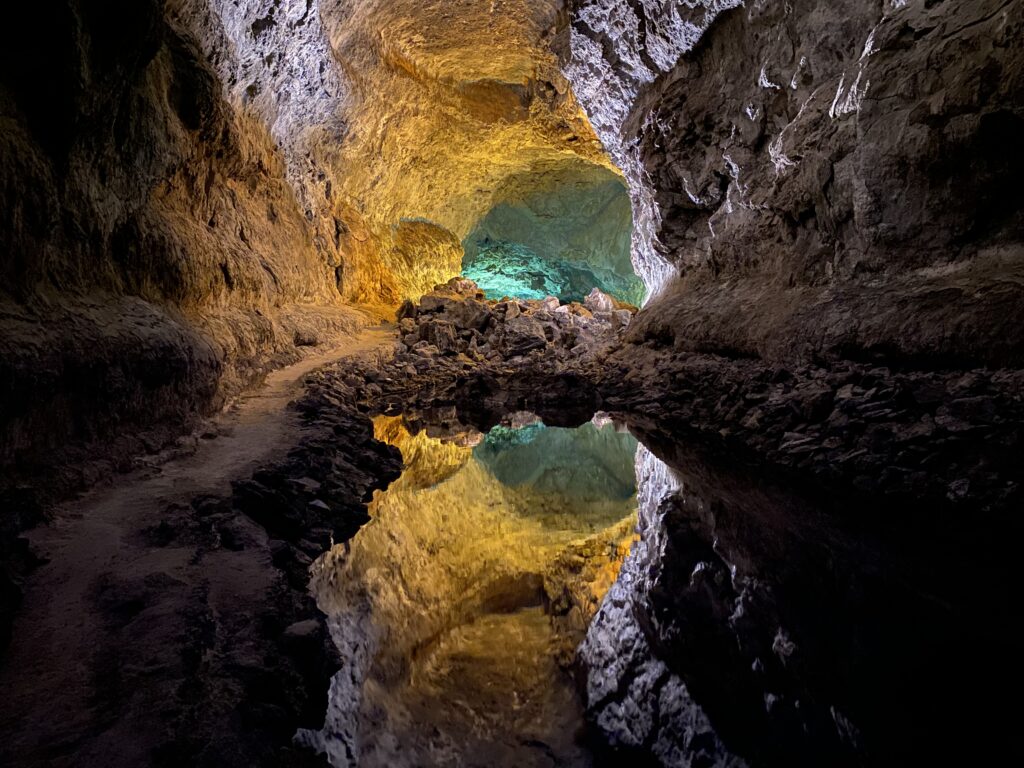 Similar to Los Jameos del Agua a little further north, La Cueva de los Verdes (or Green Caves) is another part of the same volcanic tube created after the Monte Corona eruption over 3,000 years ago.
The caves twist and turn underground for almost eight kilometres and visitors can take a guided tour along labyrinthine pathways and learn about the myths and mysteries of the vaults, the volcanic tunnel, and the lagoons. A few highlights to see on a tour include La Sala de las Estetas, la Garganta de la Muerte and Puerta Mora.
One local legend says that citizens once used the caves as a refuge to hide from Berber pirates arriving from North Africa during the 16th and 17th centuries. It's also worth mentioning that these caves also extend underwater to an area known as the Túnel de la Atlántida – the world's longest lava tube.
For a truly unique experience, visitors can book tickets for a jazz, classical, opera or flamenco concert in the underground hall to hear the incredible acoustics or pop into the visitor centre to learn more about the region's rich history.
Tip: The caves are open from 10.00 – 16.00 most days, but queues can get long (especially as tour buses skip the line). I waited over an hour after arriving at 11am, and the queue was even longer when I left. I'd recommend getting there early to avoid the rush.
Watch the Sunset at Mirador del Rio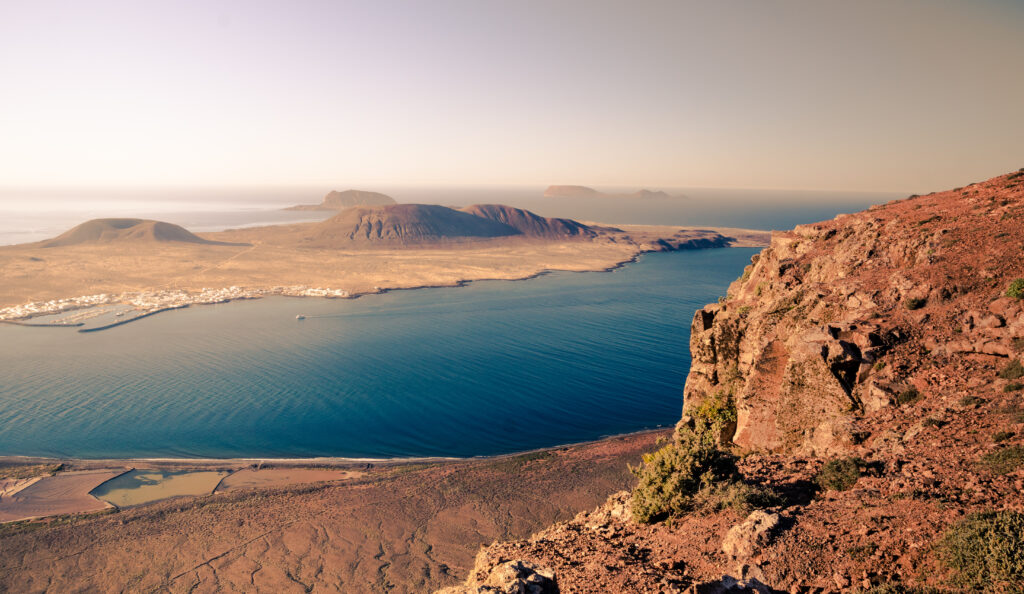 Mirador del Rio is set on a 475-metre-high viewpoint in northern Lanzarote, overlooking La Graciosa Island and beyond. It boasts extraordinary views and is one of the best places on the island to watch the sunset.
The area was once home to a 19th-century fortress, used by guards to spot incoming invaders, but in the early 1970s, the zone was transformed by local artist César Manrique to make the most of views over Chinijo Nature Park and other smaller, more distant Canary Islands.
The Mirador del Rio building is a sight to behold, with undulating curves and a distinct, pared-back futuristic vibe. However, that's from the inside. The exterior blends so perfectly into the natural landscape that it's barely visible to onlookers passing by.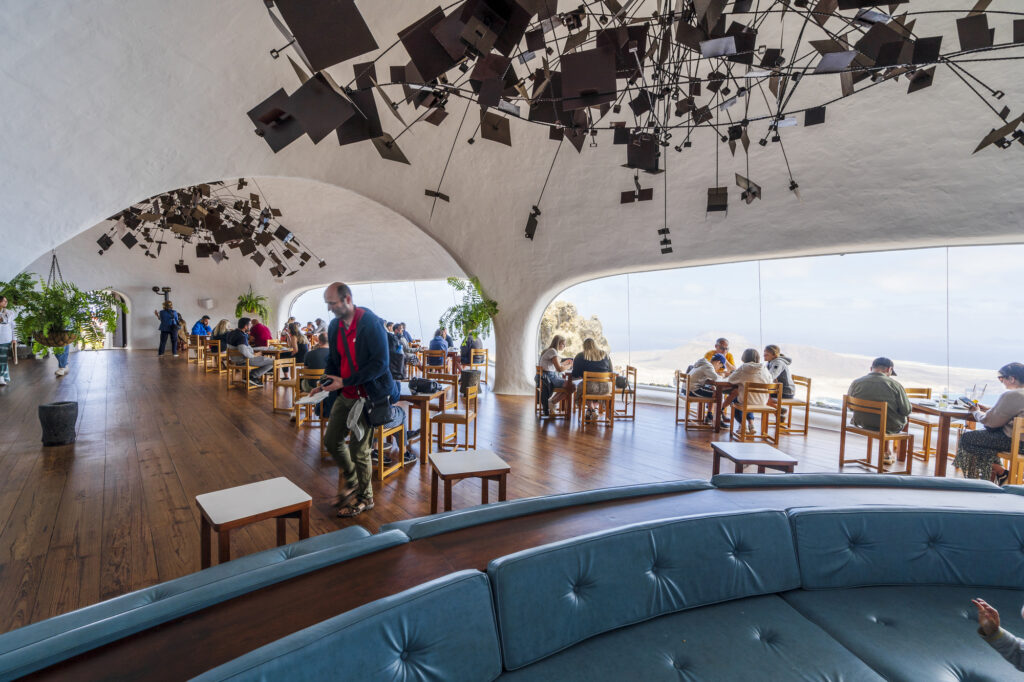 The interior boasts outstanding views through glass gallery windows and from the balcony, visitors can take a closer look at the outlying islands. Time your visit just before sunset, enjoy a meal or drink in the bar/restaurant and admire the exhibits before the natural spectacle takes place.
Mirador del Rio is easy to drive to from Órzola in around 15 minutes. It's also an amazing stop-off point on a return journey from La Graciosa.
Discover the Stratified City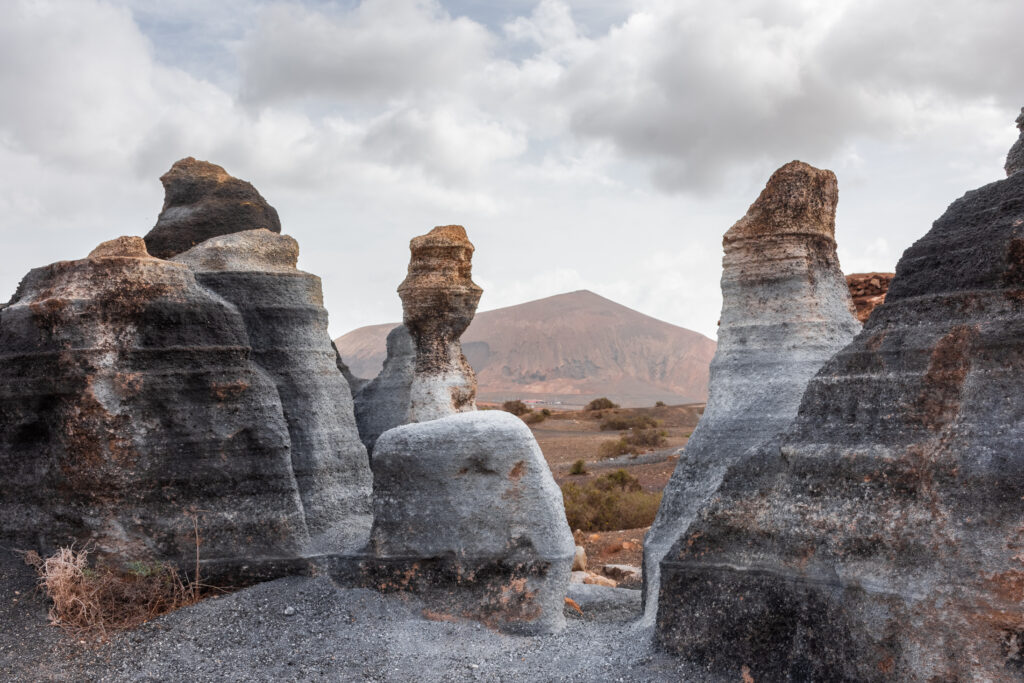 The Stratified City in Lanzarote is less of a city, and more of an outdoor natural museum. It's easily accessed from the towns of Teguise and Guatiza and is the perfect place to visit in a day, alongside Teguise market or the Cactus Gardens located a few kilometres north.
This unique, Dali-esque tourist attraction comprises a huge collection of black and charcoal volcanic rocks which were shaped over centuries by sun, wind, and rain. Created by the elements, the rocks morphed into unusual formations with holes, tunnels, and caves.
Visitors to the city can hike or walk around the other-worldly landscapes, book a dune buggy tour, or view them by car. There are great places to stop for picnics, but to truly experience this terrain, arrive early morning or late afternoon when it's peaceful and free from tourists.
The Stratified City is punctuated with hardy species of flora and fauna. It offers a multitude of photo opportunities and amazing views and is the perfect spot for tourists who enjoy being out and about in nature and all things relating to geology.
Visit the Salinas de Janubio (Salt Marshes)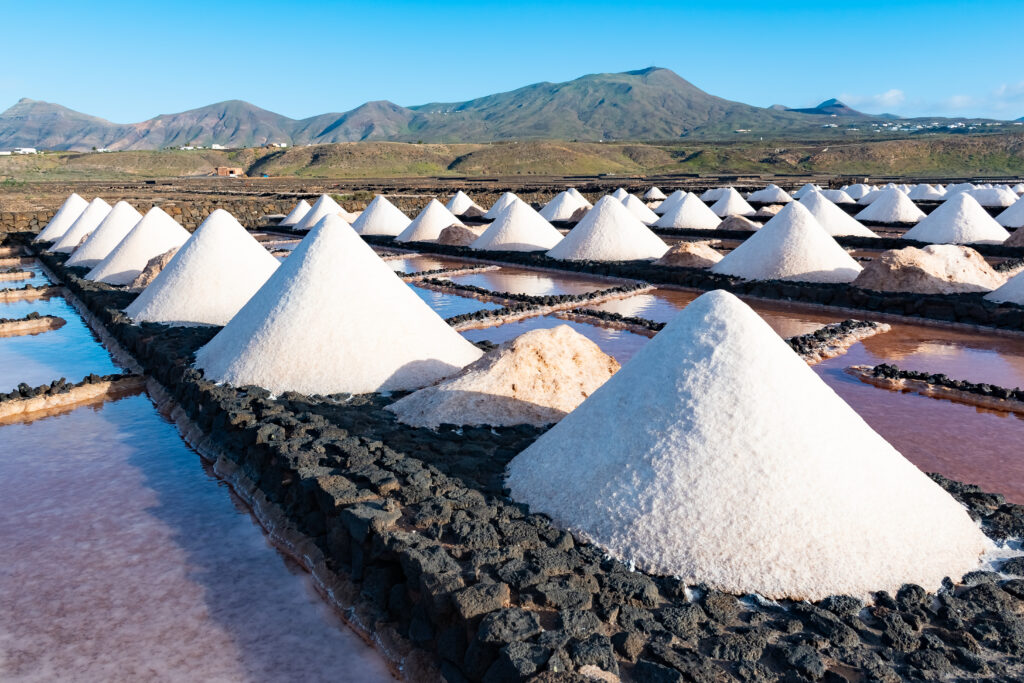 Once upon a time, there were several salinas, or salt pans on the island, created by a volcanic eruption in the 1730s. Following the creation of modern salt works in the late 19th century, salt became Lanzarote's most prized export. It was used to preserve fish during transit and graced tables as a high-quality condiment.
During its peak, Salinas de Janubio produced a mammoth 10,000 tons of sea salt every year, and that was using manual methods, not the electrical pumps we see today.
The salt pans of Salinas de Janubio are laid out geometrically, the bright bluish whites contrasting dramatically with the volcanic terrain of nearby Timanfaya Natural Park and the black sands of the beach. The peaked salt mounds differ in colour depending on the water levels in each area, and in June of each year, during the Corpus Christi festival, salt is dyed to create decorations for the capital Arrecife.
One of the best ways to experience Salinas de Janubio is on a guided tour. A seasoned guide can show visitors around, explain the history and salt creation processes in greater detail and show where to gain the best photographs.
Take a Wander Through the Sandy Streets of Tenesar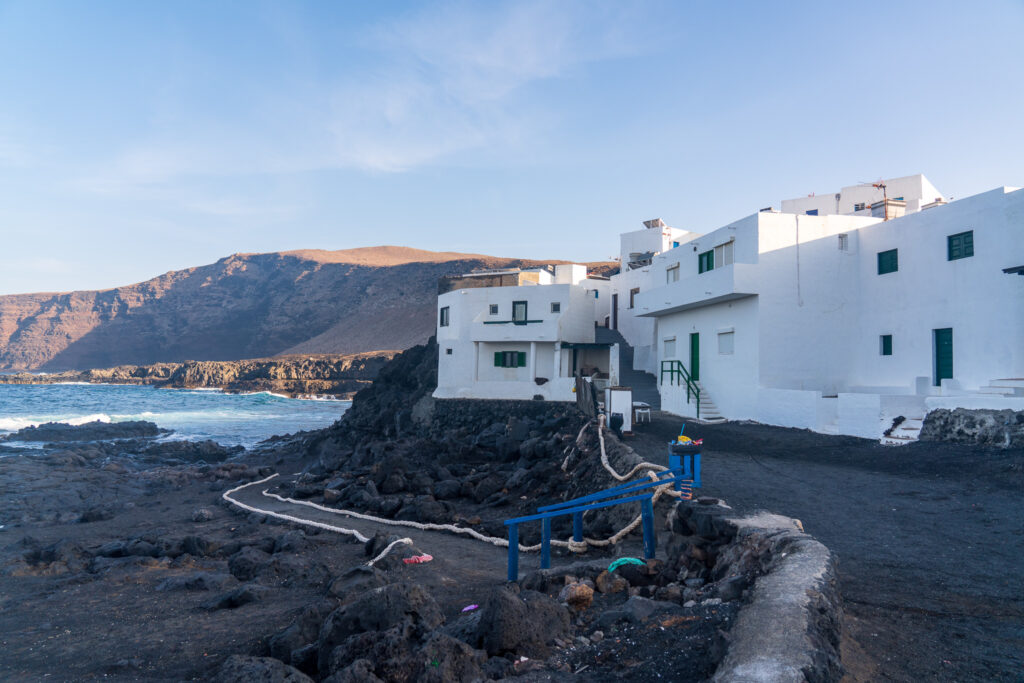 The tiny fishing village of Tenesar on the west coast of Lanzarote appears to have stood still in time. The low-rise, white houses perch by the water – a deep shade of blue, and behind, black volcanic rock creates a stunning backdrop.
Tenesar was supposedly an old leper colony, but today, it's a peaceful community, mostly devoid of tourists. While walking around, the sound of silence is only broken by breaking waves crashing on the rocks. Locals fishing boats bob up and down as they bring in their daily catch, and on weekends, the entire village gathers for a barbeque.
Walk around the village, imagining life in this remote and rugged spot, stop in the local restaurant for refreshments or explore the Casacorral Tenesar hiking trail. Several secluded beaches lie nearby too, although some are impossible to reach by car.
On a return journey, make a stop at Tinajo. This traditional village is famous for its gastronomy, or venture north to La Santa, another great surfing beach, and ride the waves before returning to your resort.
Rainy Day Activities at Biosfera and Deiland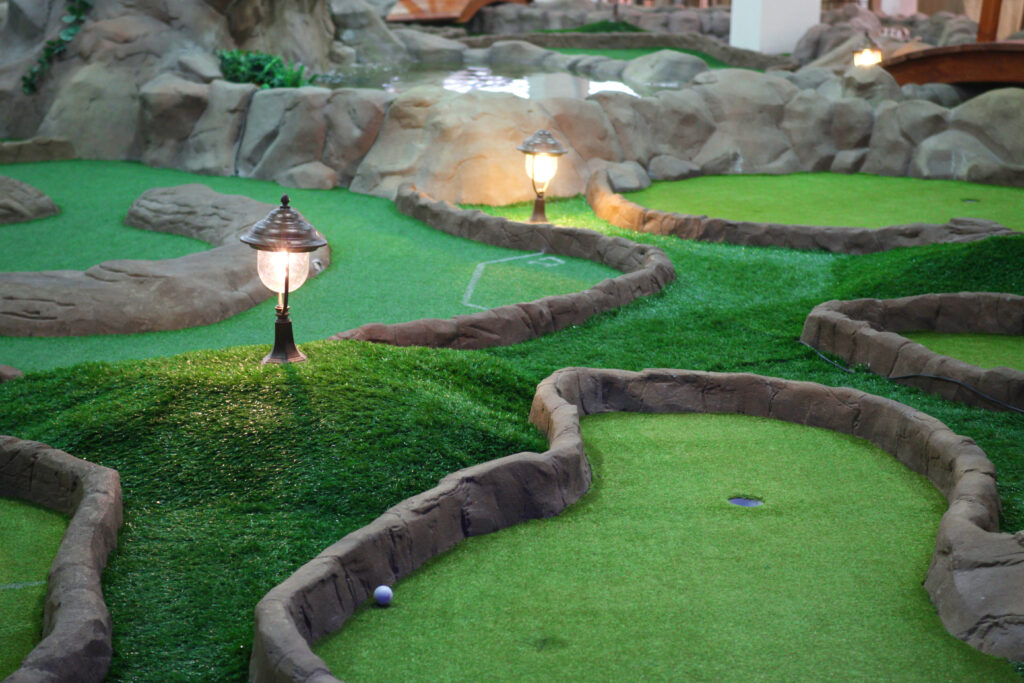 If the kids (and adults) are getting restless on a cloudy or rainy day, spend some time exploring the Rooftop Biosfera in Puerto del Carmen.
This is one shopping plaza which offers more than just shops. Families can spend time at Jurassic Kingdom Mini Golf, watching a movie at Galaxia 3D or flying through the air over volcanoes and clifftops on the thrilling SKYRIDE. There are themed cafes, and an Escape Room; and after hours, adults can sit back and relax with cocktails and jazz beneath parasols on the rooftop.
In comparison, the nearby Biosfera Plaza Shopping Centre plays host to favourite high street stores ranging from Zara and Timberland, and there's also a selection of restaurants serving international cuisine.
Younger children are also catered for, with an adventure playground, trampolines and climbing frames.
Just 10 minutes drive away towards the capital, Arrecife, is the popular Deiland shopping centre. This mall is slightly bigger than Biosfera, and along with well-known brand stores, it has a bowling alley, cinema, and an adventure playground.
Dance the night away in Puerto del Carmen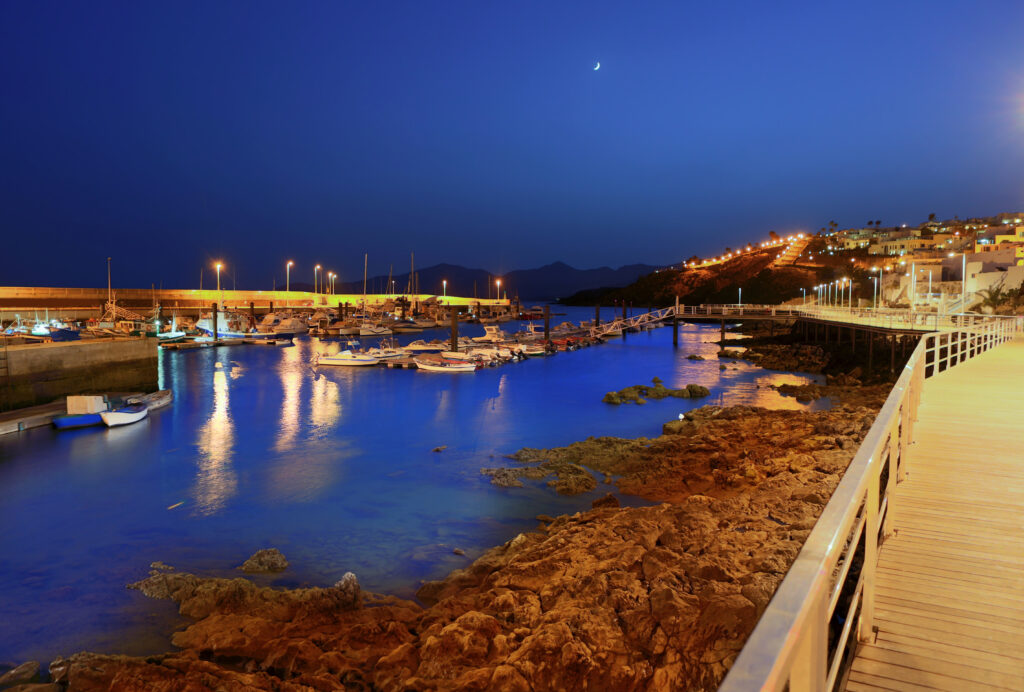 Live music and late-night bars are a mainstay in the tourist resorts of Lanzarote; and Playa Blanca and Puerto del Carmen tend to attract many of the seasoned partygoers.
Avenida de Las Playas in Puerto del Carmen is the most popular strip for nightlife. Here, you'll find every establishment imaginable, from buzzing cocktail and karaoke bars to Irish pubs and all-night clubs. There's also a whole host of eateries for after-party late-night snacks and pizzas.
As for music, anything goes on the island, particularly in Puerto del Carmen. On any given evening you can hear the smooth sounds of jazz, R&B, and hardcore house, emanating from bars and dancefloors, catering to all tastes.
---
Best Time to Visit Lanzarote
Lanzarote is one of those places that can be enjoyed at any time of the year. The temperate climate means you'll experience balmy days even in the winter months, and it doesn't get too hot in the summer either. The average temperatures average between 19ºC and 30ºC year round.
With that said, winter is a popular time to visit Lanzarote if you're living in the Northern Hemisphere. Visiting Lanzarote in January or February is a sure way to beat the winter blues. You'll be greeted with warm temperatures, little rainfall, and low winds. And the sea is a welcoming temperature too.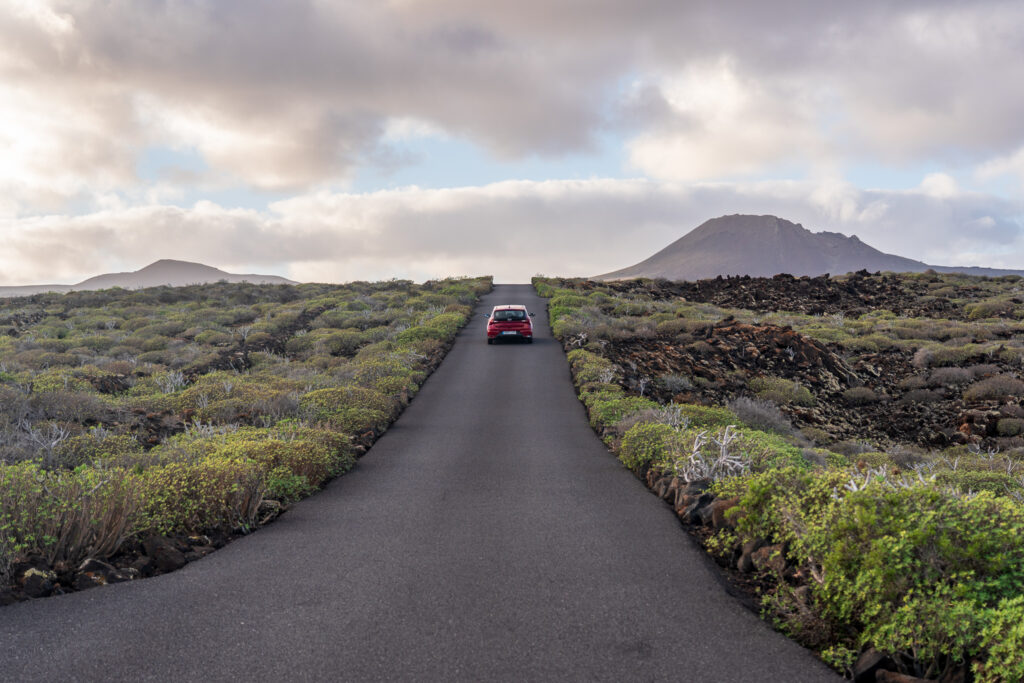 Where to Stay in Lanzarote
I've written an entire guide to the best places to stay in Lanzarote – read it here. Or see below for some quick-fire suggestions.
Families visiting Lanzarote will love the Oasis Lanz Beach Mate in Costa Teguise which offers kid-friendly suites and apartments right near the beach.
Couples wanting a private retreat will enjoy the accommodation offered at Aquablanca in Punta Mujeres. These tastefully designed suites feature private plunge pools and dream-worthy views.
Those wanting to stay near Los Ajaches National Park for hiking and swimming at the most beautiful secluded beaches, will enjoy coming back to La Cala Suites in Playa Blanca to relax in the evenings.