If you've ever wanted to step straight into a magazine cover of a ravishing beach, you'll find the scene on the island of Formentera. Just a quick ferry ride from Ibiza, the smallest of the Balearics provides a blissful escape from everyday life. Laze as much as you like on pure white sand kissed by tranquil water that resembles an artist's palette of the most beautiful blues.
Overall, the island's laidback vibe is worlds away from its party-hard sister. However, options for what to do in Formentera suit every mood. Burn off some energy on awe-inspiring hiking trails and kayak around the dazzling coastline. After history-hopping to watchtowers, get set to fill your bags with goodies from the markets. When hunger strikes, choose gastronomical delights at charming Mediterranean restaurants.
Finish it all off with cocktails by the sea and chilled-out Balearic beats for company as the sun sets. Sound like you? Here's what to do.
Bask on the Beaches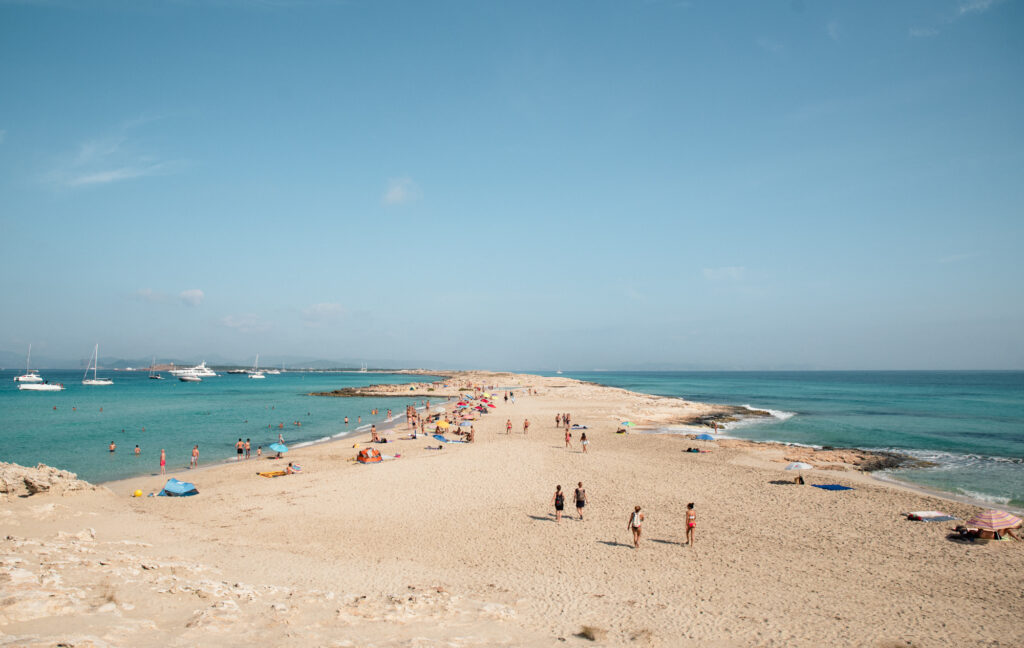 No one will blame you for doing nothing but flopping and dropping on one of the best beaches in Formentera, and, in fact, the world! Ses Illetes is a showstopper with a long sandbank of glistening sand lapped by azure water. It's understandably busy with day-trippers, however, there's not much here but nature and a couple of charming beach restaurants. All it takes is a leisurely stroll to find a quieter patch to commence flopping.
The Trucador Peninsula hosts the soft white sand of Platja de Llevant, a favourite of surfers in the right conditions. Love long walks on the beach? Head to Platja de Migjorn with around five kilometres of coves and rocky inlets to explore. If you've got the kids in tow, Platja es Arenals is the sheltered spot for you, complete with water sports and rocky havens for snorkelling.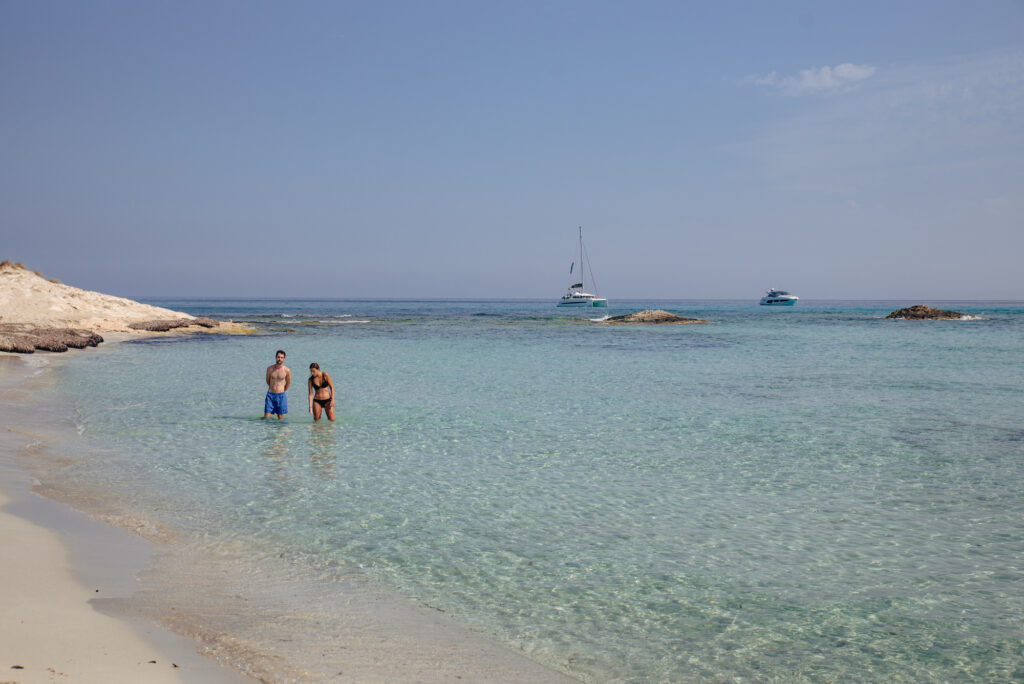 Get your camera ready for cliff-framed Calo des Mort. That's if you can resist the temptation to dive right into the sublime turquoise water of the petite cove the second you see it. For a fun resort vibe, choose a sunbed on the beach at Es Pujols. Here, you're just a sandy hop, skip and jump from leafy avenues for souvenir shopping and seafood dining with views.
Wander Around Sant Francesc Xavier
Off the beach, an eclectic mix of Formentera attractions await in the capital. Sit beneath the pink bougainvillaea from postcards in white-washed restaurants. Indulge in an Insta-worthy brunch, lunch or dinner, and people-watch to catch up on the latest hipster fashion. No need for envy. It's easy to buy your own at gorgeous independent boutiques dotted throughout the village, with exquisite accessories – think hand-made jewellery – to match.
When it's time for a wander, take a trip through history. Designed as a fortress to keep the pirates out, the 18th-century parish church dominates the main square. Keep the theme going at the much older chapel of Sa Tanca Vella, which is covered in a barrel vault and thought to date from the 13th or 14th century. Snap some selfies with the Fossar Vell, a cemetery restored by local architect Marià Castelló.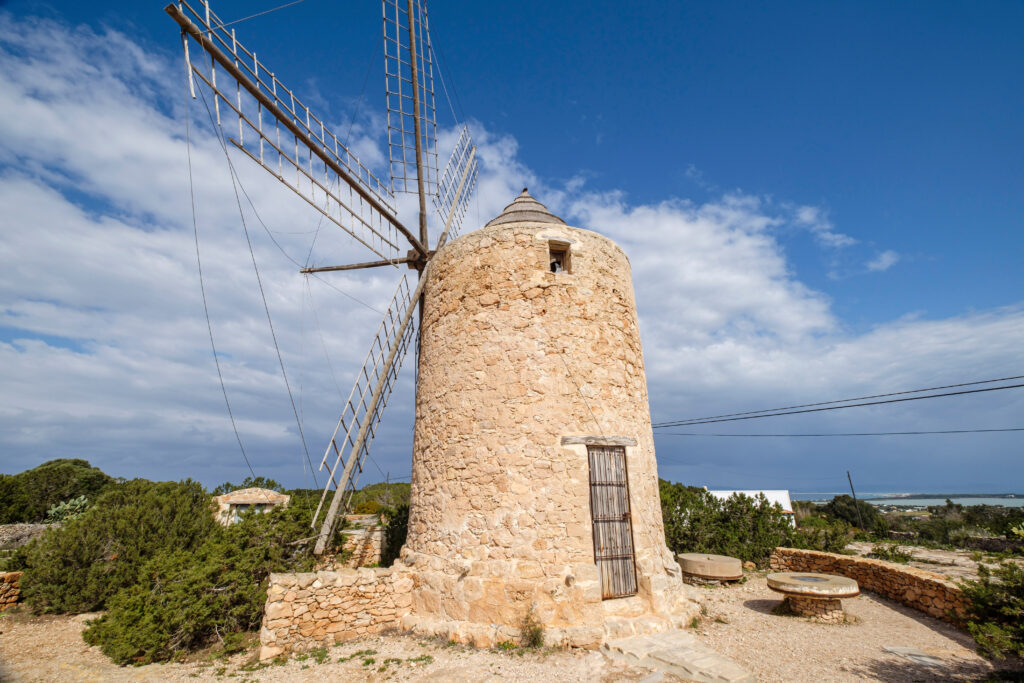 You'll find photo-worthy views everywhere, but there's a particularly swoon-worthy spot from the nearby windmills of Sa Mirada. Built in the 19th century, they operated until the 1950s and one forms part of a private house. Frame your sweeping shots of Molí d'en Mateu and Molí d'en Jeroni windmills with views over La Savina to the island of Ibiza.
Launch into Water Sports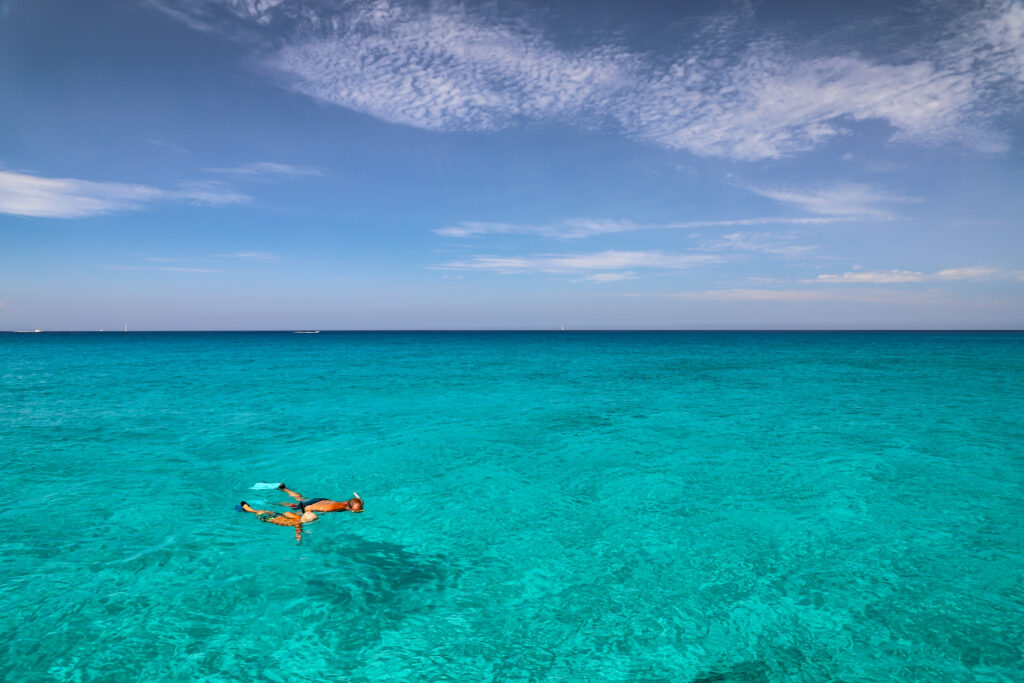 When you get that burst of energy after refreshing dips in azure seas, water sports are at the top of the list of Formentera activities. And, if you've always wanted to learn how to dive, welcome to an underwater classroom in paradise. A handful of dive operators get you plunging into the Es Freus Marine Reserve, created in 1999 to protect precious ecosystems like the Posidonia meadows.
Prefer a snorkel? Go for it straight off the beaches to explore rocky cliff faces and seabeds. Or, book a snorkelling tour with experts to lead the way.
Boating is big news, of course, and it's possible to hire slow, small boats without needing a license, from La Savina port. Otherwise, charter everything from luxury yachts to catamarans. If you're a big sailing fan, time your trip to watch the action at key events like the Ruta de la Sal Regatta and the Ibiza Gold Cup.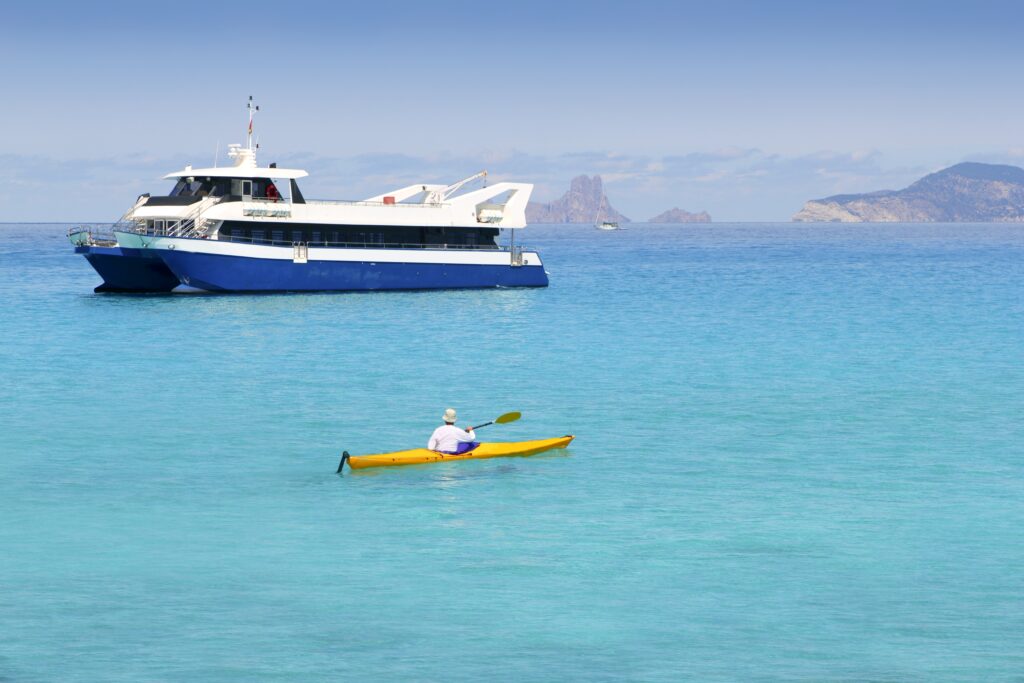 With idyllic, calm conditions, paddle power is a perfect way to explore. Hire a kayak and paddle to secluded coves or take a group excursion to see the sights. Fantastic conditions ensure thrills for windsurfers and kiteboarders. For a relaxing exploration with a core strength workout thrown in, paddle around lagoon-like waters on a SUP.
=> Book your Formentera Boat Tours and Water Sports Here
Hit the Markets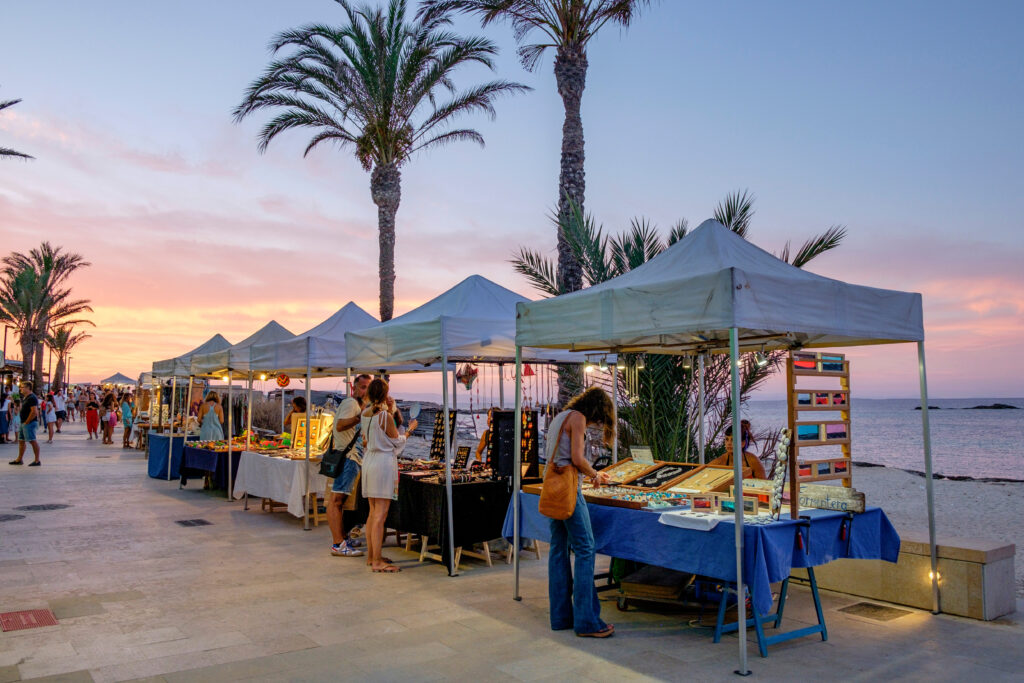 Hop from stall to stall at markets in the centre of Sant Francesc in the summer months. One thing's for sure – you'll pick up the perfect bohemian outfit or gift with that distinct breezy, Balearic flair. There's no need to stop there, with numerous markets famous for original treasures and trinkets to remember your trip by.
La Mola market is arguably the favourite, thrilling shopaholics on Wednesday and Sunday from May to October. In keeping with the hippy vibe of the 60s, local artists tempt with fabulous fashion, and local products such as wooden decor and unique jewellery. You'll browse to the tunes of live music and smell gastronomic delights long before you get to the stalls selling them.
Hit the beach promenade at dusk for the markets at Es Pujols from May to September, and fill your bags with ceramics and crafts. You'll walk straight from the ferry into clothes and accessory stalls at La Savina from June to September.
In the creative village of Sant Ferran, shop till you drop during Mercado Artesano from June to October. This is the spot for quirky works of art from the island's talented sculptors.
Cycle and Hike Through Nature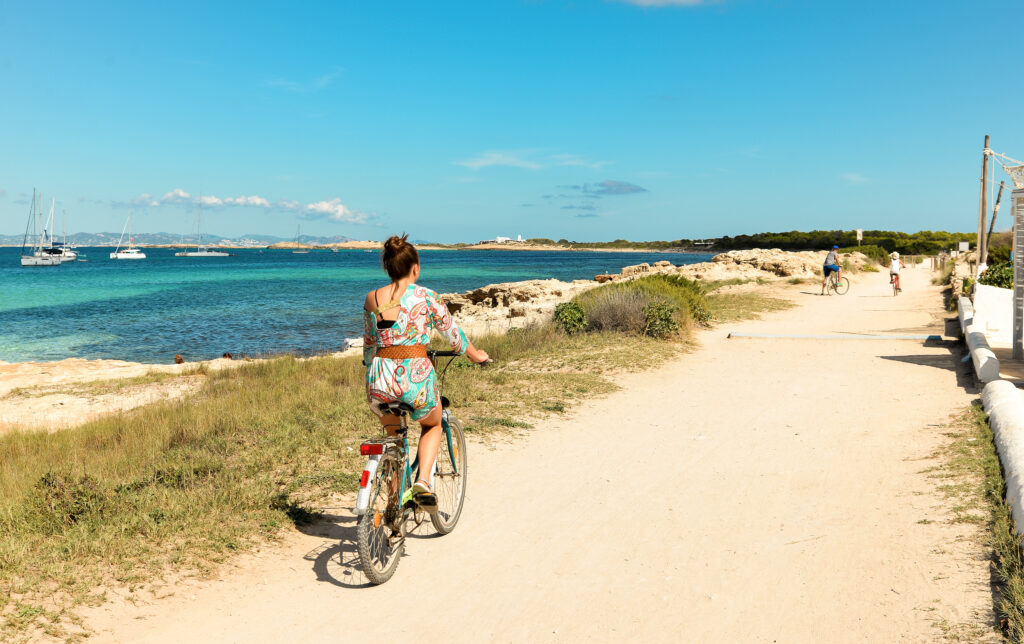 Cycling is one of the top things to do in Formentera and two wheels basically get you everywhere. Signposted green routes cover more than 100 kilometres of trails suitable for most. Don't worry too much about all that pedalling. The Mediterranean island is mainly flat and the breathtaking views ensure you'll exercise without even noticing.
Getting lost is half the fun, as every path leads to something you'll want to see along 18 kilometres from end to end, crisscrossing inland as you go. Gear up at bike hire shops at La Savina port as soon as you arrive. If you fancy yourself a bit of a cycling expert, head to Formentera in October for mountain bike races.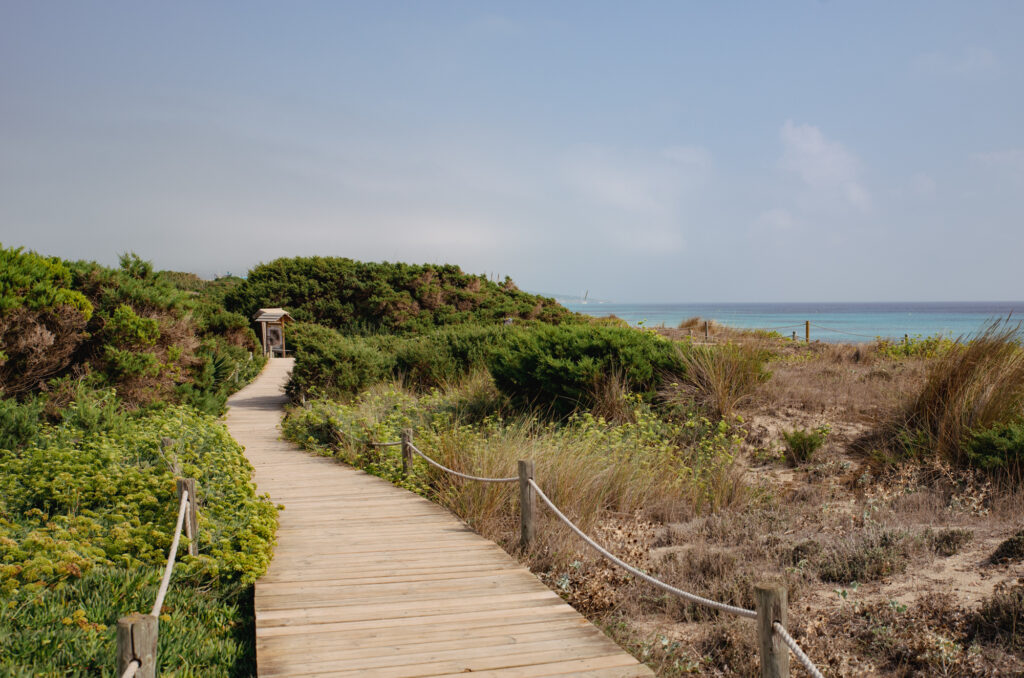 The same trails are ideal for hiking, so don't forget your comfy walking shoes. You're rewarded with sweeping ocean and pine tree views along Cami de sa Pujada, stretching from Es Calo up to La Mola. If you prefer to know where you're going, simply pick up a map of all the routes and choose your favourite adventure for the day.
Discover Ses Salines Natural Park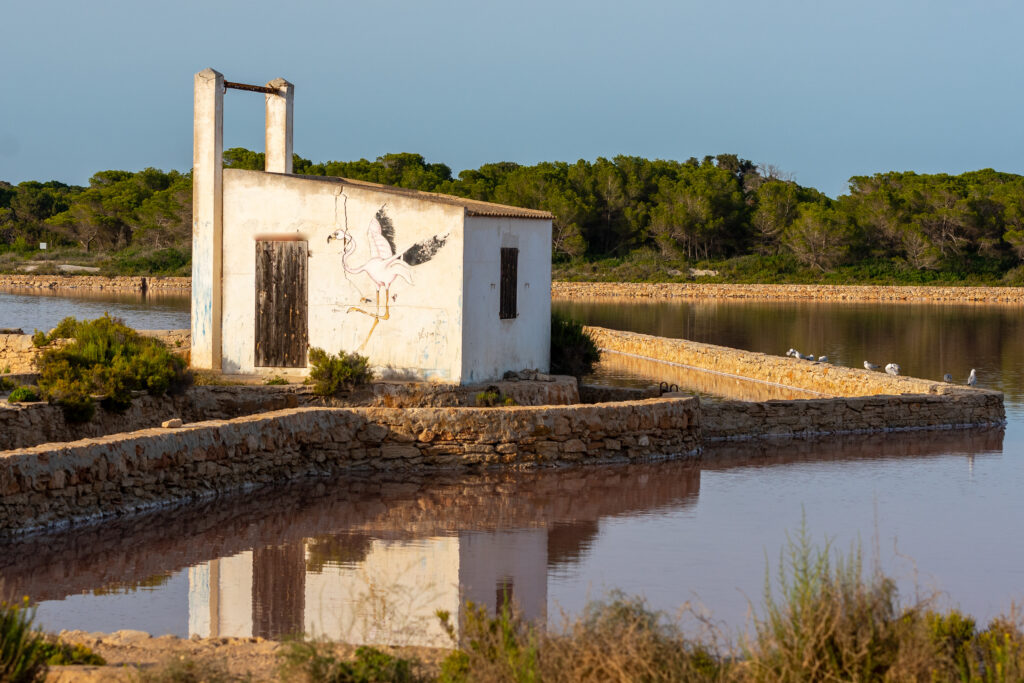 This Formentera 'must see' is impossible to miss, covering nearly 3,000 hectares of land and more than 13,000 hectares of sea to Ibiza. The protected Ses Salines National Park provides safe nesting grounds for migrating birds and brims with coastal pine and juniper groves. Pack your binoculars for leisurely days spotting the Balearic shearwater, the Audouin's gull and, everyone's favourite, the pink flamingo.
Ever wondered why the water is so tantalisingly clear? Here, it's due to the oceanic Posidonia, magical seagrass meadows that house marine life and shelter the beaches from erosion. It's little wonder, therefore, that this area is listed as a World Heritage site by UNESCO.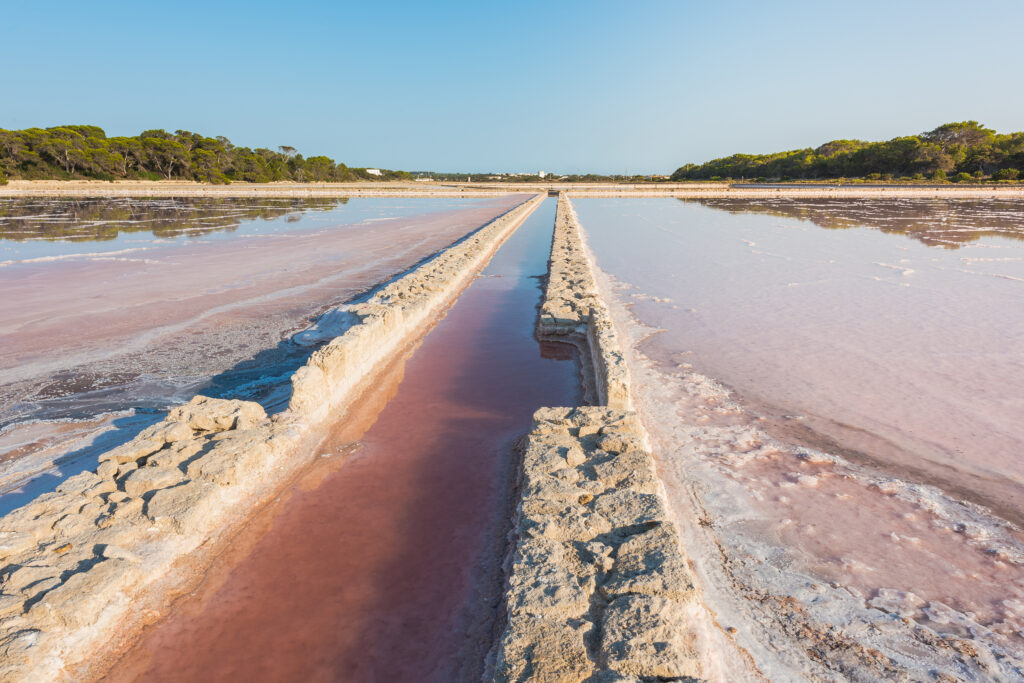 Used for salt production until 1984, Ses Salines lagoon is now a refuge for aquatic birds, with flamingo sightings most likely from August to October. Though Estany Pudent is named after a bad smell, this is a pond that thrives with saltwater-loving birdlife, and flows out to sea via an artificial canal. To explore, walk or cycle along four routes that cross the park.
Explore Cap de Barbaria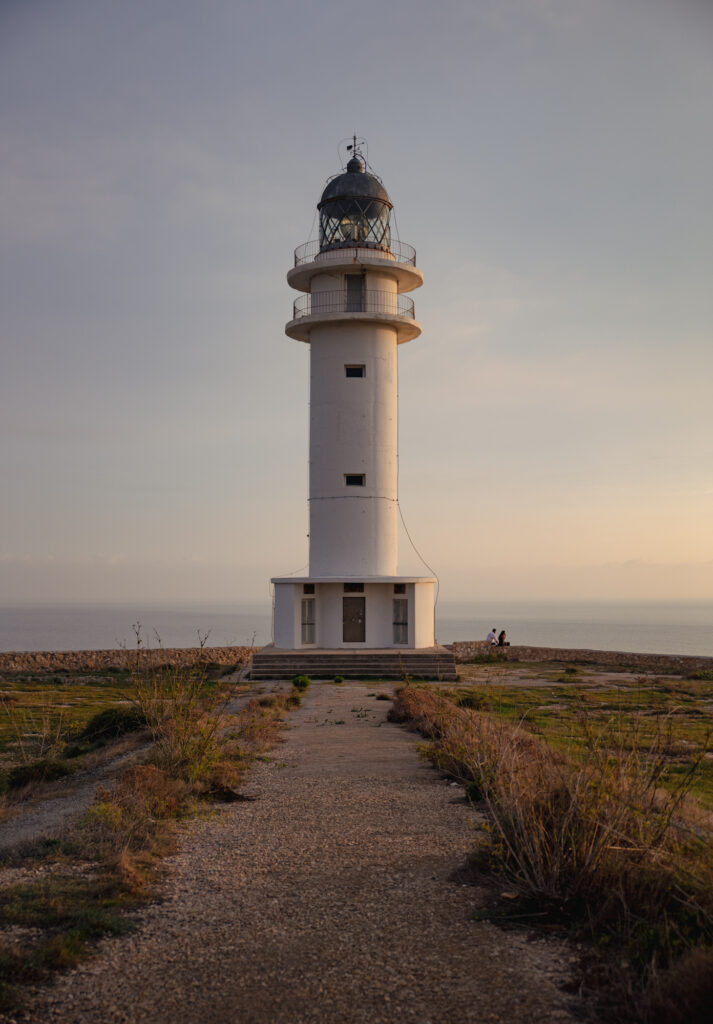 Among the best places to visit in Formentera, the lighthouse of Cap de Barbaria is a photogenic icon. The wine of the same name is one of the island's most famous exports.
This area is the southernmost point of the Balearic Islands and the closest point to Africa's coast, with a dramatic landscape that withstands battering winds along the rugged cliff face.
The money shot is along the narrow road on the approach to the lighthouse, framed by the ocean and perched nearly 100 metres above sea level. If you're a film buff, you might recognise the scene from the movie that made it famous.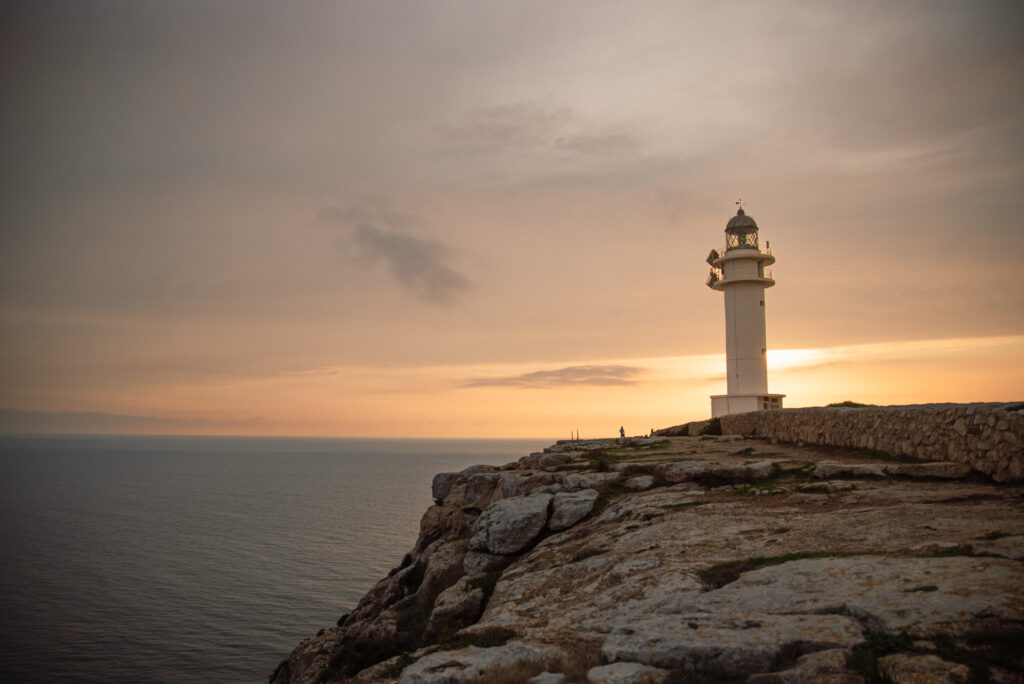 Afterwards, climb through a hole in the ground to discover La Cova Foradada and another dazzling viewpoint. Get a glimpse at pirate history at the nearby Des Garrovers tower, one of a system of four towers built in the 18th century at strategic points across Formentera. Just make sure you send the smoke signals up if you spot any Saracen pirate ships.
Hop to Espalmador Island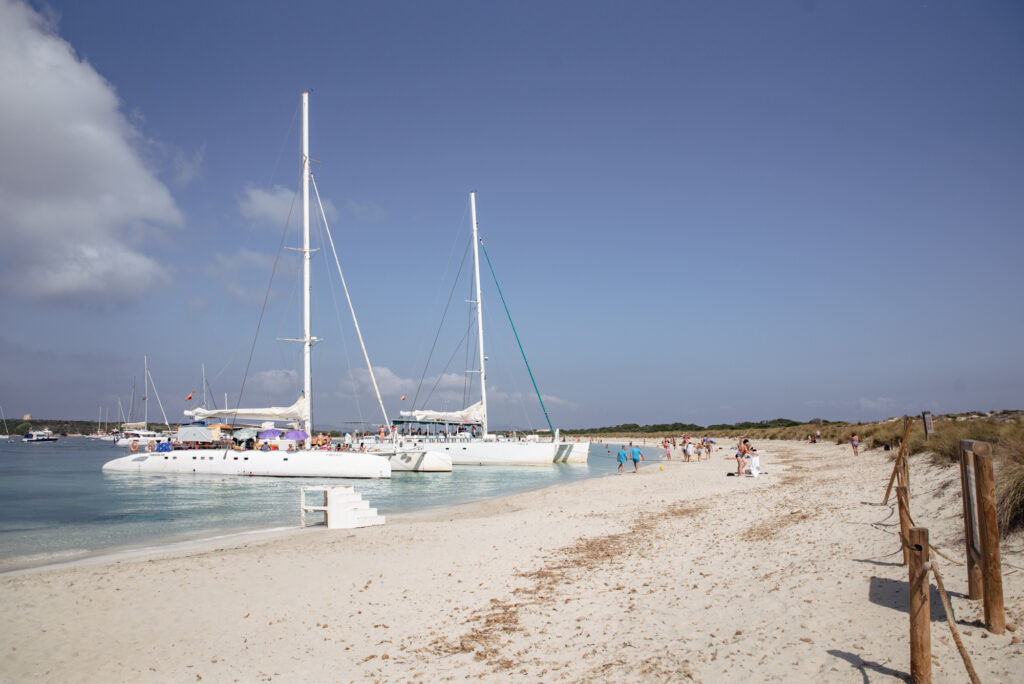 This petite slice of heaven is within swimming distance of Formentera, but it's not recommended to tackle the strong currents to get there. Instead, hop on a boat ride to visit the privately-owned Espalmador Island for a day trip and escape to nature. Pack a picnic – remembering to take everything with you when you leave – and swim in serene bliss on beaches of jaw-dropping natural beauty.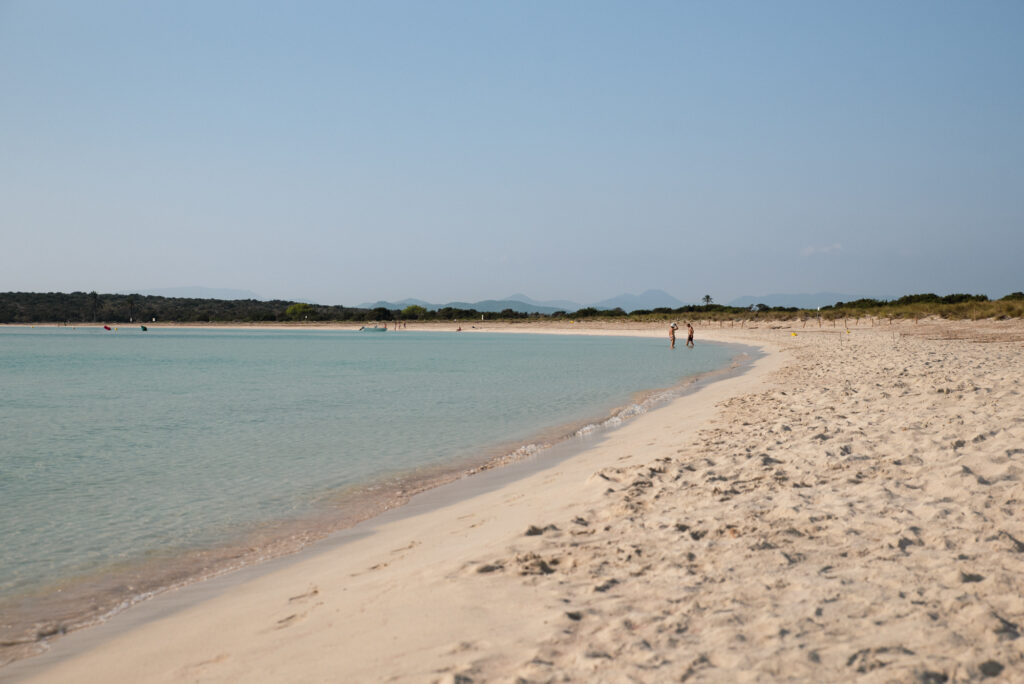 Wonderfully, there's not much to do other than gasp at the fine white sand and dip in and out of crystal clear waters on this tiny island. However, if you feel like taking a stroll, head to the middle of the island to see natural mud flats that protect birdlife.
You'll likely share your visit with an abundance of mooring yachts and guests, but you'll feel miles away from civilisation.
Watch sunsets at La Mola Lighthouse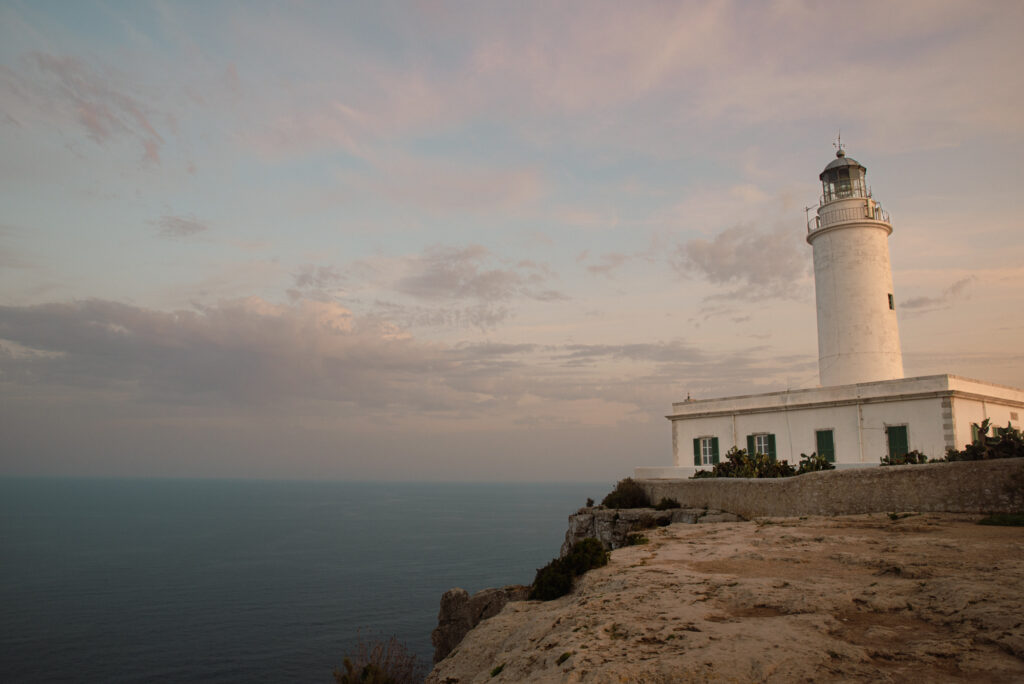 After a day of swimming, shopping and sighing over coastal views, watching the sunset is among the most exquisite things to do on Formentera. As the highest point on the easternmost coast, it's hard to beat the views of the Mediterranean with the natural show performing in fiery colours over La Mola Lighthouse. If you're an early bird, don't miss sunrise here either.
To add to the magic, the iconic lighthouse boasts quite the history. It was built on the orders of Queen Isabella II of Spain in 1861. Reportedly, the light only went out twice, during the Philippine and Civil wars. Legend dictates that it inspired the 'lighthouse at the end of the world' in author Jules Verne's novel, Off on a Comet. Pop inside to see the curiosities and videos that explain Formentera's most significant landmark.
Indulge in Slow Food and Nightlife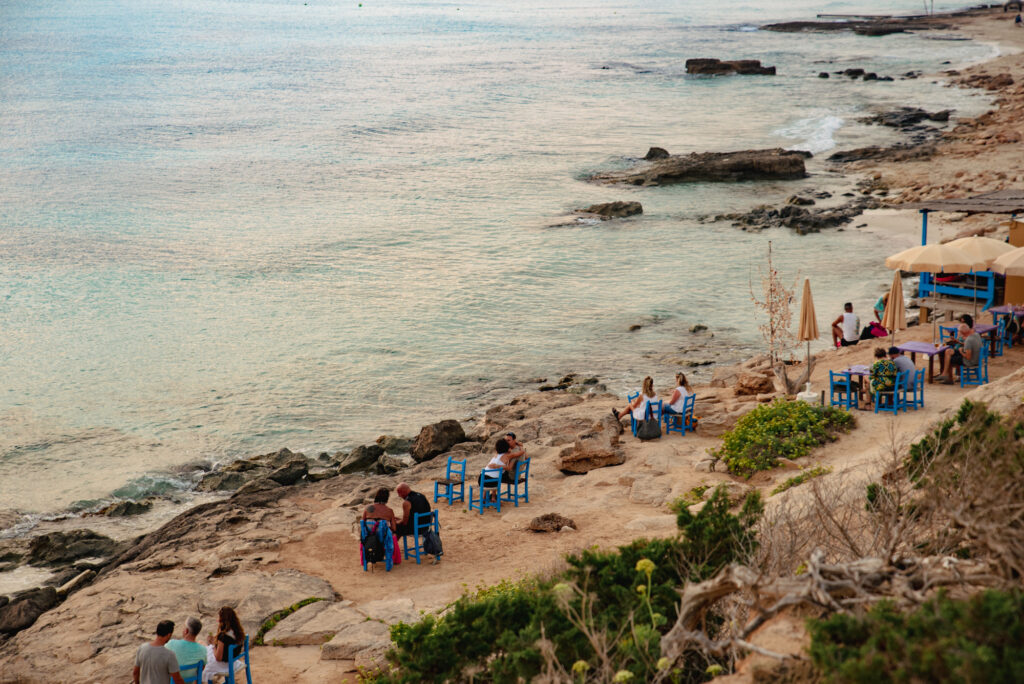 No matter where you are in Formentera, delicious local produce tempts your taste buds. It's worth setting aside hours for dining in the languid manner of the locals, while savouring every bite under the sun. Of course, you'll find the catch of the day, along with dried fish and cured meats in dishes introduced with bread and garlic dip. Wash it all down with hearty local wines or cocktails flavoured with Hierbas Ibicencas.
For the most spectacular views to accompany your dinner, look no further than El Mirador. Here, on the highest point of the island, you can see both coastlines fan out, before tapering into the sunset.
Once the sun sets in its spectacular fashion, stay on at beach venues that range from rustic chiringuitos to exclusive clubs that morph into discos. However, night owls on the island flock to Es Pujols as the epicentre of trendy drinking holes. Simply stroll around the streets among hotels and restaurants to find the spot for you. Expect plenty of open-air terraces, DJ tunes and new friends creating a ready-made party atmosphere.
---
Life's not really about looking for things to do in Formentera island, Spain. Rather, delightful things find you on a backdrop of some of the world's most dream-worthy beaches and postcard-pretty villages. Hop in the slow lane and prepare to soak up every heavenly inch of this bohemian paradise.