Located at a stone's throw from Formentera, S'Espalmador is an exquisite hideaway in Spain's Balearic Islands. Existing almost entirely in its natural state, it's a place to escape the crowds, and indulge, even if just for the day, in simpler pastimes.
Privately owned, but publicly accessible, its uncomplicated appeal sits in stark contrast with that of Ibiza, its other, somewhat rambunctious neighbour.
Home to some of the most sublime beaches in the Balearics, its ethereal beauty attracts Europe's glitterati. But you don't have to be in possession of a superyacht to enjoy its charms. Read on to find out how you can discover it for yourself.
---
About Espalmador Island
Even as someone who loves the Spanish Islands and travels to them frequently, I'd never heard of this little gem in the Mediterranean until I was looking for things to do in Formentera.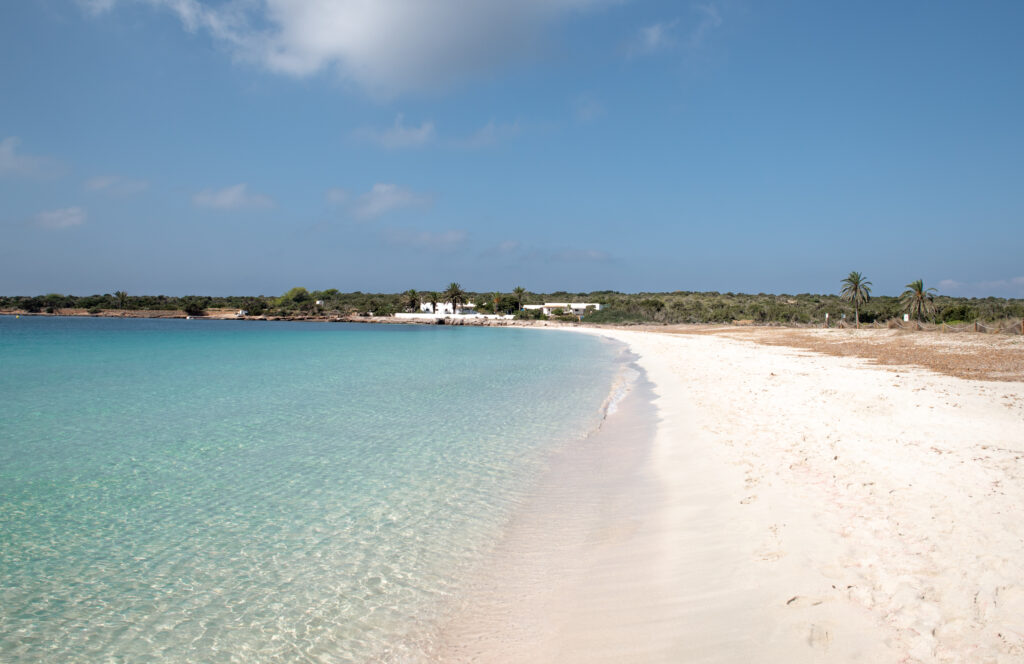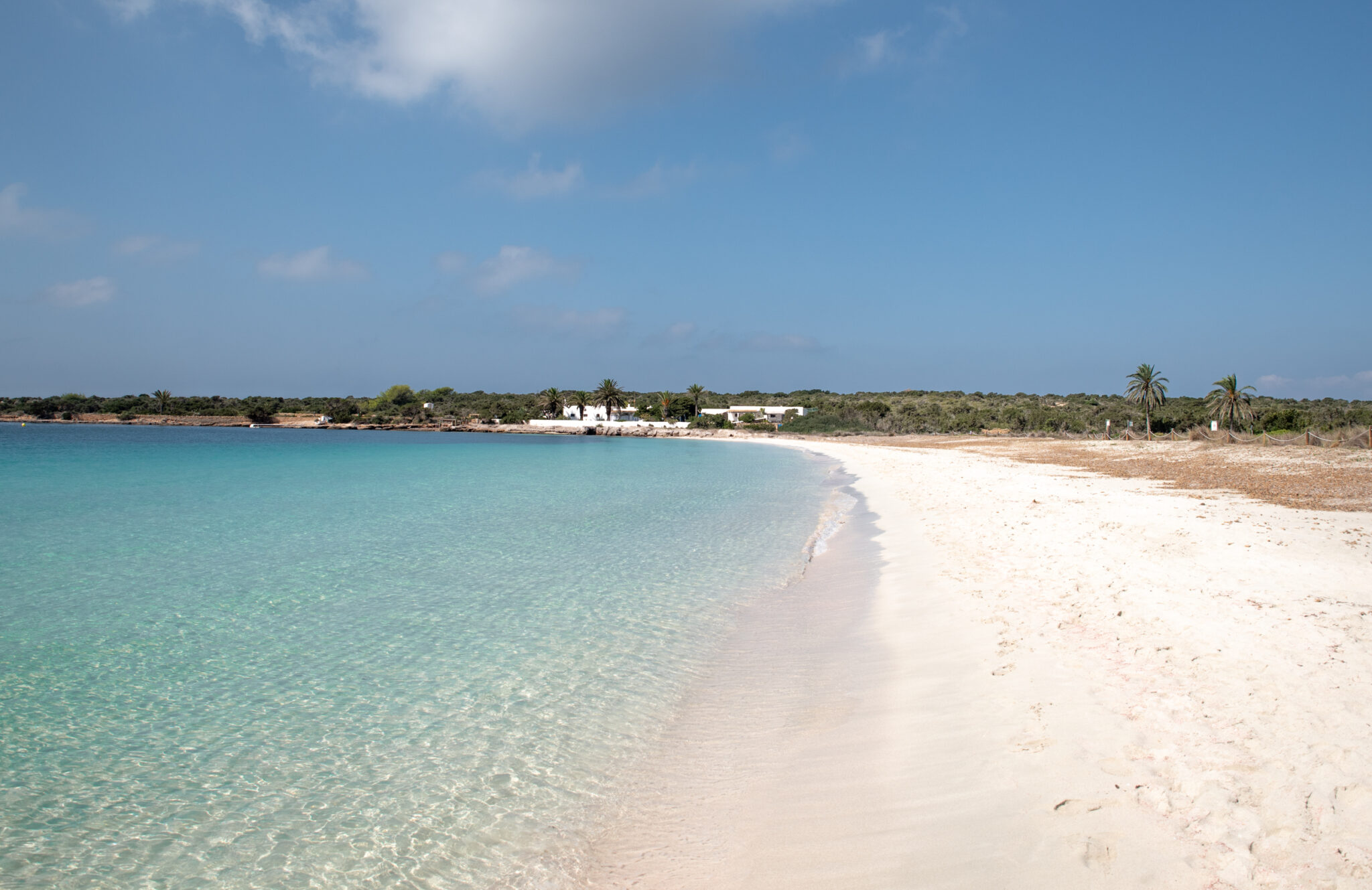 Located just 150m away from Formentera's most northern beach – Ses Illetes – it's often grouped together as one. However, this petite island is actually privately owned – by a family from Luxembourg!
It's been privately owned for as long as anyone can remember. But its recent sale in 2018 (for a cool 18 million euros) caused headlines for the wrong reasons.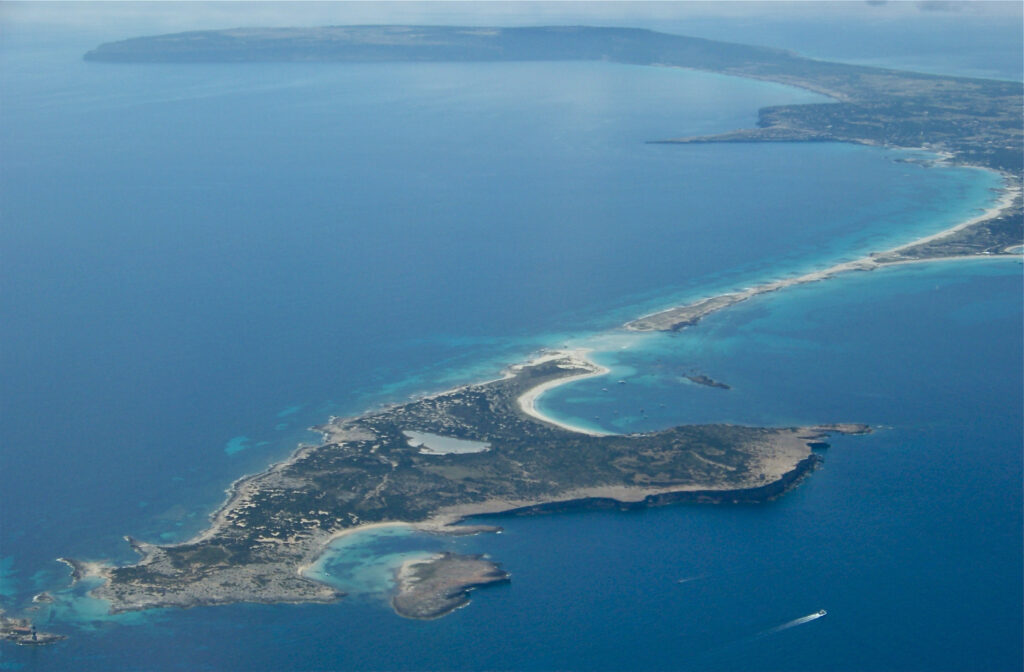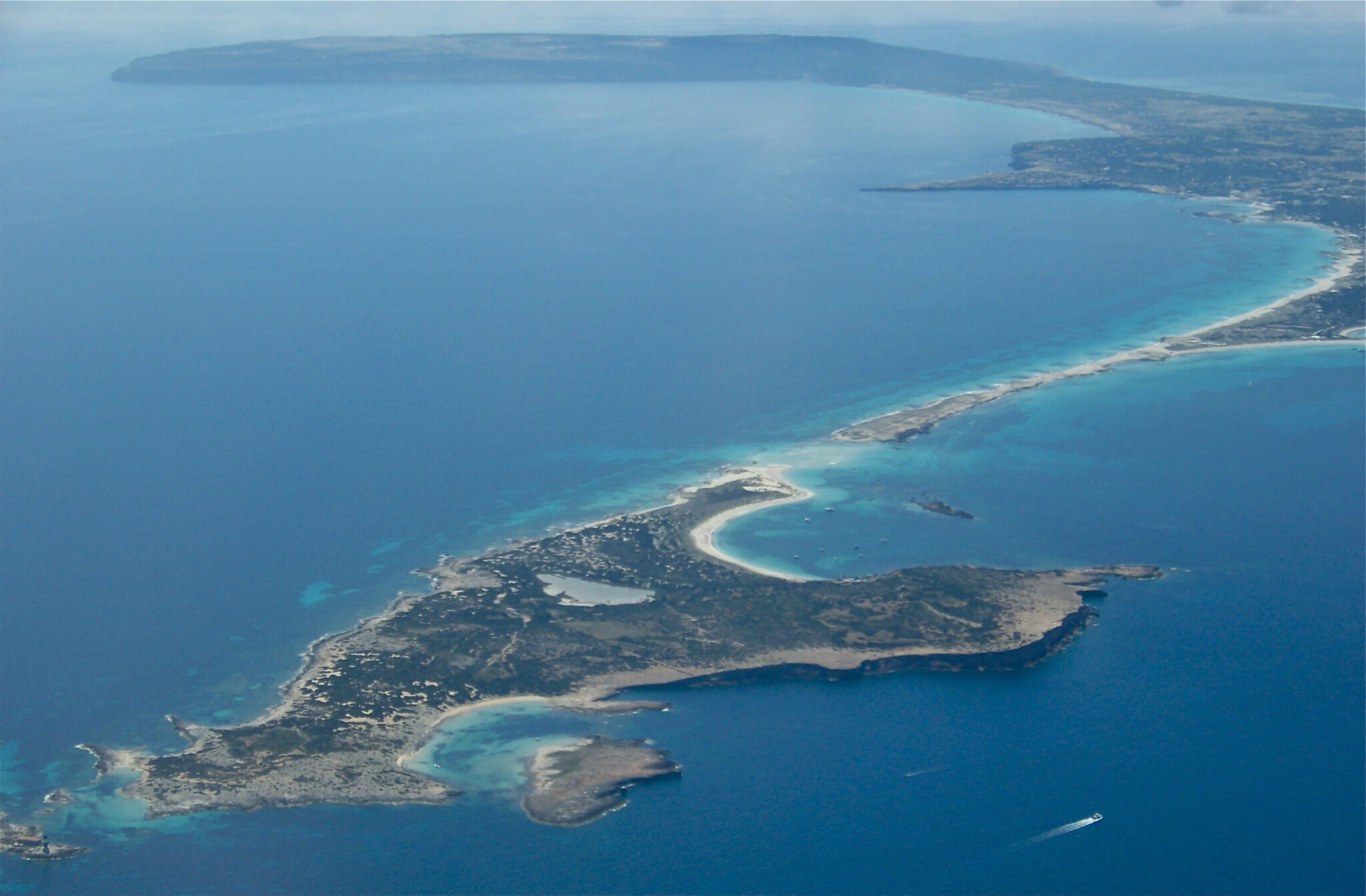 Apparently the council of Formentera tried to raise the funds needed to secure the island, but even with the support of the Balearic government, they couldn't come up with the capital.
The islands houses just two dwellings, a chapel, a lighthouse and a watch tower. No further development is permitted.
---
How to Get to S'Espalmador
There are various ways to get to S'Espalmador – some more costly or adventurous than others! Below I've listed the more popular options.
How to get to S'Espalmador from Formentera
You'll need a seafaring vessel of some description to reach Espalmador Island. But there are plenty of options available – from ferries to private charters.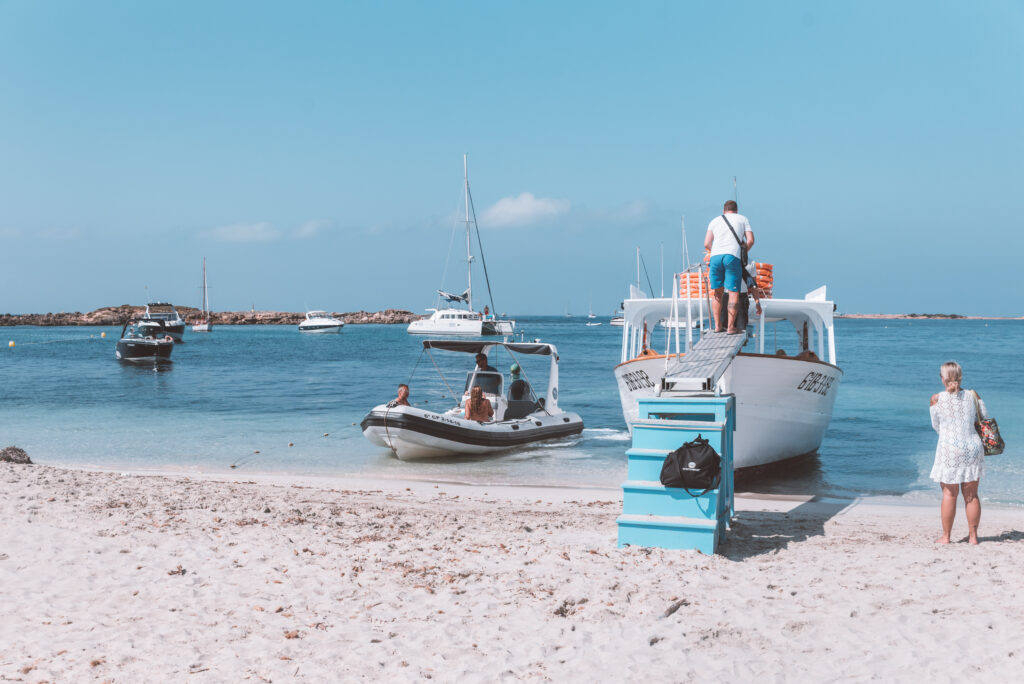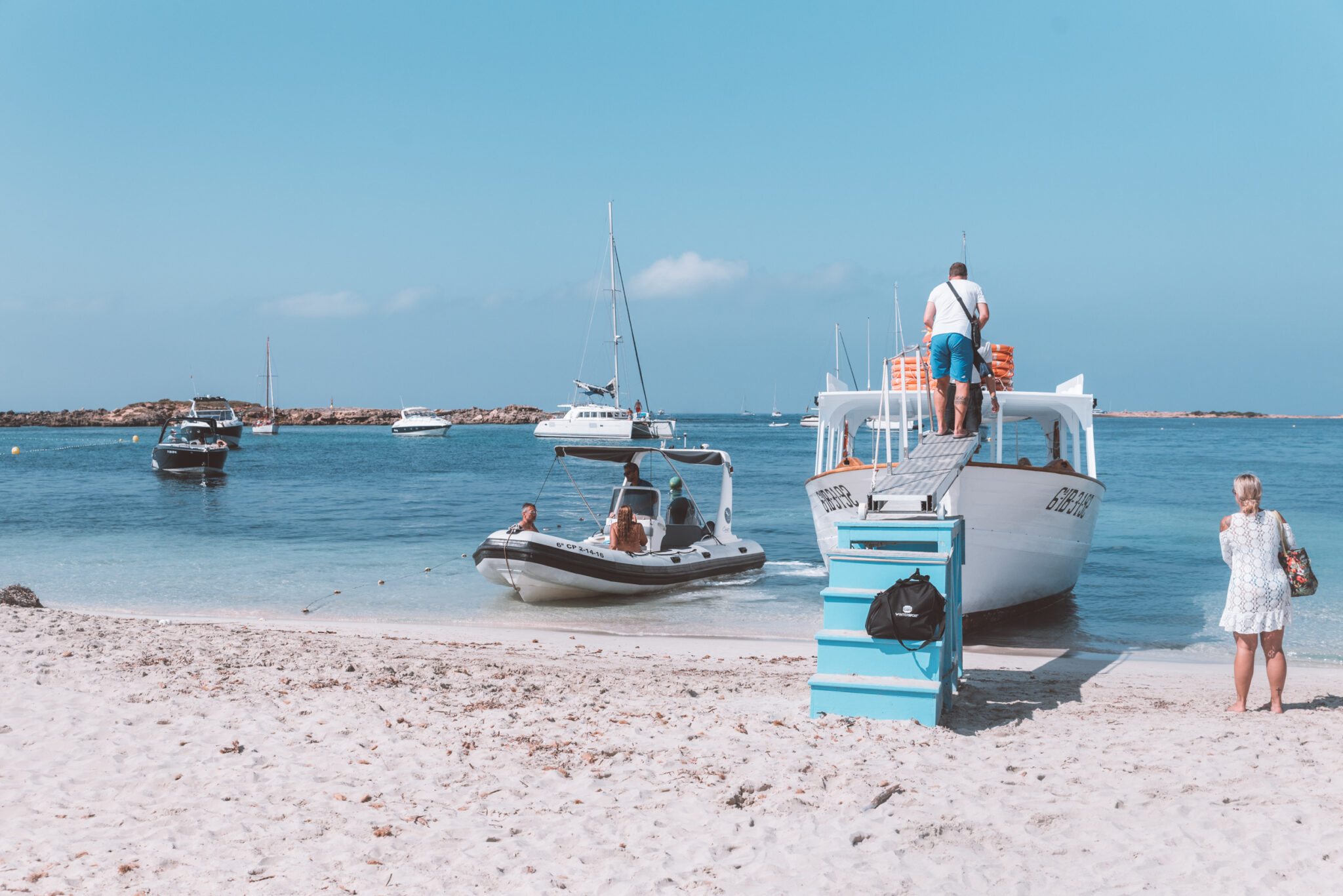 Ferry from Formentera to Espalmador
The simplest way to get to S'Espalmador is via the ferry that leaves from the port in Formentera. However, I found it very difficult to find information on this service online, and even around the port itself.
The Espalmador ferry is called Barca Bahia. It's a small nondescript white boat that's easy to miss if you're not sure what you're looking for. You need to walk to the end of the pier and look for the Barca Bahia sign – I've marked this as Pick up point – La Savina on the map below to make it easier for you.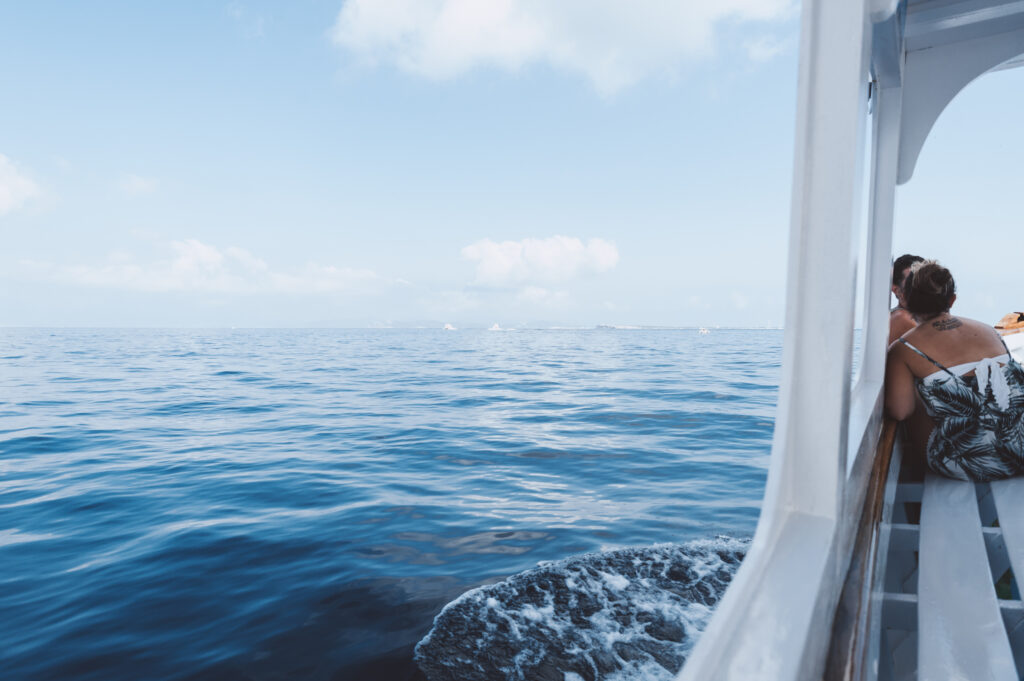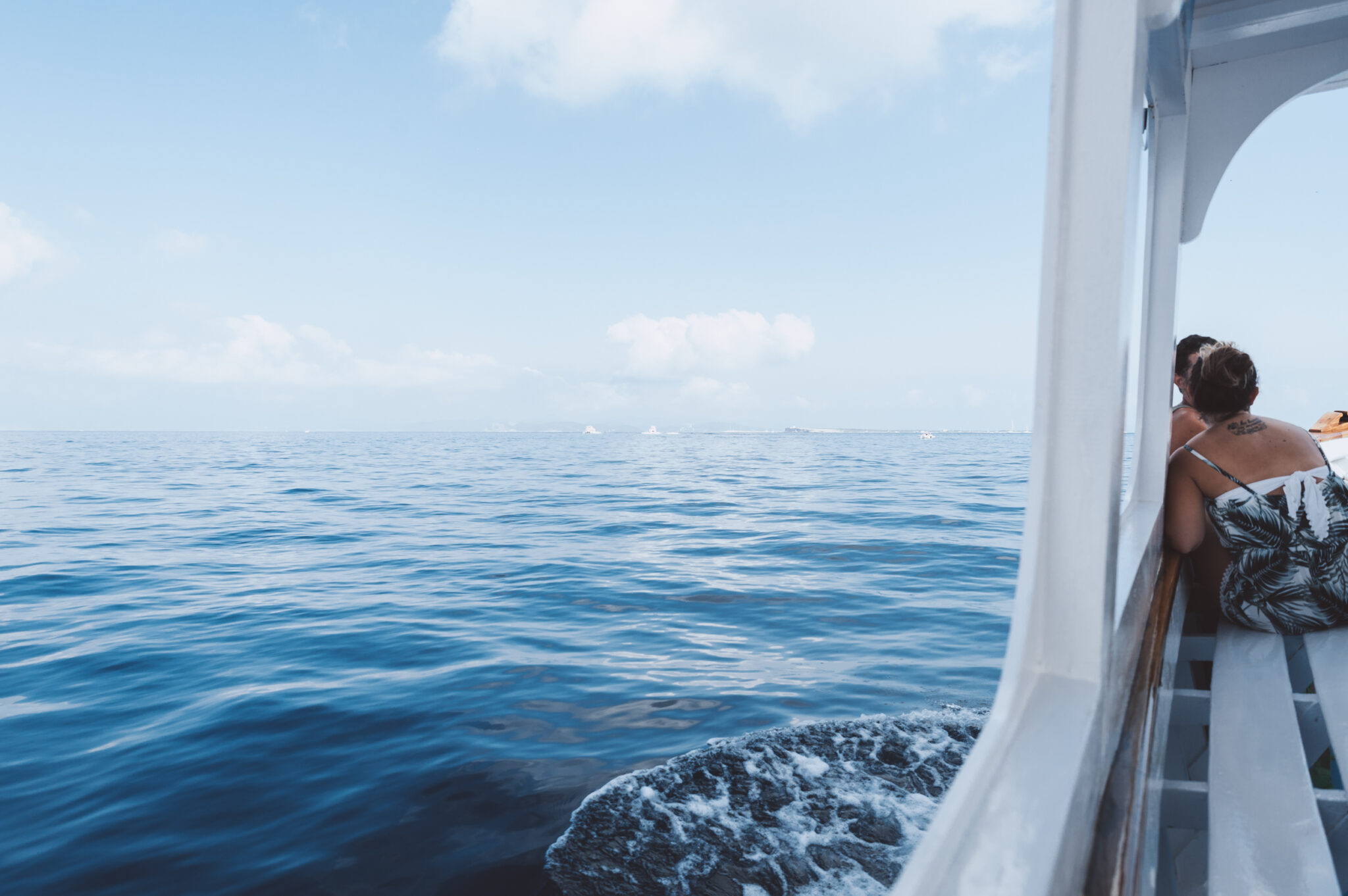 Boats depart in the mornings at 10.15 & 11.45 am, or in the early afternoon at 1.15 pm. For the return trip, boats leave Espalmador at 4.15, 5.30, and 6.45 pm.
It's around a 30-40 min trip from La Savina to Espalmador.
Alternatively, you can make your way to Illetes beach (one of the most beautiful beaches on the island), and jump on the ferry at the pier just up the coast from the Es Minister restaurant & bar. I've marked this on the map as well.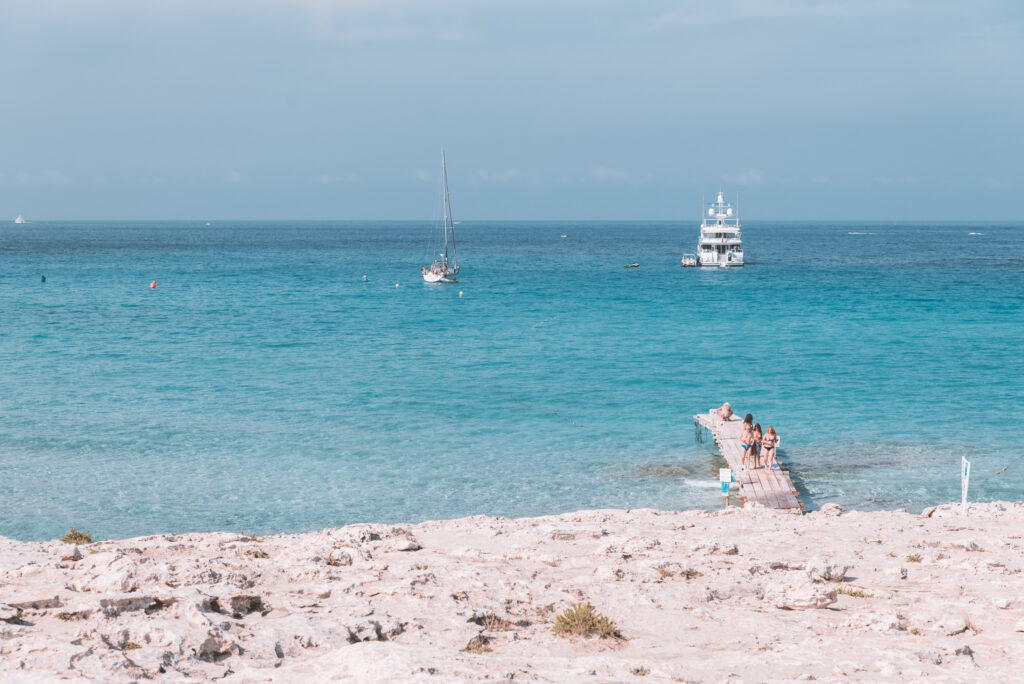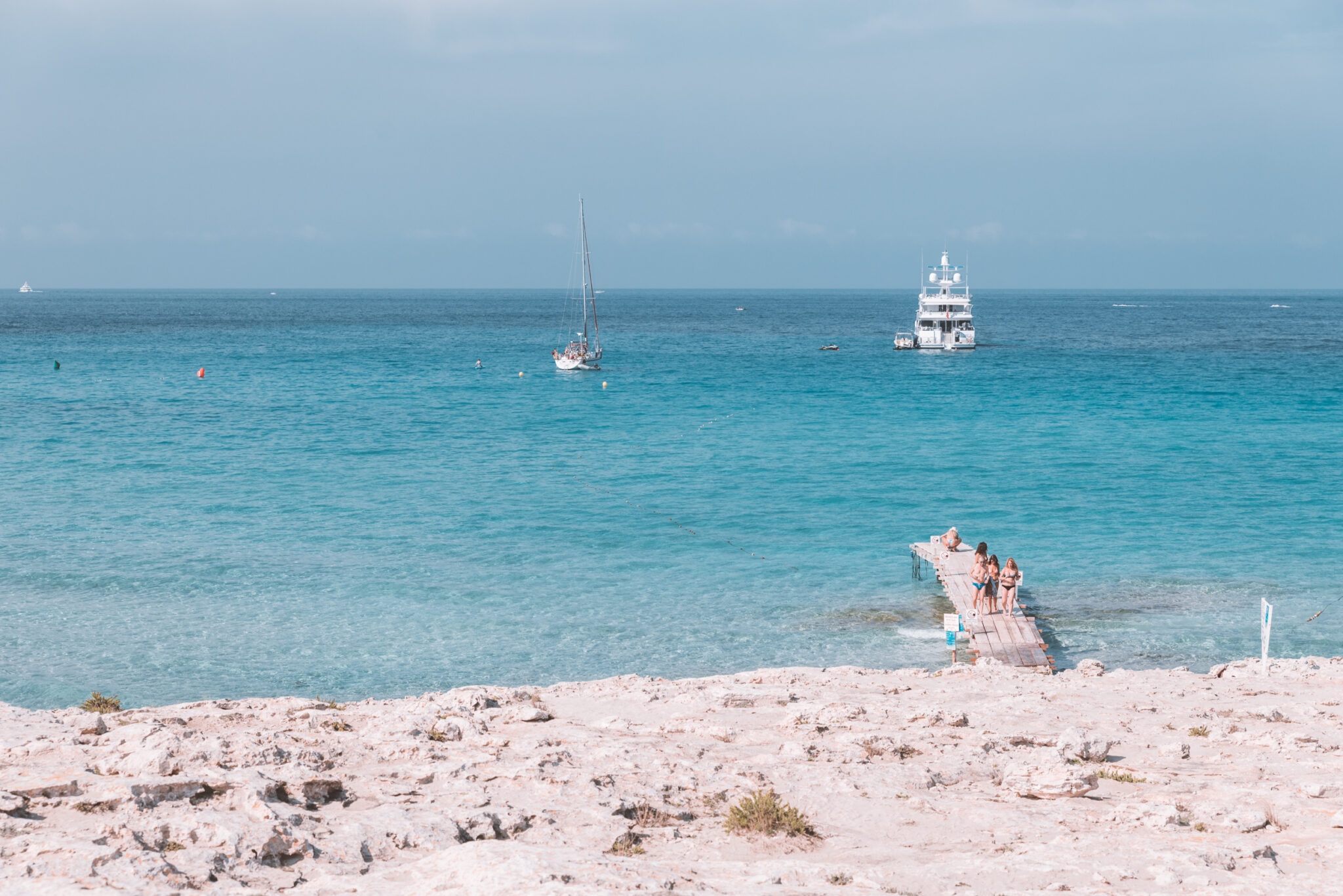 At this pickup point, the boats depart around about 15-20 minutes after leaving the port. So approximately 10.30, Midday & 1.30pm.
You can buy tickets on the boat itself, or at Es Minister. No matter where you get on the boat, tickets cost €22.50 for the return trip.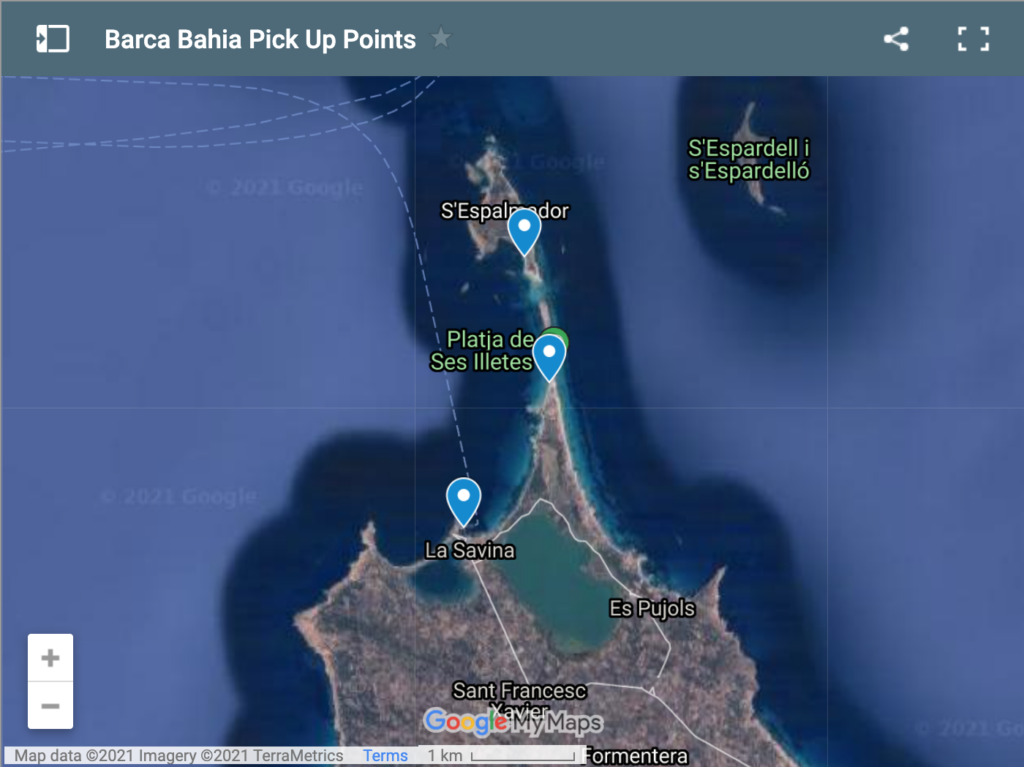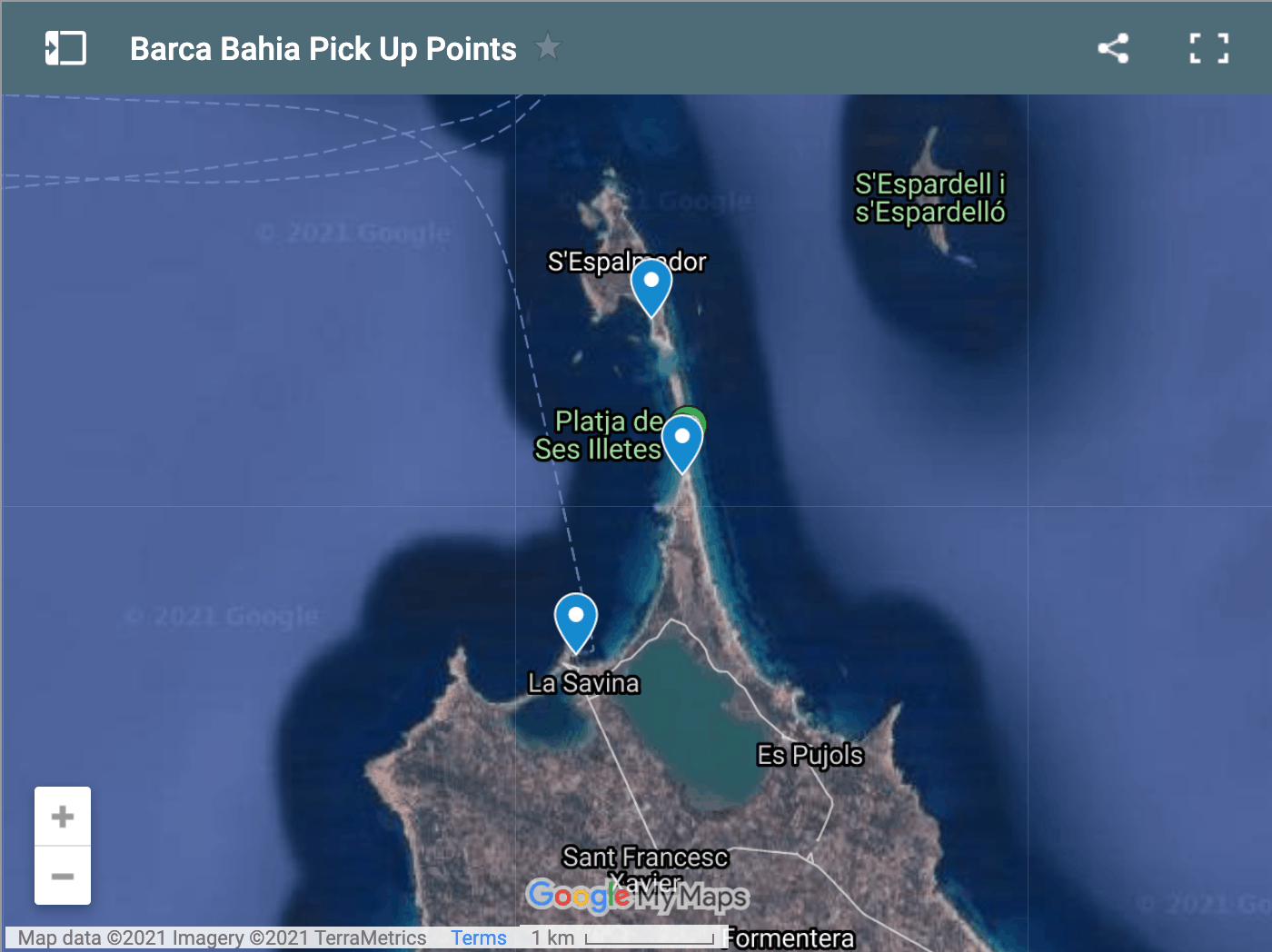 Private Boat Hire to Espalmador
You can hire boats from the marina at La Savina, either with a skipper or without. For the smaller boats, no license is necessary.
Prices start at around €170 for a small 4-person boat, making this a very affordable option if you're travelling as a family or a small group.
Check out Barco Rent for more information.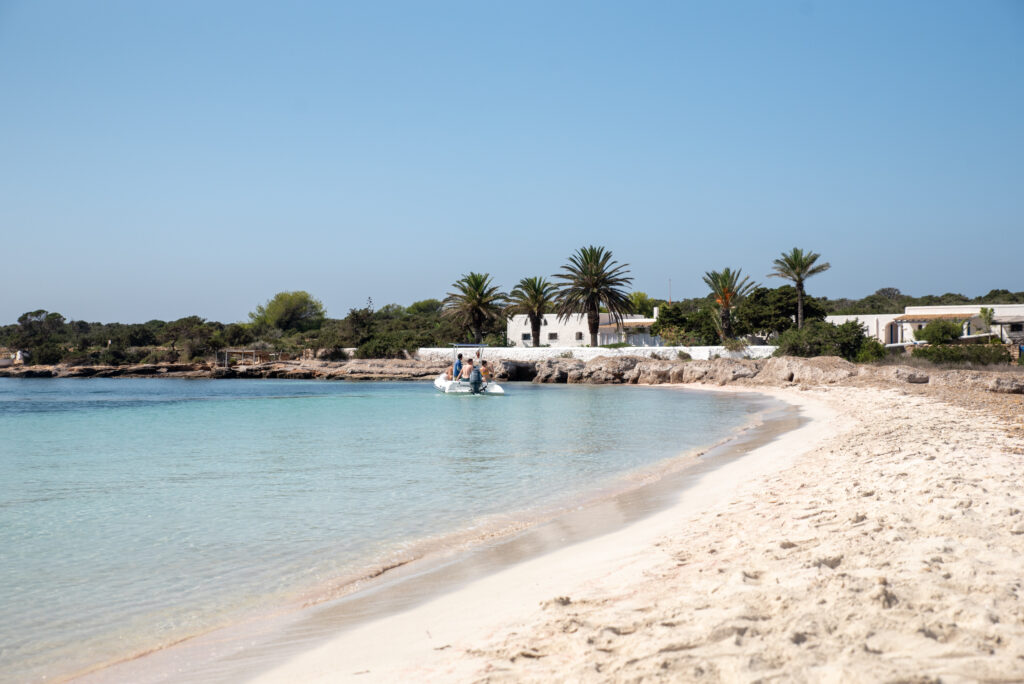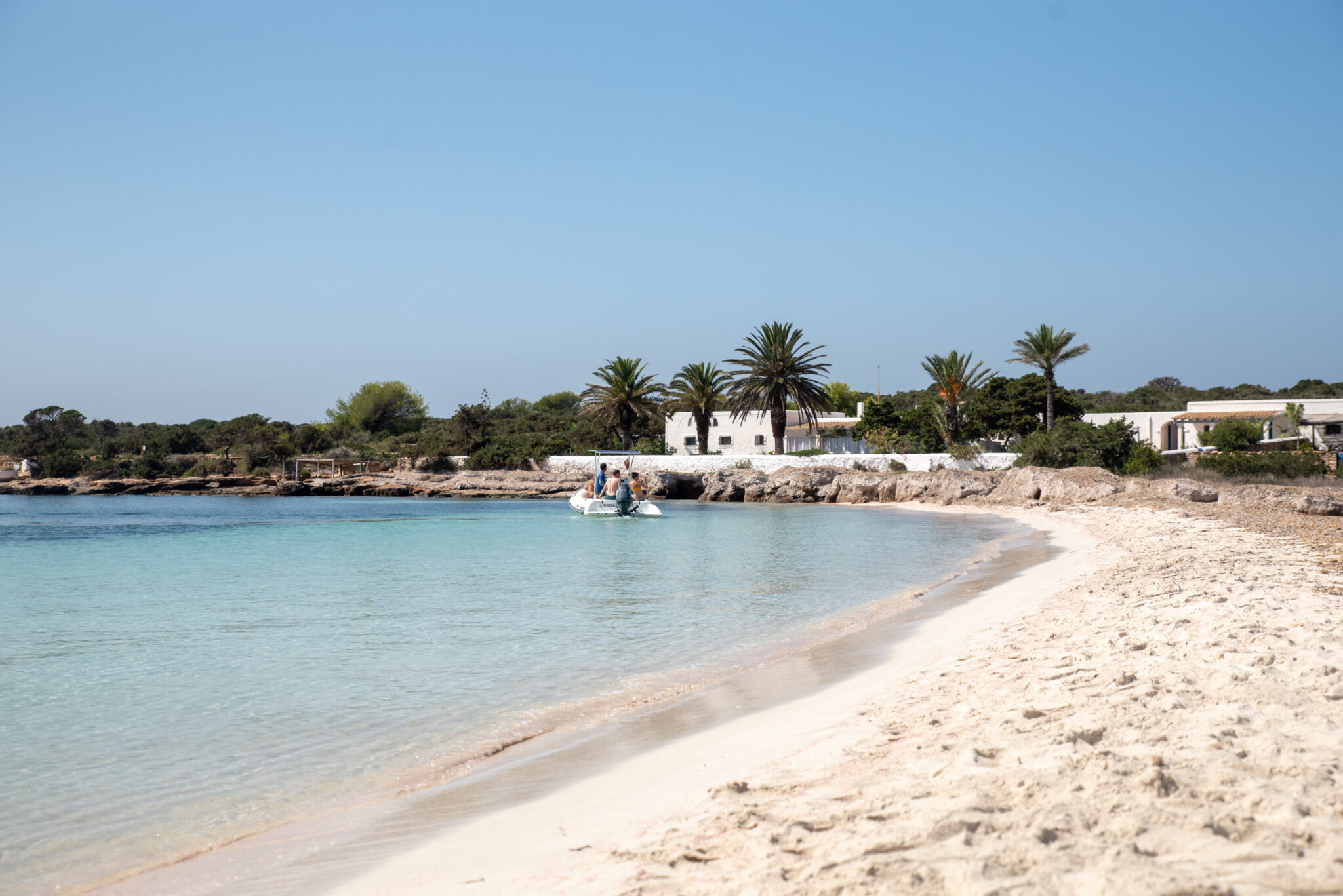 Kayak Hire to S'Espalmador
Another fun way to explore the upper coast of Formentera and Espalmador is to hire a kayak and go at your own pace. There are plenty of companies offering kayaks for hire, such as Cento Nautico or Wet4Fun.
Walking to S'Espalmador from Formentera – NOT ADVISED
Given the proximity of S'Espalmador to Formentera, many people are tempted to walk across the straight to reach the private island.
The water level is generally around waist height, but the currents can be strong and the seafloor variable. There have been fatalities recorded from people attempting the crossing, and there are signs warning of the dangers.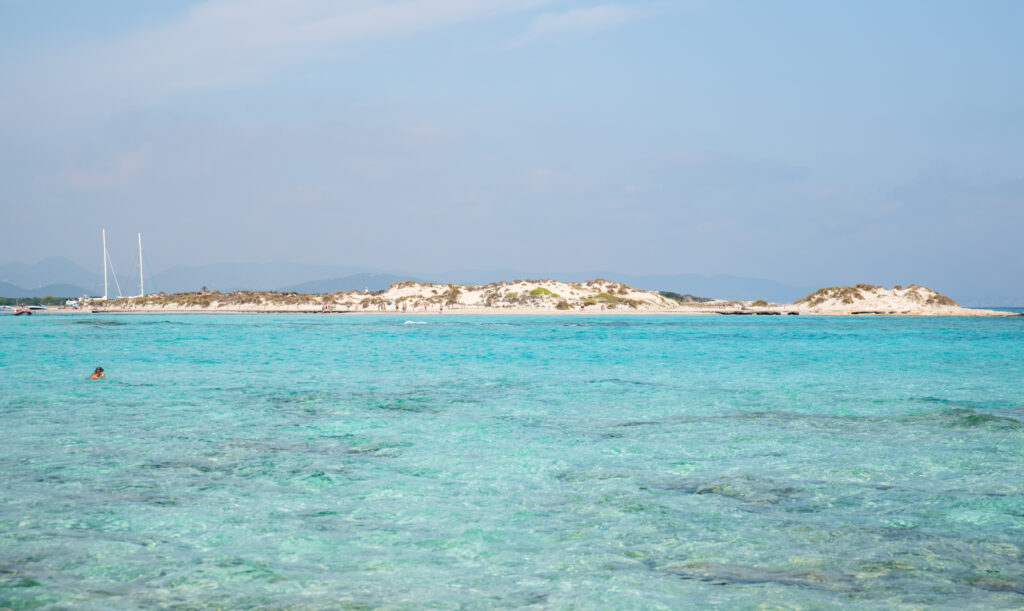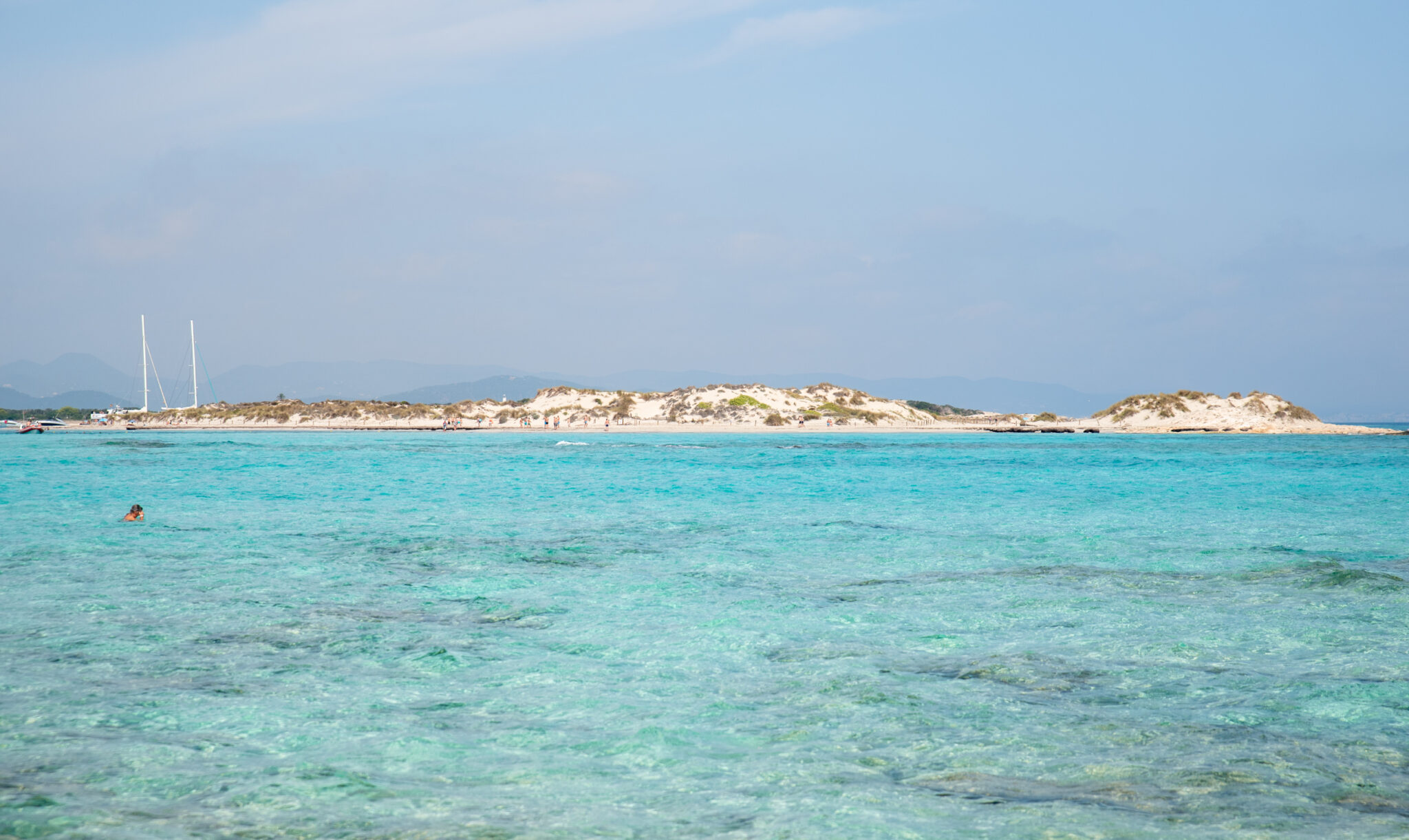 Despite this, the day I walked up to the northern tip of the island, I saw a few people attempting the crossing, their waterproof day packs held aloft. There are lifeguards stationed for this purpose (I assume), and a rescue boat at the ready. But I still wouldn't encourage this option.
---
How to get to S'Espalmador from Ibiza
If you are staying in Ibiza, you can take a ferry, tour or private boat to get to Espalmador Island.
Ferry from Ibiza to Espalmador
There are no direct ferries to Espalmador from Ibiza, so you'll have to first take the ferry to Formentera, and jump on the Barca Bahia from there.
You can book your ferry tickets to Formentera online, or at the kiosk at the port in Ibiza. I booked online with Trasmapi and used a QR code from my phone which I found very easy & straightforward.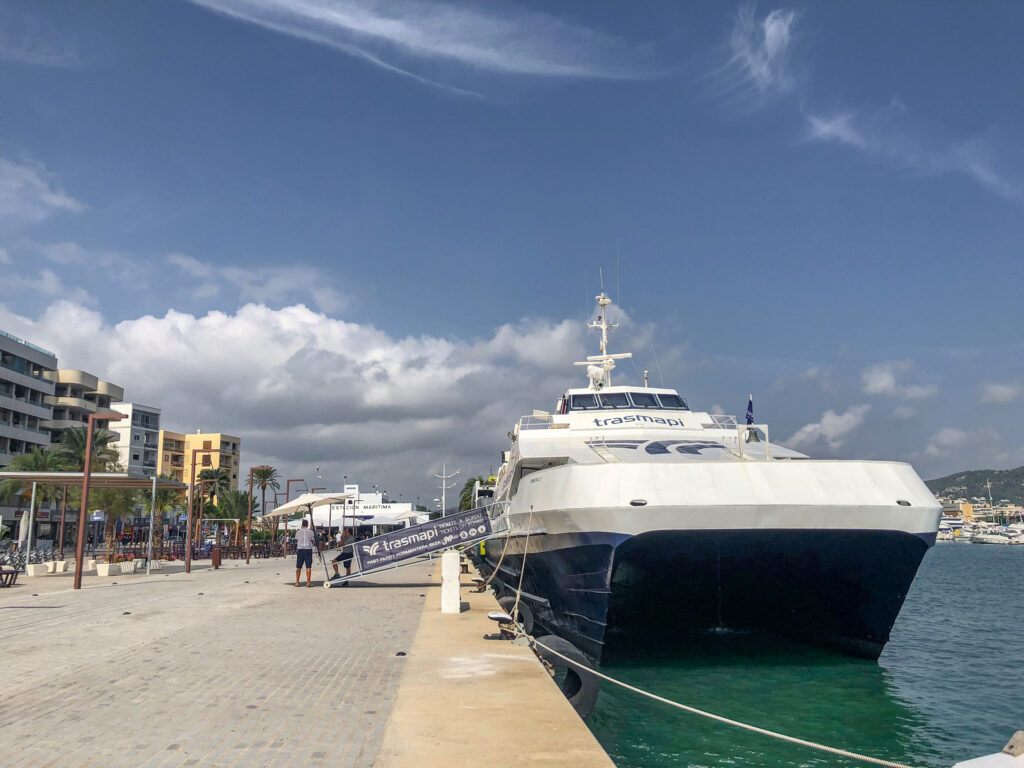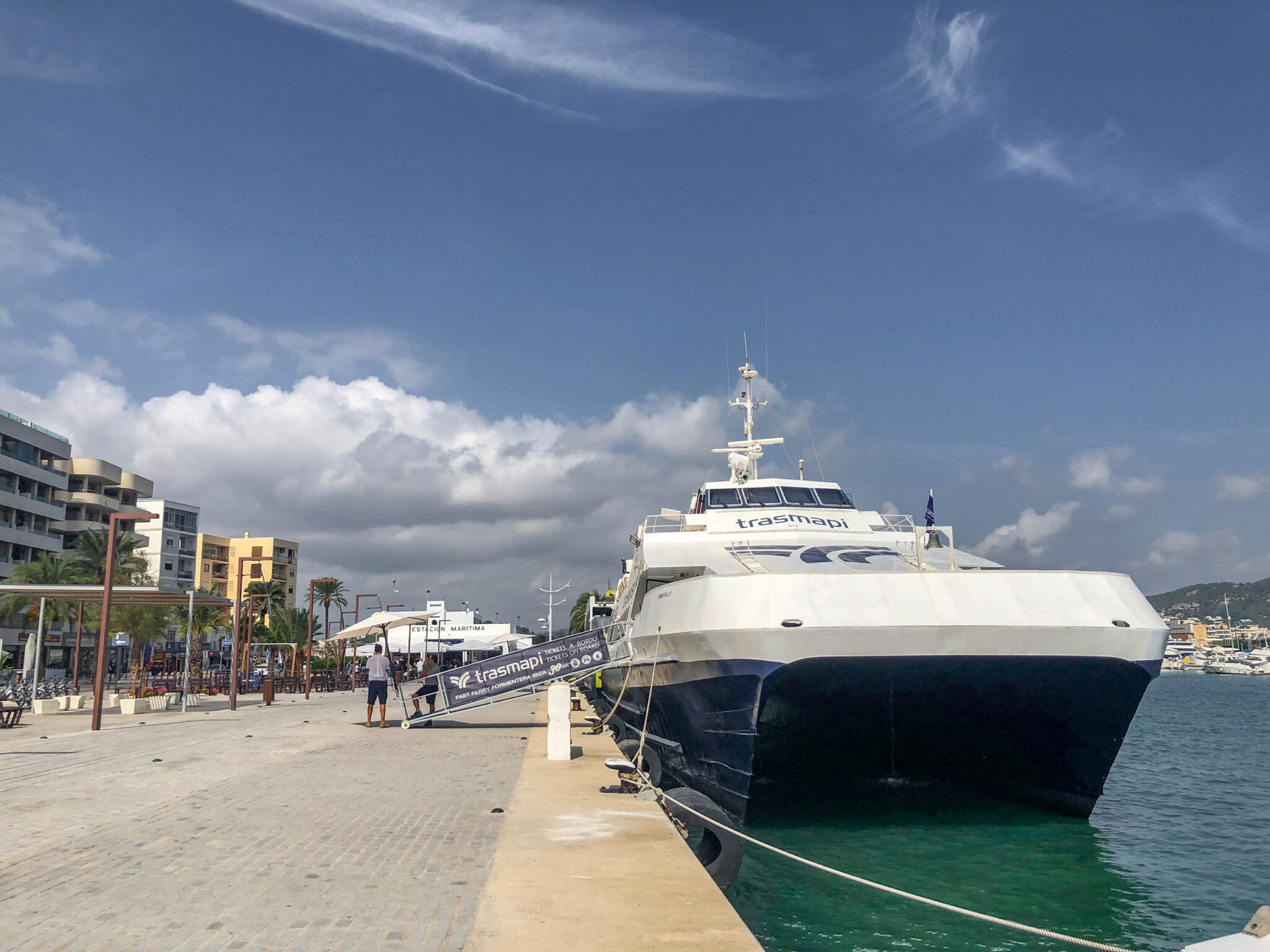 The Trasmapi ferry only takes 30 minutes to reach Formentera from Ibiza, and costs around €40 for the return trip.
Where you get off the ferry in Formentera is the same place you'll board the Barca Bahia to Espalmador.
Tours from Ibiza to Espalmador
The easiest option from Ibiza is to take an organized tour. This way you simply board in Ibiza, and everything is taken care of for the day. These tours typically allow some time to enjoy Espalmador, before heading on to another location in Formentera.
Tours available:
– This small group, full-day sailing tour departs Ibiza and explores both Espalmador Island and Ses Illetes. Drinks and snacks are provided, as well as a paddleboard and snorkelling equipment. Book here.
– This full-day tour from Ibiza takes in both S'Espalmador and other key spots in Formentera depending on the desires of the group. Book here.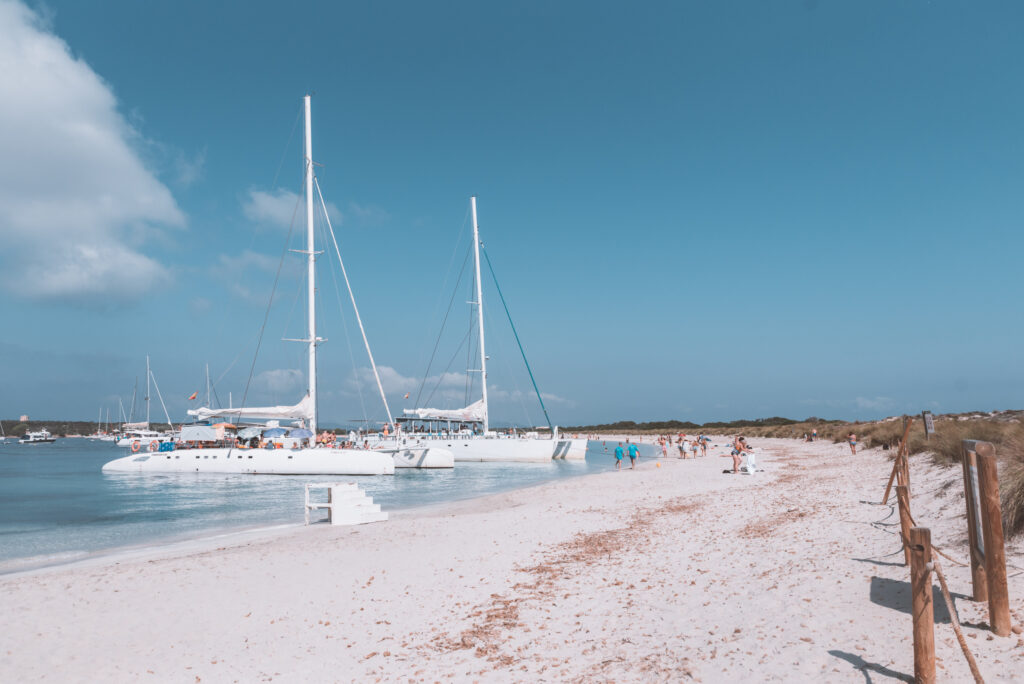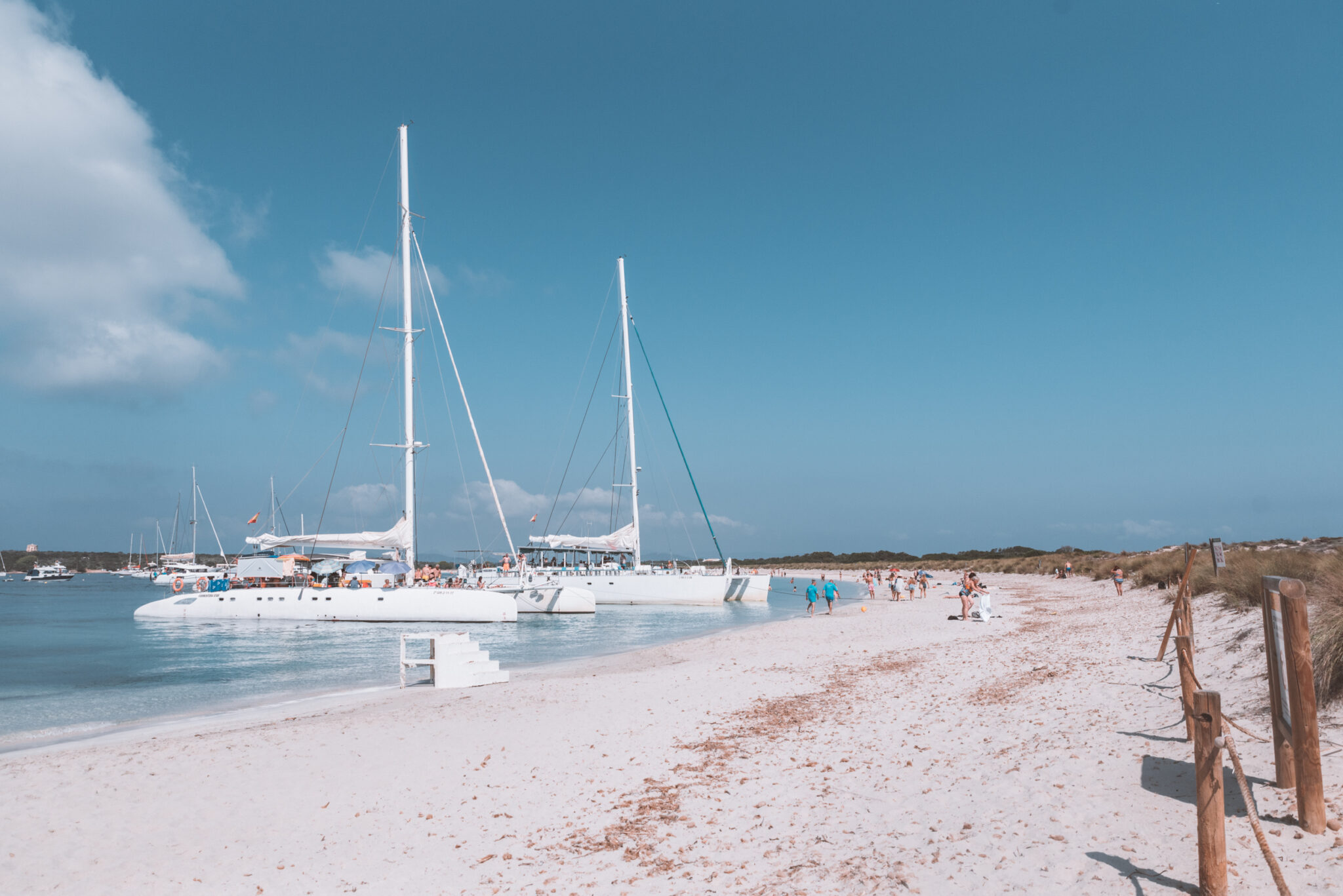 Private Boat Hire from Ibiza
There are numerous boat rental companies operating in Ibiza that will allow you to sail around the islands with or without a professional skipper. One such company is Boats Ibiza.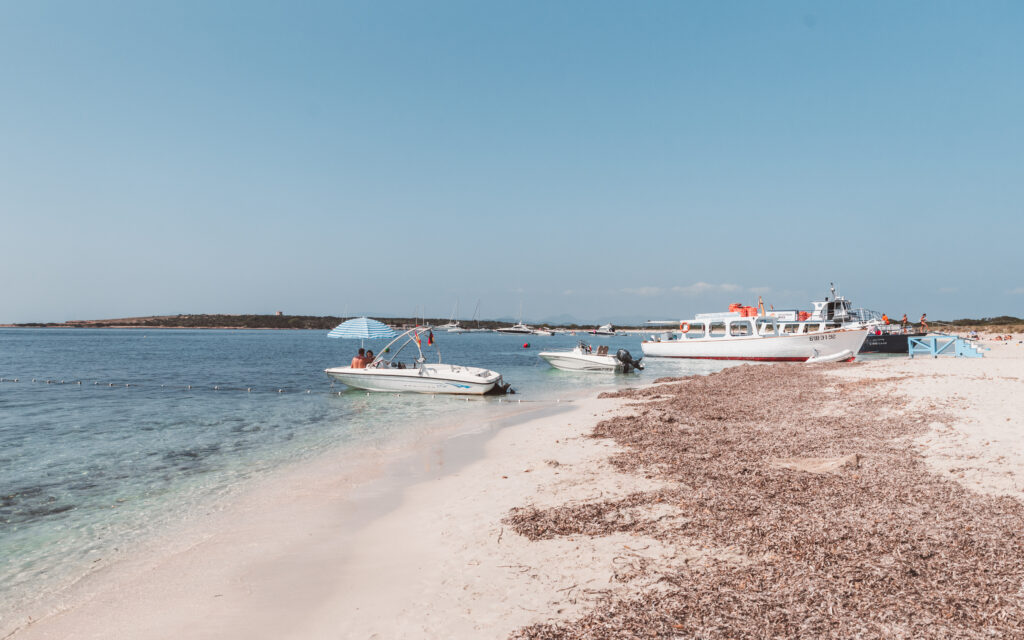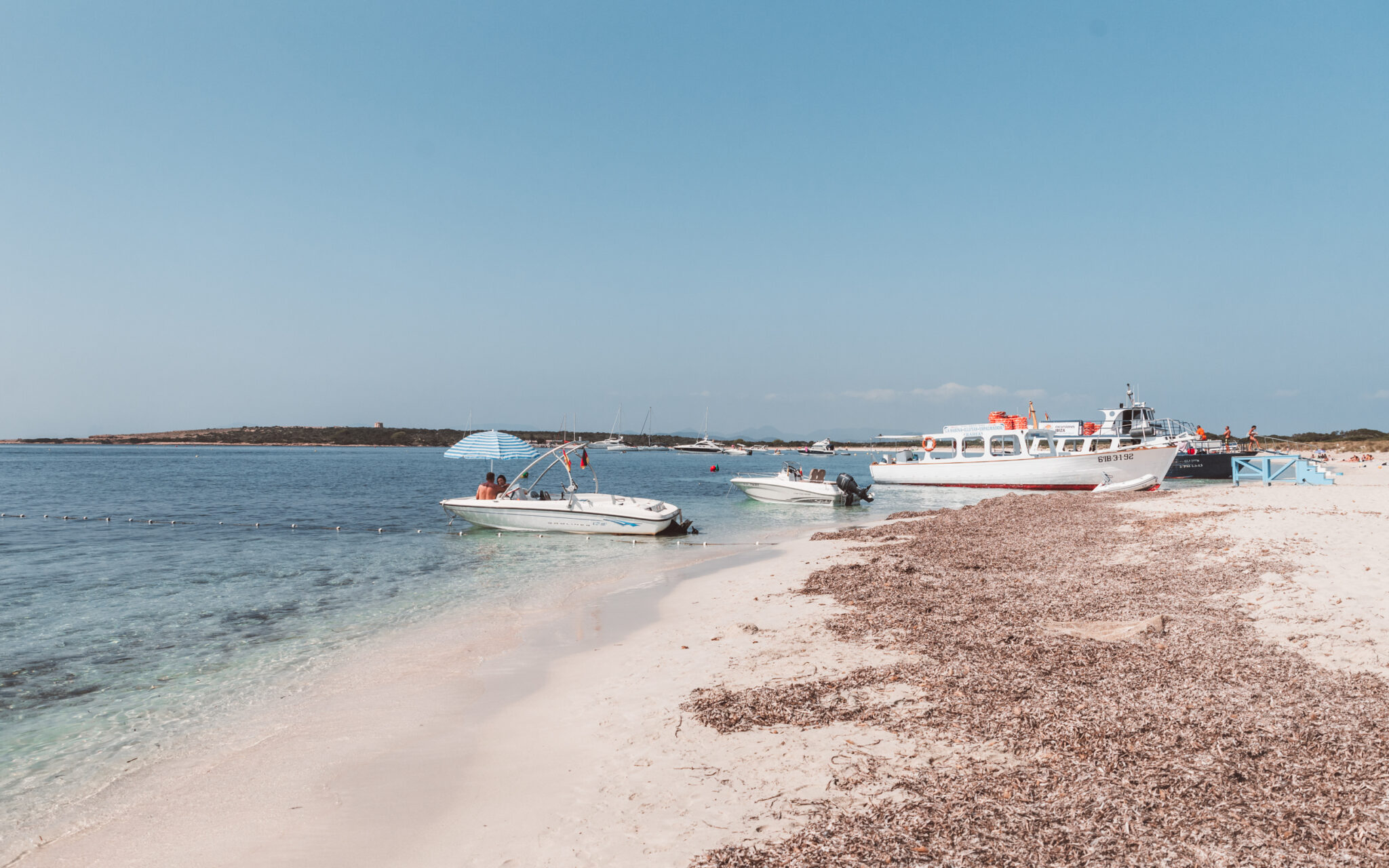 ---
What to do when you get to S'Espalmador
The beauty of Espalmador Island is in its simplicity. It's a place to be at one with nature and enjoy the richness of the environment.
Platja de S'Alga is the beach where you'll arrive, and it's the most expansive and beautiful beach on the island. The delicate pink sand softly slopes into the gentle sea, inviting you in. The water is so incredibly clear and free of obstruction, it almost feels as though you're swimming in a pool, bar the superyachts parked around the perimeter.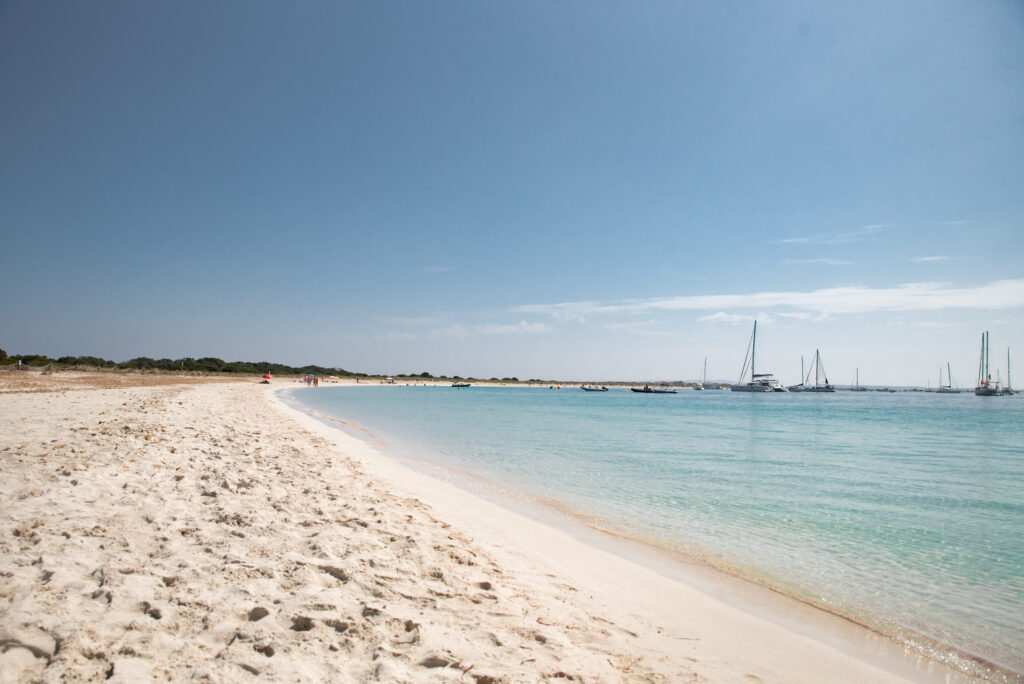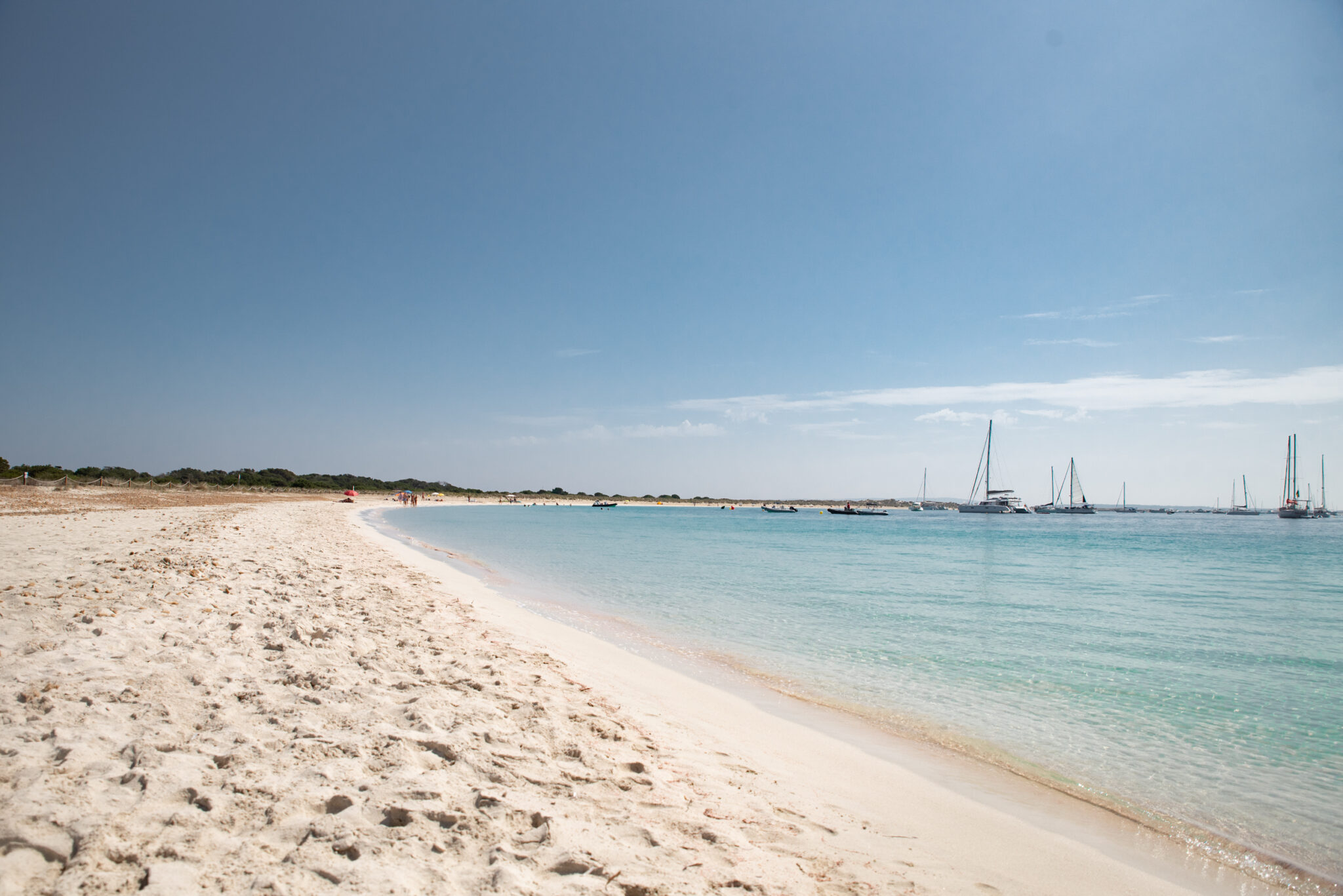 Find a spot to settle in and read a book, take a swim, sunbathe, and relax. If you feel like a little more activity, take a snorkel with you to investigate the underwater world.
The eastern side of the beach (shown below) is a little rockier and better for fish sightings, or you could swim out to Illa de s'Alga and take a breather on the rocks.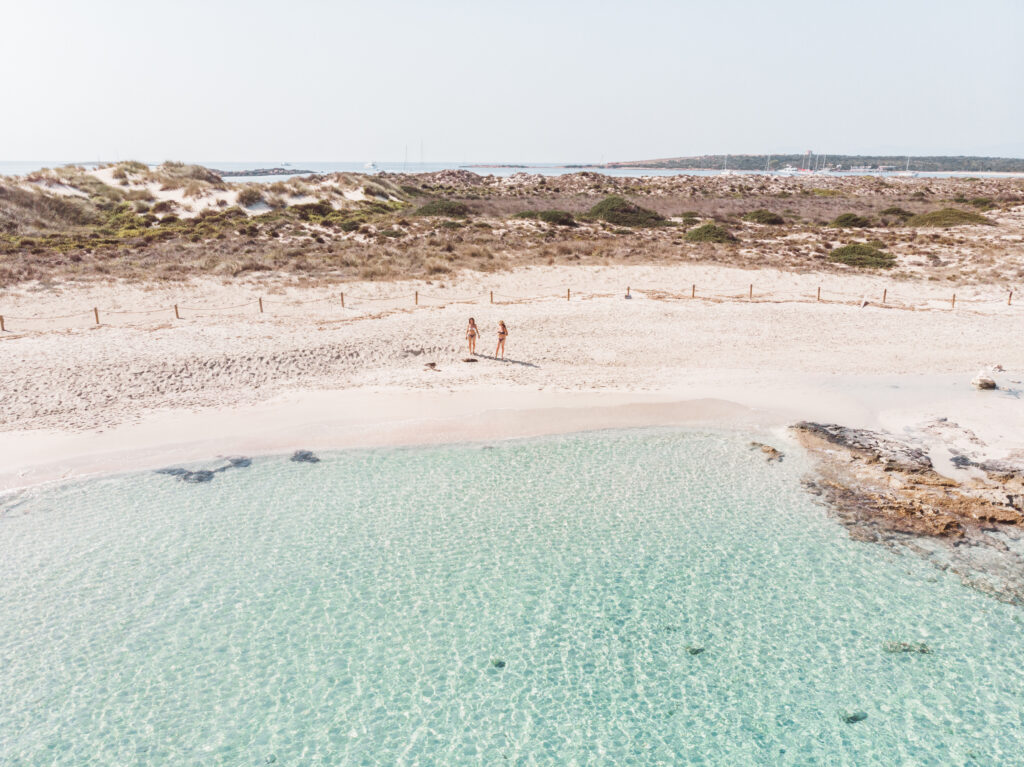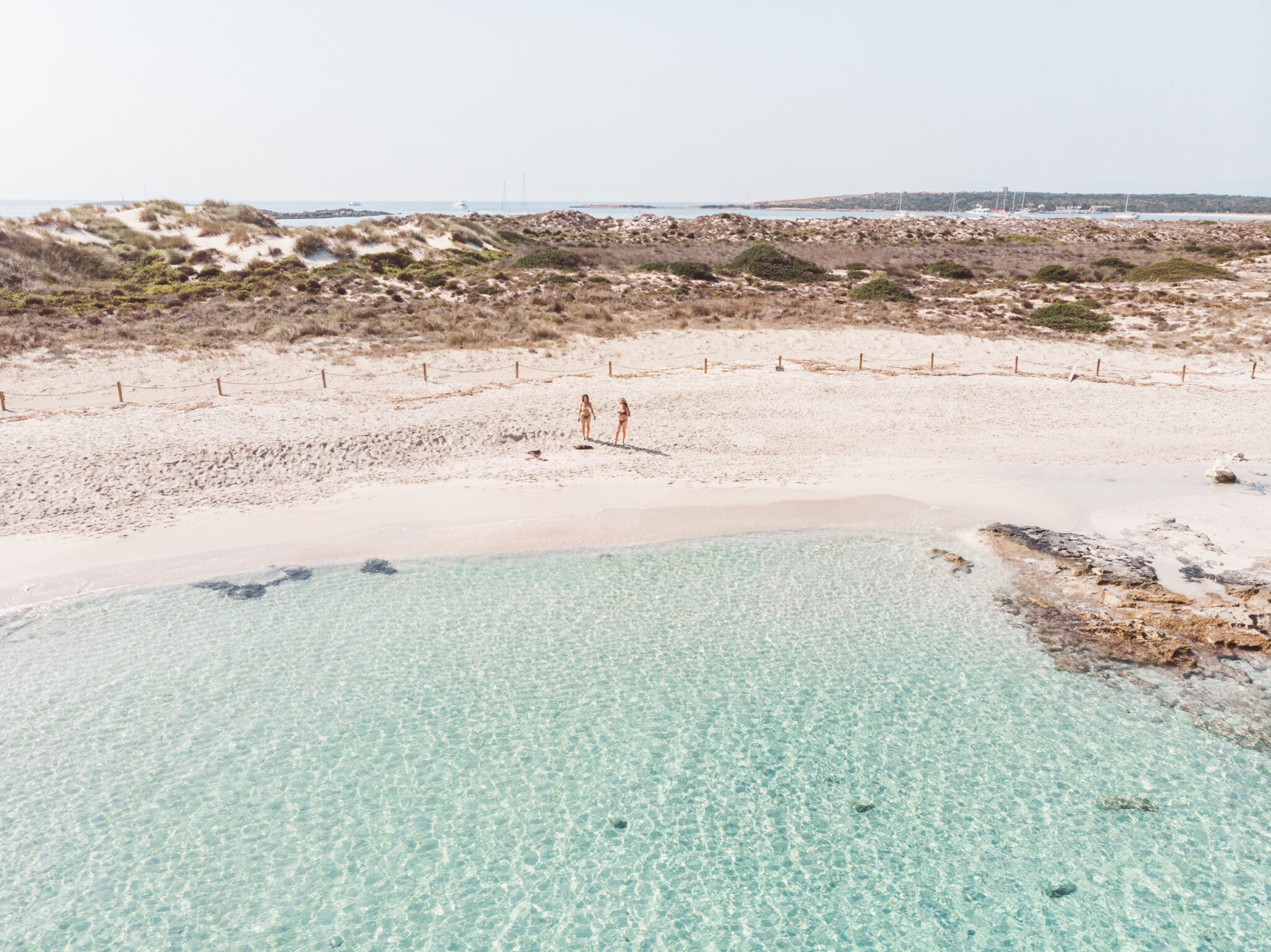 In the middle of the private island, you'll find a small lagoon that's home to local bird life.
People once came here to bathe in the mud, believing (incorrectly) that the mud had healing properties. This is now forbidden and the lagoon has been roped off to protect the local fauna, but it makes an interesting contrast to the rest of the island.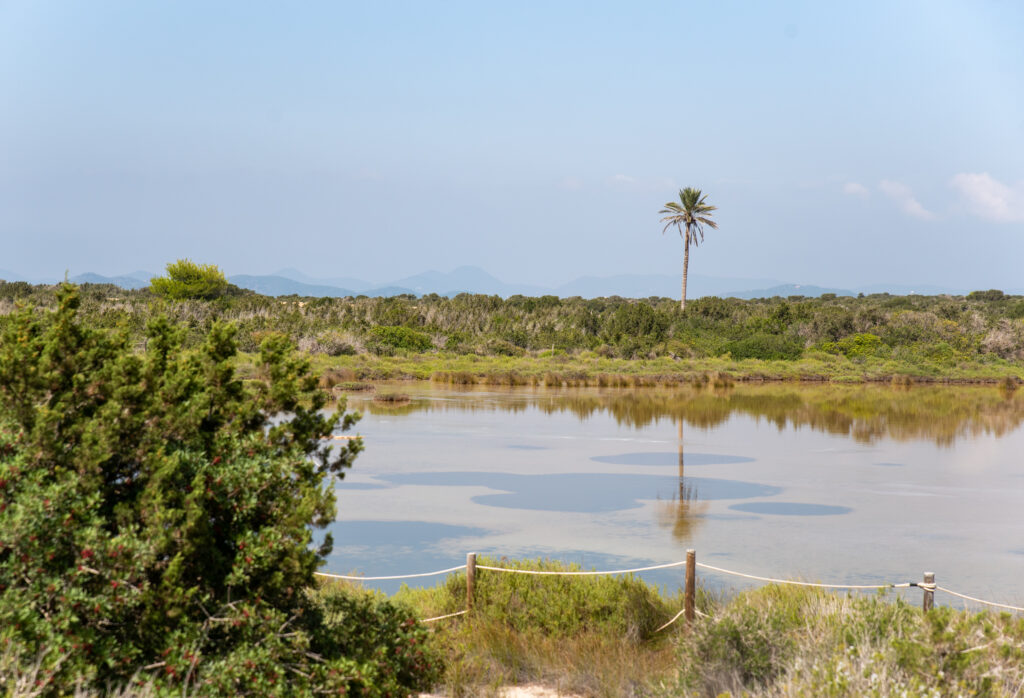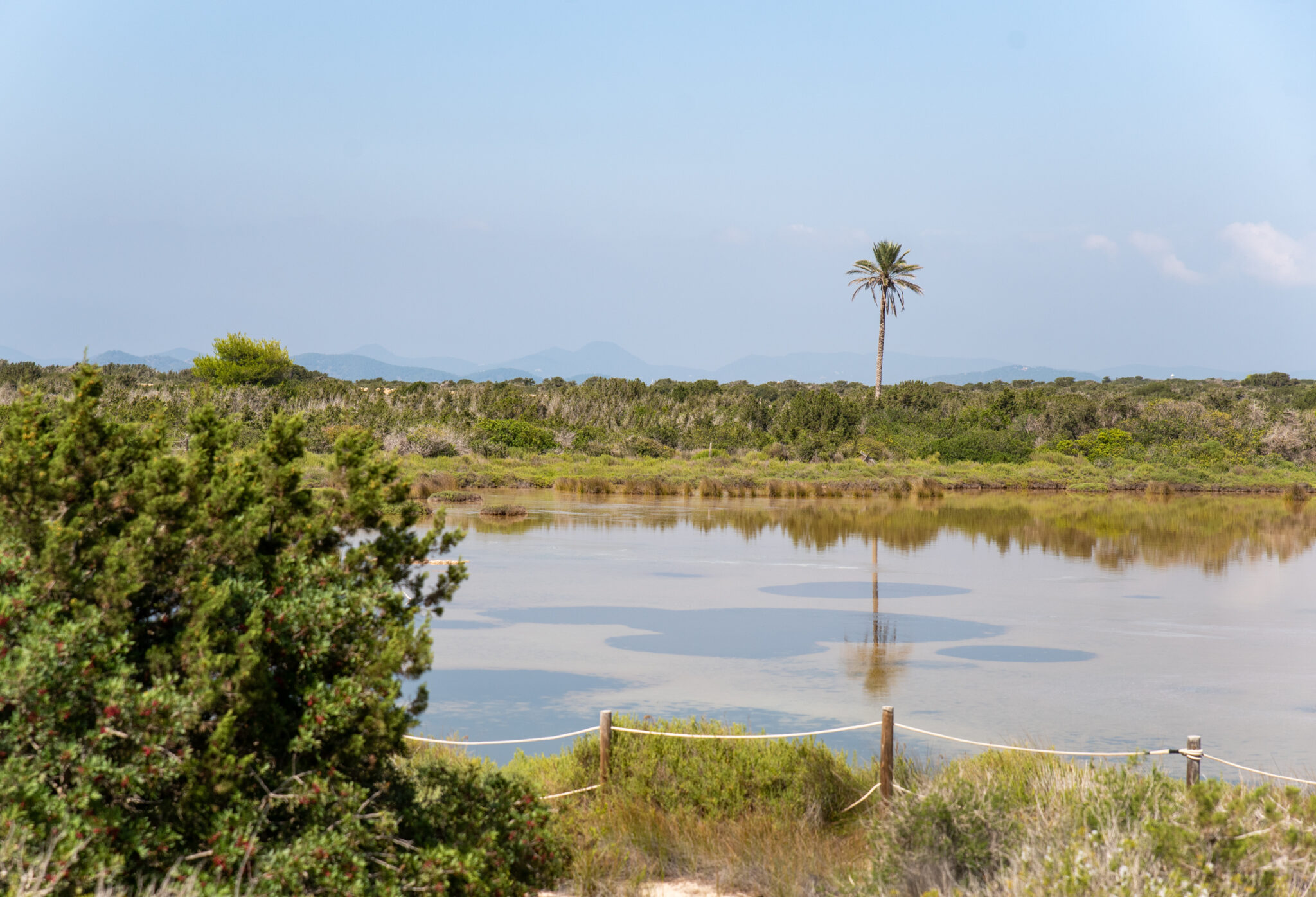 Beyond the lagoon, you can continue walking through unmarked sandy paths to reach Platja de la Torreta. This sheltered bay is tranquil and calm, tucked away from the public eye and snuggled up against the native shrubland.
It takes around an hour and a half to walk there from the main beach, so be sure to allow enough time for your return to the ferry.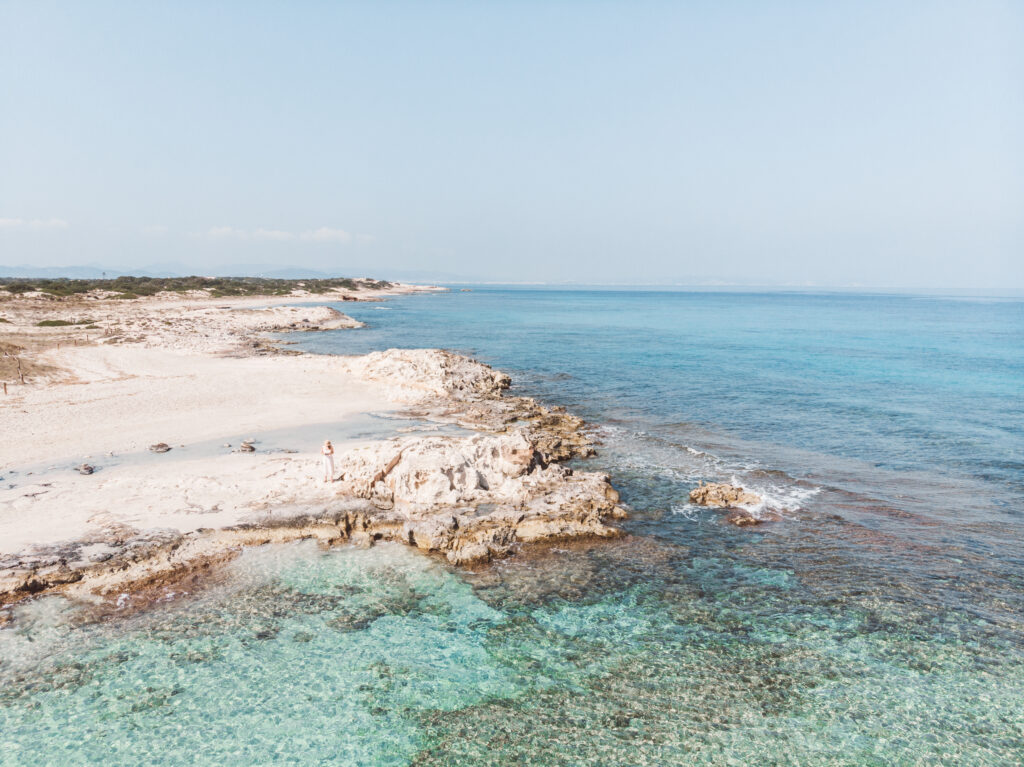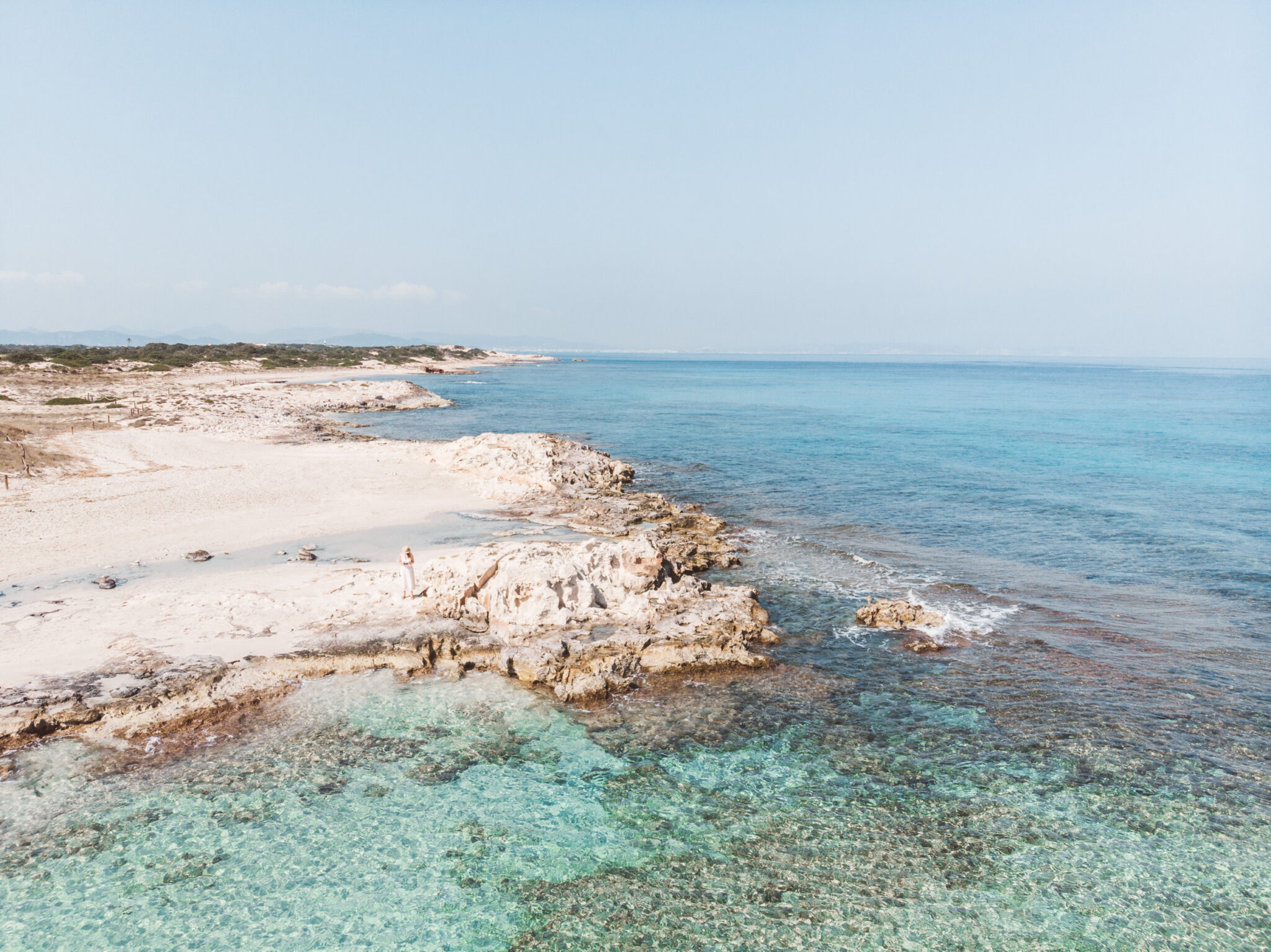 Things to know when planning a trip to S'Espalmador
It's probably not wise to head out to a private, uninhabited island in the Mediterranean without thinking about a few key things first…
If you're getting the Barca Bahia ferry to Espalmador, keep in mind that the last ferry back for the day will most likely be the busiest. It may be worth coming back a little earlier to avoid the last-minute rush.
There are no facilities on Espalmador. No toilets, no food, and no shelter. Make sure you take plenty to eat & drink, and a pop-up tent or umbrella in the summer months is advisable.
Remember to bring everything back with you too – there are no rubbish bins on the island, so be responsible and pack a bag to pop all your rubbish in at the end of the day.
I visited in early September and the island was very quiet. However, it can get busy in July & August, so time your visit accordingly.
There are no restrictions about how many times you get on and off the Barca Bahia, so you can get on at La Savina, disembark at Ses Illetes beach to spend some time on this idyllic stretch of the peninsula, and then jump back on the ferry later to go to Espalmador.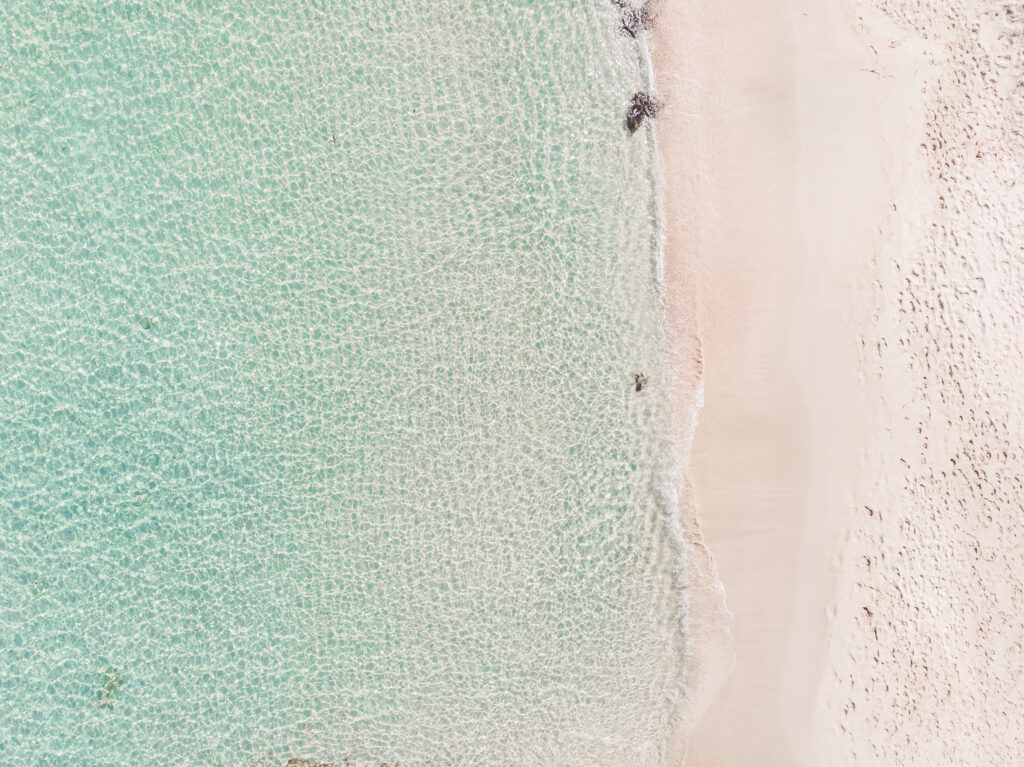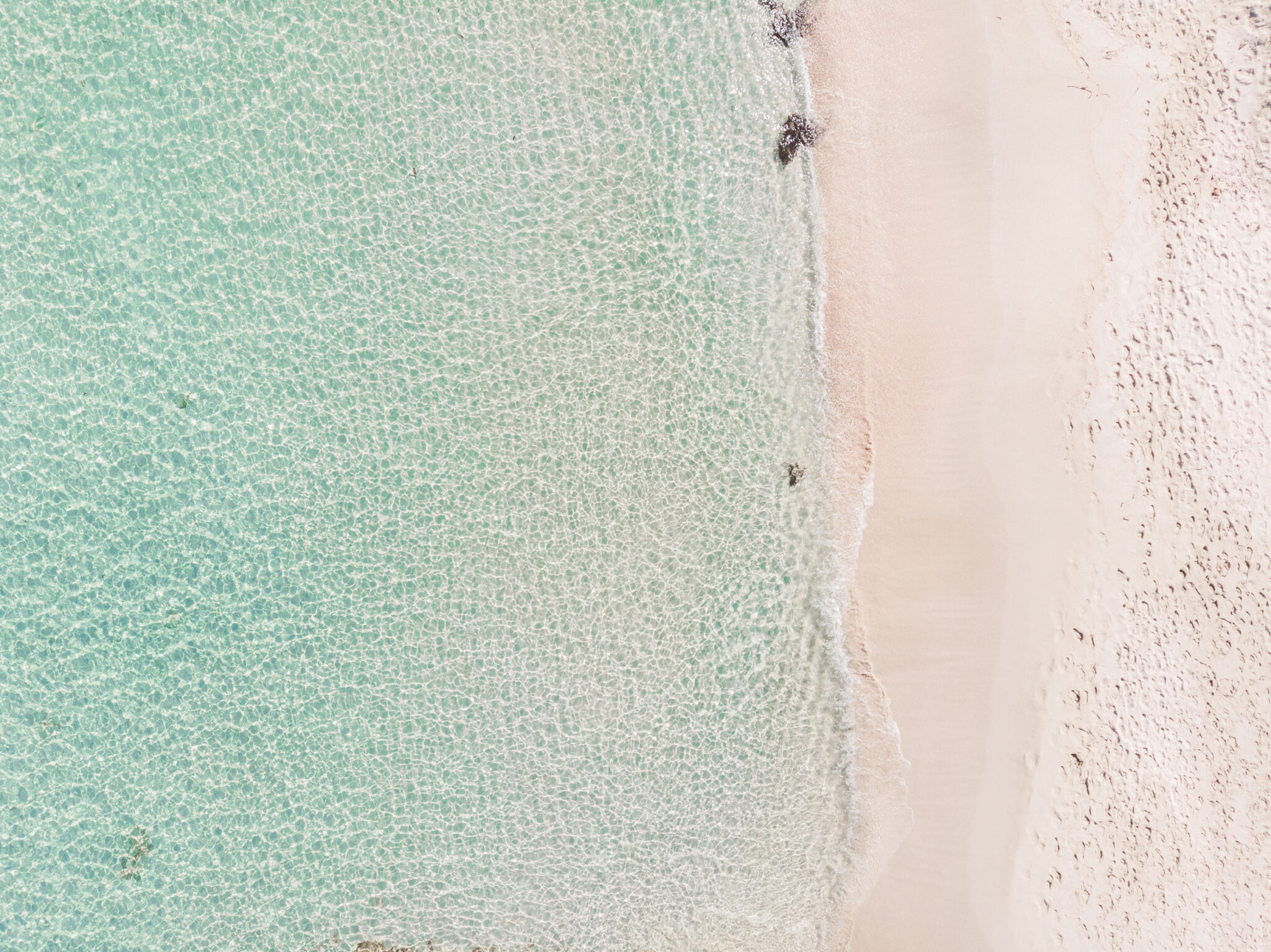 ---
---
Planning a day trip to Espalmador Island should definitely be a priority if you're spending time in Formentera or Ibiza. It's a truly unique and special experience. And given the private ownership of the island, one that may not be available forever….
Pin this for later!