At the southern end of the Gulf of St Tropez lies a sandy isthmus surrounded by nature. A place to escape the glitz of the Côte d'Azur and enter an untamed paradise.
Cap Taillat is somewhat of a local secret. Accessible only by foot or boat, it has escaped the development that shrouds many beaches along this stretch of the coast. Instead, it exists in its raw state, ideal for those seeking a more authentic experience in the South of France.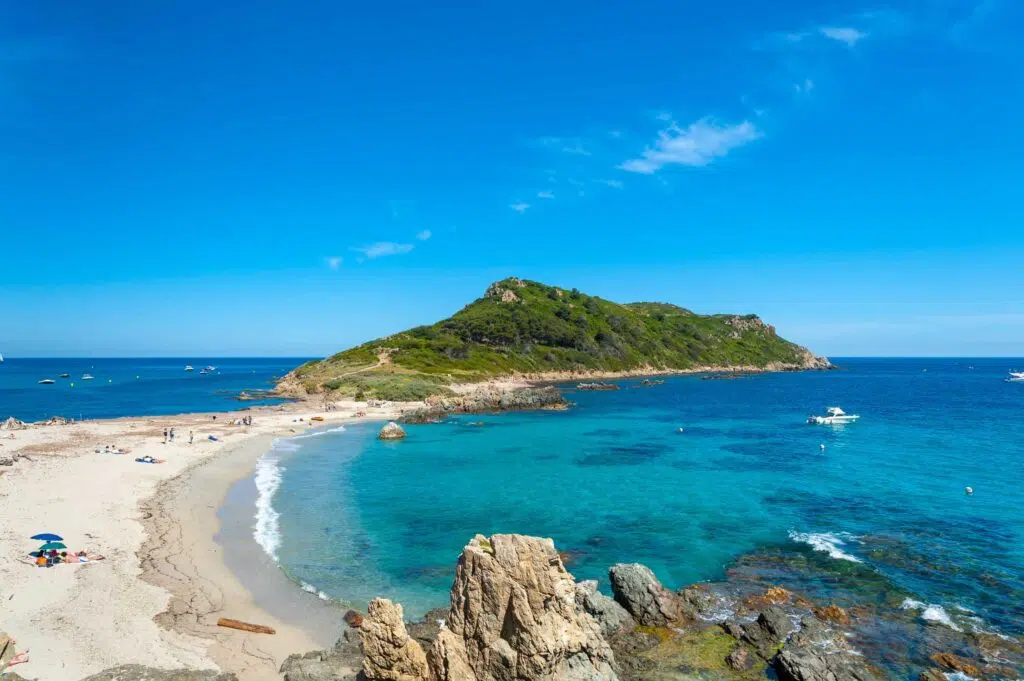 This article may contain affiliate links. See our full disclosure here.
---
Where is Cap Taillat?
Cap Taillat is located near the ancient village of Ramatuelle in the Provence-Alpes-Côte d'Azur region of France. It's situated at the end of the St Tropez peninsula – a stunning strip of coastline that's punctuated by some of the most beautiful beaches in France.
It's also an easy day trip from Saint-Tropez, being just a 15-minute drive to Plage de l'Escalet, where you'll start your walk to the cape.
Cap Taillat's Claim to Fame
Known as the 'Chitty Chitty Bang Bang' beach, Cap Taillat set the scene for the Truly Scrumptious song in the 1968 movie. You can watch the clip below if you're not familiar with this classic film.
---
Hiking to Cap Taillat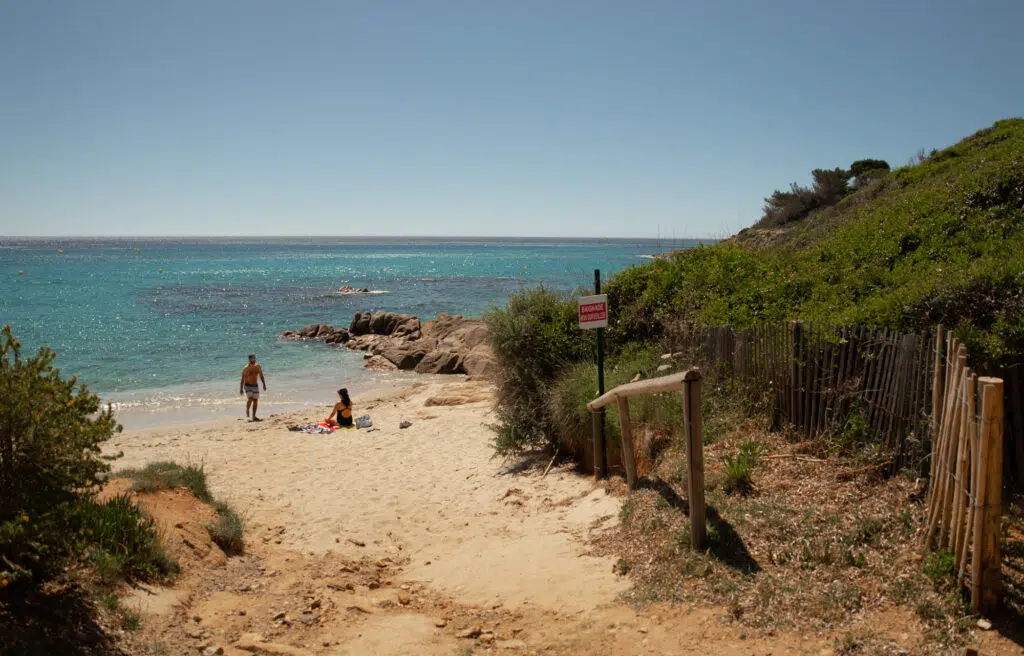 The trail to Cap Taillat begins at Plage de l'Escalet where there is a fairly large public car park (paid) and a lot of on-street parking (free).
Note: Plage de l'Escalet is a lovely, sheltered beach that's ideal for children. So if you have little ones, you could happily settle in here for the day instead.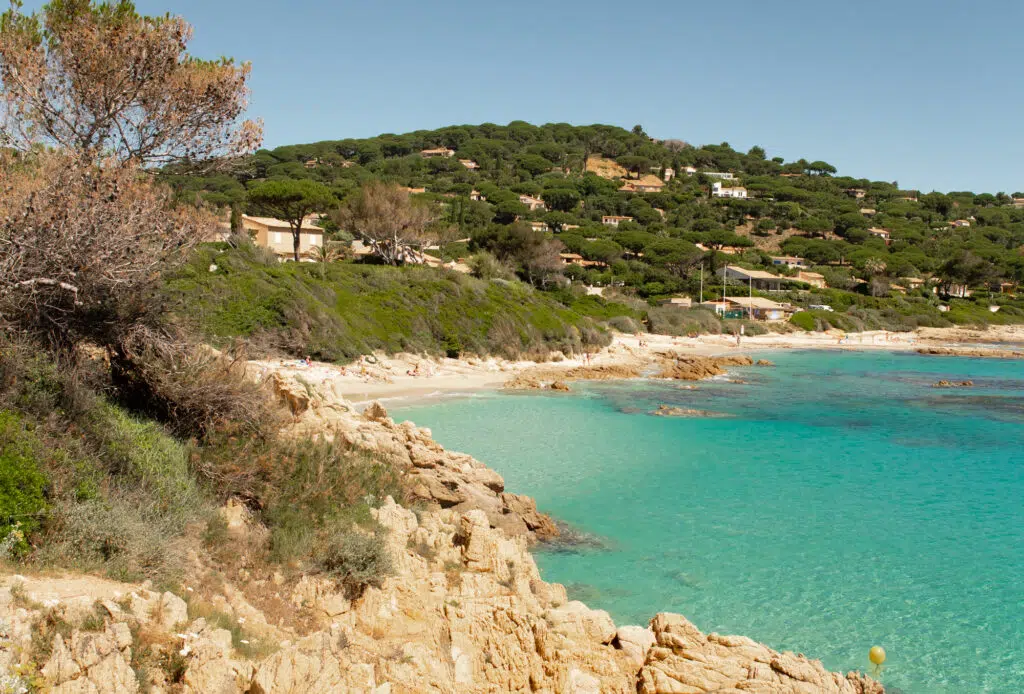 Otherwise, opposite the car park, you'll find a sandy path to the beach. You can follow this until it branches out on your right to start the coastal trail.
The Coastal Trail
The entire walk to Cap Taillat is under 3km one way, so it's an easy walk, and there are many small coves to tempt you along the way.
As you wander along the trail, native flowers and Mediterranean shrubs will awaken your senses with their colourful displays and delicate scent.
The path undulates a little, and there are a couple of areas where you need to be careful of your footing – so do be aware that it's not suitable for those who are less mobile.
At one point, you'll pass over a small wooden bridge that connects two particularly steep-walled rocks.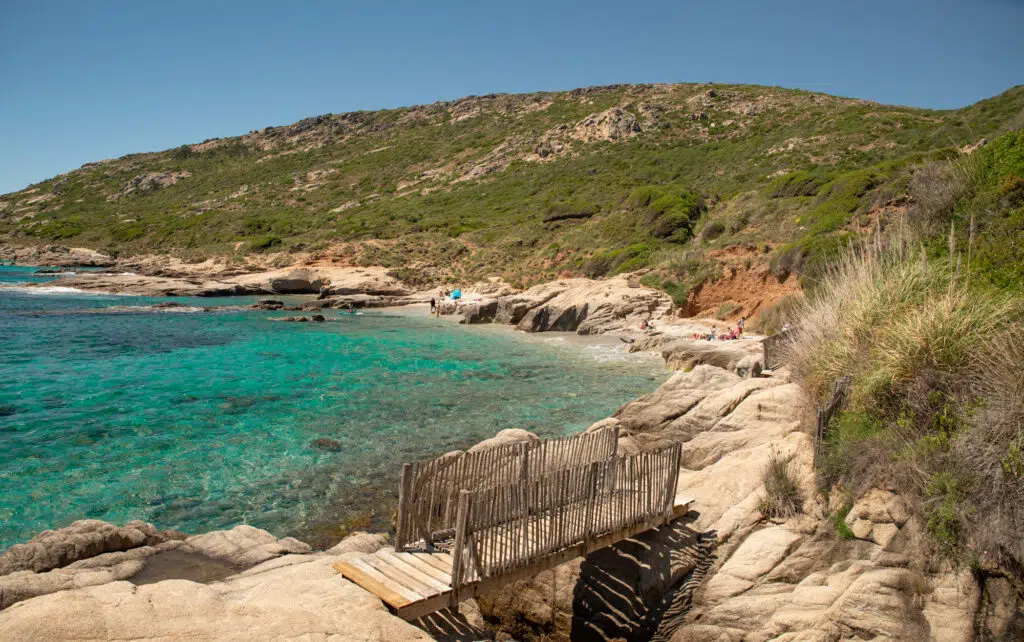 Overall, the trail is well-worn and easy to follow, so you don't need directions. Just keep going until you reach the large sandy beach that joins the mainland to Cap Taillat, or beach hop as you go.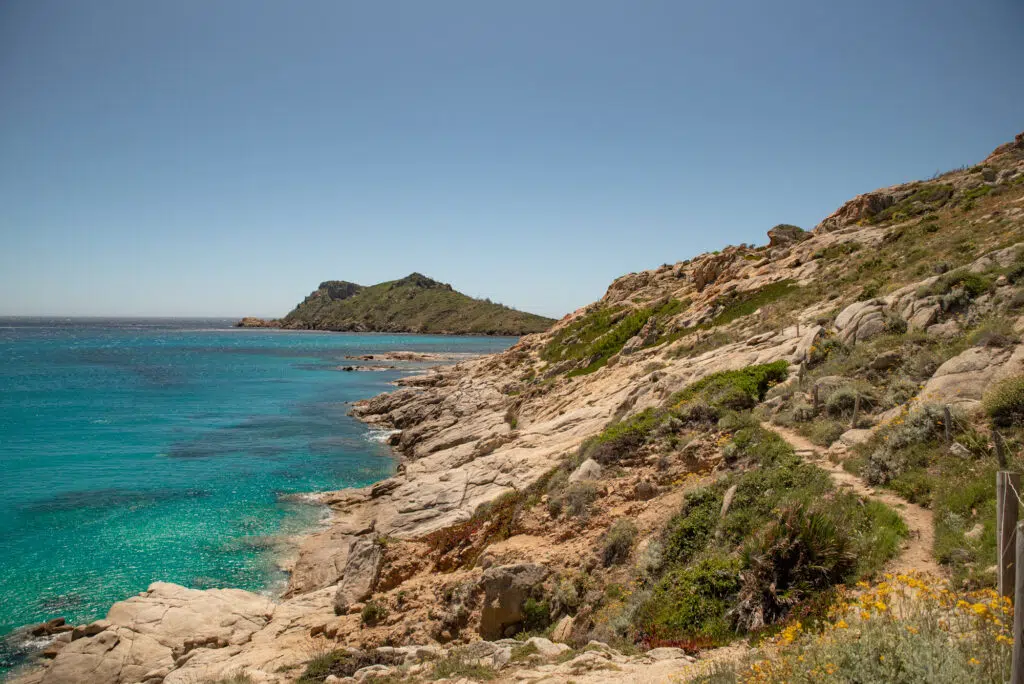 Once you reach the isthmus, cross the double-sided beach and follow the path up to the top of the island. Here, you'll find a small seating area with spectacular views across the Gulf of St Tropez.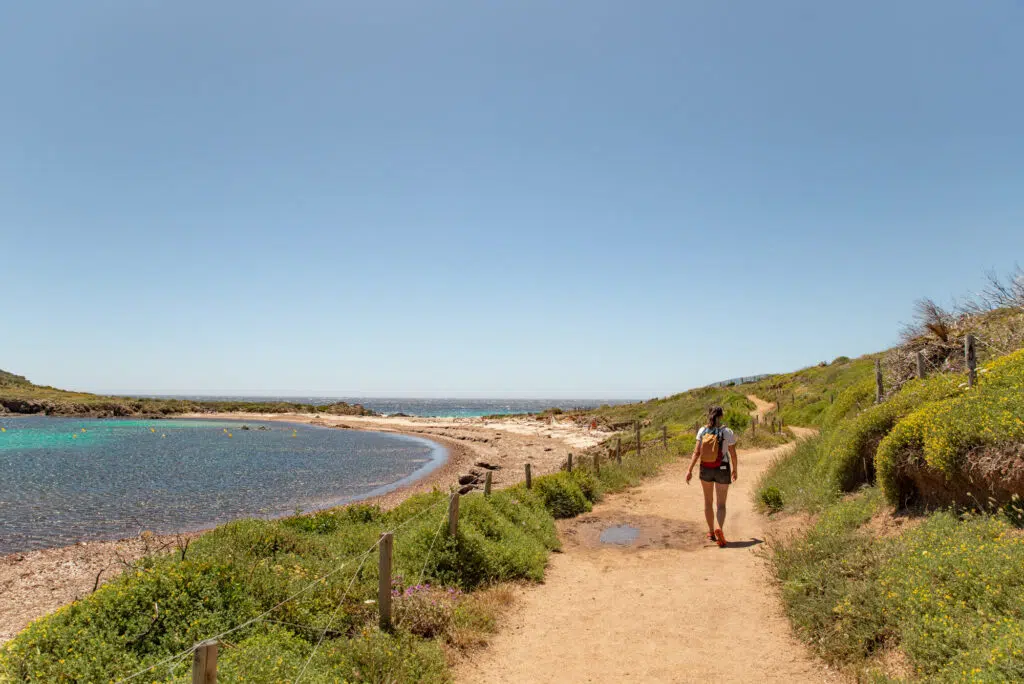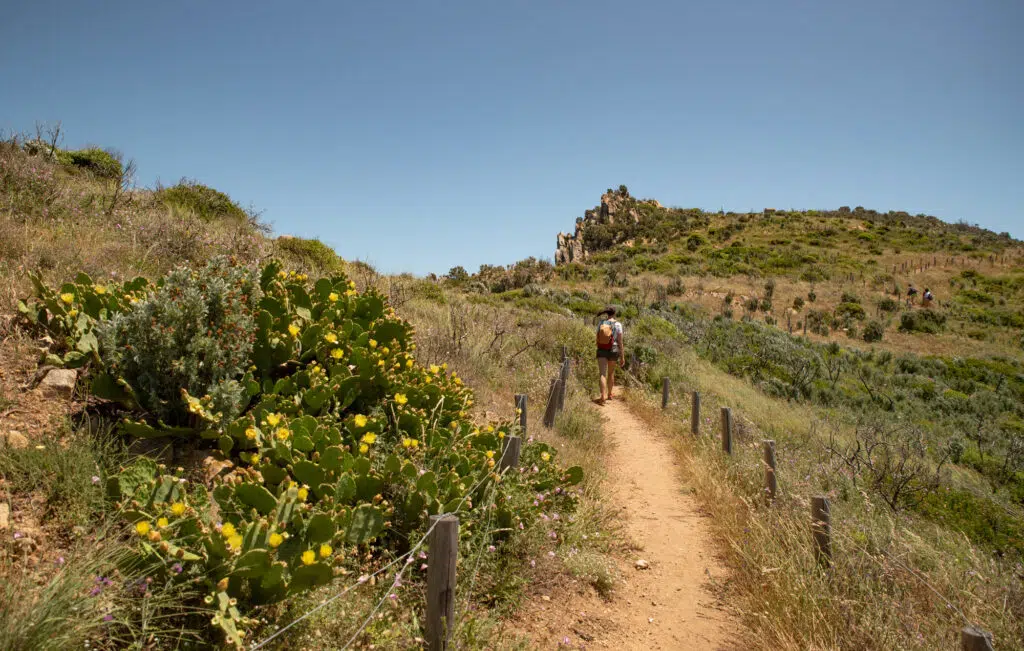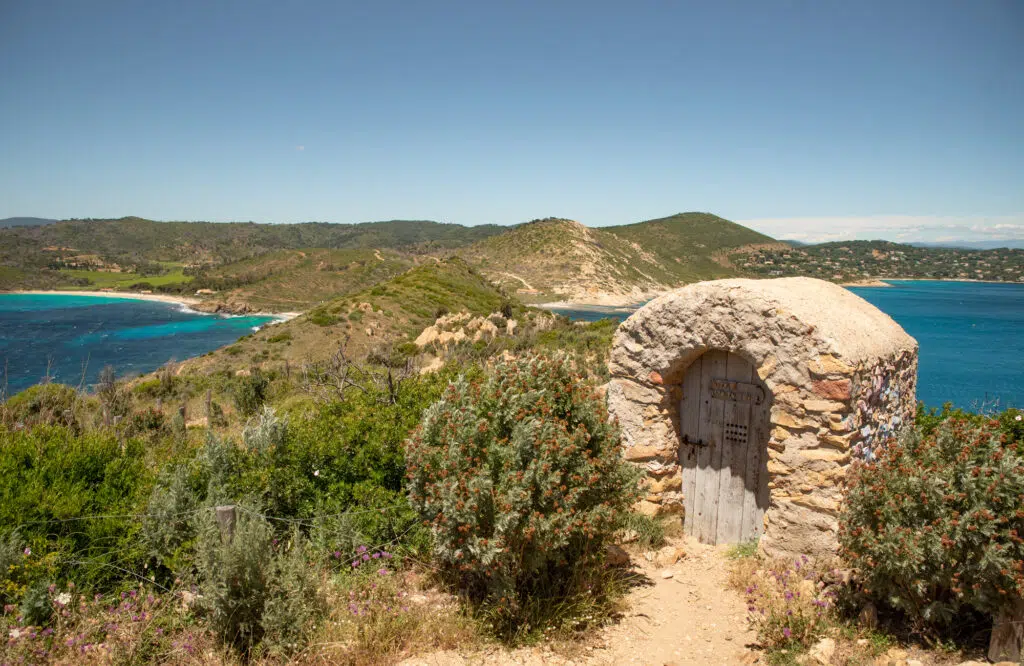 An alternative for those less able…
If you can't handle too much walking, an alternative is to park near the end of Avenue Cartaya where there is a small number of free car parks.
There are still a few stairs to reach the trail, but it cuts the walk roughly in half, or you could just stay at the lovely Plage de l'Amour without having to walk further.
An alternative for those who want a longer hike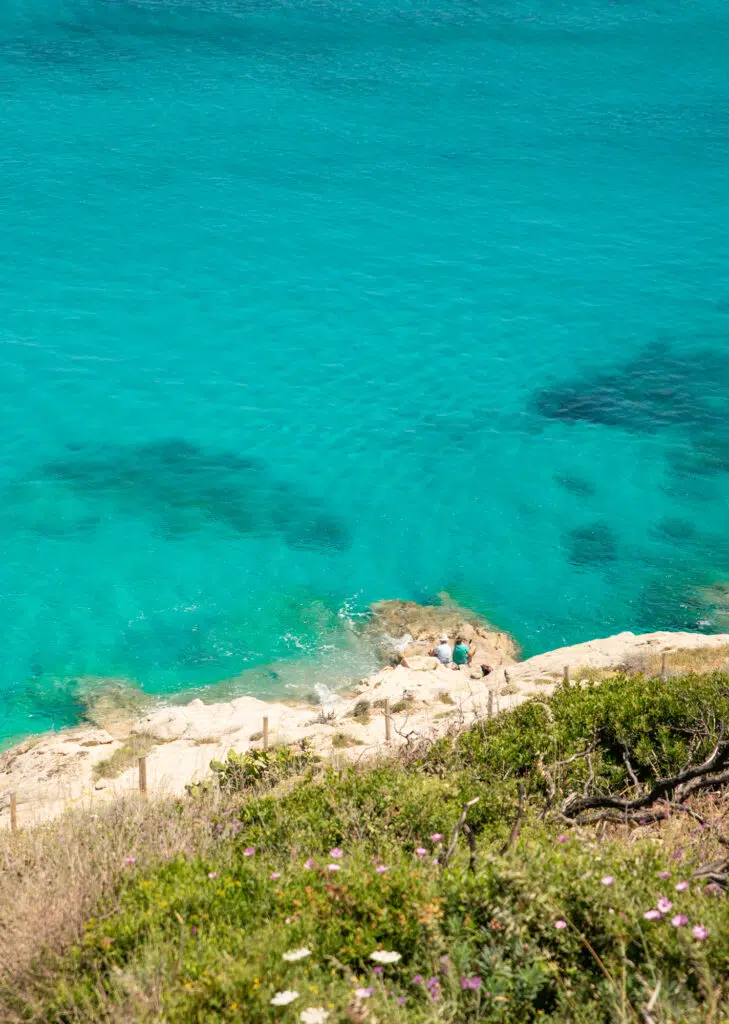 There's no need to stop walking once you reach Cap Taillat if you're after a longer walk. The coastal trail continues around the Bay of Briande, past Cap Lardier and the wild beaches of Plage du Brouis and Plage de Jovat.
End your walk at Plage de Gigaro where you can refresh with a swim and a picnic lunch before returning the way you came.
The entire walk is approximately 14km return.
Looking for more Provence travel inspiration? Don't forget to join our free Facebook group Provence Travel Planning!
Cap Taillat Beaches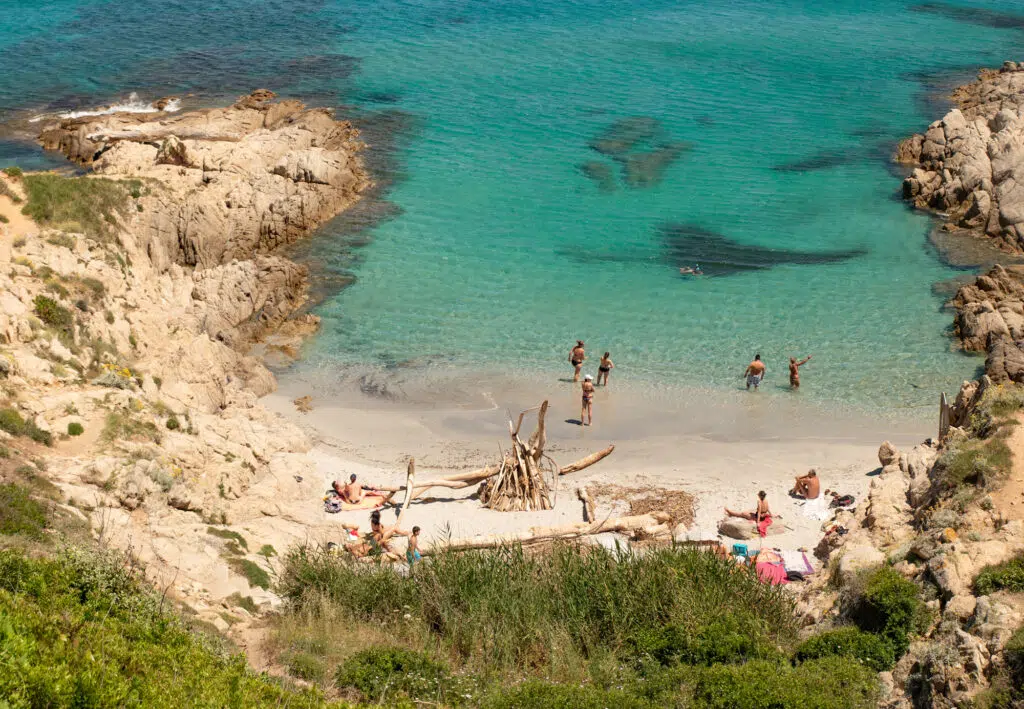 On the way to Cap Taillat you'll pass by several serene coves – some small and intimate, others larger and more family-friendly. This is one of the few places that you'll find naturally sandy beaches in the South of France. And they're all lapped by the sparkling blue waters of the Mediterranean Sea.
Of course, you don't need to stay on the beaches either! Do as the locals do, and throw your towel over a rock and dive into the sea from any of the rocky promontories.
Plage du Cap Taillat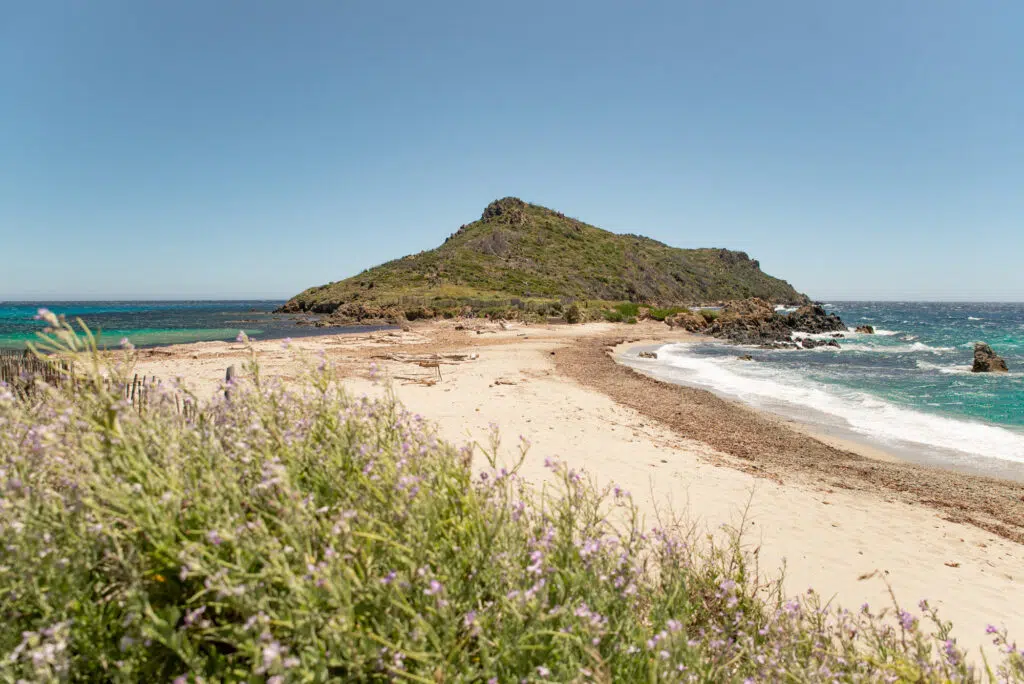 The main beach, Plage Taillat, is the large sandy dune that connects the peninsula to Cap Taillat.
On windy days, you may find one side of the bay to be more sheltered than the other, but apart from that, just pick a spot and spend the day here swimming, snorkelling, and sunbathing.
Plage du Ranc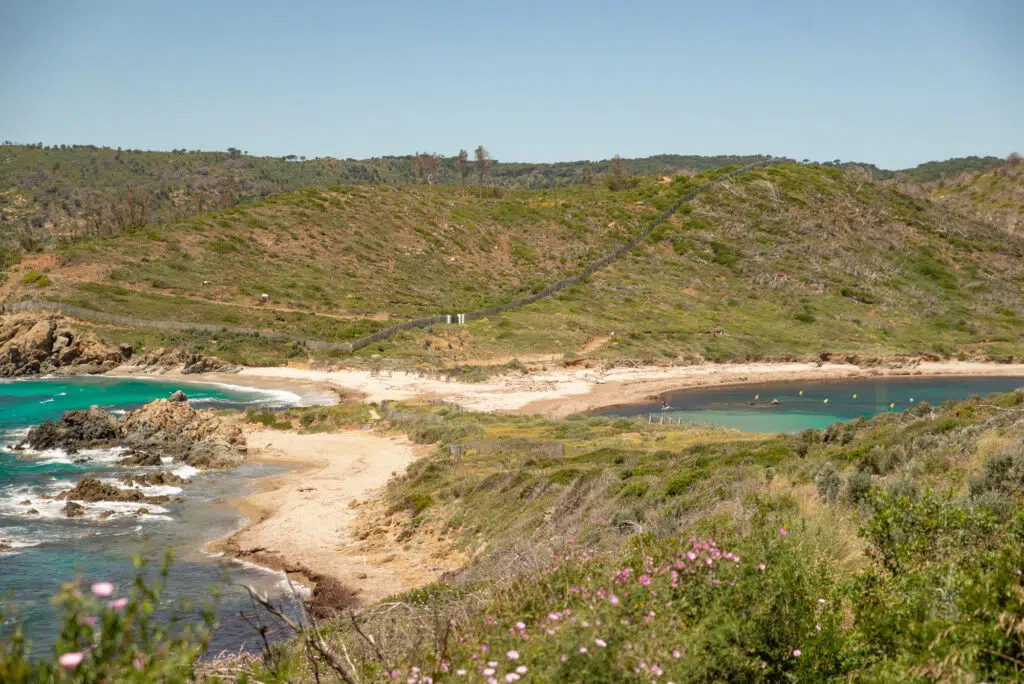 Just to the right of the expansive Cap Taillat beach, Plage Ranc is tucked away from plain view. Quieter than the other beaches for this reason, it's a beautiful place if you're seeking tranquility.
To get there, walk across Cap Taillat beach and start the path up to the lookout. A short way in, you'll find another path leading down to this cove.
Plage De Briande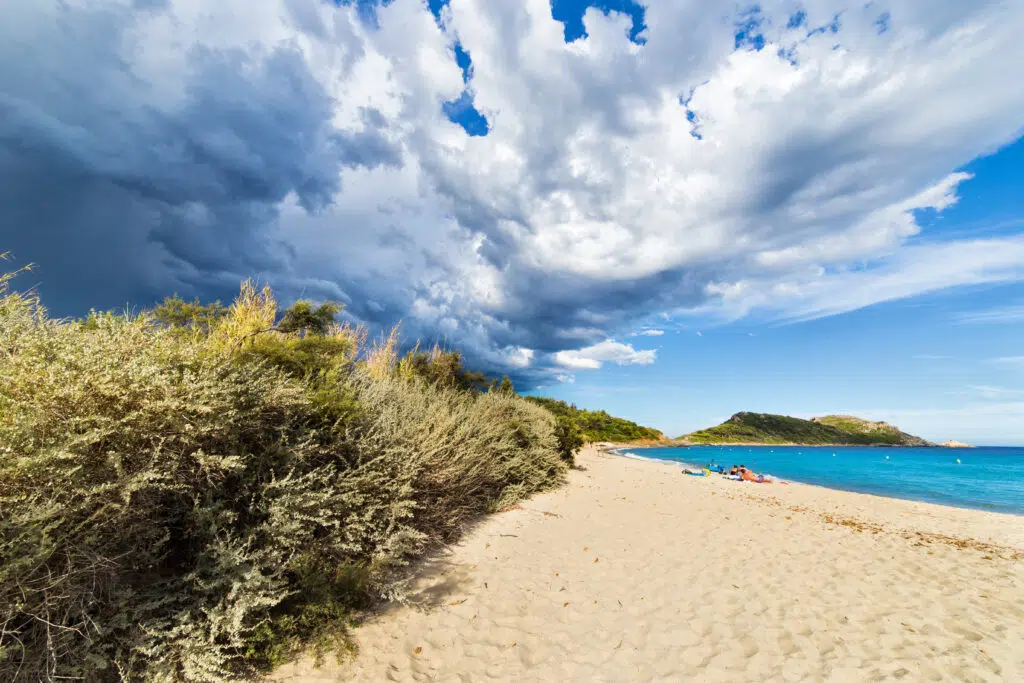 Situated around the bend from Cap Taillat, this beach is often a little quieter than the others on the peninsula. It is accessed by continuing past Cap Taillat beach and following the coastal path alongside a rustic wooden fence.
Once there, you'll find a large sandy cove, most often with a few boats bobbing just offshore.
Plage de la Douane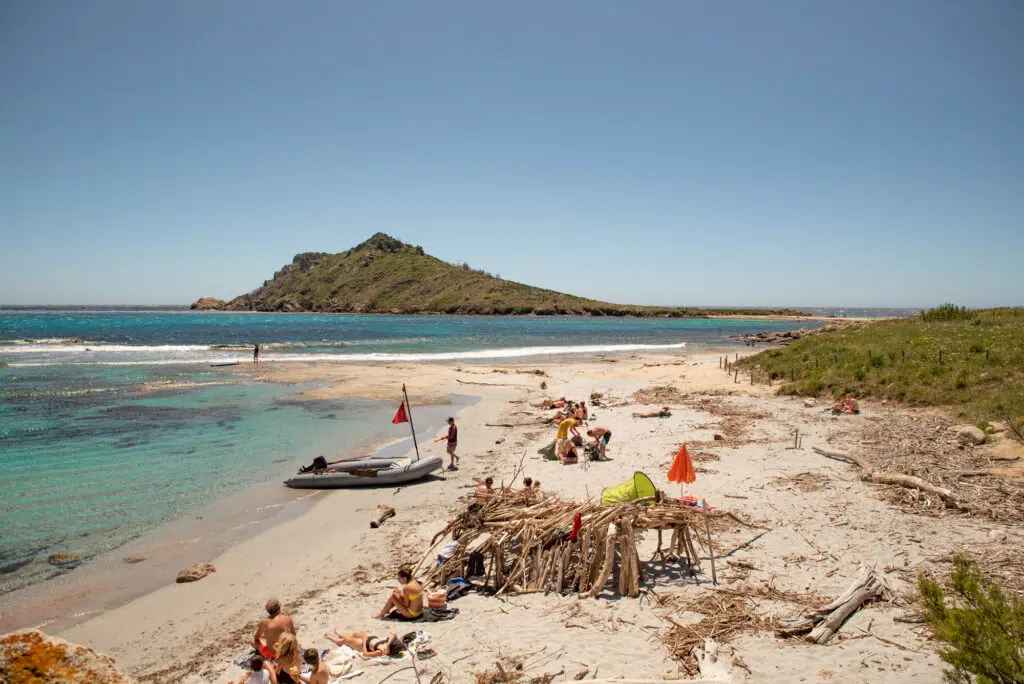 This rustic little cove is a favourite with families and those wanting to spread out, make driftwood huts, or practice water sports. The deep sandy cove and craggy coastline make it perfect for all that and more.
When the wind blows across the cape, this can make a more sheltered option than the Cap Taillat beach.
Crique de la Douane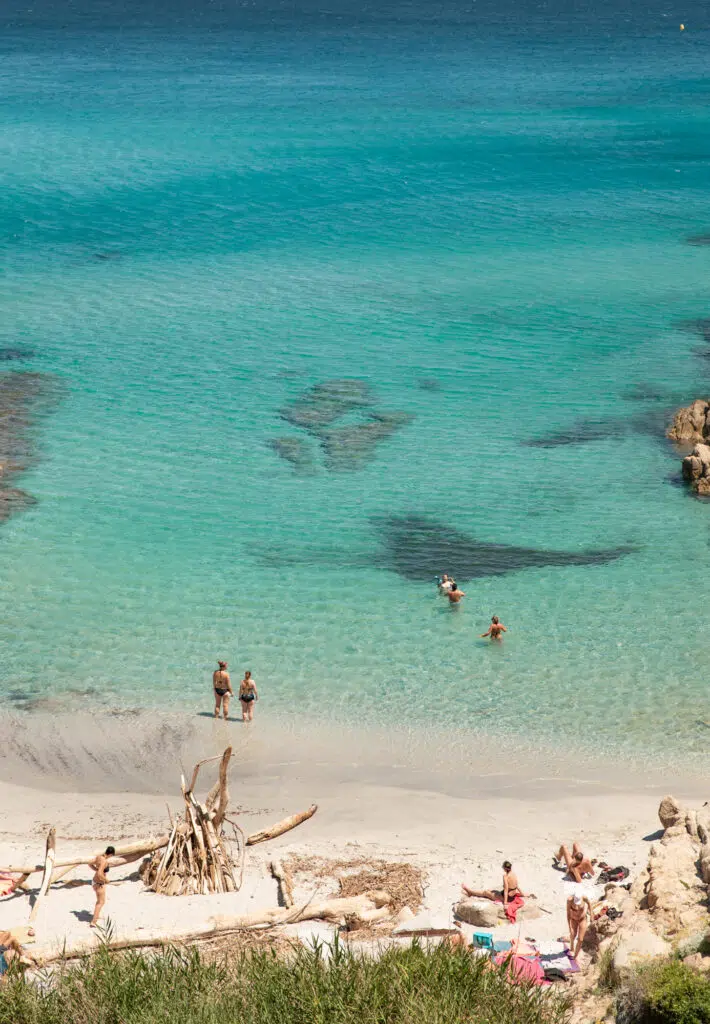 A tiny but perfect cove, this beach offers a little taster of the Calanques. The water here is clear and uninterrupted, ideal for swimming.
This cove is frequented by naturists and clothed swimmers alike.
Plage de l'Amour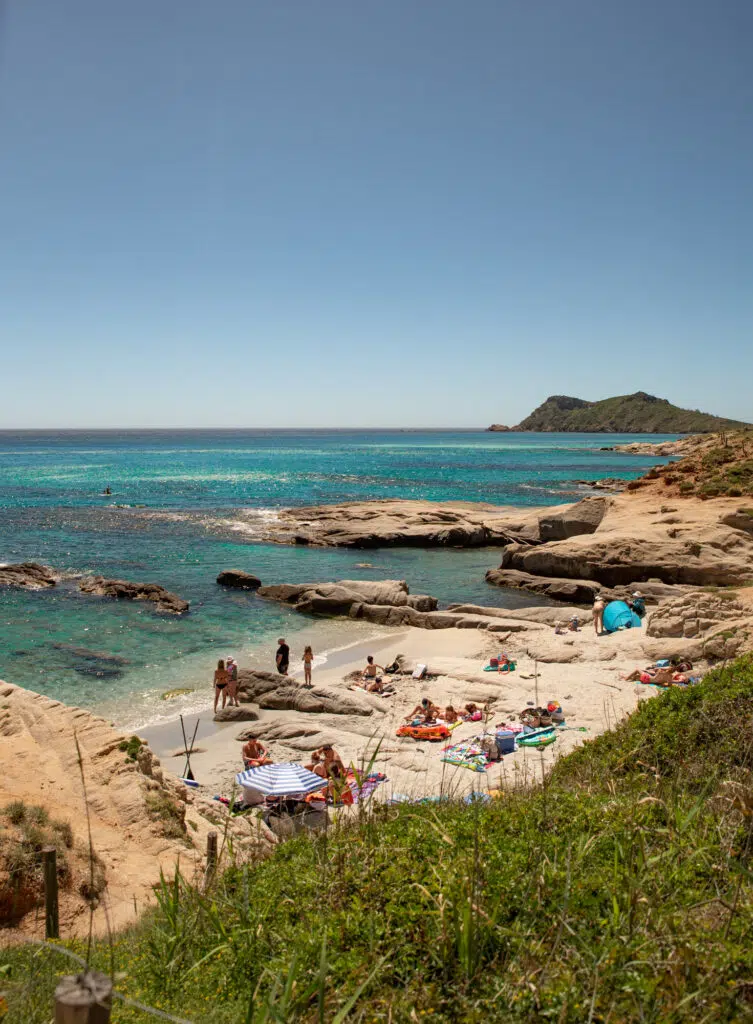 A series of little sandy coves separated by jagged rocks, Plage de l'Amour is a popular choice with families due to its increased accessibility.
The sheltered, shallow bay is ideal for swimming. Or bring your inflatable paddleboard or kayak to explore the coastline.
Plage de l'Escalet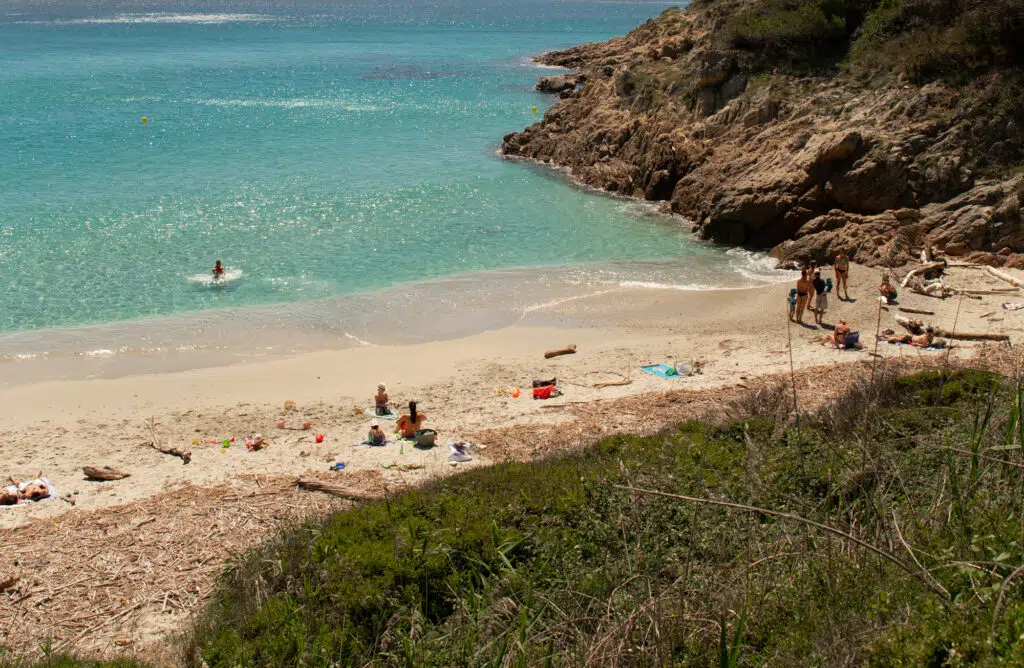 Both the starting and end point of your walk to Cap Taillat, the stunning Escalet beach is the busiest in the area, but is ideal if you want facilities nearby.
The only beach with toilets and outdoor showers, it's also stationed with lifeguards in the summer season.
---
Things to Know Before You Go
Apart from Plage de l'Escalet, there are no facilities at any of the other beaches on & around Cap Taillat. You'll need to carry everything you need with you for the day. And bring it all back with you again (including your rubbish).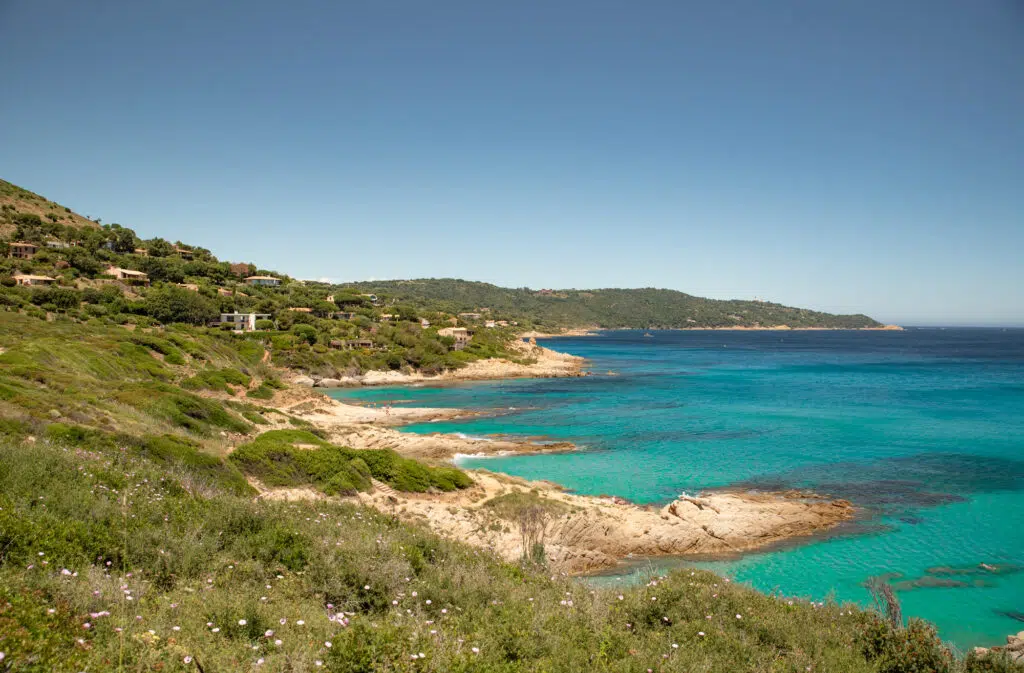 In summer, there is a boat that drives around the coast selling drinks and ice creams, but the prices are high, and the selection limited. So I wouldn't rely on this. Take plenty of food and water with you.
Although the walking path isn't challenging, it's still advised to wear suitable walking shoes for the few areas where you'll need to navigate over the rocks.
Dogs are permitted. Smoking is not, due to the risk of fires (much of the bush surrounding Cap Taillat burned down in a fire in the summer of 2017).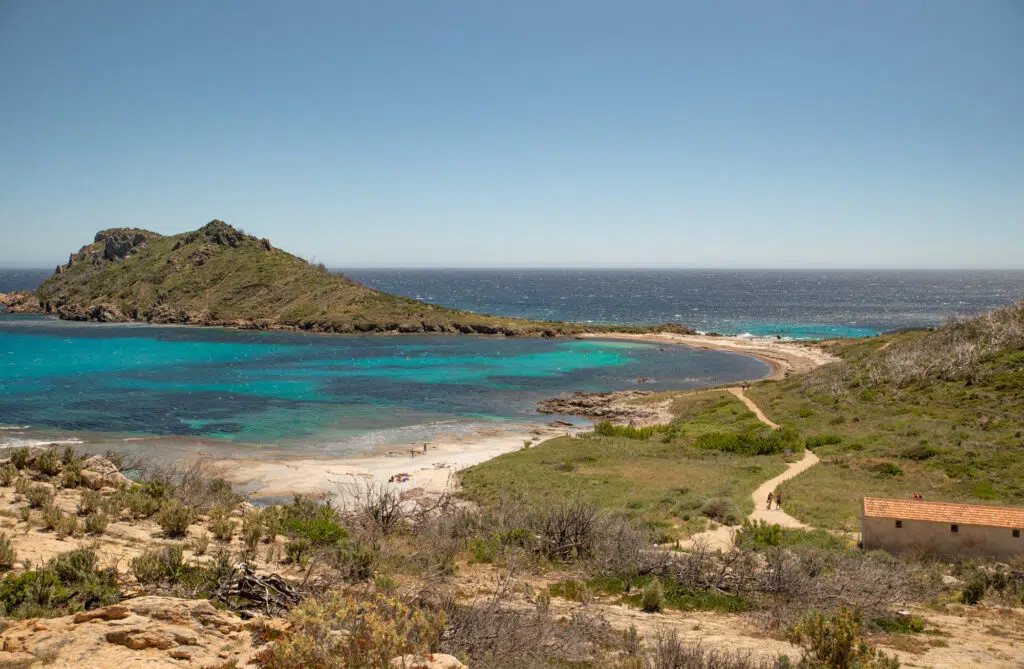 ---
Where to Stay Near Cap Taillat
Les Pins de l'Escalet
A beautiful Bed & Breakfast situated in a typical Provençal country house near Plage de l'Escalet. Choose a self-contained apartment, or a studio to suit your needs.
3 Bedroom Villa With Pool
Book this stunning private villa and you'll have a front-row seat to a sea. Relax in the luxurious grounds, entertain on the large outdoor dining area, or soak in the hot tub under the stars.
Studio near the Beach
Just 500m from Plage de l'Escalet, this self-contained studio offers modern comforts at an affordable price. The ideal place to stay for a romantic getaway on the coast.
---
This stunning stretch of coast is no stranger to the limelight, but due to its remote and rugged nature, it retains its superstar appeal. Make Cap Taillat a must-do on your trip to the South of France and you won't regret it!
Pin this for later!