Scintillating Saint-Tropez. Who doesn't know the name of this beautiful and popular Mediterranean destination in the South of France?
Over time, what started as a humble fishing village with exquisite coastal scenery and a sparkling azure sea, began attracting artists, particularly during the Avante-Garde early 20th century.
Word of this outstanding and unique 15-kilometre-square location quickly spread worldwide, eventually gaining appeal among the international jet set and leading to a town now famous for its nightlife, glitz and glam. Where fishing boats once populated the bay, glamorous superyachts now gleam and bob in the gentle sun.
Saint-Tropez remains a gem of the French Riviera, beloved by the glitterati and tourists alike and renowned for high-end shopping, eating, drinking, and dancing the night away.
However, for visitors wondering what else to do in St-Tropez, there's also plenty to see among numerous Saint-Tropez attractions, including walking and biking tours, day trips and excursions.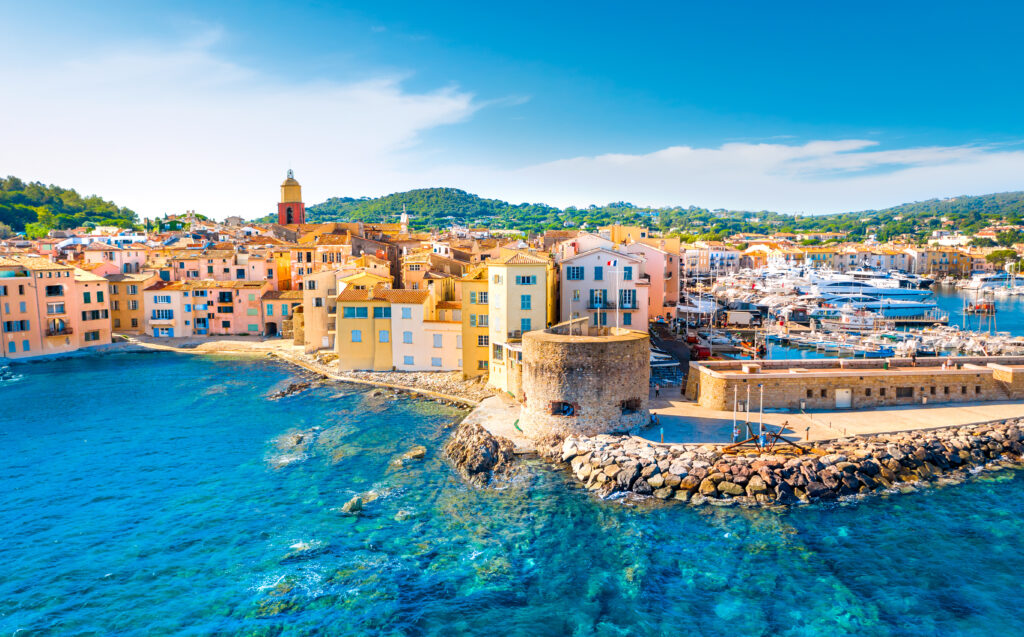 How to Get to Saint-Tropez
The destination, located on a relatively unspoilt peninsula of the Cote d'Azur, is blissfully bypassed by the busy motorway running the length of the French Riviera. While this distinction provides advantages, it does make sought-after Saint-Tropez a little more difficult to access.
Although the town doesn't have an airport, you can fly to Marseille's Provence Airport (drive to St-Tropez 143.8 km) or Nice's Côte d'Azur airports (drive to St-Tropez 107.2 km). The smaller, more local La Mole, the closest airport to St-Tropez, is suitable if arriving by helicopter, private or charter flight.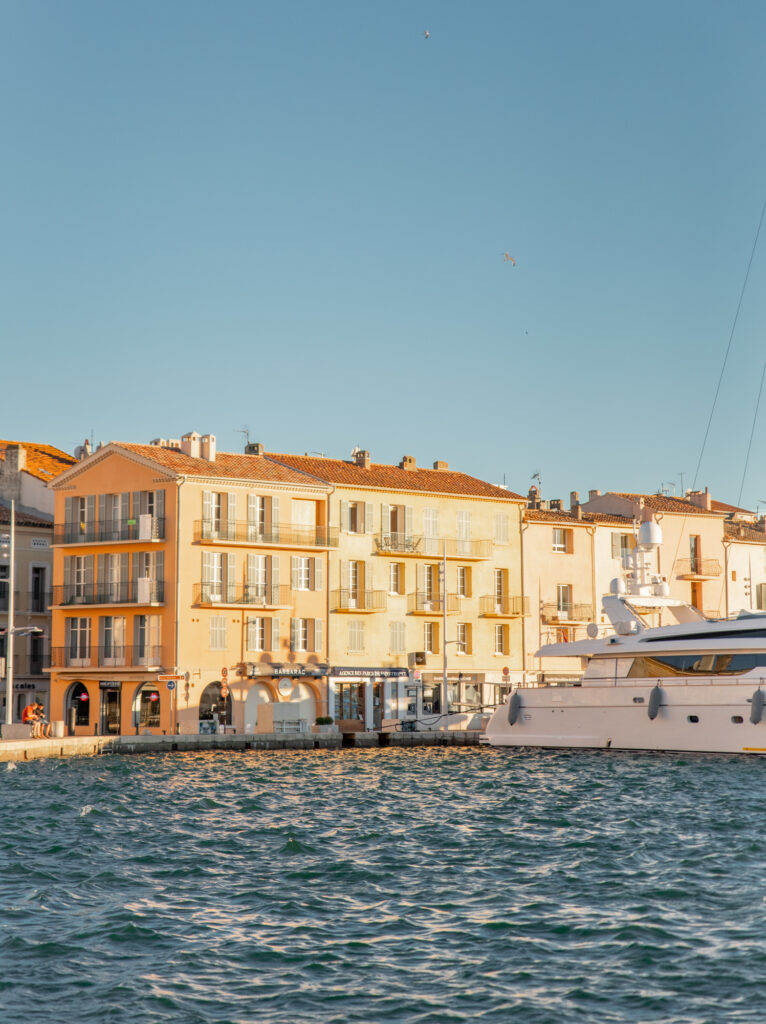 You can also reach Saint-Tropez by sea. Ferries depart the nearby town of Sainte-Maxime and Port Grimaud throughout the year with Bateaux Verts. The boat trip takes 15-25 minutes and costs less than €15 return.
Alternatively, you can book a charter or shared trip from Nice. This scenic option offers a stunning look at this remarkable coast and port. The journey takes around two and half hours and is available from May to September.
Once you get there, here are some of the best things to see and do in St-Tropez.
---
Top Things To Do in Saint-Tropez
Although the town is most famous for its affluence, celebrity status, paparazzi, designer shopping, and glitzy nightlife, the location has a varied and interesting history. In addition, it offers a wealth of intriguing Saint-Tropez sightseeing and activities.
EXPLORE SAINT TROPEZ HARBOUR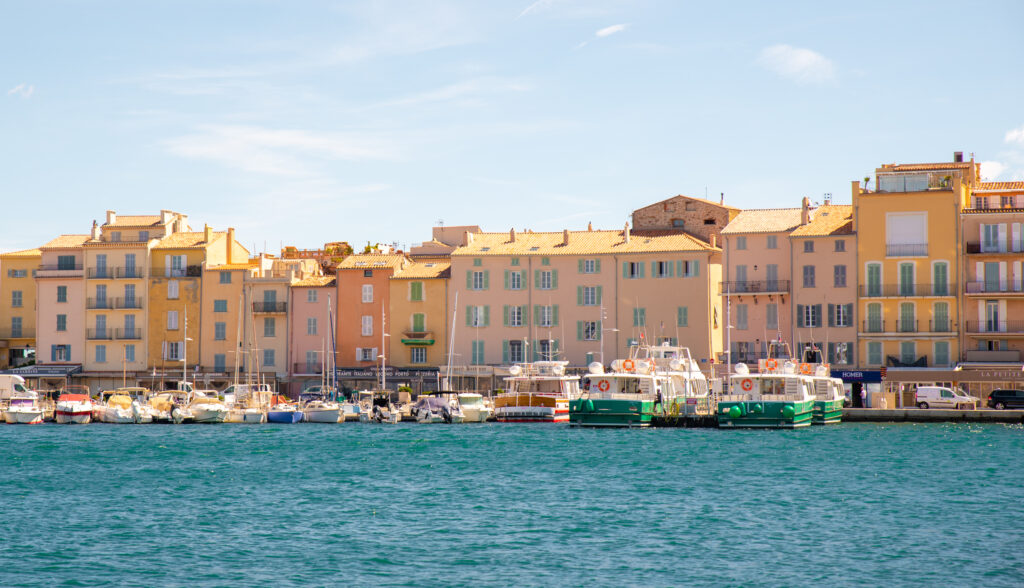 The hub of the town, the Vieux Port is a vibrant area and a must-visit with its cheerful colourful buildings and shining white 'flock' of superyachts.
Spend some time here sampling the local ice cream and signature cone fries and mayo. Most fun of all, the old port is one of the best places in St-Tropez to enjoy some people watching from any one of the many appealing harbour-side cafes.
Don't forget to have your camera ready to capture some brag shots of the attractive architecture, elegant and expensive cars, and impressive VIP vessels, especially at sunset.
WANDER THROUGH THE CHARMING OLD TOWN
Make your way from the harbour into the old town of Saint-Tropez, and you'll be immersed in a fairytale world of cobbled lanes and pastel-hued houses.
The streets are impossibly attractive, and there is most certainly a feel of luxury as you wander. But that doesn't mean it's perfectly curated either. There are surprises in store for those who dare take the path less travelled, and be sure to survey all levels of your surroundings – you never know what's waiting when you look up either!
Attractive lanes lead to alluring squares where you can join the locals for a drink on the terrace, or watch pétanque players skillfully battle it out. And on Tuesday and Saturday mornings you'll find an attractive market under the plane trees in Place des Lices selling cheeses, herbs, garlic and olives. Pair this wholesome produce with fresh-caught seafood to be found every morning at the Place aux Herbes, a busy market square (also the perfect place for more people watching).
FOLLOW THE WATERSIDE WALKWAY TO LA PONCHE
Starting at the 15th-century Tour Portalet at the edge of St Tropez's harbour, you'll find a walkway that snakes around the coast before connecting to the Sentier du littoral.
First, you'll reach the petite Plage de la Glaye with its stony shore and perfect colour palette. Dip your toes in the clear waters, or pop up the staircase for a peek, before carrying on around the coast to Plage de la Ponche which is surrounded by tall terraced houses, and fragranced by the sweet smell of orange blossom.
Pause for a refreshment in the busy square behind the beach, or continue walking to your next destination, the seaside cemetery.
MARVEL AT THE CIMETIÈRE MARIN DE ST-TROPEZ
This beautiful old mariner, fishermen and civil cemetery right on the Mediterranean Sea (the water meets the cemetery wall) offers a rich slice of history and superb views of the 'Les Canebiers' bay and the Gulf of Saint-Tropez. This delightful location is on Chemin des Greniers at the end of the Rue Cavaillon, just a short walk from the harbour. Turn left when you see the stairs up to the citadel.
Ornate gravestones and mausoleums crowd the picturesque site. Well-maintained and adorned with glorious fresh and ceramic flowers, this seaside graveyard is the final resting place of the ordinary and the famous, past and present.
Notably, renowned French record producer and playboy Édouard Ruault, also known as Eddie Barclay or the 'Bluebeard of the music industry', is buried here. Also famous for having nine wives, Barclay's grave is eccentrically decorated in oversized long-play records. Others resting here include the daughter of composer Franz Liszt, Blandine Liszt, Neo-Impressionist painter Paul Signac, film screenwriter, director and producer Roger Vadim, and the Hindu princess, Bannou Pan Deï, wife of General Allard.
From here, continue back to the impressive Citadelle de Saint-Tropez.
CLIMB UP TO THE CITADEL AND THE MARITIME MUSEUM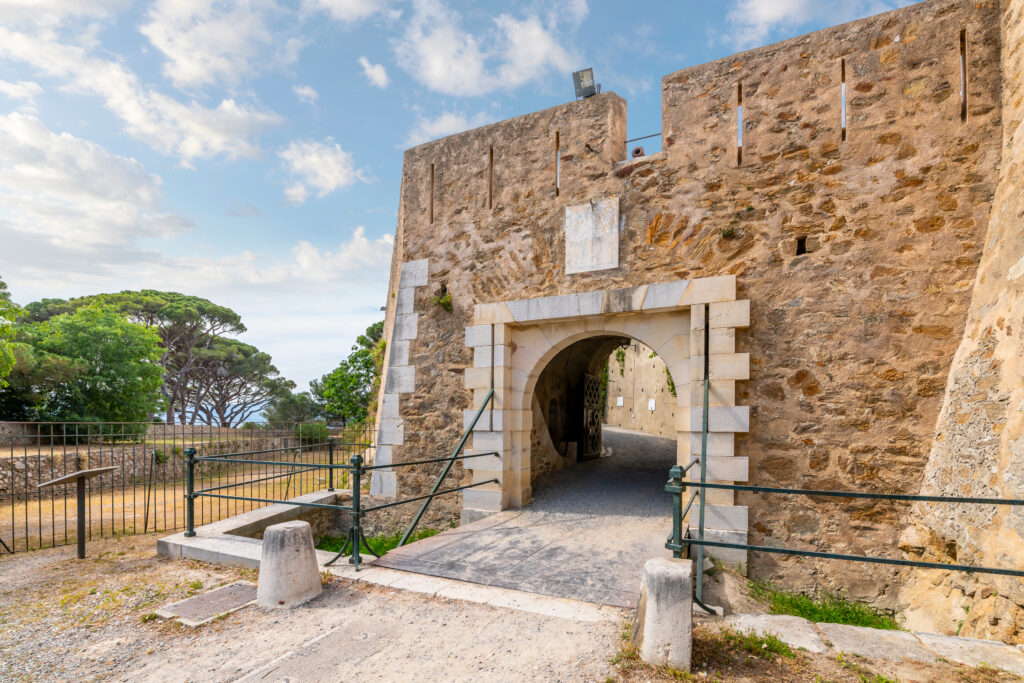 This early 17th-century fortress dominating the hill space above the town is listed as among the most visited historical sites in the region. The construction comprises a hexagonal keep, bastions and a rooftop terrace. The superb vantage point offers a spectacular panorama of the glittering Mediterranean.
You'll find the dedicated museum of maritime history in the dungeons. This modern addition informs visitors about Saint-Tropez and the area's more famous residents, characters and heroes while shedding light on the daily lives of ordinary Tropezians.
La Citadelle and museum entrance fee is four euros, and it is open seven days a week between 10 am and 6.30 pm. You can also experience this historical location with a guided tour between 11 am and 3.30 pm. Wheelchair access is available.
From here, head down again to experience all the town of Saint-Tropez has to offer.
APPREIATE AN ART REVOLUTION AT LE MUSÉE DE L'ANNONCIADE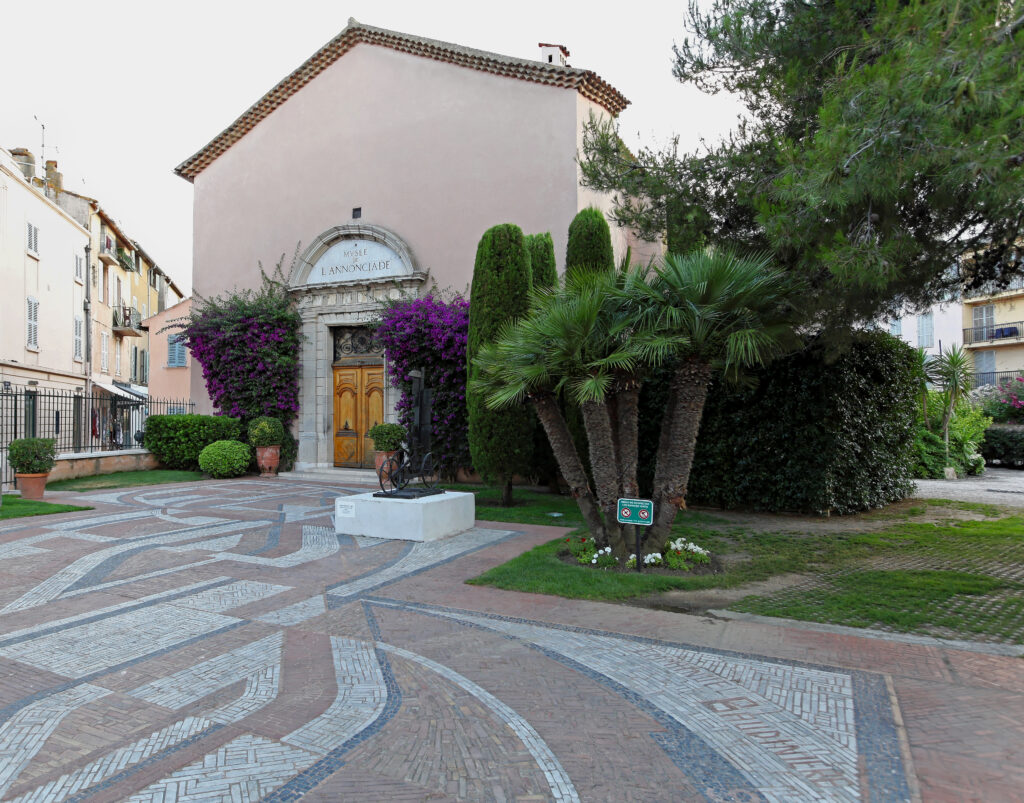 Saint-Tropez was the European capital of progressive painting in the early 20th century, thanks to the arrival of Neo-Impressionist Paul Signac by sea in 1892. Abandoning his ship, L'Olympia, he created a home and studio – la Hune.
He was soon joined by other anarchic artists, including Henri Matisse, Henri-Edmond Cross, André Derain, and Albert Marquet. This productive period was known for its evolutionary, wildly expressive, and colourful works, including impressionism, expressionism, post-expressionism, pointillism, Les Nabis, fauvism and cubism. These transformative movements, in turn, gave birth to numerous contemporary styles such as dadaism and surrealism, ultimately forever influencing modern visual arts, including architecture, dance, fashion, photography, film, and advertising.
The highly engaging Annonciade Museum was conceptualised in honour of this significant period and contribution. Located on Place Georges Grammont, this 16th-century chapel converted to a museum in 1922 houses works from 1890 to 1950 by influential modern painters linked to Saint-Tropez. Beyond exhibits from Signac, Matisse and Cross, the extensive collection includes work by Seurat, Bonnard, Dufy, de Vlaminck and others.
TAKE A FLIGHT OF FANCY AT THE ENTRANCING MAISON DES PAPILLONS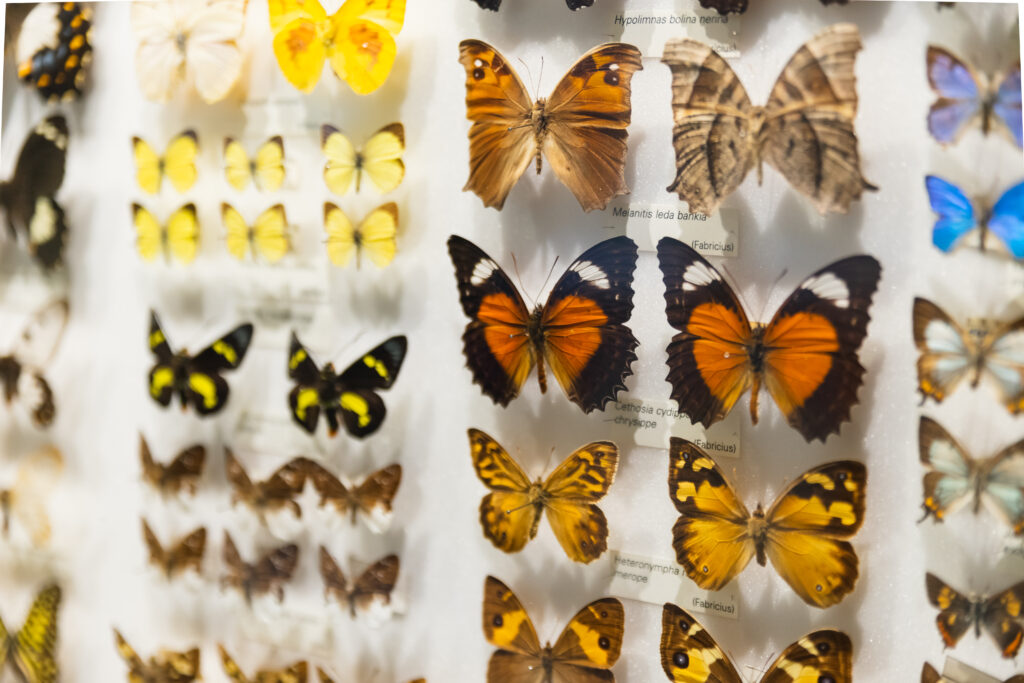 No visit to Saint-Tropez would be complete without a trip to the enchanting House of Butterflies (La Maison des Papillons).
Found on Rue Etienne Berny near the Place des Lices, this charming museum displays over 20 000 delicate and beautiful diurnal butterfly species. The collection includes exotic varieties from the Solomon Islands and Amazonia, protected and extinct species, and fascinating rarities and mutations.
Collected throughout the life of artist Dany Lartigue, the butterfly collection and paintings are displayed in his quaint former home. This national heritage museum also boasts an intriguing photography project depicting the accelerated lifestyle of this exquisite insect.
The butterfly museum is open from two to six in the afternoons, on Mondays to Wednesdays and on the weekend. The visit is well worth it at two euros or free for International Council of Museums (ICOM) pass holders and children under 12.
SHOP 'TIL YOU DROP IN LUXURY ST TROPEZ BOUTIQUES
When you visit, arrive with an extra suitcase or two. Then, head to any or all of the Rue Général Allard, Rue des Remparts, Rue François Sibilli, Rue Henri Seillon, Rue Gambetta, and Boulevard Louis Blanc for some of the best shopping in St-Tropez.
Chanel, Louis Vuitton, Dior, Miu Miu, Louboutin, Kiwi, Vilebrequin, and Breitling – you'll find all these luxury designer brands and more among Saint-Tropez's enticing stores. Shop for ready-to-wear casual, smart, or evening attire, or browse for chic sports and swimwear. To complete your striking Saint-Tropez look, a range of stunning jewellery and accessories is at your fingertips.
Then, wind your way through the charming alleys to view local art galleries and shops and meet the creative artists in their studios. Finally, choose your timing well to not miss the Grande Braderie de Saint-Tropez over one weekend in October for the best end-of-season sales and deals.
PLUNGE INTO THE MEDITERRANEAN AT A SAINT-TROPEZ BEACH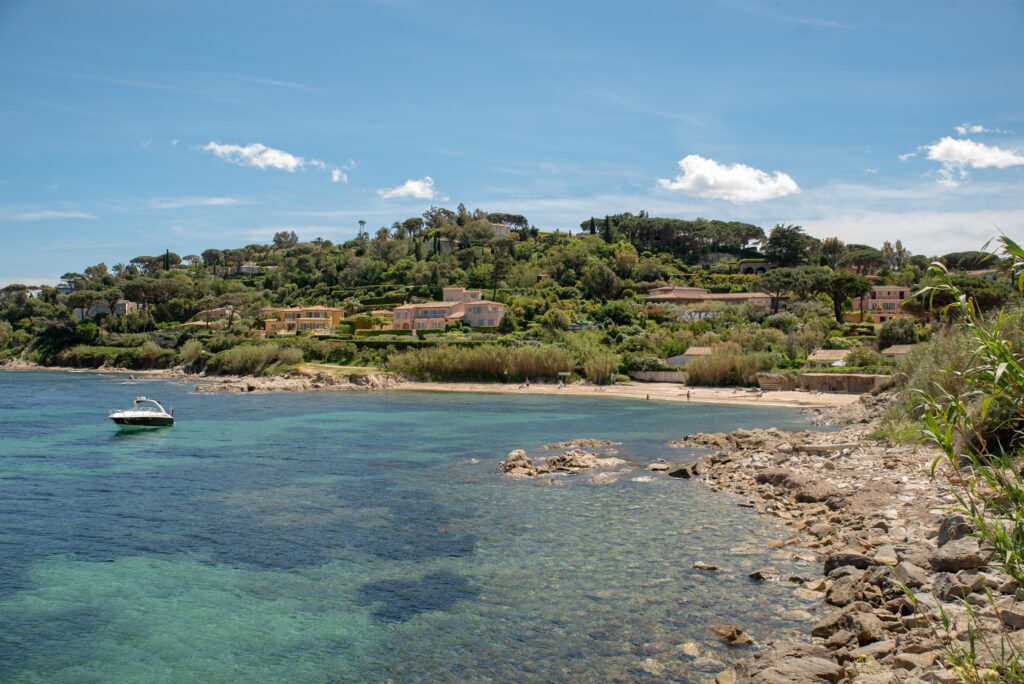 Now cool your hot and weary feet in the refreshing and sparkling blue sea at one of Saint-Tropez's beautiful beaches.
Located not far from the cemetery, Plage des Graniers is an inviting cove tucked away from the busyness, making it a favourite among locals. It offers cool, turquoise waters, soft white sand and welcome shade from the bordering bush. The beach is also home to a popular restaurant, Les Graniers, where you can dine with your feet in the fine sand.
Parking isn't the easiest feat here, so if it's too difficult, head to the easily accessible Plage des Canoubiers instead. The beach here is family-friendly and not too crowded, with facilities including restrooms and showers, and plenty of convenient parking available.
The bay is also ideal for visiting by boat, with many luxury yachts anchoring overnight in this lovely location. Visible from the water and beach are numerous luxurious villas, one (with blue shutters) reportedly once owned by French actress, Bond Girl and animal activist Brigitte Bardot.
If you have a car available, the Gulf of St Tropez hosts many more delectable sandy beaches, such as the famous Pampelonne beach that stretches for miles.
INDULGE IN FINE CUISINE SERVED WITH CHILLED CÔTES DE PROVENCE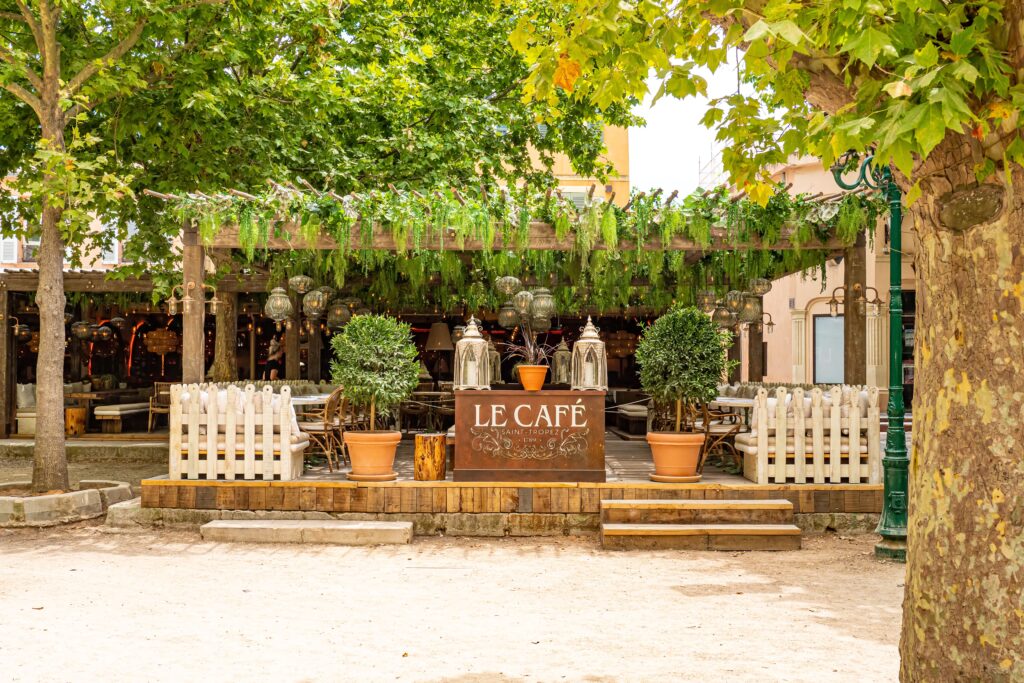 After exploring the town and citadel, enjoying some retail therapy and cooling off with a dip, head to the numerous nearby eateries to sample the excellent European, French or Mediterranean cuisine.
Whether you're craving local or international fare, gourmet haute cuisine or street-style snacks, a classic atmosphere or a lively ambience, a modern brasserie or traditional bistro, you'll find Saint-Tropez to be, as often claimed, the 'kitchen of the world'.
For the finest European, French, Mediterranean, African and Asian dining, choose from several excellent eateries, including the three Michelin star and excellently reviewed La Vague d'Or at the Cheval Blanc St-Tropez hotel, the one Michelin star minimalist restaurant Collete, Cucina Byblos or Le Patio for Italian, or Le BanH Hoï for Asian.
Explore the Citadel's cobbled alleyways and streets to discover simple yet authentic casual dining. Local eateries are usually relatively plain and indoors, with a pleasant outdoor terrace and an à la carte menu. Recommended are Restaurant le G'Envie, Le Bagatelle, La Part des Anges, and La Ramade, among many others. Here you can choose from a range of beloved local grilled meat and seafood dishes and iconic local options such as courgette flowers, caramelised onion and anchovy flatbread, hearty vegetable and bean soup, and the famous regional Salade Niçoise.
From ratatouille with Provence rosé, pasta with pinot grigio to a fast burger and Coca-Cola, you'll find the flavour profile, mood and view to suit your preference.
TOP IT OFF WITH LOCAL TARTE TROPÉZIENNE FOR DESSERT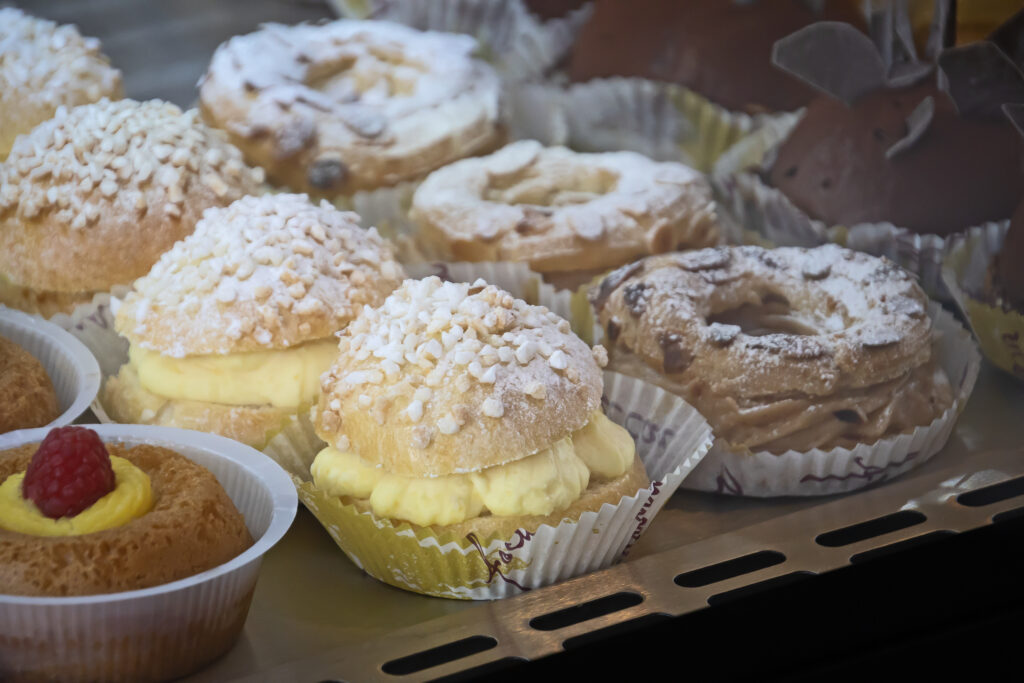 After a tasty dinner, why not sample some of the area's most famous desserts and treats, such as the now renowned Tarte Tropézienne?
This 'never rivalled' and legendary sponge cake features a delectably thick helping of light crème patisserie sandwiched between two layers of heavenly orange flower-flavoured génoise. Also worth more than a nibble is the mouthwateringly delicious honey, almond and mint Câlins de Saint-Tropez – caramelised pralines, and the dreamy creamy and tender Sénéquier nougat. These delights are available everywhere, at boulangeries, restaurants and cafés.
Finally, after a relaxing and enjoyable day and a pleasant meal, it's the perfect time for that most quintessential of Saint-Tropez activities.
PARTY, PARTY, PARTY
Saint-Tropez remains the party hotspot on the Côte d'Azur. Supermodels, film stars, the international jet set, Europe's elite, and millions of curious tourists flock here to frequent the largest selection of bars, lounges, nightclubs and live music venues on the French Riviera. They assemble here during the season to see and be seen, socialise, name drop, imbibe and boogie the night away.
Among the most famous and popular of these venues, nightclubs, bars, and beach clubs in St-Tropez include Les Caves du Roy, the VIP Room, L'Esquis Club, Chez Maggy and the historic and iconic Le Club 55.
---
Saint-Tropez Is So Much More Than You Might Think
Many believe that stunning Saint-Tropez, preferred by the rich and famous, is only for the elite, affluent, thin, beautiful, and fashionable.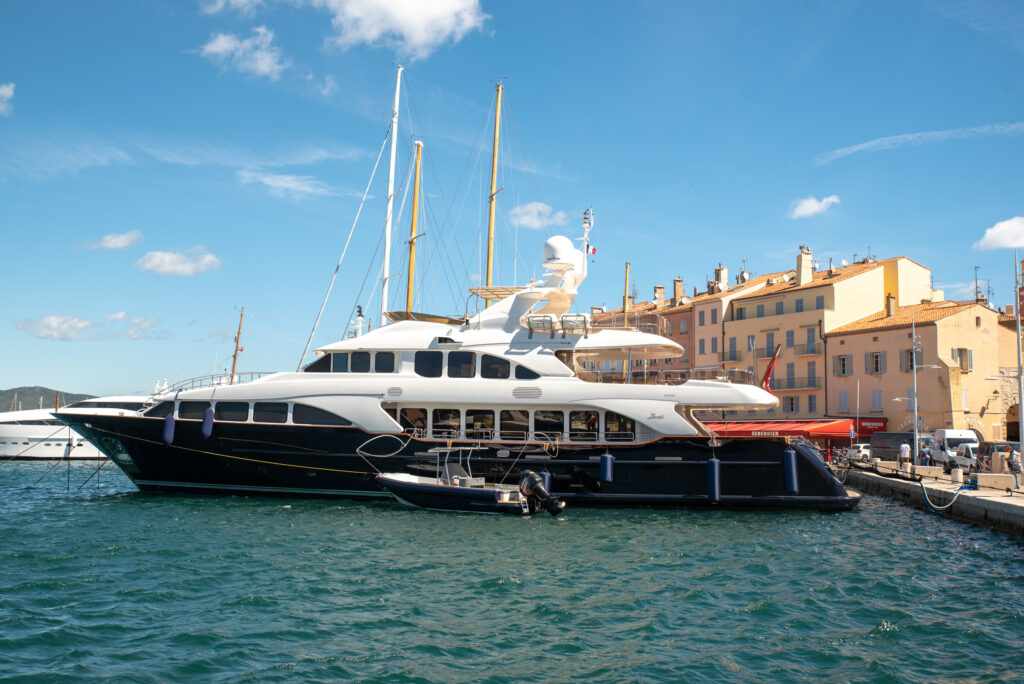 However, as the late French film producer and Saint-Tropez resident, Eddie Barclay wisely observed, 'money never prevented anyone from being happy or unhappy'. So ignore what you think you know about money, fun and happiness. In sweet and sunny Saint-Tropez, you'll find attractions, amusement, and refreshment for everyone.
So, whether it's for a weekend in St-Tropez or a more extended St Tropez vacation, visit this glorious part of southern France and 'take some sunshine with you' when you leave.