Aix-en-Provence is Paris' more relaxed, southern cousin; a sophisticated and affluent town, bursting with Provençal charm. Sometimes known as 'the city of a thousand fountains', Aix is known for its pleasant streets and quaint squares where travellers can relax at a café terrace with a book or simply watch the world go by.
This elegant Provençal city is famed for its artistic heritage and vibrant intellectual culture, and you'll find museums, galleries and historical attractions galore.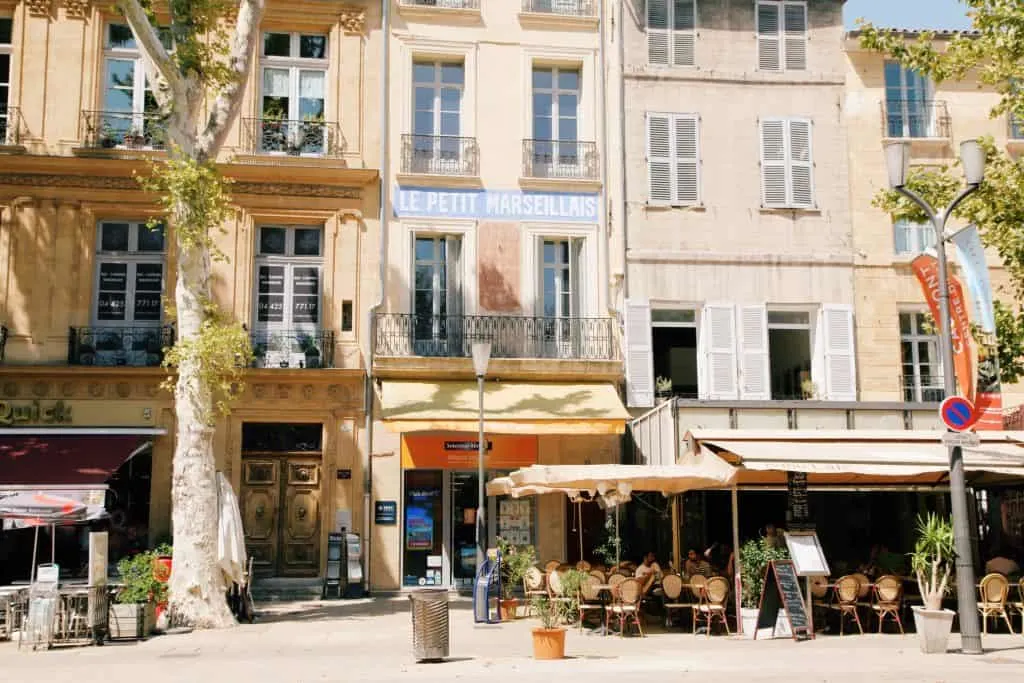 Aix is a feast for culture buffs and makes a delightful city break destination or base from which to take day trips around the region. But choosing the best place to stay in Aix-en-Provence is key to making the most of your time in the French city!
Unsurprisingly, there are plenty of excellent hotels in Aix-en-Provence, catering to the need of travellers who come from near and far to experience French culture in the heart of Provence. If you're not sure where to find the best places to stay Aix-en-Provence, don't worry! This Aix-en-Provence accommodation guide has everything you'll need to plan your trip.
---
Where to Stay in Aix-en-Provence
From country mansions to stately city homes, Aix-en-Provence hotels offer the discerning visitor plenty to get excited about. As a Provence local, these recommendations are based on either personal experience, friends/network recommendations, or feedback from my readers. And I update it regularly!
Disclaimer: I personally use and recommend Booking.com for the best rates and service. As an affiliate, if you make a booking through one of my links, I will receive a small commission – at no extra charge to you!
---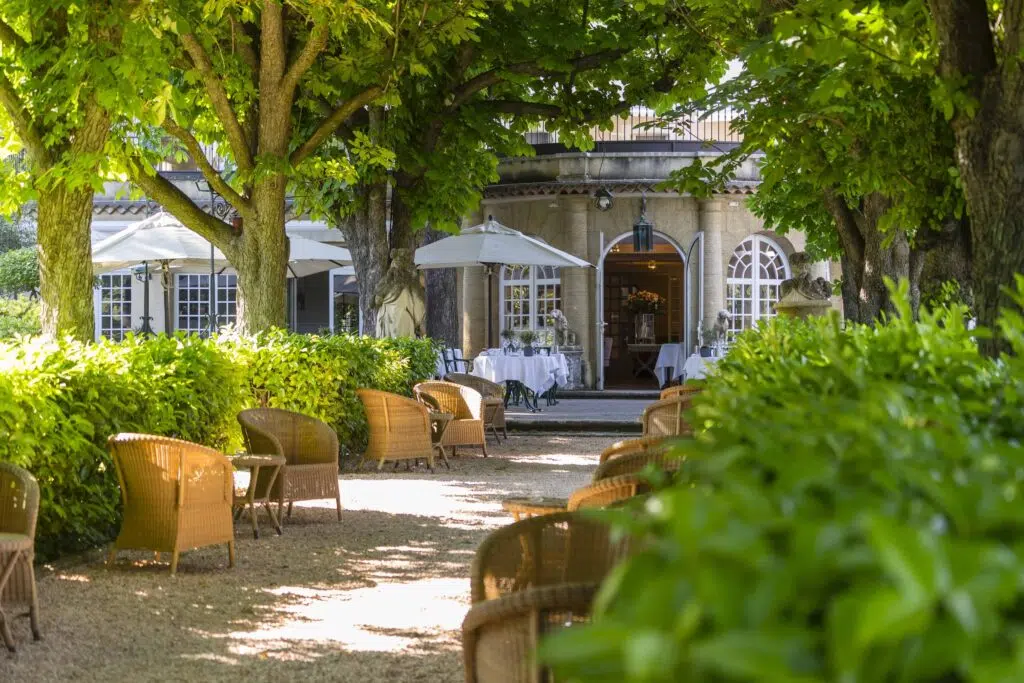 Initially established as a hotel in 1924, Le Pigonnet is a history-drenched property on the southern edge of Aix-en-Provence. It was a favourite haunt of Paul Cézanne who took advantage of its stunning Sainte Victorie views in his canvases, with guests invited to experience its scenic beauty themselves while staying at this five-star retreat.
The two-acre gardens abound in seasonal blooms and chestnut trees, which frame the alluring terrace dining space. Authentic Provençal fare is featured on the restaurant's menu, with live bands performing twice a week at the sophisticated cigar lounge and bar. Aside from a swimming pool, spa and hammam, the hotel also boasts a well-equipped fitness room and bicycle rentals for guests to explore the surrounding area.
---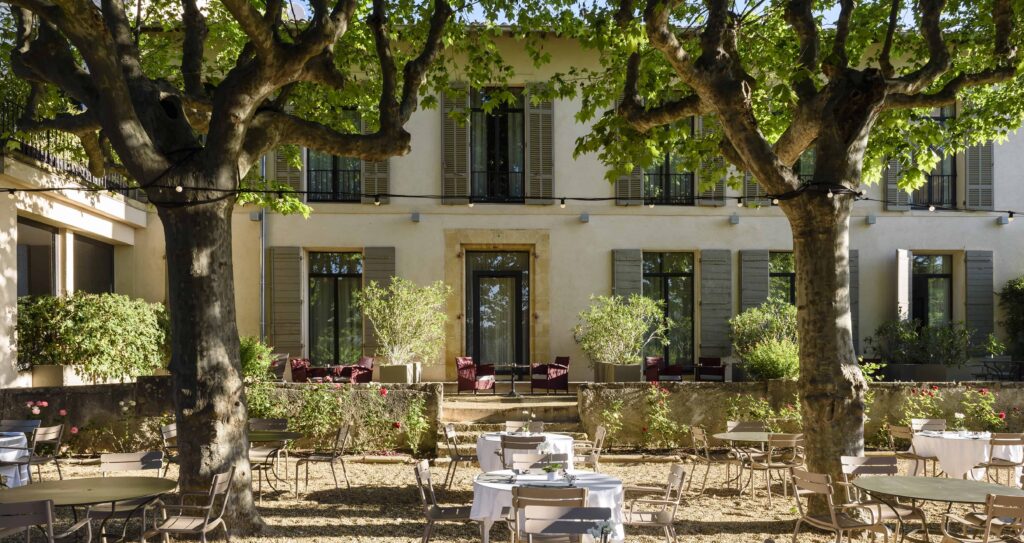 Described as a "country manor meets villa living", Les Lodges Sainte-Victoire & Spa is nestled in an olive grove amidst the majestic scenery of Cezanne's Provence. It occupies an 18th-century building that's been transformed into a luxurious retreat of sophisticated rooms, fine-dining restaurants and an indulgent spa.
Just 15 minutes drive from Aix-en-Provence, it's an ideal base for exploring the museums and landmarks for which this cultural city is renowned while being a stone's throw from the coastal landscapes of the Calanques National Park.
Michelin-star fare awaits at Saint Estève while slow-cooked cuisine is the speciality at the Atelier des Lodges Restaurant. Aside from a diverse selection of rooms, suites and multi-room villas, there's a well-equipped gym and facilities for both family and business stays.
---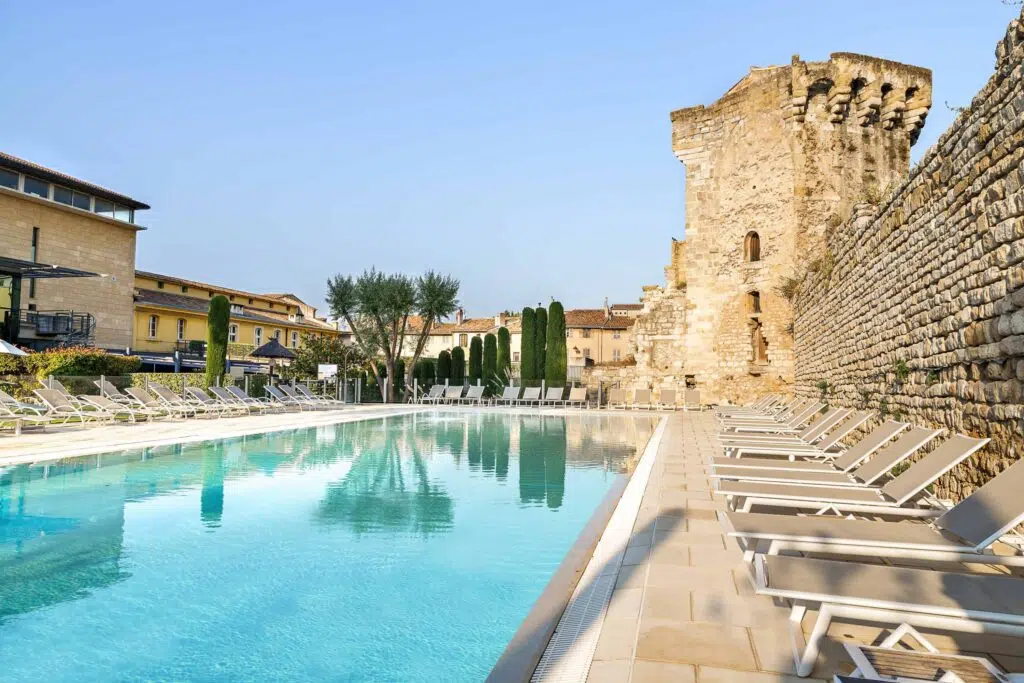 Located on the fringe of Aix-en-Provence's Old Town, this four-star hotel is a contemporary sanctuary in a place of significant history and culture. Rooms are chic and unique, with state-of-the-art amenities and fuss-free service. The hotel's two spas and outdoor heated pool beckon, promising relaxation and invigoration with an extensive menu of treatments and a long list of facilities that include Turkish hammams and an ice fountain. These facilities are surrounded by lush greenery that lends the illusion of being pampered within a secret garden.
The L'Orangerie restaurant, outdoor La Terrasse de la Tour and lounge bar L'instant cover all bases with fine Mediterranean dining, exquisite local ingredients cooked on an open grill and magnificent cocktails.
---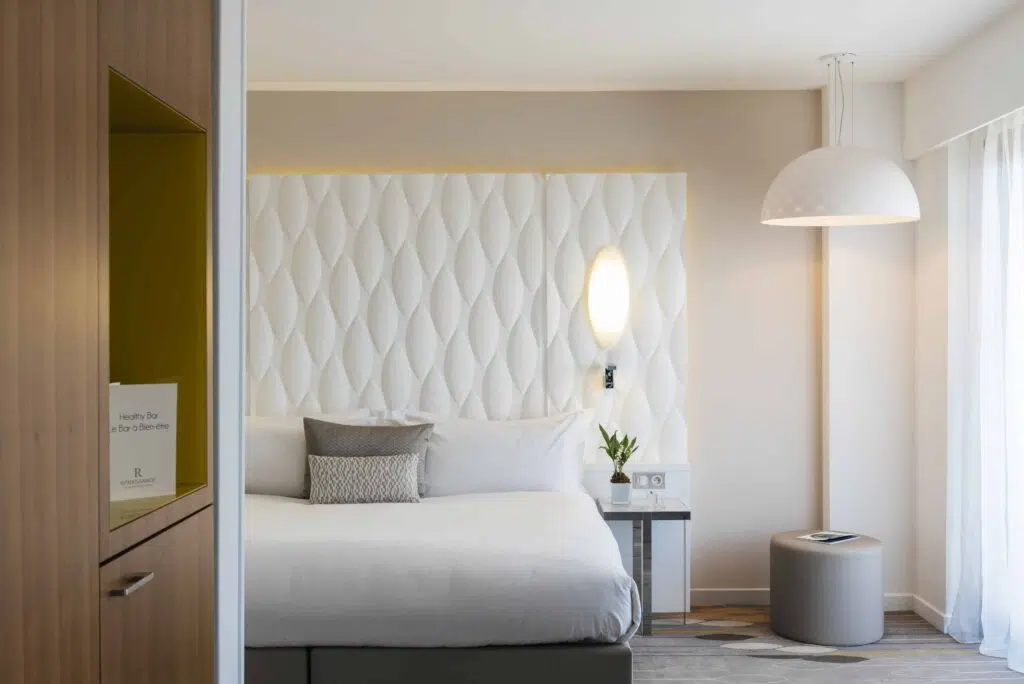 Sitting right at the edge of Aix-en-Provence's "cultural forum", a pedestrianized street of world-class performance venues, Renaissance Aix-en-Provence Hotel is pure class. As it is part of a respected international chain, this hotel has all of the luxurious perks you'd expect from 5-star accommodation.
A heated indoor pool, sizeable fitness centre and highly-rated spa, as well as comprehensive business facilities, make this hotel favoured by those travelling for business and leisure. Despite being a large hotel that's popular with conference-goers, Hotel Renaissance's boutique decor and personal service make it feel intimate. Perfect for a couple looking for a stylish oasis from which to explore the city.
Beautifully decorated in a crisp, contemporary style, Hotel Renaissance almost resembles an art gallery, with gorgeous modern works everywhere you look. A provençal garden ties the hotel in with its surroundings and provides a peaceful respite, and the hotel's restaurant Atmosph'R is highly recommended.
---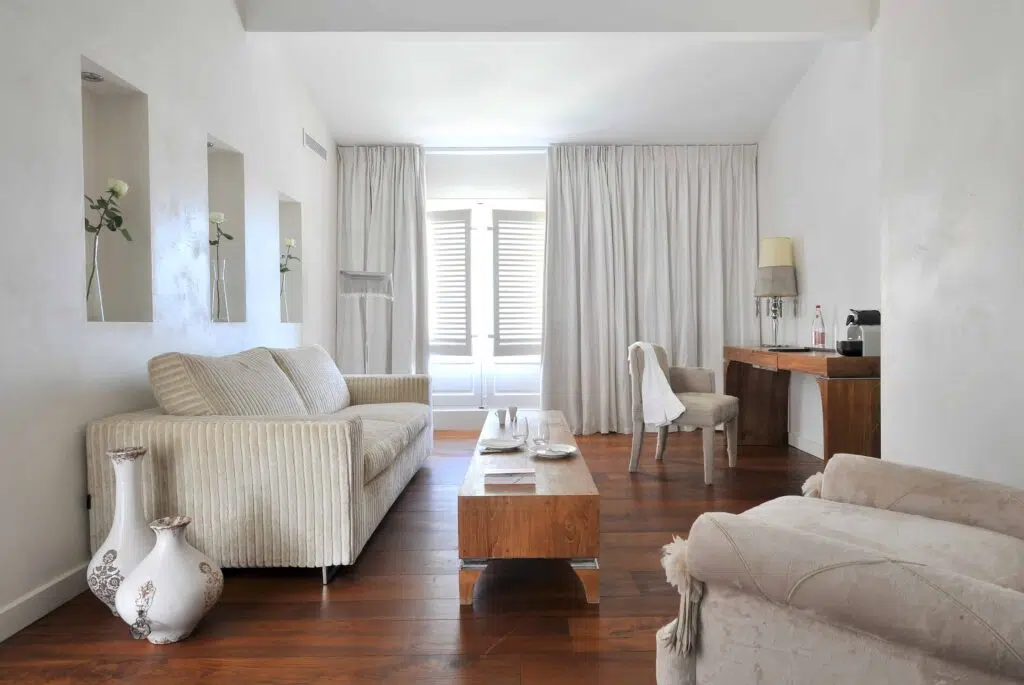 Labelled as the most romantic hotel in France, by Le Parisien, La Maison d'Aix is an 18th-century mansion that was transformed into an elegant Belle Époque hideaway by a professional seductress, Mademoiselle Henriette Reboul. Only a few minutes' walk from Cours Mirabeau – Aix-en-Provence's central boulevard – guests love this hotel's central location.
The current owner has retained the building's sensuous past by restoring period features and adding a glamorous boudoir and restful spa with heated plunge pool. The hotel's four rooms are bright and decorated in a modern, sleek style with none of the heavy decor of Mlle Reboul's era. The service here is exemplary but low-key, leaving guests free to rest, relax and reconnect. You'll long remember a stay at this luxury hotel in Aix-en-Provence.
---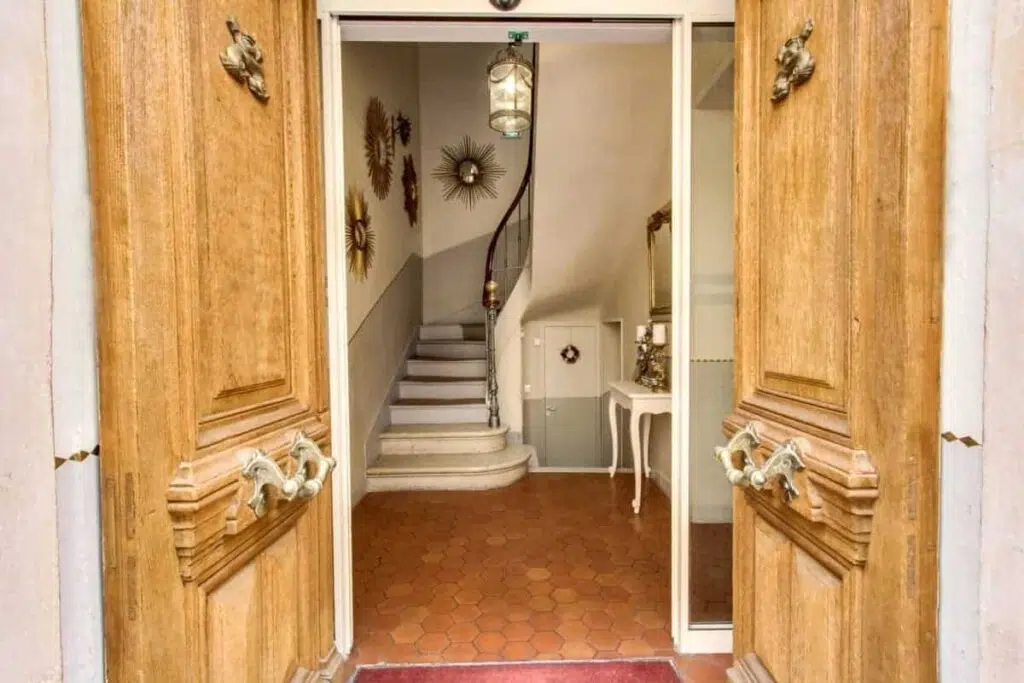 Named for Quatre Dauphins Square that's just a stone's throw away, this boutique hotel in Aix-en-Provence offers just 13 rooms on the southern edge of the city's Centre Ville. It's set across three stories in a 19th-century private mansion, with exposed wooden beams and whitewashed walls featuring in the charming rooms. Enjoy a traditional French-style continental breakfast in the beautifully decorated, old-world dining room before setting off on your adventures for the day.
The hotel offers all the conveniences you need for a comfortable stay, including complimentary Wi-Fi, a 24-hour reception and daily housekeeping. There is no onsite restaurant, which allows you the flexibility of discovering Aix's fabulous foodie scene.
The Gare d'Aix-en-Provence is within a five-minute walk from the hotel making it a perfect choice for those arriving by public transport, and it's one of the most affordable hotels in Aix-en-Provence with room prices starting as low as €69/night.
---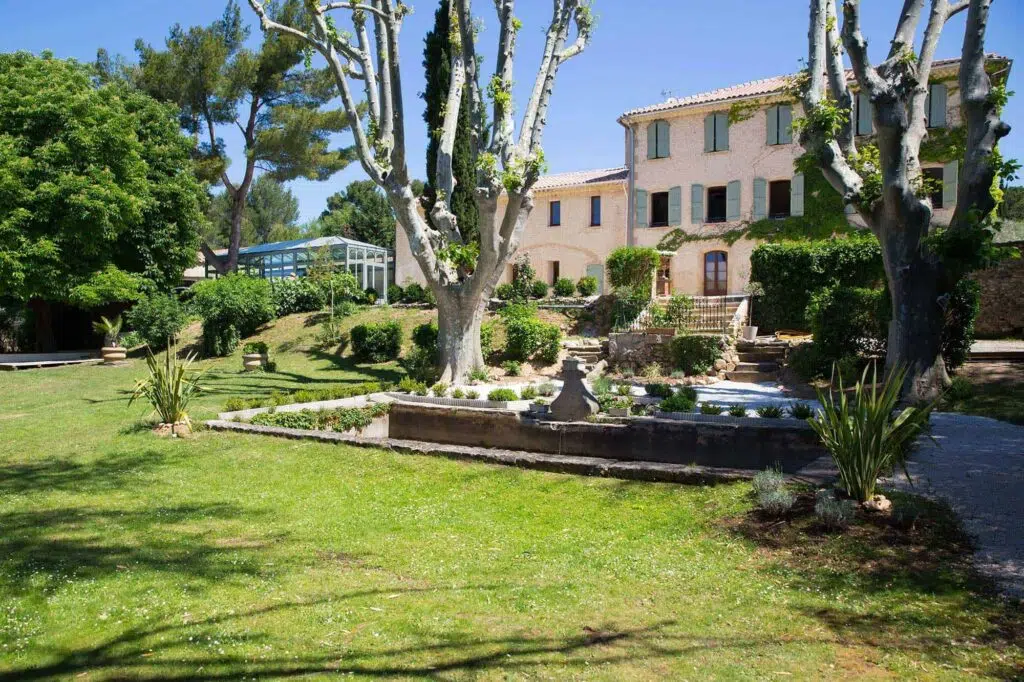 A charming former farmhouse, Domaine Gaogaia perfectly blends rustic charm with contemporary comfort. Light decor highlights gorgeous remnants of the building's past, like traditional Provençal mosaics, authentic terracotta floor tiles, and a stunning period fountain. The hotel is located ten minutes drive from the center of Aix-en-Provence and is surrounded by traditional villages well worth touring on a rented bicycle.
There are 18 completely unique rooms available in a range of styles from simple family accommodation to boutique enclaves for two, complete with freestanding bathtub. An on-site restaurant serves locally-sourced fare that will please all ages and a new outdoor pool and welcoming terrace area encourages guests to linger all day.
---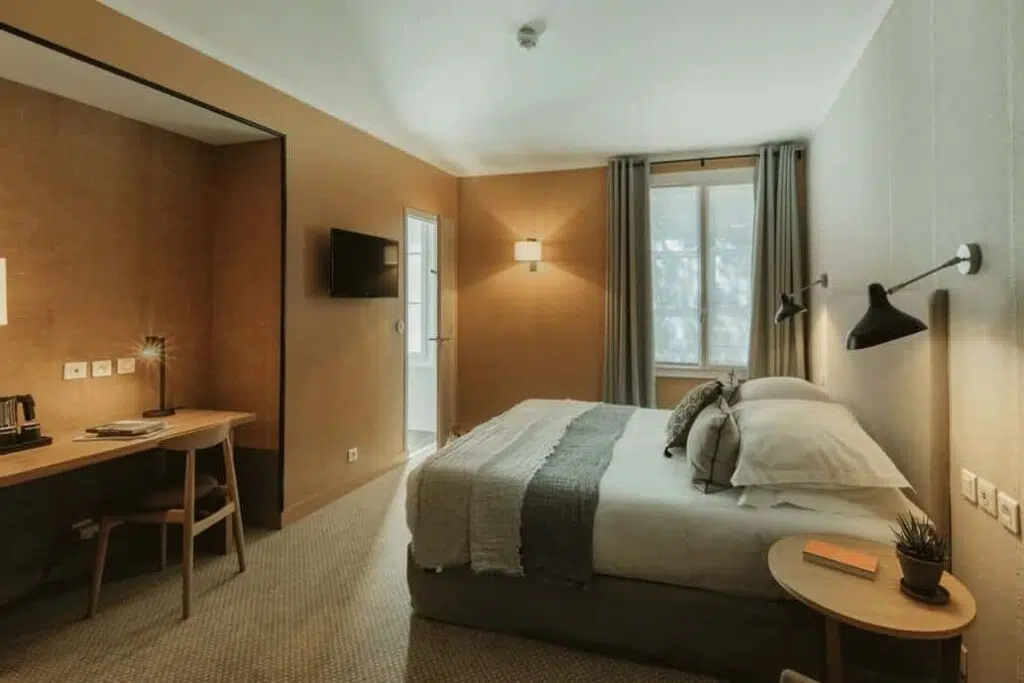 Boutique Hotel Cézanne is the perfect city-break hotel. Centrally located on a quiet street in the Mazarin District of Aix-en-Provence, close to Cours Mirabeau, this hotel is an upper mid-range choice. There are few facilities at this Aix-en-Provence hotel, but there are 55 sleek and luxurious guest rooms with first-class amenities.
The hotel has a private sun terrace, perfect for relaxing in the afternoon after a morning in the city, and the Cézanne breakfast is renowned for its great value and endless choice. Staff at the Boutique Hotel Cézanne are available 24-hours to offer great insight into the best places to eat, drink and explore in Aix-en-Provence.
---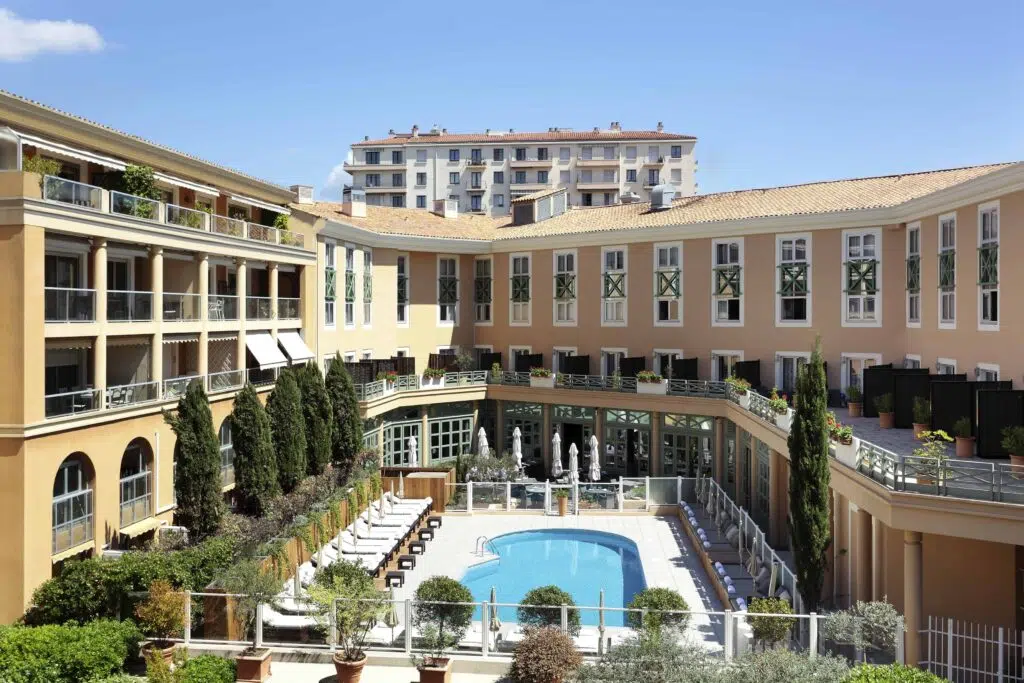 Designed around a sparkling swimming pool in the heart of Aix-en-Provence, the Grand Hôtel Roi René – MGallery by Sofitel is a sophisticated modern hotel. Its brightly decorated rooms and suites are distinctly contemporary while the public lounges and dining areas feature a few vintage touches.
Authentic Provençal cuisine is creatively presented at La Table du Roi, with signature cocktails served at the chic l'Intemporel bar. The Grand Hôtel Roi René Aix-en-Provence Centre offers everything travellers need for a business or leisure stay, including a well-equipped fitness room, a 24-hour front desk and meeting rooms. It's just a stone's throw from the museums, boutiques and restaurants that add to Aix's charm, together with the childhood home and former studio of Paul Cezanne.
---
Looking for more Provence travel inspiration? Don't forget to join our free Facebook group Provence Travel Planning!
---
KEY THINGS TO DO IN AIX-EN-PROVENCE
Aix-en-Provence is a city best savoured slowly. Give in to the French way of life; fill your days strolling the ancient streets, sipping coffee in a curbside café, and enjoying the laid-back atmosphere of this creative and cultured town. I absolutely adore Aix, and never fail to fill an afternoon this way. But if you're looking for more reasons to stay in Aix-en-Provence, here are a few ideas to inspire!
(Read our full guide on things to do in Aix-en-Provence, here!)
Le Cours Mirabeau
No Provence itinerary would be complete without a leisurely stroll down Aix-en-Provence's iconic boulevard, Le Cours Mirabeau. Lined with towering trees that curve inwards to create a natural canopy, the street is filled with cafes, restaurants and shops – plenty to divert and entertain visitors. Don't miss the daily street market where the great and the good of Aix gather to do a spot of shopping. There are many Aix-en-Provence hotels in this part of town, and it's a great place to stay to be part of the action.
Atelier Cézanne
Post-Impressionist painter Paul Cézanne is one of Aix' most famous residents, and he was born and died in the city. The Atelier Cézanne, a museum on the site of his final studio and workshop, allows visitors a rare glimpse into the life, work and artistic process of this iconic painter. This was the site where Cézanne painted his famous Grandes Baigneuses and other works towards the end of his life. The workshop has been perfectly preserved, with many of Cézanne's original tools and furniture.
Cathédrale Saint-Sauveur
Aix Cathedral, dedicated to Saint Sauveur, is an architectural expression of the city's long and tangled history. Built on the site of the former Roman temple to Apollo, the cathedral was first developed by the Merovingians in the 5th century. Over the course of the subsequent 1500 years, it has undergone substantial change and additions, resulting in a unique hotchpotch of Romanesque, Gothic and Baroque styles. This fascinating monument is a pleasure to explore –don't miss the famous Renaissance paintings, including the 15th-century triptych of the 'burning bush', painted by Nicolas Froment.
Le Musée Granet
This impressive little museum first opened in 1838, and today houses over 12,000 works of art. It is home to many important pieces by Picasso and Cezanne, a collection of neoclassical sculpture and a section devoted to American pop art. The Musée Granet is one of the most impressive art museums in the south of France and a must-see while you're here in Aix.
Terrain des Peintres
Just a short walk from the city centre, the famous 'Painter's Park' was a favoured haunt of Cézanne, and is the spot where he painted several pictures of the nearby Mount Sainte Victoire. The park is a splendid place for a stroll, and offers views of the classic Provençal landscape, with its ochre soil, stark rocks, and tall green trees. You could even bring your own sketchbook or paints, and try your hand at capturing the iconic, jagged mountain that looms over the city.
---
---
With so many Aix-en-Provence hotels to choose from, selecting the best place to stay can be a daunting task! Our recommendation is to choose the accommodation in Aix-en-Provence that best fits your needs & budget, but also appeals to your travel style – whether that's luxury or low-key!
Still undecided, or looking for places to stay outside of Aix-en-Provence? Browse our complete Provence Hotel Guide here.
Pin this for later!