A contemporary oasis surrounded by lush Mediterranean gardens, Aquabella Hotel & Spa is a short stroll from the heart of Aix-en-Provence Old Town. With 108 pristine and individually-designed rooms and access to two spas, offering every wellness experience imaginable, this hotel is the perfect place to rest and reconnect. A chic sanctuary to return to after a day exploring the charming streets Cezanne called home, the hotels' two celebrated restaurants and cocktail bar ensure you'll never want to leave.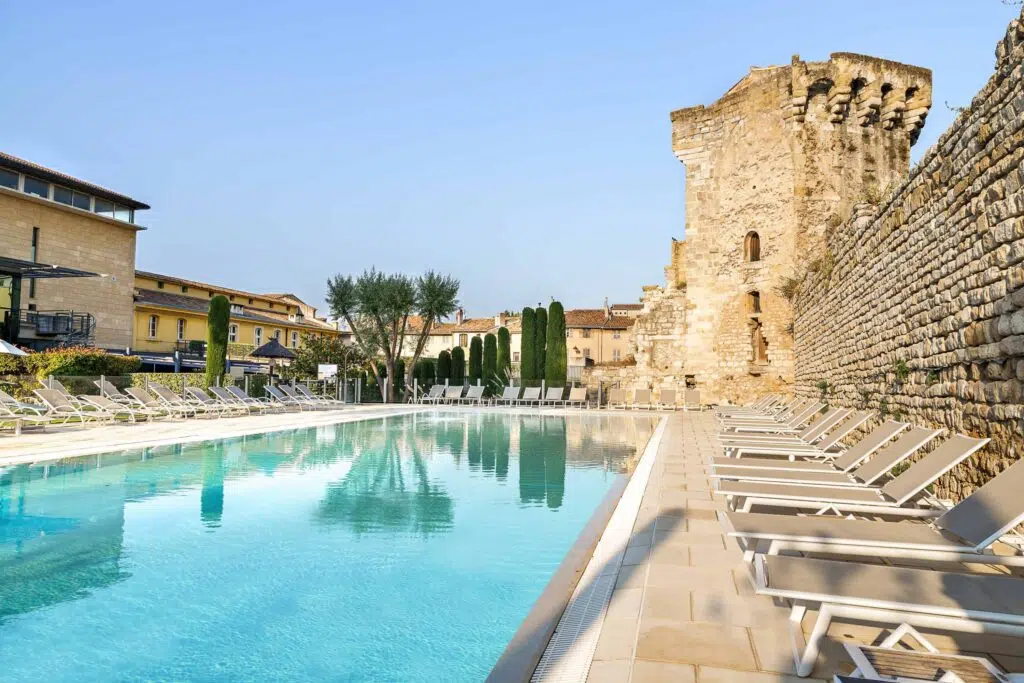 Aix-en-Provence's most famous son, the painter Paul Cezanne said of his birthplace, "When you're born there, it's hopeless, nothing else is good enough". Leave the hotel's serene garden surroundings and stroll back in time to Aix-en-Provence's 15th-century capital, replete with historic treasures like stunning Saint-Sauveur Cathedral, the fountain of Cours Mirabeau and Atelier Cezanne.
The town has an aristocratic vibe, its mansions, leafy boulevards, and annual Opera festival ooze class but a wealth of student-filled bars and restaurants ensure there's plenty to keep you occupied after hours. Aquabella Hotel & Spa is only forty minute's drive from Marseille.

However long your stay, you can taste all of Aix-en-Provence's four seasons with a refined Mediterranean menu crafted by two of the region's top chefs at L'Orangerie restaurant. L'instant Lounge Bar's jazz bar vibes and professional mixologists make it a chic spot for a pre or post-dinner cocktail.
And in summer, La Terrasse de la Tour invites you to dine en plein air on sun-ripened regional produce and the local daily catch grilled "à la plancha". Breakfast is simplicity made extraordinary with exquisite locally-sourced cold meats, freshly baked bread and pastries, and delicious cereal and fruit.

Channelling the ambience of Aix-en-Provence's light-dappled streets and gardens, the hotel's outdoor areas are a vision of rough-cut stone and shimmering water. The hotel's simple exterior and sleek, contemporary rooms allow the verdant cornucopia of the surrounding gardens to take centre stage. Two sumptuous spas, featuring Finnish sauna and Turkish hammams, and a luxe outdoor pool offer lessons in idle glamour.

Each of the 108 rooms has its own design scheme that complements the hotel's overall theme of chic simplicity. 84 spacious comfort rooms have state-of-the-art amenities and views of either the sun-warmed stone buildings of Aix-en-Provence's Old Town or the lush greenery of Mediterranean gardens. 23 privilege rooms come with the added luxury of a private outdoor terrace and a single suite with separate lounge and bedroom offers a home away from home.
Wheelchair accessibility
6 comfort rooms are reserved for the use of guests with reduced mobility and feature a joint accessible shower room and WC. All common areas in the hotel have access for disabled guests, including wheelchair users.
Family-friendliness
Families are welcome at Aquabella Hotel & Spa but a focus on wellness, relaxation and refined gastronomy makes this hotel perfect for business travellers or couples looking to unwind.

Not one but two spa facilities offer a huge range of mind and body-boosting treatments from gifted massage and beauty therapists. The Sensory Spa feeds from natural spring waters known for their healing mineral content and an outdoor heated pool, sauna, hammam, Kneipp shower, ice fountain, jacuzzi, and fitness centre ensure there's something to please every guest.
Fully-clothed and fully re-energised, guests can see and be seen at L'Instant Lounge bar, which hosts a weekly Jazz night or dine at one of two restaurants before wandering into town.

Photos @ Aquabella/Véronique Védrenne, Yoan Chevojon & G.Gardette