Occupying a former monastery in Villeneuve-lès-Avignon, Le Prieure is a luxurious retreat on the doorstep of Avignon. The interiors of this five-star hotel feature contemporary furnishings, original artwork and five-star amenities while the surrounding gardens offer a secluded space for guests to relax amidst a quintessentially Provençal scene. Guests are treated to Michelin-star cuisine at the hotel's fine restaurant, with wellness facilities, a swimming pool and tennis court among the facilities.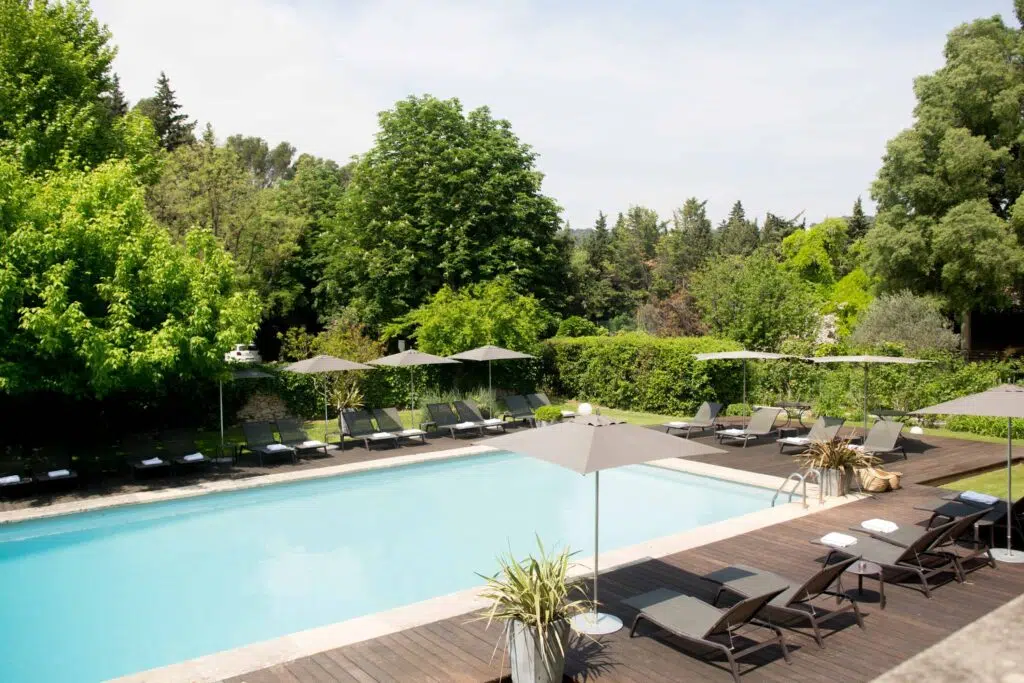 Situated just across the Rhône River from Avignon, Le Prieure is nestled in the charming village of Villeneuve‑Lez‑Avignon. Once home to the cardinals during the Avignon papacy, this former royal city is dominated by the Hill of Mourgues, which offers panoramic views across the region.
The hiking trails of Parc Naturel Régional des Alpilles are an easy day trip, as are the coastal landscapes of the Camargue. The Gare d'Avignon Centre is just seven minutes by taxi from the hotel while the Avignon – Provence Airport is 25 minutes drive away.

Deservedly awarded a Michelin star, the Restaurant Le Prieure boasts a refined southern French menu designed by young chef, Marc Fontanne. Begin the day with a hearty breakfast in the elegant dining room, which features an antique fireplace, Dedar curtains and expansive windows overlooking the garden.
If the weather's fine, step outside to dine on the wisteria-draped terrace for lunch or dinner, accompanied by fine wines from the Rhône Valley.

Exuding luxury and undeniable charm, Jean-André and Geneviève Charial have created a harmonious dialogue between Le Prieure's 14th-century architecture and its contemporary furnishings.
Shuttered windows draped in climbing vines elegantly connect the former monastery with the surrounding gardens, which provide an inviting retreat for guests to soak up the serenity and seclusion.

Each of the 26 rooms and 13 suites has been designed by Geneviève Charial, with a fine blending of contemporary furniture with the original stone walls. Earthenware jugs discovered in the convent's cellar are juxtaposed against flatscreen TVs, air-conditioning and minibars to create an atmosphere of warmth and comfort. The Standard and Classic rooms are ideal for solo travellers or couples, with the Luxury Rooms offering a little more space to move around.
The suites of Le Prieure are ideal for families and are situated either beside the pool or in the oldest part of the priory. They can be configured with a large bed for parents and up to three extra beds for kids, with babysitting services available on request.
Le Prieure doesn't offer any accessible rooms for those with limited mobility.

Soak up the tranquillity poolside while relaxing on one of the sun loungers or indulge with a massage treatment featuring organic Altearah Bio products in the Wellbeing Space. Tour bookings, restaurant recommendations and car rentals can be organised by the concierge, with laundry and ironing services also available. Newspapers and currency exchange facilities are also offered at reception.

Photos @ Le Prieure