La Maison d'Aix has an aura of sumptuous serenity. Formerly the fashionable abode of Aix's leading courtesan and avid antique collector, the intriguing Mademoiselle Reboul, La Maison d'Aix is an 18th-century mansion located steps from Cours Mirabeau. With four luxurious rooms, a plunge pool and Salon Rouge boudoir dedicated solely to champagne-drinking, La Maison d'Aix is one of the most romantic hotels in France.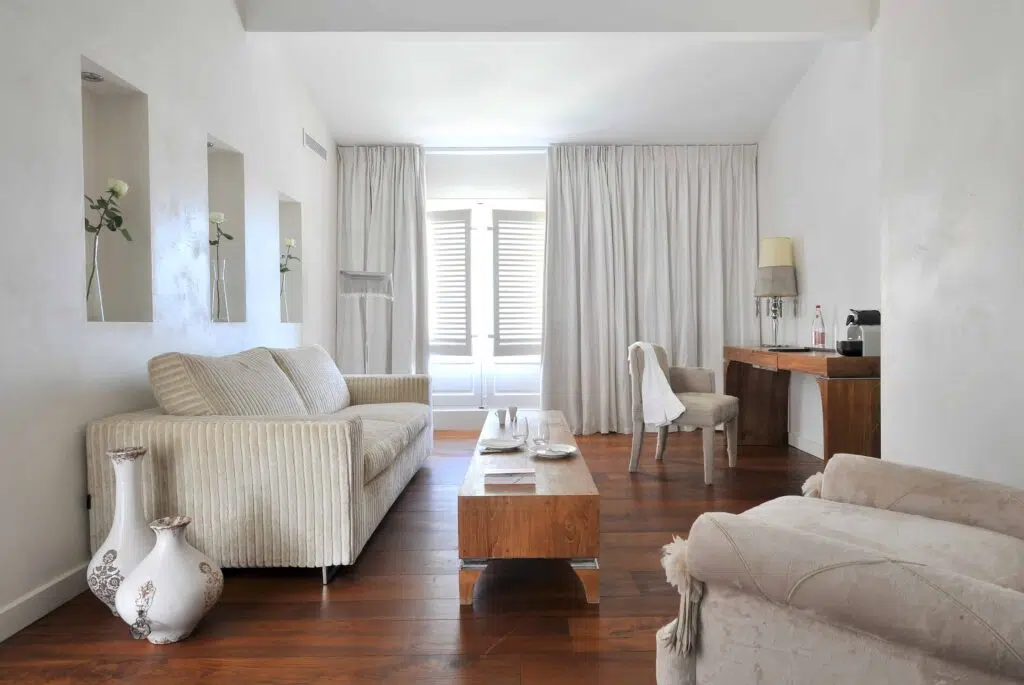 Given this hotel's former life as the fashionable abode of a high-class courtesan, it's unsurprising that its location is perfect. La Maison d'Aix is only a few minutes' walk from the cultural and social centre of the city, Cours Mirabeau.
Despite its position in the lively Mazarin quarter, Mademoiselle Reboul's abode is a discreet hideaway that's one-step removed from city life. Caumont Centre d'Art, a stately mansion that now serves as a delightful art gallery, is minutes away.

This hotel is too petite to warrant its own restaurant, but knowledgeable staff are happy to help you find the perfect place to dine. Breakfast is of the classic French continental variety, served in the hotel's winter garden.
Ingredients are first class with freshly squeezed orange juice, just-baked brioche and delicious local cheeses. Fresh fruit, yoghurt and cereal will help fill you up for the day, or at least until afternoon tea, when the hotel brings out a cornucopia of fresh-baked pastries. Tea and coffee are always available on the house, as is champagne, for a fee.

La Maison d'Aix is the epitome of upper-class French style. The hotel was designed in homage of Mademoiselle Reboul, an antiques collector and courtesan to a roll-call of artists and celebrities of the Belle Epoque, who lived here from 1903.
The current owner has captured the romantic, day-dreamy vibe of the hotel's former era by restoring the building's period features, like 300-year-old teak parquet floors and adding contemporary furniture and amenities. Service here is bespoke and discreet, the spa is pure indulgence and the champagne never runs out, a detail of which Mlle Reboul would approve.

With only four rooms this bijou hotel makes its guests feel like they're enjoying the hospitality of a wealthy relative. Inside the rooms, the decor is muted and calming with modern facilities that include high-speed Wi-Fi. Bathrooms are expertly fitted in Jerusalem marble and feature inviting bathtubs and powerful showers. Mademoiselle Reboul's own boudoir features a free-standing tub and for those looking for complete seclusion, a spacious Love Suite has its own parlour and private balcony.
La Maison d'Aix is a listed building and is unable to install a lift or make other necessary adjustments for wheelchair users.

The spa at this hotel is one of Aix-en-Provence's hidden gems and features a heated plunge pool that's bathed in candle-light and a modern steam room. A master beauty and massage therapist is also on hand to provide services that will make you feel like a million Francs. As in Mademoiselle Reboul's heyday, this hotel has a boudoir that's dedicated to sipping champagne, reading and conversing, named the Salon Rouge.
As a petite retreat, this hotel has few of the services of a larger hotel. But what it lacks in tennis courts it more than makes up for in local recommendations on fun activities, how to hire a driver for the day or where to find the best-grilled artichokes in Aix.

Photos @ La Maison d'Aix