Nestled in the heart of the Provence wine region, the Château de Berne is a prestigious estate surrounded by centuries-old trees and vines. It's renowned for its gourmet restaurants and vintage wine cellar, luring visitors to indulge during long lunches and Chef's Table dining experiences. Elegantly appointed rooms boast private terraces overlooking the magnificent surrounds, with a superbly equipped wellness centre for pure relaxation.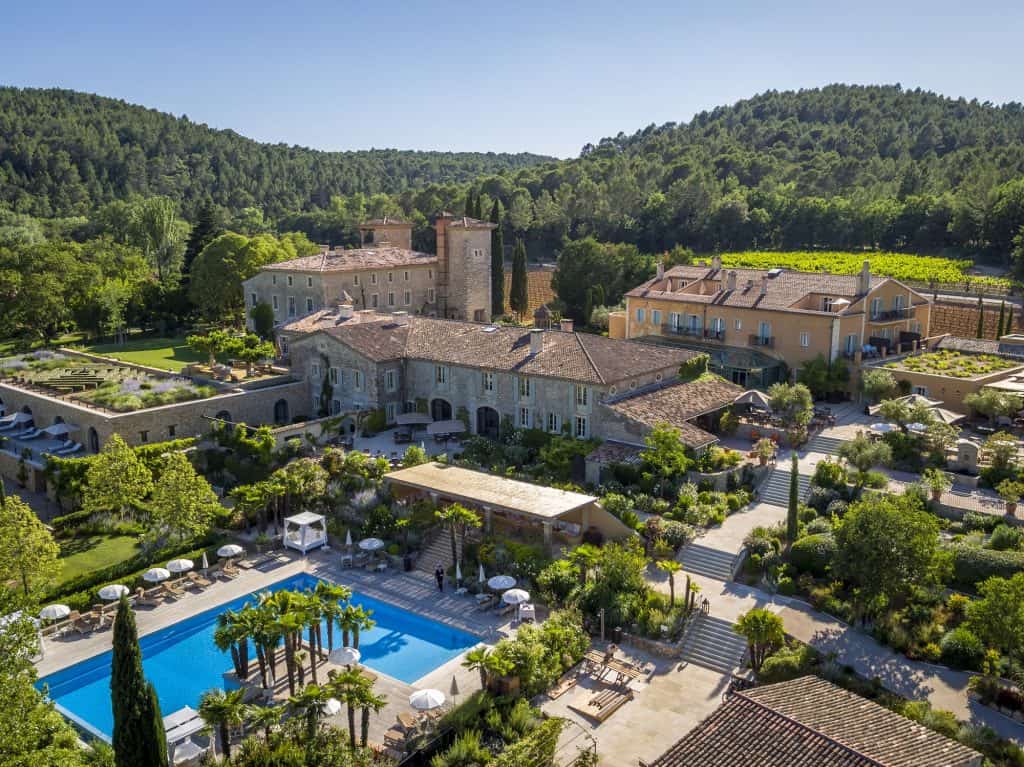 Partway between Lorgues and Flayosc, the Château de Berne is situated in the heart of southern France's Provence-Alpes-Côte d'Azur region. It's a 50-minute drive from the azure waters of Sainte-Croix Lake and 40 minutes from lively Fréjus on the idyllic Côte d'Azur.
This sprawling estate is the perfect base for exploring Aix-en-Provence and Cannes, as well as the spectacular national parks in the immediate surrounds. The Nice-Côte d'Azur Airport is just over an hour's drive to the east while Marseille is around the same distance west of the chateau.

With chef Benjamin Collombat at the helm, Le Jardin de Benjamin is the gastronomic heart of the hotel, with breakfast featuring eggs cooked to order, homemade bread and jams.
Seasonal dishes drawing on local and homegrown produce are served in the refined dining room for lunch and dinner, accompanied by an exceptional wine list representing all of the French regions, as well as Côtes de Provence vintages from the Domaine du Château de Berne.
With a Bib Gourmand Michelin award under its belt, the Bistrot de la Cave offers a more relaxed setting for regional cuisine and gourmet pizzas, with a limited selection of vegetarian and vegan fare.

Overflowing with charm, the Château de Berne is elegantly decorated with period-inspired furnishings and pastel colours that complement the wooden and terracotta-tiled floors. The rustic stone exteriors are juxtaposed against refined interiors where antique trunks and handwoven baskets capture the eye.
Expansive windows offer viticultural views around every corner while sun-drenched terraces and comfy couches invite guests to do as little as they desire.

Each of the 27 rooms and suites is authentically decorated, bright and airy, fusing luxurious touches with country charm. The Classic Rooms are ideal for couples and with stunning vineyard views or there's a little extra space on offer in the Deluxe Castle Rooms.
Additional seating areas and desks are offered in the Junior Suites, with private terraces or balconies for enjoying the warm summer evenings. For the ultimate in luxury is the Grand Suite where superb views are captured from the spacious lounge and outdoor patio.
The Château de Berne has one Family Room on the first floor of the old wine cellar, which offers exceptional views of the swimming pool and vineyard-swathed hills. Two bedrooms allow parents and children their own space, with a flatscreen TV in each room.
Château de Berne doesn't offer any wheelchair-accessible rooms.

Complimentary Wi-Fi is available throughout the entire chateau, with free parking also on site. Pets are welcome to stay with you and take advantage of the estate's 690 hectares of open space, which is crisscrossed with scenic walking trails.
If you're inspired by the restaurant's culinary delights, the Château de Berne cooking school is a stepping stone for creating your own (drawing on produce from the extensive vegetable garden) and wine-tasting classes are also offered. The indulgent wellness facility includes an indoor swimming pool overlooking the olive groves and two jacuzzis, as well as a sauna, steam room and gym.

Photos @ Château de Berne