Masters in the art of the luxury getaway, Hôtel Renaissance offers its guests bespoke service in 5-star surroundings. Classy yet understated, this hotel feels boutique but has all the perks of a recognized international chain. Hôtel Renaissance is located in the centre of Aix-en-Provence yet feels secluded, making it a favourite among couples seeking a sanctuary in the heart of the city.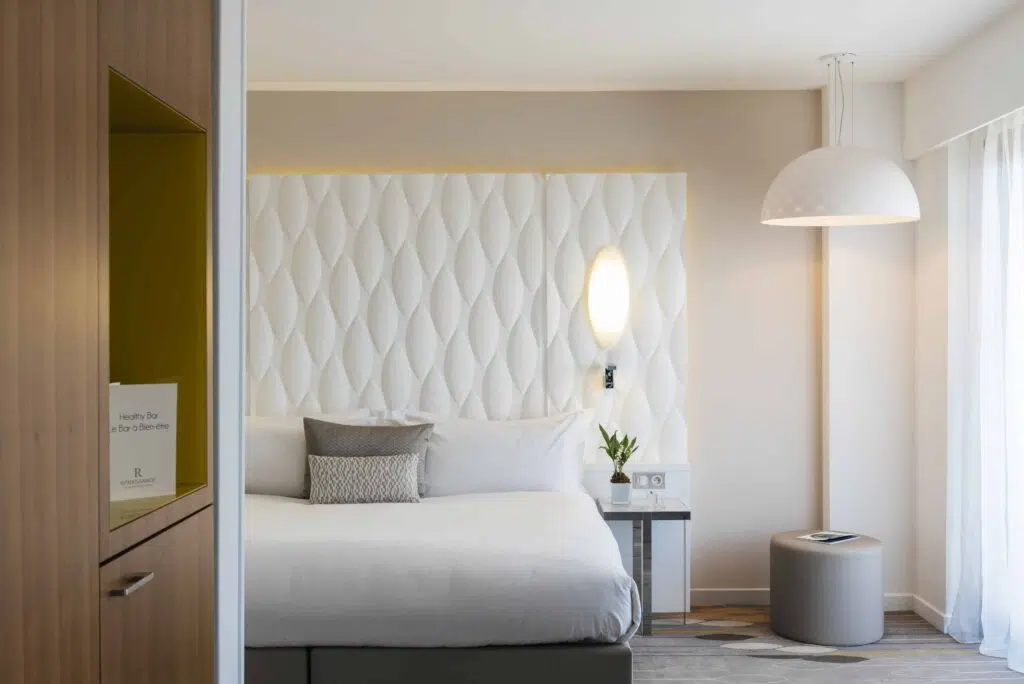 Hôtel Renaissance is perfectly placed for visitors who want to sample Aix's prestigious live performance scene. The hotel is located 200 yards from the Grand Theatre and steps from Aix's Cultural Forum, a pedestrianized boulevard lined with modern performance spaces.
A ten-minute walk from the hotel, you'll find Aix's atmospheric Old Town, a network of gorgeous streets of 18th-century townhouses, fountains and shady squares where travellers can lose themselves for hours. This hotel is a little removed from Aix's lively student nightlife but a short walk to Cours Mirabeau and its surrounding boutique stores, chic restaurants and patio bars.

Hôtel Renaissance's main eatery is Atmosph'R, a space so stylish it could be a contemporary art gallery. Accomplished Chef Guillaume Lemelle offers diners a varied Mediterranean menu that includes local specialities, like artichokes baked in bread. The restaurant is casual but the food isn't. Desserts and pastries are said to be sublime.
For liquid refreshment, the hotel's Bar L'Avant Scene is tres chic but if the weather permits, take your party outside to Le Jardin Ephem'R, a seasonal patio bar and restaurant complete with a garden tent.
Breakfast is comprehensive with a full American breakfast, Continental breakfast, and buffet breakfast available. The buffet breakfast is particularly decadent with crepes and waffles made to order, local cheese and charcuterie and a wealth of cereals, yoghurts and fruit. Espresso is unlimited and offered in a choice of roasts.

Like many of the newer hotels in Aix, the facade of the Hôtel Renaissance is contemporary but simple. Step through the hotel's doors into its golden, sun-filled interior and you immediately forgive its outer blandness. The colour scheme of the Hôtel Renaissance is summer zest against crisp white walls.
The hotel describes itself as an art gallery and there are endless works by talented artists on its walls. With luxurious rooms, 700 square meters of meeting rooms and 1000 square meters of garden space for outdoor events, the hotel attracts business travellers and revellers of all kinds.

All three room types, classic, superior and family, are spacious and bright. The rooms are an airy and inviting hideaway for a relaxing morning or restorative afternoon nap. All rooms have high quality, modern fittings including automatic floor lights and a Nespresso machine in the superior rooms. Bathrooms are vast by hotel standards and include luxury complimentary toiletries. The junior and executive suites are pure elegance.
Wheelchair accessible
Wheelchair users can access all public areas of the hotel. Three bedrooms are reserved for wheelchair-using or disabled guests.
Family-friendliness
Only a few rooms in this hotel have two beds or rooms that are connected by an internal door. Complimentary cots are available for families with very small children and the hotel welcomes pets. Atmosph'R restaurant also has a children's menu although the ambience isn't overly child-friendly.

Hôtel Renaissance has all the facilities you would expect from a 5-star luxury hotel. Maintaining a boutique, customer-focused vibe while catering to the needs of numerous business guests, this hotel is a masterclass in quality service. The fitness centre is impressive, as is the heated pool, steam room and spa where guests can indulge in beauty and relaxation treatments.
The only thing missing at Hôtel Renaissance is an outdoor pool, sacrificed to maintain the ample garden space where the hotel hosts glamorous events.

Photos @ Renaissance Aix-en-Provence Hotel