Occupying an enchanting stone house in the hillside village of Le Bar-sur-Loup, L'Escale du Ciel translates as "staircase to heaven". It's been lovingly refurbished with treasures from across the globe, blending the old and new with endearing results. The hotel can be booked in its entirety for up to nine guests or as individual suites for couples and families. With an infinity pool and sun-drenched terrace for relaxation, it provides an idyllic setting for exploring Gourdon and the nearby French Riviera.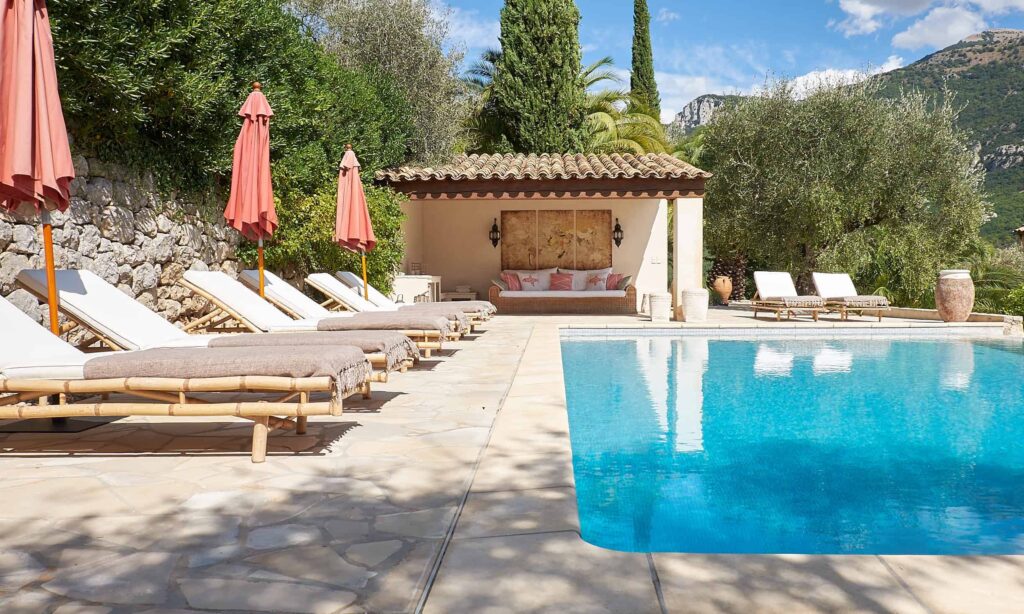 L'Escale du Ciel is a short stroll from the heart of Le Bar-sur-Loup, a charming village in the Provence-Alpes-Côte d'Azur region. Wander through the authentic streets that are lined with cafes, bakeries and small grocery stores or coincide your visit with the Friday market in nearby Valbonne.
The world capital of perfume, Grasse, is also just a short drive away, as are the galleries of St Paul de Vence. The French Rivera is just 40 minutes by car, including the resort town of Cannes and the Picasso Museum in Antibes.


A superb breakfast is served each morning in the hotel dining room, which is decorated with historic black-and-white photographs of the region. Soak up the majestic views of rugged Gourdon while enjoying freshly-squeezed orange juice, local pastries, jams and fruits. Nearby Restaurant La Jarrerie serves fine French cuisine and is open for lunch and dinner, as are numerous other bistros and cafes in Le Bar-sur-Loup.


Decorated with hand-painted furniture, Indochinese antiques and Moroccan lamps, the interiors of L'Escale du Ciel draw on an eclectic range of styles. Asian stoneware jugs have been repurposed as washbasins and there are touches of Africa throughout while fine Belgian linen covers the beds. A stay at L'Escale Du Ciel takes guests on a journey through France's past and that of its colonies, coupled with distinctly luxurious touches.


Each of the rooms has been designed using repurposed materials and antiques, with generous en-suites that boast oversized tubs and walk-in showers. A terracotta floor with animal prints features in the Camille Claudel Room, which shares a terrace with the double room of Cabanon Jeanne d'Arc.
Upstairs is the Coco Chanel Room that affords exceptional views of the Loup Valley, together with the tower room of Simone de Beauvoir. For couples wanting to spread out, the Marguerite Dumas Suite is ideal, with a small living room and adjacent bedroom.
While all of the rooms are designed for two people, the proximity of the Camille Claudel and Cabanon Jeanne d'Arc makes these rooms ideal for families with children over 12. There's a selection of board games and puzzles to keep young guests entertained and pets may be permitted on request.
The L'Escale du Ciel doesn't offer any accessible rooms for those with limited mobility.


The infinity pool of L'Escale du Ciel lies at the heart of the hotel, with a shaded pergola on the adjacent terrace where you can relax with a good book. At the end of a long day exploring, guests can cosy up beside the fireplace in the open-plan lounge while mingling with other guests.
Complimentary Wi-Fi is available throughout the hotel and free parking is provided on-site while French, German, English and Swedish are spoken by the friendly staff.


Photos @ L'Escale du Ciel