Live like an aristocrat at the Château des Alpilles, a 19th-century castle set into the heart of a magnificent park. Now a luxury hotel, Château des Alpilles offers a luxurious escape from the modern world. With an outdoor swimming pool, charming restaurant, 2 tennis courts and a sauna on-site, you'll find it hard to leave this beguiling sanctuary, but nearby Saint Rémy de Provence's charming boulevards, cafes and art galleries are worth the trip.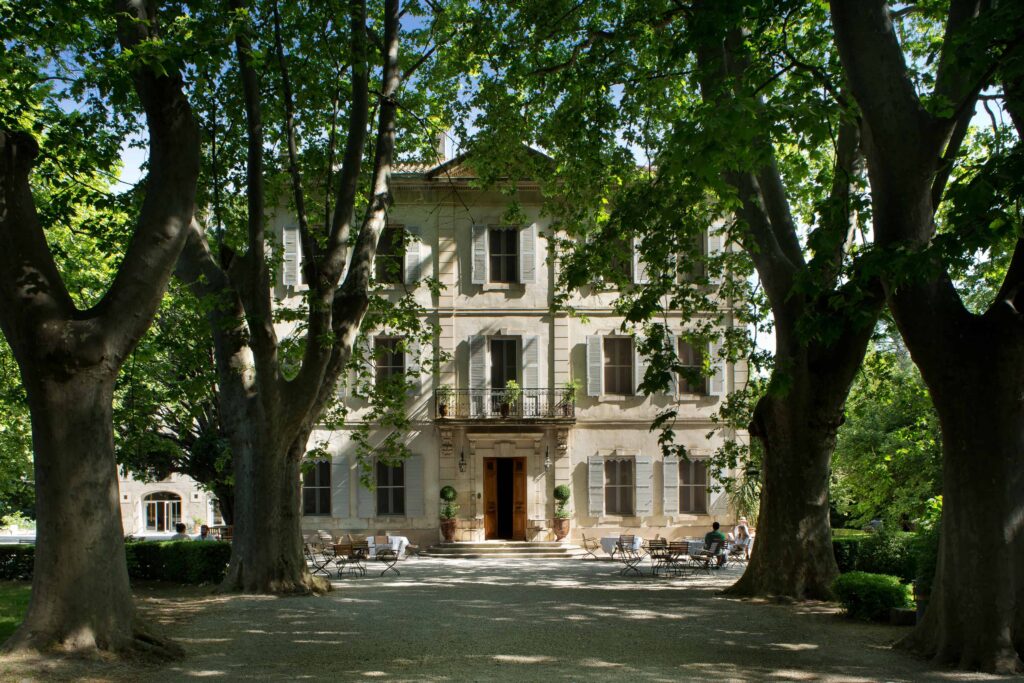 Château des Alpilles enjoys a secluded location surrounded by a tree-filled, manicured park. The hotel is only 2 kilometres on a straight road from the centre of Saint Remy de Provence, a charming town known for its archaeological treasures.
Nearby, other ancient Provençal villages such as Eygaliéres offer an idyllic backdrop to a leisurely drive or hike. Château des Alpilles is surrounded by landscapes of such majesty and serenity that innumerous religious figures built monuments in this region and Van Gogh stayed for a whole year, attempting solely to capture the light.


Known as "The Manor" and "By the Pool", the Château's two restaurants are managed by Chef Mathias Bettinger, who has defined the Château's cuisine since 1993. A reflection of the classic elegance of the Château's noble past, the restaurant's cuisine is refined and yet light.
Using the natural bounty of rural Provence, Chef Bettinger creates sun-filled recipes that are, for the most part, good for your health. A bar welcomes guests for a leisurely afternoon cocktail or an indulgent afternoon tea.


An authentic 19th-century chateau, this hotel is a masterpiece of beautifully-restored period detail. Once a fitting home for a nobleman of great rank, the chateau has been ushered into the 21st century by a delicate hand.
Outside, the Chateau is approached via a driveway lined with century-old plane trees and surrounded on all sides by flourishing gardens. Inside, the Chateau's glorious 19th-century decor is balanced with modern furniture chosen for its timeless vibe. Given this hotel's serene ambience, it's no surprise that artists of the romantic school once used the Château as a summer retreat.


Accommodation at the Château is varied. Guests can reside in one of the castle's sumptuous and spacious rooms. Restored to their 19th-century glory, each room has a fireplace, high ceilings and comes with the service of its own chambermaid. 3 larger, contemporary suites are available at Cypress Farm and can be joined together to cater to a group of twelve.
For absolute privacy, guests can choose the two-room Chapel, witness to wedding celebrations, or the Old Wash House, a two-story stone house that is now a perfect family holiday home.
Family-friendly
A family could stay comfortably in the Old Wash House and children will adore the outdoor pool. Children's TV channels, DVD's and games are also offered. Babysitting is available at an additional charge.


The Château des Alpilles' seclusion is somewhat beneficial as there's no pressure to partake in activities. Instead, indulge in the chateau facilities devoted to its guests' wellbeing. Make use of the Chateau's modern fitness room, Turkish hammam and tennis courts in the morning then reward yourself with a soak in the heated pool and rendezvous with the massage and beauty therapist.
Bicycle tours, horse-riding and walking tours in the area are recommended but a stroll through the Chateau's gardens might do just as well.


Photos @ Château des Alpilles