Boasting a spectacular setting overlooking the Mediterranean Sea, Le Rhul is a nautical-inspired hotel on Marseille's Corniche John F. Kennedy. Its comfortable rooms afford sweeping views from their private terraces and balconies while the on-site restaurant is famed throughout the region for its bouillabaisse. While the cultural museums and Vieux Port of Marseille are just 10 minutes' drive from the hotel, the city's beaches are only a short walk away.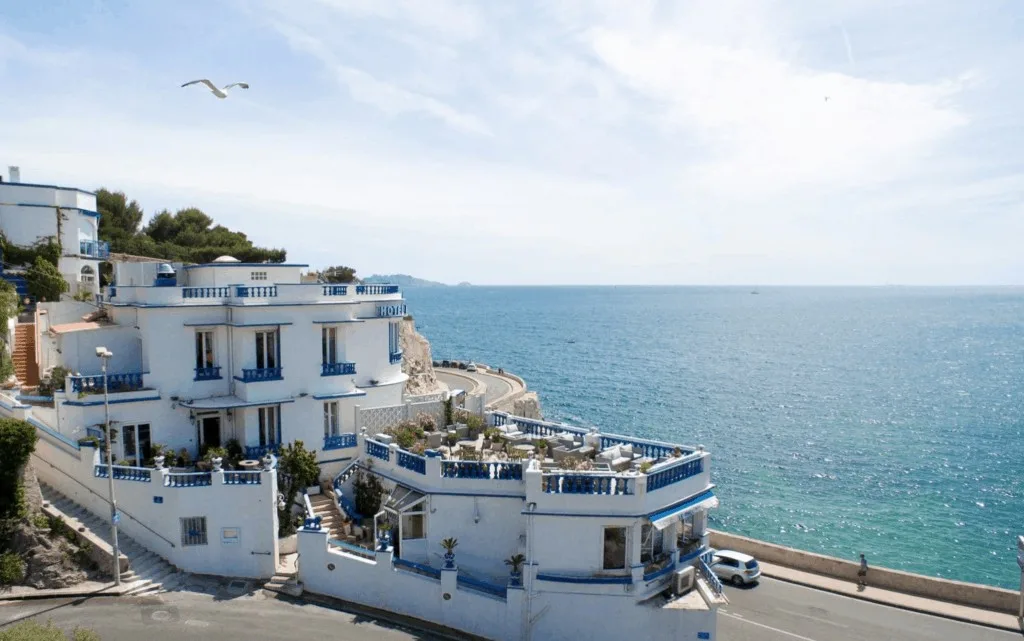 Perched on a rocky ledge along the Corniche John F. Kennedy, Le Rhul is situated in the 7th arrondissement of Marseille. Its seaside location makes it ideal for sun-seekers and beach lovers while being just 10 minutes' drive from the city centre.
Buses stopping along the Corniche will whisk you into the heart of Marseille to explore its cultural museums and Old Port while the Plage du Prophete is just a short drive south. The Marseille Provence Airport is 30 minutes by taxi from the hotel.

Traditional Viennese pastries, jams and fresh juice are offered as part of the daily breakfast spread, which can be enjoyed on the terrace or in the privacy of your room.
Le Rhul's restaurant is famed for its bouillabaisse and includes only the freshest, locally-caught seafood that's prepared right in front of you. An extensive wine list is available to complement your meal, all while enjoying expansive views of Marseille's bay.

Le Rhul is inspired by a classic seaside manor, with a blue and white theme throughout the hotel. Nautical touches such as model ships and old wheels decorate the common spaces, with a sweeping red staircase adding a touch of nostalgia. The rooms, on the other hand, have been renovated in a contemporary style with a minimalist aesthetic that lets the sea views take centre stage.

Budget travellers can opt for one of Le Rhul's Standard Rooms, which feature en-suite bathrooms, flatscreen TVs and views of the adjacent alley. Spend a little extra and you can enjoy sweeping Mediterranean and Frioul Islands vistas from their Superior or Prestige Rooms, all of which are designed for two people. Air-conditioning and complimentary Wi-Fi access come as standard, with king-size beds and bathtubs added at the top end of the range.
None of the rooms at the Le Rhul are specifically adapted for wheelchair access or those with limited mobility.
While none of the rooms at Le Rhul are specifically designed for families, parents travelling with kids can book adjacent rooms.

The reception desk at Le Rhul is open 24 hours to serve guests' needs, with luggage storage, a wake-up service and business facilities available. Panoramic sea views are on offer in their spacious meeting room, which is equipped with all the necessary furniture and a video projector.
Guests can kick back beneath a beach umbrella in one of the sun loungers on Le Rhul's waterfront terrace, which is the perfect setting for aperitifs and sundowners at the end of the day.