With artistic interiors created by French designer Philippe Starck, the Mama Shelter is a hotel like no other. A lively restaurant serves as the heart and soul of the property (with entertainment to engage all ages) while the minimalist rooms feature rich splashes of colour and 27" iMacs that reflect a tech-savvy approach. Rather than being in the centre of Marseille's tourist action, the authentic neighbourhood is the ideal setting to immerse yourself in the city's fashion, design and art scenes.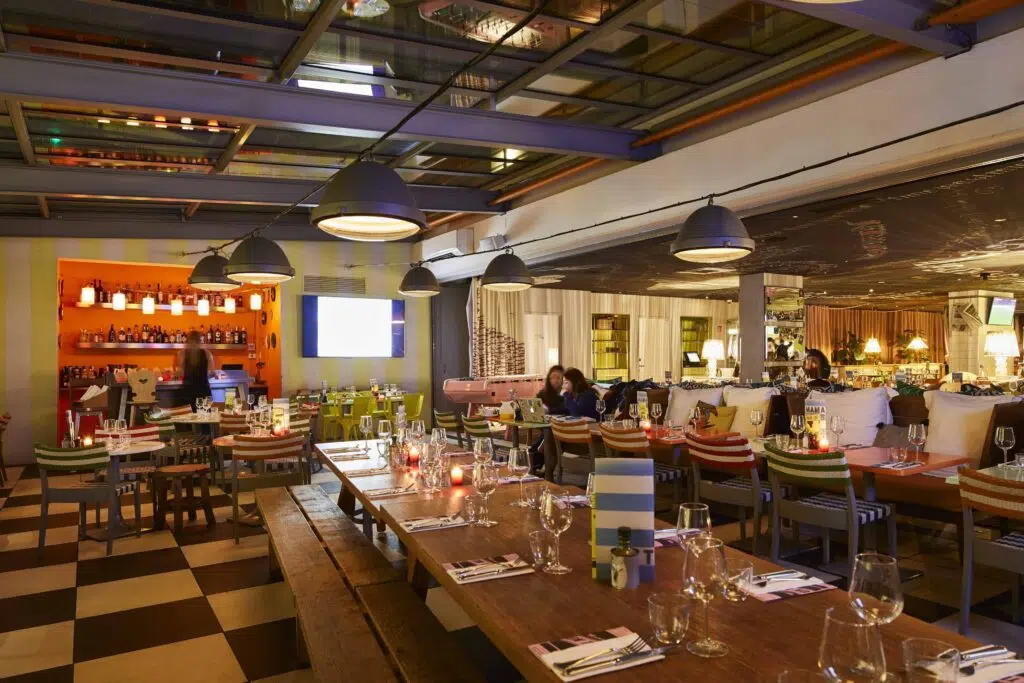 A stone's throw from the Baille metro station, the Mama Shelter is situated in the fashionable 6th district of Marseille and an easy subway ride from all the city's attractions. It lies near the vibrant Cours Julien district and is a 20-minute stroll from the Vieux Port.
The Saint Charles railway station is a 10-minute taxi ride from the hotel while the Marseille Provence Airport is 30 minutes away. The hotel is within walking distance of the restaurants and bars along Boulevard Baille while being just down the road from the Église Notre-Dame-du-Mont.

Simple yet contemporary Mediterranean cuisine is served in Mama Shelter's whimsical restaurant, with graffiti-inspired artwork adorning the walls and an open kitchen where you can watch their chefs in action.
Colourful booths and tables provide a vibrant setting for enjoying the buffet breakfast, with a la carte lunch and dinner menus that include vegetarian/vegan options. You can indulge during a leisurely buffet brunch on Sundays or pull up a stool for drinks every evening at the cocktail bar.

Hip and eclectic in its design, Mama Shelter sets a fun tone from the moment you enter. There's a live stage and four-metre-long table football on the ground level, with five additional floors where the hotel's rooms and family suites are situated. From the art-adorned restaurant to the hole-in-the-wall bar, this boutique hotel has a vibe that's distinctly youthful.

Each of the 125 industrial-chic rooms feature bright colours and a minimalist design, with well-stocked minibars, flat-screen computers and free Wi-Fi. If space isn't an issue, the Small Mama is ideal for couples or there's more room to move in the Medium Mama and Large Mama (which can also be configured as a twin room). Tidy desks combine with open wardrobes for additional storage space, with the en-suite bathrooms equipped with showers.
The Large Mama Family has been created specifically for those travelling with kids, with a cosy lounge that transforms into a sofa bed. Alternatively, the XXL Mama Family offers interconnecting rooms with your choice of bedding configurations, as well as two TVs and on-demand movies. A kids' menu is available at Mama's restaurant, including their choice of mains, desserts and drinks plus a complimentary colouring-in and sticker kit.
While the Mama Shelter Marseille has facilities for disabled guests, none of the rooms are designed specifically for wheelchair accessibility.

A 24-hour front desk is the go-to point for all guests' needs, with laundry services and fax/photocopying available on demand. Pets are welcome to stay with you and parking is available onsite (both for an additional charge).
Live music and the broadcast of sporting events regularly take place in the restaurant area, with table tennis and table football providing a welcome distraction while waiting for meals. French and English are spoken by the friendly staff, together with Spanish, German and Italian.