A world-class hotel with a community feel, Le Mas de Pierre is a sanctuary in the hills of Saint Paul de Vence, only a short drive from Monaco and Nice. A complex of seven Provençal bastides (traditional farmhouses), this hotel has 54 rooms and suites, two heated outdoor pools, exquisite dining options, piano bar and themed salons. Every room has a private balcony or terrace where guests can retreat to enjoy the hush of this secluded spot.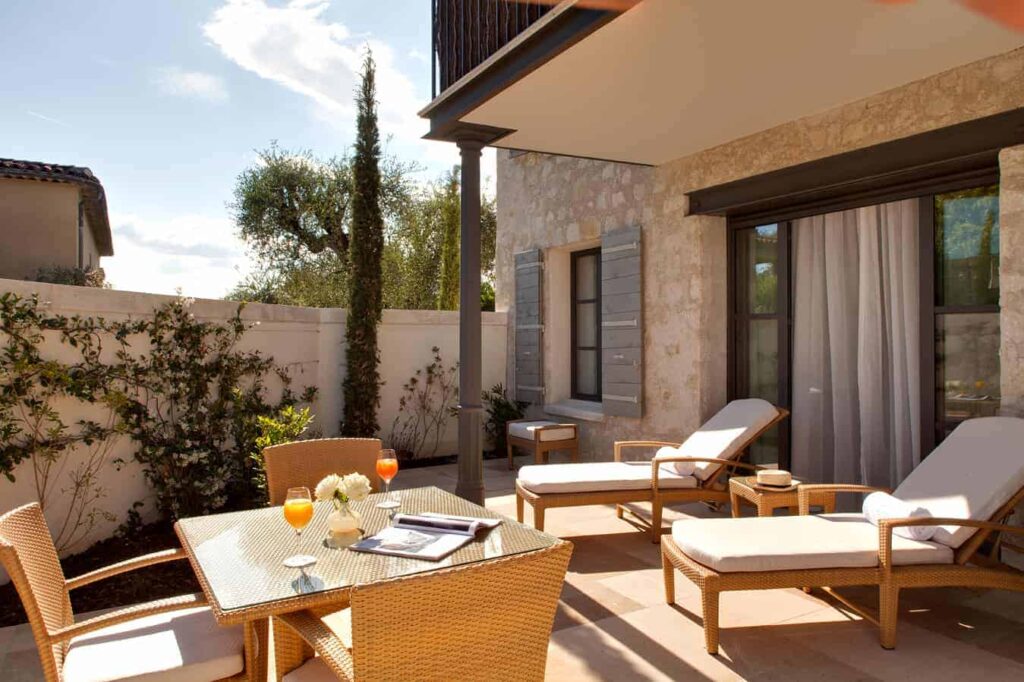 Le Mas de Pierre is perfectly located just outside the medieval village of St Paul de Vence, one of the oldest villages on the French Riviera. With a handful of large hotels, the village gets busy enough that it's favourable to stay on the outskirts and day trip in when you want the village atmosphere. Many of the most beautiful villages of the Côte d'Azur are located within easy driving distance.
Le Mas de Pierre is only a short drive from the most densely-urbanised spots on the Riviera, yet, surrounded by olive trees and sumptuous gardens, it feels charmingly remote.


Le Mas de Pierre has two restaurants and two bars to keep any nagging hunger & thirst at bay. La Table de Pierre is the hotel's main restaurant. Headed by Chef Emmanuel Lehrer, the menu features regional specialities with a gourmet touch. Lis Orto has a more relaxed, sunnier vibe, partly due to its garden location, and serves a Mediterranean bistro menu.
Peter's Bar specializes in fruity cocktails and ice creams served poolside, while The Bar is a traditional outdoor piano bar, perfect for socializing before dinner.


Le Mas de Pierre is a gorgeous collection of seven Provençal bastides, carefully arranged to create one large residence. It's beautifully done and gives the property a laid-back community feel.
Surrounded by olive trees with a view of the countryside horizon that's undisturbed by buildings, it's hard to believe this hotel is only twenty minutes from the big cities of the French Riviera. Outdoor areas have an intimate, family-friendly feel but the rooms and service are pure elegance.
A series of gardens invite you to explore, with an orchid greenhouse, bountiful vegetable garden and fragrance garden connected by stone pathways. The estate is punctuated by fountains and sculptures that accentuate the beauty of your surroundings.


The seven stone buildings that make up Le Mas de Pierre contain 54 rooms and suites. The decor is a luxe take on classic Provençal with white-washed walls, white-limed furniture and shiny parquet floors. 21st-century amenities like Italian showers, Nespresso machines and super quiet air-conditioning are standard.
Suites are also available and all have two bathrooms and a terrace or balcony. La Bastide de Fleurs is a new six-suite building on the property that offers discerning guests a heated pool, cabana and sunbeds. While the exclusive onsite villa offers large groups a private escape in a luxury 430sqm property.
Several rooms are accessible to wheelchair users and most rooms can accommodate an extra bed or cot, making this a great choice of a family-friendly hotel in Provence


Five-star facilities elevate Le Mas de Pierre to another level of luxury. As well as two stunning outdoor pools, (both are heated and one is strictly adults-only), this hotel has a modern fitness area, sauna, Turkish hammam, Jacuzzi and Sothy's spa treatment rooms.
The hotel's concierge is happy to arrange a huge number of activities including e-bikes on loan, use of nearby tennis courts, yoga sessions and sports tournaments. To keep children entertained there is a daily kid's club, year-round bouncy castle and organized creative and sports sessions.


Photos @ Le Mas de Pierre