With a vineyard producing exceptional organic wines and a charming Lido-style outdoor pool, Domaine de Fontenille exudes old-money glamour. A stately home restored to its former glory with the utmost care, this hotel boasts a Michelin-starred restaurant and expansive grounds where its guests can disappear into the scenery.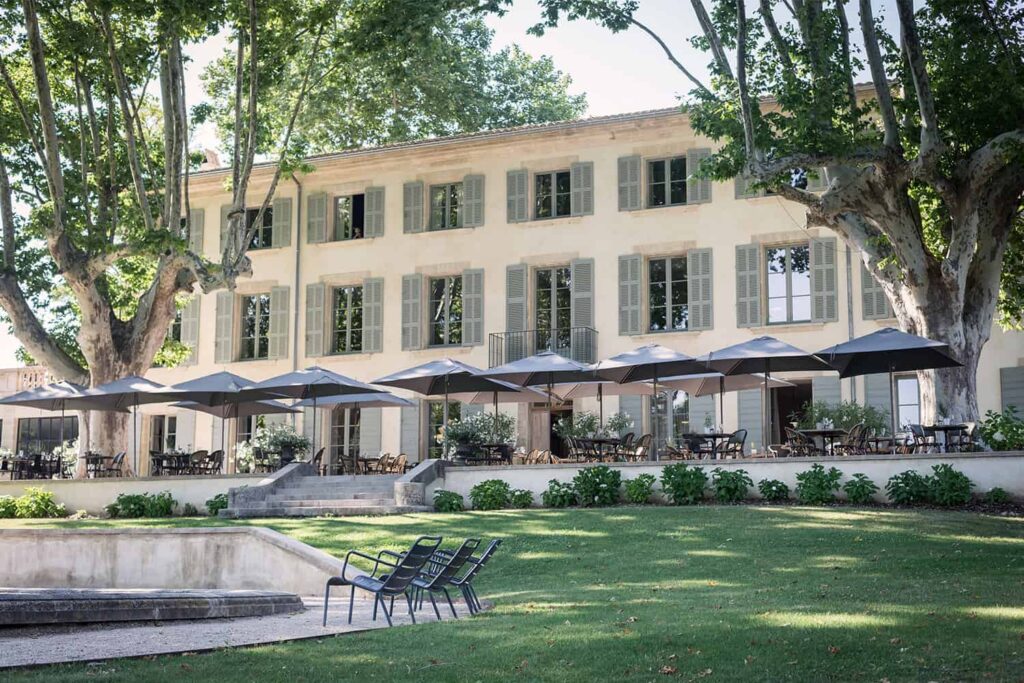 Domaine de Fontenille is located in the picturesque Luberon and is one of the dominant attractions of the region. A regional natural park, the Luberon is an exceptional wine region and Domaine de Fontenille's ancient 35-hectare vineyard produces first-class organic wine.
Close to the small village of Lauris, this hotel is a fine base for exploring nearby Provençal villages including Lourmarin – one of France's most beautiful villages. A short drive (42km) away is Aix-en-Provence, definitely worth a day trip.


What truly sets Domaine de Fontenille apart from other stately homes-turned-hotels in this region is its gastronomy. Les Champ des Lunes is the hotel's Michelin-starred gourmet restaurant, run by head chef Jérome Faure. Luberon produce takes centre stage in Faure's menu which is crafted to complement the seasons.
Prices are reasonable and range from a €38 lunch menu up to a €150 gourmet menu with wine pairings. La Cuisine d'Amelie offers a constantly evolving menu of lighter bistro bites and is usually packed.
Breakfast is best enjoyed on the terrace overlooking the park. Chef Faure delivers a selection of cured meat from local villages, artisanal cheese, homemade pies and cakes, jams, eggs, fruits, everything you could want to start the day.


Domaine de Fontenille is the creation of Frédéric Biousse and his partner Guillaume Foucher. The pair discovered the abandoned 17th-century manor in 2013 and vowed to return it to its former glory. Once done, it was clear the estate was too good to remain private.
Frederic and Gauillame are highly influential in the fashion and art worlds and their hotel is best described as cosmopolitan art gallery meets Provençal farmhouse.
The ornamental pool, surrounded with period sun loungers and shaded by 100-year oak trees is particularly delightful. There's an art gallery on-site, sculpture across the grounds and a stunning library and reading salon. To complement the estate's working vineyards there's a boutique tasting room and an opportunity to tour the cellars.


Each of the hotel's 19 guestrooms has been individually designed. Primarily facing south, the rooms look out onto the hotel park, the Luberon Hills and the Durance Valley, areas of outstanding natural beauty.
Guestrooms are surprisingly large, and all superior rooms boast grand features like marble sinks in roomy bathrooms and private balconies. Duplex suites have charming writing desks and all the latest technological gadgets.
Wheelchair accessible
This hotel is fully accessible to wheelchair users. The disabled access guestroom is custom-built and as appealing as every other guestroom in the hotel.
Family-friendly
Guest rooms can be adapted to fit extra beds and the hotel offers cots for free. Kids activities on the last Sunday of each month and a summertime kids theatre course make this hotel a great choice for families.


Everyone is welcome at Domaine de Fontenille, as evidenced by the variety of activities and services they offer. Guests can enjoy afternoon wine-tasting on-site at the hotel's vineyard, and morning yoga. Exploring the expansive ornamental gardens, hidden sun terraces and charming maze in the hotel's grounds is an activity in itself.
Adults love the gym, fitness centre and spa, while kids love the nearby donkey sanctuary and opportunity to try truffle hunting in the glorious Provençal countryside. All guests enjoy the pool area for its laid back yet glamorous vibe.


Photos @ Domaine De Fontenille