Boutique Hotel Cézanne is an elegant five-story building in a premium location steps from the best of Aix-en-Provence's Old Town. Elegant and historic on the outside but stylish and modern on the inside, Boutique Hotel Cézanne has 55 guest rooms but few of the amenities of a larger hotel, giving it the feel of a welcoming family home.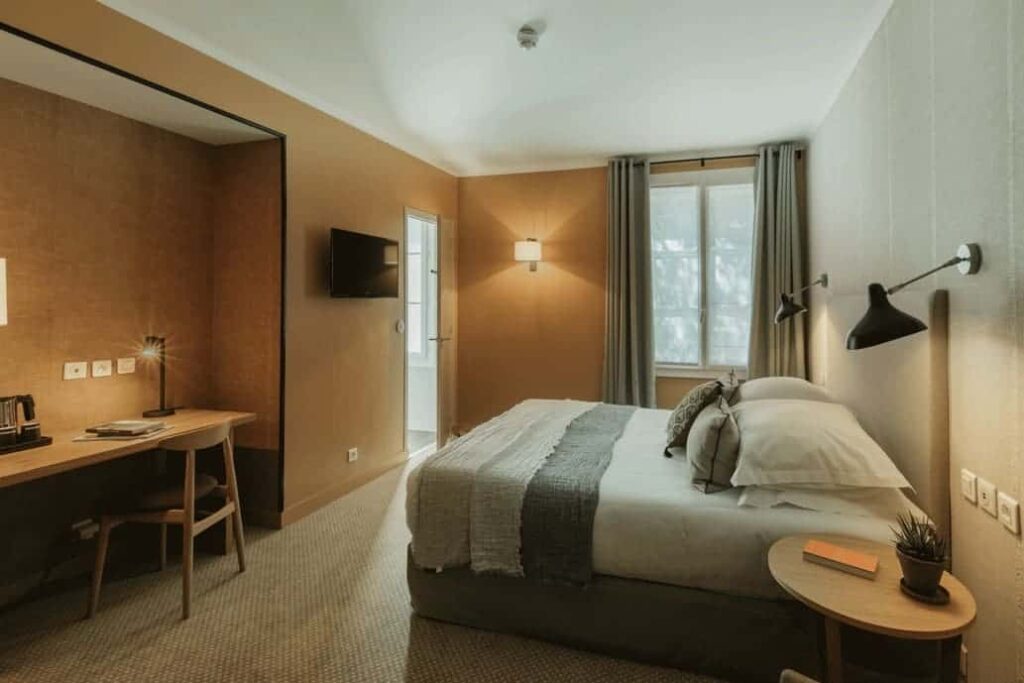 Large yet unassuming, the Boutique Hotel Cézanne sits quietly on Avenue Victor Hugo, right in the centre of Aix-en-Provence's Mazarin District. The handsome, five-story building fits beautifully into its surroundings, near Aix's ancient city walls. Only five minutes from Cours Mirabeau, the city's enchanting pedestrian boulevard, and the Old Town, this hotel is as close as you can get to the best shops, cafes and restaurants in Aix.
Le Musée Granet, Aix Cathedral, Hôtel de Caumont and the Grand Théâtre de Provence are all within pleasant walking distance and Marseilles and Avignon are easily accessible from nearby Gare Routiere bus station.


This hotel does not have its own restaurant but given its location, so close to the creme de la creme of Aix's dining scene, it hardly matters. What Boutique Hotel Cézanne lacks dining facilities it makes up for in breakfast provision. A daily ritual, the Cézanne breakfast is a lengthy feast of artisanal charcuterie, cheese, fresh brioche, pies and pastries, crepes, eggs Benedict and Avignon jam. G
uests can enjoy a fresh juice bar, smoothie station and drink as much aromatic coffee as they can, but bear in mind, breakfast is not included in the room rate. Gluten-free options are available. An honesty bar takes care of guests' afternoon and evening drinks needs and is well-stocked with wines and spirits including champagne and cocktail syrups. Snacks are also on tap including olives, pastries and local honey with bread.


Boutique Hotel Cézanne is described as an upper middle-range hotel. The only thing stopping it from achieving that upper-class status is presumably its lack of on-site amenities like a restaurant, swimming pool or spa. These omissions are a result of location and space-saving as this hotel has 55 rooms, a gorgeous private terrace built around hundred-year-old plane trees and a chic lobby-lounge area.
The feel here is intimate but refined as though you've stumbled into the stylish home of a wealthy family. An elegant white stucco building conveniently located on a pleasant street close to the action, Boutique Hotel Cézanne is the perfect choice for a city break.


The hotel's 55 guest rooms and suites are decorated in fashionable, muted tones. Details like Egyptian cotton sheets, impressionist-inspired artwork and tactile soft-shag rugs make all rooms feel luxurious. Suites are larger, have lounges and can cater to three guests or two adults and two children, so are better suited to families. Bathrooms are spacious with walk-in rainfall showers and all rooms include a flat-screen TV, iPhone dock and minibar.
Wheelchair accessible
Common areas of Boutique Hotel Cézanne are wheelchair accessible. Accessible rooms feature a lower sink and higher toilet with grab rails, suitable for wheelchair users or those with limited mobility.
Family-friendliness
Suites at the Boutique Hotel Cézanne are suitable for families with small children. A babysitting service is available as well as children's TV channels.


Facilities and services at Boutique Hotel Cézanne are minimalistic. The hotel's sun terrace is undeniably lovely and guests can use the hotel's fitness room, or enjoy a massage in the simple treatment room to relax. A computer cluster is convenient for business travellers and staff at the 24-hour reception desk are always on hand to recommend attractions and restaurants in the nearby heart of Aix-en-Provence.


Photos @ Boutique Hôtel Cézanne