Occupying a lovingly restored 19th-century farmhouse, the Mas Château Blanc is a charming bed and breakfast on l'île de la Barthelasse. It offers just five guest rooms and suites for those wanting an intimate stay, with a cosy fireside lounge and saltwater pool among the facilities. Breakfast is served each day in the alfresco dining courtyard, with the museums, medieval landmarks and gastronomy of Avignon just 10 minutes' drive away.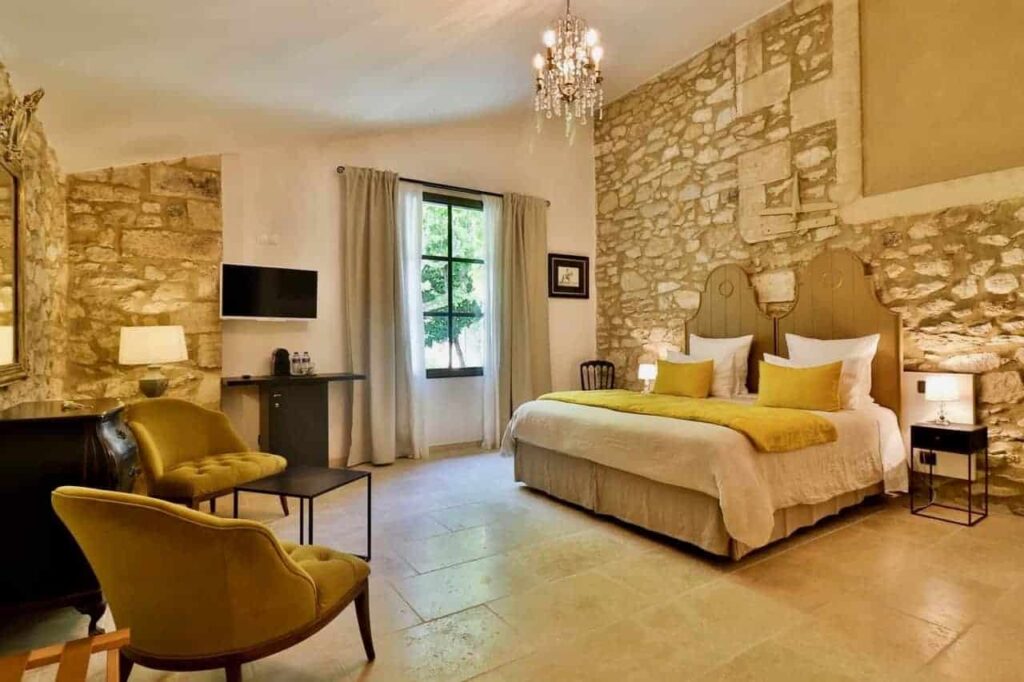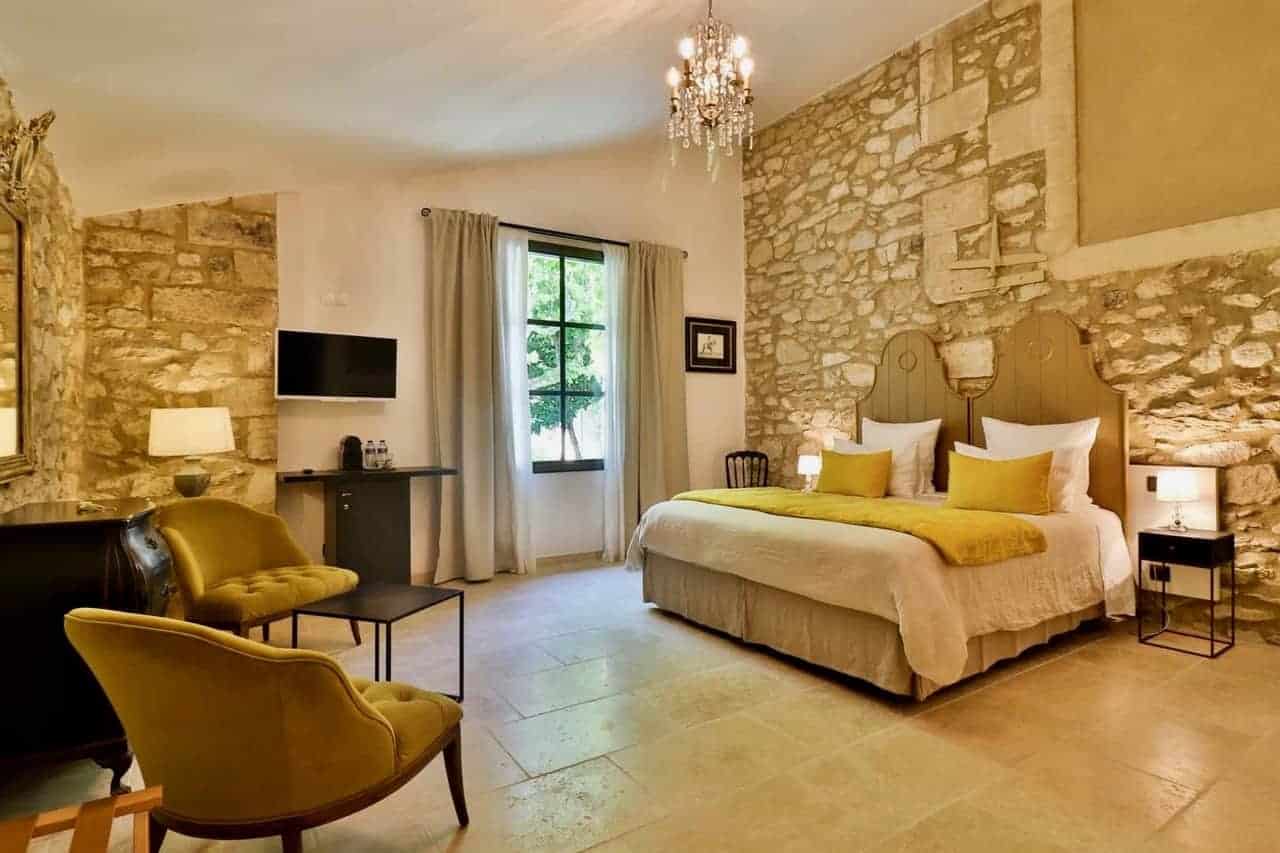 This article may contain affiliate links. See our full disclosure here.


Situated on the île de la Barthelasse, the Mas Château Blanc lies just across the Rhône River from the medieval city of Avignon. It's around 10 minutes' drive from the Palais des Papes and its ancient stone ramparts, together with an outstanding collection of art galleries and cultural museums.
The hiking trails of the Alpilles Natural Regional Park are around 30 minutes' drive from the hotel while the pristine beaches of the Camargue are an hour away. The Mas Château Blanc is within easy access of the Gare d'Avignon Centre, as well as the Avignon – Provence Airport.


Begin the day with a generous breakfast served in the sun-dappled courtyard, including hot drinks of your choice. Bread, pastries, homemade yoghurts and seasonal fruits are served, with most being organic and/or locally sourced. At Mas Château Blanc, you're never far from the cafes and restaurants of Avignon, which range from traditional bistros to Michelin-star, fine-dining establishments.


While Mas Château Blanc has been beautifully renovated in a contemporary style, it has remained true to the distinct charms of the original Provençal architecture. Stone and terracotta floors were selected for their intrinsic qualities, with whitewashed walls set against the earthy tones of flax linen. Feature walls can be seen in many of the rooms, together with antique-style mirrors and lampshades that hark back to an earlier time.


Each of the five guest rooms at Mas Château Blanc are comfortably appointed with flatscreen TVs, Nespresso coffee machines and air-conditioning. The Grangette Room is located on the ground floor and features a king-size bed and large walk-in shower while the upstairs Bel Arbre can also accommodate two with views of the inner courtyard and garden. A queen-size bed is offered in the romantic Hives Room, as well as in the ground-floor Maitrise Room overlooking the courtyard.
Families are well-catered for in the Grande Borie Suite, with two adjoining rooms for parents and children. A king-size bed and two single beds are among the possible configurations, with two separate toilets for convenience. Couples travelling with babies may opt for one of the other rooms, with cots available on request.
The Mas Château Blanc doesn't offer any accessible rooms for those with limited mobility.


Settle in with a good book beside the fireplace in the main lounge or sunbathe beside the saltwater pool overlooking the rolling countryside. Deckchairs and a ping pong table are also available for guest use and parking is provided on-site, including a new electric vehicle charging station. Complimentary Wi-Fi is provided for guests and bicycle rentals can be booked for an additional charge.


Photos @Mas Château Blanc