Château de Fonscolombe is an 18th-century Italianate château so exquisitel restored that to visit feels like stepping back in time. Were it not for the addition of a glinting outdoor swimming pool, guests might expect French nobility of the Ancien Regime to promenade through the estate's gardens. Surrounded by vineyards that produce Fonscolombe estate's fine organic wine, the château is close to the village of Le Puy-Sainte-Réparade, only 20 minutes' drive from Aix-en-Provence.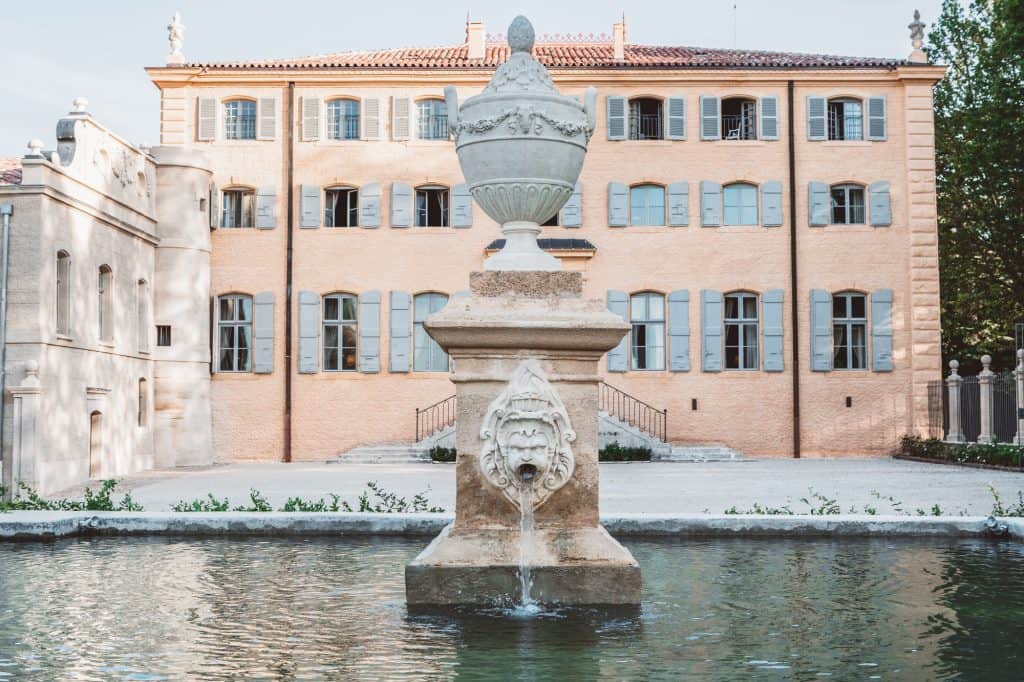 Surrounded by endless green fields and vineyards, the château is an imposing building in a region of outstanding yet typically Provençal natural beauty. Fonscolombe has its own organically farmed vineyard with a history that dates back to Roman times.
Beyond the magnificent estate, the famous Château La Coste wine estate and sculpture garden is only twelve minutes' drive away, Marseille is 45 minutes' drive away and the Luberon Valley with its charming traditional villages is around twenty minutes to the north.


A contemporary space in an otherwise period building, L' Orangerie is a bright and fairly informal place to dine. Outdoor dining under the shade of the estate's 300-year old trees is encouraged in the summertime. Locally-sourced delicacies form the foundation of the menu that features treats like wild boar, monkfish and roast sweetbreads.
L'Orangerie brunch, held on the first Sunday of each month, is a big social event for locals and Château de Fonscolombe's organic wines flow freely at the hotel's restaurant, Lounge bar and hidden Cellar bar.
Breakfast is served from 7.30 am in the dining room that offers views across the vineyard. A gourmet menu of crispy pastries, local cheese and artisanal confitures is served in mini-portions, encouraging guests to eat every tasty morsel on their plate. The juice is freshly-squeezed, and the coffee is as exquisite as you would expect.


In 18th century France, the stately architecture of this Italianate château was the very height of chic. Surrounded by vineyards, the château was designed as a pleasure palace and was enjoyed by a long line of French elites, including prominent politicians and a leading botanist. The old money aura of a languorous summer day lingers here.
Despite the formality of its impeccably-restored decor, (stunning salons feature 19th-century hand-painted wallpaper) the château encourages its guests to feel right at home.


Industrialist and hotelier Hélène Martel-Massignac recently gave the château and estate a major revamp, intending to make it her private residence. Martel-Massignac soon realized the building was too large and decided to invite paying guests. The most luxurious suites are located in the chateau and simpler period rooms are located in the wings and stable block. The most attractive suites have views of the courtyard, but the Queen Mother's Suite is the best and features a Carrara marble bathtub.
Wheelchair accessible
Several rooms in the château are adapted for wheelchair users.
Family-friendliness
The château has one interconnecting family suite. The outdoor pool and child-friendly restaurant menu makes a stay with children easier and there are lots of outdoor activities available in surrounding areas.


In the past, life at the château was composed of a series of leisure activities punctuated by extravagant meals. Today's guests are encouraged to mimic this lifestyle in the château's salons (music room, dance bar, library, billiards room), boudoir beauty room and spa.
The château grounds also invite exploration. Vineyards ring the château's gardens which are dotted with fountains, flower and vegetable gardens, an arboretum and a gorgeous stone swimming pool. Guests are encouraged to roam the estate in its entirety, but staff are primed to offer assistance, directions or sustenance from the château's accommodating restaurant, whenever needed.


Photos @ Château de Fonscolombe