Surrounded by sprawling parklands on the outskirts of Avignon, La Bastide des Anges offers guests a taste of Provence's charms and enviable lifestyle. It's a destination to experience the calm and space, with an atmosphere of serenity in both its interior and exterior spaces. Native trees overlook a sparkling swimming pool that lies in the heart of the property while an old-style caravan offers an eclectic garden stay.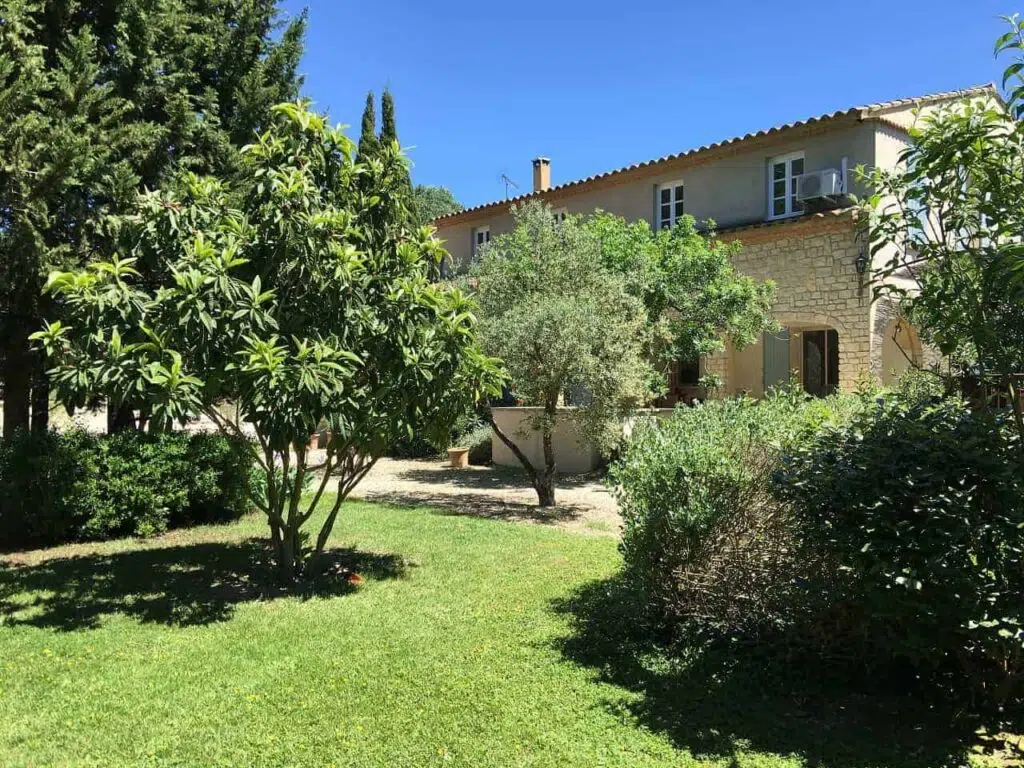 Situated on the island of Barthelasse in the Rhône River, the La Bastide des Anges lies nestled amidst an oasis of calm and greenery just a short drive from the centre of Avignon.
The city's cultural museums and famous Palais des Papes are just seven minutes' drive away, as is the Gare d'Avignon Centre from where trains depart for destinations across France. Both the Alpilles Natural Regional Park and the Avignon-Provence Airport are around 30 minutes' drive from the hotel.

Fresh baguettes, pastries and homemade jams greet guests each morning, together with freshly brewed coffee and yoghurts. Country homewares discovered in local antique shops decorate the dining room, with a sun-drenched terrace where you're also invited to eat.
Guests are welcome to utilise the coffee machine, fridge and microwave in the shared kitchen to prepare snacks and light meals or take advantage of the owner's restaurant recommendations in Avignon.

La Bastide des Anges is all things Provençal, with a natural setting that invites guests to relax and soak up the tranquillity. Its interior spaces are uniquely decorated with antiques and period-style furnishings, together with pastel colours and ornate mirrors. A sunny garden with native trees and fruit orchards surrounds the rustic property, with plenty of places to escape with a good book.

Each of the five Provençal-inspired rooms is individually decorated, drawing on both vintage and contemporary elements. Baroque and theatrical antiques feature in La Festival room, which can accommodate three people, while Les Baïassières is decorated in soft grey and green.
Les Ocres room is imbued with the warm colours of the southern Mediterranean and Les Olivades was created in homage to the olive tree. Nestled in the gardens is the roulotte, an eclectic space with an alcove bedroom, en-suite bathroom and adjoining terrace that's been created as a couple's retreat.
La Farandole is La Bastide des Anges's family suite, with two separate rooms offering a double bed and two singles. It's accessible to children over 12 years, with a steep staircase leading to the second room.
La Bastide des Anges doesn't offer any wheelchair-accessible rooms.

La Bastide des Anges' shared lounge is complete with a TV and well-stocked library where you can peruse a range of books and magazines. Wi-Fi access is provided throughout the property, with complimentary parking also available onsite. Both French and English are spoken by the friendly owners who will happily organise tours, bicycle rentals and massages for guests.

Photos @La Bastide des Anges