Aix-en-Provence is a city for culture lovers. A place to stroll the curving streets, flaky pastry in hand, as you browse the colourful boutiques, shop at the bustling markets, or seek shade under an ancient plane tree.
Art & entertainment take centre stage and there are plentiful opportunities to enjoy all aspects of Provençal heritage within the city walls.
Marseille and Aix-en-Provence are now part of the same metropolitan area but as family members, they couldn't be more different; while Marseille is the brash, feisty and fun upstart, Aix-en-Provence is undoubtedly the rich, cultured, educated cousin. And yet, it still remains distinct from its Vaucluse neighbour, Avignon.
The old part of Aix-en-Provence is mostly pedestrianised and is undergoing huge town improvements – part of which have uncovered Roman remains – making it difficult to navigate the city with a car but perfect for exploring the lanes on foot.
The architecture is sumptuous, the buildings pristine, and the history overflowing – but the culture is the icing on the cake.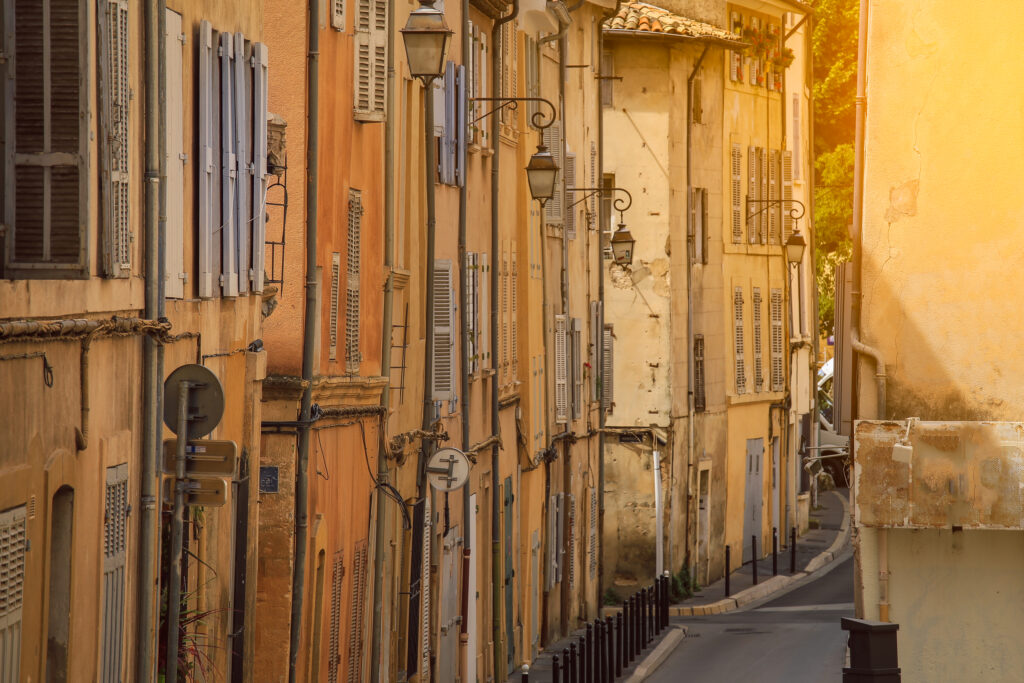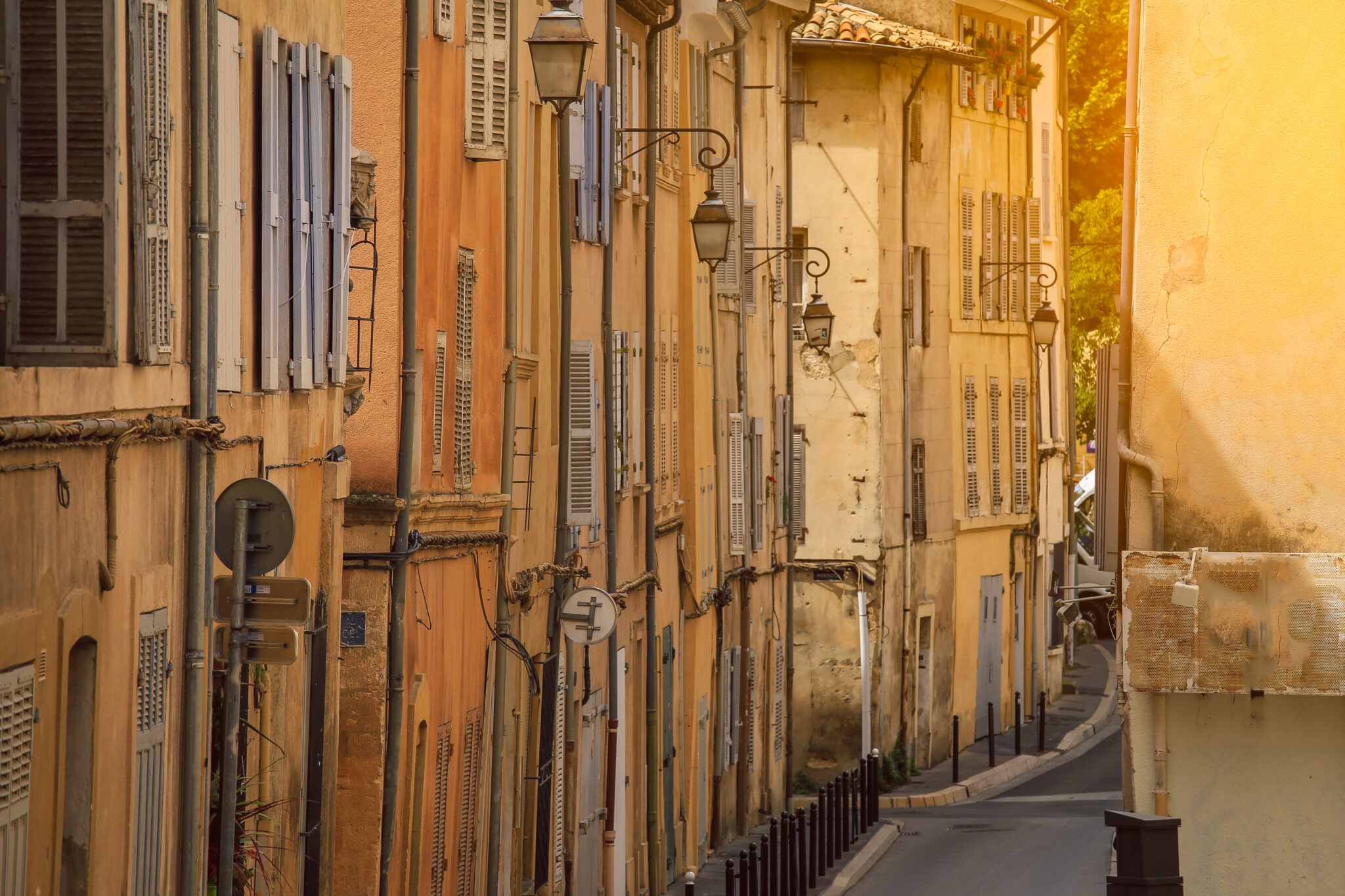 Aix-en-Provence is ideal for foodies, crammed with calming tea houses, succulent delicatessens, prestigious wine merchants, and divine cafés, bars and restaurants specialising in Mediterranean fare.
From spring to autumn there is a festival for every type of music, many taking place on the streets, and Aix is home to the biggest ballet and theatre company in the south of France. Some events even incorporate both, allowing for dinner on the streets whilst listening to the most coveted music in town.
---
What to do in Aix-en-Provence, France
Provence's golden city may be compact in size, but it punches above its weight in galleries, museums and events. Whether you're planning a quick city break, spending one day in Aix-en-Provence, or using the city as a base for day trips around the region, the following guide will serve as inspiration so you can plan your time wisely.
Looking for the best places in Aix-en-Provence to eat, drink and shop? Scroll down or use the table of contents above to navigate to the relevant section at the end of this article.
Soak up "village" life at the Town Hall
One of the first things to see in Aix-en-Provence is the Town Hall – it's one of the prettiest squares and the beating pulse of Old Town. Bag a seat at any of the bar tables outside – with the additional perfumed bonus of flowers on market day – watching the weddings take place and the tourists wander.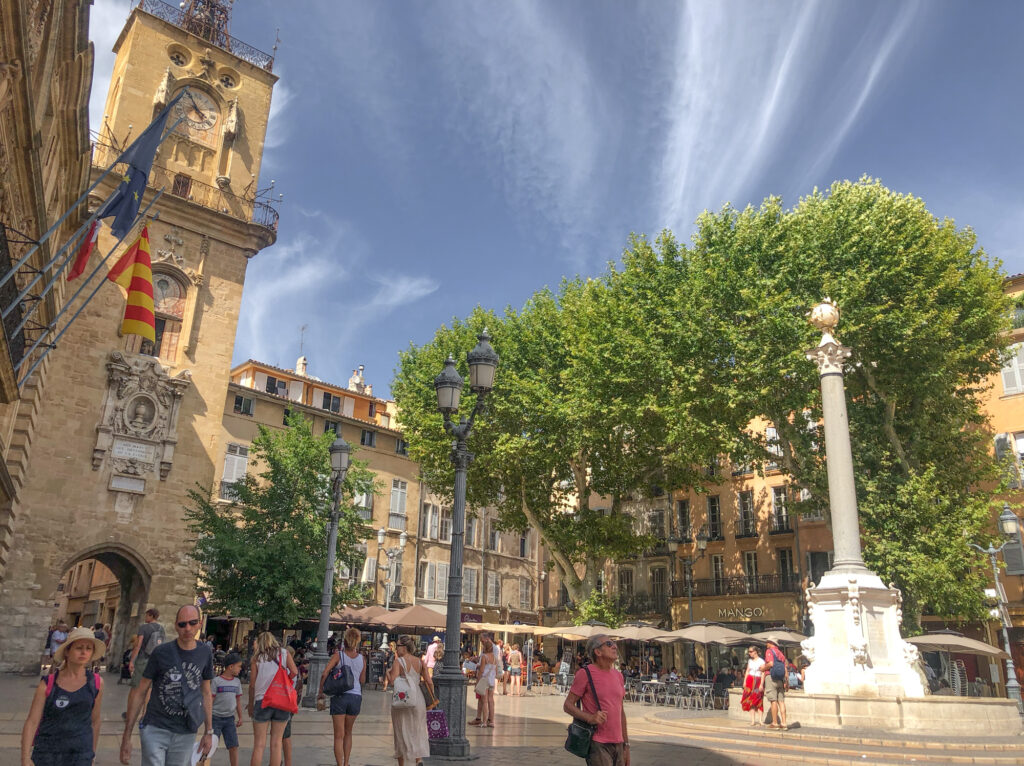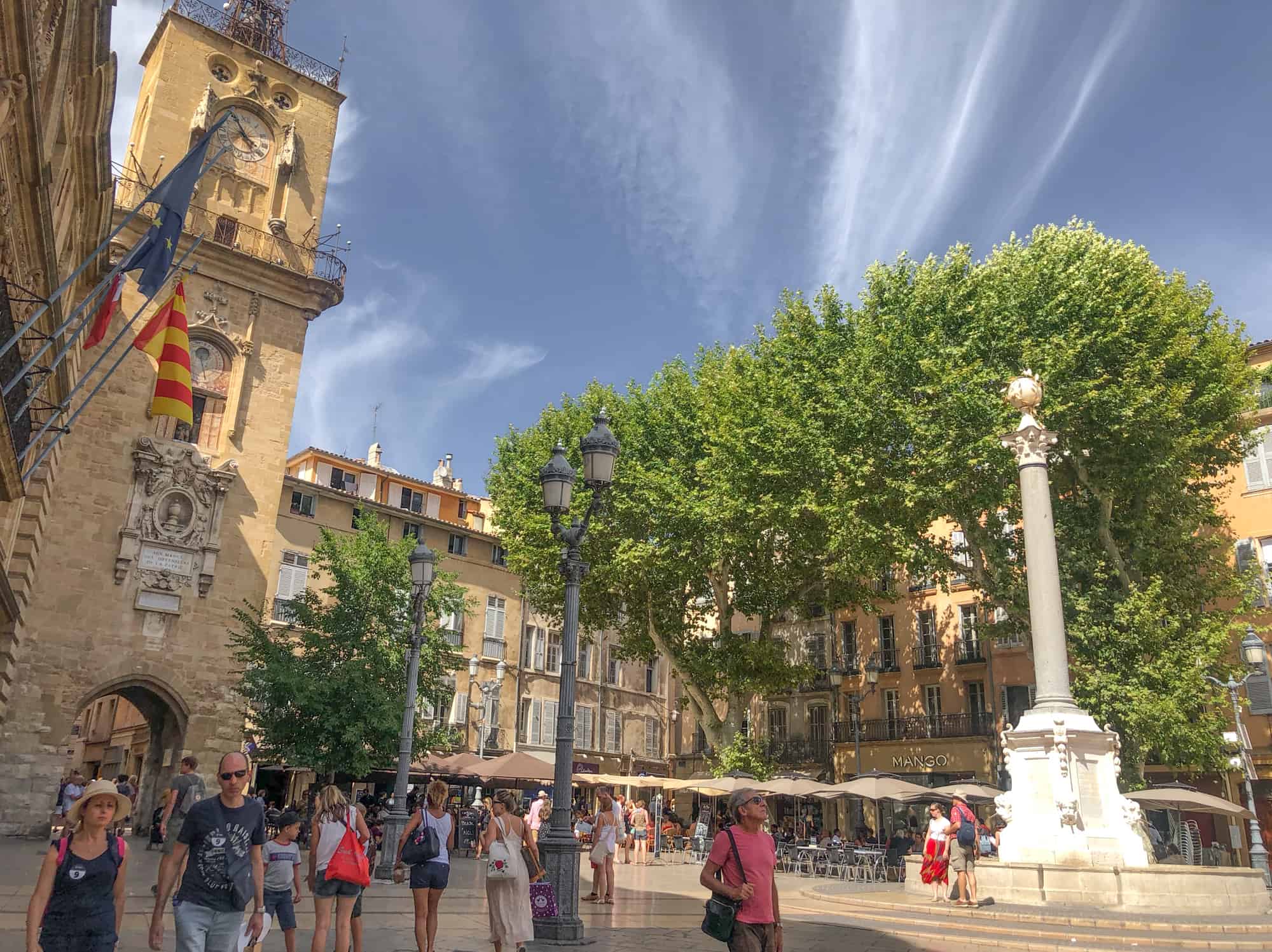 The bell tower is magnificent and historical – the American tanks rode underneath when they liberated Aix-en-Provence at the end of World War Two and it's a great spot to take a pit stop, letting the kids run around the fountain or looking at the French books in the petite but friendly town library.
Take a trip through Aix's history on the Cours Mirabeau
Many French towns have a celebrated tree-lined boulevard and Cours Mirabeau is the one that defines Aix-en-Provence. A walk from the Roi Réné statue at one end to the Rotonde roundabout at the other, showcases the town's history.
It was under King Réné (who ruled from 1409 to 1480) and his wife Queen Jeanne that the town developed its artsy, independent vibe. So independent, that after the King's death, the city refused to follow the French government's rule for almost 200 years.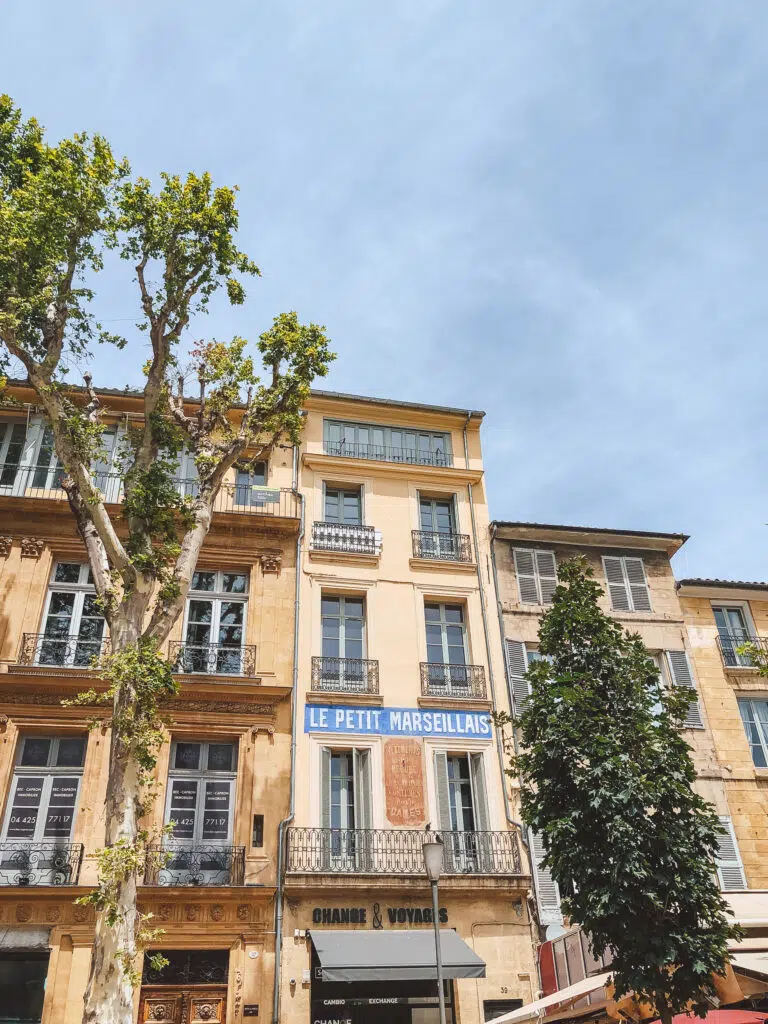 Aix-en-Provence stepped into line when Louis XIV came to power in 1643 and the lawyers, magistrates and aristocrats arrived to build the sumptuous buildings around town. Since 1409, when the university was founded, the city has had a reputation as a seat of learning and today it's still a big university town.
By 1650, the crumbling path was turned into a road to accommodate the arrival of horse-drawn carriages and in the 19th-century, the Cours Mirabeau was styled with trees and fountains.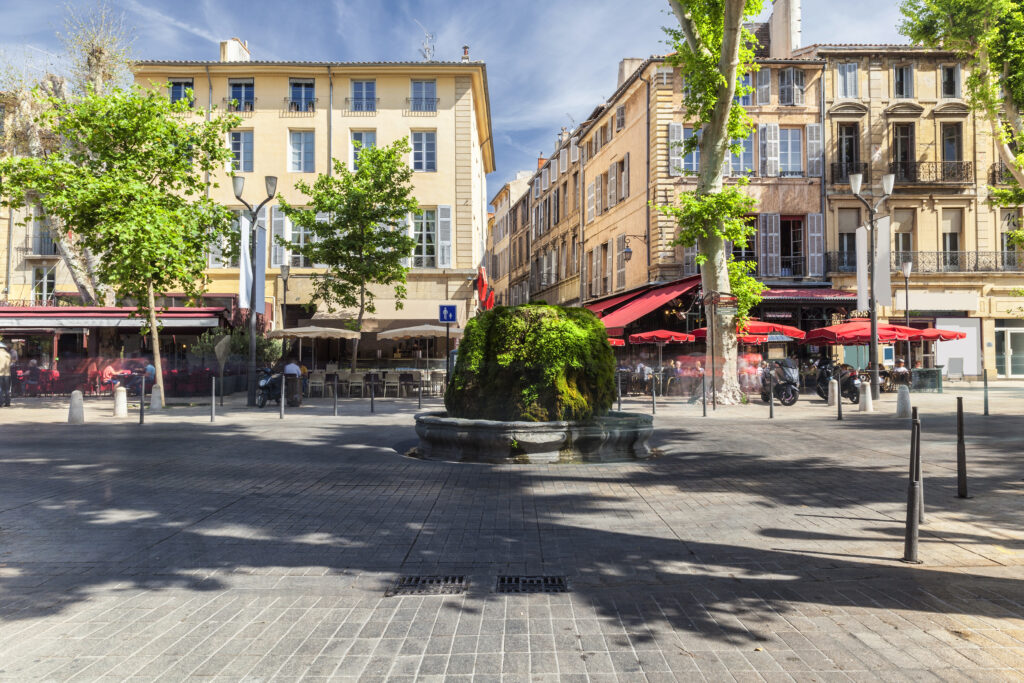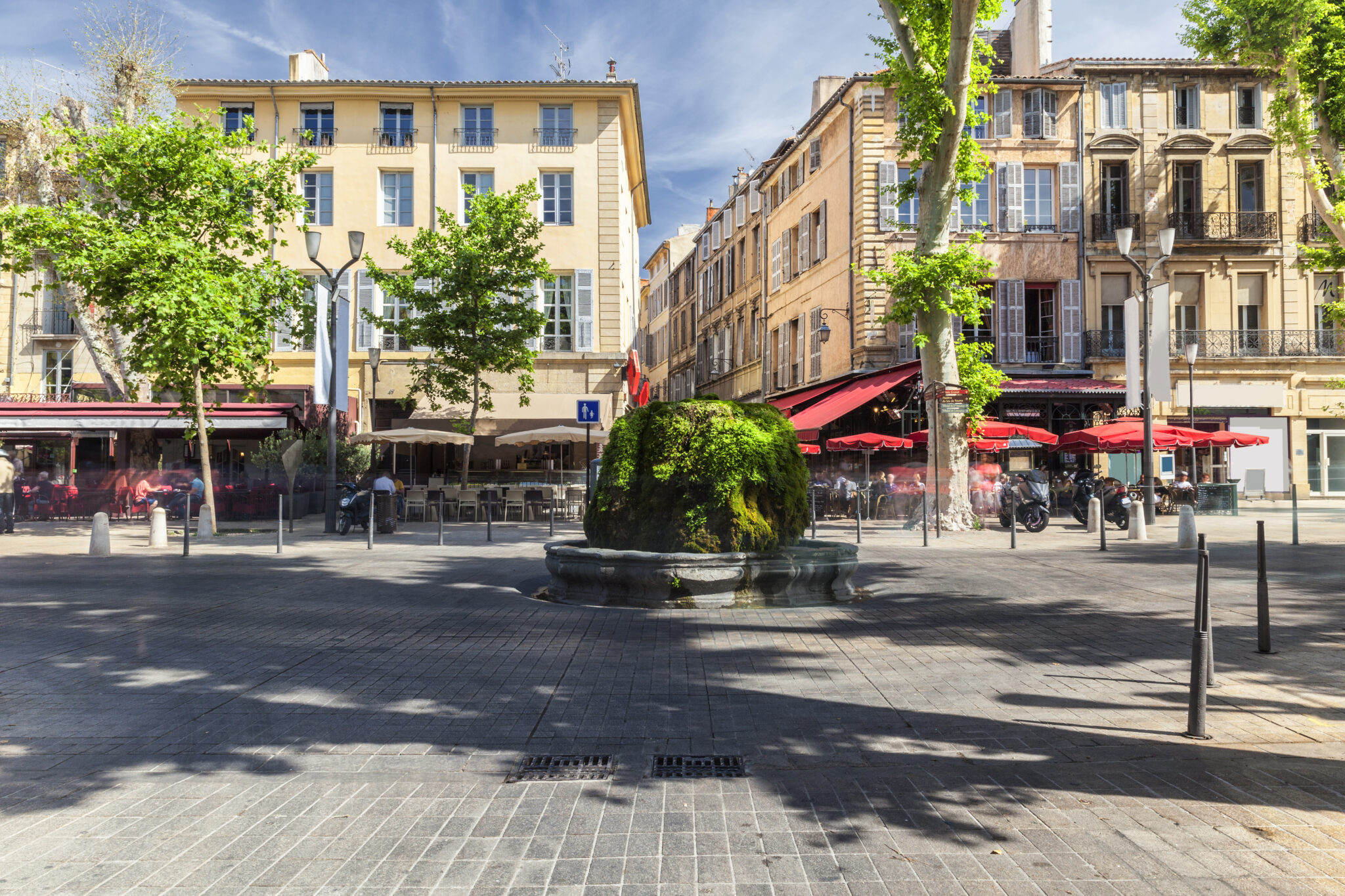 Today, the street is home to a wide range of cafés, restaurants and fancy book stores and where you are as likely to find locals meeting for a coffee, ex-pats trading English lessons for French (you can find language partners at English language book store, Book in Bar) and tourists eager to soak up the same road which Cézanne and Emile Zola used to drink coffee and where little has changed architecturally since that time.
Refresh in "the city of 1000 fountains"
The city boasts over 1,000 fountains and one of the top things to do in Aix-en-Provence is to explore the cobbled streets of Old Town with an ice-cream (Amorino is a good bet) in hand, stumbling upon a fountain or two. Place d'Albertas is usually the one found on city postcards, a beautiful fountain around a large square, built by the rich Albertas family so they could put on theatrical performances in the courtyard.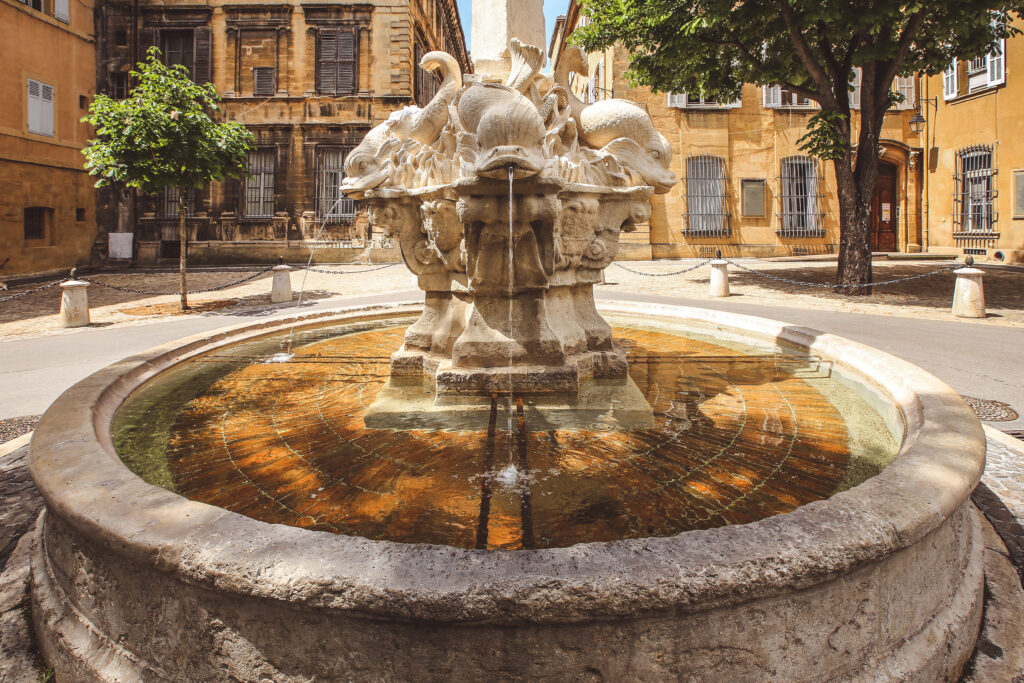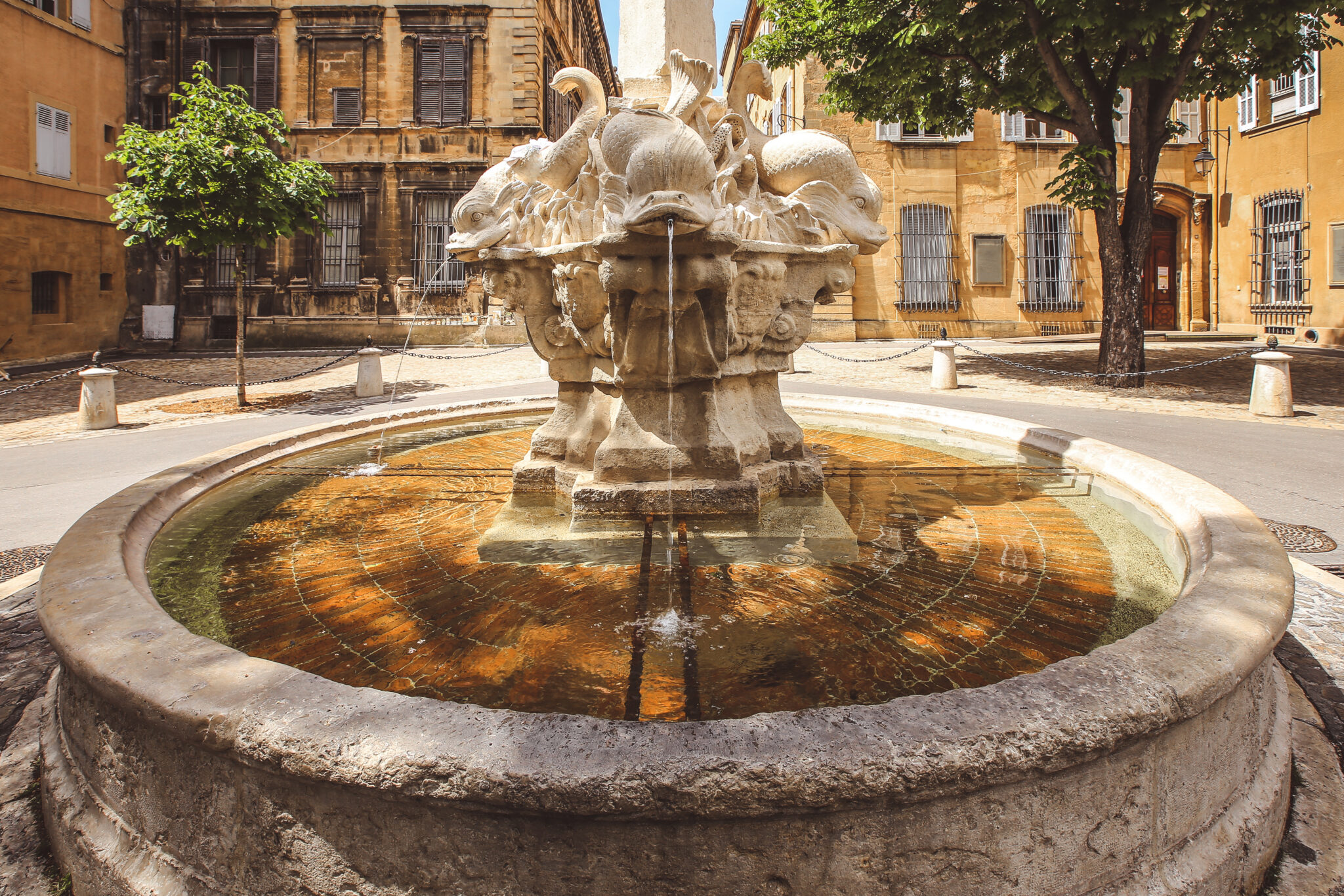 A five-minute walk away is the Place des Quatre Dauphins, a little square tucked away with its four dolphins and on the Cours Mirabeau is the Fontaine Moussue, covered in beautiful green moss, fed by a warm water source, which fizzes off steam in the colder months.
If you are ever lost in Old Town, head downhill and you'll find yourself at La Rotonde, the biggest fountain in Aix-en-Provence. Recently pedestrianized, it now stands in all its glory to admire from the surrounding benches.
Follow in the footsteps of Paul Cézanne through Aix-en-Provence
A great way to work out what to do in Aix-en-Provence is to explore the town through the eyes of its most famous resident, Paul Cézanne, and following the Cézanne trail.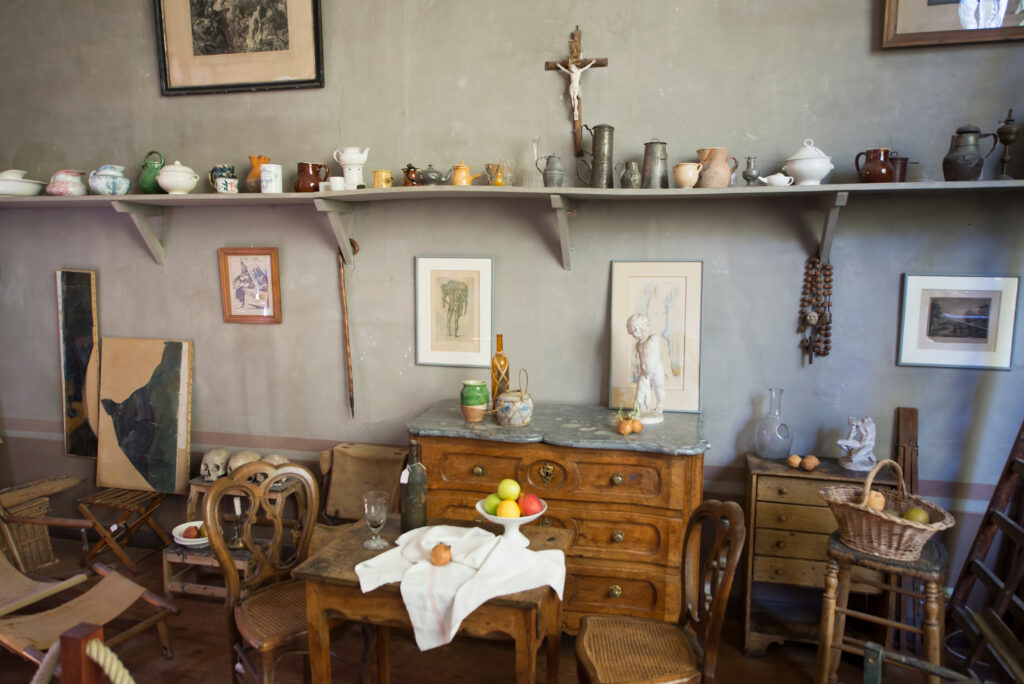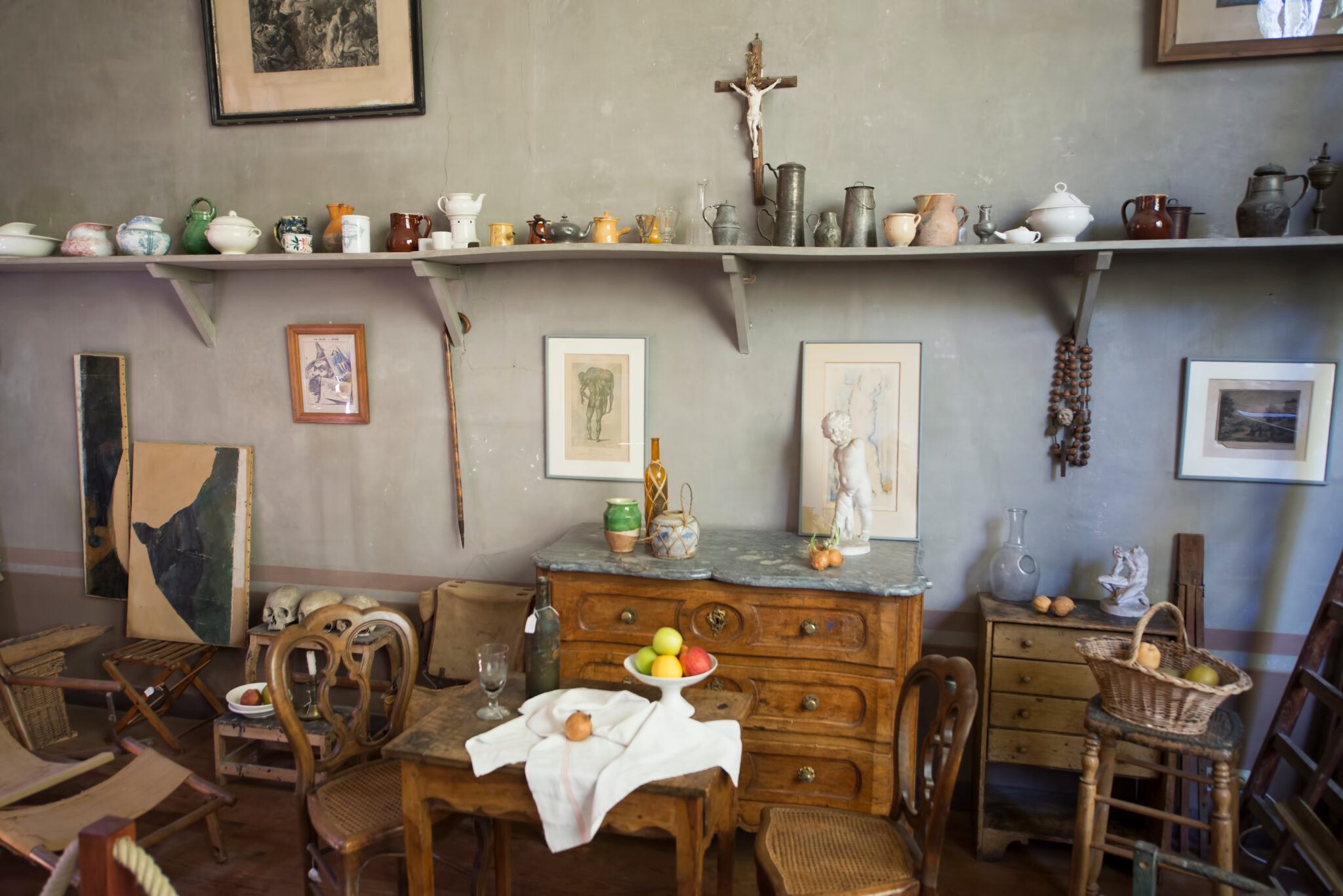 Starting at his statue at La Rotonde, walk to the impressive Saint Jean de Malte church where he got married or explore the Cathédrale Saint Sauveur (one of the most beautiful churches in Aix-en-Provence), with its impressive catacombs, and where his funeral took place. You can even follow Cézanne to the grand Cimetière d'Aix, the calm and majestic cemetery where he is buried.
In 1902, at the end of his life until his death in 1906, Cézanne took to a small cottage on the hill above the town – about a twenty-minute walk from Cours Mirabeau. His studio remains as intact as it was when he painted The Bathers here, complete with his sketches and tools. Today it's one of the most popular Aix-en-Provence attractions.
Art lovers will admire the destination while others will love the walk across town taking in the laid-back vibe, window shopping the stylish clothes in the storefronts (see more on where to shop below).
Escape the heat at Musée Granet
An Aix-en-Provence must-see is the town's oldest museum. Housed in a 17th-century building, it is full of paintings and sketches by Cézanne, among other works dating from the Renaissance.
The rooms are large and cool (a great place to escape the heat for an hour or two) and the shop has great arty presents for kids and adults.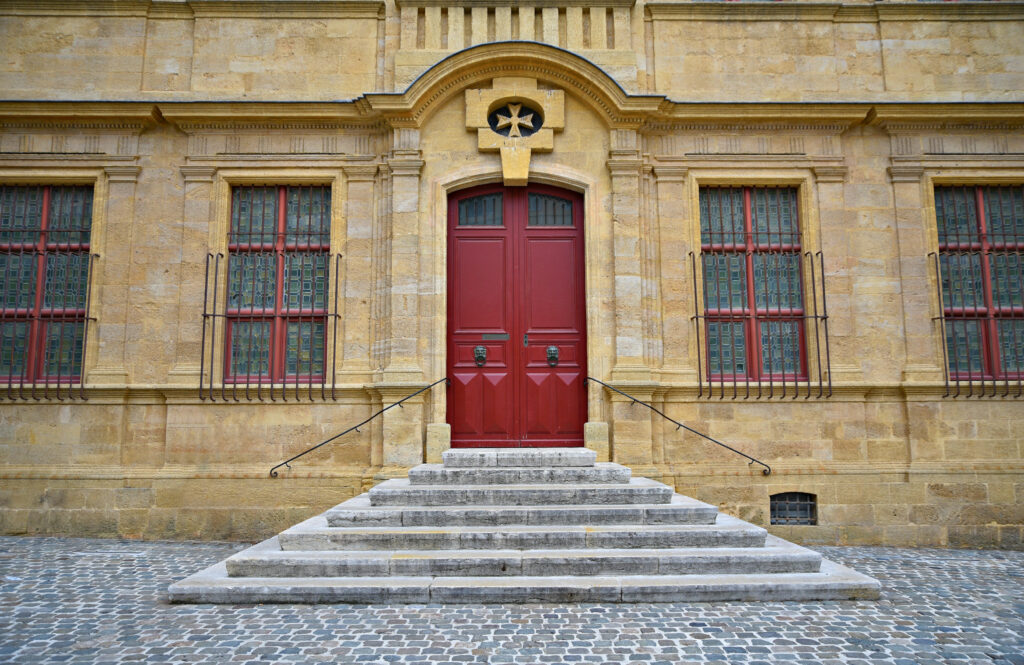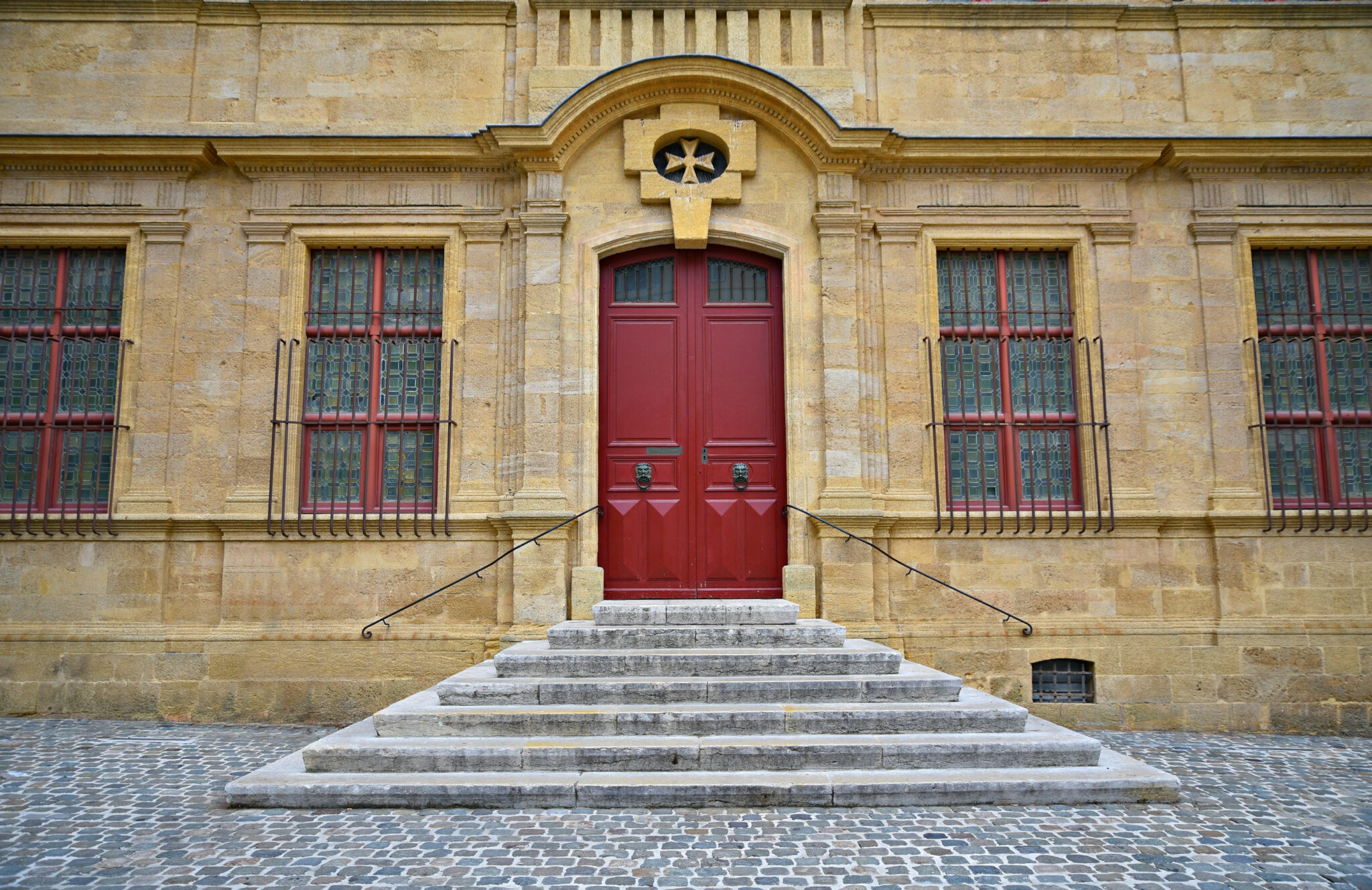 There are guided tours three times a week (some in English) and the first Sunday of every month is free. Don't miss the second part of the museum, in an exquisitely renovated chapel, a five-minute-walk away in Place Jean-Boyer.
Walk the gardens at Hôtel de Caumont
The Caumont is one of the most stylish venues in town and one of the most feted Aix-en-Provence tourist attractions. It's great for having afternoon tea (which the French call le goûter) or dinner on the terrace of the chic restaurant, facing the beautifully manicured lawns. Visit when they host one of their celebrated opera or jazz nights for a truly memorable experience.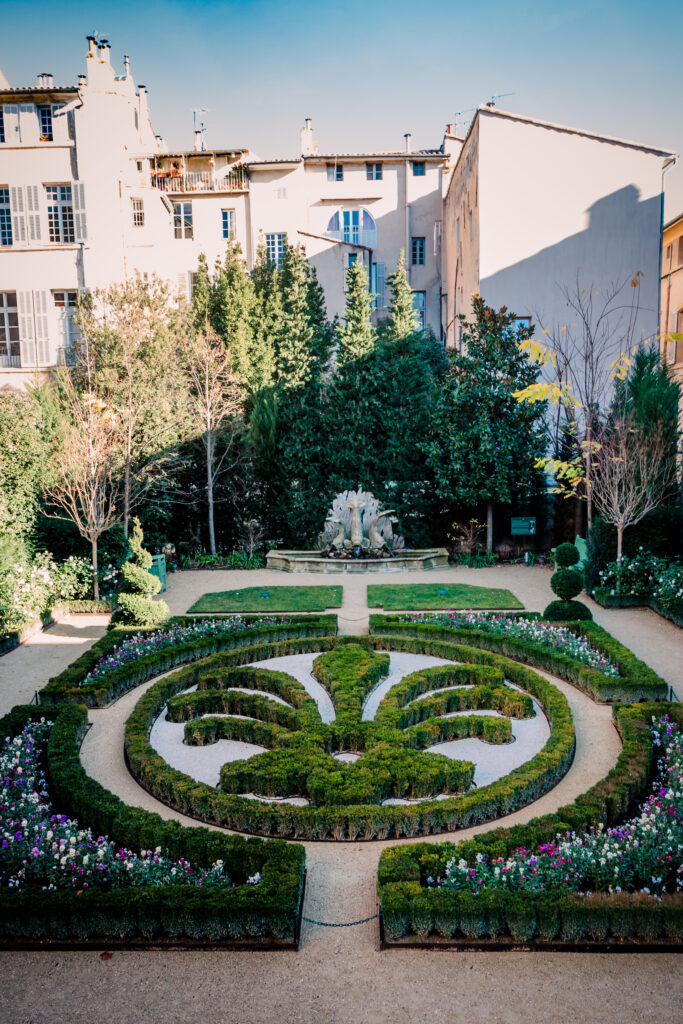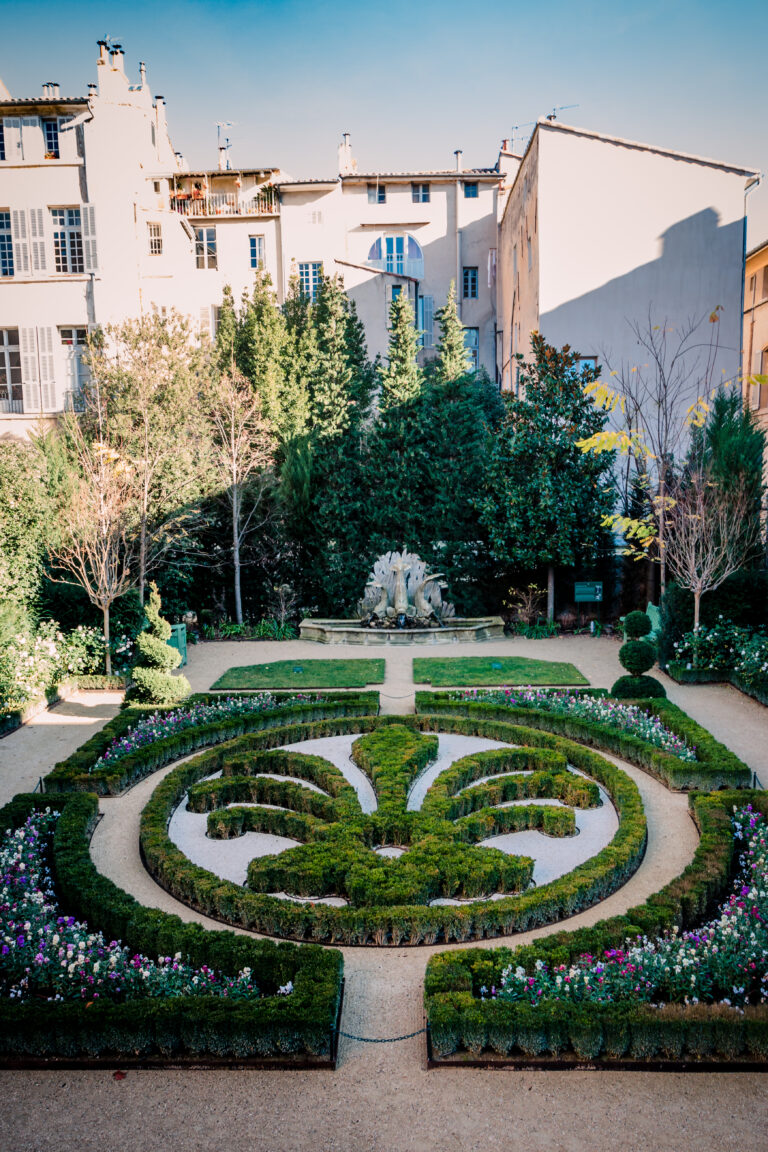 There is always a permanent Cézanne exhibition and one other, ranging in eclectic tastes from Marilyn Monroe photographs to Picasso. Do note that it's not one of the most kid-friendly things to do in Aix-en-Provence (although there are occasional art workshops for kids), and there are some stairs and steps to navigate.
But the main draw here is the architecture, the gardens and the revolving art exhibitions, which are always well done. One for arty couples and groups of friends to enjoy.
Have an al fresco feast at Parc de La Torse
Once you've collected some delicious items to eat from the local market (see below), it's a good idea to head somewhere cool and green for a picnic.
Parc de la Torse runs along the river, a twenty-minute walk from Old Town and has everything you need for an ideal brunch or afternoon picnic. There's a small pond with ducks, a playground for the small kids, a football pitch and basketball courts for the big kids, a park with swings (hard to find in France) and beautiful trees providing a perfect shady base for all the family.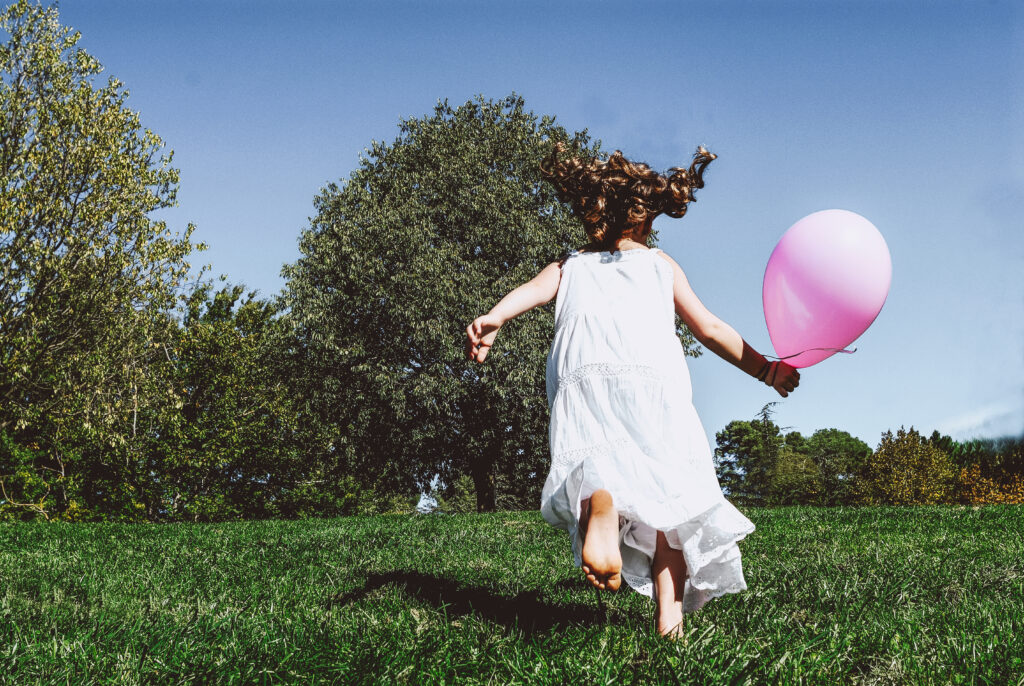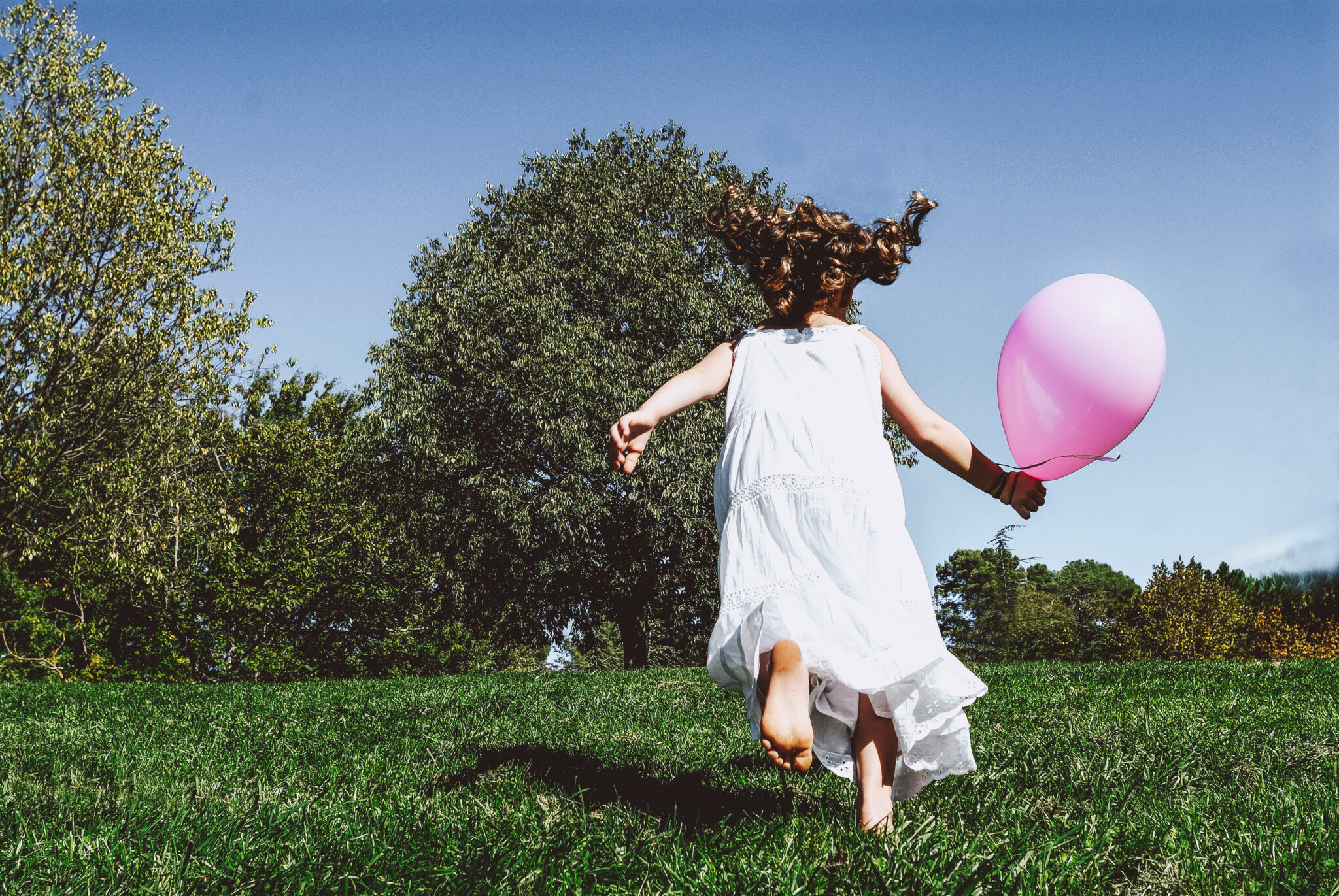 It's as common to see birthday celebrations as it is people participating in martial arts or yoga classes. There is also a small car park if you are less mobile or have too much delicious food to carry from the markets.
Take in the avant-garde art at Fondation Vasarely
Victor Vasarely is known as the grandfather of optical art – where the viewer interprets what they see and where there is a "suggestion" of movement without actual movement.
He first started out in the small arty town of Gordes in the Luberon, before deciding to build a purpose-built place to show off his art on the outskirts of Aix when he was granted land in 1974.
Vasarely said that "for an avant-garde institution, I had to build an ultra-modern building" but it was his love for Cézanne that made him choose Aix.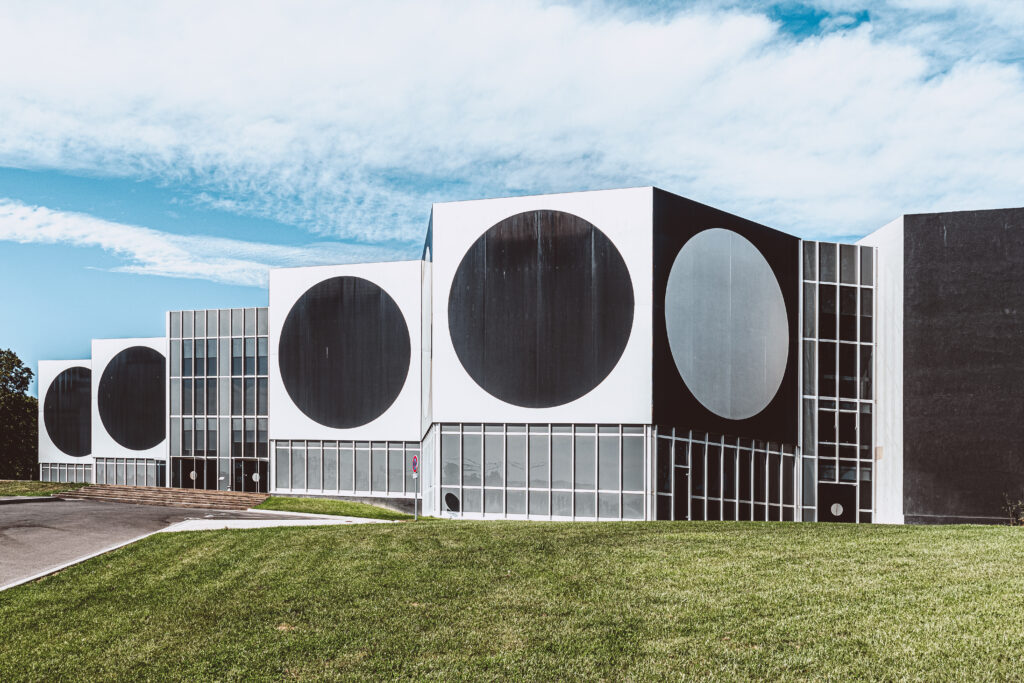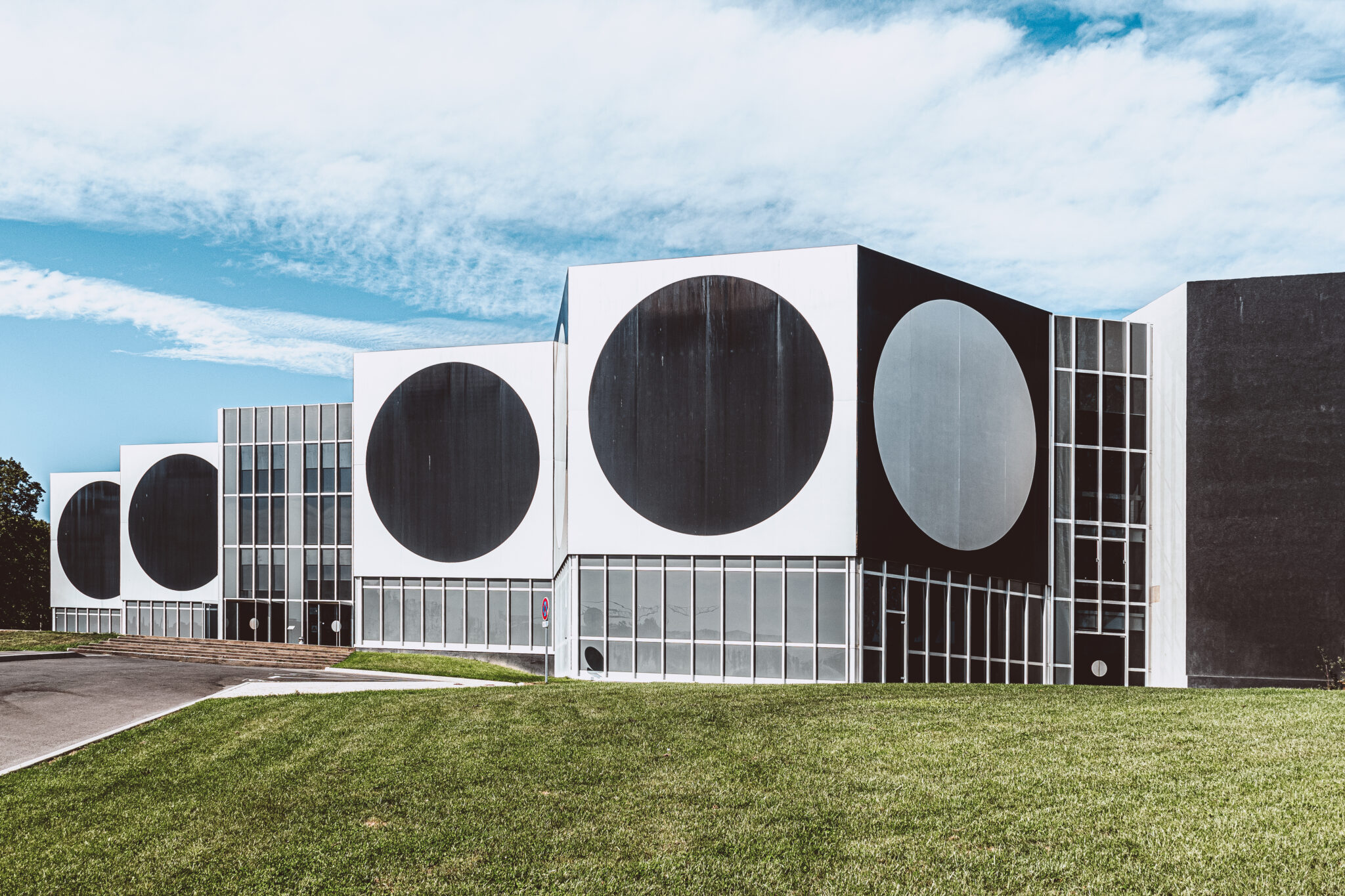 The optical art movement has its origins in the German Bauhaus ideas of painters Kandsinsky and Klee, who merged art and architecture, hoping to design spaces and buildings which were beautiful as well as practical.
The foundation does exactly that, charting Vasarely's journey through the 1950s (his black and white period) to the 1960s (geometric shapes) and 70s (notably hexagons), the latter which he exhibited at the New York Museum of Modern Art. The museum holds a lot of weekend events and workshops for all the family.
Dance the night away, sometimes in the streets
Aix-en-Provence is the city of concerts, whether that be pop, opera, rock or jazz, and it's home to some of the best literary and music festivals in the south of France. Music in the Streets (Musique dans la Rue) has been going for 45 years, showcasing all kinds of music over an eight-day-period. It's held all around the city and is free for all to enjoy.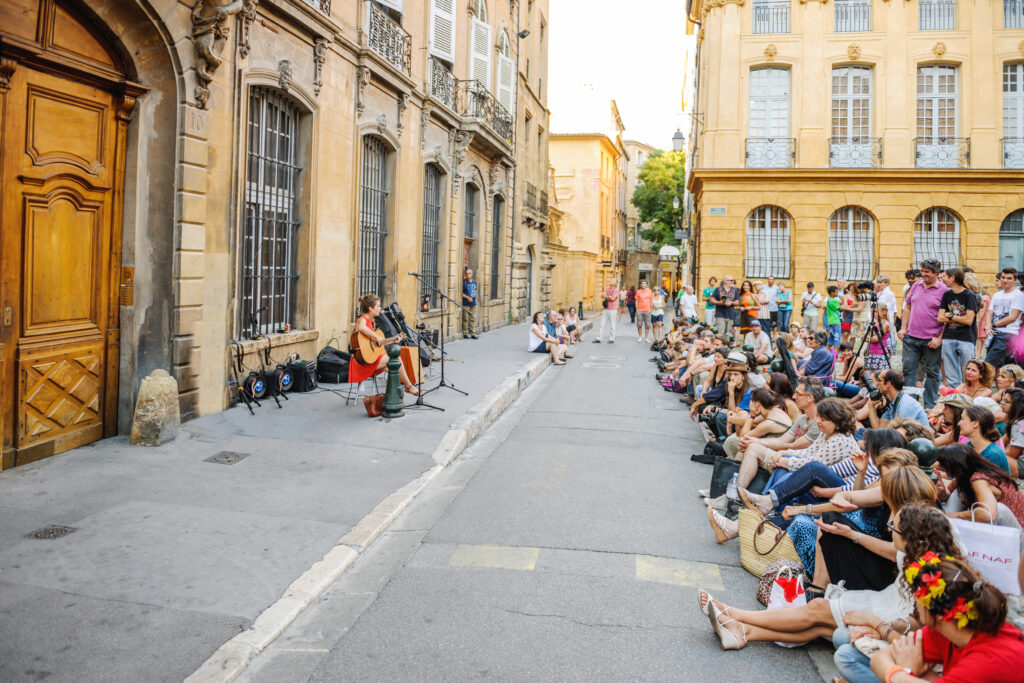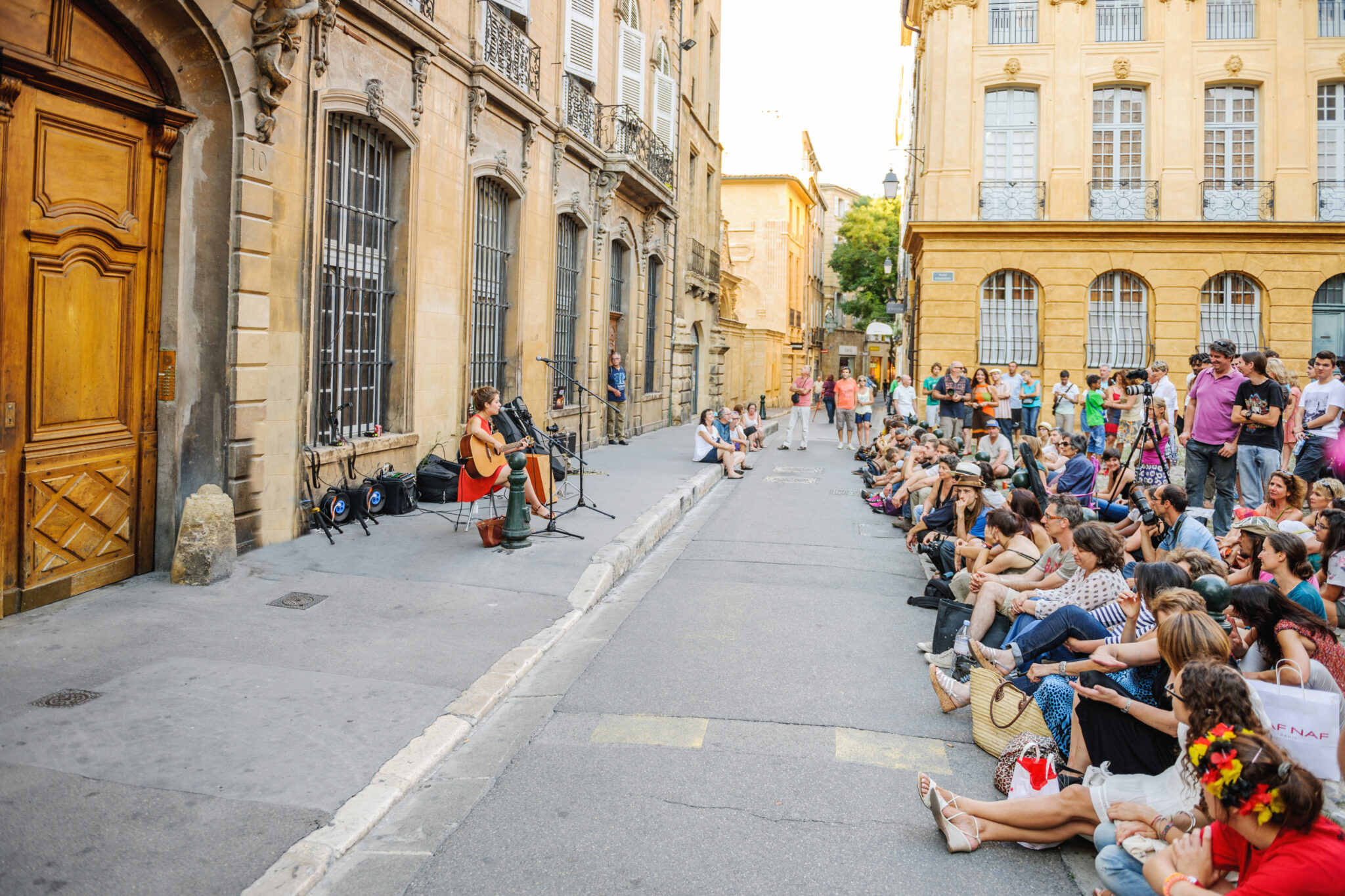 The free annual opera on the Cours Mirabeau is particularly special, where the whole city reverberates with well-known opera singers and philharmonic orchestras delighting the crowds with Puccini or Orfeo et Majnun.
Another highlight is the nationwide Fête de la Musique (every June 21st) which Aix does particularly stylishly. The city erects sound stages all over town with different groups and styles of music at every turn, accompanied by beer vendors and street food.
Check the tourist office for tickets for major events but the most fun for all the family is to be had in the free events, where you can sit outside, listening to music and eating, while kids run in the safe cobbled streets.
---
Looking for more Provence travel inspiration? Don't forget to join our free Facebook group Provence Travel Planning!
---
Best Places to Eat in Aix-en-Provence (and what to eat)
The city has over 440 dining establishments but one of the best restaurants in Aix-en-Provence is the rather upmarket Mitch. A stunning mid-range option is Le Drôle Endroit. And for outdoor pizza in a cosy square, book a table at the crowd-winning Aix-en-Provence restaurant Le Four Sous Le Platane.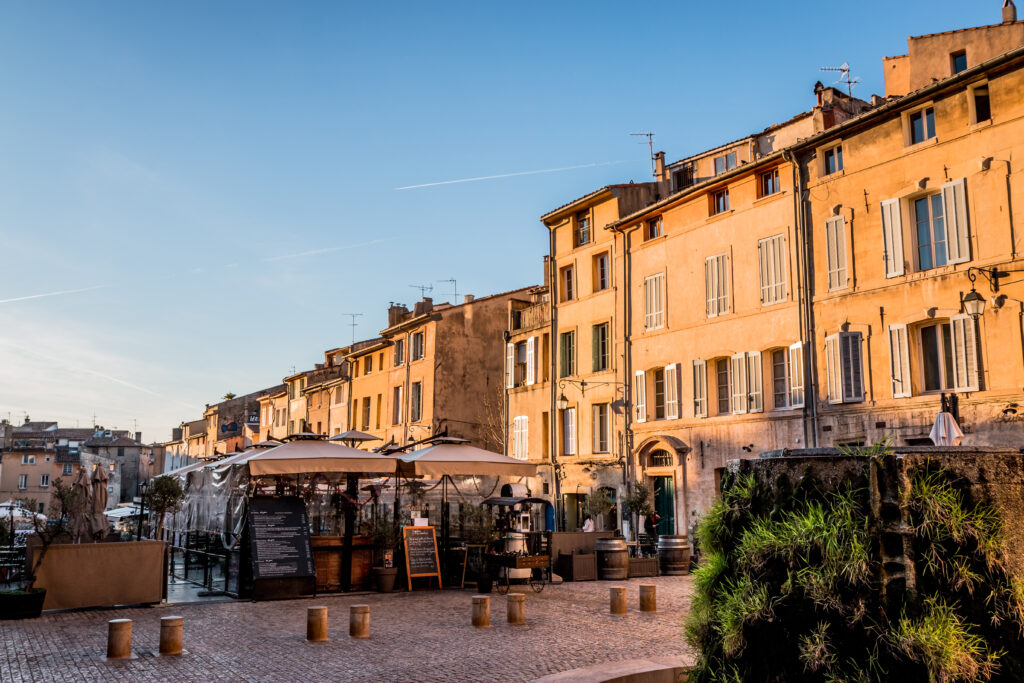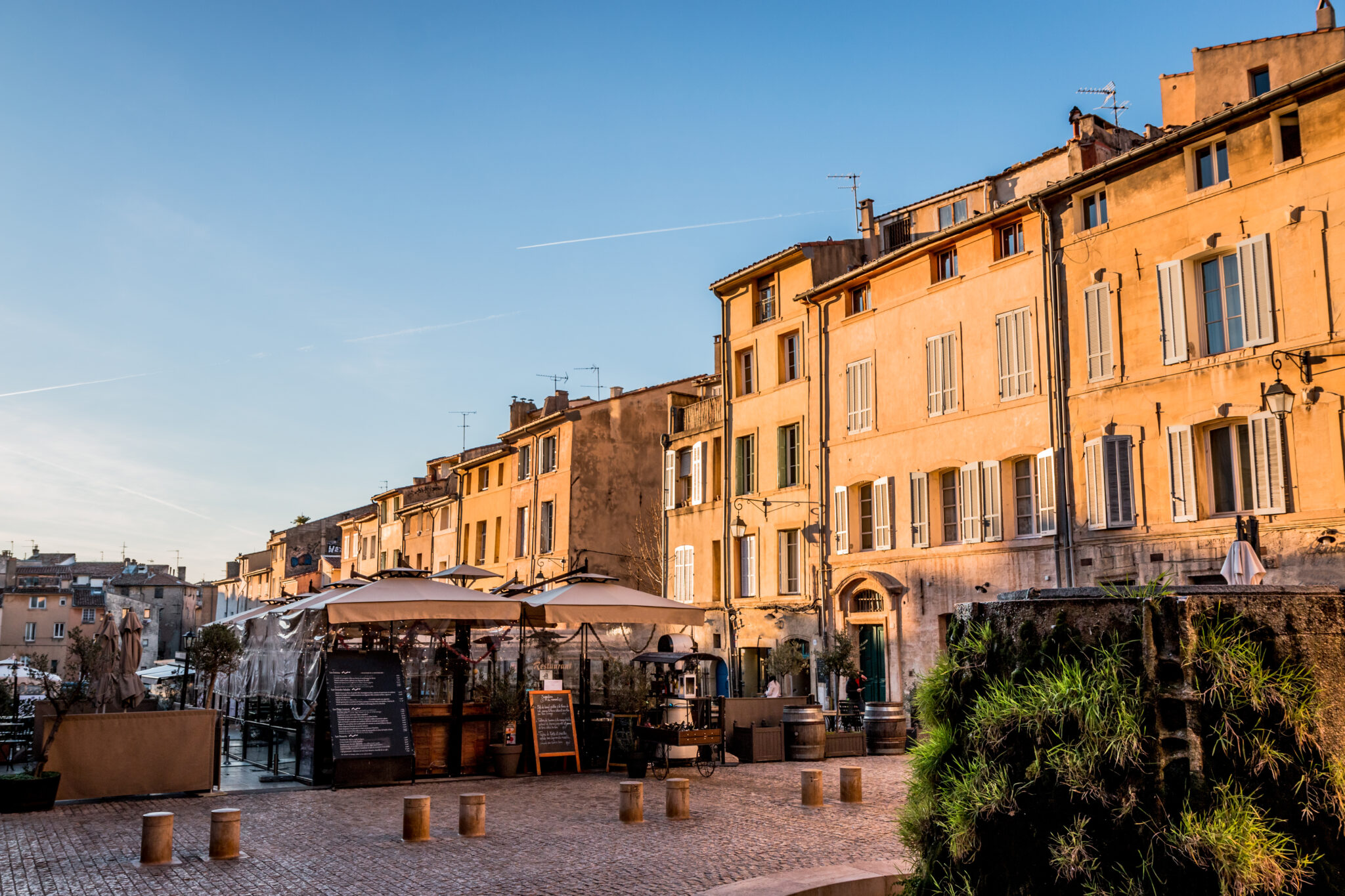 Skip dessert and walk the streets, picking up some delights on the way. There are an astonishing amount of chocolate shops in Aix-en-Provence – it's de rigueur to take some along to dinner parties – and there are divine macaron shops which sell this sought-after meringue-based dessert. Try the caramel, lavender, or fig at Les Macarons de Caroline Eurl.
However, the city is most well-known for sweets called calissons, and it has some fantastic bakers. Above all else, it has one of the best markets in the south of France.
Maison Béchard, the best place for croissants and calissons
Established in 1870 on the Cours Mirabeau, five generations have been running this pâtisserie-confiserie (a cross between a cake and sweet shop).
Its glistening golden counters are more akin to an upscale jewellery shop than a bakery, displaying high-class sweeties, chocolate delights and the local speciality, calissons.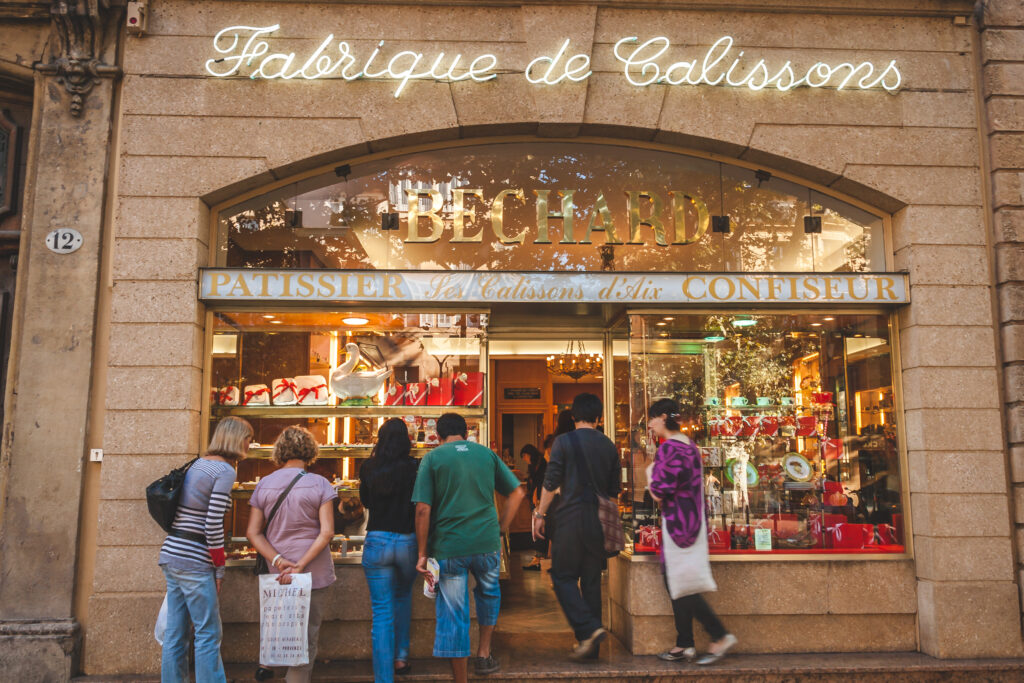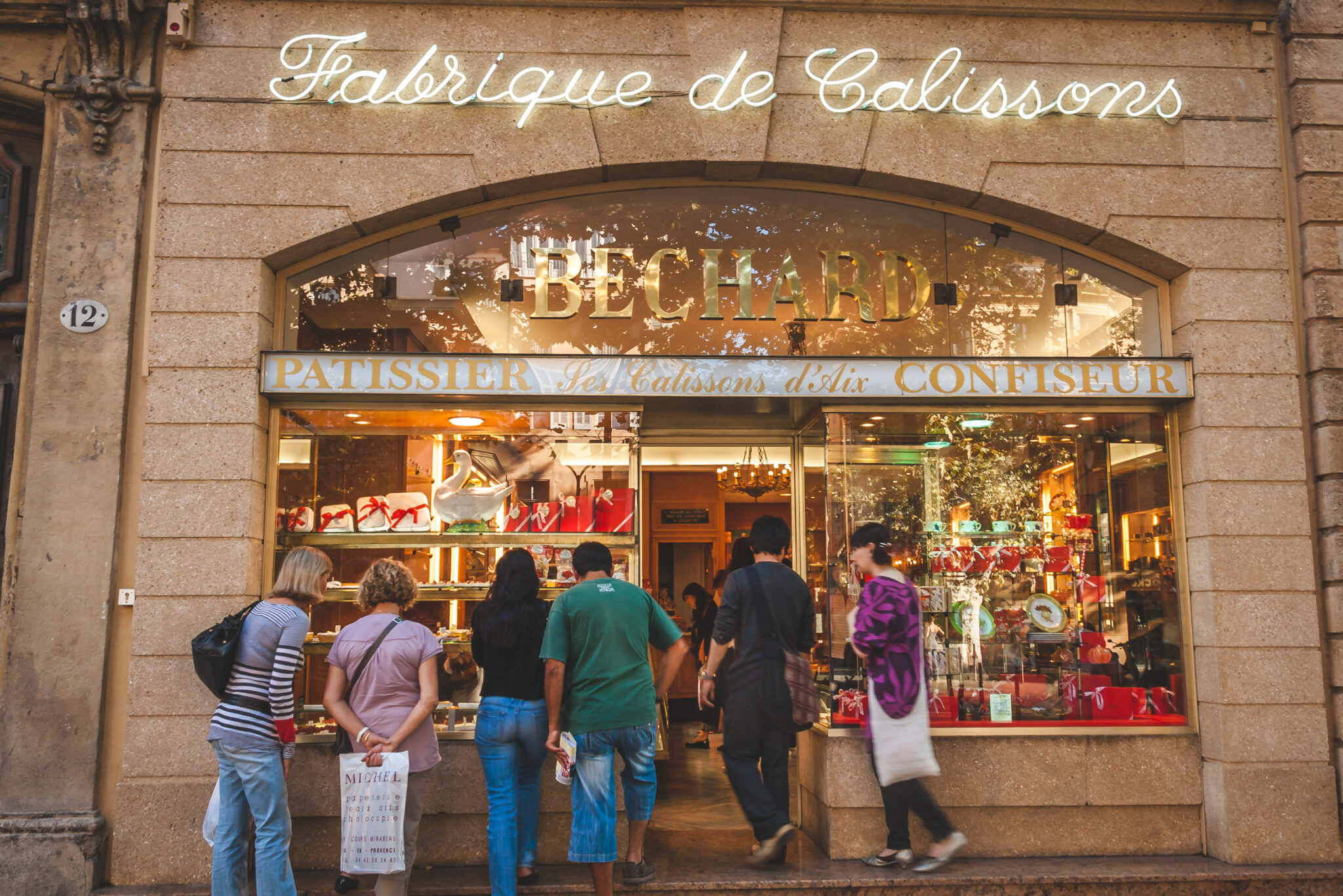 Calissons were first introduced to Aix around the 13th century. They are similar to kalitsounia, a marzipan dessert which was eaten a lot in Crete at the time, and brought over by Venetians. Legend has it that they were also given to Princess Jeanne at her marriage to King Réné in 1454 to ease her unhappiness at having to marry a man twice her age.
Today they are made from a mixture of ground sweet almonds, local candied melon and orange peel, which is put onto a thin wafer and topped with icing.
Pick up a box of calissons, choose a selection of chocolates and then head to the counter at the back, which is completely given over to fresh croissants, which locals think are the best in town; they might not be kind to your waistline but they will melt in your mouth.
Farinoman, the best place for bread in Aix
There are some great bakers in town – the chain of Jacob's is a great all-rounder for baguettes and cakes (there are three in town), the Belgian chain, Paul, is reliable and does a lovely sandwich lunch menu which is great for picnics; and Le Pain Quotidien (our daily bread) serves the best breakfast in Aix-en-Provence, particularly as it overlooks the daily market.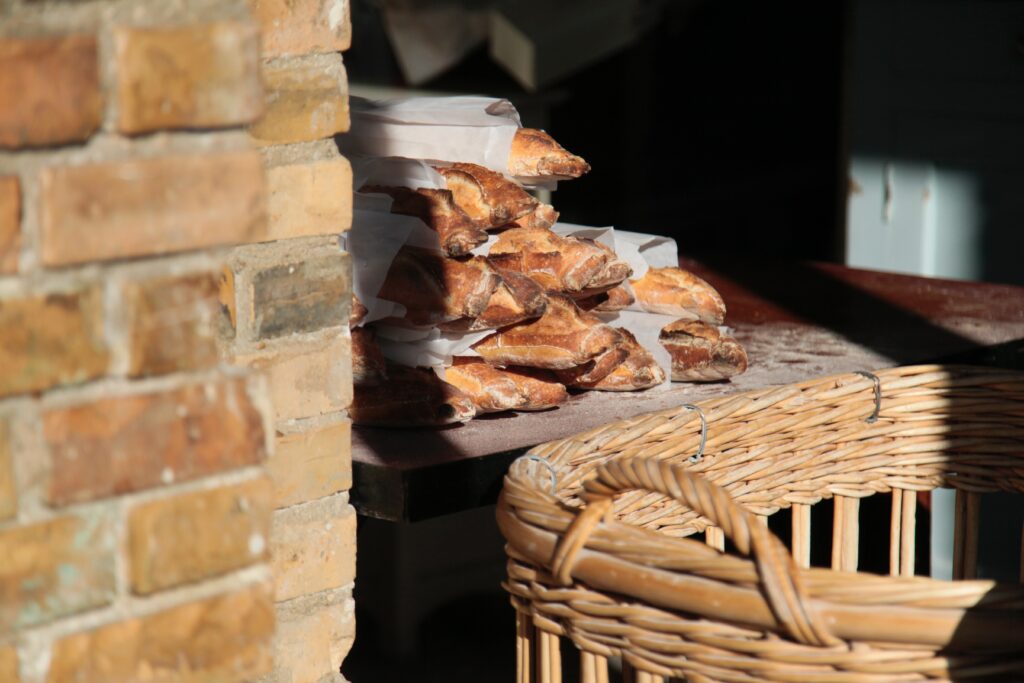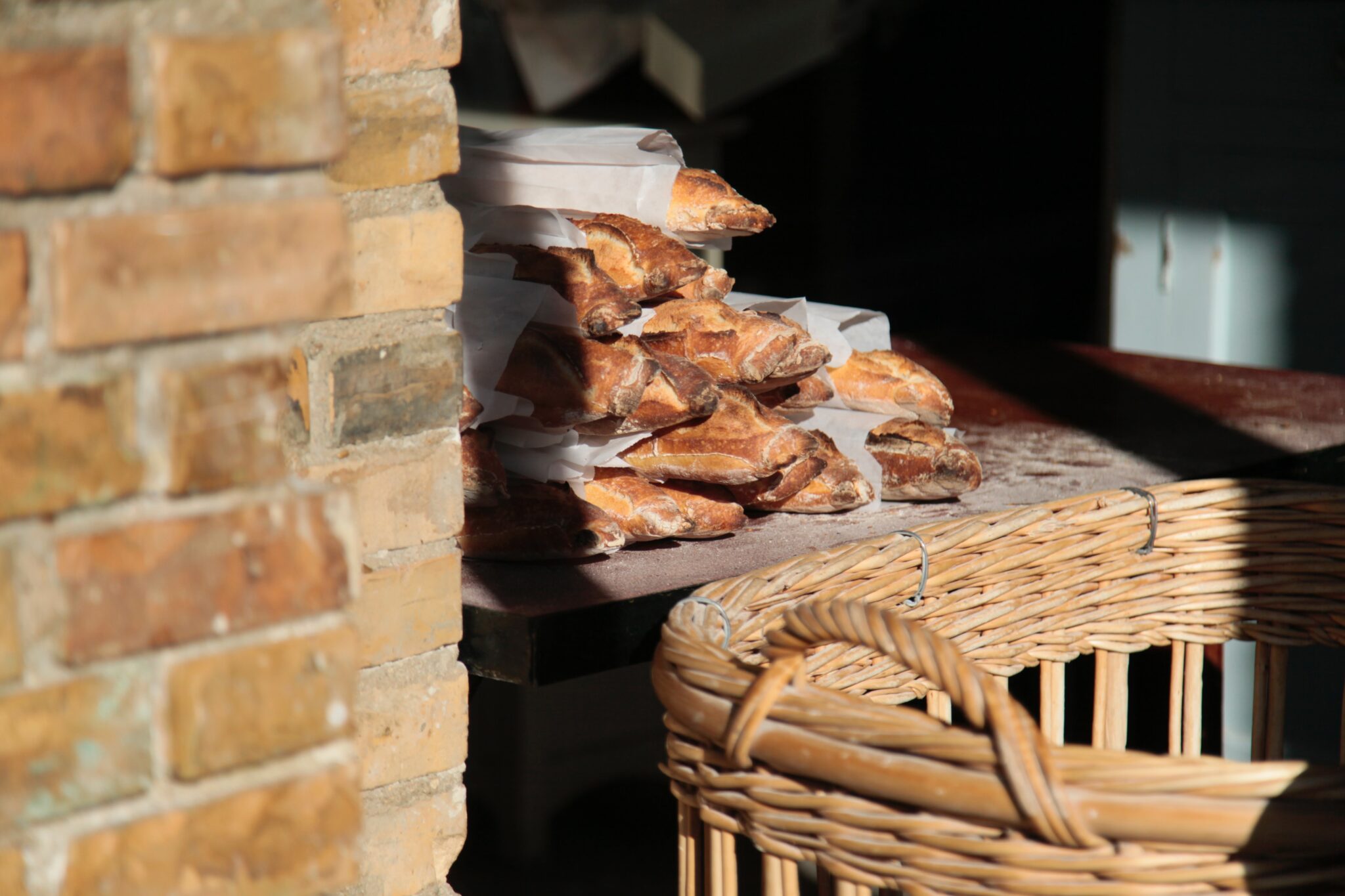 Farinoman (translated as flour man), however, is state-of-the-art. This isn't a traditional bakery selling all kinds of baked goods. Farinoman is run by a man on a singular mission. Having mixed his first batch of yeast and flour at age 9, Benoît Fradette strives to deliver the best loaves fresh every morning. Hence he sometimes only has four or five varieties on offer each day to sell to the queues that run down the street.
Daily delights range from goji berry bread, chestnut, apples, and fig bread or Tamari and soy bread. Simple, unique and delectable.
The Aix-en-Provence market, the best place for everything
Open every day of the year, from 8am to 1pm, the daily market in Place Richelme is the place to eat breakfast, in the cobbled square surrounded by picturesque bars and cafés.
Start by picking up a croissant or brioche (bars who don't serve food first thing will be quite accommodating about eating breakfast bought somewhere else if you buy a drink) and head to La Brûlerie to choose from over 20 types of coffee bean and 140 different teas.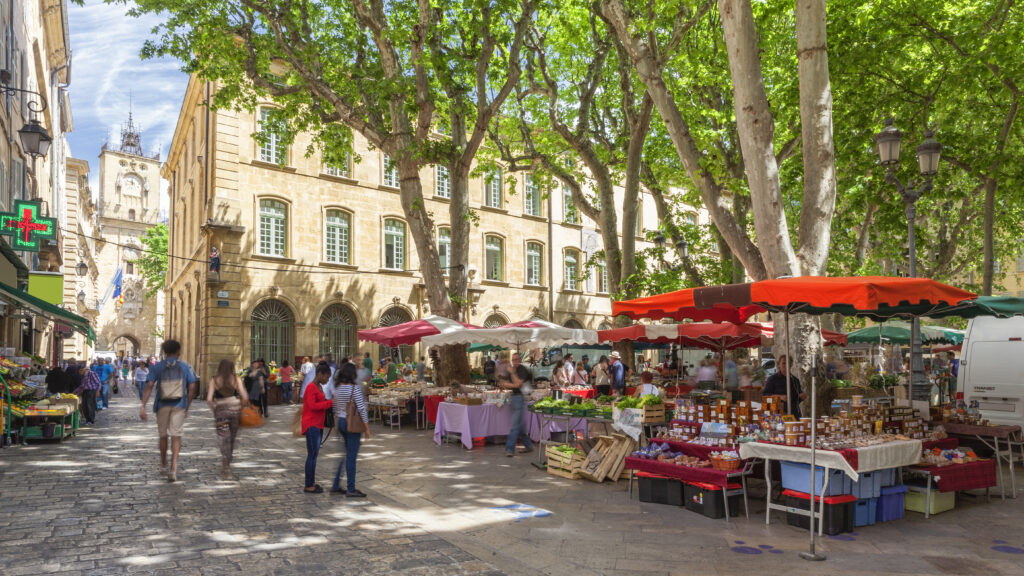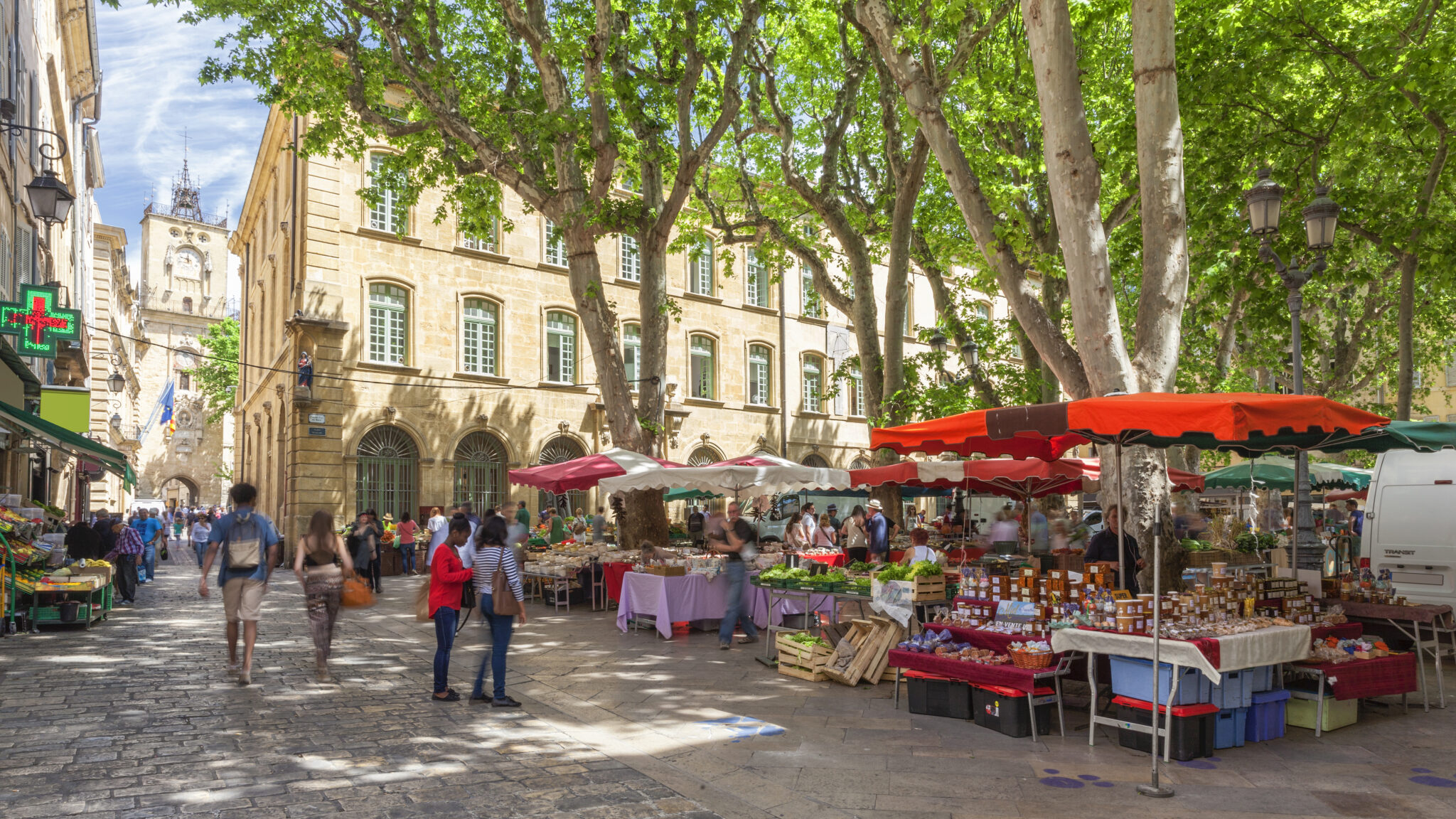 After people watching on the terrace, go for a wander through the market stalls, tasting morsels of delectable delights as you go. Buy a bag of olives for an aperitif or some fresh produce for dinner.
As 1 o'clock hits, the stalls are disbanded, the street cleaners move in, the tables go up, the cafés become operational and the crowds arrive for an afternoon beer. It's wonderful to watch the square changing, all in the space of about twenty minutes. Don't miss this iconic spectacle when planning out your Aix-en-Provence sightseeing.
---
Where to Shop in Aix-en-Provence (& what to buy)
The best shopping in Aix-en-Provence can be found in three different huddles – one for food, one for the High Street consumer and one filled with independent and designer goods.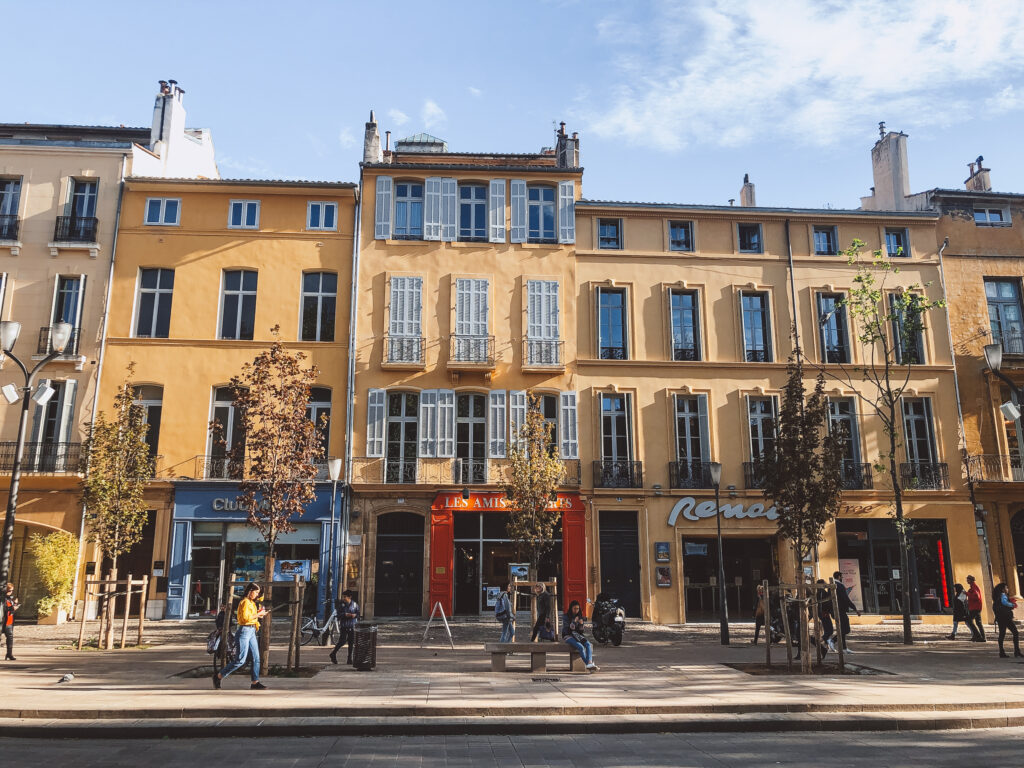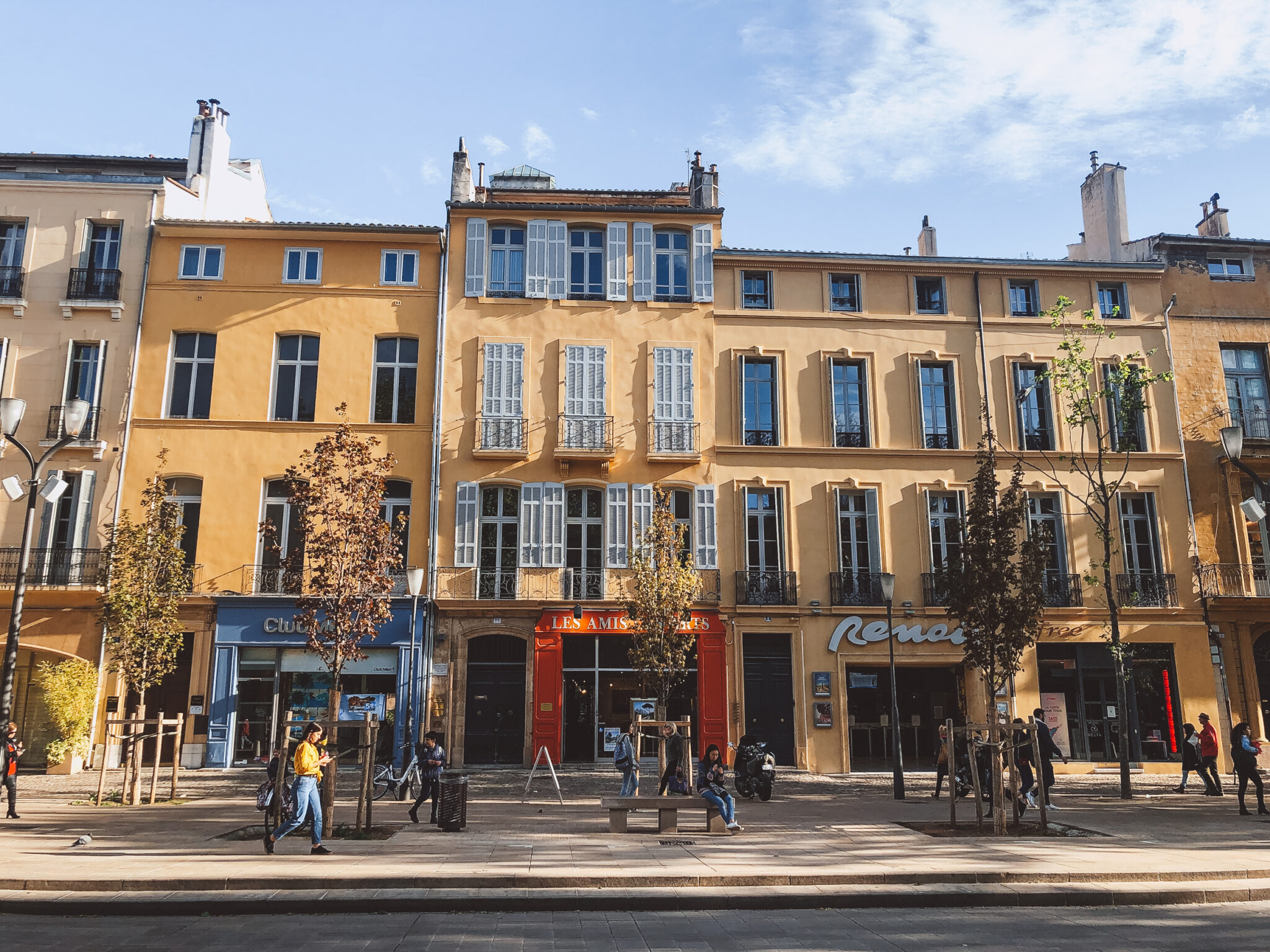 Rue d'Italie, for the best food in Aix-en-Provence
This street is full of delicatessens, bakeries, jam shops and wonderfully varied chic food. Try La Dolce Italia for a tartine, or A Casa, for fresh pasta, chilled rosé and lively conversation (with DJs in summer months).
La Chambre des Confitures sells every conceivable flavour of jam and chutney and try Epicérie Popol for home-made curry ketchup and truffle flavoured vinegar.
Don't forget the pre-prepared Tomates Provençale (tomatoes stuffed with herbs) from the deli L'Italien and pick up a bespoke ice cream, covered in home-made chocolate or fresh strawberries at emkipop.
Rue Espariat, for the best designer and/or independent shops
The cobbled streets of Old Town can be a rabbit warren for the uninitiated. But the general rule-of-thumb is that one half is dedicated to restaurants, bars and cafés (to the east of the Town Hall) and the other half to clothes, beauty and chocolate shops (running down to Cours Mirabeau).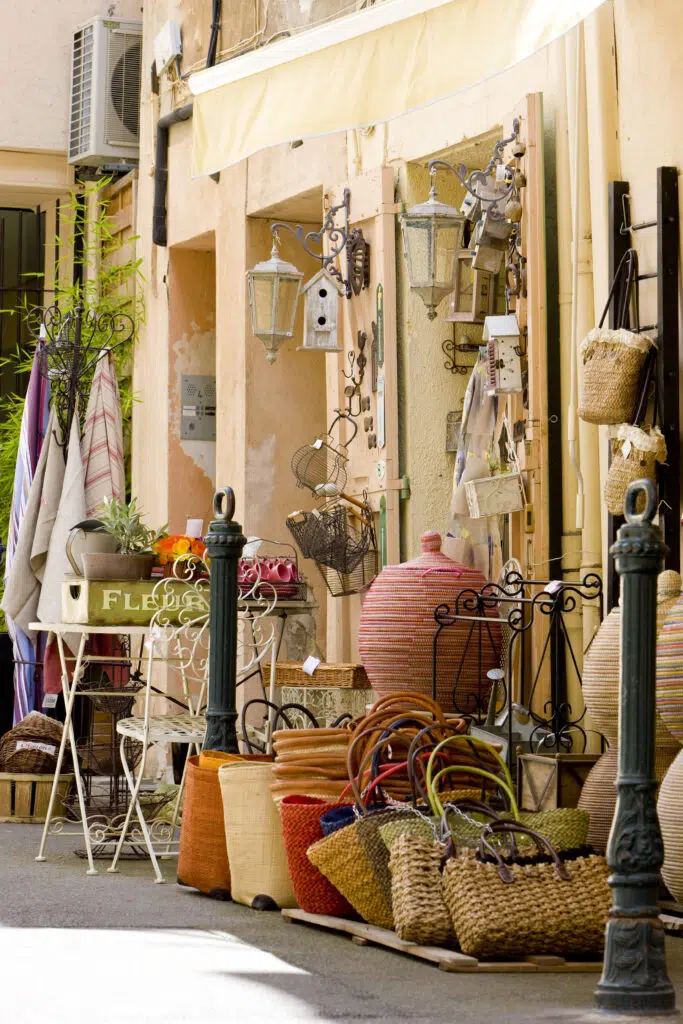 The lanes weave in and out of the idyllic rue Espariat, everyone looking as stylish as you would expect, shopping for sultry lingerie, bespoke shoes, incredibly luxurious designer shops, milliners and Provençale soap.
Les Allées Provençales, for the best High Street stores
An extension of Old Town's shopping lanes, Les Allées Provençales is the newest architectural addition to Aix-en-Provence, complete with the ever-stylish purpose-built Apple store. This is where the multinational chains can be found­ – American jean brands, Swedish fashion houses and French beauty sanctuary Sephora.
Whilst it might be lacking in old-world flair, the charm is in the large square tucked around the back – a perfect place to rendezvous after shopping with a cup of tea or a glass of wine. It's also where the little tourist train leaves to take a gentle trip around Aix-en-Provence's history.
---
Where to drink in Aix-en-Provence
Some of the best bars in Aix-en-Provence are hidden away from the public eye, while others spread out into the main squares and plazas after dark.
Whether you want to grab a quick beer with friends or settle in for a night of tapas and cocktails, make sure you drop into the below bars on your next holidays in Aix-en-Provence.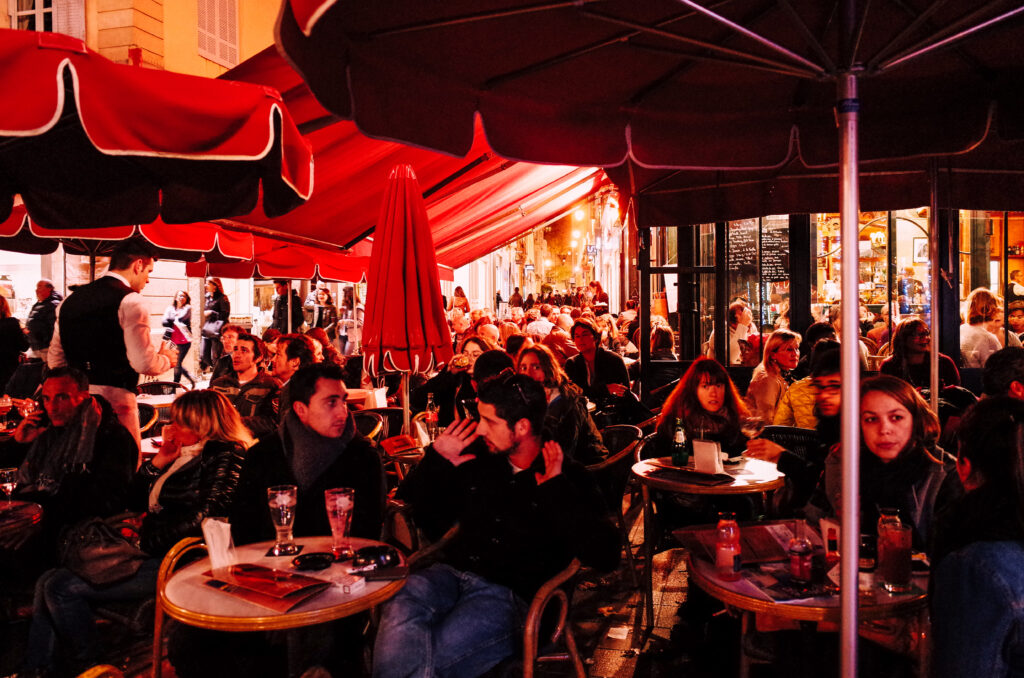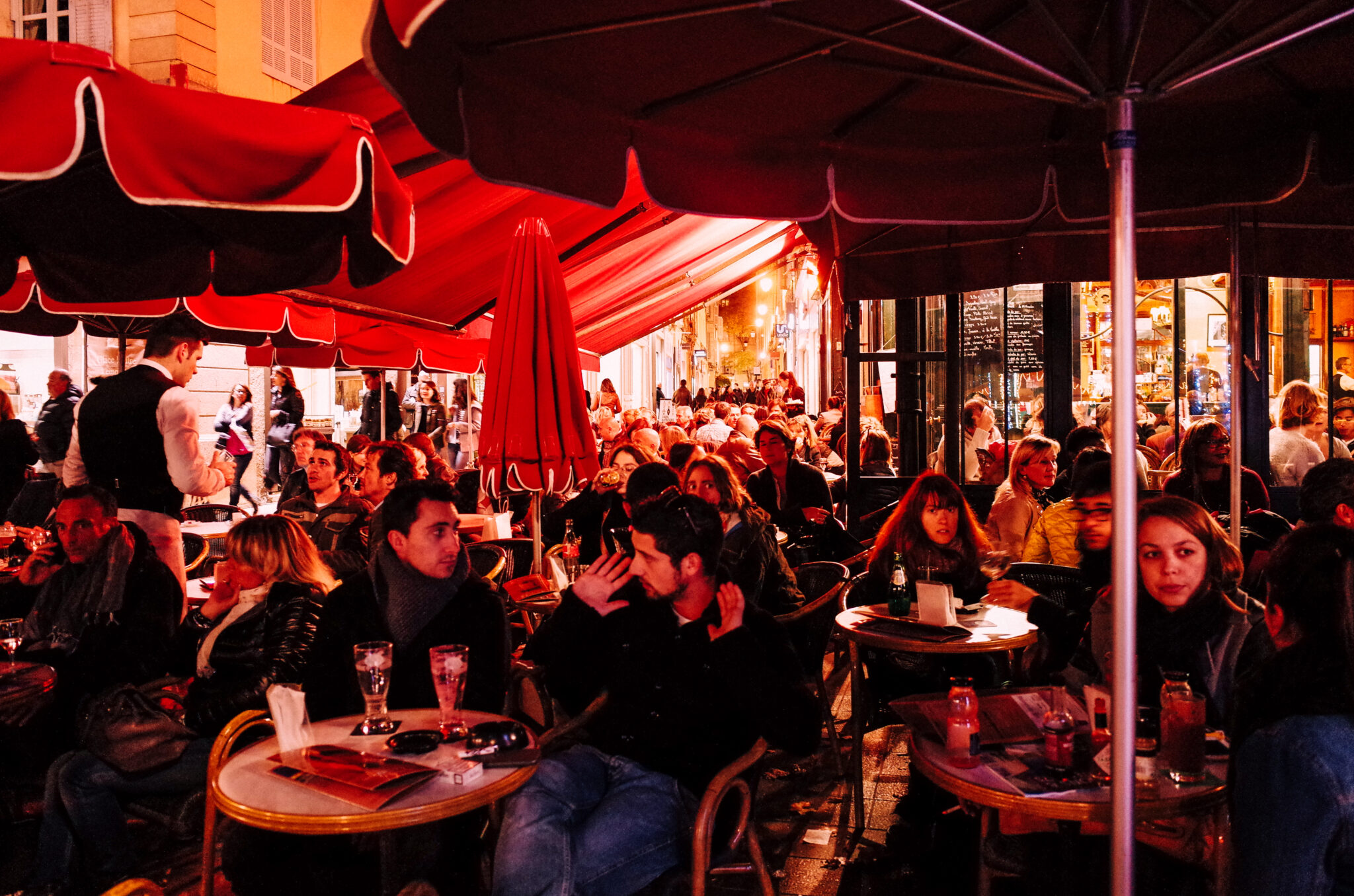 Le Vieux Tonneau, the best wine bar in Aix-En-Provence
Tucked innocuously behind The Gap and in front of the Court House, this small but inviting bar, Le Vieux Tonneau (the old barrel), is great for adults and couples.
When it opens in the late afternoon, the barrels are rolled out for groups to huddle around on tall stools, greeted by friendly barmen who gently guide customers towards the most delicious wines, served in small glasses with fresh tasting plates.
Au P'tit Quart d'Heure, the best bar with kids
Most of the restaurants and bars in Place Cardeurs are tourist traps but Au P'tit Quart d'Heure – "a little fifteen minutes" in English – is popular with a wide range of ages and has great wine options.
Expect parents sipping a glass of wine while watching the kids run safely around the square, groups of students chatting wildly, and pre-dinner couples taking it all in.
The wine is delivered in small glasses, which the bartenders fill up as they pass and somehow manage to keep track of who has drunk what. Nibbles are possible and it's a lively, but low-key place to start the night.
El Bolero, the best bar in Aix-en-Provence for groups
In amongst the huddle of Aix-en-Provence's alleys of bars and restaurants, El Bolero sticks out for its lively atmosphere, great tapas food and inventive cocktail and sangria list.
There are a few tables outside in the alley, which can be fun, watching the people come and go. The service is friendly, the food good quality Spanish, and the clientele a mix of French and tourists.
---
---
With so many attractions in Aix-en-Provence, it can be a great place to spend a day or two, especially if it aligns with a particular festival or show. It's a foodie's paradise and so near many great vineyards, that it makes a stylish base for exploring Provence.
Plus, there are enough kid-friendly destinations (beaches, pools, theme parks etc) within an hour radius to keep all ages entertained when everyone has had their fill of culture!
Pin this for later!