The idyllic French Riviera, the Cote-d'Azur, conjures glamorous images of sun-soaked, star-studded beaches, superyachts, Cannes, and majestic Monaco.
This 115km stretch of coast in the south-east of France has dominated imaginations and aspirations since the 1800s. Once a seaside health retreat frequented by royalty and celebrities, including Queen Victoria and Robert Louis Stevenson, this beautiful area eventually became, and remains, the home of aristocrats, a celebrity playground, and a sought-after tourist destination.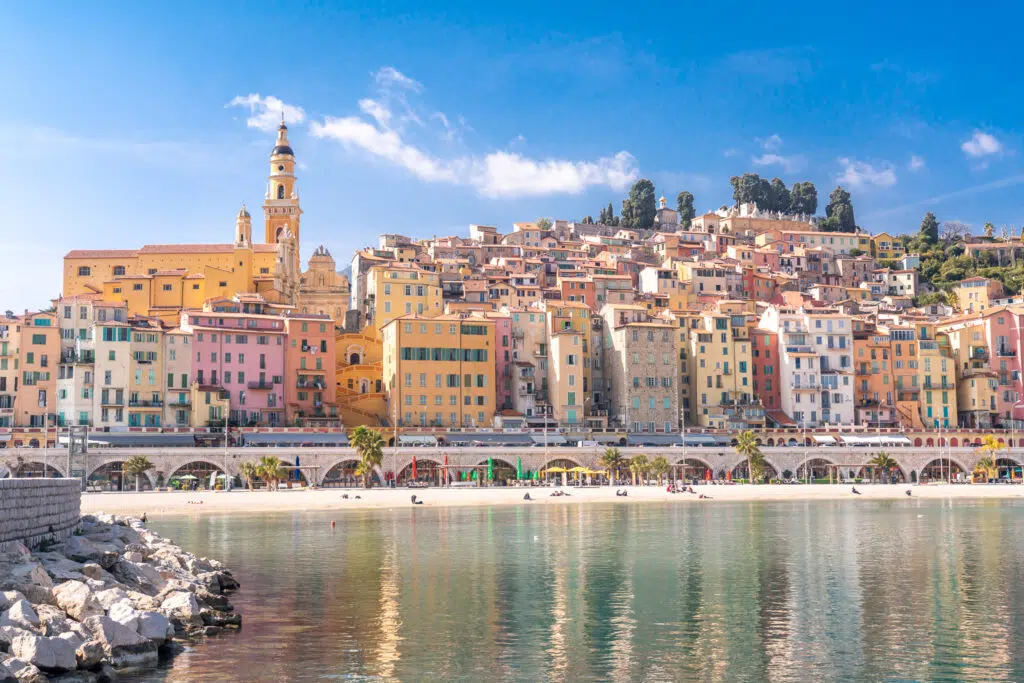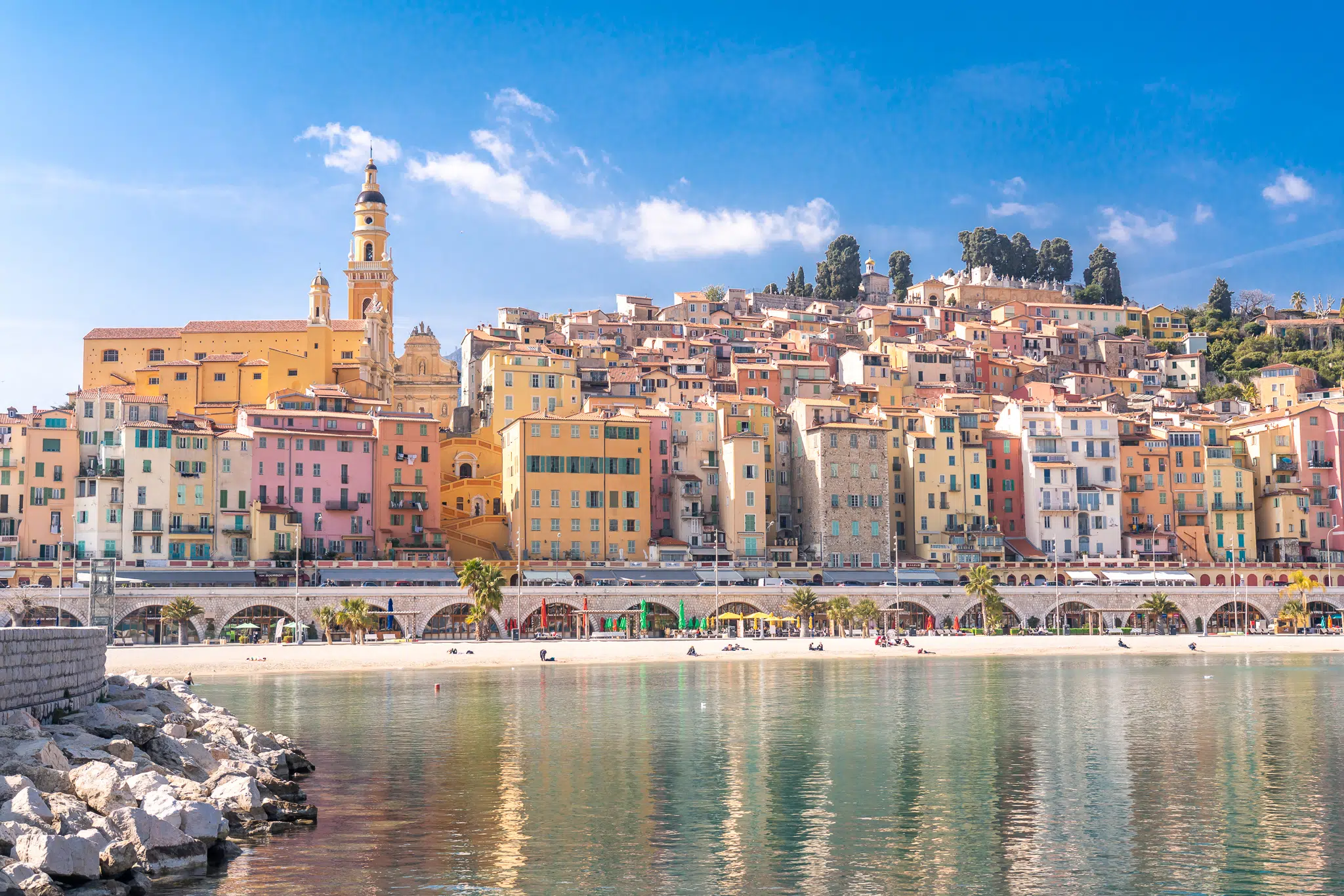 Every year, more than ten million tourists from around the globe visit the French Riviera, the second most popular destination in France. Most congregate in Nice, Antibes, Cannes, and Monte Carlo. However, further up the coast is a no less desirable tourist gem – Menton, a jewel in the crown of the Cote-d'Azur's natural and cultural splendour.
Menton attractions include numerous exquisite and notable gardens, a selection of striking historical locations, and a museum and memorials dedicated to the inimitable and influential French film director, designer, poet, author, artist and original Enfant Terrible – Jean Cocteau.
---
Is Menton Worth Visiting?
Just 30km from Nice and easily accessible via train, Menton is the last stop along this celebrated coast before entering Italy. It is considered one of France's best-kept secrets and the 'pearl' of the Riviera, a less publicised yet equally glowing destination compared to its glitzier southerly neighbours along this azure and balmy coastline.
A day trip to this glorious and serene resort offers delicate delights, surreal surprises and touching monuments. Renowned for its lemons, this picturesque pastel village is sleepier and cosier than Saint-Tropez, but classic Riviera and just as charming. You'll love the space, the peace, and the laid-back Mediterranean pace.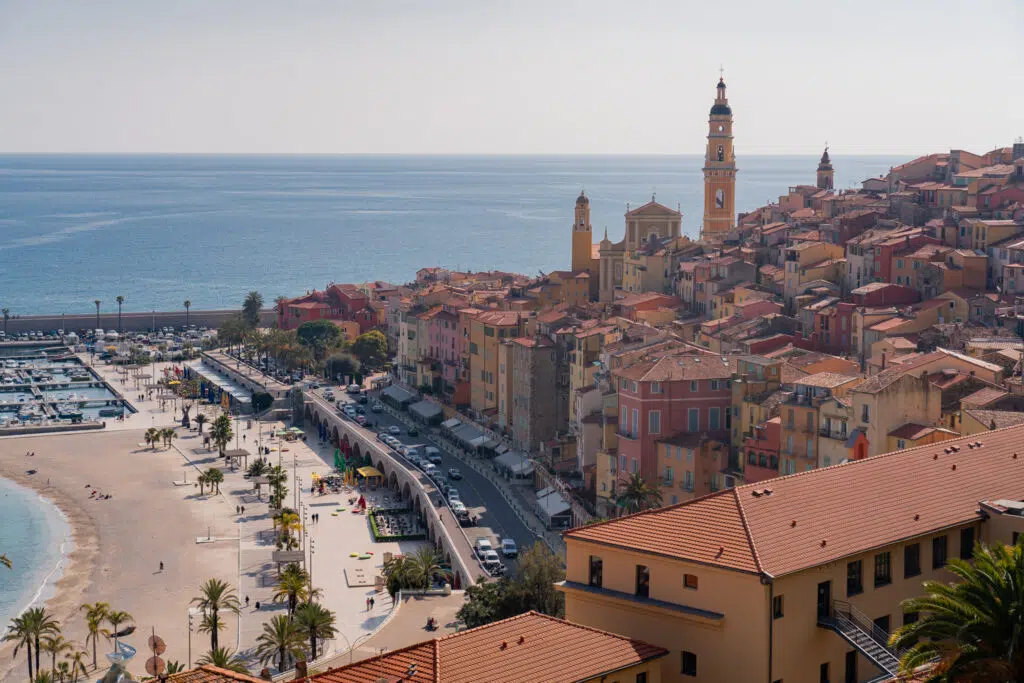 ---
Top Things to Do in Menton
This historic location winds through aromatic citrus vineyards and impressive, classic baroque architecture. Menton has it all: palm trees, a perfect view, (relatively) affordable Provençal accommodation, and Mediterranean cuisine. It also boasts a unique micro-climate providing 316 days of sunshine annually, ideal for growing signature Menton oranges and lemons and offering temperate all year-round enjoyment.
In Menton, you will find gracious gardens, a buzzing boulevard, a beautiful baroque cathedral, a fort displaying fascinating surreal art, an engaging museum celebrating one of France and the world's most extraordinary talents, and lemons: lemon trees, lemon festivals, sublime lemon products and characteristic bright lemon yellow and orange townhouse walls.
So, here is our Menton travel guide; our favourite things to see in Menton, France.
Walk the Old Quarter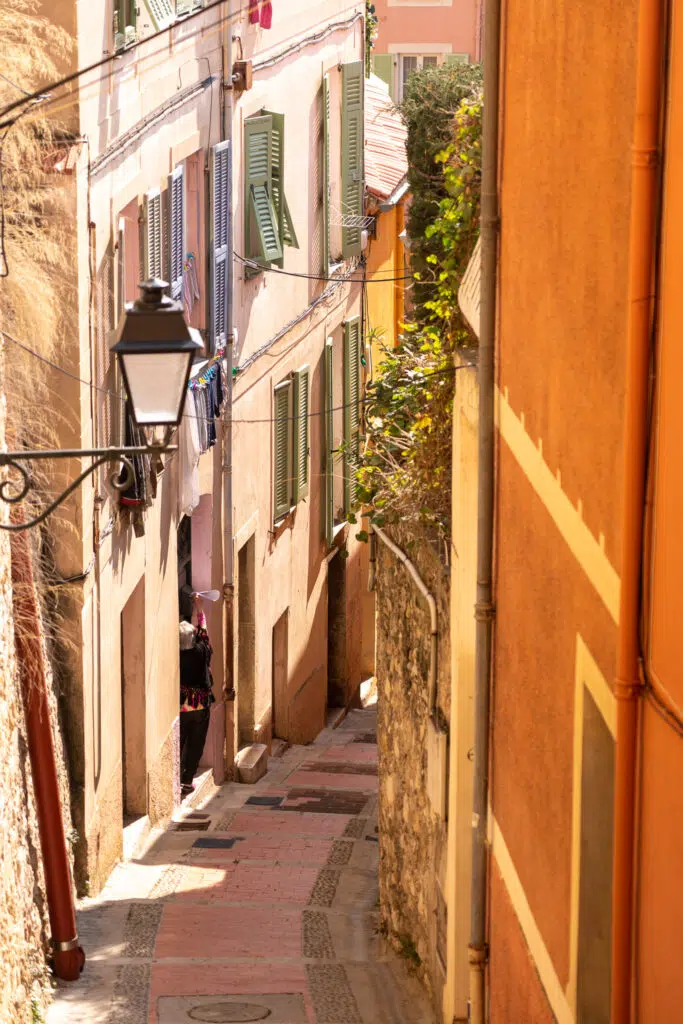 The delights of this medieval town's narrow paved streets meandering between gently colourful buildings will draw you up and away from the bright blue sea. Along the way, enjoy the cheerful seasonal windowsill flowers and the many intriguing entrances, stairways, and tunnels. You can also follow the ancient Roman road via Rue Longue.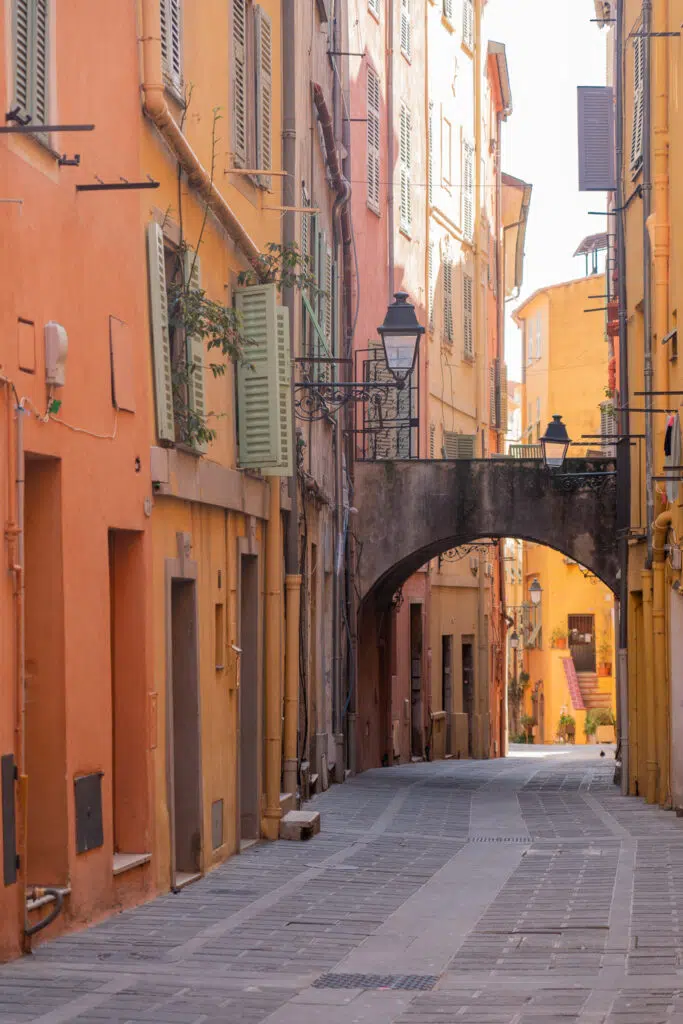 The old town offers one artistic photo opportunity after another in warm Mediterranean sun-dappled pastels, a photographer's delight. So, pack your comfortable shoes, and grab your camera.
As you approach the summit, you'll be greeted by the magnificence of the Basilica Saint-Michel-Archangel.
Admire the Basilica de Michael Archangel
This 17th-century cathedral's 53-metre tall bell tower soars above the hill at the heart of the town.
Dedicated to Archangel Michael, the patron saint of Menton, the lemon-yellow building's elaborate baroque façade provides ample additional creative photo potential. At the same time, the Basilica itself houses numerous exquisite treasures. This meaningful and magical location is also home to Menton's annual music festival, which runs from July to August.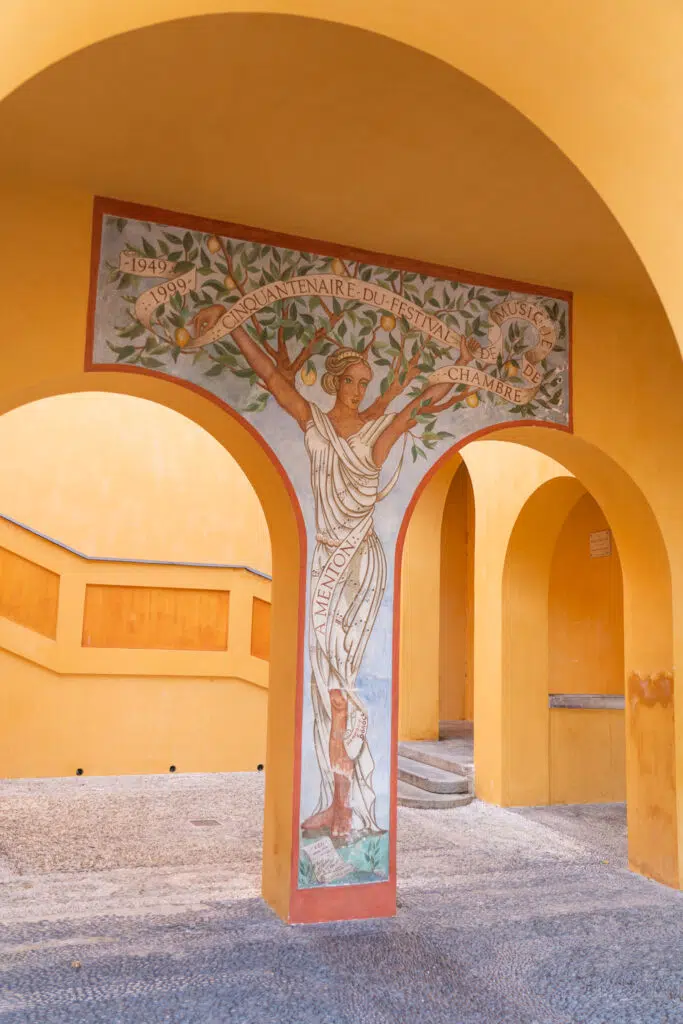 However, although always worth a visit, the beautiful Basilica is not open all the time. So, check the schedule online first to ensure you're not disappointed.
After enjoying this must-see of Menton tourist attractions, continue up the Colla Rogna hill to the revered Russian Cemetery and orthodox chapel on the summit.
See the Best Views in Town at the Cemetary of the Old Chateau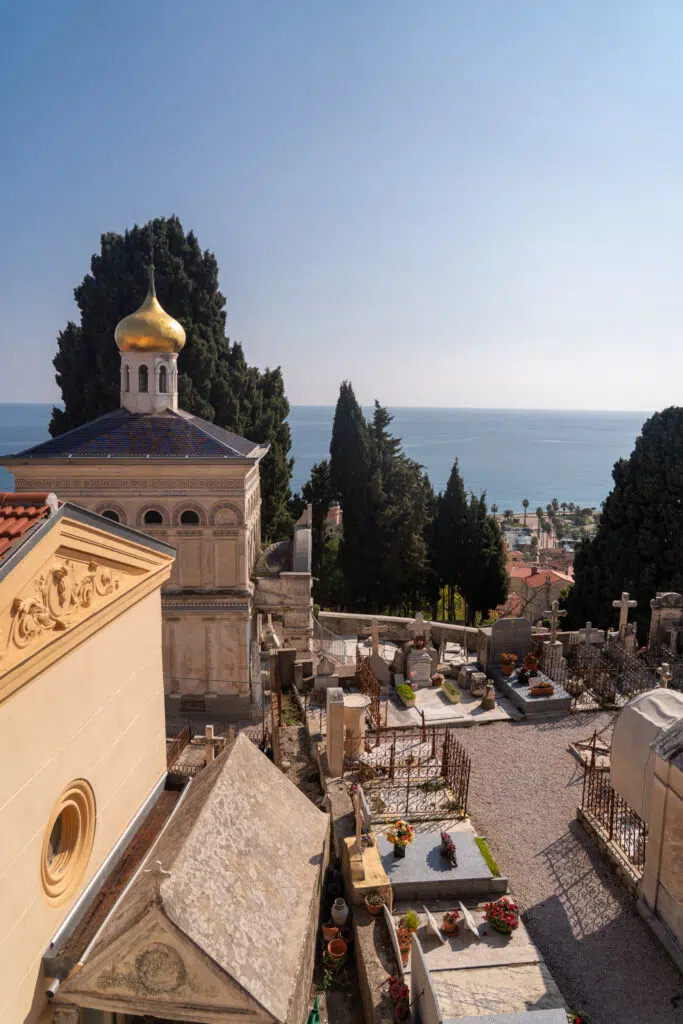 The Cemetery of the Old Chateau adorns the top of the hill – Menton's highest point. The cemetery represents the eternal resting place of generations of Russian, Prussian, and English nobles and diverse aristocracy from all over Europe.
Beyond providing breathtaking views across Menton and the sparkling Mediterranean, the mausoleums, tombstones, and statues offer a moving tribute to the many who contributed to the history and architecture of this exceptional seaside sanctuary.
Notable persons buried here are among Russia's Prince Trubetskoy, and English Rugby founder, Reverend William Ellis Webb.
As you make your way back down to and along the coast, you'll find two memorial museums dedicated to Menton's most cherished honorary citizen.
Feel Like You're Dreaming in the Jean Cocteau Museums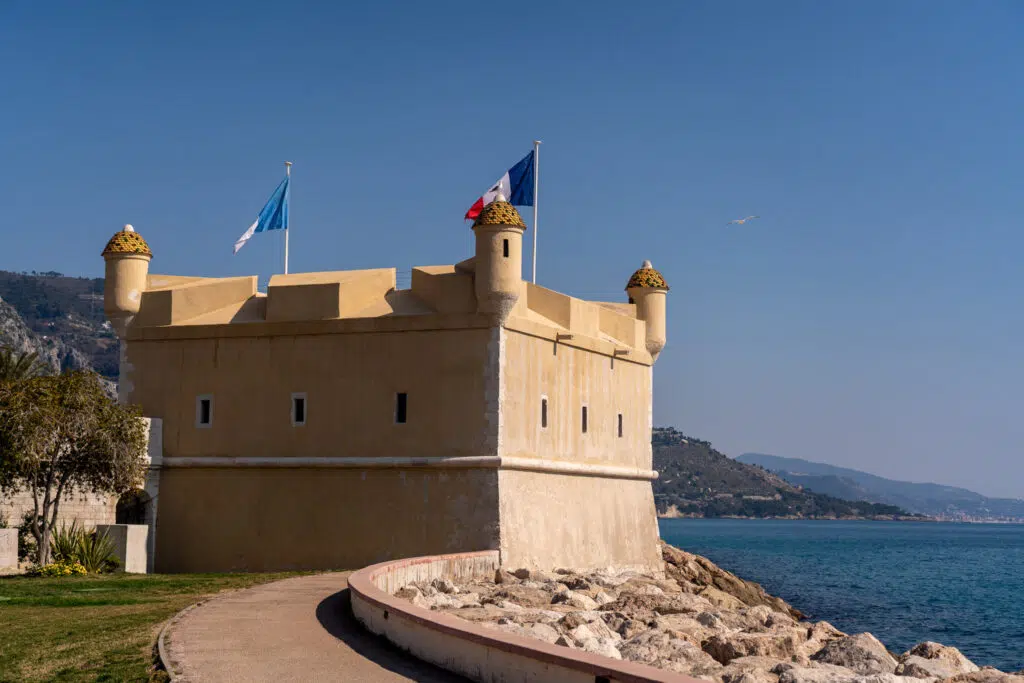 One of Menton's most passionate fans was a renowned and influential artist, playwright, author, designer, and film director Jean Cocteau. The original museum dedicated to his memory and work is located within Menton's 17th-century fort on the harbour wall (as seen above), the Bastion, a site personally selected by the artist.
The Bastion was initially erected for defence, with the blockhouse variously serving as a salt storehouse, a lighthouse and a World War Two jail. The reception hall, walls, and alcoves of the fort display various of the artist's eclectic Dadaist pebble mosaics, created by Cocteau during his personal restoration of the historic building.
Although the museum was formally opened in 1966, a few years after Cocteau's death in 1963, the artist personally selected the colourful pieces for the exhibit. His selection included two paintings, 70 drawings, two tapestries, 11 ceramic works and three lithographs from his Mediterranean period from 1950 until the end of his life. The collection has since been expanded, with the show rotated and updated annually.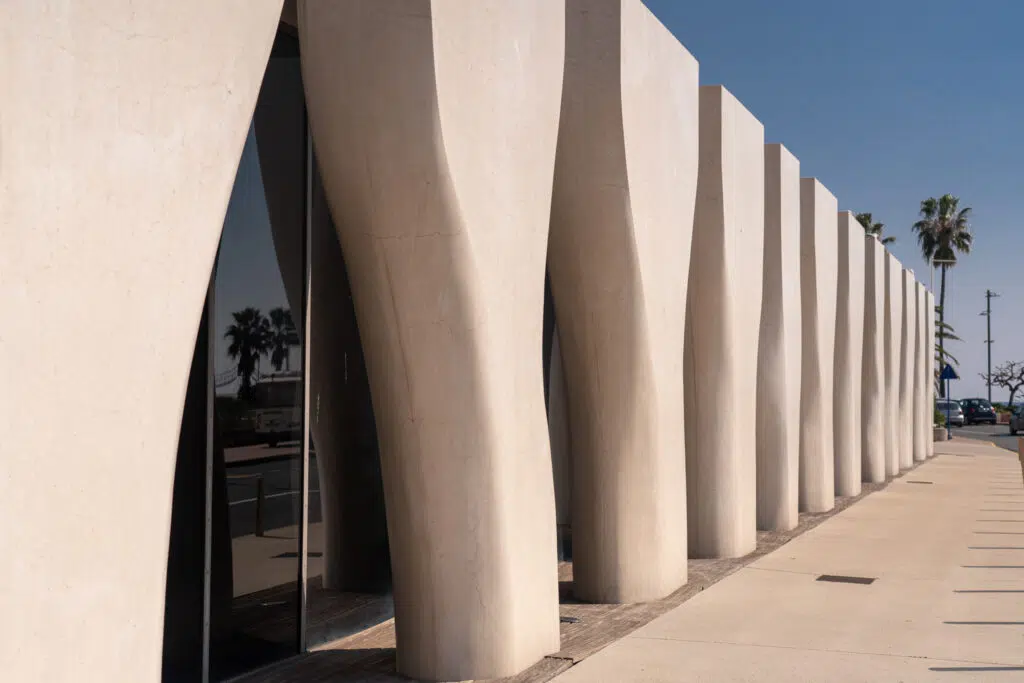 An additional modern museum opened in 2011, the nearby Musee Jean Cocteau Collection Severin Wunderman. This second exhibition also includes collector Severin Wunderman's extensive Jean Cocteau collection, comprising over 1500 artefacts.
Relax in the Serre de la Madone Garden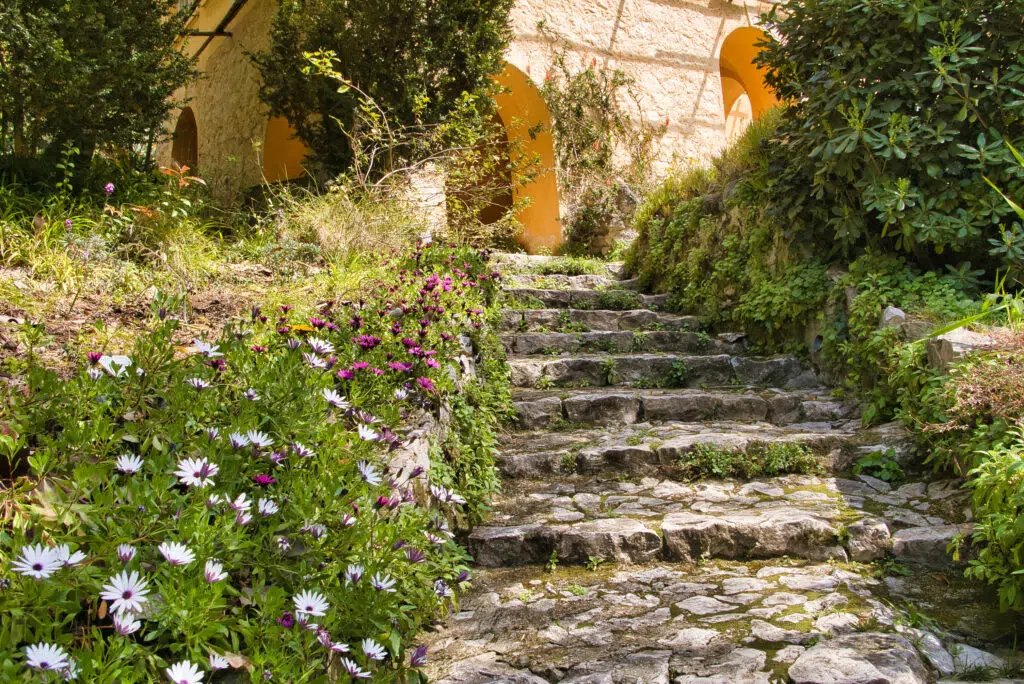 With numerous private and public green spaces thriving in its gentle microclimate, it's no surprise that Menton has been labelled a "4 fleurs" village since 1984, and was previously awarded the highest honor of "Fleurs d'Or" (an award that can only be given once in every 6 year period). Most of the city's gardens are to the east of the town, in the shelter of the Balzi Rossi cliffs.
Initially designed in the 1920s and 30s by renowned landscaper Lawrence Johnstone, the tranquil six-hectare Serre de la Madone Garden harmoniously radiates in terraces set around a double pool.
The sub-tropical garden features a wide selection of unusual and rare plants collected worldwide, including China, South Africa and South America. The curated selection features exotic succulents and cycads, bamboo, umbrella pines, Rosa Chinensis, Arbutus Unendo, Buddleia Officinalis, and Mahonia Siamensis.
Discover Diversity in the Val-Rahmeh Menton Botanical Garden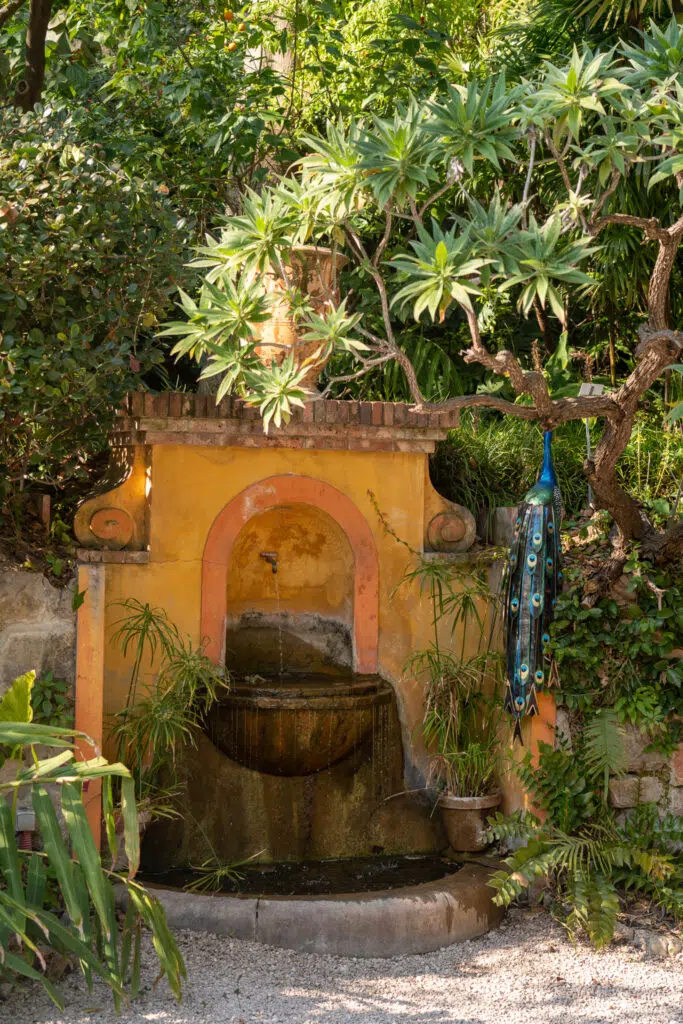 Closer to sea level, you'll find an exceptional garden of remarkable flora, the Jardin Botanique Val-Rahmeh Menton.
Named 'valley of tranquillity' in Arabic in memory of an early owner's beloved wife who died too soon, this one-hectare garden is designed around a previously residential Italian-Provençal style villa. It offers formal landscaped terraces of ornamental plantings, aromatics and a lush water garden with an Amazon giant-water-lily covered pond.
Blanketing the hills around the villa and terrace are less structured, more intimate, and themed gardens. Each features a biogeographical, ecological niche accessed via meandering pathways. These dedicated garden areas boast a diversity of plants ranging from Mediterranean, more humid to dry tropical regions, tropical fruit trees and citrus orchards, other edible plants, and an intriguing collection of cultural, medicinal, toxic and 'magic' plants. The garden is also home to four-century-old olive trees and now-extinct native species, such as Easter Island's Sophora Toromiro.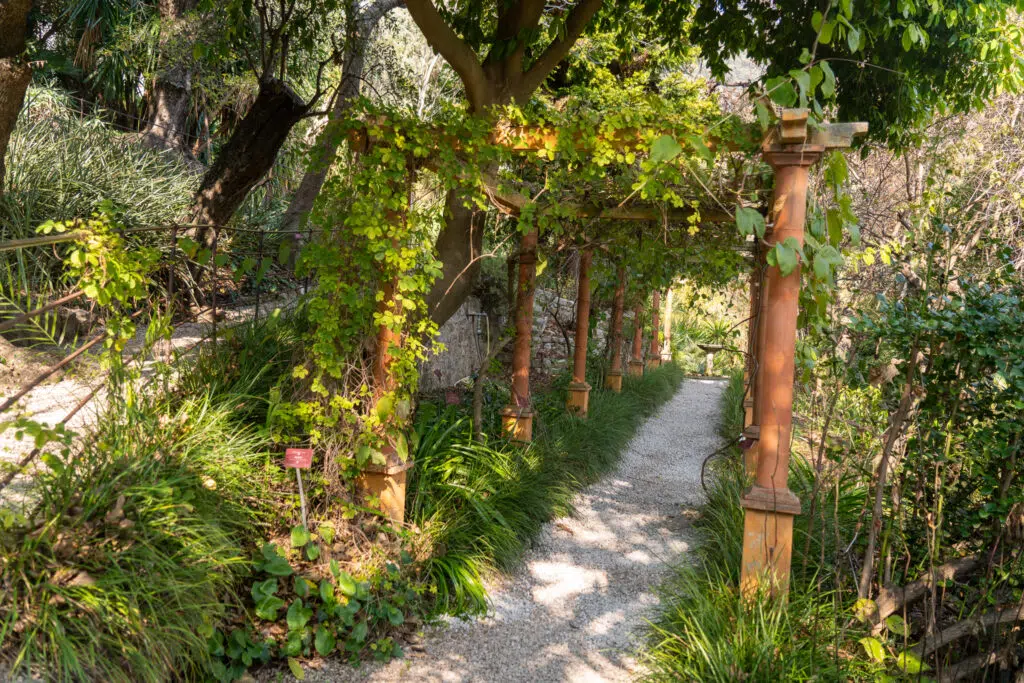 This remarkable garden is possible thanks to Menton's unique mild and warm climate. The area's geographical location and aspect – facing the sea yet protected by an amphitheatre of mountains – creates ideal year-round conditions.
Enjoy the Gentle Menton Sunshine at La Plage des Sablettes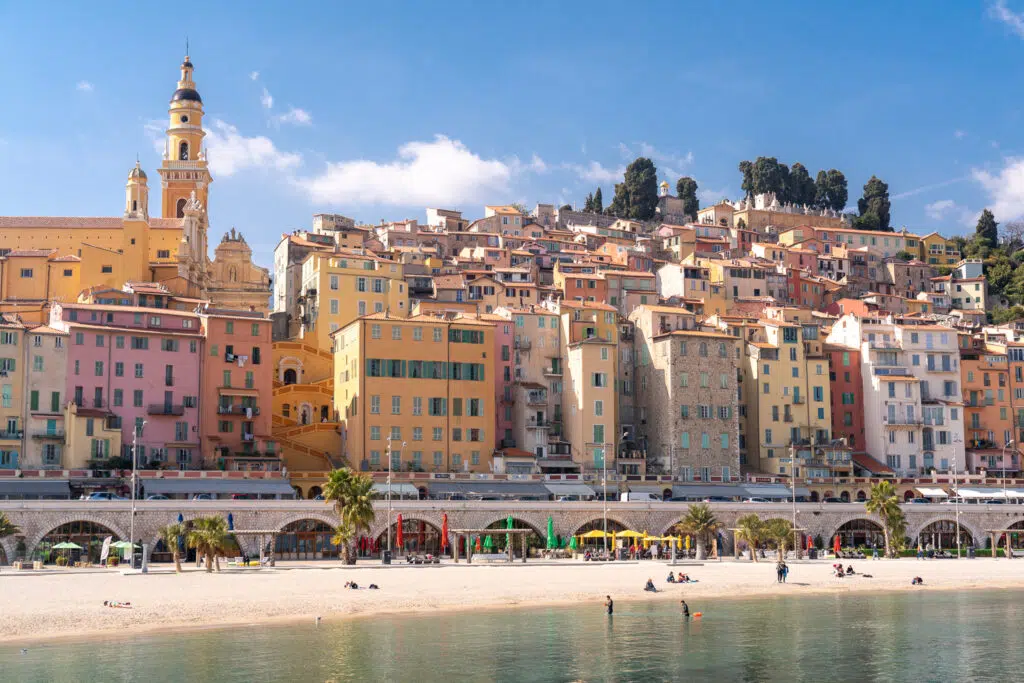 Marking the limit of the old town are the 16 imposing arches of the Quai Napoleon. Menton's palm-lined beachfront offers two marinas and various pebble and sandy beaches, the most popular being la Plage des Sablettes at the foot of the Old Quarter.
Located between Menton's Garavan and Old Port, the beach offers clear, calm, shallow waters for safe swimming and a compact sandy beach for sunbathing and sports.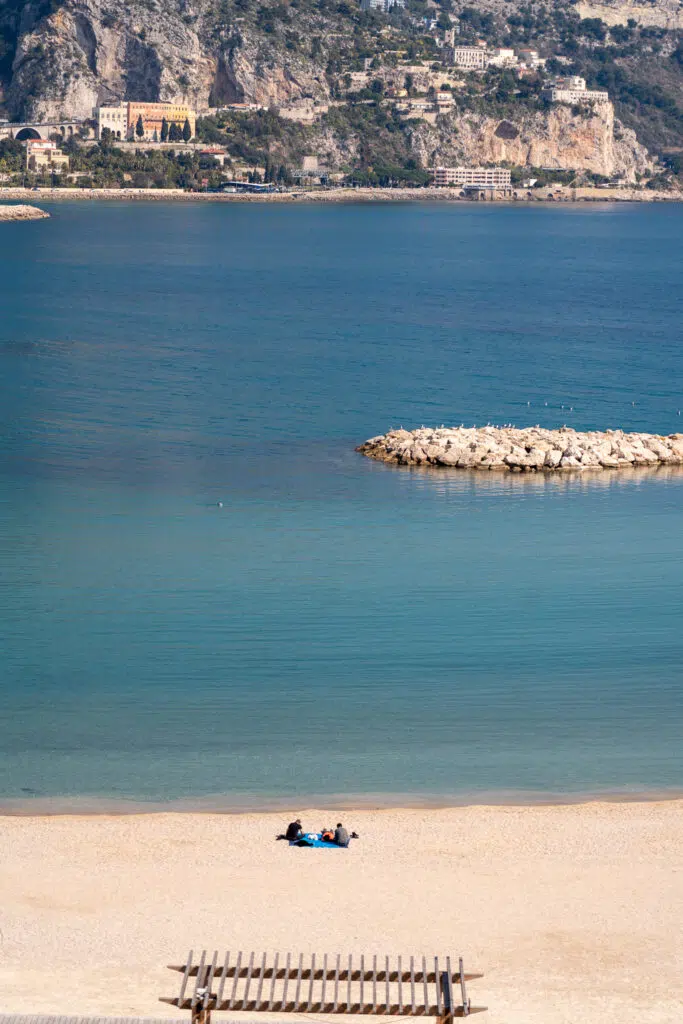 Excellent amenities are available, including parking, toilets, showers, and change rooms.
In addition, behind the lovely beach is a newly renovated pedestrian esplanade featuring shops, restaurants, and bars.
Sample Authentic Menton Cuisine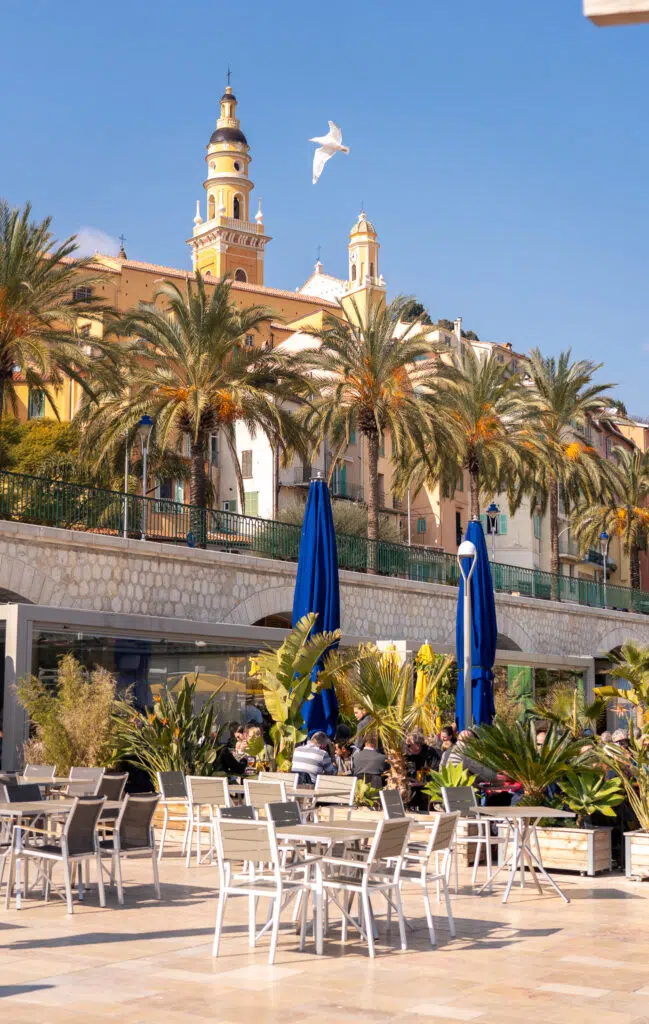 The promenade offers various cuisines, including French, Mediterranean, and Portuguese, from multiple outlets, including Le Carre Plage, La Rascasse, 7th Avenue, and Buddha Beach.
Menton also hosts the renowned three-Michelin star Mirazur, one of the best dining locations on the Riviera and one of the top 50 restaurants globally in 2019. Situated on the hillside among abundant vegetable, fruit, and herb gardens, the eatery's Chef Mauro Colagreco offers a unique and colourful culinary adventure that delights the senses and transforms with the seasons. The restaurant's light and sunny interior offer a scenic sanctuary, a panoramic sea and Menton city view.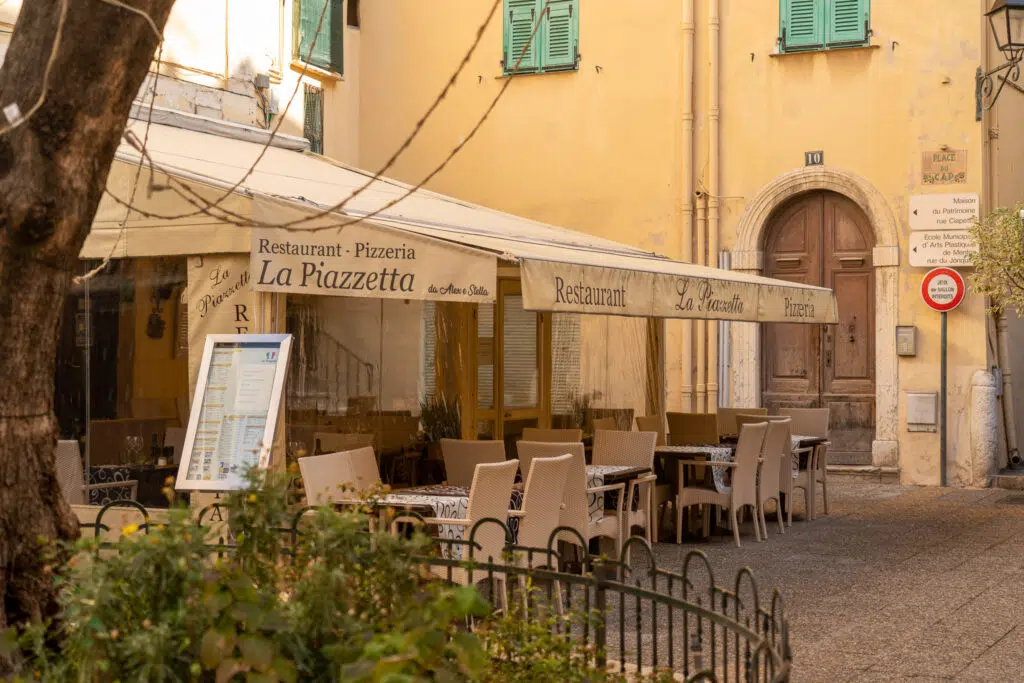 For a change of scenery, being on the border with Italy, Menton also offers a range of casual Italian restaurants where you can enjoy pasta, pizza, and genuine Italian hospitality.
After a delicious dessert and some Menton sightseeing along the promenade, the quiet streets of Menton Old Town or the undulating paths of one of the many Menton gardens, why not enjoy some retail therapy?
Shop for Lemonade in Menton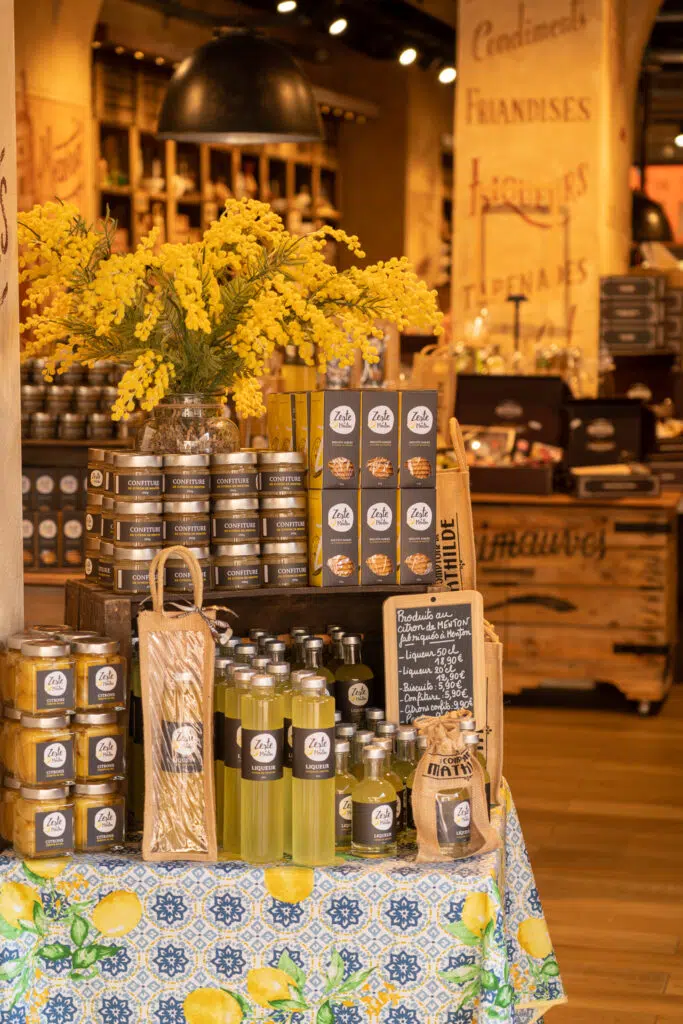 Affordable shopping is available in modern Menton and nearby Ventimiglia in Italy, which offers a weekly open-air market. Menton, too, offers fresh farmer's markets, such as those found at Les Halles.
You'll also find numerous enchanting speciality gift stores. Try the charming Au Pays du Citron for everything lemon and an iconic and memorable gift or souvenir. You'll find authentic Menton lemon-based personal products, drinks, treats, and décor. Spoil yourself or a loved one with lemon soap, honey, jams, Limoncello, and even marshmallows.
Be Dazzled by the Menton Lemon Festival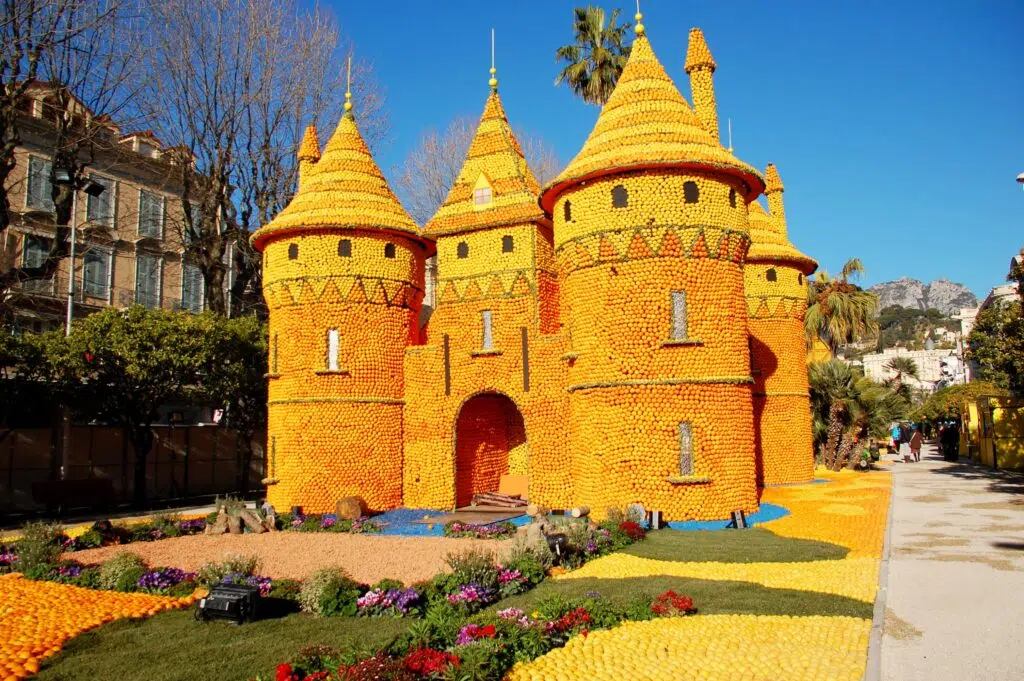 As Europe's biggest lemon producer until the 1930s, the intensity of Menton's citrus and lemons have spurred the ongoing tradition of an ever-expanding international carnival.
Every February, Menton celebrates the annual Lemon Festival, the Fête du Citron, by decorating the beautiful Jardins Biovès, an 800-metre promenade in the centre of modern Menton. Lemons, oranges, lights and festive fun, fairy-tale, and fantasy structures and floats adorn the garden and the city in a glorious and cheerful display. The effect is stunning, with 45 kilograms of oranges or 30 kilograms of lemons required to decorate every square metre of each exhibition.
The festival is themed, with a different focus every year. Past examples include Alice in Wonderland, Bollywood, Broadway, Music of the World, The Lion King, Trip to the Moon, Asterix, and Tintin. Menton celebrates Christmas similarly, with gardens of flowers and fruit and extravagant citrus displays and parades.
When not showcasing the city's most famous fruits, the Jardins Biovès features green lawns, exotic plantings, statues, and fountains.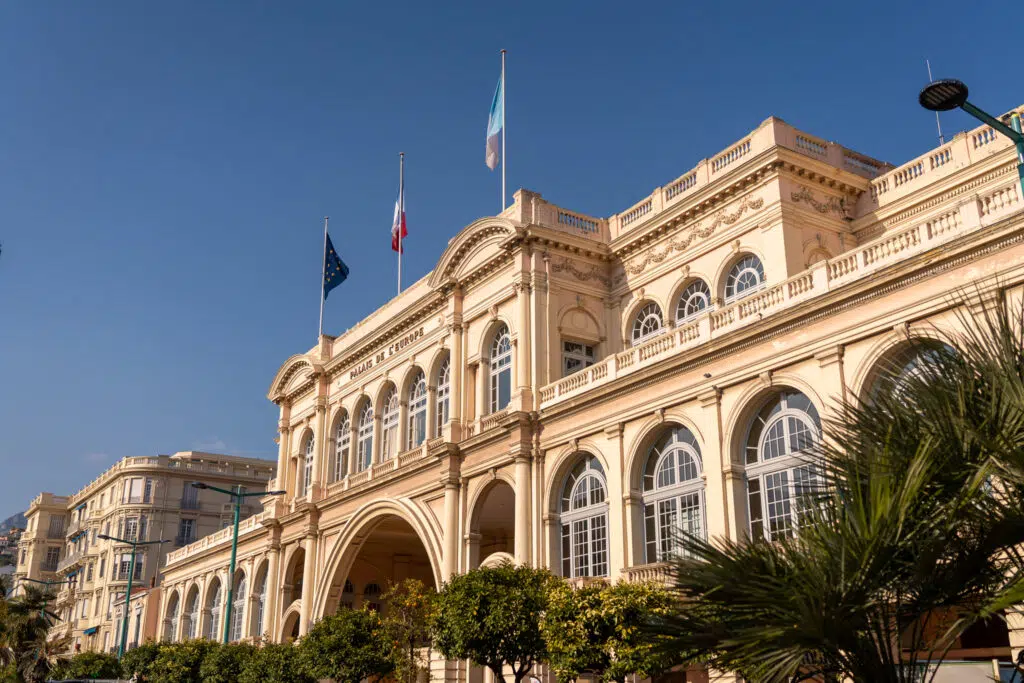 ---
Visit the City of Gardens in the South of France
Menton is sunny, small, and splendid. Easy to walk around (and up and down), this hugely appealing 'village-feel' Franco-Italian city will leave you feeling inspired at every narrow, pastel twist and turn.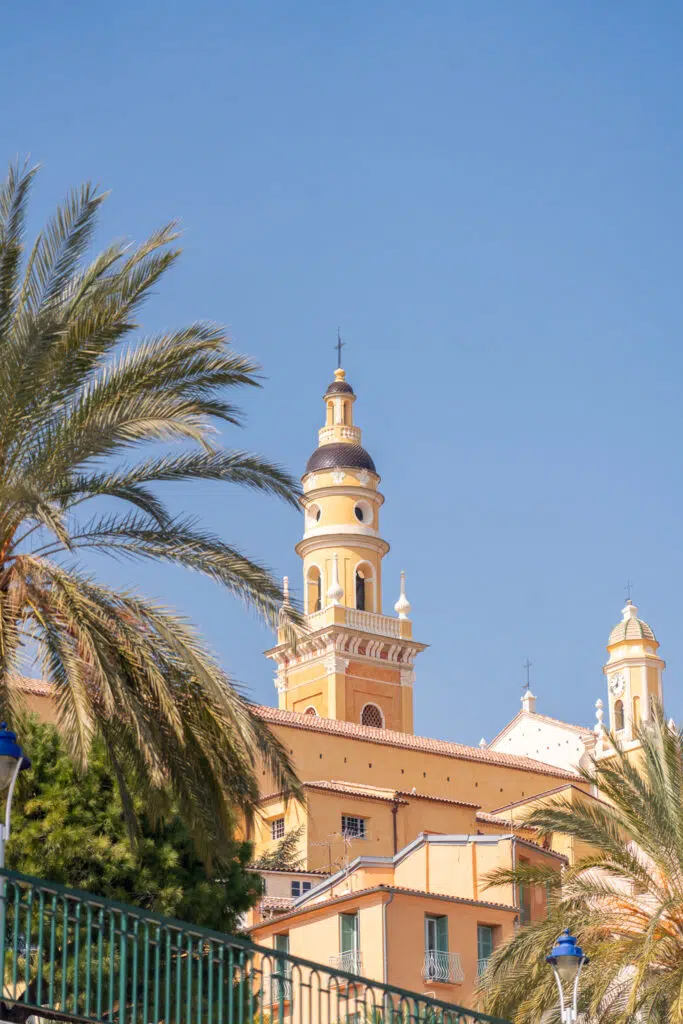 This hidden treasure provides a visual feast of beauty, elegance, and charm, but without the crowds and the cost of Nice County's more southern cities and towns. In addition, you'll also find a festive fount of fun things to do in Menton, whether sightseeing, walking, botanising, volley-balling, sailing, swimming, dining, or shopping in Menton.
As Jean Cocteau, the city's most famous occasional resident, said, 'youth comes with age'. Menton is a dignified and wise old sage, reborn. Regardless of how adventurous your activities, your holiday in Menton retains its restorative healing impact, the peaceful haven of rejuvenation where the 'cult of the French Riviera' began, and the warmest and most welcoming corner of the Cote-d'Azur.
---
Where to Stay in Menton
If you're looking to extend your stay in this charming South of France town, why not consider one of the following properties.
Hôtel Miléade L'Orangeraie – This stunning 19th-century mansion makes for a memorable place to stay in Menton. Centrally located, it's also surprisingly affordable.
Villa Genesis – If you're after character, you'll find it in droves in this stunning Menton hotel. Just 50m from the beach, it's the ideal place to enjoy all the town has to offer.
Authentic townhouse in the center – Live like the locals in the heart of the old town with this lovely 2 bedroom apartment. Featuring a sea view, and a rustic style, it makes for a comfortable home away from home.