The beaches in France's second city are just as beautiful as any on the French Riviera. Yet, they're more reflective of Marseille's multicultural nature and much more inclusive than those of Cannes or Saint-Tropez.
Marseille beaches offer lots of choice with a style for every occasion: inlets carved out of limestone cliffs, the perfect antidote after long hikes; idyllic boat trips to nature reserves on sandy islands; wide city beaches to play sport or to party with friends; and private nooks and crannies for romantic swims.
Discover the best beaches in Marseille, as well as some hidden gems within a short drive of the city, here.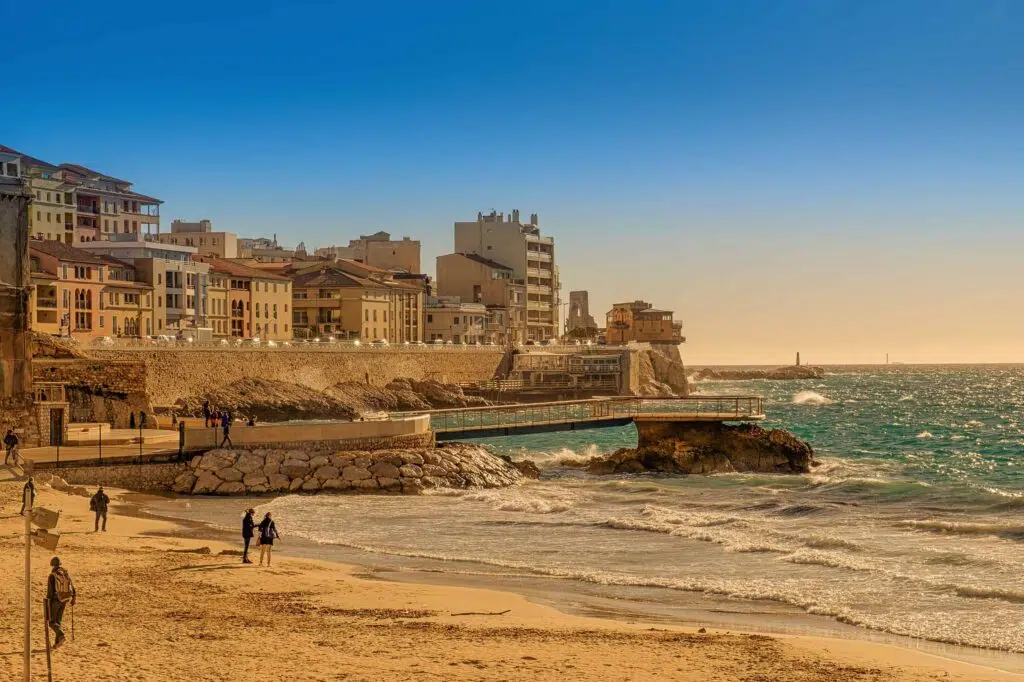 ---
Best Marseille Beaches Map
As you'll see on the map below, there are many beaches within the city limits, making them ideal for a quick dip or late afternoon sojourn after a day's sightseeing. But often the most magical shores are just a short drive from the city, so I've included some beaches around Marseille to explore too.
Use the table of contents above to navigate if you're looking for a particular beach.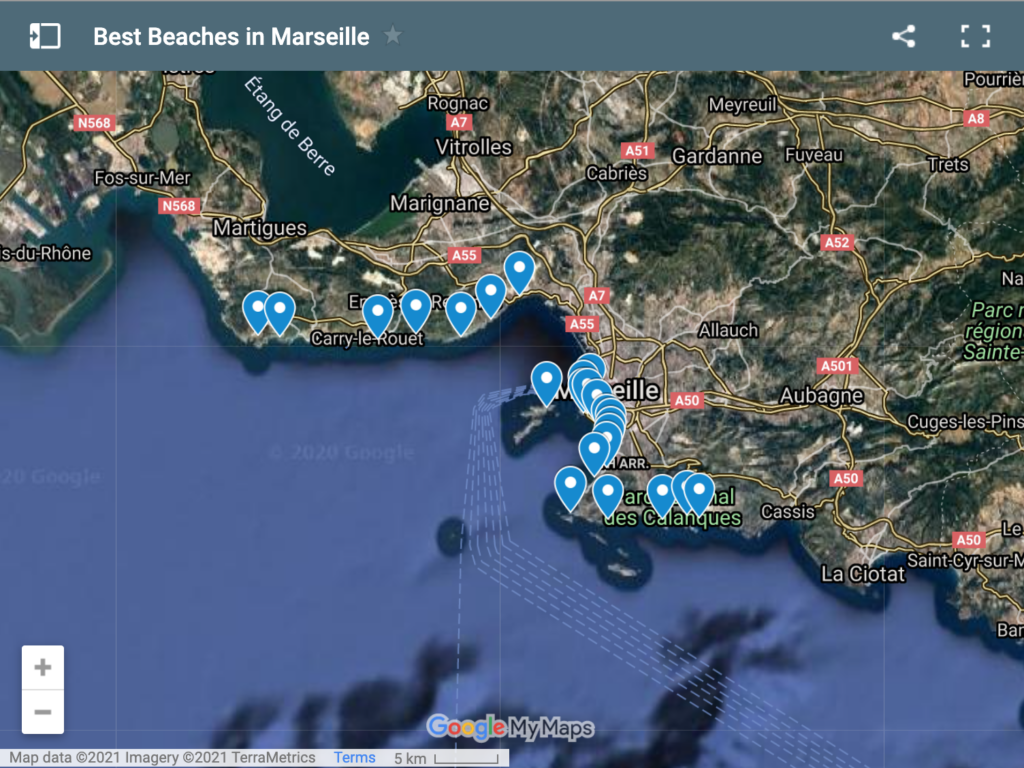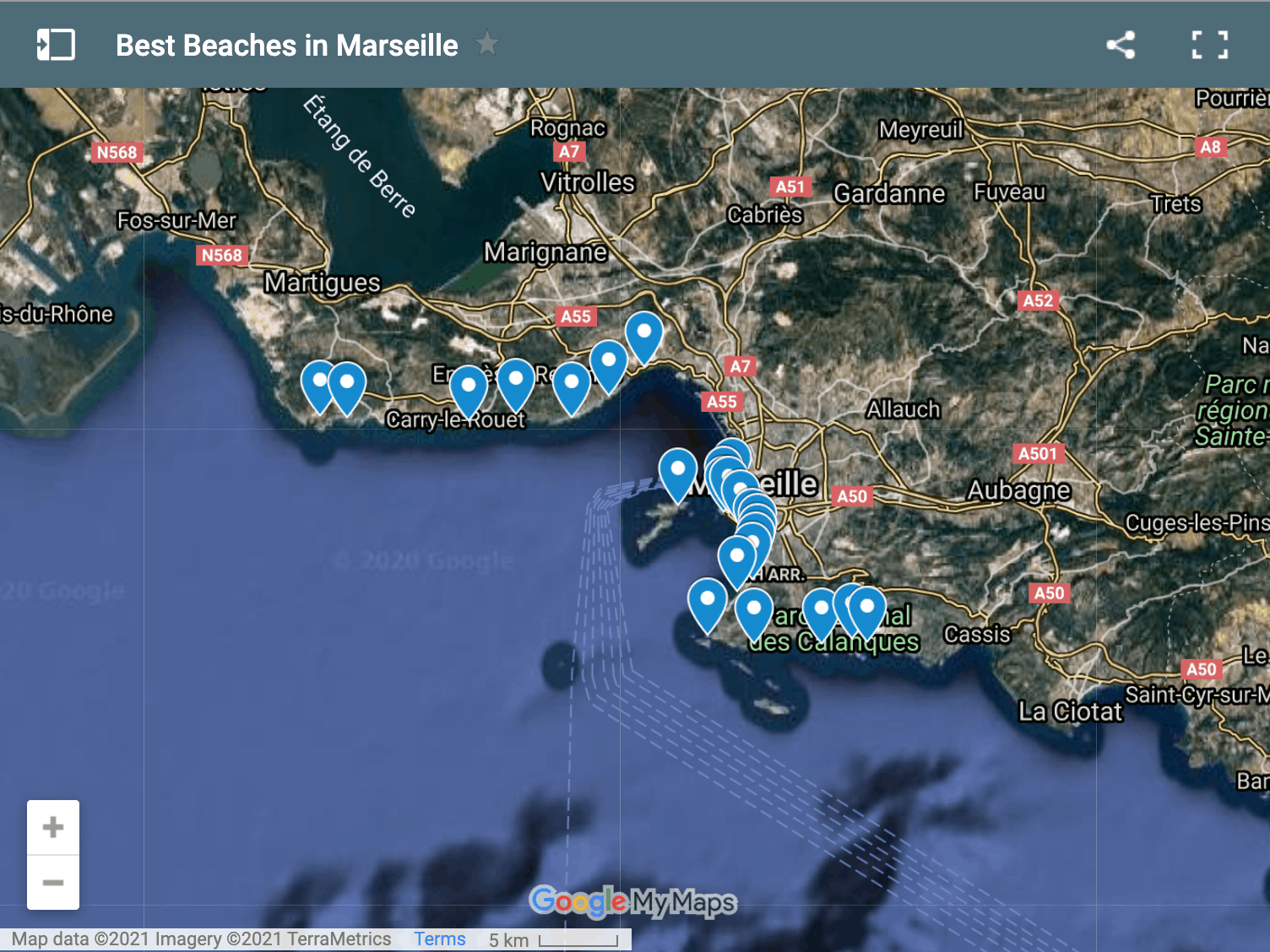 ---
Best Beaches in Marseille, France
These inner-city Marseille beaches tick all the right boxes. Whether you're looking for a family-friendly swimming spot, or simply a place where you can get served a glass of rosé while lounging, lido style…
Here we present them to you from the West to the East of the city.
PLAGE DE l'ESTAQUE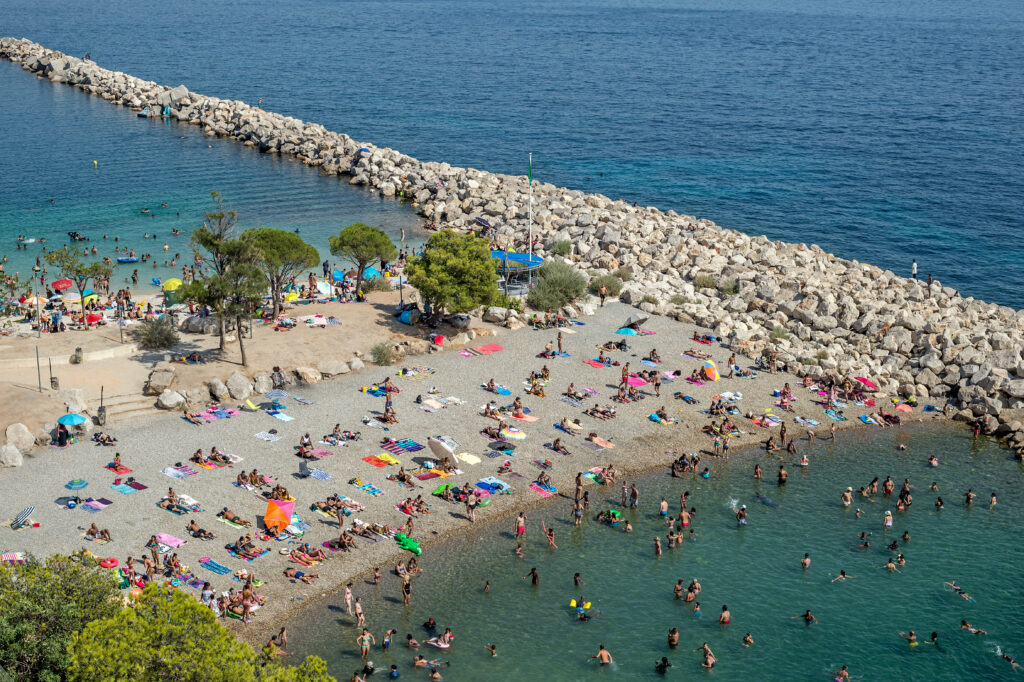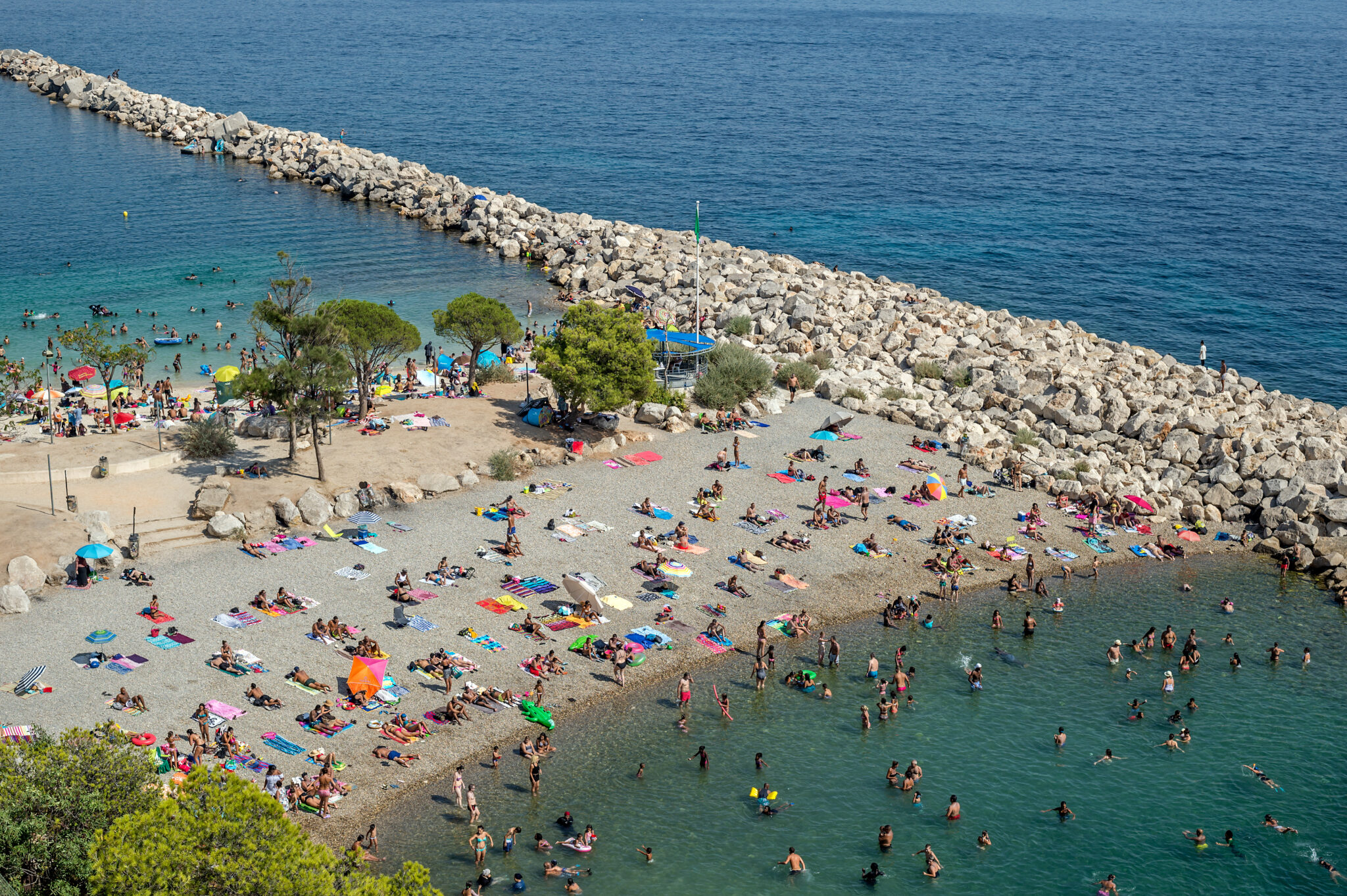 In the 16th arrondissement where Cézanne used to lovingly paint the coastline, there are three beaches on this stretch of the Côte Bleue. The Plage de Sable de La Lave is the easiest to reach if walking is tricky. It's sandy, just like its neighbour, La Plage de la Batterie, west of the port.
The latter is protected, so is best for young families. The third is La Plage du Fortin, which has pebbles, so is less busy. These beaches are shallow and it's a common pastime to see families hanging out at sundown in large groups cooking and chatting.
How to get to Plage de l'Estaque
Take the A55 towards Martigues from Marseille, if driving, and get off at L'Estaque. Unlike other beaches in the centre, parking is easier and free. Alternatively, take bus #35 from La Joliette.
PLAGE DES CATALANS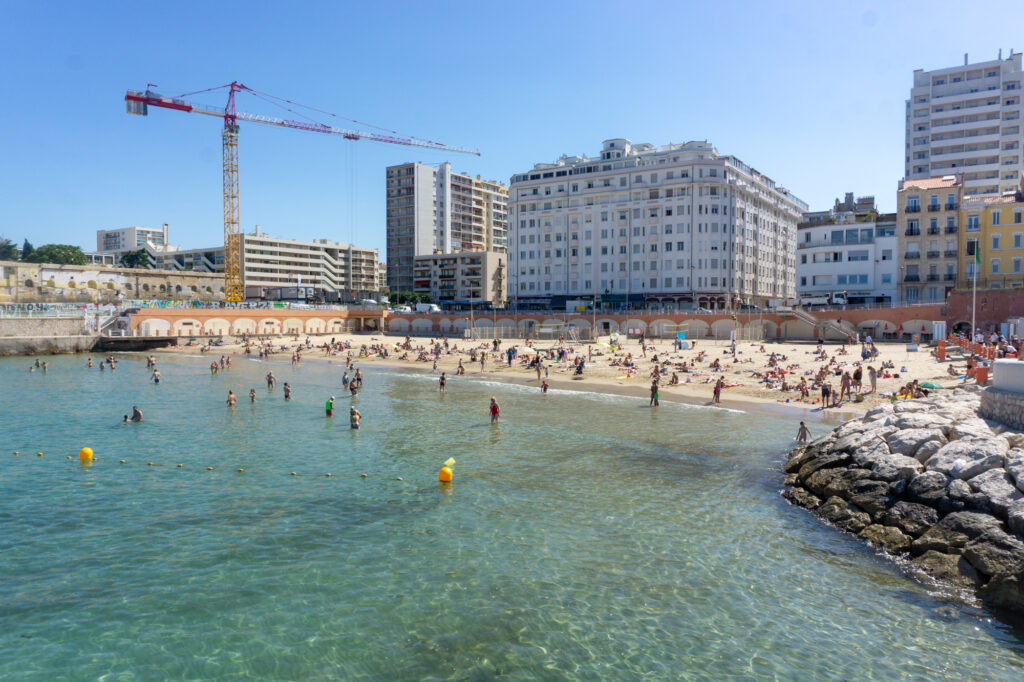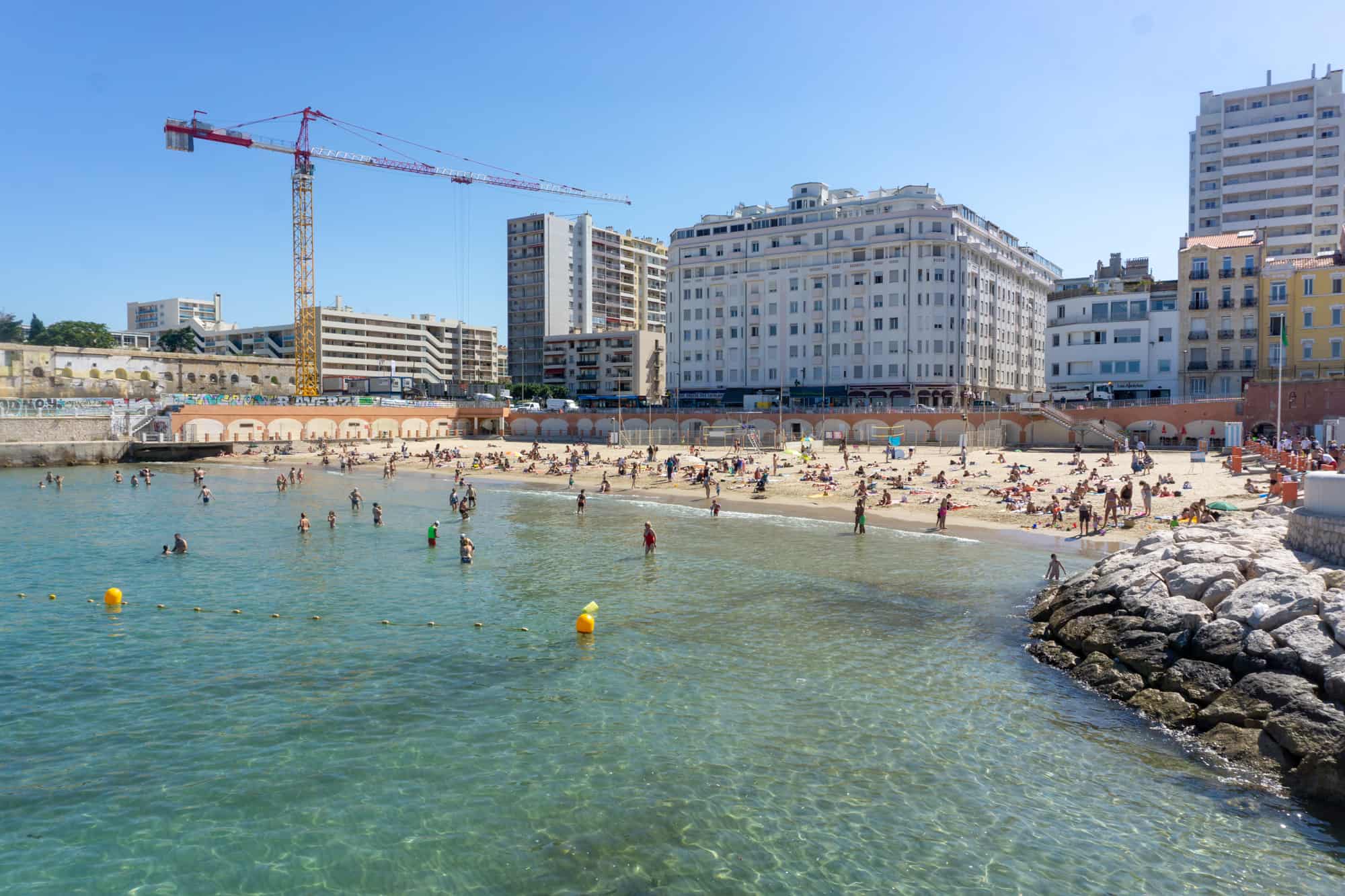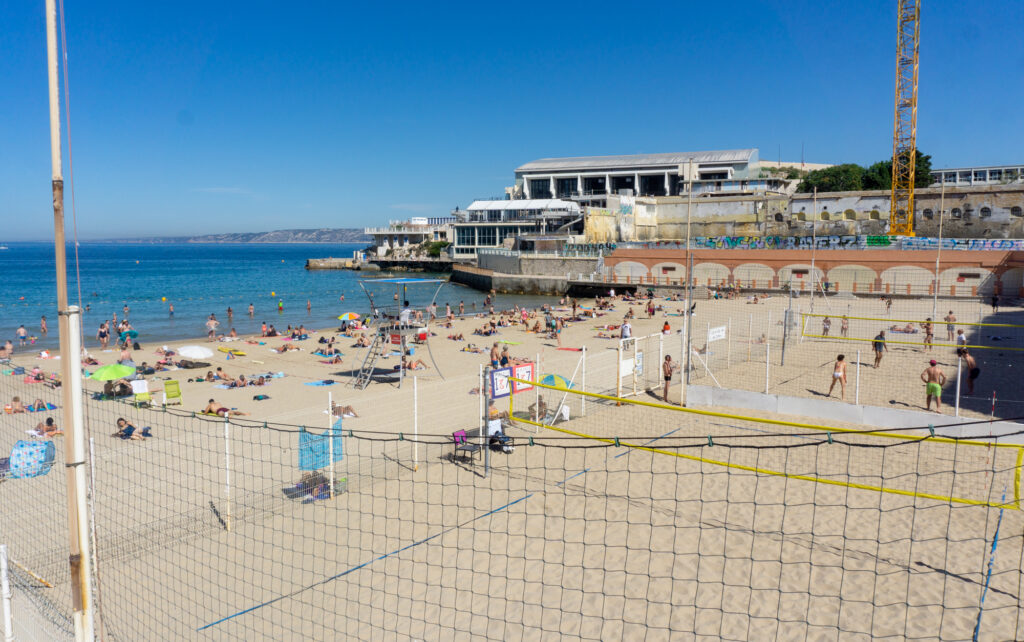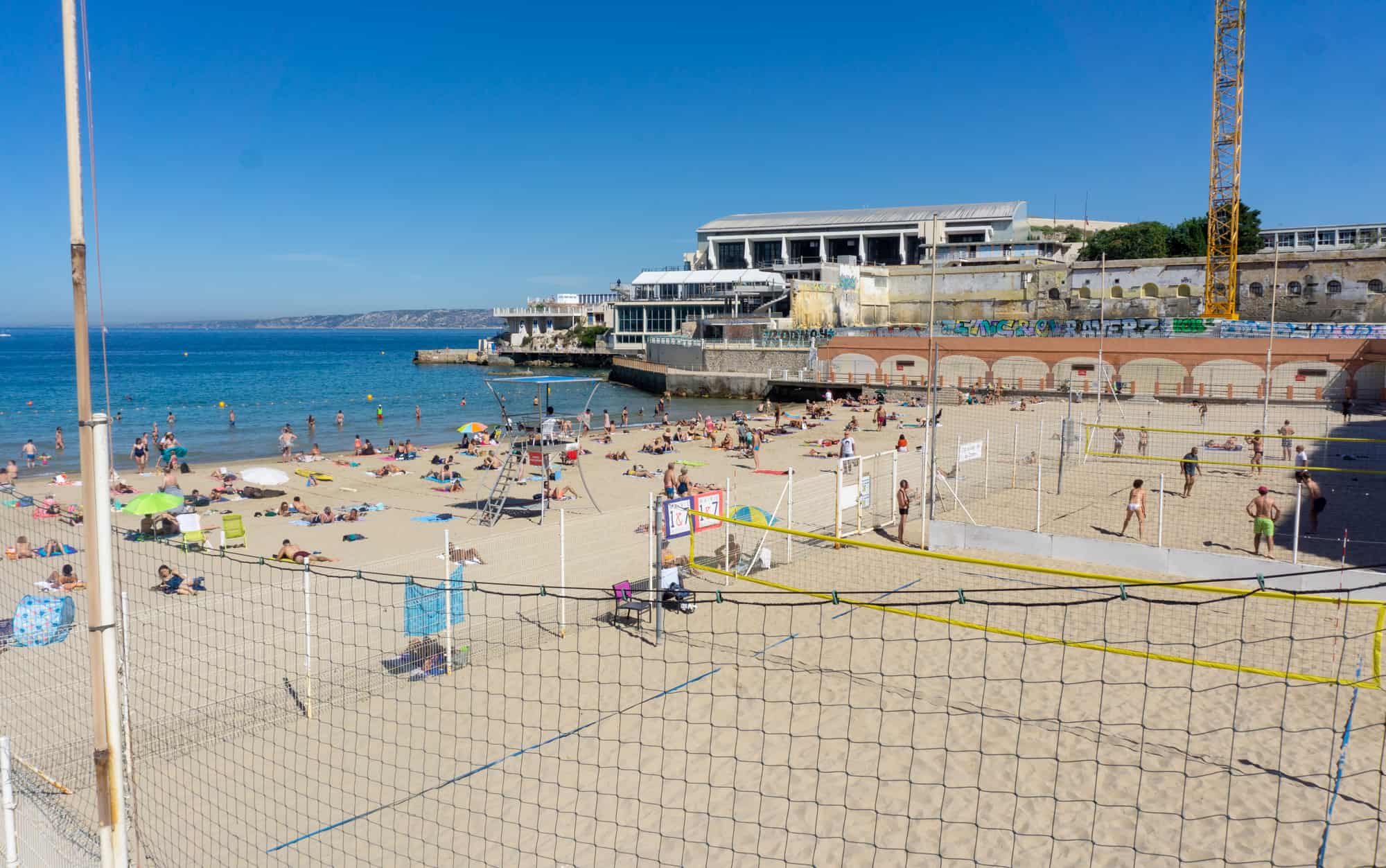 This is the beach for volleyball, home to international competitions, and most likely the Olympics in 2024. It has small beach huts, a first-aid post, a wide range of snack bars and kiosks and there's a lovely view over the Islands of Frioul. There are sun loungers to hire next to the snack bars on the terrace. A good choice for people watching and to please all the family.
How to get to Plage des Catalans
It's only a fifteen-minute walk from Le Vieux Port or take the #83 bus to Catalans. Access is only possible via steps.
PLAGE DU VALLON DES AUFFES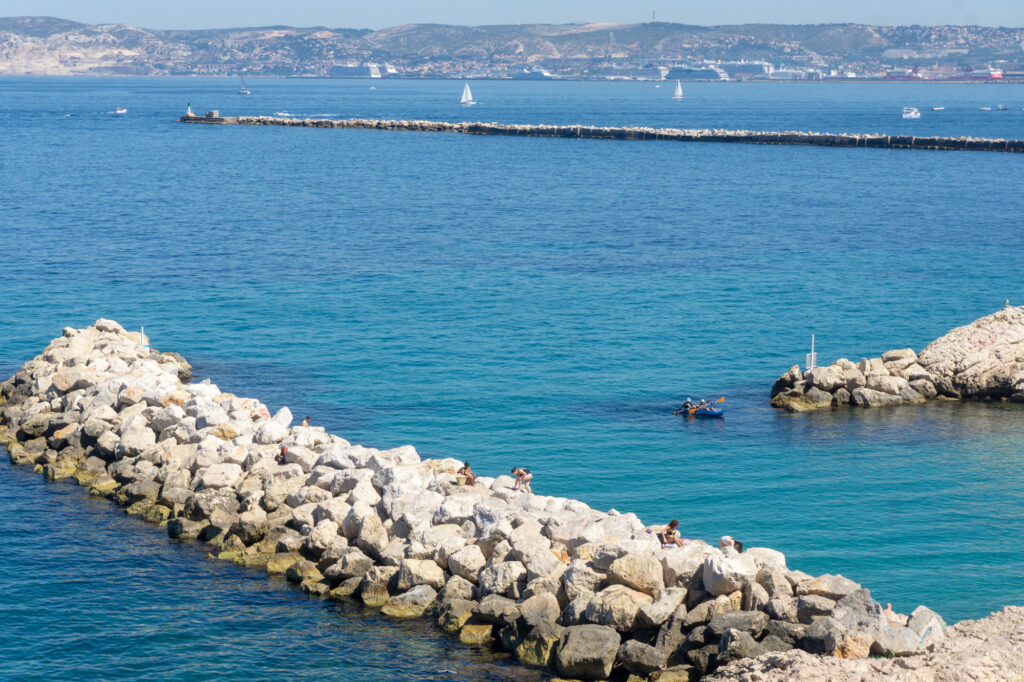 The Vallon des Auffes is an old fishing harbour, settled by Italian fishermen over a hundred years ago and today, it's still home to brightly coloured wooden boats, cute fishermen cottages, a great family pizza restaurant and one of Marseille's most loved restaurants for sampling bouillabaisse (the local fish stew), Chez Fonfon.
This isn't a beach but a swimming spot, where locals use the rocks to lie out and a metal ladder to climb in and out of the sea amongst the waves. It's perfect for friends and couples. There's also a shallow 'pool' for younger visitors to play safely under parental supervision.
How to get to Plage du Vallon des Auffes
Under the majestic Monument aux Morts, take the steps leading down and around the Vallon des Auffes below. Parking is possible, although difficult, so it's better to walk the thirty minutes from the Vieux Port, hire a bike or take the bus.
PLAGE DE MALDORMÉ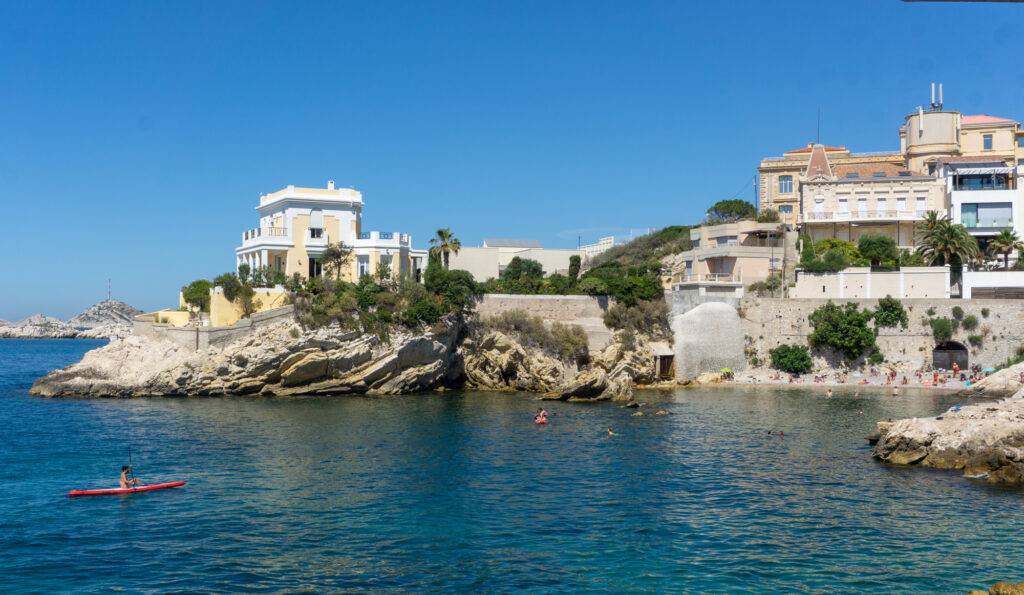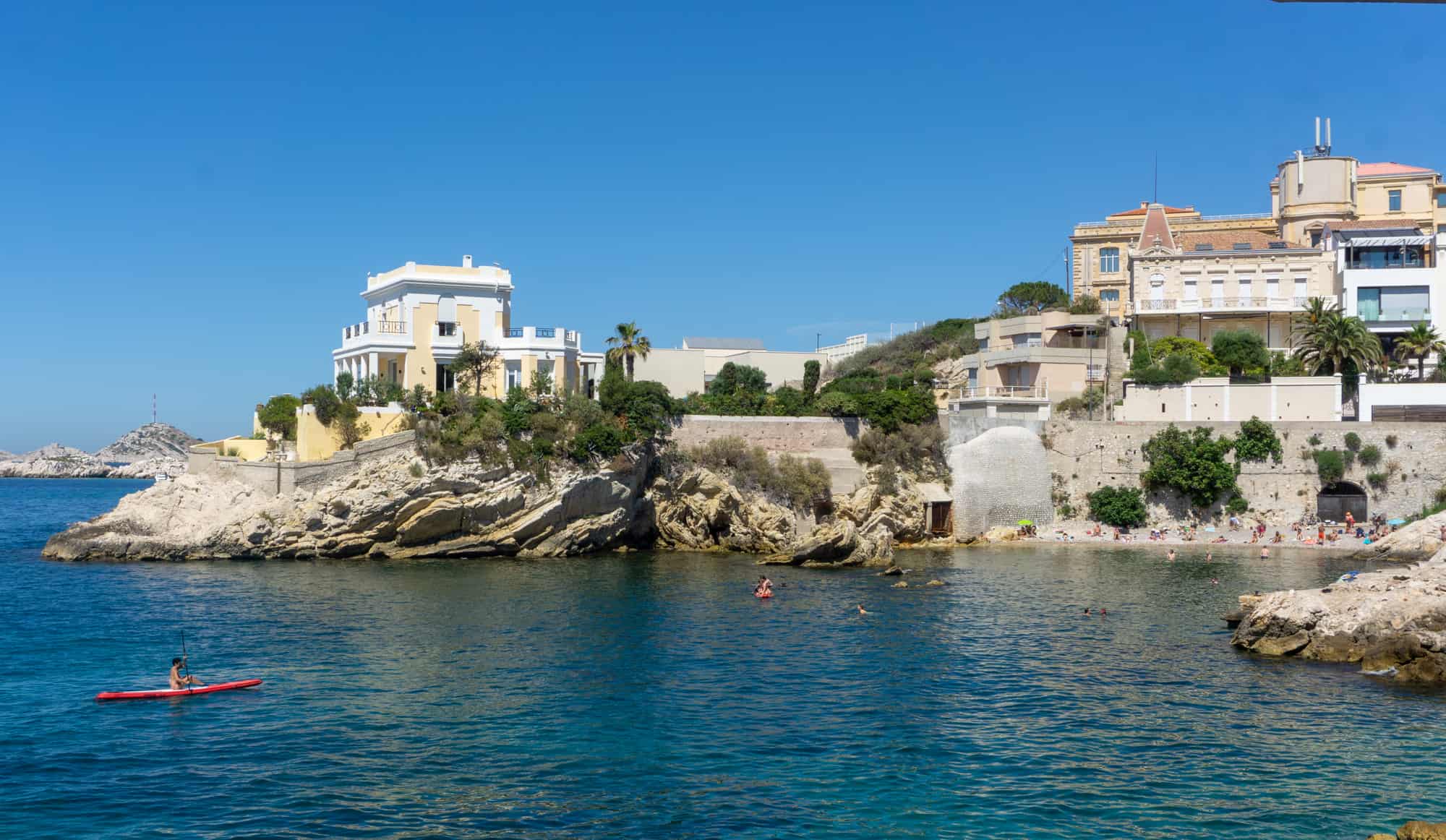 Near the hotel, Le Petit Nice, instead of turning left, take the stairs to the right to head down to this unique bay. The pebble beach is protected from the wind by the picturesque houses circling the bay.
It gets very busy in summer, when people climb from rock to rock to find their own private boulder to lay on. Join them by spreading your towel out in the sun and jump into the water when it gets too hot.
This is a world away from the large beaches of Prado; a perfect romantic getaway for couples.
How to get to Plage de Maldormé
There are parking spots available on La Traverse de la Cascade, although it can be difficult to park in high season, as is the case with many Marseille beaches. Best to hire a bike from the town centre and drop it off at a nearby bike station after cycling along the beautiful Corniche Kennedy. Or take the #83 bus from Vieux Port.
---
Looking for more Provence travel inspiration? Don't forget to join our free Facebook group Provence Travel Planning!
---
PLAGE DE LA FAUSSE MONNAIE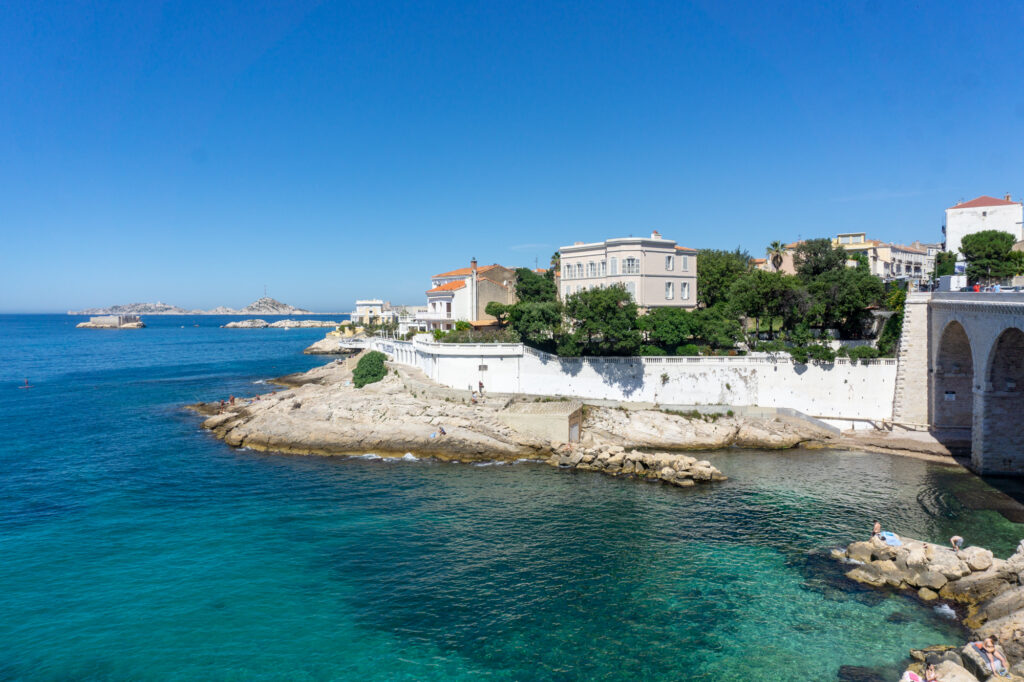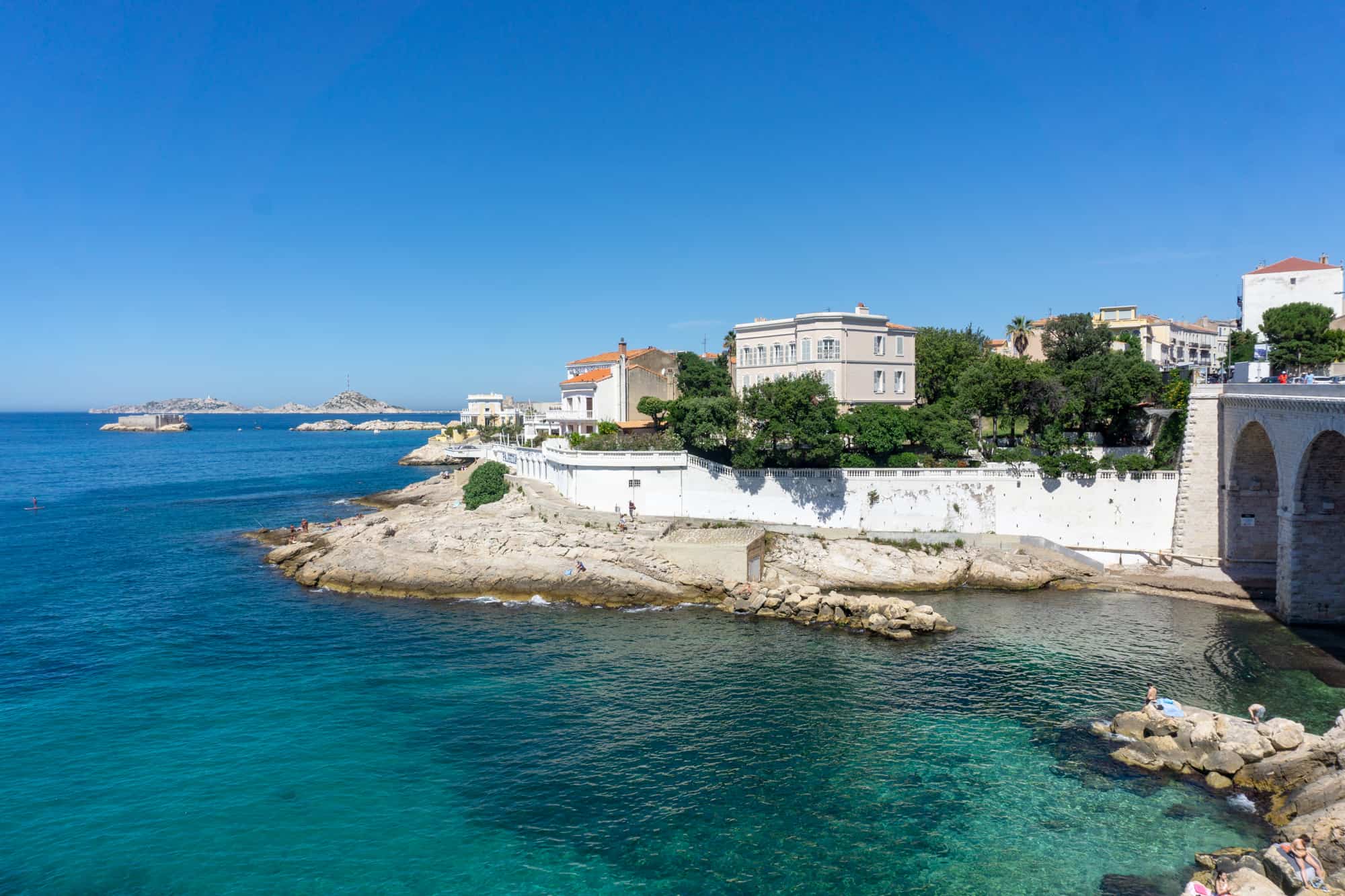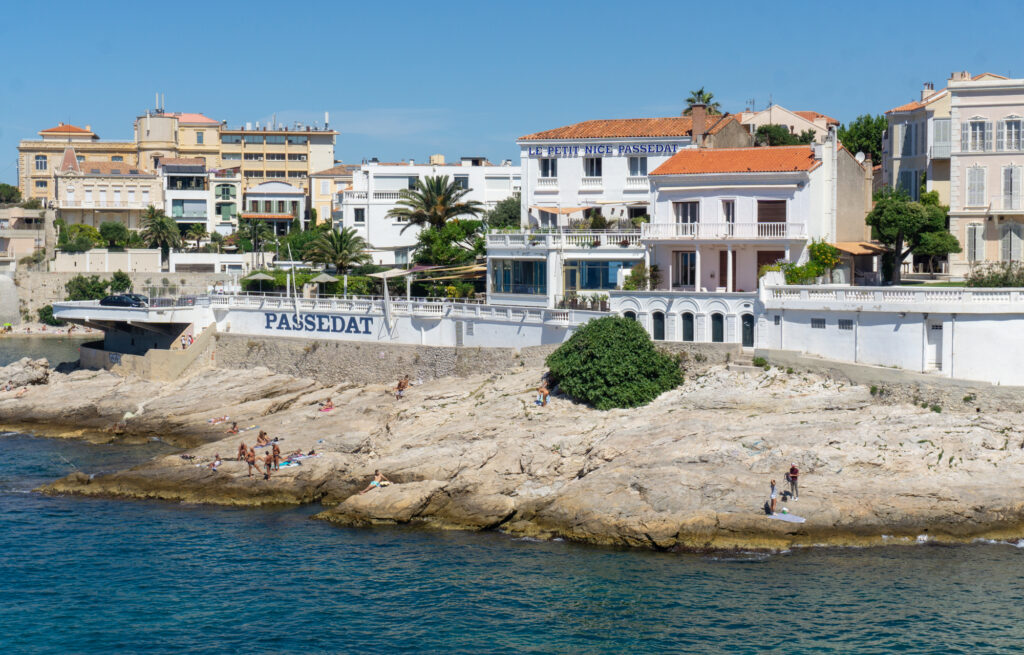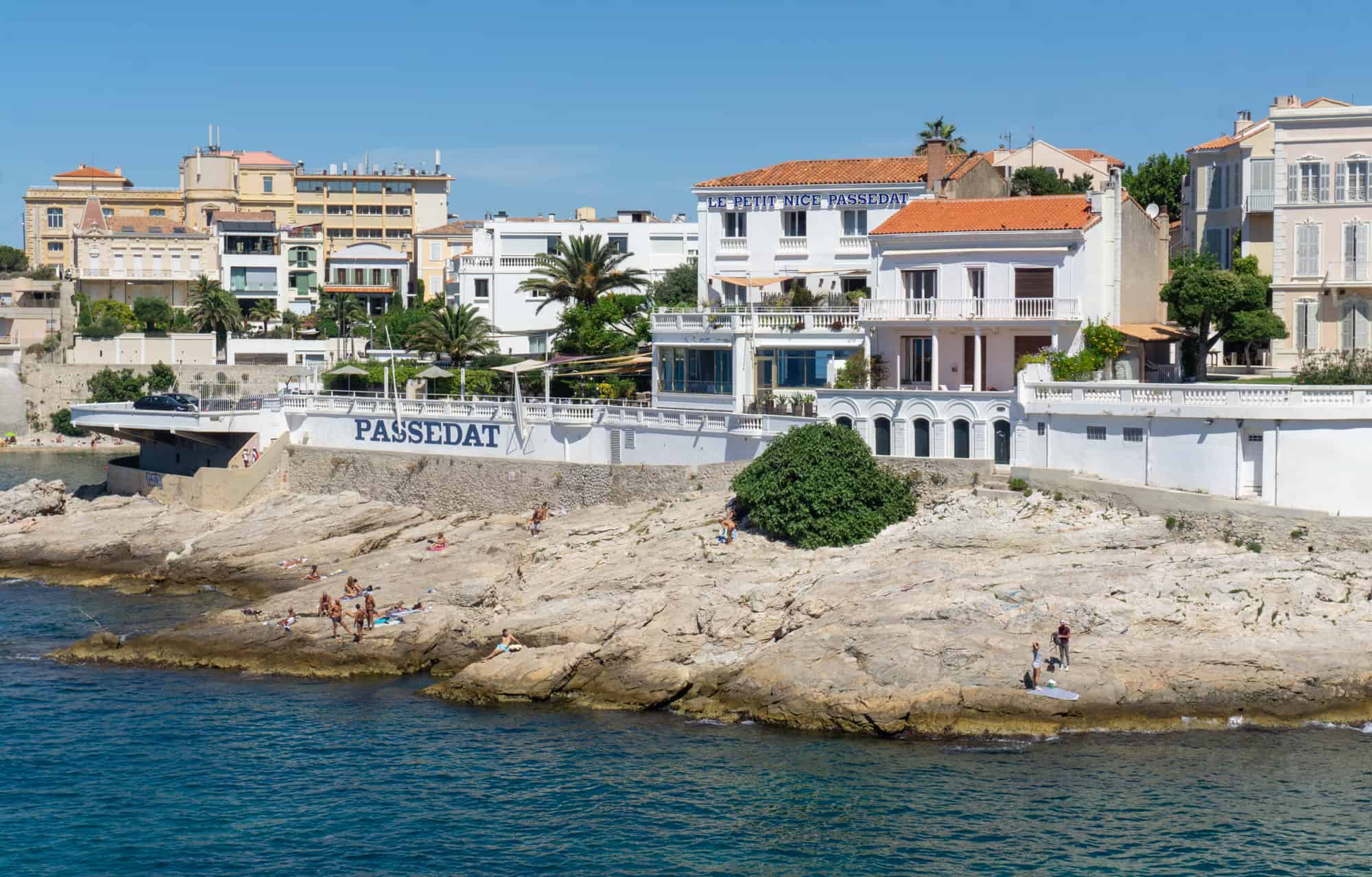 The Corniche Kennedy is the road/cycleway that snakes majestically along Marseille's coastline to the east of the city and one of the highlights is sitting on the rocks underneath the viaduct arches at Fausse Monnaie, watching the local kids dive recklessly into the water from the Corniche above.
This "beach" is called many things, sometimes the Petit Nice beach (named after the famed restaurant and hotel which has been in this spot since the 1930s), sometimes Plage des Pierres Plates (the beach of flat rocks) because of the way you can lay your towel out on one of them and tan.
The rocks get busy so just take the basics and wear water shoes to make it easier to get in and out of the sea.
How to get to Plage de la Fausse Monnaie
Follow the coastline in the direction of Prado. The #83 bus stop is called Viaduc de la Fausse Monnaie and follow the road down to the beach, following signs to Le Petit Nice. Parking is almost non-existent, so you might want to park in town and walk.
PLAGE DU PROPHÈTE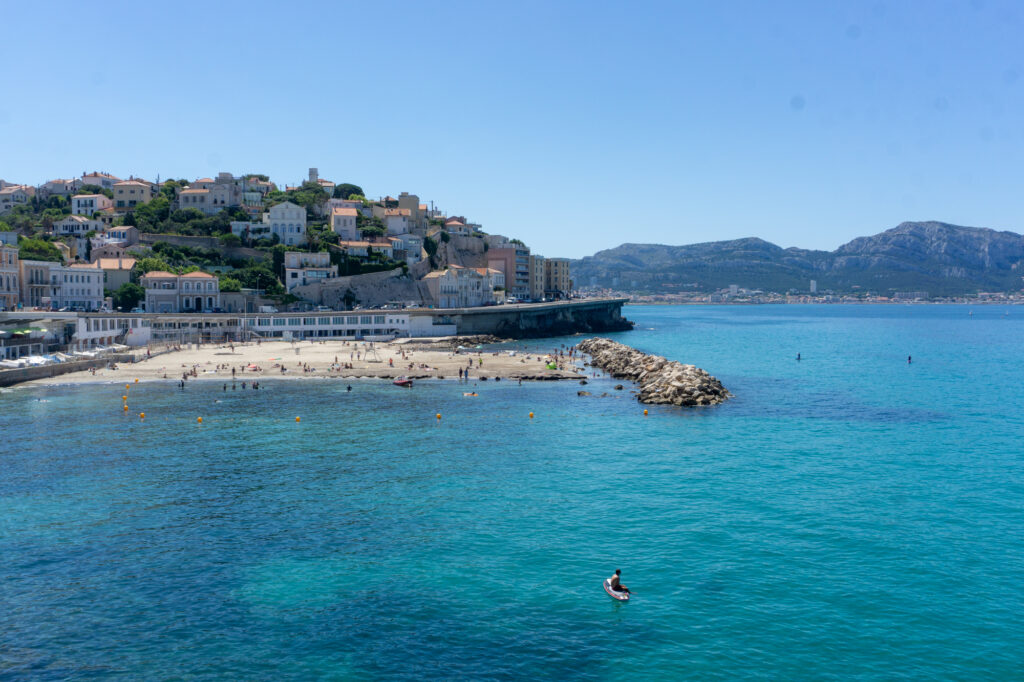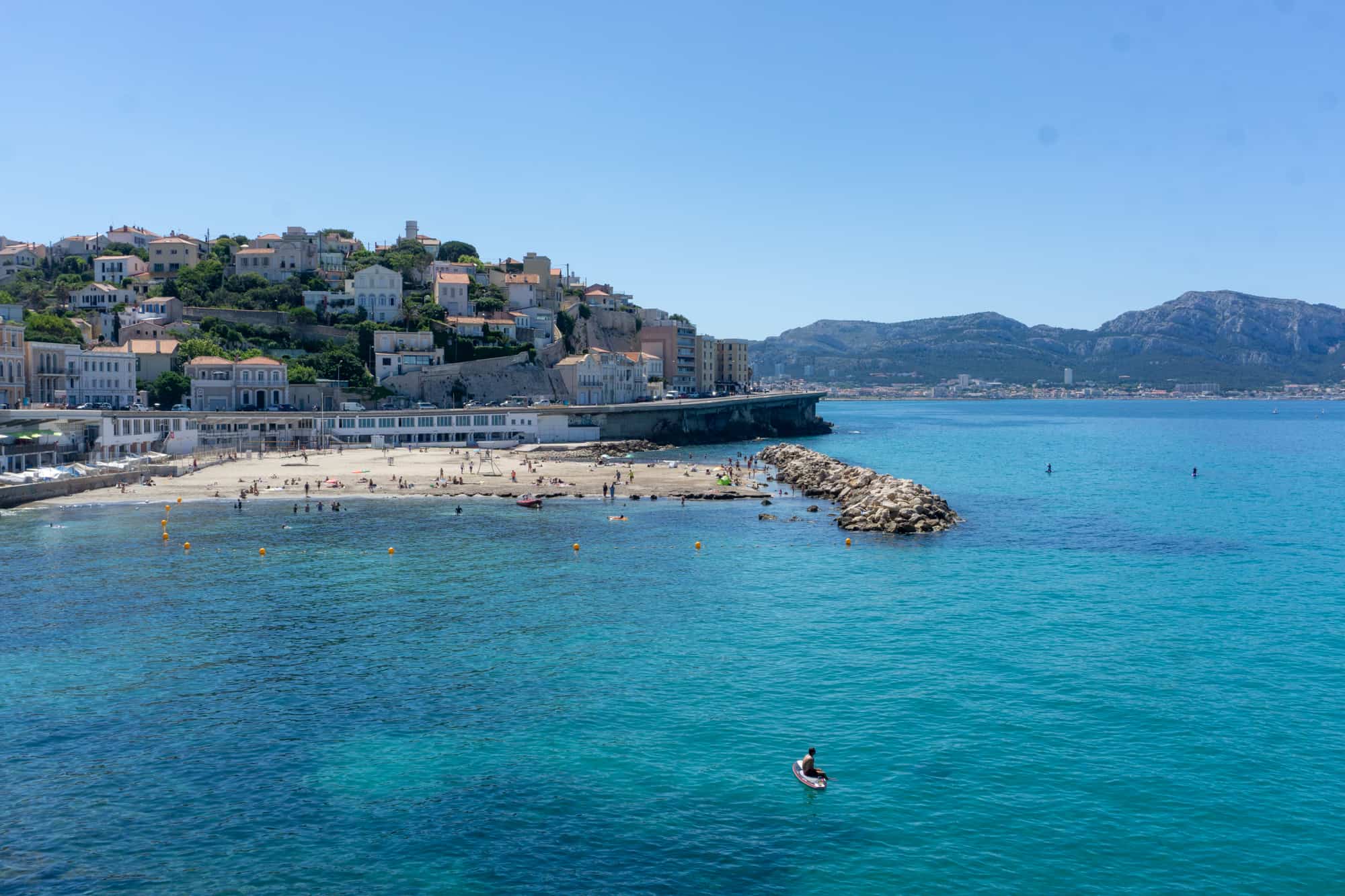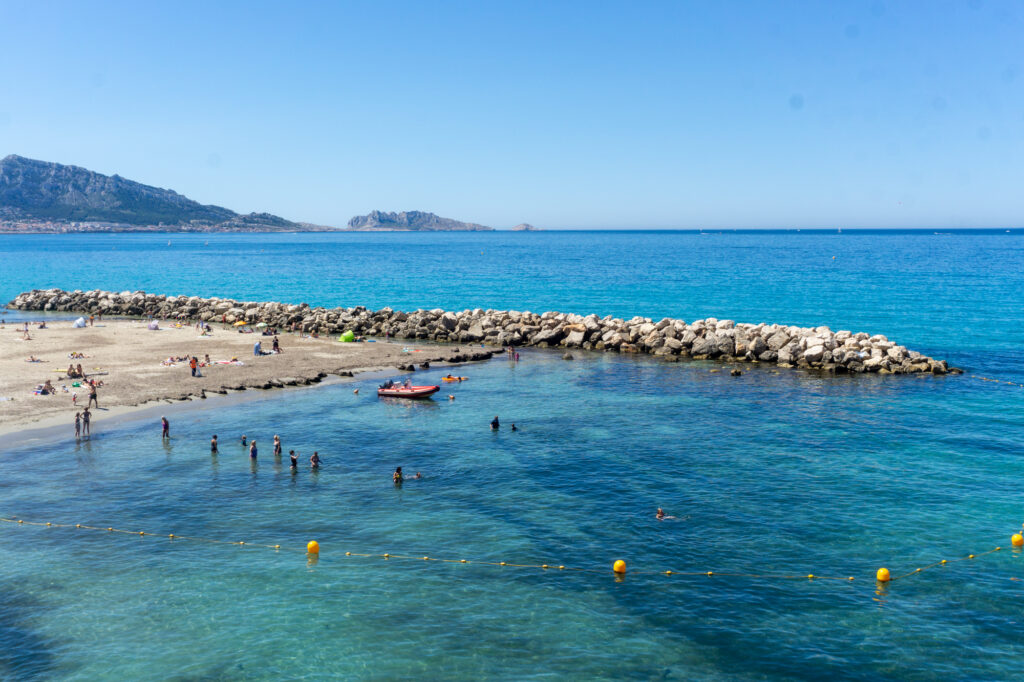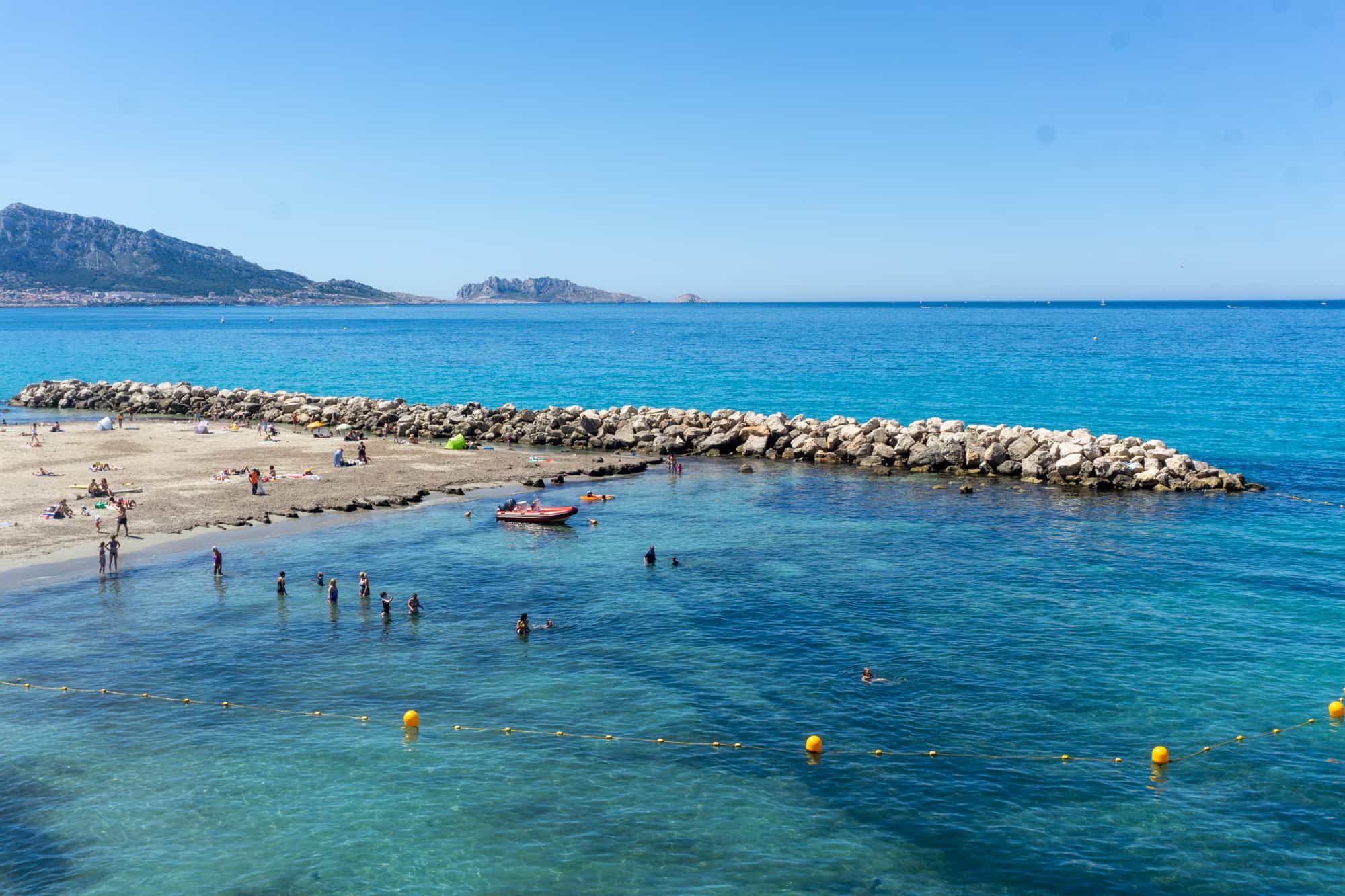 Prophet beach is one of the oldest beaches in Marseille and great for families, particularly with small kids. The beach faces out to the sea in two directions and is protected on both sides by a groyne.
It's where many locals learn to swim because it has a very gentle incline to the sea, it's protected from the wind and waves, the sand is light and fluffy and there's a lifeguard in summer. When the kids get hungry, visit Marco's pizzeria on the coast road, just opposite.
How to get to Plage du Prophète
Parking is limited so you may need to circle to find a spot in the car. Alternatively, take bus #83 from the Vieux Port for 20 minutes to Le Prophète, or hire a bike and cycle along the coast road.
PLAGE DU PRADO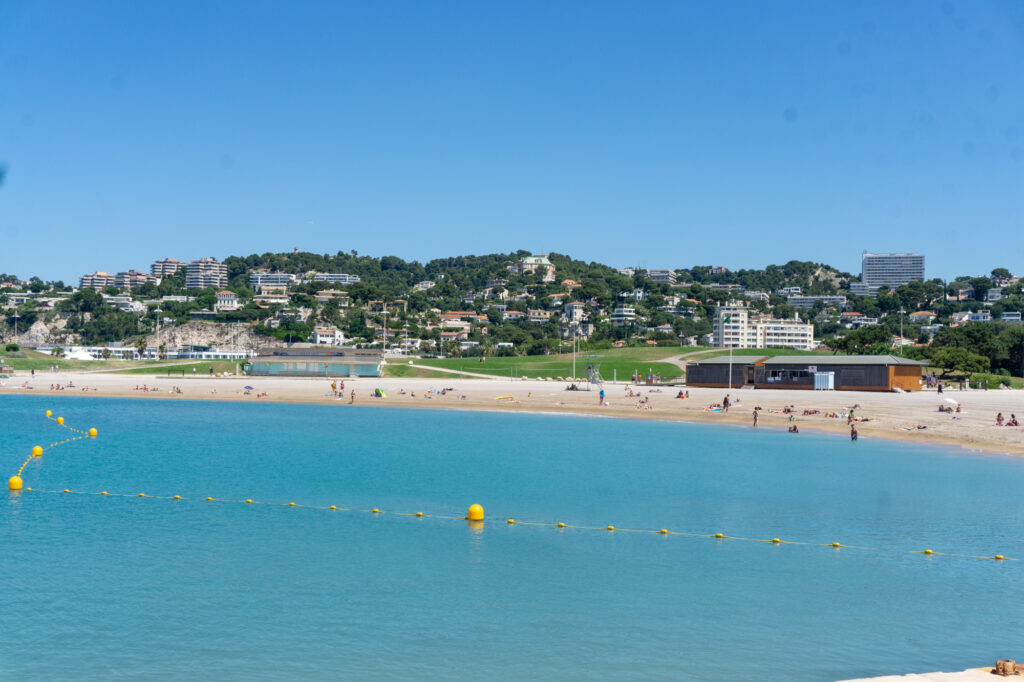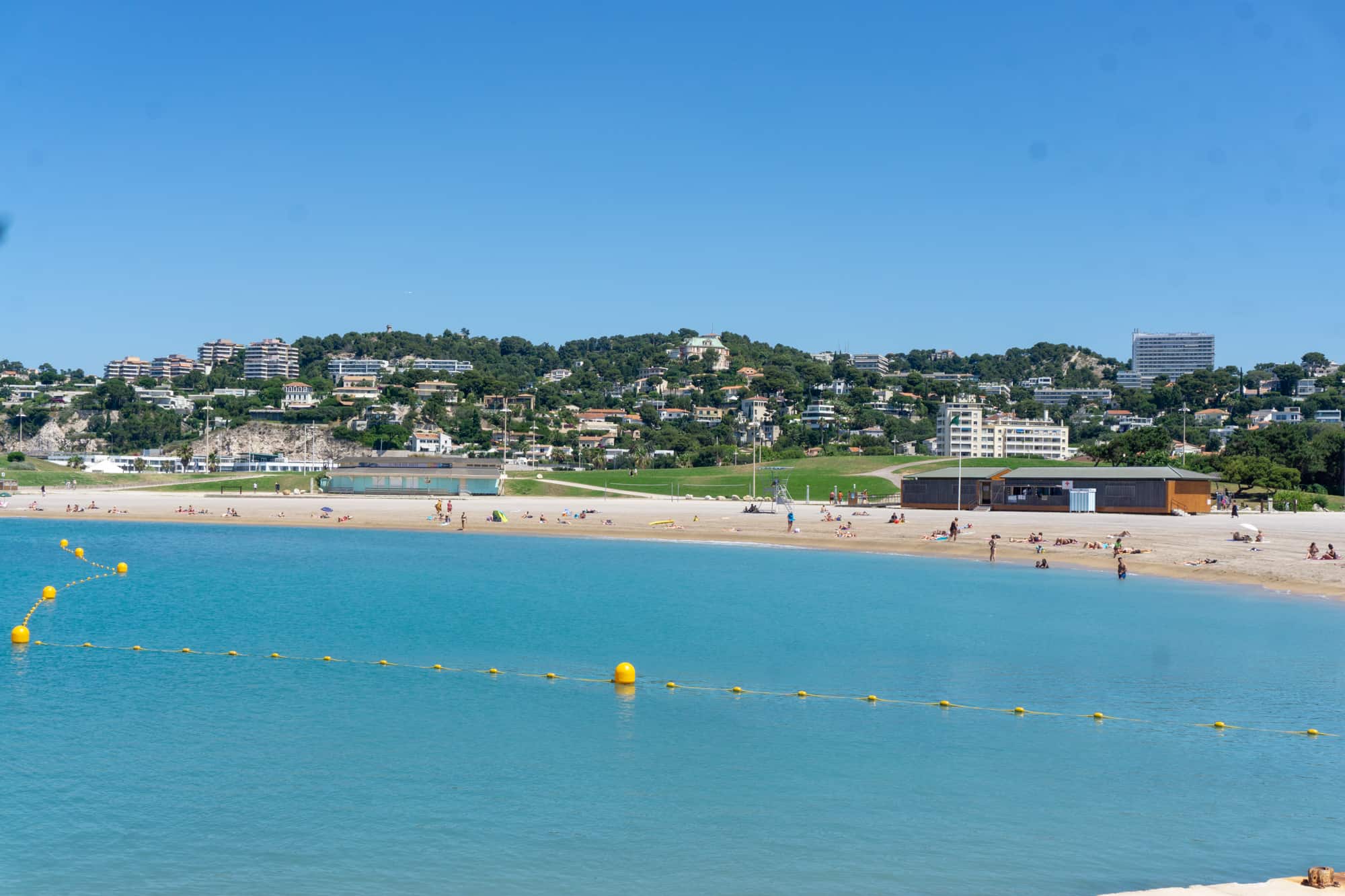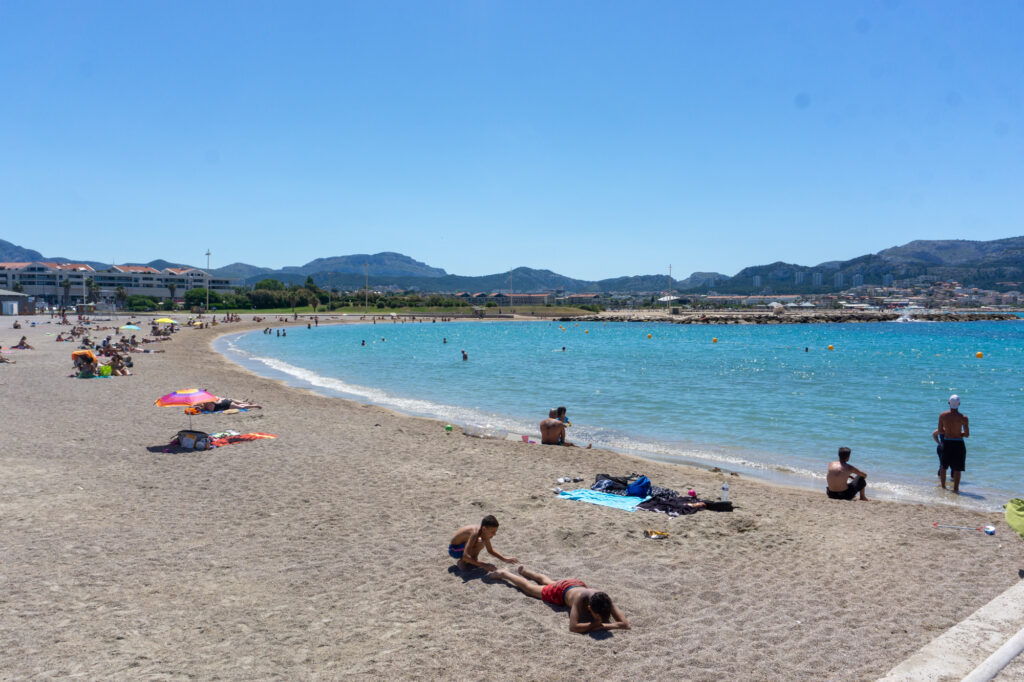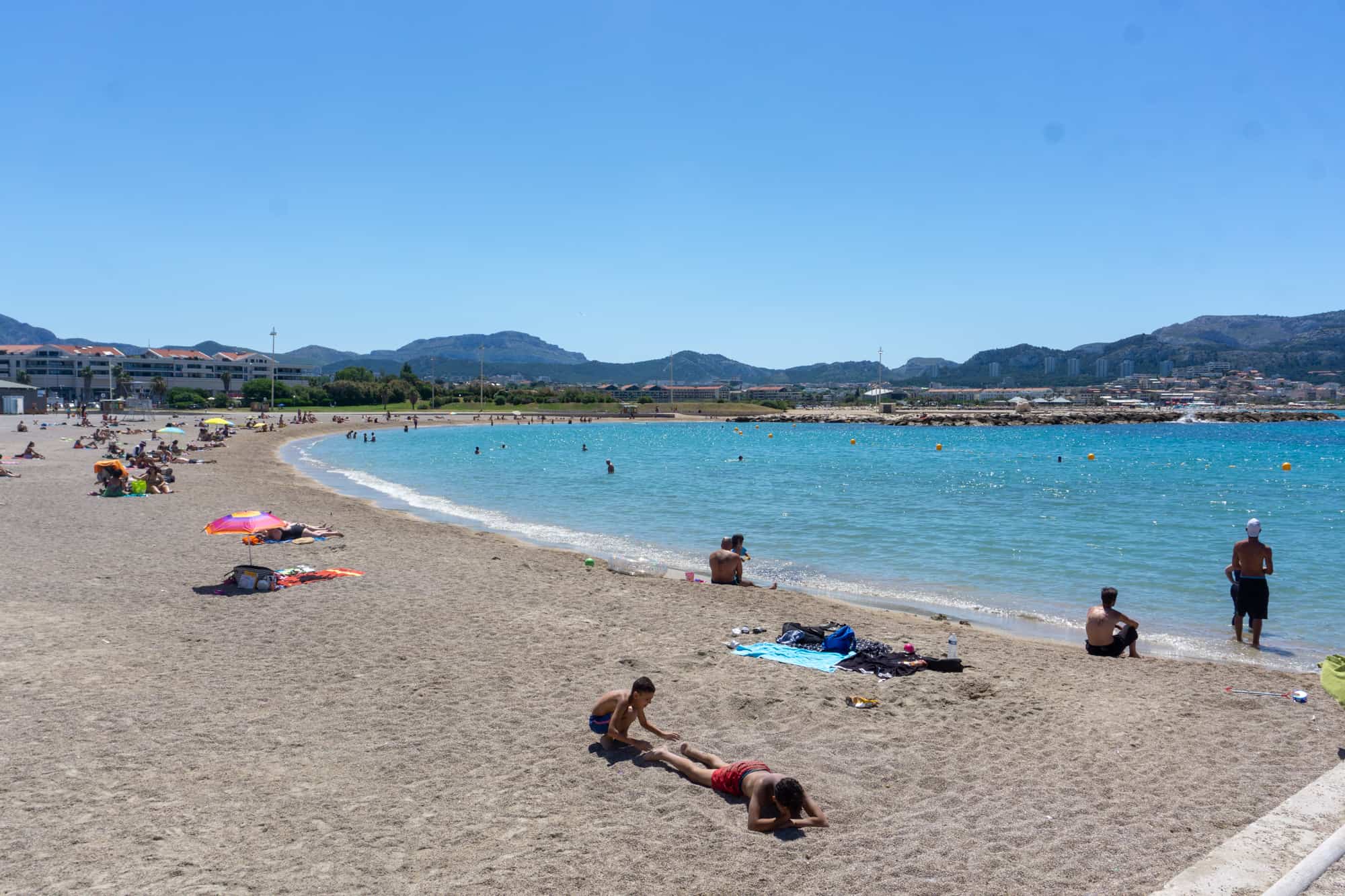 These wide coves are part of the six Marseille beaches that run around Prado – the long tree-lined boulevard that runs parallel to the coast from Castellane and then turns up to meet it at the statue of Michelangelo's David, a favourite meeting point for many.
With beach bars, restaurants, playgrounds, large grassy areas and watersports, these beaches are a great place to take the kids, but perhaps not the most paradisiacal South of France beach experience.
How to get to Plages du Prado
Take the #83 Bus from the Vieux Port (Place aux Huiles) to La Plage. But be warned that if traffic is bad, it wouldn't take you much longer to walk. Otherwise, parking is available in large lots behind the beach, but even those get full quickly in summer.
PLAGE DE L'HUVEAUNE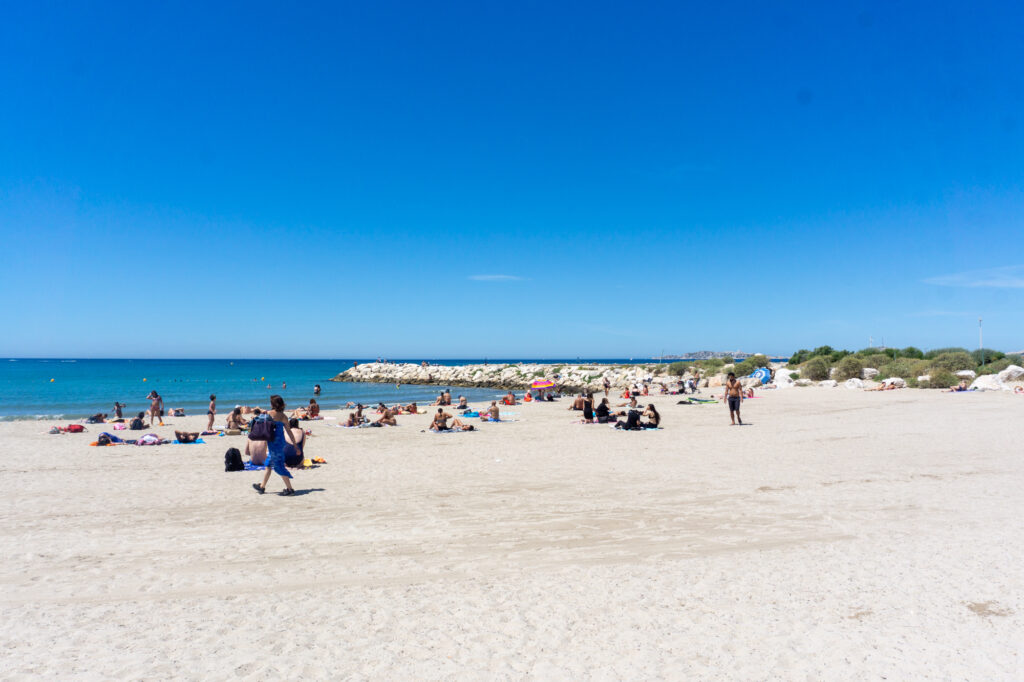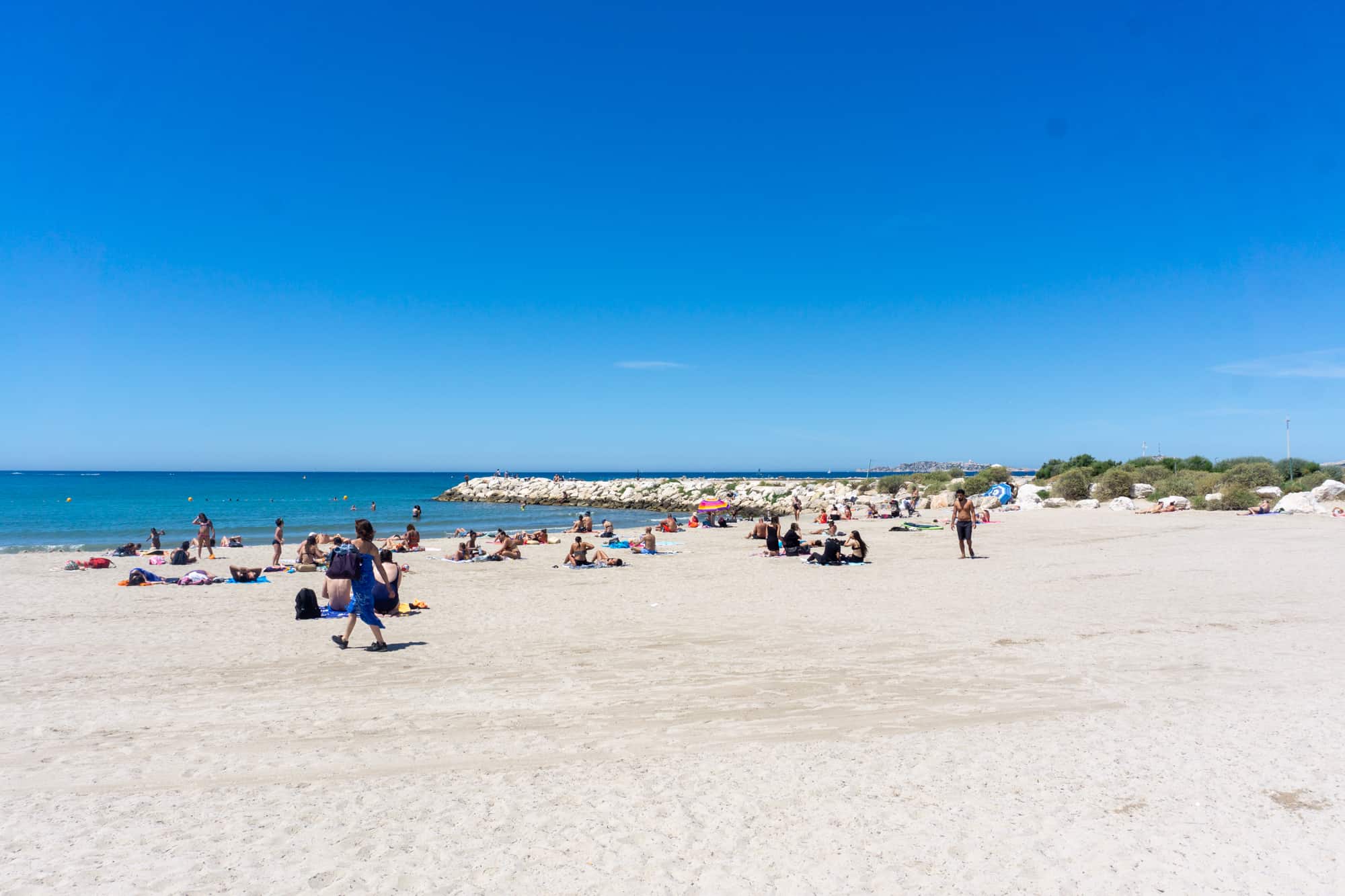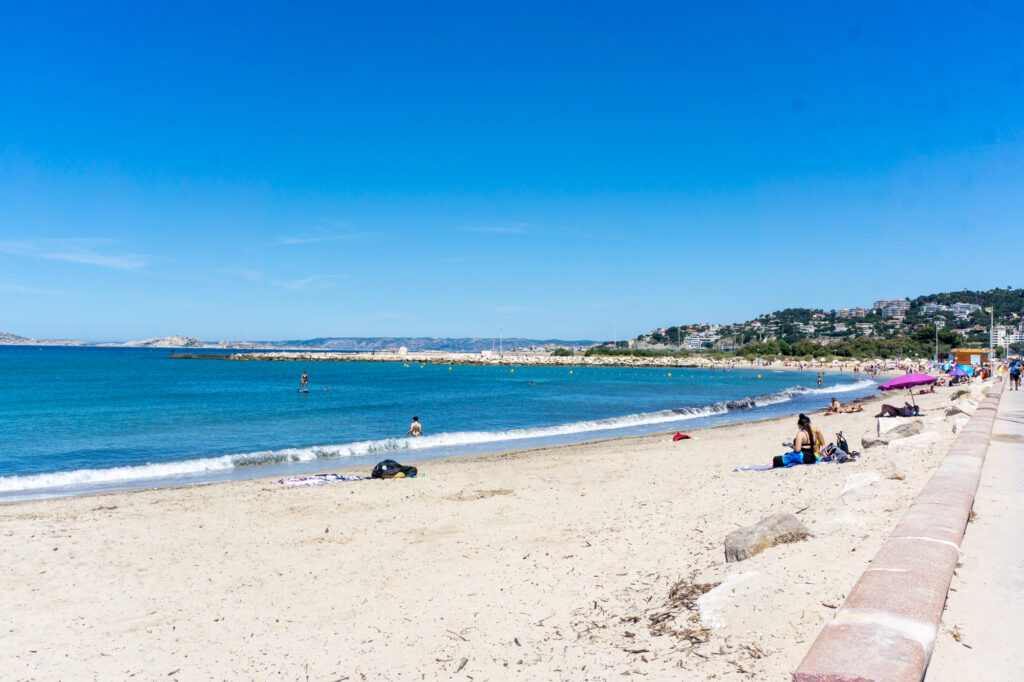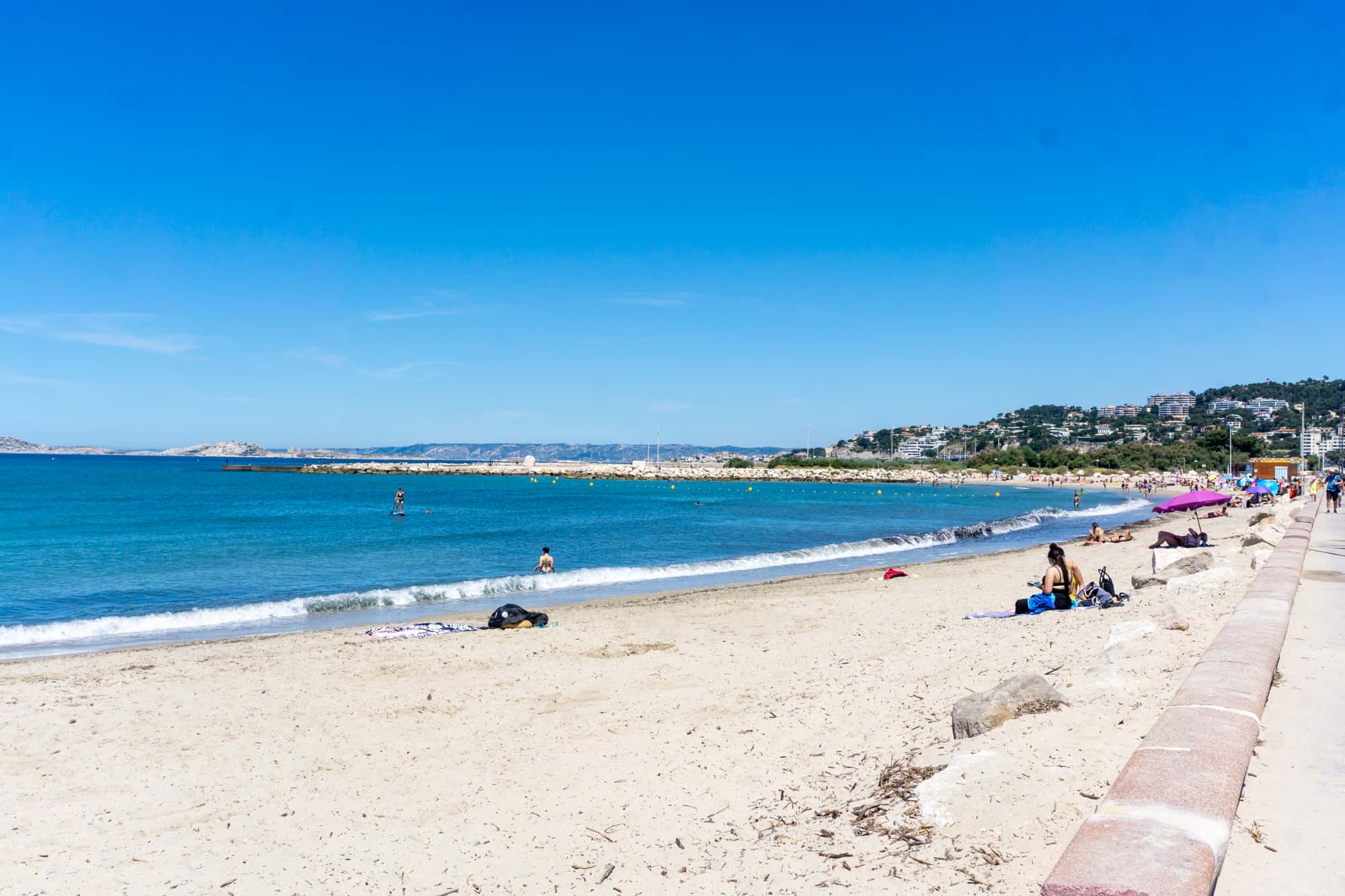 Also part of the Plages du Prado, Plage de l'Huveaune is a narrow stretch of sand running along beside the main boulevard. This makes it super easy to wrangle kids onto the beach if you get a park close by, but means it's a little noisy too from the traffic.
Like all the Prado beaches, there's a cordoned off 'safe swimming zone' lifeguards and amenities close by. At the southern end of the beach, you'll also find a large playground and a beach bar.
How to get to Plage de l'Huveaune
Take the metro to Ront Point du Prado or the bus to La Plage. Limited parking is available alongside the beach.
PLAGE BONNEVEINE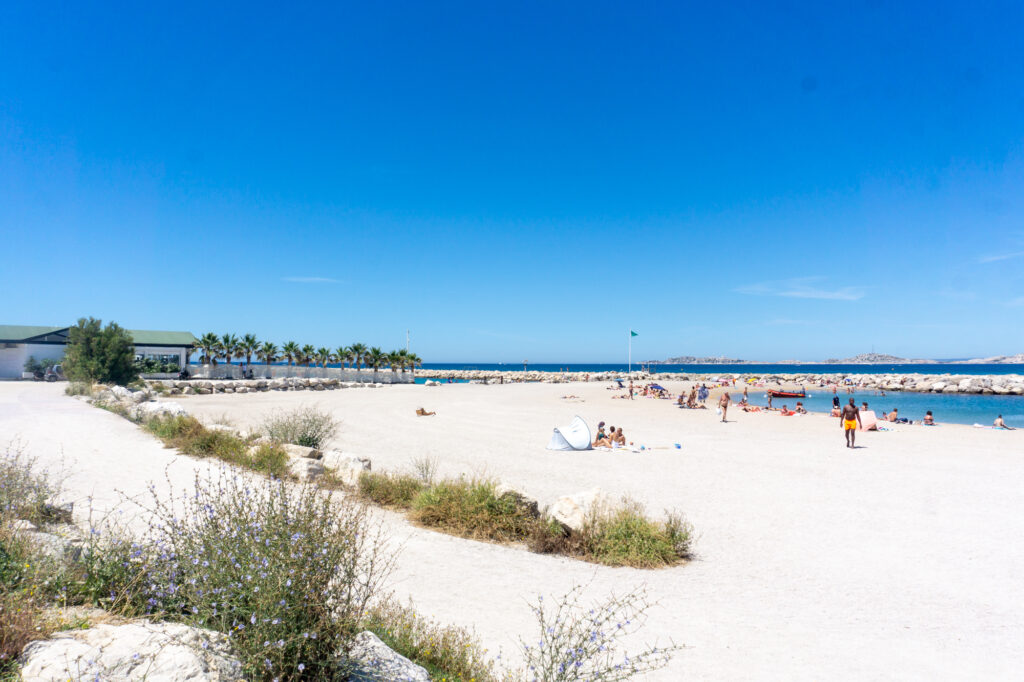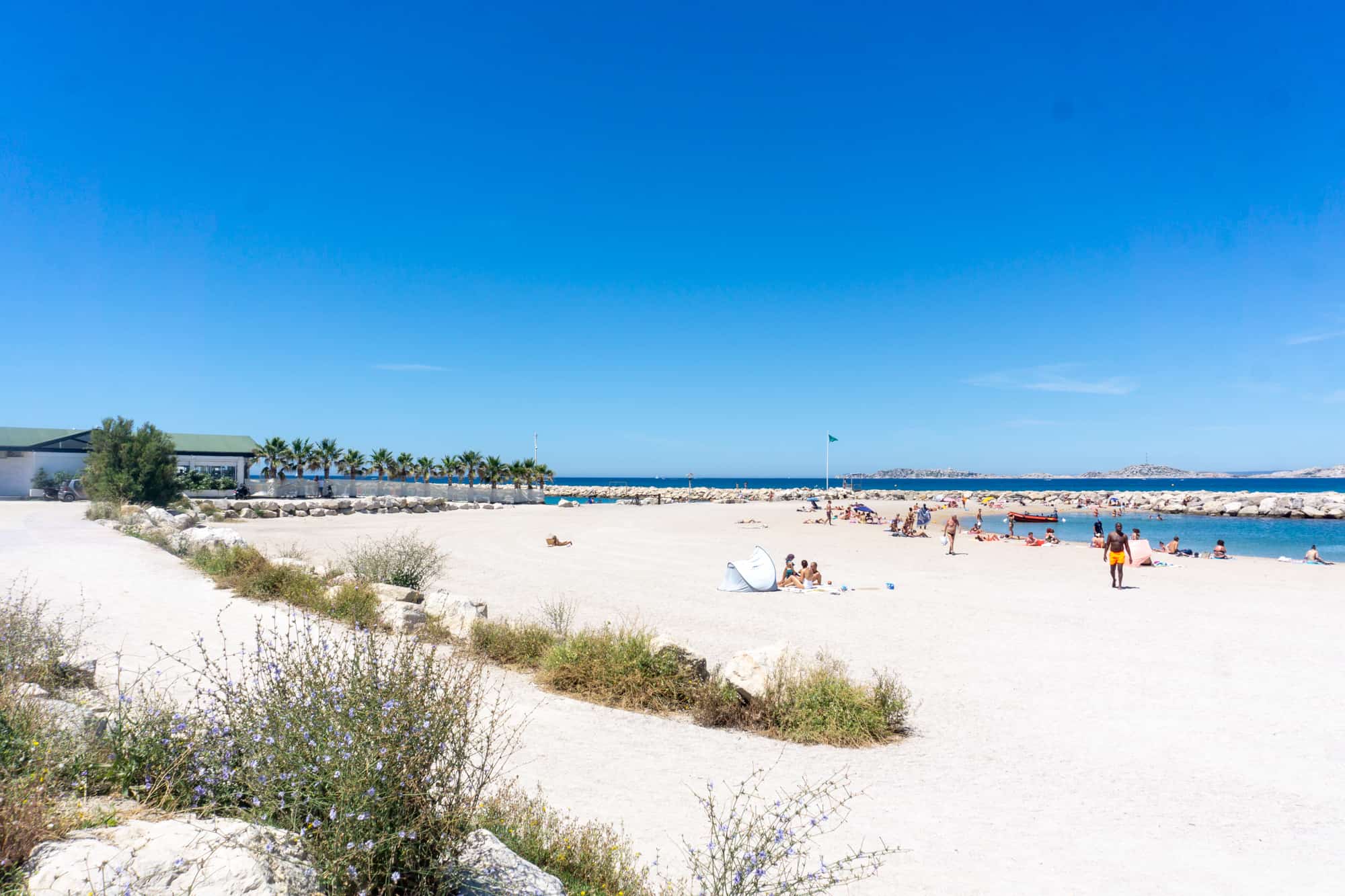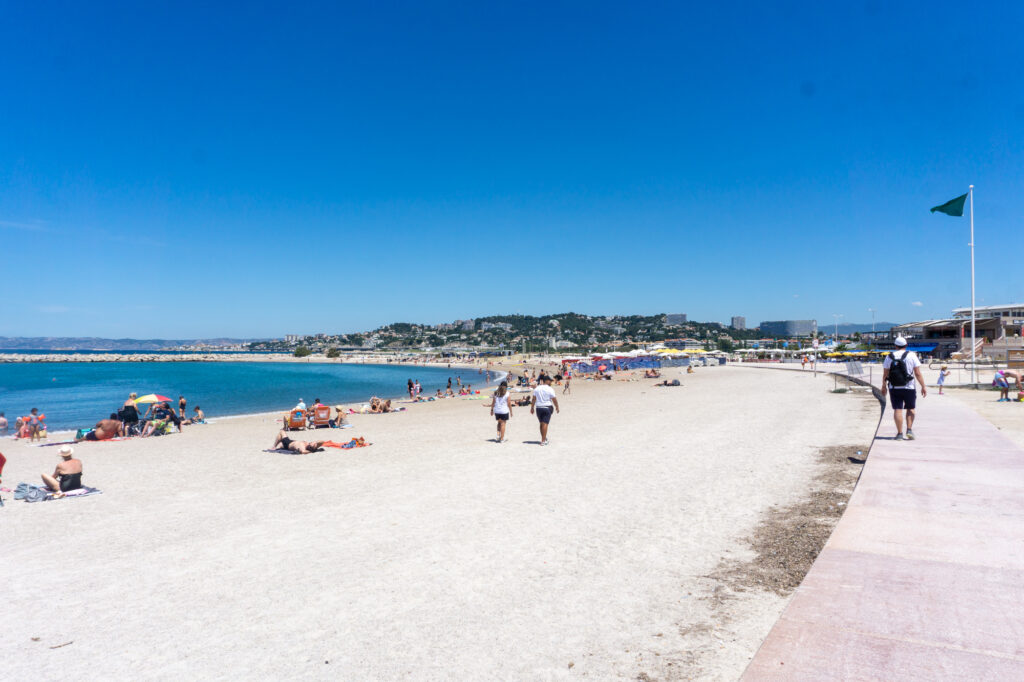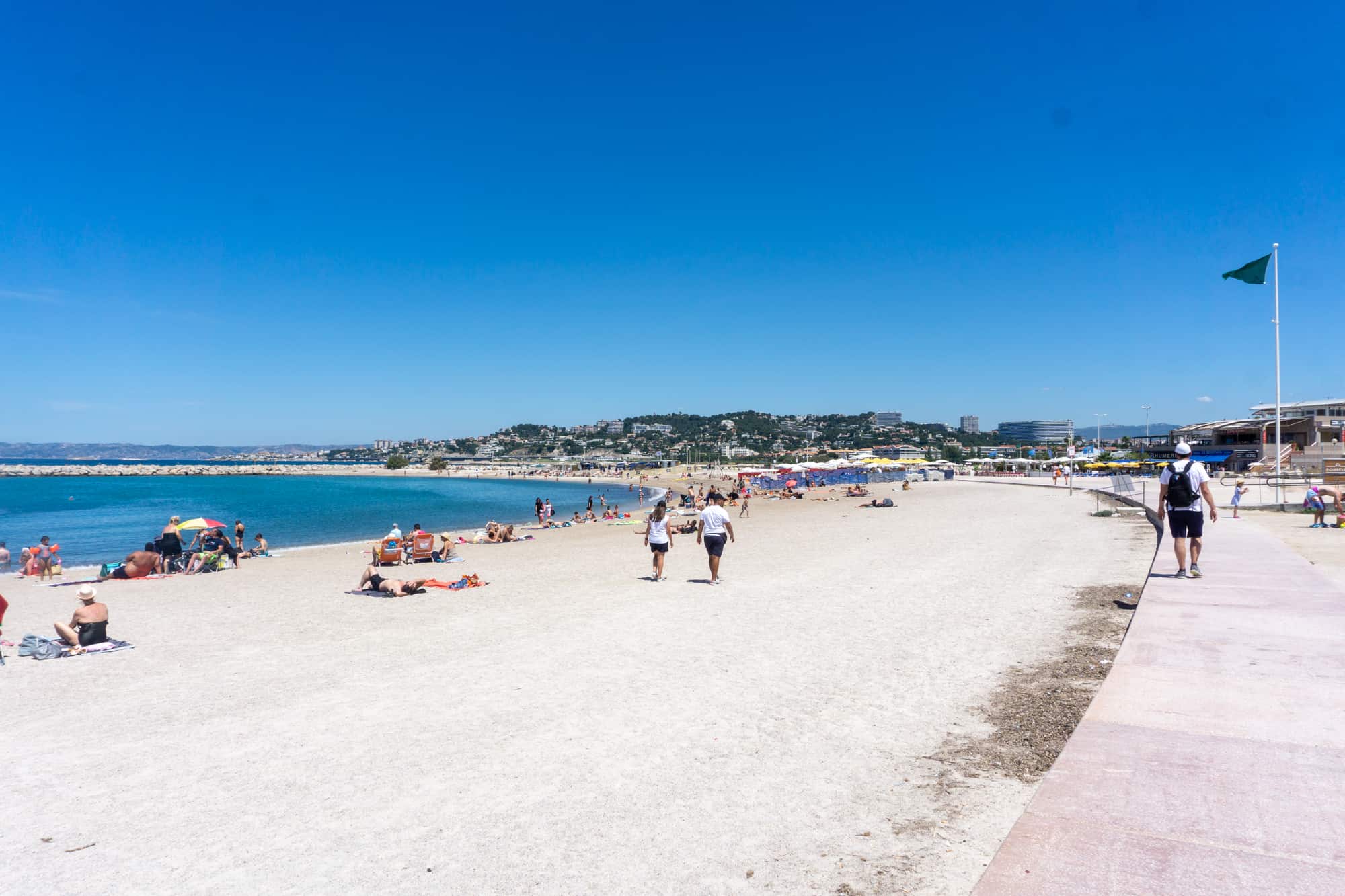 Sometimes called Gaston Deferre, this 500-metre-wide beach isn't the prettiest but it's one of the busiest and liveliest hangouts in summer and among the best beaches around Marseille for families. The shallow bay is protected by two groynes, so it's safe to swim (it's also supervised throughout the summer) and there are beach volleyball courts.
Its kiosks sell delectable churros, ice creams and crepes and there are also a lot of restaurants, which serve food all day long. There is very little shade on the beach, however, so it's best to take or hire an umbrella.
How to get to Plage Bonneveine
As with all Prado beaches, take the metro to Ront Point du Prado and either jump on the #19 bus to the sea or walk 15 minutes.
PLAGE DE LA VIEILLE CHAPELLE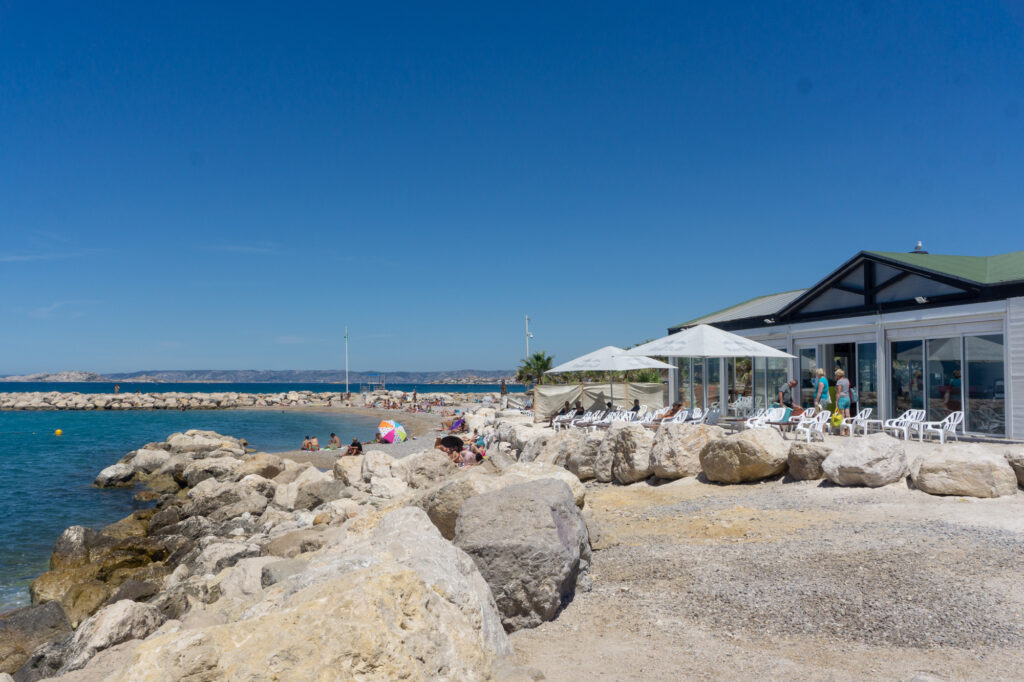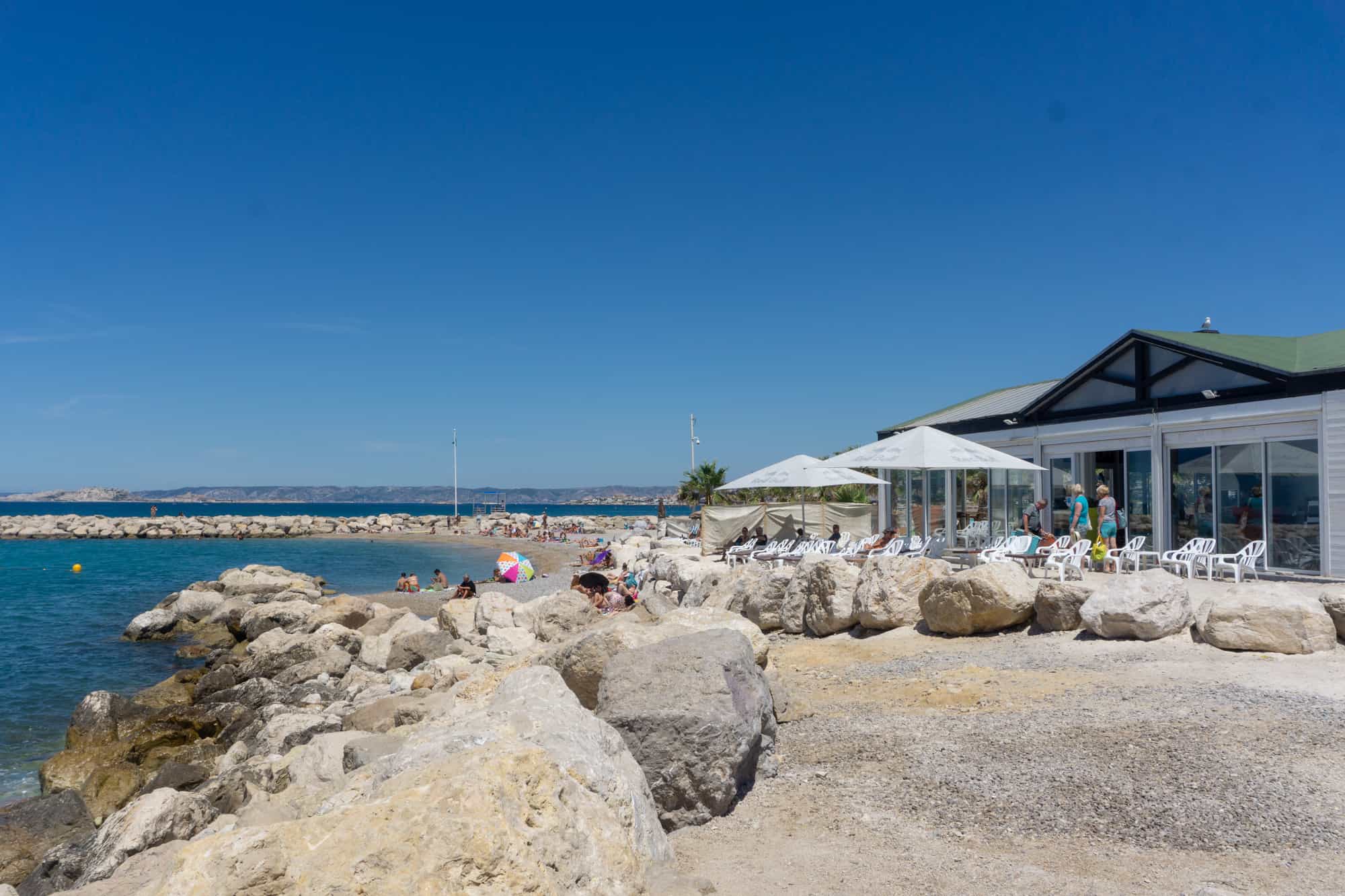 Plage de la Vieille Chappelle (the old chapel) has a small sandy beach that is accessible by climbing over the flat rocks (sensible shoes are necessary). It's a great couples beach, perfect for lying out on the rocks after a swim and reading a book.
Have a picnic on the nearby grass, then watch the kids in the skate park. There are a number of nearby restaurants, some of which do takeout to accompany evening swims.
How to get to Plage de la Vieille Chapelle
There are several car parks around Prado but traffic is heavy in summer. Many people take the metro to Ront Point du Prado and either jump on the #19 bus to the sea or walk 15 minutes. The city's Le Vélo bike scheme is a viable option, with the first 30-minute-ride free of charge, after an initial €5 euros to sign up.
PLAGE POINTE ROUGE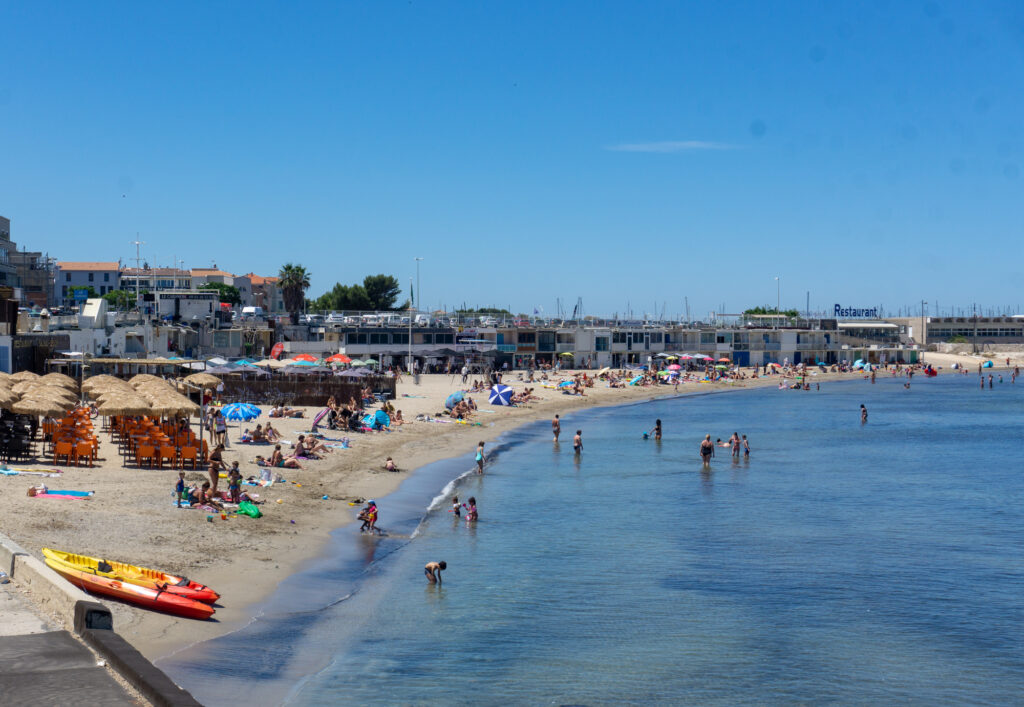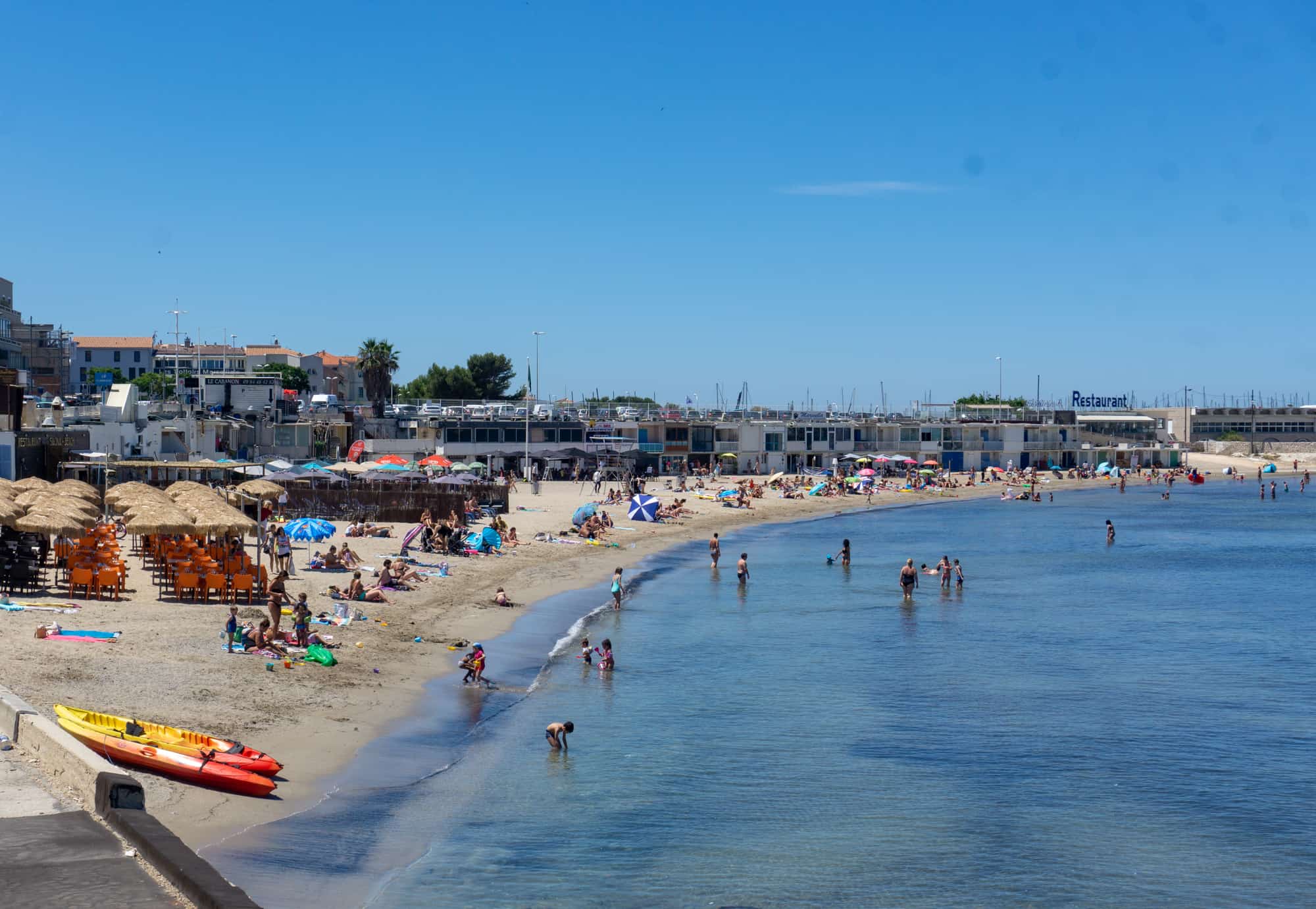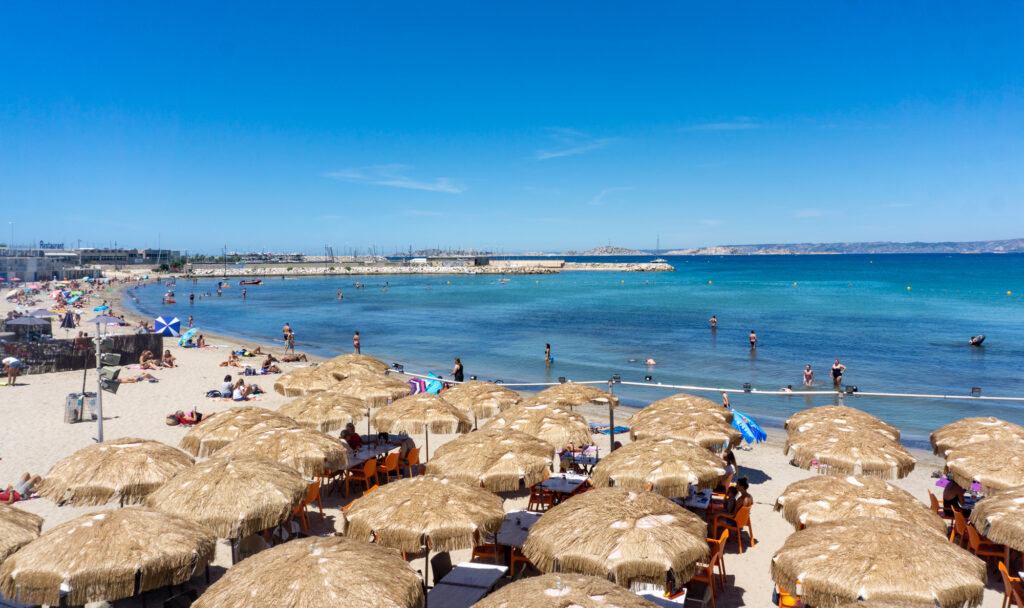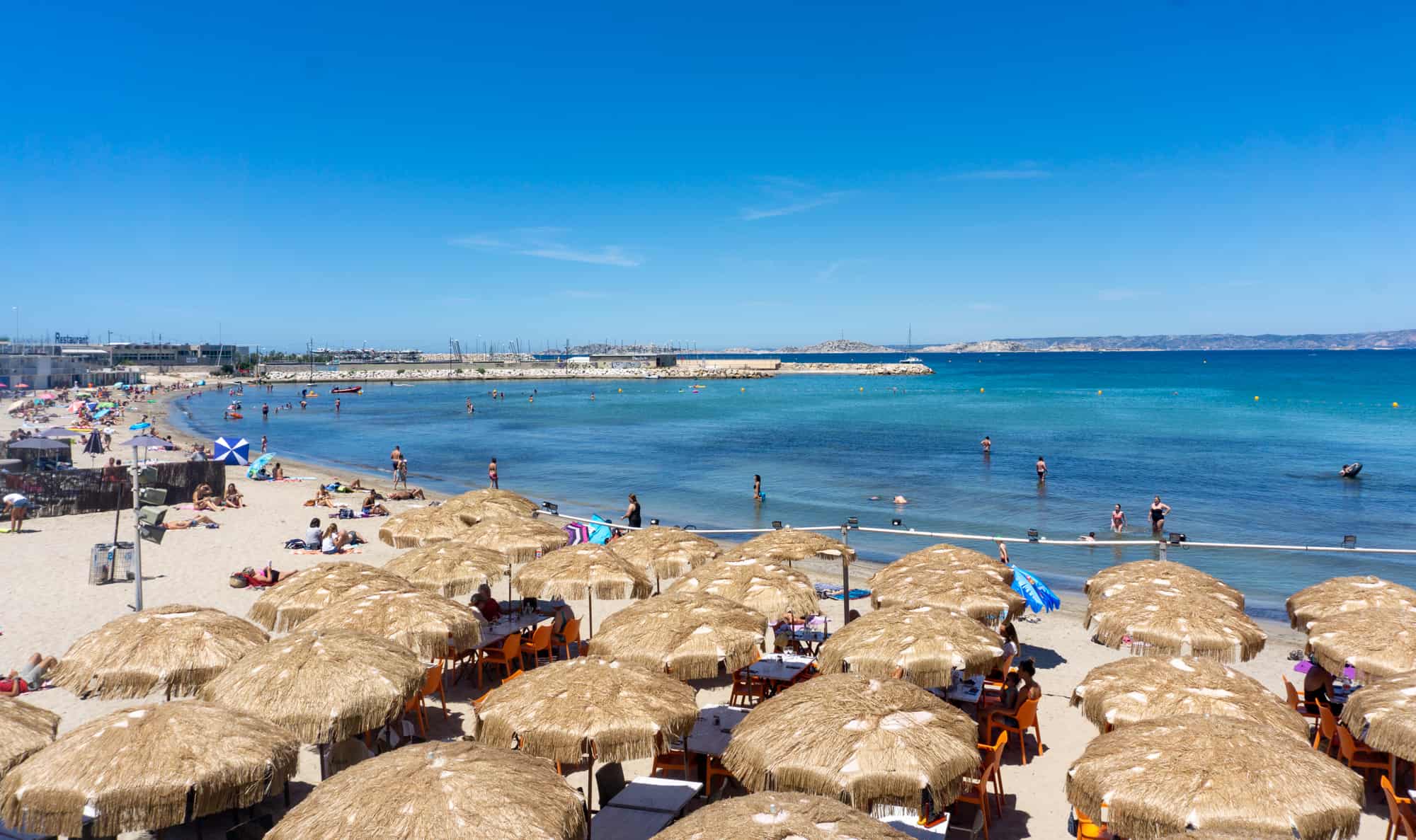 Situated next to the sailing school, Pointe Rouge is sandy, wide and shallow, making it perfect for family holidays in Marseille, particularly for small children or those who want to learn or practice windsurfing, kayaking or sailing (a lifeguard is present in summer).
Sit at a waterside table in one of the many restaurants (burgers, wood-fired pizzas and brasseries) watching families play ball or building sandcastles and taking in the divine view over the islands of Frioul.
How to get to Plage Pointe Rouge
There is some parking nearby but it can be easier to take the #19B bus from Castellane, which takes thirty minutes.
PLAGE COLOMBET & PLAGE DES PHOCÉENS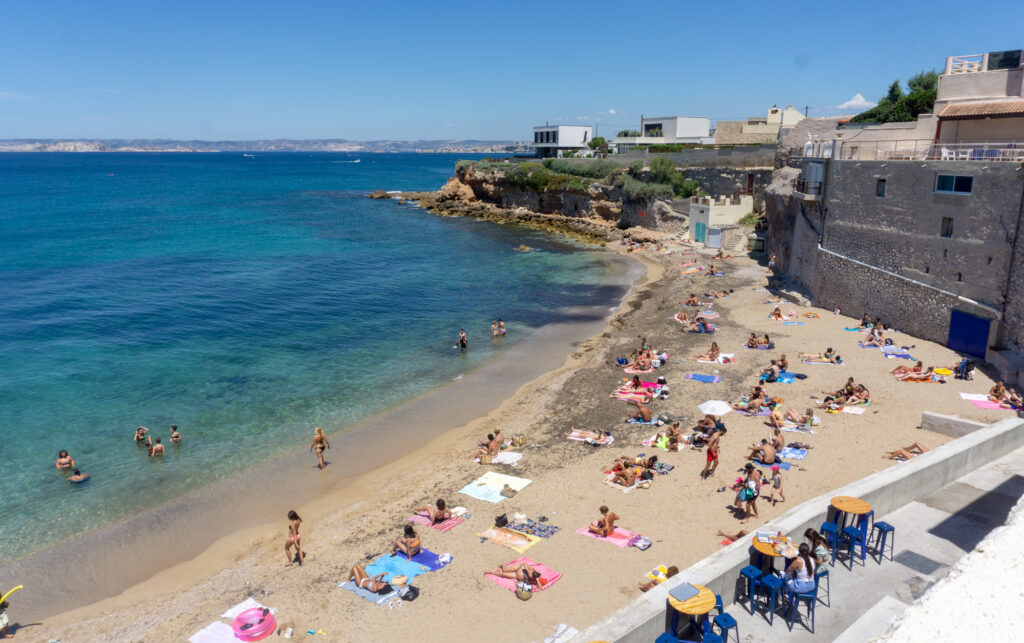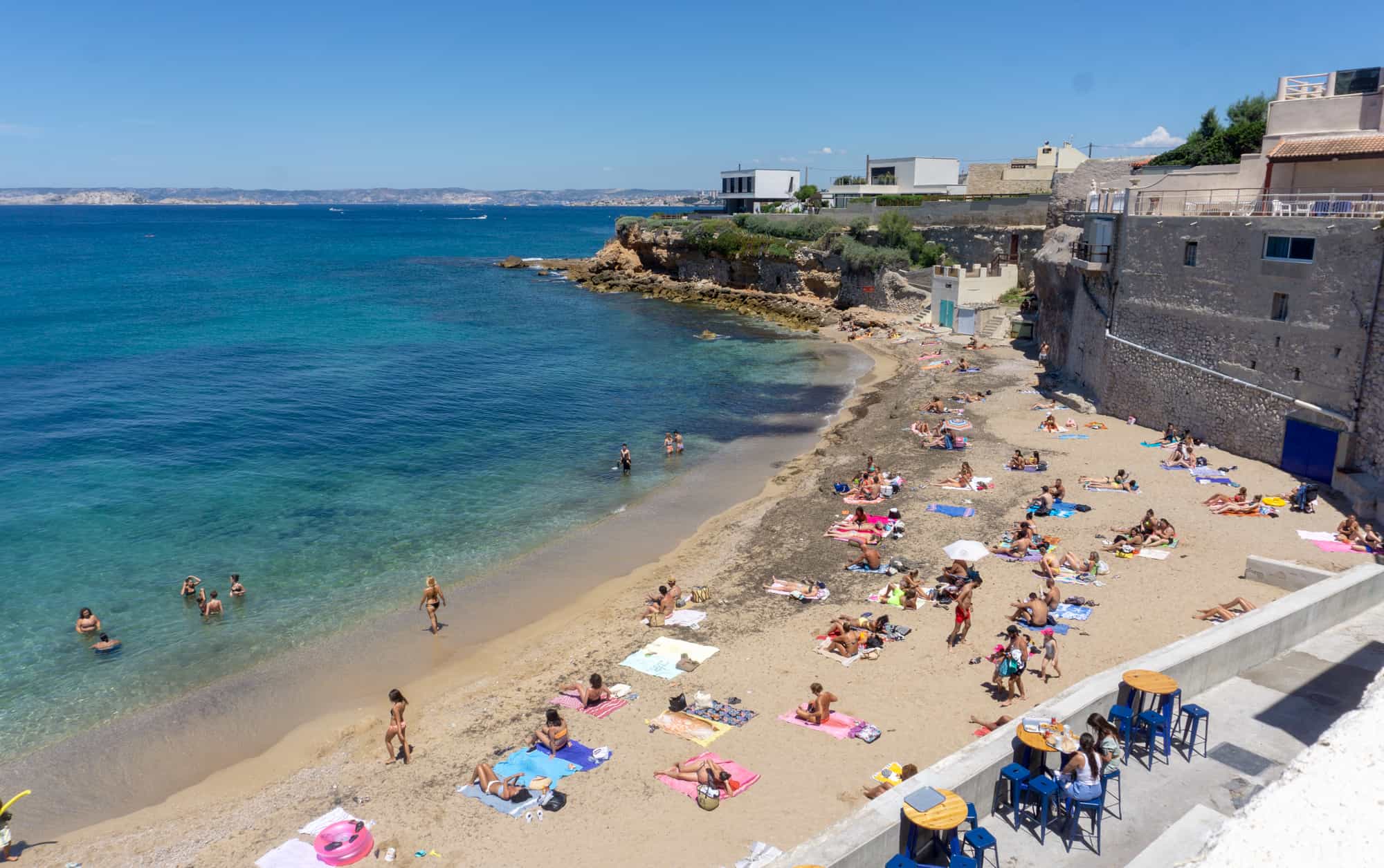 Two little-known beaches on the outskirts of Marseille, you'll find mostly locals hanging out here. Similar in appearance, both beaches are rustic and surrounded by high rocky cliffs that provide shelter in the heat of the afternoon.
Plage des Phocéens has a small beach bar and public toilets, while Plage Colombet has portaloos available in the summer months. There is a third cove in this area, plage de la Bonne Brise, which is larger, but is one of the least attractive Marseille beaches as it's surrounded by rundown looking beach shacks (which people rent out to host parties etc).
How to get to Plage Colombet (Plage des Sablettes) & Plage des Phocéens
Public transport is difficult to these beaches, but can be done if you don't mind walking some of the way. Alternatively, park near the Bonne Brise beach where there is a large gravel car park, and walk a few streets over. Both beaches are accessed via steep, narrow staircases that aren't suitable for pushchairs.
---
Best Beaches Near Marseille, France
If you're looking to get away from the city limits, there are some amazing beaches within 30 mins drive of Marseille. These secluded coves are all unique, and while some are easily accessible, others require a bit more effort to reach. An effort that is well rewarded once you get there!
Let's discover some of the best beaches in Provence, below.
Note – I haven't included the Cassis beaches or Calanques de Cassis beaches in this list as they're a little further away (although still under an hour from Marseille). You can read about those beaches, here.
PLAGE DU VERDON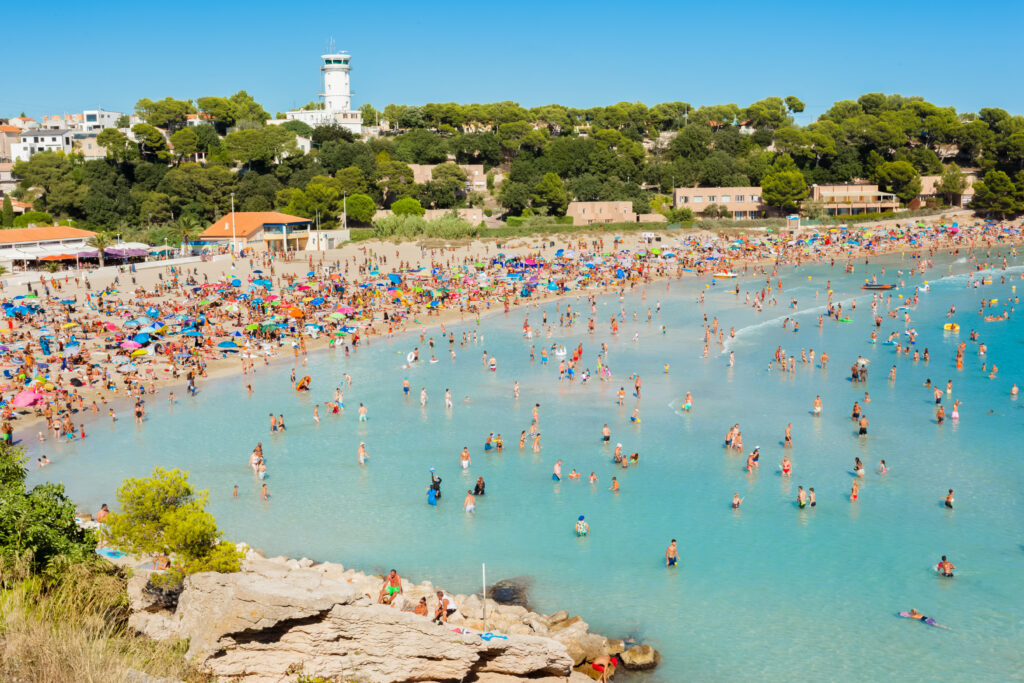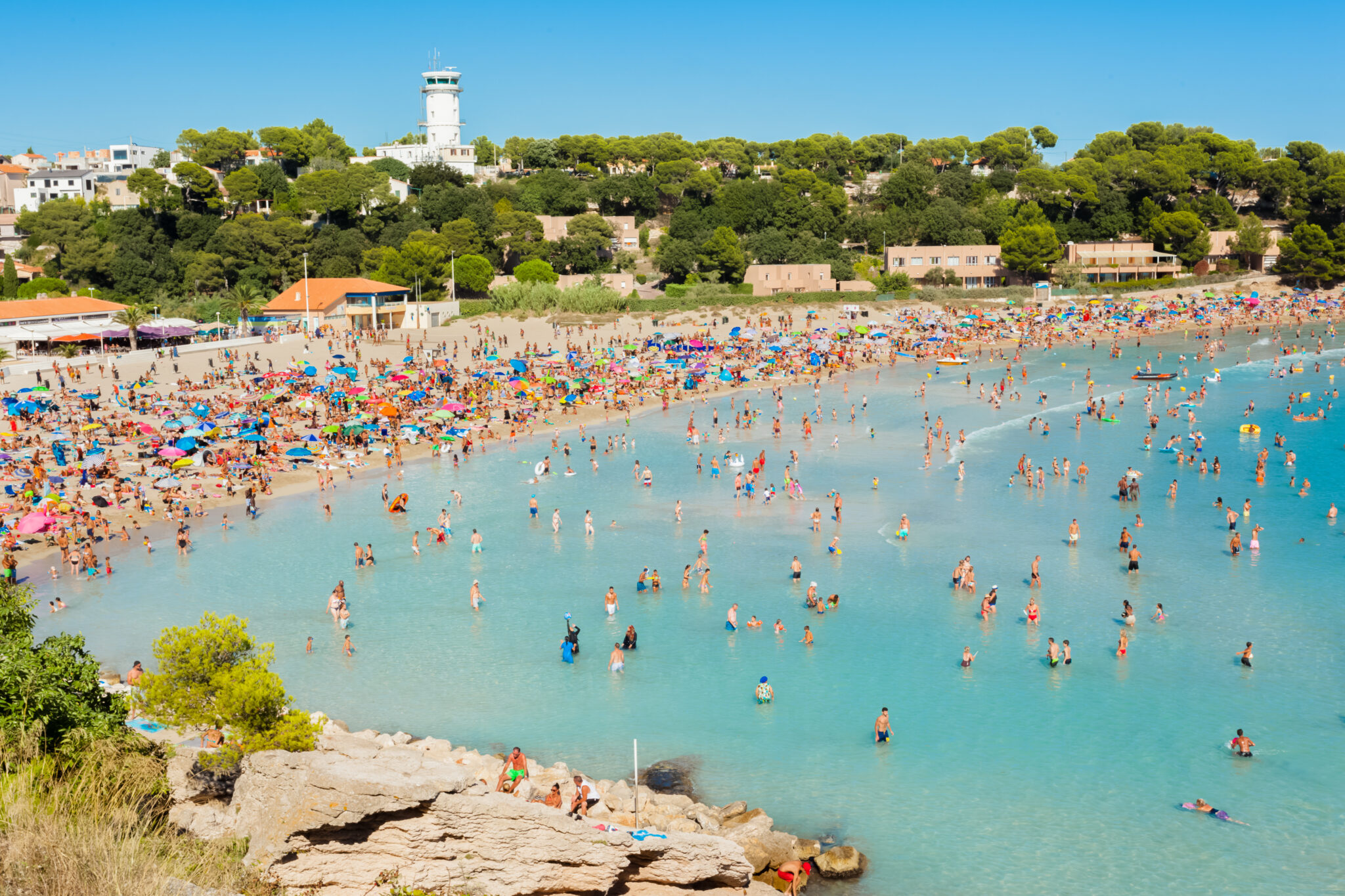 This large, family-friendly beach by the seaside resort of La Couronne is a busy place in summer, but off-season it's not uncommon to share it only with a few well-behaved dogs and the odd hardcore swimmer.
Equipped with everything you'll need to stay all day, there are toilets, showers, and restaurants on-site, and it's one of the few wheelchair accessible beaches in Marseille too. An amphibious wheelchair and beach wheelchair are available.
How to get to Plage du Verdon
You can take the train from Marseille to La Couronne in approximately 45min. From the train station to the beach is about a 15 min walk. If driving, there is a very large parking lot at the rear of the beach. Although even then, it's not uncommon for this to be overflowing onto nearby streets in the summer.
PLAGE DE SAINTE-CROIX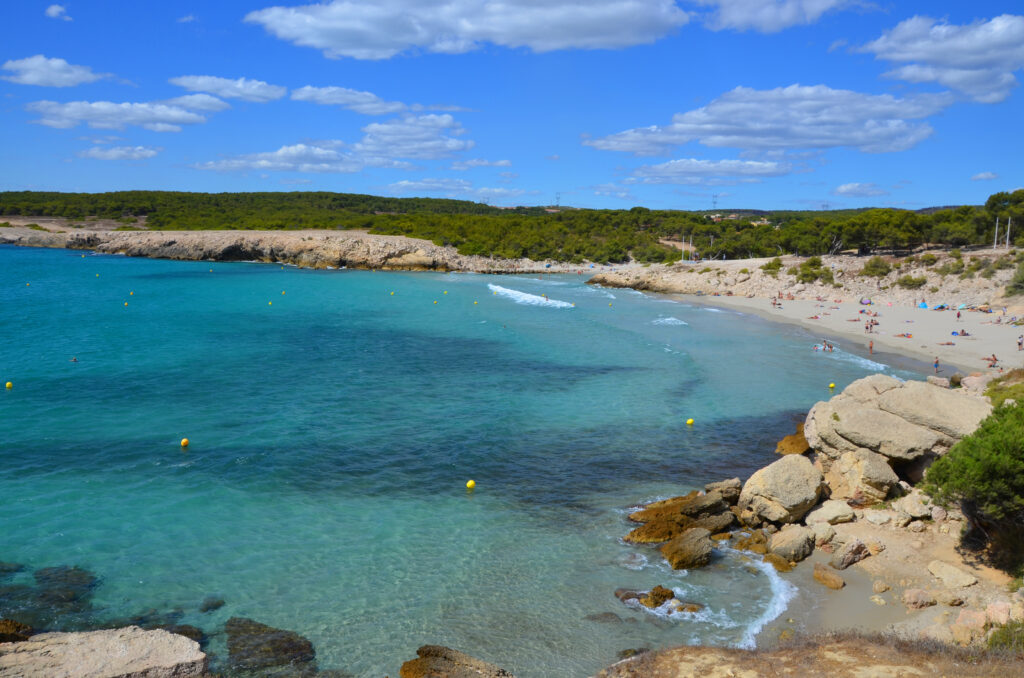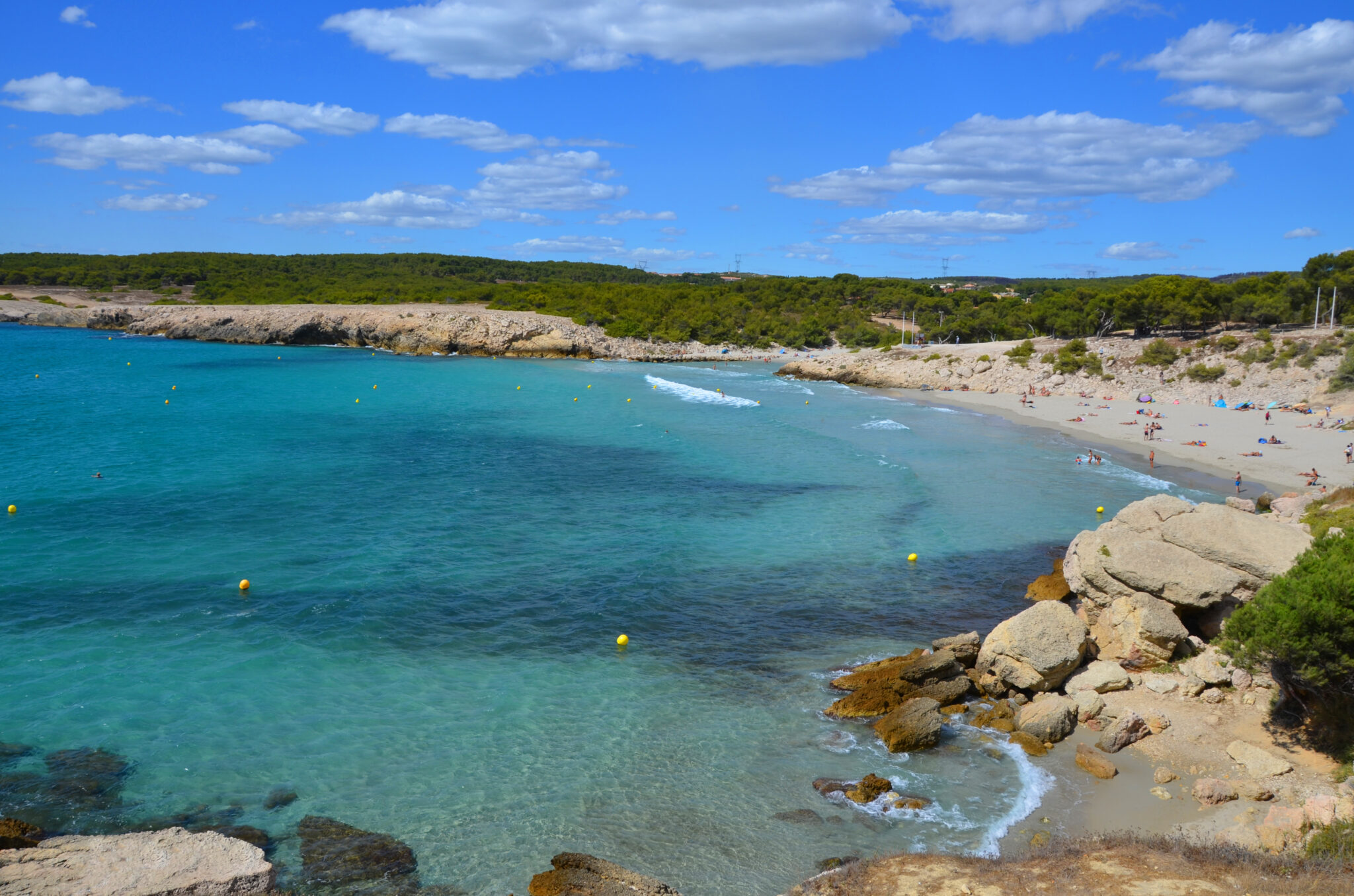 Plage de Sainte-Croix and its neighbour, Plage de La Saulce, are two beautiful sandy beaches in a wide bay. Separated by a small headland, you can take a path between the two when looking for a free spot on the sand.
Sainte-Croix is the prettier of the two beaches, and its wide but shallow bay gets packed to the brim with sun-seekers during the hotter months. If the weather allows, wander up along the coastal trail, past the petite chapel, to explore the craggy shoreline.
How to get to Plage de Sainte-Croix
There is no train station near Sainte-Croix beach, so you'll have to stop at La Couronne and walk half an hour to the beach. Driving is easier, and in summer there is a large parking lot you can use on Chemin de Sainte-Croix (charge applies).
PLAGE DE CARRY LE ROUET
Carry Le Rouet is a charming seaside resort. The wide town beach is perfect for kids and if you head off to the east, there are small nooks and crannies where couples can carve out some space, even on busy days.
There are plenty of delectable shops in town to buy a picnic, or book ahead in one of the family-friendly restaurants. A guided snorkel session around the marine park is a treat and on the first three Sundays in February, stallholders sell fresh sea urchins at the port.
How to get to Plage de Carry Le Rouet
The train takes about 45 minutes from Marseille, after which it's a short cab ride to the beach or a fifteen-minute walk. If you choose to drive, there are several car parks around the town.
PLAGE DE LA DUGUE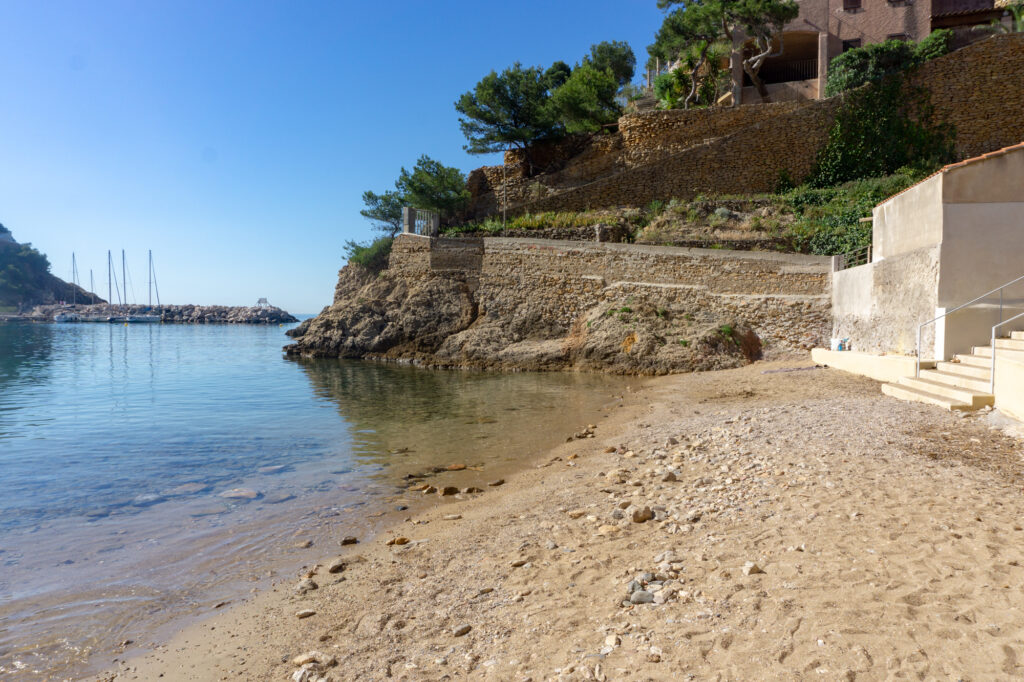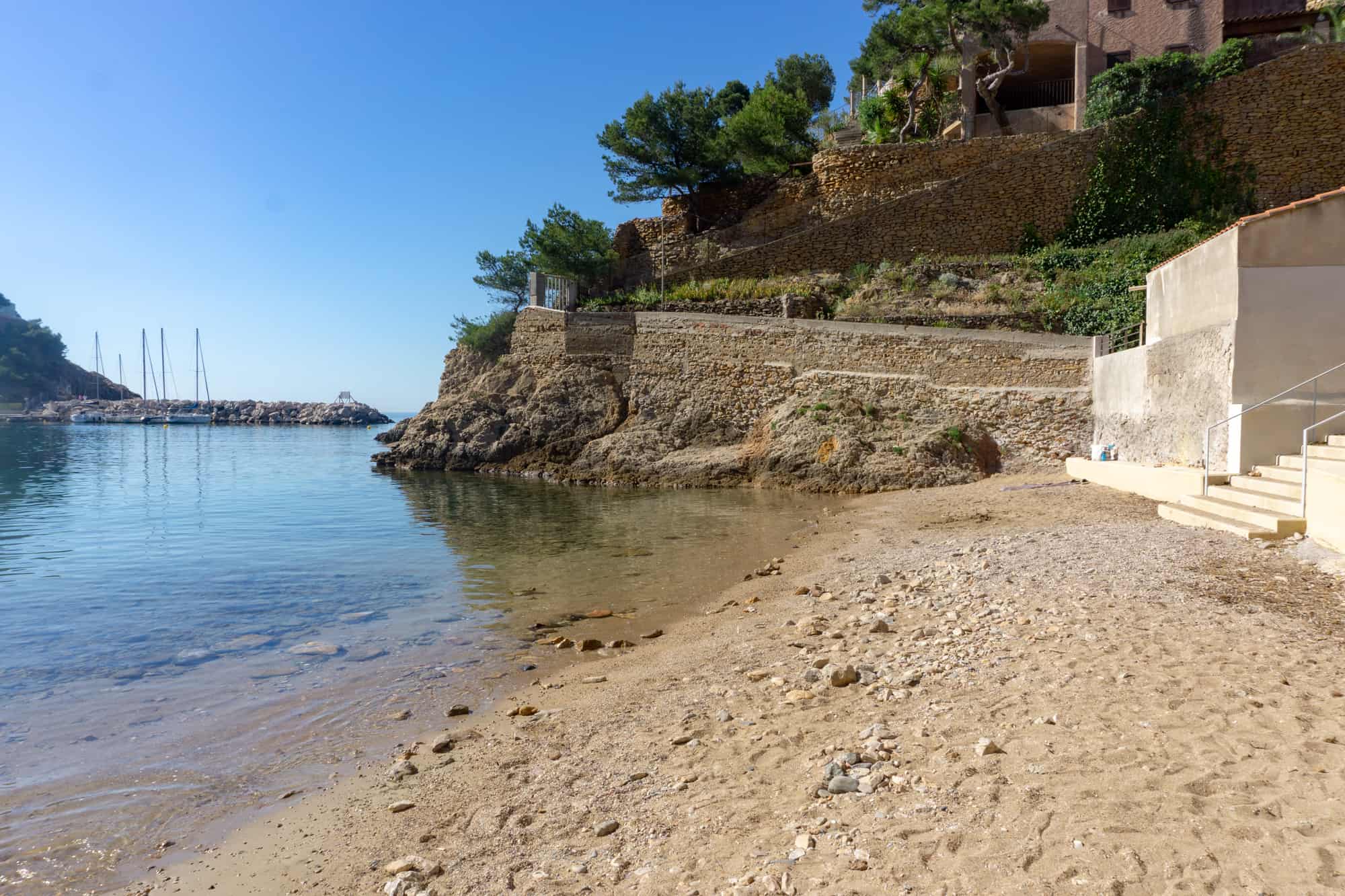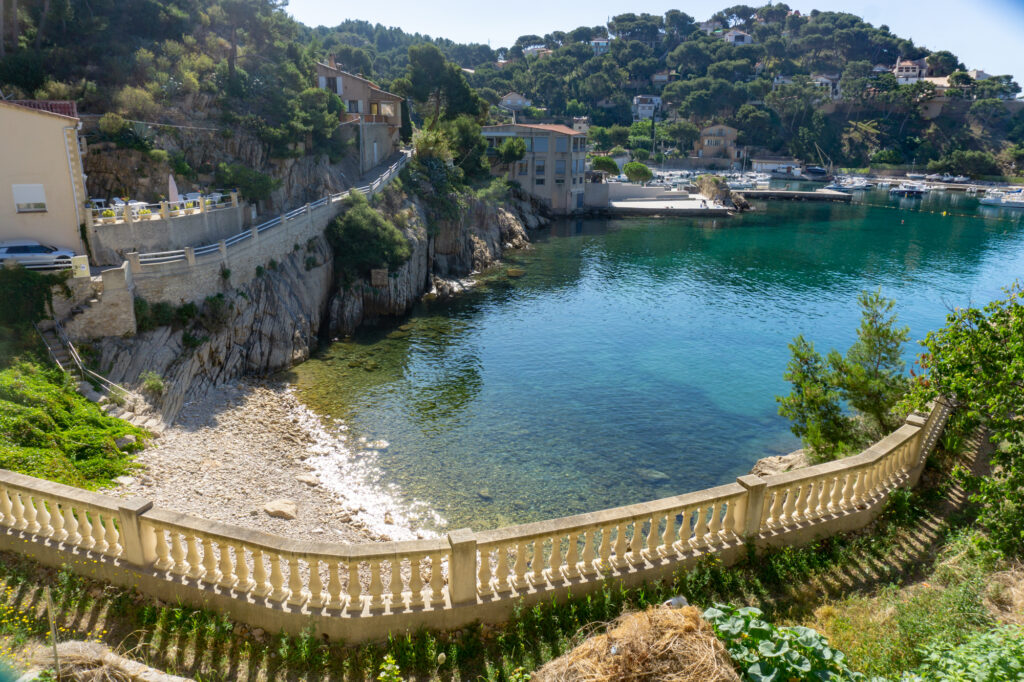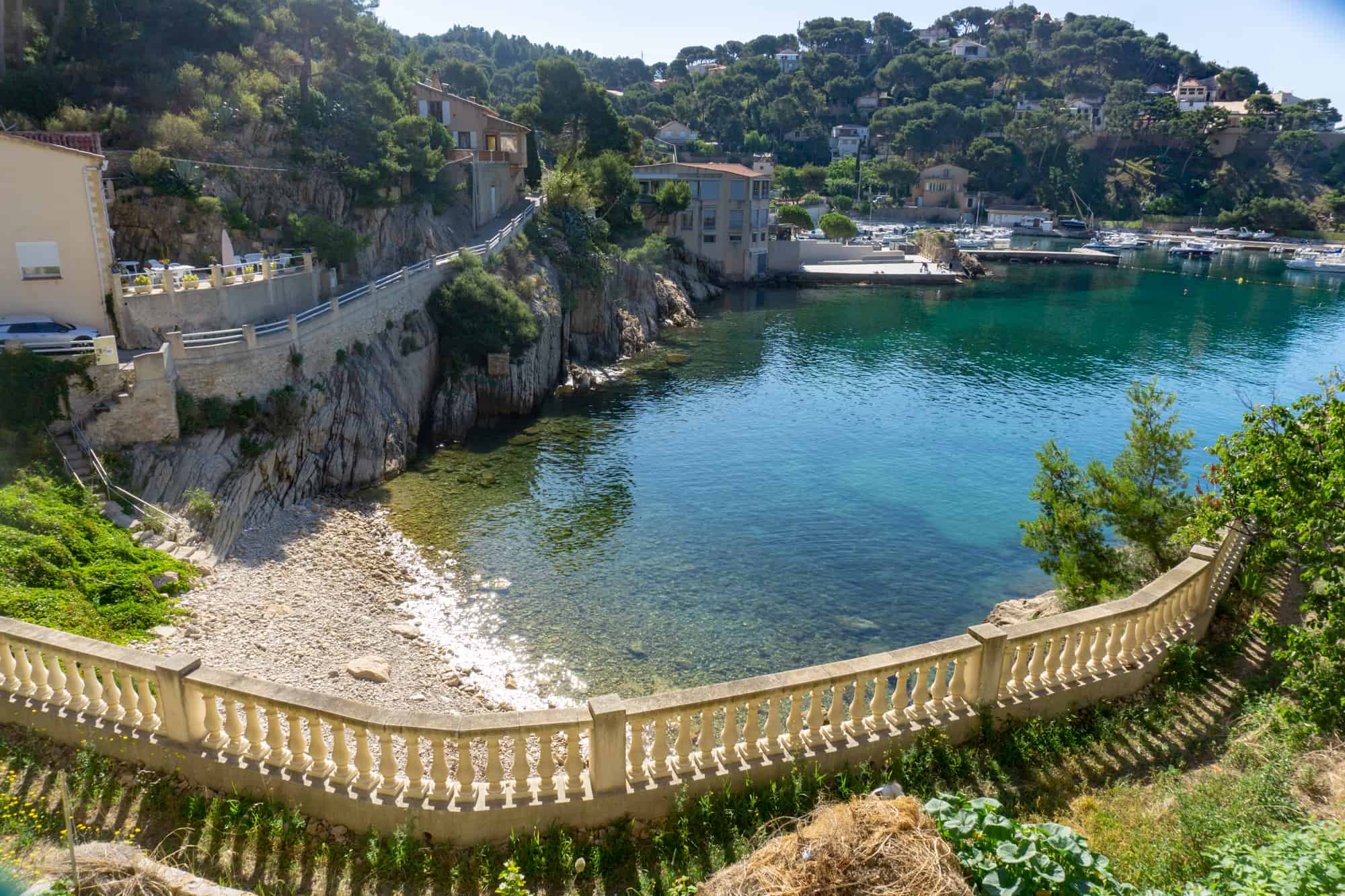 The little harbour at Ensuès-la-Redonne has two picturesque beaches; one is sandy, the other is pebbly and both are protected from the fierce Mistral – making them a good choice on a windy day.
You can swim or walk between the two beaches. There's a narrow walkway that goes up behind the front row of houses and pops out by the pebbled beach. If you walk port side, naturism is allowed, at the far end of the beach.
Ensuès-la-Redonne is known for its annual oursin (sea urchin) tasting festival in February when they come into season (the water will be covered with them during this time).
How to get to Plage de la Dugue
The most stunning way to arrive is by train at Ensuès-la-Redonne from Marseille St Charles station – the high aqueduct gives sublime views across the Mediterranean.
If you drive over, parking is a challenge, but possible. There are a few spaces at the top of the hill, a few on the way down to the beach, and fewer still at the bottom. Wear flat shoes as the hills are steep.
CALANQUE DE L'EVERINE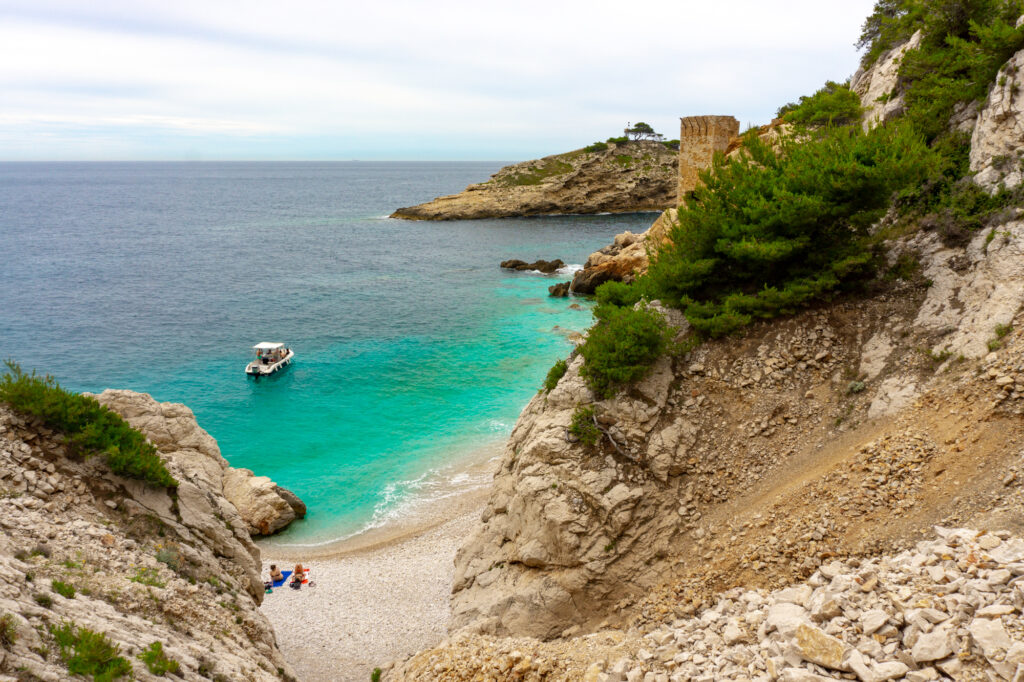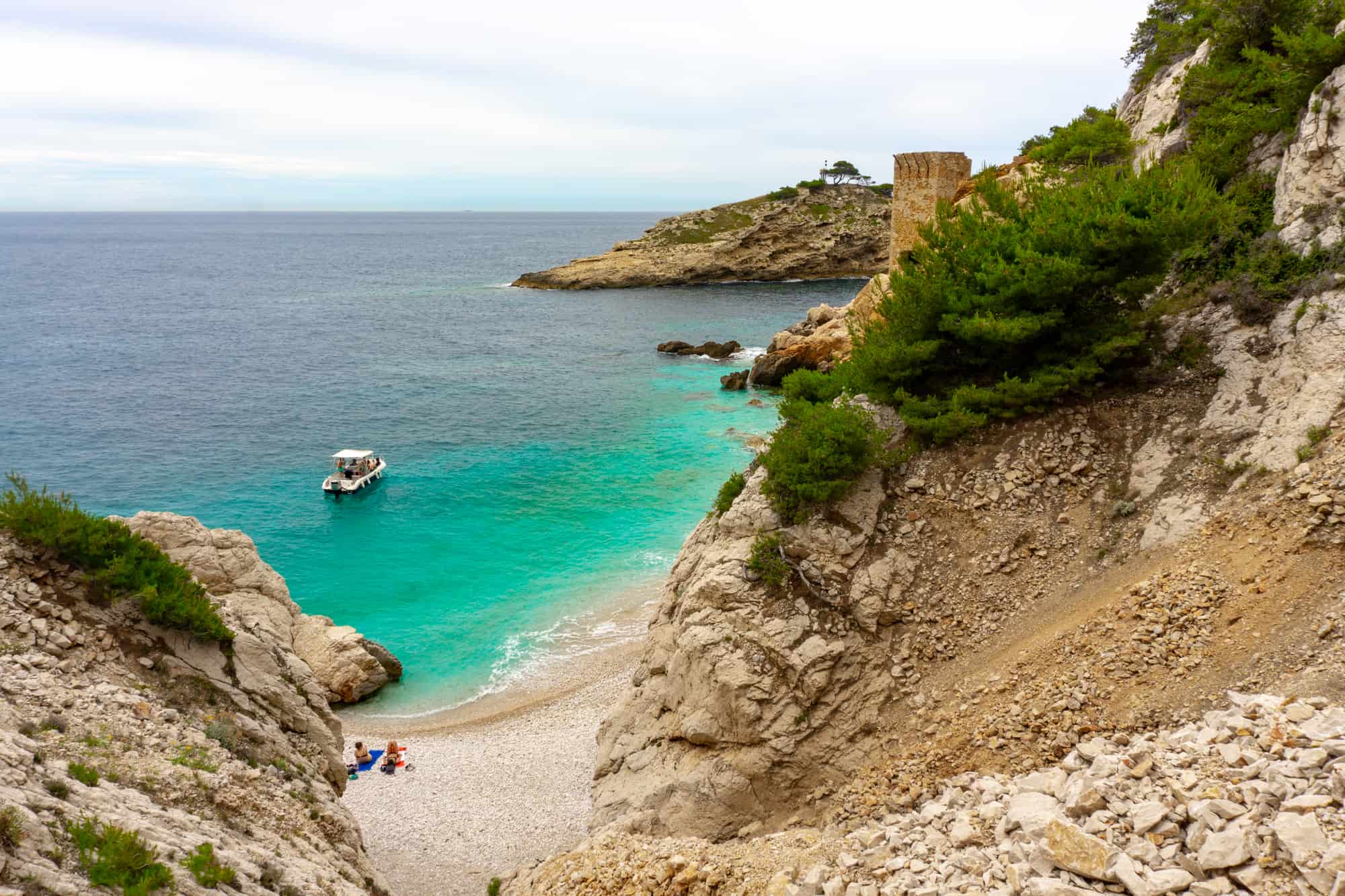 The petite beach at Calanque de l'Everine is a popular spot, despite the somewhat difficult access. Nestled between craggy cliffs South-West of Niolon, the alabaster pebbles create a beautiful contrast with the turquoise sea.
With a view over the île de l'Everine and an abandoned tower, this calanque beach has an interesting outlook. And while it's not advised to explore too far on land (rockslides are common around the tower), the island is an excellent place to explore the underwater world. Many recognised diving spots surround the island, with the deepest stretching 40m underwater.
How to get to Calanque de l'Everine
Access to this beach near Marseille is difficult at best and dangerous at worst. There are many different routes you can take along the Côte Bleue to reach the calanque, but unless you're up for an adventure I'd advise against the coastal trail from Niolon.
Instead, park at the top of the Route de Niolon and walk the inland track that leads straight down to the beach. It'll take you a little less than an hour. Do be warned that the last descent is still steep and requires sturdy footwear. This isn't one I'd recommend with small children.
PLAGE DE LA POINTE DE FIGUEROLLES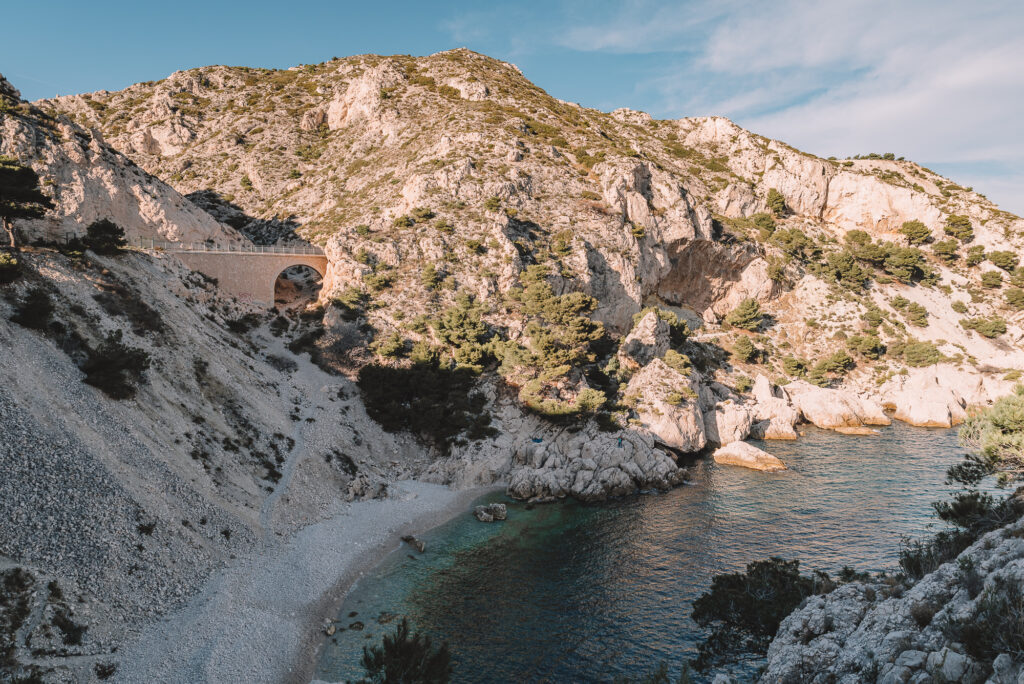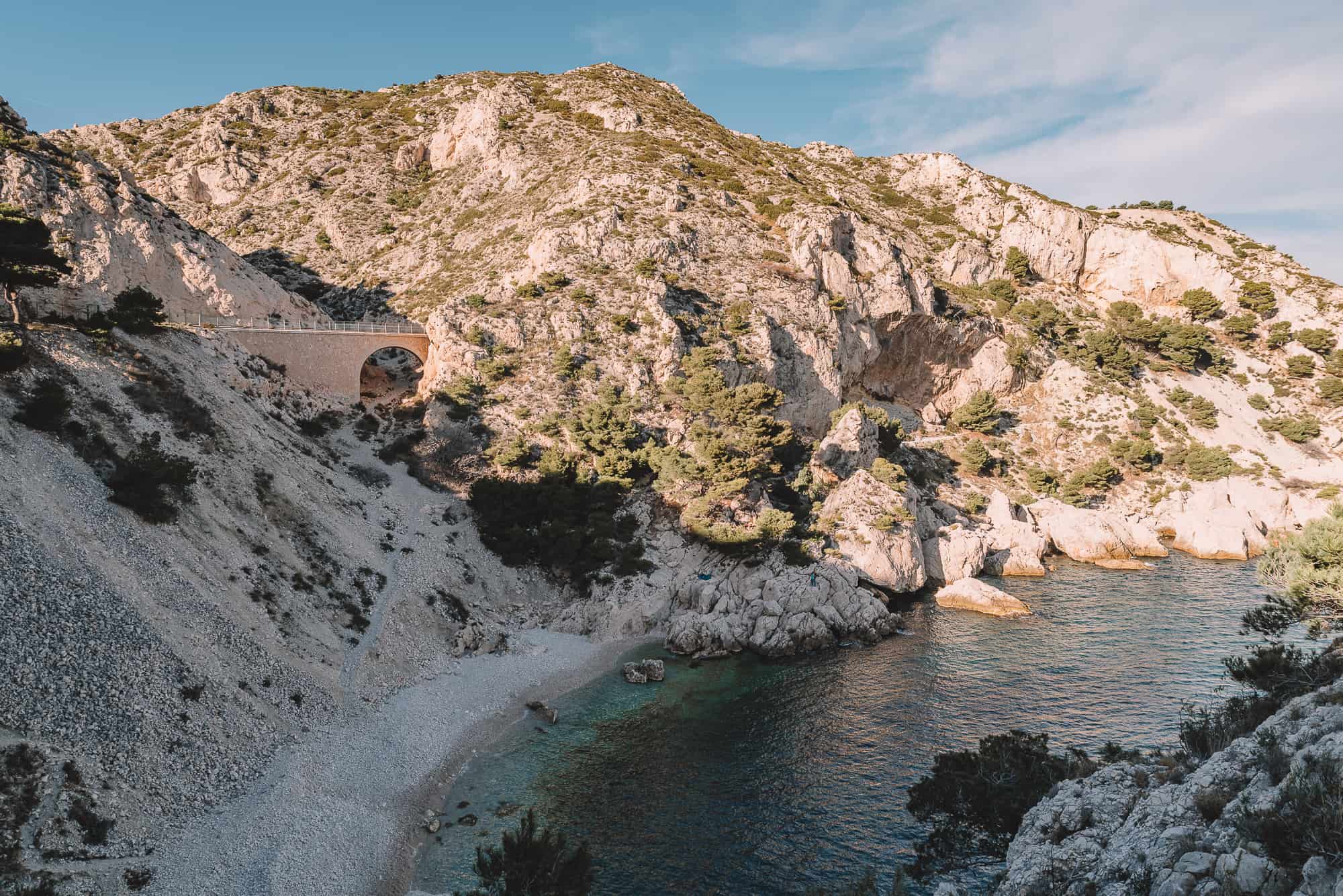 A tranquil beach hiding discreetly along the coast from Niolon, Plage de la Pointe de Figuerolles faces the city of Marseille, yet seems a world away. It's one of the easier calanques to reach, which makes it a favourite among the locals.
A narrow stretch of fine pebbles awaits you as you emerge from under the stone viaduct. It's an excellent place for swimming and snorkelling and its accessibility makes it a good option for a family day out.
How to get to Plage de la Pointe de Figuerolles
Taking the train from Marseille to Niolon is quick and easy and from there the walk will take you around 30-45 mins to reach the calanque. Follow the inland route over to La Vesse. From here, the access to the calanque is off the Route de la Vesse. If you plug it into Google Maps, it's the longest route, but the coastal route has been blocked off (when we walked it).
If you're driving, parking is easier in Niolon, so follow this same route.
PLAGE DE SAINT-ESTÈVE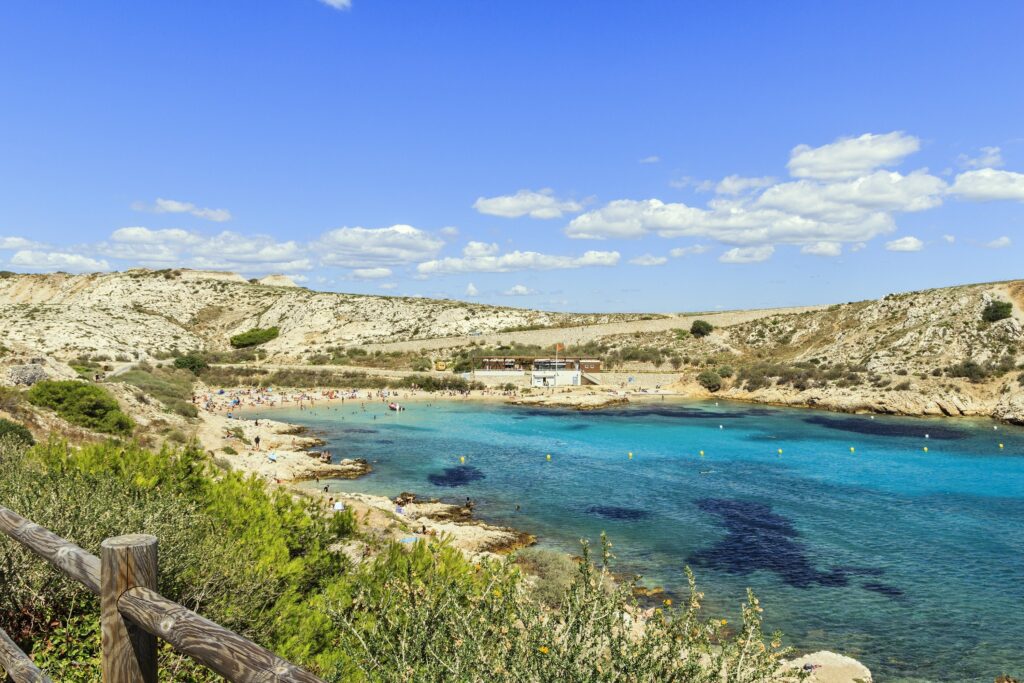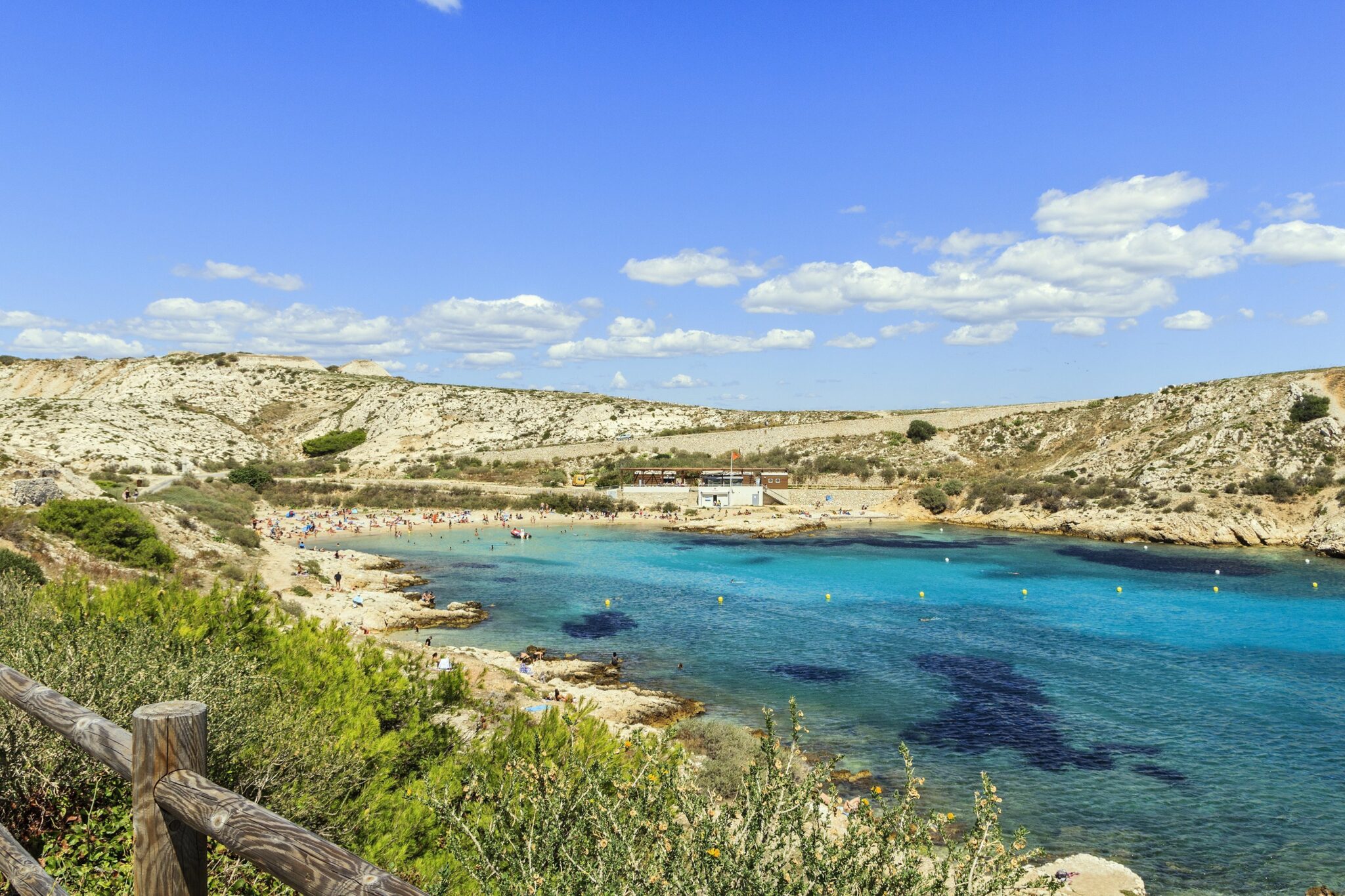 The archipelago of Frioul, a boat ride from Vieux Port, is made up of 4 islands, one of which is Château d'If, an old fortress where the fictional Count of Monte Cristo was imprisoned. The two largest islands of Pomègues and Ratonneau are joined by a walkway and both offer cute bays to discover, 200 hectares of rare birds and flowery paths, oyster farms and stunning sea views.
Saint-Estève beach is the busiest (although Frioul beaches are never as crowded as those on the mainland) because it is family-friendly and has a lifeguard in summer. It's a pleasant 20-minute walk from the harbour. Dogs are allowed on the island but naturism is not.
How to get to Plage de Saint-Estève
The boat from Vieux Port arrives in the small harbour of Ratonneau after thirty minutes (you can stop at Château d'If on the way). Travel cards are now accepted. Take provisions as there isn't very much on the island once you leave the very laid back restaurants at the harbour.
PLAGE DE LA BAIE DES SINGES
This impressive beach near Les Goudes feels like it's at the end of the world because it requires a twenty-minute amble across the clifftop (steady shoes required) to the small, sandy beach that is protected from the open sea by a large dyke (perfect to climb). Singe is French for monkey, so-called because the bay was used for smuggling off the coast of Marseille and the local kids were told to be as mute as monkeys about what was going on.
Either book a table at the restaurant, sample the grilled fish and rosé wine, and hire the sun loungers on its terrace (from where you can slide into the water). Or take the public (and cheaper option) and continue around the side of the cliff and climb down onto the sand opposite. Perfect for adventurous bigger kids and mobile adults.
How to get to Baie des Singes
If driving, head to Cap Croisette and park impromptu amongst the rocks at the end of the road. Be warned, in summer traffic, it can be a slow ride. Or take bus #19 from Castellane and then change to bus #20 at Madrague de Montredon (both benefit in places from using a bus lane).
The buses should take 45 minutes to Les Goudes, from where you'll have to walk the final mile (1.5 km) but it's well worth the effort.
CALANQUE DE MARSEILLEVEYRE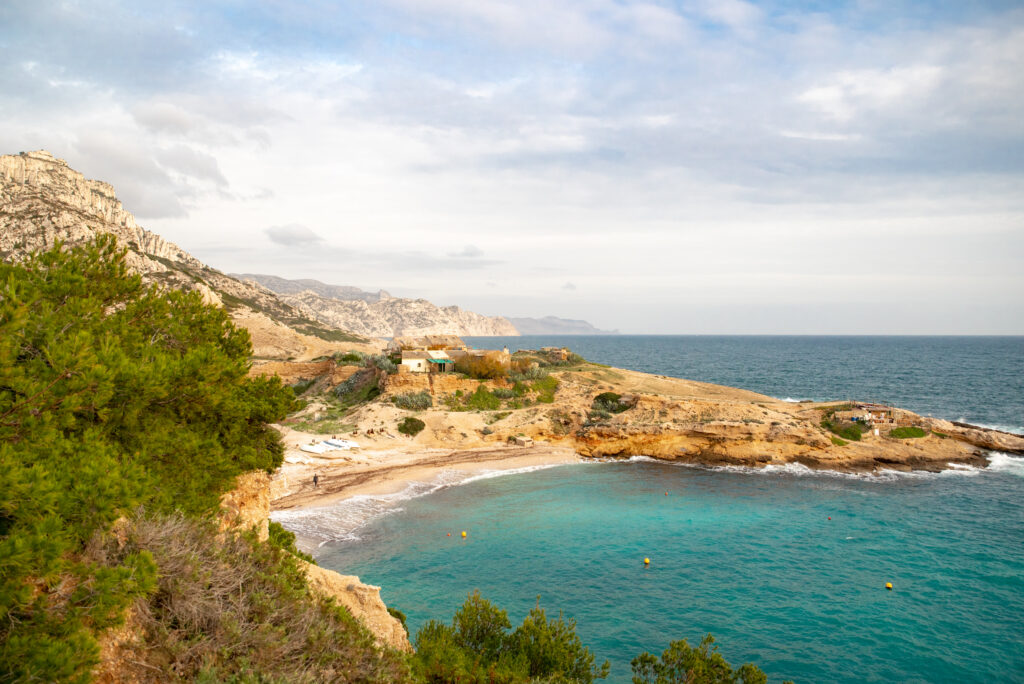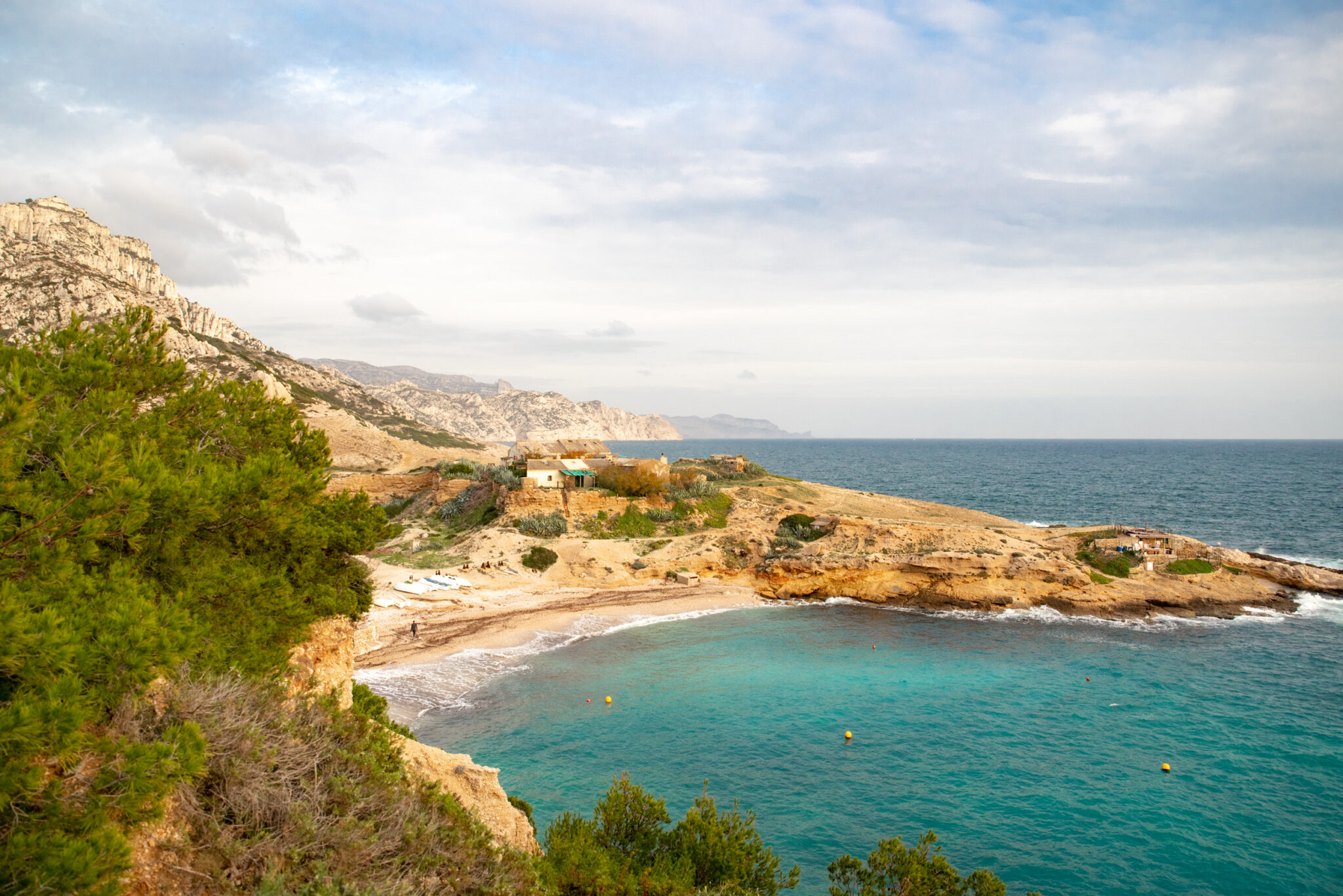 A remote and wild-looking beach within the Calanques National Park, Calanque de Marseilleveyre is an easy walk from Calanque de Callelongue. In winter it remains deserted, but in the summer months, a lively beachside bar adds a convivial ambience to the otherwise secluded spot.
Despite its appeal, it remains one of the lesser-frequented calanque beaches. Making it a good choice for those wanting an authentic and unique experience.
How to get to Calanque de Marseilleveyre
Park nearby Calanque de Callenlongue and walk the well laid out GR 98-51 trail along the coast. The walk takes less than an hour each way. You'll pass many inlets along the way – perfect for a refreshing dip.
CALANQUE DE SORMIOU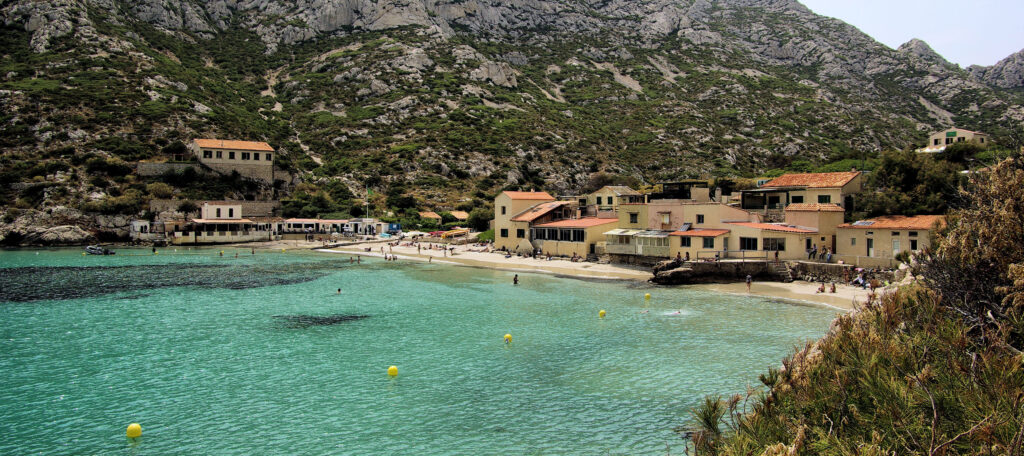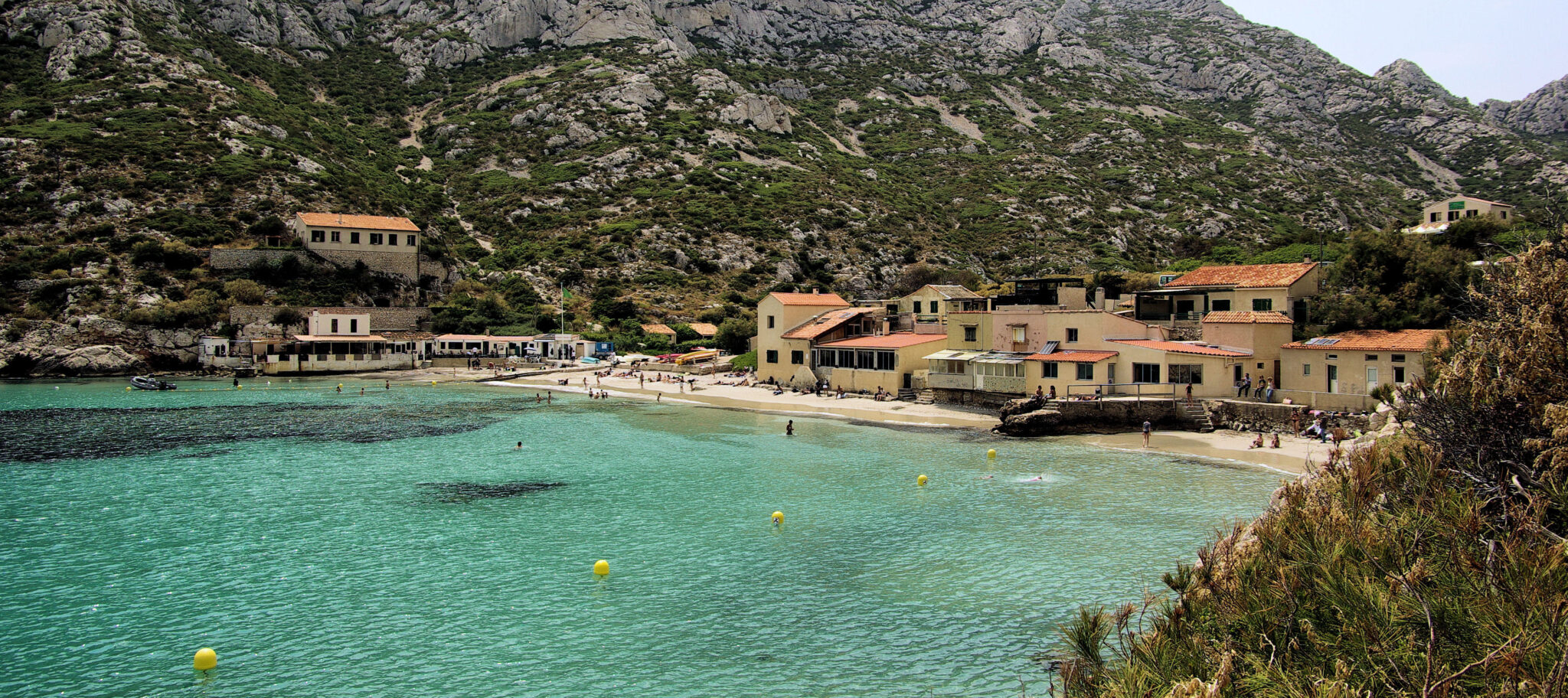 The Calanque de Sormiou is one of a group of inlets in the limestone cliffs between Marseille and Cassis. It's picture-postcard perfect – often named one of the best beaches in Provence – with turquoise sea, brightly coloured boats, a sandy beach, and lots of beautiful cabins dotted around the hillside.
If the budget allows, eat in one of the waterside restaurants and then have an afternoon swim. Sormiou is the departure point for the local dive school and for many of the Calanques kayak tours.
How to get to Calanque de Sormiou
You can only drive down to the beach during winter when there is less risk of fire – at all other times of the year, you'll need a reservation at one of the restaurants to be allowed down by the police.
Alternatively, there is a car park, La Cayolle, at the top which costs €4 for the day. The #23 bus from Rond Point du Prado takes 20 minutes to La Cayolle, and the walk down takes about an hour.
CALANQUE DE MORGIOU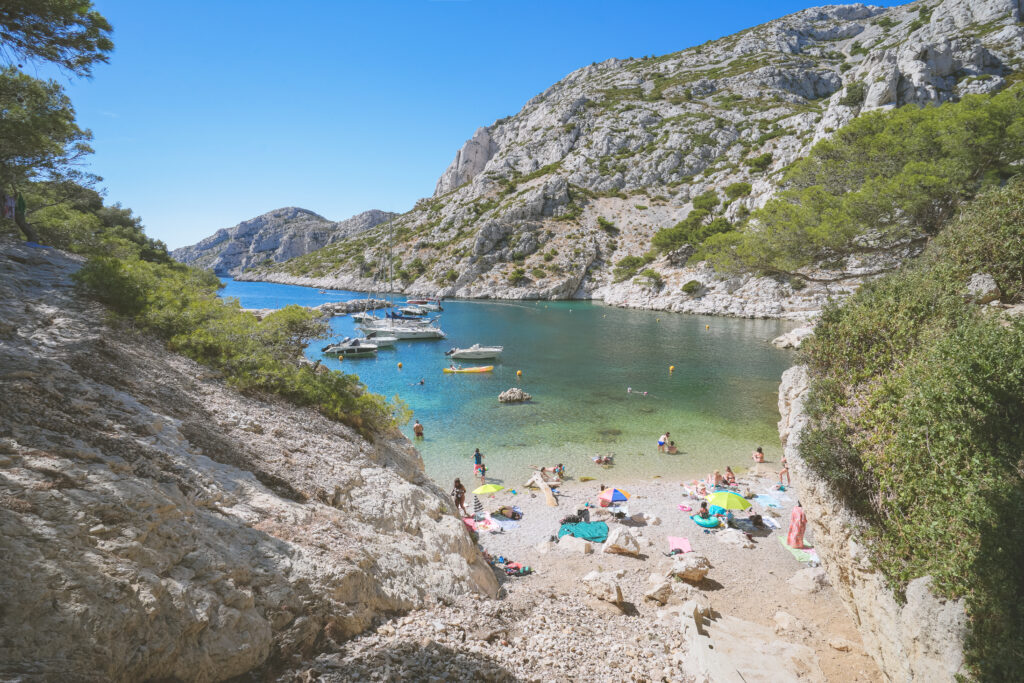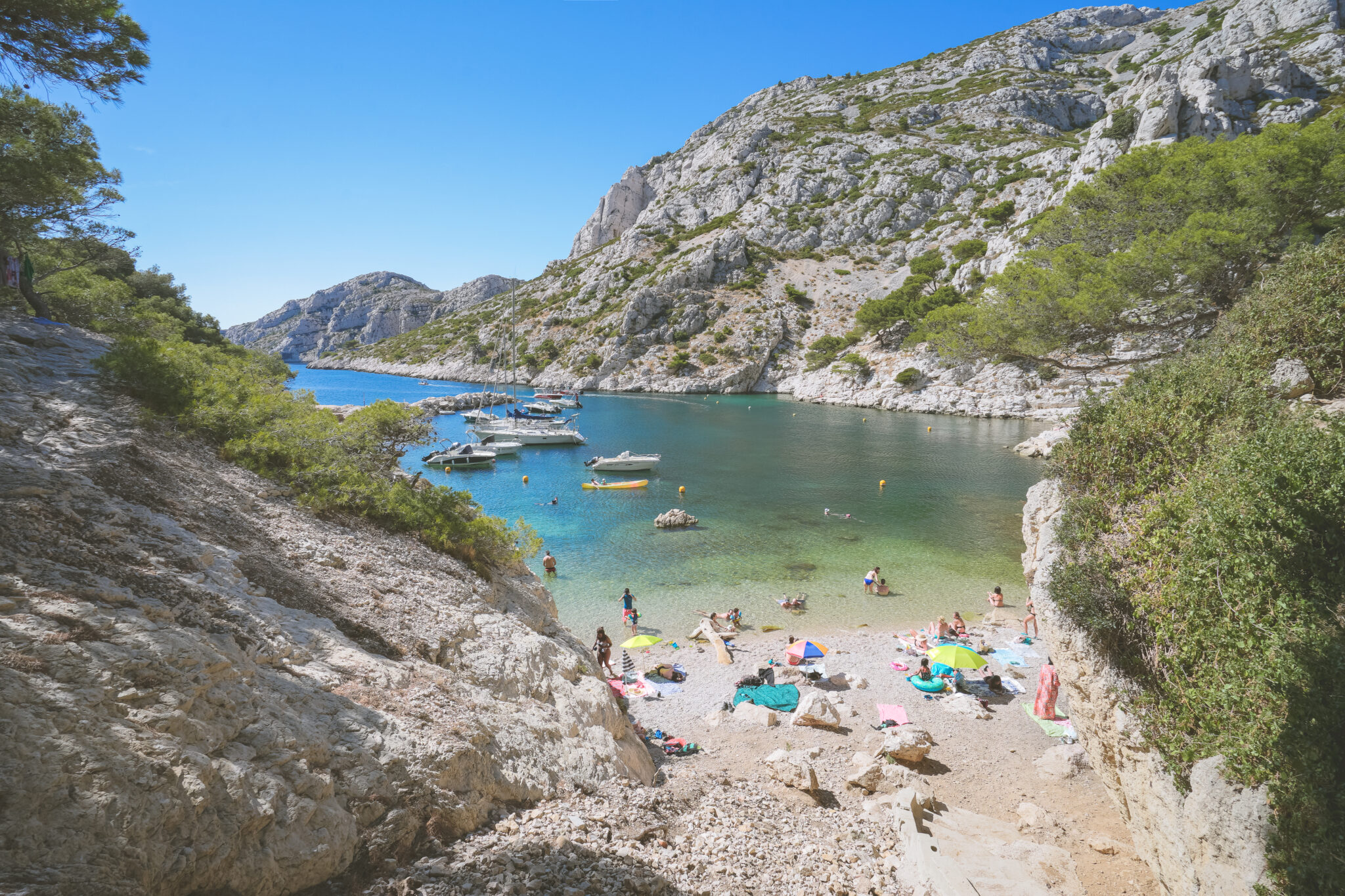 A small but perfectly formed beach sits to one side of this deep calanque, away from the sometimes busy harbour. It's a sheltered space, with not much room for bathing on busy days, but visit in the offseason and it'll be a peaceful experience.
Coarse sand and stones make up the narrow cove, which opens up to the beautifully clear water typical of the calanques. But unlike most calanque beaches, there is a restaurant nearby where you can grab a spot of lunch.
How to get to Calanque de Morgiou
In the offseason, it's possible to drive right down to Calanque de Morgiou, making it one of the most accessible calanques to reach. If visiting in April through to October, you'll need to park at Luminy or Parc des Baumetttes and hike the 50mins – 1hr down to the calanque. From the port, the beach is accessed via a short trail.
CALANQUE DE SUGITON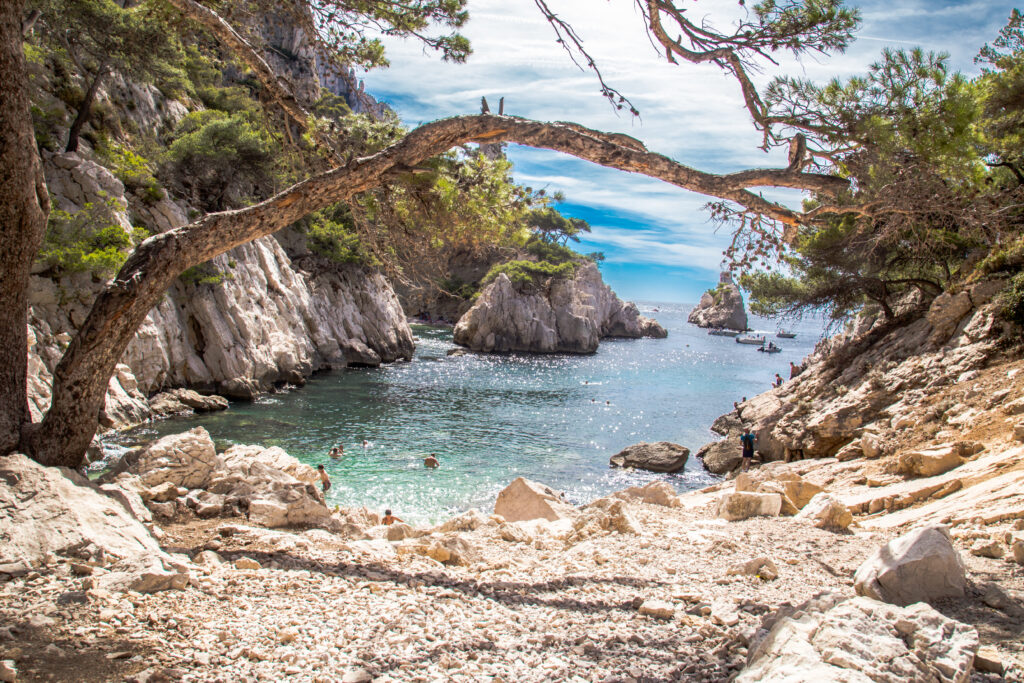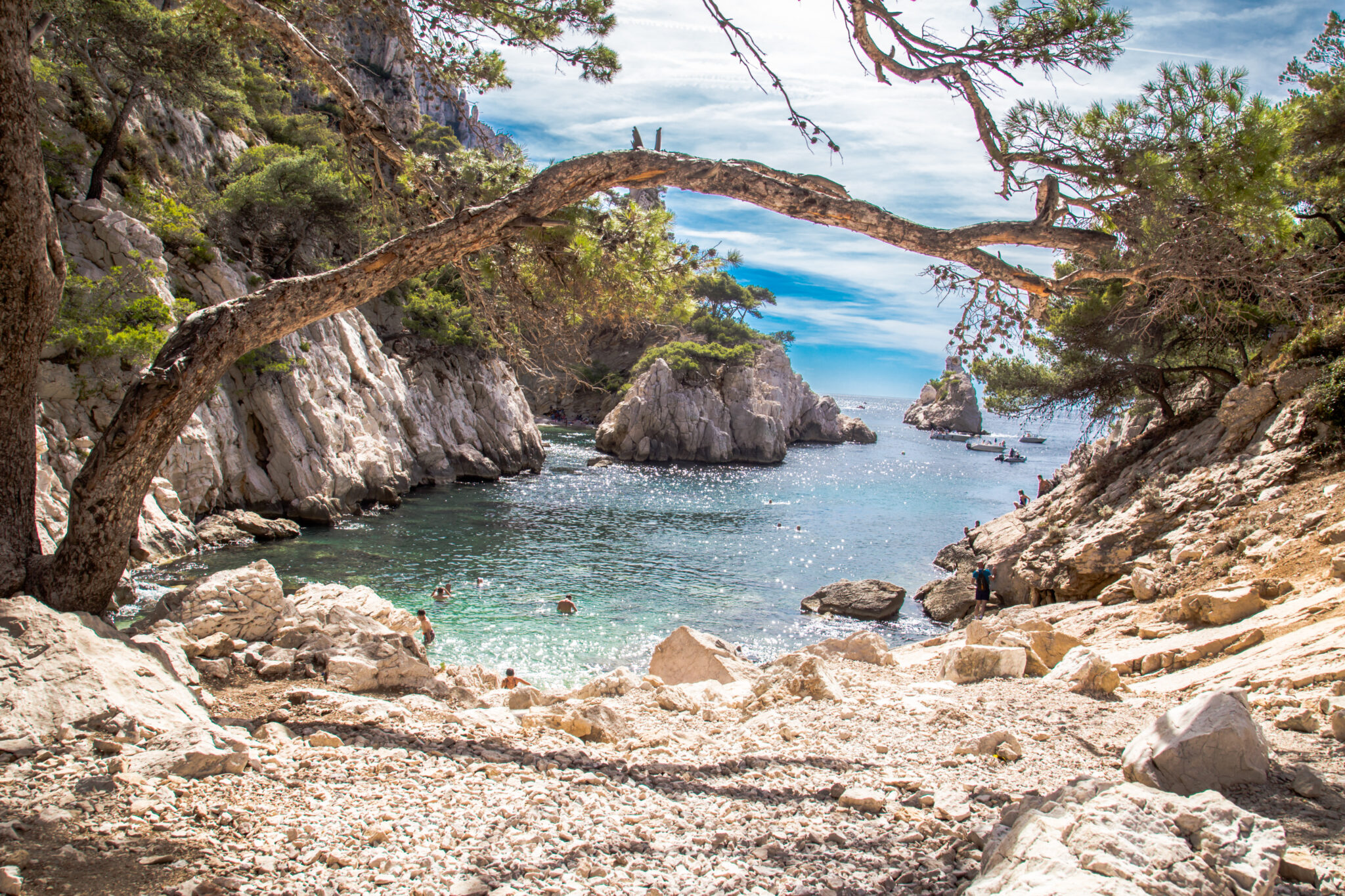 The main beach at Calanque de Sugiton is forbidden to access due to a devastating accident involving falling rocks. However, there are two small beaches you can access safely and they provide the most serene swimming experience.
The beaches are rocky and the few trees provide scant shelter, but you'll find locals draped over the jagged cliffs nonetheless. After a hike through the national park, you'll be all too happy to jump into the crystalline waters and bask in the idyllic surroundings.
How to get to Calanque de Sugiton
Take the 21 bus towards Luminy at the Castellane bus station on Avenue du Prado and it'll drop you off just around the corner from the entrance to the calanque trail. The track starts at the end of Avenue de Luminy. You can find detailed hiking instructions in this post. The hike takes a little over an hour each way.
---
---
Whatever kind of beach you're looking for, you're sure to find it along Marseille's glistening shoreline. From rustic coves cut into the side of cliffs to wide sheaths of sand, Marseille beaches are among the best in the South of France.
Looking for somewhere to stay in Marseille? Check out our recommendations for the best Airbnbs, and the best hotels in Marseille, or use the search box below.
Pin this for later!