If you're thinking about planning a holiday to Provence, deciding on the best place to stay to explore the greater region can be a difficult choice.
Aix-en-Provence is a great option in this respect as it's centrally located for many of the regions' key attractions, and it's easily accessible. It's also one of the most beautiful cities in Provence, with plenty to see and do while you're there.
If you're visiting in summer you can take advantage of the annual (music) Festival d'Aix when the charismatic city comes to life with melodic sounds spilling from every open space. And as the cultural capital of Provence, you'll be spoiled for choice with museums, galleries and historical sites peppered throughout the city.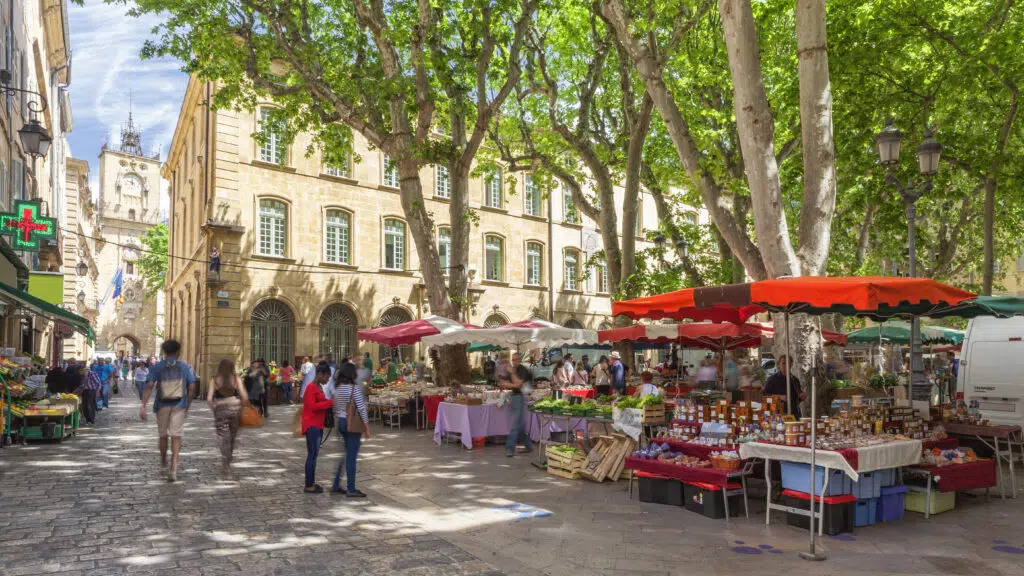 You may have a hard time pulling yourself away from exploring the labyrinthine of lanes of the old town, and the fresh flavours and smells at the farmer's markets. But when you do, there are a number of places to explore within easy reach of the city. Here is my pick of the best day trips from Aix-en-Provence, France!
Related reading: The Best Things to do in Aix-en-Provence
---
Essential Information For Visiting Aix-en-Provence
Before considering which day trips from Aix-en-Provence you'd like to undertake, it's worthwhile putting some thought into the logistics of getting to, and around the city.
Aside from the fact that I absolutely adore Aix, I also recommend it as a place to stay because it's a lot less daunting than some other cities in Provence. Driving into and out of the city is straightforward, and car parks within the town are plentiful and easy to find.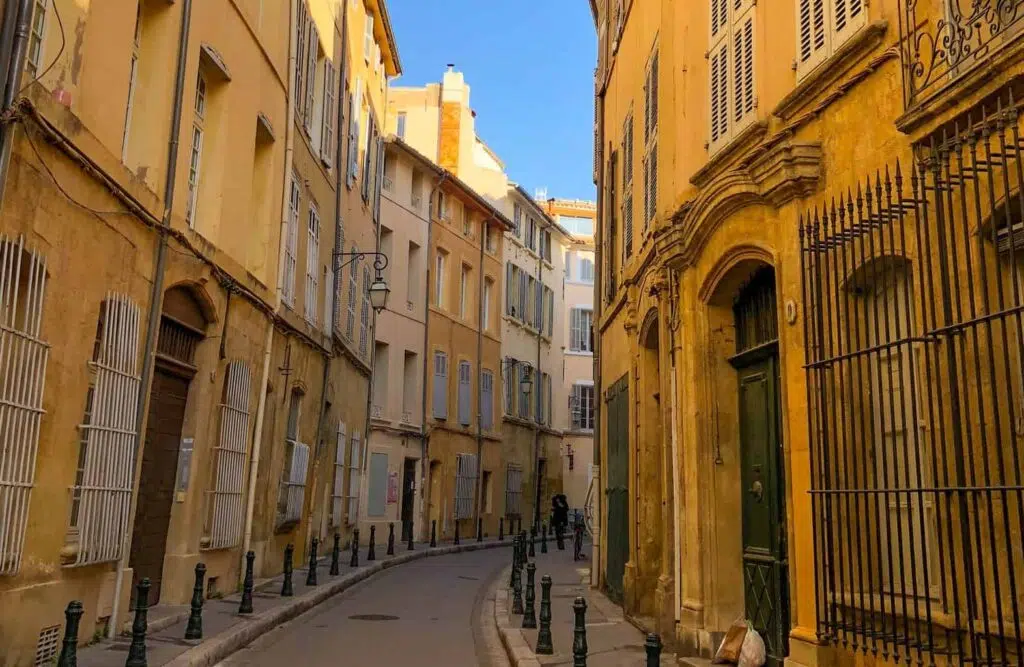 Getting to Aix-en-Provence
Unlike other main centres in Provence, Aix doesn't have its own airport. Instead, it shares services with nearby Marseille airport, which is a little more than a half-hour drive away. So if you're flying from within France, or from abroad, you'll need to arrange onward travel from Marseille to Aix.
There is a bus that runs between the airport and Aix every 30 minutes. You can find fare and timetable information here. If you're taking the train down from Paris, be aware that the Aix TGV station is a long way out of the city.
The same bus that runs between Aix-en-Provence and Marseille Airport also calls in at the TGV station. The other option is hiring a car from the TGV station or Marseille airport and continuing your journey at your own pace.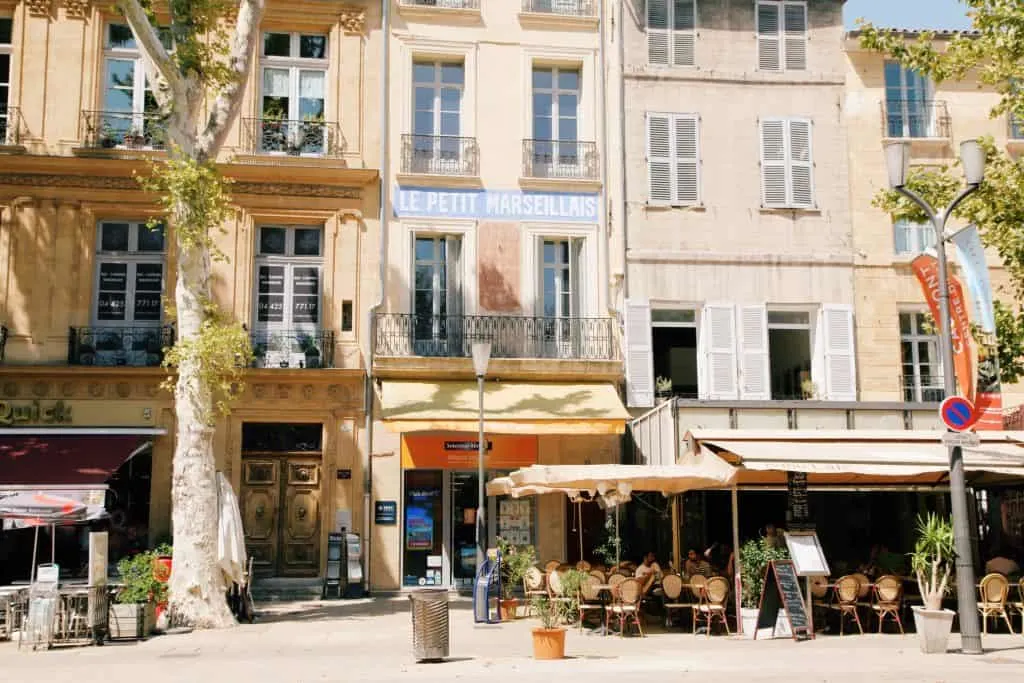 Where to Stay in Aix-en-Provence
Aix-en-Provence centre is home to many great hotels – that cater to all tastes & budgets. Read our full guide on the best hotels in Aix-en-Provence.
Transport Options for Exploring From Aix
I always advise visitors to Aix to hire a car for the duration of their trip. Half the fun of exploring this beautiful region is going on a Provence road trip!
Getting lost in the countryside and discovering a charming village or boutique vineyard by chance…
Book your rental car in Aix-en-Provence here.
But it's entirely possible to explore with the help of day tours from Aix-en-Provence, or with public transport – the former requires a little more money and the latter requires a little more patience!
Wherever possible, I've included suggestions for Aix-en-Provence tours so you can explore without a car.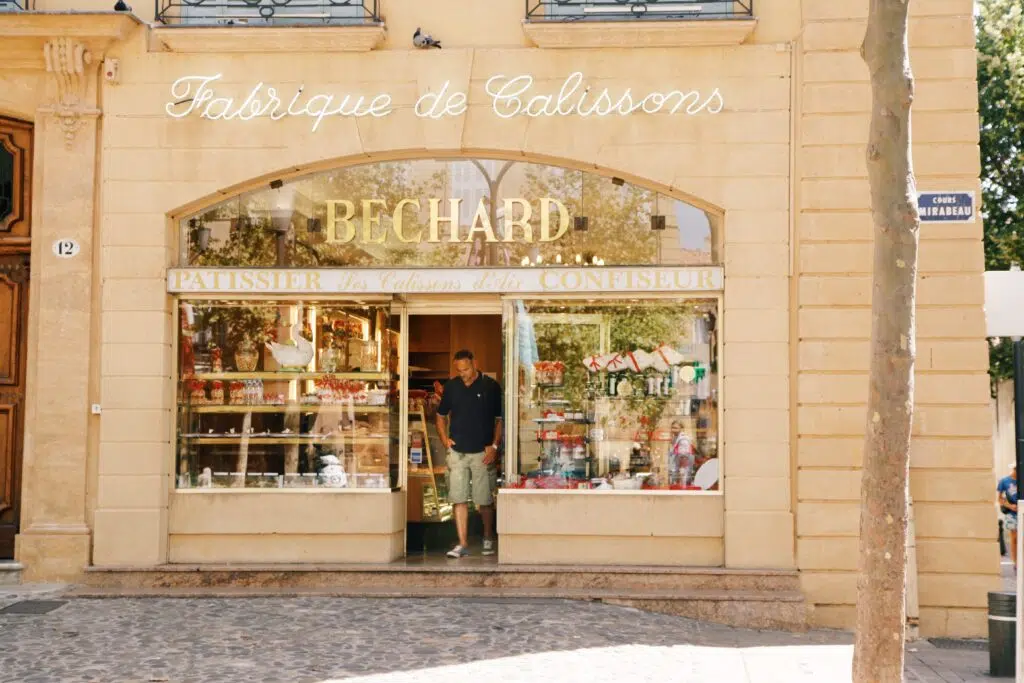 ---
Looking for more Provence travel inspiration? Don't forget to join our free Facebook group Provence Travel Planning!
---
Day Trips From Aix-en-Provence by Car
The following tours from Aix-en-Provence are designed to be manageable within one day of sightseeing. And each of the destinations is around an hours' drive from Aix.
All you need to do is choose which of these Aix-en-Provence day trips suit you best and slot them into your itinerary! Below is a map of every option listed, so you can visualise how they fit into the Provençal landscape.
---
CASSIS TOWN AND CAP CANAILLE
The portside town of Cassis is located around an hour south of Aix-en-Provence, not too far from Marseille. It's often touted as one of the must-see villages in Provence due to its bustling quai, blissful beaches, and stunning natural scenery.
Spend the morning browsing the boutiques and having a leisurely lunch next to the water before strolling behind the tourism office and along the harbour walls for the best views of the pastel-hued village.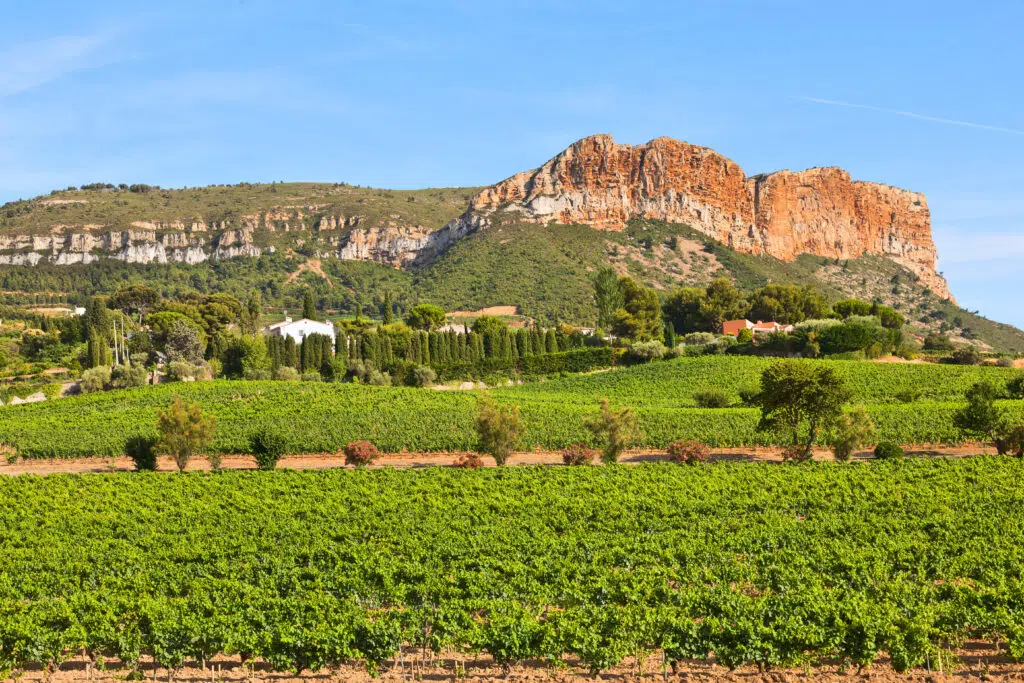 In the afternoon you might like to visit one of the local vineyards to sample award-winning wines before continuing on to Cap Canaille. When you head out of Cassis by car, turn right onto Route des Crêtes which will lead you up a gently winding road with the most breathtaking scenery!
Take advantage of the many lookout points to stop the car and take in the beauty of your surroundings. It's especially lovely in the late afternoon when the sun isn't as harsh as midday.
If you're up for a short walk, there are plenty of trails starting from the parking areas in Cassis. Just leave your car behind as you explore the rugged natural landscape of this unique spot in Provence.
Insider tip: Don't miss the weekly farmer's markets held every Wednesday and Friday in the town square.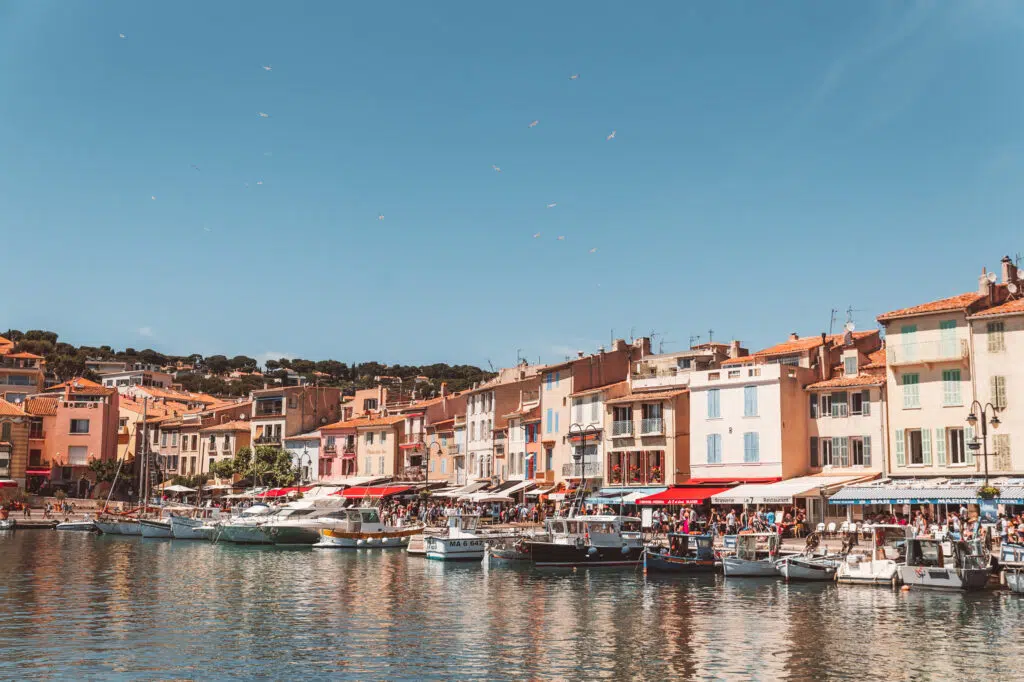 Aix-en-Provence Tours to Cassis
---
CALANQUES OF CASSIS
The Calanques de Cassis are an incredible spectacle that must be seen to be believed. A series of jagged cliffs create natural inlets along the coast from Marseille. The only way (by land) to access the spectacular beaches hidden between the towering precipices is to hike up and over the unforgiving limestone landscape. It's a walk well worth doing though, and one you won't forget anytime soon!
You can find full details of how to hike the Cassis Calanques here. If you're short on time, unable to walk, or simply want to see the calanques from another angle, you can book a boat tour directly from the port in Cassis. Or even rent a kayak and paddle around!
Insider tip: Allow a full day to explore the calanques. You can do the hike in less, but if you want to appreciate the beaches and scenery you could easily spend all day there. Also, do note that the hiking trails are subject to restrictions during the summer period of 1st June to 30th September, due to the risk of wildfires.
During this time, check this website to find out if the trail is open, only open in the morning, or closed all day.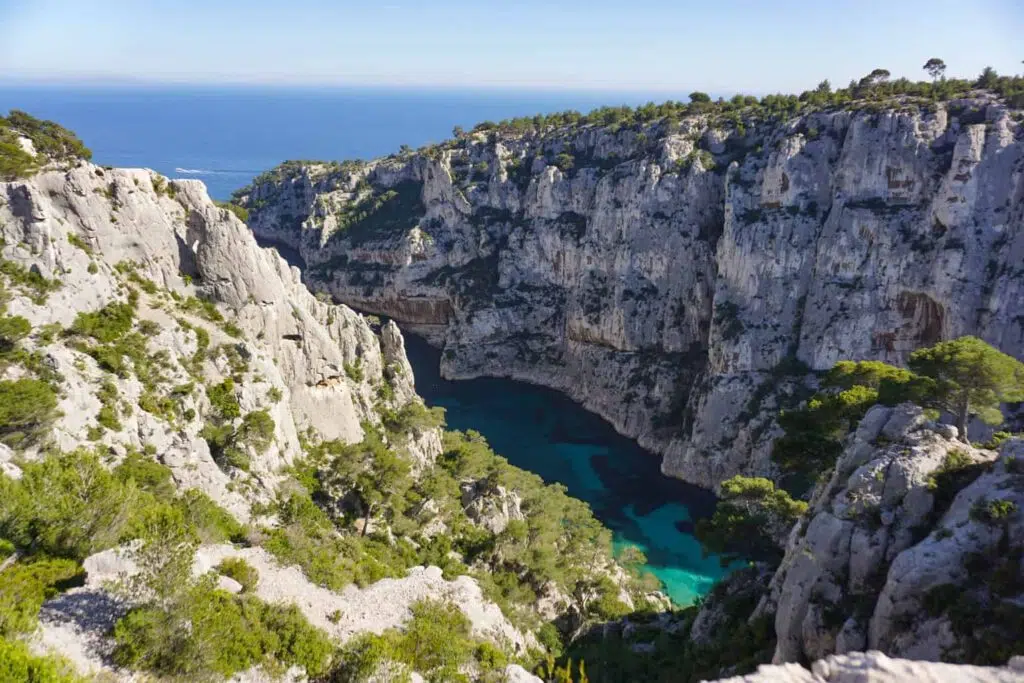 Day Tours from Aix-en-Provence to Cassis
---
VILLAGES OF THE LUBERON
The Luberon valley is home to some of the most stunning villages in Provence. Hilltop havens overlook a lush green landscape, olive trees litter cobbled lanes with their dark juicy fruit, and cypress trees punctuate the terracotta rooftops. It's like walking into a beautifully executed painting. In fact, you're doing just that, for this is a region that has been favoured by artists throughout the years.
Touring the Luberon villages is one of the most popular Aix-en-Provence day trips, but there's a lot to see in just one day! If you have the time, it's better to split a Luberon tour over two days. This way you can savour the sights, scents, and simplistic joie de vivre this region is famous for.
Due to the complexity of the Luberon, I've put together a separate post detailing the best ways to see the Luberon villages during your trip to Aix. You can read it here.
Insider tip: Try to organise your trip to the Luberon to coincide with at least one market day. Wandering the open-air markets is an excellent way to get acquainted with the Provençal way of life. You can find information on the market days in my Luberon Guide.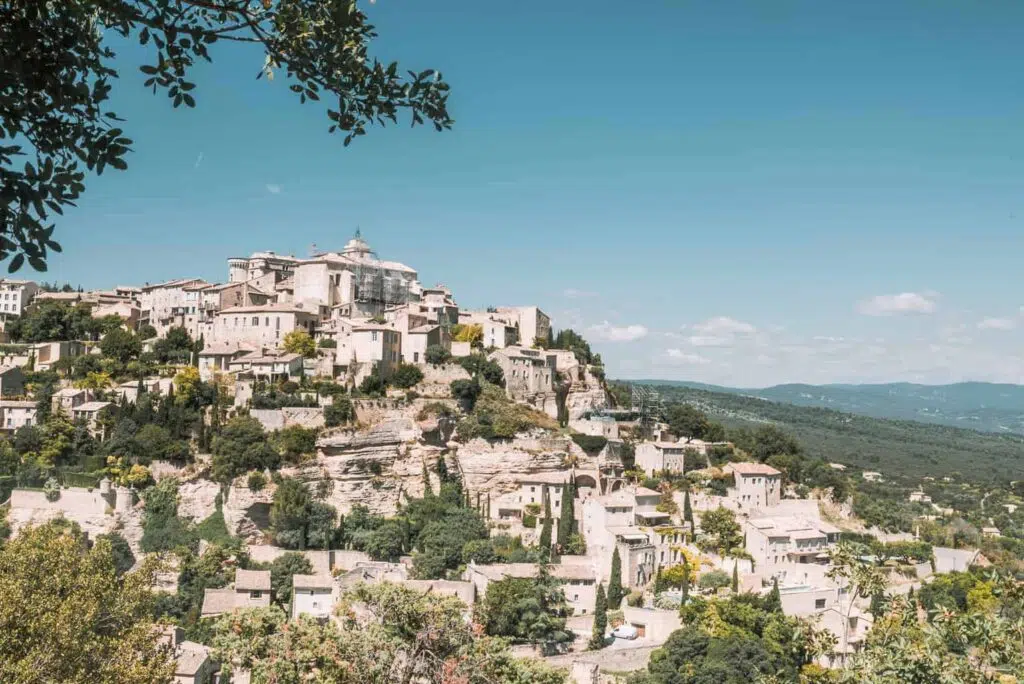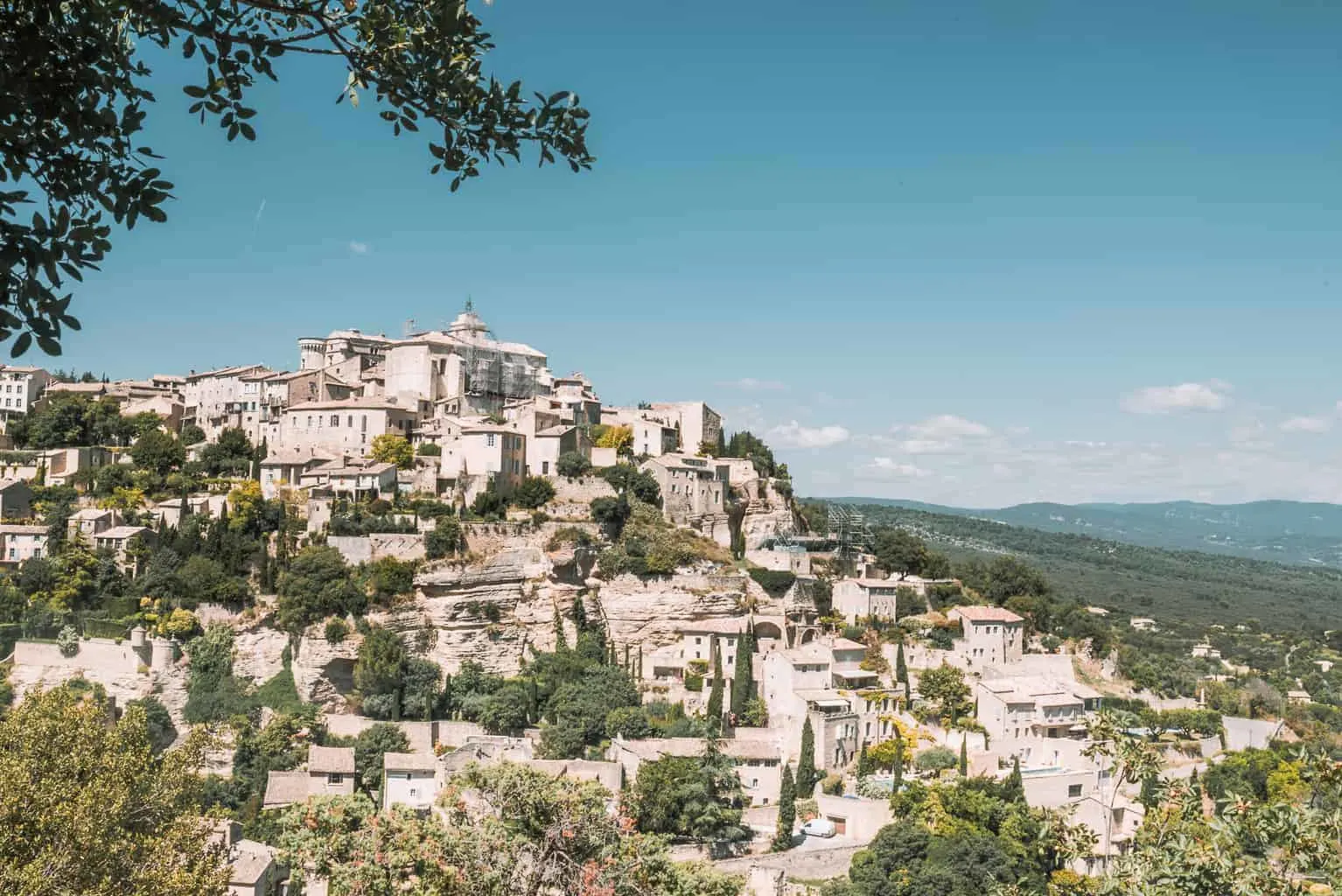 Day Luberon Tours from Aix-en-Provence
---
MARSEILLE CITY HIGHLIGHTS
As France's second-largest city, Marseille has a very different feel to Aix. I find many visitors to Provence either love it or loathe it. Whichever way you swing, there's no doubt it's worth at least a day of your Provence itinerary.
Take a stroll around the Vieux Port, where you'll find a number of key attractions to visit nearby including the Palais du Pharo, the Fort Saint-Nicolas, the Santons museum, the Savon de Marseille museum, the 'big wheel', Fort Saint-Jean and the impressive Museum of European and Mediterranean Civilisations.
If you wander a little further north you'll enter Le Panier – Marseille's oldest neighbourhood, although it was rebuilt after suffering immense damage in WW2.
Other noteworthy sites in Marseille include the Basilique Notre-Dame de la Garde, which you won't be able to miss sitting high above the city. The Marseille cathedral in all its splendour, and the incredible Palais Longchamp.
Insider tip: If all the walking gets too much for you, you can jump on a ferry boat to cross the old harbour. It only costs 50c and runs every 10 minutes.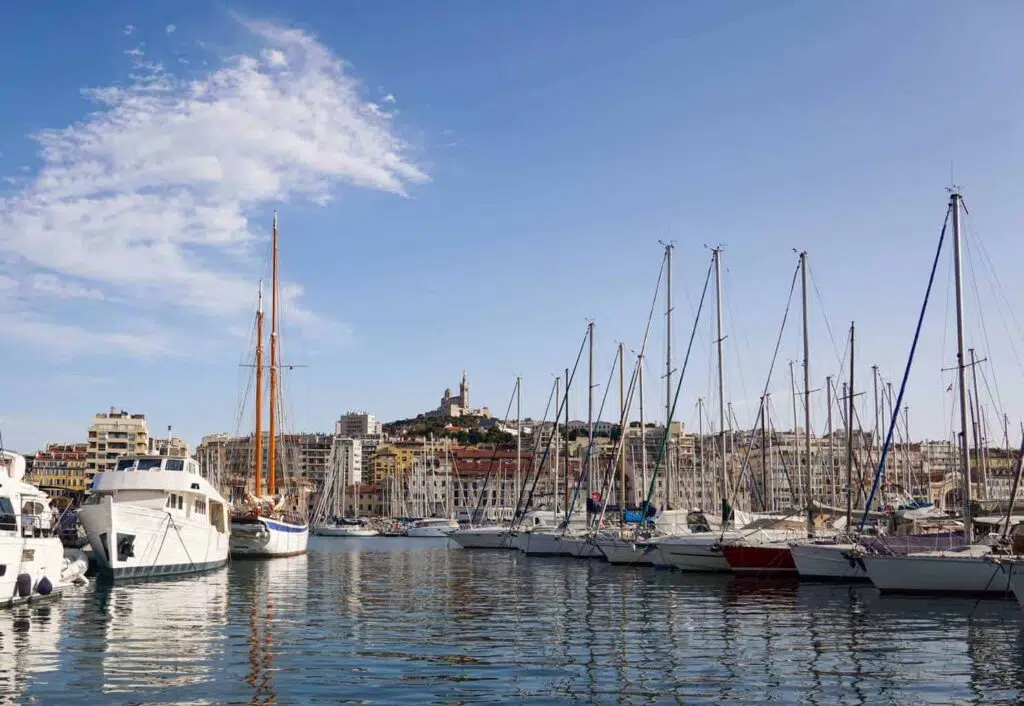 Marseille Day Tours from Aix-en-Provence
---
MARTIGUES
I feel like Martigues deserves a whole lot more attention than it garners. Situated on the southern side of the Étang de Berre, it's perhaps a little far removed from the usual tourist hot spots to gather the crowds found in other areas of Provence.
Nevertheless, it is popular with the locals, who can be found strolling the colourful streets with gelato melting in their hands. It's where the lake meets the Mediterranean Sea, and it's this canal running through the middle of Martigues that gave the town the nickname Venise provençale (Venice of Provence).
There is certainly a nautical feel to Martigues which is further reflected by the number of eateries selling traditional Mediterranean seafood dishes.
Insider Tip: Be sure to stop off at Guénat's for lunch or dinner. It's not traditional French food, in fact, it's not French at all – it's Lebanese – but it's amazing, you won't regret it! They also cater very well to vegans which is a rare find in this part of the world.

---
LAC D'ESPARRON
Quieter, and undisputedly wilder than nearby Sainte-Croix lake, Esparron lake is a charming place to spend an afternoon. Although perhaps more of a summer day trip from Aix-en-Provence, you'll still enjoy visiting on a fine day in the other seasons.
In summer, the usual water sports are in full force, but motorized boats are forbidden, so the tranquillity is restored. Surrounded by gorges and craggy green hills, Lac D'Esparron is a turquoise oasis and a wonderful place to discover at leisure. If you have time, don't miss the tiny, but beautiful Esparron-de-Verdon village which is crowned by a medieval castle.
Insider tip: Pack a picnic, hire an electric boat, find a beautiful spot, and spend the day in your own secluded paradise!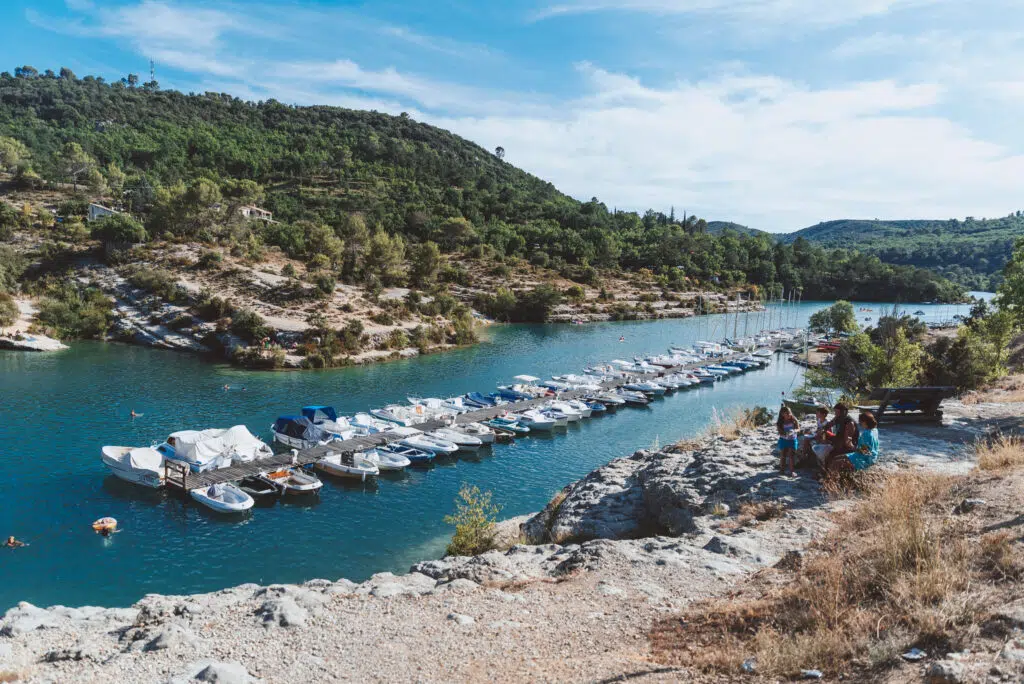 ---
LAVENDER FIELDS OF PROVENCE
There are many places to see lavender fields in Provence, but the highest concentration (and arguably the most picturesque fields) can be found in and around the Valensole Plateau.
It can take a little exploring to find the most beautiful fields, but you'll soon come across a cluster of cars which is a dead giveaway you've hit the jackpot. Popular spots are usually where the land gently swells, or there's a crumbling house or a perfectly placed tree that makes the scene even more photogenic. And, very conveniently, many of these iconic fields can be found just off the D6, which is the road you'll be following from Aix to Valensole.
Stop in Valensole for lunch or a lavender ice cream before continuing on the D6 to Riez. It's here that you'll pass another of the iconic lavender fields. If you're content to see and smell the lavender fields in the morning, but don't want to hang about all day, you could combine this with a trip to the Verdon Gorge (below) or Lac d'Esparron (above).
Insider tip: The Valensole plateau is the most well known and photographed area, but you don't have to travel that far to see flowering lavender fields. If you're travelling in the summer months, simply driving through the Luberon on your village tour will have you passing many beautifully fragrant fields also.
Read our full guide on where to find the best lavender fields in Valensole here.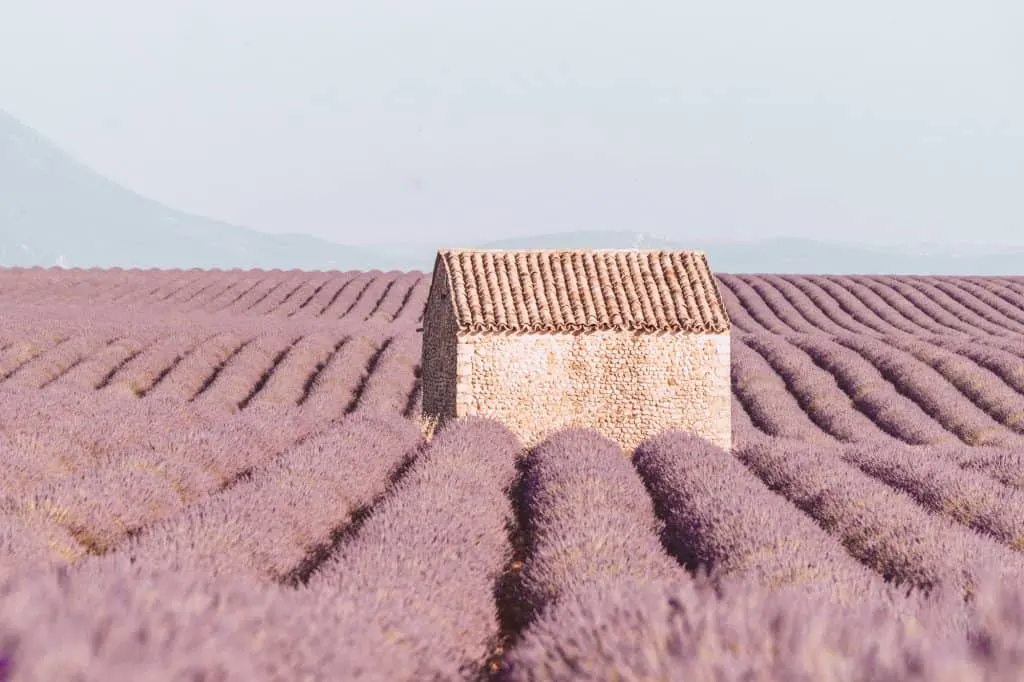 Experience a Lavender Tour from Aix-en-Provence
---
SAINTE-CROIX-DU-VERDON AND VERDON GORGE
Overlooking Lake Sainte Croix, the village of the same name benefits from striking views over the expansive teal coloured waters. It's worth visiting for the views alone, but if you linger a little longer you'll find a charming Provençal village brimming with character.
The lake itself offers plenty of ways to spend a day. Simply enjoy one of the exquisite beaches that line the lake, hire a kayak or pedal boat and take a tour, or go for a walk in the pine-fringed hills that surround it.
Nearby, you'll find the famed Verdon Gorge. At 700m deep and 20kms long, the Verdon gorge earns the title of the deepest canyon in Europe. The river flowing at the bottom of the steep canyon feeds the Sainte-Croix lake and offers many more opportunities for water-sports. Depending on which vantage point you're after, both walking and kayaking the Verdon Gorge allow you to experience the canyon at its finest.
Insider tip: To drive the Verdon Gorge, you can take both the D23 and D71 to see spectacular views, and there are viewing platforms provided. Just beware, it's a hair-raising ride!

Aix-en-Provence Day Tours to the Verdon Gorge
---
SAINTE-VICTOIRE MOUNTAIN
Outdoor lovers and hiking enthusiasts will love the outdoor playground that is Mont Sainte Victoire. There are several different routes up and around the mountain. Choose the path right for you, or mix n' match routes to take a different path on the way down. You can also visit the Sainte-Victoire Priory and refuge, which sits a little lower than the Croix de Provence.
Also known as Cezanne's mountain, Sainte-Victoire features heavily in the late artists' work. It's a prominent mark on the Provençal landscape and it's not hard to imagine why the artist was so infatuated with it. But Cezanne wasn't the only artist to be allured by its charms, Pablo Picasso also set up a studio at the foot of the mountain.
Insider tip: In the warmer months you'll want to hit the track early in the day to avoid the scorching midday sun. When the risk of forest fires is greater, the track may close at 11am.
---
PLAGE DE SAINTE CROIX AND SURROUNDS
Not too far from Martigues (and not to be confused with the lake with the same name), you'll find one of the most beautiful beaches in Provence. Surrounded by the typical warm-toned rock and fragrant scent of garrigue, Sainte-Croix is hidden in a sheltered cove of soft golden sand, bordered by the shallow azure sea. It's not far from another of the area's finest beaches – La Couronne – but has a more rugged and raw feel than the busy atmosphere of its more accessible neighbour.
Sainte-Croix is an oasis in the off-season but come summer it does attract the hoards, so be prepared to search for a space to pitch your umbrella in the sand.
From the beach, you can swim or walk around a small headland to Plage de la Saulce next door. Or wander in the other direction to the shallow beach and tiny port of Tamaris where you can hire pedal boats to explore further.
Insider tip: There are no facilities right on St. Croix beach, so it's better to use the public toilets by the car park before you go! Alternatively, there is a public toilet near the entrance of Plage de la Saulce.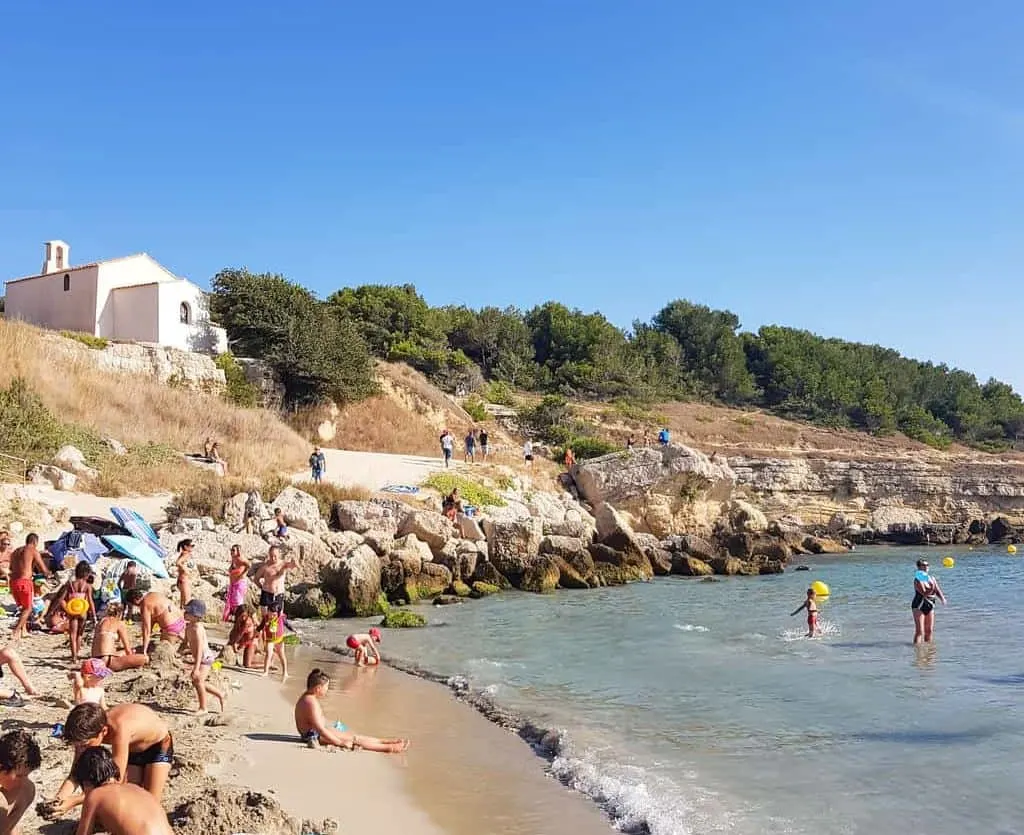 ---
L'ISLE-SUR-LA-SORGUE AND FONTAINE DE VAUCLUSE
The town of L'Isle-sur-la-Sorgue is most famous for its antique markets. In fact, it's the third-largest centre for antiques in all of Europe! This reputation is evident when you wander the streets lined with bric-a-brac and antique stores.
Every Sunday there's a brocante where you can pick up original Provençal souvenirs to take home, and there are two large antique fairs held every year at Easter and again in mid-August.
Apart from antiques, L'Isle-sur-la-Sorgue is famous for the canals that flow throughout the town. And the moss-covered water wheels that pepper the canals aren't the only remnant of what was once a booming textile industry in the area. You'll find many exquisite shops selling home furnishings and fine linens. It's a beautiful place to wander around, and unlike anywhere else I've visited in Provence. Be sure to pick a water-side cafe to have lunch with a view!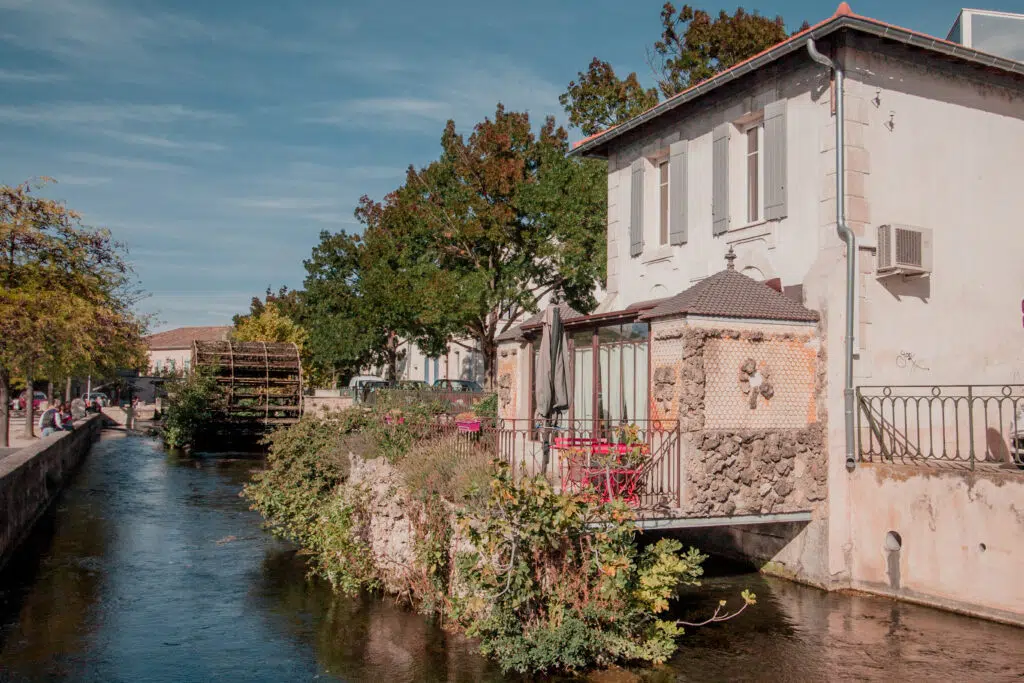 Fontaine de Vaucluse
15 minutes from L'Isle-sur-la-Sorgue you'll find Fontaine de Vaucluse – the village goes by the same name as its most famous attraction. The fontaine feeds the river Sorgue and it always looks different – sometimes it's very high, spilling over the rocks surrounding it, and other days you have to climb over the railings in order to see any water at all!
It's a short walk up beside the river to reach the spring which is the biggest in France. On the way up you will pass a traditional paper mill, Vallis Clausa. It's open every day and is well worth popping inside to see the paper getting made (powered by the river and water wheel) and browsing the paper products on display.
Insider tip: There's a set fee of €4 throughout the village for parking – regardless of where you park or how long you stay. However, the fountain and the paper mill are free of charge.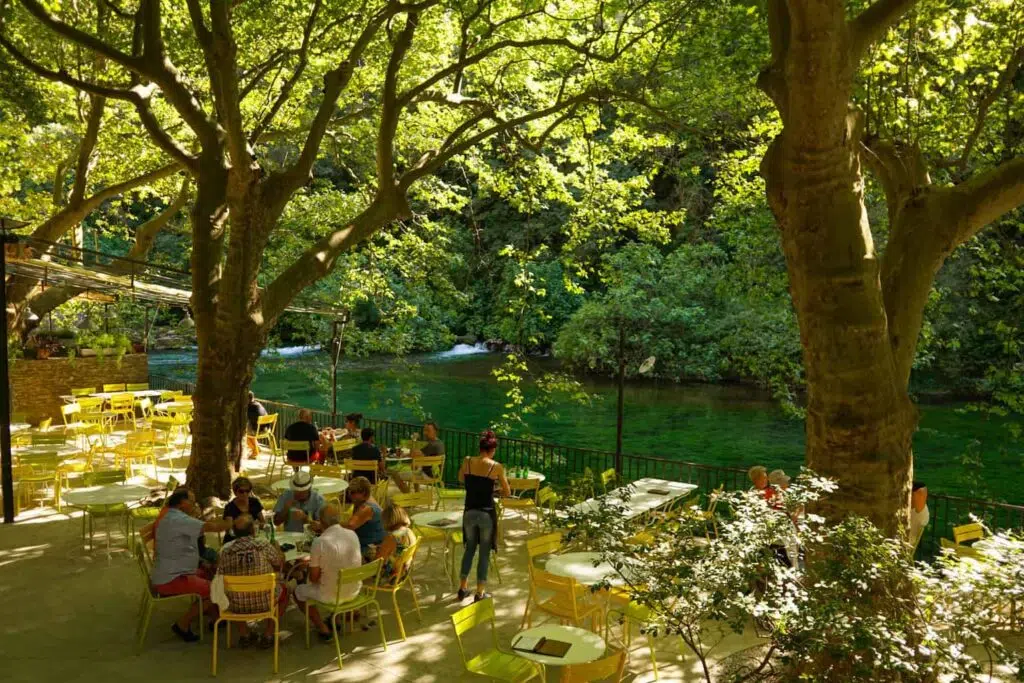 Day Tours from Aix-en-Provence to L'isle-sur-la-Sorgue and Fontaine de Vaucluse
---
AVIGNON
Avignon is just over an hour's drive from Aix, and yet the two Provence cities are very different in appearance. I'd very much recommend you experience both while you're in the area. Built on the left bank of the Rhône river, Avignon is famous for its Medieval monuments and well maintained historical town centre.
In a day you can cover off some of the most impressive sights, but you could easily spend longer. Some must-see attractions include the Palais des Papes, the largest gothic palace ever built, the Pont d'Avignon which is famous in part for the French song, "Sur le Pont d'Avignon", and the walled town, where you can spend hours browsing the pretty lanes.
Be sure to pop into Les Halles, the town's covered market, to fill up on fresh, local food. Then to walk it all off, head up to Rocher des Doms, a lovely garden with amazing views of the city.
Insider tip: Dine at Christian Etienne for Michelin starred cuisine or Fou de Fafa for a more affordable option. For parking, this website has information about car parks in Avignon, including where to find free parking.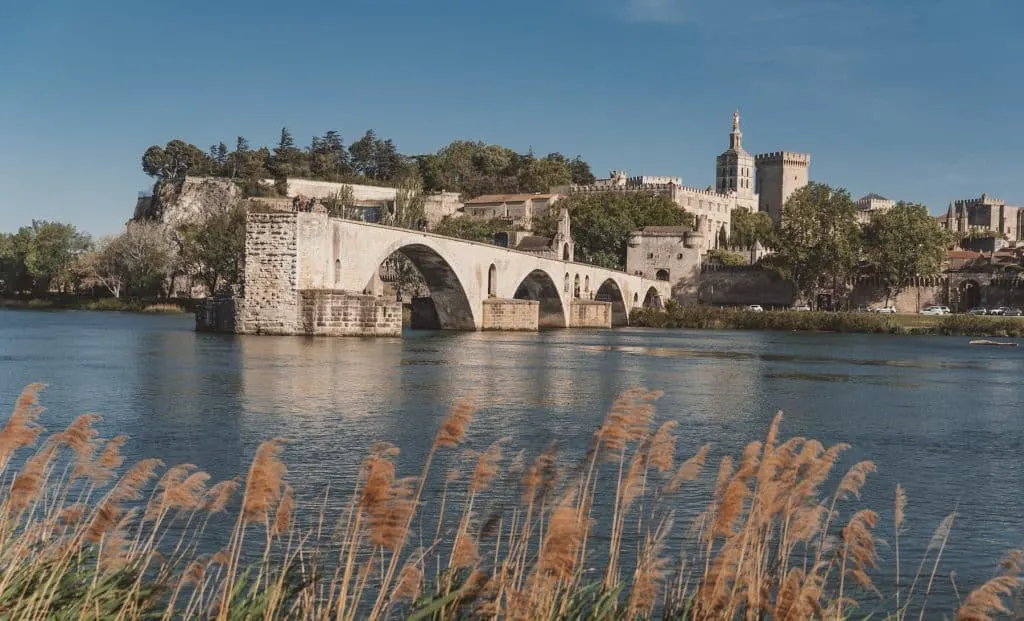 Day Tours from Aix-en-Provence to Avignon
---
ARLES & CAMARGUE
The compact city of Arles is the perfect place for art aficionados. The home of Vincent Van Gogh (one of the most famous artists in the Post Impressionism movement) for a little over a year, and the inspiration behind many of his paintings, Arles is a beautiful city that's easy to take in throughout the morning.
Take the free Van Gogh walking tour to see the scenes from his work come to life before you. There are many ancient sites to visit such as the amphitheatre, beautiful churches and the cryptoporticus to discover beneath the city streets.
Arles is also the gateway for the Camargue – a regional natural park most famous for its wildlife. White horses and black bulls roam freely through the marshes, and it's one of the few places in Europe where you'll find greater flamingos. You can drive through the Camargue to discover its treasures for yourself, stopping at the walled medieval city of Aigues-Mortes, and the beach of Saintes-Maries-de-la-Mer along your way.
Insider tip: Arles is quite compact and walkable. I'd recommend starting at the tourist office to pick up your walking map. If you're only spending the afternoon in the Camargue, head to Parc Ornithologique for your best chance of flamingo sightings.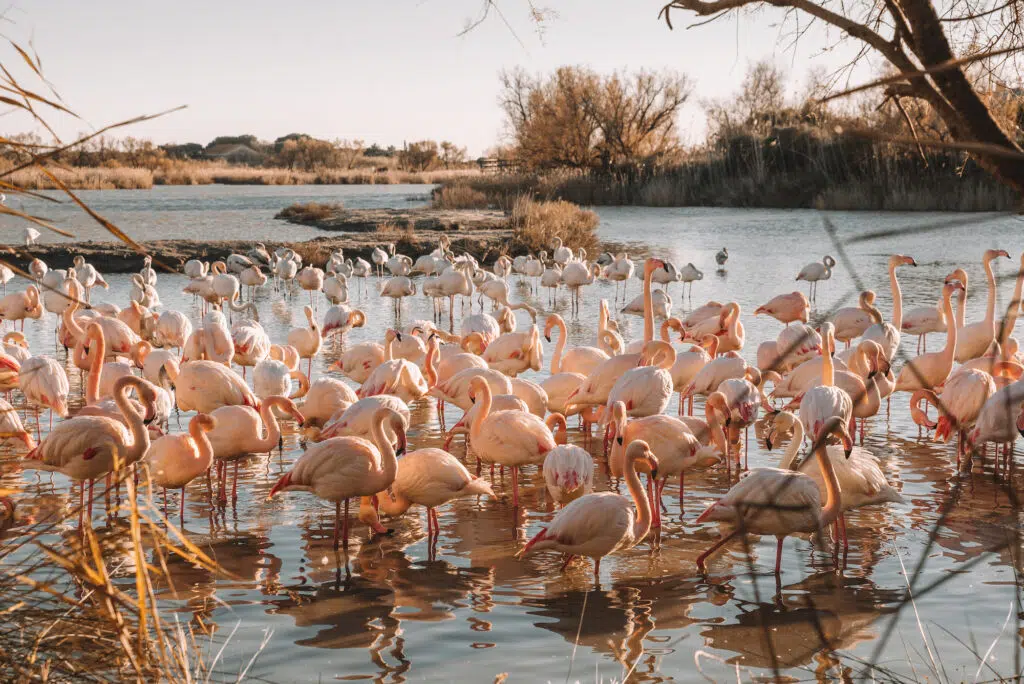 Day Tours to Arles and the Camargue from Aix-en-Provence
---
Aix-en-Provence is an immensely appealing city in the centre of Provence. It's the perfect place to stay while you discover the delights of the region, as there are many attractions within a short drive of the city.
Please let me know if you try any of these day trips from Aix-en-Provence on your next trip to the South of France!
Pin this for later!