Choosing where to spend time in Provence is a tall order, I know. It's probably the most asked question in my Provence Travel Planning Facebook Group (join us here!). Provence is a large region, with so many fascinating sights to explore. And while Provence's villages pull at the heartstrings with their pretty hillside appeal and crumbling châteaux, it's the cities and towns in Provence that deliver the most excitement, variety, and insight into daily life.
Cities in Provence vary in nature from the provocative energy of Marseille, right through to the quiet spirit of Van Gogh's Arles. And the small towns in Southern France offer just as much diversity. There's no way to compare the seaside appeal of Sanary-sur-Mer to the breathtaking display of antiquity exhibited in Orange.
So don't try to tackle them all in one trip, but use the below list as an inspiration of where to go in Provence, and design your own itinerary based on which South of France towns appeal to you the most.
Let me introduce you to my insider's guide of the best places to visit in Provence, France!
---
Map of Provence Towns and Cities
As you can see it's not just cultural diversity that distinguishes these Southern France cities and towns, they're geographically diverse too!
---
MARSEILLE
As France's southern capital, Marseille has earned a slightly misguided reputation of being an unsavoury city. While it's true that it has an unscrupulous past and a strong cultural swing towards a more Mediterranean way of life, Marseille is still a destination not to be passed over when visiting the South of France.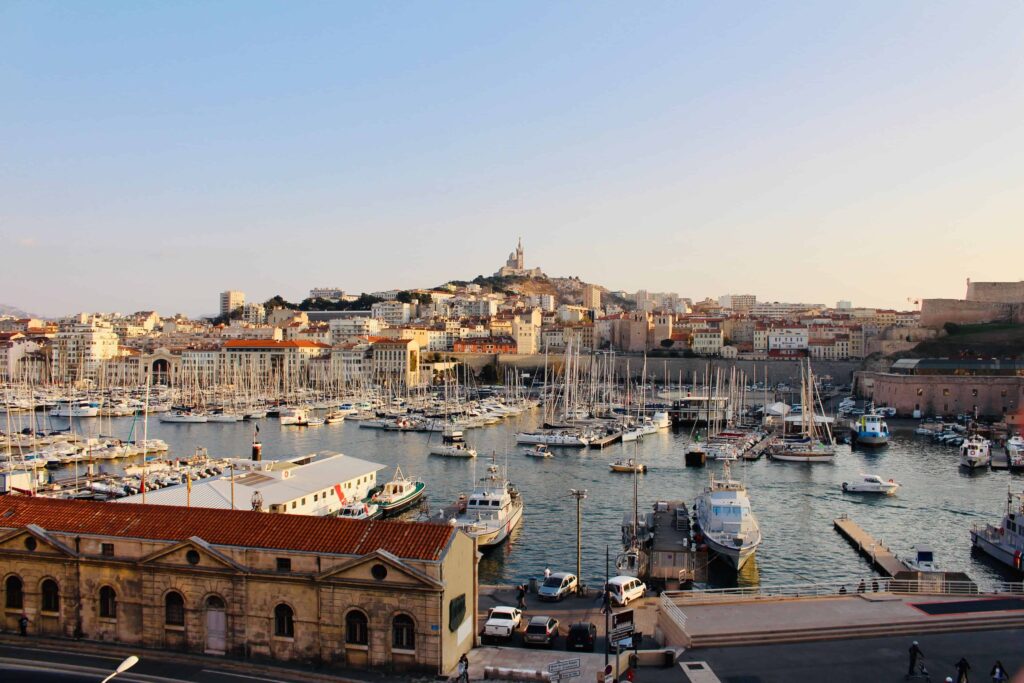 As the oldest town in France, it's here you'll find a more authentic version of city living, one that hasn't been glossed over by affluence and urban development, at least of the modern variety. Historical jewels abound and hold much of the city's appeal.
Le Panier district is the oldest in the city and is the place to witness traditional architecture, vibrant street art and the everyday goings-on of the Marseille population. Cours Julien is better known for its hipster eateries and markets, and the wealthier district of le Roucas Blanc is where, after a steep climb, you'll find some of the best views in the city.
No visit to Marseille would be complete without a stroll around the Old Port, a visit to the modern MUCEM, and a taste of the traditional bouillabaisse.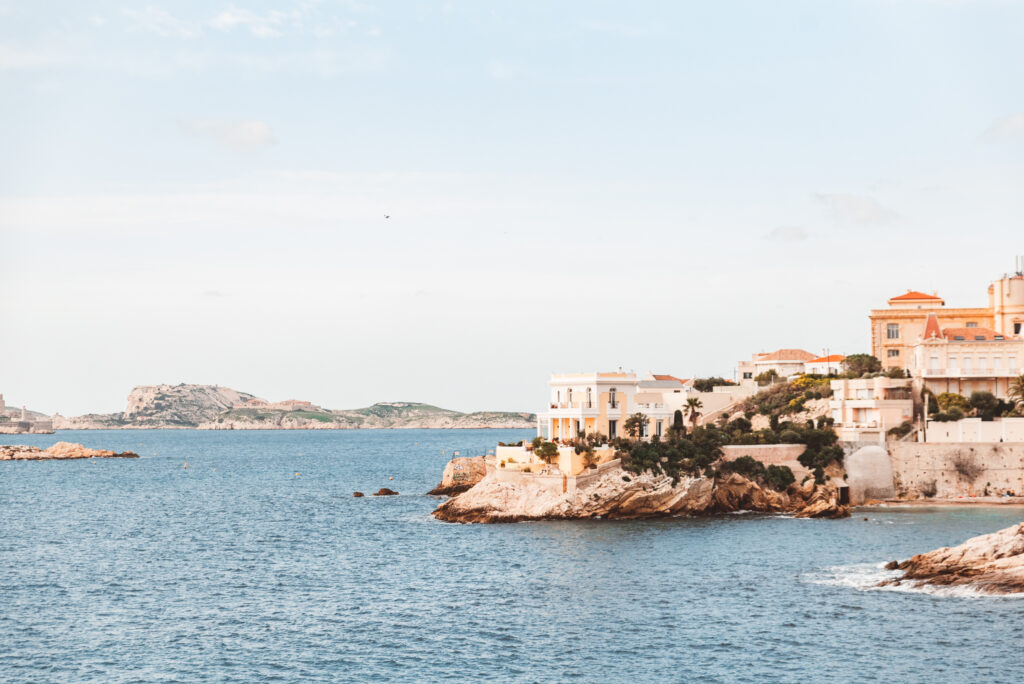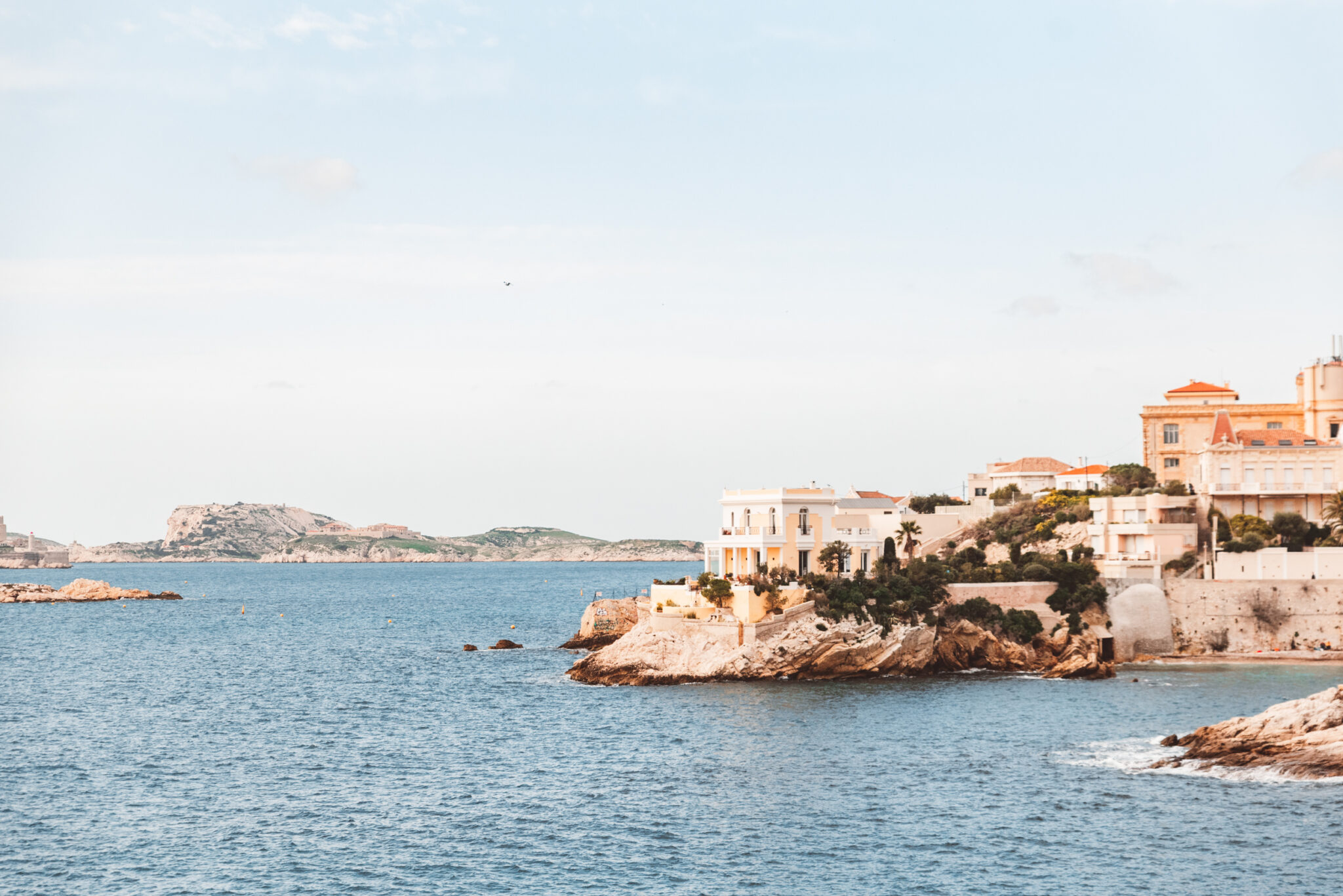 It's not always a place where visitors will feel immediately at ease, and one where caution, especially at night, should still be observed. But it's one where you'll find a different side to Provence, one that's best explored with an open mind.
Don't miss in Marseille
MUCEM for Mediterranean history throughout the ages
Taking a boat ride to the Chateau d'If – a castle on an island
A stroll around Le Panier district for its street art and insight into the old Marseille
Find our full recommendations of things to do in Marseille, here.
Where to Stay in Marseille
Find our full guide on where to stay in Marseille here. Or find the best Airbnbs in Marseille here.
---
AIX-EN-PROVENCE
The city I first fell in love with when I moved to Provence, Aix (as the locals call it) exudes a friendly, more laid-back atmosphere than some of the more imperious French towns.
But don't mistake that easy-going charm as meaning it's a city without class. Aix was once the capital of Provence, and it still holds an important spot in the region's cultural composition.
A line-up of cultural events throughout the year solidify its spot in the artistic calendar and an ample supply of galleries, museums and exhibition spaces will keep you entertained in between.
The historical heart of Aix-en-Provence is where the action is, so it's well worth spending as much time as possible in the centre. This is where you'll find daily markets selling typical Provençal wares, farm-fresh produce, and flowers still dripping with the morning's dew.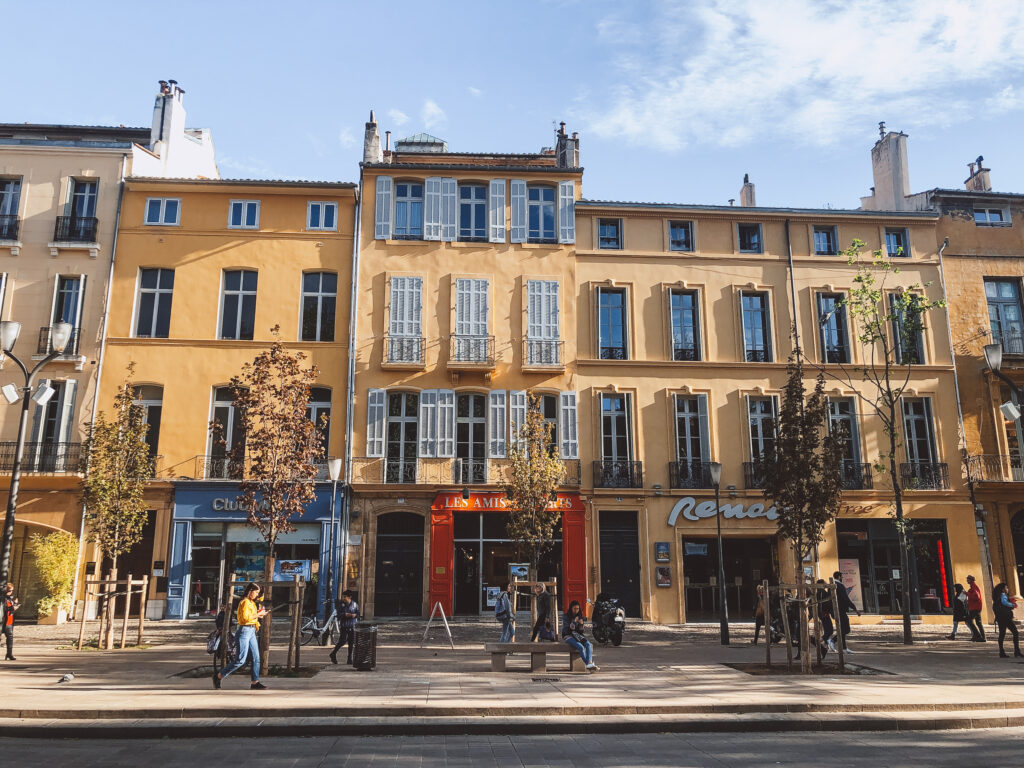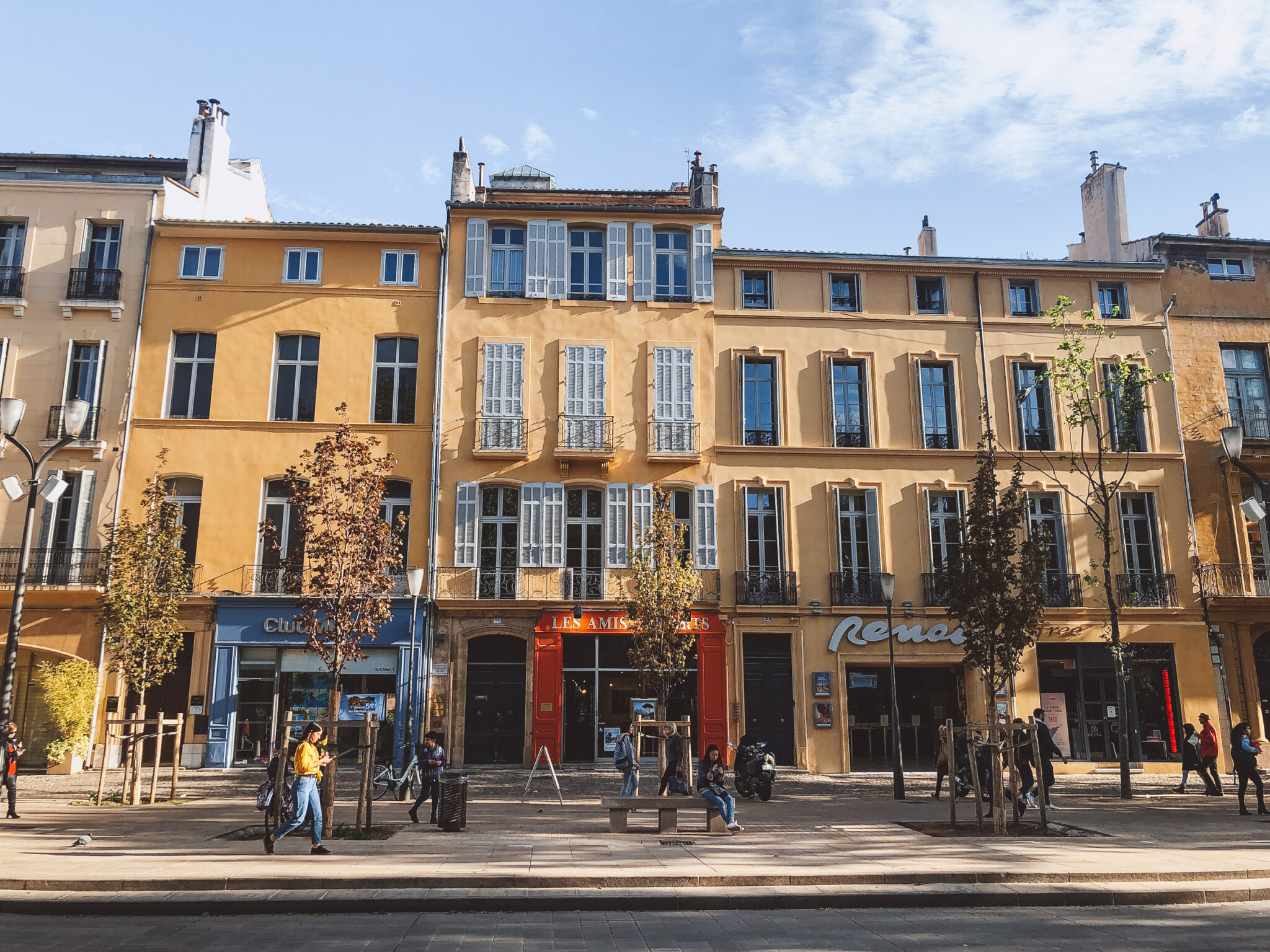 As one of the prettiest cities in France, you'll be invited to bask in the golden light reflected off the typically sunshine yellow façades, sip café au lait in a streetside bistro and toss a coin into the busker's hats as they serenade you while you shop.
Don't miss in Aix-en-Provence
Hôtel de Caumont for art in a historic mansion
Tasting the town's local confectionary, Calissons at the Roy René boutique
The produce, flower and craft markets scattered throughout the city
Find our full recommendation of things to do in Aix-en-Provence, here.
Where to Stay in Aix-en-Provence
Read our full guide on where to stay in Aix-en-Provence here.
---
AVIGNON
When I recently conducted a small survey among my followers of the best town to stay in Provence, Avignon came out on top as their favourite city. This initially surprised me, as I thought everyone would share my adoration of Aix. But on reflection, I can clearly see why Avignon wins people who visit Provence over.
If you were to paint the two towns, Aix-en-Provence's palette would be made up of bright blues, golds and shimmering pigments. Whereas Avignon would be painted with muted blue skies and alabaster buildings, more pastel-hued tones. They're really quite varied in appearance.
Steeped in history and cultural significance, Avignon's entire historical centre is a UNESCO World Heritage Site and encompasses many of France's most iconic historical attractions. From the grandeur of the Pope's Palace, to the nostalgia surrounding the Pont d'Avignon (and its namesake song), it's sure to make your heart sing if culture & history are your thing.
But even if you're not a history-buff, Avignon is one of the best cities in Provence to experience what makes Southern France so special. It is sure to seduce you with its privileged riverside location, bustling café scene, boutique shopping opportunities and leafy parks and gardens.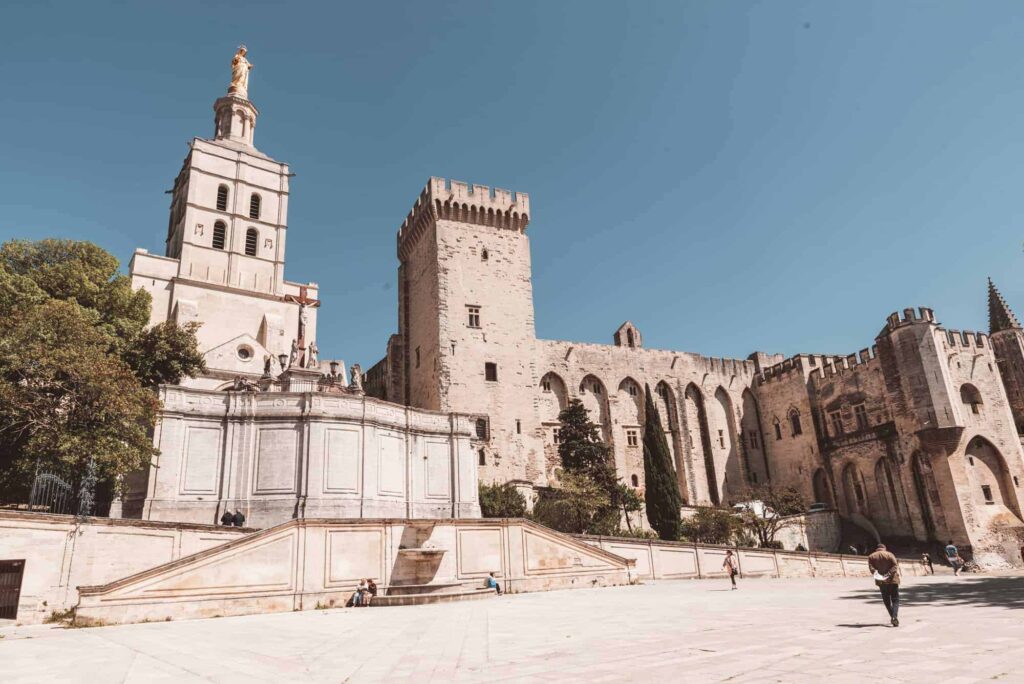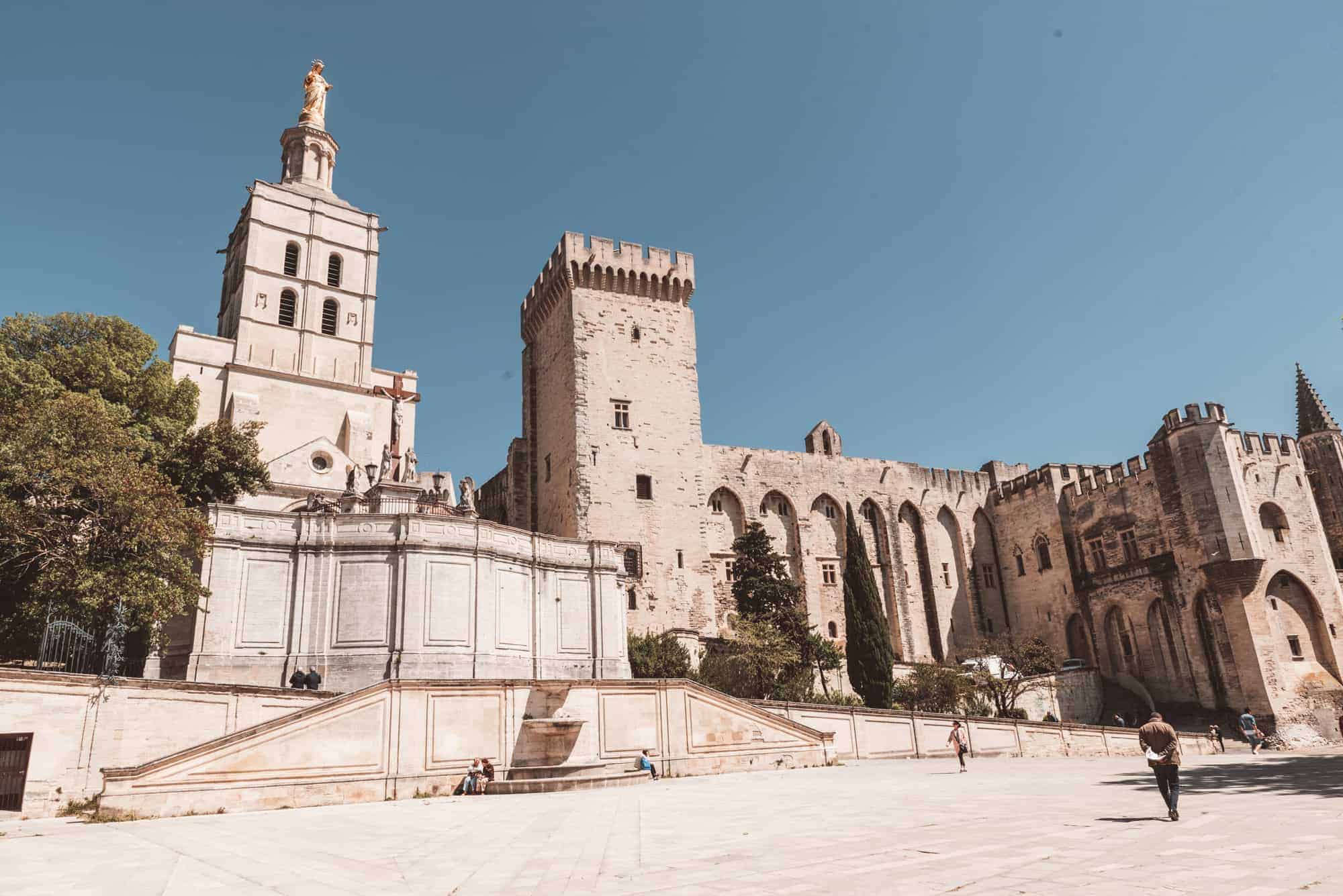 It's a Provençal city with a distinctly upmarket vibe, yet it manages to feel more like a close-knit village within the medieval ramparts that surround its historical centre.
Don't miss in Avignon
Visit Palais des Papes for unmatched insight into the town's history
Take the free ferry to L'île de la Barthelasse for a walk among the farms
Stroll up to the Rocher des Doms gardens for unbeatable views
Find our full recommendations of things to do in Avignon here.
Where to Stay in Avignon
See our full guide on where to stay in Avignon, here. Or read about the best Airbnbs in Avignon, here.
---
L'ISLE-SUR-LA-SORGUE
Possibly Provence's most picturesque market town, L'isle-sur-la-Sorgue translates to 'island on the Sorgue', which quite accurately describes its appearance. Although not technically an island, the river Sorgue runs throughout, in swiftly flowing canals that criss-cross the town.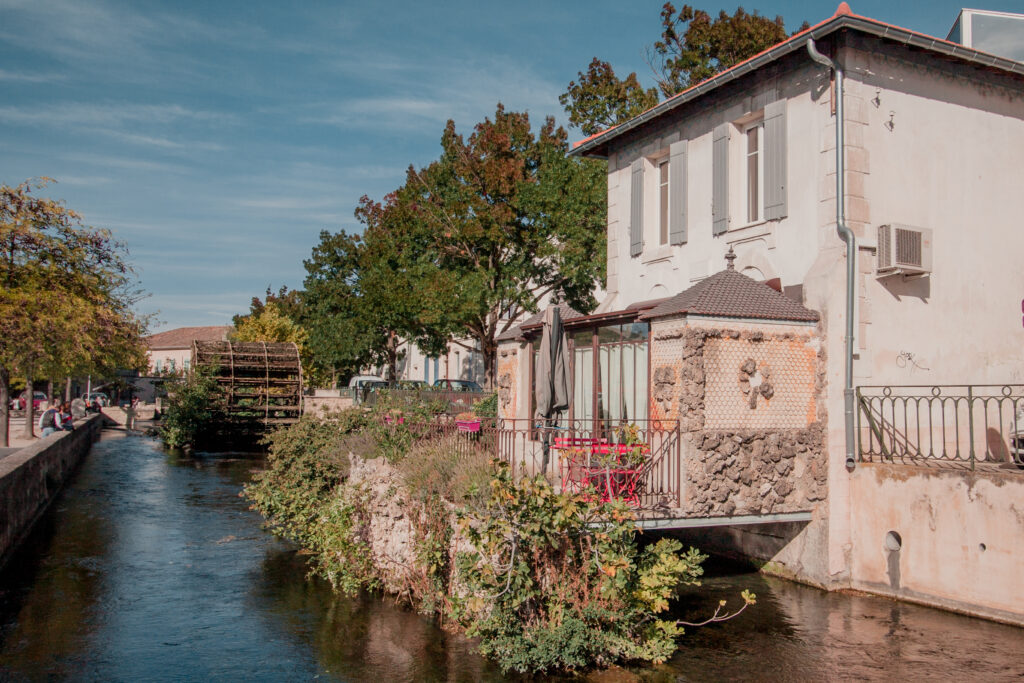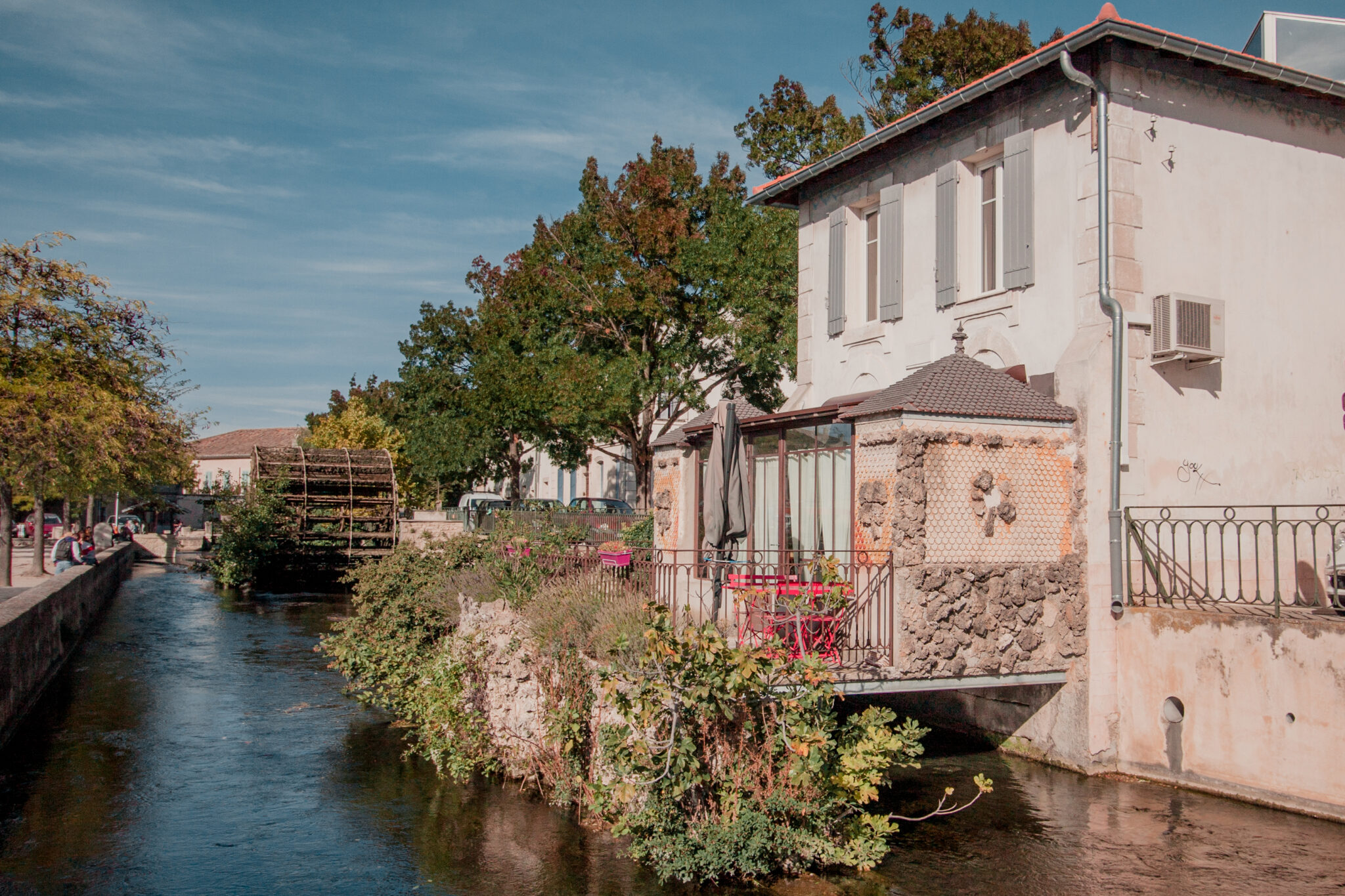 As the antique capital of Provence, if not all of France, it has a reputation for being the best place to browse the brocantes (second-hand stores) in search of traditional treasures. Many antique shops are open for a good rummage throughout the year, and on Sundays, you can find dealers selling their goods in the central streets.
Antiques haven't always been at the top of the agenda here though, and remnants from the area's past as a leading textile manufacturer still pepper the town. Moss covered watermills and ancient mills stand as a legacy to this bygone era.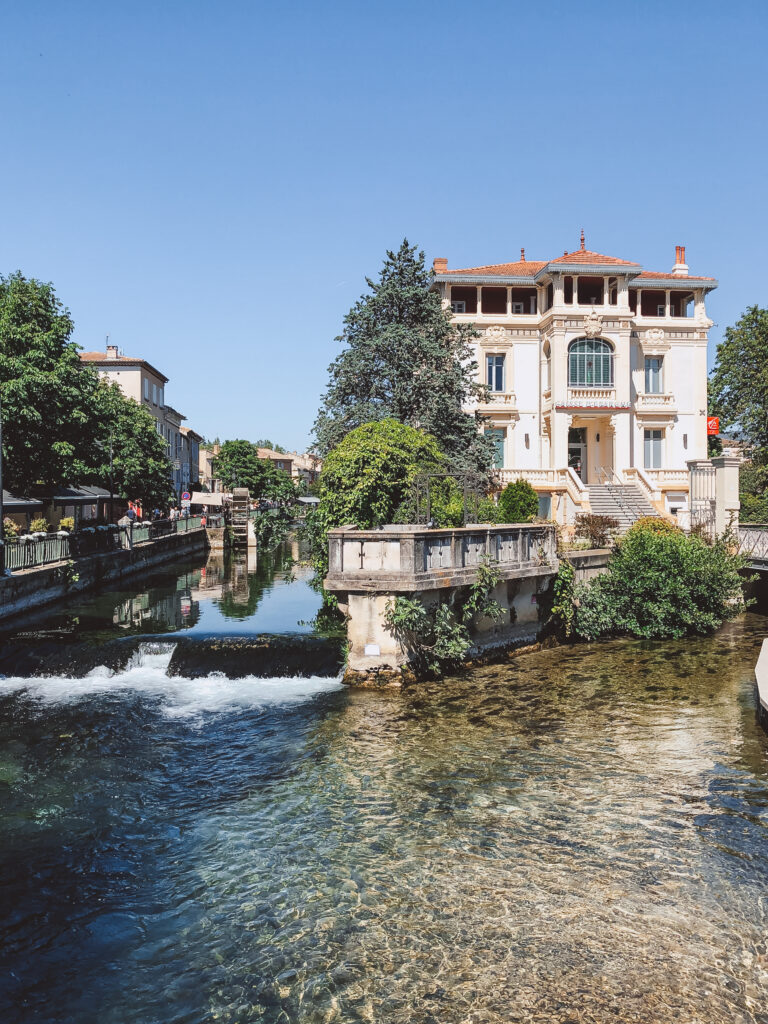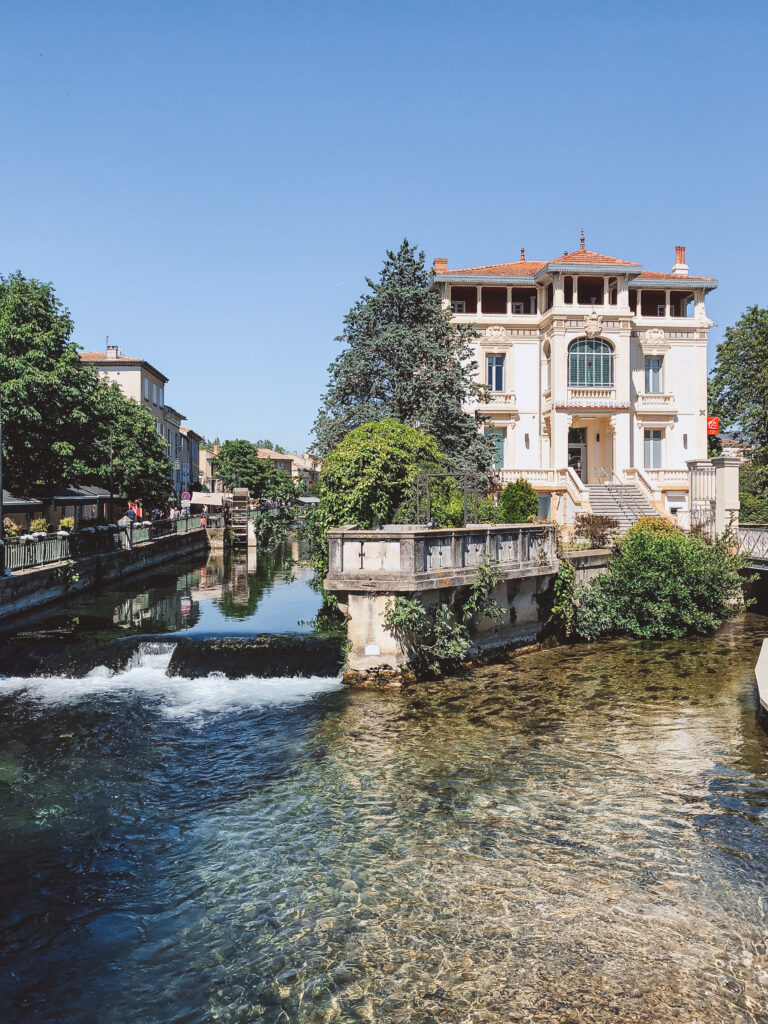 To take advantage of the setting, sit in one of the Sorgue-side restaurants for a salade Niçoise, and wander over the carved wooden bridges that span the canals. Be sure to follow the cobbled streets that lead to a labyrinth of delightful laneways and alleys too – for this is where you'll find some of the most charming boutiques and hidden squares in town.
Don't miss in L'isle-sur-la-Sorgue
Antique shopping at the weekly markets
A visit to the Brun de Vian-Tiran museum for a fascinating insight into wool-working
A side trip to Fontaine de Vaucluse to see the source of the river Sorgue
Where to Stay in L'isle-sur-la-Sorgue
---
SAINT-RÉMY-DE-PROVENCE
In the heart of the Alpilles, you'll find Saint Rémy de Provence, a small French town with a village feel. Most famous for its association with Van Gogh (he lived here for a year in which he produced many of his most famous paintings), it embraces its artistic heritage tightly.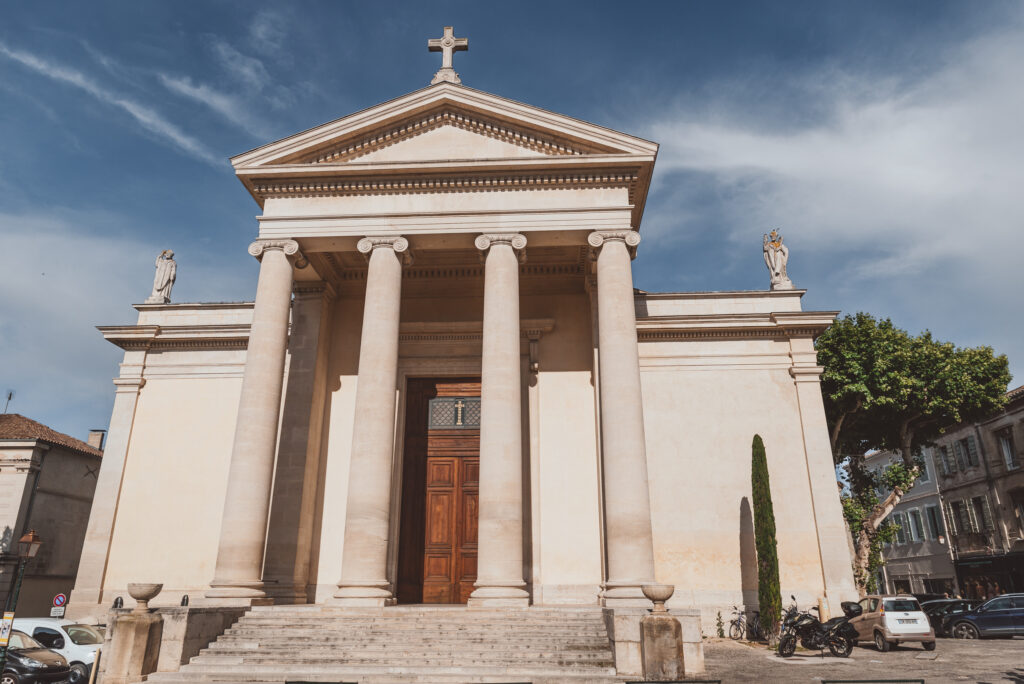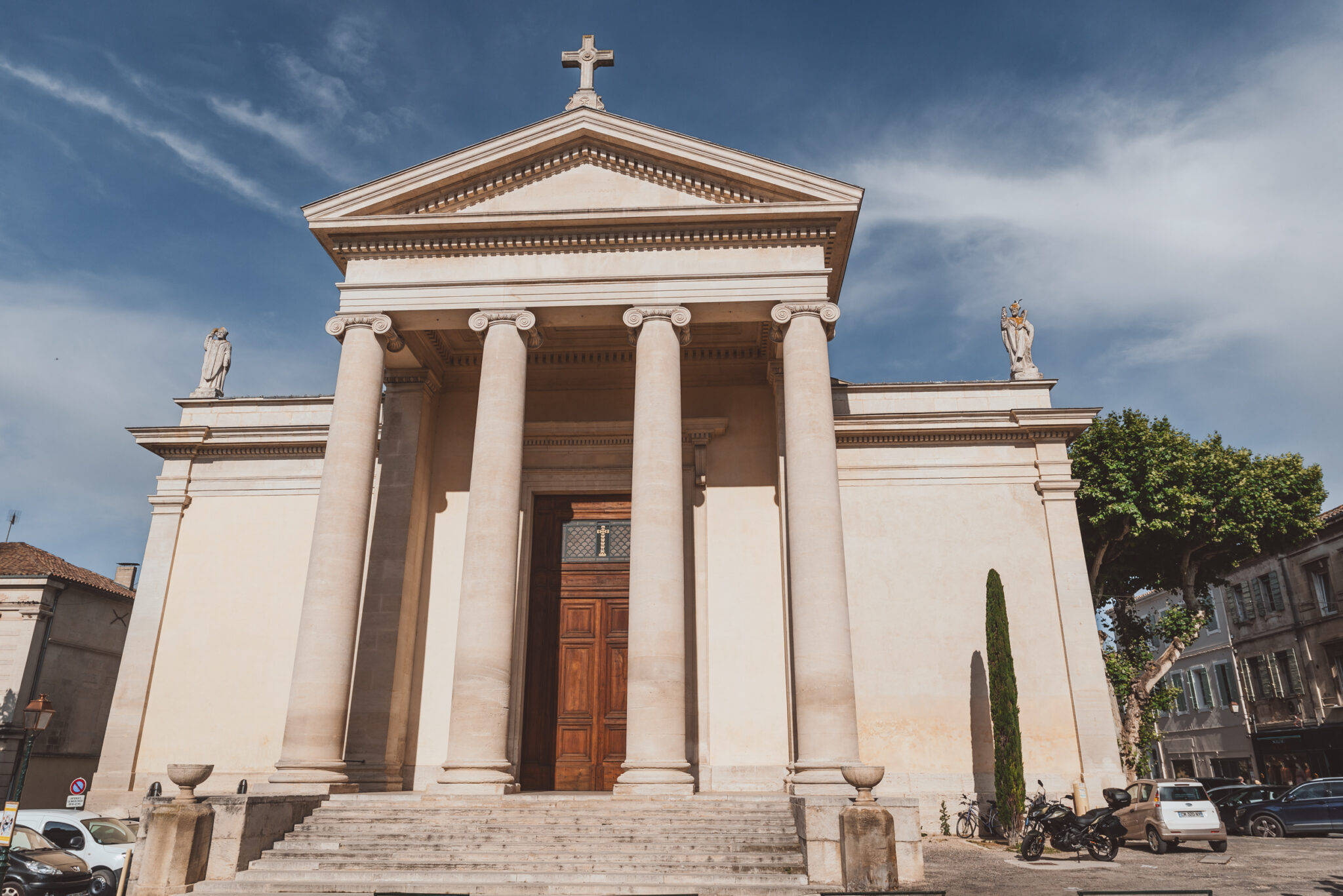 Strolling through the pretty streets with their pastel shutters and neatly pruned flower boxes does feel like walking through a painting, or some other idealised version of Provençal life. It's a very neat & tidy town, that's been beautifully maintained and wonderfully restored. So if you're looking for the quintessential experience, this may well be among the best places to visit in Provence.
Fill your days hobnobbing with the towns' celebrity fans, shopping at the markets and boutiques that spill out onto the streets, and enjoying breakfast al fresco in the cafe terraces.
But don't let its appearance sway you into thinking its nothing more than a pretty face. There are several important historical sites here, and many more in the surrounding areas.
Gastronomy takes on a traditional touch by showcasing the olive oils and vineyards that surround the small French town, and concerts & exhibitions take centre stage in the summer months.
Don't miss in Saint Rémy
Walk the "Promenade dans l'Univers de Vincent Van Gogh" to see the sights the inspired the famous artists' works.
Visit the Alpilles Museum, not least to take in the remarkable architecture of the building that houses it.
Explore Glanum, a nearby ancient city, where you'll find ruins dating back to the 2nd century BC.
Where to Stay in Saint Rémy
---
ARLES
Often overlooked in favour of other Provence destinations, Avignon or Aix-en-Provence, Arles has experienced a need to reinvent itself in order to appeal to a particular type of traveller. Culture aficionados will rejoice in this renaissance, as art takes centre stage in the city's new look. And it's backed up by an impressive line-up of events centring on artistic expression.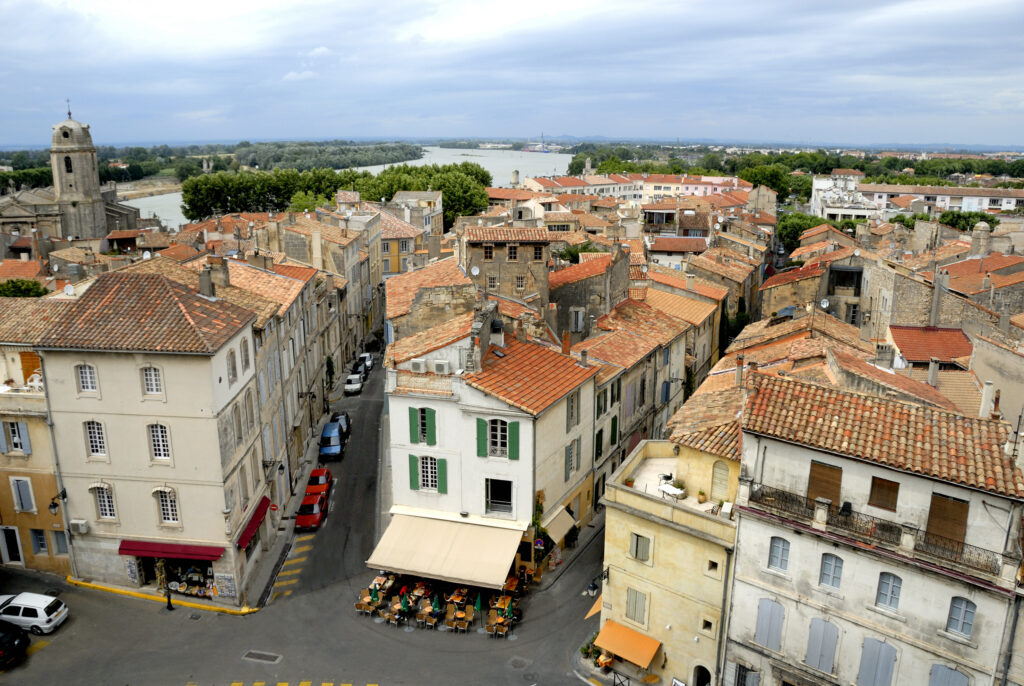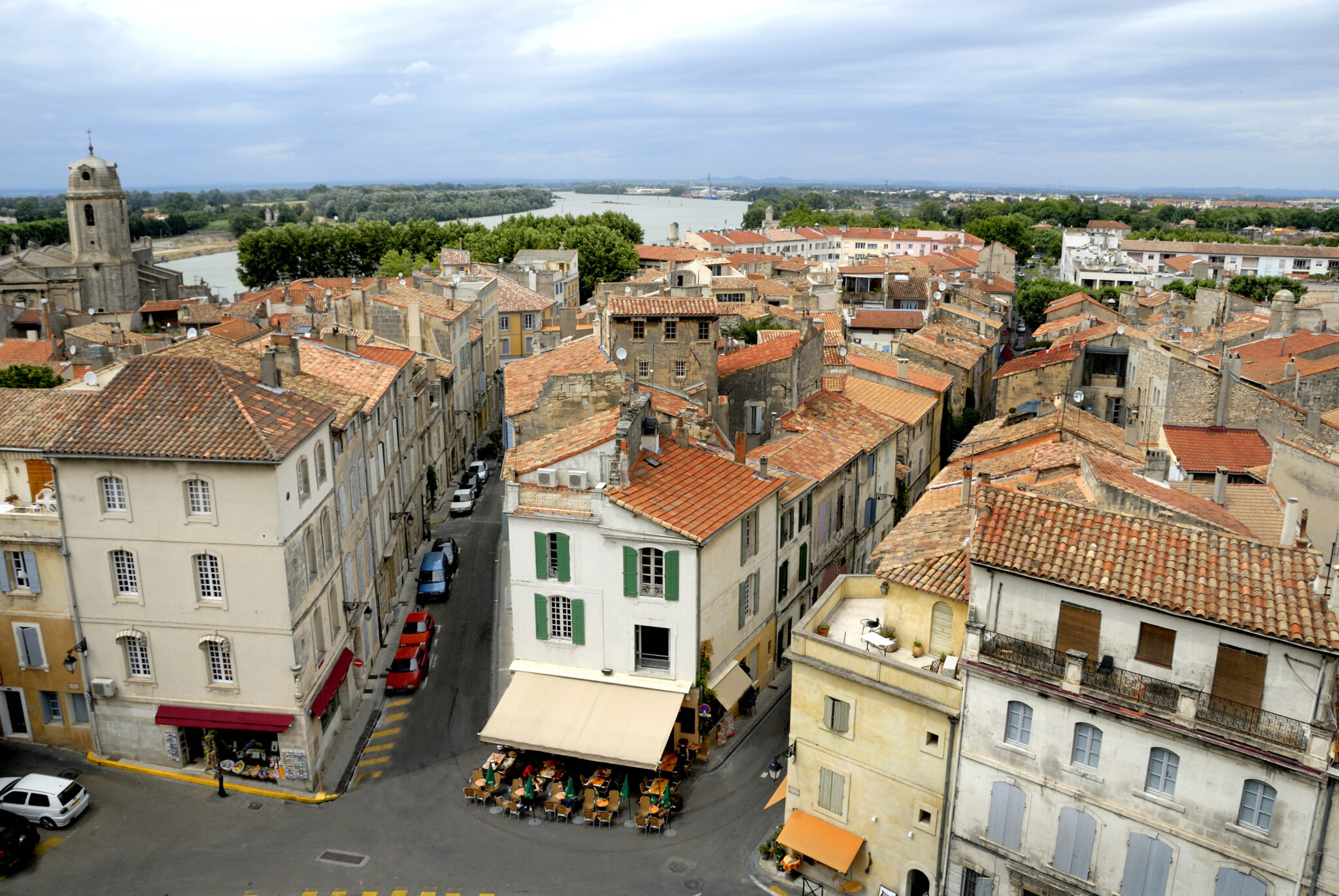 Of course, modern-day artists aren't the only ones to be drawn to Arles' charms. Van Gogh was once lured here by the promise of Provence's temperate climate and radiant light. The late artist lived in Arles for over a year, producing works that would go on to find fame for both the man and the material.
Before Van Gogh, artists of another era were creating masterpieces that would stand for centuries in the riverside province. The Romans arrived in the 1st century BC and set about constructing an arena, thermal baths, a theatre and a hippodrome. Only some of these constructions remain, but they've become the anchor from which the present-day city was born.
Often referred to as the 'gateway to the Camargue', you'd be missing out if you simply used the town as a stepping stone to get to the wildlife of the wetlands. Instead, stay a few days to appreciate the beautifully paired combination of old & new in this city that will leave you inspired.
Don't miss in Arles
Take a self-guided walking tour of Van Gogh's favourite spots
Visit the modern museum of Musée de l'Arles antique
Discover an underground world by taking a tour of the Cryptoportiques
Where to Stay in Arles
---
MARTIGUES
With its colourful houses, bustling canals, and privileged lakeside position, it doesn't take much to imagine why Martigues was once the chosen hangout for roaming artists.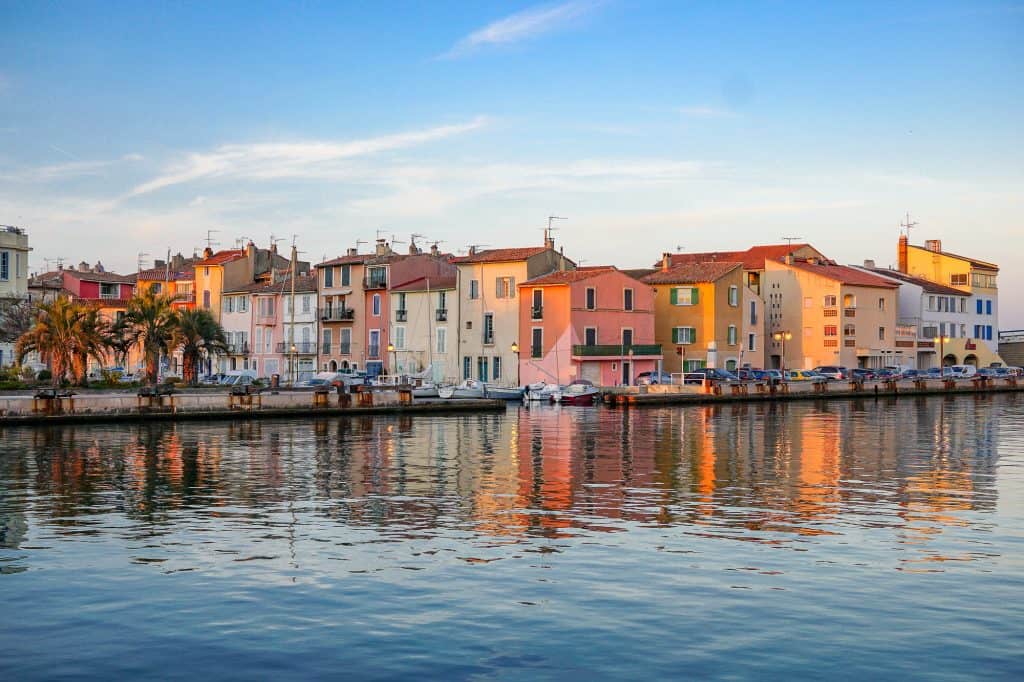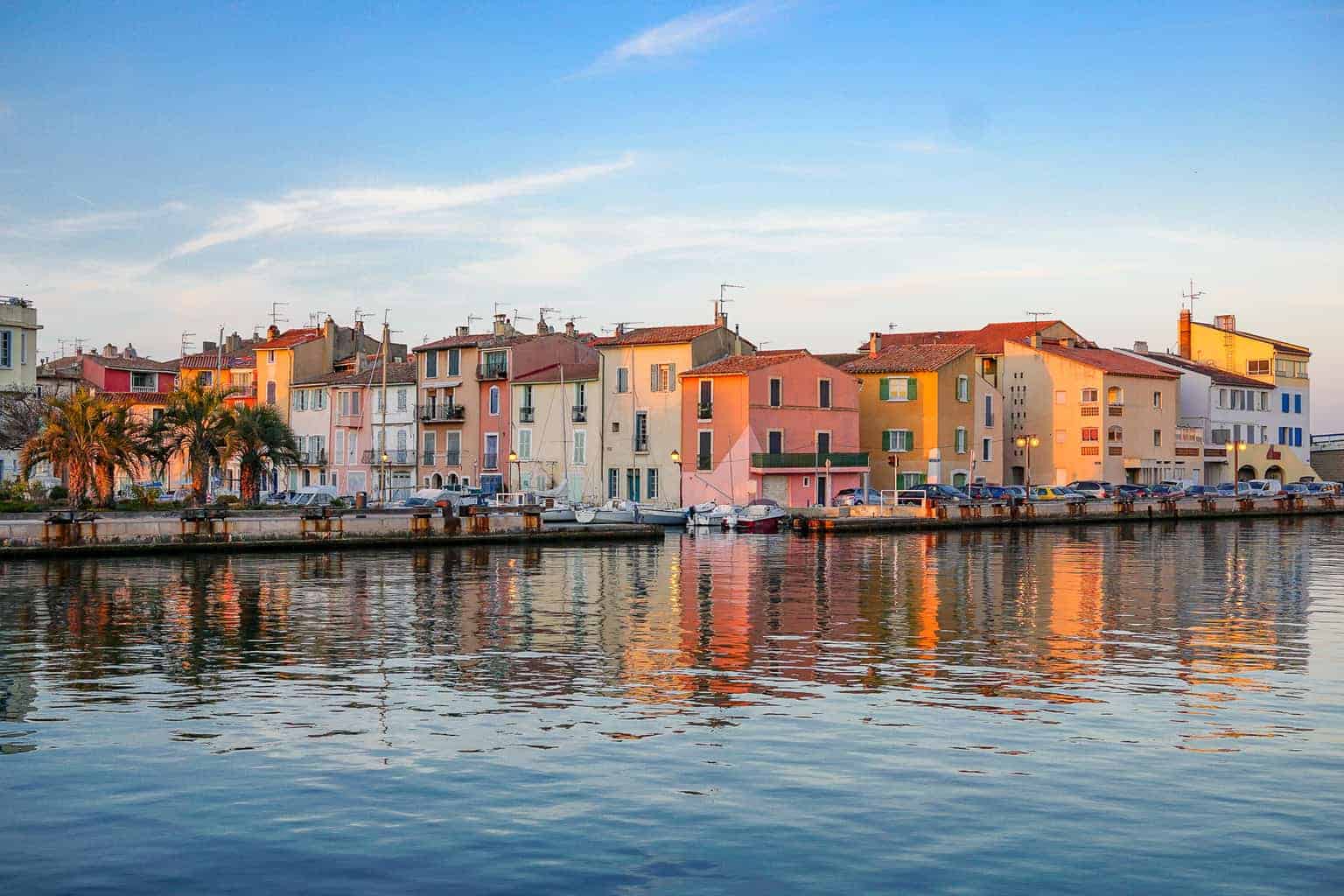 Nowadays it's favoured for its proximity to the city of Marseille, and that has brought about the inevitable expansion too. To sample the best of what this small town in Provence has to offer, head straight to the waterfront parking area where you can leave your car to explore the historical heart.
It's here you'll find pockets of paradise as you roam the cobbled paths alongside crumbling façades and baroque churches. Venture deep into the central island where you'll find some of the prettiest scenes of pastel-toned townhouses and traditional fishing boats.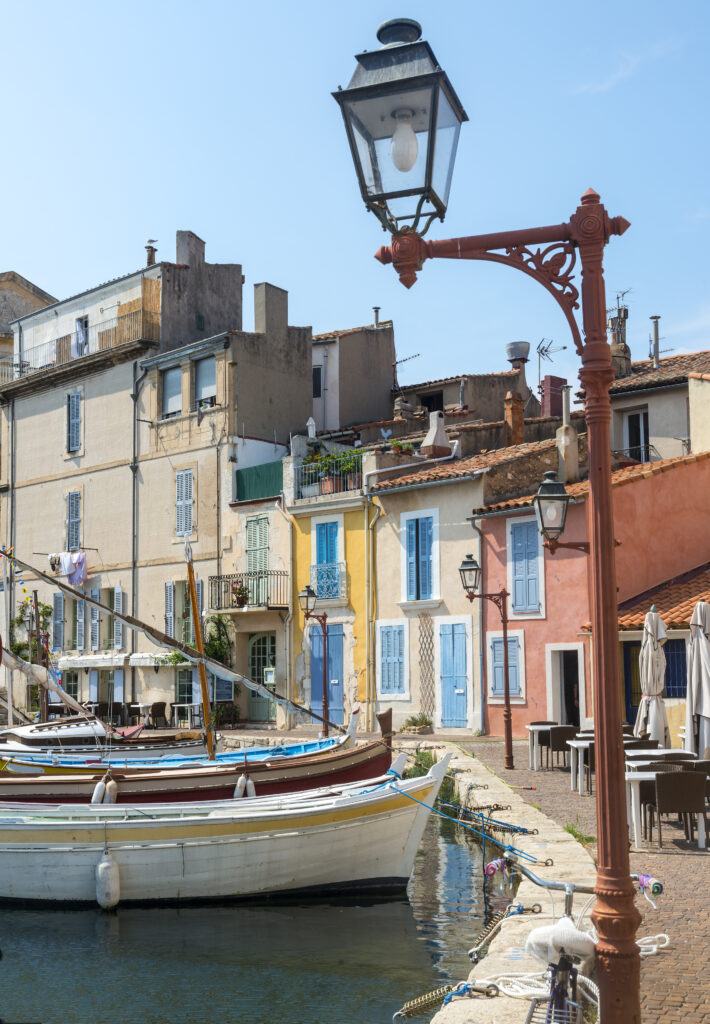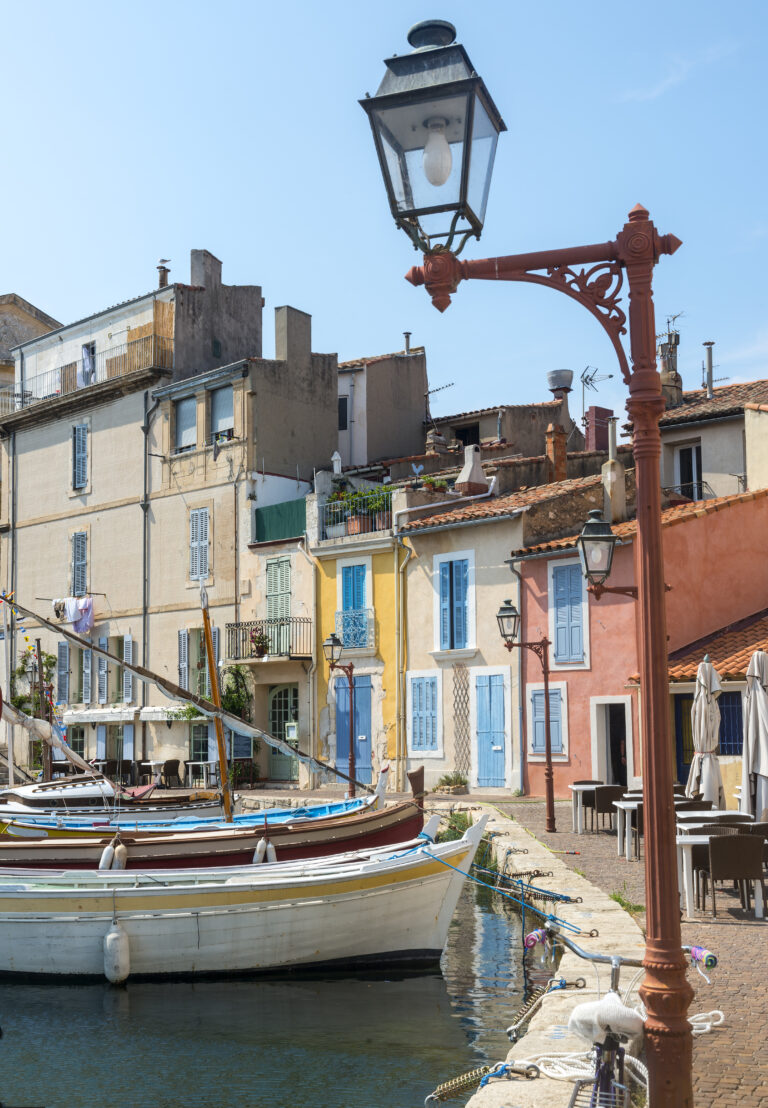 Pause for gelato as you wander down Quai Brescon and take in the unique character of your surroundings, before taking a scenic stroll along the waterfront promenade.
Don't miss in Martigues
Pick up a leaflet from the tourist office for a self-guided walk around the town's Roman ruins and archaeological excavations
Wander over to the Martigues island and take in the atmosphere of the canals
Take a dip in the Étang de Berre
Where to Stay in Martigues
---
SANARY-SUR-MER
The colourful seaside town of Sanary-sur-Mer is one of the prettiest towns in Provence, and also one of its best-kept secrets. Centred around a productive fishing port, the town has a strong nautical feel. Something that's further reflected in the menus of the bistros and restaurants that converge around the harbour.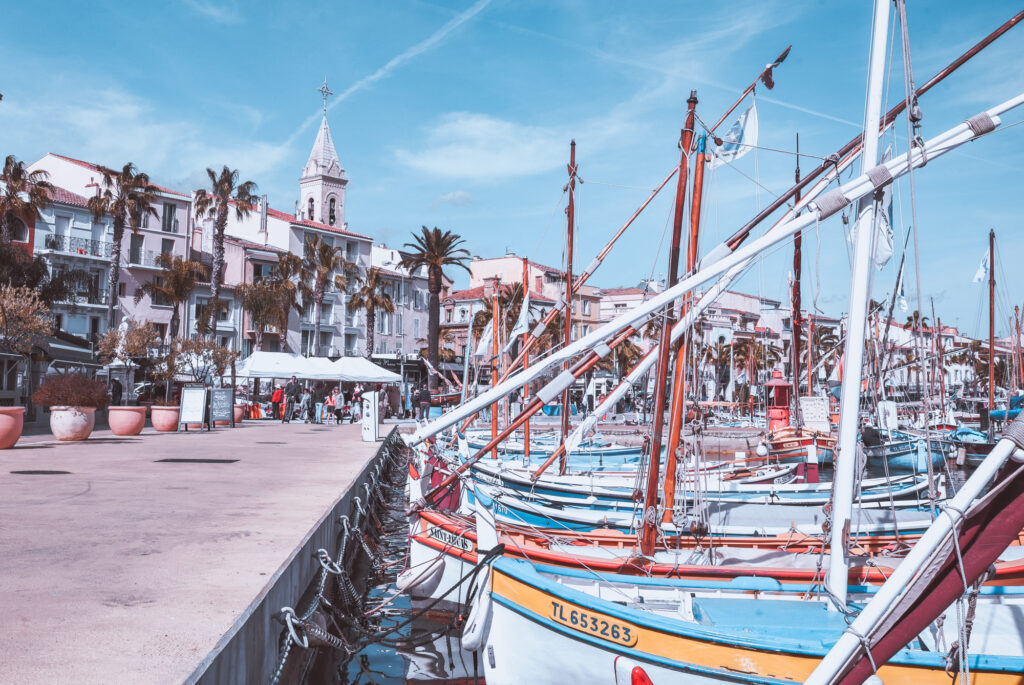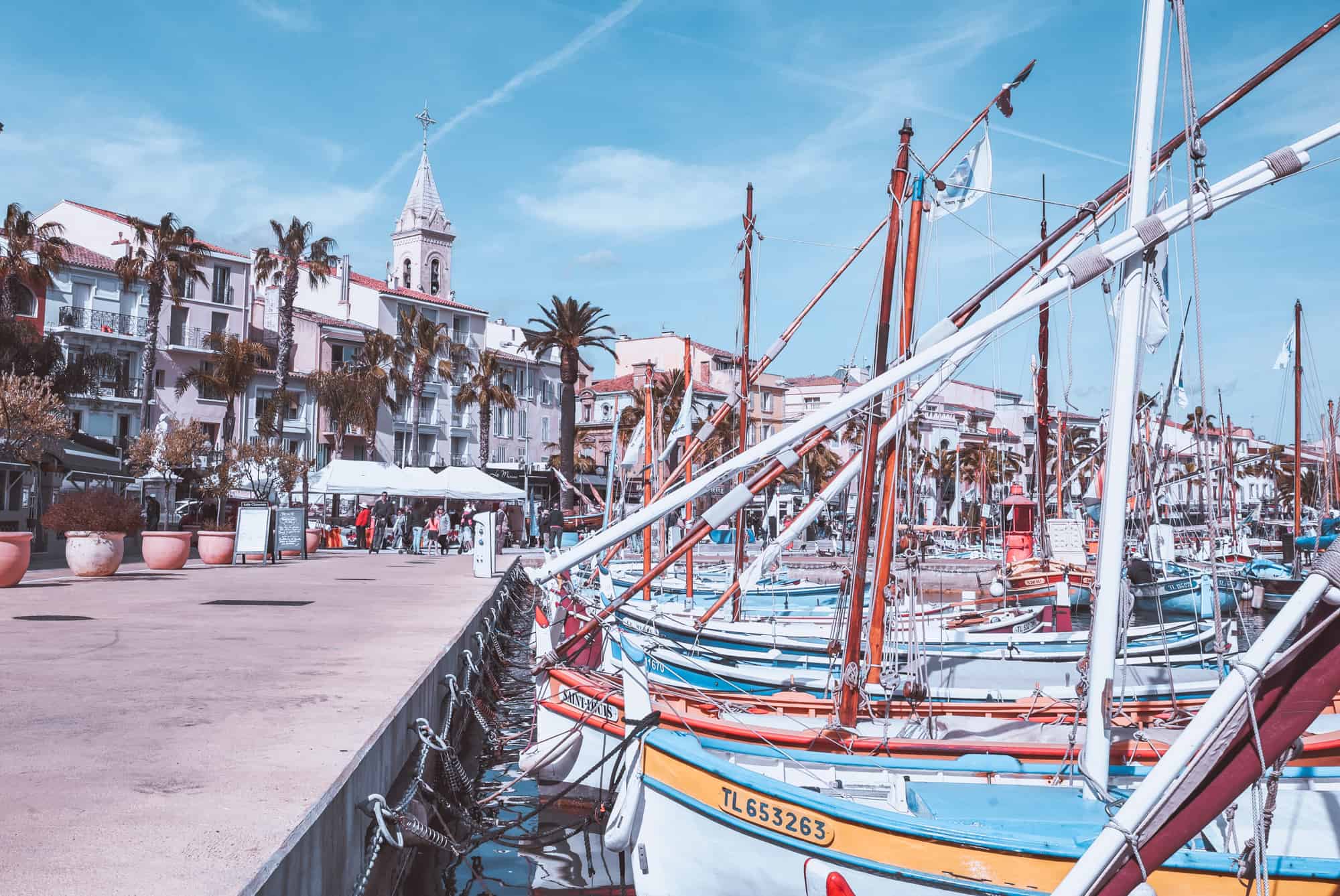 Venture away from the Place de la Republique and you'll find a charming cluster of pedestrian-only streets and alleyways lined with tempting boutiques. Here you'll find everything from locally crafted ceramics to tantalising tea shops.
Shaded squares provide respite from the heat, and even in the height of summer, cleverly placed park benches persuade you to sit & stay a while. Hit up the daily markets and be sure to pick up a treasure from the weekly brocante.
Sanary-sur-Mer has mainly managed to resist the 'overdone' style of some nearby seaside villages and very much still feels like an authentic Provençal town. And while it doesn't sport an attractive sandy cove in the centre in town, you'll find the nearby shores of Six-Fours-les-Plages hard to resist.
Don't miss in Sanary-sur-Mer
Browse the busy produce and antique markets
Dive into the Musee International de la Plongee Autonome to learn about the history of scuba diving
Pop into L'Aquarelle des Saveurs to sample hand-mixed spice and tea blends
Where to Stay in Sanary-sur-Mer
---
SALON-DE-PROVENCE
The historical centre of this town in Provence is like a more compact version of the more well-known, Aix-en-Provence. With the addition of an in-tact château at the top! The 9th-century Château de l'Empéri sits raised above the town and invites you to explore the museums housed within.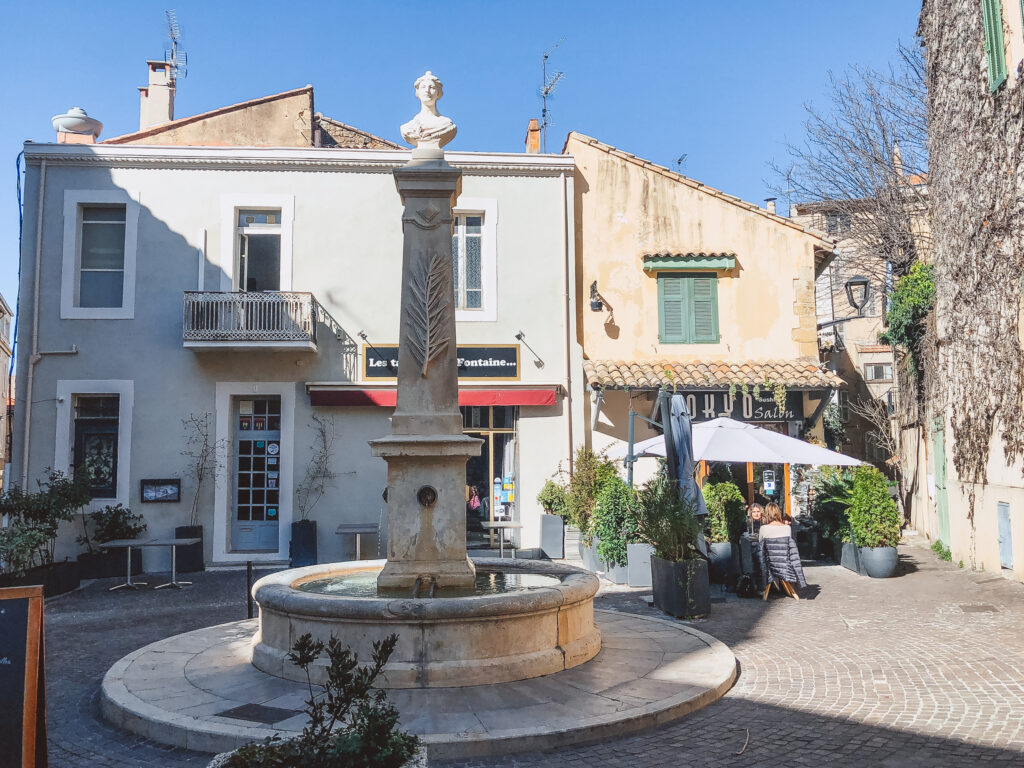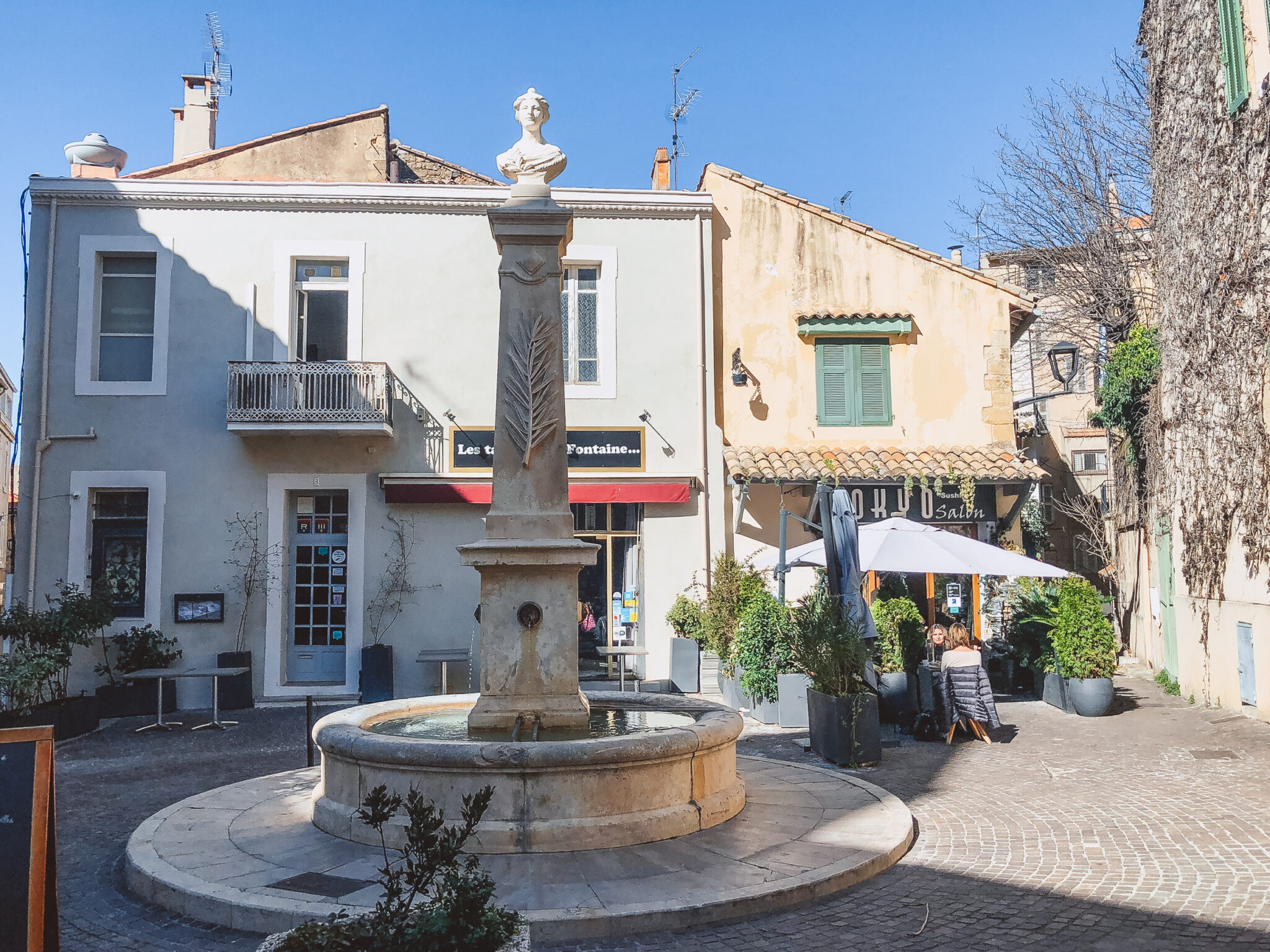 Below, you'll find pale salmon buildings with worn-in shutters fanning out towards the ancient city walls, and café terraces crowding around the Place des Centuries, inviting you to rest your feet and enjoy a cool beverage.
Wander around the tightknit streets of the old town, and you'll find yourself among more locals than tourists. Except perhaps, during the Renaissance Festival in late June when over 20,000 people converge on the town to enjoy the free theatre productions, concerts and workshops on offer.
The town's main claim to fame is as the final home, and place of death of the famous French astronomer, Nostradamus. His legend remains strong throughout the town, with statues, museums and festivals celebrating his life and work.
Don't miss in Salon-de-Provence
Visit the Marius Fabre Soap factory (makers of the iconic Marseille SOAP).
Visit the Château de l'Empéri and the exhibitions it houses
Discover the home of Nostradamus which now houses a museum about the astronomer's life
Where to Stay in Salon-de-Provence
---
MANOSQUE
Although most famous for its association with lavender fields, and as the birthplace of L'Occitane – a popular French cosmetics company – this small Provence town has a lot more to offer the inquisitive visitor.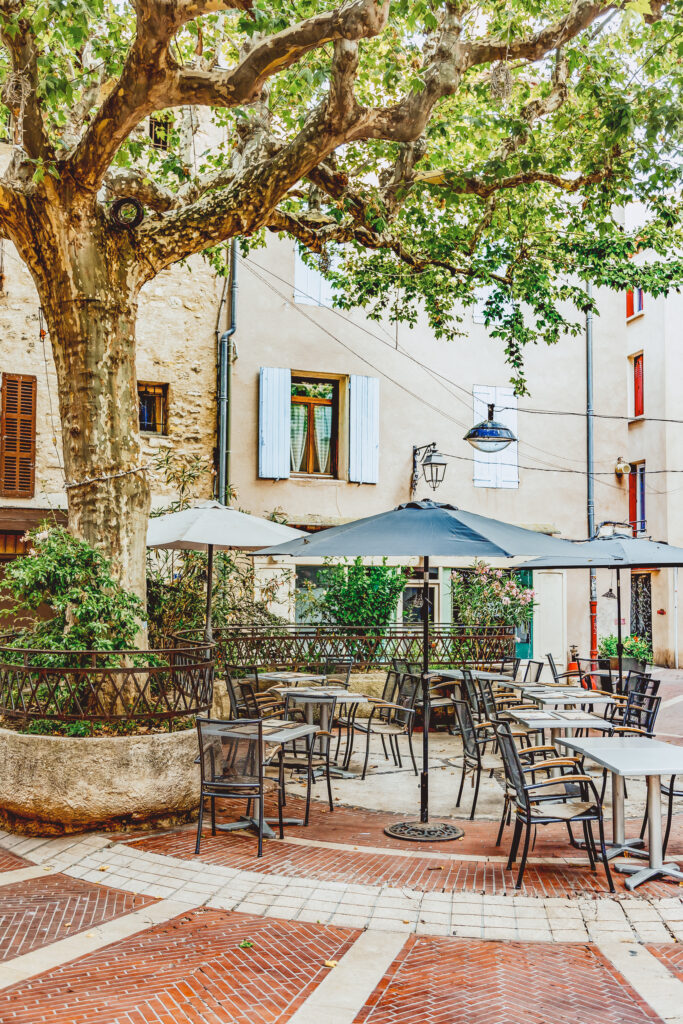 The original village dates back to the 13th century (little remains of the town's previous Roman heritage) and still bears evidence of its chameleon past. It's a town that has been built and rebuilt many times over, and in recent years a population explosion has meant the surrounding areas have been hastily developed too – sometimes in an unsightly fashion.
But as soon as you pass through the ancient portes to the town you'll be won over by its dignified appearance and beautifully restored ramparts. Delight in the elegant squares and leafy boulevards, or simply sit and let the world pass you by as you feast on fresh produce from the markets.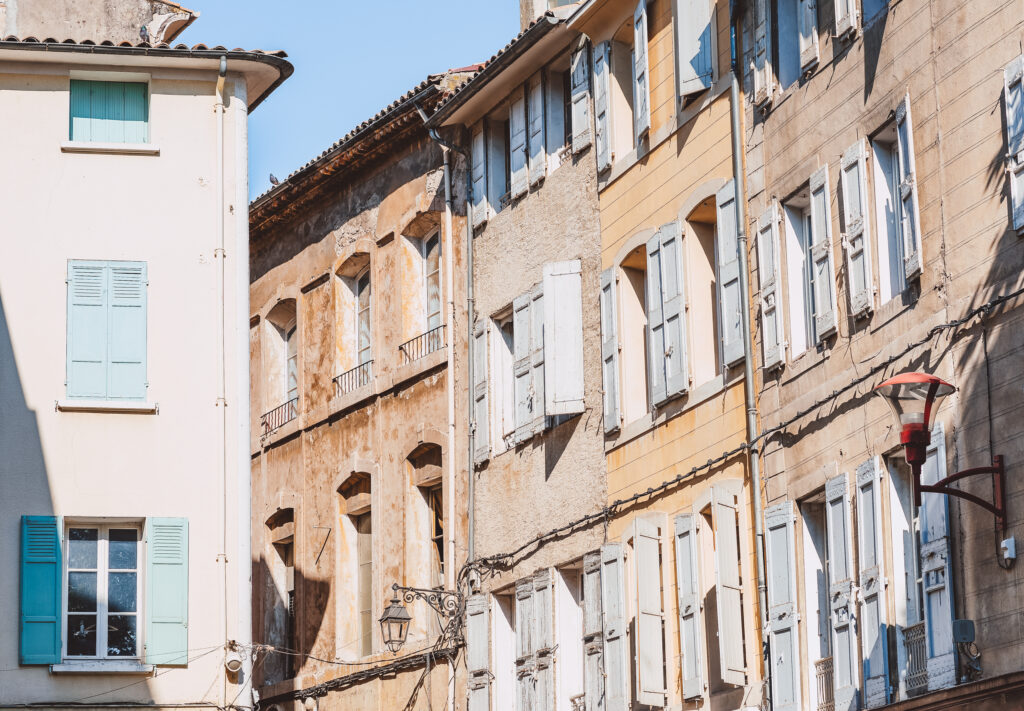 This probably isn't a town that will hold your attention for more than a day, but there is plenty to keep you captivated in the surrounding countryside. Famed for its viticulture, it's also an excellent place to sample some of Provence's finest wines.
Don't miss in Manosque
Search for the bookstalls among the Saturday morning markets
Discover the old town portes (remnants from when the town was walled in medieval times)
Visit the L'Occitane factory and factory store
Where to Stay in Manosque
---
LA CIOTAT
Hiding around the bend from the ever-popular Cassis, La Ciotat is like a larger, slightly more dishevelled looking version of its petite neighbour. The birthplace of both petanque, and motion pictures, it deserves to be better-known than it is, but perhaps its this underdog nature that aides its appeal.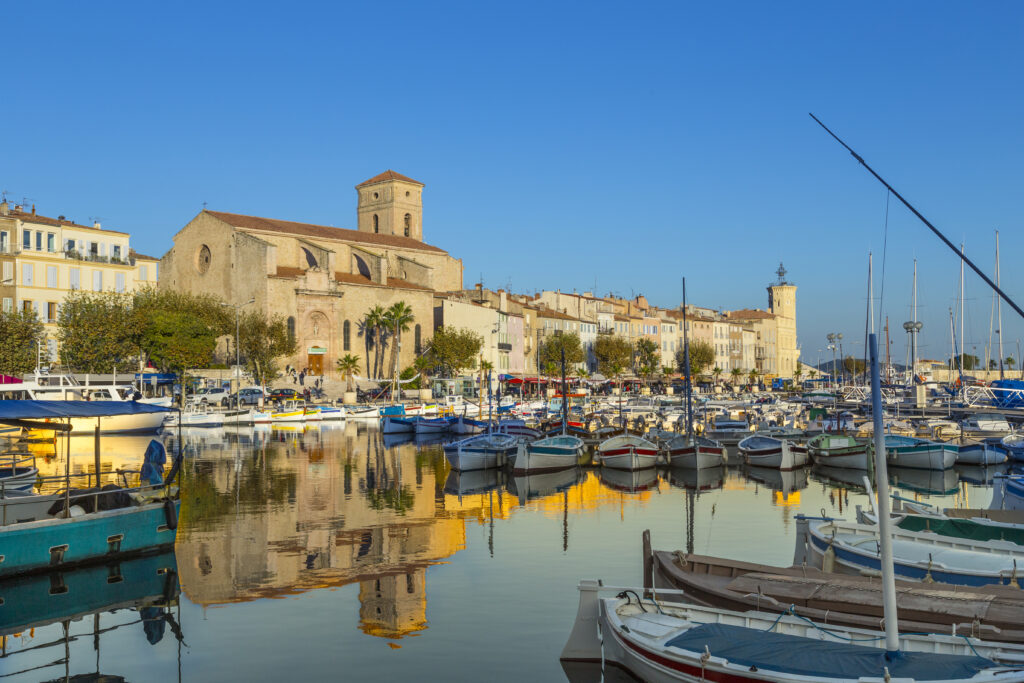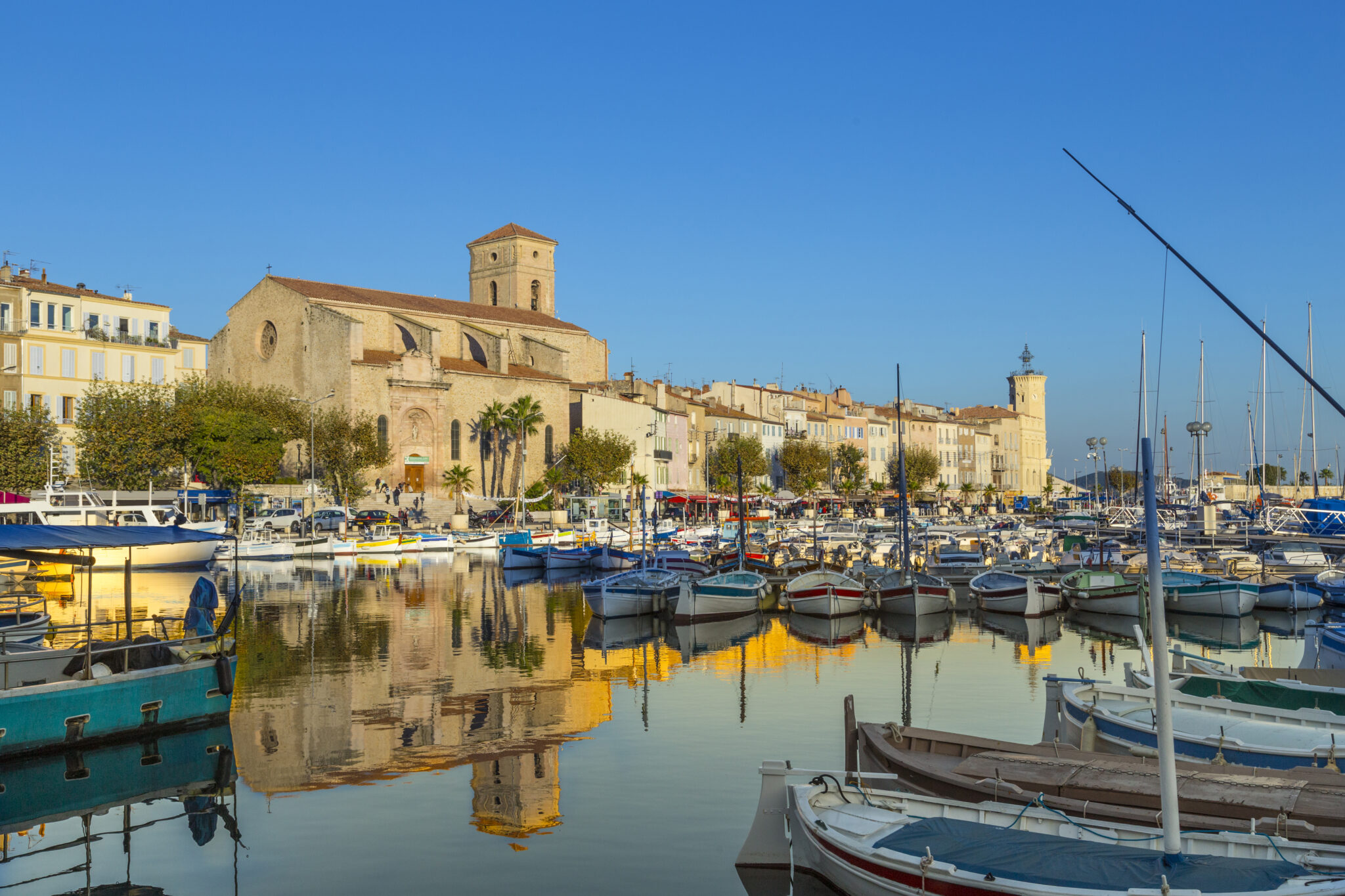 The Old Port is where you'll find the heart of the action, with luxury yachts and traditional fishing dingies jostling for space in the busy harbour. Alongside, the quay is lined with an endless array of eateries, so you won't be short of somewhere to dine with scenic sea views.
Inland, you'll find the marine town has a green side too, with pretty parks and gardens sprinkled within its innocuous-looking neighbourhoods. Be sure to dive into the old town with its earthy tones and impossibly narrow streets (don't take your car!).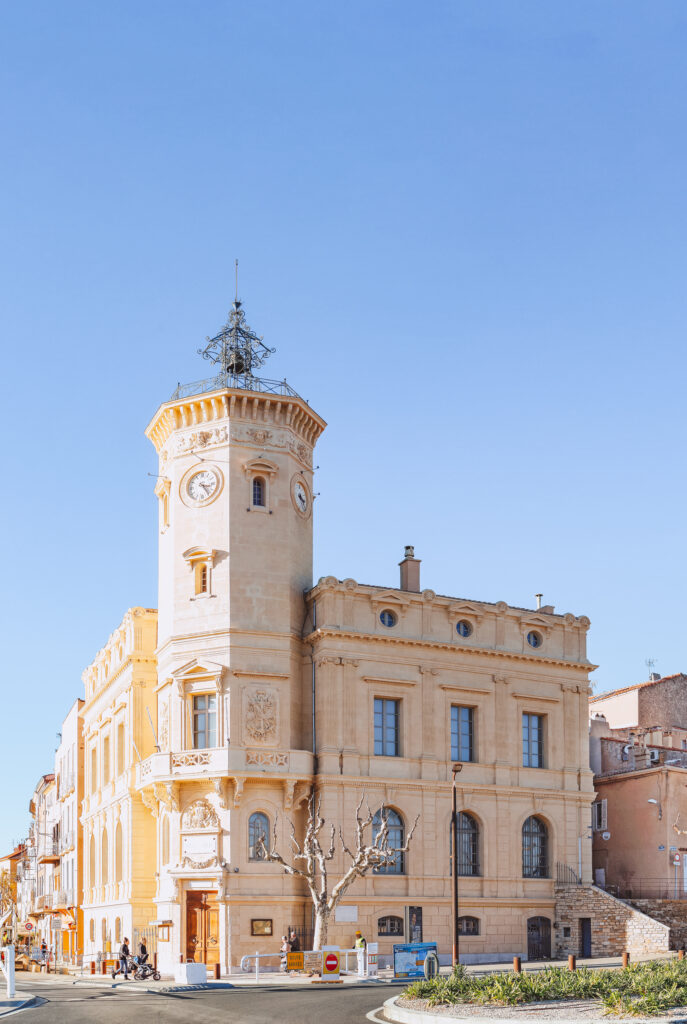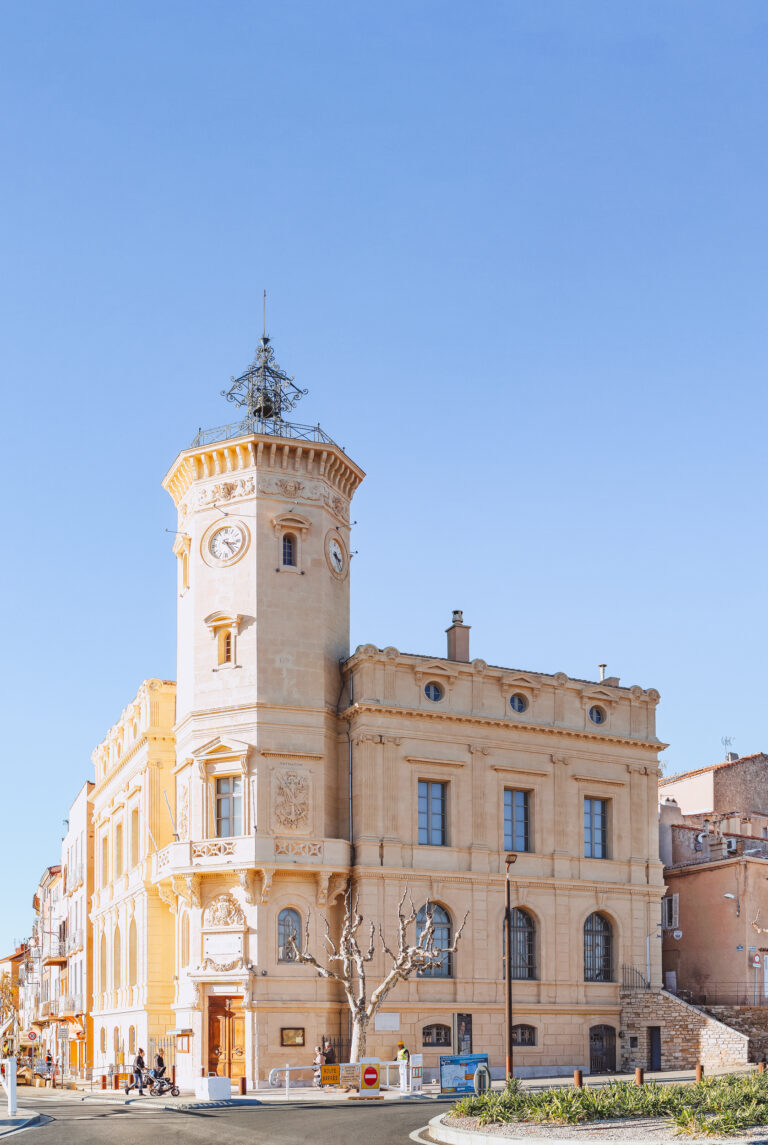 On both sides of this southern city, you'll find beaches worth walking for. Head to the hidden Calanques de Figuerolles for unspoiled nature, Les Capucins for family-friendly fun, or Plage Lumière for an impressive swathe of sand.
Don't miss in La Ciotat
Visit the Jardins de l'Éspérance with children for a wonderfully educational experience
Watch a movie at the worlds oldest cinema – the Eden Theatre
Take a walk – and a swim! – at Parc du Mugel on the edge of town
Where to Stay in La Ciotat
---
BRIGNOLES
You may have gathered by now that a common theme running through the most beautiful towns in Provence is that of having an attractive historical centre. And Brignoles is no exception. The heart of the town is delightfully quaint and unmistakably Provençal in style.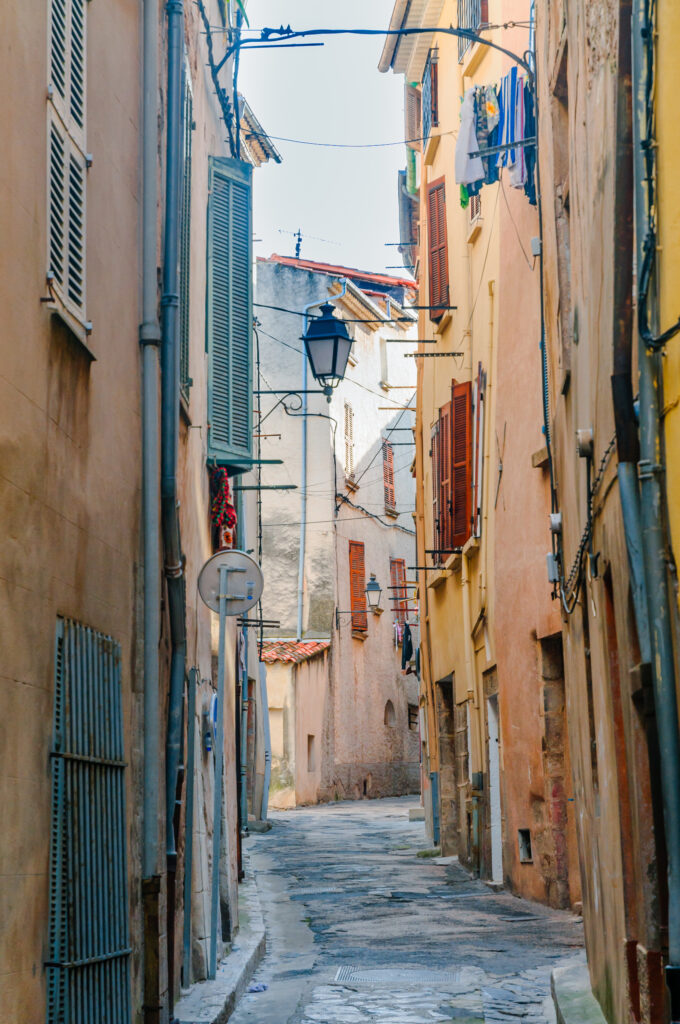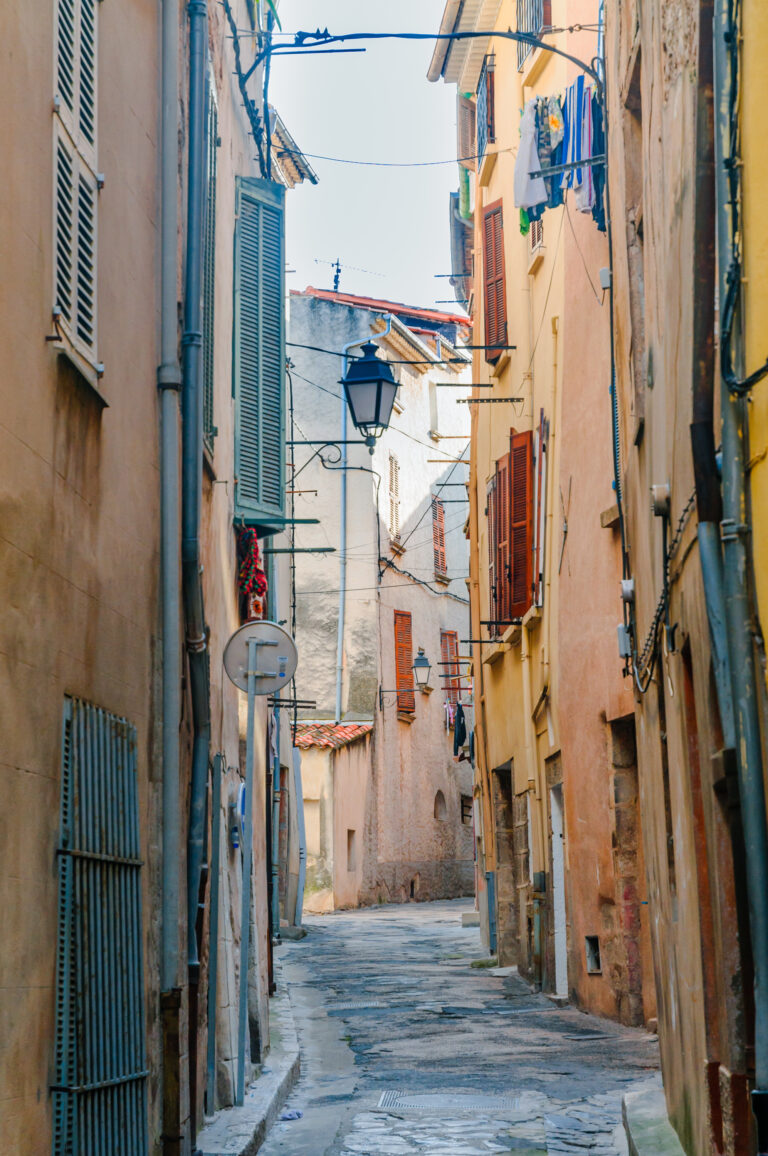 A playful colour scheme compliments the cobbled alleyways perfectly and gives the town a sunny disposition, even in the cooler months. Feel the hum of everyday life as you shop with the locals at the bi-weekly markets. This small town in Provence was once the 'summer residence' of the counts of Provence, but these days you're more likely to encounter trolley-totting grandmothers than members of the nobility.
But that's not to say its a sleepy township either. Brignoles hosts one of the biggest and most lively markets in the region and various festivals throughout the year highlight the region's standing (both past & present) in the agricultural industry.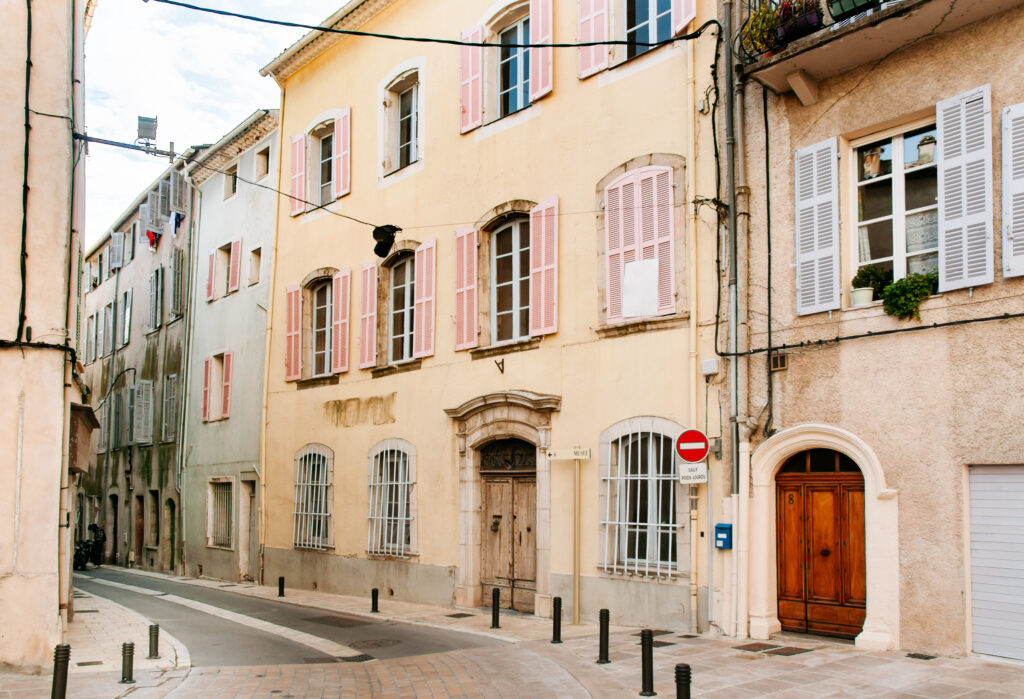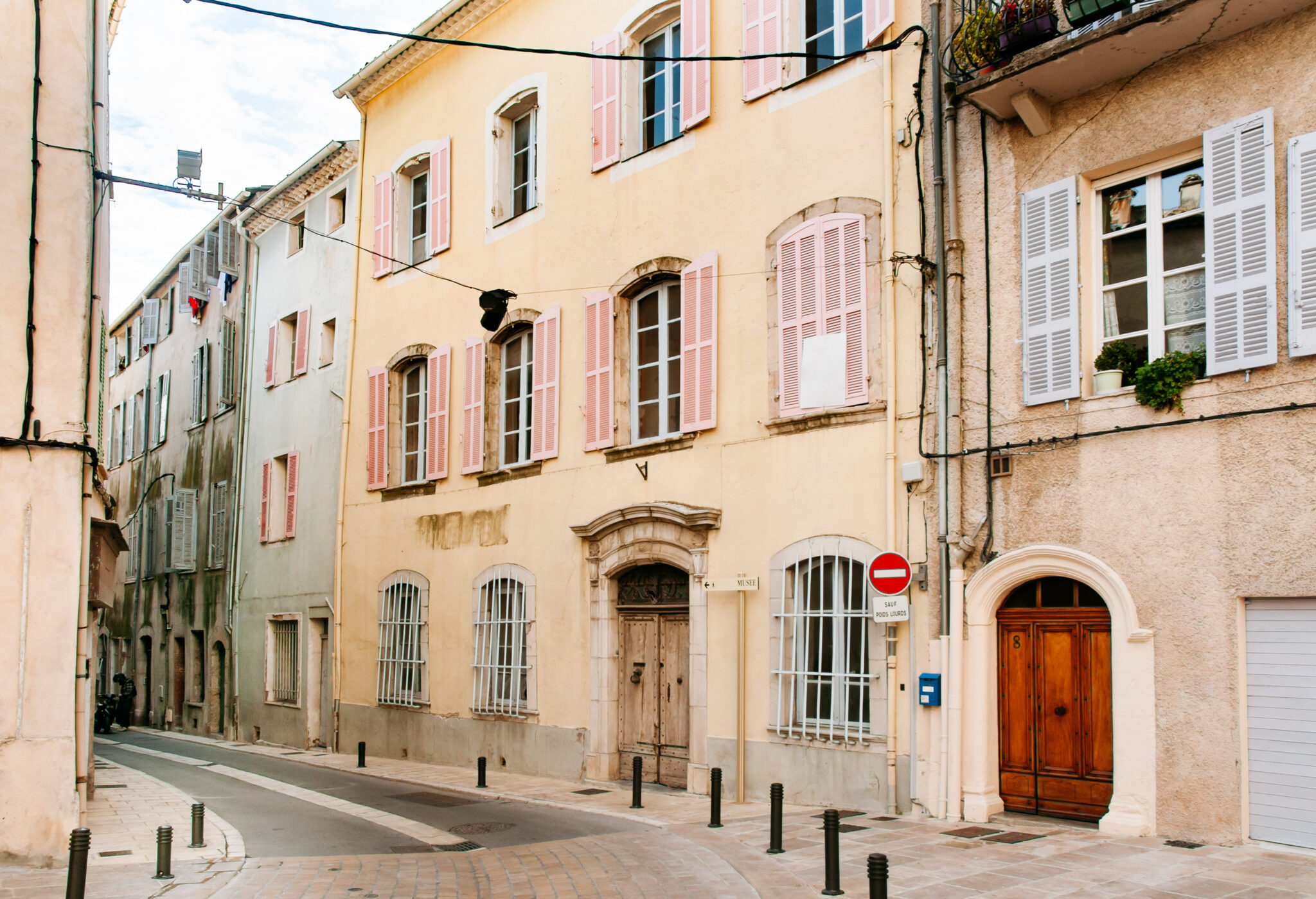 Dedicate some time to discover the colourful alleyways and aristocratic architecture of the old town and you'll feel like you've been let in on a wonderfully guarded secret.
Don't miss in Brignoles
Pay a visit to the Palais des Comtes de Provences and the museum inside
Take the tourist train through wine country
Play golf at the Barbaroux golf course
Where to Stay in Brignoles
---
HYERES
Beholding the title of the Southernmost city in Provence, it's no wonder Hyeres boasts an agreeable climate and enviable sunshine hours. And while it may be tempting to spend them sunning yourself on the department's swoon-worthy beaches, it's the hillside town that holds the real charm.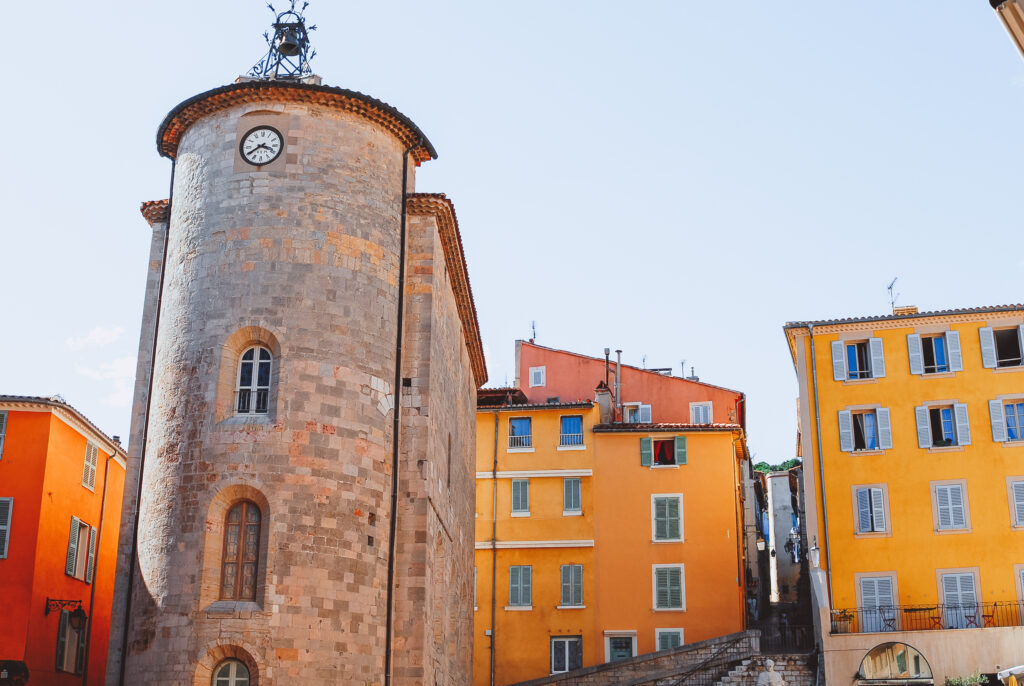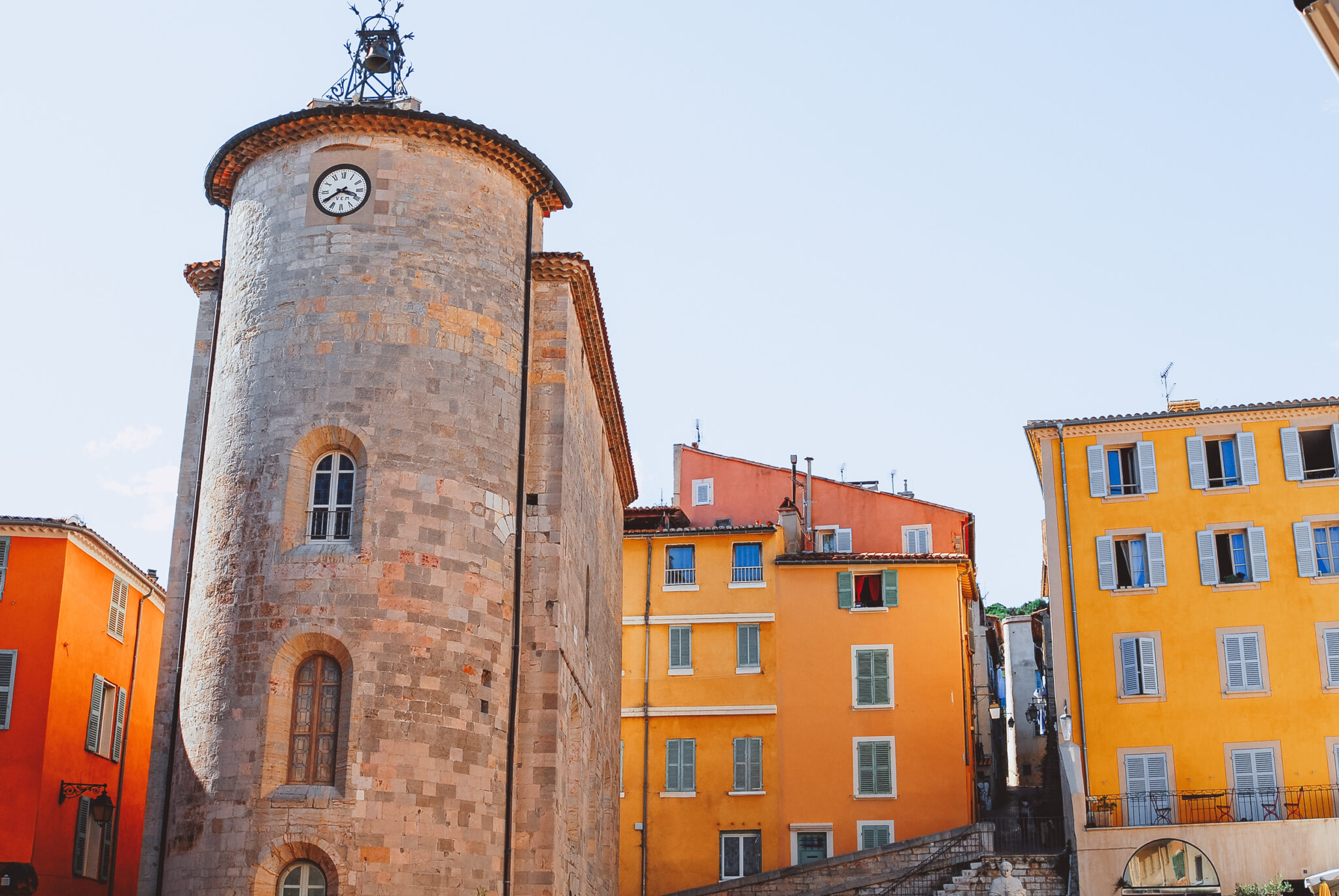 It's here that you'll find medieval monuments rubbing shoulders with Provençal mansions, and internationally-acclaimed gardens standing in the shadow of a crumbling château. Although in ruins, the Chateau d'Hyères deserves a good ramble, and offers stunning views across the city to the Mediterranean Sea and the Îles d'Hyères.
The old town invites you to wander, and every corner is an invitation to explore further. Get lost among the colourful façades of terracotta-topped buildings and grandiose squares where you can sip coffee in the company of holidaying Parisians.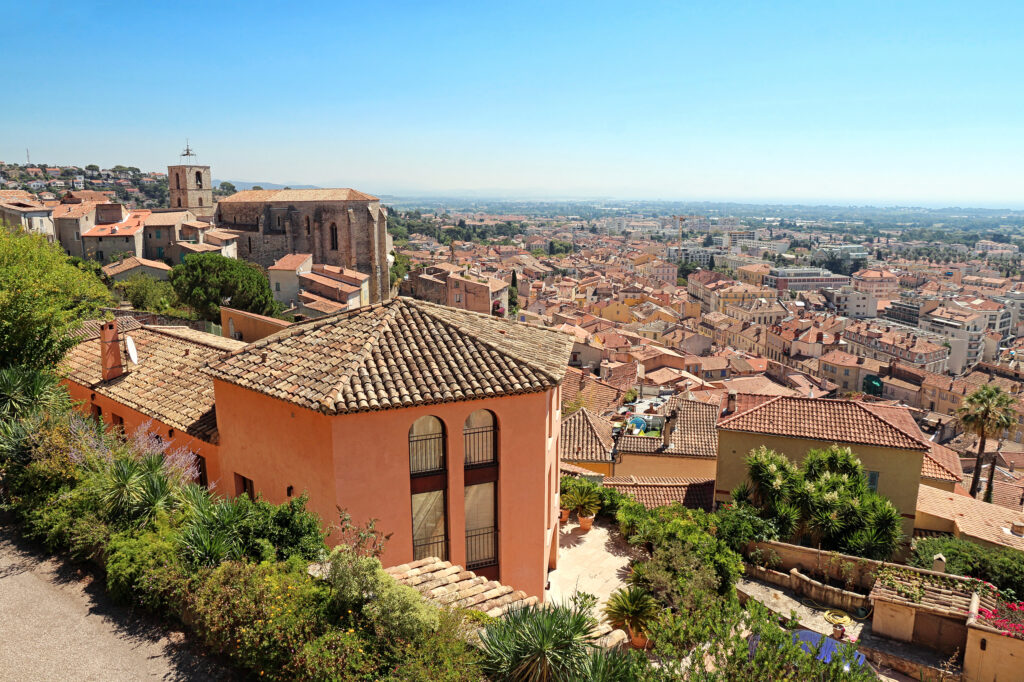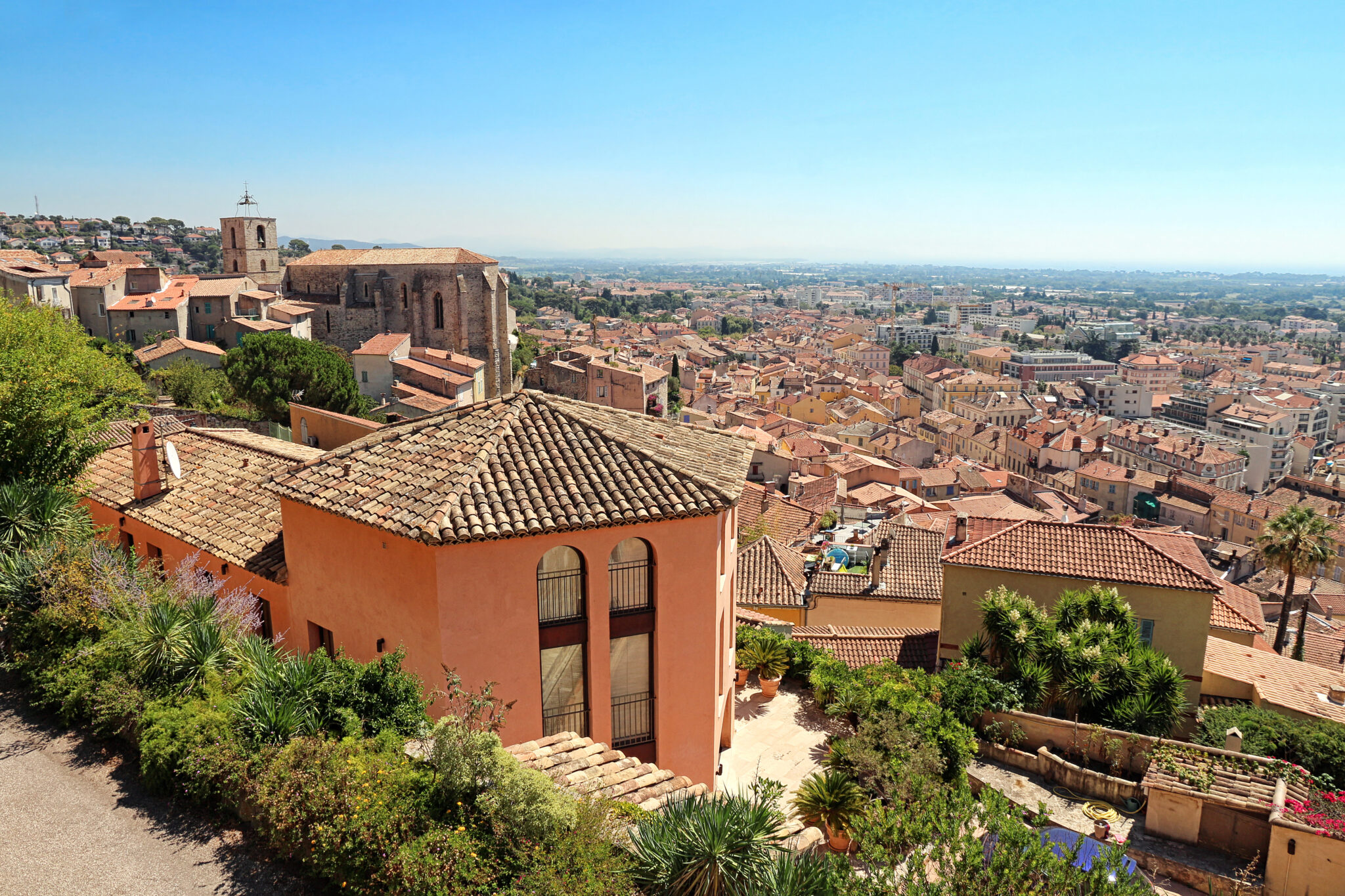 If you plan on visiting both the town and the surrounding coastline, you're going to want to allow at least a couple of days to do so thoroughly. This is one of the most beautiful places in the South of France and not an area to be hurried.
Don't miss in Hyeres
Visit the famed farmer's markets – there's one on every day!
Take a day trip to Ile de Porquerolles
Hit the beach of course – the hard part will be choosing which one!
Where to Stay in Hyeres
---
ORANGE
Wearing its intriguing history on its sleeve, Orange has Roman monuments to rival Arles or nearby Nîmes, yet it remains remarkably off the tourist trail for most visitors to France. Except that is, for lovers of opera.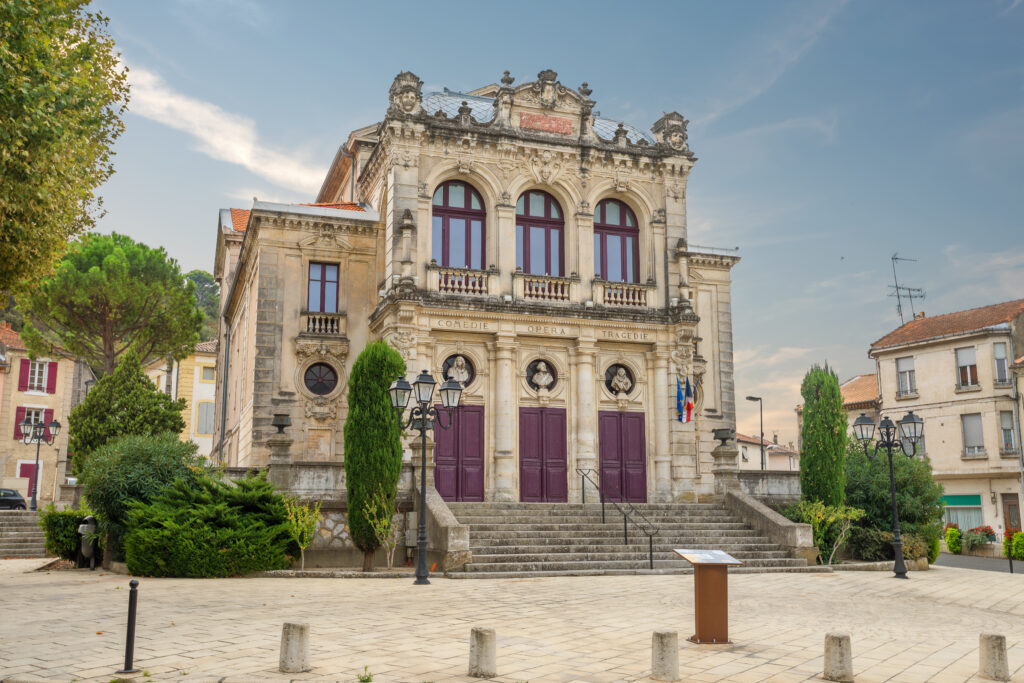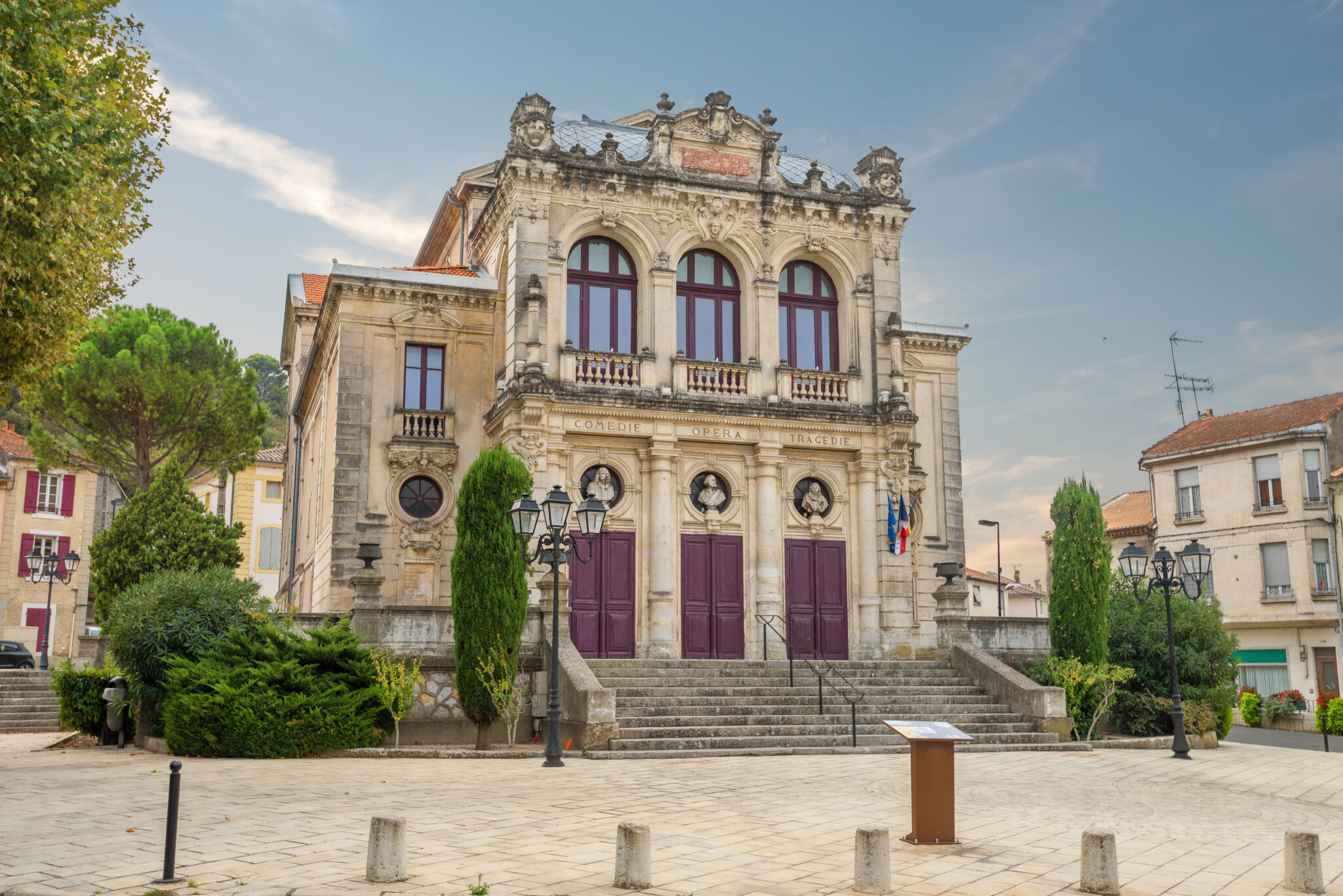 The annual Chorégies d'Orange takes place every summer in the ancient amphitheatre and welcomes thousands of spectators to enjoy the unique atmosphere. It's the oldest festival in France, dating back to 1860, and is the main fixture on the city's cultural calendar.
Opera aside, the leafy town is a welcoming place to roam, with parks and gardens taking centre-stage. The old town isn't as charming as some others in the region, but it has some picturesque spots and the imposing nature of the Roman ruins will startle you when seen for the first time.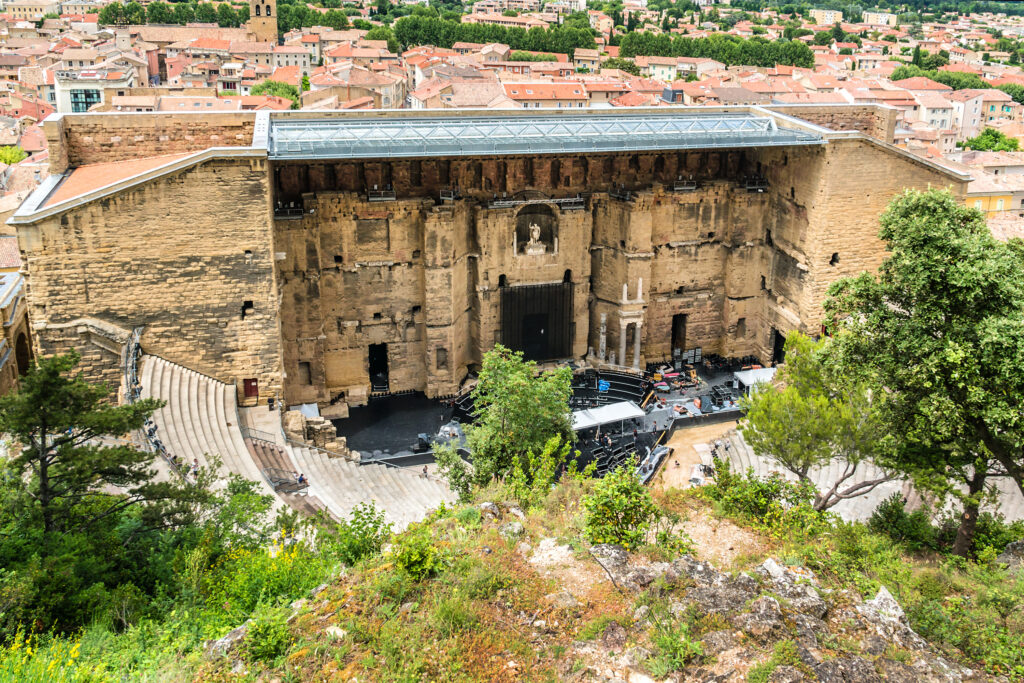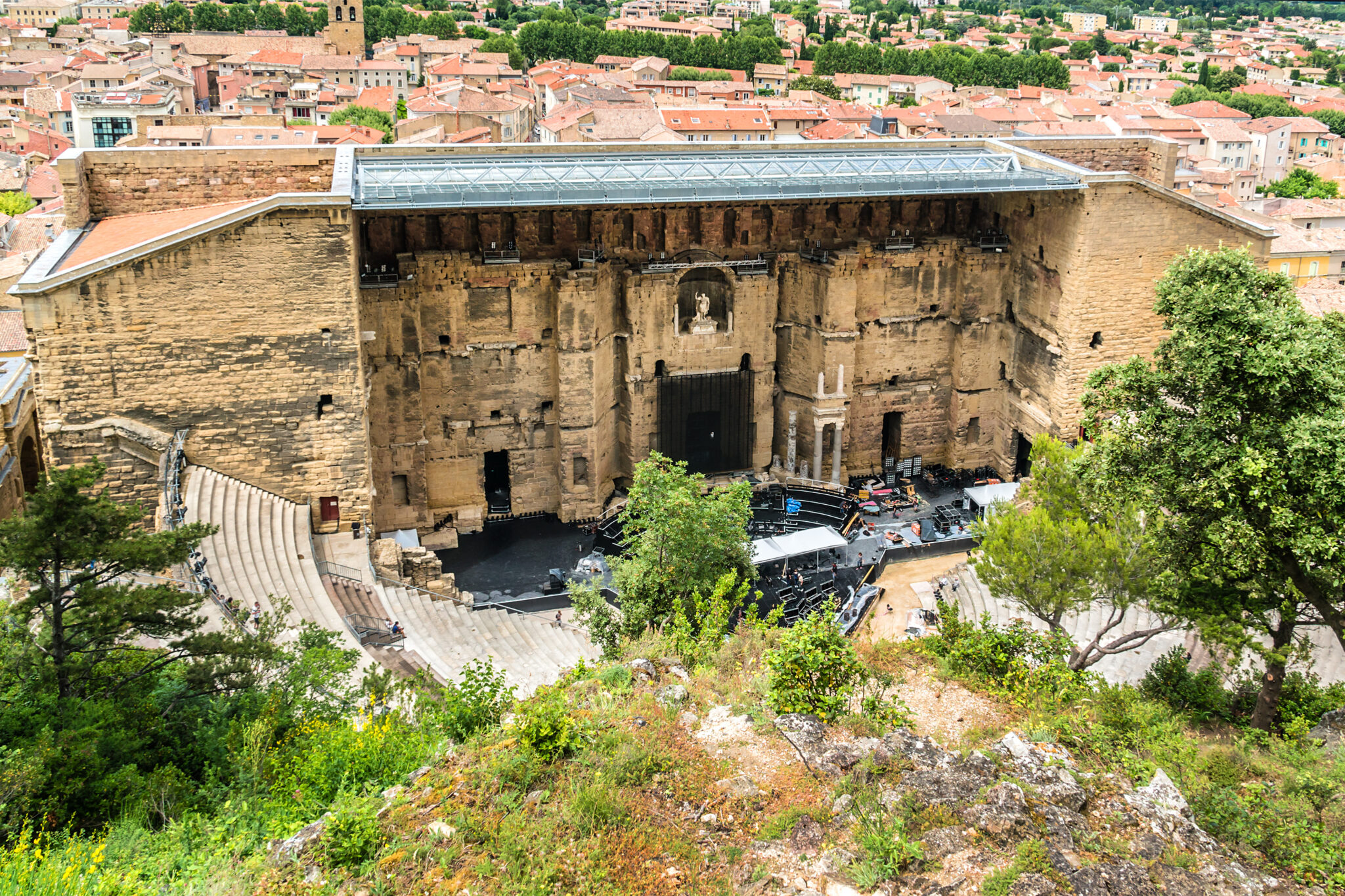 If modern marvels are more your thing, pop into the Musee Aeronautique d'Orange for an inside look at French military history. Not a real 'museum' as such, its rugged and slightly haphazard nature allows you to learn about the unique aircraft in a more intimate way – perfect for any aviation enthusiasts!
Don't miss in Orange
A visit to the amphitheatre, or even better catch an opera there during the Chorégies d'Orange
Marvel at the Arc de Triomphe
Visit the Aerospace museum
Where to Stay in Orange
---
CARPENTRAS
Most famous for its sprawling market, Carpentras is a city that holds its agricultural history close to its heart. Located amidst Rhône wine country, here you'll find Ventoux AOC reds sporting spicy aromas and dark fruity notes.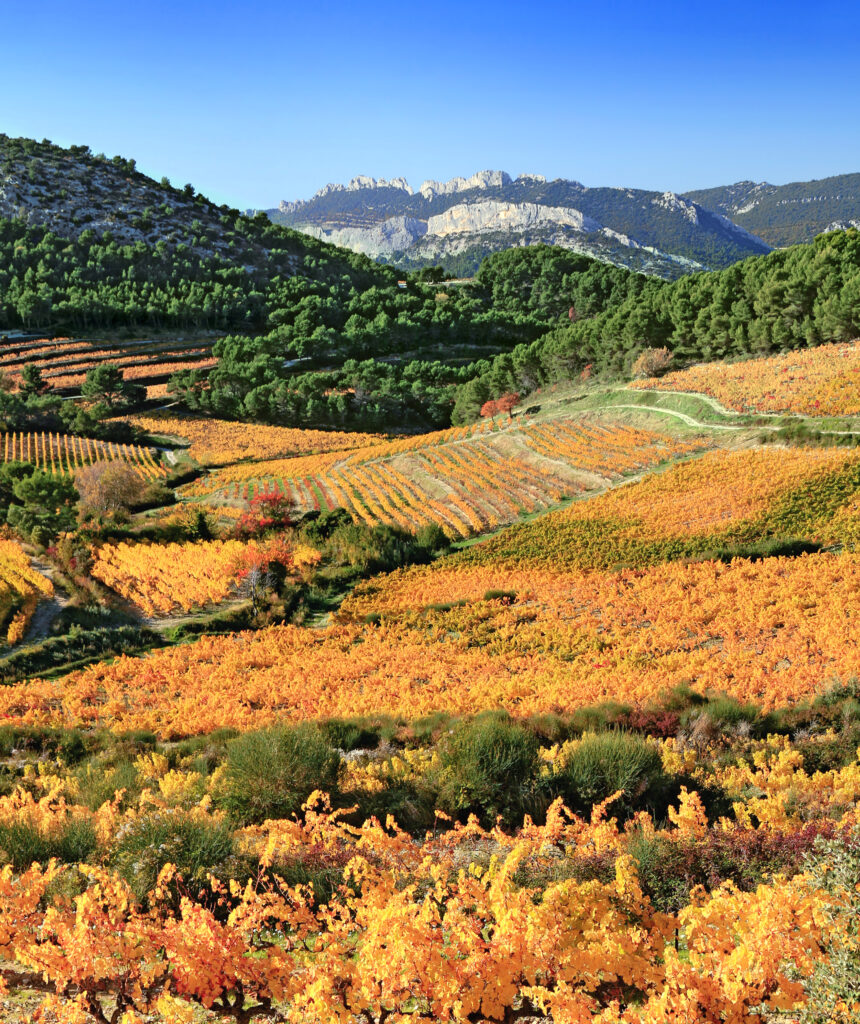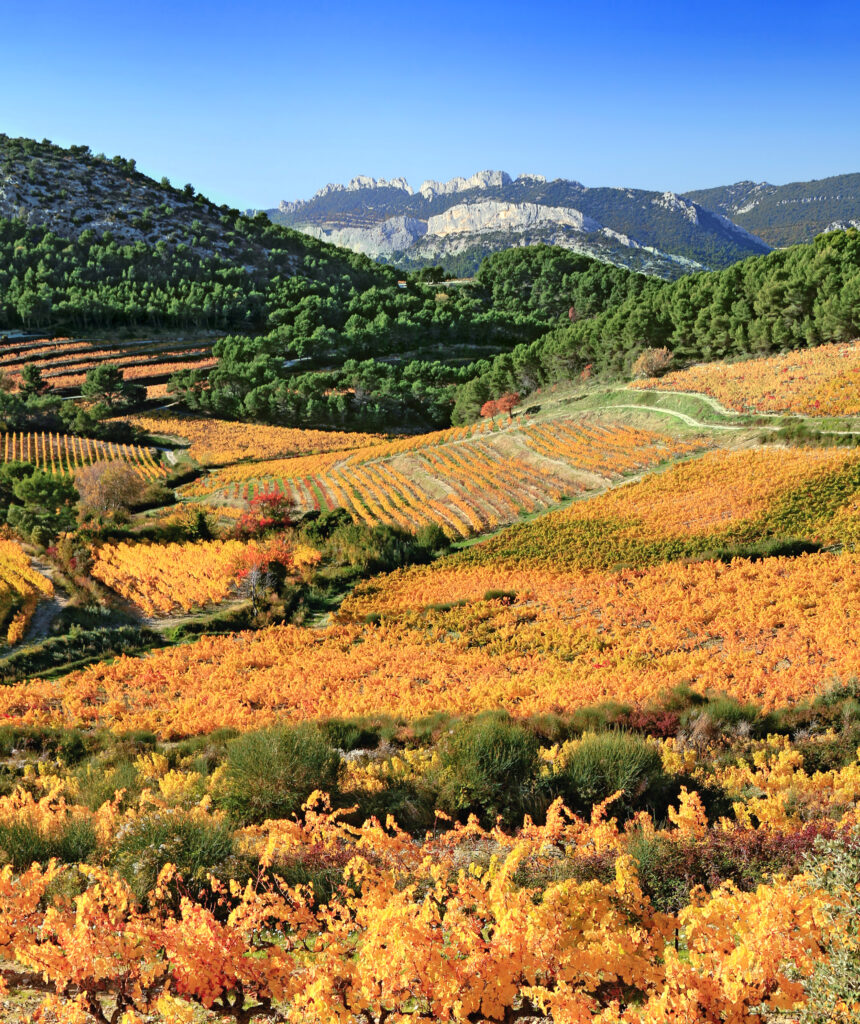 Shopping at the market stalls, you'll also be able to feast on juicy summer fruits, and come winter the weekly truffle market will inspire your kitchen creations. All this to say that your taste buds are well catered for in Carpentras.
In between market shopping and meals, cultural attractions abound within the historic core of the city. Stroll through ancient portes to discover a dignified centre, with sun-bleached buildings and Romanesque archways. Clandestine alleyways will deliver you to sweet-looking squares where you can pause for a drink under the shelter of a plane tree.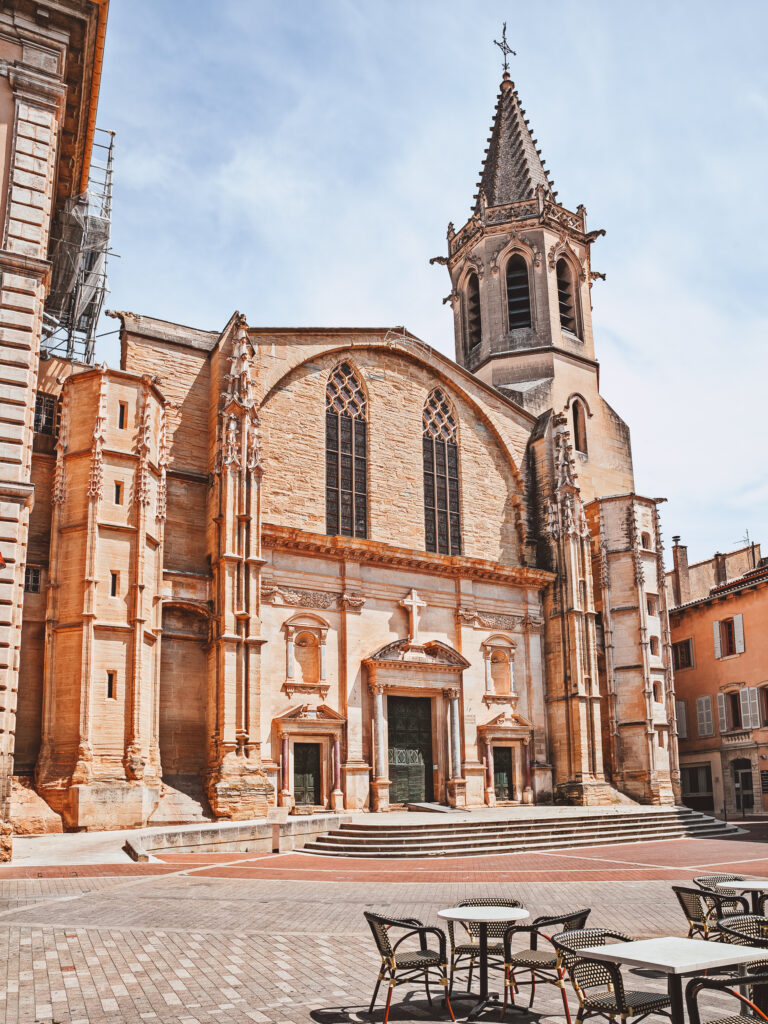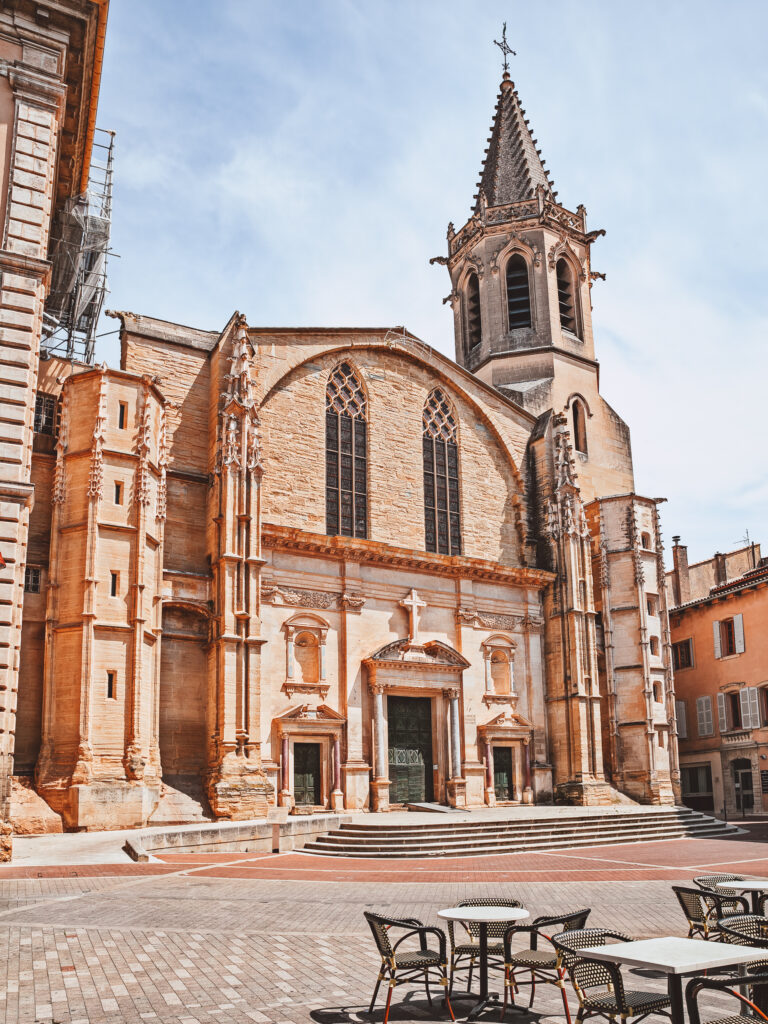 The Carpentras cathedral sits at the helm of the old town and provokes a sense of awe, both inside and out. Originally built in the 15th century, it sports modifications from throughout history, including the addition of a tower in the 20th century.
Don't miss in Carpentras
Taste the iconic Carpentras candies at Confiserie Clavel
Visit the Friday morning markets for an enriching experience
Catch the Foire de la St-Siffrein in November to try new season truffles
Where to Stay in Carpentras
---
BANDOL
The beach town of Bandol had its heyday in the early 20th century when the likes of Katherine Mansfield, Thomas Mann and the Lumière brothers holidayed here. It remains a popular spot for holidaymakers, but some of its former charm has been lost to development.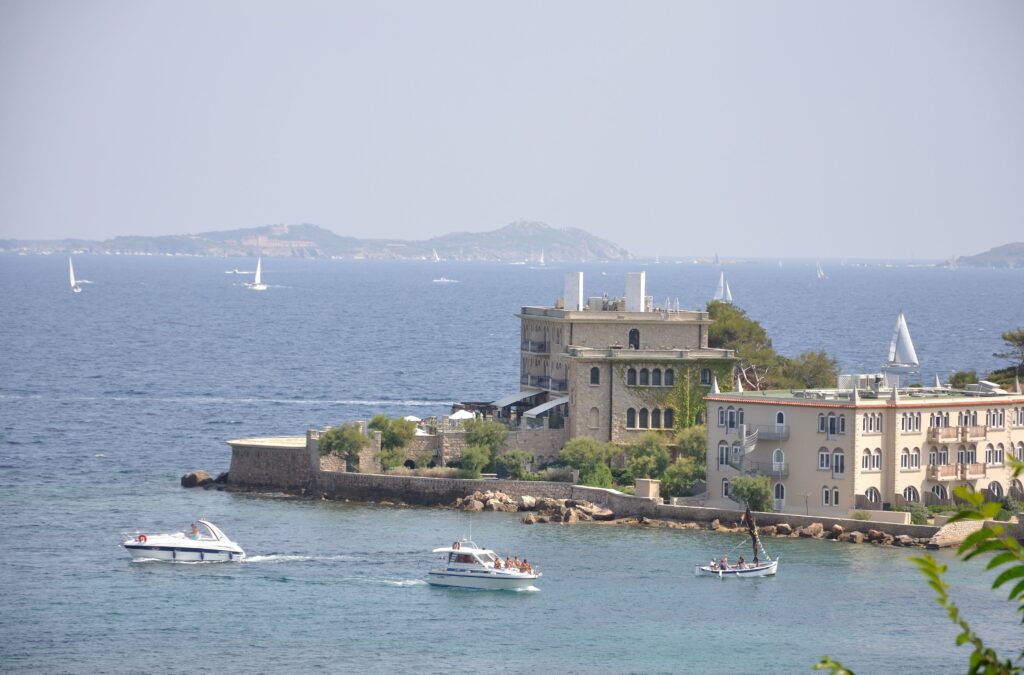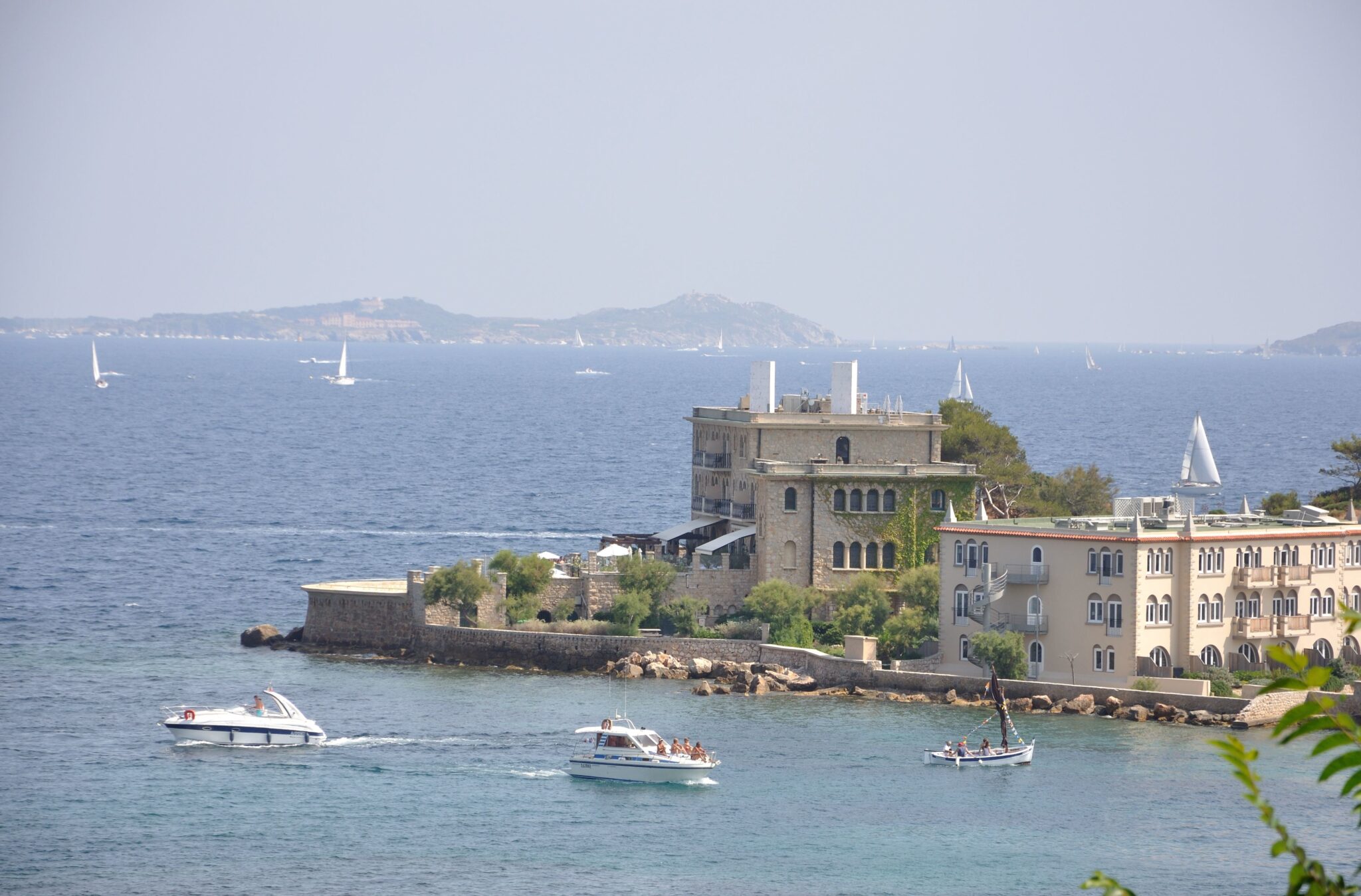 One reputation that remains intact, however, is that of its world-renowned wines. The Bandol wine region focuses on character-rich reds, in a snub to Provence's inclination towards Rosé. You'll still find a little of the iconic pink drink produced here though, along with light and fruity whites.
Back in town, you may want to have a quick stroll in the streets behind the main promenade. But despite the lively atmosphere, you're unlikely to be won over by its architecture. Instead, head for Bandol's beaches which offer pristine sand and placid waters.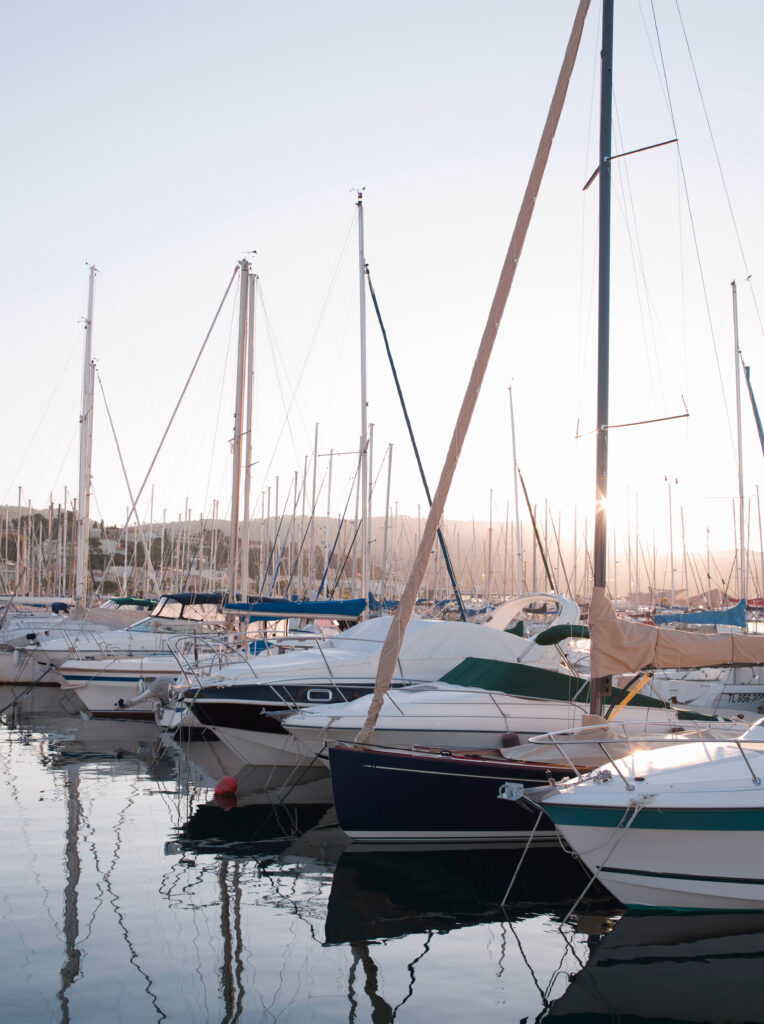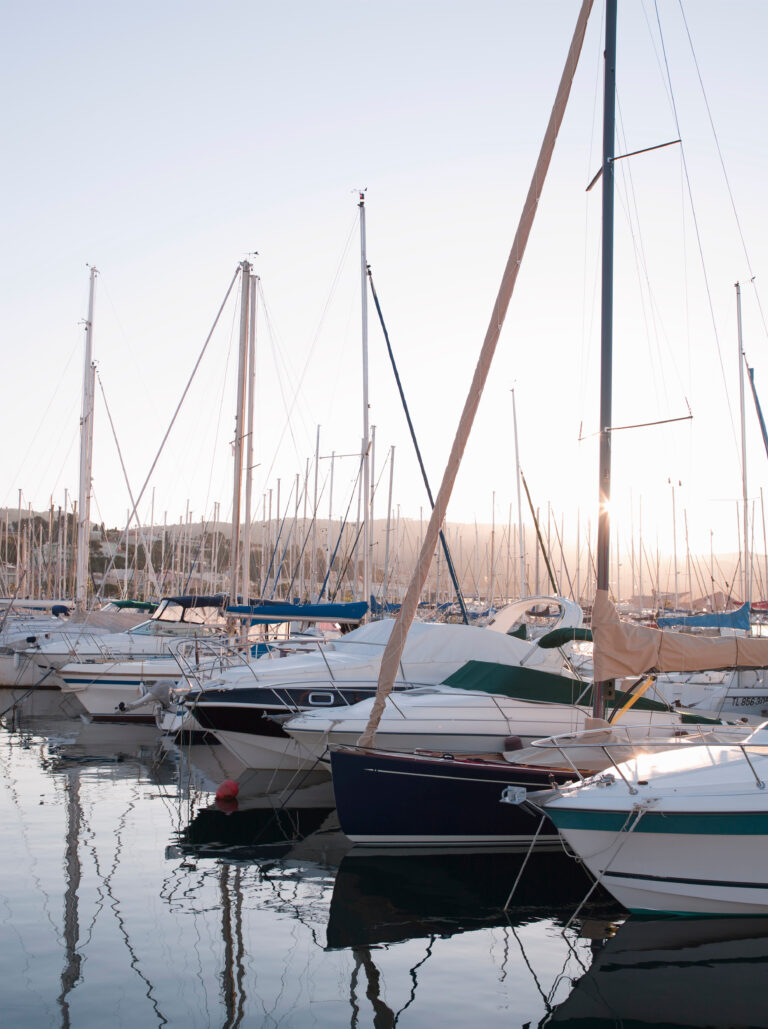 Or, jump on a ferry to the island of Bendor which is located at arms reach of the mainland, and is unmistakably more picturesque. The island's two museums are only open in the summer months, but the restaurants will serve you well into the winter months.
Don't miss in Bandol
Take a ferry out to Bendor Island for the day
Sample the town's famous wines
Experience the lively atmosphere in the old port
Where to Stay in Bandol
---
APT
While the heart of Apt looks and feels like a typical Luberon village, the expansion of the neighbouring countryside has morphed it into a small town. This is fabulous in terms of having all the facilities you could need in arms reach, however it does detract from the external appeal of the commune a little.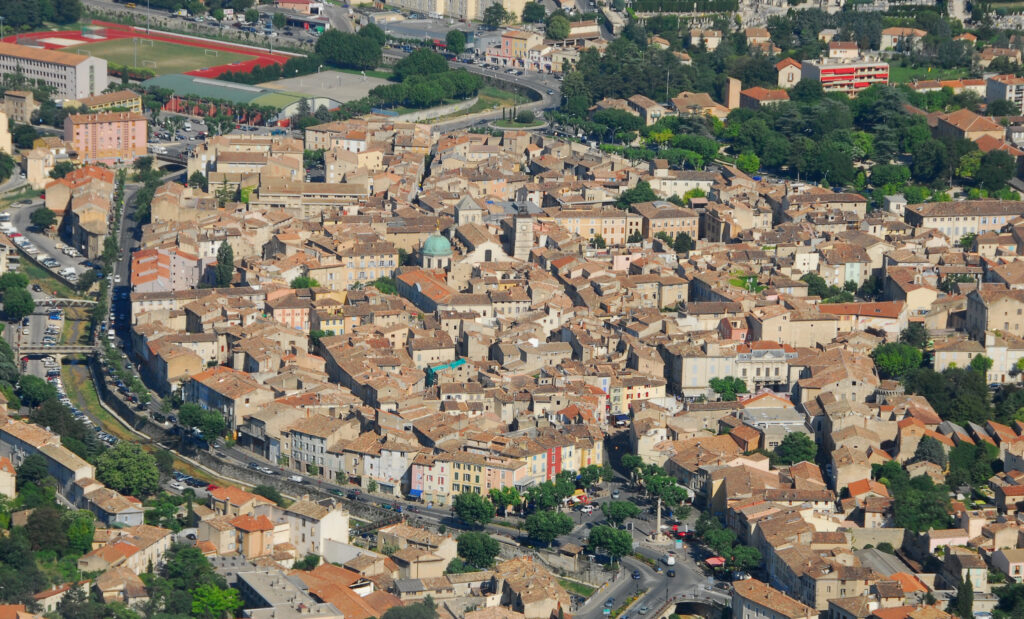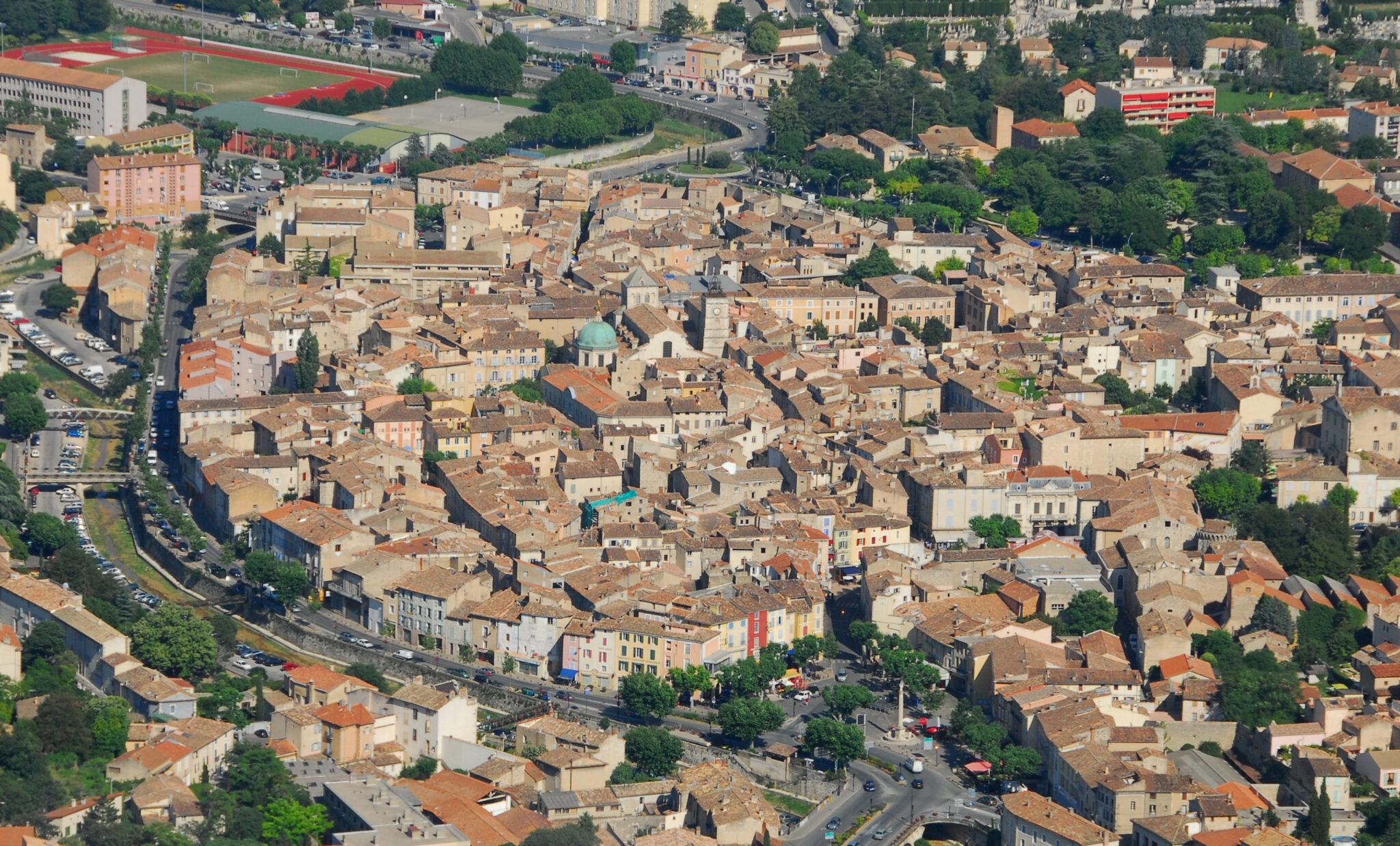 The unexpected upside of all this expansion is that this is one place you can stay in the Luberon that is alive at any time of the year. And unlike the villages deep in the heart of the valley, it also has better connections to explore the wider Provence region in France.
To see the attractive side of Apt, head into the historical heart of the town. Recently revamped, it's a charming spot to soak up the essence of Southern France, in a decidedly less touristic fashion.
The Saturday markets are a particular highlight, with merchants peddling everything from traditional linens and artisanal crafts to the season's finest produce. Apt is one of the best towns in Provence for experiencing the famed Provençal markets, as the market here is heralded as being among the best in France. No mean feat in a country that's renowned for its markets!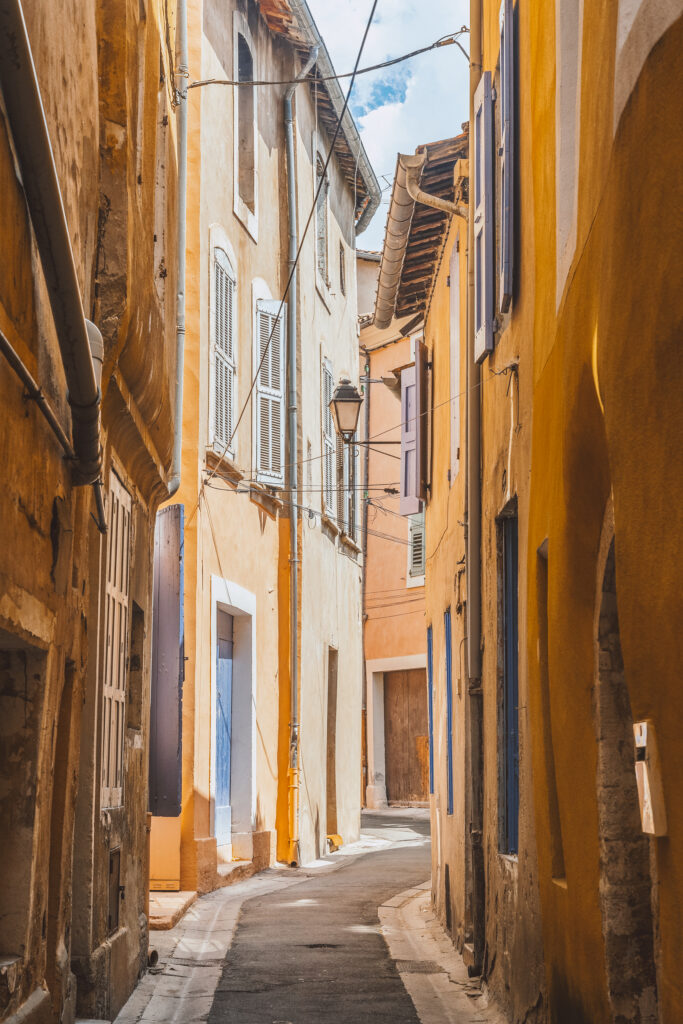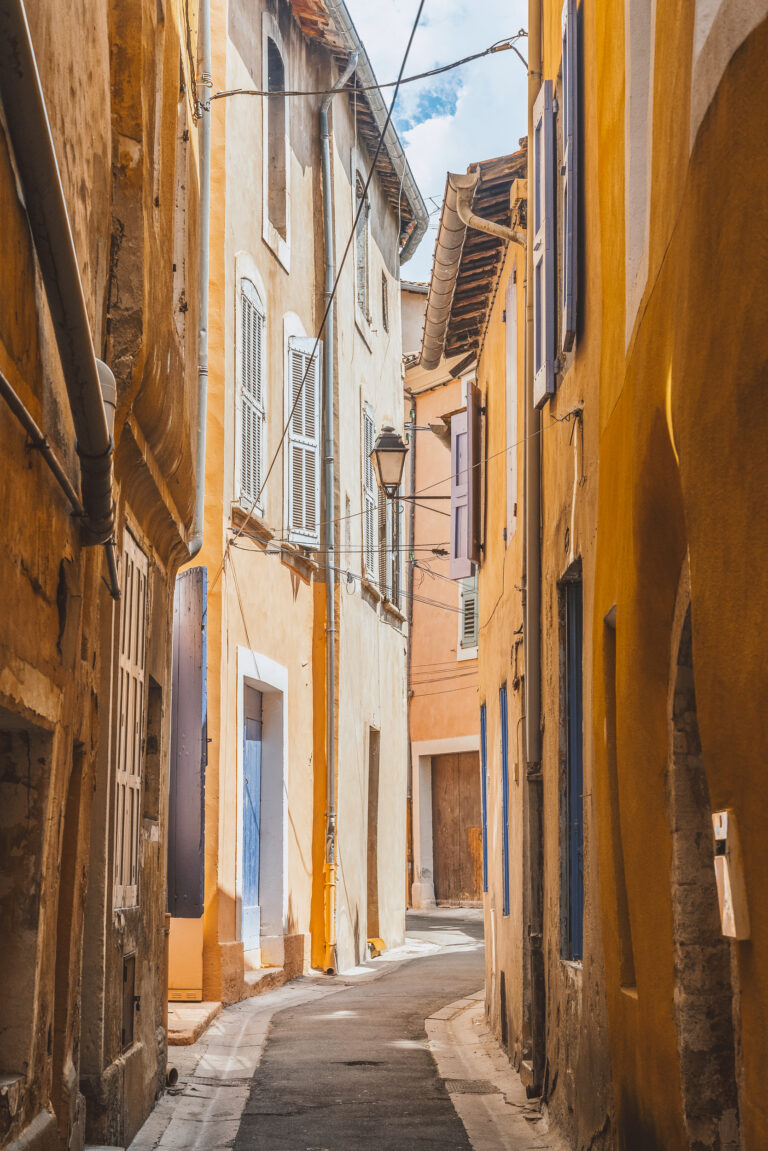 Cafe culture is also a strong suit, with outdoor terraces providing ample opportunity for people watching. While cultural attractions can be sniffed out among the tightknit streets.
Don't miss in Apt
Experience the best market in Provence on Saturday morning
Pop into the Musée d'Apt for a quaint look into the town's industry
People watch in a leafy square or café terrace
Where to Stay in Apt
---
TOULON
Toulon isn't your typical tourist spot. With a strong military history and a busy commercial port, most visitors use it as a jumping-off point after arriving on their ferry or cruise ship and spend little time getting to know the southern city.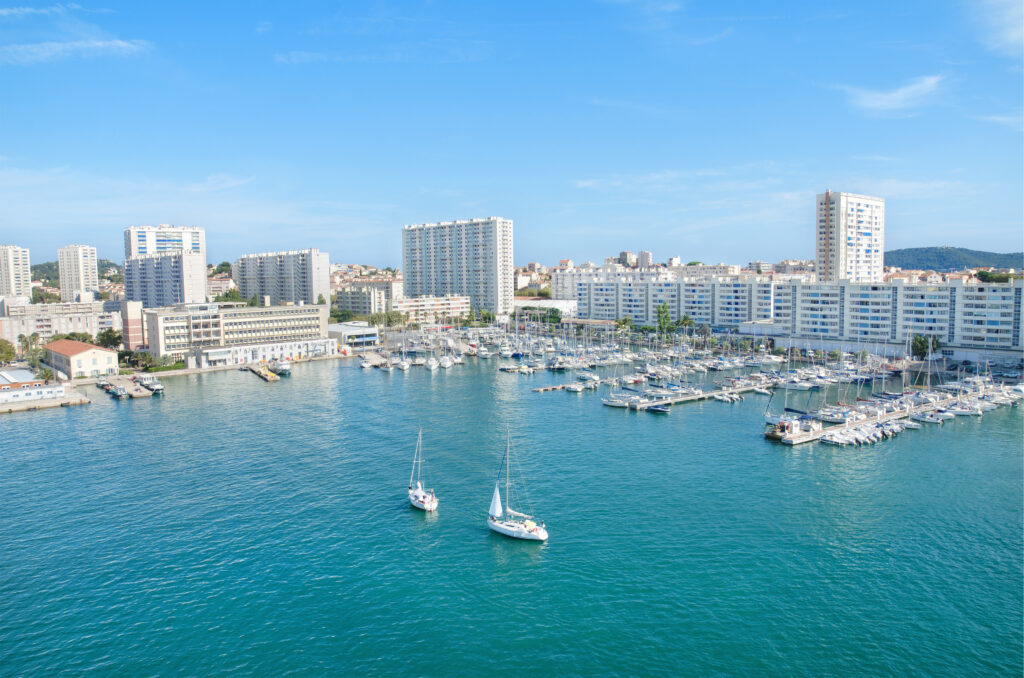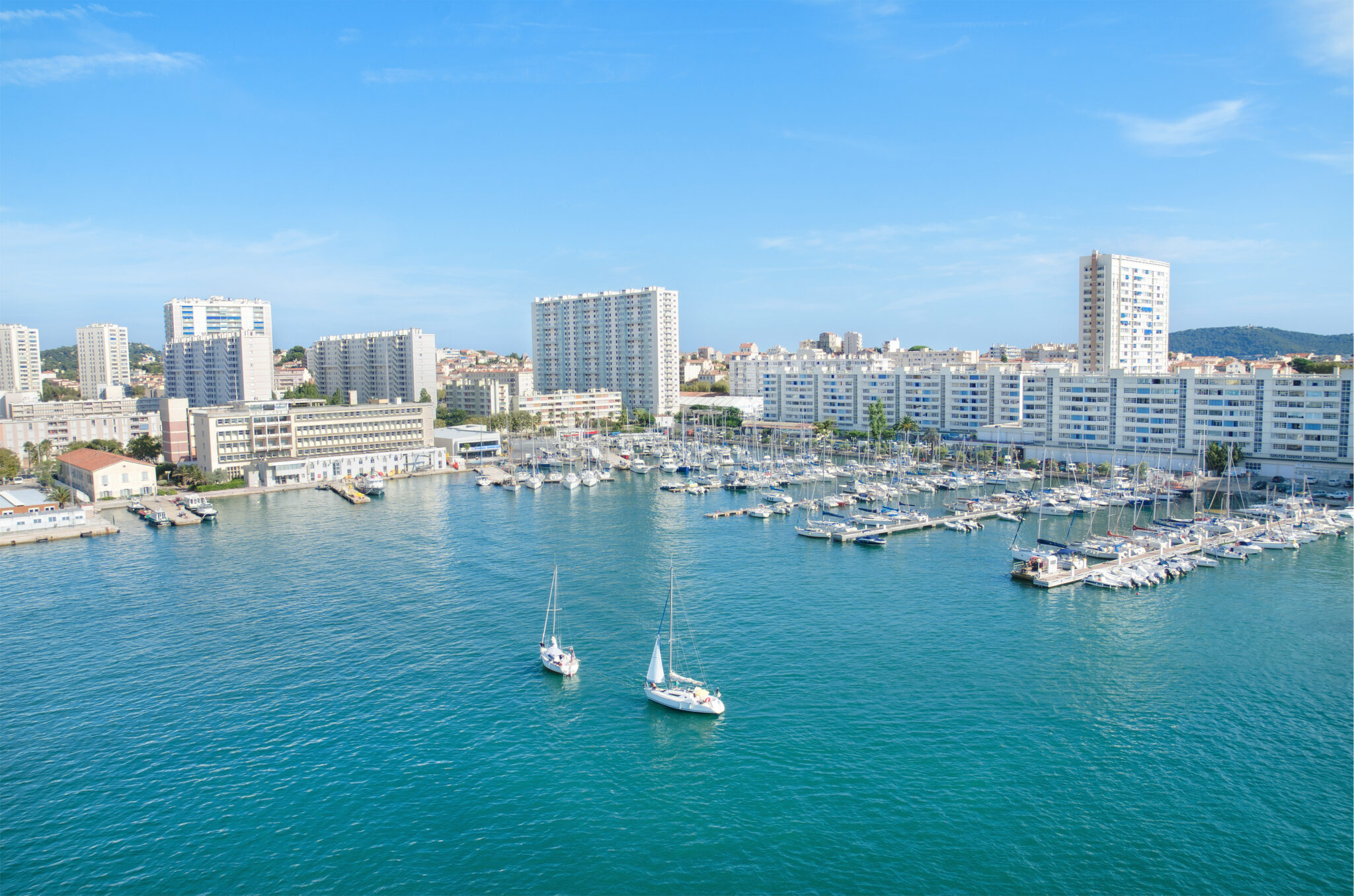 But behind its rough exterior is a city worth getting to know. It's here you'll find an unpolished version of France. Hurry though, the city is currently being spruced up to attract more tourists, but for now, there's still time to enjoy its sandy coves without the crowds.
The old town of Toulon suffered extensive damage during WW2, which is why it's one of the more 'modern' cities in Provence. But there are still plenty of historical treasures to be unearthed. Stately mansions stand as a memoir to more prosperous times and the grand architecture on display – complete with its own 'statue of liberty' – will have you second-guessing your whereabouts.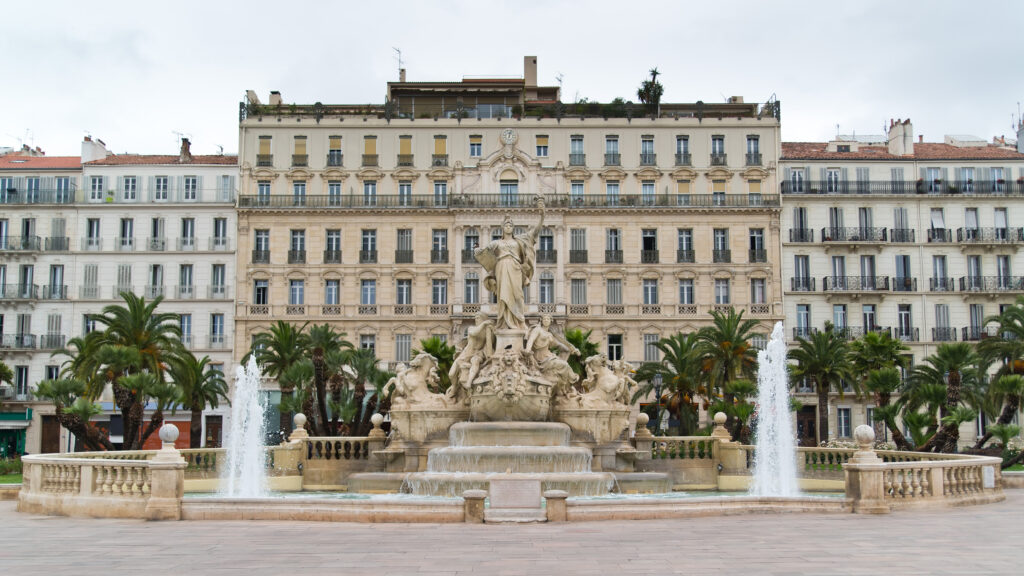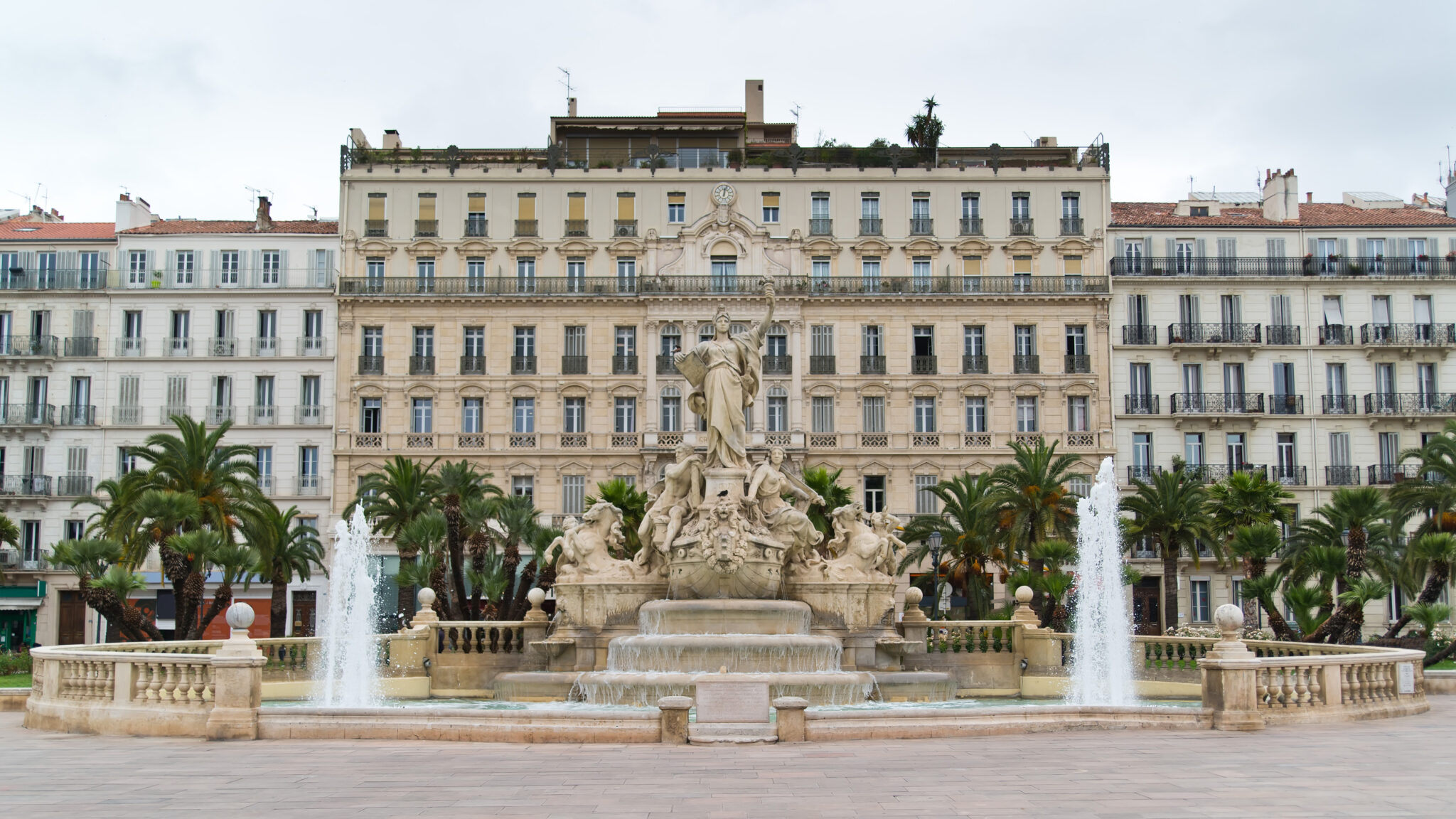 Nature also plays a key role in Toulon's attractiveness, with leafy, statue-adorned parks popping up out of nowhere as you stroll around town. Take the téléphérique up Mont Faron for unforgettable views over the city and beyond, before diving into the area's history at the Mémorial du débarquement et de la libération de Provence.
Don't miss in Toulon
Ride the téléphérique up Mont Faron
Visit the Hôtel des Arts for modern art exhibitions
Take a tour of the Tour Royale – a naval fortification dating back to the 16th century
Where to Stay in Toulon
---
---
As you can see, there are so many places to visit in the South of France! And while it may be impossible to visit them all, I hope I've helped you decide which cities and towns in Provence are worthy of spending your time in.
Pin this for later!