France is the number one tourist destination in the world – home to verdant landscapes, snow-capped mountains, and unspoilt beaches, yet, for many, it's the cities which hold the most allure for holidaymakers.
French cities cater to all ages and interests with their historical attractions, storied architecture, colourful markets and delicious food.
Whether it's the elegant grandeur of Lille in the north, the half-timber houses of Strasbourg in the east or the glamorous beach resorts of Nice and Cannes to the south, there's a favourite French city for everyone.
In this article, we explore the most beautiful cities in France – keep reading to gain inspiration for your next trip!
Aix-en-Provence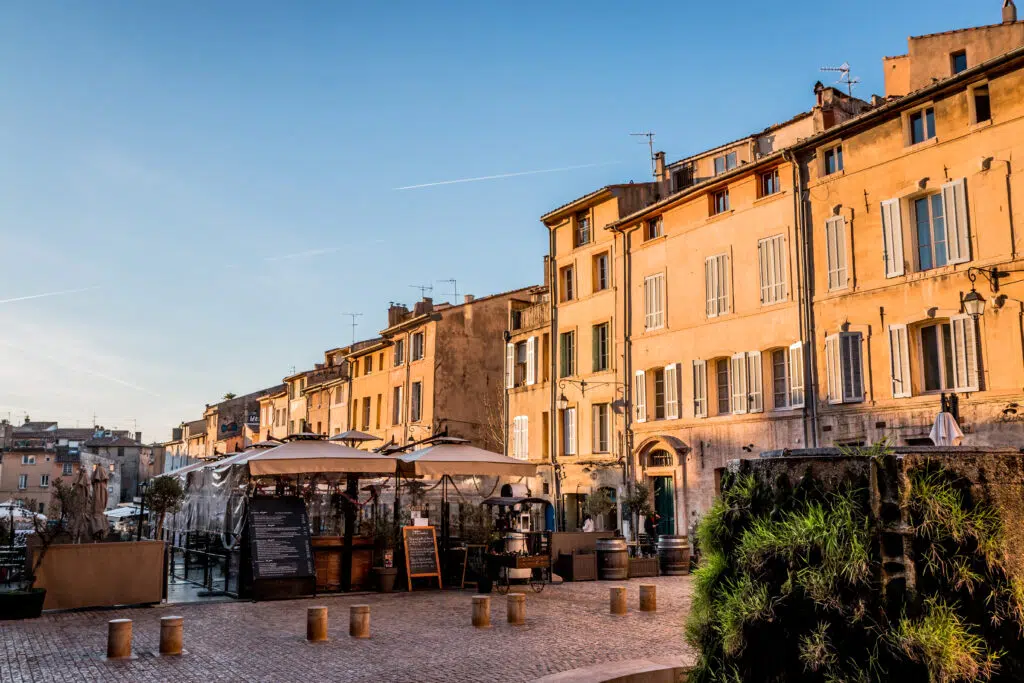 Aix-en-Provence is a jewel of the south of France, and is often compared to Paris for its tree-lined boulevards and lively plazas. It was once the home of Paul Cézanne, the famous post-Impressionist painter, and he, Picasso, et al, often used Aix and its scenic landscapes as inspiration for their artworks.
In small cobblestone squares, honey-hued houses are bathed in sunlight, many surrounded by beautiful Baroque and Rococo buildings overlooking ornamental fountains, of which there are over a hundred scattered throughout the city.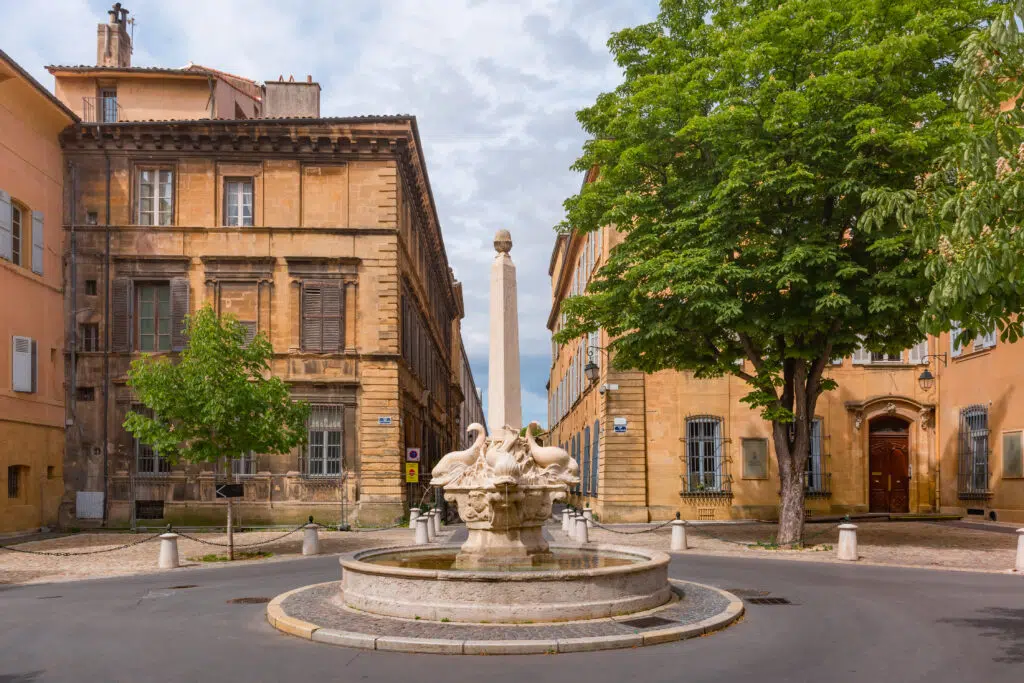 Aix, as it's known by locals (myself included!), also boasts incredible architecture and museums. During your stay, be sure to visit Saint-Sauveur d'Aix-en-Provence Cathedral with Romanesque, Gothic and Baroque designs. If exploring the city's art history is your thing, Musée Granet, and Atelier Cézanne, the artist's former studio, hidden amidst fig orchards and olive groves, are sure to appeal.
Aix-en-Provence is also famous for its outdoor markets. On any given day, the pretty streets are lined with stalls brimming with colourful produce, linens, freshly picked lavender and the local sweet treat Calisson.
Many cultural events are held throughout the year. A few of the finest music festivals are Festival d'Aix-en-Provence in late June and July and Festival of Mistral in September, and foodies shouldn't miss the New Oil and Truffle Fair in December.
Read More: Best Things to do in Aix-en-Provence / Best Places to Stay in Aix-en-Provence
Nice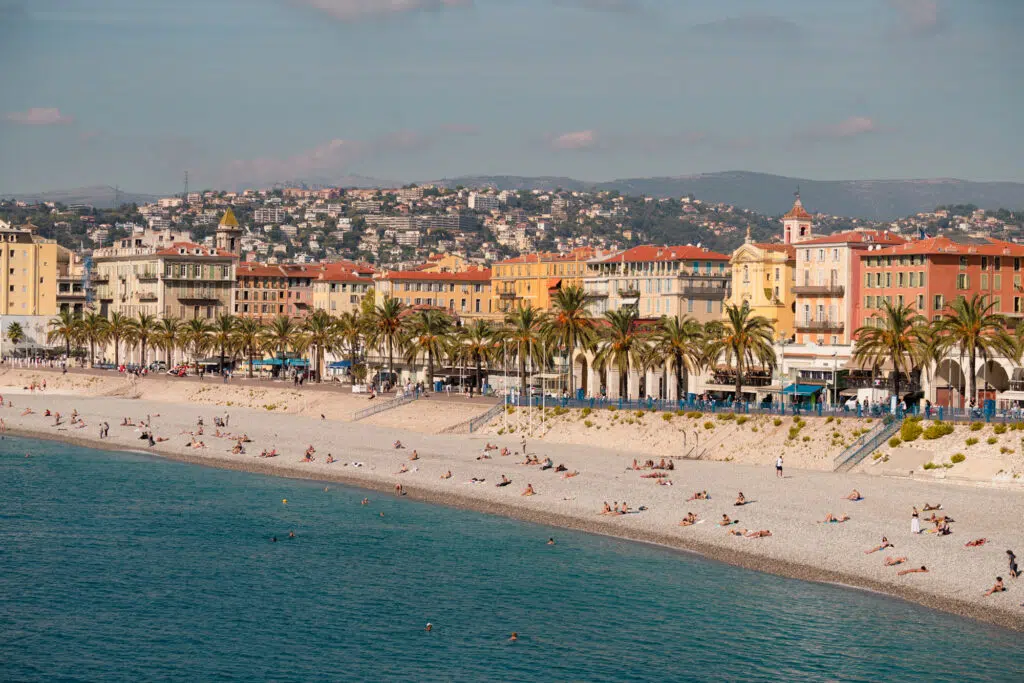 Nice can easily be described as one of the best cities in France. It's a diverse city, both architecturally and culturally – home to 14th-century monasteries, Muscovite churches and elegant Haussmann and Italianate-style buildings. It also boasts year-round sunshine, a backdrop of green verdant mountains, a bustling port, and beautiful beaches!
Wander around the Old Town (Vieille Ville) to discover a vibrant colour palette, with the Cours Saleya market taking centre stage. The market dates to the 1800s and is the perfect spot to sample "socca" – a delicious chickpea pancake. Browse open-air stalls, inhaling the scent of fresh flowers or admire elegant structures from a paveside café while sipping espresso or feasting on Niçoise salad.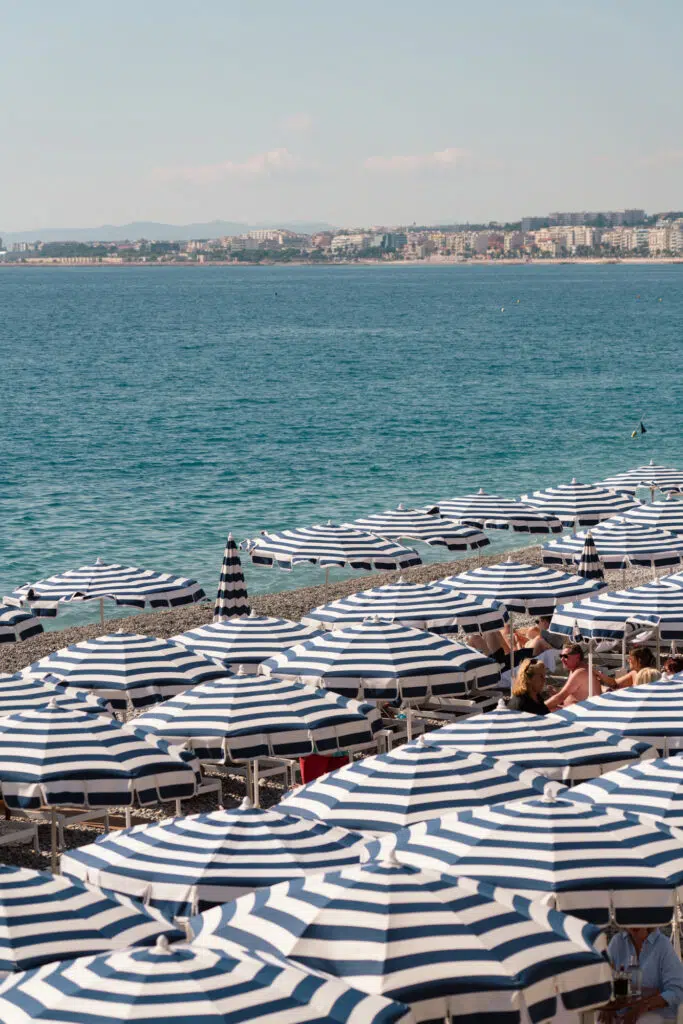 For the best vistas, head for Parc de la Colline du Château. The area, once the site of a medieval castle, is peppered with historical and natural attractions and offers panoramic views across the city. Pause for a coffee at the hilltop cafe, and snap some photos at the base of the waterfall.
Visitors can also enjoy a leisurely stroll along Promenade des Anglais. Nice's beachfront boulevard stretches for several kilometres and is dotted with famous buildings including Le Negresco Hotel and Musée Massena, both showcasing the city's rich history.
Read More: Best Things to do in Nice
Marseille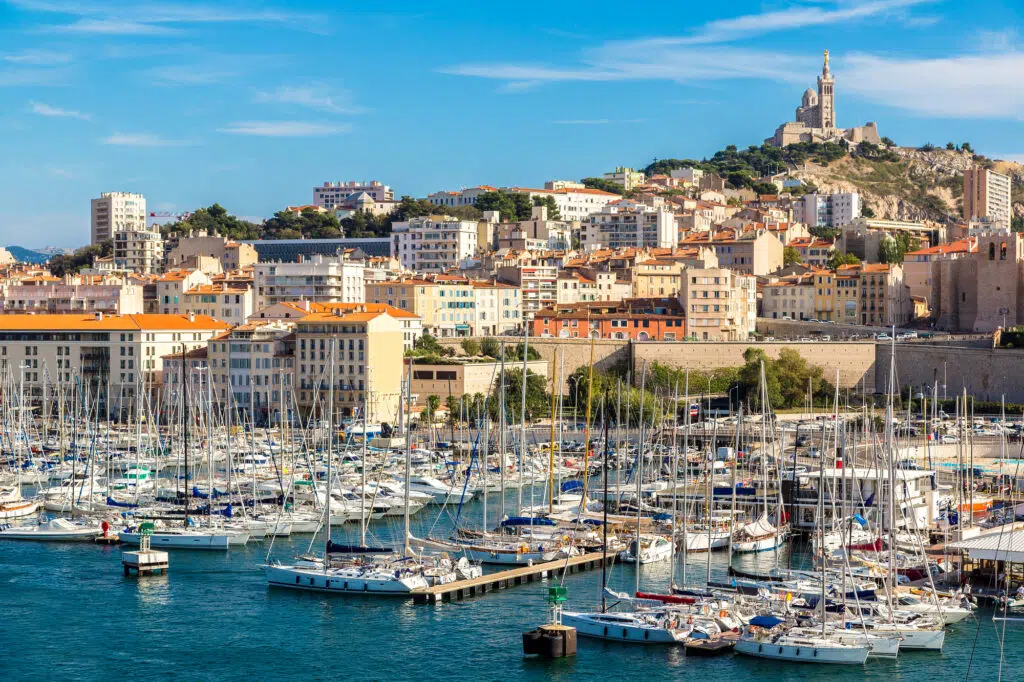 Marseille is known for many things – an organic soap called Savon de Marseille, Bouillabaisse (a hearty Provençal stew), and the aniseed liqueur Pastis.
This may all sound typically French, but Marseille is anything but. The buzzing port city is a hybrid of cultures stemming from all over Europe, the Middle East and Africa, and it's this unique diversity that makes it so engaging and beautiful.
Visitors can learn more about Marseille's heritage at MuCEM, a contemporary waterside museum dedicated to Mediterranean civilisations, or if you're out and about early pop to the lively fish market at Quai des Belges at Vieux Port.
The Vieux Port is the heart of the city, and from here you can stroll down the Corniche Kennedy to take your pick of any of Marseille's charming beaches.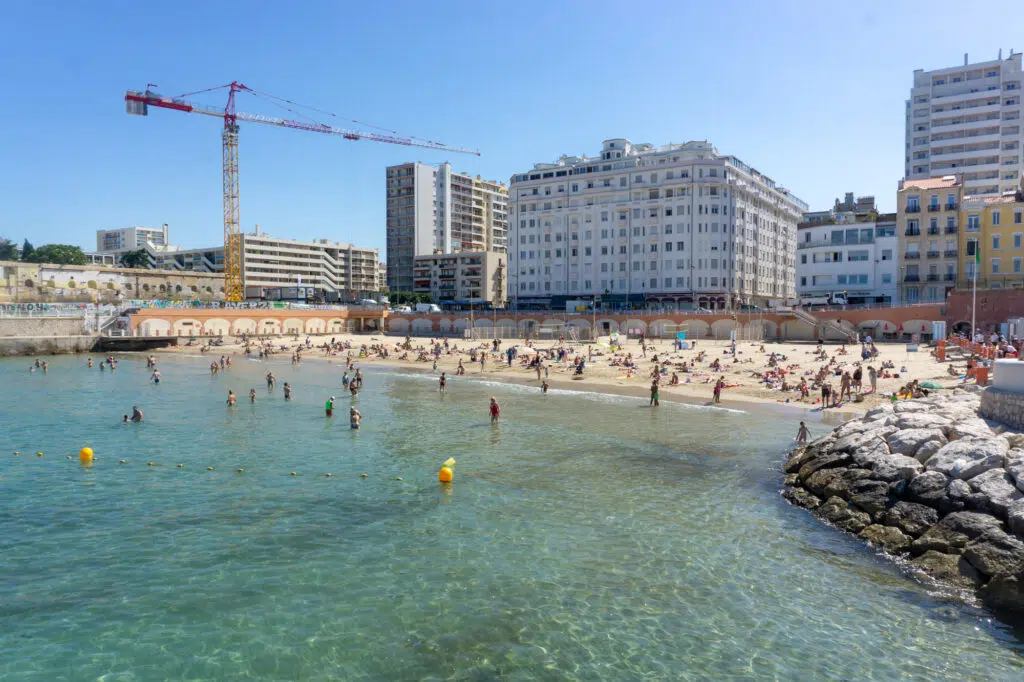 Literature lovers can hop on a boat to see Chateau d'If island, made famous by Alexander Dumas' Novel "The Count of Monte Cristo", and those seeking the best views can climb to the highest point of the city – Basilica Notre-Dame de la Garde.
Also, no visit to Marseille would be complete without spending time in the picturesque Le Panier district. The neighbourhood is home to abundant architectural gems ranging from 16th Vieille Charité, Rue de Panier with its pastel-hued houses, and the Romanesque-Byzantine Cathedral de la Major.
While in Le Panier, don't forget to check out the street murals and sample Navette de Marseille, a delicious pastry treat.
Read More: Best Things to do in Marseille / Best Places to Stay in Marseille
Avignon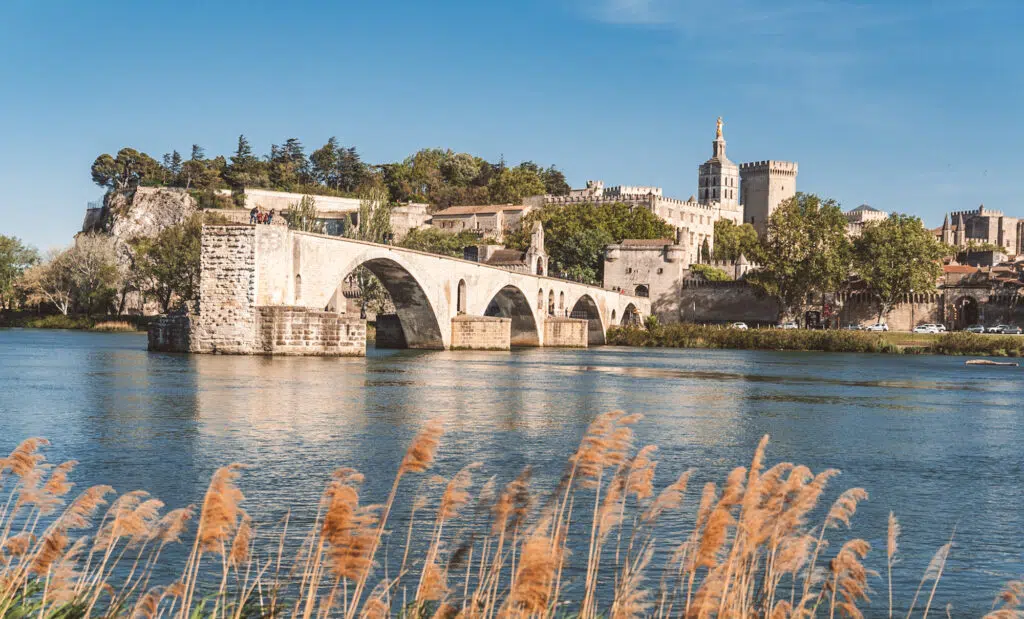 Avignon, on the Rhône River, is often considered one of the top cities in France to visit, for its well-preserved architecture, rich history, and picture-perfect Provençal landscapes.
During the 14th century, it was the main seat of the Catholic church and the most important place in Europe. Today, UNESCO World Heritage monuments still stand as testimony to this time, inside the alabaster-walled city.
The star attraction is the Palais des Papes, filled with painted frescoes, halls, and chapels. It's possible to book a guided tour, taking in the Old and New Palaces, Cathedral of Notre-Dame des Doms and Petit Palace – originally the residence of Avignon's bishops – now a Renaissance art museum.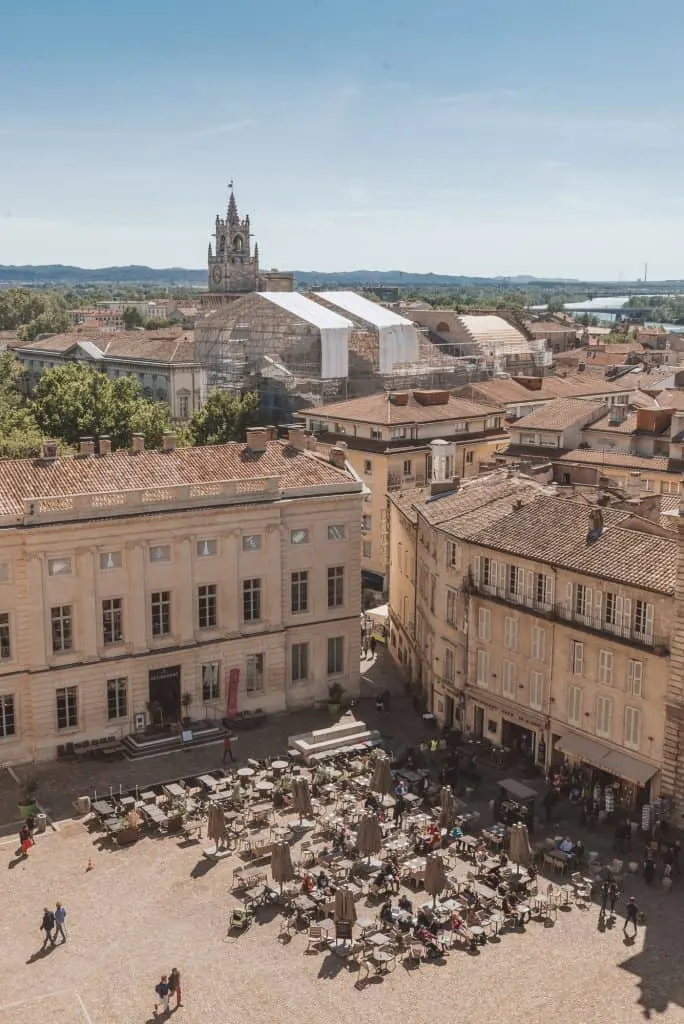 Afterwards, head to the Rhône River and Pont Saint-Bénézet (Pont d'Avignon). The medieval bridge is a photographer's favourite, as only four of its original 22 arches remain and the bridge stops short in the middle of the river.
If there were no religious links to Avignon, the top tourist spot would undoubtedly go to Rue des Teinturiers. Once home to silk weavers and dyers, this tree-lined street sits aside a narrow canal. It's the perfect place to dine alfresco or sample Les Papalines d'Avignon, a local chocolate and liqueur dessert.
Read More: Things to do in Avignon / Best Places to Stay in Avignon
Cannes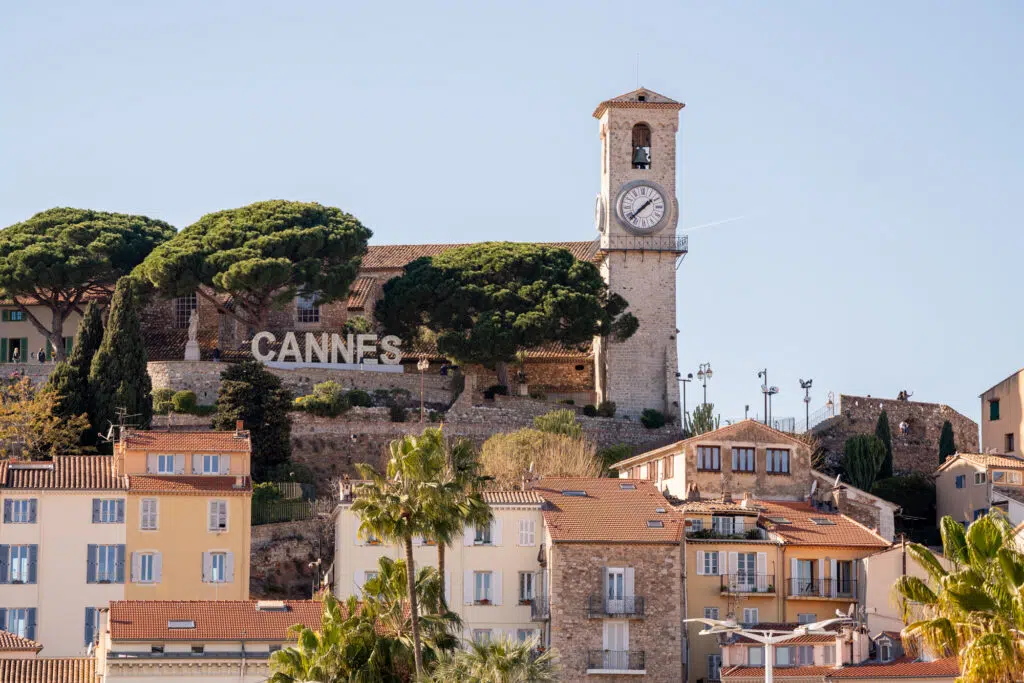 Cannes is probably best known for its annual film festival, however, this beautiful city in France offers much more than movies.
The narrow streets of Le Suquet in Old Cannes are punctuated with pastel-hued houses with shuttered windows and balconies, and when followed, the winding lanes lead past cafes and fromageries to the summit of Le Suquet.
Here you'll discover the 15th century Notre-Dame d'Esperance Church and Museum of World Explorations set in a castle built by Lérins Island monks. The hilltop offers incredible views of the Old Port and across the bay.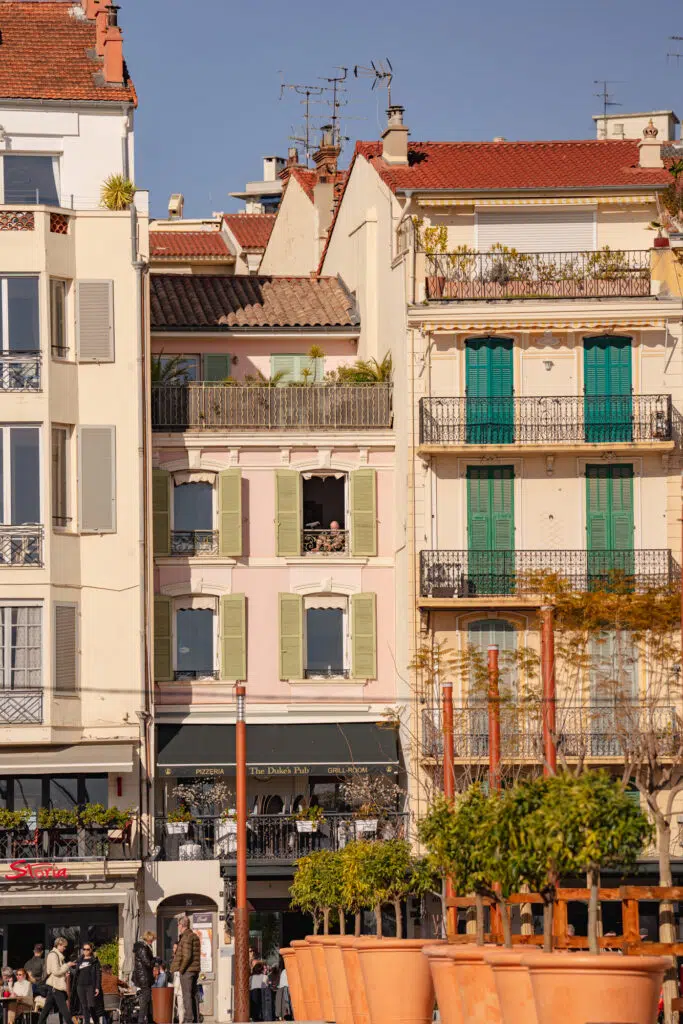 Along the seafront, visitors can stroll along La Croisette, one of the most iconic (and expensive) streets in Cannes, admiring Art Deco hotels and designer stores, or for a more authentic experience head for Marché Forville, the city's largest produce market. Here, one can sample anything from olive oil and pasta sauces to artisan breads and cheeses.
In addition to the annual Film Festival in May, Cannes also hosts further events throughout the year – a music festival in June, a Fireworks Festival in July and August and the International Yacht and Boat Show in September.
Read More: Best Things to do in Cannes
La Rochelle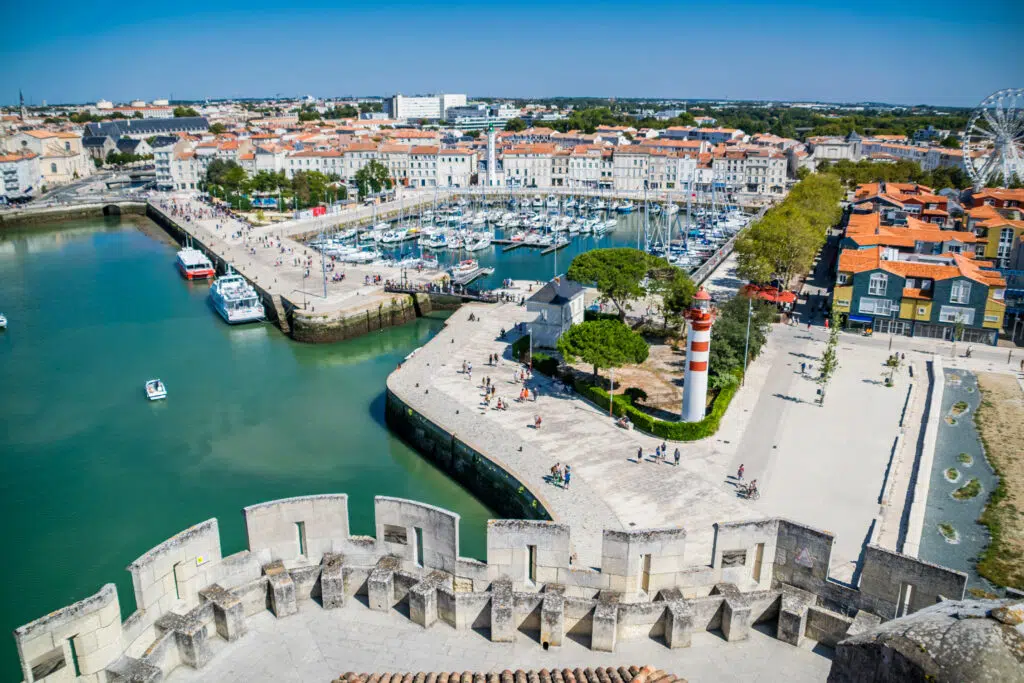 La Rochelle is a lesser-known tourist city on France's west coast and is often overlooked by travellers. However, it has an intriguing history to discover and is one of the best cities to visit in France.
The heart of the city is its beautiful Old Harbour – a place symbolising La Rochelle's relationship with the sea. The entrance is flanked by a trio of medieval towers – Saint Nicolas, Chain and Lantern, each with their own stories to tell. Book a guided tour to gain access and obtain the best views from the observation points.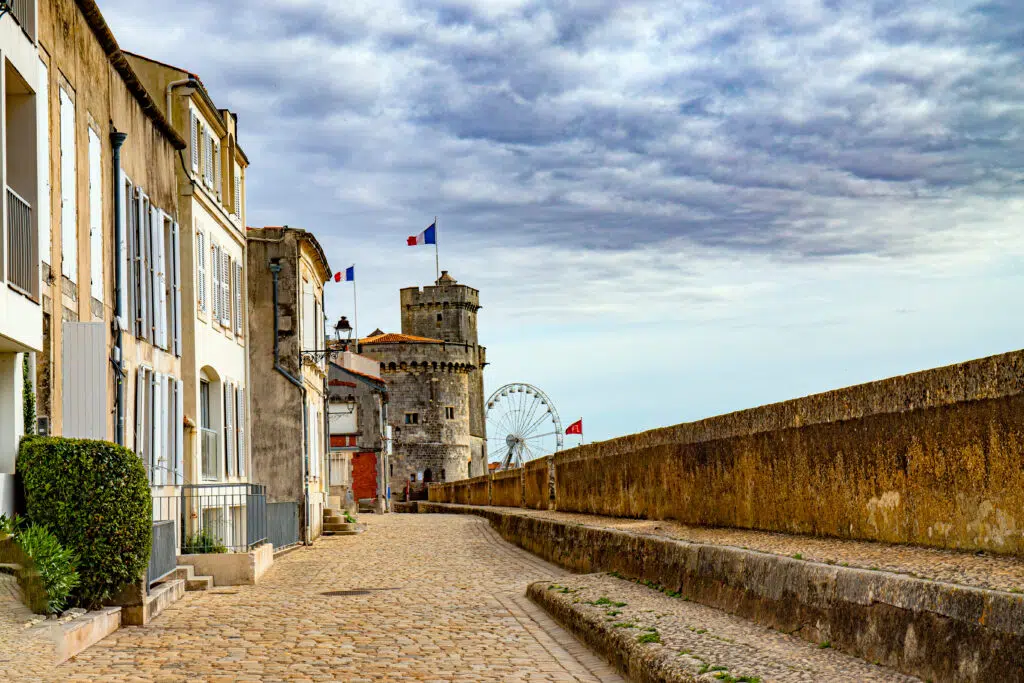 Tucked away behind the port, arcaded streets where merchants once plied their trade still stand. Walk through original city gates beneath historic clock towers and admire the architecture of Gothic town halls and elegant mansions which once belonged to Henri II.
Before leaving, sample the local speciality moules à la Charentaises – mussels cooked in cream and white wine, or pop over the bridge to Ile de Ré – home to Poitou donkeys, nautical activities, and biking trails.
La Rochelle can also be visited as a day trip destination from Bordeaux, if you feel like ticking two beautiful French cities off your list in one trip!
Bordeaux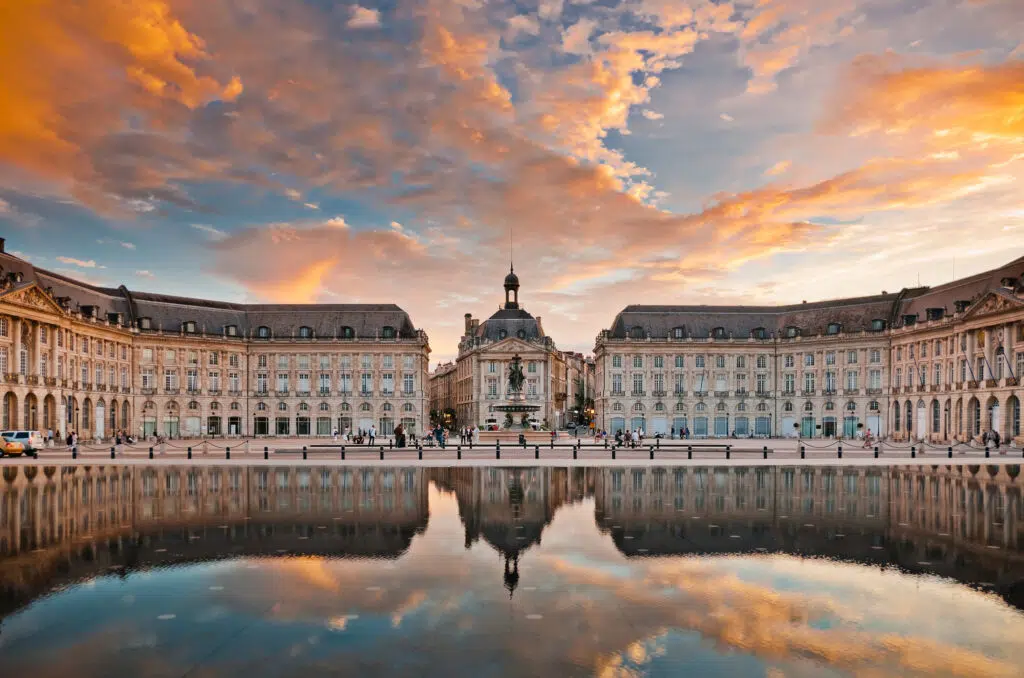 Bordeaux on the banks of the Garonne River is one of the most beautiful cities of France. It's an intoxicating mix of historic and modern, home to abundant cultural activities, vineyards, and elegant architecture.
One of the city's main attractions is Place de la Bourse. Built in the 1700s, this outstanding architectural ensemble showcases sculptures, opulent palaces, and government buildings.
Opposite, Miroir d'Eau, is one of the most popular contemporary tourist sites. The pavement has a water-like sheen, and as darkness falls and the city illuminates, the buildings reflect, creating stunning photographs.
Wander to Port Cailhau, a triumphal Disney-like arch which dates to 1495, then make a stop at beautiful Bordeaux Cathedral where Eleanor of Aquitaine wed Louis VII before he was king.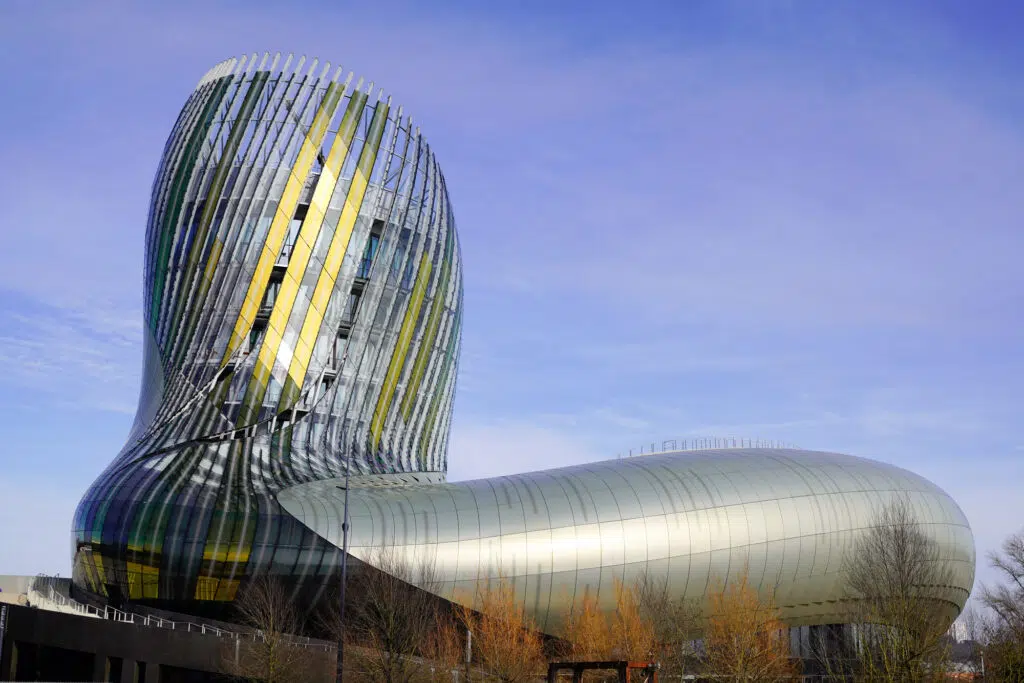 In addition to incredible architecture, Bordeaux is also known for its wine, and the modernist La Cité du Vin is a great place to learn about the tipple. This lively cultural centre pays homage to all things grape-related and there's even a bar where visitors can sample a glass or two.
After dark, visit the Grand Theatre to see a performance by the Bordeaux National Opera before enjoying a nightcap at Saint-Pierre with its relaxed terraces and buzzing atmosphere.
Paris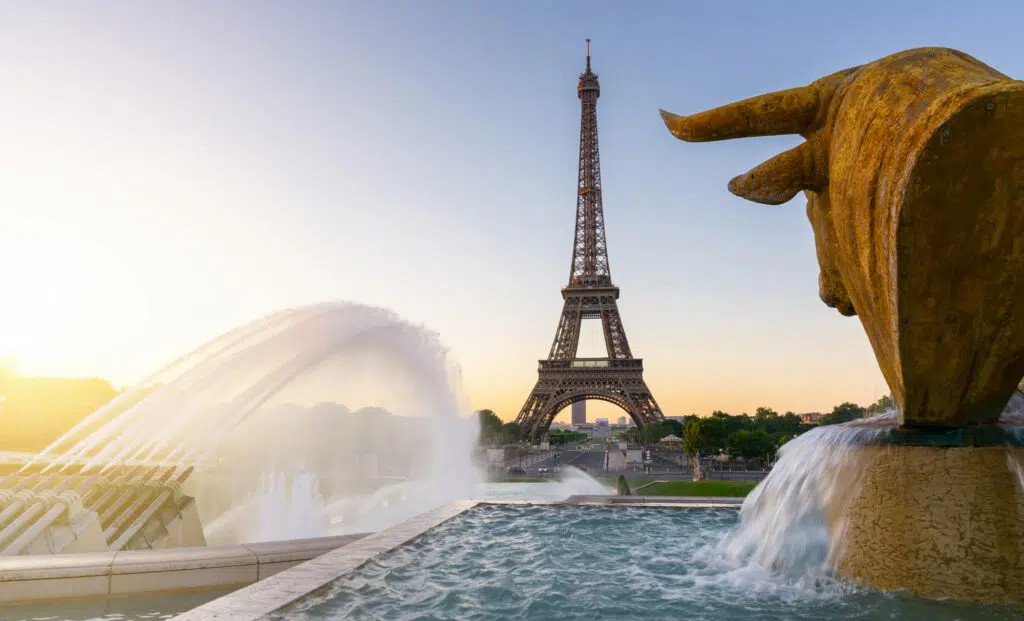 One of the prettiest French cities is the capital, Paris. It's packed with world-class museums and art galleries, picture-perfect parks, iconic landmarks, and charming cafes and bistros – the most difficult task is knowing where to begin!
The Latin Quarter on the Left Bank is a good place to do just that. It has a vibrant student vibe – home to Sorbonne University, the Pantheon and underground jazz venues, or cross Pont-Saint-Michel to the Île de la Cité to browse riverside bookstalls and sip coffee with a view of the Notre Dame Cathedral.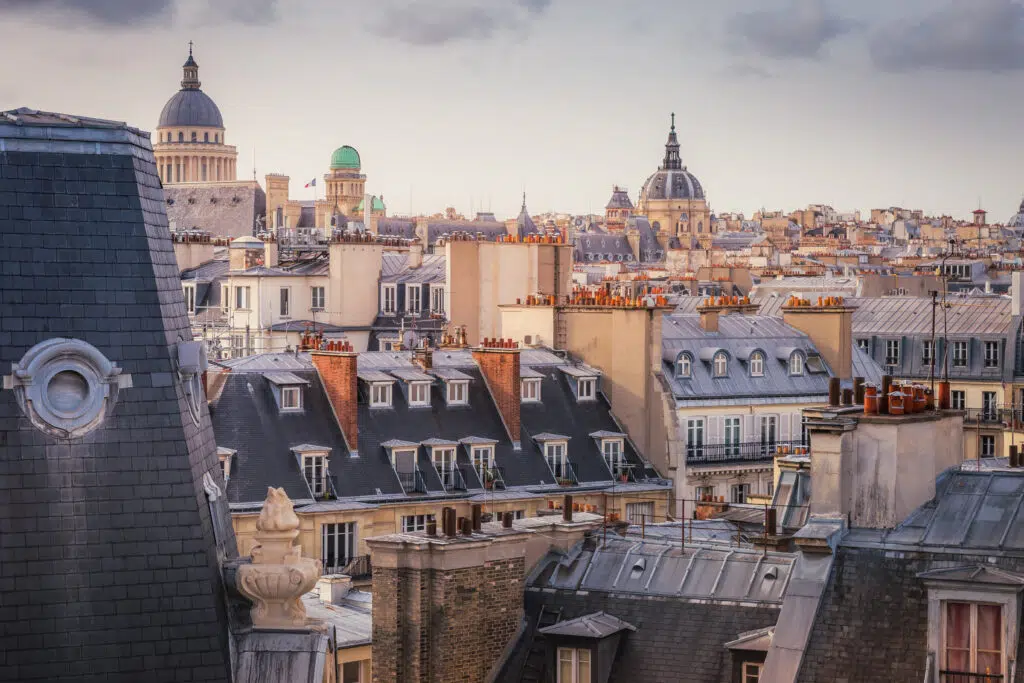 Follow in the footsteps of great artists and thinkers in Saint-Germain-des-Pres, close to Luxembourg Gardens. It's a place where creatives once gathered to exchange ideas. Café des Deux Magots was often frequented by Simone de Beauvoir and Sartre back in the day.
For incredible views of the Eiffel Tower, pick a spot along the River Seine, climb the Arc de Triomphe at sunset, or relax in Trocadero Gardens, crepe in hand, primed for the evening light show.
Alternatively, head to beautiful Montmartre, a maze of winding cobbled streets and cafes, leading to Sacré-Cœur Basilica at the summit of Paris for the most beautiful views of the city.
Read More: Paris with Kids / How to Spend 4 Days in Paris / One Day in Paris
Toulouse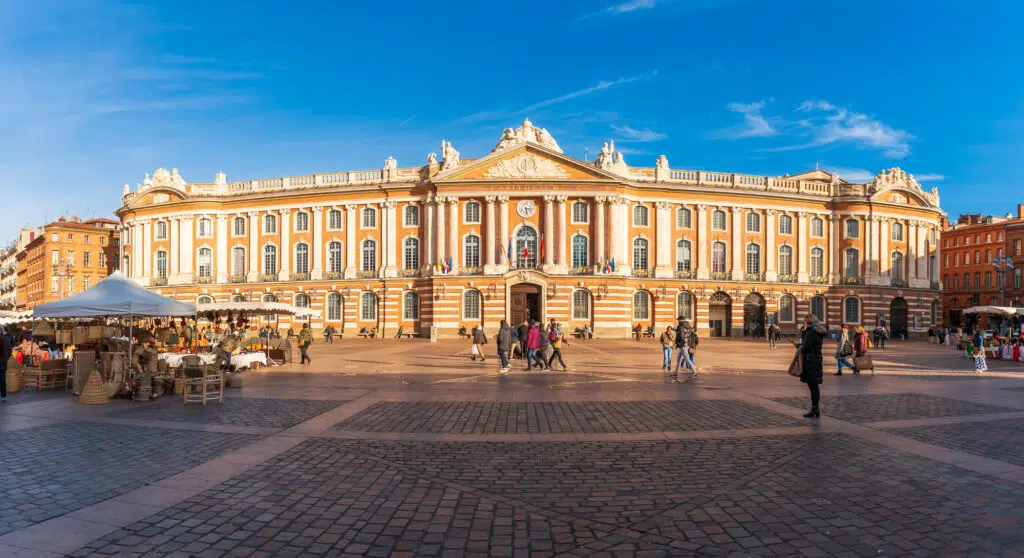 Toulouse dedicates itself to all things art, culture and science and is easily one of the top French cities to visit. It's known as "La Ville Rose" or "the Pink City" due to the pinkish hue the sun casts over its elegant buildings.
Place de la Capitole is a fine place to start the day with coffee and a croissant, overlooking the former Grand Palace (now a theatre), before walking through the Old Town towards Basilica of Saint-Sernin – an early landmark on the road to Santiago de Compostela.
Before heading for the Japanese Gardens or on a bike ride along Canal du Midi, stop off at Victor Hugo Market. It's the ideal place to discover the gastronomy of Toulouse. Don't forget to try the cassoulet!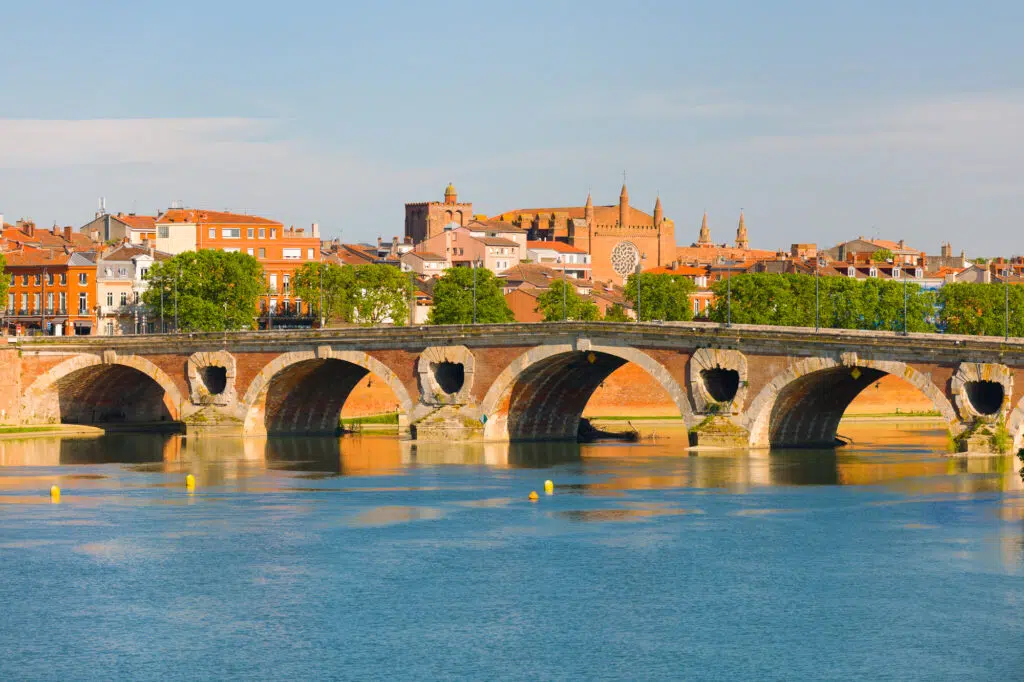 If it's culture you're seeking, entire days can be lost in the family-friendly Museum de Toulouse or Quai des Saveurs – an interactive science museum. Alternatively, venture to City de l'Espace, a space-themed museum with replicas of spacecraft and a state-of-the-art planetarium.
End the day, across the illuminated Pont Neuf bridge, with dinner and drinks in the trendy neighbourhood of Saint-Cyprien.
Strasbourg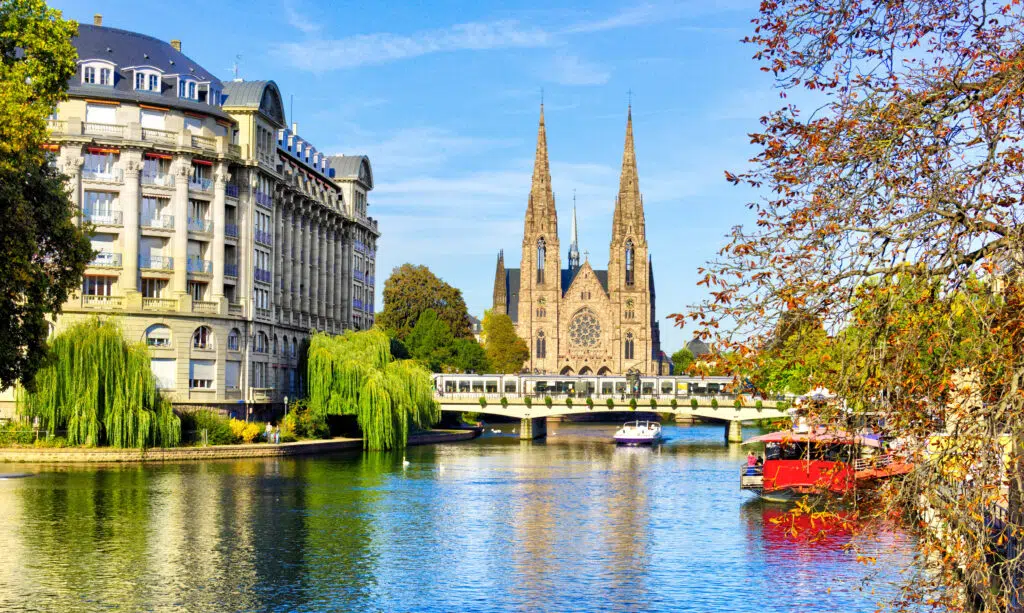 Strasbourg could easily be voted the most beautiful city in France. Tucked between canals, with historic half-timber houses and cobbled streets, it boasts one of the largest medieval quarters in Europe.
One of the city's most famous landmarks is the Strasbourg Cathedral. The structure dates to medieval times and when observed from a certain angle, the sculptures seem to move and the colours change according to the time of day. Climb to the top of the tower to gain views of the Black Forest on a clear day.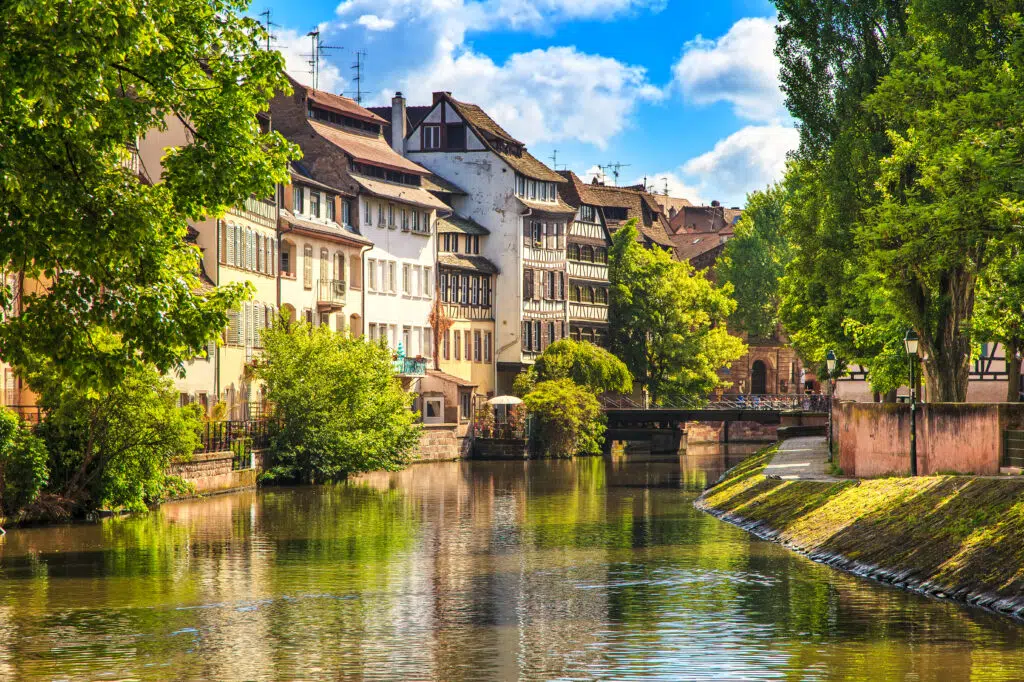 Another highlight is Ponts Couverts, part of the city's original ramparts. Or to learn more about the region's history, Musée Alsacien, set inside a riverside mansion highlights life in the Alsace region. For a more current take on the city, it's possible to book a guided tour of the European Parliament building.
La Petite France is a place where millers, tanners and fishermen once vied for trade by the canal. Today, 16th and 17th century half-timber houses still exist in this picture-postcard quarter.
Take a seat by the canal and feast on tarte flambée (the local version of pizza) and watch as boats slowly glide beneath ancient bridges.
Nantes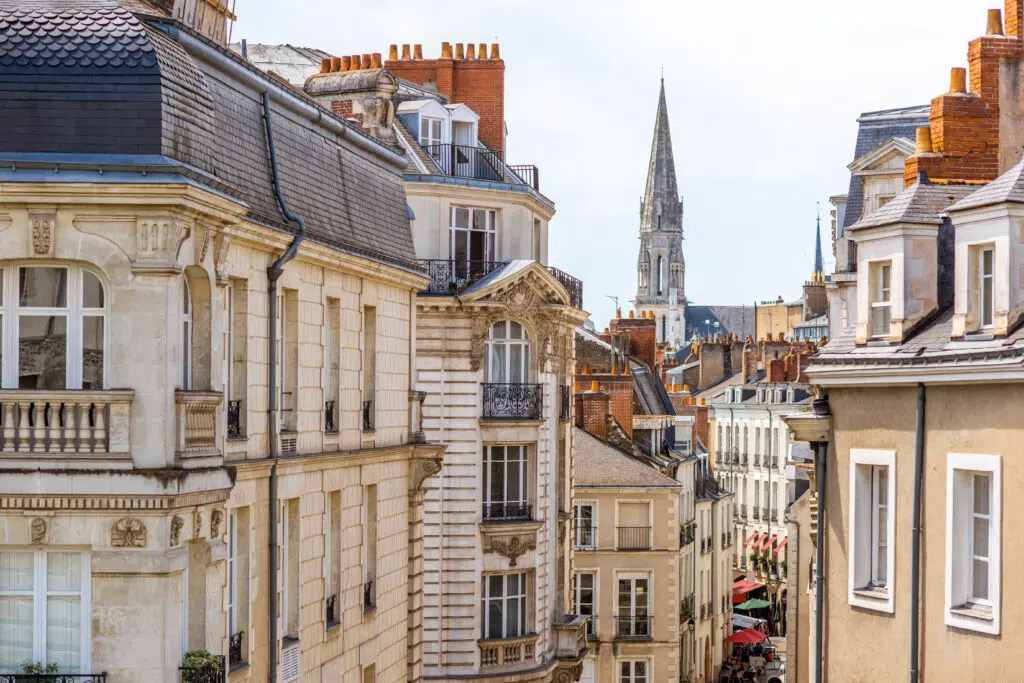 Nantes was once the capital of Brittany in northwest France, and during medieval times, a wealthy maritime trading port. Today, it's a unique mix of ancient and contemporary – a place where historic châteaux, cathedrals and palaces converge with trendy restaurants, lively squares, and elegant opera houses.
It's a beautiful French city with lots to offer and a gateway to the Loire Valley, making it a great contender for a two-centre trip.
At the heart of the elegant city is Château des Ducs de Bretagne, a fortress built around a moat to defend the city. During the 15th century, it was the residence of French kings, and it has, during its tenure, been used as a prison and military barracks.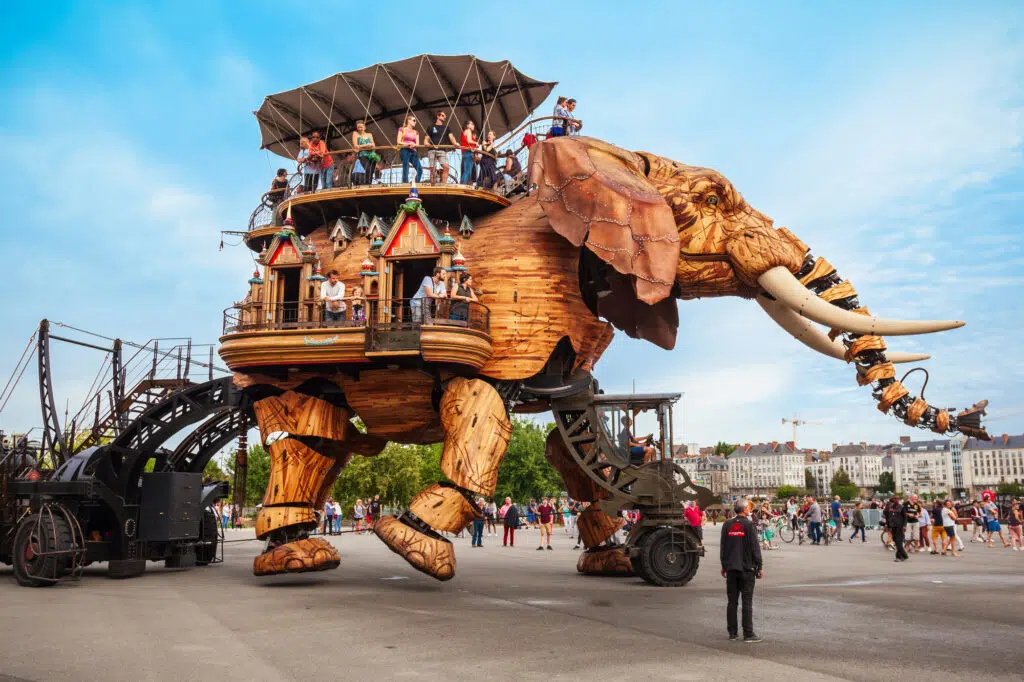 Le Bouffay district is nearby, a maze of cobbled streets making up medieval Nantes. Seek out Cathedral Saint-Pierre-et-Saint-Paul to admire the façade before continuing to the Fine Arts Museum.
There are abundant speciality shops to explore on Rue de Verdun, selling everything from patisserie and chocolates to hand-crafted candles.
Travelling with kids? Les Machines de l'Ile showcases a tech-savvy side to the city, with amazing mechanical attractions including flying robot birds, a giant spider, an ant and even a giant mechanical elephant you can ride!
Lyon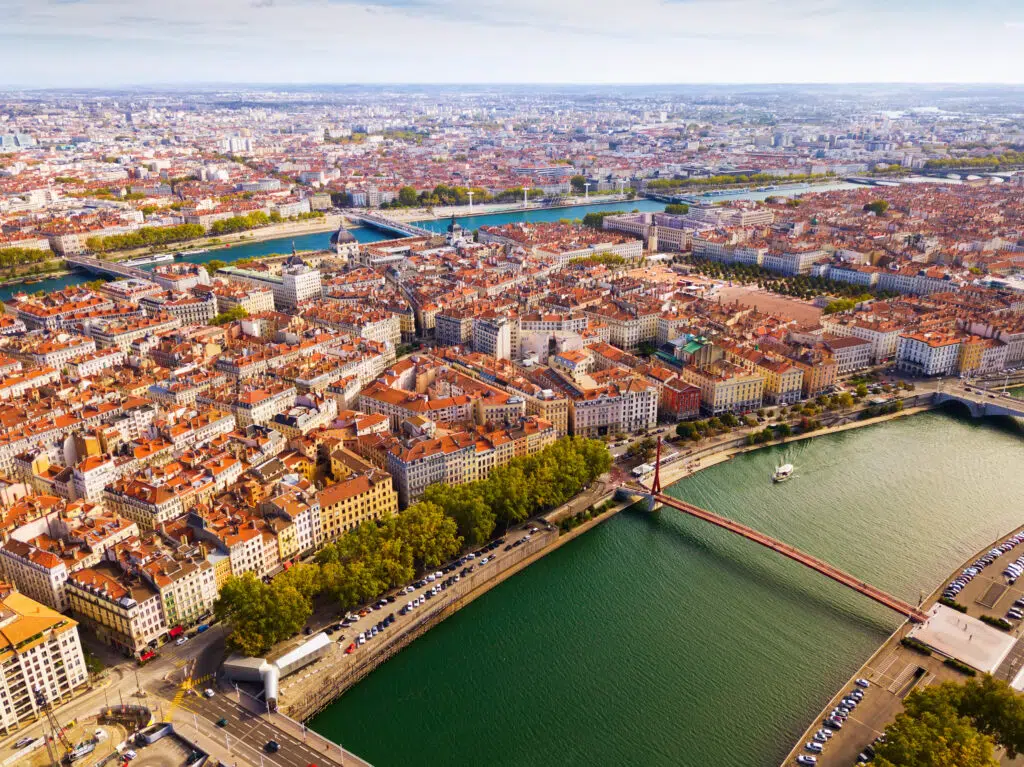 Lyon is a gastronomic capital and one of the coolest cities in France. It sits on the confluence of the Saône and Rhône rivers and was once a major silk trading hub. It offers tourists a wealth of attractions with dozens of museums and world-class events taking place throughout the year.
Explore beautiful Vieux Lyon, home to one of Europe's largest remaining Renaissance quarters, built during the height of the silk industry. Merchant families constructed homes here, and even today, a few hundred still remain.
Stroll around the Old Town, admiring the architecture and wander through the Traboules – old passageways which run beneath the city.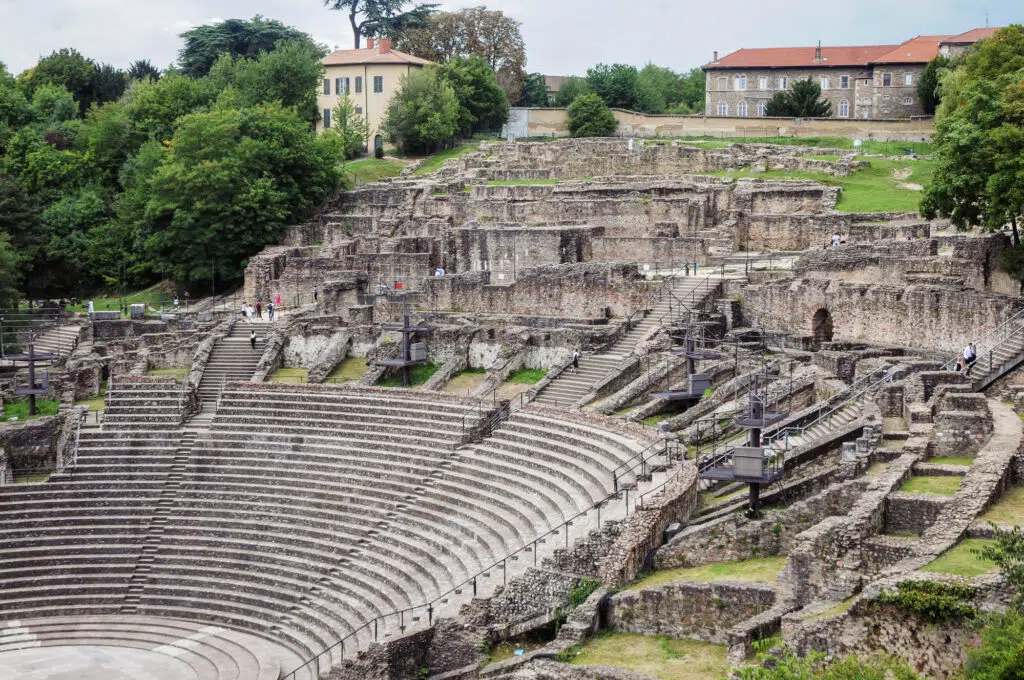 Head to the Ancient Theatre of Fourvière to see the spectacular preserved Roman amphitheatre and spend time at the nearby Fourvière Basilica. Both offer incredible views of Lyon and host cultural events throughout the year.
As Lyon is a culinary capital, it would be remiss not to mention the local food. Try the Bugnes, sweet deep-fried dough strips flavoured with orange water, lemon zest or vanilla, and sample the Salade Lyonnaise with a crisp glass of wine.
Read also: Best Day Trips from Lyon
Annecy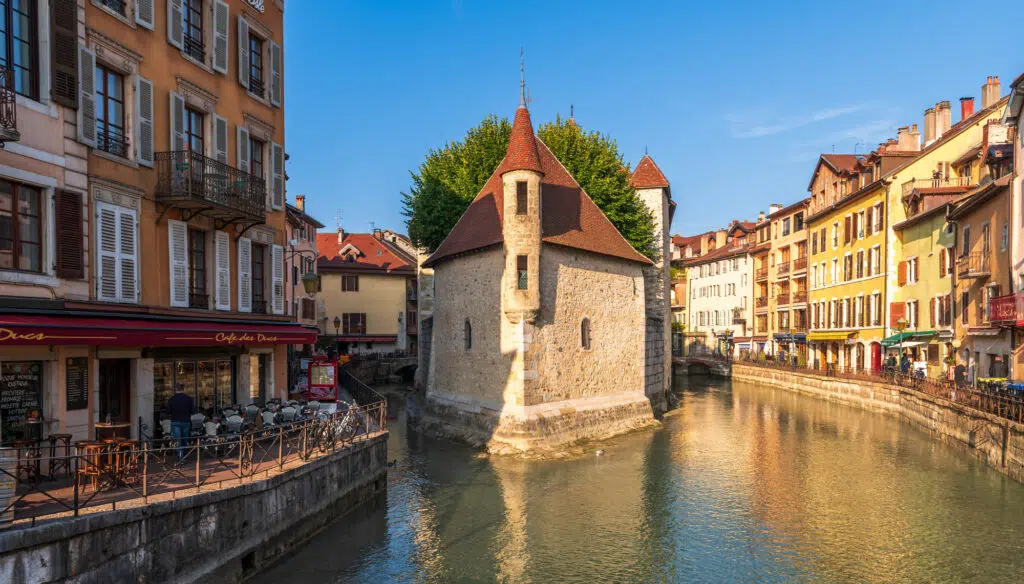 Annecy ranks high on the list of beautiful French towns. It's known as the "Venice of the Alps" with a scenic lake and mountain backdrop, and an Old Town of fairy tale proportions laced with canals.
One of the most photographed locations is Vieille Ville with its pretty pastel-coloured houses and canal-side restaurants serving mouth-watering raclette and fondue.
A cultural highlight of the Old Town is Palais de l'Ile. The palace, set on an island in the canal, was a prison and workshop for minting coins before it became the residence of Savoy Dukes. Today, it houses a museum and guided tours are available for interested parties.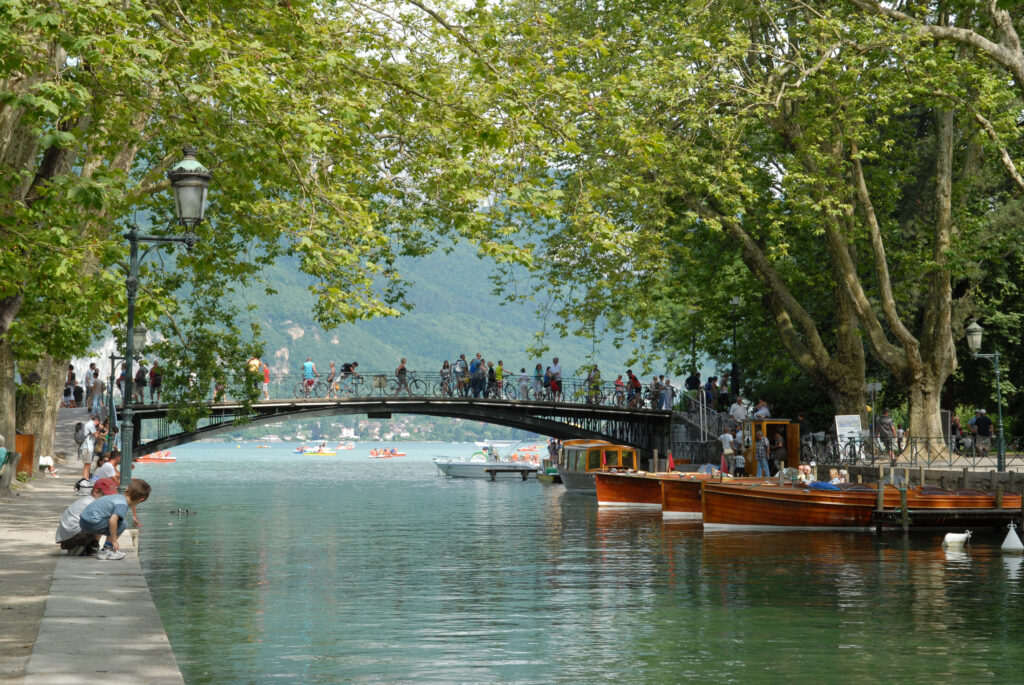 On your city break, stroll to Pont des Amours (beautiful at dusk), hike to Château d'Annecy, hire a boat, or enjoy waterskiing and wakeboarding on Lake Annecy.
If that all sounds too strenuous, simply grab a few picnic items and head for Jardins de l'Europe to soak up the sunshine and fabulous views.
During summer, Annecy hosts a selection of cultural events including Fête de la Musique in June and Fête du Lac at the beginning of August with Europe's largest firework display.
Tours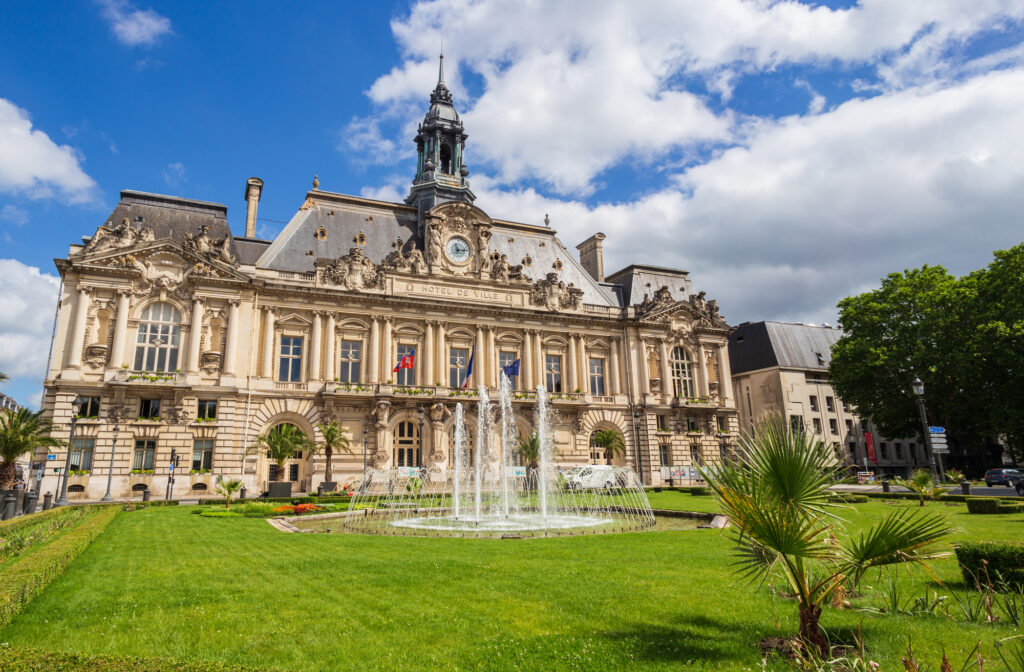 Tours is one of the most underrated, yet prettiest French cities, and makes a great base for exploring the châteaux of the Loire Valley. Amboise and Chenonceau are also just a short drive or serene boat ride away.
However, before heading deep into the Loire Valley, spend time discovering the narrow-cobbled streets of Tours and its main attractions.
Tours Cathedral is one of the most popular; a Gothic masterpiece with flying buttresses and towering spires. Inside the original stained-glass window reflects on the floor in a kaleidoscope of colours.
Delve deep into local history at Musée du Compagnonnage. It's dedicated to the trades guilds and located in the former monk's quarters of a beautiful Benedictine Abbey.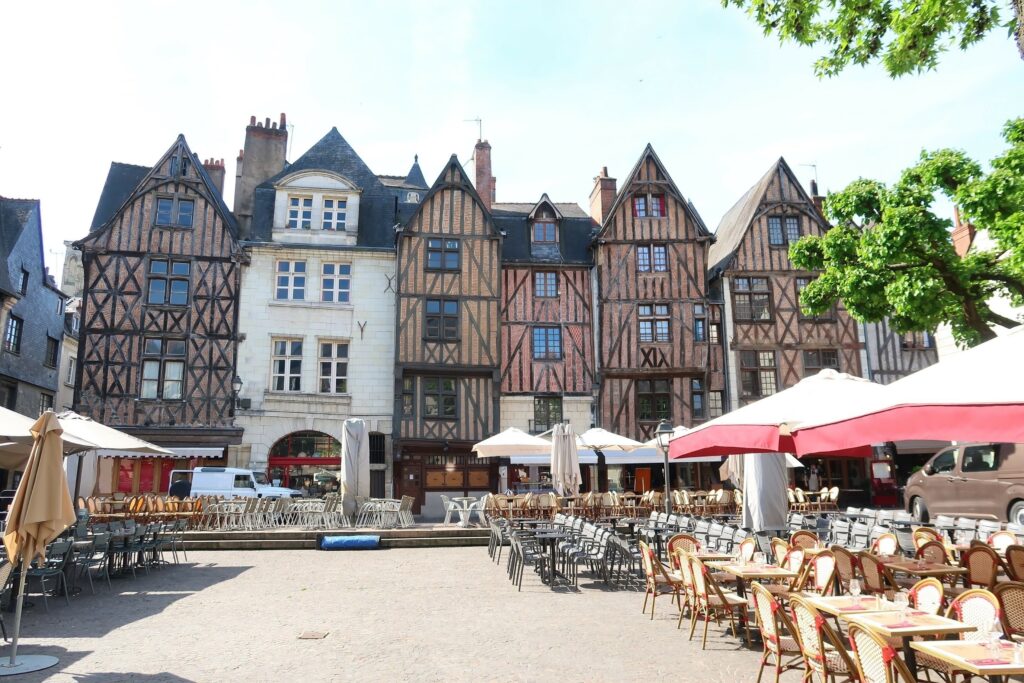 The Old Town around Place Plumereau is the perfect place to immerse oneself in local culture. This pedestrian street is lined with outdoor cafes and restaurants set beneath tall, preserved half-timbered houses. It's the perfect place to sip a glass of wine and imagine the city in days gone by.
If you enjoy trying new cuisine, don't leave without visiting the Halles de Tours produce market to sample local cheeses and the famous Tours nougat.
Dijon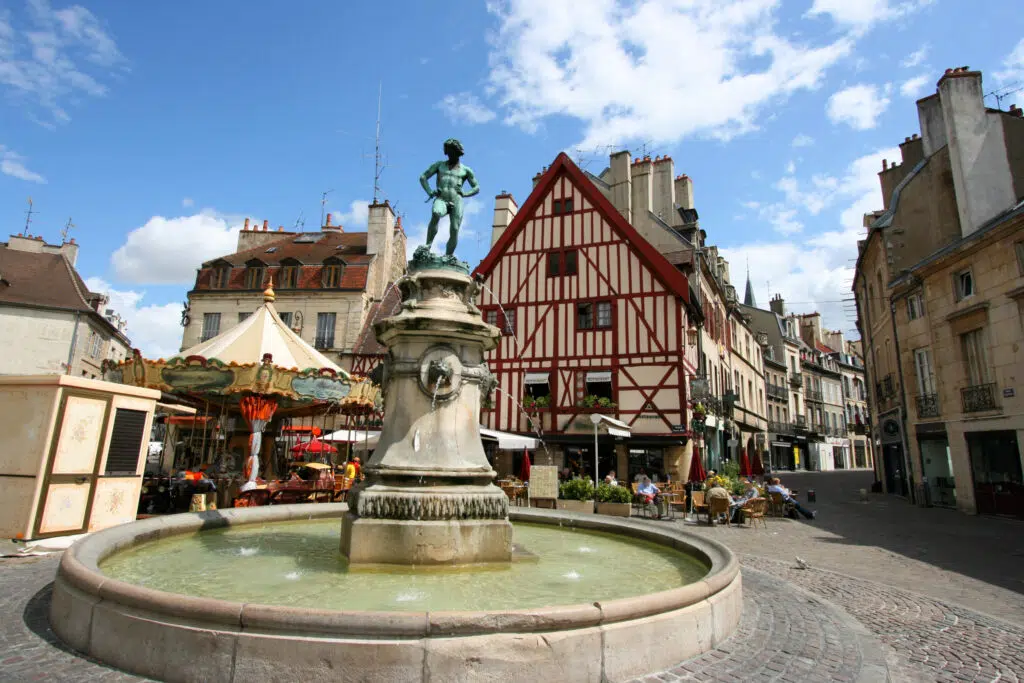 Dijon can spring quite a surprise on tourists visiting for the first time. The city was once an intellectual centre of France, and capital of the Duchy of Burgundy during the 14th and 15th centuries. It's one of the best French cities to visit to learn about the region's history and to sample great food and wine!
Follow the brass owl motif on the pavements which lead to all 22 historic sites on the city's trail. Architecture lovers will enjoy discovering Place de la Libération and the Ducal Palace, the former home of Burgundian Dukes, now the town hall.
Tucked away inside the palace is the city's Fine Arts Museum, and an observation tower to gain the best views of the city.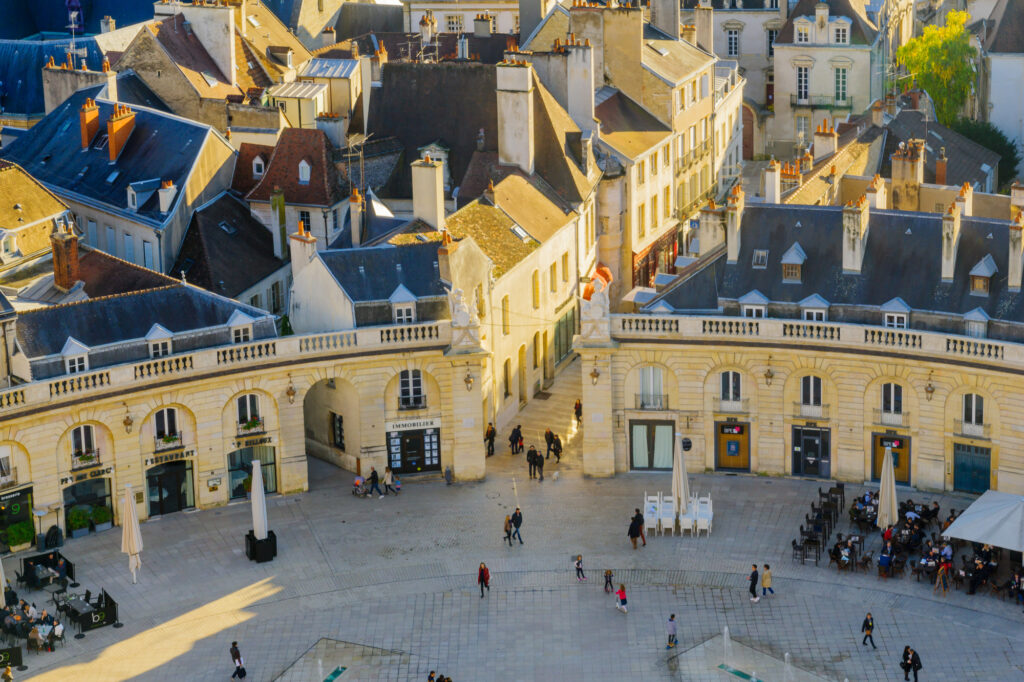 Learn about local life past and present at Musée de la Vie Bourguignonne, set inside a 17th-century monastery, or head to Rue de la Chouette and the Edmond Fallot shop. It sells every flavour of Dijon mustard imaginable and even has its own mustard bar!
A visit to Dijon cannot be concluded without sampling typical Dijon fare – onion soup, coq au vin and beef bourguignon, all washed down with local wine or Crème de cassis, made with blackcurrants from the region.
Rouen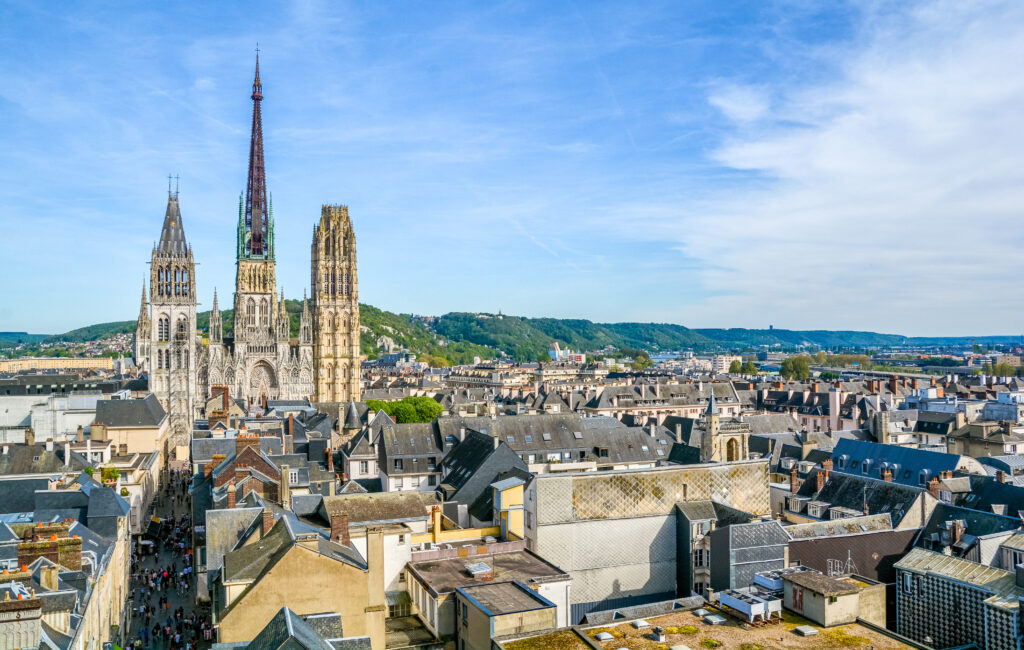 Rouen is a gem of Normandy in the north of the country. A beautiful city known for its links to Joan of Arc, and half-timber architecture, it's one of the must-see cities in France.
As with many northern French cities, Rouen's Gothic cathedral is a main highlight. The landmark with its towering spires can be from anywhere in the city, however, there are several more churches just as impressive including the more modern Church of St Joan of Arc in the Old Market Square, where it is said, she met her demise.
The square is punctuated with half-timber houses, flower sellers, cafes and restaurants serving typical Normandy cuisine. It's a great place to soak up the atmosphere and learn more about the legacy of Joan of Arc.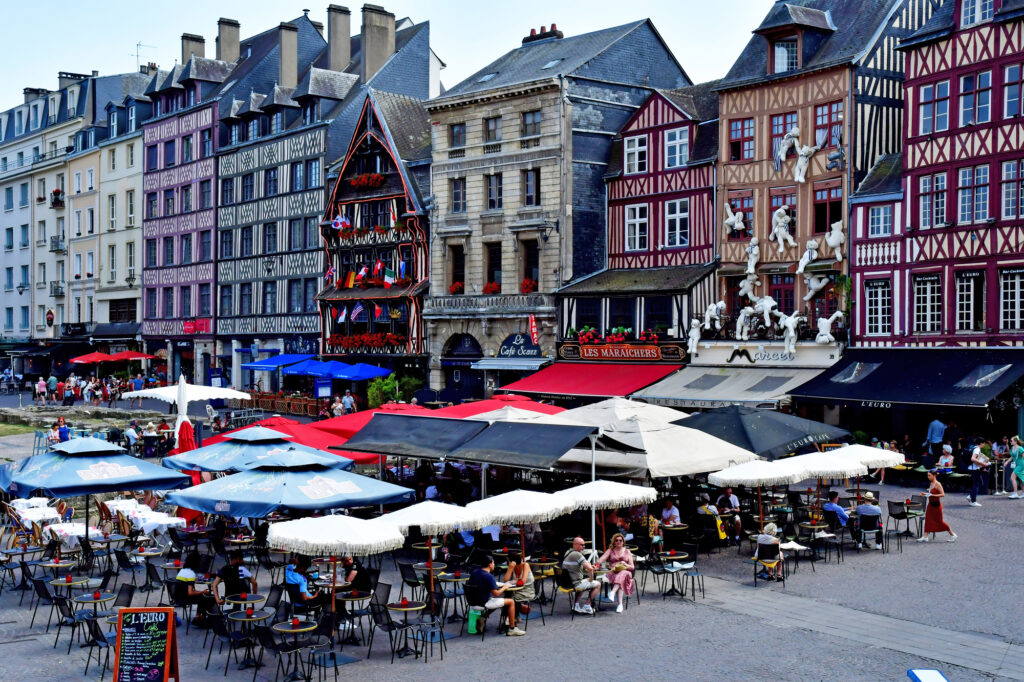 A trip to the Musée des Beaux-Arts should also be on an itinerary, especially if you're a fan of Impressionist works, as it boasts one of the largest collections in France.
Afterwards, take a break from the historical trails, open-air markets, and shops to spend time in Jardin des Plantes. This serene haven in the city covers 85,000 square metres with gardens growing medicinal plants and roses, and it even has roaming golden pheasants.
Amiens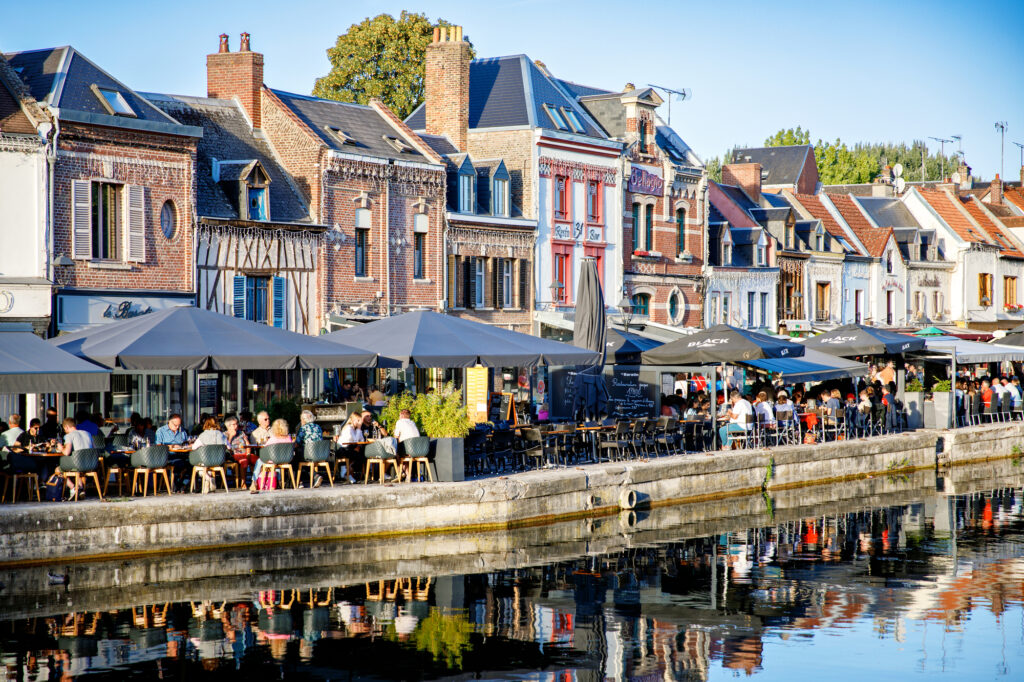 In the heart of Picardy, Amiens is one of the prettiest cities in France and less tourist-driven than most. It's a city enveloped in the arts and history, intertwined with canals – home to the world's longest Gothic cathedral – Amiens Cathedral, and one of Europe's first-ever skyscrapers – Tour Perret.
One of the most alluring districts is Quartier Saint-Leu on the banks of the River Somme. It's known as the "Little Venice of the North", punctuated with colourful French, Dutch and Flemish houses, narrow alleyways, book stalls, and artisan market sellers. There are bars and restaurants by the water's edge, and after dark, puppet theatres and concerts immerse visitors in a typical Amiens atmosphere.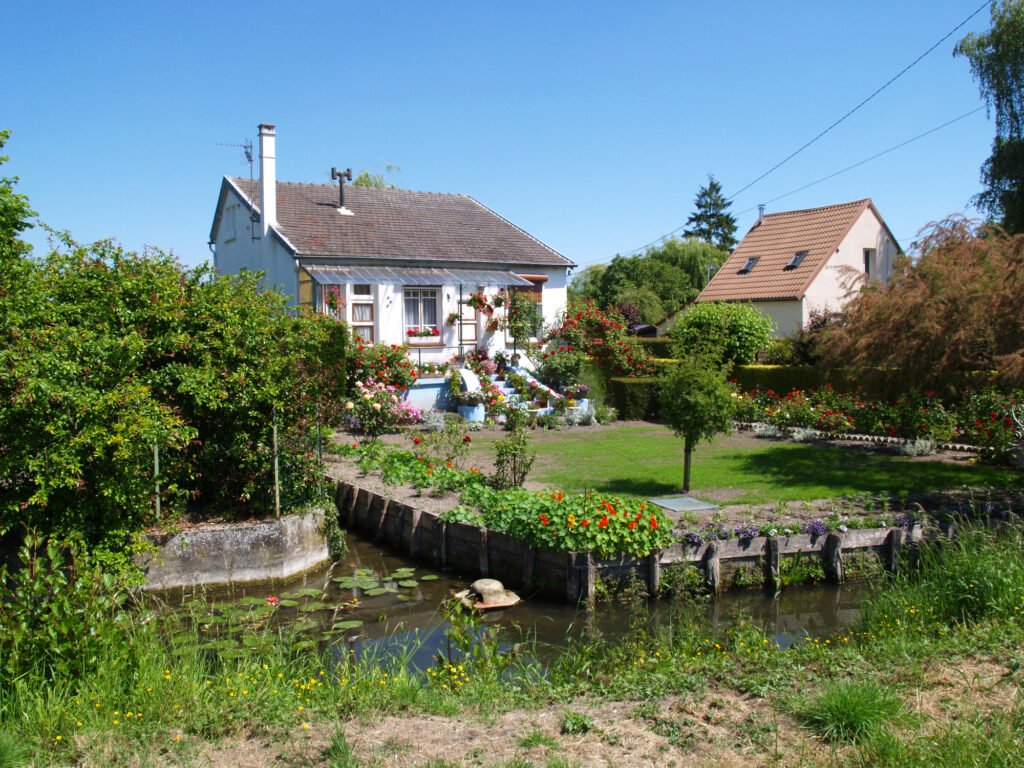 Visitors can hop on a boat to access some of the 65km of canals around Amiens, stopping at Les Hortillonnages floating gardens. This unique ecosystem has been around since the Middle Ages when gardeners used gondolas to transport produce to the local markets.
Amiens has lots for literary lovers and kids too. The Cirque Jules Verne show includes acrobatics, jugglers and clowns, or pop into the 19th-century stately mansion where the author began to write Twenty-Thousand Leagues Under the Sea. Don't miss the observation tower and display of flying machines!
Limoges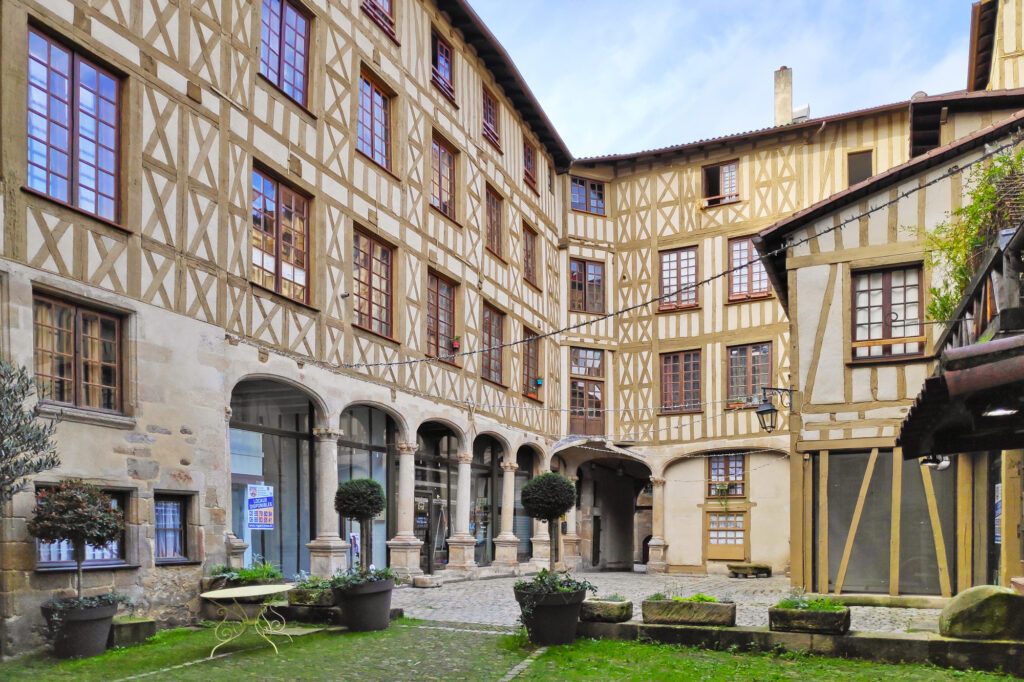 Limoges is an understated, yet beautiful city in France. It's famous for its French porcelain, home to an interesting medieval quarter and stunning gardens overlooking the Vienne River.
Walk along Rue de la Boucherie and Cour du Temple to discover the city's well-preserved medieval buildings. While gazing in café and shop windows, it's easy to believe you've stepped back in time.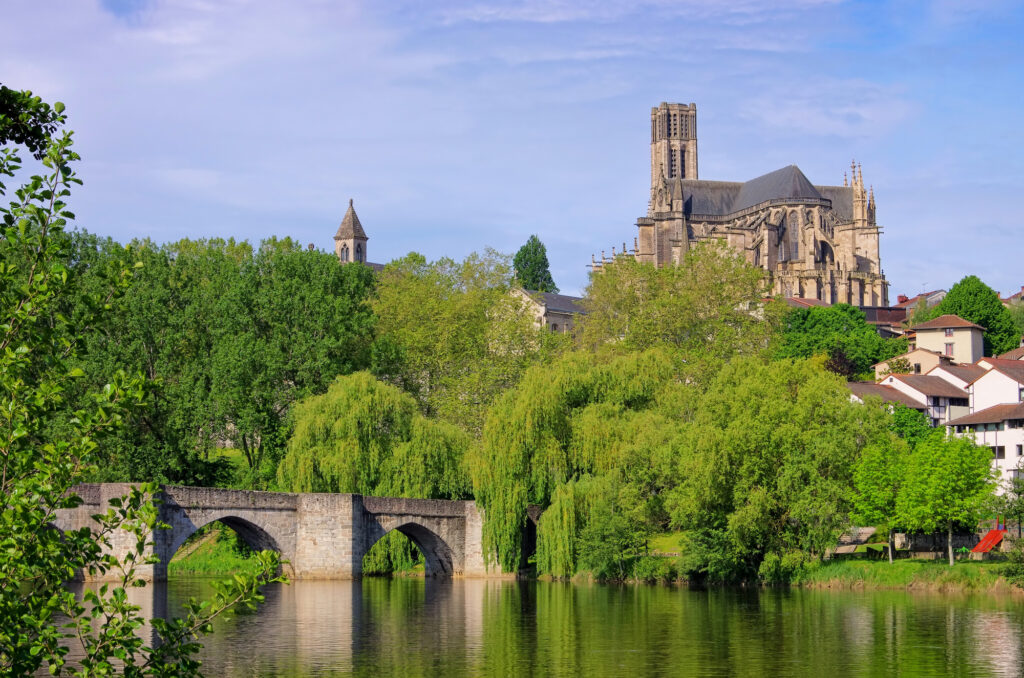 Visit the National Porcelain Museum and impressive Cathédrale Saint-Étienne before strolling to Jardin Botanique de l'Evêché nearby. The gardens contain over 1200 plant species used for medicine, food colouring and dyes for textiles.
By the riverside, trees line pathways and bridges reflect their arches onto still waters. Observe Pont-Saint-Étienne, a major crossing point for pilgrims on The Way of St. James and imagine what life was like for those setting out on the long journey while enjoying a gourmet picnic and glass of wine.
Pau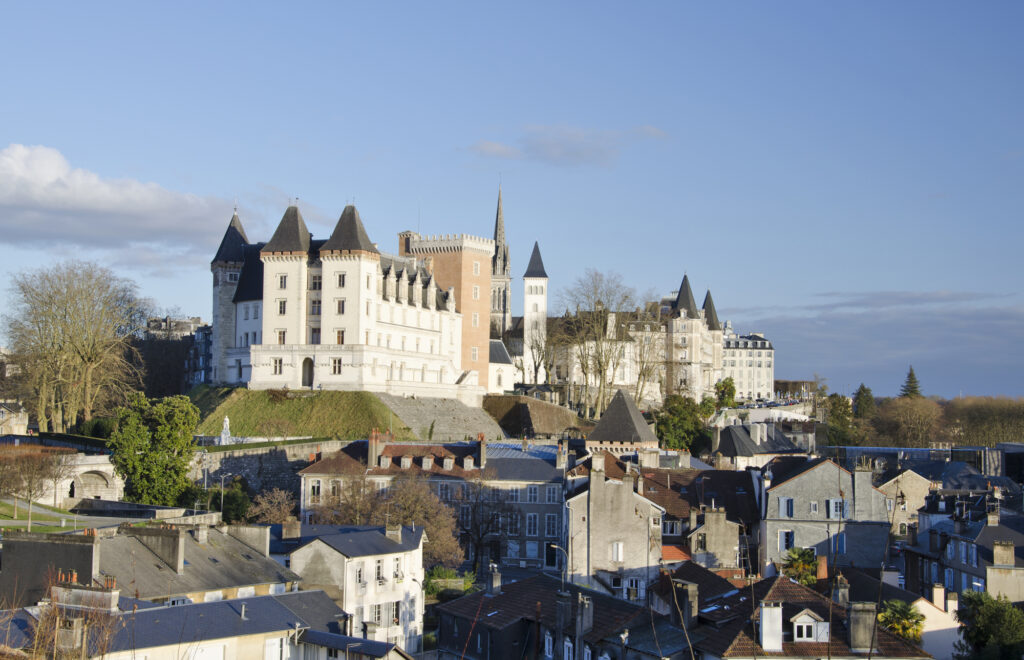 Tucked away in the foothills of the Pyrénées, Pau is an impressive city in one of the prettiest parts of France. It's steeped in history, surrounded by breathtaking mountainous scenery and a great choice for outdoor enthusiasts.
One highlight of Pau is Château de Pau – the birthplace of Henri IV. Enter inside on a guided tour to admire the grand opulent decor, priceless artwork, and tapestries.
For those preferring to bask in the natural beauty of the great outdoors, take a stroll along Boulevard des Pyrénées. The views of the mountains are stunning and it's home to some of the city's most impressive buildings and parks.
If travelling with kids, hop aboard the free funicular railway or head to the river for white water rafting, kayaking, and canoeing on warm summer days.
Pau is also home to many museums, with Musée des Beaux-Arts with works by El Greco and Degas a tourist favourite. For food, drink and a lively atmosphere, historic Quartier du Hedas is the place to be, with its chic bars and restaurants. Seeing it today, it's hard to believe the area was once one of Pau's most unsavoury districts!
Lille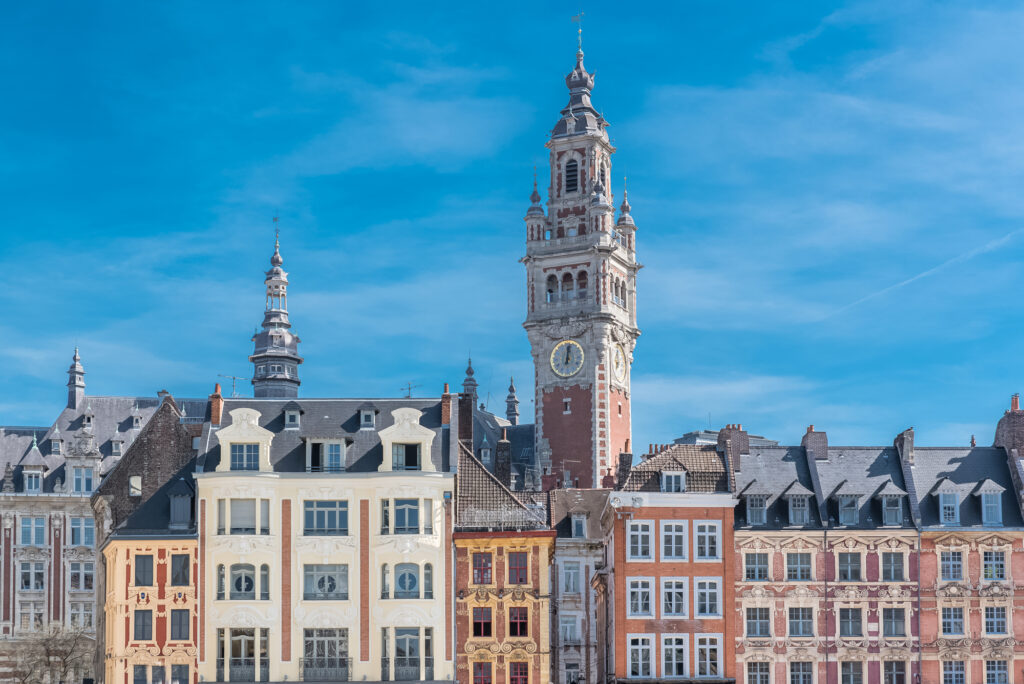 Lille is a unique blend of Flemish and French, it combines ornate architecture, culture and gastronomy and is one of the most beautiful places in France.
Vieux Lille is a meeting place for locals, and at the heart of the Old Town is Grand Place, surrounded by Baroque buildings and elegant 19th-century mansions. The Town Hall and 17th century Old Stock Exchange – La Vieille Bourse, are perhaps the most impressive, the latter comprising 24 Flemish Renaissance houses built around an arcaded courtyard.
Grand Place is also the focal point for markets, celebrations and events held throughout the year. It's the ideal spot to sit with a cappuccino and patisserie watching the world go by.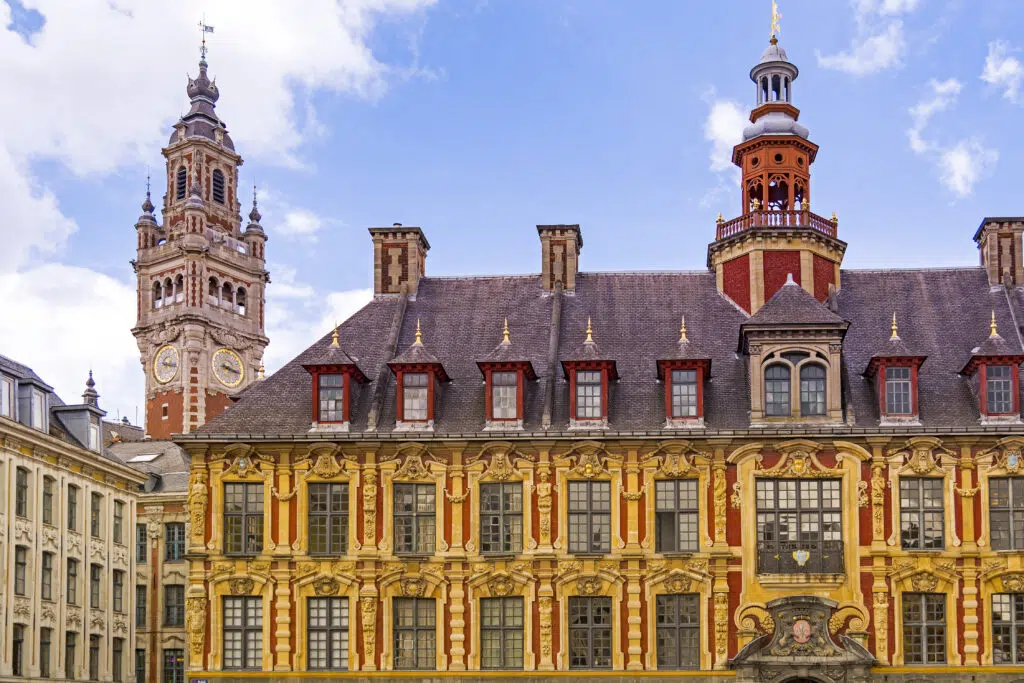 The city has dozens of interesting museums. If travelling with kids, pop into Lille School Museum and visit its "Class of 1930" to see the differences between education then and now, or head for the Museum of Art and History, set aside an indoor Art Deco swimming pool.
Marché de Wazammes is one of the largest outdoor markets in France. Thrice weekly, hundreds of stalls specialize in exotic fruits, vegetables, spices, textiles, and flowers and occasionally, the buzzing atmosphere is enhanced further by an accordion playing French tunes. And come late November, the city hosts one of the finest Christmas markets in France!
---
There are, of course, many more beautiful cities of France to visit, but this list will hopefully spark inspiration for your next trip. Whether you're interested in French history, maritime museums, fine food or wine, there's a city to suit your travelling tastes!