The mere mention of Nice is enough to evoke a sense of sun-soaked glamour and artistic brilliance. This UNESCO-listed Mediterranean marvel is the jewel in the French Riviera's crown, as tourists as far back as the 1700s knew. Though people flock to the city for balmy days from about May to September, it's a year-round destination with loads of things to do. That's when you're not indulging in leisurely people-watching from the iconic blue chairs on the promenade.
It's a joy to find the best places to visit in Nice, many of which you'll stumble upon on easy strolls. Beautiful beaches are on the doorstep of attractions that range from renowned art collections to colourful flower markets. Expect plenty of gasp-worthy moments when views of historic architecture on ocean backdrops take you by surprise.
And don't be surprised if you need a second breakfast, lunch or dinner to fit in an abundance of gastronomic treats.
Related Reading: Best Day Trips from Nice
---
Discover the Promenade des Anglais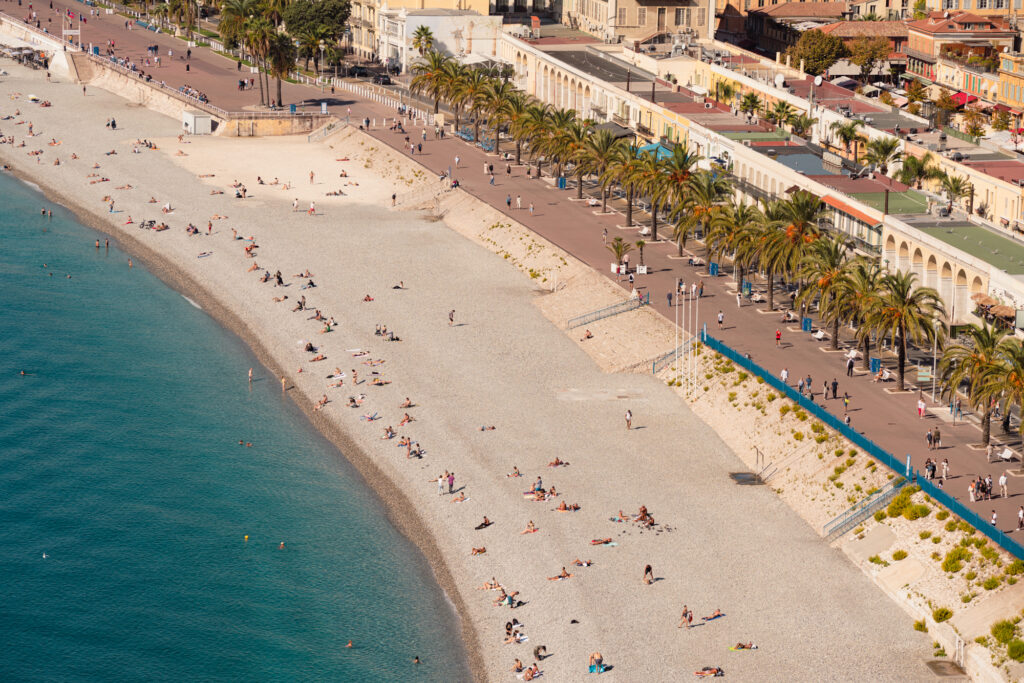 No doubt you've been on some spectacular seaside walks, but this 'must do in Nice' might just top them all. Framed by palm trees and sweeping views of the sparkling blue Baie des Anges, it stretches for seven kilometres from the airport to the castle headland.
Known locally as the "Prom", the Walkway of the English takes its name from 18th-century English aristocrats who loved to soak up the warmth by the sea.
Today, you're more likely to spot cyclists, joggers and roller skaters making the most of dedicated paths, along with, perhaps, a celebrity or two. Time your trip right and you'll also run into events, none more spectacular than Nice Carnival in February. Pick a perch to sit and watch the world go by or stroll to your heart's content for relaxed Nice sightseeing.
Landmarks along the way include the famous Hotel Negresco. Pretty in pastel with its iconic dome, the 1913 hotel joins the art deco Palais de la Méditerranée to compete for your attention for architecture selfies.
Perhaps just as photogenic is the larger-than-life blue chair sculpture 'La Chaise de SAB', created by sculptor Sabine Géraudie to pay homage to the promenade icons.
Enjoy Beach Days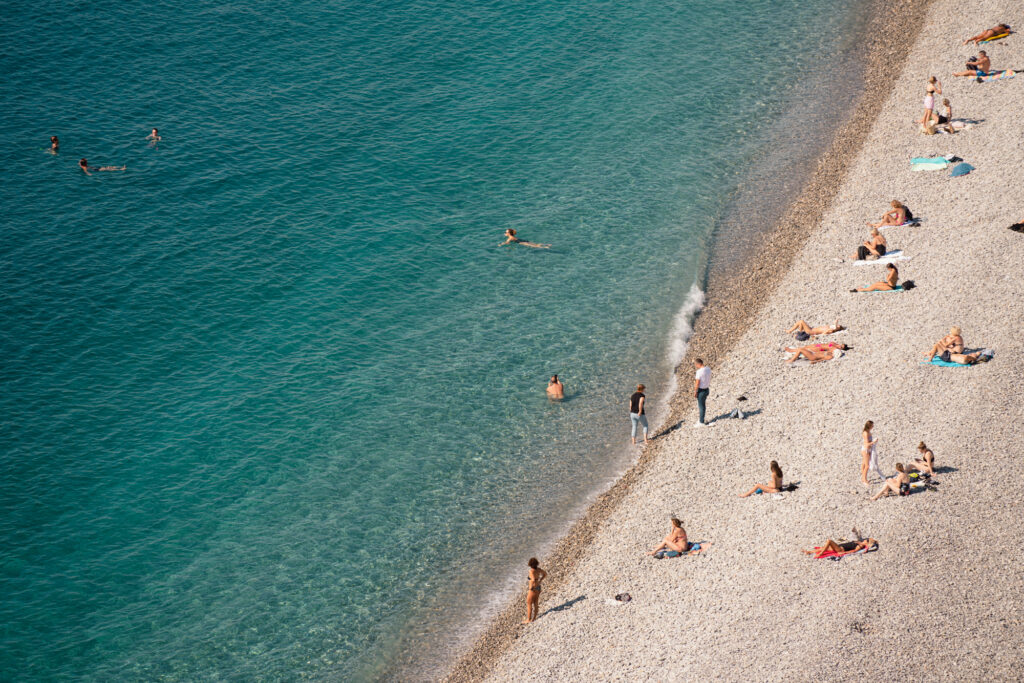 Choose a beach to suit your mood as one of the top activities to do in Nice. The oldest and arguably most popular private, pebbly stretch is Opera Plage just steps from the Old Town.
Settle in under a stripey blue and white parasol with the privilege of assistants selling swimsuits, just in case you need a new one for the occasion. Book a massage to enjoy on your sunbed and indulge in decadent dining at the Water Terrace.
Travelling with the kids? Ruhl Plage is a brilliant choice, with private cabin hire complete with showers, a child-friendly swimming pool and gourmet food by the sea.
Launch into parasailing and wakeboarding from Blue Beach before a mojito and seafood at the elegant restaurant. A petite slice of watery paradise, La Réserve is the spot to relax amid rocky crevices and watch people dive from a photogenic old diving platform.
For a spot of plane-watching with a more 'no frills' beach day, head to Carras Beach near the airport. The pet-friendly public beach offers watersports and lifeguards during summer.
It's possible to stay on well into the night at Le Voiler's beach club. Spread out across the wide expanse of white pebbles and choose between a public or private section with all the bells and whistles.
Explore Vieux Nice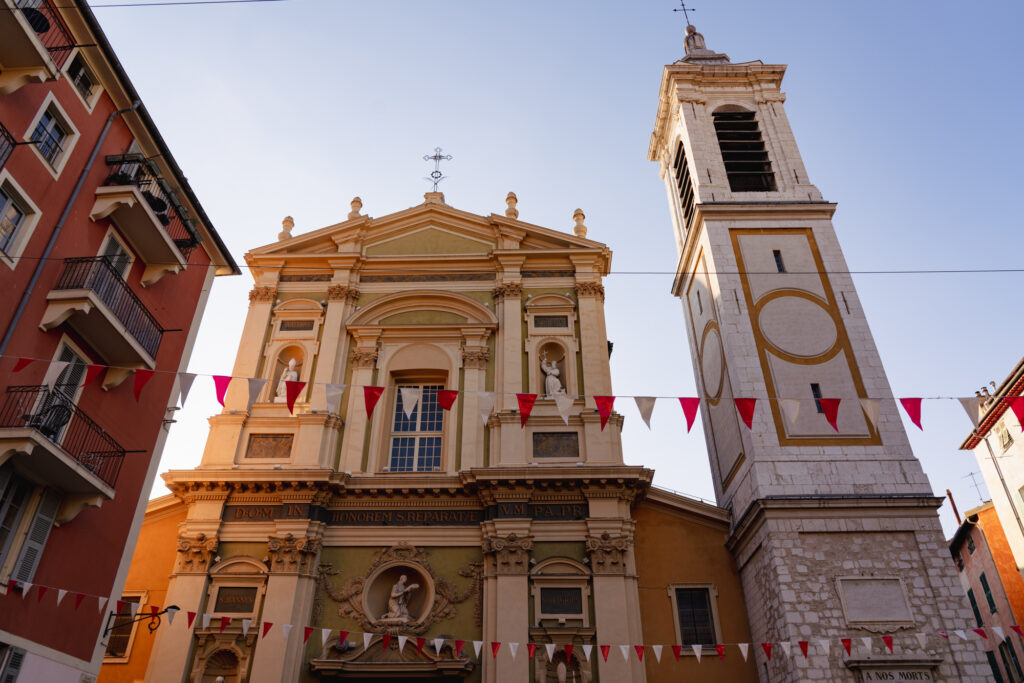 An abundance of things to see in Nice live in the Old Town. It's best to dive right into the winding, narrow streets and simply stumble upon gorgeous remnants of the past. Place Massena, the central square, is a great place to start. Grand buildings adorned with citrusy colours join statues and a fountain depicting stories from Greek mythology, so it's best to stop for a drink at a cafe here to soak it all up.
Then, there's Place Rossetti, where you'll turn in circles to capture every picturesque angle. It's home to the Sainte-Répérate Cathedral, which honours the city's patron saint. If you're an ice cream fan, Fenocchio's might become one of your favourite top attractions in Nice.
The ice cream parlour opened in 1966 and serves more than 90 flavours including lavender, rosemary and – wait for it – tomato & basil. I went for the Piña Colada!
Next up, check out the prestigious Nice Opera House to walk in the footsteps of the world's best singers and composers, and book a ticket for a show later on.
The Old Port of Nice, or Port Lympia, features the tenement house where Napoleon Bonaparte lived amid pastel-coloured buildings and, now, bobbing yachts. You could hop on a ferry to Sardinia or Corsica, or shop for antiques between restaurant stops.
Stroll Around Cimiez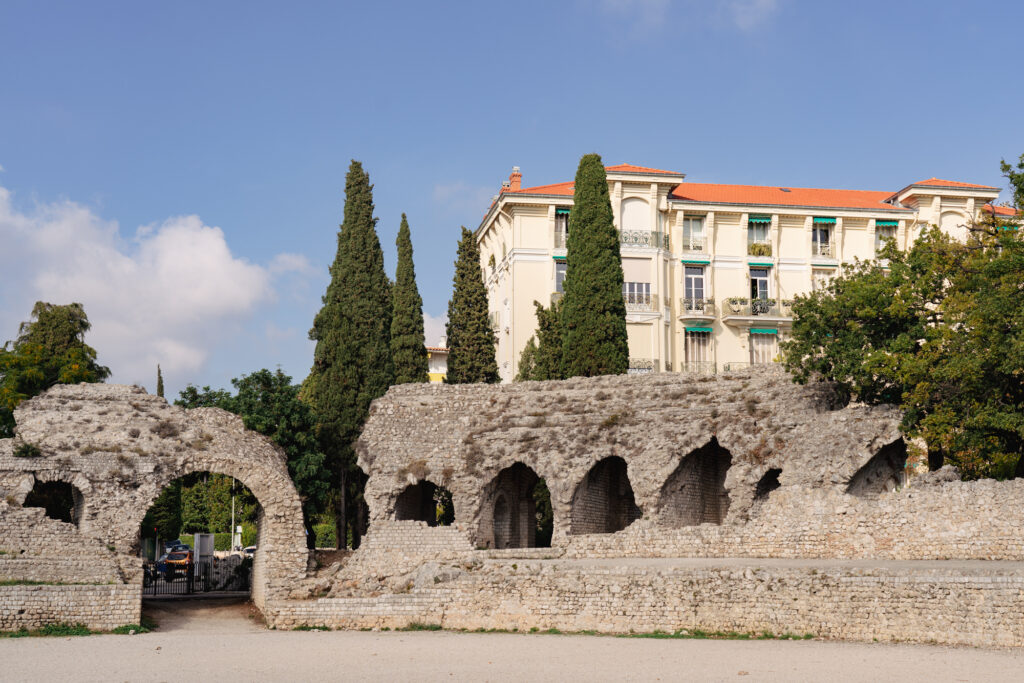 Once a Roman bastion and a separate city, the hilltop Cimiez district is among places to go in Nice to stroll amid plush villas and grand palaces. You'll see the stunning Excelsior Regina building that once catered to Queen Victoria, along with a monastery founded by monks in the ninth century.
Pop into the Archaeological Museum of Nice to discover the ruins of an ancient amphitheatre, Roman baths and a lovely olive grove.
Then, head to the Marc Chagall National Museum. The late Belarusian painter's artworks feature religious themes, and he was the first living artist to open a museum of his works at age 86. Cimiez is also home to the Matisse Museum with one of the world's largest collections of the renowned French artist. Admire hundreds of drawings, photos and sculptures among famous paintings.
Before you head back into the city centre, get your bearings with a stroll through the Jardin du Monastère de Cimiez. Offering panoramic views over the city, the Italian-inspired gardens are the oldest in the city.
Museum and Gallery-Hop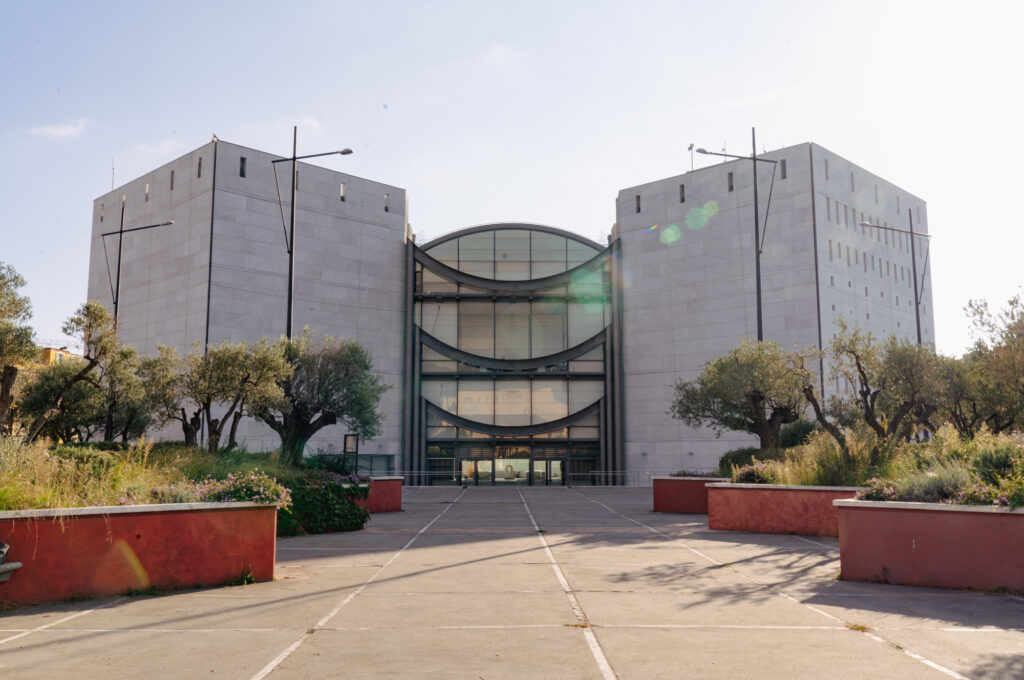 It's easy to keep the museum theme going while sightseeing in Nice. The Museum of Modern and Contemporary Art (MAMAC) boasts works from avant-garde artists including Yves Klein and Niki de Saint Phalle, along with classic pop art from Andy Warhol. Explore two floors of inspiration before heading to the rooftop terrace for an alternative view of the city.
You'll find the Massena Museum next to Le Negresco on a meander along the Promenade des Anglais. This is the spot for history buffs wishing to delve into the region's history, including memorabilia of Napoleon Bonaparte.
For a large dose of opulence, visit the Palais Lascaris. It's home to one of the country's largest ancient musical instrument collections, sumptuous aristocratic chambers and a grand staircase.
Shop Till You Drop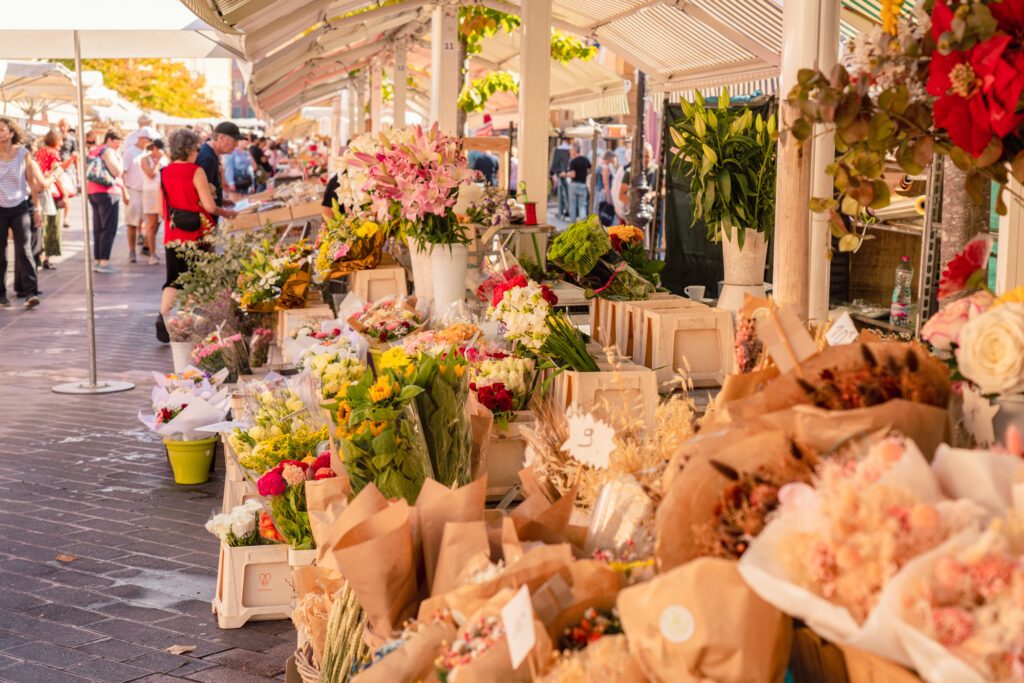 It's fair to say that activities to do in Nice generally come with the option to buy something exquisite, from souvenirs to designer brands and succulent fruit. Speaking of which, the Cours Saleya market overflows with fresh, local produce alongside the Marché aux Fleurs flower market. Each week, you'll find different themes, including flea market stalls for rummaging and antiques for treasure hunting.
More basket-filling goodies await at Liberation Market around the Place Charles de Gaulle, and the Fish Market in Saint-Francois square. If you're at the Old Port, there's a flea market for gemstones and vintage finds.
Avenue Jean Médecin is the main shopping street where you'll find your favourite international retailers. The prestigious department store Galeries Lafayette is here, along with the Centre Commercial Nicetoile with around 100 shops.
Take in the Views from Castle Hill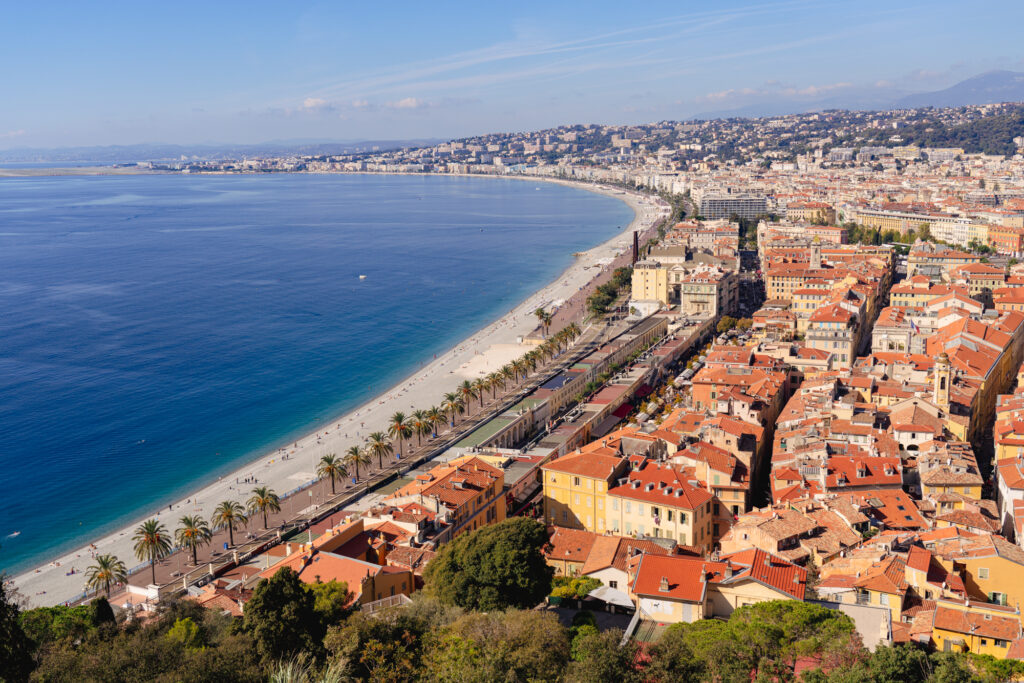 Looking for things to do in Nice for free? Take the stairs up to Castle Hill Park. Don't expect to put your camera down, with incredible views over Nice and the sparkling ocean from this former site of a medieval castle. Relics of the castle remain, but sadly, most of it was destroyed in the 18th century.
These days, it's a lovely park with playgrounds and a cascading man-made waterfall. Discover the resting place of aristocrats at the cemetery and picnic beneath shady trees, or take a seat at the hilltop cafe.
Relax in Nice's Parks and Gardens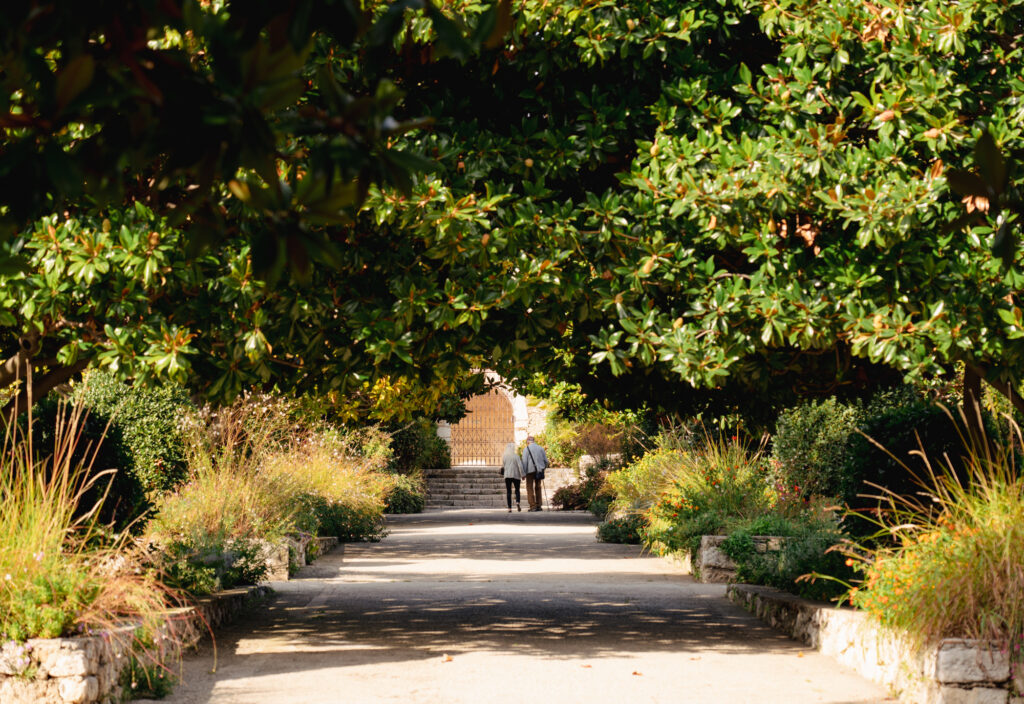 Meander around the Jardin Botanique de Nice to spot more than 3,000 plant species and learn about plant medicine. In town, rest your explorer legs at the Promenade du Paillon. Beautifully landscaped gardens join benches and fountains to create a serene haven in the city, with plenty of amusements for the kids. The highlight, though, is the magnificent reflecting pool with water jet displays.
Hit the Hiking Trails
You might think hiking is among unusual things to do in Nice, but there are plenty of gorgeous trails to help you get over last night's six-course menu. The Parc du Mont Boron boasts around 11 kilometres of hiking trails with spectacular views as your reward for the effort.
Paths cross over the Cap de Nice through lush forests of olive trees and holm oaks. At the top of the hill, check out Fort du Mont Alban, a 16th-century military fort with views that sweep across to the Esterel mountains. You'll find picnic tables and drinking fountains along the way.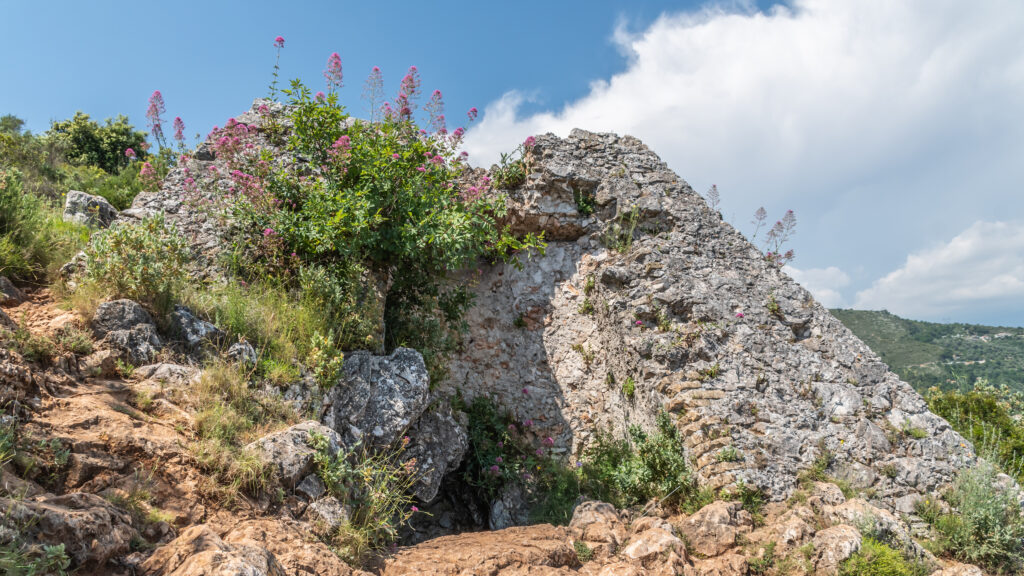 Part of the GR walking routes, Lou Camin Nissart starts from the grand Place Garibaldi and takes you for 42 kilometres to the must-see places in Nice. The loop takes you across the hills to spectacular viewpoints at Mont Vinaigrier and Mont Chauve. Along the way, you'll pass the Pyramid of Falicon monument created above a karstic cave. Finish the trip back on the promenade.
When only remote nature will do, hit the trails of the Mercantour National Park on a day trip from Nice. Choose from forested valley walks, mountain climbing and bike trails.
Savour Niçoise Treats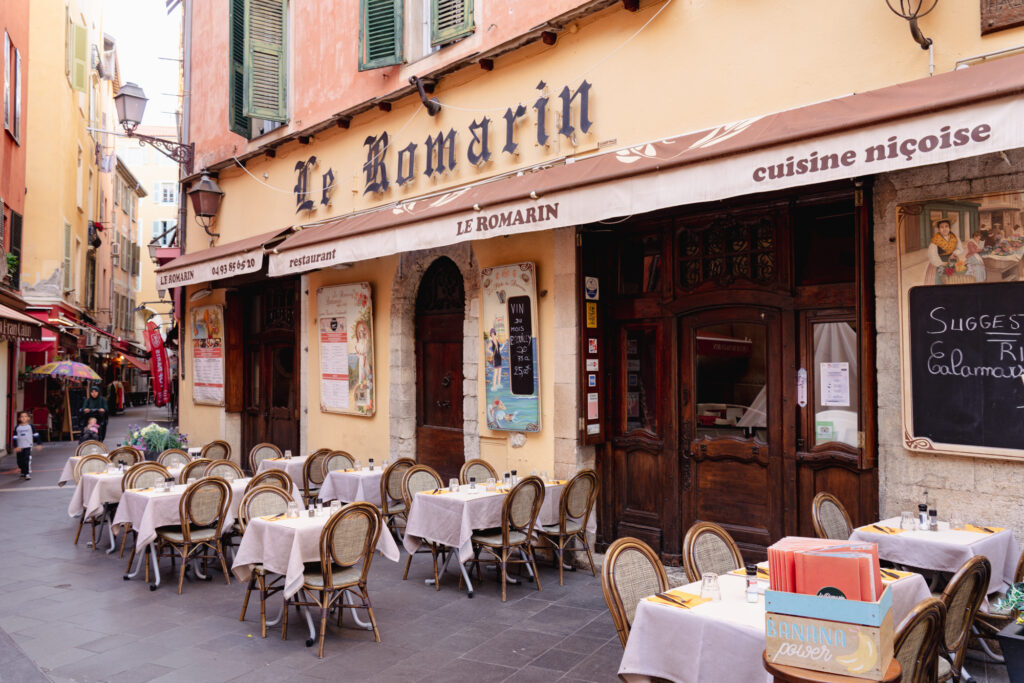 Scrumptious food pairs perfectly with fun things to do in Nice and you'll find something to tempt all taste buds. When you're out pounding the pavements, pick up street food snacks like pan bagnat – delicious, olive oil-soaked sandwiches stuffed with tuna, eggs and olives.
Try the crispy chickpea pancakes called socca and, of course, Niçoise salad in its place of origin. For your sweet tooth, ganses deep-fried pastries fix the craving as they melt in your mouth.
You never have to walk far along Promenade des Anglais to find beachfront bars and restaurants to enjoy with ocean views and a busker or two. Choose a people-watching spot around Cours Saleya or dine outside with fountain views in lively Place Rossetti. From here, it's a hop, skip and jump to a wealth of atmospheric venues to take you into the night.
Embark on Day Trips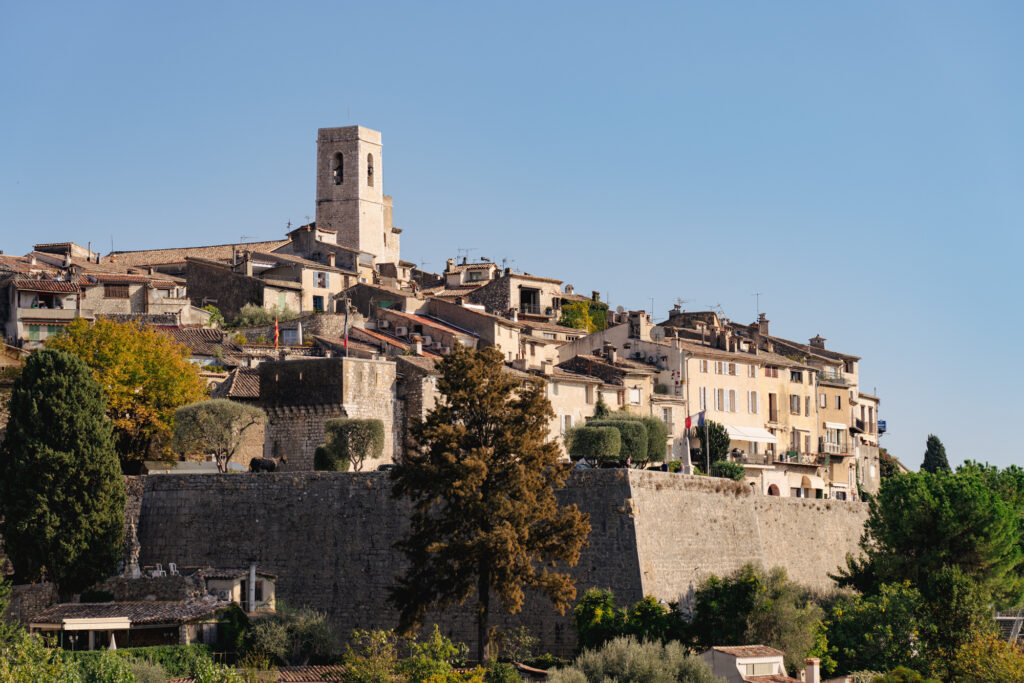 There's no doubt that fabulous Nice attractions keep you captivated. However, if you've got the time to go further afield, why not explore more of the Côte d'Azur? Of course, there's Monaco just a short train trip away. Discover the famous Grand Prix racetrack, gaze at superyachts in the marina and try your luck at the famous Monte Carlo Casino.
Stroll the cobblestone streets of Antibes and see what inspired creative minds like F Scott Fitzgerald and Claude Monet. Pop into the Picasso Museum and visit the star-shaped Fort Carré. For more artistic vibes, St-Paul de Vence is a hilltop, medieval village brimming with art galleries and charm. As if it could get any better, wonderful wines are produced here too.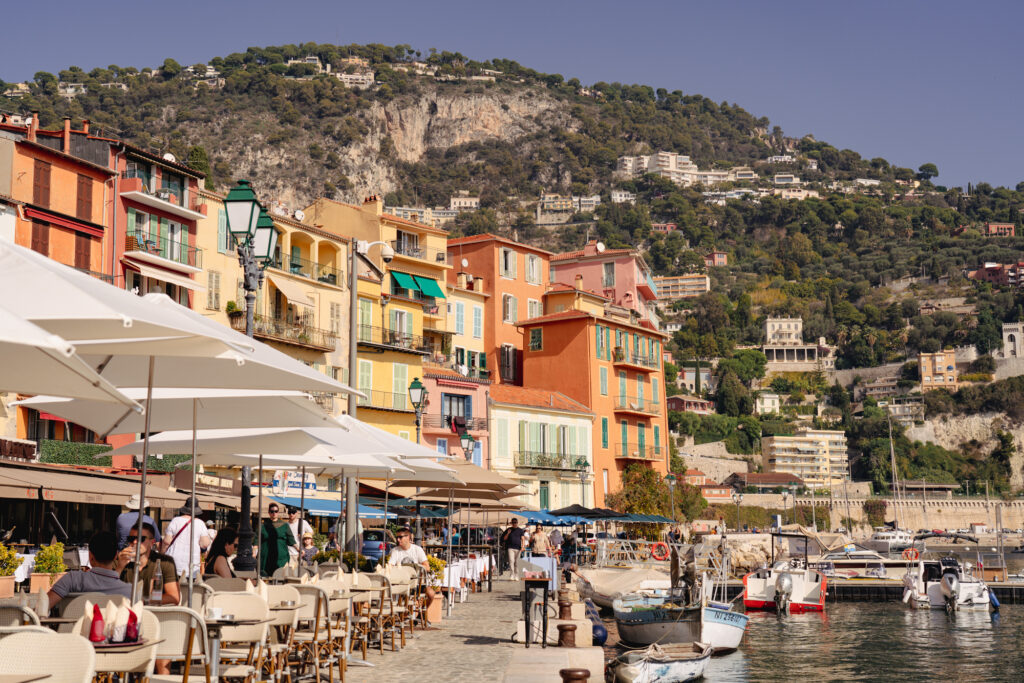 Just next door, Villefranche-sur-Mer dazzles with its seafront terraces, pastel façades, and baroque architecture. Cool off after exploring the steep laneways of the old town with a dip at the postcard-perfect Plage des Marinieres.
And then there's the celebrity playground of Cannes. Possibly the most popular day trip destination from Nice, the glitz and glamour oozes from couture shops and movie stars spotted on luxury yachts. Amble along La Croisette to explore the seafront and shop at designer boutiques as you go.
Sandy public beaches await for refreshing dips. But, you're in Cannes, so splash out on a sunbed and waiter service at one of the private stretches of plush hotels.
---
Best Time to Visit Nice
The shimmering shoreline is a major drawcard in the summer months, and July and August are without a doubt the busiest months to visit Nice. To take advantage of still summery temperatures and quieter streets, time your visit for the Autumn months of September or early October. Alternatively, beat the crowds and visit in Spring instead, when the flower markets are at their most spectacular.
While the sea might not be swimming temperature, the winter months are also stunning in the South of France. You'll often experience cool, clear days under bright blue skies. February also sees the annual Nice carnival – one of the most popular festivals in France.
In conclusion, there's no bad time to visit Nice!
Where to Stay in Nice
There are hotels in Nice to suit all styles and budgets. Here are our recommendations.
If staying in Nice with a car, Le Saint Paul is the perfect option. They offer free parking for the duration of your stay and it's plentiful too. But aside from that, the location right on the waterfront is sublime, and you're only a short stroll away from the Vieux Port and Castle Hill. This is where I stay when visiting Nice!
This Nice landmark doubles as a great place to stay in Nice, if your budget allows! The 5-star hotel is located right by the beach, and you're steps away from the Promenade des Anglais.
This is a good mid-range option if you want to be close to all Nice attractions. They offer several room layouts, including family rooms with bunk beds for the kids.
---
The top things to do in Nice revolve around indulgence, whether you're sipping a French spritz by the sea or delving into the famous works of Matisse. But, it's not all about glamour. There's a lovely local vibe at the colourful fresh produce markets and plenty of playgrounds, beaches and restaurants catering for children.
Best of all, the French Riviera is at your fingertips to explore this sun-kissed stretch of the Mediterranean to your heart's content.