When you combine twinkling Christmas decorations with snowflakes, fairytale castles and lantern-lit cobbled streets, enchantment is sure to follow. Europe in December is a travel treat like no other, offering a visual feast that also includes an astounding array of exciting adventures.
Have you always wanted to ride in a sleigh, snow ski down some of the world's most majestic mountains or shop 'till you drop at markets specifically designed for the season? You can.
In fact, if Santa is at the top of your December wish list, you can even pop in for a glimpse at his 'official' home. The best European countries to visit in December bring city delights under a blanket of snow, plenty of cosy places to dine on cinnamon pastries, festivals galore and a large dose of the Christmas cheer that makes this month extra special for travel.
---
Best European Cities to Visit in December
The only problem with the best places to go in Europe in December, is that there are so many to choose from! For snow, sparkling lights and Christmas markets, all of these destinations deliver the winter wonderlands you're looking for.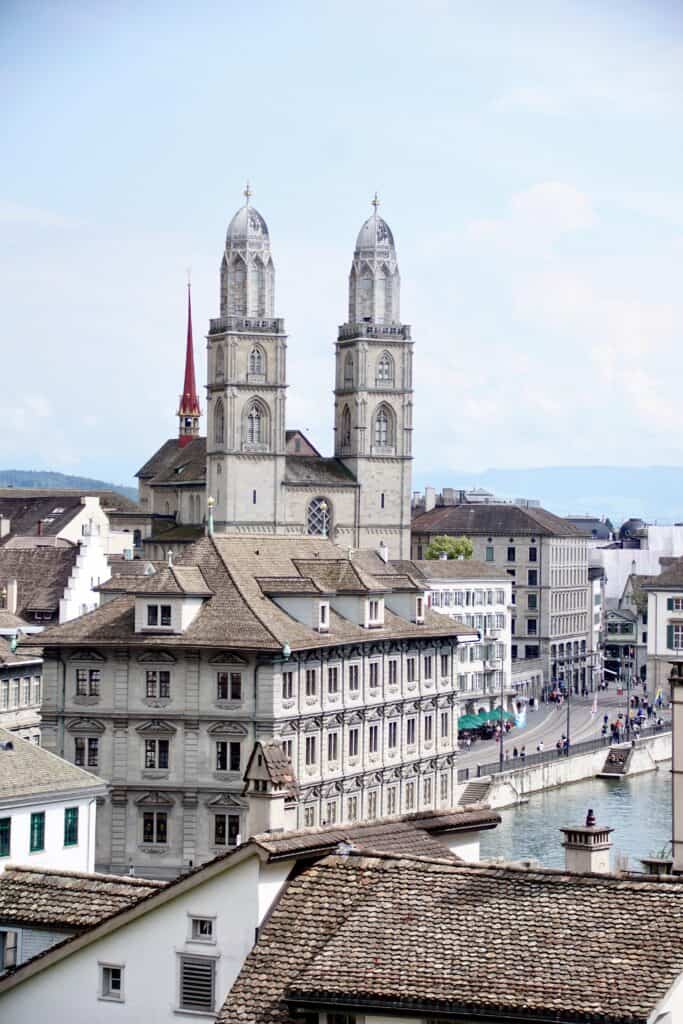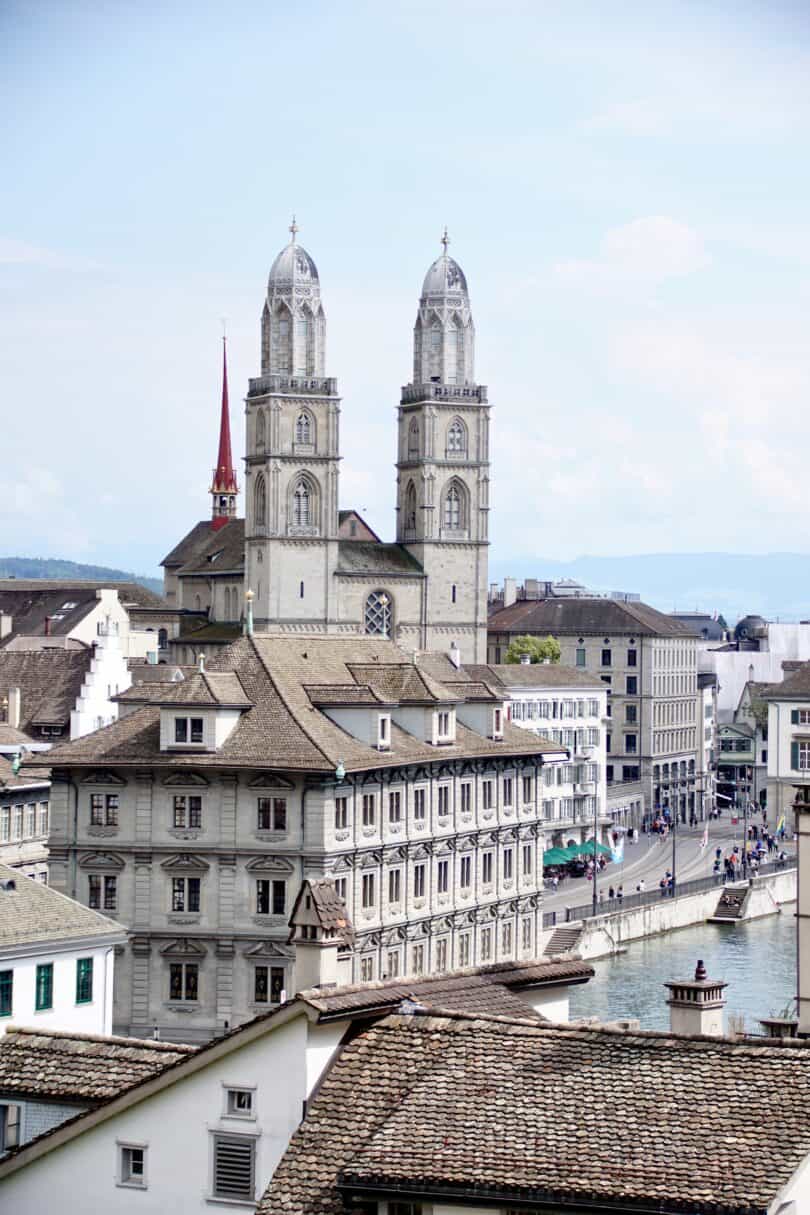 So, to pick one…or more, narrow the choices down by their proximity to ski fields, specific festivals or special events. Otherwise, you know what? December keeps coming around, so just aim to tick all of them off your bucket list.
ROVANIEMI, FINLAND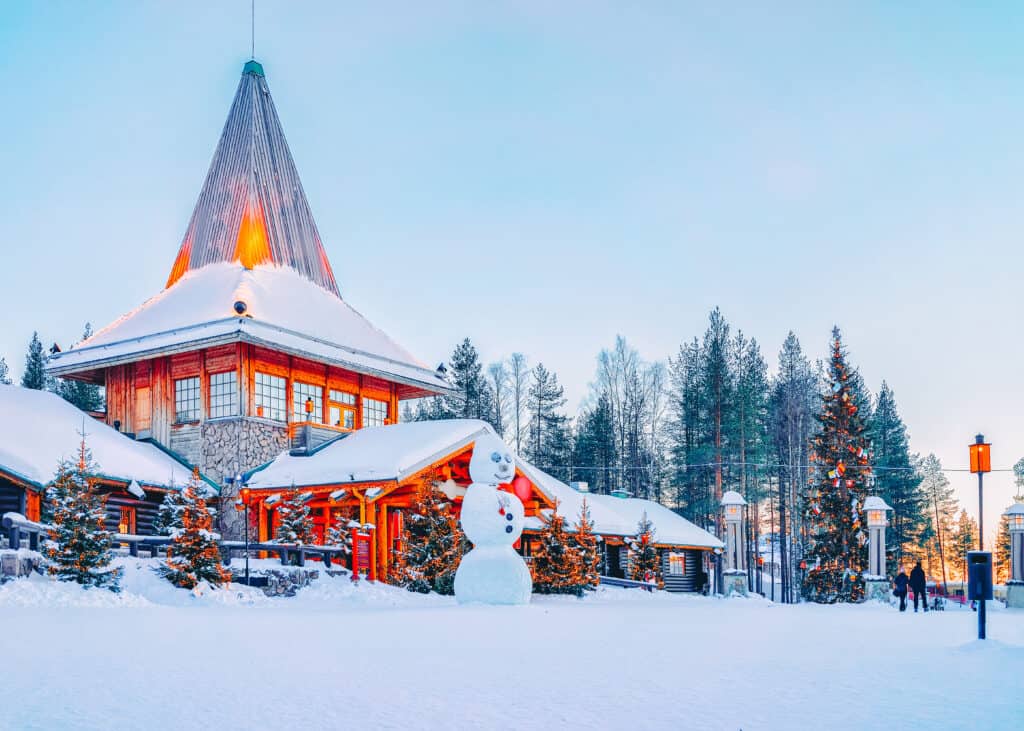 Of all the things to do in Europe in December, visiting Santa tops the Christmas spirit wish list. Rovaniemi, the capital of Lapland, is touted as the official home of the jolly gift-giver, with its Santa Claus Village that lies on the Arctic Circle. You can check out the Santa Claus Main Post Office and meet the man himself, however, there are plenty more winter activities on offer in Rovaniemi.
Visit Santa's reindeer, follow in the footsteps of elves in the Arctic Circle Hiking Area and stock up on sparkly Christmas treasures from local workshops. That's not all though, as the city itself is a vibrant hub of shops, restaurants and bars, along with Finnish cultural treats. Pop into the Arktikum museum and science centre and the Korundi House of Culture for fascinating insights.
Naturally, one can't leave Finland without indulging in a sauna experience, which is the perfect way to end a chilly day of exploration.
PRAGUE, CZECH REPUBLIC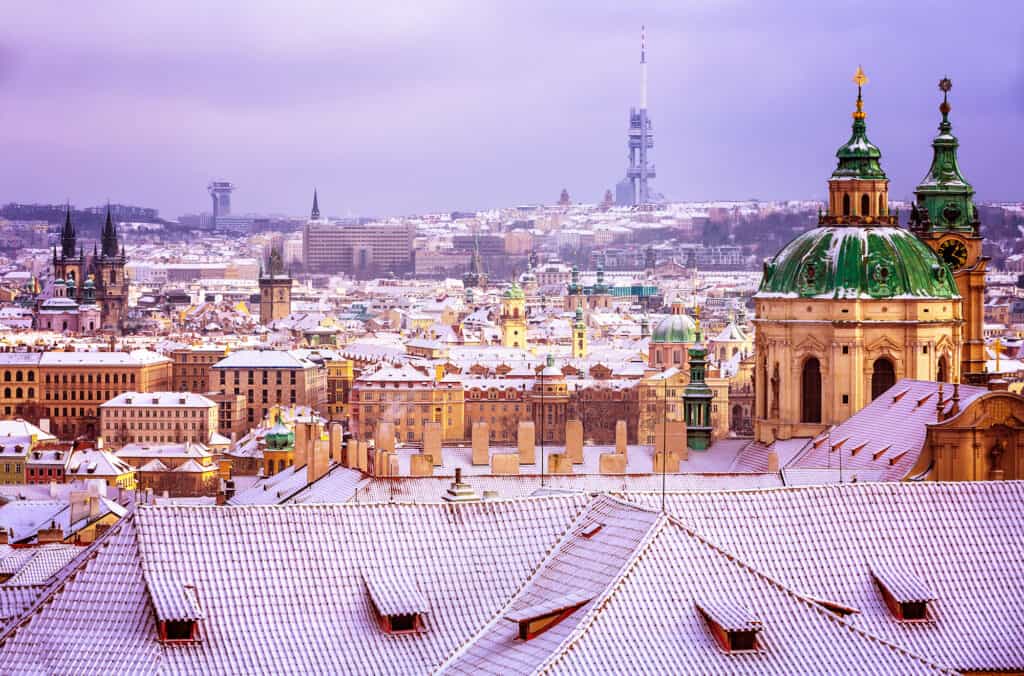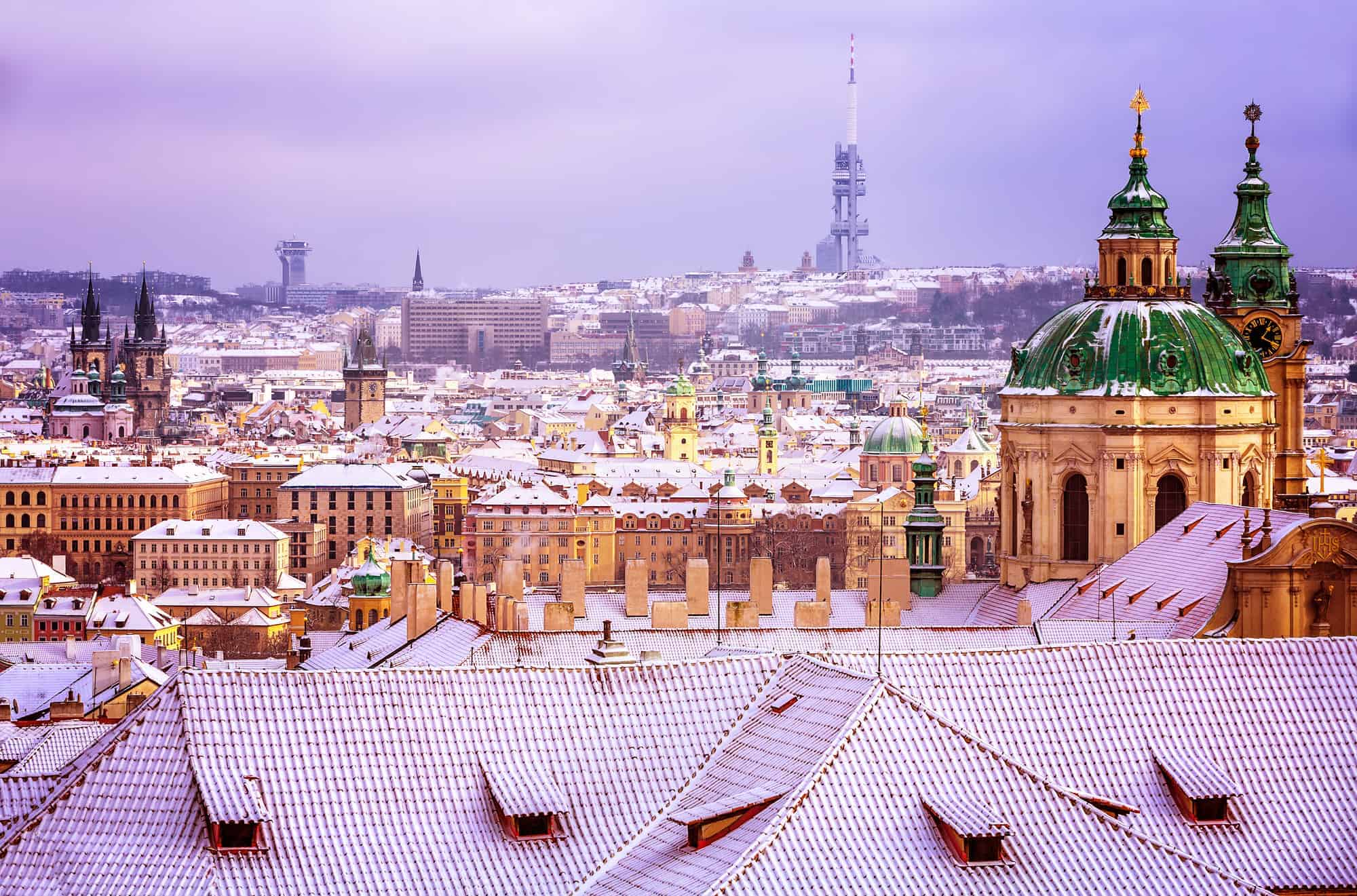 Topped in snow, Prague's skyline of enchanting spires dazzles the eye and captivates the imagination – not that it needs any help to do so. With majestic Prague Castle, the Gothic marvel of Charles Bridge and cobbled streets that twist and turn towards endless adventures, this is a city that rivals the most beautiful in the world. It's also one of the best Europe destinations in December to immerse yourself in glittering Christmas markets.
The Old Town Square is famous for the Prague Astronomical Clock and magical Týn Cathedral, which also happens to make the perfect backdrop for photos with the giant Christmas tree and charming markets housed in wooden huts.
Eat hot, sugar-coated pastries as you shop for local crafts, then wander over to Wenceslas Square for more, surrounded by modern shops, glitzy hotels and bars. Get your skates on at the ice skating rink at Ovocný Trh Square, before watching the yearly performance of The Nutcracker at the National Theatre.
Read more: Guide to Visiting Prague in Winter / Prague vs Vienna – Which City is Better for Visitors
COPENHAGEN, DENMARK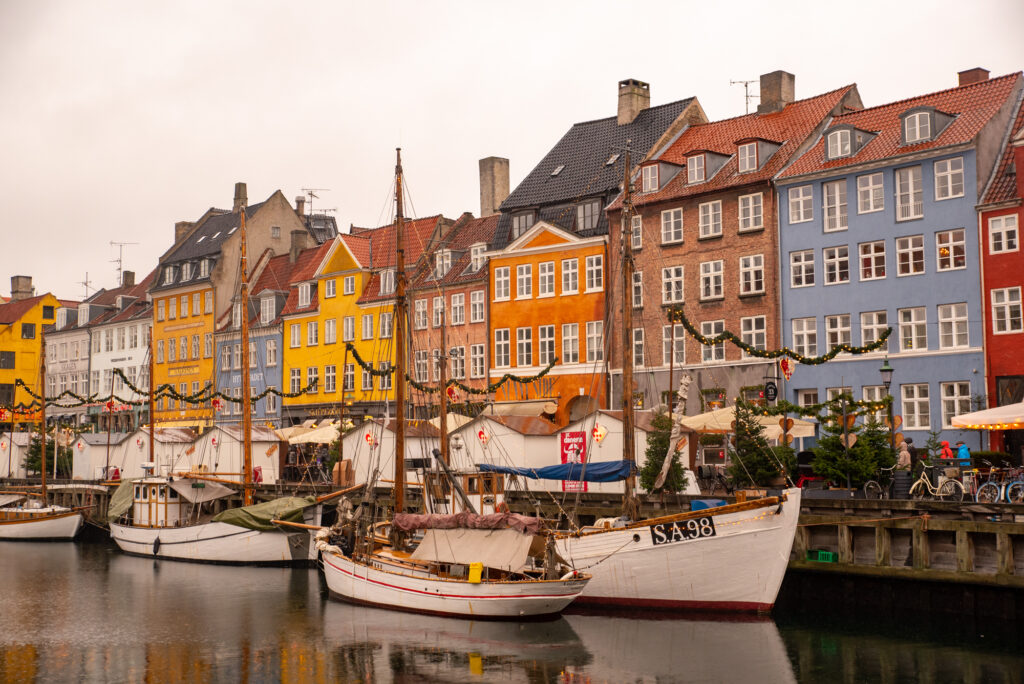 If you've ever wanted to truly immerse in the cosy Danish concept of hygge, then Copenhagen is one of the best places to visit in Europe during December. Hygge is all about warming up in picturesque cafes with hot mulled wine, mini pancakes and good conversation. However, that's after you've loaded up your shopping bags at the Nyhavn Christmas market, and within the elaborate decorations of the Kongens Nytorv market.
Frederiksberg Gardens transforms into a festive outdoor skating rink during winter, complete with enchanting lights by night. Speaking of lights though, it's the illumination of Tivoli Gardens that really makes a splash.
The ever-popular amusement park sincerely 'decks the halls' with an abundance of fairy-lit trees, spectacular decorations and market stalls to compete with roller coasters, virtual reality experiences and live music. Then, it's time to get back to one of those cosy cafes for hygge.
Read More: Copenhagen in December
BERLIN, GERMANY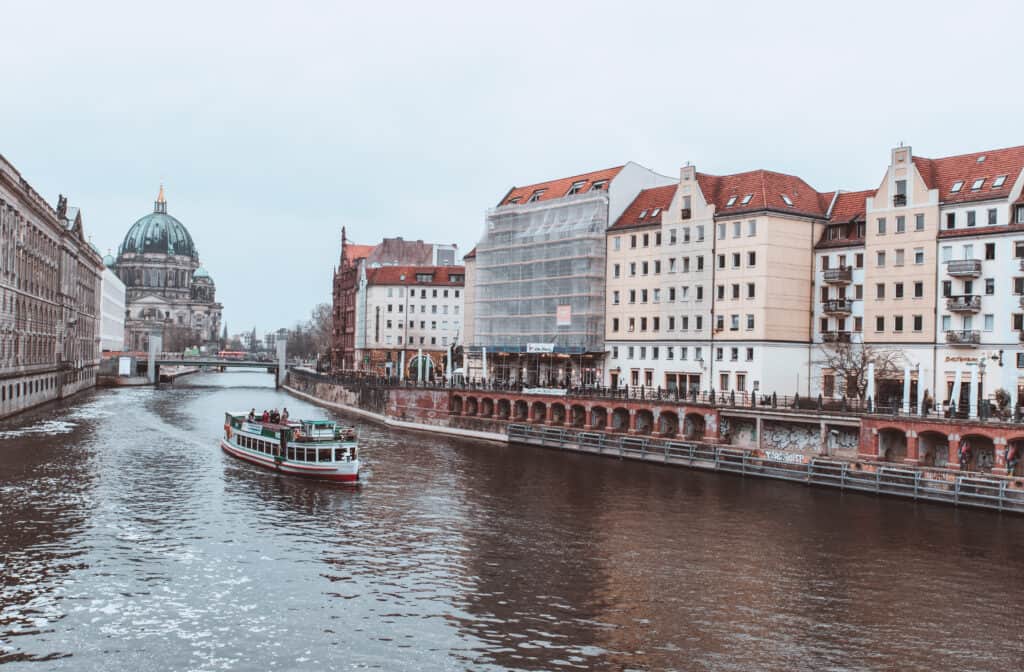 Berlin is one of the most famous places to go in Europe in December. Why? You can visit more than 70 Christmas markets. That's right, the city hosts cosy indoor markets, outdoor festivals with rides, nostalgic stores and seasonal cheer galore.
The largest market is in the old town of Spandau and the historic Gendarmenmarkt features unique stalls with glassblowers and origami art. Pick up some freshly roasted almonds and stroll around Opernpalais, to buy arts and crafts from across the globe.
Spend a long weekend in Berlin enjoying the winter sports on offer too. Ice skating rinks dot the city, however, toboggan runs are where the action's at, especially on the slopes of one of Berlin's highest hills, Teufelsberg.
Sink into indulgence at a luxury spa if you like, but, if you want to keep going there's no reason to stop. Berlin is known as a party town, along with a centre for performing arts, and the December events calendar is always an explosion of entertainment.
VIENNA, AUSTRIA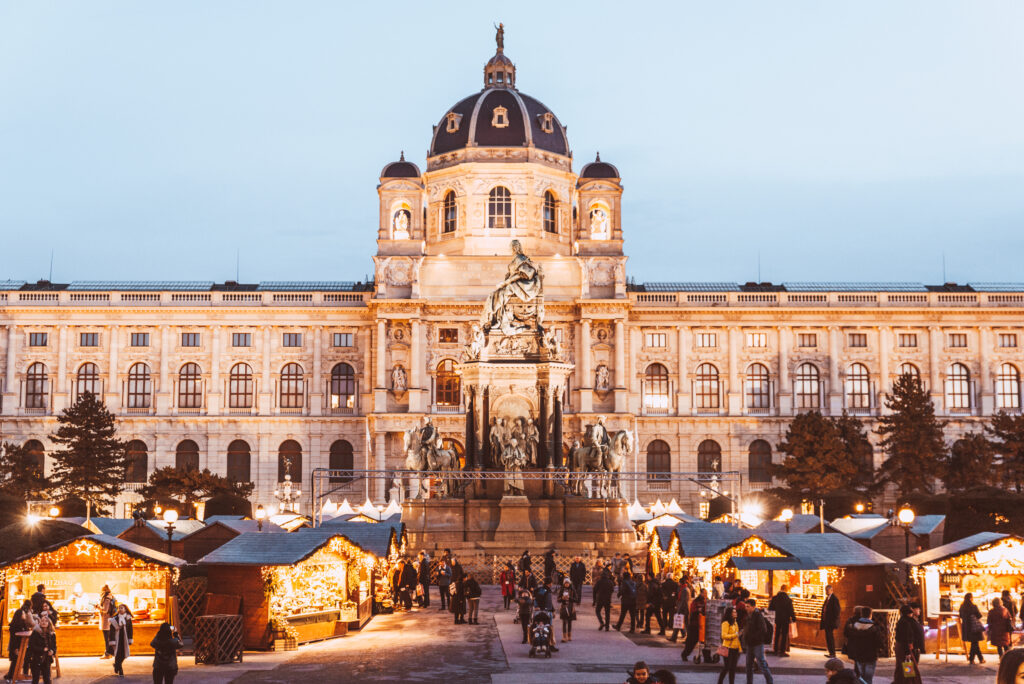 To combine skiing in Europe in December with lavish Christmas festivities, Vienna is a magical choice. You'll find great ski resorts just an hour or so from the city, such as Semmering and St. Corona. Once you've dusted the snow off, it's time to enjoy the 'City of Music' at its very best. From world-class classical concerts to art exhibits, ice rinks and bustling markets, be wary of slipping into an enchantment you'll never want to wake from.
Advent Magic turns the City Hall Square into a fairyland, with twinkling lights and decorations to go with Christmas workshops, a carousel, the smell of delicious Xmas treats, too many stores to know what to do with and an ice skating trail.
Concerts and traditional handicrafts highlight the romantic atmosphere at the market in front of majestic Schönbrunn Palace. If you want to fill your Europe trip in December with music, get set for everything from Advent concerts to musical galas, choirs and brass bands.
Read More: Best Vienna Christmas Markets and Prague vs Vienna
BRUGES, BELGIUM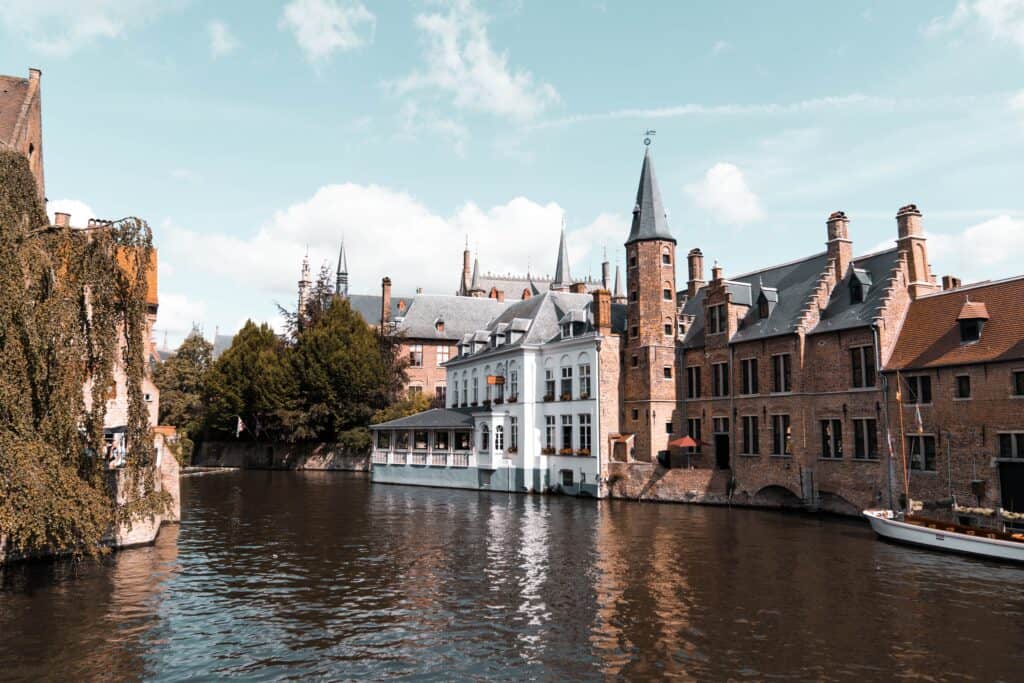 Do you love hot chocolate on a chilly day? You're going to love Bruges for your Europe vacation in December. Along with sipping warm brews around town, you'll nibble on Belgian waffles, gorge on chips covered in mayonnaise at Frite carts and go back to choosing chocolates that are among the most celebrated in the world.
Bruges is a walker's paradise, so no matter where you stumble onto the next foodie spot, you'll also run into Christmas cheer, as the entire town is transformed with it.
The Markt of Bruges hosts an illuminated ice rink surrounded by charming chalets filled with goodies to buy. Wander down any of the achingly pretty streets branching from the square and you'll find inviting shops filled to the brim with everything from antique trinkets to handmade gifts.
This is a place to get lost in the weaving streets and stroll along romantic canals, so don't be concerned if you lose your way. You're never too far from a trendy bar serving up famous Belgium beer. Or a chocolate shop.
OSLO, NORWAY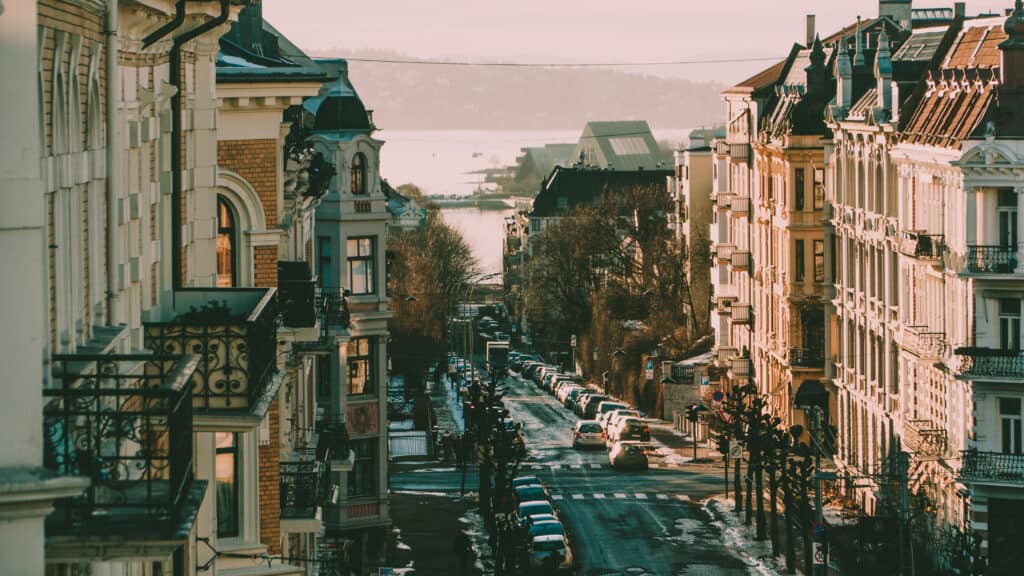 If you're looking for some of the best skiing in Europe in December, pack your snow gear for Oslo. Just 30 minutes from the city centre, Oslo Winter Park is one of the biggest terrain parks in Norway, with 18 slopes and 11 lifts. The action doesn't stop there though, with the 2,000-metre long Korketrekkeren toboggan run, cross-country trails at Oslo Ski Center and numerous spots for sledging wherever you may be.
The Spikersuppa Ice Skating rink is right in the middle of the city, near the Royal Palace. It's also a hub of Christmas cheer, with a Ferris wheel, traditional crafts for sale and plenty of laughter in the snow.
Visit Norsk Folkemuseum's annual Christmas fair to browse over a hundred stalls in the midst of historic exhibits. If the weather isn't particularly outdoorsy, heated indoor Christmas market tents cocoon you in a festive atmosphere, to eat gingerbread and drink hot cups of gløgg (mulled wine).
SALZBURG, AUSTRIA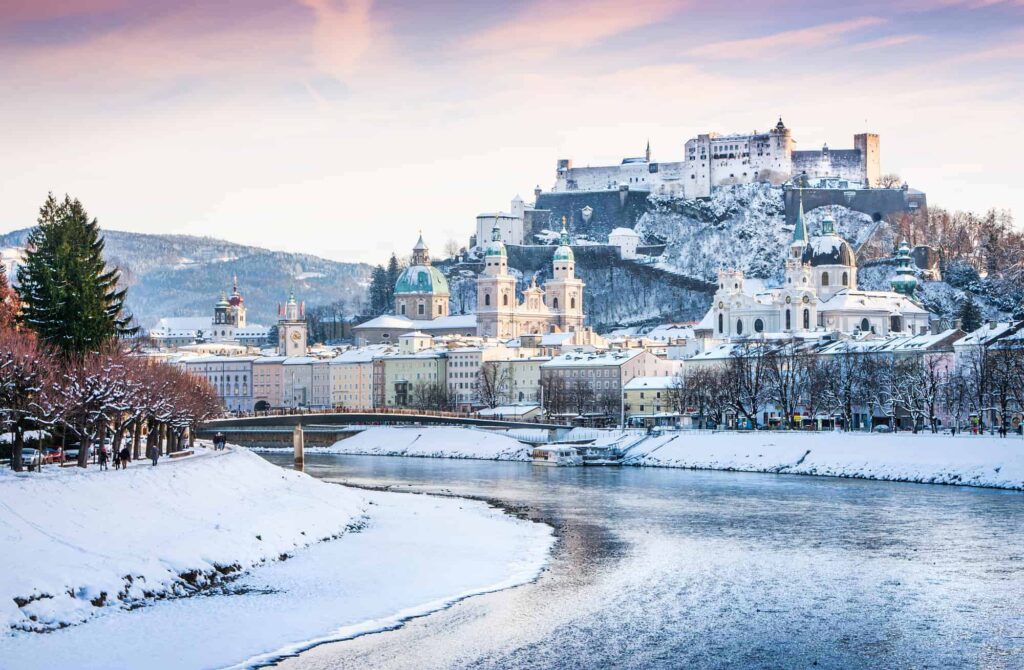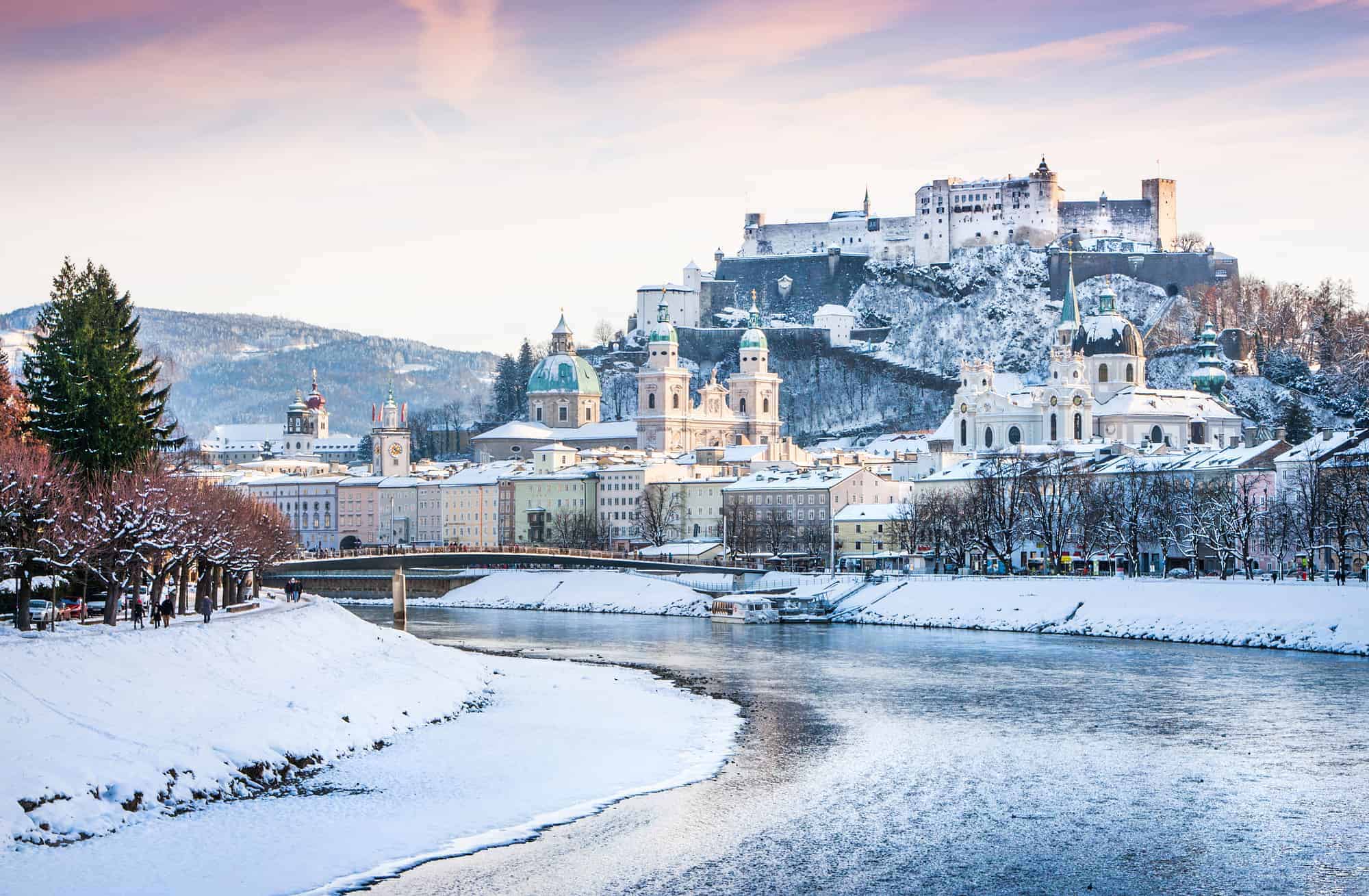 The stunning Advent season before Christmas makes Salzburg one of the best European cities in December. In terms of winter sports, you're spoilt for choice with opportunities for snowboarding, tobogganing, ice skating and hiking through winter wonderlands.
The famous Ski Amade region is easily accessible from Salzburg, with shuttle services from the airport and a winter bus service from the city.
However, it might be hard to leave the magical lanes of the city's historical district, along with the constant smell of cookies in the air. The Salzburger Christkindlmarkt is one of the world's oldest Advent markets and lights up the squares around the cathedral.
Choirs serenade visitors, along with traditional wind music and sing-alongs, as befits the city that brought 'Silent Night' to the world. Don't miss out on seeing a traditional – and slightly eerie – Krampus and Perchten parade, featuring wild characters that are said to scare away the dark spirits of winter.
Read More: Winter in Salzburg
ZURICH, SWITZERLAND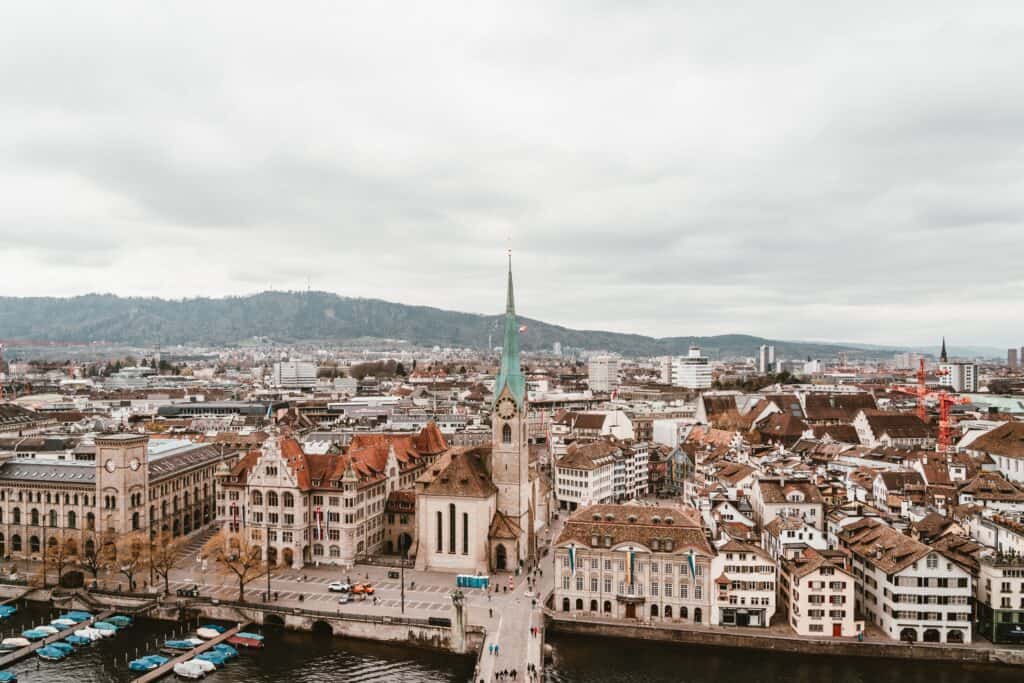 Do you fancy the chance to feast on fondue, watch incredible light shows and see a Christmas tree decorated with 7,000 Swarovski crystals? You've just discovered which European city to visit in December.
Christmas is larger than life in Zurich and one of the main highlights is the indoor Christmas market at the Main Train Station. It's one of the largest of its kind in Europe and houses the 50-foot tall Swarovski tree, along with 150 stalls and the irresistible smell of cinnamon in the air.
If you have any time leftover from shopping and eating fondue, pop a range of amazing events on your itinerary. For the whole month, the inner courtyard of the National Museum hosts a spectacular, interactive light show called Illuminarium and the Christmas market at Werdmühleplatz features the Singing Christmas Tree.
There's even a Christmas circus, The Circus Conelli, with top acrobatic, comedy and musical performances. And that's not even mentioning the usual array of activities in Zurich!
Read More: Guide to Visiting Zurich in Winter
BUDAPEST, HUNGARY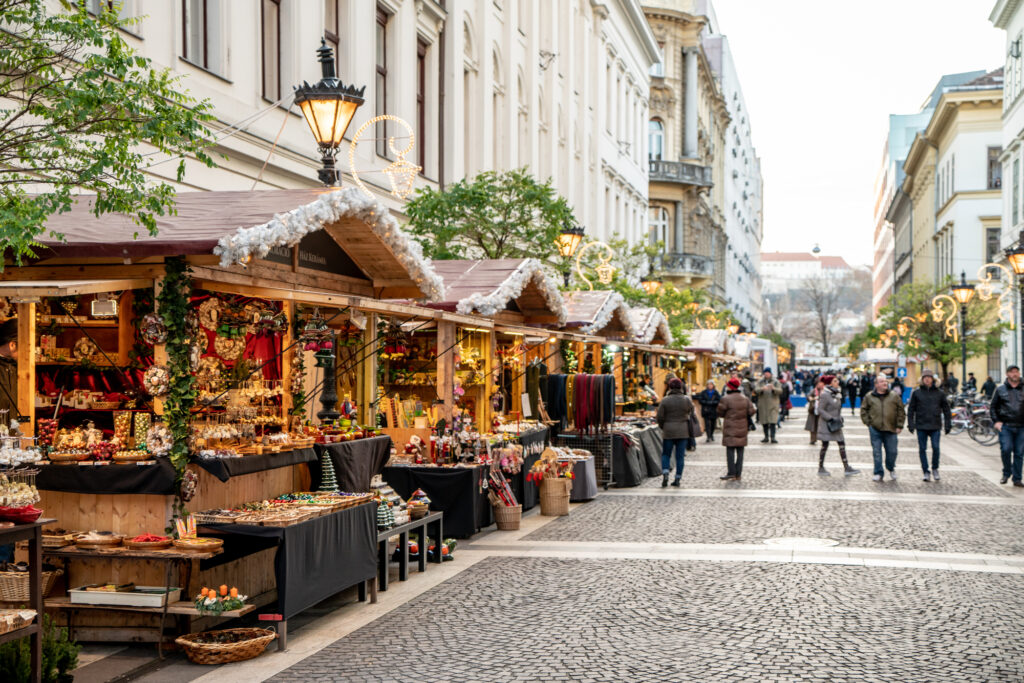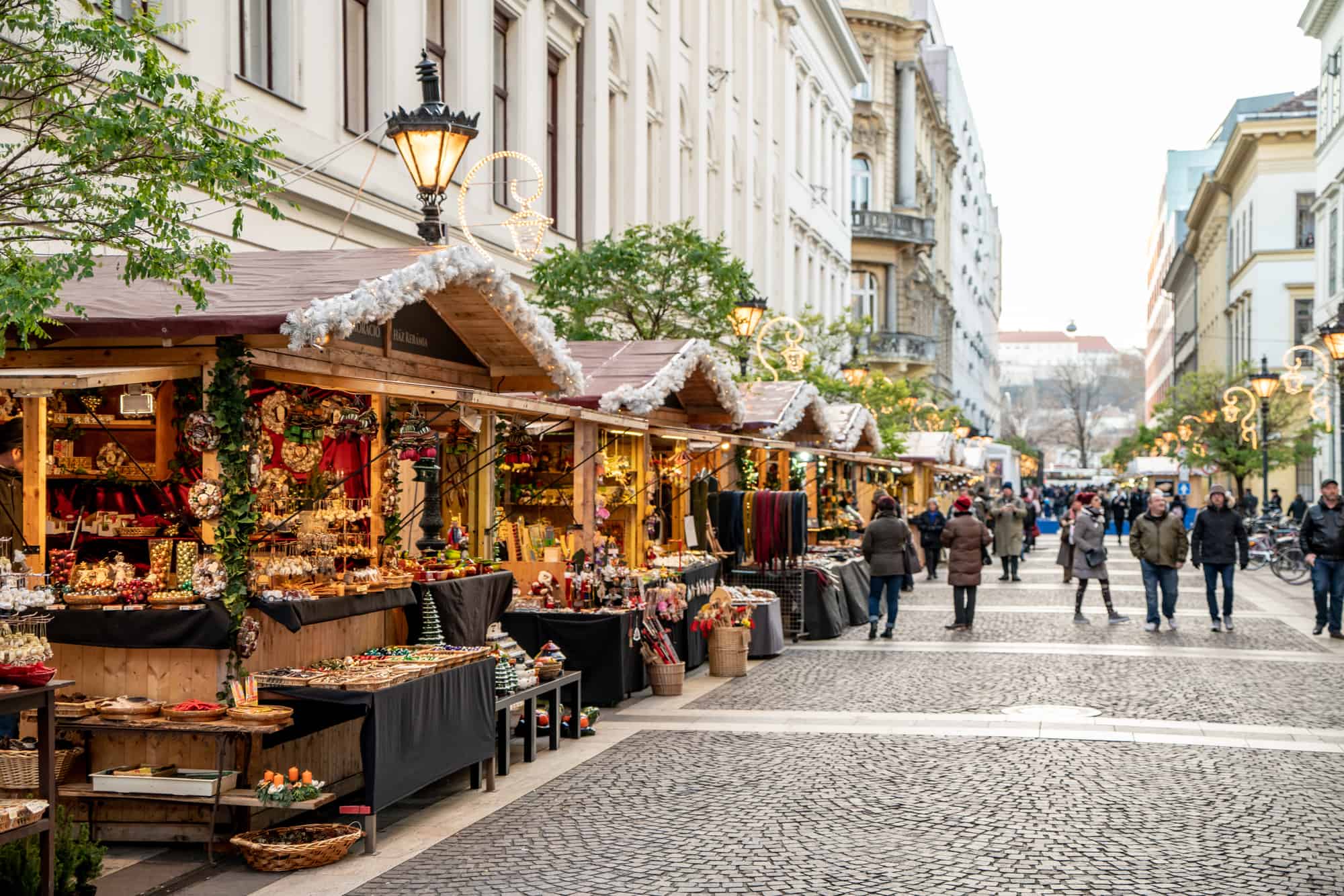 With thermal baths, scenic boat cruises and magically lit streets, Budapest is one of the most romantic places for a December holiday in Europe. Just strolling through the old town is enough to put you in the mood for love, not to mention the dazzling array of atmospheric restaurants, bars and cafes for champagne and rich Hungarian cuisine.
Even the trams light up each evening in winter, to take you around town in fairytale style. And, if it's shopping you're looking for, markets and famous retail streets could keep you pounding the pavements the whole time.
Vörösmarty Square is home to the most spectacular Christmas market, with crafts, goulash, grilled sausages and scrumptious Chimney Cake on display, simply waiting to be washed down with hot, spicy drinks.
The Hungarian State Opera House features the Nutcracker Ballet each year, while Hungarian folk concerts and classical musicians grace stages across the city. Spending your honeymoon in Europe in December? Nothing says romance like a cruise on the magical Danube River.
---
Tips for Travelling to Europe in December
There's no doubt about it, the weather in Europe in December is going to be cold and possibly snow-sprinkled across the best places to visit. However, that's the beauty of it, because you can't have a white Christmas without the snow! With a few simple tips, you'll reap all the rewards without a hitch.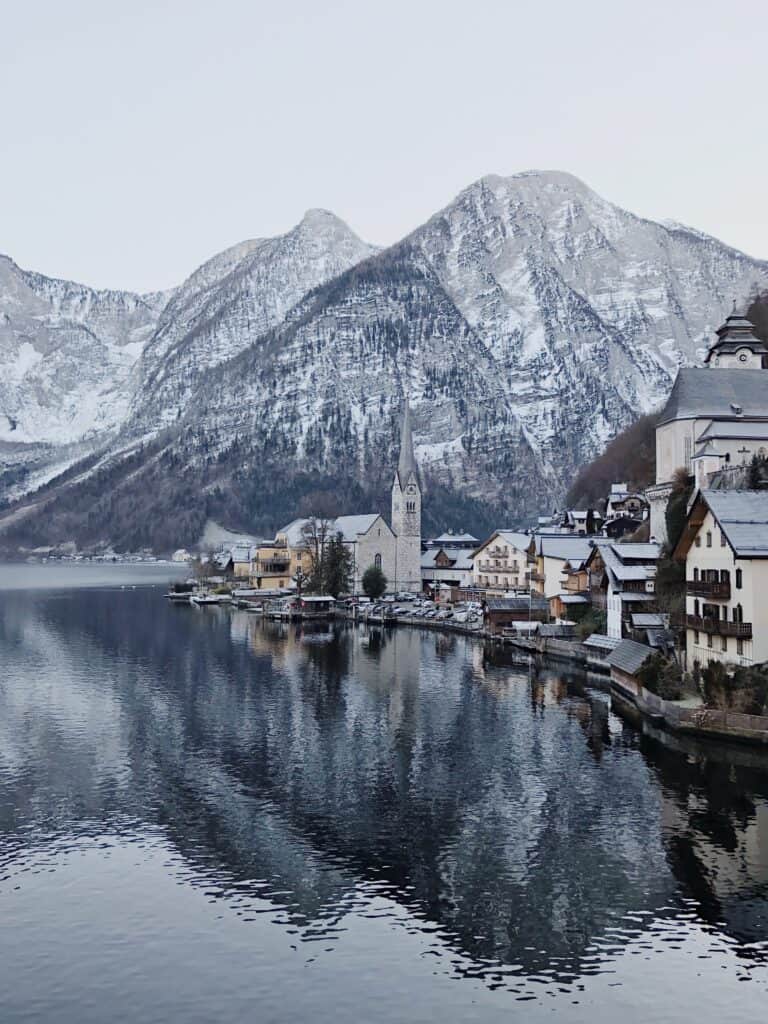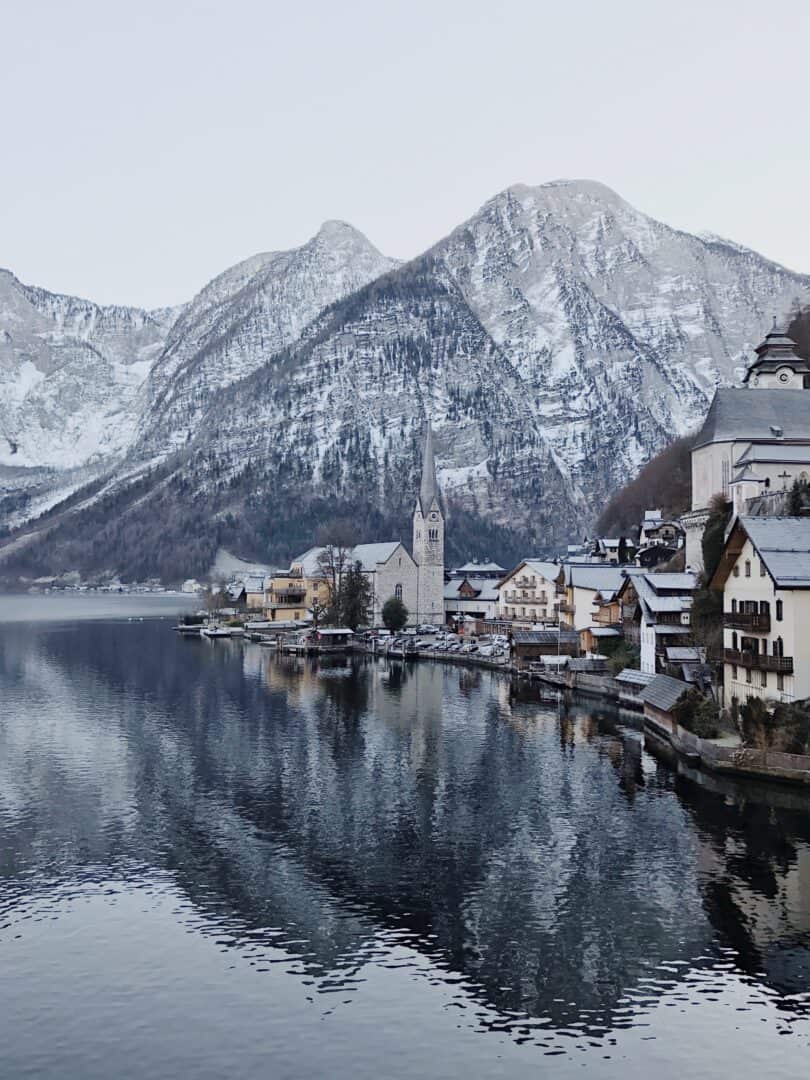 1. Limit your luggage
It's really tempting to over-pack for a winter holiday, however, you'll probably regret it when you're wheeling a gigantic suitcase over a slippery, snowy pathway while struggling to hold an umbrella. Do yourself a favour, and pack lightly.
2. Wear layers
Wondering what to wear in Europe in December? No matter where you go for the day, chances are it'll be really cold outside and very warm inside. Pack just one really warm coat to save space in your suitcase and light layers to add or discard as needed.
3. Take practical accessories
Hats, gloves and scarves are all handy items to have for travel in Europe in December. Best of all, they make it easy to stay warm outside and reduce layers inside. Simply tuck them into your travel purse when entering a cosy store. As for shoes, it's practicality all the way for snow, ice and slippery surfaces.
4. Thermal underwear is your friend
It might not be the most attractive look, but thermal underwear really does come into its own while travelling in Europe in December. It's great for layering, as all you usually need is thermal underwear, another light layer of a jumper and pants, and your warm coat.
5. Catch the train
Europe is fantastic for road trips. However, if you're at all concerned about driving in unpredictable winter weather conditions, make use of the very efficient rail network instead.
---
---
Can you smell that cinnamon-infused air and feel the snowflakes on your cheeks already? From winter wonderlands to sparkling markets, ski slopes and fairytale streetscapes, Europe travel in December is an enchanting experience you might just find you can't get enough of.
Pin this for later!