With its famous spires dusted in snow and Christmas lights twinkling across cobbled alleyways, winter in Prague never fails to enchant. Rug up and stroll across romantic Charles Bridge without the crowds, and get cosy with beer and goulash in atmospheric jazz bars. From the hilltop Prague Castle to the mighty Vltava River and Art Nouveau architecture, you'll step into storybook scenes around every corner.
Performances of the Nutcracker, ice skating rinks, and the Old Town Square's magical Christmas markets are just a tantalising taste of Prague attractions in winter. However, the Czech Republic's capital is a city made for simply losing yourself in medieval streets and stumbling upon surprise after alluring surprise.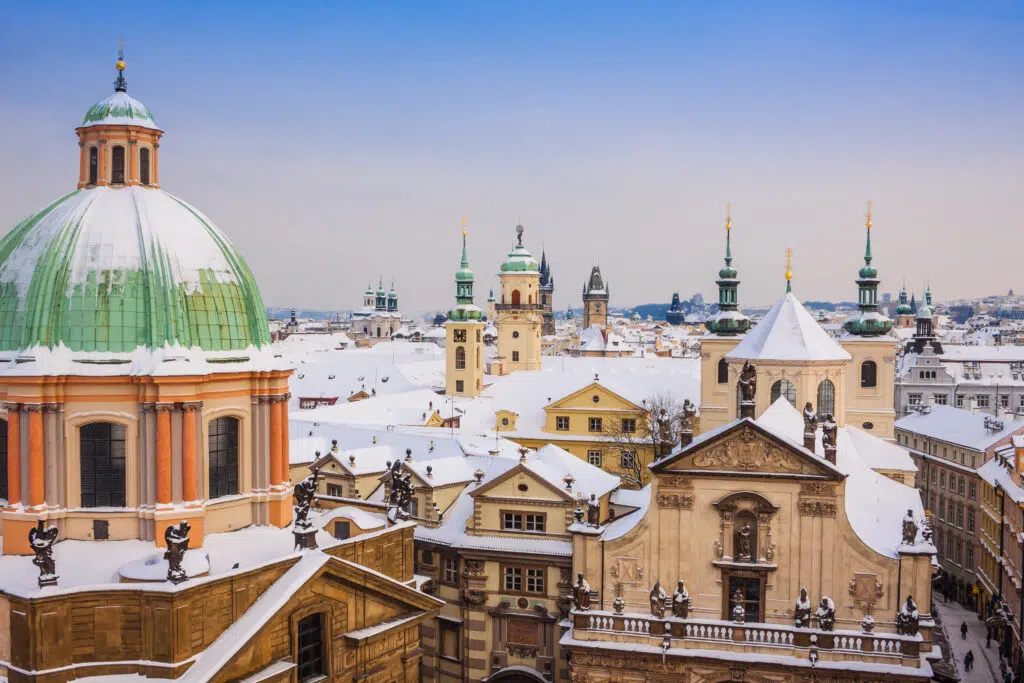 ---
Prague Winter Weather
Wondering what to pack for Prague? Layers are best, as though it's certainly chilly outside, you'll feel warm and cosy in the city's atmospheric shops, museums, and restaurants. Here's a rundown on Prague winter temperatures.
Prague in December
You've got a great chance of experiencing a white Christmas when visiting Prague in December. Snowfall usually increases towards the end of the month, with daily highs of around 2°C and evening lows of about -2°C.
Prague in January
January is Prague's coldest month, with high temperatures of approximately 0°C and lows of around -4°C. There's not much rainfall, but you can expect plenty of snow.
Prague in February
January's cold temps blend into the beginning of February. Towards the end of the month, sunlight increases and temperatures start warming up to highs of about 9°C.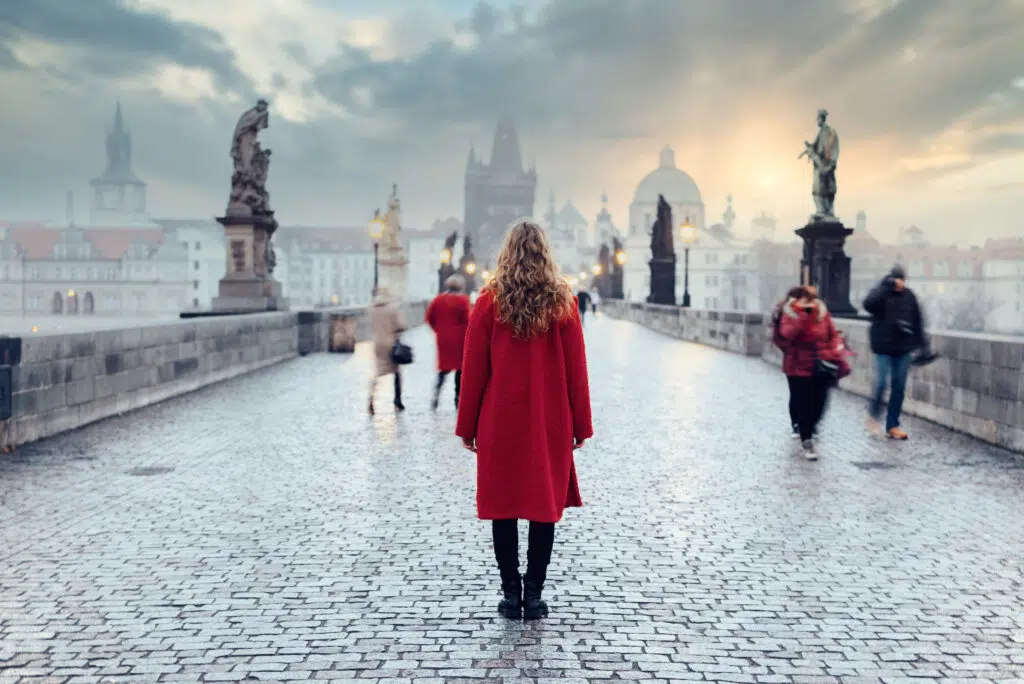 ---
Best Things to do in Prague in Winter
Rather than wonder what to do in Prague in winter, the question is how to fit everything in! The city has a fantastic system of buses, trams and metros to get around. However, this is a walker's paradise and you'll find many of the main attractions on foot. Just remember to pack your comfortable shoes for those cobblestones.
Explore the Old Town Square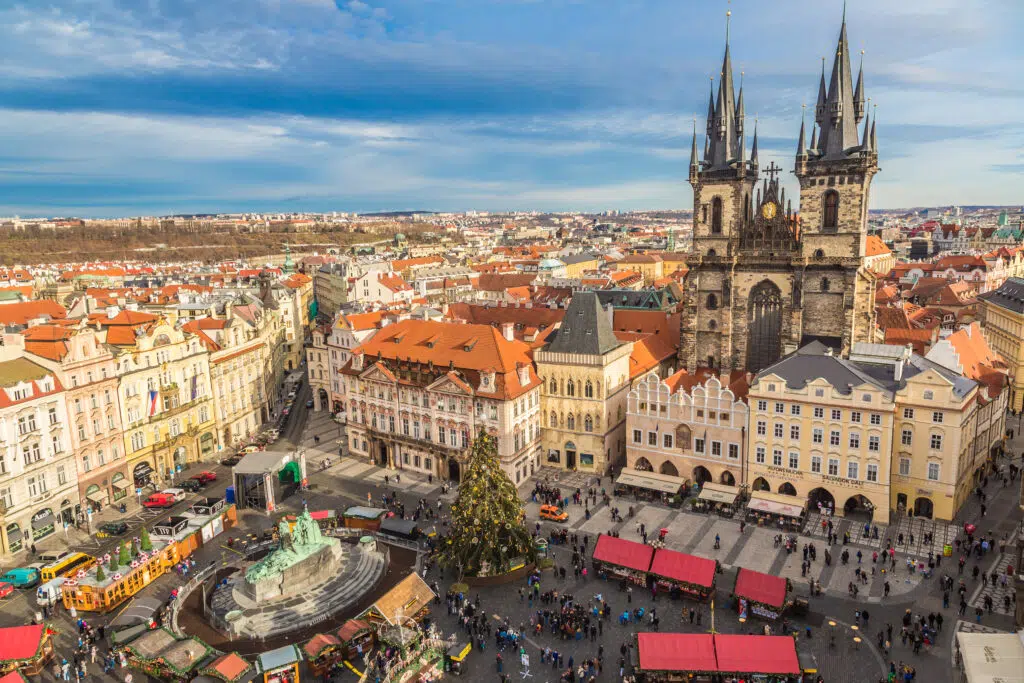 One of the best areas to stay in Prague in winter is around the incredibly atmospheric Old Town Square in Stare Mesto. Founded in the 12th century and crowned by the Gothic spires of the Church of Our Lady before Tyn, it's the vibrant heart of the city.
Settle in at a restaurant to soak up the architectural fantasyland, which features a giant Christmas tree, red-roofed market stalls, and glittering lights from late November until early January.
Watch the procession of the Twelve Apostles as the Astronomical Clock strikes every hour at the Old Town Hall. Then, ride the elevator to the top for panoramic views. Admire the Baroque Church of St Nicholas and pop inside to see beautiful ceiling frescoes.
Boasting an elaborate, pink-tinged Rococo facade, the Kinsky Palace houses a branch of the National Gallery. Other architectural highlights include the House at the Minute and the Stone Bell House, so expect to wander aimlessly in awe!
Popular attractions & Tours in Prague Old Town Square:
Enjoy Christmas Markets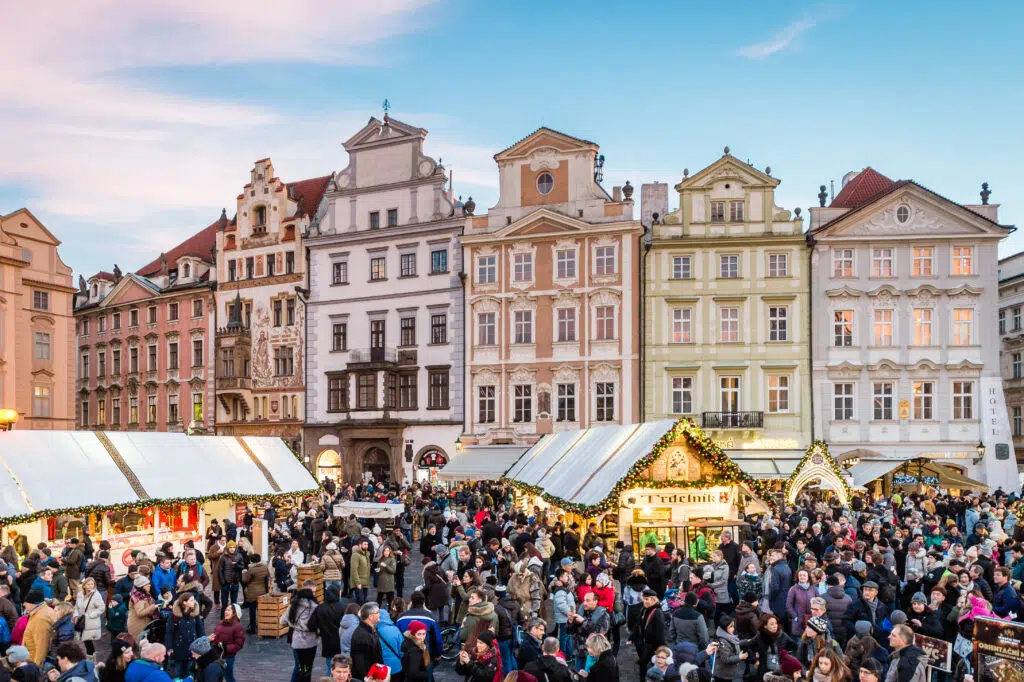 A whimsical Prague winter wonderland awaits at the country's largest Christmas market in the Old Town Square. Trinkets sparkle from quaint wooden chalets, freshly baked pastries tempt at every turn and steam from mulled wine drifts high towards the fairy lights. You'll see local craftsmen showcasing their skills while various choirs sing up a Czech Christmas carol storm. Get there before sunset to see the tree lighting ceremony.
Take a short stroll to Wenceslas Square for more, with quaint craft stalls resting among spectacular light displays. For a truly authentic experience, head to the Vinohrady district and the Peace Square Market for candles, Advent calendars, and wooden toys. Even Prague Castle offers markets, with a couple of locations to make the most of stunning views over the city as you shop, sip and eat.
Go Ice Skating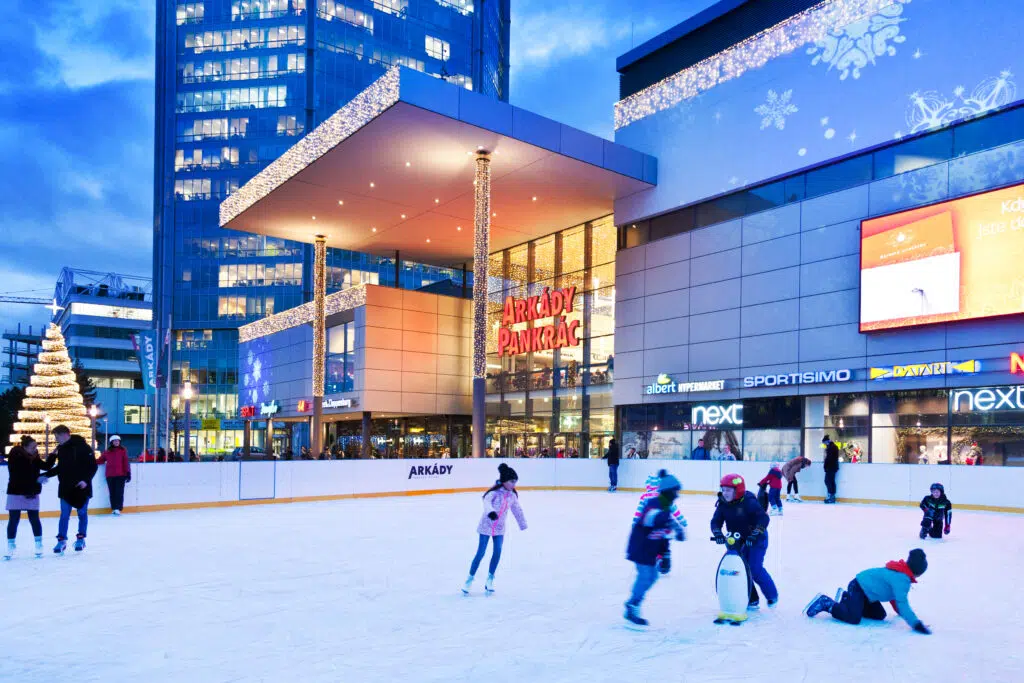 Ready to launch into Prague winter activities to warm up and join in with a beloved tradition? The city hosts a range of ice skating rinks on postcard-pretty backdrops. In the Old Town, check out views of the Estates Theatre from the Ovocny trh rink or skate at Na Frantisku near the river.
One of the most interesting is the Tower Ice Park beneath the iconic Zizkov TV Tower. Galerie Harfa is a shopping centre in Vysocany with a free ice rink on the roof. If you'd rather zip around the ice indoors, strap on your skates at Ice Arena Letnany or the Exhibition Grounds Holesovice.
Museum and Gallery-Hop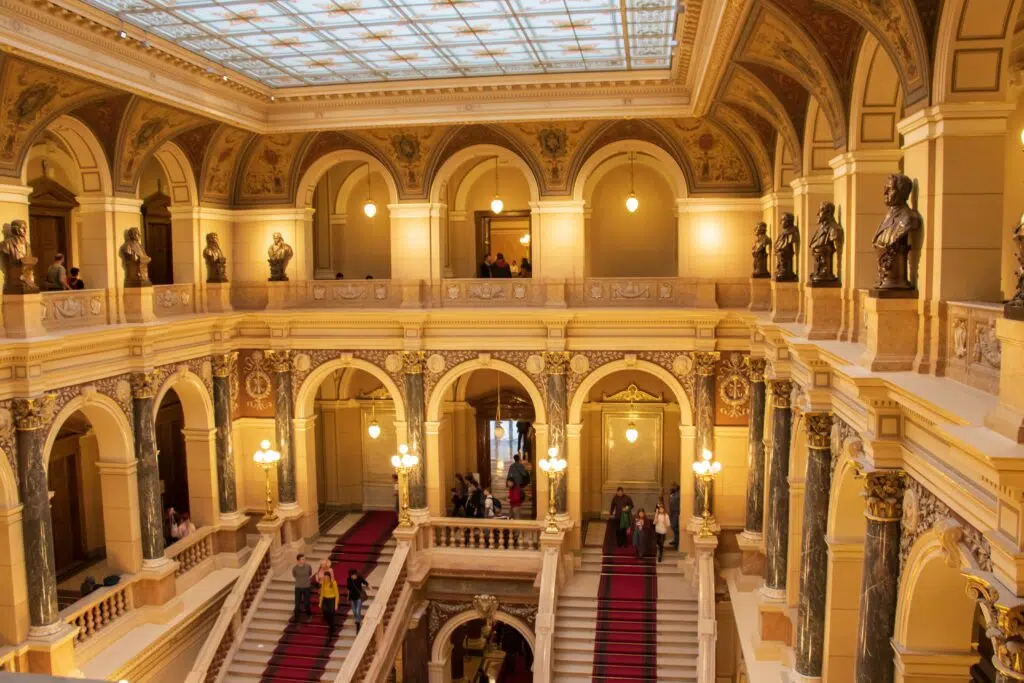 If you're a culture vulture, fill your Prague winter itinerary with fascinating museum visits. You'll see letters, photos, diaries, and original manuscripts at the Franz Kafka Museum, showcasing the famous Prague-born writer's life. With a school classroom, an interrogation room, and propaganda, the Museum of Communism offers insight into post-World War II life.
The Prague National Gallery features Czech and international works of art at numerous locations, including the Schwarzenberg Palace and the Trade Fair Palace. Head to the Kampa Museum for modern art, and the Museum of Public Transport to see old horse-drawn buses and train dining cars. There are many quirky sides to Prague and you'll find one of them at the world's only Sex Machines Museum.
Book your Museum Tickets and Tours here:
Catch a Seasonal Show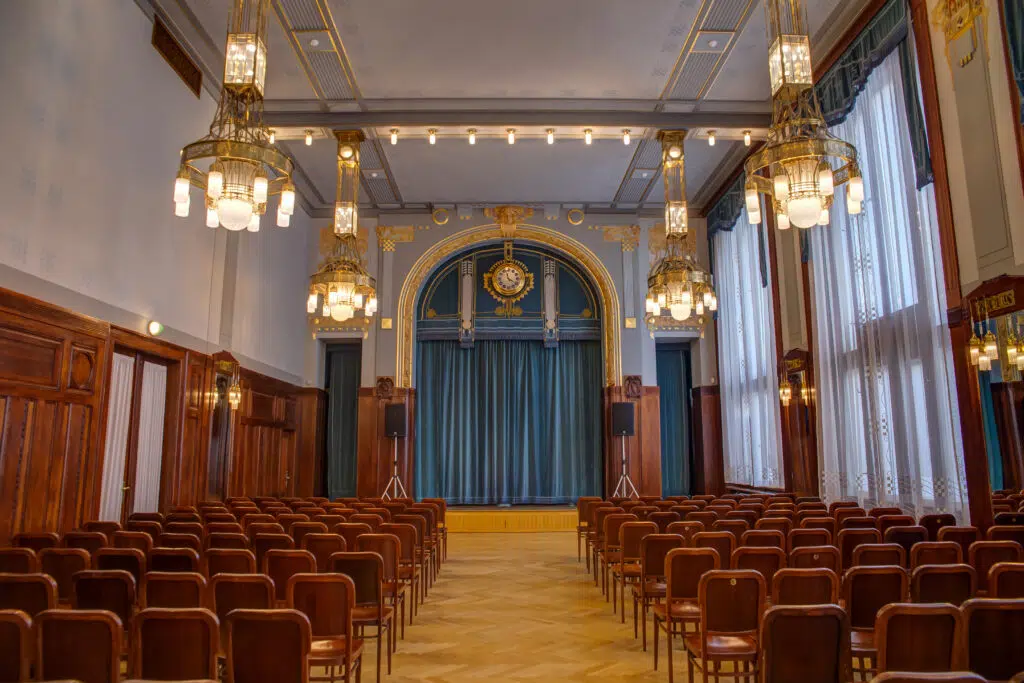 From street musicians to jazz bands in pubs and classical music concerts, a Prague winter is always a musical one. Mozart premiered and conducted Don Giovanni here, and it's the birthplace of Bedrich Smetana, Antoni Dvorak and Leos Janacek. While performances are a year-round treat, you'll find plenty of special Christmas concerts, like The Nutcracker at the National Theatre.
Check the schedule at the majestic Smetana Concert Hall at the Municipal House for orchestras, operas and gala concerts. Lobkowicz Palace at Prague Castle features daily classical performances and the Klementinum Mirror Chapel hosts chamber classical music in opulent surroundings.
If you're visiting Prague for New Year's Eve, get set for fireworks, jazz cruises, and live music across the city's vibrant venues.
Book Your Theatre Experience here:
Visit Prague Castle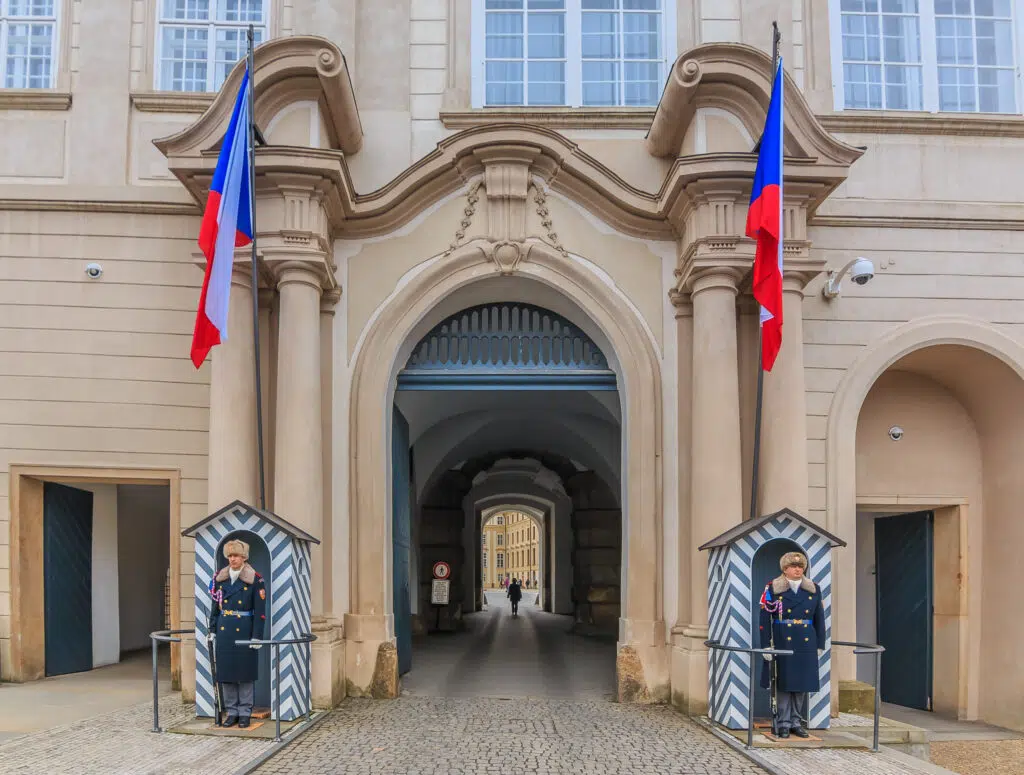 Prague Castle in winter is often draped in snow and attracts fewer crowds, so it's an extra special time to visit the world's largest ancient castle complex. With an area that's bigger than seven football fields, leave a better part of a day to stroll the romantic streets of Mala Strana before exploring the city's top attraction. The UNESCO-listed site is a wonderland of palaces, cathedrals, towers, gatehouses, gardens, and cultural treasures.
You'll see the Old Royal Palace, the original of which dated back to the 9th century. Now, it's home to the magnificent Vladislav Hall and the Riders' Staircase that once allowed knights to enter on horseback. St Vitus Cathedral holds a 14th-century mosaic of the Last Judgement and the colourful medieval buildings on the Golden Lane were goldsmiths' shops. Be at the first courtyard to see the Changing of the Guard at noon each day.
Prague Castle Entry Tickets & Tours:
Discover the Jewish Quarter
With a shocking history, a maze of lanes, and incredibly beautiful buildings, Josefov is one of the top places to visit in Prague in winter. The Jewish Quarter has seen horror across the years and the museum now stands as a symbol of survival. It consists of monuments including the Maisel Synagogue, the Pinkas Synagogue, the Spanish Synagogue, the Klaus Synagogue, and the Ceremonial Hall.
The Old Jewish Cemetery is an evocative reminder and Europe's oldest surviving Jewish cemetery. Around 12,000 stones jumble together atop approximately 100,000 graves. You'll also see a plaque marking the birthplace of Franz Kafka, along with the 13th-century, Gothic Old-New Synagogue.
Popular Tours of the Jewish Quarter:
Shop Till you Drop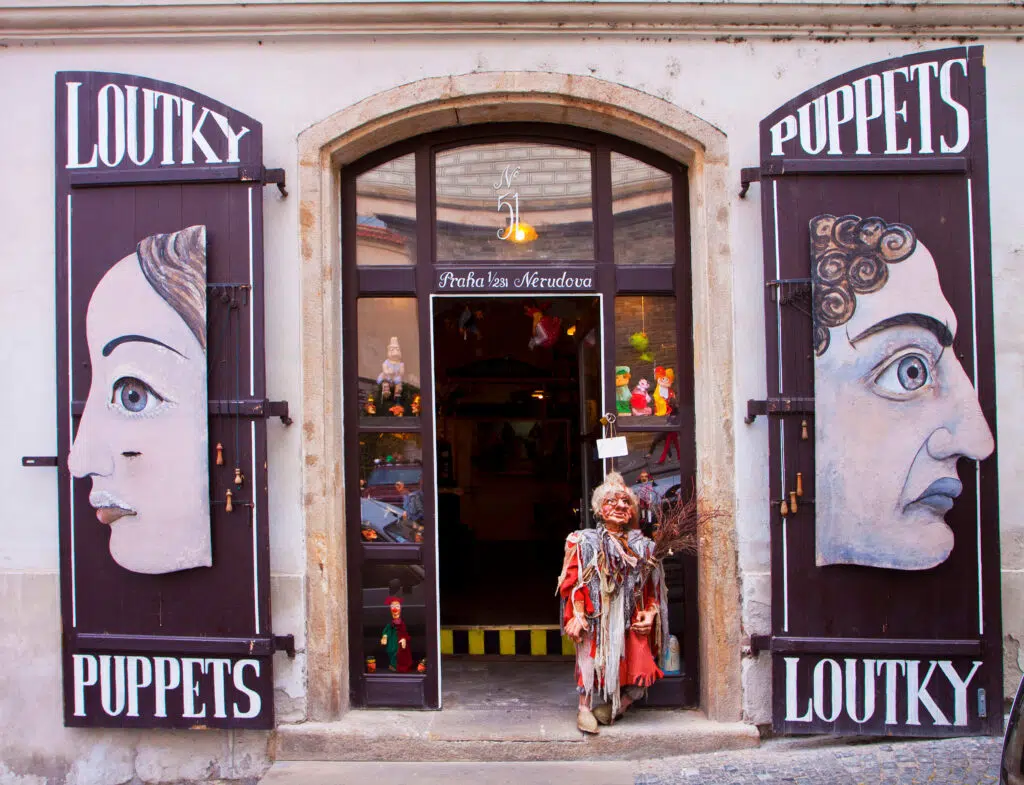 'Tis the season to be shopping and Prague winter markets certainly deliver the sparkly, handcrafted souvenirs and Christmas gifts you're looking for. However, there's plenty more for shopaholics who love a bit of pavement pounding. For high-end shopping and department stores, head to the wide boulevard stretching out from Wenceslas Square.
Wander around the Old Town to lose yourself in narrow 'shopping passages' lined with designer boutiques, gift shops laden with Bohemian crystal items, wooden toy stores, and cute-as-a-button cafes. You'll find vintage treasures and antiques everywhere, but U Elektry is the largest flea market in the Czech Republic for bargain-hunters.
Eat, Drink and Dance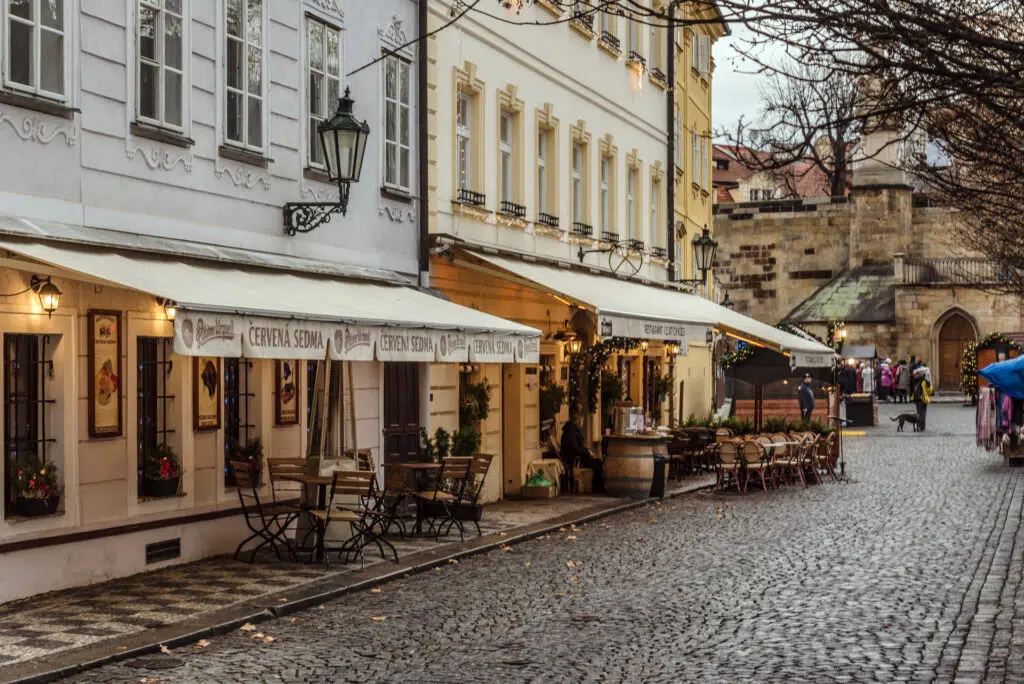 With lanterns glowing on cobblestones and fairy-lit buildings, Prague at night in winter is truly ethereal. Start your December evenings watching a costumed lamplighter manually ignite the gas lamps along breathtaking Charles Bridge. Then, take your pick of an abundance of restaurants for all budgets to try hearty and comforting soups, stews, and dumplings – with the country's world-famous beer, Pilsner Urquell.
The districts of Stare Mesto, Mala Strana, and Nove Mesto are within walking distance of each other and chock-full of eateries. From friendly pubs to underground jazz bars and thumping nightclubs, you'll always find a dancing and drinking hole to suit your mood well into the night.
Popular Prague Food & Drink Tours:
Take Photos of Prague in Winter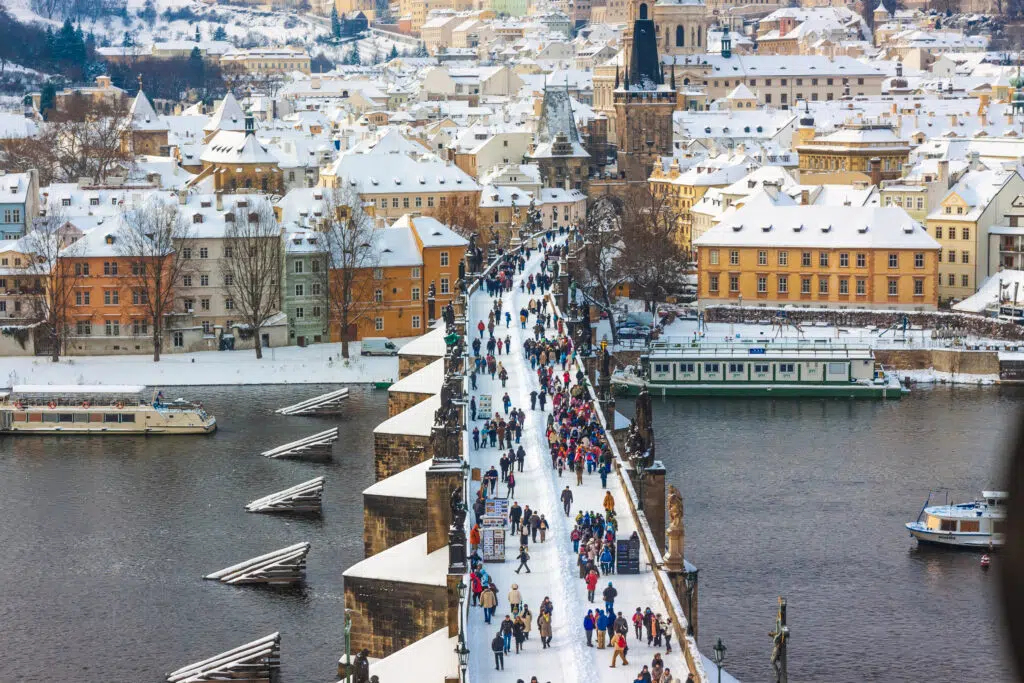 Prague's awe-inspiring beauty has long inspired artists, writers, and photographers. Whether you're a professional, a keen amateur, or just want fantastic holiday memories, winter brings a special magic to enchanting scenes. There's a photo opportunity on every corner, however, those in the know get snap-happy at a few outstanding spots.
Charles Bridge is gorgeous from every angle, but head to the Old Town Bridge Tower to get a shot with a snowy Prague Castle in the background. That postcard shot of Prague's bridges lining up over the Vltava is from Hanavsky Pavilion in Letna Park. Some iconic landmarks to capture include the Dancing House, the Petrin Hill statues and the John Lennon Wall.
---
Best Day Trips from Prague in Winter
Drive, take a bus, or join a tour to explore further afield in the Czech Republic on easy day trips from Prague in winter.
Cesky Krumlov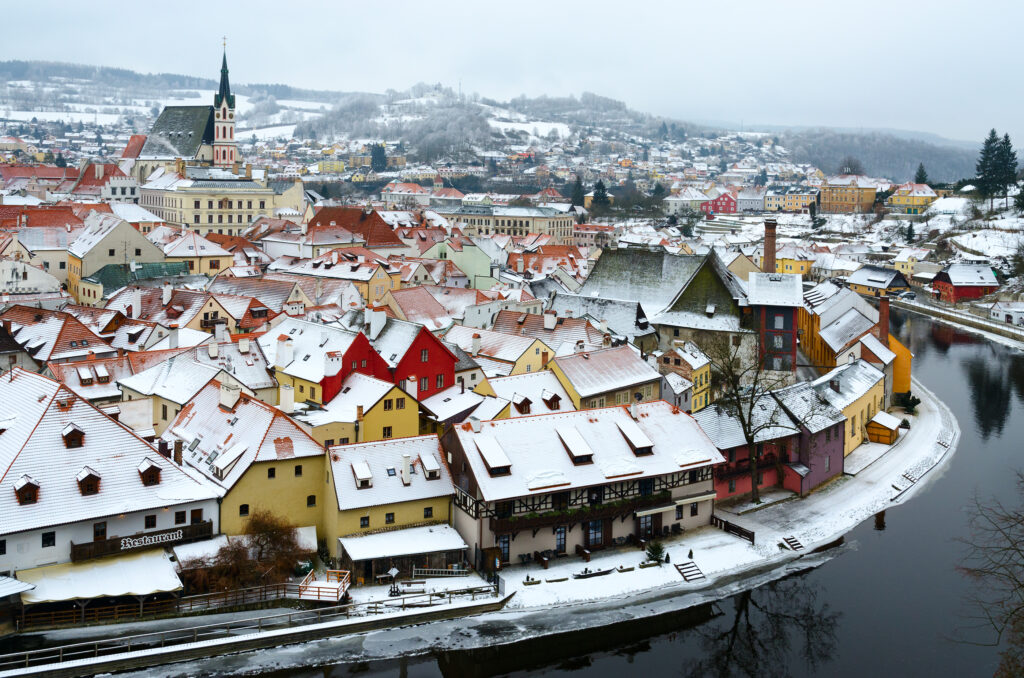 If you've ever wanted to see a real-life fairy-tale town, Cesky Krumlov makes the dream come true. In fact, it's so enchanting that the warmer months see its narrow streets heaving under the weight of day-trippers. You'll experience the UNESCO World Heritage Site blanketed in snow and relatively free from the tourist crowds. Though it's possible to walk from one side of town to the other in around 30 minutes, expect the need to stop and sigh with delight at every step.
The Renaissance Cesky Krumlov Castle complex dominates the town and dates back to the 13th century. Stroll the spectacular grounds or book tours to see portrait galleries, apartments and the Baroque theatre. Photograph the Roman Catholic St Vitus Church and discover the history of the Bohemia region at the Regional Museum. Simply meandering around town serves up beautiful frescoes, quirky shops and atmospheric restaurants.
Oraganised Tours to/in Cesky Krumlov:
Karlovy Vary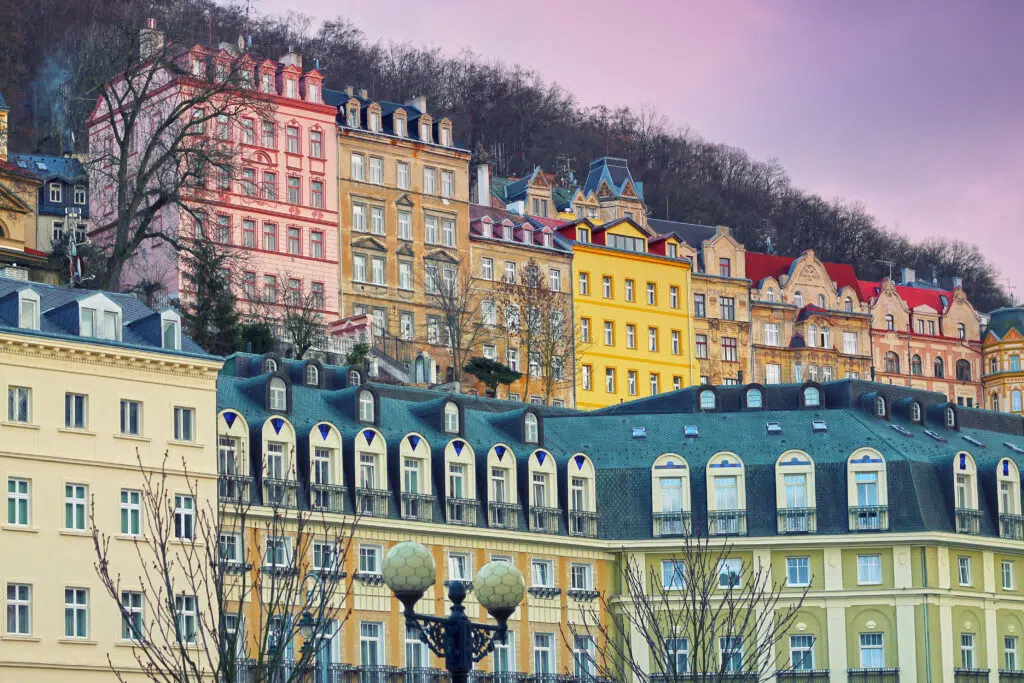 There's no such thing as the 'winter blues' in Karlovy Vary, a spa town where curative hot springs rejuvenate visitors with health-restoring mineral drinks. Day spas and wellness centres abound, so book in advance for Prague day trips in winter featuring decadent treatments. Otherwise, rug up for an exciting day of sightseeing framed by snowy, forested hills.
Visit the Hot Spring Colonnade to see the Pramen Vridlo geyser spurt around 12 metres into the air. Then, sample the waters from dedicated taps. For more, stroll along the beautiful Mill Colonnade with five different springs to sip from. Pop into the Moser Museum to admire exquisite glasswork collections and see the five gold-plated cupolas of the Orthodox Church of St Peter and Paul.
Book your day trip to Karlovy Vary here.
Ski Resorts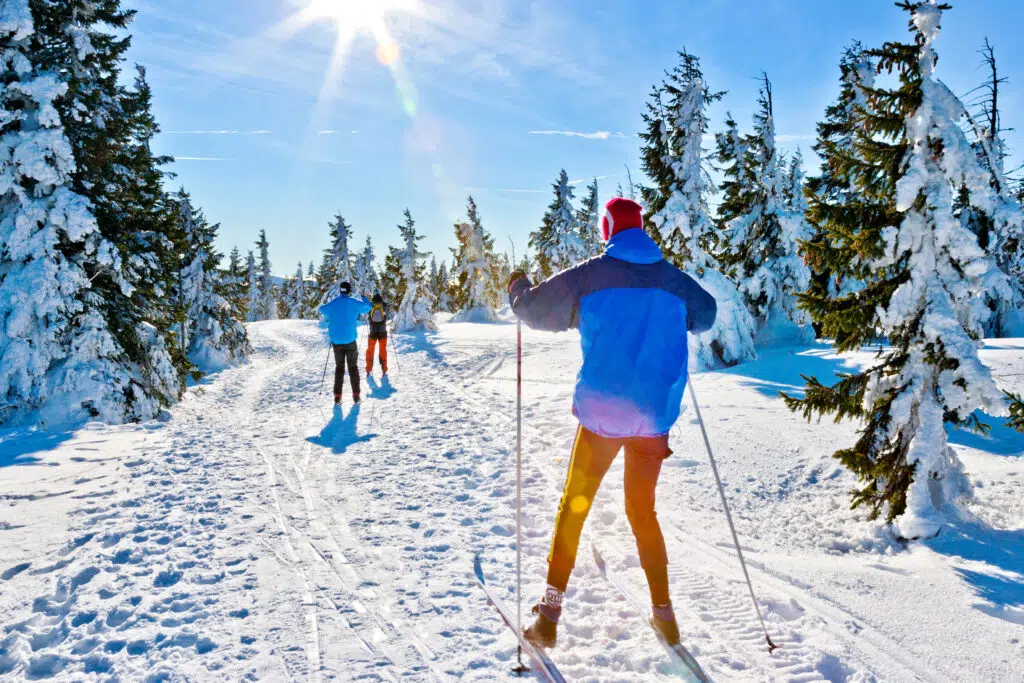 Feel like combining your Prague winter break with some action on the slopes? You'll find a range of ski resorts within day-trip distance of the city. One of the Czech Republic's largest, Skiareal Spindleruv Mlyn, is located in the Giant Mountains and offers 27 kilometres of slopes, 11 lifts, and 83 kilometres of cross-country trails. Other options include Jested Ski Resort and Moninec Ski Resort.
---
Fun things to do in Prague in winter range from epic museum-hopping to Christmas market shopping and enjoying beer and dumplings in lively pubs. Whatever you choose to do, the city's compelling charm is even more apparent in the absence of huge tourist crowds as it's kissed by winter's scenic magic.
Related Reading: Prague vs Vienna – Which City is Best for Visitors?