Though these two central European capitals are close in proximity, they couldn't be more different. Vienna is opulent and lavish, whereas Prague is charming and old-world. But when considering Prague vs. Vienna, which is the better city to visit? Well, there are a number of factors to consider, but it all comes down to personal preference in the end.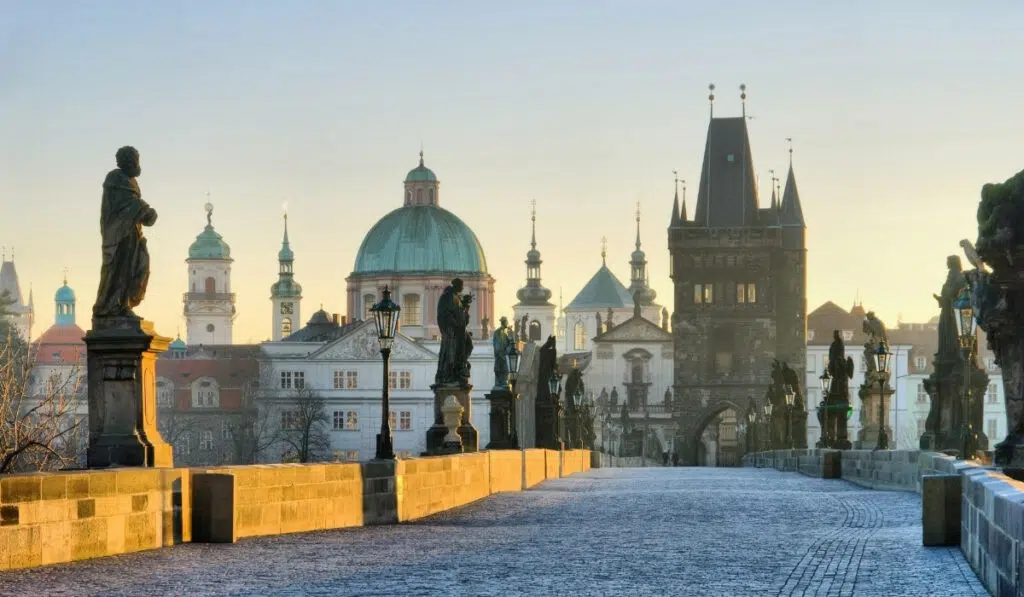 The palaces, museums, and broad boulevards of Vienna are truly grandiose with their royal splendor. Prague, on the other hand, has an atmosphere that feels more like a fairy tale.
In comparison to formal and refined Vienna, Prague could be seen as more eclectic and exciting. The two cities have very different personalities, and we'll explore the different facets of each in this post to help you consider which city is more your style.
---
Prague or Vienna – A Break Down
To get to the bottom of which city is right for you, we've looked at several different factors including Accessibility, Safety, Things to do, Day Trips, Budget, and more. Read on to find help deciding!
Logistics & Accessibility
Neither of the airports in Vienna nor Prague is far from the city center; they are easily accessible by public transportation, airport express buses, taxis, or in the case of Vienna, by rail.
Prague is a very pedestrian-friendly city. Walking is actually the best way to explore the entire Old Town, as well as the castle district. If you are planning on making longer trips, the Prague Metro and trams can be combined into one ticket for an easy hop between destinations.
For 24 CZK ($1), you have access for 30 minutes, as well as transfers between locations. You can buy them at the tram stops, in local newsstands, or via the Prague transport mobile app. On board, remember to validate your ticket using the yellow machines.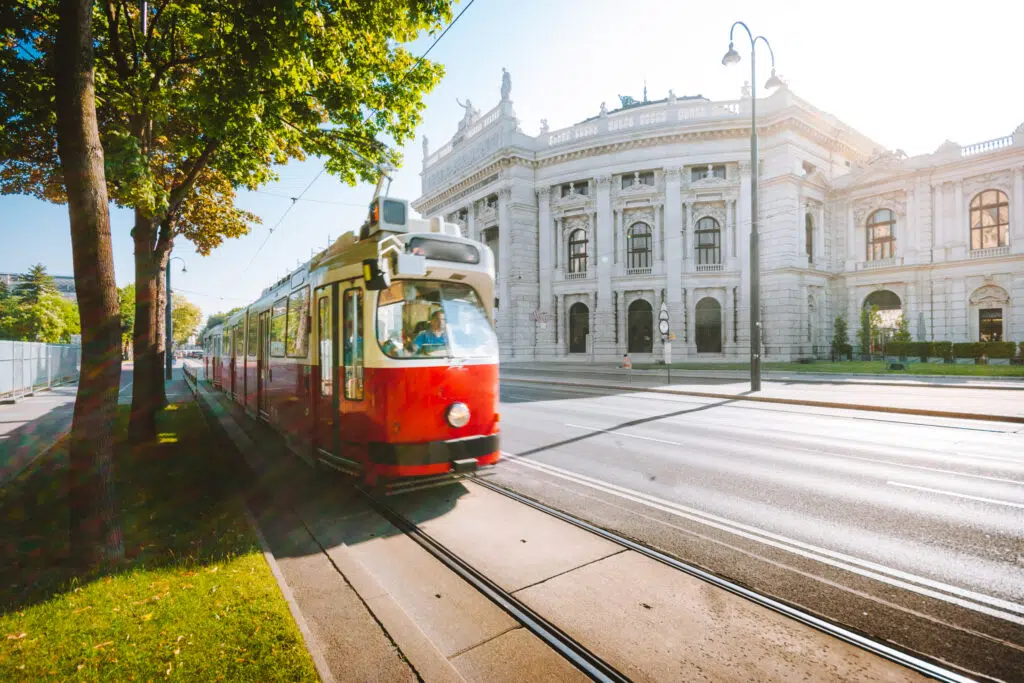 Vienna is an easy city to get around also. There is nothing more efficient than the U-Bahn. A single-ticket network allows you to connect with above-ground rail lines and trams, meaning that getting from A to B is super-easy, not a hassle.
Ticket prices for single trips are €2,40, while 48-hour travel cards cost €14,10. And make sure you buy subway tickets before you ride. As the platforms are not gated, it is easy to think you might get away with a free ride, but there are regular checks and heavy fines if you're found not to have a ticket on hand.
It's a Tie! Unless you're taking into consideration the cost of public transportation, in which case, Prague would win this one.
Things To Do in Vienna vs Prague
Despite its lack of incredibly impressive landmarks, Prague thrills travelers with its breathtaking setting and views. It is easy to see this while looking across the river at the castle surrounded by beautiful green hills on the west bank.
In addition, sights such as the Jewish Quarter, the Castle, and St. Nicholas Church offer a unique experience. The old castle's architecture and views may seem underwhelming to some people, however, its architecture does make a striking impression. An important focal point of Old Town is the Square of the Old Town Clock, with its 600-year history.
In the same way, the views of the Charles Bridge and St. Vitus Cathedral from both banks of the Vlatva River are quite magnificent. Check out the views from St. Vitus Cathedral for one of the best hidden gems in Prague.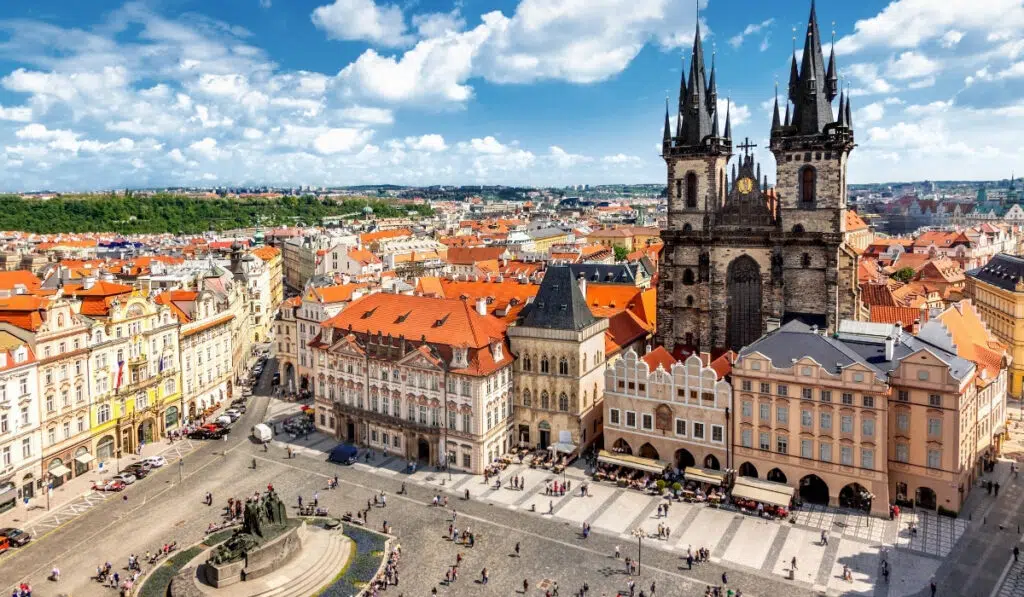 Vienna's tourist attractions are concentrated in a relatively small and easily accessible area, the inner ring, which has a lot to offer. Some of the best things to do in Vienna include its imperial palaces from the Austro-Hungarian period, its museums, and its parks.
Palaces such as Schönbrunn, Hofburg, and Belvedere with their sprawling gardens are excellent historical landmarks in Vienna, all of which can be accessed via public transport.
Located in Vienna's West End, St. Stephen's Cathedral is a Gothic and Romanesque architectural masterpiece. Be sure to climb its South Tower for sweeping views of the city's roofs and spires.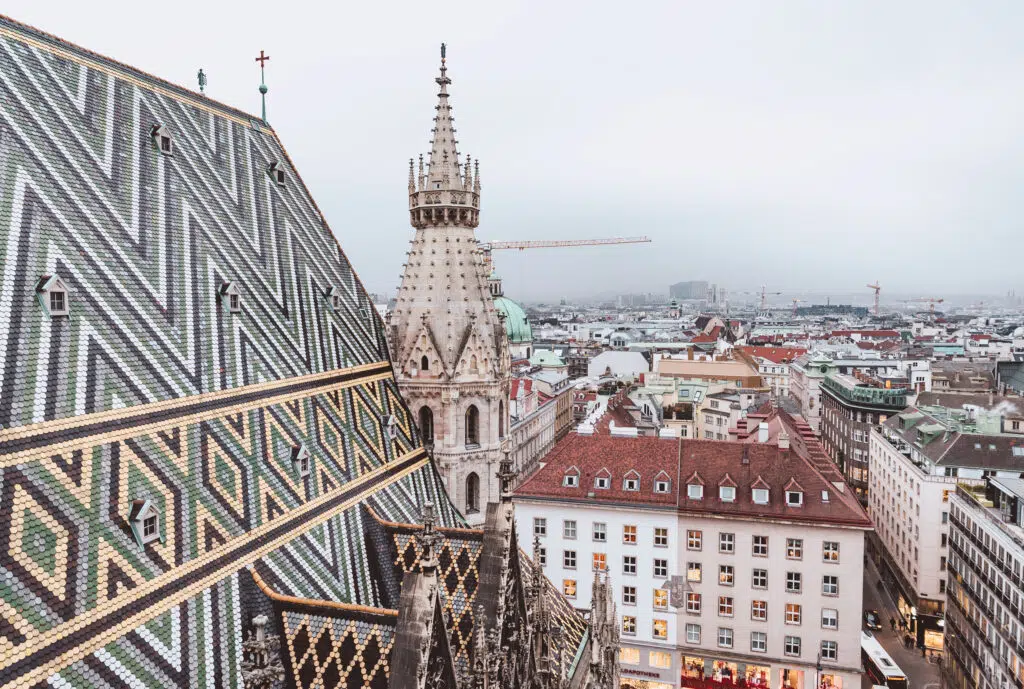 In Vienna, attending concerts and operas is a popular activity, particularly at the Wien Staatsoper. Among the world-class museums in the Museumsquartier area, the Kunsthistorisches Museum is home to the Habsburg collection.
Within the Hofburg Palace, the classic Spanish Riding School has exhibits displaying the world-renowned Lipizzaner horses. Book a ticket to see them perform!
Winner? Vienna!
Cost of Visiting
This one is a no-brainer – Prague is by far the more budget-friendly option. When it comes to choosing to visit Prague or Vienna and budget is a deciding factor for you, Prague will always win. And not by a little! In fact, consumer prices are roughly 35% higher in Vienna than in Prague. And – get this – restaurant prices are over 65% higher in Vienna!
If you're budget traveling, you can perhaps spend a comparable amount on a trip of equal duration to Vienna, but you can expect a lower quality (for the same price) when it comes to things like accommodations, restaurants, and shopping.
Winner? Prague, by a landslide!
Eating Out in Vienna & Prague
There are many restaurants in Prague that feature striking aesthetics and an ambiance that makes them stand out among other European cities. Both locals and visitors can find great restaurants in Vinohrady where they can eat Czech and international food, or just sit back and enjoy a drink while listening to lounge music.
Bar & Books is one of many quaint, romantic places in the Old Town area. Visit Wenceslas Square if you want to visit more modern, trendy restaurants. And while you're there check out a place called Restaurant Como that serves great Czech and Mediterranean food.
A perfect date night awaits you at La Dégustation Bohême Bourgeoise. Located in the heart of downtown Prague, this Michelin-starred restaurant offers a modern menu that's inspired by 19th-century Czech cuisine.
While Vienna may be more renowned for its opulent cafés, Prague boasts a couple worth checking out – try Café Louvre or Café Savoy.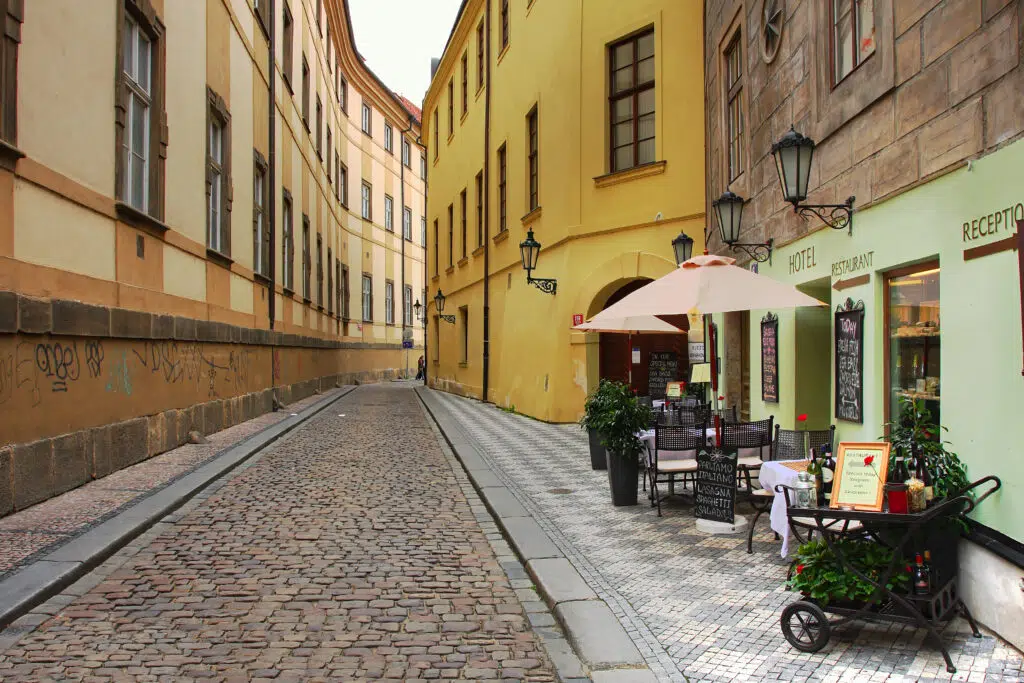 Although dining out in Vienna is more expensive than in Prague, it's of the same standard when it comes to food quality. Reservations are strongly recommended at Figlmüller for the best wiener schnitzel in the city. Pair it with their potato salad. In case you're not absolutely ravenous, try splitting a schnitzel – they are huge!
Vienna has historic cafés and coffeehouses of more elegance, such as the luxurious Demel, dating from 1880, which has a shady terrace and is reputed for its various pastries. You can try Sachertorte at the Mozart Café or try one of Vienna's best apple strudels at the Museum Café.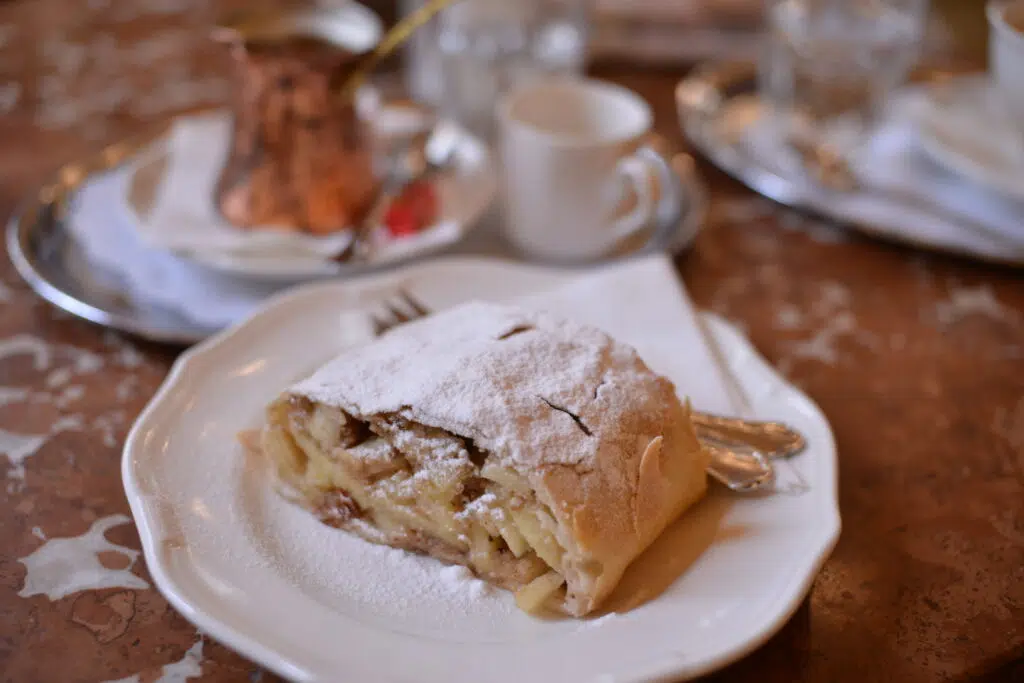 Vienna is known not only for its food but also for the local wines grown in the wine regions in the west (along the Danube) and southeast of the city. You can test both the reds and whites at a great price while you're in the city. The Grinzing Heurigen taverns are popular places to enjoy wine tastings.
Winner? When not taking cost into consideration, it's a tie. Otherwise, Prague wins!
Nightlife
In Prague, the nightlife is legendary for its diversity and vibrancy. Prague's Old Town Square is home to a plethora of bars, pubs, and clubs. Several very cool bars can also be found near Wenceslas Square.
In Zizkov, you will find one of the highest concentrations of bars in Europe, primarily alternative joints catering to more eclectic clientele.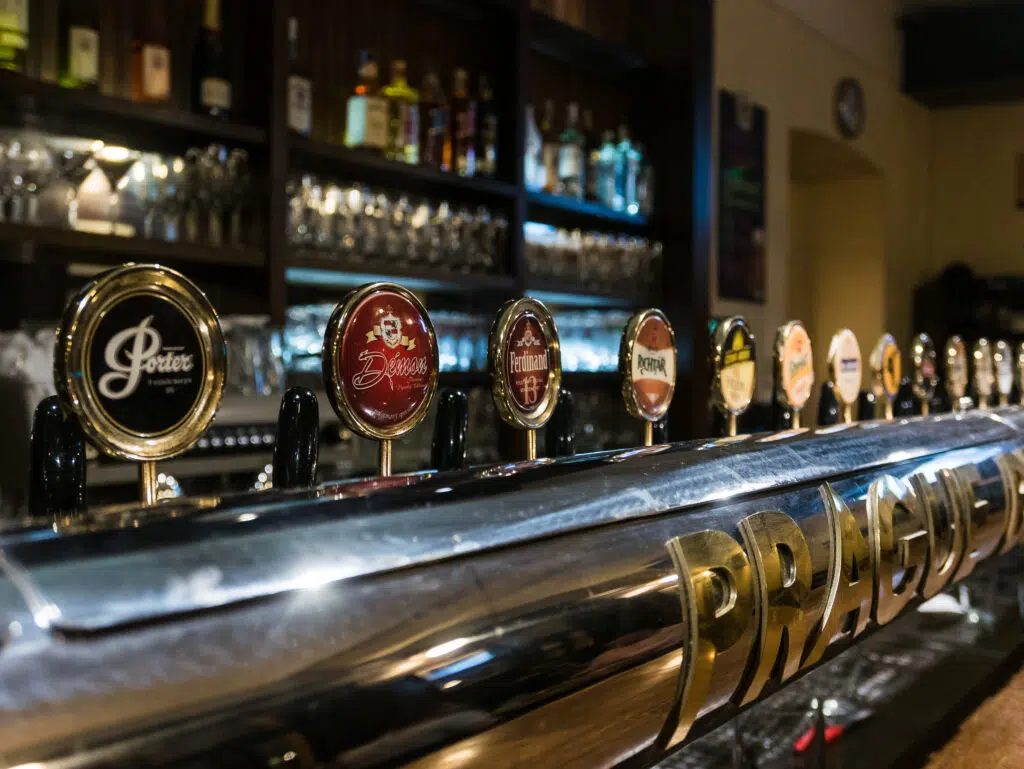 Vienna's First District is within the Innere Stadt, where you can find a high concentration of bars and pubs. Vienna's "Bermuda Triangle" located around Ruprechtskirche near Schwedenplatz is known for having the best nightlife.
It's hit or miss here though. Some will recommend it wholeheartedly while others say it's overrated. I personally have outgrown my nightlife days, so my opinion is pretty irrelevant. Still, Prague seems the obvious choice in this category.
Winner? Prague!
Safety
Crime and scams are present in Prague as they are in every European capital, however, the city is usually quite safe for tourists. On busy public transport and in crowded areas, watch out for pickpockets (and maybe consider packing a secure travel purse). If you can, avoid hailing a taxi directly from the street – tourists are often targeted by inflated taxi rates.
You should avoid purchasing koruna (the local currency) from Prague's airports and train stations, as these currency exchange points are notorious for ripping off tourists. Instead, try using an ATM that is located inside a bank somewhere in the city.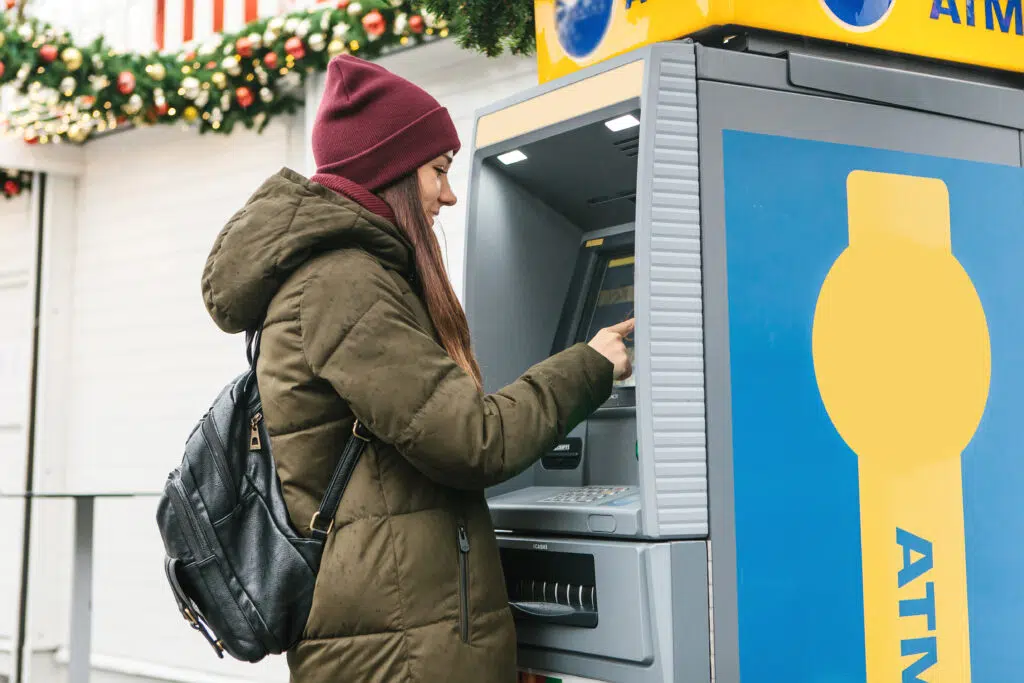 Meanwhile, Vienna ranks among the world's safest and most livable cities. You will still need to be aware of your surroundings, as pickpocketing, fake tour guides, and taxi scams are still things to watch out for. But they aren't half as prevalent as in other European capitals.
Winner? Vienna!
Day Trips from Vienna & Prague
You'll find the nearby towns of Tabor and Kutna Hora are within one hour's train ride of Prague, which makes them great options for day trips. Český Krumlov is a little further out, but you'll find you can still fit in a day trip comfortably via public transport or organised tour.
The sobering experience at Terezín Concentration Camp will appeal to the history buffs among us. And you can visit several charming Czech villages such as Jihlava, Telc, Trebic, and Znojmo which are located between Prague and Vienna.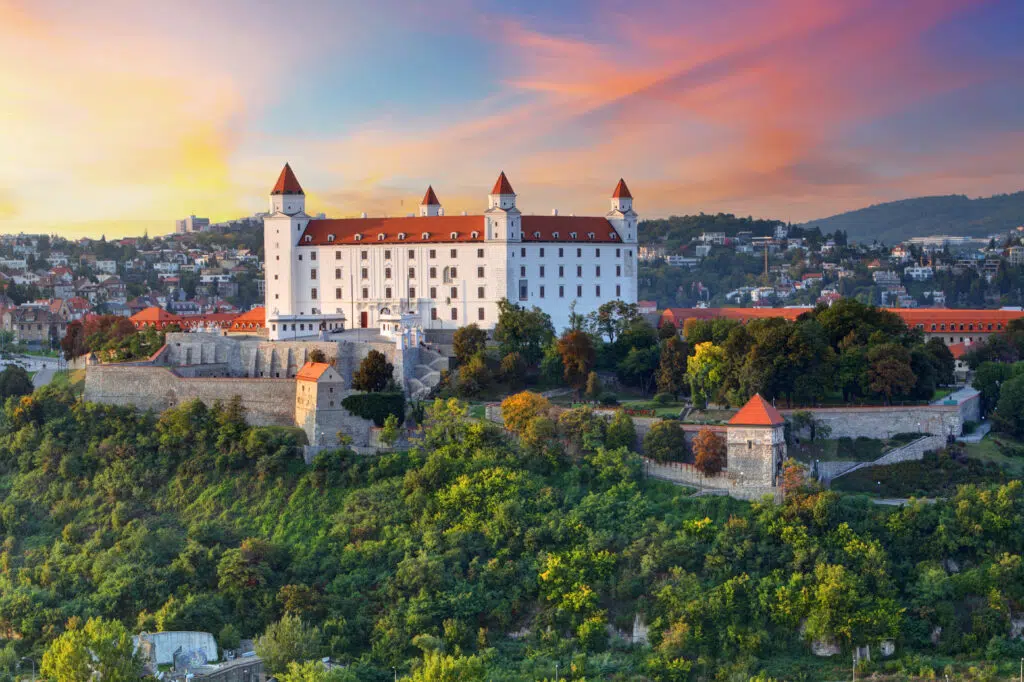 There are plenty of worthwhile day trips and weekend getaways from Vienna also, and good transport links makes exploring further than the city easy.
Melk Abbey is a magnificent place to visit by train from Vienna. Through Wachau Valley, you can continue on to Krem. Just over the Danube, you'll find the Capital of Slovakia, Bratislava, which is easily reached by bus, train, or ferry. A little further afield you have the fairytale village of Hallstatt, and the city of Salzburg (although you'd be better off allocating at least a few days to visit the latter).
Winner? Vienna!
Weather
Prague experiences all four seasons as does the rest of Central Europe. In the summer, temperatures often reach the 30s during July and August, when humidity is high. During the summer, thunderstorms can occur for short periods too.
The winters, on the other hand, can be very cold. It's the perfect time to visit Prague if you want to find kitschy Christmas markets that sell blood sausages, hot chocolate, and warming Czech beer. Winter will certainly require thermals and snow jackets from November to March, as many weeks can go by with temperatures below zero.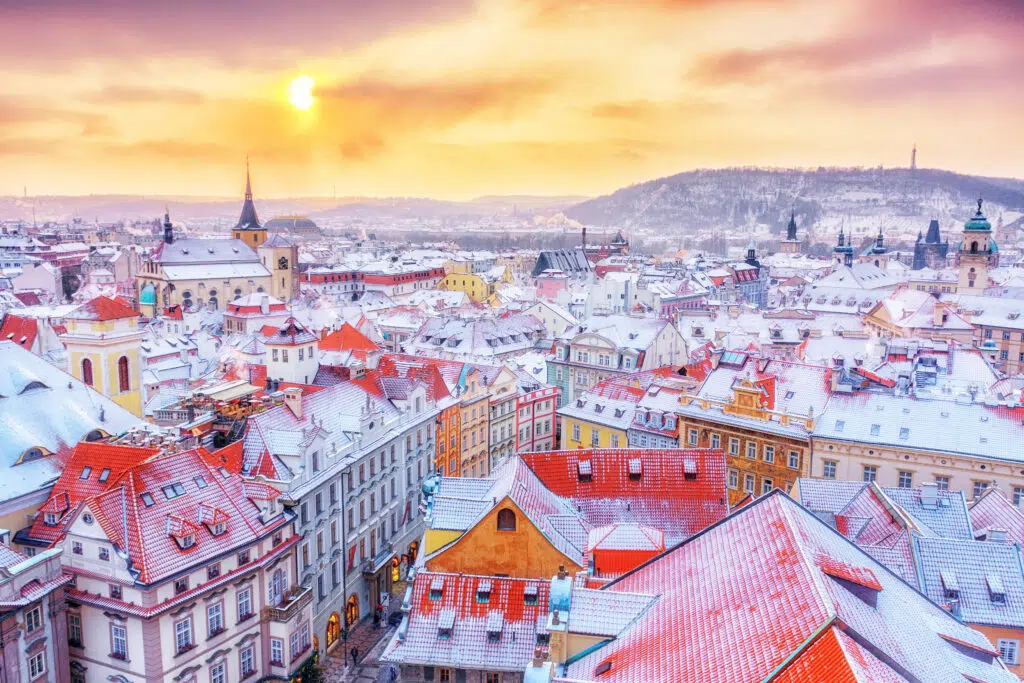 Consequently, spring and fall are probably the best times to see Prague. April, May, September, and October are still mild and warm months. The mainstays like Prague Castle are seeing fewer visitors during the shoulder season, and hotel rates fall significantly during these quieter periods.
In the summer, Vienna is hard to beat, when abundant sunlight brings parks and bars to life in the city. There is usually the best weather between June and August, but beware of hot and humid conditions, with temperatures spiking over 30C. Cool off on some of the Danube's strands and swim spots while you wait for the summer to begin. It is also warm and dry in May and September if you prefer things a little milder.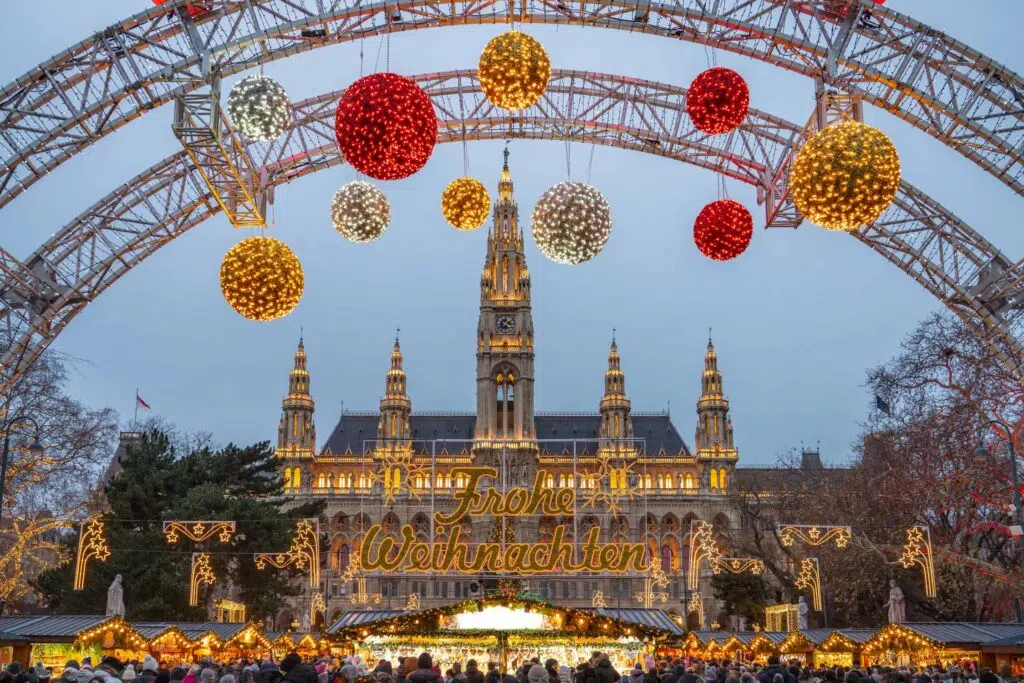 Conversely, Vienna in winter is an absolute wonderland. Christmas markets in Vienna are among the most enchanting in Europe. On Rathausplatz and on the grounds of Schönbrunn Palace you can find those making hot chocolate and mulled wine. The season really gets underway in December, when it's not uncommon to get dustings of snow and sub-zero temperatures – boots and winter coats are a must.
It's a tie!
In summary – Which is Better, Vienna or Prague?
When planning your Central European adventure and considering Vienna vs. Prague, you must first consider your own personal interests and your visions for the trip. Are you looking for a city break with the family or a bachelorette party? Considering how different the two cities are, one is certainly standing out to you now after comparing them in important ways.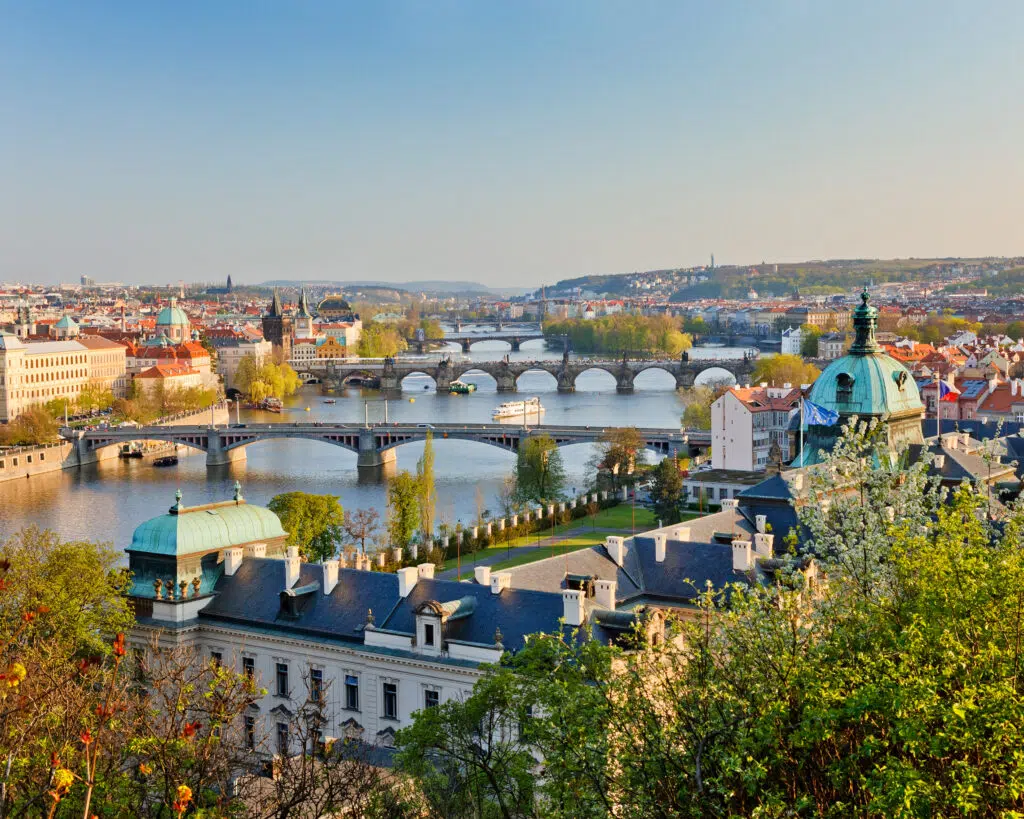 Prague wins best nightlife and most value for money.
Vienna wins for safety, things to do, and day trip opportunities.
Both cities are pretty equal when it comes to accessibility, weather, and food.
However, in terms of accessibility and food, in a Prague vs. Vienna showdown when also taking cost into consideration, Prague would win the tie-breakers.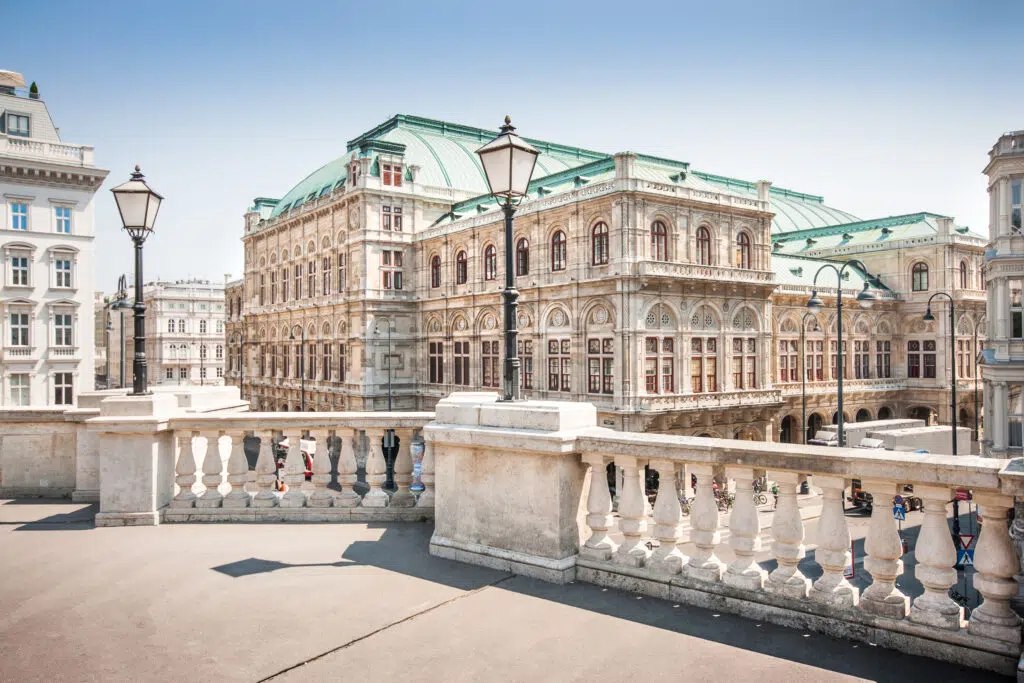 Best Way to Travel Between Prague and Vienna
Maybe you can't decide between Prague vs. Vienna? That's perfectly ok, especially because the two cities are so close together, if you've got enough time, you can easily visit both!
Trains are the best way to travel between Vienna and Prague. There are several fast trains departing hourly most days, taking about four hours to travel between the two centers. The cost of a second class ticket is around 20€, which includes free Wi-Fi and access to the restaurant car. Austrian and Czech railways both offer ticket booking services.
The bus could also be a good alternative if train fares are prohibitive during your travel period – try Flixbus.