If ever there was a postcard-perfect town, it's Austria's Hallstatt. Pastel-coloured houses overlook a shimmering lake framed by soaring, green mountains that create an impossibly pretty scene. Winter in Hallstatt is so visually spectacular that it's often compared to the fictional Arendelle in the movie, Frozen.
Despite attracting a flurry of fans to its mythical spires in a blanket of snow, the rumour that it provided backdrop inspiration for the movie isn't true (it was mainly influenced by the wintry landscapes of Canada and Norway).
Still, it gives you a good idea of the surreal beauty that awaits.
Hallstatt at Christmas is a wonderland of twinkling lights and icicles sparkling from the roofs of quaint wooden houses. To add to the picture, it's nestled in the Salzkammergut region east of Salzburg, a UNESCO-listed area surrounded by lakes and Alpine mountains for thrilling winter sports. Pack your warmest woollies and get set to enter a real-life, winter fairy tale destination.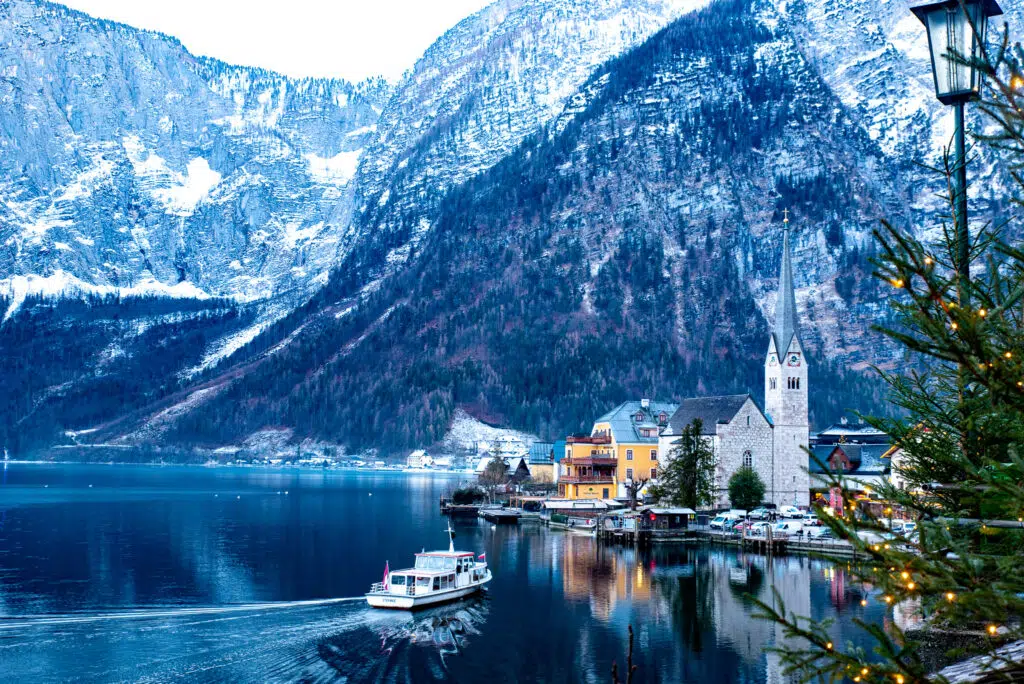 ---
Things to do in Hallstatt in Winter
You'll find an array of enchanting options for what to do in Hallstatt in winter. Not least of all is simply curling up in lake view cafes with hot chocolate and apple strudel. Then, rug up for outdoor adventures and history-hopping on a backdrop of awe-inspiring scenery.
GET THE POSTCARD SHOT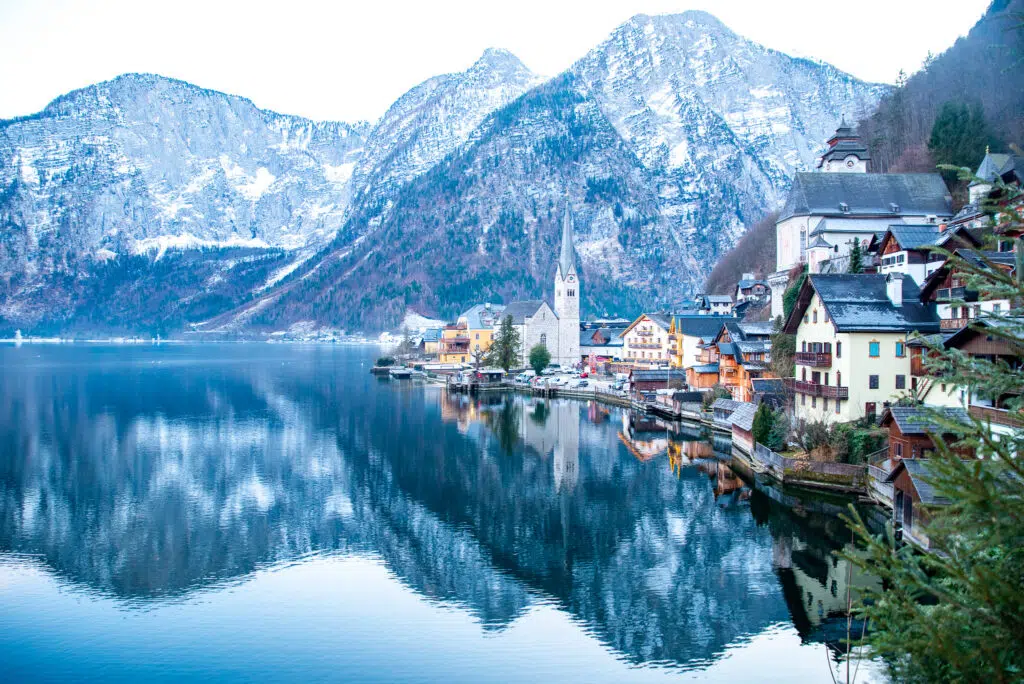 If you've ever seen a picture of Hallstatt in Austria, you've no doubt seen this 'postcard' shot. Wondering where to take it for yourself? Simply pop "Classic Village Viewpoint" into Google Maps and it'll take you right there!
Sure, it's a somewhat unoriginal angle, but when something is this pretty, why not take a pic as your own personal souvenir! Looking for a more original angle? Walk to the other side of the village, and take a photo of the town from Badeinsel Hallstatt. Or climb up to the Skywalk and take in the bird's eye view instead.
---
Christmas in Hallstatt
Lighting up the historic market square, the Hallstatt Christmas market is a charming event created by locals, for locals and visitors alike. You'll enjoy live music from regional groups while shopping for arts and crafts at cute-as-a-button wooden stalls.
Sip zirbenschnaps, otherwise known as pine cone schnapps, take photos of the nativity scene and eat icing sugar-sprinkled pastries while you admire the Christmas tree.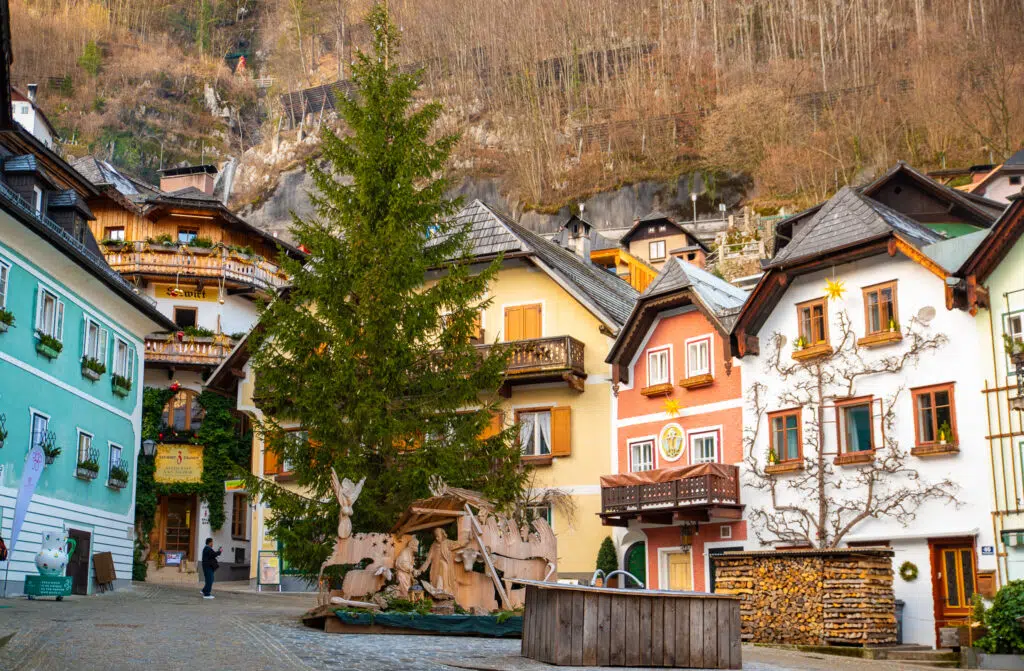 Just up the road in Bad Goisern, the iconic Salzkammergut Krampus parade is a thrilling, unique display of sweet angels, scary devils and, of course, a gift-bearing Santa. In Austrian folklore, Krampus is a half-man, half-goat who chases the naughty children and offers plenty of laughs for adults during the Christmas season.
---
How Long to Spend in Hallstatt
Hallstatt is a popular day trip destination from Vienna or Salzburg. However, as you can see above, there are plenty of things to fill at least two days in Hallstatt. After that, you can move onto the surrounding areas for skiing or spas!
If you're looking for places to stay in Hallstatt, I'd recommend the following (remember to book early as hotels fill up quickly!):
Getting to Hallstatt from Vienna
If you're wondering how to get from Vienna to Hallstatt, it couldn't be easier. For drivers, it's around 300 kilometres on a mixture of Autobahns and scenic country roads. Allow around four hours, however, it's possible to get there in three.
The fastest trains take just over three hours with around 15 departures each day. Buses are available with two or three different connections en route. Be aware that the trains drop you across the lake from the town, and there's a small boat waiting which will ferry you across the lake.
Related Reading: Christmas Markets in Vienna / Prague vs Vienna
Getting to Hallstatt from Salzburg
You'll find plenty of organised day trip tours to Hallstatt from Salzburg. If you're hiring a car, the drive is under an hour and a half, but leave extra time for spontaneous detours. There are several car parks in Hallstatt and although it does get busy, there's enough capacity.
Trains take just over two hours, with about 12 departures per day. If you prefer the bus, you'll need to swap connections two or three times, however, you'll arrive in under three hours. It's also easy to hire private shuttles to get you to Hallstatt from Vienna and Salzburg.
Related Reading: Salzburg in Winter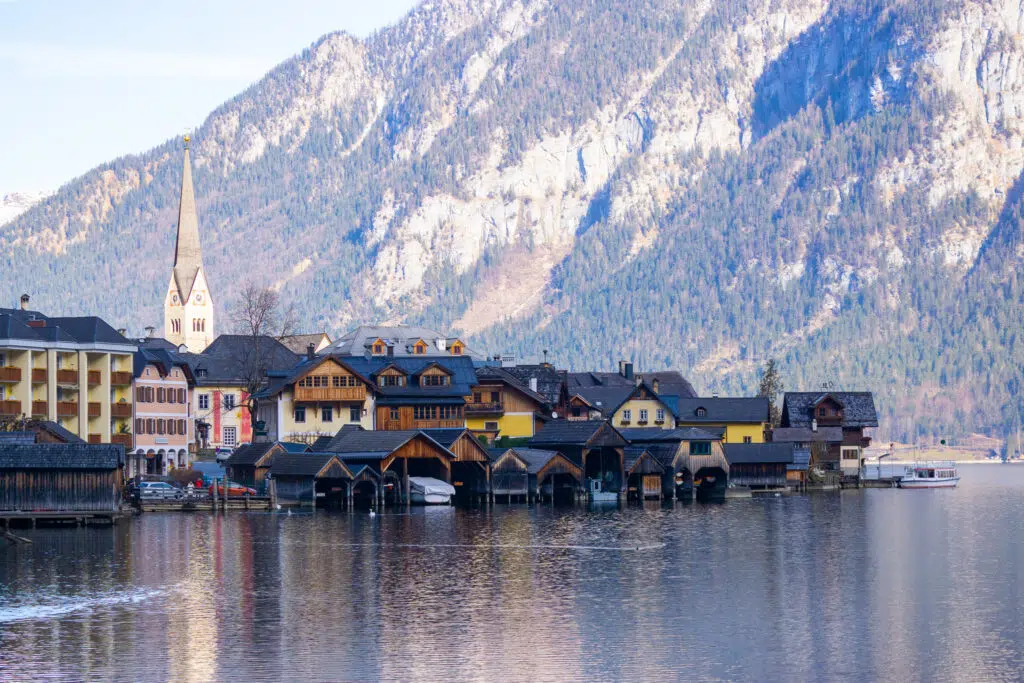 ---
Top Tours to Hallstatt
---
---
As a true storybook destination, Hallstatt winter itineraries are imbued with magic around every corner. It's hard not to simply stop, gawk and scramble for your camera with each step. However, with thrilling winter sports at ski resorts, historic treasures in the charming village and warm, quaint restaurants tempting you inside with Austrian comfort food, there's plenty of things to do in Hallstatt in winter. Settle in, soak up the majestic Alpine views and launch into your own winter fairy tale.