Take a sojourn in Salzburg at any time of the year and you're in for a treat. But to truly see the city come into its fairytale finest, visiting Salzburg in the winter is a must.
An Austrian city most famous for its associations with Mozart and the movie 'The Sound of Music', its history has been lovingly preserved, and many of the main attractions are still centred around its illustrious past.
But that's not to say it's stuck in yesteryear! Annual events such as the fun & colourful Winterfest, and modern art galleries such as Fotohof and the Museum of Modern Art, firmly establish its place on the contemporary circuit too.
Thinking of planning a trip to Salzburg in winter? Here's everything you need to know, see & do!
---
Salzburg Winter Weather
There's no doubt that winter in Austria is chilly. But just how cold can you expect it to get? Well, that depends on the month.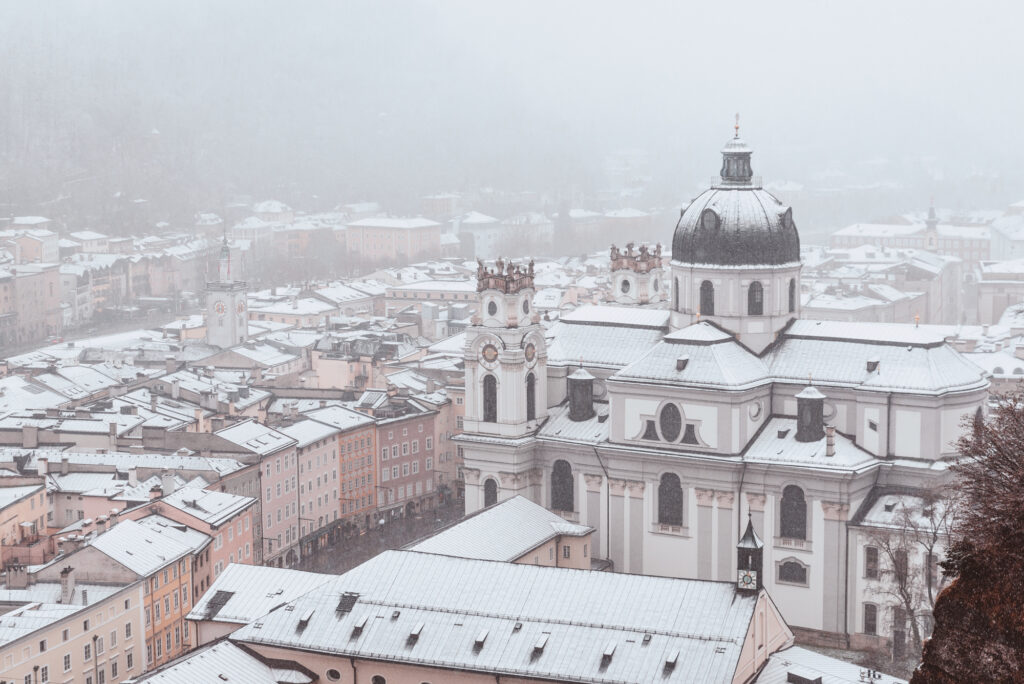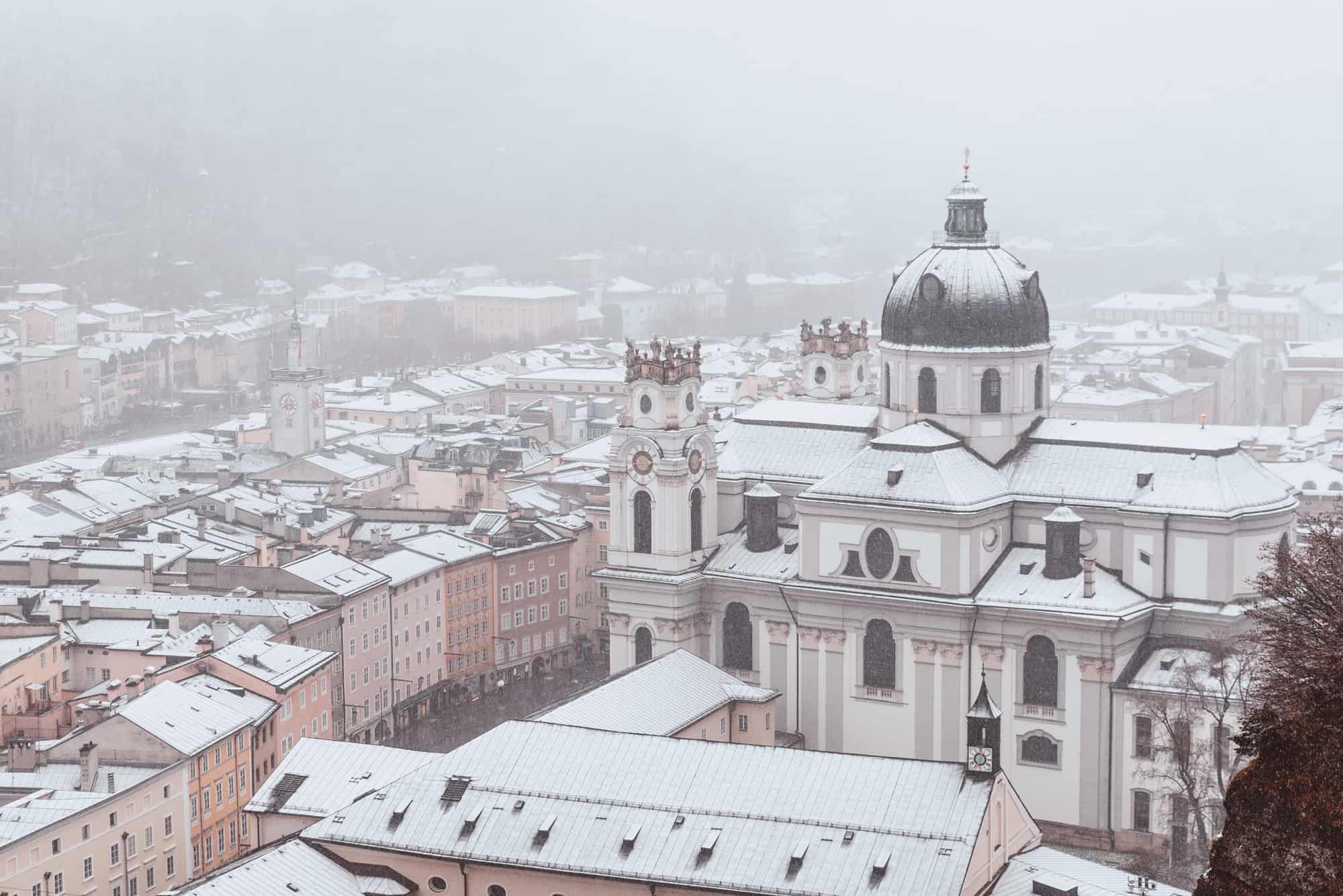 Salzburg in December
Frost is the norm in December in Salzburg. Expect very cold days, with only 8.5 hours of daylight and a good chance of rain. You could experience some snowfall, especially at the end of the month. But it's less likely to settle. Daytime temps reach up to 4°C (39°F) and nights cool off to -2°C (28°F).
Salzburg in January
Snow lovers rejoice! January in Salzburg is the best time to expect to see the city covered in the white stuff, and it sticks around too. Expect daytime temps to rise only a few degrees above 0°C, and nights to fall to -4°C (24°F).
Salzburg in February
February in Salzburg sees the least rainfall, and the temperatures gradually climb to around 5°C (41°F) during the day. Snow is still common and it's a great time to hit the slopes around the city (read more about day trips from Salzburg below).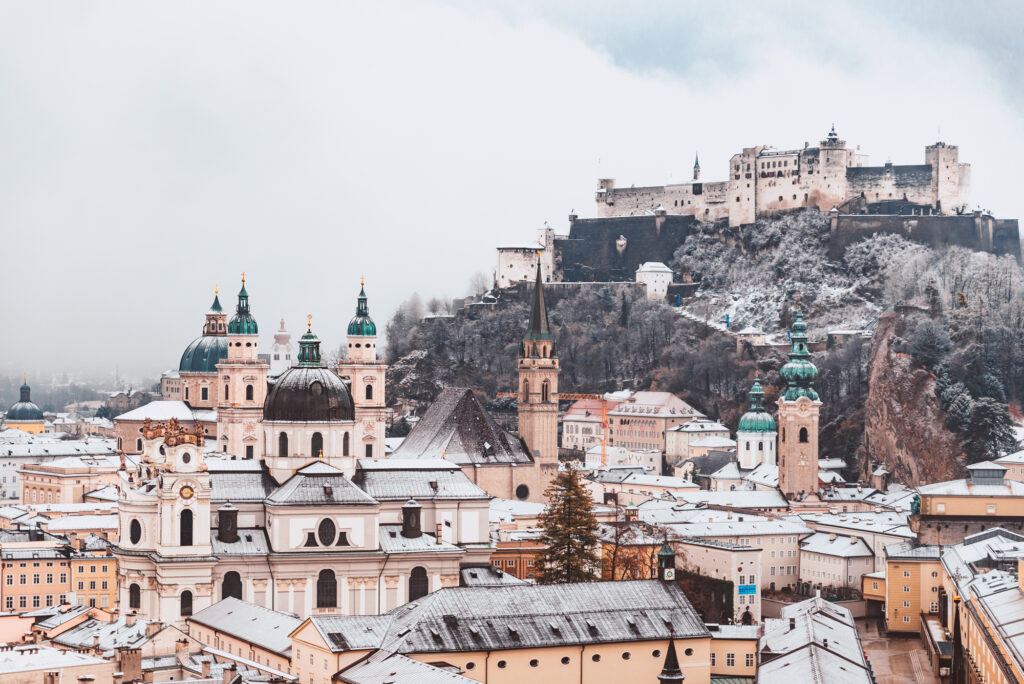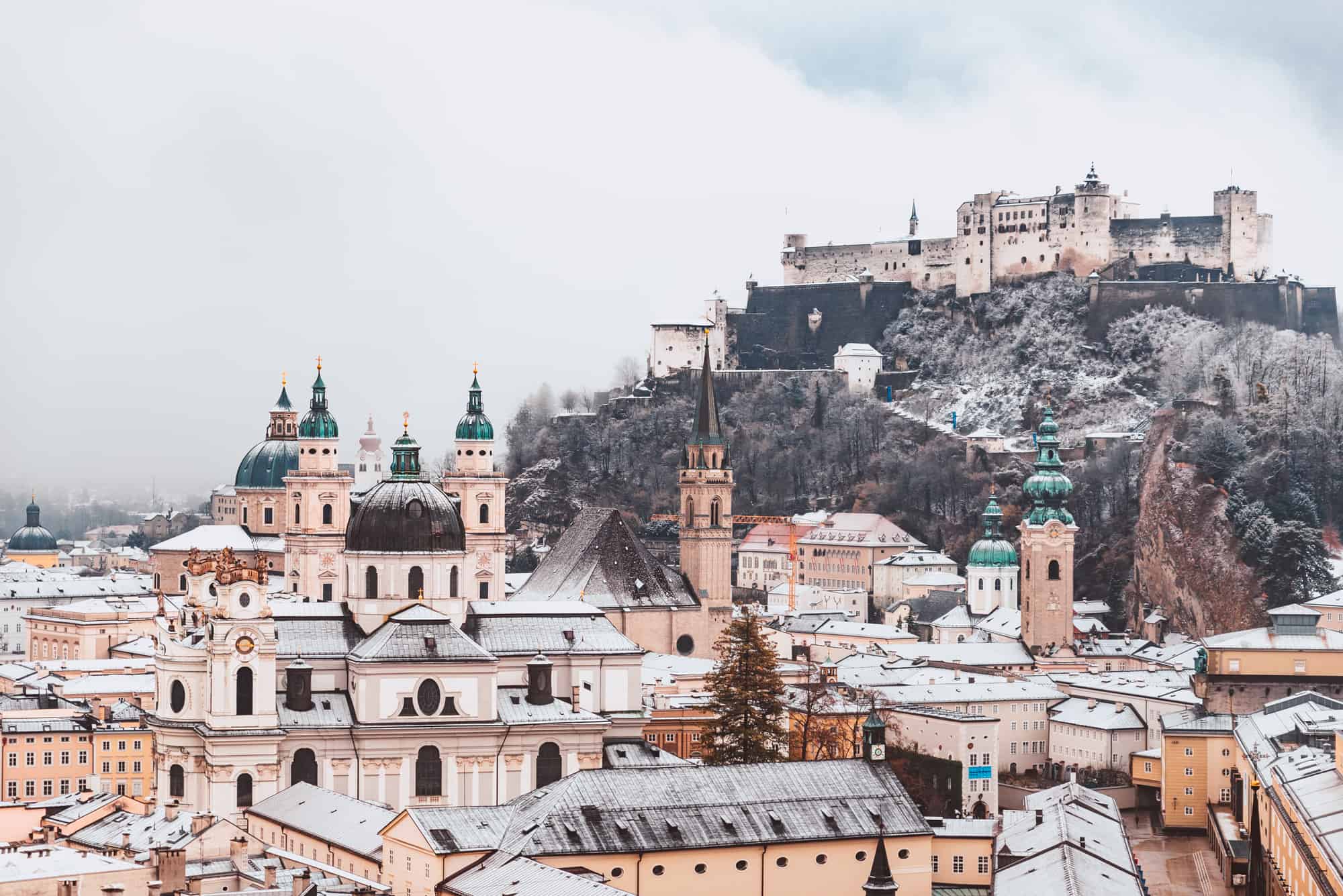 ---
Best Things to do in Salzburg in Winter
Given the weather in Austria in the winter, you may well be forgiven for thinking you'd rather rug up indoors than brave the elements. But it's well worth donning your boots and winter jacket (more on what to wear and pack below) to check out some of these essential Salzburg winter activities.
Hit up the Famous Festive Salzburg Christmas Markets
This may be an obvious choice when visiting Europe in winter, but if you're visiting Salzburg for Christmas, you need to get yourself to one of the Xmas markets stat!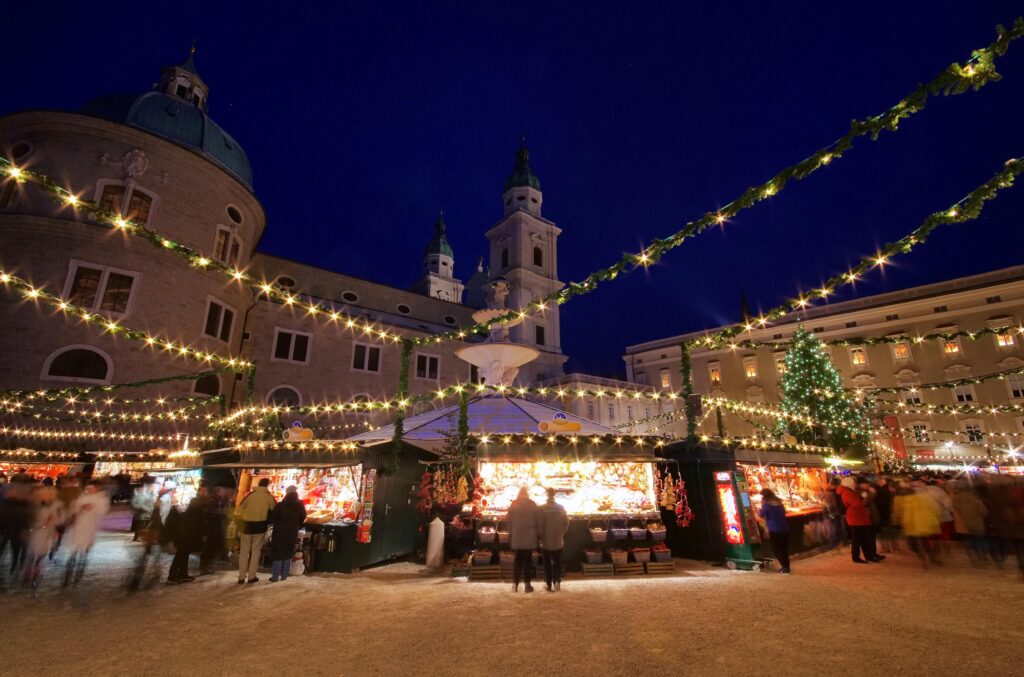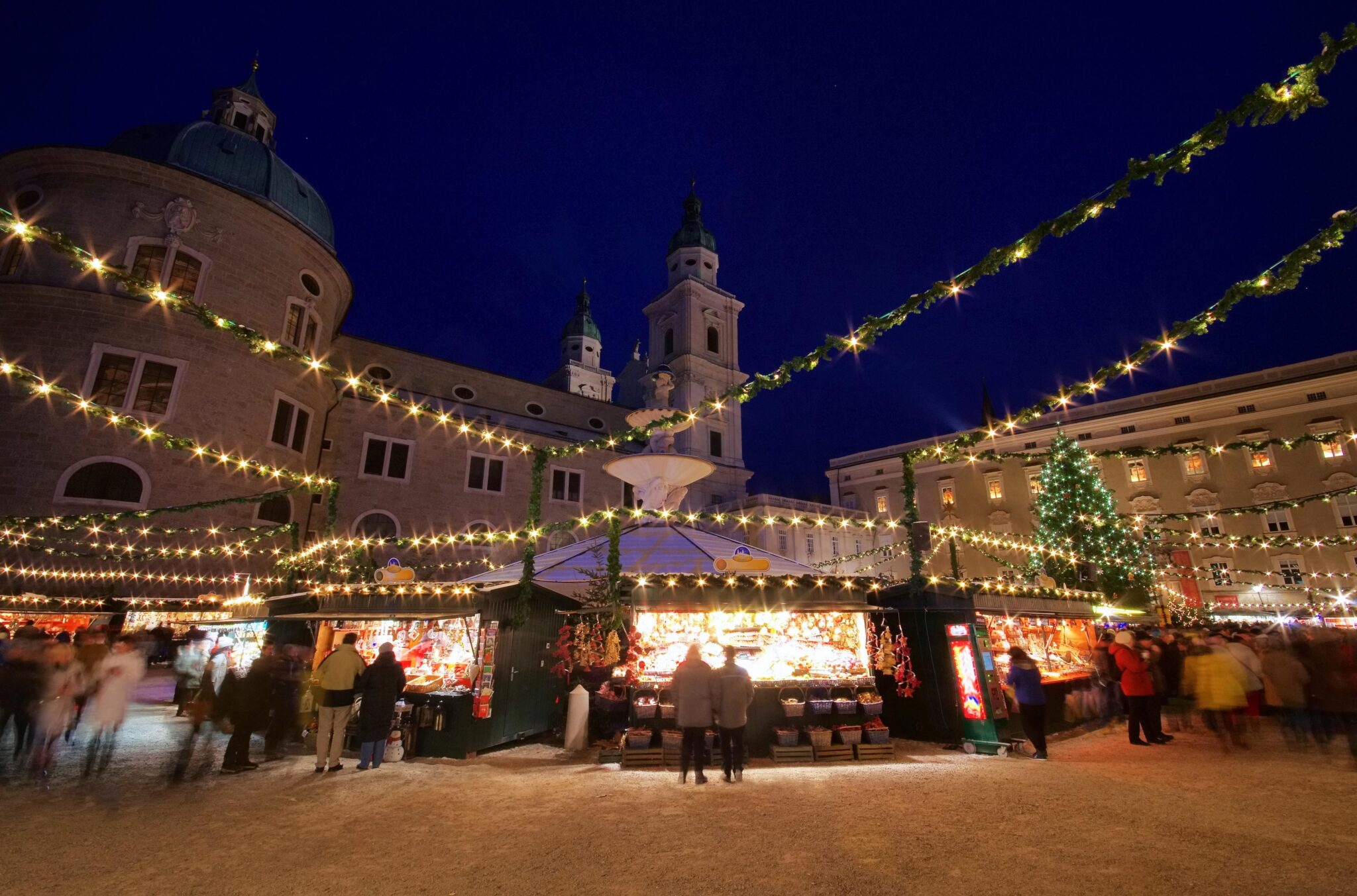 Salzburg Christkindlmarkt
As one of the world's oldest Christmas markets (though not one of the biggest) you can be sure you're getting the real experience at this authentic affair that takes place in front of a well-known Austrian landmark, the Cathedral of Salzburg.
Browse the iconic wooden huts for Xmas treats to take home, such as trinkets for your tree, carved wooden toys, and winter woollies to keep you warm. And be sure to grab a hot mug of mulled wine or zesty punch to keep your mittens toasty while you browse the goodies on display.
Even if you're not in the mood for shopping, the market will keep you entertained for hours with its musical concerts, Krampus parades, and storytelling for the children.
Hellbrunner Adventzauber
A smaller and cosier Salzburg Christmas market, the Advent Magic in Hellbrunn is especially fun for those with kids (or those who are children at heart).
Head down to the Hellbrunn Courtyard to immerse yourself in a whimsical world, complete with an oversized advent calendar, fairytale forest, and real-life reindeer.
You can still do your Xmas shopping here, as a curated selection of exhibitors are on hand to sell you authentic handmade mementoes. But it's more about the experience than the spending.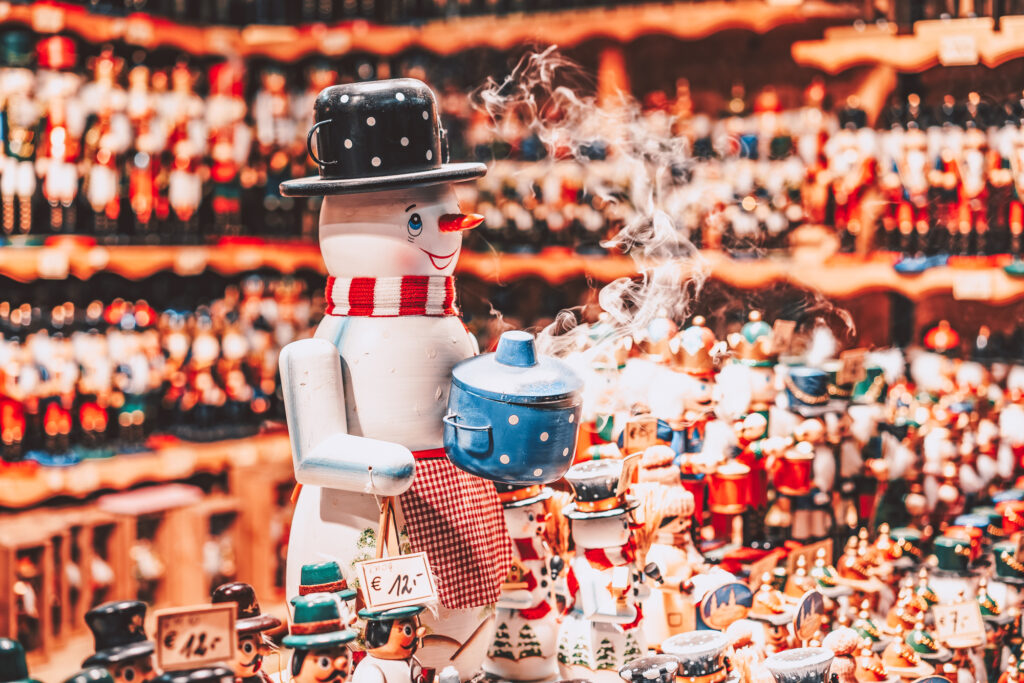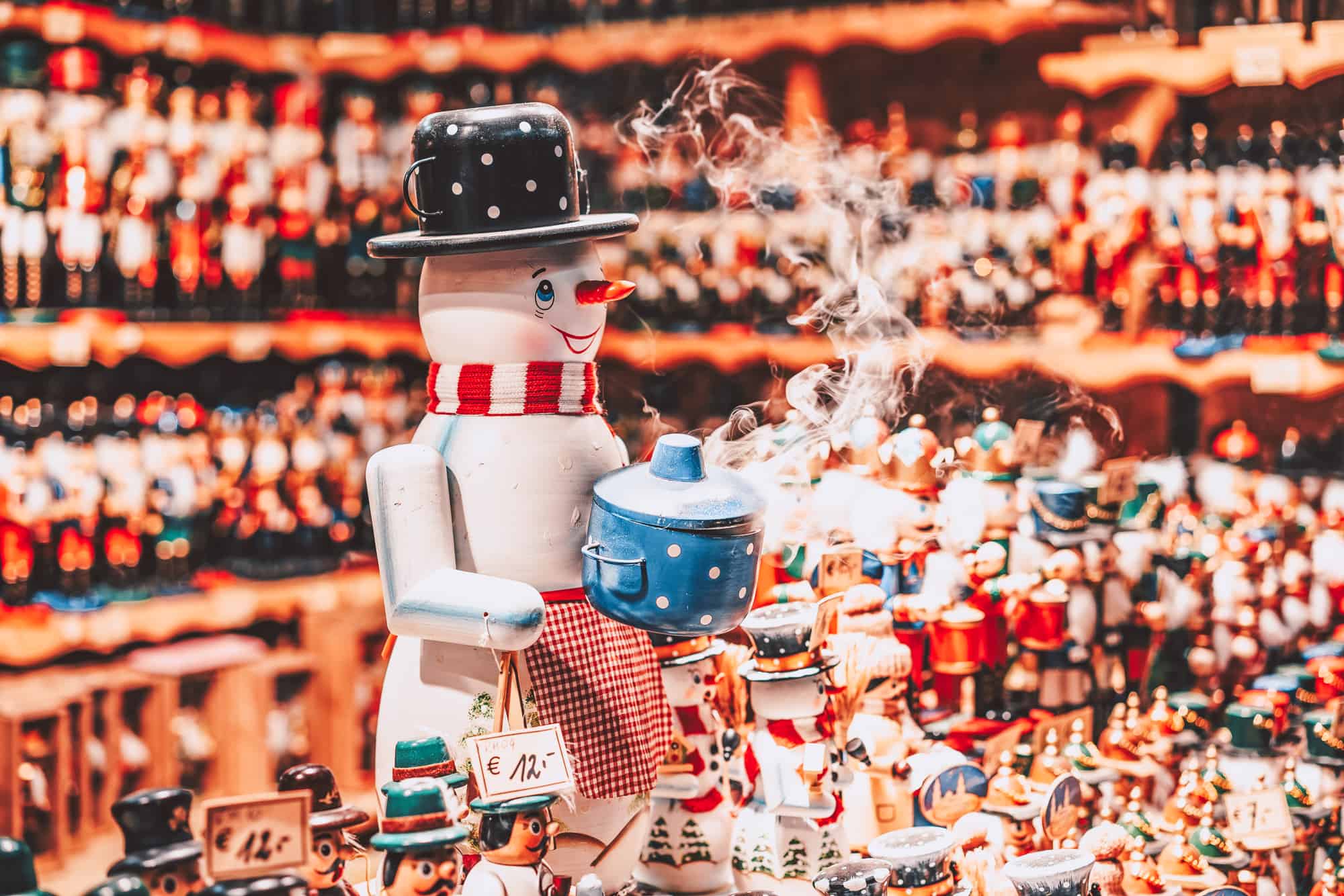 Christmas Market on Mirabellplatz
A local favourite, this intimate Christmas market in Salzburg delivers everything you'd expect, minus the crowds.
Stop in for a quick browse and a warming treat before taking a stroll around the Mirabell Gardens – where you'll find the same Pegasus Fountain that Maria and the children danced around in The Sound of Music.
Hohensalzburg Fortress Market
An advent market situated in the courtyard of the Salzburg Fortress, this is an event not to miss.
The fortress sits at the helm of the city and is an intimidating sight. But once you enter the walls, you'll find warmth and festive flair within.
Children's workshops, market stalls and a Krampus parade secure its spot as one of Salzburg's favourite Christmas markets.
Tips for visiting the Christmas Markets in Salzburg
Firstly, the above isn't a definitive list of all of Salzburg's Christmas markets. They're peppered all around the city – so you won't have to look far to find one. Keep the following in mind when you visit: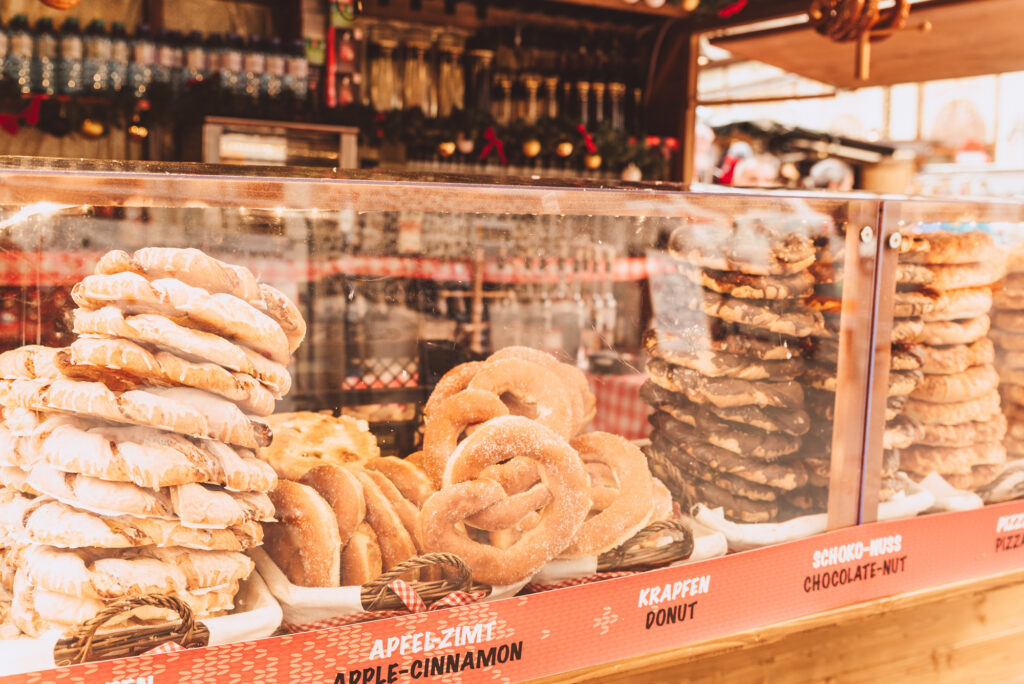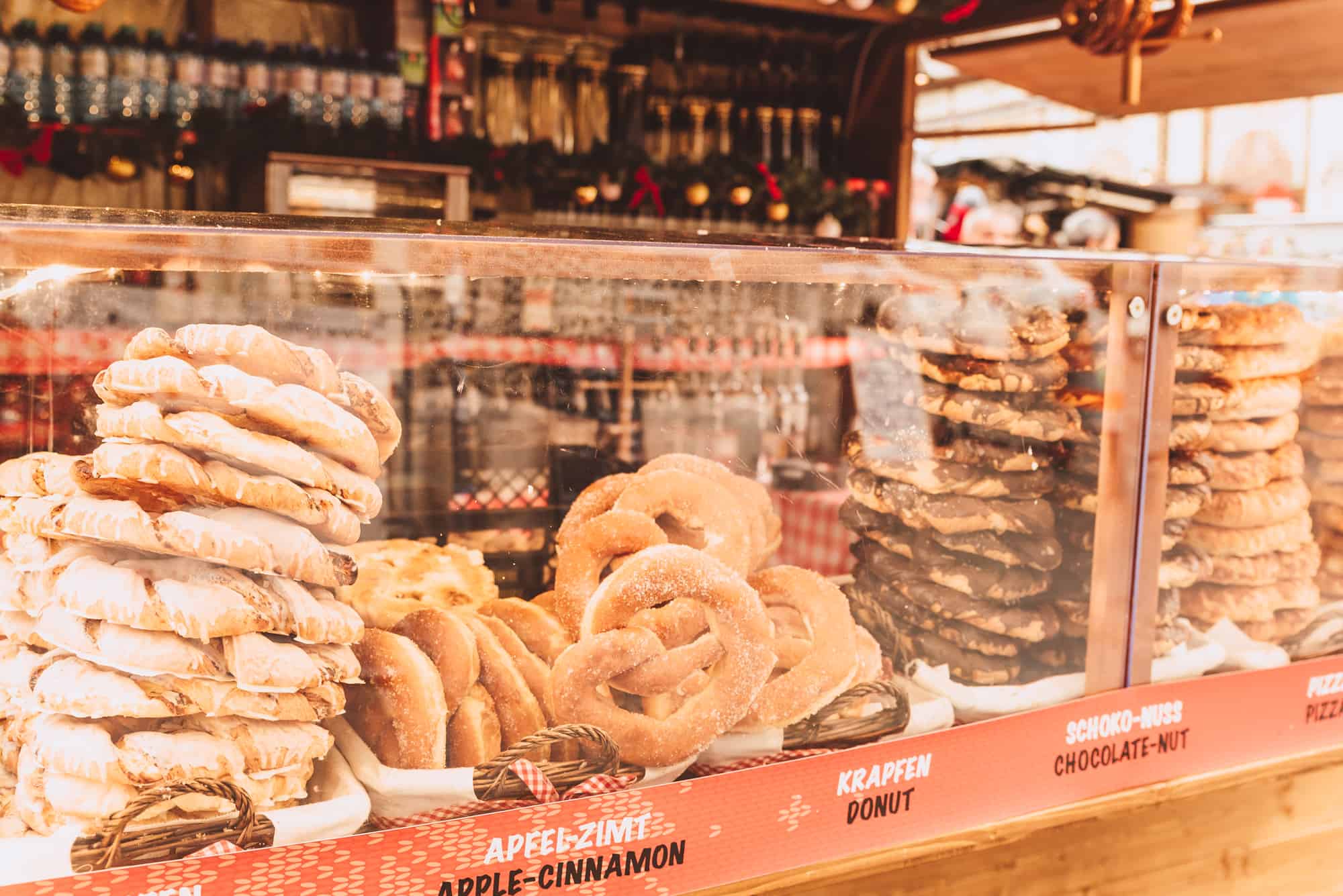 Most markets will 'rent' mugs to you for a few euros' deposit. You then pay to have it filled with mulled wine or punch at any of the beverage stands within the market. At the end of the night, you can keep the mug as a cute souvenir, or return it to reclaim your cash.
Speaking of cash, it's best to have plenty on hand, as not all market stalls will accept cards. There are sometimes ATMs onsite, but you can expect to pay for the privilege.
Consider skipping a meal to munch on market treats instead. You'll want to sample more than one – trust me!
The Christmas markets vary slightly in dates and opening times, but the majority run from late November through to Christmas Eve.
Not visiting Austria in December? Christmas in Salzburg is special, but there are loads more things to do in Salzburg in winter besides Christmas markets. Read on to find out more…
Pop inside the Salzburg Cathedral (& discover its secret crypts)
You don't have to be religious to appreciate the grandeur of the art and architecture within this impressive baroque cathedral. Entry is free (donations are appreciated) and at the very least, it's a pleasant respite from the chill outside.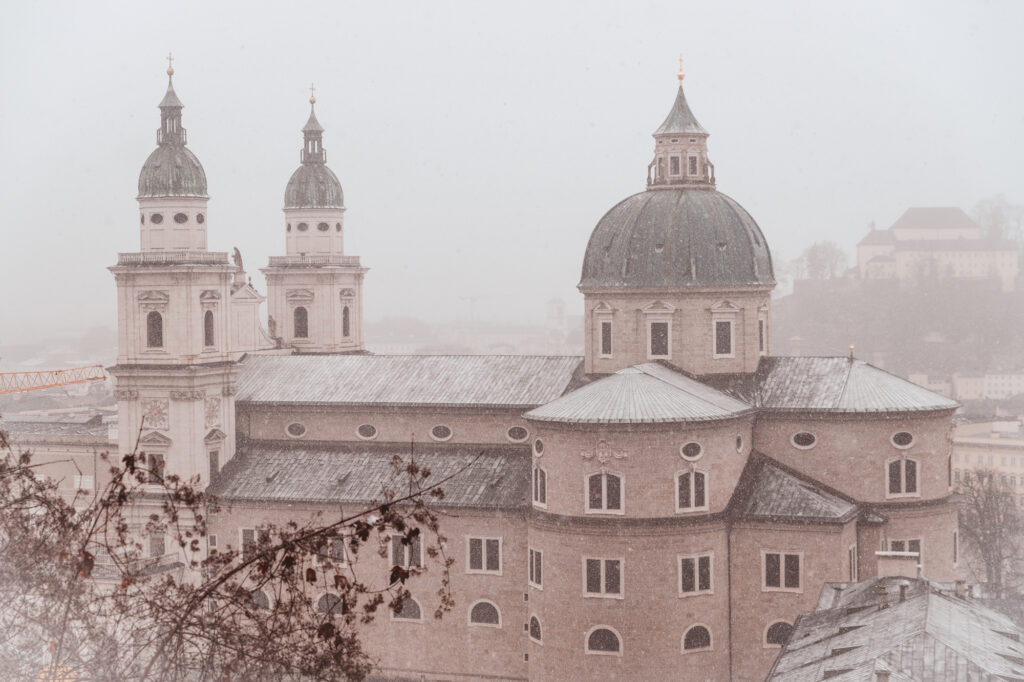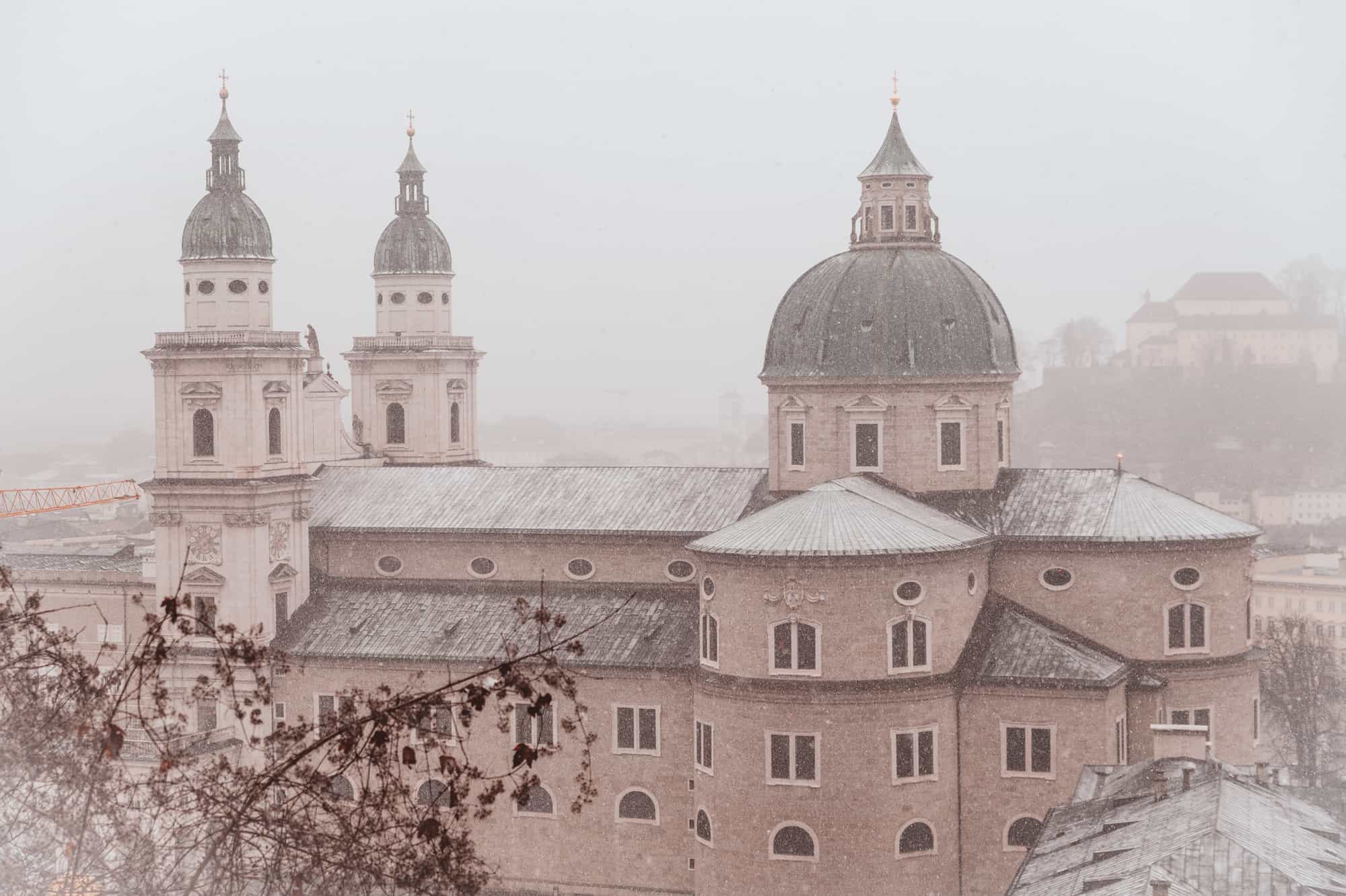 Pop down the stairwell to the left of the cathedral's interior and you'll enter the crypts beneath.
Two crypts reside here, one from the current cathedral, and the Konrad crypt which belonged to a Romanesque cathedral that once stood in the same spot. The latter crypt was unearthed during excavations in the mid 20th century, although they date back as far as the 11th century.
Inside you'll find an eerie art installation, a tiny chapel, and several historic tombs.
Visit Café Tomaselli for Coffee & Cake
Coffee houses are an Austrian institution, and are typically a feast for the eyes as well. Salzburg's most famous example is Café Tomaselli – a popular meeting place in the heart of the old town.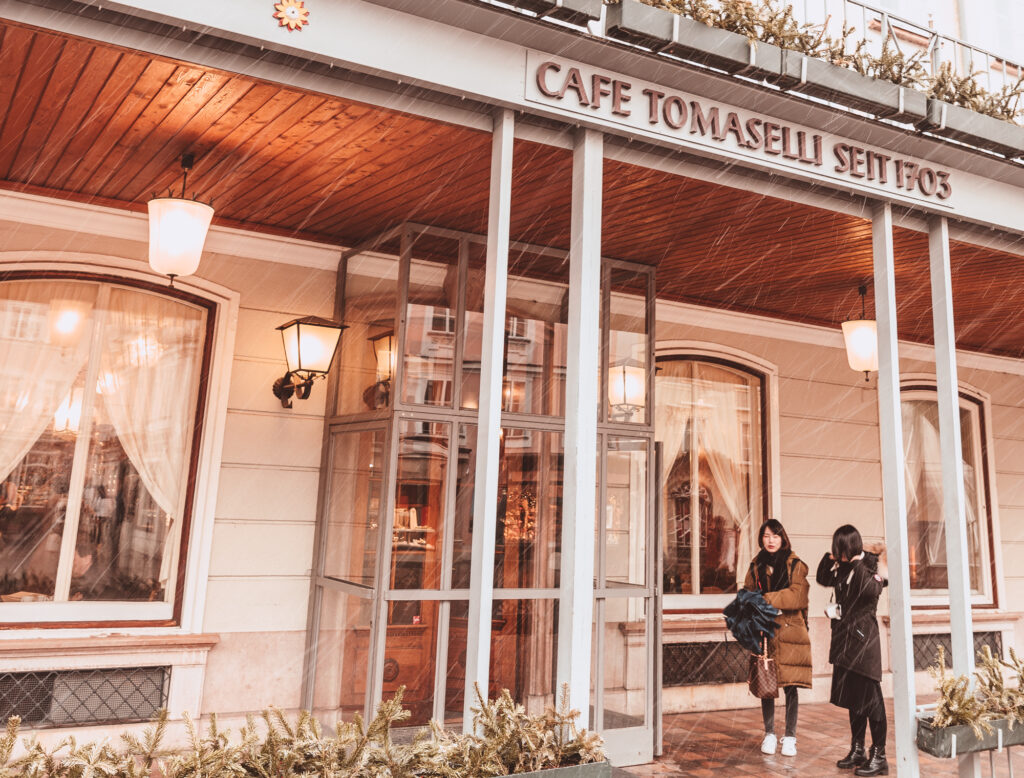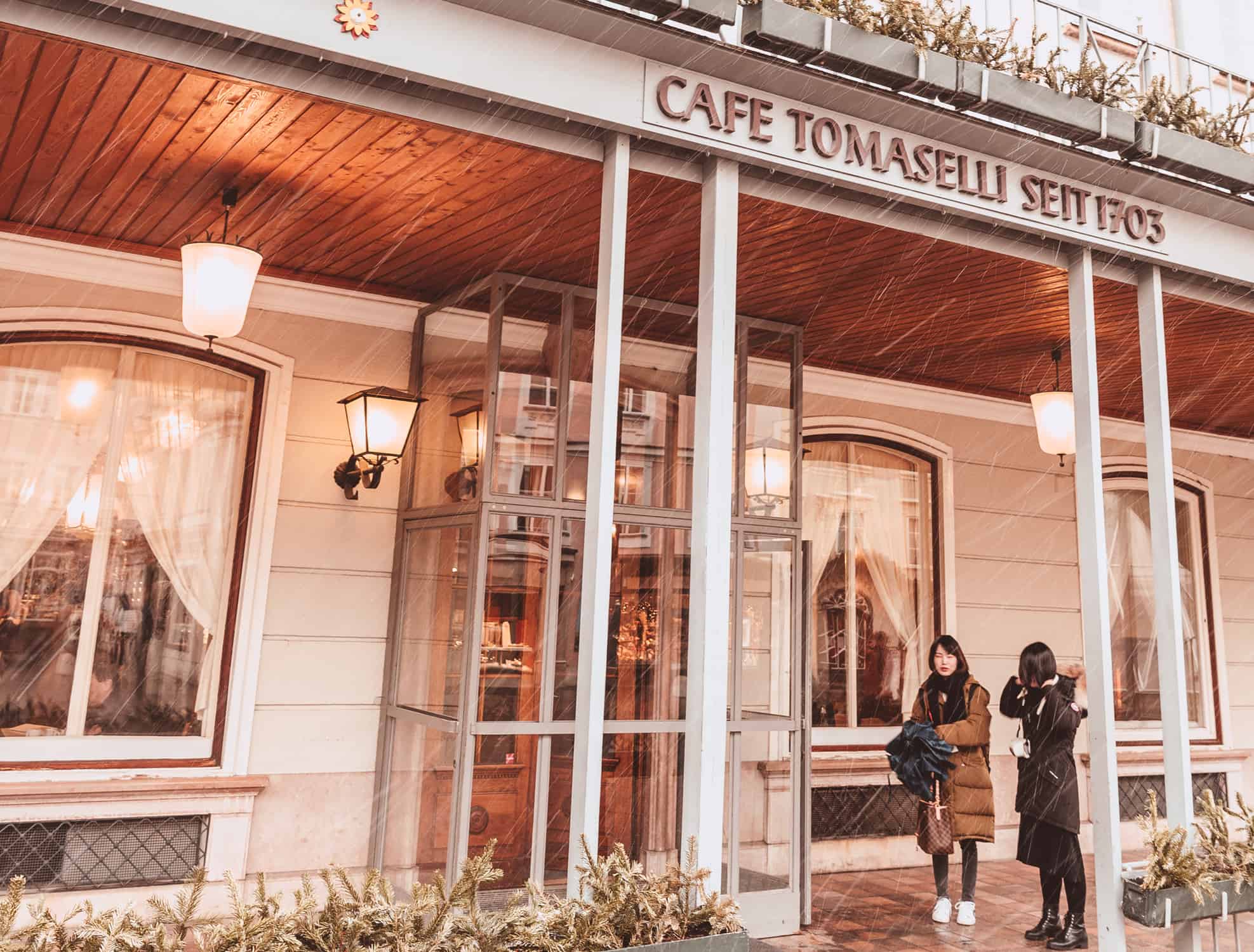 Dating back over 300 years, the Tomaselli family took ownership of the cafe in 1852, and it has established itself as an iconic Salzburg landmark since.
Pop into the warm interior, grab a newspaper and a table, and wait to be served by both a coffee waiter and a "cake maid" who'll tempt your taste buds with delectable looking creations.
Shop for Souvenirs in the Old Town
Salzburg's old town is awash with beautiful buildings, charming squares, and hidden shopping streets. It's a joy just to wander around and take in the atmosphere, but if you wish, there are plenty of typical treasures you can shop for too.
Chocolate Shops
The most iconic chocolate treat in Salzburg is the aptly named Mozart balls (or Mozartkugel). Paul Fürst, a local confectioner, devised these chocolate-covered marzipan and nougat balls in 1890, and you'll find them for sale all over the city.
Snow Globes
An Austrian invention, the snow globe has since been replicated worldwide. Although originating in Vienna, they can be found on many Salzburg shop's shelves. Just make sure you're not accidentally picking up a cheap counterfeit.
Anything Mozart Related
Head into Mozarthaus for the largest selection of Mozart related paraphernalia available, including everything from fridge magnets to mini violins. But barring that, you'll find the late composer's face emblazoned on t-shirts and take home mugs throughout the city of Salzburg's gift shops and markets.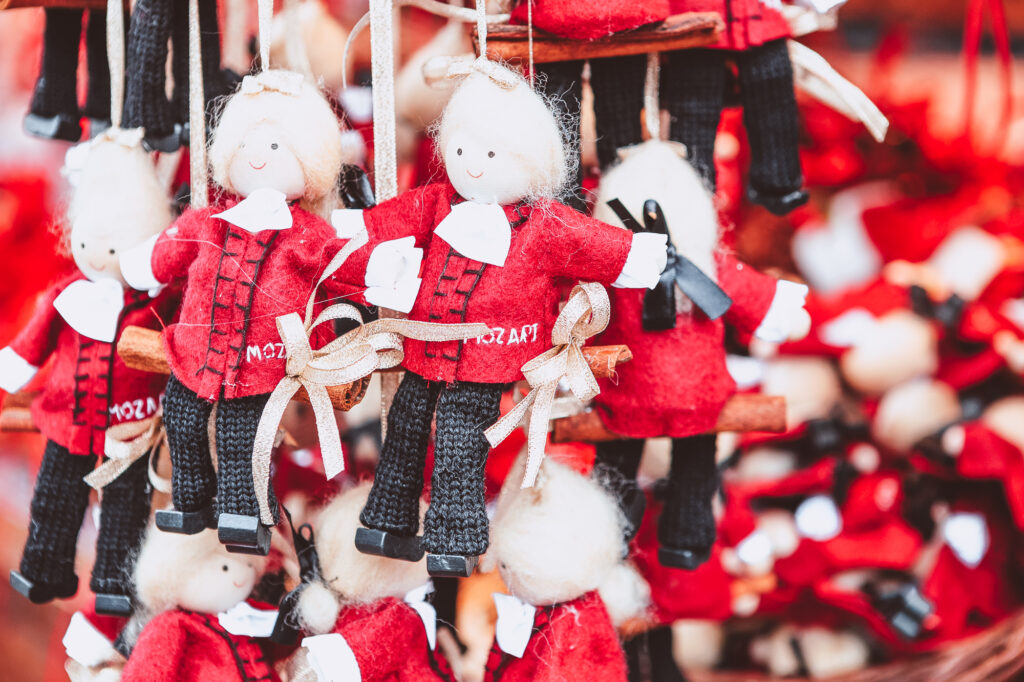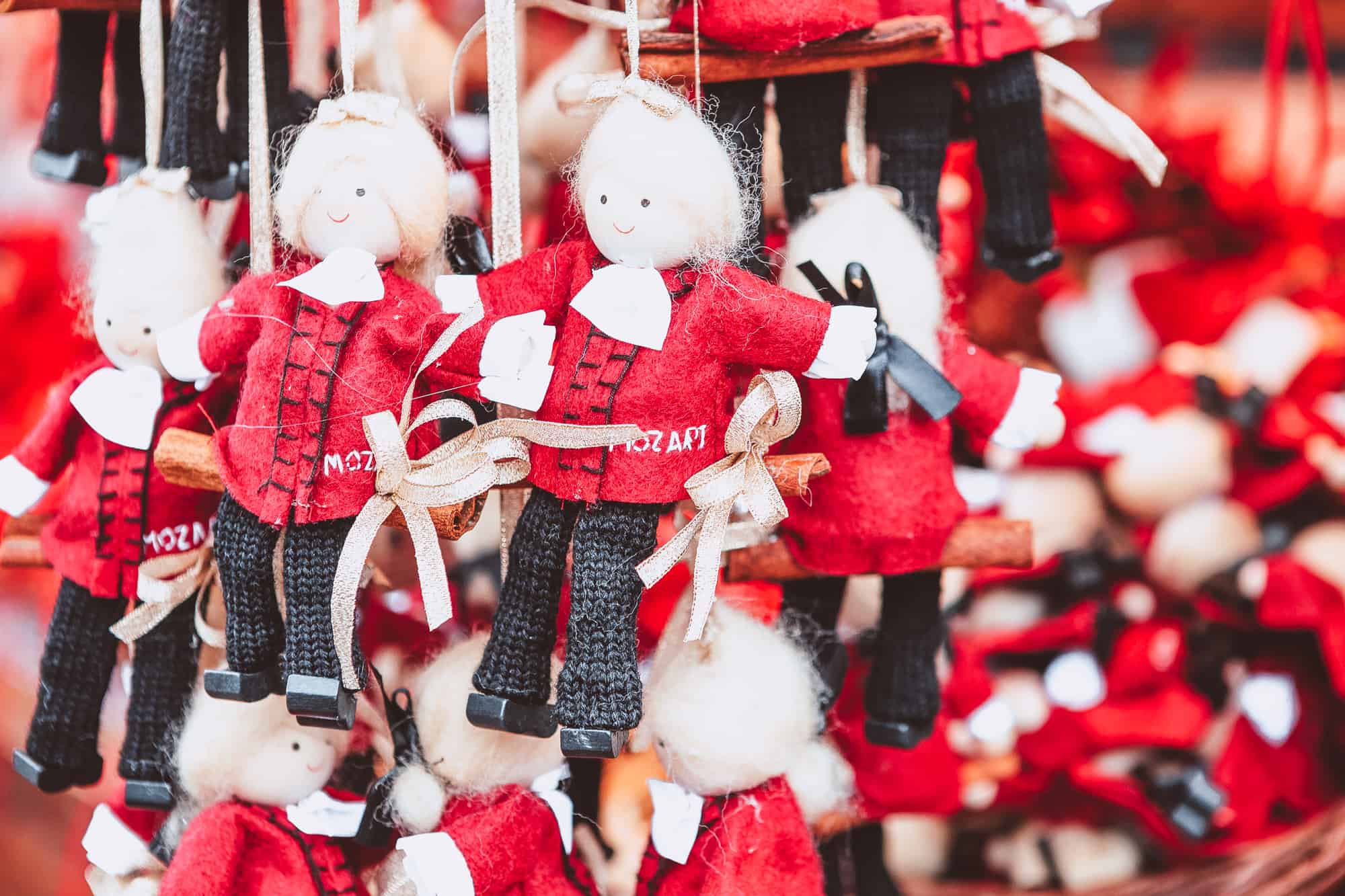 Schnapps
This fruity liquor is all the rage in Austria, and Salzburg is no exception. Although you'll find it on menus throughout the city, head to Sporer Liquor for a real tasting experience. The Sporer family has been creating liqueurs, punch and schnapps since 1903.
Cuckoo Clocks at Heimatkunst Lackner
An adorable family-owned business in the old town, Heimatkunst Lackner offers the greatest range of cuckoo clocks in Austria. The shop is brimming with all sorts of other souvenirs too – from the quirky to the commonplace – so be sure to pop in for a unique slice of Salzburg.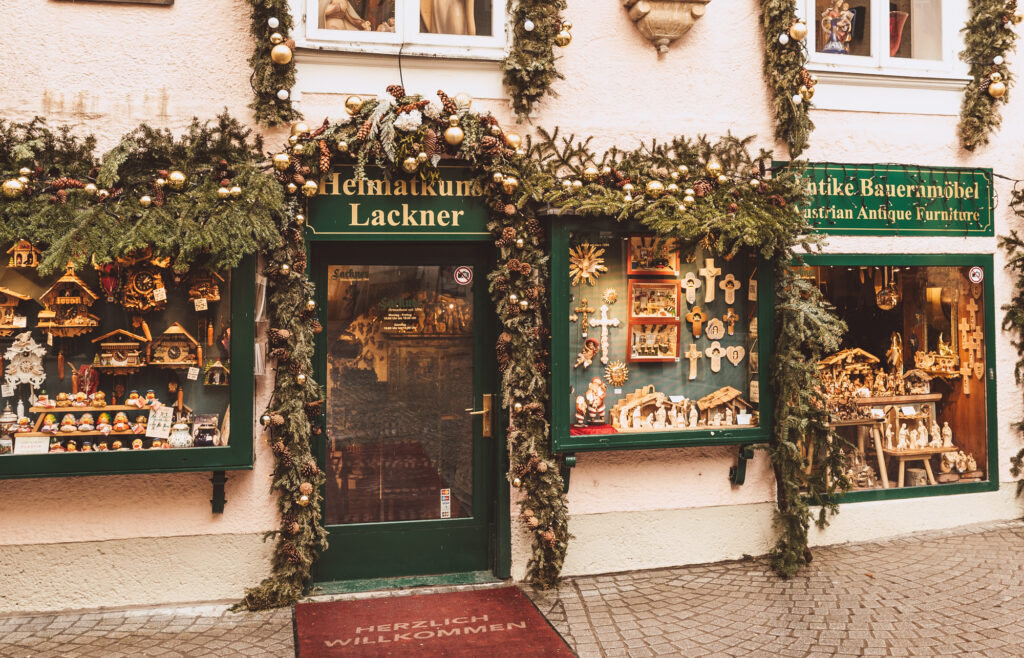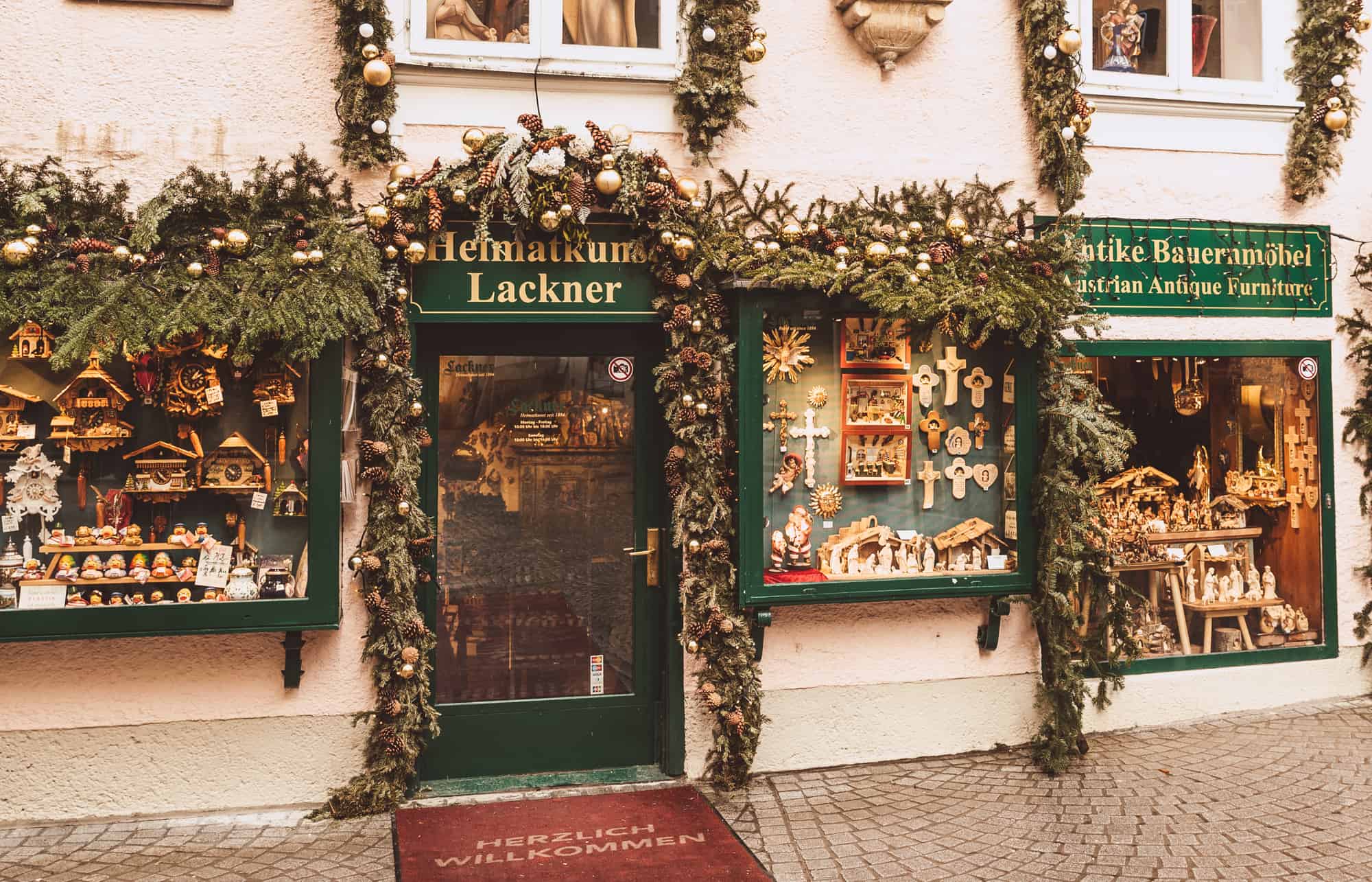 Trachten
Walk down any of the arched laneways in the old town and more often than not you'll happen across a trachten store. What is trachten you may ask? It's the traditional garments of Austria – think lederhosen and drindl. Needless to say, it's the perfect place to pick up a unique piece of clothing. Just be warned that doing so will likely cost you a pretty penny.
Visit the Salzburg Fortress
As you walk around town, the Salzburg Fortress works as a kind of compass to keep your bearings. Located at the top of the Festungsberg, it's not easily missed – being one of the largest medieval castles in all of Europe.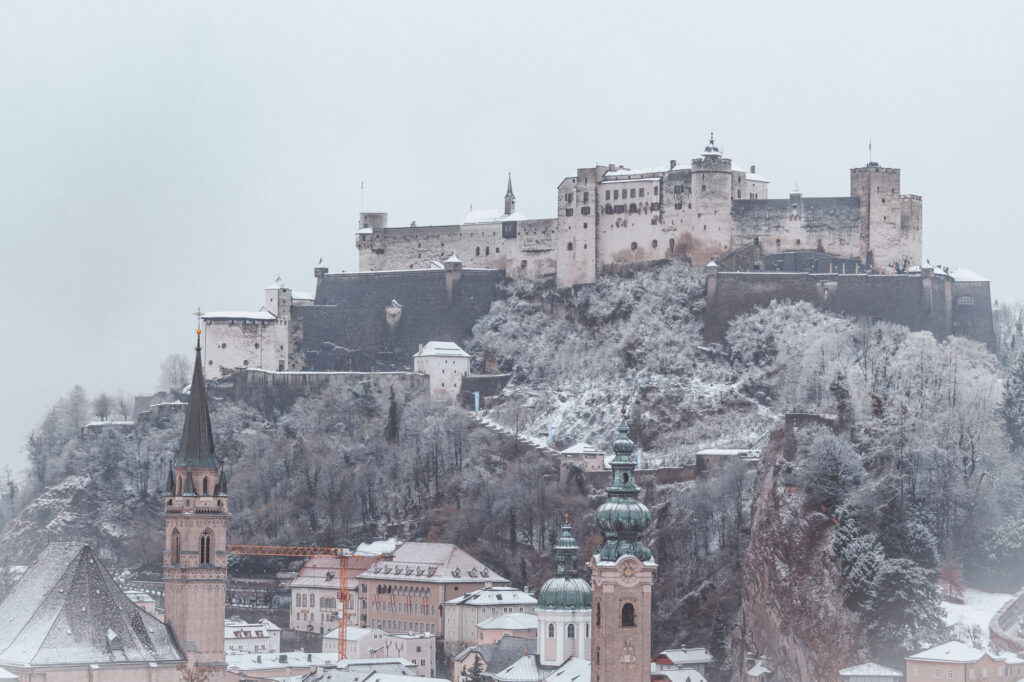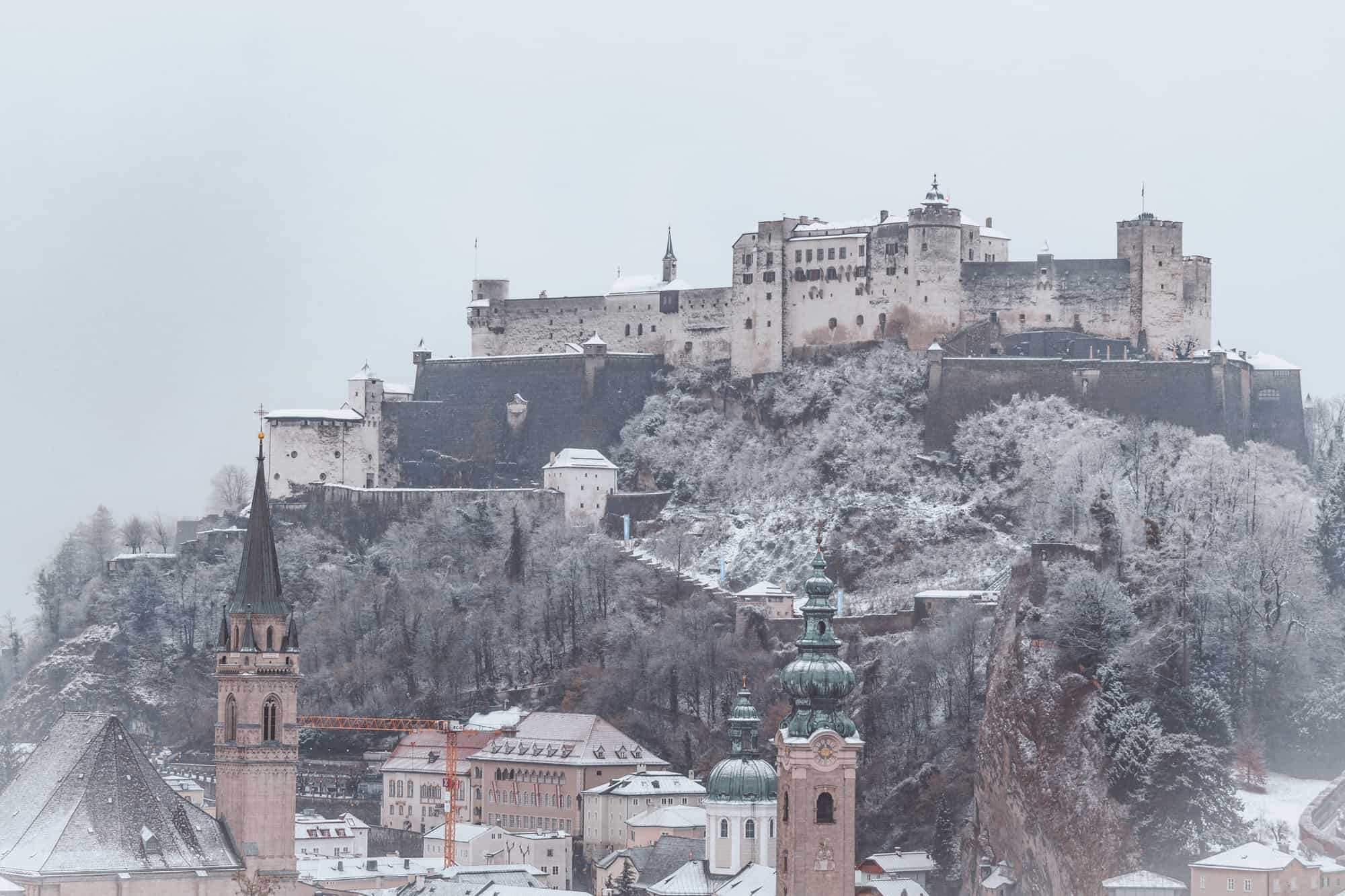 Access to the fortress is by way of walking up Festungsgasse, but be warned it's a somewhat slippery slope in the snow. The alternative is to take the Fortress Funicular which is open year-round (with reduced hours in the winter).
Once you reach the top, several museums and well preserved castle rooms will hold you captive as you tour around the vast complex. On Sundays at 11.45am you'll hear music coming from Trumpeter's Tower, and throughout the year you can book dinner and a Mozart concert for a memorable experience.
Entrance starts at €9.90 for a 'Panorama ticket' and increases up to €15.70 for an all-inclusive ticket. You can buy your tickets here. Or purchase the Salzburg Card and entrance will be free!
Take a walk to the Richterhöhe Look Out
Once you've taken the funicular, or walked, up to the Salzburg Fortress, I'd recommend continuing on into the gardens towards the Richterhöhe lookout.
While the gardens themselves aren't the most engaging in the winter months, they afford stunning views over the city, fortress, Alps, and beyond.
As you wander around, you'll also come across several fortifications and even a museum that delves into the inner workings of Salzburg's water system. It's a popular place for curious kids.
Bring good footwear, as it can be somewhat slippery in the snow.
Museum of Modern Art
From the lookout point, continue your walk through the gardens to the east, where you'll find the top of the Modern Art Museum. Pause here, as you'll have one of the best views over the city and fortress overlooking it.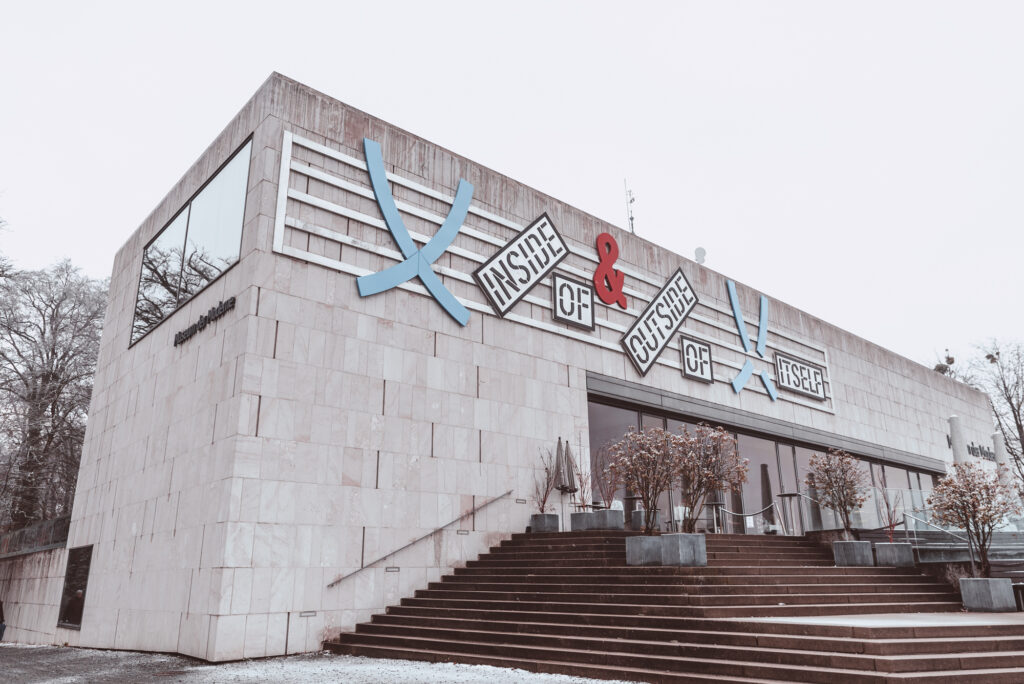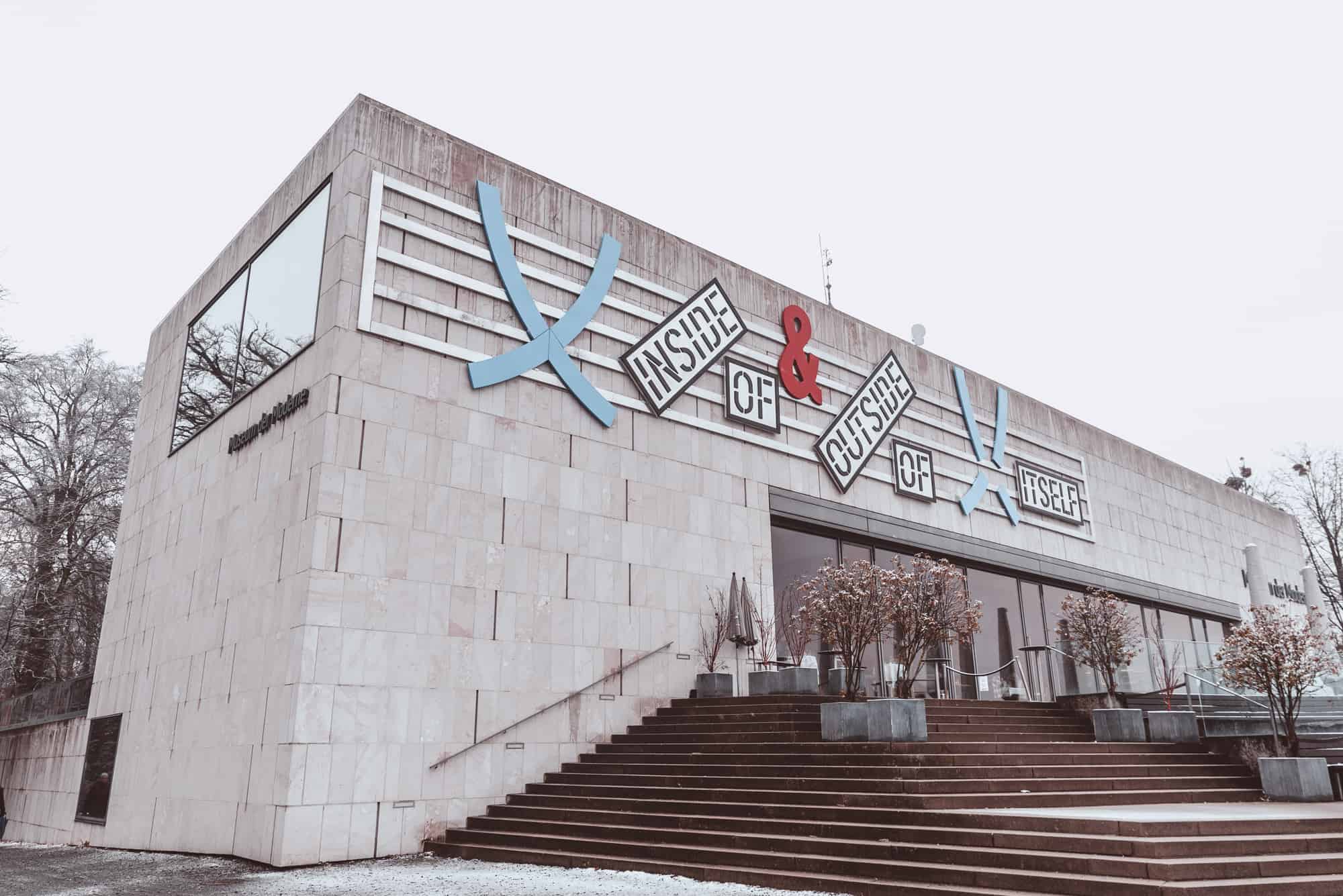 You can enter the museum with your Salzburg Card, or buy a ticket onsite for €12. Whether you plan to visit the museum or not, taking the Mönchsberg lift is the quickest way to get back down to the old town, without having to retrace your steps down the steep hill.
*Just be warned that if you take the Mönchsberg lift down, ticket collectors will ask you to pay €2.60 for the privilege if you don't have a museum ticket or Salzburg card. That's an expensive elevator ride!
Exhibitions within the museum change regularly, and it's a pleasant place to while away a few hours out of the cold.
Sing Along to The Sound of Music
It wouldn't be Salzburg without mentioning The Sound of Music and the legacy the film has left on the city. Fans can visit several of the iconic filming locations around town, or take a guided tour.
Some key spots to visit include the Mirabell Gardens, Hellbrunn Palace, Residenzplatz and Felsenreitschule.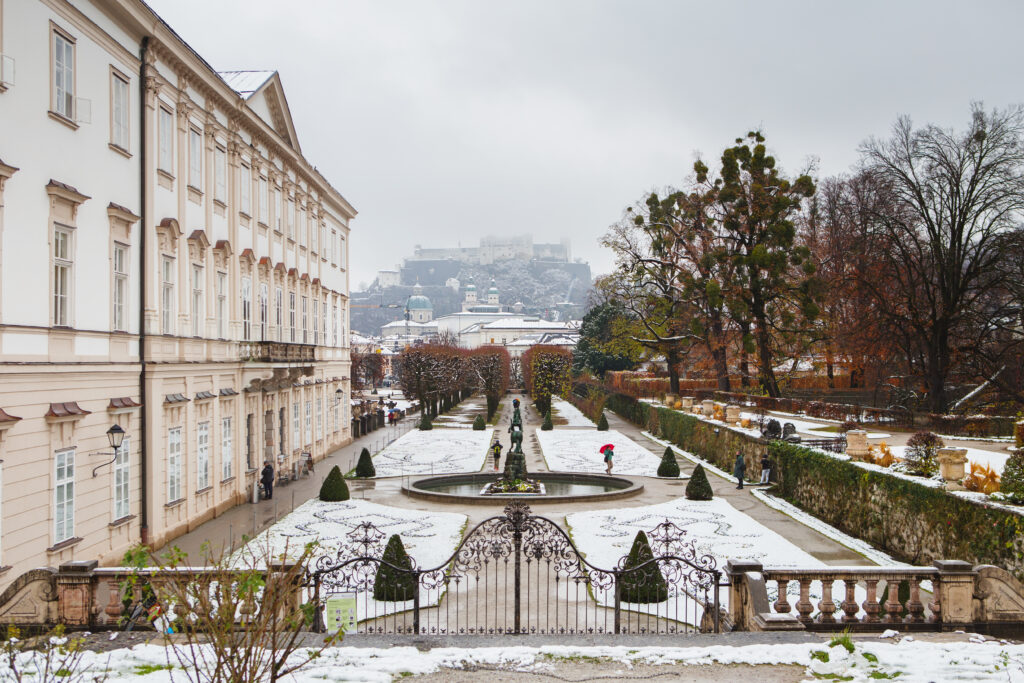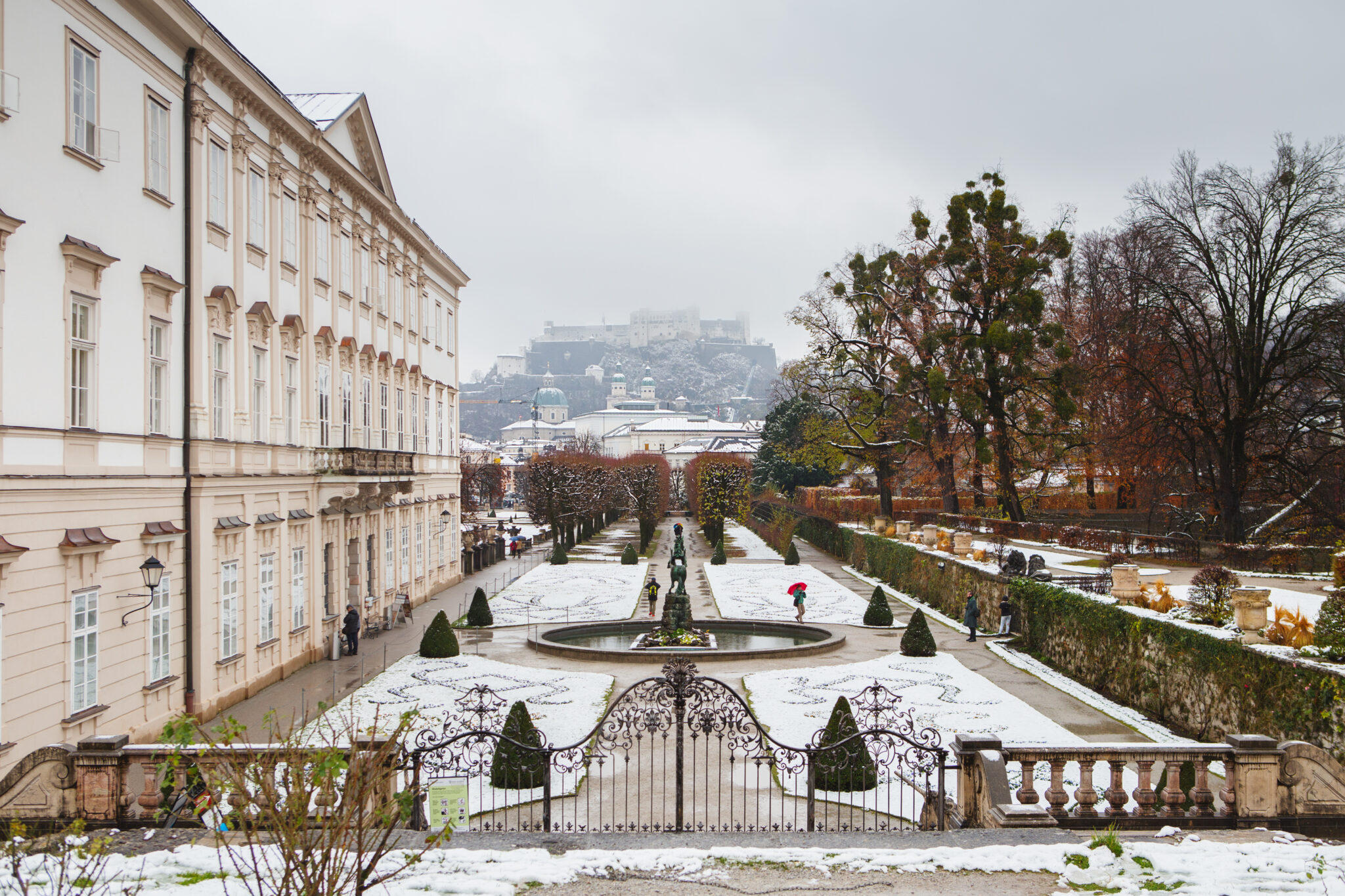 Very keen fans will want to go for the guided tour option, as it includes locations that are harder to visit on a self-guided mission. Tours last 4 hours, so it's an excellent half-day trip in a heated, and musical bus!
Book your place on the Original Sound of Music Tour here!
Walk Through Mozart's World
As Salzburg's most famous resident, Mozart's legacy can be seen all over the Austrian city. Whether you're a classical music enthusiast or just slightly curious about the composer's early life, there's an attraction of every kind to satiate your appetite.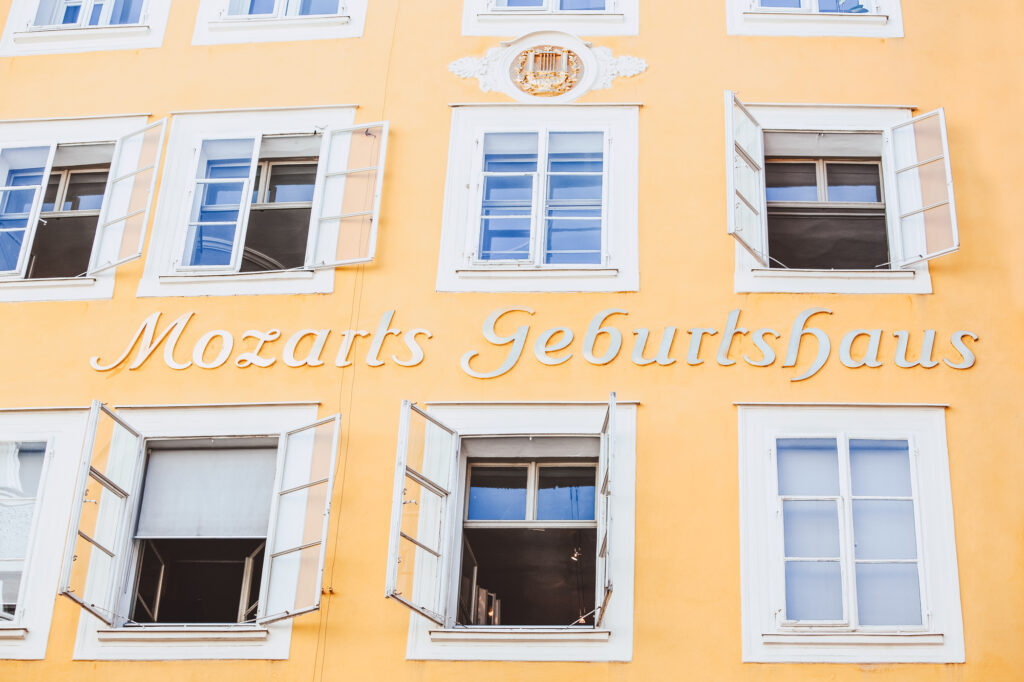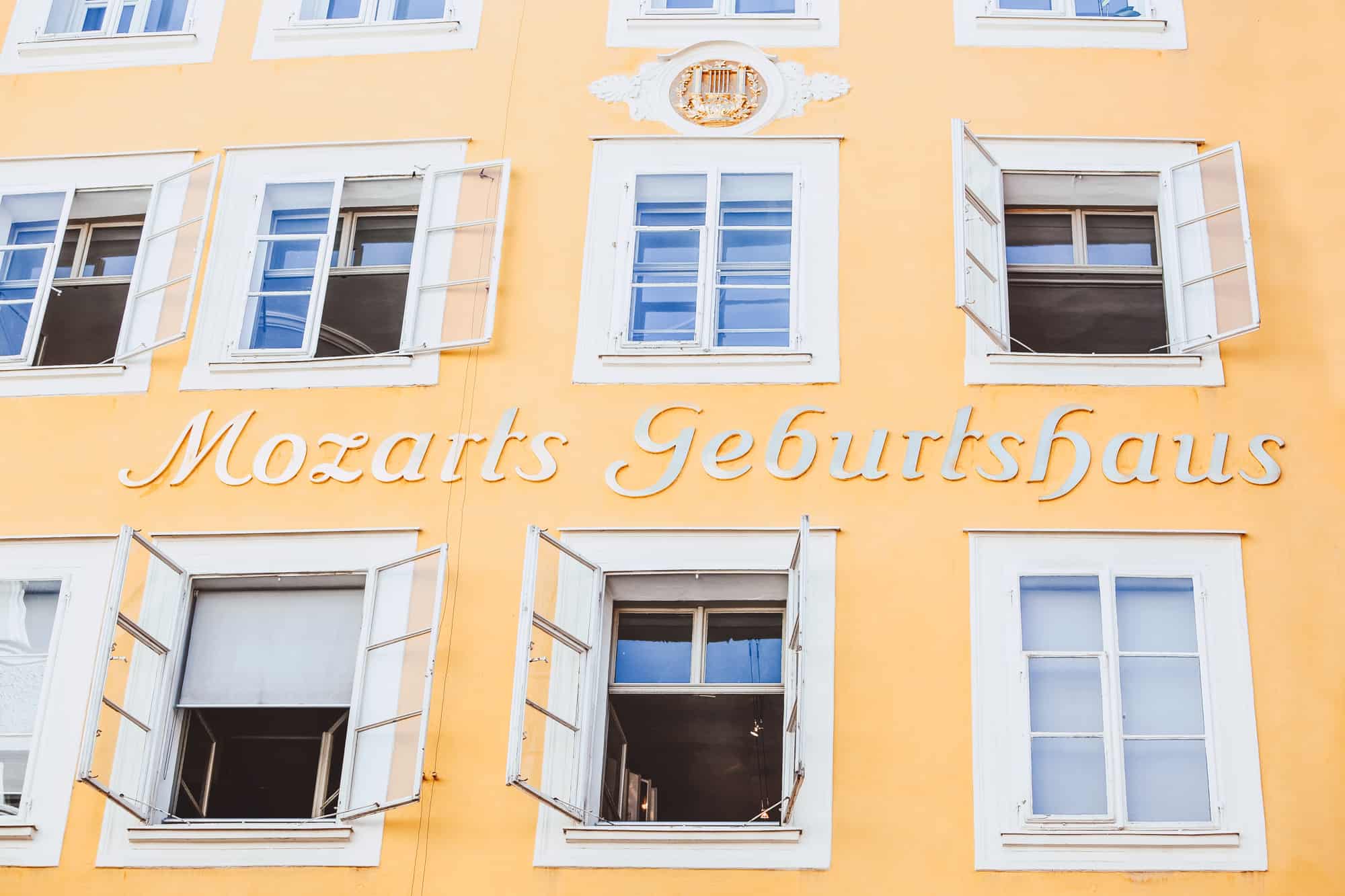 Both Mozart's birthplace and later childhood home can be toured as part of your Salzburg Card admissions, and then there are the numerous Mozart concerts, the Mozarteum and the Mozart House to discover.
Don't forget to take in the Mozart Monument either. It's housed on the hills behind the Capuchin Monastery (see the next point).
Not really that into Mozart? Just grab yourself some Mozart balls and nibble on them as you wander through the old town instead.
Take a Stroll Through Kapuzinerberg
It may not be walking weather when you visit Salzburg in winter, but a brisk stroll can certainly help warm you up on a cool day.
Cross the Staatsbrücke (bridge) and wander straight up through the pedestrian shopping street until you find the Kapuzinerberg pathway on your right.
Even in January, on a snow sodden day, this path proved to be a popular one with the locals.
It will take you up past the monastery, where you can visit the small church on the side, and past the Mozart monument. From here you can continue around the hill up to the observation deck for another vantage point of the mighty fortress opposite.
Work up an appetite before rewarding yourself with lunch at the upmarket Franziskischlössl. Just be aware that it does close for a month between early January and early February.
---
Day Trips From Salzburg in Winter
If you're staying for a little longer than a few days, there are plenty of places near Salzburg that would make a great day trip in winter. Consider taking some of the following day trips from Salzburg to fully immerse yourself in the region.
The Fairytale Town of Hallstatt
Hallstatt is a true 'chocolate box' town. Located on the banks of the Hallstätter See, it's an easy day trip from Salzburg. It takes just over an hour by car, and a smidge longer via bus. The bus option does include a changeover; so if you're uncomfortable navigating this, perhaps book a day tour instead.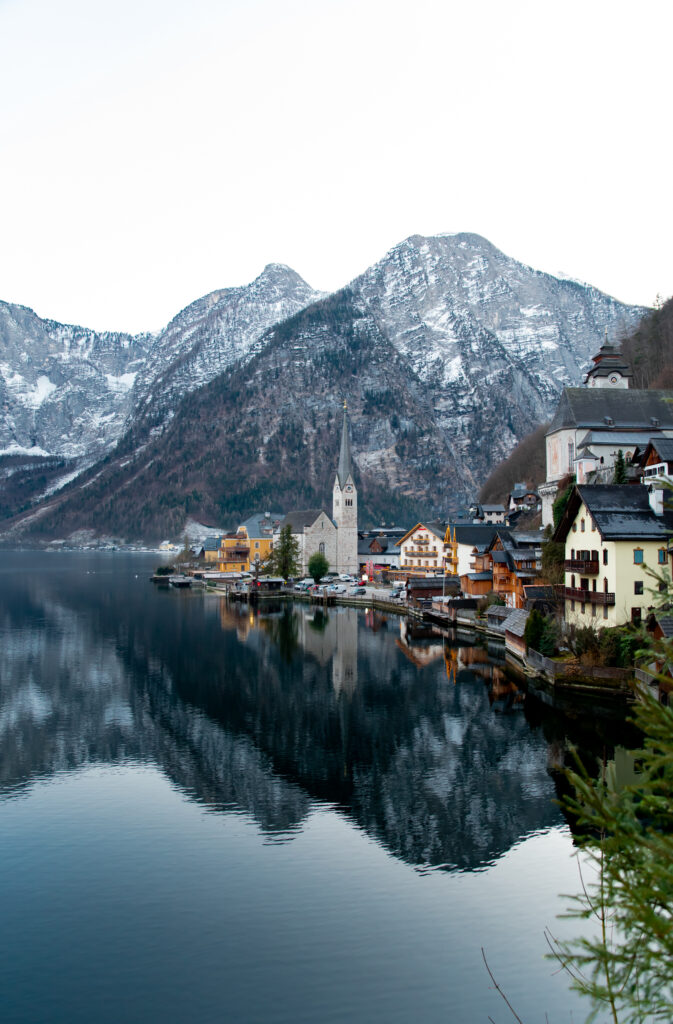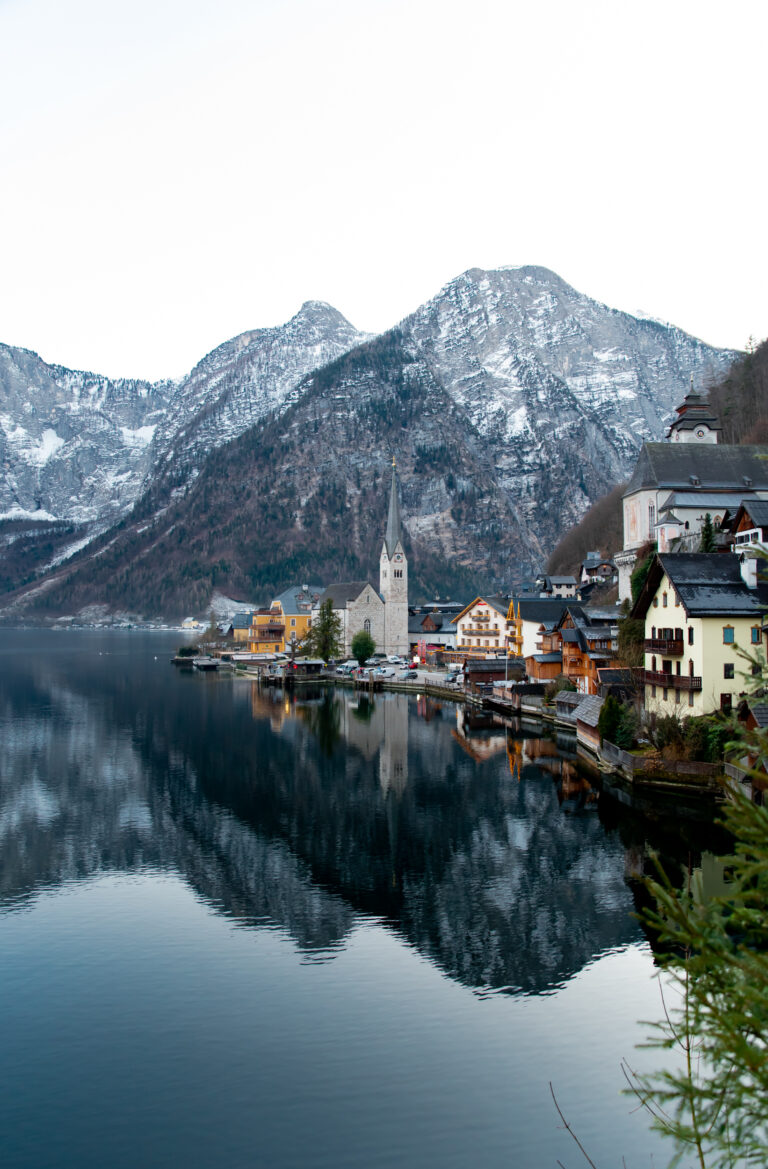 An afternoon is ample to discover Hallstatt in winter as some of the main attractions close during January. Wander the charming streets, stop for a warming drink in a cosy cafe, and make sure to get that postcard shot at the 'Classic Village Viewpoint'.
If you're visiting Hallstatt in December or February, you may want to add in a little more time to discover the nearby attractions such as the Skywalk (you can walk to the Skywalk in January but it's extremely slippery with ice) and the salt mines.
Book your Hallstatt half day tour here.
The Colourful City of Innsbruck
Just 2 hours drive away you'll find another Austrian city surrounded by snow-covered mountain ranges. Innsbruck has a distinct feel that's dominated by its ski scene in winter.
Read more: Innsbruck in winter.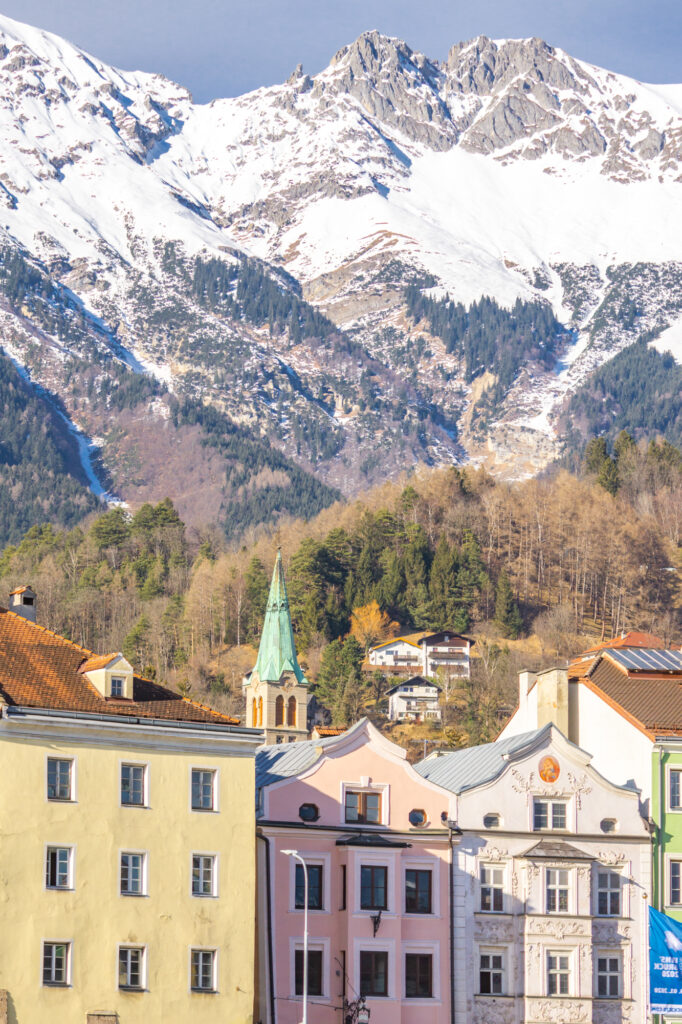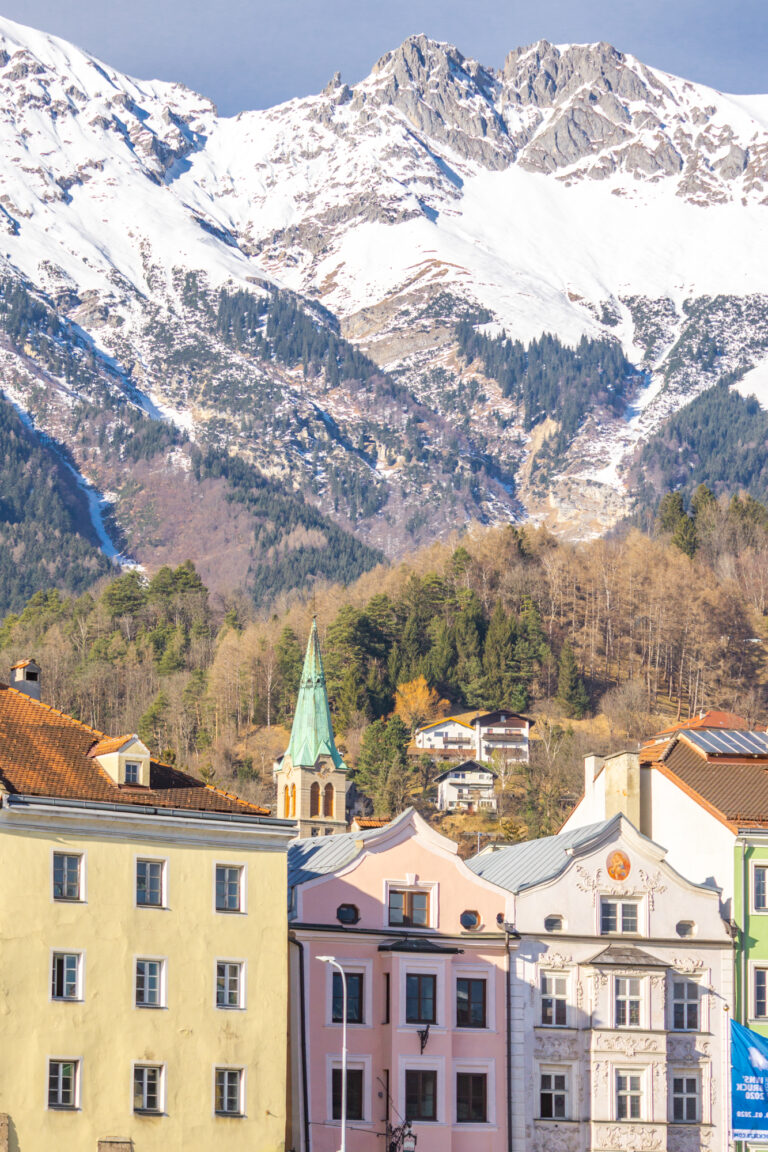 Even if you're not into snow sports, take the Nordkette cable car right from the city centre, and you'll be delivered up the mountain in no time. Stop off at the Cloud 9 bar for a mulled wine as you watch the daredevils on the slopes and drink in the views over the valley. Then, if you dare, take the last leg to the top of the mountain. Just watch your step if it's windy!
Once back on terra firma, head for a stroll around the colourful old town. Take in the famous Golden Roof, stop for a slice of cake at Café Sacher, and, if the timing is right, peruse the Christmas markets.
Book your Innsbruck day tour here.
Hop Over the Border to Munich
The Bavarian capital city, and the birthplace of Oktoberfest, Munich is a quick 2 hour car or train ride from Salzburg.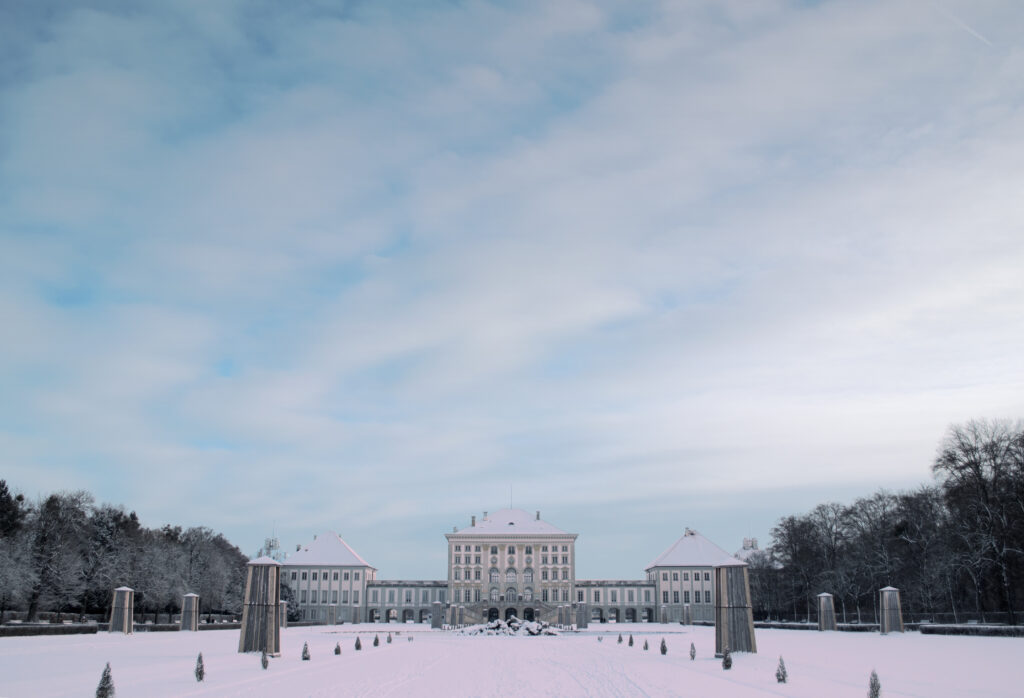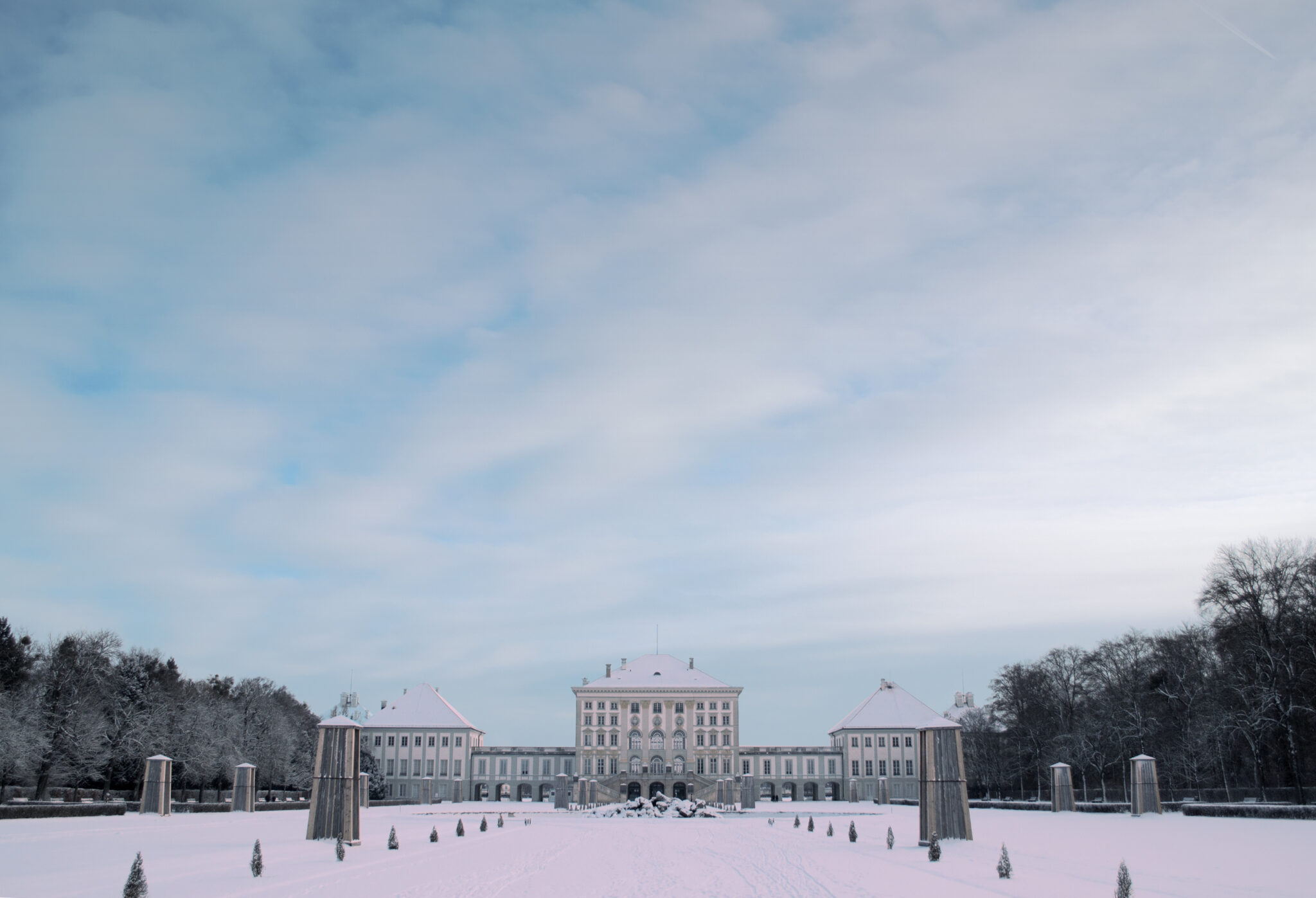 Hop over the border to experience the famed Christmas markets, museum hop around the city, or to take a soothing sauna in Art Nouveau surroundings at Müller'sches Volksbad.
One day in Munich will barely allow you to scratch the surface of this dynamic city, but it's a good taster if you're short on time and want to experience a Bavarian winter wonderland.
Hit the Slopes at Zell Am See
There are several ski resorts within 1-2 hours drive of Salzburg, but Zell am See is perhaps the most picturesque. Situated on Lake Zell, this family-friendly resort makes the perfect day trip for adventure seekers.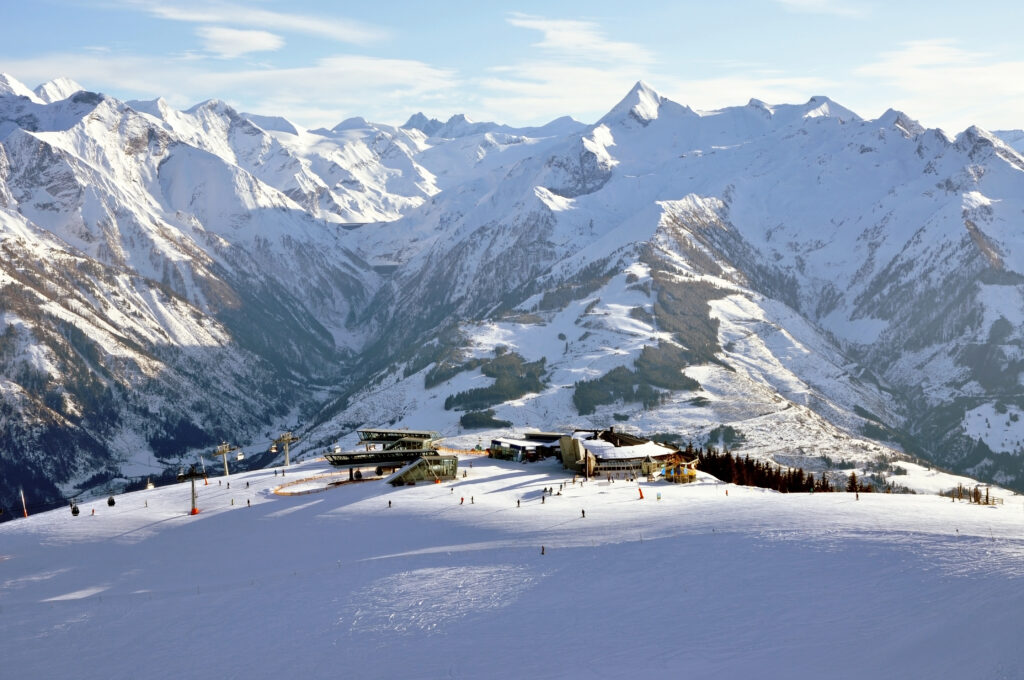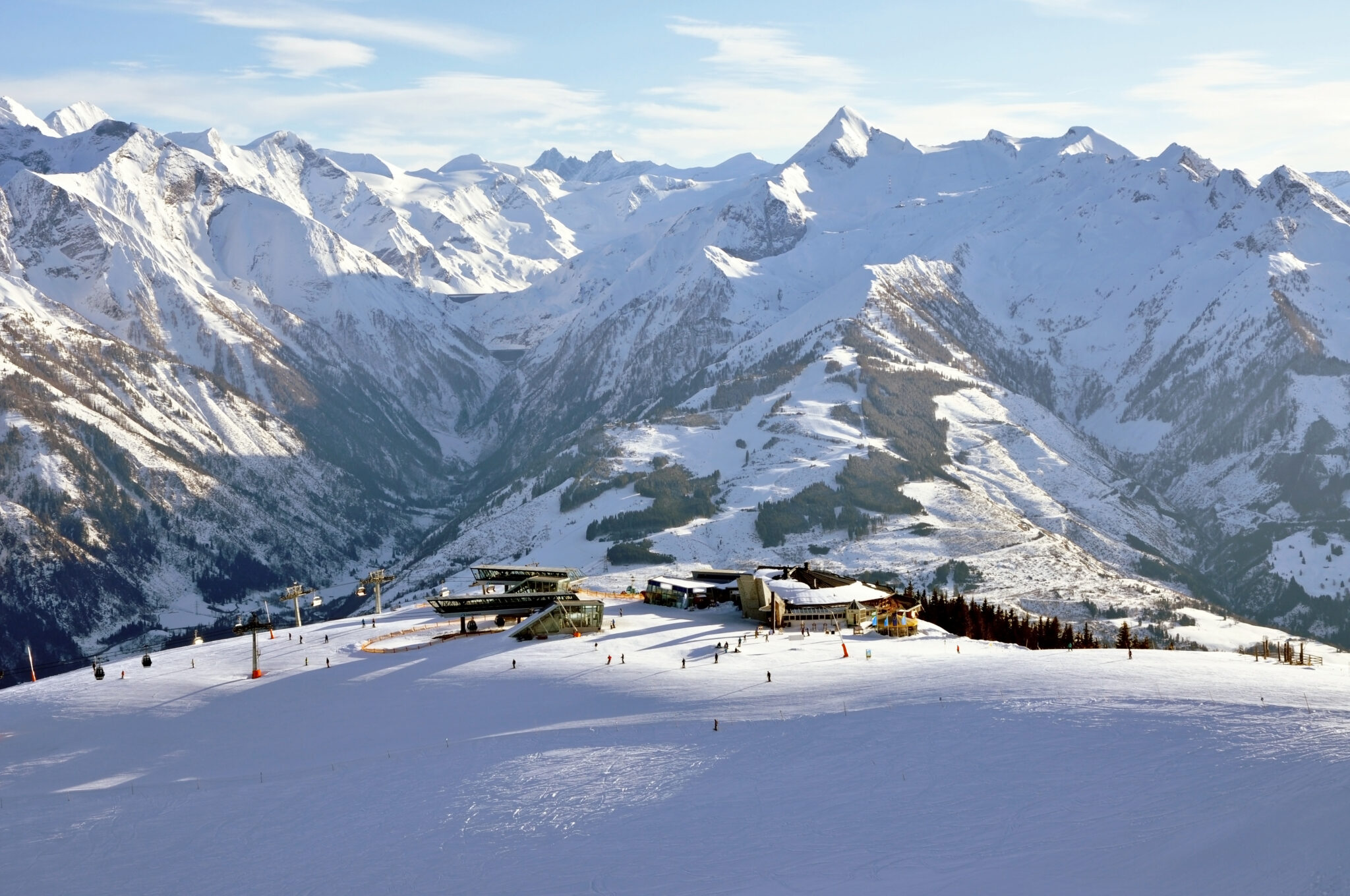 There are 77km of pistes, and plenty of cosy bars to sink into for a well-deserved drink and bite to eat after a day on the slopes. Even if you're not skiing, take the cable car up Schmittenhoehe and enjoy the views at the top.
To take this day trip from Salzburg, either drive the 1.5 hour journey from the central city, or take the train.
---
Key Things to Know Before Planning Your Salzburg Winter Itinerary
Visiting Austria in the winter is absolutely magical. The landscape glistens under a fresh layer of snow, and the cities seem cosier and more inviting than in the heat of summer.
But to make the most of your time, there are a few things you need to know before booking your Salzburg winter holiday. Let's start with the basics…
How to get to Salzburg
Salzburg has its own airport, but I found direct flights much more expensive than flying into larger neighbouring cities. And if you're coming from outside of Europe, you may not have the choice to fly direct to Salzburg.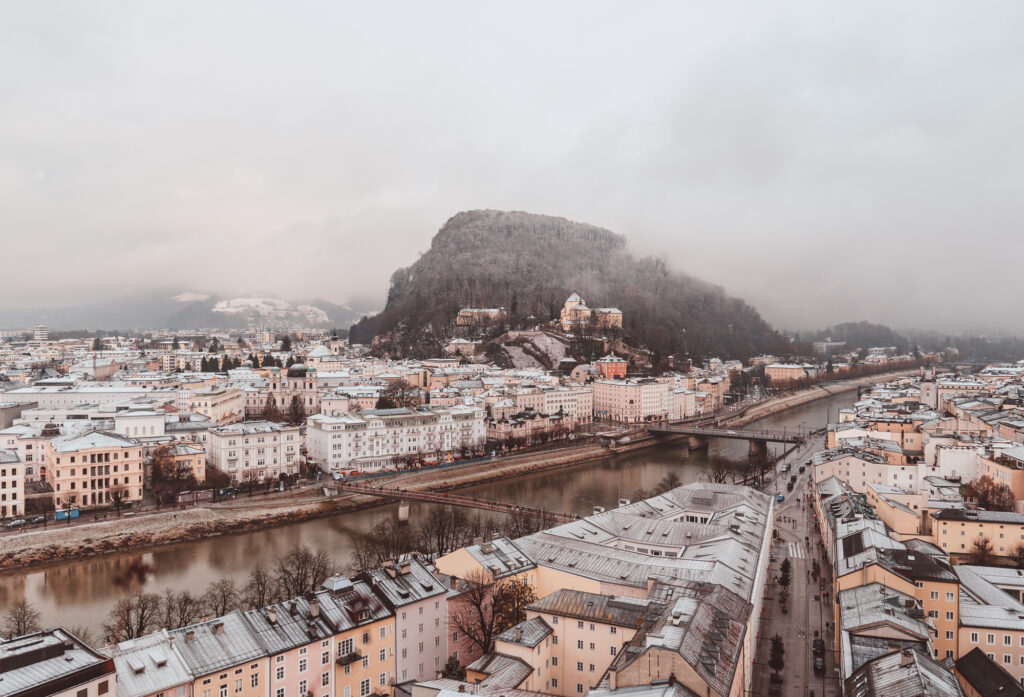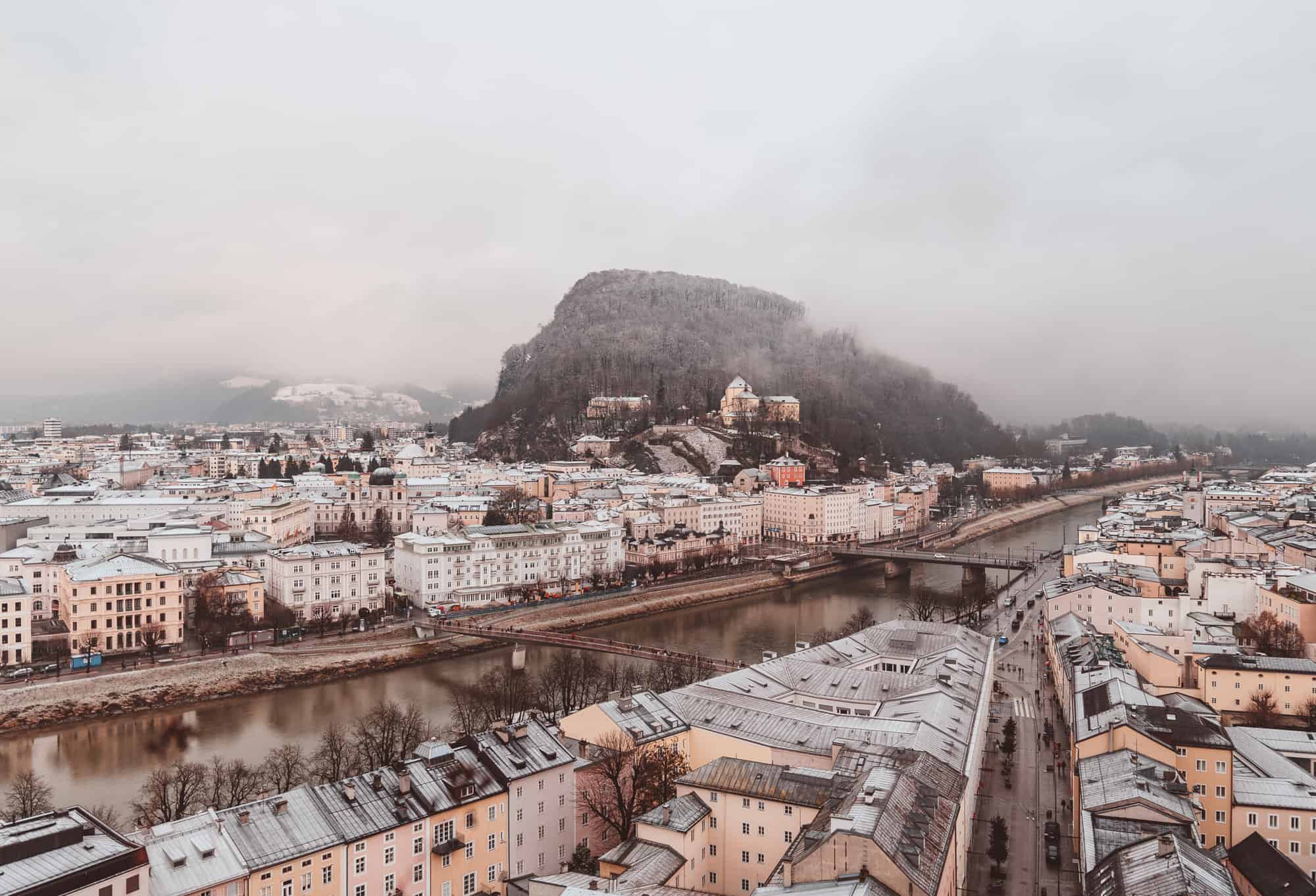 Instead consider flying into Munich (closest) or Vienna. From either city, you can continue your journey via train, bus or rental car.
Do be aware that to drive in Austria you need to purchase a 'vignette' for the toll system. And this needs to be purchased before entering Austria. Also, if hiring a rental car from Munich, you'll need to pay a small additional fee to drive your car over the border into Austria.
Another thing to be aware of is the driving conditions in winter. Snow tyres are a must-have, and even then, it can be daunting driving on slippery, snowy roads if it's something you're not used to.
How long to Spend in Salzburg
Considering all the great things to see in Salzburg in the winter, you may think you need a lot of time in the city to fit them all in. However, this isn't necessarily true.
If you just want a taster of winter in Salzburg, one day could be enough if you start out early enough. Of course, you're not going to be able to fit everything in, but with one day in Salzburg, you could easily walk the old town, hit up a Mozart Museum and the Fortress, and finish the day at the Christmas Markets (as an example).
Preferably, 2 days in Salzburg would be the minimum to enjoy all that the city has to offer. And you could easily spend three days, up to a week, depending on how you like to travel & whether you plan on taking any Salzburg day trips.
One tip – if you're only planning 1 day in Salzburg, don't plan it for a Sunday, as many of the shops and eateries are closed in town.
What to Pack for Winter in Salzburg
When considering what to wear in Austria in winter, think warm! But don't overdo it and pack the ski gear (unless, of course, you're planning to hit the slopes).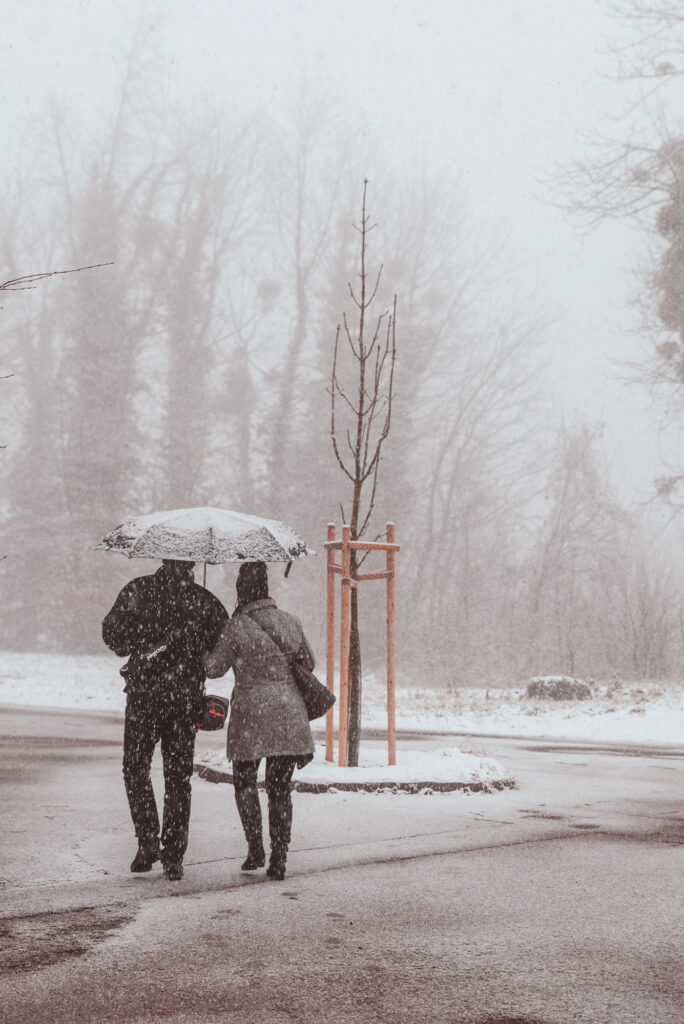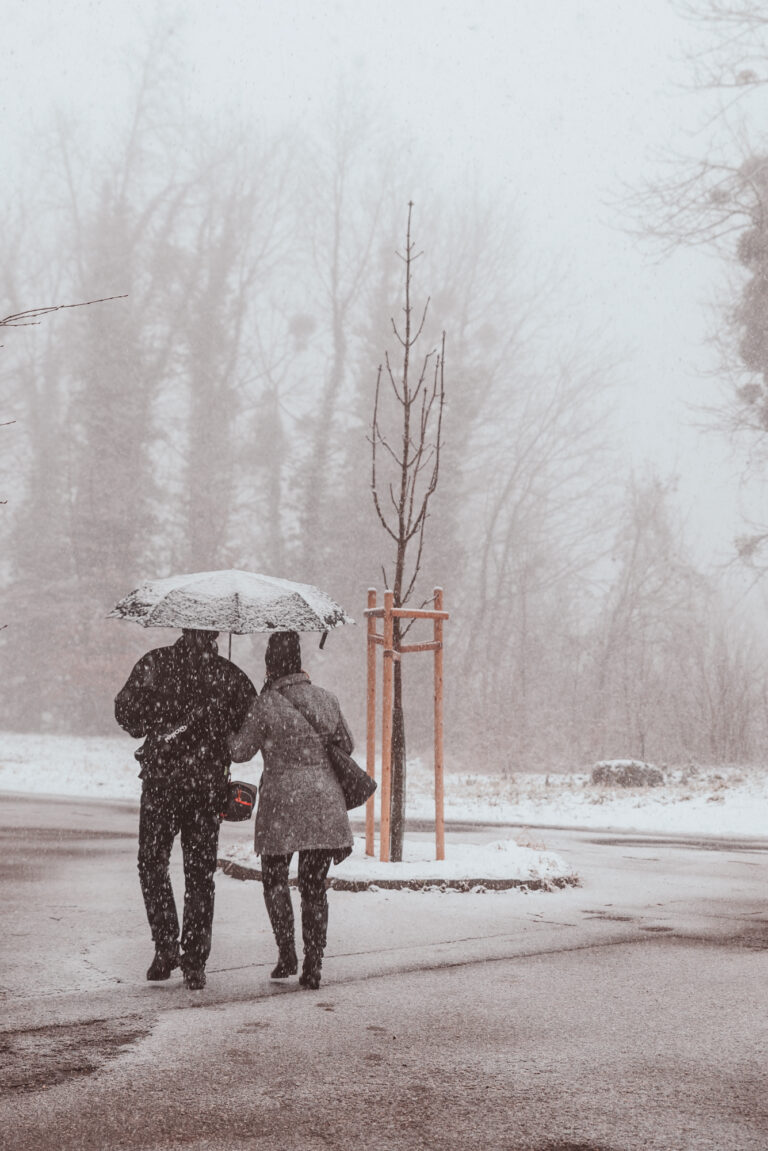 You'll see the locals bundled up in jeans/trousers (or warm leggings), a long woollen or 'puffer' style jacket, and boots. Accessorise with a woollen hat, gloves and a scarf.
You don't really need much more than this to be warm. But remember that layering is key. When you enter the warmth of a cafe or museum, you'll want to peel back a few layers to be comfortable.
I personally wore a woollen jacket similar to this one, a cashmere jumper, a thermal t-shirt, Madewell jeans, and Grenson Nanette Boots on my most recent trip in January. I also had a cashmere beanie, hat and gloves, and I was able to walk for hours outside without discomfort (and I'm naturally a very cold person!).
Other things you should consider taking are:
Umbrella or lightweight rain jacket
A baby carrier if travelling with little ones (strollers aren't really suitable)
Power adaptors for Austria
A travel purse to keep your belongings safe
Euros – both coins for the paid toilets (there's nothing worse than being caught short!) and small notes for the markets.
Swimsuit in case you plan on visiting any of the thermal baths or saunas in Salzburg (or if your hotel has one!)
Where to Stay in Salzburg in Winter
When choosing where to stay in Salzburg in the winter, you'll most definitely want to stay central. This will allow you to walk to most attractions, even when it's cold out (no waiting around for buses or taxis).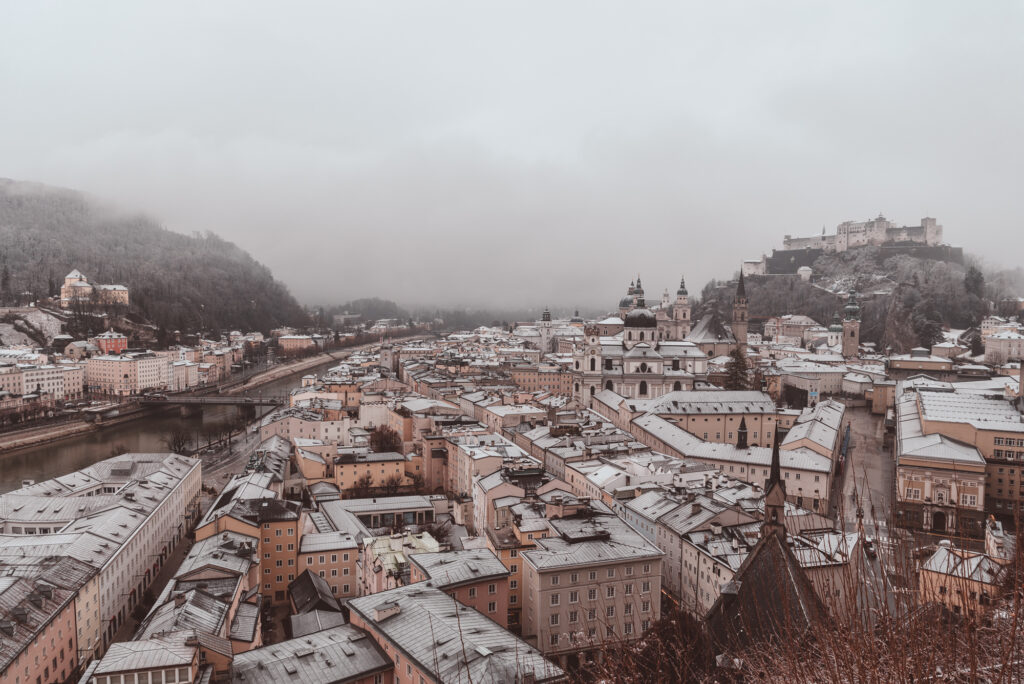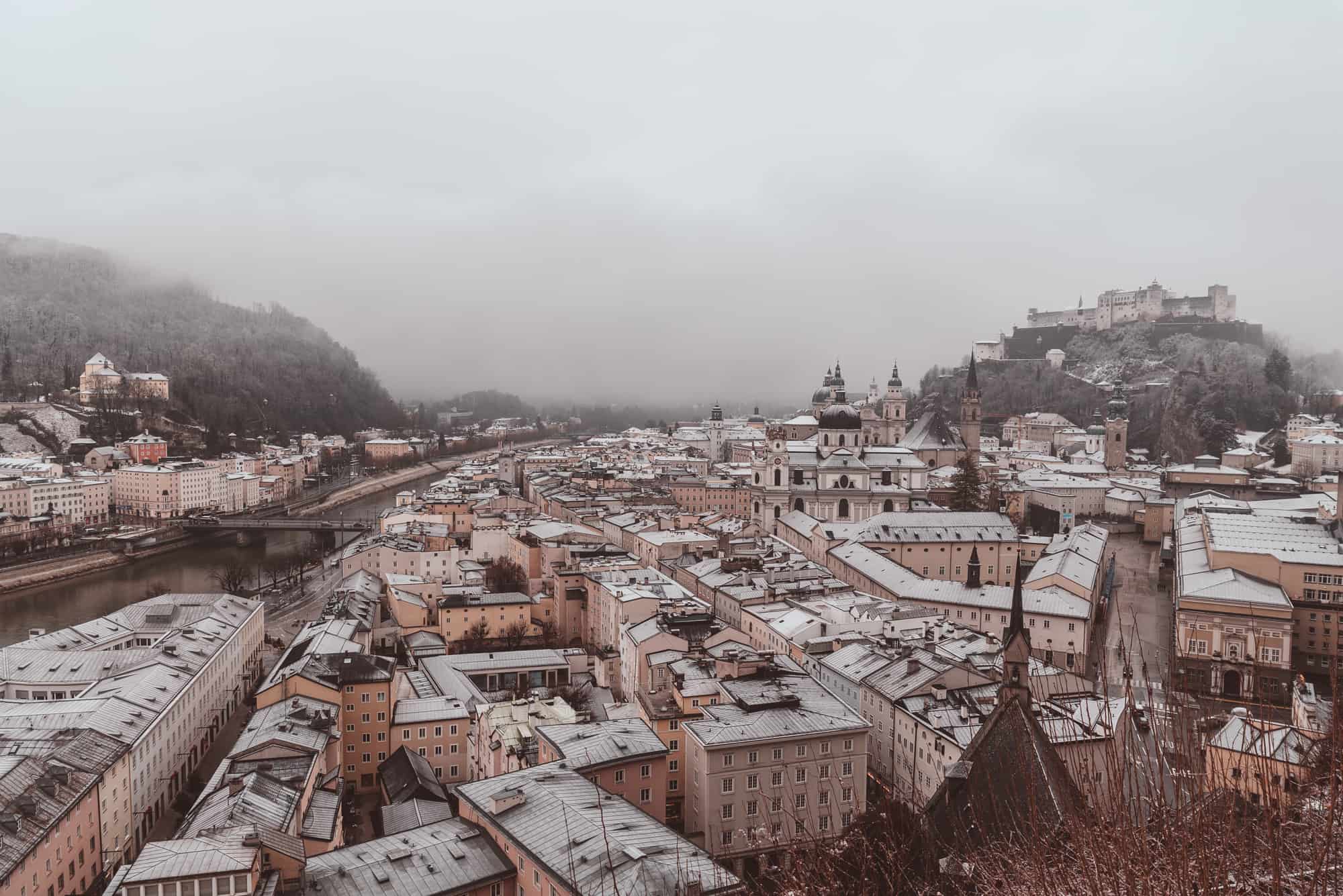 For affordable luxury with a typically Austrian twist, look no further than the Hotel Goldner Hirsch. Right in the heart of the old town, you'll be won over by the old school glamour, proximity to key Salzburg attractions, and personalised service.
Check prices and availability here.
For the ultimate indulgence in a historic setting, the Hotel Sacher Salzburg should be your go-to. The large luxurious rooms and charming interiors will transport you back in time, and the unbeatable views will leave you spellbound.
Check prices and availability here.
For a comfortable stay at a more affordable price point, don't look past the Gästehaus im Priesterseminar. The building is stately, even if the accommodations are simple, and the location is exceptional for such an economical stay.
Check prices and availability here.
Self-contained more your style? You'll find a range of Airbnb lodging throughout the city to suit every style and budget.
---
By visiting Salzburg in winter you'll be treated to an enchanting experience. The season turns the city into a giant snow globe that's filled with fairytale buildings, landscapes and folklore.
So get organising that winter trip to Austria and treat yourself to a few days in Mozart's stomping ground.
Pin this for later