Breathe in the crisp, alpine air as you explore breathtaking medieval architecture framed by the dramatic peaks of the Nordkette range. Innsbruck, Austria, in winter is a glittering Christmas wonderland that's heaven on earth for snow sports fans. You'll zoom down smooth slopes in the morning and return to charming Old Town cafes for mulled wine and cheese dumplings in the afternoon.
From Baroque churches to fascinating museums and elegant shopping centres, cultural and indoor pursuits ensure there's something to do for every mood. Complete with spectacular, seasonal lights decorating trees and buildings, Innsbruck keeps delivering the action after dark. Check out the trendy brewery scene, lively apres-ski bars and buzzing dance clubs.
In this season, the best places to visit in Innsbruck are decked out in their wintry best.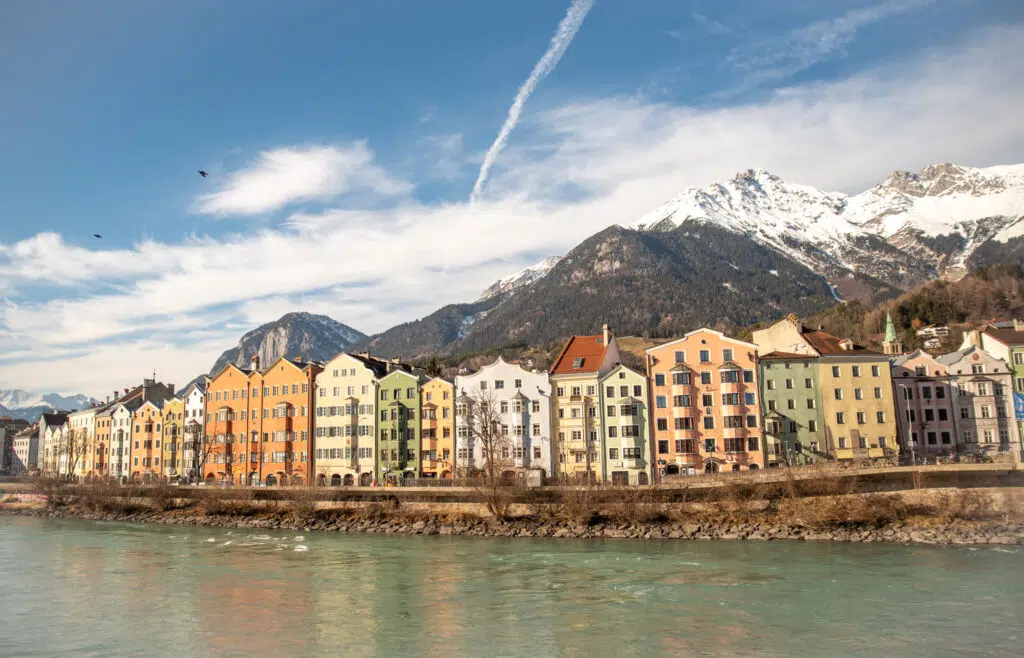 ---
Things to do in Innsbruck in Winter
Should you hit the mountain slopes, delve into museums or watch the world go by over warming bowls of creamy potato goulash? Whatever you choose to do, it'll be on a photo-worthy backdrop when you visit Innsbruck in winter.
Top Tip: Pick up an Innsbruck City Card to save money on Innsbruck attractions and transport!
Stroll Through Altstadt
You'll find plenty of options for what to do in Innsbruck in winter, however, it's possible to spend much of your time happily meandering around the pastel-coloured Old Town. Highlighting Habsburg Empire heritage, framed by the Austrian Alps and imbued with charm, this walker's paradise is a hub for leisurely shopping, dining and history-hopping.
It's impossible to miss Innsbruck's most famous landmark, the glimmering Golden Roof decorated with over 2,000 gilded copper tiles. Built in 1450, the City Tower features a 31-metre-high viewing platform for astounding views over the River Inn, the mountains and the twisting medieval streets. Speaking of which, Innsbruck's most famous street is the pedestrianised Maria Theresien. You'll shop and dine among palaces and landmarks like the Triumphal Arch.
Ski the Alps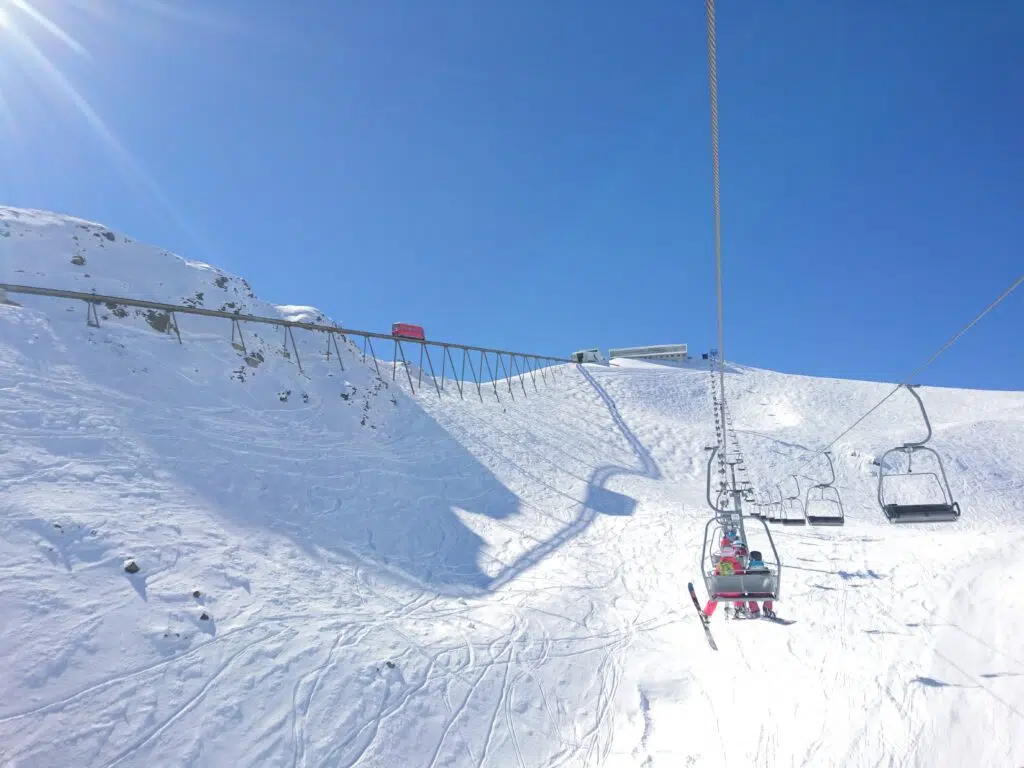 The regional capital of Tyrol is smack bang in the middle of no less than nine ski resorts, which is fitting for a city that hosted the Winter Olympic Games twice. Innsbruck winter activities take place within the Olympia SkiWorld collective, with resorts to suit all levels. The largest is Axamer Lizum, just 20-kilometres from the city centre, with a snow park, a race park and a restaurant featuring panoramic views.
Patscherkofel was an Olympic venue that's a favourite among locals and features Children's World and a snow park for freestylers. Families love Rangger Köpfl for its friendly vibe, ski schools and the Soft-Fun park for snowboarders. Head to Glungezer for the famous pistes of Kalte Kuchl, Schartenkogel and Halsmarter, along with a huge area for cross-country skiing.
Take a Bobsleigh Ride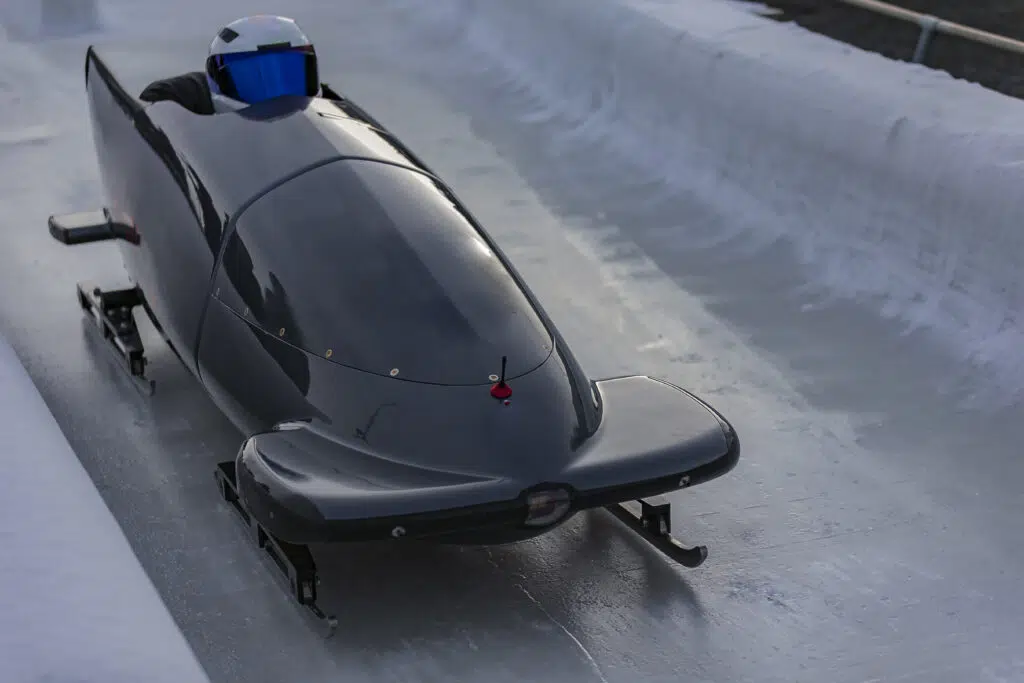 Remember the movie, Cool Runnings? If not, make sure you watch it before your Innsbruck winter holiday and get set for your own speedy thrills. The Igls Bobsleigh Centre hosted events during the 1976 Olympic Games and it's still home to international luge, skeleton and bobsleigh competitions. However, you don't have to be an Olympic champion to have a go.
Experience speeds of up to 90 kilometres per hour in a bobsleigh with a professional pilot. You'll zip down the 800-metre-long track that includes 100 vertical metres and 10 heart-pumping curves. The rides are available for anyone over the age of 12 and over 130cm tall.
Soar High at the Bergisel Ski Jump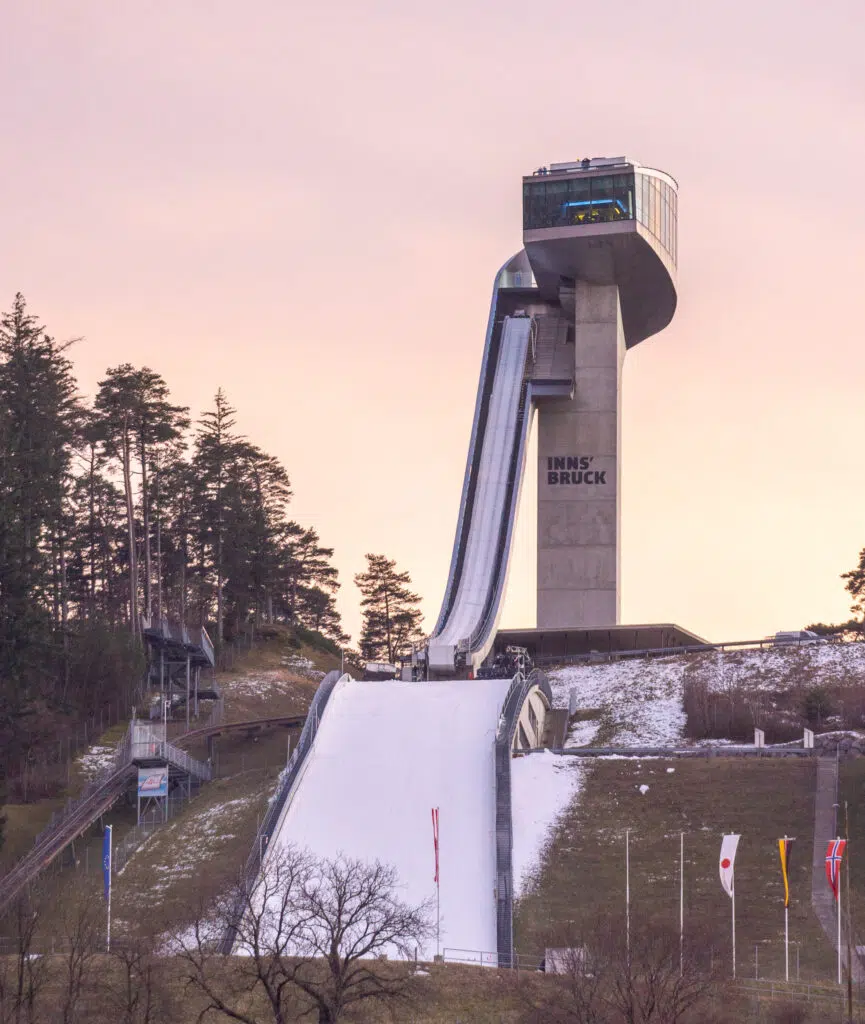 No Innsbruck winter itinerary is complete without a visit to the Bergisel Ski Jump. Towering above the city on lush Bergisel Hill, the steel structure is both an architectural masterpiece and a host of the renowned Four Hills Tournament ski jumping event. The jump itself is one of the world's best, with space for over 20,000 spectators.
As a visitor, you'll zoom up the tower for 250 metres to a restaurant with awe-inspiring, 360-degree views across Innsbruck and the mountains. Check out the information panels around the ski stadium to discover the fascinating history of Bergisel Hill and the birth of ski jumping. Nearby, you'll find the Tirol Panorama Museum and the famous, 1,000 square metre painting depicting the Third Battle of the Bergisel.
Buy your entrance ticket here.
Ride the Cable Cars
Whether you want to dive into winter sports or not, everyone can experience the best of Innsbruck from a network of scenic cable car rides. Resembling glaciers, the Hungerburg Funicular stations alone are a sight to behold. Along with the Bergisel Ski Jump, they were designed by the late architect, Zaha Hadid.
You'll start the journey from a station in the centre of town on a cable car that whisks you to Hungerburg. Walk across Herman Buhl Square with your camera ready for fantastic views. Then, take the next cable car up the Seegrube to an altitude of 6,250 ft. Have a bite to eat at a restaurant featuring mind-boggling views before continuing up to the Hafelekar peak and the highest viewing point.
Buy your cable car ticket here.
Visit the Imperial Palace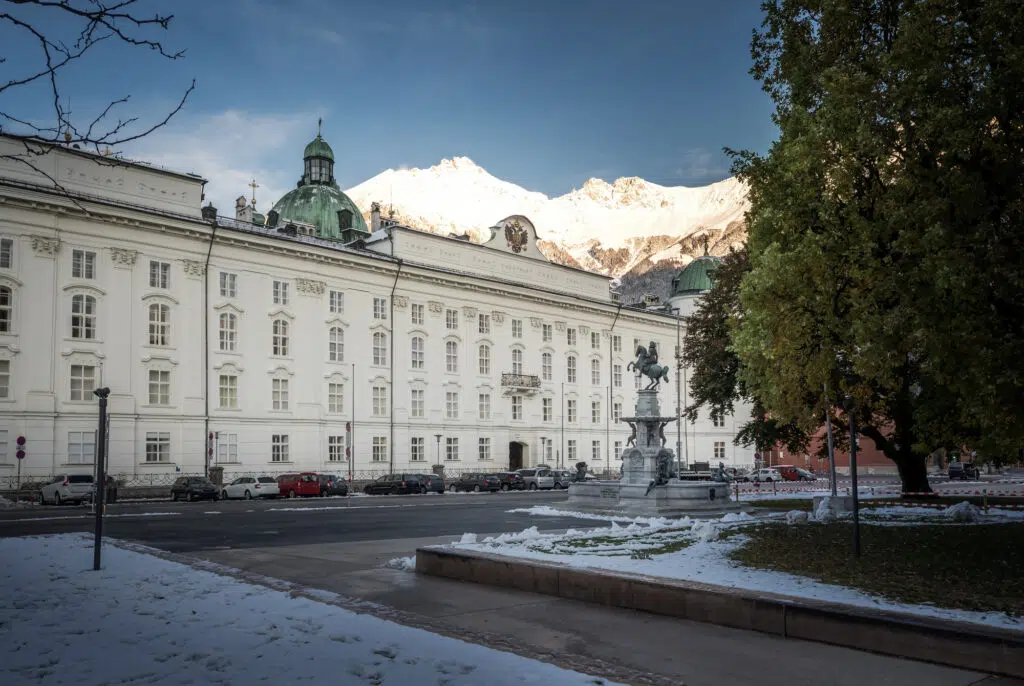 You can't miss the grand, white splendour of the Hofburg – as the locals call it – while you're strolling around the Old Town. First built for Archduke Sigmund the Rich in the 15th century, it joins the Imperial Palace of Vienna as one of Austria's major historic and cultural monuments.
The Baroque version of today is an 18th-century renovation for Empress Maria Theresia. Step inside the world-class museum to see the Giant's Hall, Guard's Hall and Chapel. The Empress Elisabeth Apartment showcases tapestries, 18th-century furnishings and works of art.
Have a Drink with a View at Cloud 9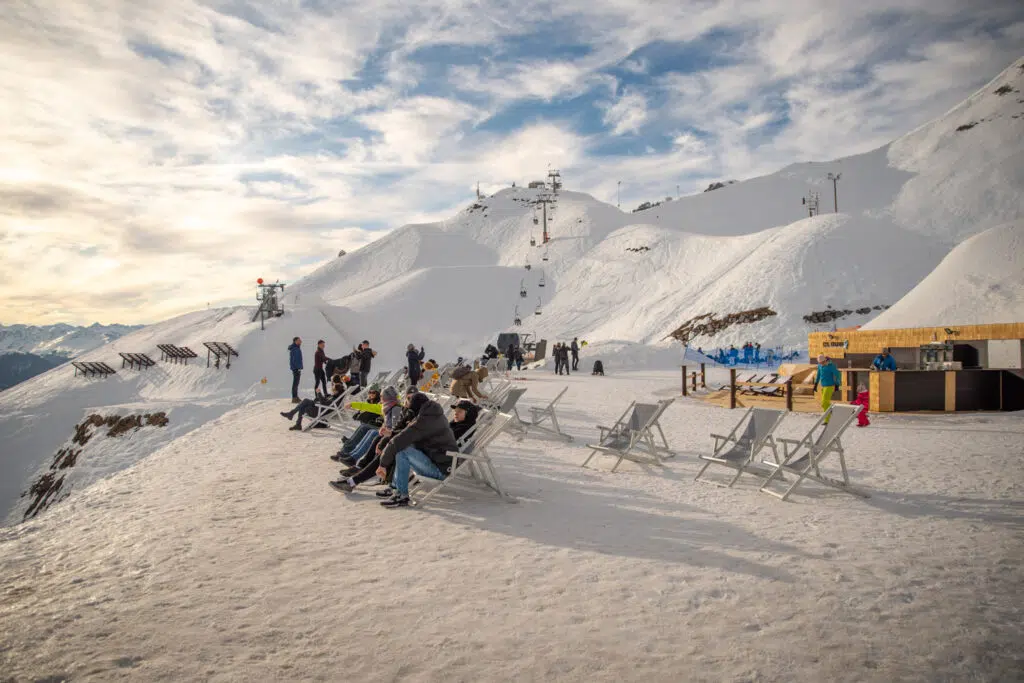 Dubbed Innsbruck's highest sun terrace, Cloud 9 is situated next to the Seegrube station on the Nordkette mountain. Featuring stunning panoramic views, deck chairs, an igloo bar, and live music events, it's a fun place to visit in Innsbruck in winter.
Ride the funicular from opposite the Innsbrucker Hofgarten and relax as you make the ascent up the mountain. Then switch over to the Nordkette Cable Car once you reach Hungerberg. If you're visiting with family, you'll find a free sledging area just behind the bar, so wear the kids out on some rides before you sit down for a well-deserved drink.
Experience Kristallwelten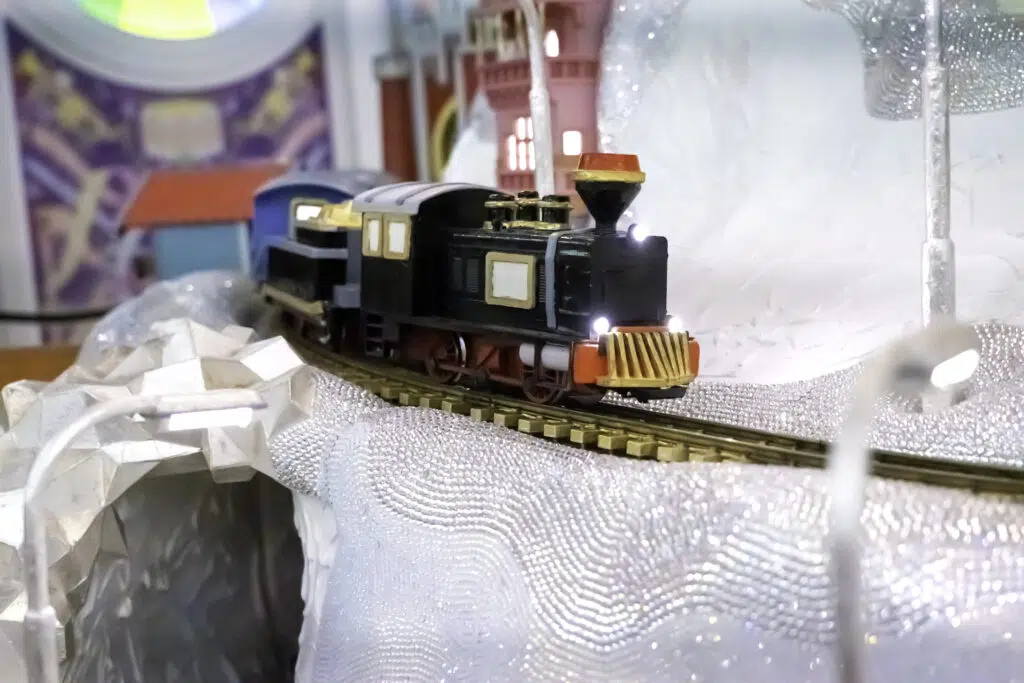 If you love all things sparkly, Kristallwelten might just be your new favourite place. A must-see in Innsbruck, the wonderland of Swarovski crystals blends fantasy-inspired attractions with crystal creations to buy for yourself. To start, a green giant's head greets you at the entrance, complete with a waterfall streaming out of its mouth into a pond below.
Wander into the enchanting garden to see the Crystal Cloud with thousands of crystals floating above and reflecting on the serene Mirror Pool. Kids love the crystalline Playtower, with four levels of climbing nets, slides and interactive displays. Then, there's the Chamber of Wonders with an array of dazzling artistic installations.
Buy your entrance ticket here.
Visit the Museum of Tyrolean Regional Heritage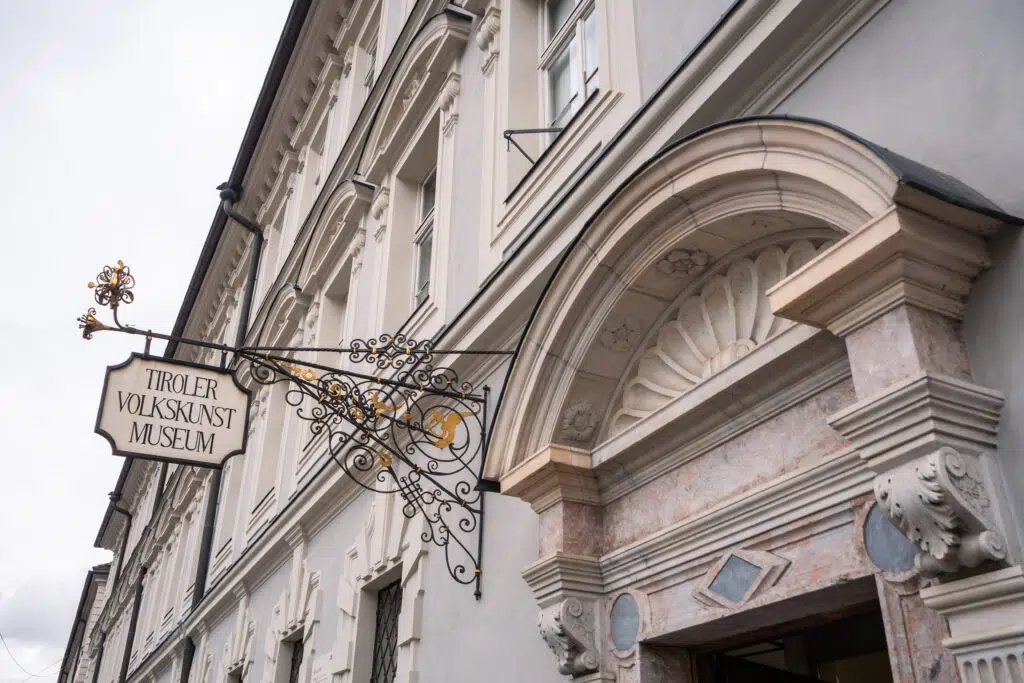 Take your pick of historic Innsbruck attractions to visit for warm indoor fun, including the Museum of Tyrolean Regional Heritage. You'll enter a world of beautiful Tyrolean folk art, with handicrafts, carnival masks, traditional costumes and religious items once used to ward off evil and illness.
The collection rests in a former Franciscan monastery and features restored wood-panelled parlours from the Gothic and Renaissance eras. After admiring items from as far back as the Middle Ages, watch the multimedia show about the history of Emperor Maximilian I.
Discover The Hofkirche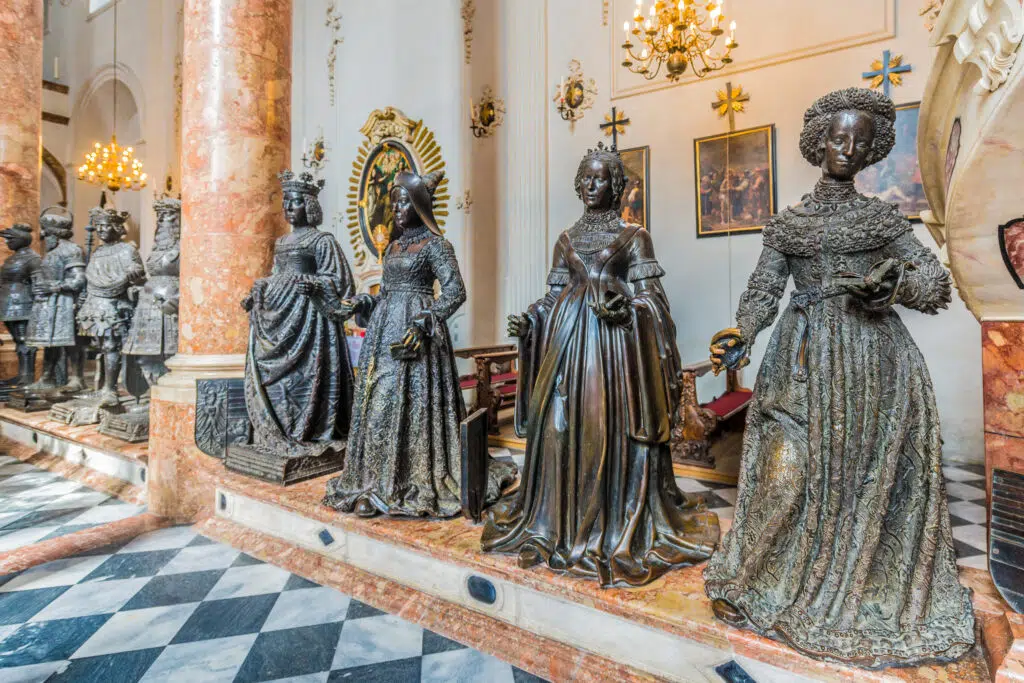 Otherwise known as the Court Church and dating back to 1553, the Hofkirche was built to house the tomb of Emperor Maximilian I. It's one of the top attractions in Innsbruck, however, the Emperor's remains actually reside at the castle of Wiener Neustadt. What you'll see is the stunning, ornate black marble tomb flanked by 28 huge Renaissance bronze statues of ancestors guarding over it.
Upstairs, the Silver Chapel dates back to 1578 and highlights an extravagant altar with a silver-embossed Madonna. Check out the lovely Renaissance porch in the cloister, a statue gallery of the patron saints of the House of Habsburg and an original wooden organ that's still in use today.
Enjoy Innsbruck Winter Hiking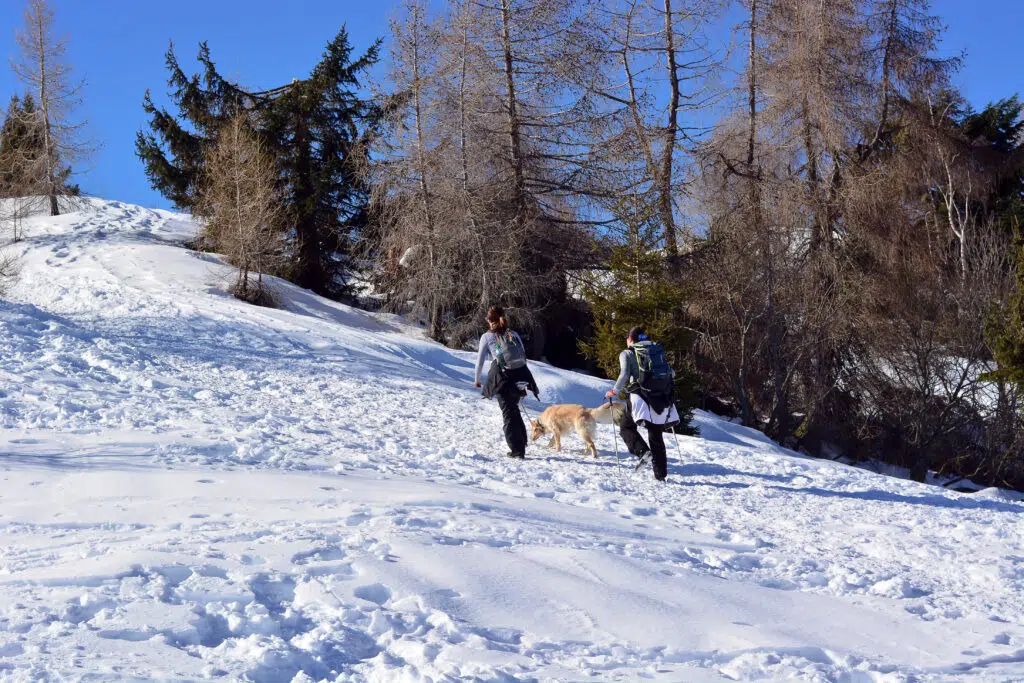 Pack your comfy boots for one of the best free things to do in Innsbruck – hiking! Soak up the winter sun on dedicated, cleared paths through snow-speckled forests and mountain trails that lead to local restaurants for delicious Tyrolean food. Winter hiking routes are brightly signposted and many are suitable for children.
One of the most popular is an easy trek from Gasthaus Azkasten, where there's a restaurant to ensure you're fuelled up before you start. The circular track winds by a cross-country ski area, a playground in the Weisland district and a hotel for another snack before heading back. To explore untouched terrain, strap some snowshoes on and take a tour through fairy-tale winter wonderlands.
Book Your Innsbruck Winter Tours & Attractions Here
---
Christmas Markets in Innsbruck
You're in for a glittering, festive treat when you visit Innsbruck for Christmas, not least of all because of the Swarovski Crystal Tree! Warm your voice up for cheery carols and leave plenty of space in your suitcase for exquisite souvenirs.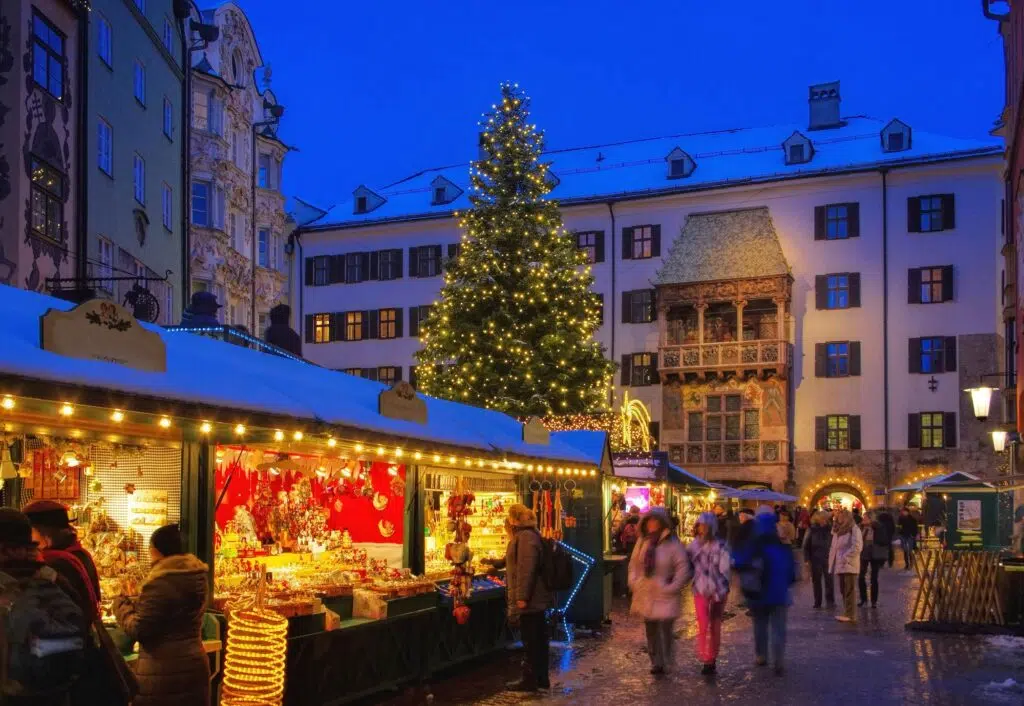 Old Town Christmas Market
Make the most of an Innsbruck Christmas surrounded by medieval buildings adorned with elaborate decorations. The Golden Roof frames the Old Town market, where traditional stalls twinkle with ornaments and tempt you with mulled wine and pastries. You'll stroll around to the tunes of brass bands and carollers.
Maria Theresien Street Christmas Market
A shopper's delight all year round, Maria Theresien Street is extra special when it's lined with twinkling Christmas trees, extravagant light installations and market stalls chock-full of goodies to take home.
Family Christmas Market at Marktplatz
With a picture-perfect traditional carousel and the chance to get up close to the 14-metre-high Swarovski Crystal Tree, Marktplatz is the family-friendly favourite. The kids love puppet and storytelling shows while you browse around 60 sparkling stalls.
Panorama Hungerburg Christmas Market
As they're perched high above the city and framed by astonishing views, the Hungerburg Christmas markets are (arguably) the most atmospheric. Stock up on Christmas memorabilia at the stalls after an exciting ride on the cable car to get there.
---
Day Trips from Innsbruck in Winter
Travel to Innsbruck puts you within easy distance of Austria's iconic cities and landmarks. Best of all, they're reached via smooth and scenic road or rail trips.
Kufstein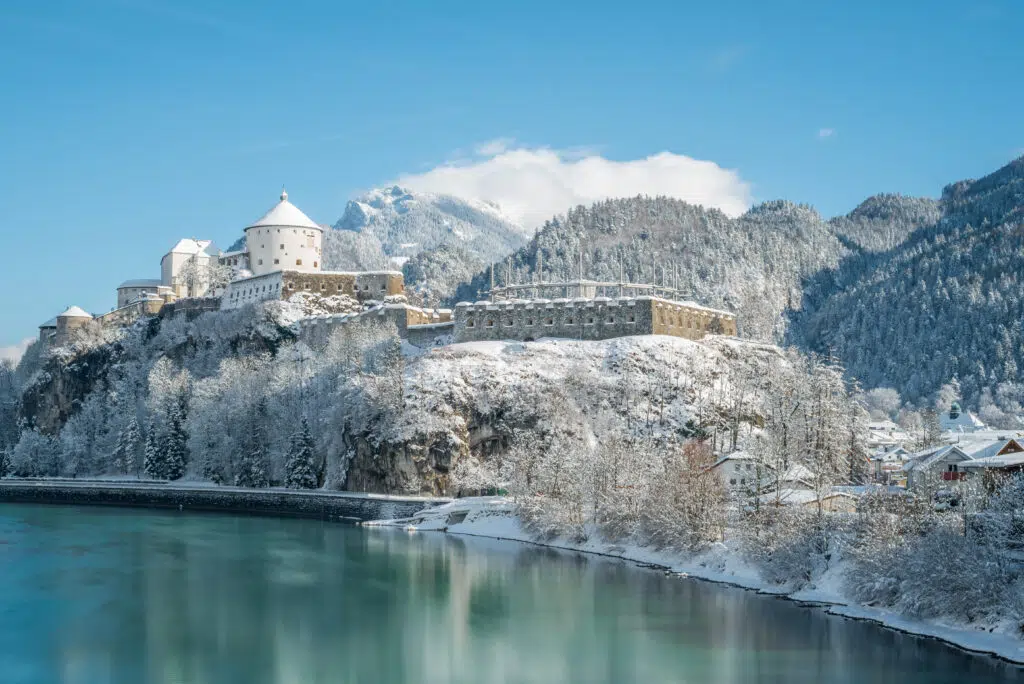 Topped by a medieval fortress and filled with traditional Tyrolean houses, charming Kufstein is known as the 'Pearl of Tyrol'. Explore narrow, cobbled streets filled with quirky shops and atmospheric bars. The Kufstein Fortress is home to the Heroes' Organ, which is said to be the largest outdoor, free-standing organ in the world and played at midday each day.
A short drive outside of town is the white castle of Mariastein, perched on a summit and postcard-pretty in the snow. With the dramatic Kaiser Mountain Range encircling Kufstein, you'll find plenty of winter sports action at the region's resorts. The most famous, and one of Austria's largest, is the SkiWelt Wilder Kaiser-Brixental network.
Castle World Ehrenberg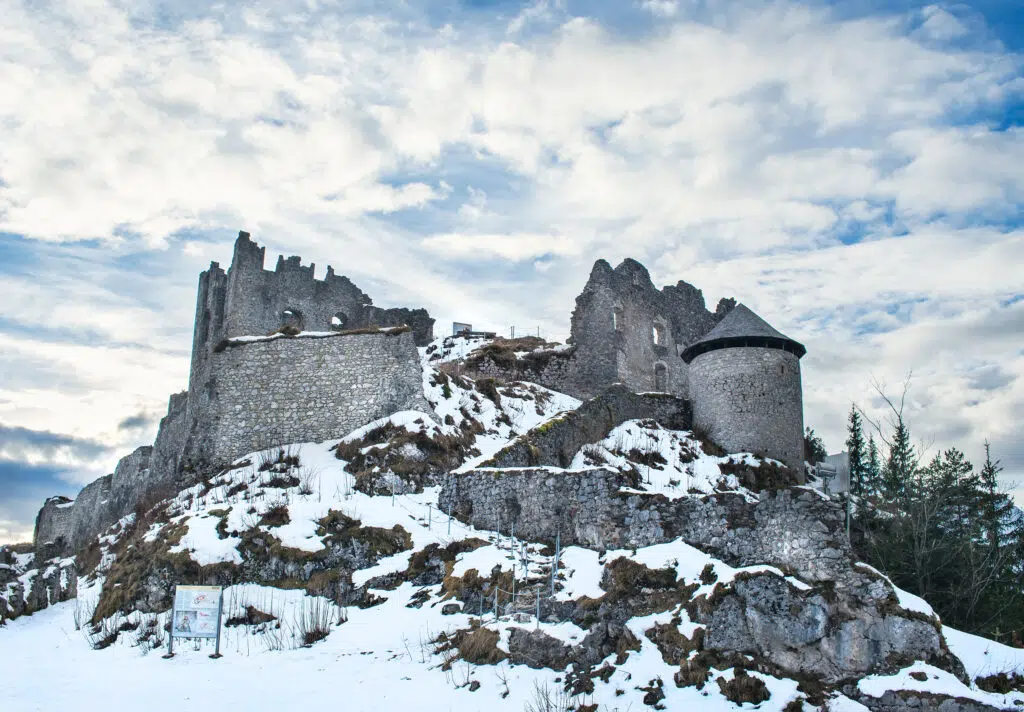 Gathering tales of royalty and war since around 1290, the gothic Ehrenberg Castle is a snow-topped wonder complete with forest winter hikes to enjoy. The ruins of four mighty fortresses create the complex, with showrooms and museums to explore. Perhaps the most exciting feature is the Highline179, a hanging footbridge that crosses dizzying heights over to Fort Claudia.
A visit here puts you in the heart of the Nature Park Region of Reutte, including the quaint market town of the same name. Hop on the cable cars in town to the Hahnenkamm ski area with conditions for everyone. Or, hit the winter hiking trails dotted with huts for warm-up snacks and beverages.
Salzburg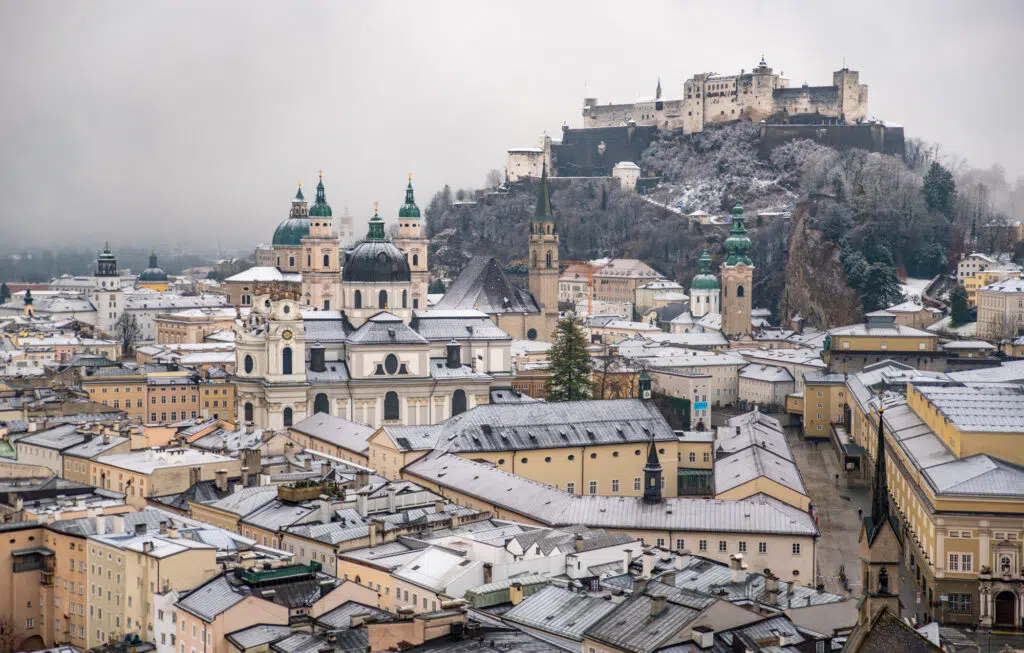 Wondering if you should visit Salzburg or Innsbruck in winter? The good news is you can easily see both, with fast trains between the two Austrian cities that take under two hours! The home of Mozart is alive with winter concerts, spectacular Christmas markets and chocolate shops you simply can't resist. Everyone's favourite musical is alive here too, with The Sound of Music tours showing off famous filming locations.
Make a beeline for the UNESCO-listed Old Town to visit many of the city's headline attractions. Culture vultures see the best of the best at the DomQuartier, a Baroque haven featuring the Cathedral Museum, St. Peter's Museum, the Residenz Gallery and more. With the majestic Fortress Hohensalzburg, Salzburg Cathedral and Mirabell Palace, don't bother putting your camera away while you're there.
Read more: Visiting Salzburg in Winter
Where to Stay in Innsbruck in Winter
Looking for the best places to stay in Innsbruck in winter? Whether you're travelling with family or friends, find the best accommodation for your Austrian adventure below.
---
---
Breathtaking winter wonderlands? Tick! Enchanting cobbled streets lined with Christmas markets and cosy restaurants? Tick! World-class ski resorts? Tick! Fun things to do in Innsbruck await around every corner at any time of year. However, winter brushes the city with an extra glimmer of snowy holiday magic.