Cosmopolitan, creative, and an economic powerhouse, Zurich is often coined as one of the world's most liveable cities. When you visit Zurich in winter, you'll get snowy fun and a lively festive spirit, too. Switzerland's largest city sparkles with lights, smells like cinnamon pastries, and buzzes with ice skating rinks and seasonal events.
Shop till you drop for everything from luxury watches to vintage clothes, then pop into a wellness spa for pure relaxation. Feeling active? Launch into tobogganing and skiing at surrounding ski resorts. When night falls, sample scrumptious fondue flavours across world-class restaurants and paint the town red on the dynamic live music scene.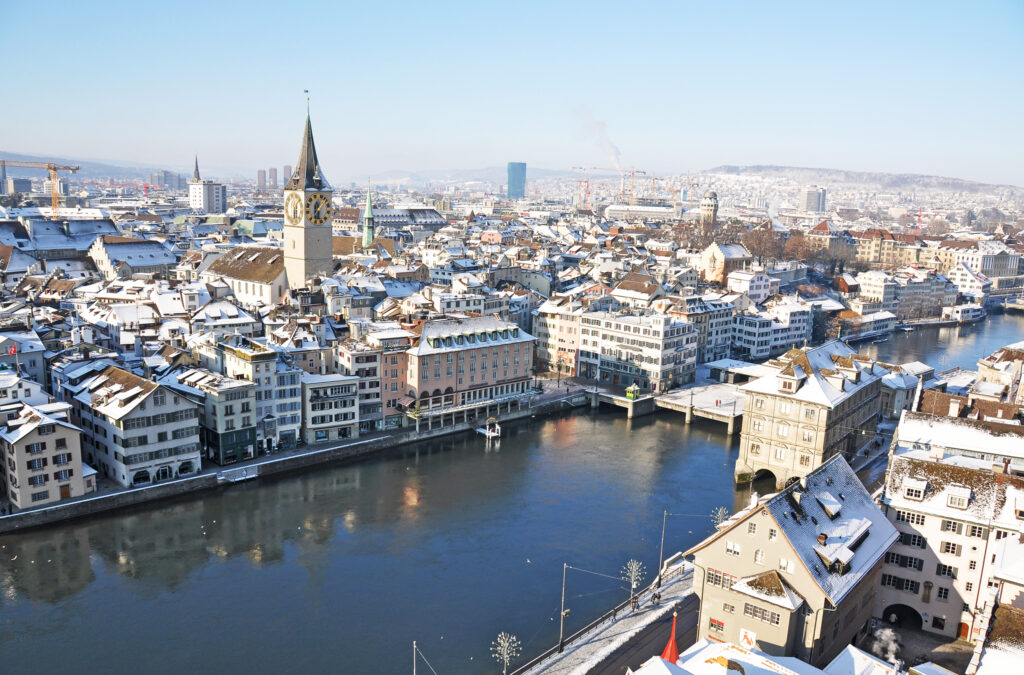 ---
Zurich Winter Weather
Rug up for winter wonderland fun and pack your layers for popping in and out of toasty restaurants, shops and museums. Here's a look at the average temperatures in Zurich, Switzerland.
Zurich in December
You're likely to see a flurry of snow in December as winter kicks in. The average temperatures are lows of -1°C and highs of 4°C.
Zurich in January
January is the height of winter and a brilliant month for skiing. The average temperature remains around 2°C, with lows of -3°C and highs of 6°C.
Zurich in February
High temperatures start to reach about 8°C towards the end of February, otherwise, the weather remains similar to January.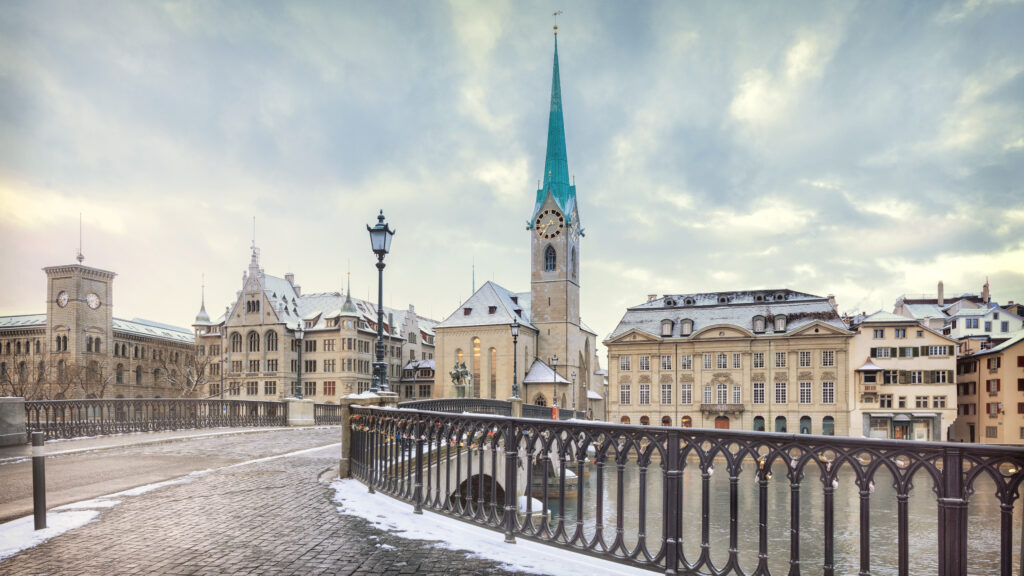 ---
Best Things to do in Zurich in Winter
Let your mood help you decide what to do in Zurich in winter. Carve up the snow or show off your skills on ice skates before tasting your way around the Old Town's international menus.
Walk or jump aboard the super-efficient public transport system to hop between museums, galleries and special events.
With a moreish Swiss hot chocolate in hand and an itinerary filled with your favourite things, expect an unforgettable holiday during winter in Switzerland.
VISIT THE CHRISTMAS MARKETS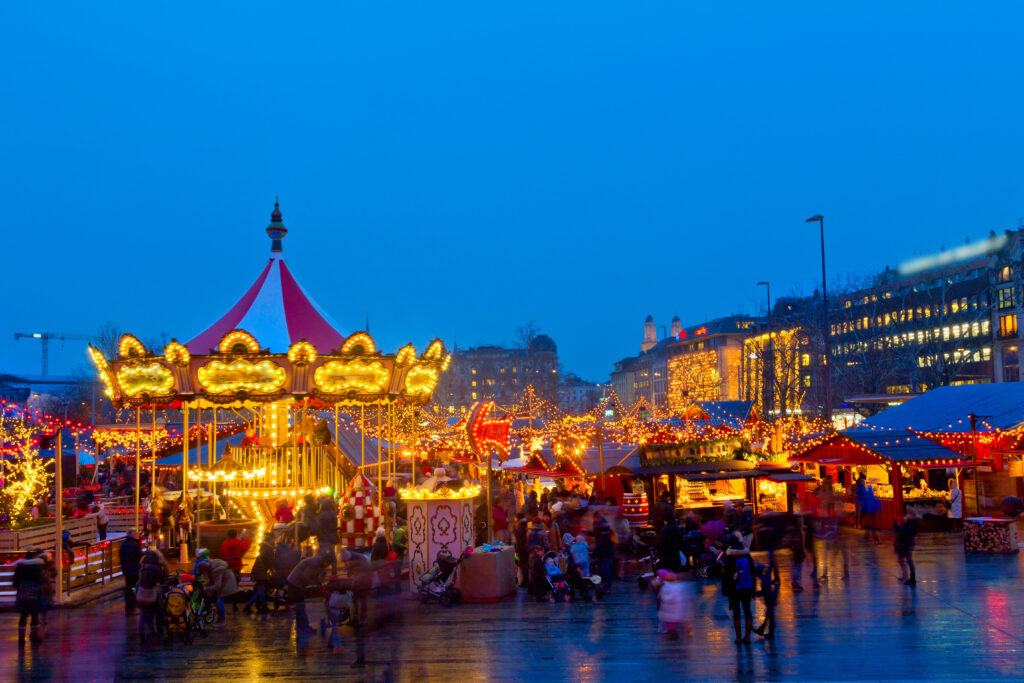 You're spoilt for choice with Zurich Christmas markets glittering with festive fun across the city. The oldest decorates the Old Town's Niederdorf quarter, with markets surrounded by medieval streets and cathedrals. Stock up on goodies at Werdmuhleplatz along Bahnhofstrasse and you'll see the Singing Christmas Tree of local choirs.
Framed by the Opera House on the lakeshore, the Christmas village features around 100 stalls with designer jewellery and quirky gifts you won't find anywhere else. For the Christmas selfie of all Christmas selfies though, head to the Main Train Station market. Here you'll find the astounding, 32-foot-tall tree sparkling with Swarovski crystals.
GET YOUR THRILLS ON THE ICE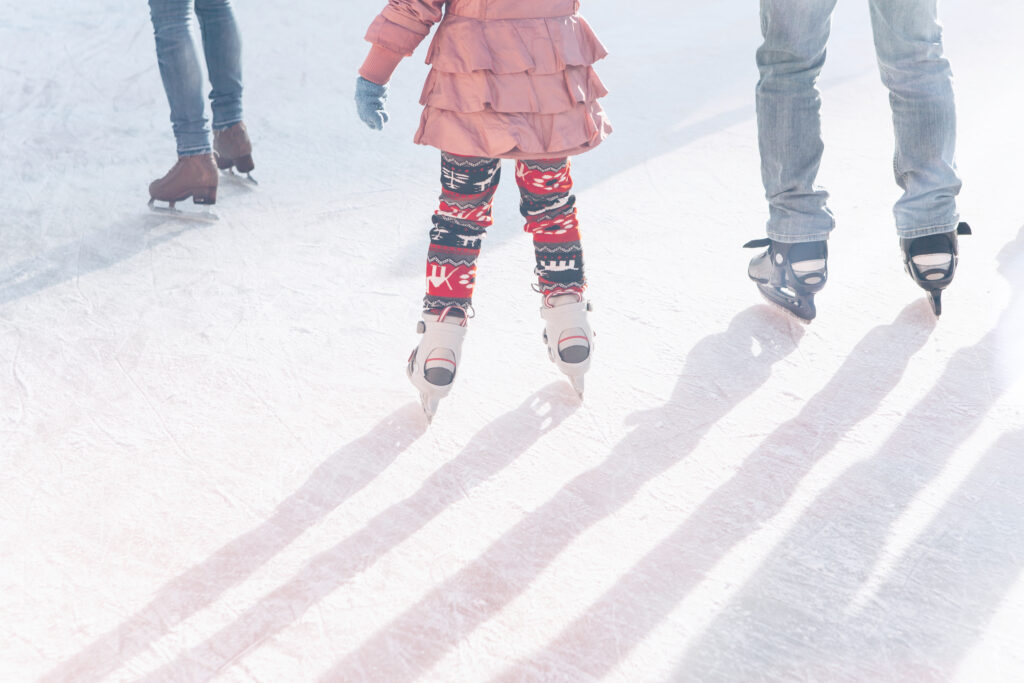 Whether you prefer to watch the action or love to zoom around the rink beneath fairy lights, ice skating is one of the most beloved Zurich winter activities.
Built in 1930, the Dolder open-air ice rink is one of the largest of its kind in Europe. You'll enjoy sweeping views across the city, along with snow sculptures and ice discos. Lachen Ice Rink is located next to Lake Zurich and there's plenty of mulled wine to warm you up on rest breaks.
You might see local ice hockey or ice-skating clubs at the Sportzentrum Heuried, a sports centre with an outdoor rink that's open to the public. When the Rapperswil-Jona Lakers aren't training for hockey, enjoy outdoor skating in Rapperswil.
Depending on the conditions, it's also possible to skate on natural ice fields across the region – just follow the locals.
WANDER THROUGH ZURICH OLD TOWN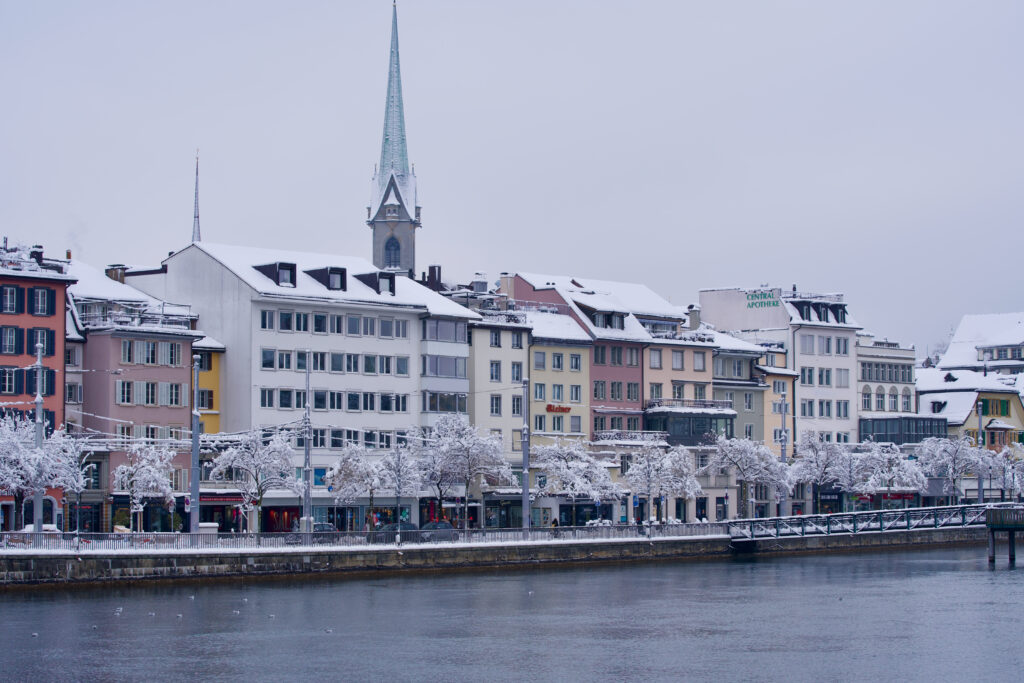 Many of the places to see in Zurich in winter hide among medieval houses and narrow laneways in the atmospheric Old Town. It's the home of the Peterskirche, a church that features Europe's largest clock face, and the double towers of the Grossmunster landmark church. Keep the theme going with a visit to the Fraumunster with its spectacular stained glass windows.
Meander down the charming Augustinergasse, a street lined with historic, colourful buildings and oozing with charm. One of the oldest quarters, Schipfe rests below Lindenhof park and hosts artisan workshops for that perfect, custom-made souvenir.
For a bird's eye view of the Old Town, take a swift ride on the Polybahn to the terrace of the Federal Institute of Technology. Then warm up with Swiss comfort food in the quaint cafe or restaurant of your choice, as they're dotted throughout the district.
HIT THE MUSEUMS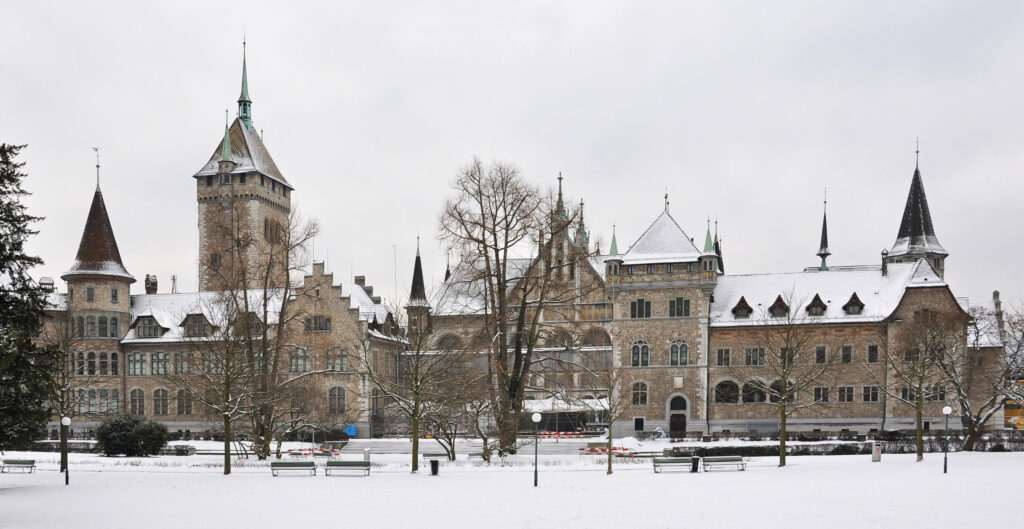 If you're museum mad and prefer to stay cosy indoors, get set for an action-packed itinerary of cultural and historic things to see in Zurich in winter. You'll get an overall sense of Switzerland's history at the Swiss National Museum. The building resembles a fairytale castle with an ultra-modern extension. Discover permanent and temporary exhibitions from crafts to household objects and ancient artefacts.
Travelling with the kids? There's something for all ages at the Zurich Tram Museum. Check out historic trams that date from the 1800s and climb aboard interactive displays. And of course, no trip to Zurich would be complete without a trip to the Lindt Home of Chocolate Museum!
A visual feast of design and communication, the Museum fur Gestaltung features decorative and graphic arts, along with iconic pieces like the Rex vegetable peeler and the Swiss Army Knife by Victorinox.
GALLERY HOP THROUGH ZURICH'S ART SCENE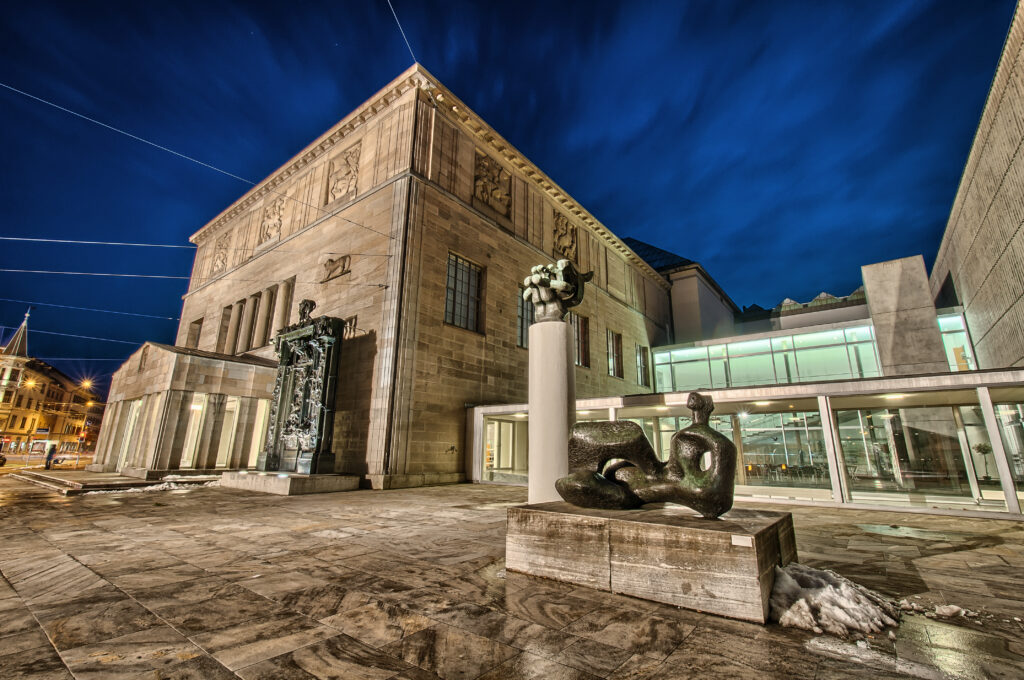 Among the dazzling Christmas decorations in winter, you'll find public art everywhere from Zurich tourist attractions to hidden alleyways. Get your camera ready for the iron bars, pans and wheels of Jean Tinguely's kinetic sculpture Heureka on the shore of Lake Zurich. The slingshot-inspired sculpture Y, by Sislej Xhafa, makes for a great photo and also operates as a giant swing.
With a new extension and masterpieces by Alberto Giacometti, the Kunsthaus Zurich is a must-see. Gallery-hop around the Zurich-West district, admire the incredible works at Hauser & Wirth and see global conceptual works at Galerie Eva Presenhuber. If you love scratching your head over the meaning of fabulous contemporary artworks, head to the Galerie Francesca Pia.
SOAK UP THE ATMOSTPHERE AT ZURICH'S EVENTS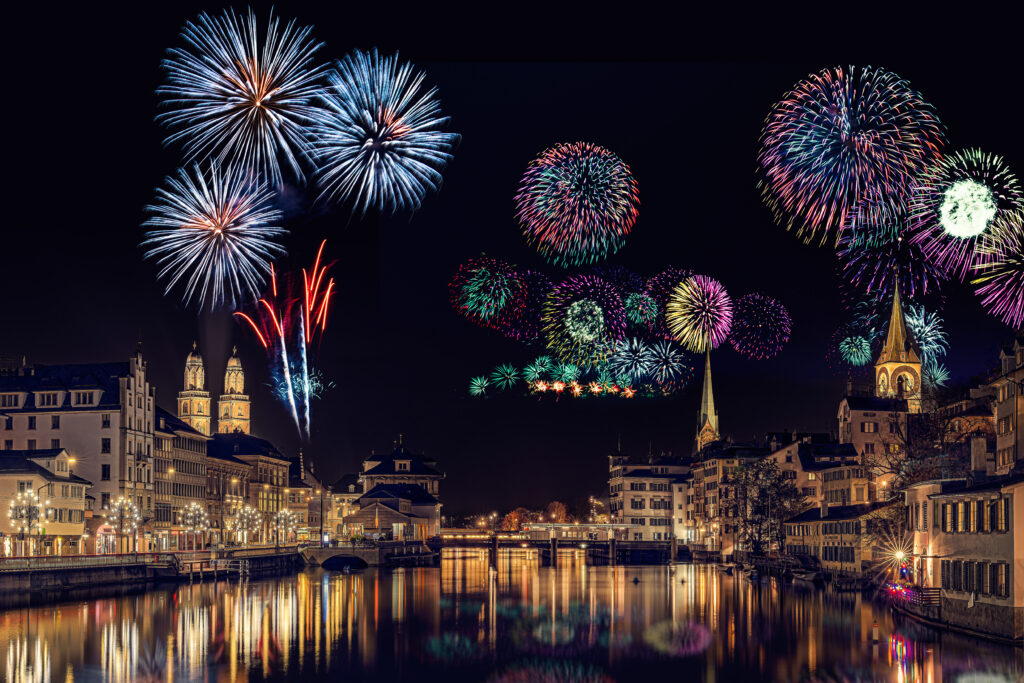 Attractions in Zurich city glow bright with incredible Christmas illuminations from the end of November to early January. Soak up some of the best light shows around Bahnhofstrasse, Rennweg, Neumarkt and Paradeplatz. Light-filled magic also awaits at the National Museum, with installations featuring mythical creatures and music, an illuminated cocktail bar and food stands.
Don't miss out on the Salto Natale winter (animal-free) circus in the Big Top at Holberg car park. Founded by members of the Swiss Knie circus dynasty, performances join scrumptious menus in the festive dining tent.
If you're game, join a few hundred Santa-clad locals as they jump into the freezing water of the Limmat River for Samichlausschwimmen. The event raises money for charity and it's just as fun to watch – if you don't fancy the teeth-chattering dip.
SHOP UP A STORM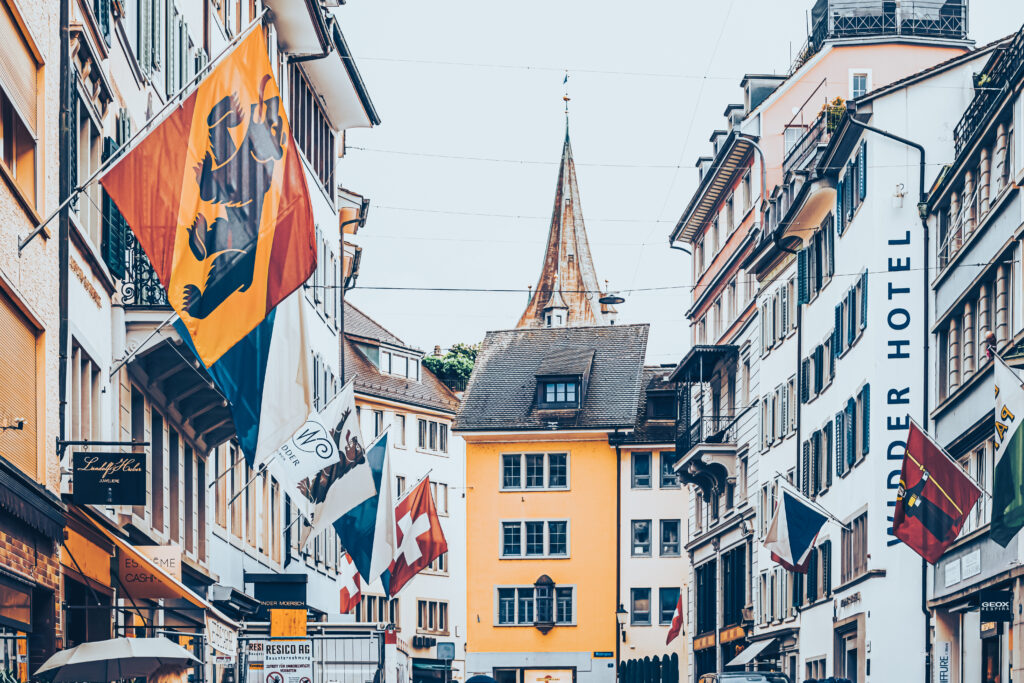 From buying Santa stocking stuffers to unique souvenirs and a whole lot of luxury designer goods, shopping is a prime-time activity in the Zurich winter months. There's almost nothing you can't find on Bahnhofstrasse, a famous shopping boulevard lined with fashion boutiques, department stores, and glamorous jewellery shops.
Pound the cobblestones of the Old Town for traditional Swiss souvenirs and quirky independent shops. It's a delight to browse the stores under the arches of the railway viaduct in Zurich-West, where delicatessens rest beside galleries and boutiques. Just behind the Main Train Station, Europaallee is another quarter for shopaholics with plenty of gourmet restaurants for mouthwatering breaks.
FUN IN THE SNOW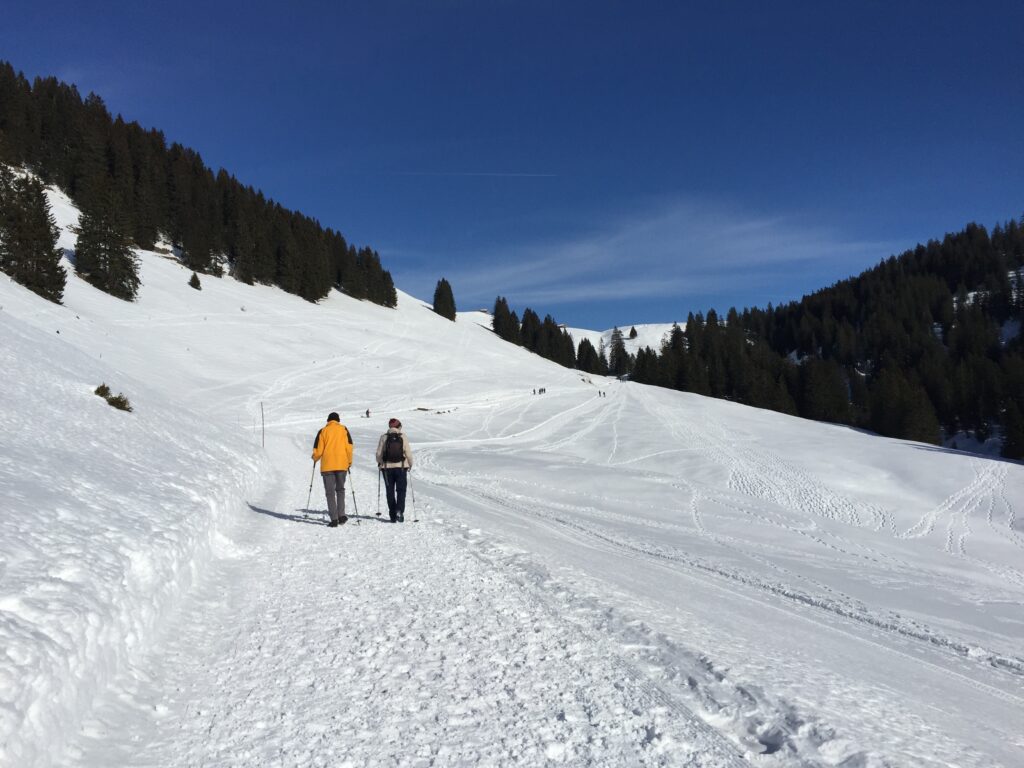 An abundance of exciting winter activities in Switzerland are easily accessible. Flumserberg is just an hour away by car or public transport for skiing, snowboarding, winter hiking and sledding near Zurich. Hochstuckli is a fantastic ski resort for kids, with lessons and custom-made lifts to get beginners out on the snow.
Six lifts and about 20 kilometres of downhill slopes bring the thrills at Amden, with the Barenfall area a popular choice for pro snow sports fans. Breathe in the mountain air on a snowshoe trail in the Stoos-Fronalpstock region before tobogganing and dining at the summit restaurant.
FIND THE FOODIE HUBS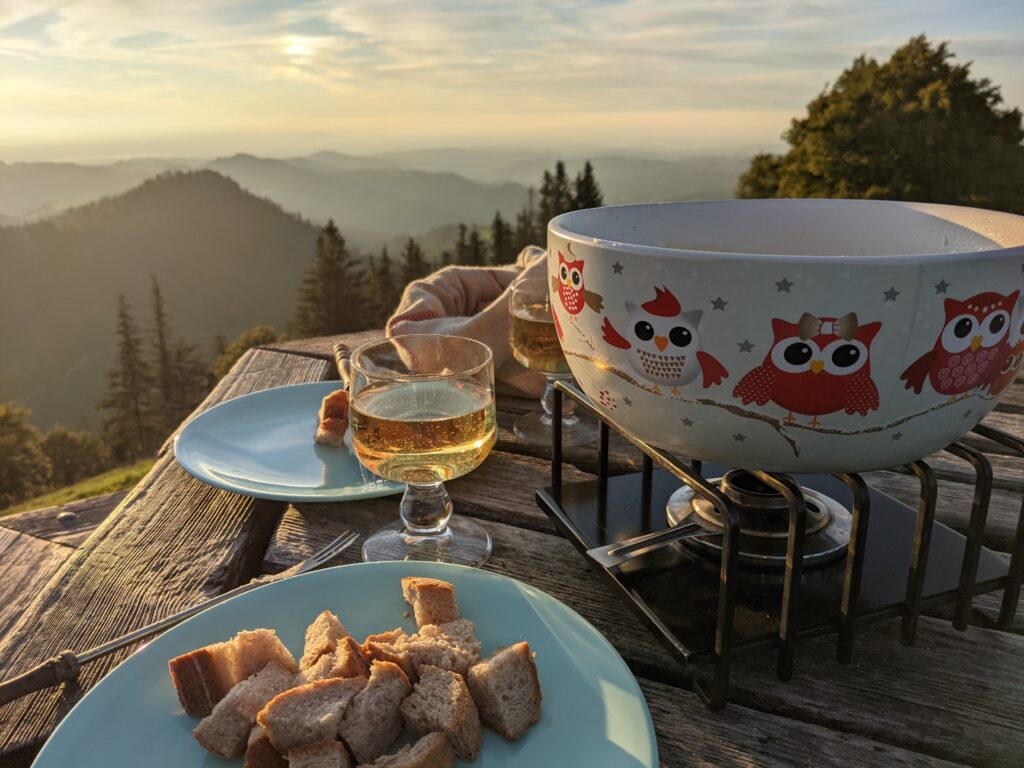 What's on the Zurich wintertime menu? Well, how about pan-fried Rosti, Luxemburgerli macaroons or rich fondue? If it's the latter you're in the mood for, you'll be happy to know that pop-up fondue tents dot the city during the winter months. Plus, you're only ever a cosy restaurant away for more.
Zurich has been on the up as a foodie destination for years now, with international restaurants in Zurich-West, Michelin-starred venues in elegant hotels and romantic cafes in the Old Town.
Of course, you'll never walk far without running into the temptation of Swiss chocolate. Taste your way through truffles, pralines, and unique seasonal bites at the Max Chocolatier Shop in the Old Town.
Book Your Food Tour Here
MAKE WAY FOR MUSIC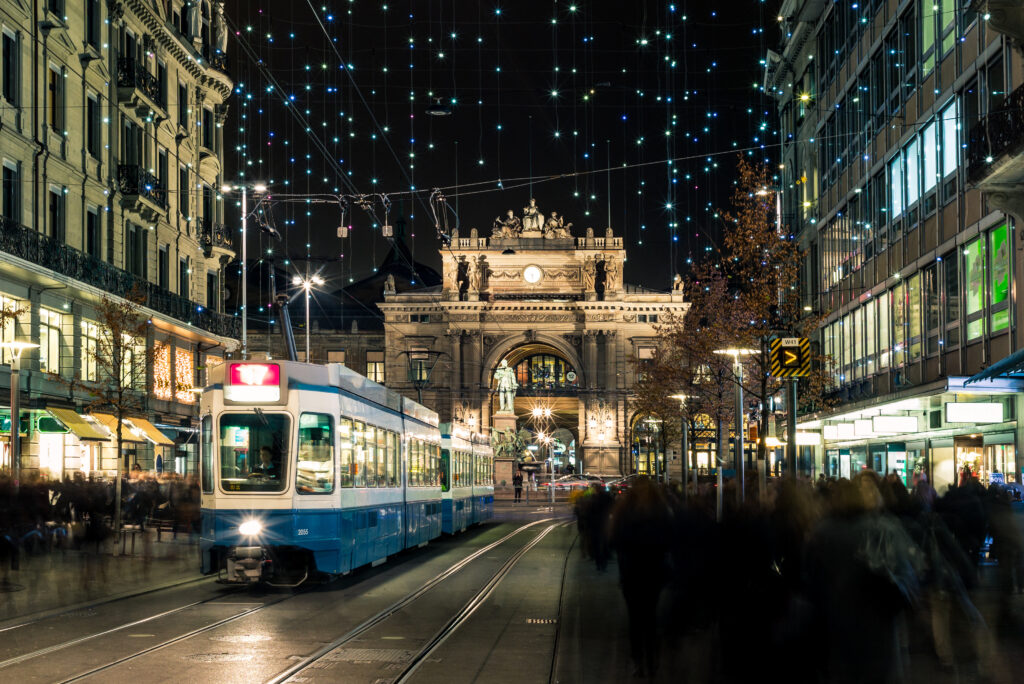 When you're ready to let your hair down, Zurich's winter nightlife scene is more than ready for you. From friendly pubs for beer to swish cocktail bars and electro music nightclubs, there's something for everyone. To meet friends and choose your favourites, go on an organised pub crawl first.
Otherwise, make a beeline for Langstrasse and the hub of the action for night owls. Pick a perch at chilled out bars or underground clubs within walking distance of each other. Check the calendar at the Zurich Opera House for ballet and classical music, or rock the night away with live bands at concert venues like Moods and Bogen F.
SOAK IN THE SPA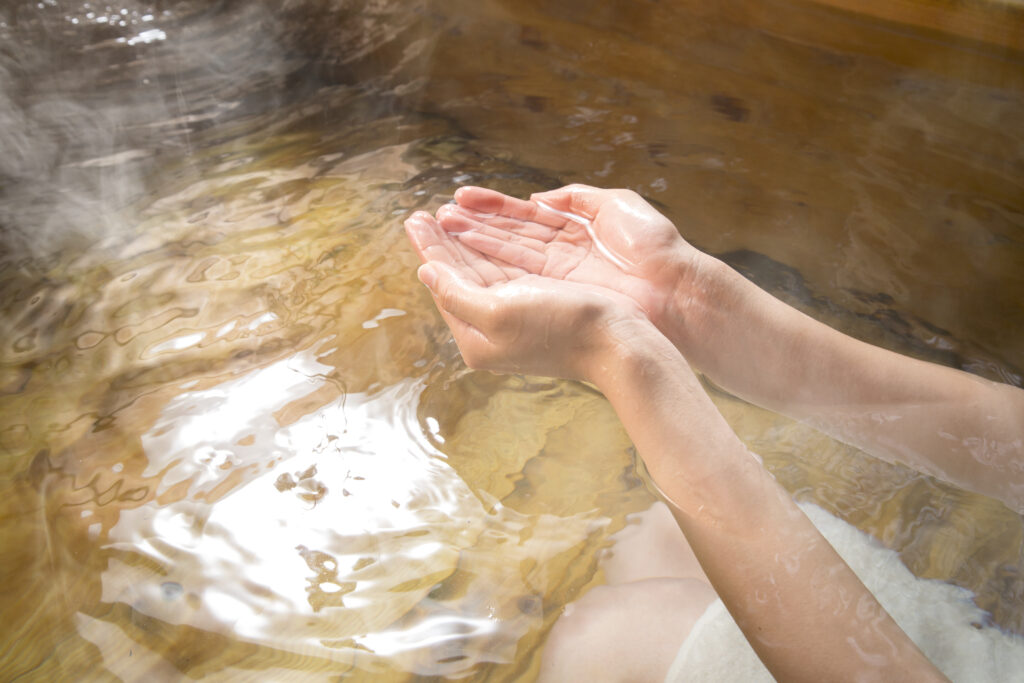 Thermal pools may not be the first thing that comes to mind when you think of Zurich winter activities, but there are several within the city. Ranging from traditional Turkish-style steam baths, to rooftop hot pools, and even family-friendly outdoor pools, there's something to please every member of the family.
Perhaps the most iconic, Hurlimannbad & Spa, is a full thermal destination. Housed in a former brewery, you can choose between soaking in large wooden barrels, relaxing in the immersive emerald spa, soaking under the stars in the rooftop pool, or indulging in a full body massage.
Book Your Spa Experience Here
---
Best Day Trips from Zurich in Winter
Day trips from Zurich in winter include ski resorts with heart-pumping sports, cute-as-a-button villages and snow-topped natural wonders. Take a private tour, hire a car or hop on a famous cogwheel train to get around.
GRINDELWALD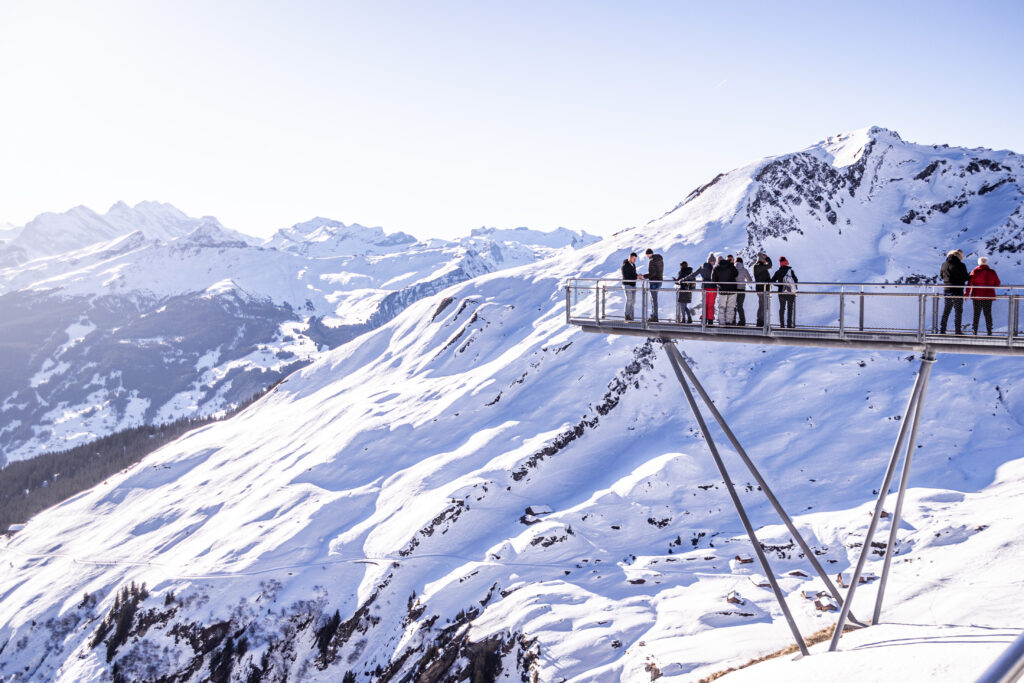 The gateway to the Jungfrau Region is a winter paradise framed by soaring peaks and charming Swiss chalets. With Grindelwald First, Grindelwald-Wengen and Murren-Schilthorn, it's little wonder that Gindelwald is an adventure sports capital. So, if you love to ski, snowboard, ride high on cable cars or hit the winter hiking trails, your options are virtually limitless.
It's a must to go for a ride on a Velogemel, a steerable snow bike that's been getting the locals around since 1911. Then, wander around the lively town for souvenirs and mulled wine with the ski crowd. From Grindelwald Terminal, it's a 45-minute trip on the Eiger Express gondola to the Eiger Glacier and onward to Europe's highest railway station, the Jungfraujoch.
Book Your Day Trip to Grindelwald Here
MOUNT PILATUS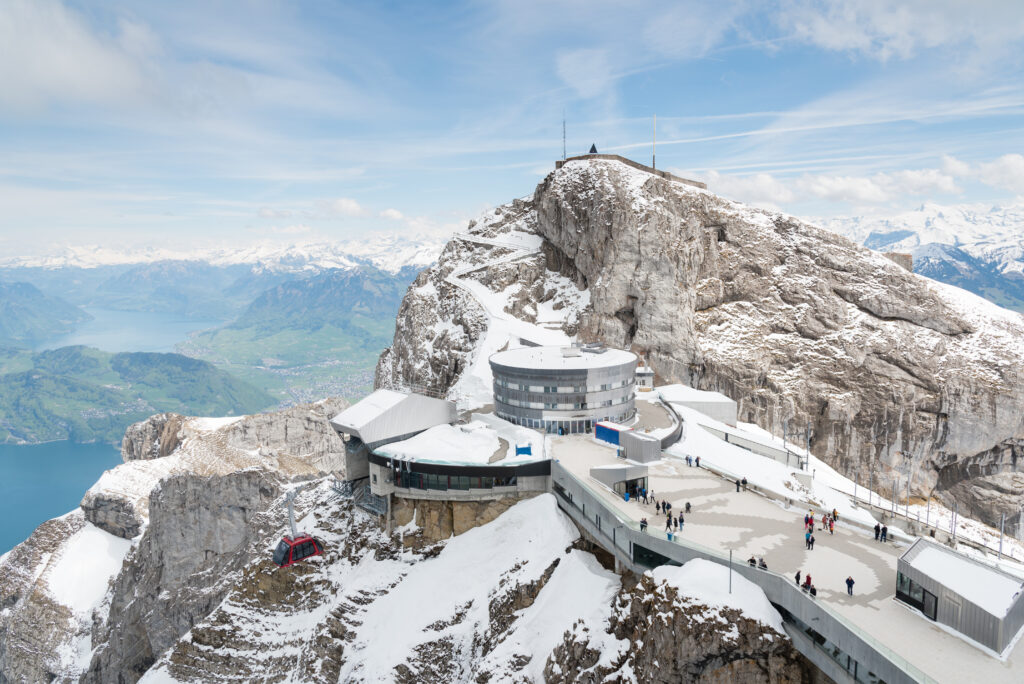 You'll ride on cable cars or the world's steepest cogwheel railway to get to the sweeping views and myths of Mount Pilatus. Legend has it that a dragon rock fell from the sky here in 1420, that a petrified man guards a cave in the area and that Roman governor Pontius Pilatus was buried in Lake Pilatus.
However, it's no myth that you'll gasp when you see the breathtaking views of clouds far below and the soaring peaks in the distance. The exciting journey and views might be enough, but you'll also find sled rides to zip down the snow, along with snowshoeing paths. During the season from mid-November, Pilatus-Kulm holds Europe's highest Christmas market.
Book Your Day Trip to Mt Pilatus Here
BASEL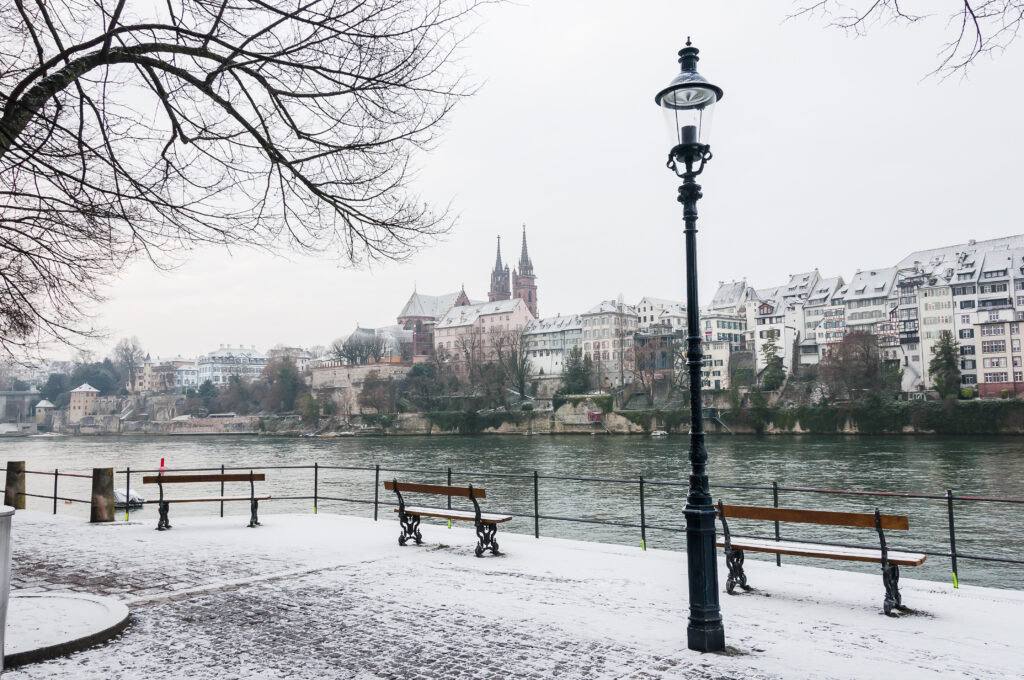 One of the best day trips from Zurich in winter is to enchanting Basel. Especially during Christmas, as the Old Town oozes charm beneath festive shop windows and dazzling light displays. Head to the Advent market on Barfusserplatz and Munsterplatz to shop up a storm at stalls surrounded by a hundred or so sparkling Christmas trees.
As a culture capital, it's easy to gallery and museum-hop to your heart's content. See the globe's biggest collection of art by Jean Tinguely, with his moving mechanical sculptures at the Museum Tinguely. Discover the cultural heritage of Basel across the three sites of the Basel Historical Museum. From ice skating rinks to winter walking trails, snow sports are a given here.
---
Where to Stay in Zurich in Winter
The key to enjoying the best that Zurich has to offer is choosing the right accommodation for your stay. We recommend staying central so you can explore on foot. Check out the following central Zurich hotels:
Sorell Hotel St. Peter is located in the heart of Zurich and offers stylish, modern rooms and all the creature comforts.
La Réserve Eden au Lac Zurich offers refined luxury on the lake edge. This 5 star hotel is set in a historical building close to all the main attractions.
B2 Boutique Hotel Zürich is housed in a former brewery and offers a quirkier place to stay in Zurich. The main attraction here, besides the sumptuous rooms, is the hotel's library which hosts over 33 thousand books!
---
Final Thoughts on Spending Winter in Zurich
Whether you choose cosy cultural activities or winter wonderland thrills, things to do in Zurich in winter fill the snow-filled itinerary of your dreams. Wander around with your mulled wine and soak up the splendor of Christmas or launch into an abundance of activities – just remember to leave plenty of room in your bag for goodies to take home!
Pin this for later!