This jewel of a city acts as a gateway to the Alps and it's a white wonderland dream come true. Winter in Geneva is all about sipping steamy hot chocolate in quaint cafes after adventurous days on the slopes or gallery-hopping across the cobblestones. The snow-dusted Old Town sets the scene for fairytales framed by breathtaking lake and mountain views.
Places to visit in Geneva famously include the United Nations and Lake Geneva, however, winter delivers its own schedule of festivals, Christmas markets, and fondue-laden menus.
Then, there's the shopping! From renowned watches to Swiss wine and luxury designer fashion, it pays to leave plenty of room in your suitcase. Whatever you choose to do, expect to fall under the enchanting wintry spell of Switzerland's second-largest city.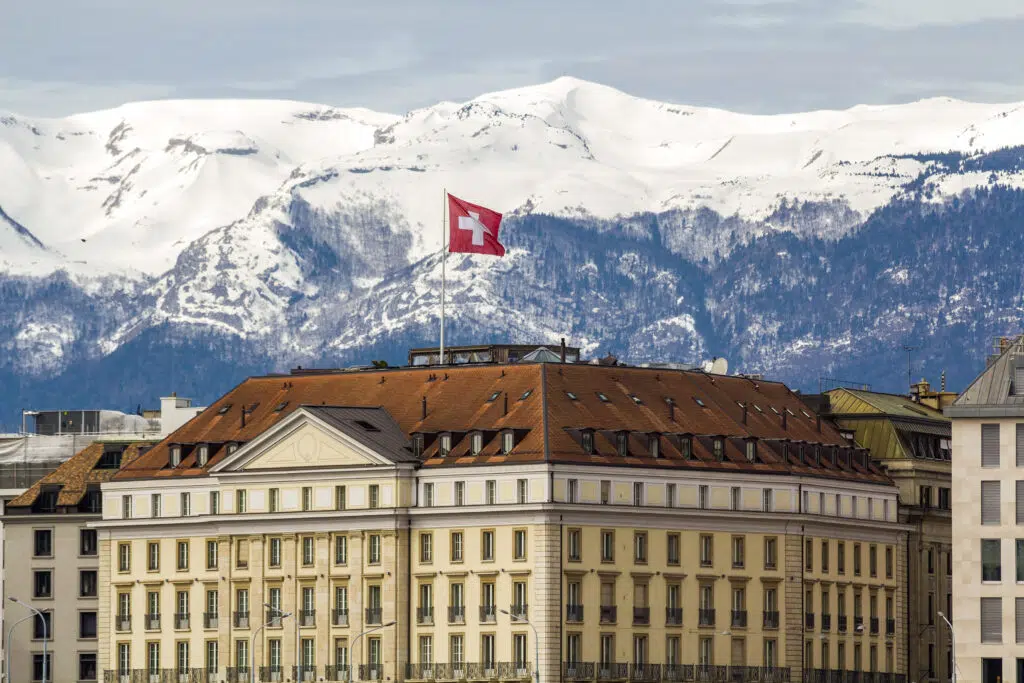 ---
Geneva Winter Weather
Pack your proper cold-weather gear for Switzerland in winter, along with plenty of layers for unwrapping in cosy restaurants and heated stores. Here's a look at Geneva's winter temperatures.
Geneva in December
Skiing is on the cards in December, with a great chance for snow joining the fun of sparkly Christmas markets. Expect temperatures between -1°C and 5°C.
Geneva in January
January is Switzerland's coldest month with a blanket of snow to thrill sports fans. Average high temperatures are 4.5°C and lows are approximately -1.3°C
Geneva in February
February is the month with the least rainfall in Geneva and things warm up just a tad from January. Typically highs are around 6.3°C and lows hover at -1°C.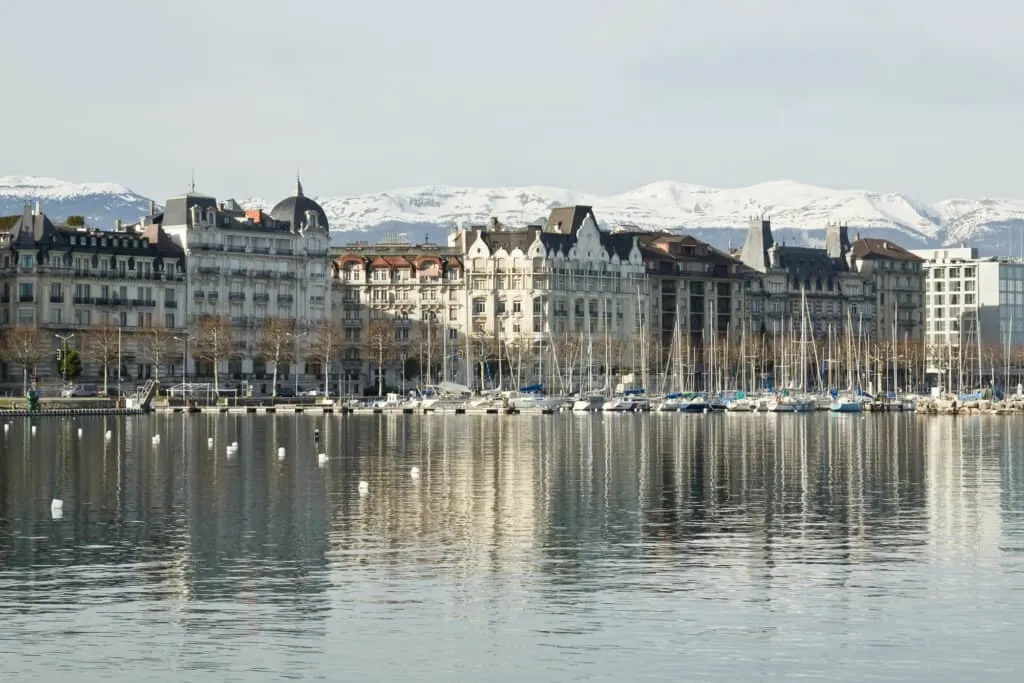 ---
Best Things to do in Geneva in Winter
Deciding what to do in Geneva in winter is half the fun! Should you ski, shop, sip or swoon over chocolate options?
A streamlined public transport system gets you around with ease and the city is a delight to explore on foot. Drive or take a tour to whisk you off to ski resorts and be back in time for dinner and drinks at cosmopolitan restaurants.
Need to chill out after all that? Plenty of luxury spas welcome you for indulgent treatments before the next big adventure.
VISIT THE CHRISTMAS MARKETS
Order your mulled wine and get set for twinkling magic at the Geneva Christmas markets. The main event takes place at the Jardin Anglais, otherwise known as the English Garden, with spectacular views of the Jet d'Eau fountain on Lake Geneva. You'll stroll among quaint wooden chalets laden with goodies just begging for you to buy them. Think traditional wooden toys, artisan baked treats and handcrafted artwork.
Along the way, expect tummy rumbles as you smell batter frying and nuts roasting. Street food stalls serve up plenty to nibble on while you're stocking up on pressies. Taking the kids? They'll love the old-fashioned carousel and interactive entertainment like face painting, storytelling and crafts.
EXPLORE THE OLD TOWN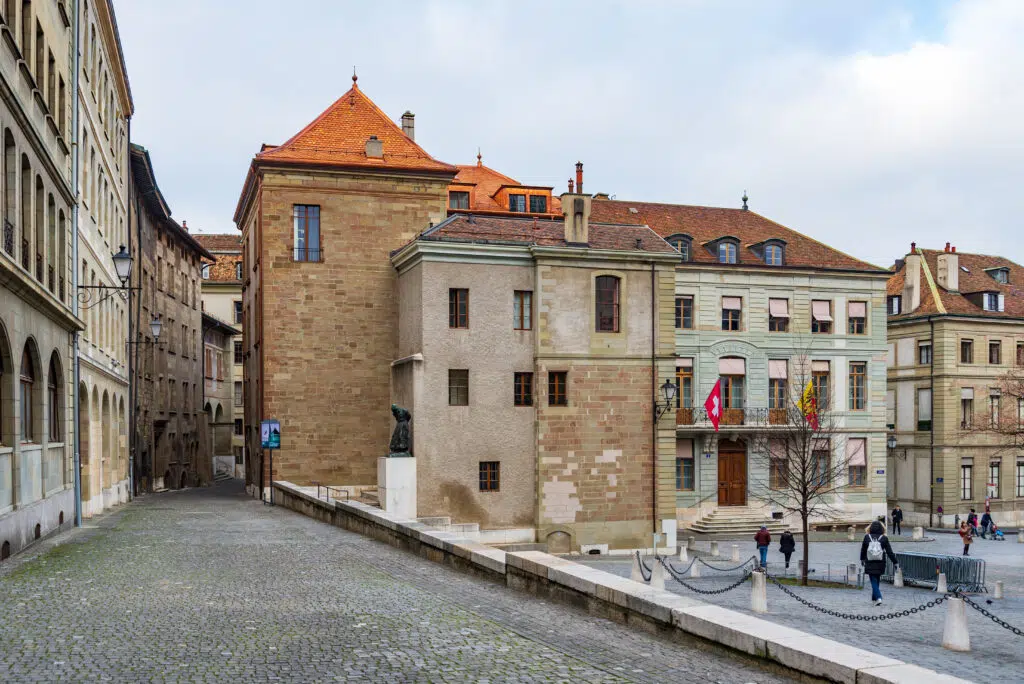 At any time of year Geneva Old Town is an atmospheric delight, however, a dusting of snow makes it extra special. Switzerland's largest historical city boasts winding cobblestone streets for happy strolling and quaint squares for people-watching. Place du Bourg-de-Four is the city's oldest square and the ideal spot to start and end your explorations with coffee or fondue at a cafe.
Built in the 12th century, St. Peter's Cathedral takes pride of place. It's home to the famous La Clemence bell that weighs six tons, along with a tower you'll climb via 157 steps for sweeping views as a reward.
If you visit Geneva in December, don't miss The Escalade festival. Hundreds of costumed people commemorate the city's victory over the troops of the Duke of Savoy with a procession.
LAUNCH INTO WINTER SPORTS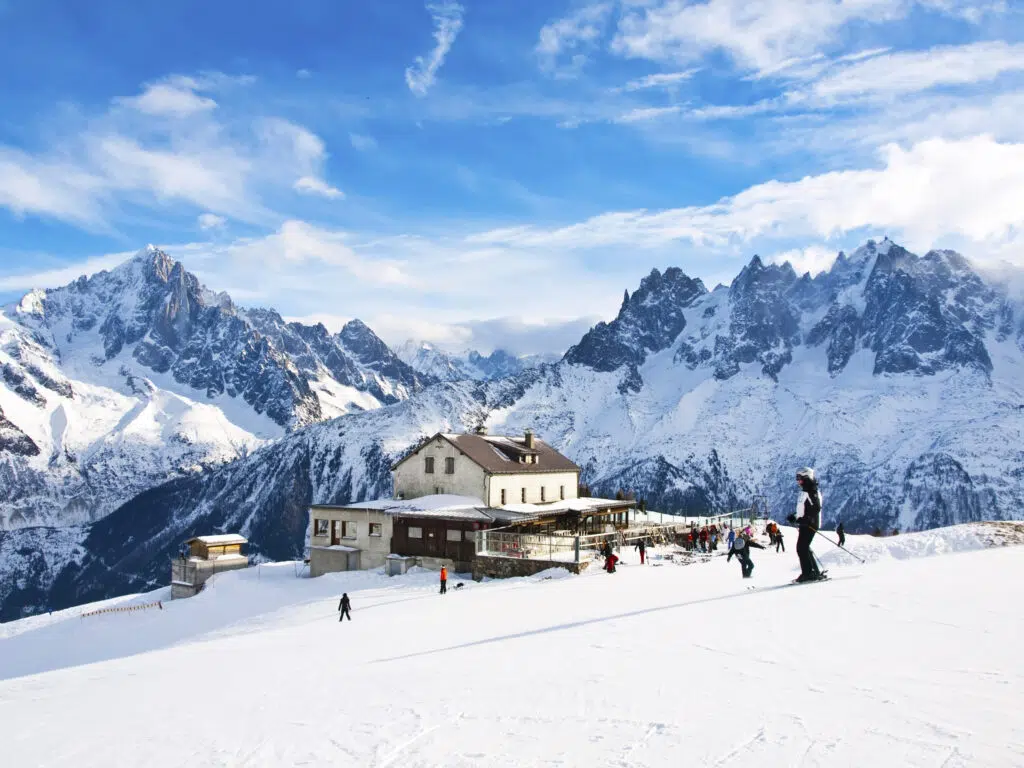 If you can't wait to hit the slopes, you've won the jackpot with a trip to Switzerland in the winter. You'll find plenty of resorts within easy day trip distance, including the famous Chamonix and Mont Blanc in France. In fact, you'll cross the border to many of the closest ski areas. Avoriaz is chock-full of family-friendly adventures, including sleigh rides, snowmobiles and ice skating. A huge array of terrain parks ensures beginners and pros find the skiing action they're craving.
Located in the peaks of Le Grand Massif just a 60-minute drive from Geneva Airport, Flaine offers incredible views over the mountains with a large dose of heart-pumping fun. Take your pick of 63 ski runs and 24 ski lifts to enjoy all your favourite snow sports. For a splash of authentic ski village romance with your thrills, head to Megeve. Explore the charming village before launching on the tree-lined slopes.
MUSEUM HOP THROUGH THE CITY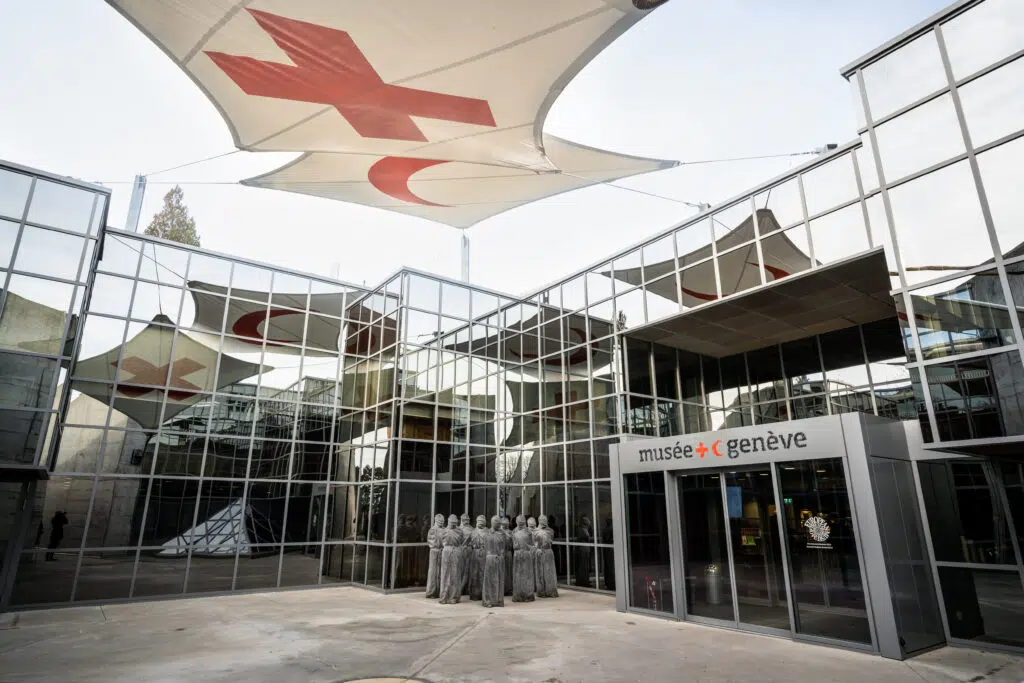 Sometimes it's nice to stay cosy indoors and museum-hopping is among the top things to do in Geneva in winter. Make a beeline for the International Red Cross and Red Crescent Museum, near the Palais des Nations. Permanent and temporary exhibitions focus on humanitarian action with photography, artefacts, artworks and interactive displays.
Indulge your love of Swiss watches at the Patek Philippe Museum. You'll admire around 2,500 watches, portrait miniatures, and precious objects among the collections of Philippe Stern. To delve into the story of Swiss life, stroll around Maison Tavel. The heritage building is the oldest private residence in Geneva, rebuilt after a fire in 1334. Explore six levels of paintings, maps, models, and furniture.
ENJOY LIVE PERFORMANCES AND FESTIVALS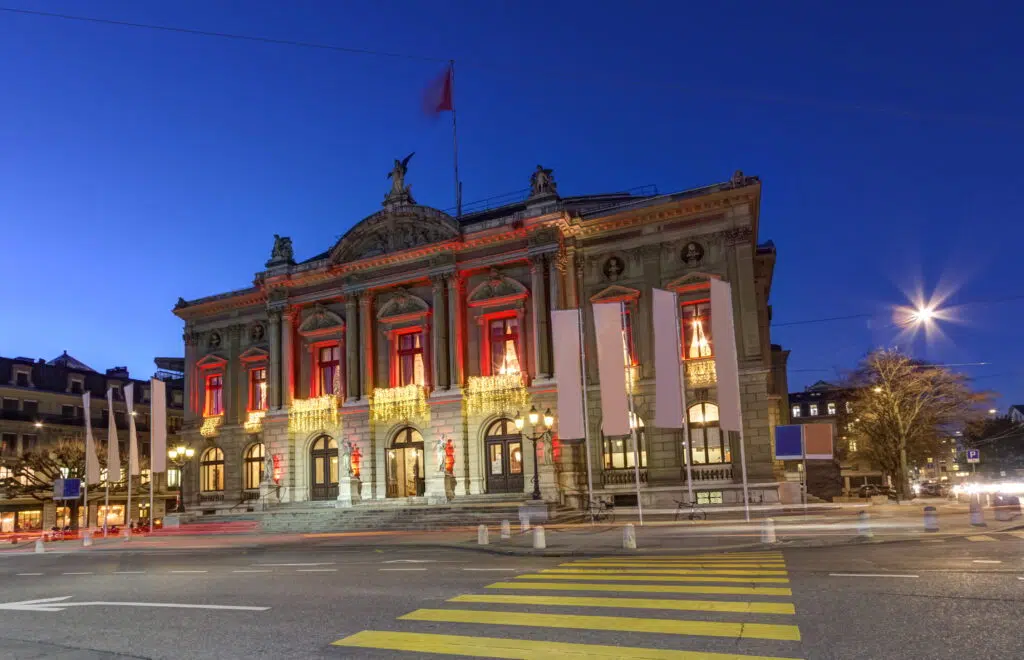 Do you feel like a night out with the orchestra, a theatre show or live music in an atmospheric bar? Geneva pulls out all stops when it comes to live performances in the snowy season. First up, put on your own performance at Discos on Ice across numerous ice skating rinks. Then, check out the Geneva Lux Festival with incredible artworks made of light across the city centre.
Live music, dance, sports and art burst onto the scene at some 50 venues over four weekends at the Antigel Festival. Get your fix of ballet and opera at the magnificent Grand Theatre Geneva and check the schedule for big names playing at Geneva Arena. Otherwise, simply follow the tunes to jazz bars and nightclubs across the city – with your dancing shoes on.
INDULGE IN CHOCOLATE AND FONDUE TASTING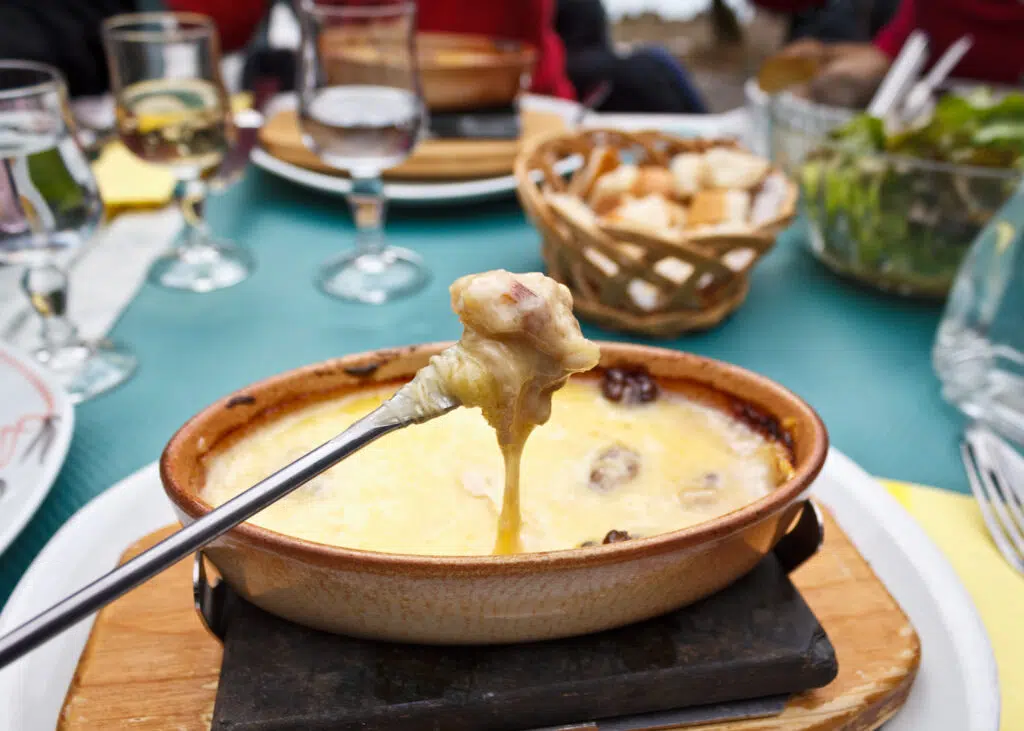 What could be better on a frosty day than gorging on chocolate and cheese? You're in the right place on a Geneva winter break. From pralines to chocolate cakes and truffles, you'll discover the treats from chocolatiers on a range of organised walking tours, if you're in a rush to get to them all. In Place du Bourg-de-Four, order the house hot chocolate at Chocolaterie Arn and knock yourself out with champagne truffles.
At Sweetzerland, organic, handcrafted chocolate goodness awaits, complete with beautifully packaged souvenirs to take home. As for that famous fondue, you'll find it on plenty of menus with a delicious melting pot of flavours. Can't get enough? Just take a fondue cooking class to gather the skills and impress your dinner party guests at home.
EXPLORE WINTRY PARKS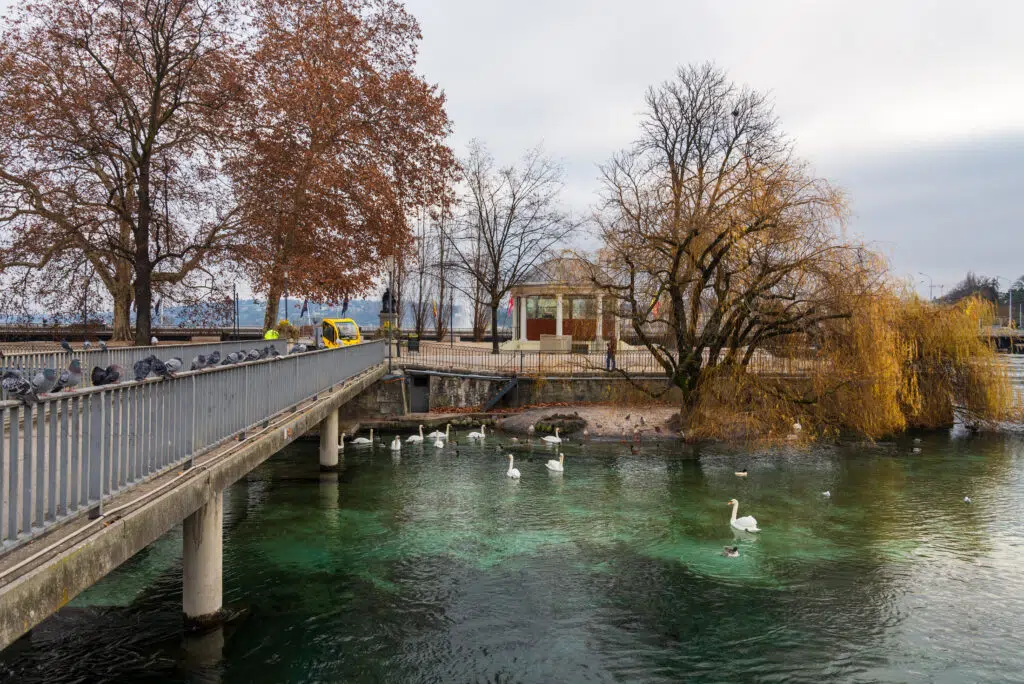 You don't have to head to the mountains for an escape into nature while sightseeing in Geneva. The city's parks enchant in winter, especially at Jardin Anglais. It's home to landscaped pathways by the lake, along with the renowned Flower Clock decorated by about 12,000 seasonal flowers dusted in snow. It's also a symbol of Swiss accuracy, with the time kept in sync via radio.
Meander around the wide, tree-lined paths at Bastions Park and stop for selfies with the Reformation Wall and giant chess boards. A layer of snow adds to the beauty of the Conservatory and Botanical Garden, which hosts around 16,000 different species and a Winter Garden greenhouse. And in the centre of the river, you'll find Île Rousseau, a tranquil spot to take a break from pounding the pavements.
HIT THE SHOPS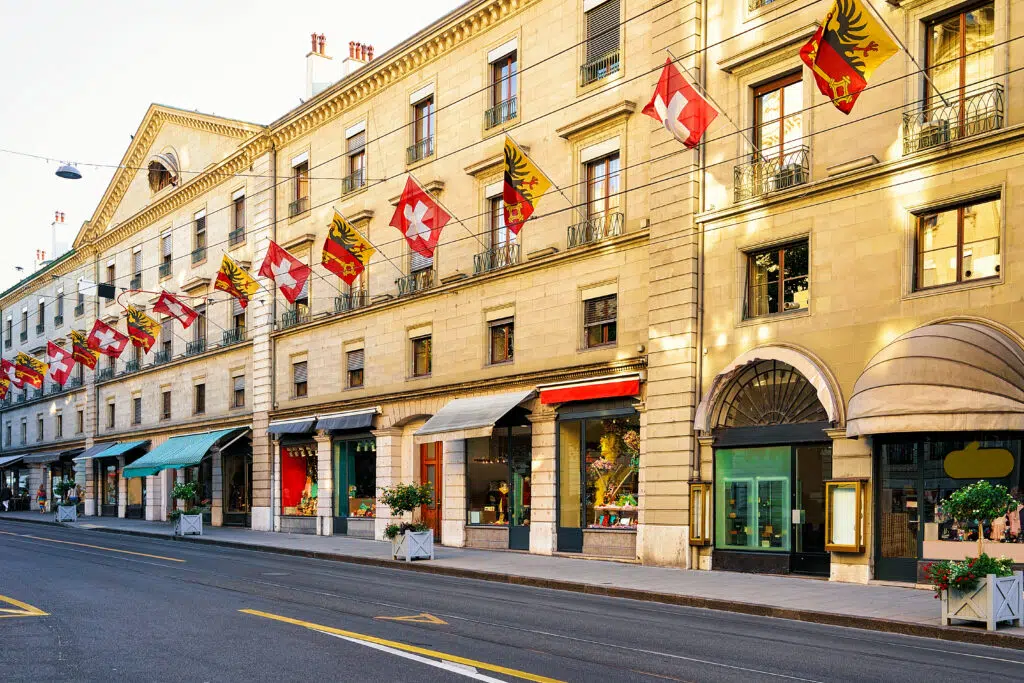 A Geneva Christmas is a joy for shopaholics at the markets, but there's plenty more to spend up big on no matter when you travel! If you love exclusive brands and magnificent luxury window shopping, Rue du Rhone is lined with shops including Cartier, Rolex and Gucci. For Swiss army knives, music boxes and souvenir trinkets, stock up around Rue des Alpes.
There's a little bit of everything along the traffic-free shopping street of Rue du Marche, where you'll leisurely browse in department stores and bookshops. Love rummaging around at flea markets? Take your bags to Plainpalais on Wednesday and Saturday for bargain jewellery, antiques, books and vintage clothes.
FIND INSPIRATION AT ART GALLERIES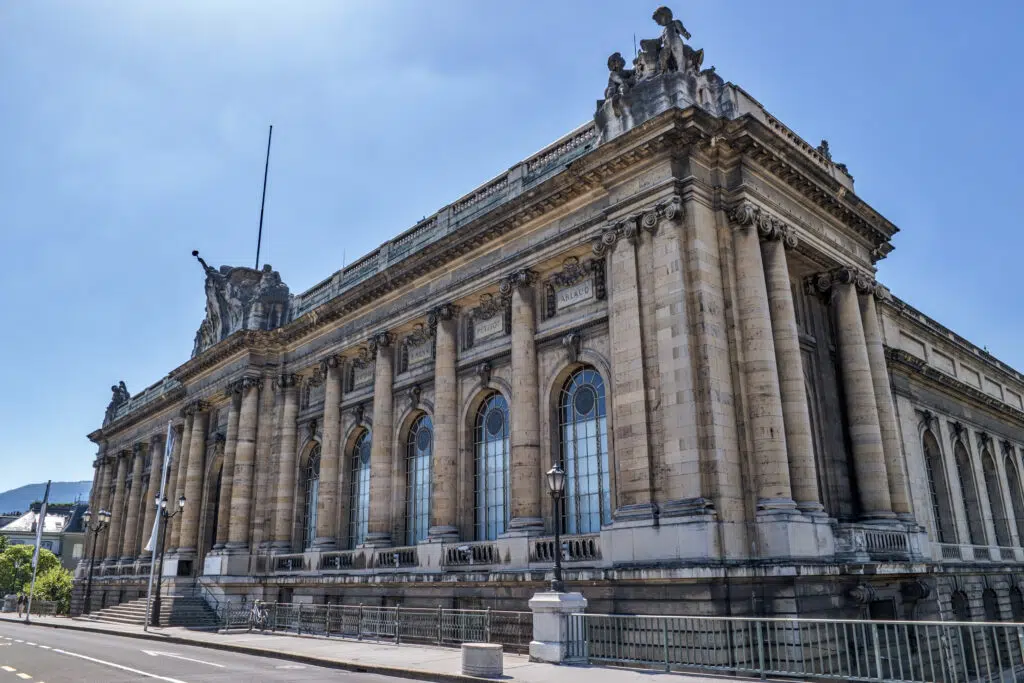 As a culture capital, art galleries are among the top places to visit in Geneva. Inspire your inner artist at the Museum of Art and History, one of Switzerland's largest, with a Fine Arts wing featuring works by Van Gogh and Renoir. MAMCO is the largest contemporary art museum in the country, with a collection of around 4,000 works.
Heavily promoting Swiss artists and showcasing revolving exhibitions of global contemporary artists, Skopia is the place for unique and thought-provoking pieces. For 18 galleries and art spaces in one place, spend some time in the Quartier des Bains, where Skopia is located. You'll also see the Geneva Photography Center, Laurence Bernard Gallery, and Patrick Cramer Gallery.
FUN AFTER DARK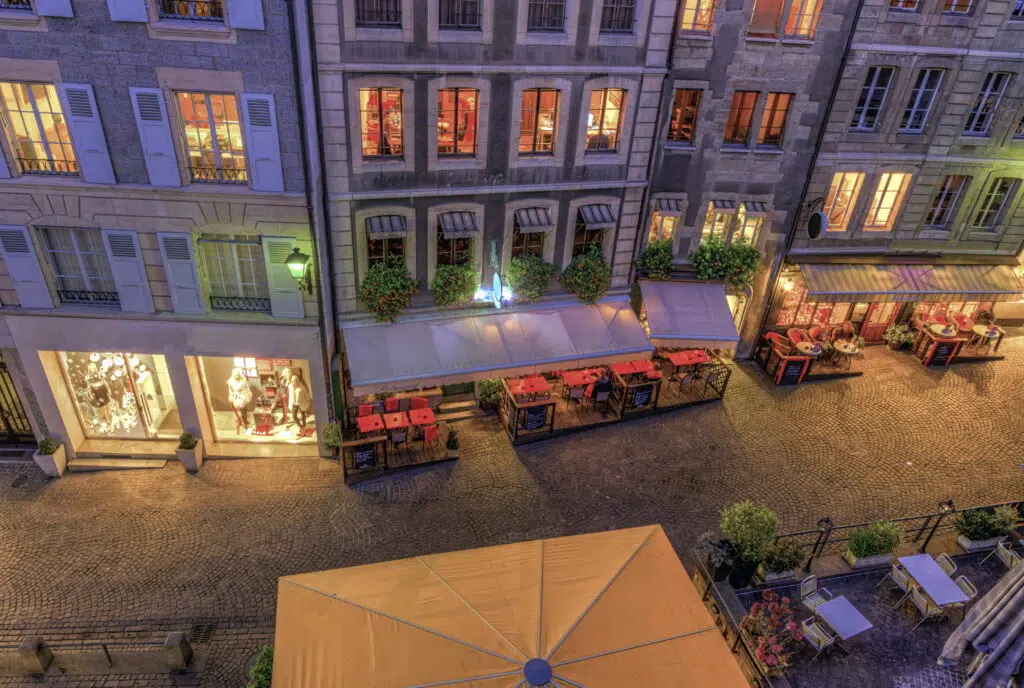 After exciting days exploring all the beautiful places in Geneva, hit the town at a venue to suit your mood. For fancy dinner and drinks with stunning views, choose a restaurant lining the lake and move onto chic hotel bars. It might sound impossible, but if you've overdosed on fondue you'll get a global food fix at restaurants around Paquis. The district is a lively dining hub of authentic restaurants with Turkish, African, Mexican and more.
From traditional Swiss eateries to romantic French cafes and popular Italian restaurants, the Old Town serves up dining pleasure on the proverbial silver platter. Serious night owls love the pubs in Paquis, where you'll also shake your stuff on nightclub dance floors to the tunes of live DJs.
---
Best Day Trips from Geneva in Winter
It's easy to take a day trip from Geneva to spread your wings further afield. Join a tour, hire a car or take public transport into the winter wonderland surrounds.
LAUSANNE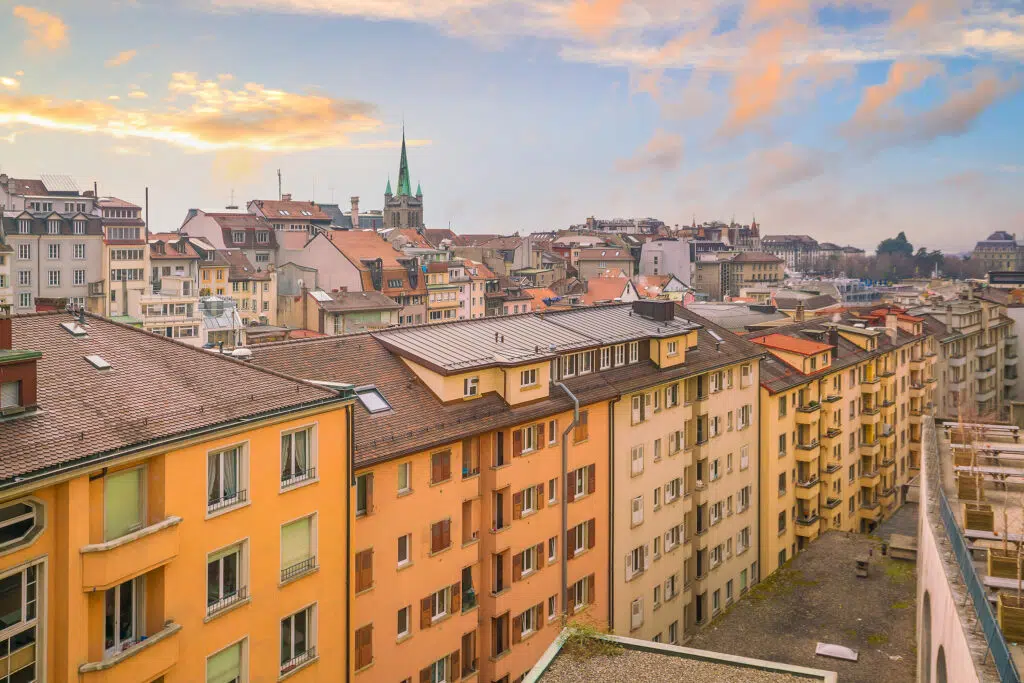 Lausanne certainly knows how to turn on the festive spirit in winter, and it's just a 60-minute drive from Geneva. The second-largest city on Lake Geneva is surrounded by vineyards and built on three hills.
December's Festival of Lights showcases spectacular projections on iconic buildings like Palais de Rumine and Lausanne Cathedral. Speaking of which, the dramatic Gothic cathedral makes for an incredible photo with snow topping its lofty towers.
As the home of the International Olympic Committee, the city hosts the Olympic Museum with equipment, posters, and interactive displays. Shop for souvenirs in the charming Old Town and find luxury stores on the Rue de Bourg. Leave plenty of time for the Bo Noel Christmas Markets. Food stalls explode with local cheeses and precious decorations, and a creator's market tempts with boutique exhibitors.
Book Your Trip to Lausanne Here
GRUYERE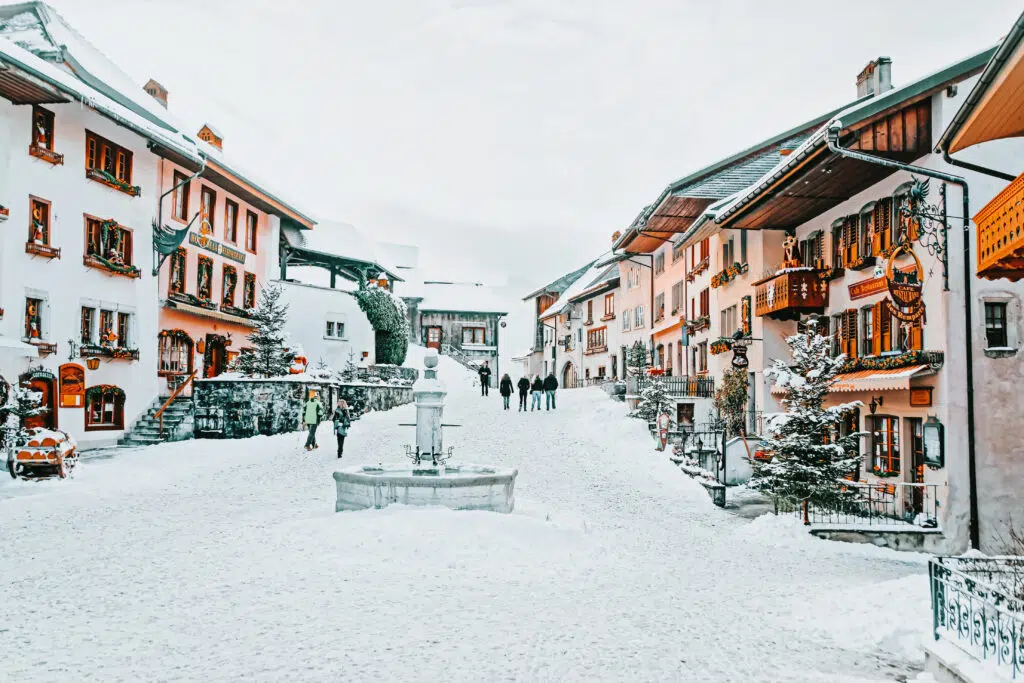 Winter activities in Switzerland take place at the ski resorts surrounding the chocolate box-pretty town of Gruyeres. Draped in snow, this medieval gem is a photographer's dream and it's also a delicious hub for foodies. Chocolate and cheese factories keep you fuelled up for fun and, of course, you'll try the town's namesake cheese.
Set atop a hill overlooking the town, Gruyeres Castle decorates nature with fairy-tale turrets. Pop inside the museum to see lovely tapestries, frescoes and a video highlighting the castle's history. For something a little quirky, visit the HR Giger Museum to see surrealist fantasy art.
Book Your Gruyere Day Trip Here
GLACIER 3000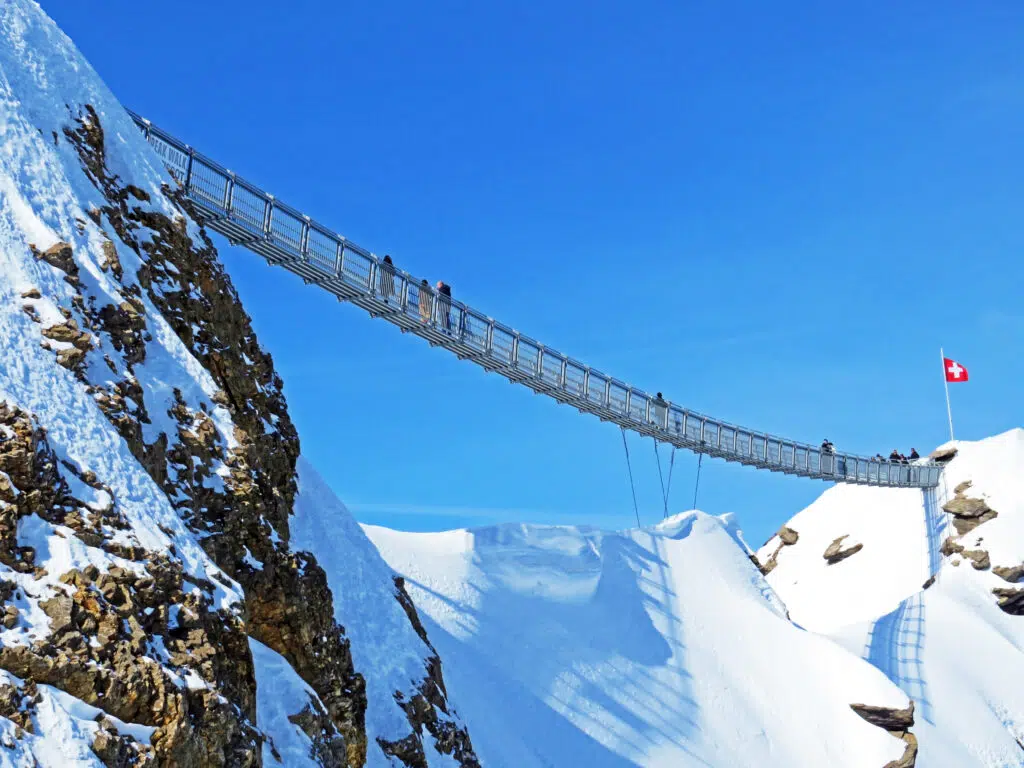 You're never short on panoramic views at tourist spots in Geneva. However, Glacier 3000 might just take the cake. With a snow park for skiing and snowboarding, a fun park for kids, and stunning winter hiking trails, there's plenty to do.
The Peak Walk by Tissot is the headline though, as the only suspension bridge in the world that connects two mountain peaks. Walk across the 107-metre-long bridge with your camera ready for breathtaking views of the Matterhorn, Mont Blanc, and Jungfrau.
Book Your Glacier 3000 Day Trip Here
---
Where to Stay in Geneva
As with most European city breaks, I recommend staying central to make the most of your time. Geneva is a very walkable city, so you won't need a car if you stay in the city.
The Woodward is a charming hotel housed in a historical building overlooking the lake. Sumptuous interiors and light bright spaces welcome you in this 5-star accommodation.
Hotel Bernina Geneva offers a more budget-friendly stay in the central city. With modern rooms and interiors, this is an ideal place to stay near the city's main train station.
Four Seasons Hotel Geneva is the place to stay for the ultimate indulgence. Set on the lakeside, the rooms are decorated with a opulent French influence.
---
Final Thoughts on Spending Time in Winter in Geneva
Planning what to see in Geneva is a breeze when basically everything you see is a wintry delight! Armed with mulled wine and chocolates, the festive spirit is a given while exploring museums, strolling the Christmas markets and zooming down the slopes. And, yes, it's always OK to go back for a second round of fondue…
Pin this for later!