With its mythical landscape, the Joshua Tree National Park ignites the imagination in both young & old. The merging of two deserts – Colorado and Mojave – creates a varied and contrasting canvas, of smooth golden boulders and barbed bushes, of sweeping cactus gardens and skull-shaped rock formations.
At first glance, the unforgiving desert terrain may not seem like the obvious choice for a family holiday. But the well-signposted myriad of short, manageable trails makes it the perfect introduction to desert hiking for little ones. Let me introduce you to our favourite hikes and highlights of visiting Joshua Tree with kids.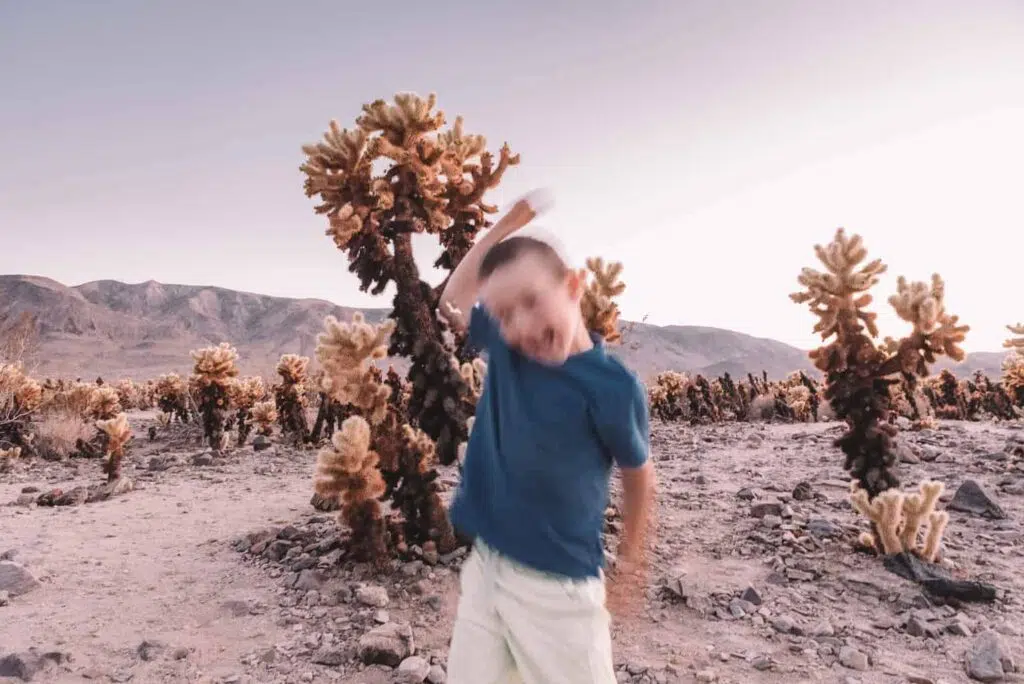 ---
It was largely logistics that led us to visit Joshua Tree National Park this summer. We were transiting through the US on our way to New Zealand and had a spare week up our sleeve. As a nature-lover, the National Parks were a major draw-card, but with so many to choose from, where do you start? Our search ended up coming down to where the most affordable flights would take us – San Diego. We thought about staying near the city and perhaps undertaking some nearby hikes – such as Torrey Pines – before heading up to LA, but in the end, we decided to drive straight up to Desert Hot Springs and explore Joshua Tree National Park instead. For advice on where to stay in Joshua Tree as a family, see the bottom of this post.
Getting to Joshua Tree National Park
Joshua Tree National Park is a doable day trip from Los Angeles, Las Vegas, San Diego, or anywhere in between. Alternatively, it could easily be incorporated as part of your California road trip itinerary. There are three entrances to the park – two off Highway 62 in the North & West, and a Southern entrance off Highway 10. Each entrance is well signposted.
The main entrance is in Joshua Tree town, and it's here I'd recommend you start your journey. Stop at the visitor's centre for your entrance tickets to the park, pick up information about the walks, refill your water bottles, or grab a souvenir!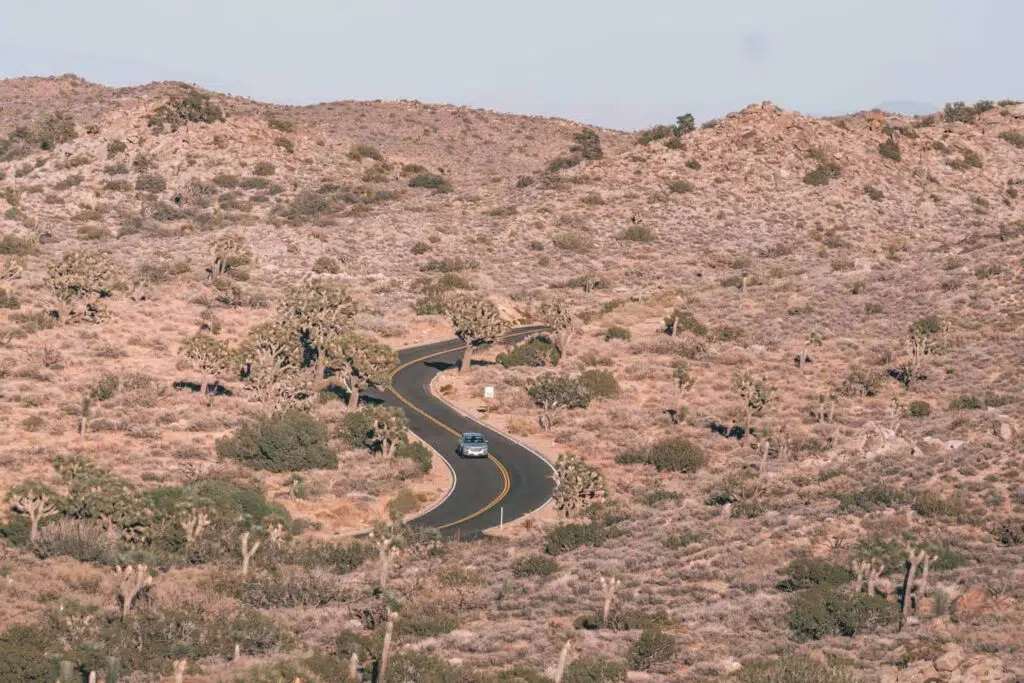 Essential Things to Know When Planning Your Joshua Tree Day Trip
If you're new to exploring the National Parks of America (like we were), you may feel a bit lost about how to take it all in, and what you should know before you go.
This is true of any park, but arguably even more so when visiting a landscape as unforgiving as the desert.
You need to buy a ticket. Tickets can be purchased at the visitor's centre and cost $30/vehicle – making it quite affordable for families!
Be prepared for the weather. While the temperatures aren't extreme in any season, you can still be caught out by unusually chilly weather in winter (it's even been known to snow in the park!), or a hotter than usual summer – the average summer temperature is 38°C/100°F.
Fill up with petrol/diesel before entering the park. The park rangers advised us to have at least a half tank of fuel before proceeding into the park.
Be aware that there is no cell phone reception throughout the park.
There is no lighting in the park. In winter especially, be aware of what time dark falls so you can plan your hikes accordingly.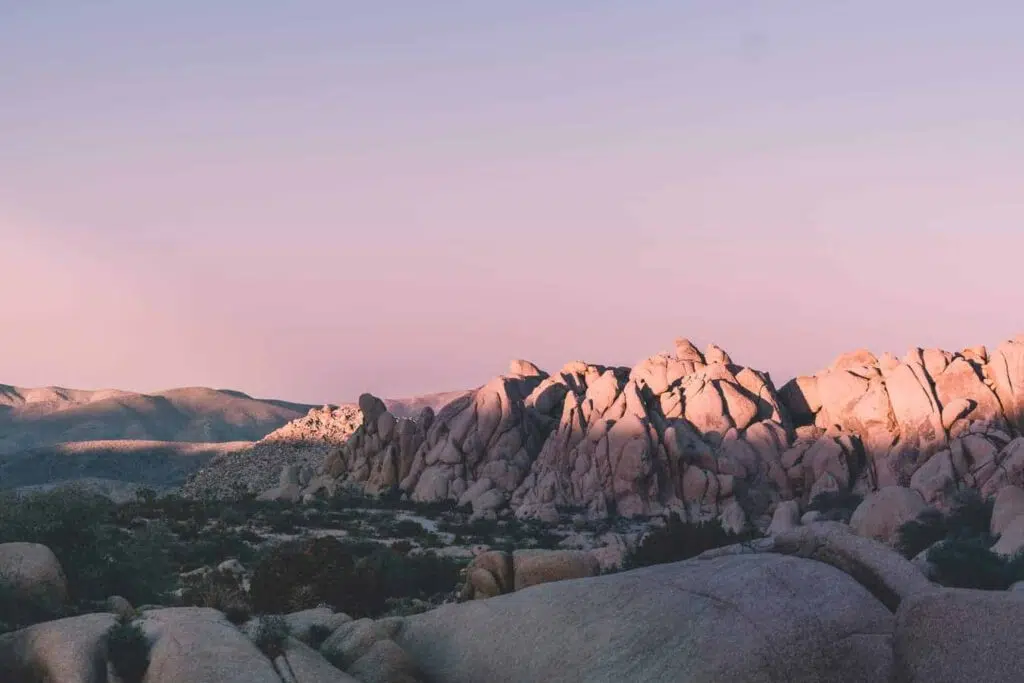 How Long to Allow for Visiting the Joshua Tree National Park
One of the great things about visiting Joshua Tree with kids is that you can see so much of it within a single day.
If you're visiting in winter, when the days are shorter, you'll want to arrive in the morning to make the most of the sunlight. We arrived in the park after lunch, and although it still allowed us enough time to explore – it was super hot in the afternoon. So I wouldn't recommend this approach if you can avoid it!
There are several family-friendly walks to do within the park that'll allow you to cool off and have a break in the car in between. And as they're all relatively short, you'll be able to experience several throughout the day.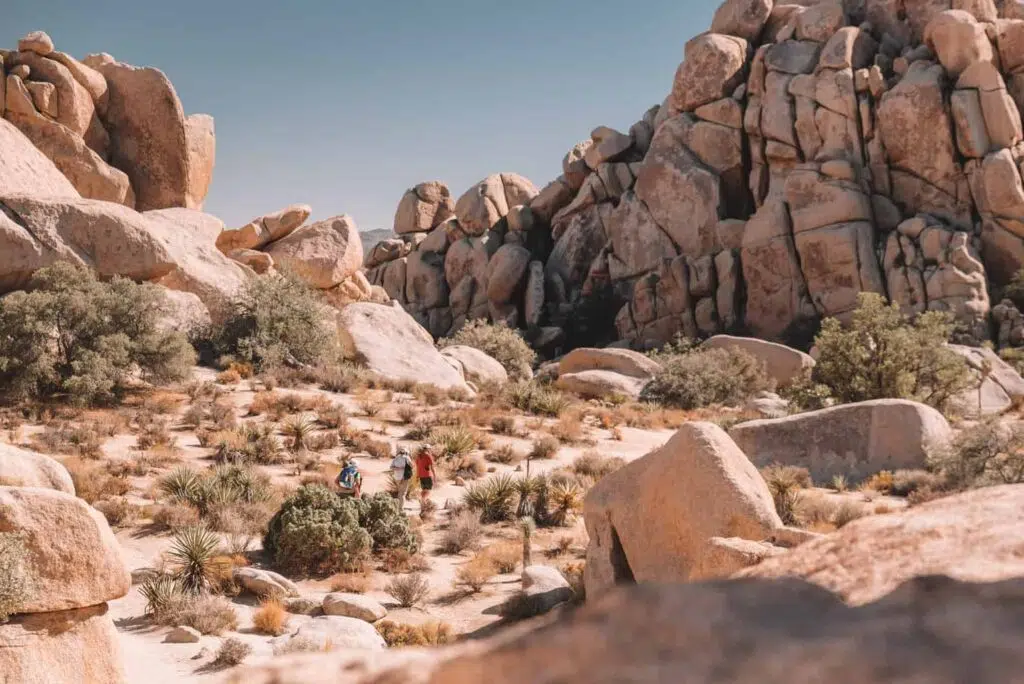 What to Take With you When Visiting Joshua Tree With Kids
We were missing a few essentials such as wide-brimmed hats and a good daypack when we visited Joshua Tree. Luckily, there is a sporting goods/outdoor adventure store next to the visitor's centre in Joshua Tree town centre which saved the day. But it was an expensive mistake, so save money and make sure you have these essentials packed before you go:
Closed-toe, sturdy shoes. Although the hikes aren't strenuous, and boots aren't strictly necessary, it is important to have closed-toe shoes when walking through a desert full of spiky plants!
Plenty of water. The official website suggests 4 litres of water per person. We ended up having half this quota for our trip and it was plenty for a half-day exploring.
Weather-appropriate clothing. Layers in winter. Loose, breathable clothing in summer.
Wide-brimmed hats, sunglasses and sun cream. Protect your skin and eyes in the heat.
A baby carrier if travelling with little ones. A full day walking in the sun can quickly become too much for very small children. And strollers aren't convenient.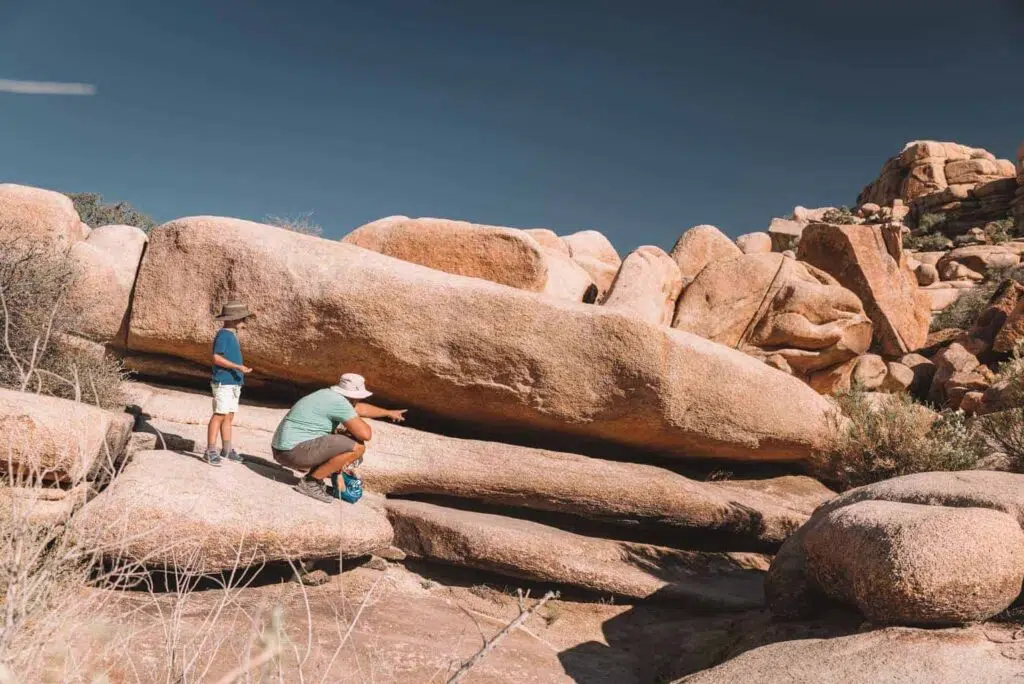 Animals of Joshua Tree National Park
Far from barren, the deserts of Joshua Tree National Park are bursting with life. From long-eared jackrabbits to curious chipmunks, many critters thrive in this unforgiving, yet fertile land. But remember, these are wild animals.
Don't attempt to interact with the park animals in any way, and try not to disturb their habitat. Simple steps such as taking care not to leave food about, driving slowly (to avoid hitting the slow-moving Desert Tortoise), and staying on the walking paths help protect the animals of Joshua Tree National Park.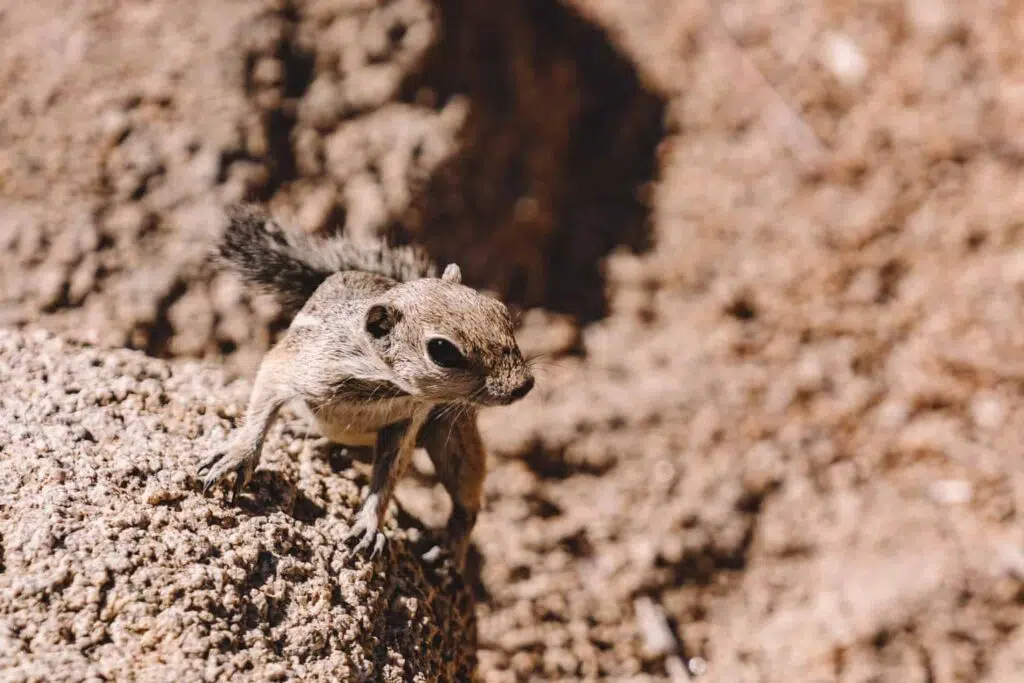 ---
Joshua Tree Route Map
This route starts at the Joshua Tree National Park Visitor's Centre and takes in four family-friendly hikes and two places of interest within the park.
---
Best Hikes in Joshua Tree for Families With Young Kids
The following trails offer a great opportunity to experience the best of Joshua Tree as a family. Trail length, duration, and the difficulty level are listed below each hike.
HIDDEN VALLEY TRAIL (B)
The Hidden Valley Trail was our first walk of the day, and essentially, our introduction to the Mojave Desert. An easy 1 mile-loop, it still took us nearly 2 hours to complete as our son attempted to climb every rock face we encountered!
Walking the Hidden Valley Track with Kids
Park in the large car park and follow the signs to the beginning of the trail. The first bit of track doubles as the exit to the trail, before the loop through the valley begins. The dusty trail then leads you through the fertile landscape of this unique area.
A microclimate exists within the Hidden Valley due to its sheltered position within the park. And it was this combination of the valley's secluded location and abundant vegetation that led cowboys to use the area for cattle grazing before the park became protected.
Today you won't find cows here, but we did see plenty of chipmunks dashing about. It's an area hugely popular with climbers, and as you weave between the rocks, you may be tempted to try it out for yourself. The trail is easy to follow and there are plenty of signs pointing out the various plant specimens you'll pass on the way. It's a good place to find the iconic Joshua Tree, but there are plenty of other cacti, trees and shrubs to get acquainted with too.
Length – 1.6 km (1 mile)
Time – Under an hour (unless you go off course like we did!)
Difficulty – Easy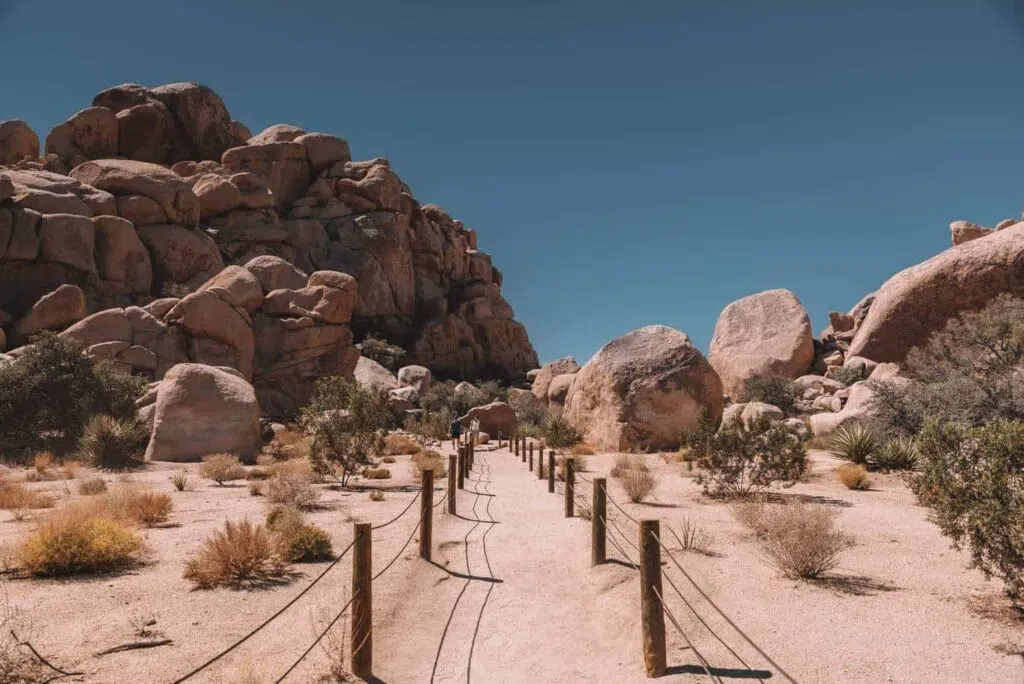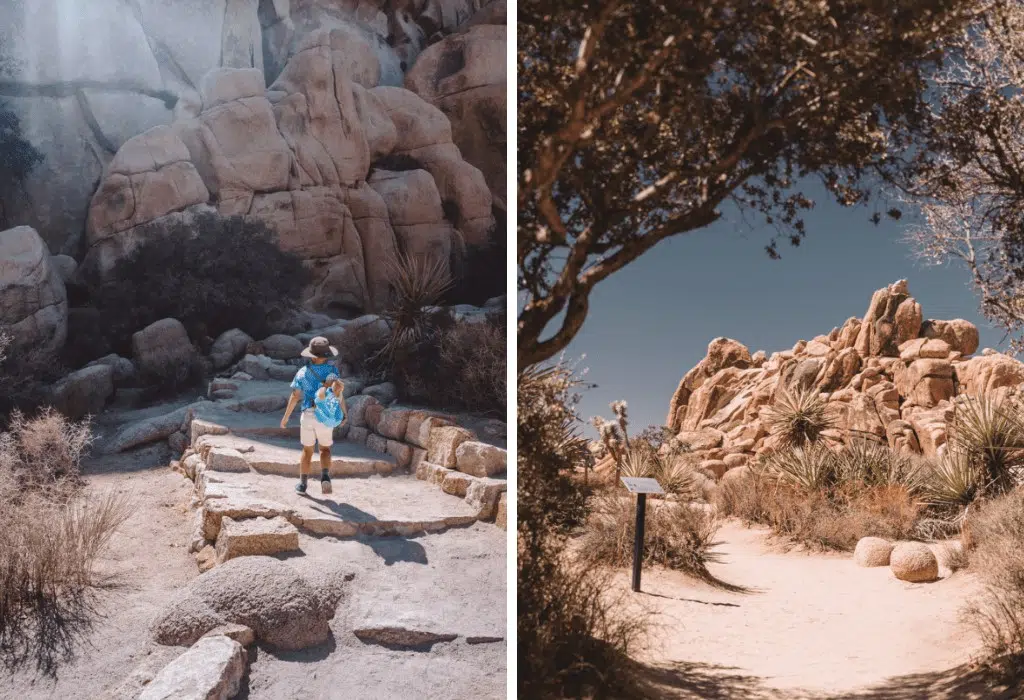 ---
BARKER DAM TRAIL (C)
The barker dam track is a circular track, but it seemed most people walked to the dam and then backtracked the way they'd come. They were doing themselves a disservice, as the second half of the walk is, despite being quite flat, very scenic and varied.
Walking the Barker Dam Track with Kids
Starting at the car park, you'll follow the signs to the start of the circular track. The dam, however, isn't signposted until you reach it, which seemed to be causing some confusion among the other people on the track. Some simply turned around after wrongly assuming that an empty pond was indeed the missing dam.
When we did eventually find the dam (obscured behind innocuous looking boulders as the level was understandably low in the height of summer) it was an impressive sight! Not because it was particularly full or beautiful, but simply because it was there – this large body of water in the middle of the desert!
It's said to attract hordes local birdlife but we weren't lucky enough to spot any. If you venture on past the dam, you'll find further evidence of past habitation within the park, including petroglyphs etched onto a rock wall.
The trail is fairly flat, apart from the stairs leading down from the dam, and is pockmarked with burrows – be careful where you tread.
Length – 1.8 km (1.1 miles)
Time – An hour
Difficulty – Easy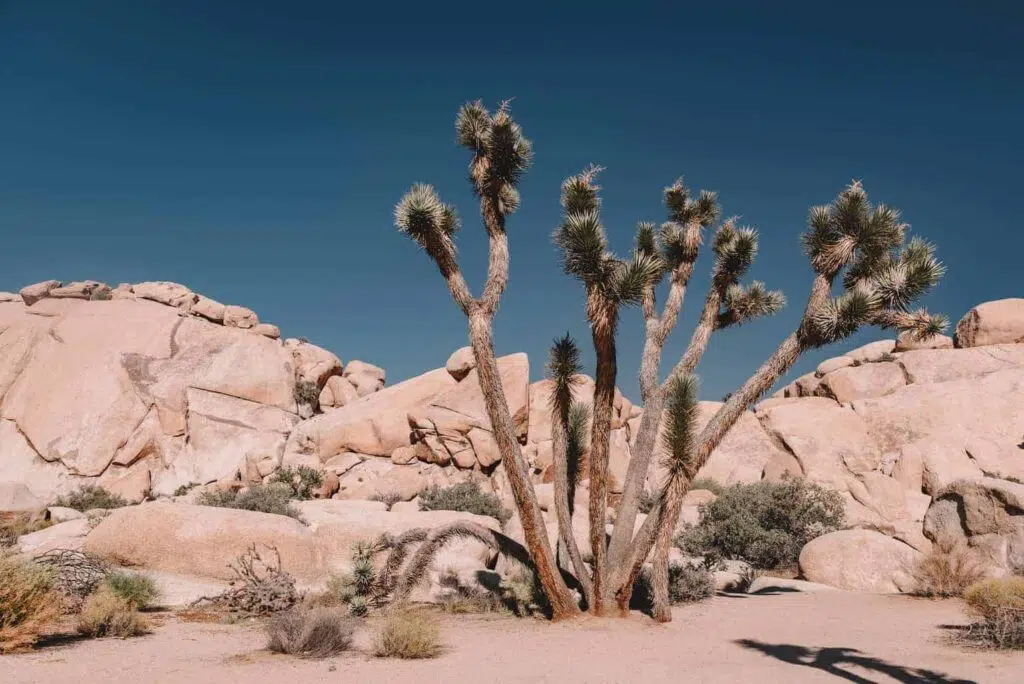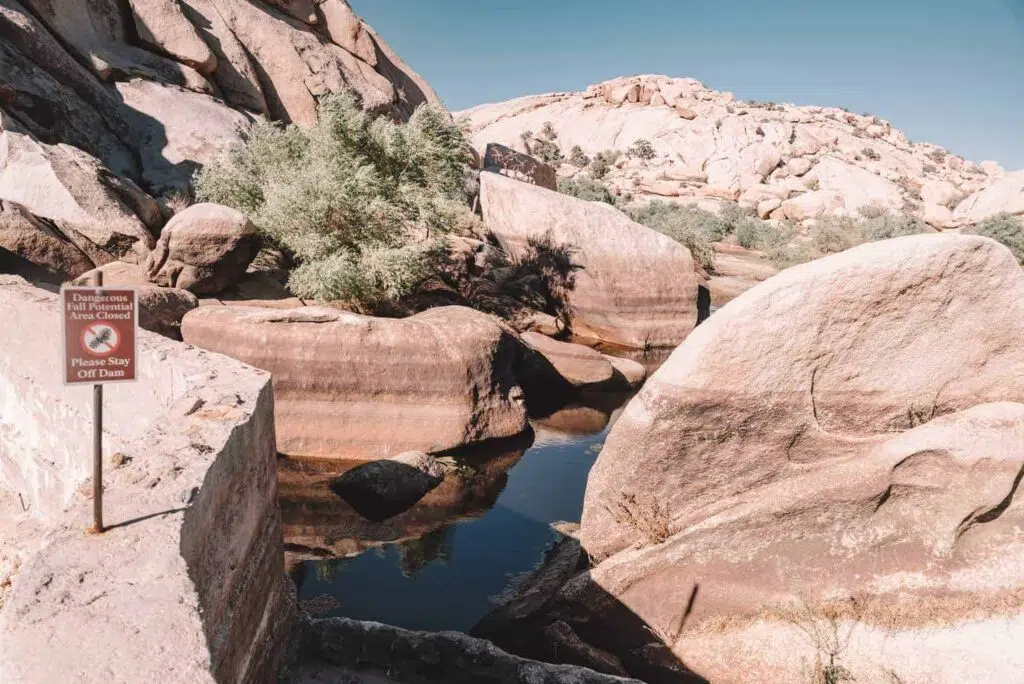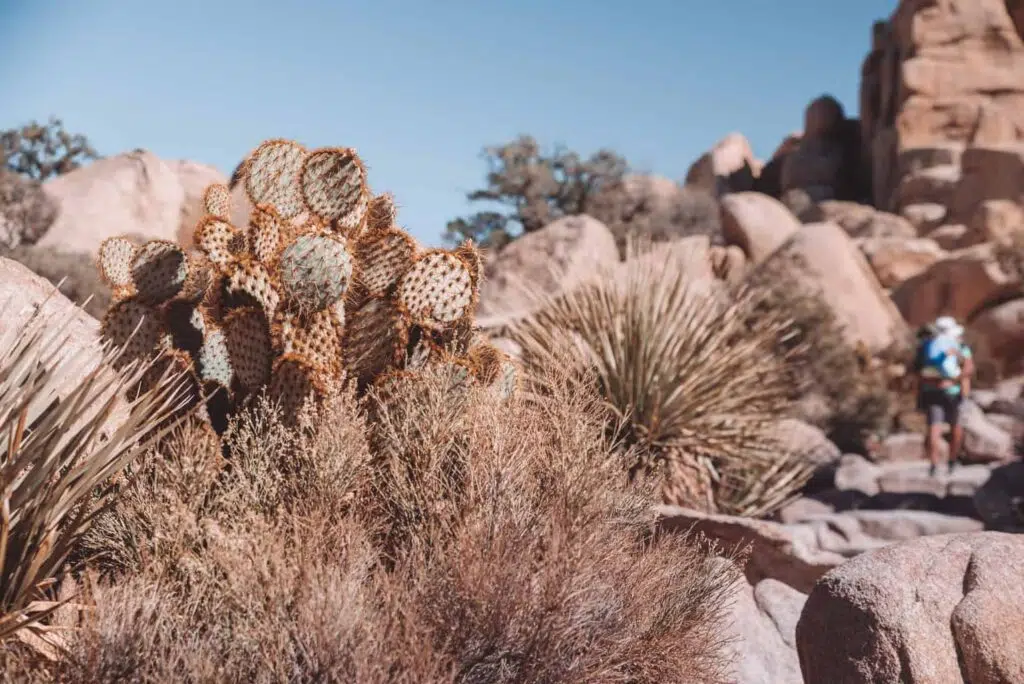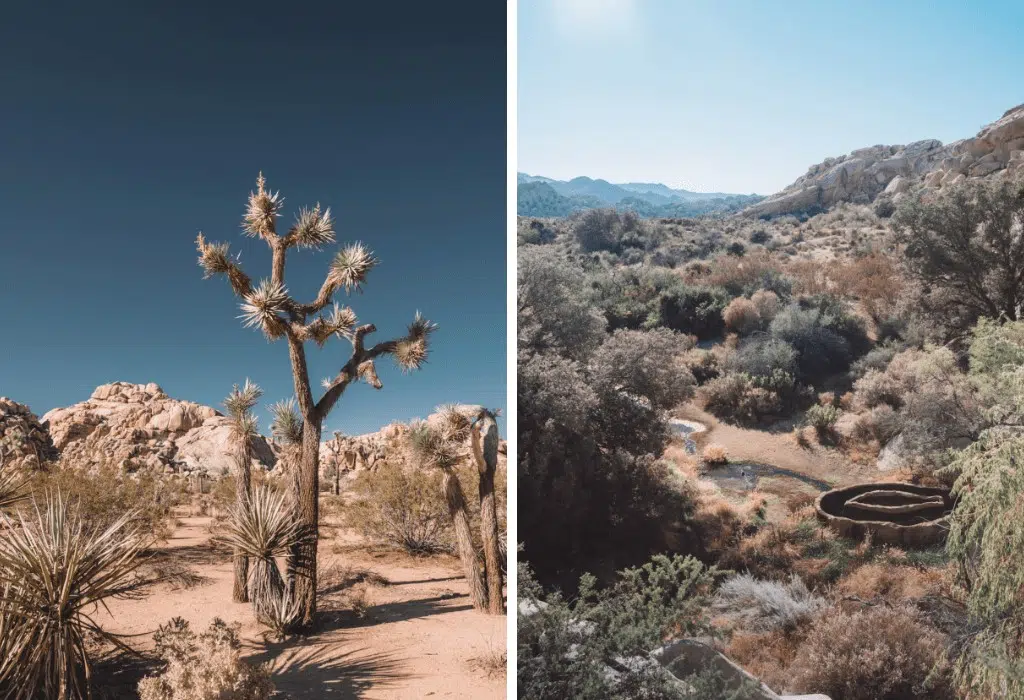 ---
SKULL ROCK NATURE TRAIL (F)
The skull rock nature trail takes its name from the skull-shaped rock at the entrance of the walk. Located not far from the Jumbo Rocks campground, it's a good place to discover the mammoth boulders in this part of the park.
Walking the Skull Rock Trail with Kids
First of all, let me make it clear that the 'skull rock' isn't immediately obvious on this track. We didn't realise that we had passed it at the beginning of the track, and so we continued walking, trying to spot it as we went. There were several signs along the way, but none alluded to the skull rock (that we noticed). I've since seen photos of the rock with a bid red sign pointing to it. So, it's either not there anymore, or it wasn't all that clear.
The track leads you through a stunning landscape, once again different from the two previous walks we'd done that day. We ended up walking halfway and then backtracking – still trying to find the skull. We didn't realise at the time that the track continues on the other side of the road, past the campground, creating a loop. But Arthur was getting tired by this point, so he hitched a piggyback ride back to the car. We did eventually discover the infamous Skull Rock – but it takes a little imagination to 'see' it.
On that basis, I probably wouldn't stop here solely to see the rock, but the walk itself was really pleasant! The bright orange boulders and gently undulating landscape made it really light up at golden hour.
Length – 2.7 km (1.7 miles)
Time – 1-2 hours
Difficulty – Easy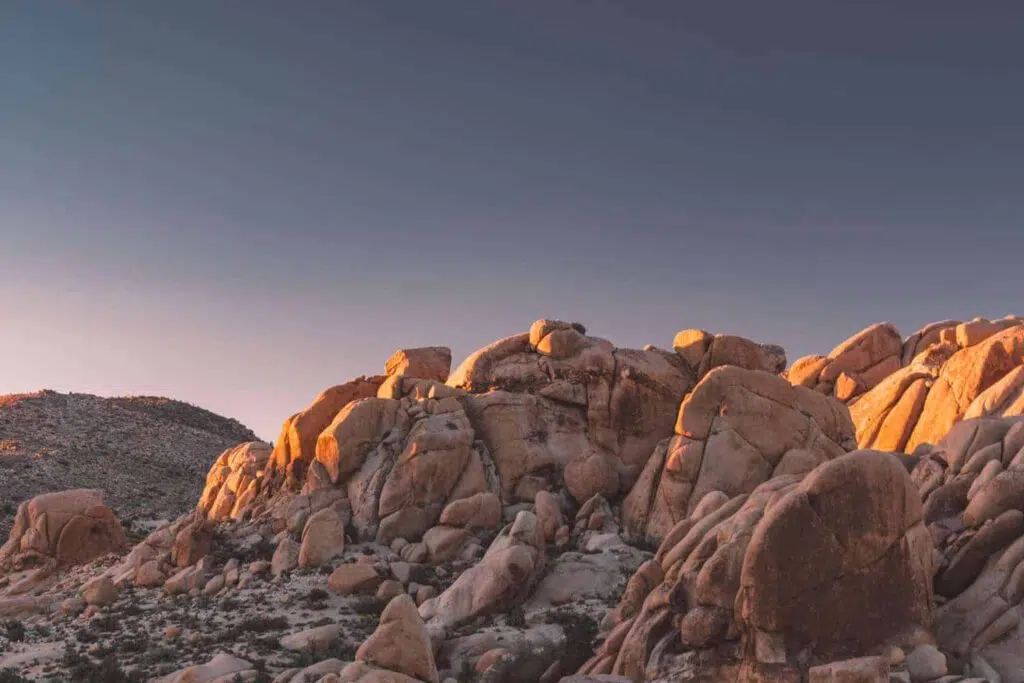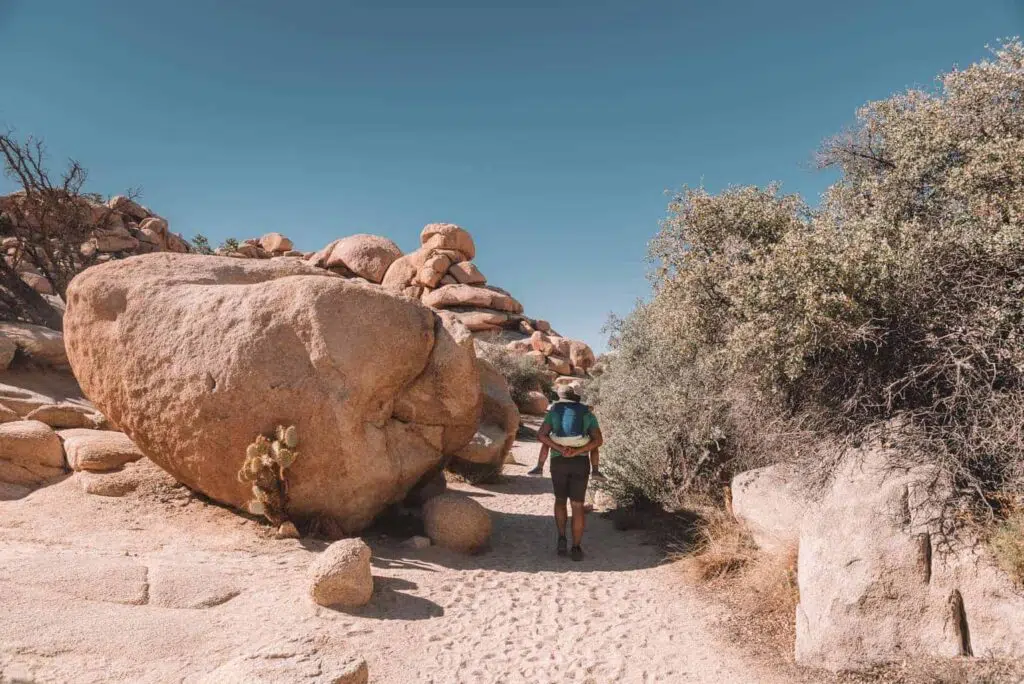 ---
CHOLLA CACTUS GARDEN TRAIL (G)
This trail leads through the Cholla Cactus Garden, taking in the sheer number of cholla cactus, the sloping view over the lower Colorado Desert and the towering boulder backdrop.
Walking the Cholla Cactus Garden Trail with Kids
The Cholla Garden Trail is very short and an easy one for little legs to undertake. It loops around the garden at an even level, starting and finishing at the car park.
Be aware that the cholla – nicknamed the teddy bear cactus for its appearance – easily latches onto clothes and skin. And it doesn't come off again easily. So make sure curious hands are kept at bay!
We arrived at the Cholla Cactus Garden at sunset, so whisked through the walk before it was completely black. It's a lovely time of the day to experience the silhouette of the cactus against a pastel sky.
Length – 400m (0.25 miles)
Time – 15-30 mins
Difficulty – Easy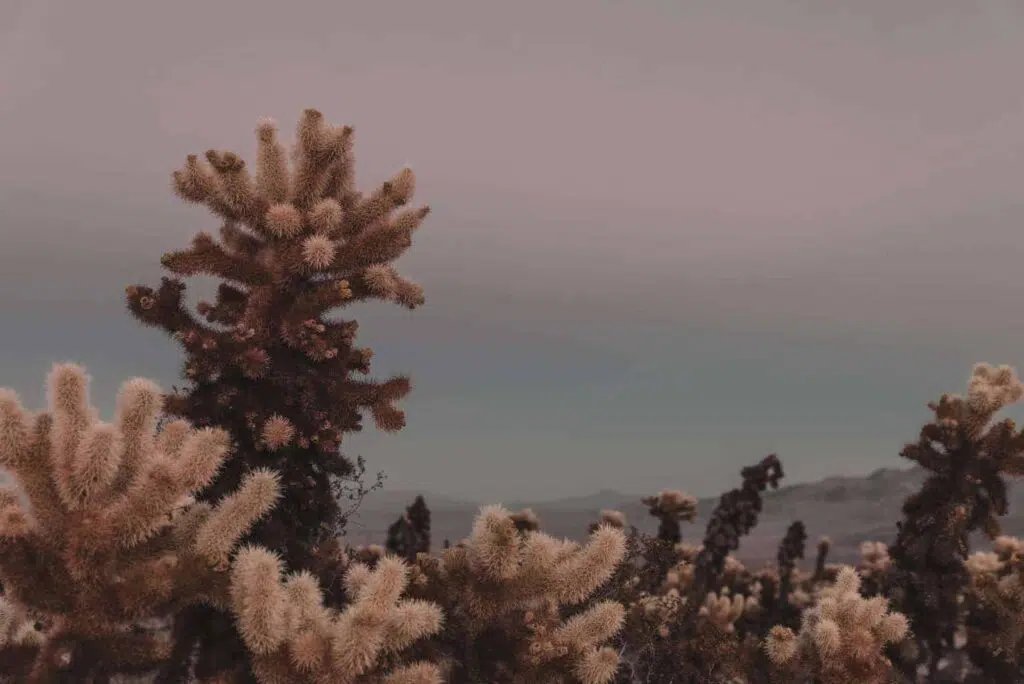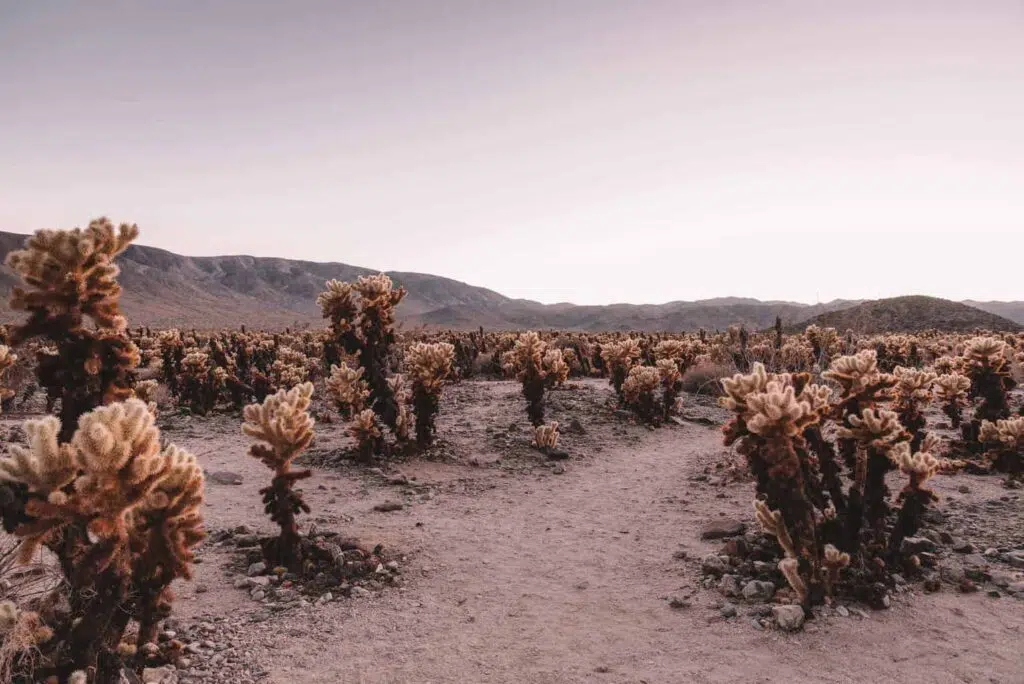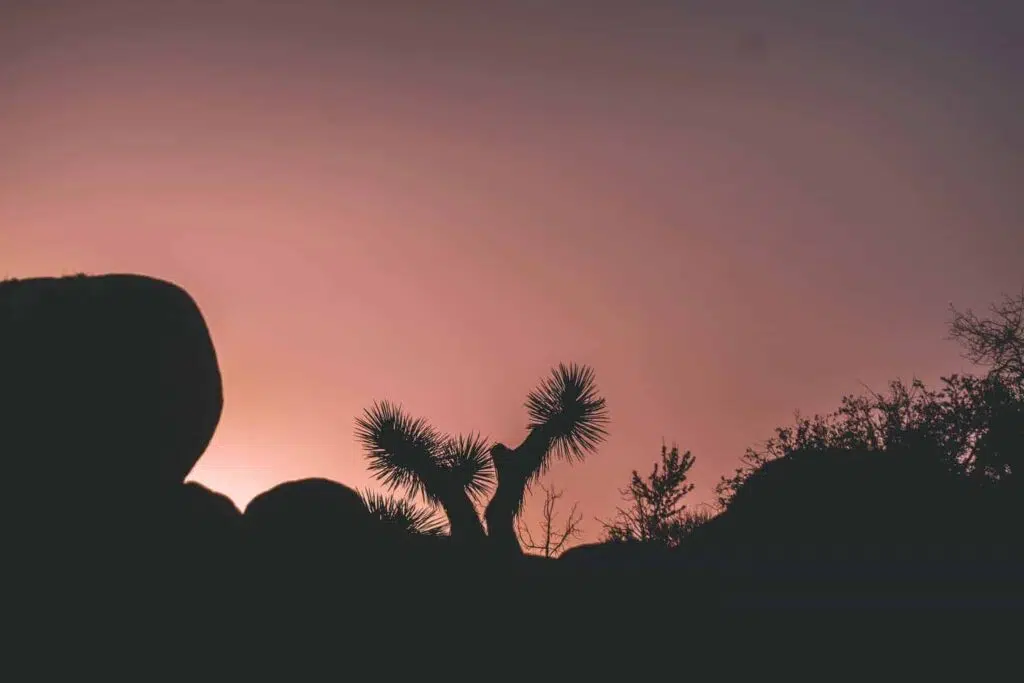 ---
Other Places of Interest Within the Park
Driving around the national park, observing the subtle changes in vegetation and topography, is interesting in itself. But there are a few stops worth taking the time for if you want to make the most of your day in Joshua Tree.
KEYS VIEW (D)
A little off the beaten path – but this is one detour that's worth your time. The sweeping views over the Coachella Valley and Mount San Jacinto (where you'll find the aerial tramway) are remarkable. We also saw plenty of wildlife at Keys View, including mice and jackrabbits. There's a very short walk to a viewing platform that's also wheelchair accessible.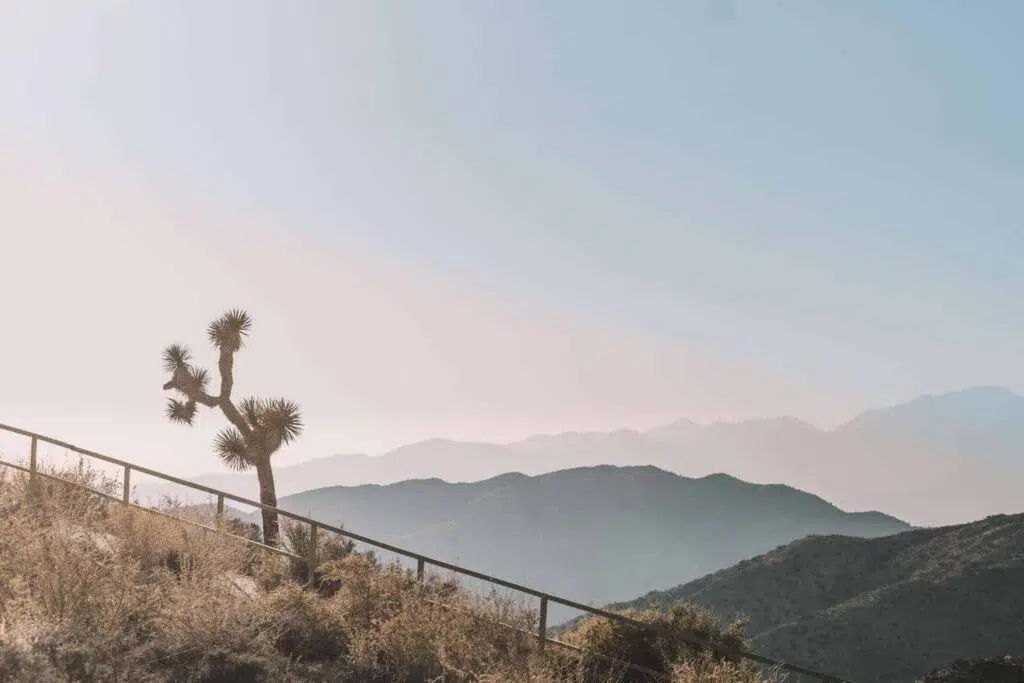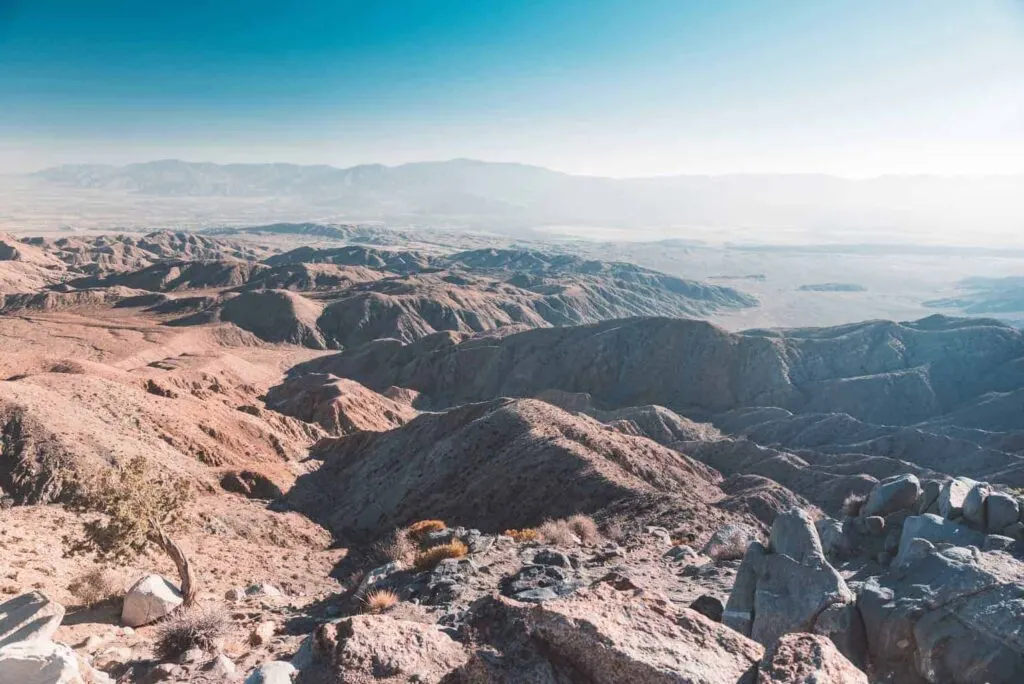 JUMBO ROCKS (E)
If you're passing by Skull Rock, take time to spot the Jumbo Rocks. If you do walk the Skull Rock Nature Trail, you'll pass by these gigantic boulders. But if not, be sure to pull over and admire their impressive size and form.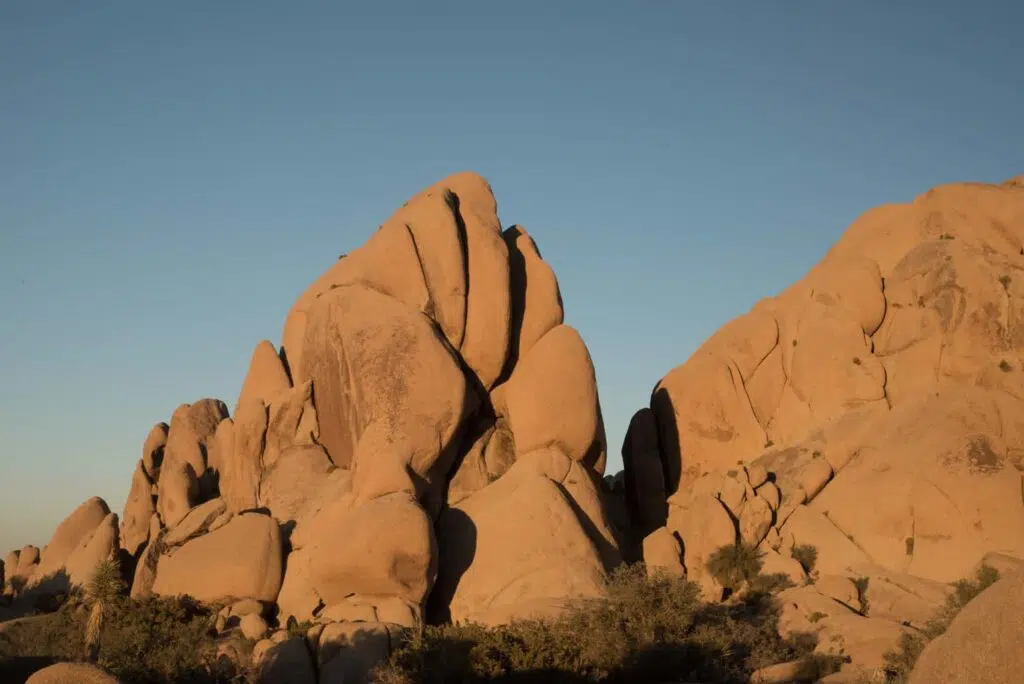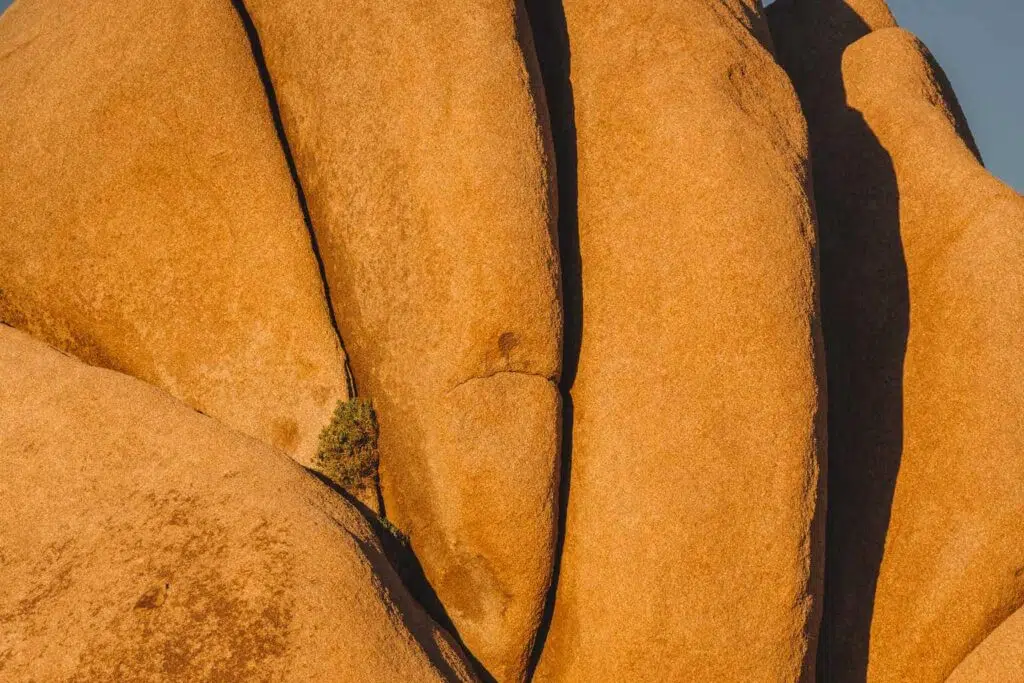 ---
Family Friendly Accommodation near Joshua Tree National Park
When we were looking at accommodation options, we wanted something that was close enough to both the Joshua Tree National Park and the Palm Springs Aerial Tramway. We ended up booking a great little apartment in Desert Springs. It was fabulous price-wise, and the location was good for access to both attractions, but Desert Springs itself had little to offer.
Below I've listed some of the family-friendly accommodation options in the Palm Springs/Joshua Tree area.
Desert Springs 2-Bedroom Apartment
This 2 bedroom apartment is light and bright and perfect for families or two couples. There's a full kitchen to cook in the evenings, a bathroom with a tub for kid's baths, and plenty of room to spread out a little. It is also very affordable!
Yucca Valley 2-Bedroom Desert Cabin
Enjoy a soak under the stars while staying in this beautifully decorated, light-filled 2-bedroom home. The desert is right in your backyard, so you can enjoy the outdoors as much as the indoors. I can just imagine sitting outside on the deck with a wine in hand and stargazing once the little ones are tucked up in bed…
If you prefer the convenience of a hotel when travelling, the Travelodge hotel in Yucca Valley has you covered. With large family rooms, a pool complex, and an on-site restaurant, it's a one-stop-shop if you'd prefer to spend most of the day out exploring!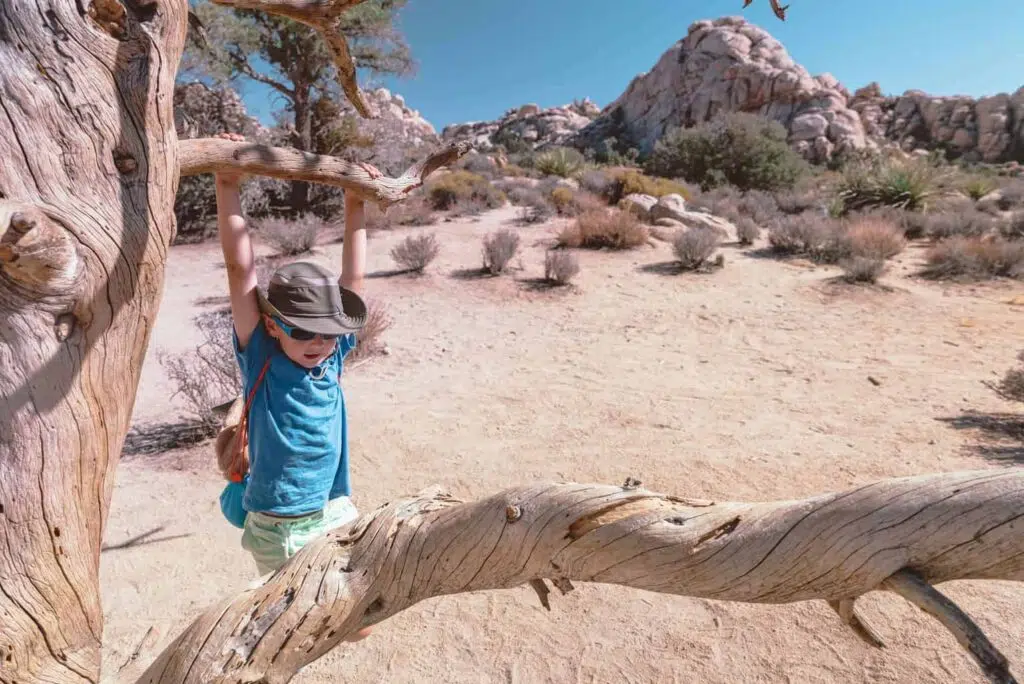 ---
---
Joshua Tree was a fun family day trip destination from Desert Springs. And it allowed us to sample one of the US National Parks in a manageable way when we were short on time. The incredible landscapes of the Colorado and Mojave Deserts left an impression on the entire family and fueled our desire to visit more National Parks in the future.
Pin this for later!