When deciding what baby carrier is best for you and your baby, there are so many things to take into account. But when you want to find the best baby carrier for travel – there are even more things to consider!
Whether you're an experienced baby wearer or not, making the decision to baby wear on holiday is an excellent one. Ever since my son was born (almost 7 years ago) my husband and I have been wearing him – both at home and around the world. Between us, we've tried a multitude of baby carriers over that time – everything from wrap baby carriers to backpack baby carriers for hiking trips.
I've put together this guide to help you choose the best baby carrier for your needs. If you're a complete beginner to babywearing, I've got you covered with information about all the best baby carrier brands on the market, and what each is good for. If you're already babywearing and you're simply looking for the best travel baby carrier, then you can skip ahead to the comparison table and reviews!
---
---
Stroller vs Baby Carrier for Travel
The decision to use a baby carrier vs stroller for travelling is one that many parents grapple with. Of course, sometimes it's easier to take a baby carrier and stroller with you when you travel, but it's not always practical. And who wants to lug around extra luggage if you don't need to? Especially on top of all the other baby essentials like a travel crib and car seat!
I'm not going to go into all of the benefits of babywearing, but let's look at some of the obvious and not-so-obvious benefits when using a baby carrier for travel.
Babywearing at the Airport/on the Plane
Keeping tabs on toddlers. Who wants to be chasing after toddlers in a busy airport? Using a baby carrier is an excellent way to be able to keep an eye on toddlers and pre-schoolers while checking in and navigating your way through the airport.
Allowing babies to sleep through security. If your flight is at a time when your baby normally sleeps, having them in a baby carrier allows them to continue sleeping while you go through the checking-in and security screening process. At some airports, you'll be required to remove the baby carrier to go through security, but not always. It's still a better option than having to pick them up out of their stroller – which is guaranteed to wake most babies up!
Having hands free for luggage. Ever tried to push a loaded luggage cart and a stroller at the same time? Trust me, you'll want to give this one a miss. Especially if you're travelling without another adult's help.
It's just a godsend on the plane. Travelling with young babies can be challenging. Our son wasn't falling asleep on his own when we went on our first big overseas adventure with him. Using the baby carrier made it easier to rock him to sleep, either standing in the aisle or simply walking up and down – without my arms going numb from the exertion! Once asleep it was far easier to transfer him into the bassinet, or sit down and let him snooze on my front while using the baby carrier.
It's light and easy to transport. It goes without saying that a baby carrier is easier to transport than a stroller, and if you're wearing it – it won't even count as part of your luggage allowance!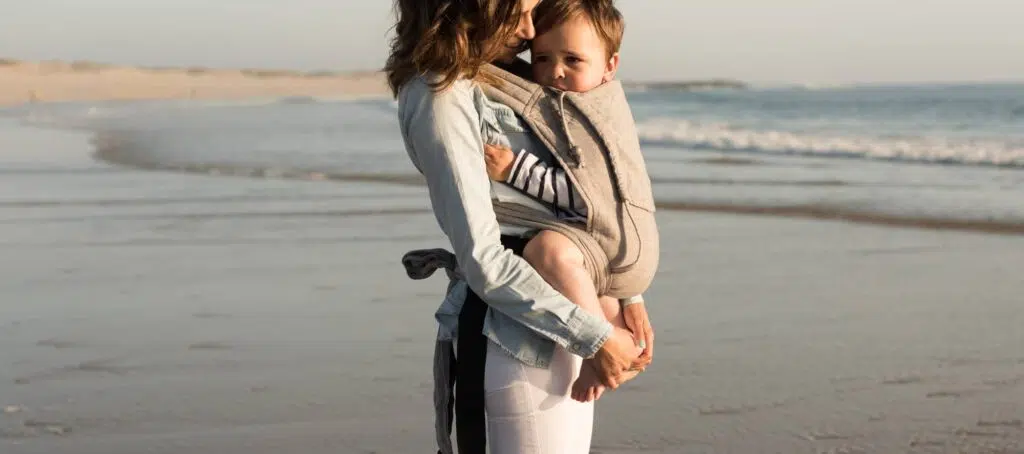 Babywearing at your destination
Strollers can't cope with cobbled lanes. The first time we travelled to Europe with our son I also brought along our shiny new Bugaboo stroller – and then found it was more of a nuisance than anything else! The haphazard nature of European streets adds to their charm, but cobbled lanes, narrow paths, high curbs, and uneven roads are not suitable for strollers.
Save space on public transport. If you've ever tried to get on a packed subway/metro train with a stroller, you'll most likely not want to repeat the experience!
Sightsee with ease. Yes, you can take your stroller up the Eiffel Tower in Paris, or into the Museum of Natural History in New York, but you'll be fighting the crowds and will find you can get around better without! Toddlers won't be happy not being able to see over all the people or rails, and you'll end up hoisting them up to get a better look anyway. Needless to say, there have been countless attractions we've visited throughout Europe that would have simply been impossible with a stroller – and there's often nowhere secure to store one either.
Make shopping simple. Not all shopping aisles are made equal and you may be in for trouble trying to navigate a bulky stroller in certain shops.
---
How to Choose the Best Baby Carrier for Travel
Choosing the best baby carrier for travel isn't a lot different from choosing a baby carrier for home. Some things to take into consideration include who will be wearing the baby (or toddler), how often it'll be used, whether you want to back or front carry, and maybe whether looks or practicality are more important to you!
Travel specific requirements may include:
The climate you're travelling to

Whether you'll need a carrier that's easy to put on and off as you get in & out of a vehicle

Comfort for a full day of carrying

Whether your older toddler can get in and out easily

Ease of washing

A carrier that both parents can wear to avoid packing two
But apart from all else, safety and comfort should be key to your decision making when choosing the best baby carrier for air travel.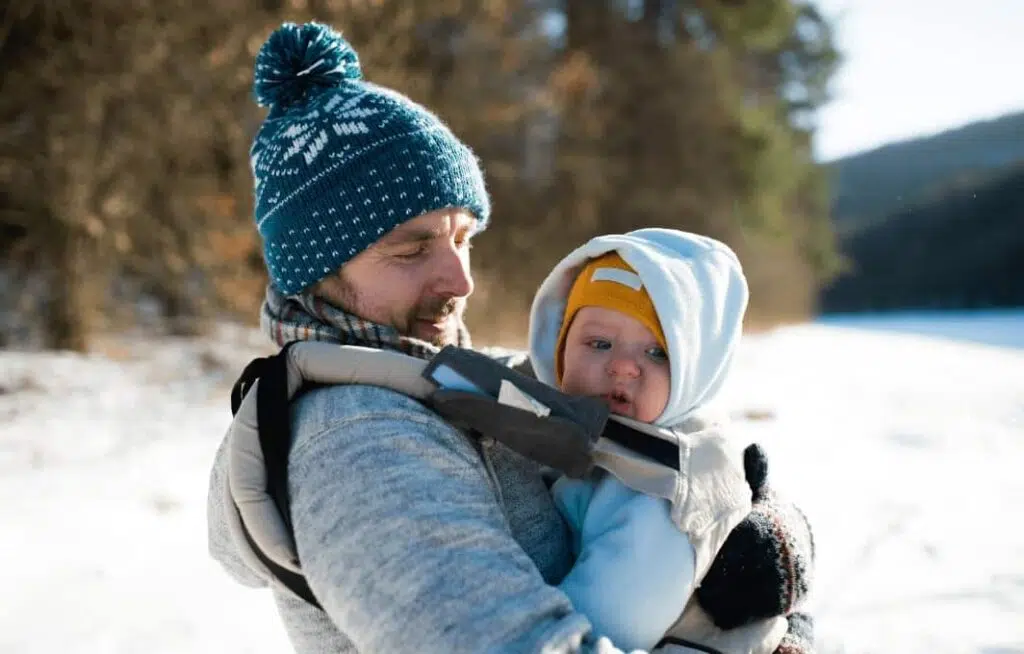 Babywearing Safely
Babywearing safety is paramount. When you're entrusting a piece of fabric to hold the weight of your child, it's vital to make sure the baby carrier is up to the job. Here are a few things you should be aware of in order to wear your baby safely.
Always respect weight limits of carriers. These are the weight limits they've been tested to, and proven safe for.

Make sure your baby's airways are visible and that your baby is well supported in the baby wrap.

Don't buy cheap knock-off baby carriers. Things like stitching, buckles, and fabric quality could be compromised – with potentially harmful consequences.
Comfort for Baby
Ensuring you get the right fit for your child is essential. Not only for their comfort, but also for their safety. That's why when using a wrap or sling, it's important to seek out advice from experienced babywearers on how best to use it.
Another key aspect – especially for very young children – is to ensure the correct knee/hip placement. This prevents conditions such as hip dysplasia developing from using your wrap incorrectly. Again, this is another reason soft structured carriers (SSCs) are popular, as it's far harder to get it wrong!
Comfort for Babywearer
The more comfortable you are wearing your baby, the more often you'll do it! Many baby carriers will allow you to comfortably carry your child right up until they're a hefty preschooler. So think about longevity when it comes to comfort too. The best baby carrier for newborn babies may not be the best baby carrier for toddlers.
Choosing the best baby carrier for your personal needs is an important step in your babywearing journey.
Most Common Types of Baby Carriers
With so many types of baby carriers on the market, it can be a minefield choosing the right one. They all have things they are good at, and things they're not so good at. There's no one size fits all approach to babywearing! But what's sure, is that is soon as you find the best baby carrier for you, you'll find life with a baby so much easier.
BABY WRAP
The first baby sling, baby wraps have been around for centuries. This is the most basic form of baby carrier. Which makes it one of the most versatile, but also one of the hardest to master!
Basically just a long length of fabric, there are several carries you can do with a baby wrap.
Stretchy baby wraps are one of the best baby carriers for newborns but they aren't suitable for older babies who weigh more, and need more support.
Woven wraps can be used right up until the end of your babywearing days. A good quality woven wrap can carry a preschooler!
RING SLING
Ring slings are ideal if you love the look of baby wraps, but want something that is much quicker and easier to throw on. I used to keep mine in the car and put it on for quick dashes into the supermarket or gas station. They're perfect for nosey toddlers, and great for hip carries.
They're also one of the most versatile carriers that'll see you right through from newborn stage to preschoolers!
The only downside to ring slings is that one shoulder is taking the burden of the weight. So they're not super suitable for long carries.
SOFT STRUCTURED CARRIER (SSC)
Soft-structured carriers are the most popular baby carrier. They're easy to use, they can be extremely comfortable, and some come in lightweight, breathable fabrics, making them one of the best baby carriers for travel in summer.
Many soft structured baby carriers can be worn on your front or your back, and some can even be worn on your hip. They're also often cited as the best baby carrier for dad!
STRUCTURED BACKPACK BABY CARRIER FOR HIKING
Backpack baby carriers are more robust baby carriers. They have a structured framework that allows your child to sit in more of a chair position on your back. They're not ideal for babies, but can be a good option for older toddlers and children – especially if you do a lot of hiking!
Some have inbuilt rain covers, and larger pockets, making them ideal for long day hikes and getting out into the outdoors. They're also a very popular option with dads.
---
Choosing the Best Baby Carrier for Your Needs
Now you know the various types of baby carriers, and the pros and cons of each, it's time to look at which baby carrier is best for your specific needs when travelling.
BEST BABY CARRIER FOR NEWBORN
Never is a baby carrier more essential than when your baby is a newborn. Often referred to as the '4th trimester' newborn babies take comfort in being close to mum or dad at all times. But if you've got other kids or other commitments, it's not always possible to spend all day on the couch with a sleeping newborn on your lap!
Baby carriers allow new mums to get on with their day while catering to the needs of your newborn.
Choosing the best baby carrier for newborn babies is vital. It's most important that your baby's body is supported correctly, the baby wrap is the right size to safely carry your baby, and that it's comfortable enough to wear for many hours at a time.
Our pick of the best baby carriers for a newborn are:
BEST BABY CARRIER FOR HIKING
Choosing the best baby hiking carrier is vital if you're planning on hitting the tracks with your little one. There's nothing worse than an uncomfortable fit, or a carrier that's simply not up to the job when you're in the middle of a long hike.
Being able to transfer the carrier between parents is another important consideration if you're buying a baby back carrier for hiking.
Our pick of the best baby carriers for hiking are:
BEST BABY WRAP CARRIER
Not all wraps are created equal. Stretchy wraps are awesome for young babies, but older babies will need more support. Woven wraps are fantastic for all ages and offer endless versatility, but take a little getting used to in the beginning.
If you're looking for the best wrap baby carrier, you'll need to take into consideration how long you plan on babywearing, what types of carries you're likely to do, and how much you're willing to spend – as wraps range from very affordable, to eye-wateringly expensive!
Here's our pick of the best baby carrier wraps:
BEST BABY TODDLER CARRIER FOR TRAVEL
Choosing the best toddler carrier for travel is now harder than ever with so many choices on the market! No longer are you confined to one or two choices, as more and more brands are bringing out toddler versions of their most popular baby carriers.
Things to consider when buying a toddler carrier for travel include seat height and width for comfort, ease of getting your heavy toddler into it, and, conversely how easy it is for toddlers to get out. Because we all know how often busy toddlers want to get in and out of their carriers, right?!
Our choice of the best toddler carrier for travel is:
BEST BABY CARRIER FOR DADS
Men and women have different needs when it comes to babywearing. So if you want to find the best baby carrier for men to wear, you'll need to look beyond what works for you. Things such as where the weight is carried, body shape (big bellies can make front carries uncomfortable!), and extendable straps can make all the difference.
In our babywearing journey, there have been some carriers that my husband loved, and others which he found incredibly uncomfortable – or at worst, unwearable.
Here's our choice of the best baby carrier for dads:
BEST BABY BACKPACK CARRIER
Carrying your baby on your back can be a lot more comfortable than carrying their weight on your front, and it allows you more flexibility. Things such as vacuuming, shopping, and anything else that requires bending forwards, will be a whole lot more comfortable when your baby is on your back.
But not all carriers are created equal when it comes to comfortable back carries.
Here's our pick of the best baby carrier backpacks:
BEST BABY SLING CARRIER
A baby sling will be your best friend for quick trips to the shops or for calming fussy babies when it's time to cook dinner. Super easy to put on (once you get the hang of it), and the best baby carrier for hip carries, a sling allows you to get on with what you're doing while caring for your baby or toddler.
Finding the best baby carrier sling is a relatively easy task. Avoid slings that don't allow for adjustment, as they're rarely comfortable or safe, and stick with sturdy materials such as thick woven wrap conversions and solid metal rings.
Our pick of the best sling baby carrier is:
BEST BABY CARRIER FOR BREASTFEEDING
If you are breastfeeding, or you're planning to, having the ability to breastfeed your baby in a carrier is essential. You don't want to have to get your baby out every time he or she is hungry – especially with very young babies who are hungry often!
I remember once I forgot to feed my son just before walking the dogs. Halfway through our walk he got hungry and I was able to feed him on the go – handsfree and discreetly!
Our choice of the best baby carrier for breastfeeding is:
BEST BABY CARRIER FOR TRAVEL IN SUMMER
Babywearing in extreme heat can be taxing on both you and your baby. With young babies, you have to be careful about them overheating, and older children will be uncomfortable being carried if they're all hot and sweaty.
Luckily, some baby carriers are just better for handling the hot temps, and carrier manufacturers are also cottoning on to the need for more ventilation!
Here's our choice of the best summer baby carrier:
BEST BABY CARRIER FOR TWINS
If you've been blessed with twins, you may not realise that babywearing is a very viable option for you too! Although some brands do make a baby carrier for twins, none are incredibly well designed from what I've seen. Instead, you're better off DIY'ing a carrier out of the most popular baby carriers and making it work double!
A long woven wrap (size 6 or 7) can be worn to carry one baby at the front, and one at the back. Or you can tie it to wear one baby on each hip. Alternatively, use two SSC's and use one on your back and one on your front – allowing for maximum flexibility and giving you the chance to offload one to someone else when the opportunity arises!
Here's our suggestion of the best twin baby carrier:
BEST FRONT FACING BABY CARRIER
I've never been a massive fan of front-facing baby carriers. My son was an easily over-stimulated baby, so it would never have worked for him. Plus, there have been concerns over the earlier "crotch dangling" designs of front-facing baby carriers, and whether they were contributing to bad hip health.
But I can see how they could have their place with older, more curious babies who aren't content to peek out at the world from the safety of their parent's chest. And designs have evolved massively in recent times to account for the aforementioned hip placement.
If you've got a curious child on your hands and would prefer a front-facing carrier over a hip carry or backpack, here are the best baby carrier front-facing designs:
BEST BABY CARRIER FOR PLUS SIZE MOM OR DAD
Plus size parents needn't worry about finding a baby carrier that will fit. There are many baby carriers on the market that will allow plus-sized moms and dads to babywear comfortably – and in a range of positions.
Our choice of the best baby carrier for plus size parents is:
---
---
Pin this for later!