All of the things to remember when packing for a trip to Europe, a safe, stylish, and practical travel purse should be at the top of your list!
A good travel purse has the ability to make or break your trip to Europe. It's the thing we have with us at all times and rely on to keep our belongings safe – all while also being a fashionable accessory too!
But choosing the wrong handbag for travelling in Europe could result in sore shoulders from lugging it around all day, regrets about its size or shape, or worst case scenario – having your valuables stolen.
So whether you're touring the Colosseum in Rome, strolling the bucolic streets of a Provençal village, or shopping up a storm at the Xmas markets in Vienna, you'll need the best travel bag to suit the occasion.
As someone who lives in Europe and travels frequently within the continent, I've learned (sometimes the hard way) what's important and what's not when choosing the best travel purse for Europe.
So let's dive in and discover the best purses for international travel!
---
Top Choice Travel Purse for Europe
Don't have time to waste and want to know what is the best travel purse for Europe? Here's our favourite travel pocketbook!
The Travelon Anti-Theft Classic Bucket Bag ticks all the boxes when it comes to choosing the best purse for travel. The crossbody design, combined with its unique 5-point anti-theft system means it's leading the way when it comes to finding a safe travel purse for Europe.
With loads of space (including external bottle/umbrella holders) and many fashionable colour options to choose from (including classic black), it'll be the ideal travel companion for your trip to Europe.
---
What to Look for in a Travel Purse
There are a few features that every good travel handbag should have. These will differ from person to person as everyone has individual needs, but some features are must-haves for every traveller to Europe. Read on to find out more, or if you're ready to choose, skip down to our handy comparison chart below.
Features of the Best Purses for Travel
Here are a few general features that you should consider when choosing which traveling purse to purchase.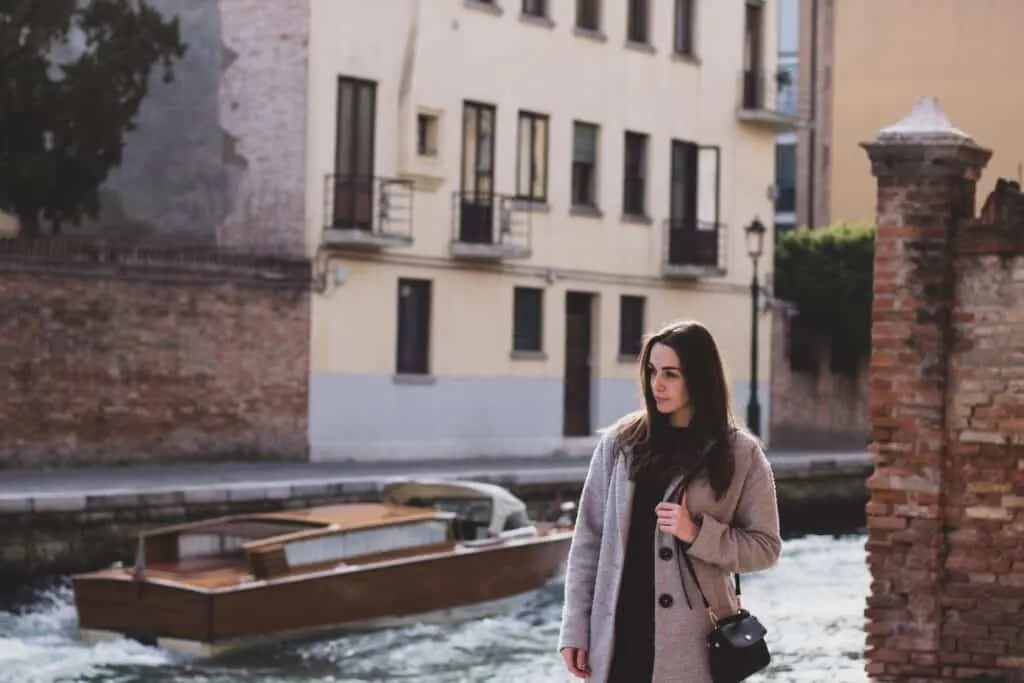 SIZE
Your purse should be large enough to hold your phone, wallet, documents, camera (if you have a small digital camera), and a travel snack – for emergencies. There's nothing more frustrating than having to leave essential items back at the hotel because your bag isn't quite big enough.
A bag with many interior compartments is great for travelling. It allows you to keep documents, cards and other items in separate compartments, keeping them safe, while allowing you to quickly grab your camera or lipstick when you need it!
SECURITY
Your travel purse should be able to fasten securely. Firstly so that no loose items have the chance of falling out, and secondly to prevent you from becoming the next victim of a pickpocket.
If the bag you have your eye on contains zips, be sure that you're able to lock them. Whether this is with a mechanism that comes with the bag, or you can attach on your own. Also, watch out for the quality of the zippers – buying a travel purse with low-quality zippers could result in them breaking during your trip – leaving your belongings exposed.
Make sure that your travel handbag is made with slash-proof fabrics, whether it be on the straps or the lining – or preferably both! It seems dramatic, but having a slash-proof travel handbag will make it that much harder for opportunistic thieves and prevent the purse from getting damaged by mistake.
Having a bag with a detachable shoulder strap is a great idea while you're travelling in Europe. This feature allows you to detach the shoulder strap and attach the bag to other objects for safety. Attaching your bag to the leg of a table while you're eating at a restaurant, or to your chair while you're sitting on a bus is a handy extra to have in a travel bag.
What about RFID Blocking? Many new travel purses come with this safety feature as standard now. The technology protects your credit cards and passport against being scanned by thieves who can then go on to replicate your credit card or steal your identity. It's still a fairly uncommon practice, but one which is worth protecting against if you can.
COMFORT
The best travel purses for Europe will always be comfortable. If you're spending long days on your feet, walking around a town or village, you don't want to have a bag that digs into your shoulder or causes strain. This can cause some major aches later on in your trip.
STYLE
It's also important to have a travel bag that doesn't attract a whole lot of attention. If your bag shouts 'I'm a tourist!', it's probably not the right one. Pickpockets and thieves have an eye for that sort of thing, so it's better to fly under the radar.
A great travel handbag can be dressed up or down. Versatility is key, as it means not having to pack an extra bag during your travels.
DURABILITY
Make sure that the bag you choose to take with you on your trip is durable. A broken strap or zip won't make your trip any easier. An added bonus is having a satchel that is water-resistant. This way you can walk through rain knowing your valuables and electronics are not in danger.
The best women's travel bag is one that won't get dirty easily. Having a dark-coloured bag will prevent dirt and scuff marks from appearing too visibly on your handbag. And easy to care for fabrics that wipe down easily will keep your bag looking good for longer.
So now that you know what features to look for when searching for the best travel purse, let's take a look at some of the very best options on the market.
Best Women's Travel Purse Comparison Chart
| Picture | Name | Style | Safety Features | Price |
| --- | --- | --- | --- | --- |
| | Travelon Bucket Bag | Crossbody | Slash-resistant, RFID blocking, Locking Compartments, Lock Down Straps | Check Here |
| | Travelon Anti-Theft Boho N/S Crossbody | Crossbody | RFID Blocking, Slash-Resistant, Locking Compartment, LED Light | Check Here |
| | Satchelli Crossbody Bag | Crossbody | RFID Blocking Wristlet | Check Price |
| | Peak Gear Travel Purse | Crossbody | RFID Blocking, Lifetime Recovery Service | Check Price |
| | Travelon Classic Mini Shoulder Bag | Shoulder | RFID Blocking, Cut-Proof Strap | Check Price |
| | Travelon Classic Messenger Bag | Shoulder | RFID Blocking, Slash-Proof, Locking Compartments | Check Price |
| | Pacsafe Metrosafe LS250 | Shoulder or Crossbody | RFID Blocker, Lock Down Zippers, Turn & Lock Security Hooks, Slash-Proof | Check Price |
| | Travelon Heritage Tote | Shoulder or Crossbody | RFID Blocking, Slash-Resistant | Check Price |
| | Baggallini Everywhere Bag | Crossbody | RFID Blocking | Check Price |
| | Baggallini Pocket Lightweight Bag | Crossbody | RFID Blocking | Check Price |
---
Top 10 Travel Purses for Travelling in Europe
From crossbody purses, to shoulder bags and even travel totes – everyone has their own preferences when it comes to how they like to carry their travel purse. So we've researched the very best in each category!
BEST TRAVEL PURSES CROSSBODY
Crossbody travel purses are possibly the most comfortable to carry as they tend to more evenly distribute weight across your body. They're also among the safest to carry as they're less likely to be the victim of grab-and-run robberies.
Security features of this stylish & practical travel purse include slash-proof material, RFID blocking card slots, cut-proof straps, and a removable strap for affixing the bag to a chair.
But more than being one of the safest options on the market, it's a large travel purse that will allow you to carry all your essentials for a full day's exploring in an organised and efficient way. And look good while doing so!
The Travelon Anti-theft Classic Crossbody Bucket Bag comes in a variety of colours to suit your individual tastes and style.
Bonus features include a removable LED light, handy mesh expansion pockets to expand the storage space even further and locking compartments to keep your valuables safe during your travels around Europe.
If you're looking for a travel pocketbook that's slim, sleek and discreet, look no further than the Travelon Anti-Theft Boho N/S Crossbody purse.
Travelon are leaders in anti-theft technology and this small travel purse doesn't skimp on security details. Slash-resistant fabric and shoulder straps combine with locking compartments and RFID blocking card slots to keep your valuables safe & secure.
Available in a range of eye-catching colours and designs, this is one of the best-looking crossbody bags for travel. And it certainly won't attract unwanted attention!
This Satchelli Crossbody travel purse is a fantastic budget-friendly option that combines practical and safety features into a great all-purpose travel bag for Europe.
Easy-to-clean fabric means you won't have to worry about putting your travel purse down on dirty surfaces, and its water-resistant properties mean your valuables won't get wet in an unexpected downpour.
This is the perfect travel purse for those who like to have everything with them as they explore European cities. At 12" x 10" x 3.5" it fits a lot into a compact footprint. Two side bottle holders add to its convenience, while a removable RFID blocking wristlet makes it an even more versatile choice of traveling purse.
Don't be deceived by the small stature of the Peak Gear Travel Purse, it packs a punch for its petite size! Multiple pockets help you stay organized while RFID theft protection keeps your cards safe from would-be scammers.
Despite its very affordable price tag, this women's travel purse has a quality design that includes YKK zippers, a tough Nylon exterior and durable metal rings and latches.
The shoulder strap is fully adjustable so that it can be worn as a shoulder bag as well as a crossbody bag. And the added bonus of buying this Nylon travel purse is the free ID Tag with a lifetime recovery service that comes with each bag sold!
---
BEST TRAVEL SHOULDER BAG
There are some occasions that call for a lightweight shoulder bag for travel instead of a crossbody purse, but it doesn't mean you have to forgo either style! All of the below travel shoulder bags can be worn as crossbody also! Simply lengthen the strap when you want to change styles.
The Travelon Women's Anti-Theft Mini Shoulder Bag Sling Tote is a great travel handbag to have with you during your Europe trip for many reasons!
The strap is extendable and retractable, which allows you to carry it with the ultimate comfort. Fully extended, the strap measures 56 inches and can drop as far as 28 inches from the shoulder – meaning it can also double as a crossbody bag.
The bag contains an interior organiser with an RFID blocking card, as well as passport slots. This means you can have absolute peace of mind, knowing that nobody can steal information off your cards while passing by.
There are zips on the front and back of the bag, giving you easy access to the items you need most. The fabric used to make this handbag is durable and it comes in a variety of colours to suit your preferences. We do recommend choosing a darker colour, as this stops the bag from looking dirty too quickly.
The Travelon Anti-Theft Classic Messenger Bag proves to be one of the most safety-conscious handbags to travel with. This is because it contains locking compartments and a slash-resistant body. It also has a detachable strap that allows you to attach it to a chair or other object for safety purposes.
The bag also contains an RFID blocking card and passport slots. This protects your personal information while you're browsing the sights of Europe.
The travel handbag contains mesh expansion pockets. These are perfect for holding objects like your water bottle or umbrella. The handbag also comes with a removable LED light which comes in handy in emergency situations – perfect for a traveller on the go.
If you're looking for a unisex bag for travel, but don't like having everything out of sight in a backpack, this Pacsafe shoulder bag is the perfect compromise. Combining all the features of a great backpack while keeping your valuables in reach and in-sight, you'll wonder how you ever managed without it.
Impressive features of this lightweight crossbody bag include lockable clips and zippers, slash-proof fabrics, TurnNLock security hooks and RFID blocking pockets.
It's large enough to carry everything you'll need for a full day's exploring, including an 11inch laptop! And the handy internal pockets will help keep everything organised. This 12-litre carry-all comes in black or grey, with a selection of optional extras such as an anti-theft wallet or RFID neck pouch.
This trendy travel tote will serve you well while travelling anywhere in the world. Large enough to fit all the essentials you'll need while exploring the city sights – and a little shopping too!
The inner compartments will keep everything at your fingertips for easy access, while Travelon's leading security features will keep the contents safe & secure.
I love the versatility of the Heritage Tote Bag, as it can be worn slung over your shoulder, or across your body using the detachable shoulder strap. And it's stylish enough to pass as an 'everyday' bag.
The tough cotton canvas is durable enough to withstand several overseas trips, making this a great choice for frequent travellers. The only downside? It's the heaviest travel purse on this list.
---
BEST LIGHTWEIGHT TRAVEL PURSE
If you're planning on being on the go, and on your feet for a good portion of every day during your travels, then choosing a lightweight bag is essential. Carrying heavy bags around is the easiest way to tire you out, which is the last thing you want when exploring Europe!
And while none of the bags listed above is in the 'heavy' category, sometimes you just want to cut out as much added weight as possible – especially if you're planning on transporting your travel purse in a suitcase. The below lightweight purses fit this spec nicely. But be aware – sometimes cutting down on weight means cutting down on added security features too.
The Baggallini Everywhere Bag has a practical and ergonomic design that makes it the perfect travel companion. The bag is made of nylon and is safely secured with a zipper. This ensures that your valuables stay safe while you're on the go.
The bag is also very lightweight, as well as being water-resistant. This makes it great for travelling as you never know when you might get caught in the rain – nor should you have to worry about it.
The crossbody strap is adjustable, so you can lengthen or shorten it to maximise your comfort level. The interior is divided into handy compartments to ensure you stay organised while you're out and about. There is also an exterior slip pocket that's useful for keeping items you'll need easy access to.
This stylish travel purse comes with a removable RFID blocking wristlet to keep your cards safe while travelling. And it comes in 20 different colours, so you're sure to find one that matches your travel outfits.
The Baggallini Pocket Lightweight Crossbody Bag is a great travel bag for those looking for maximum ease and convenience.
This lightweight travel handbag has plenty of space, so it's a great option for those that have a lot of valuables to carry with them at all times. The bag has a synthetic lining which ensures it stays water-resistant in even the wettest storms.
It contains two external zipped pockets for the items you need easy access to, and one main zipper pocket that gives you access to the biggest portion of the bag. Inside the main pocket, there are various other compartments that help keep your items organised.
This lightweight bag comes in various colours and designs – even providing a leopard print option for those who like to stand out from the crowd. The shoulder strap is easily adjustable so you can lengthen or shorten it throughout the course of the day to maximise your own comfort.
---
Wrapping Up the Best Travel Purse for Europe
Now that you know a little more about some of the best travel handbags on the market, you can make a more informed decision about which is right for you.
While there are plenty more travel purses available, these are the best purses for travelling in Europe for reasons such as their safety features, ergonomic design, comfort and style. So do yourself a favour and set off on your trip prepared!
Pin this for later!