Christmas in Vienna sees the city morph into a scene from one of the city's iconic snow-globes. Wooden huts adorned with twinkling fairy lights pop up in every square, and enormous Xmas trees embellished with giant baubles compete for the limelight.
Filled with warming treats and homemade trinkets, the Vienna Christmas markets attract thousands of visitors each year. People fly in from all around the globe to experience the sheer scale and unique spirit of the Austrian capital at Xmas.
It's fair to say that they're no longer a hidden secret. But do they actually live up to the hype? Yes, they absolutely do!
Join me as I take you on a journey through the best Christmas markets in Vienna and experience this winter wonderland for yourself.
---
Best Christmas Markets in Vienna
There are over 20 Vienna Xmas markets, so when you're walking around the city, you're sure to bump into one or two as you wander.
But if you want to be a little more intentional with your time, you'll want to be sure to pop one or more of the following Vienna markets on your list.
BELVEDERE CHRISTMAS MARKET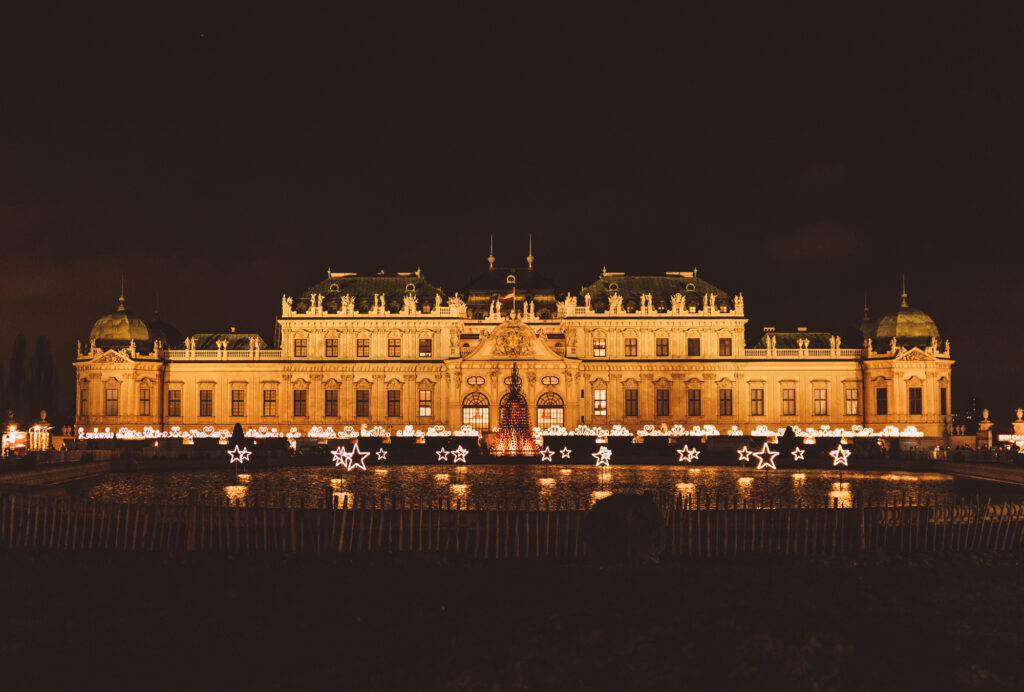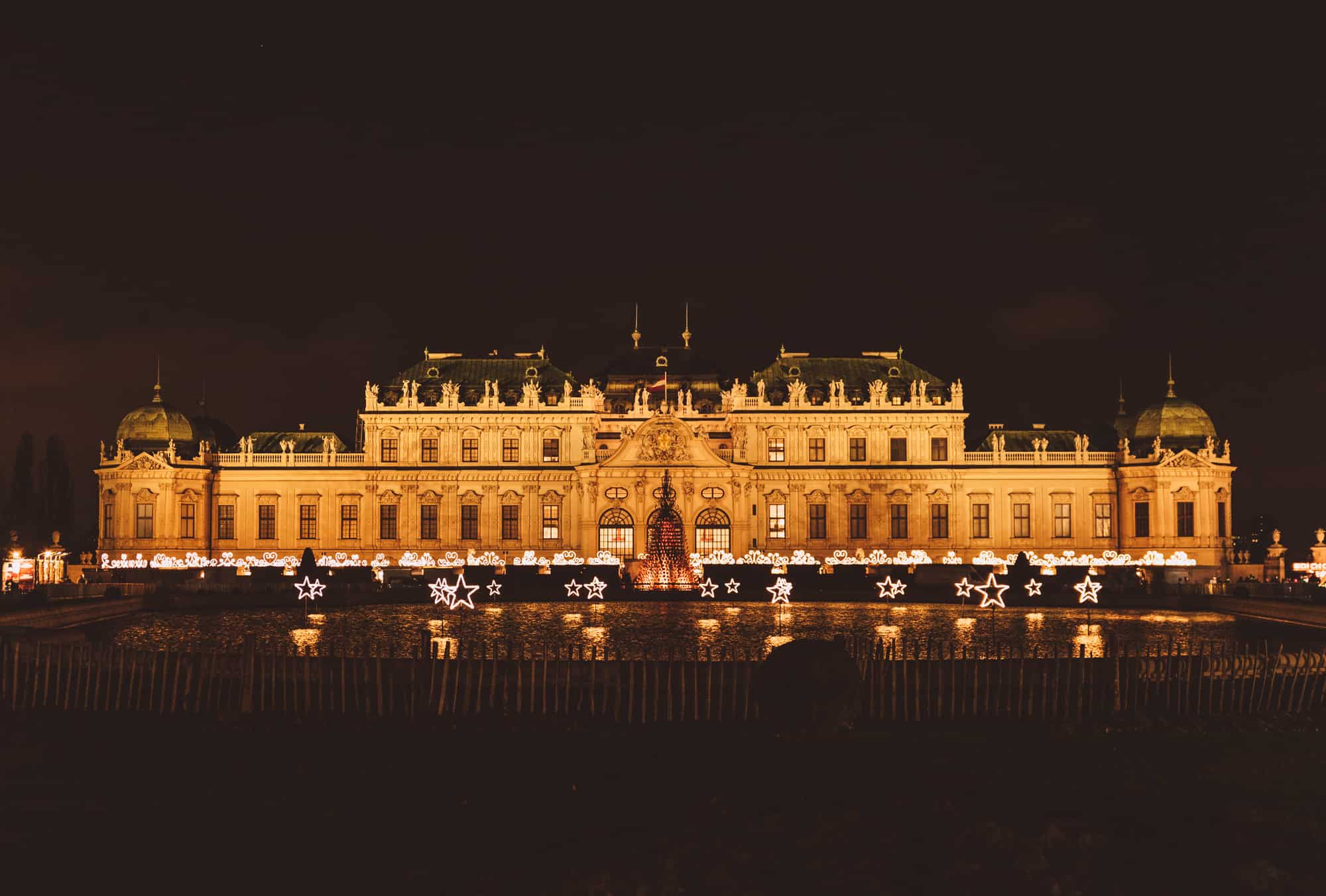 If there's one Christmas market in Vienna, Austria, that really makes a statement, it's the market at Belvedere Palace. This baroque palace dresses up for the occasion, with lights, garlands and decorated trees.
The market itself is smaller than some of the others listed in this guide, but you visit this market for the romantic atmosphere, to catch up with friends for an after-work drink, or to delight the children.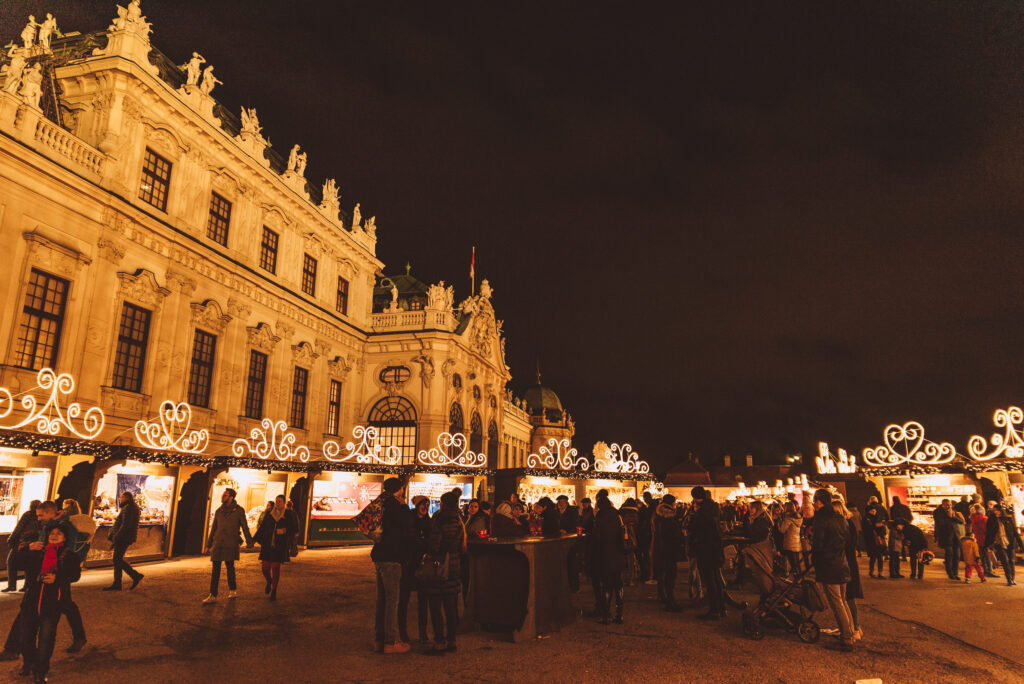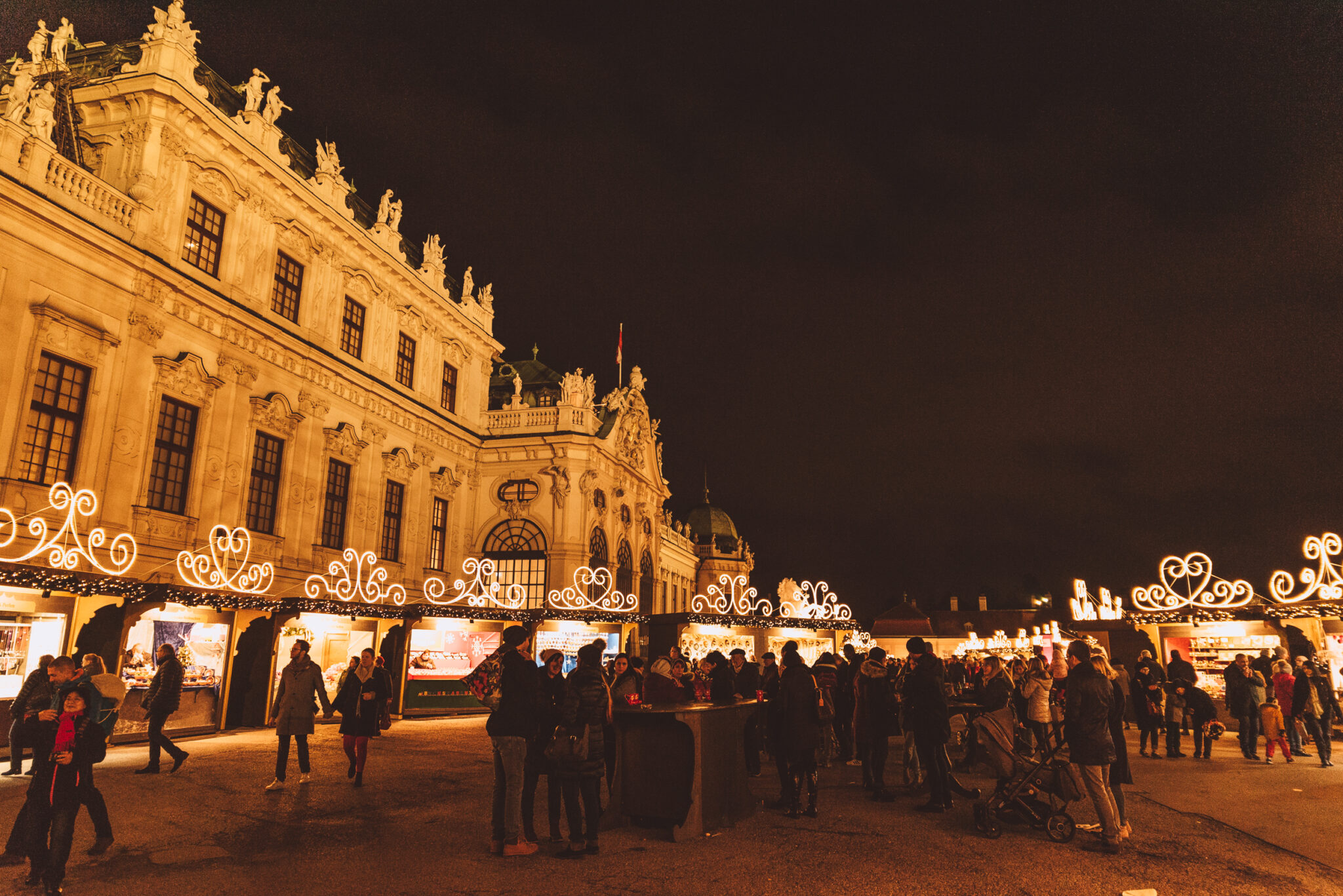 In the 40 or so stalls you'll find a selection of woollen hats & socks, intricate decorations for your tree and traditional gifts. There are also several food and drink stands to refill at as you browse.
The market itself is free to enter, but consider timing your visit with a tour of the art museum housed within the palace. You can buy tickets online or at the door.
Stay until the sun goes down and the market transforms into a magical sight, especially when seen from across the grand water basin.
VIENNESE DREAM CHRISTMAS MARKET – RATHAUSPLATZ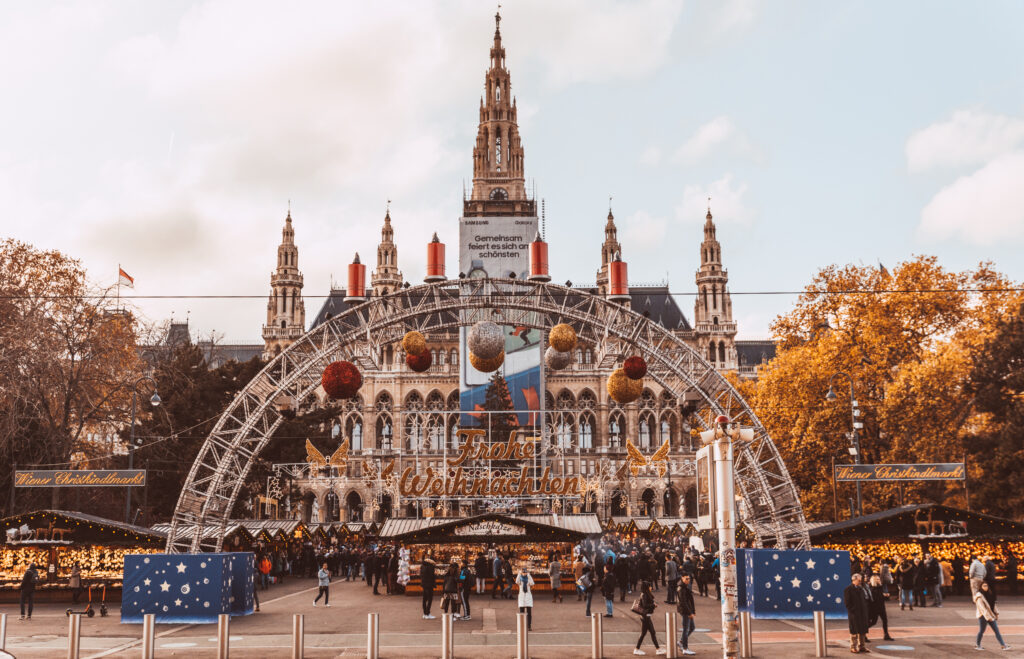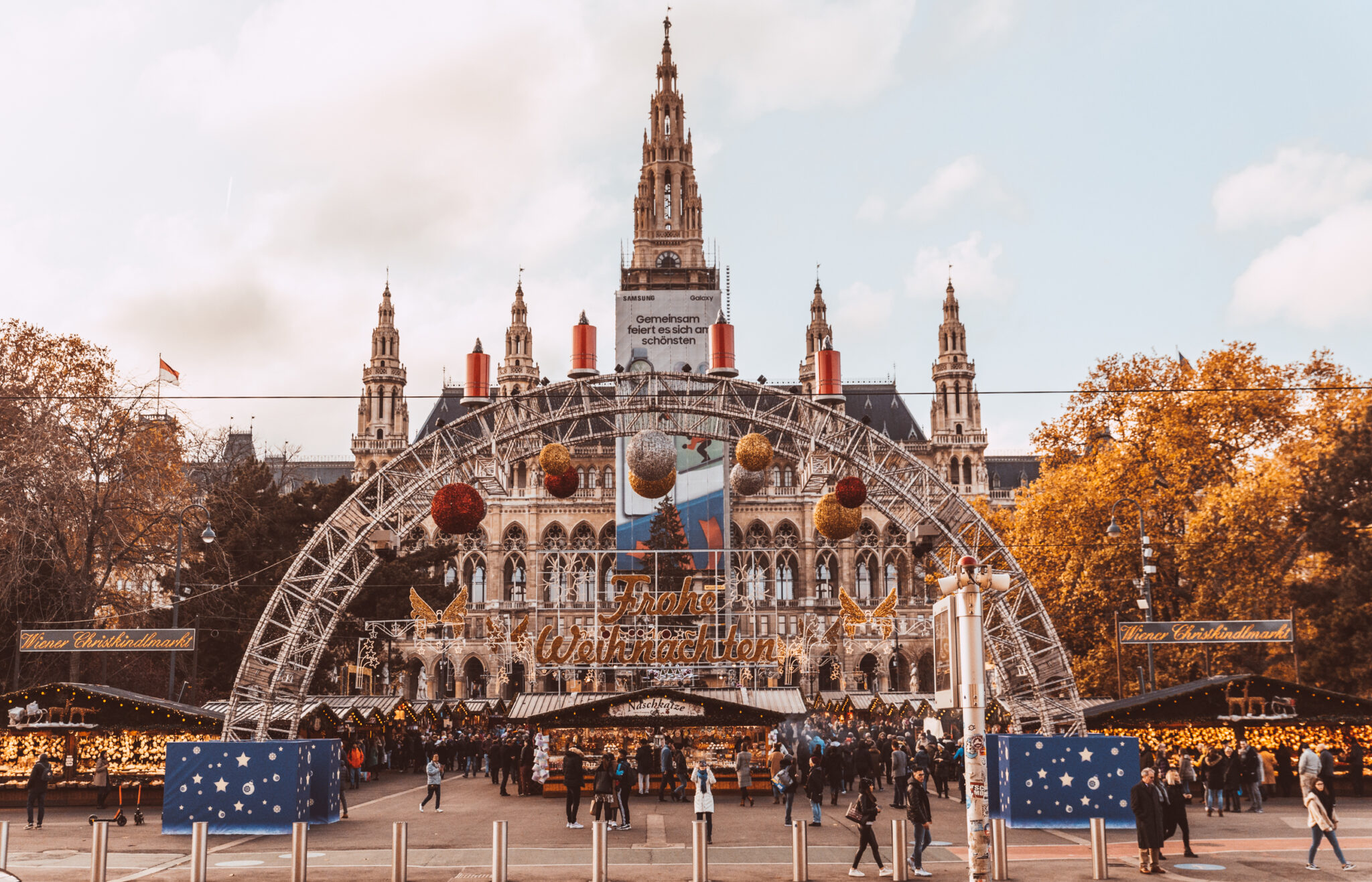 Vienna's most famous Christmas market, the Viennese Christmas Dream is more of a Xmas village than simply a market. Located in front of the Rathaus City Hall, it's also one of the first Christmas markets in Vienna to open – typically in mid-November.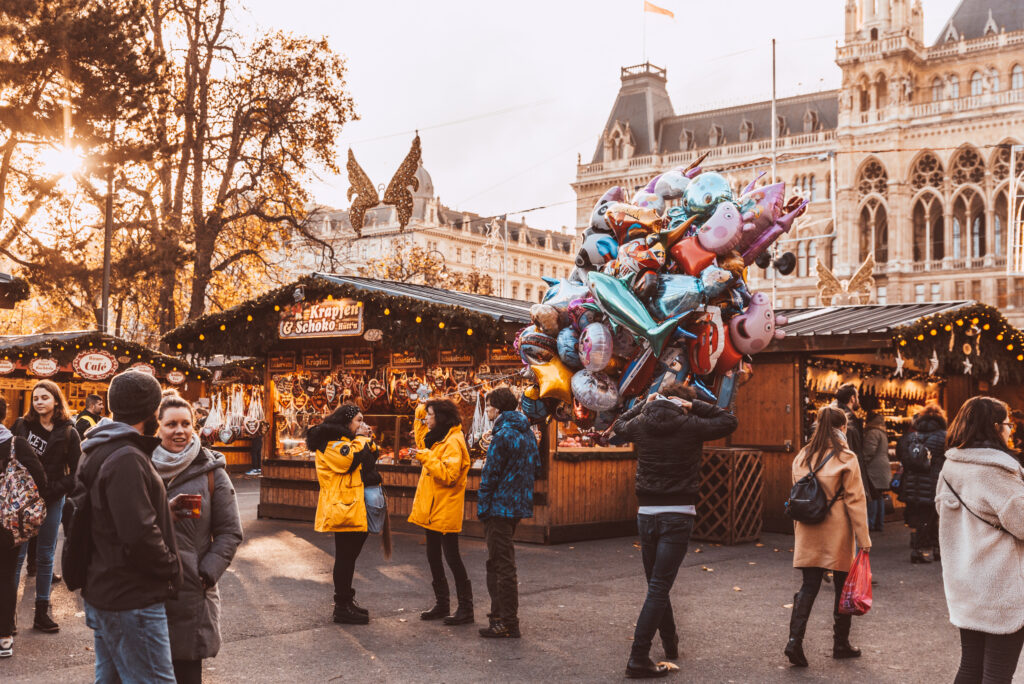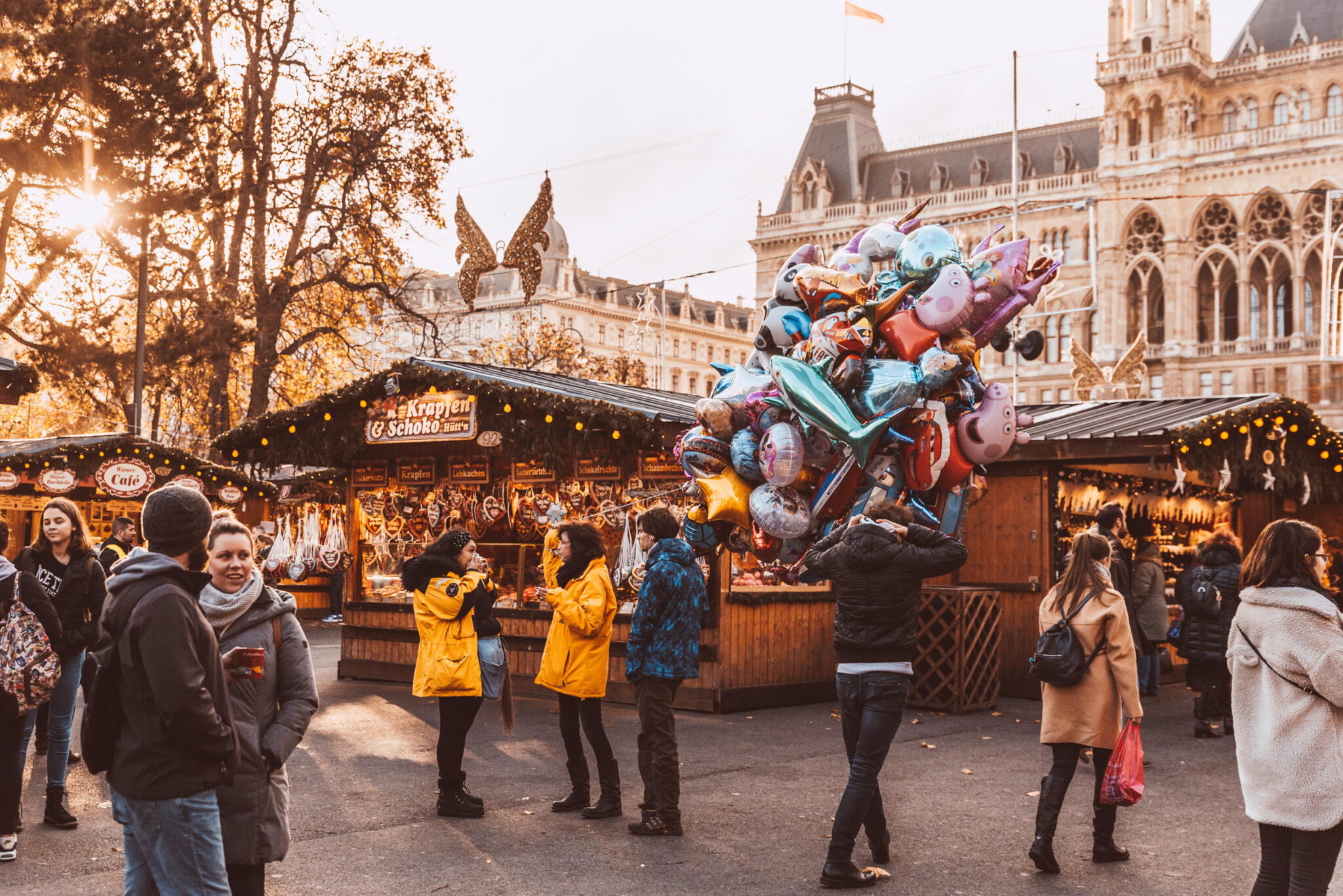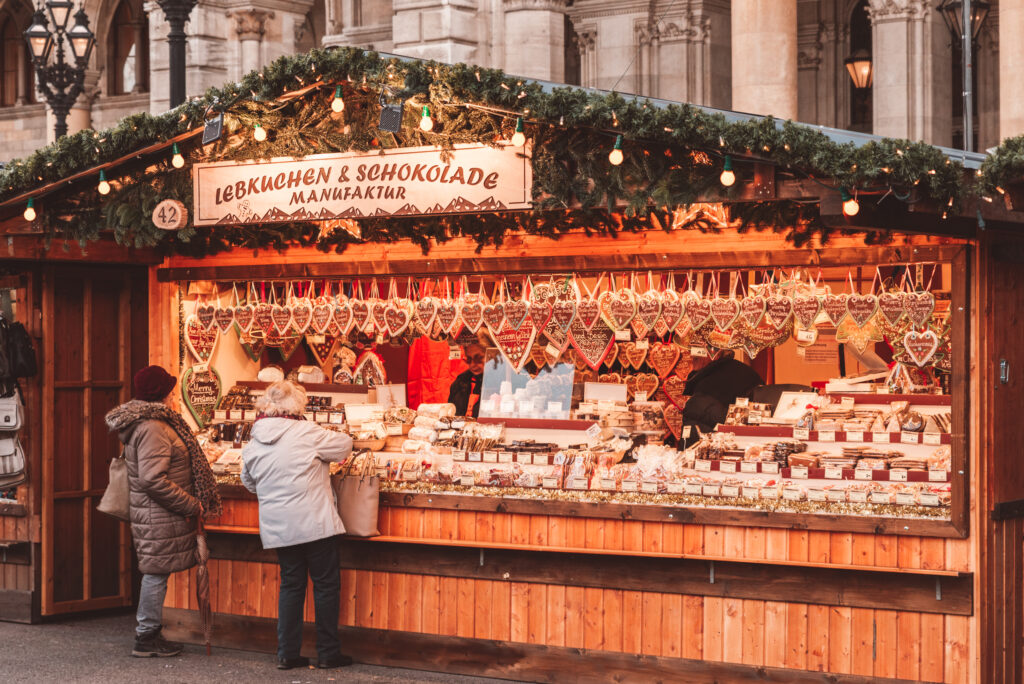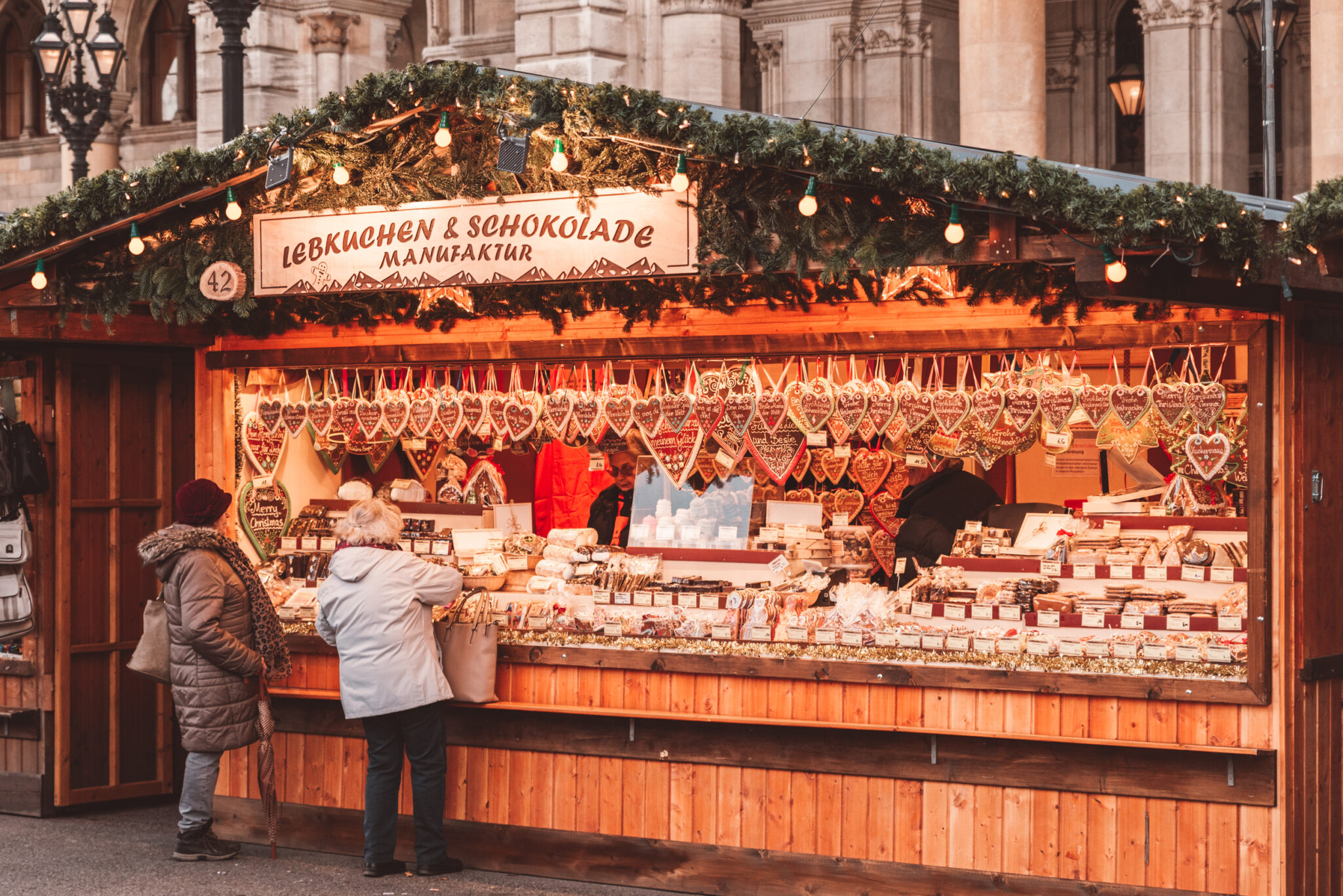 The market houses over 150 stalls selling everything from gingerbread cookies to scented candles. Pick up a warm mug of punch to sip on as you wander around the stalls.
Surrounding the market you'll find plenty more Xmas activities including a large ice skating rink, a ferris wheel, kids craft workshops (inside the city hall) and the Tree of Hearts – where loved-up couples come for a cute photo opportunity.
MARIA-THERESIEN-PLATZ WINTER MARKET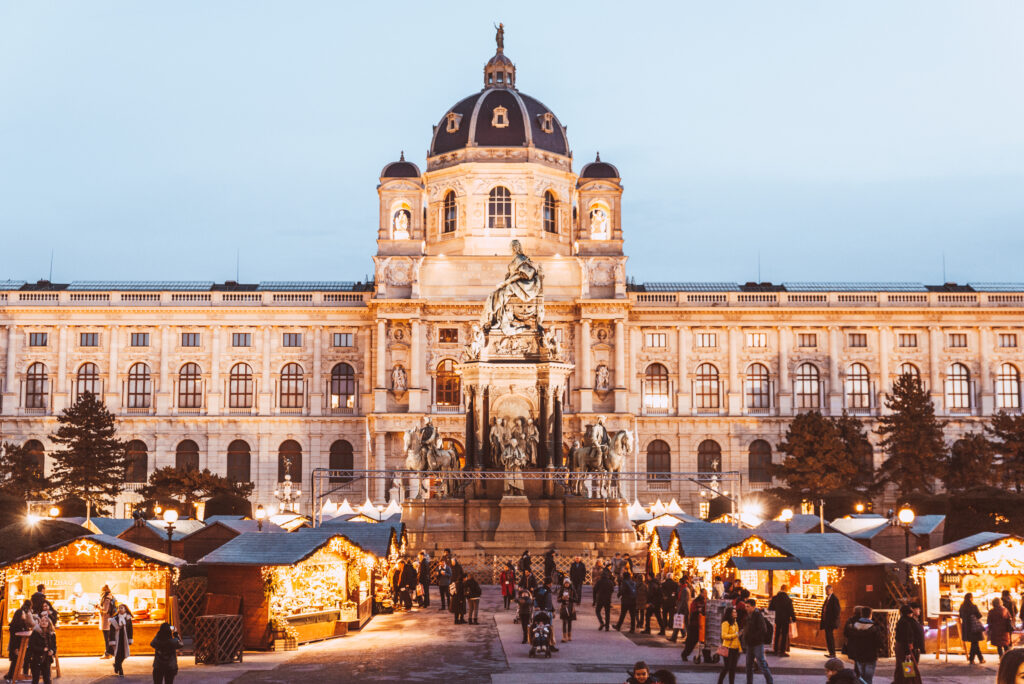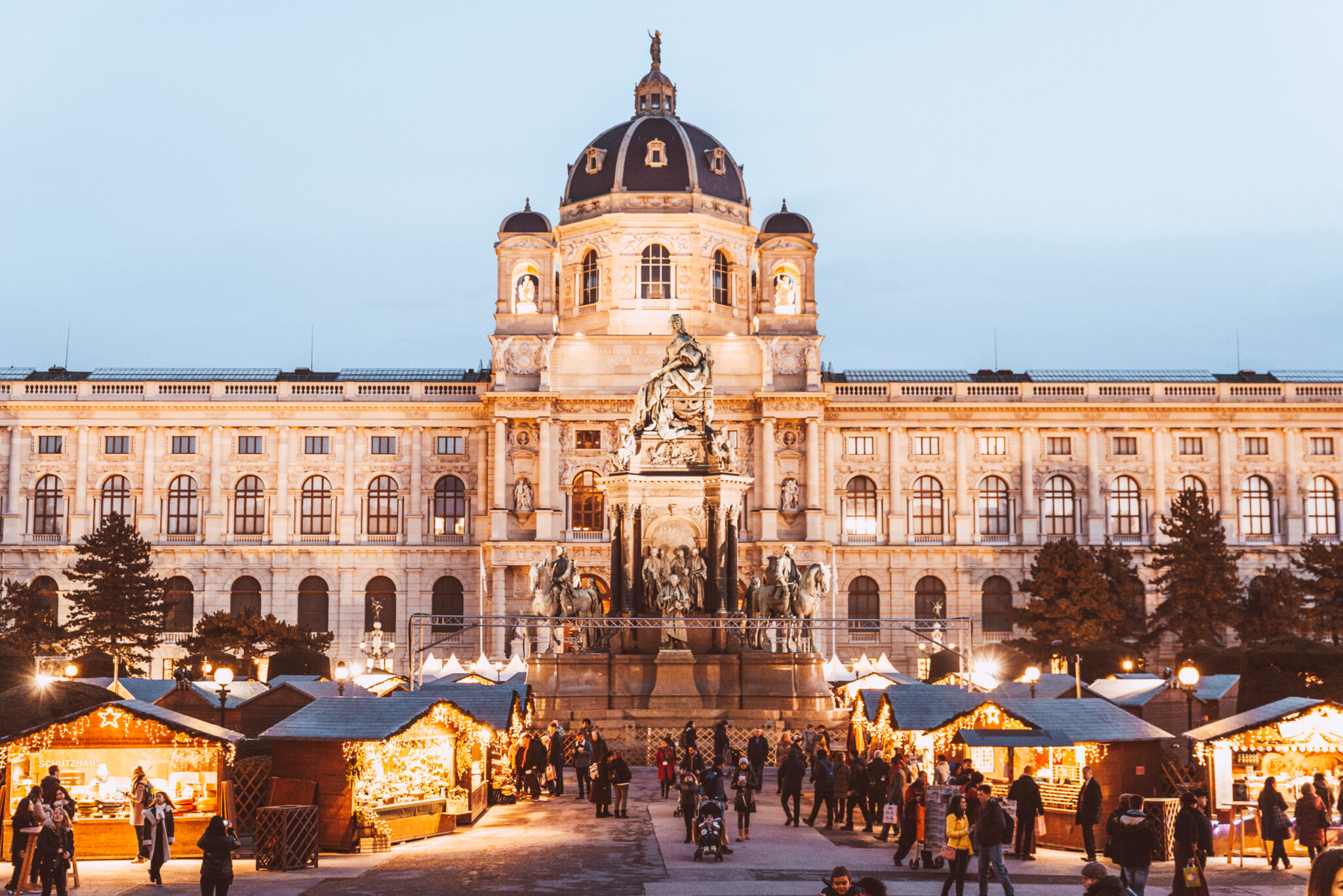 Fanning out in between the Natural History Museum and Art Museum on Maria Theresien Platz, this Vienna Christmas Village makes a grand spectacle. This was the first Xmas market I visited in Vienna and it fulfilled every expectation!
It's a little more spread out than some of the other Christmas markets in the city, so it's a good place to come if you've got little ones in tow, or if you're pushing a stroller.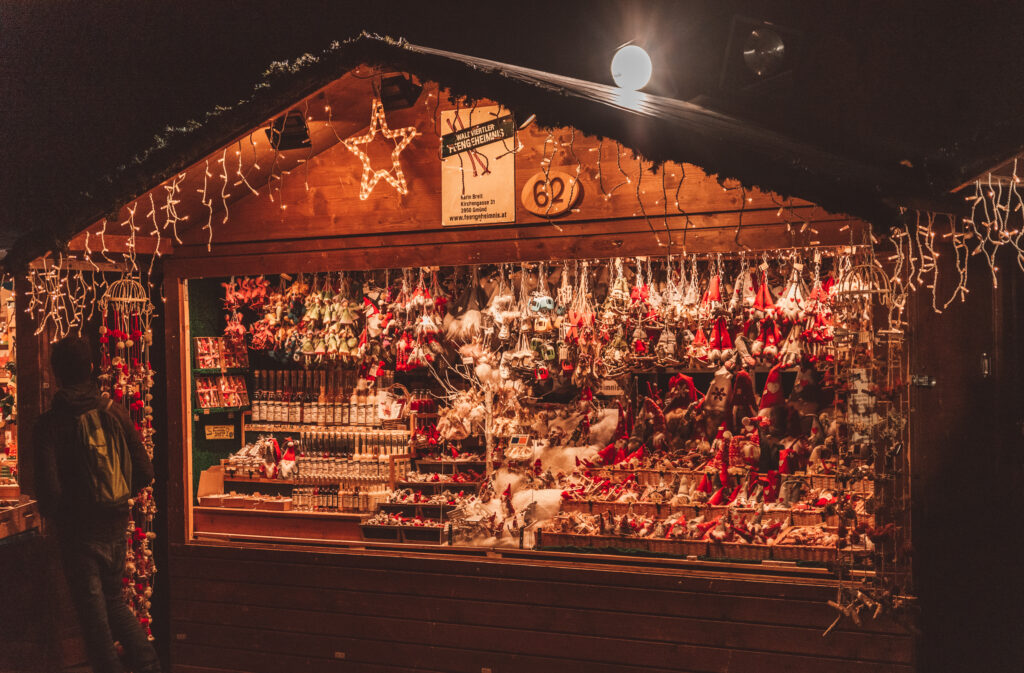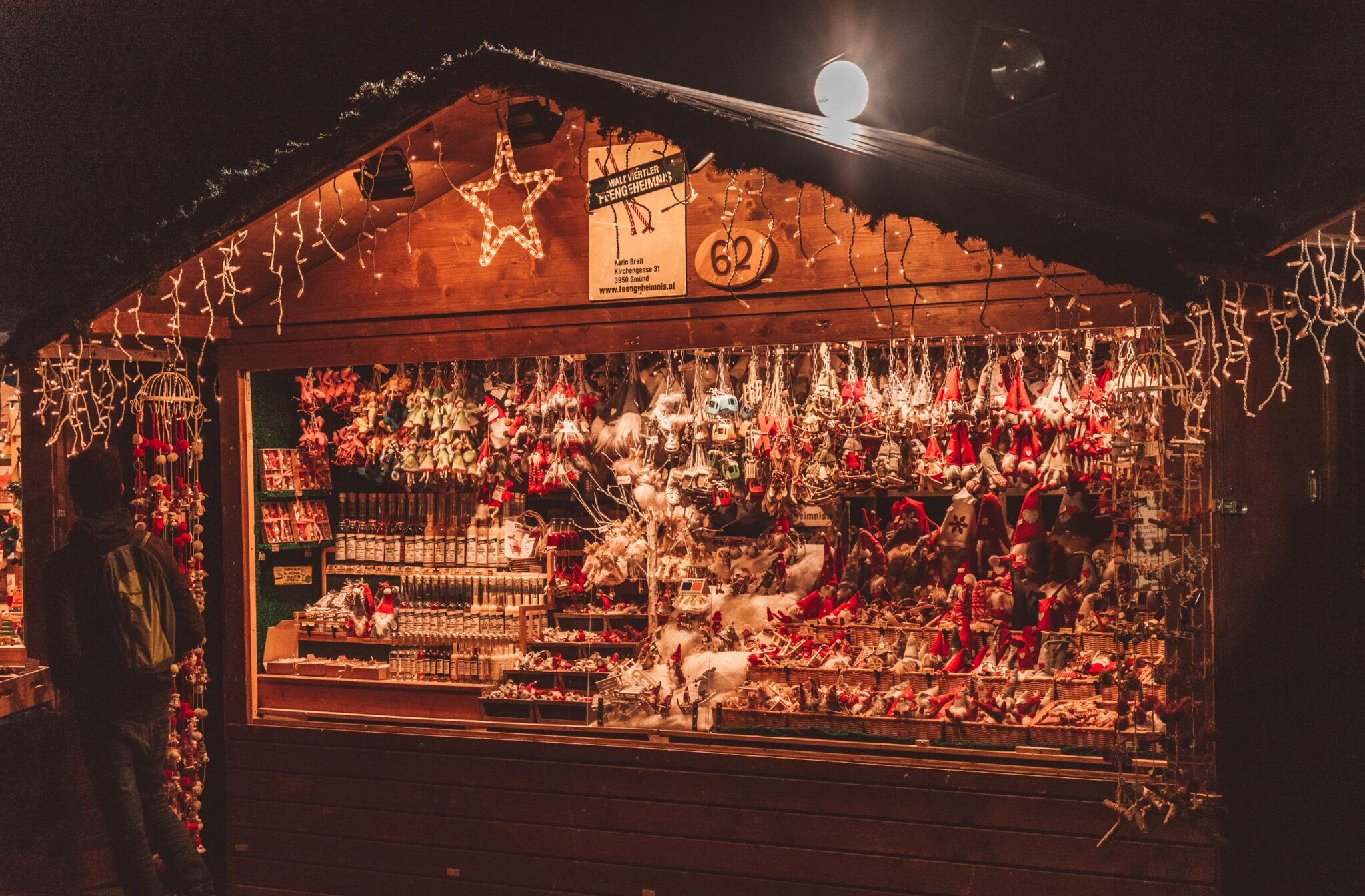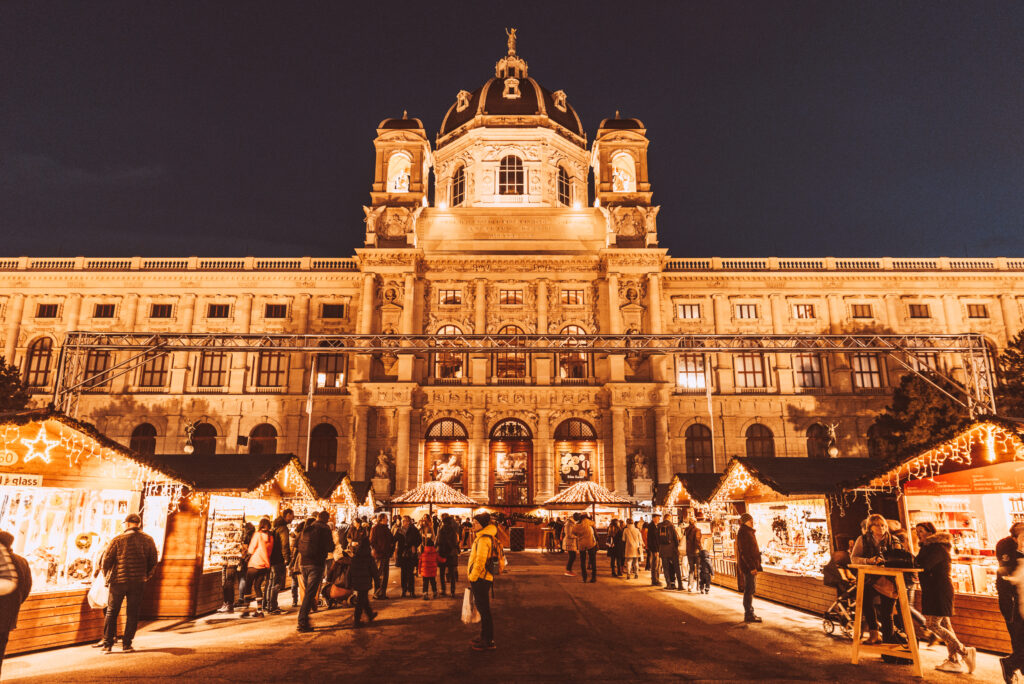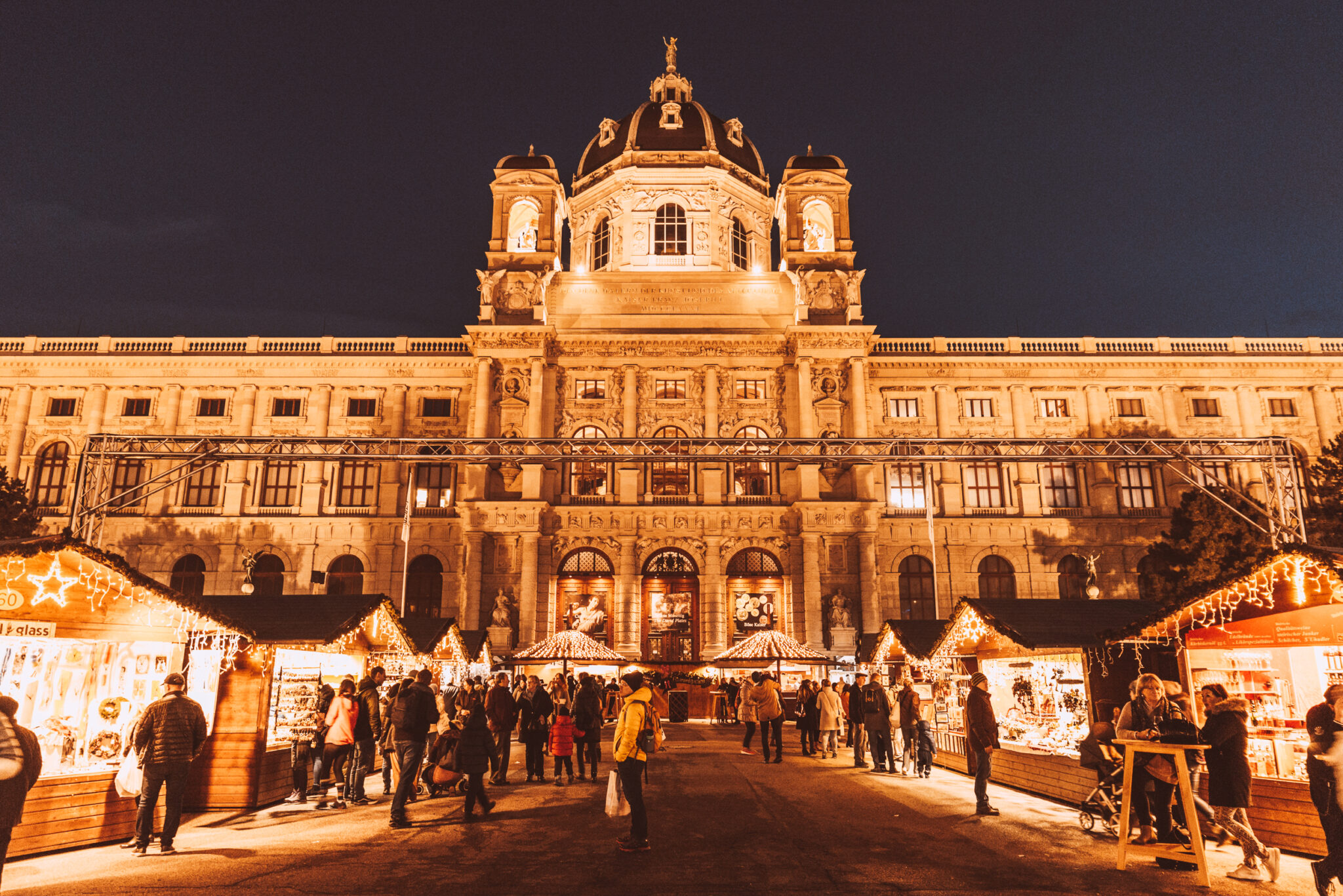 There's nothing particularly unique about the offerings at this market, but the range is of the usual high quality. You'll find crafts, decorations, snow globes, candies and everything else you'd expect at an Austrian Christmas market.
Once Christmas is over you'll find a New Year's market in the same spot.
SPITTELBERG CHRISTMAS MARKET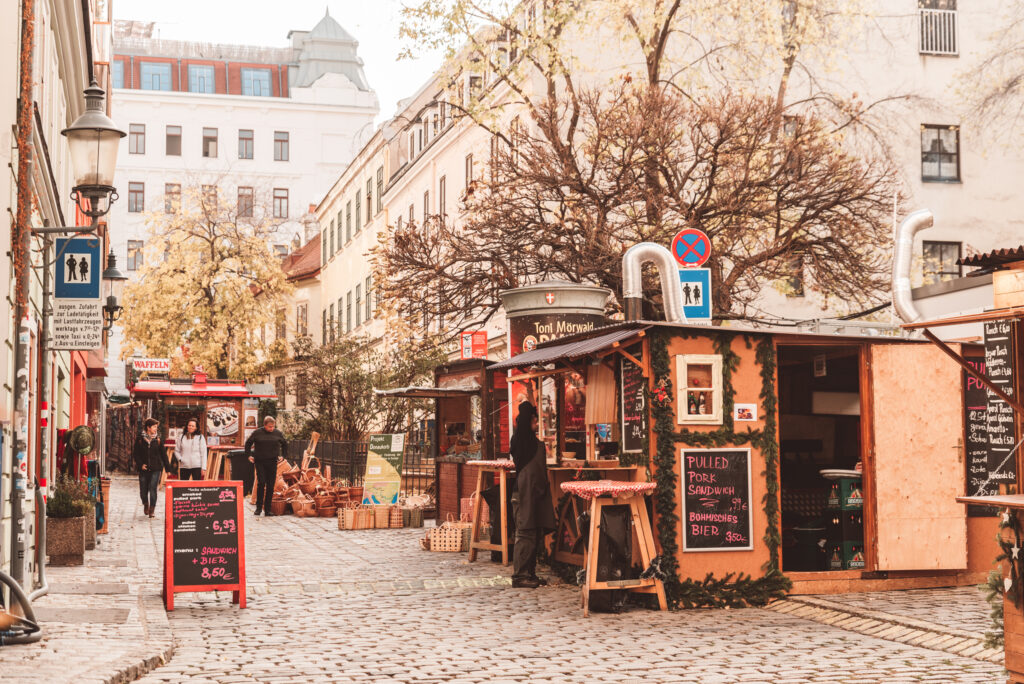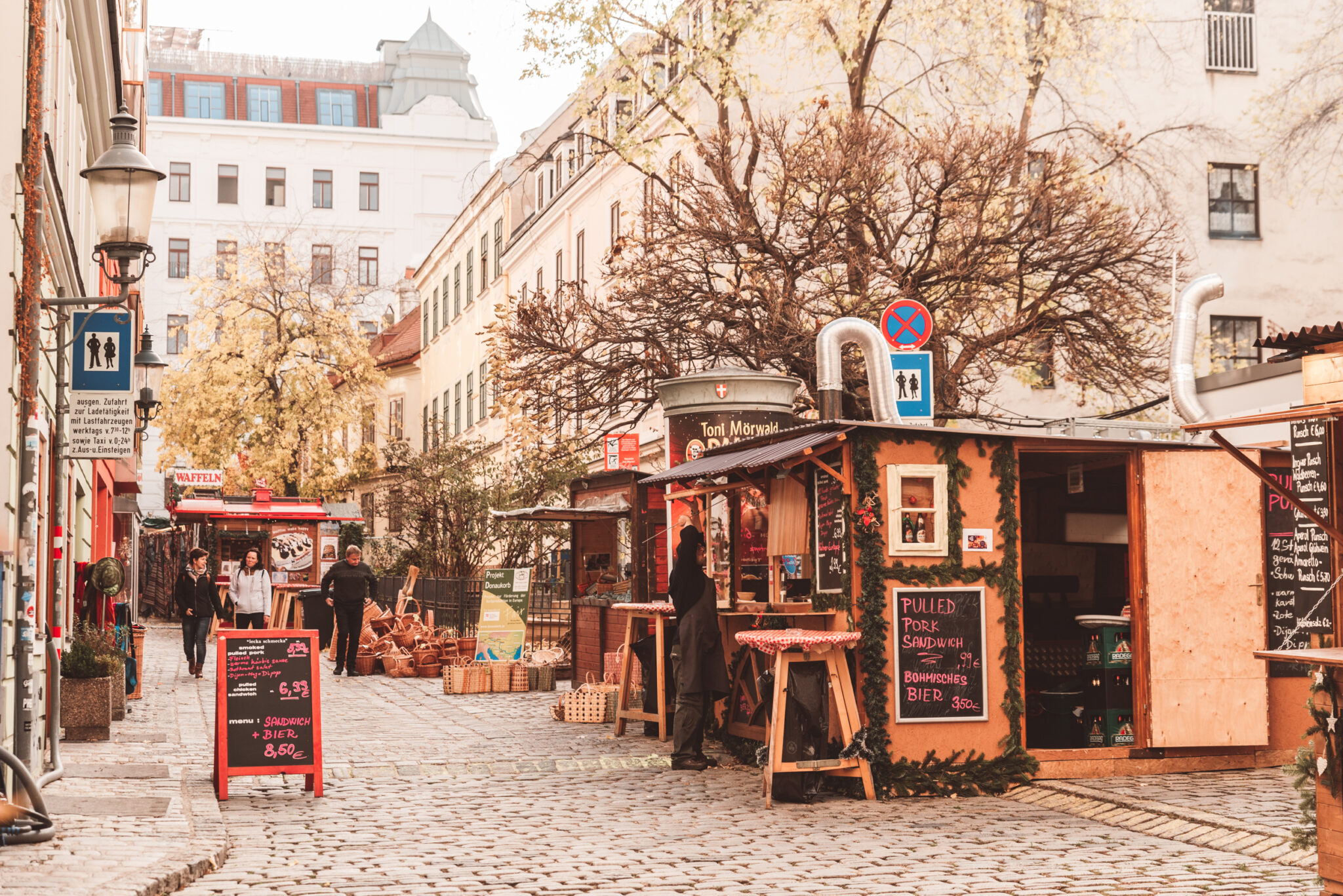 A short walk from the Maria-Theresien-Platz market is where you'll find the Christmas market at Spittelberg. A much more intimate experience, this cosy market has a different feel from the larger Xmas markets in the city.
Here you'll find locals catching up over steaming mugs of mulled wine, and feasting on a wide range of both local delicacies and international foods.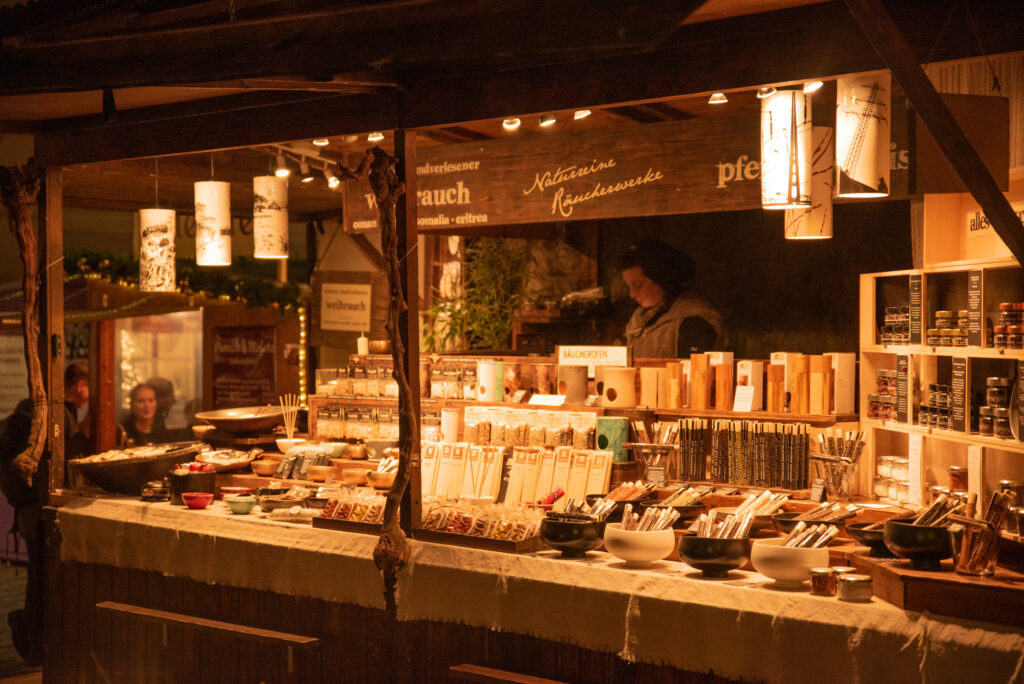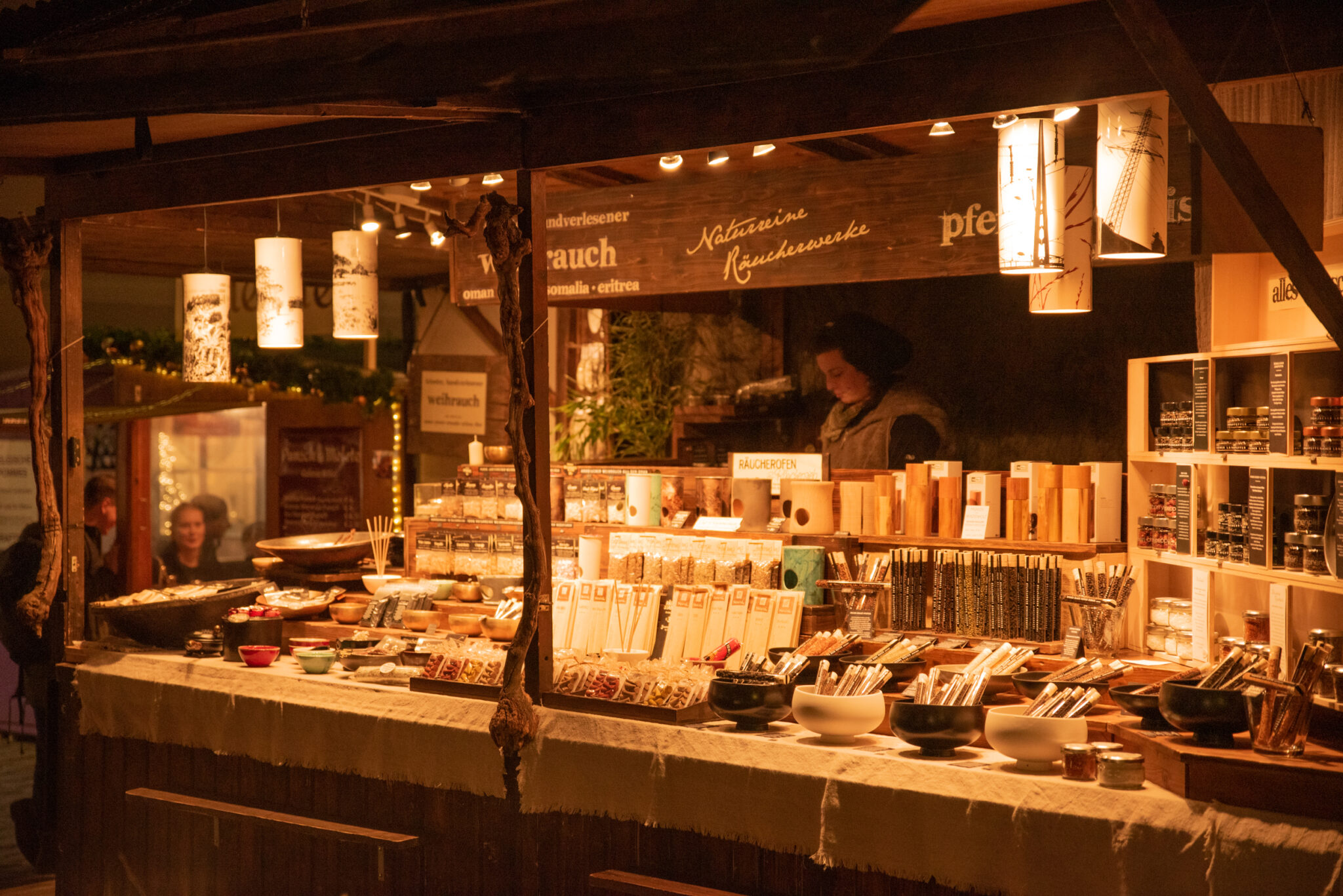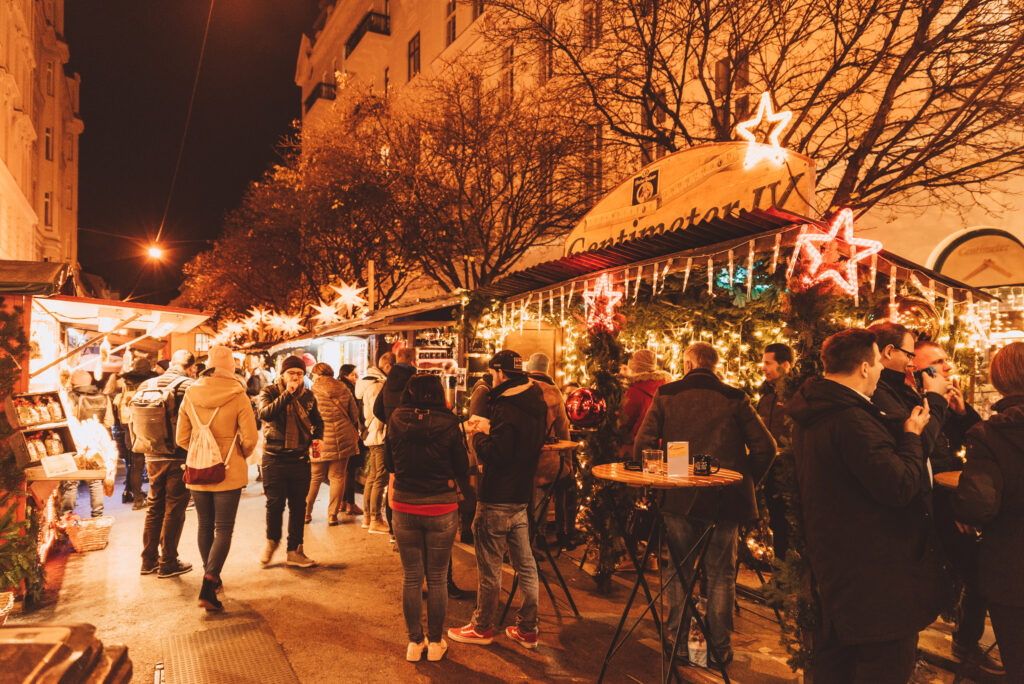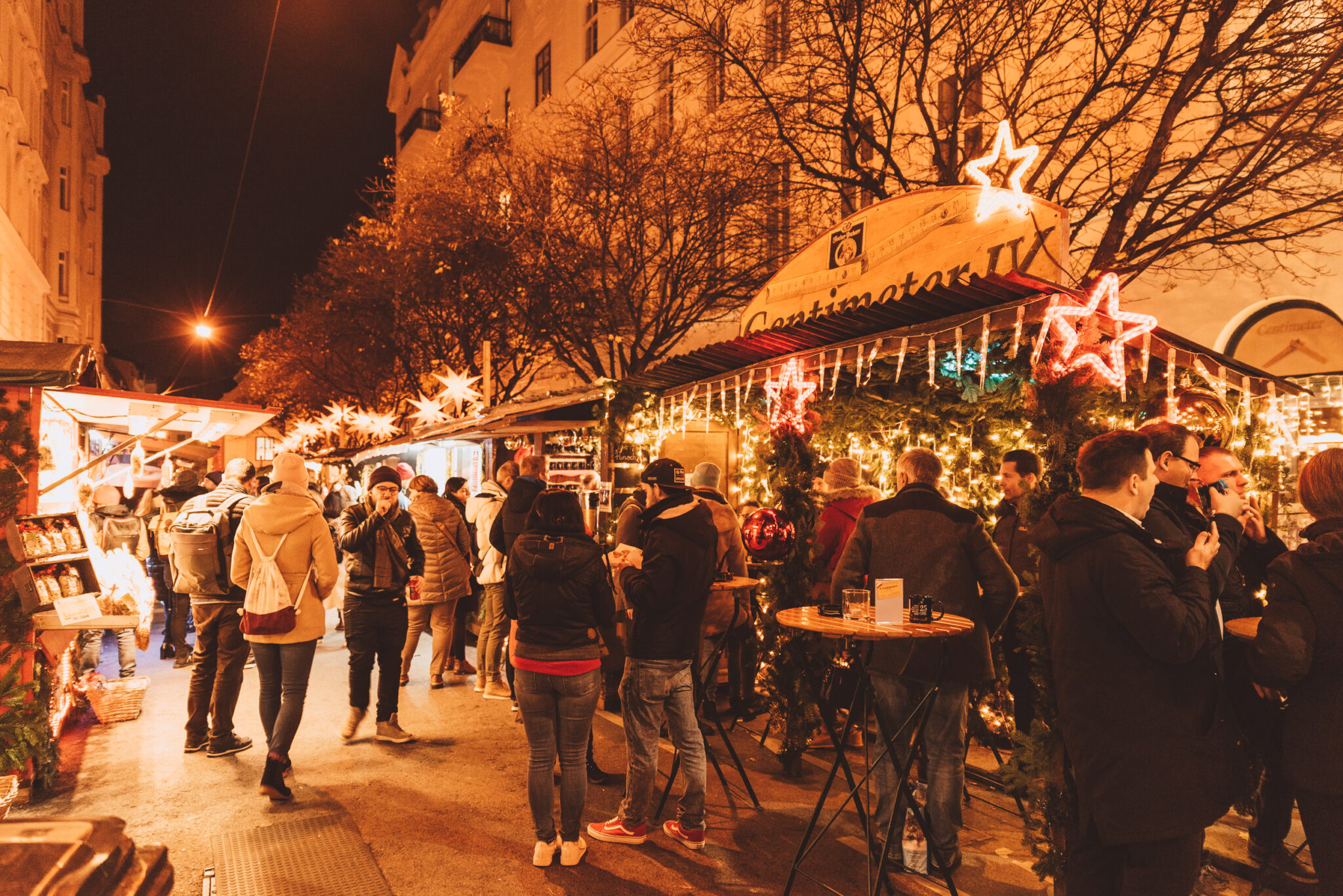 The market stall's offerings are also different, with a more artisan feel and flavour. Expect handmade woollen slippers, knitted jumpers and beautifully crafted wooden toys and ceramics.
Wedged in between the tight-knit streets of the Spittelberg district, it's a compact market with a more authentic vibe.
ALTWIENER OSTERMARKT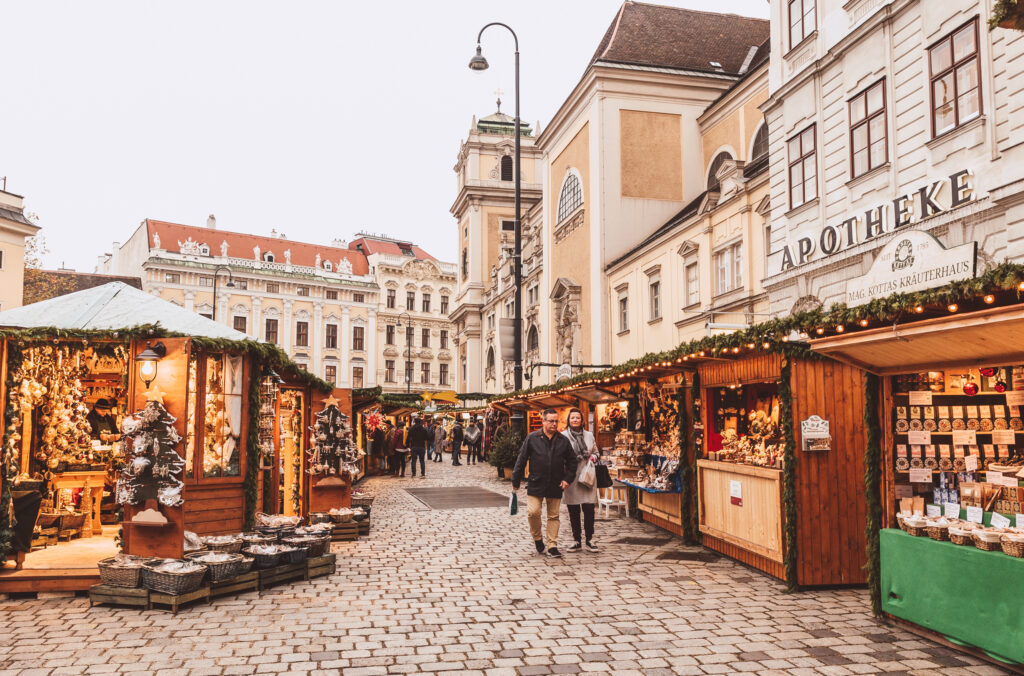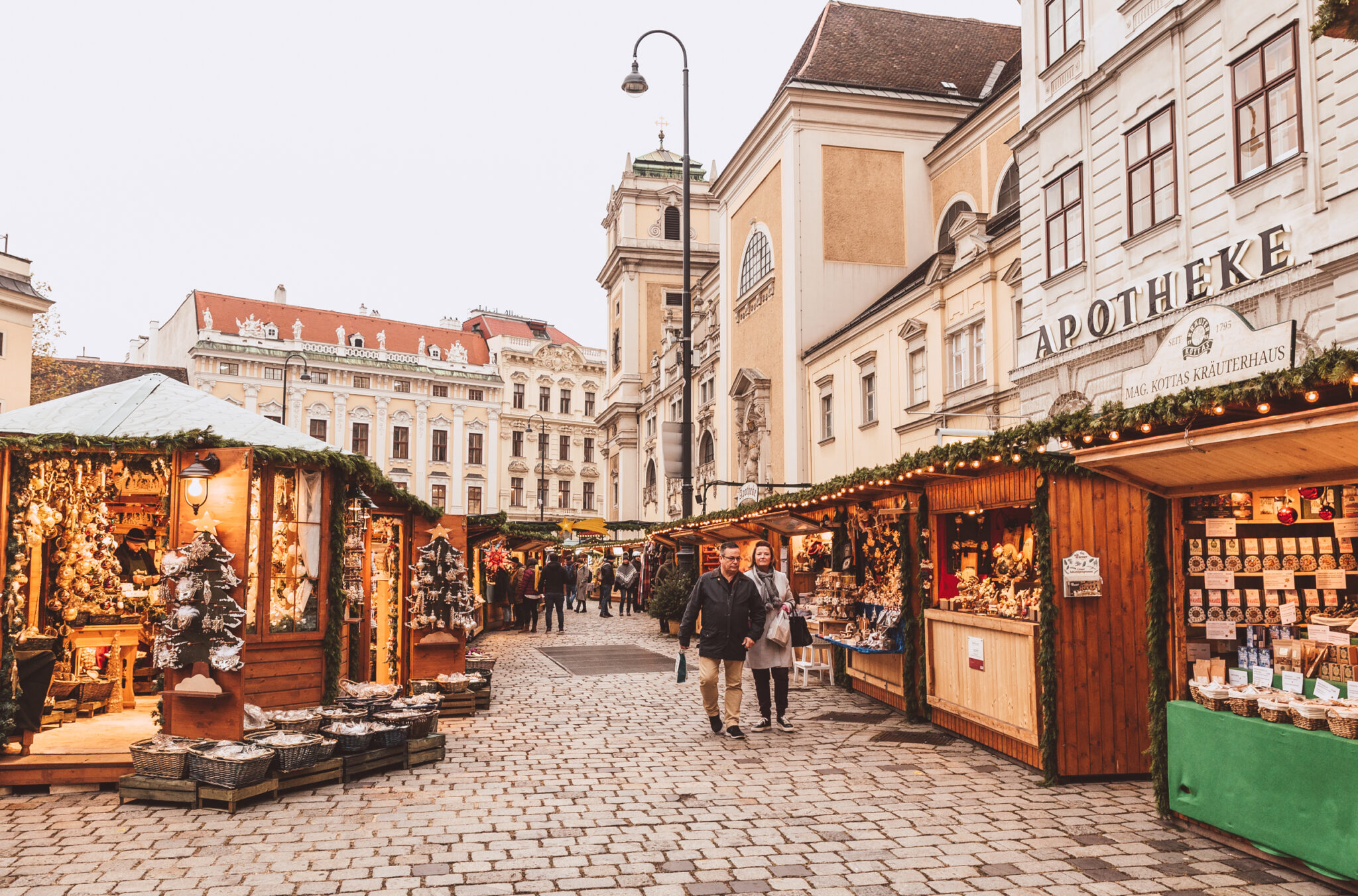 Also known as the Freyung market, this pretty square holds an organic farmers market throughout the year. Come Christmas, the sausages give way to hot chestnuts as the Vienna advent market takes precedence.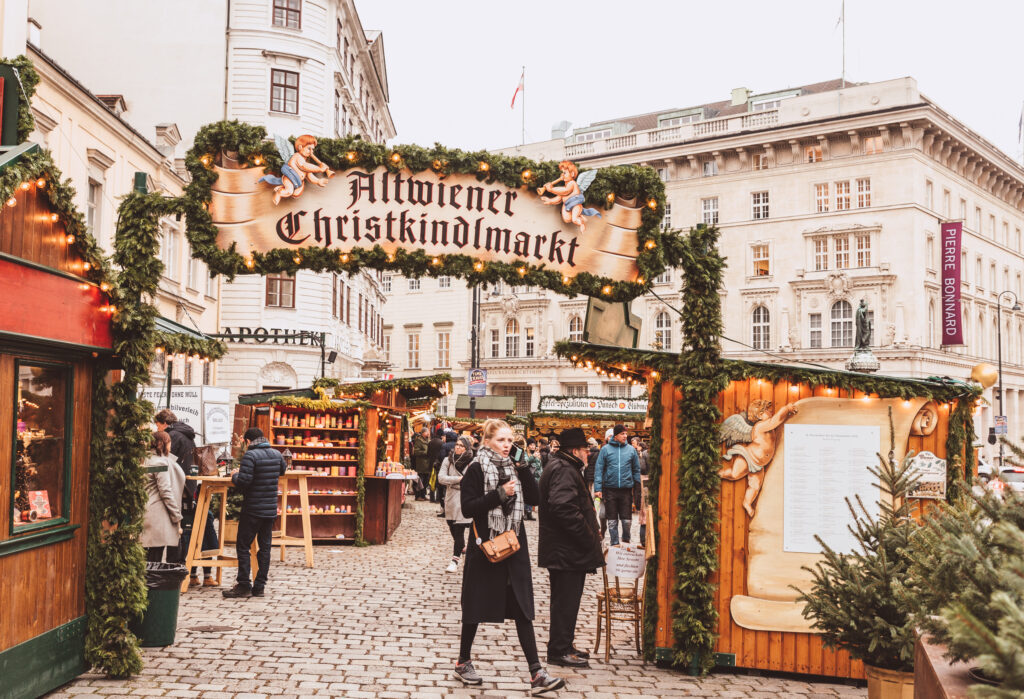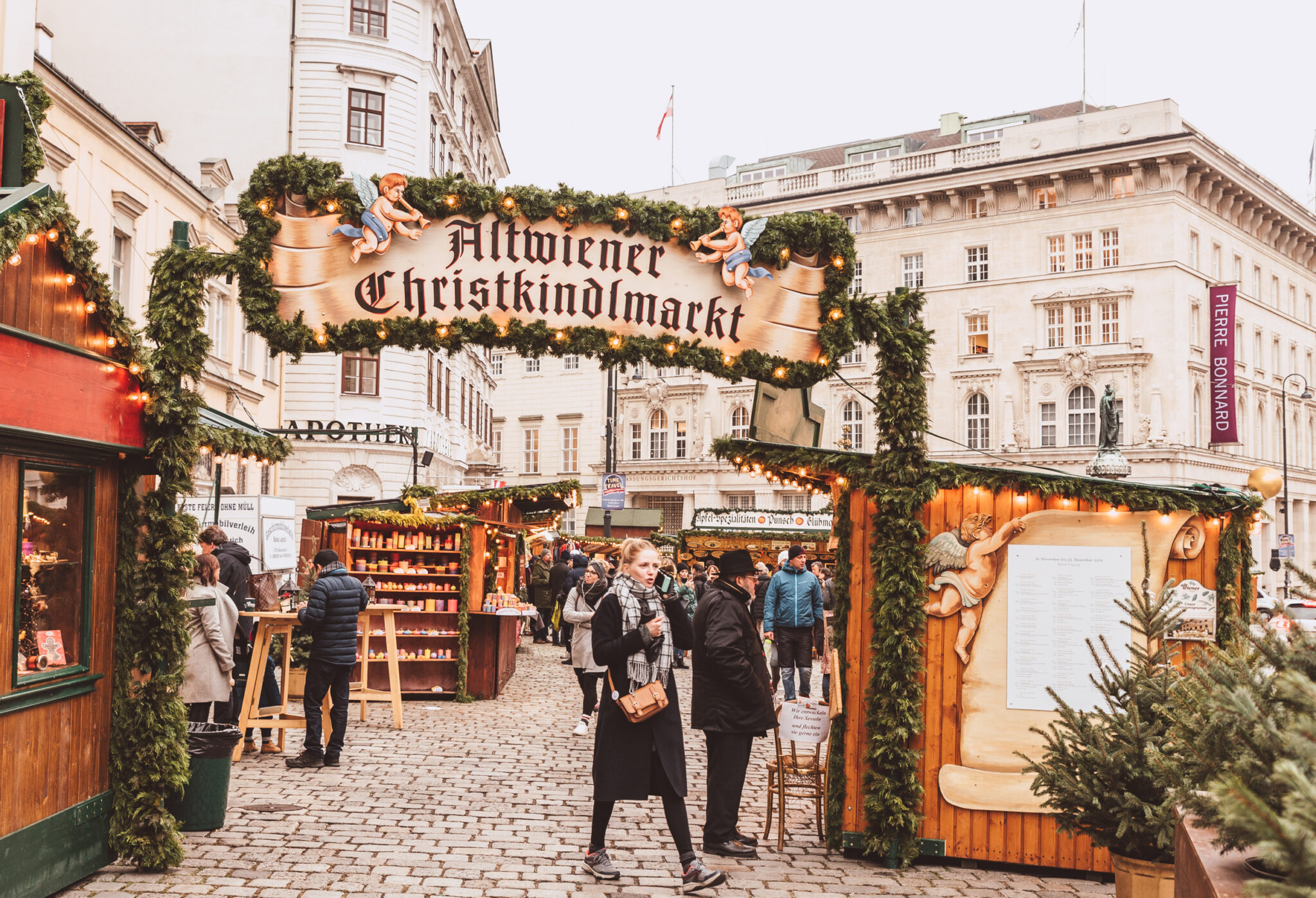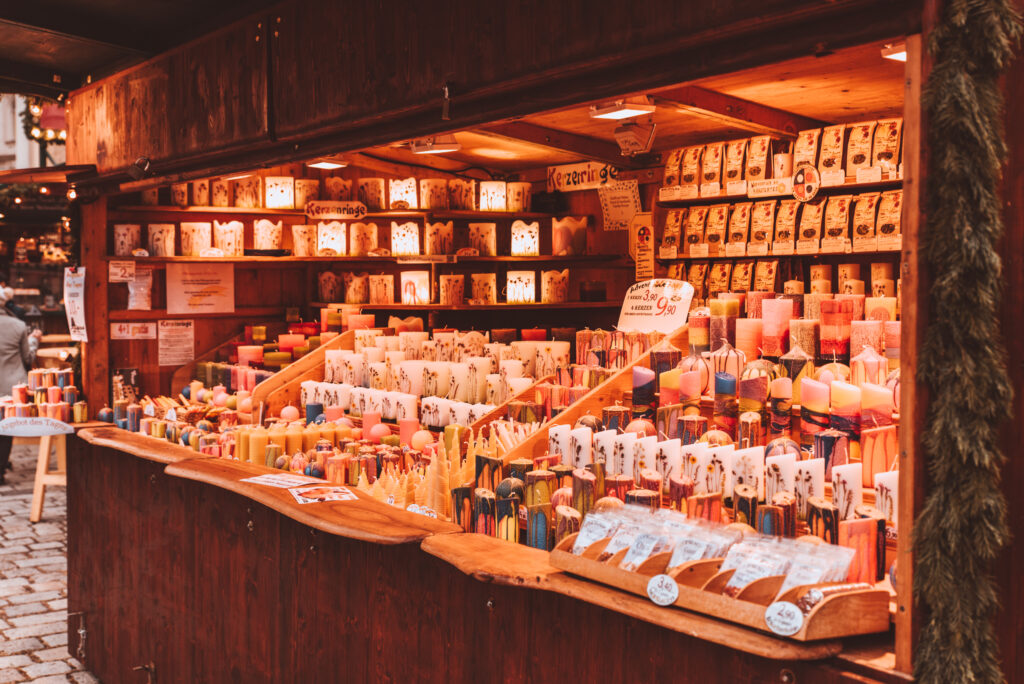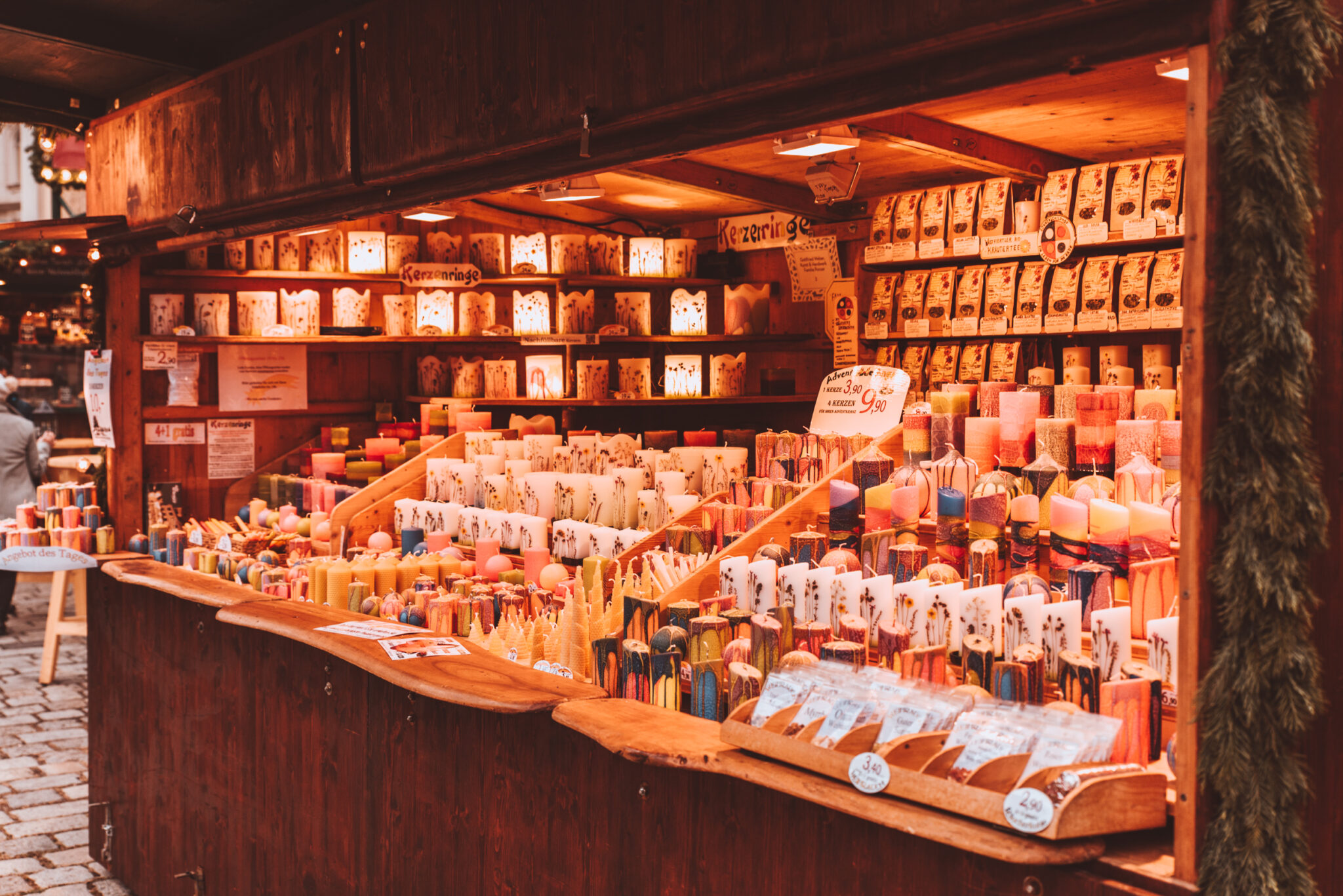 Located just a stone's throw from the ever-popular Am Hof market, the Altwiener Ostermarkt is one of the oldest Christmas markets in Vienna. Here you'll find a more low-key vibe and fewer tourists.
Goodies on offer include the usual gourmet delights, plus beautiful crafted Christmas decorations, artisan teas, beeswax candles, and rustic ceramics. The exhibitors are a little different to the 'big' Xmas markets, meaning it's the perfect place to pick up a unique gift or souvenir.
SCHÖNBRUNN CHRISTMAS MARKET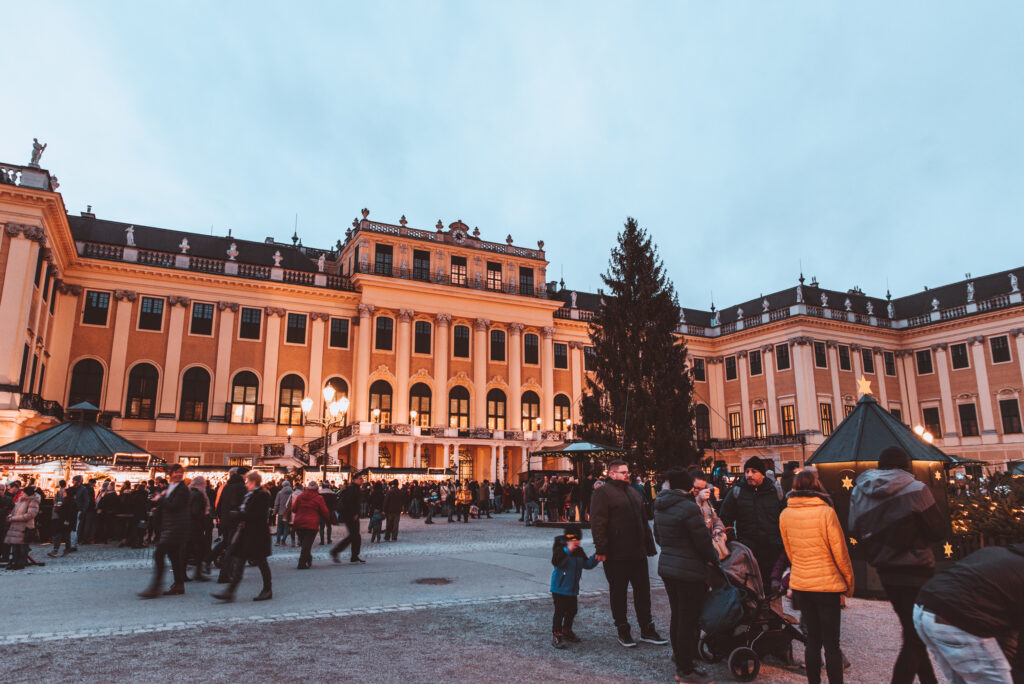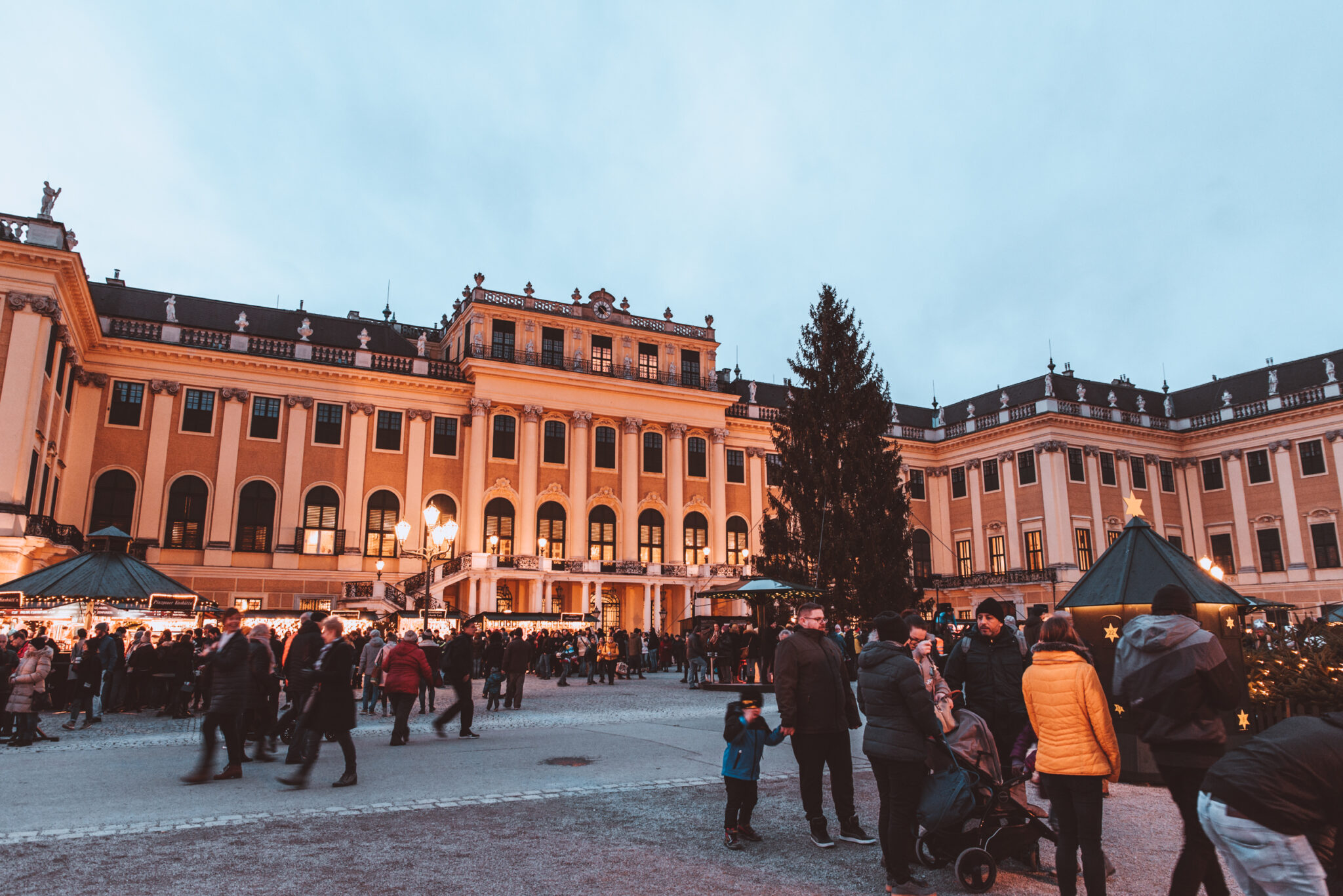 A Vienna winter market with an upmarket feel, the Schönbrunn Palace Christmas market is one of the most spectacular Advent events in the city. The market's appearance is as refined and elegant as its surroundings, with stalls centred around a large open courtyard.
In the middle, you'll find a grand Christmas tree and a pavilion on which carol singers or folk bands will serenade you as you shop.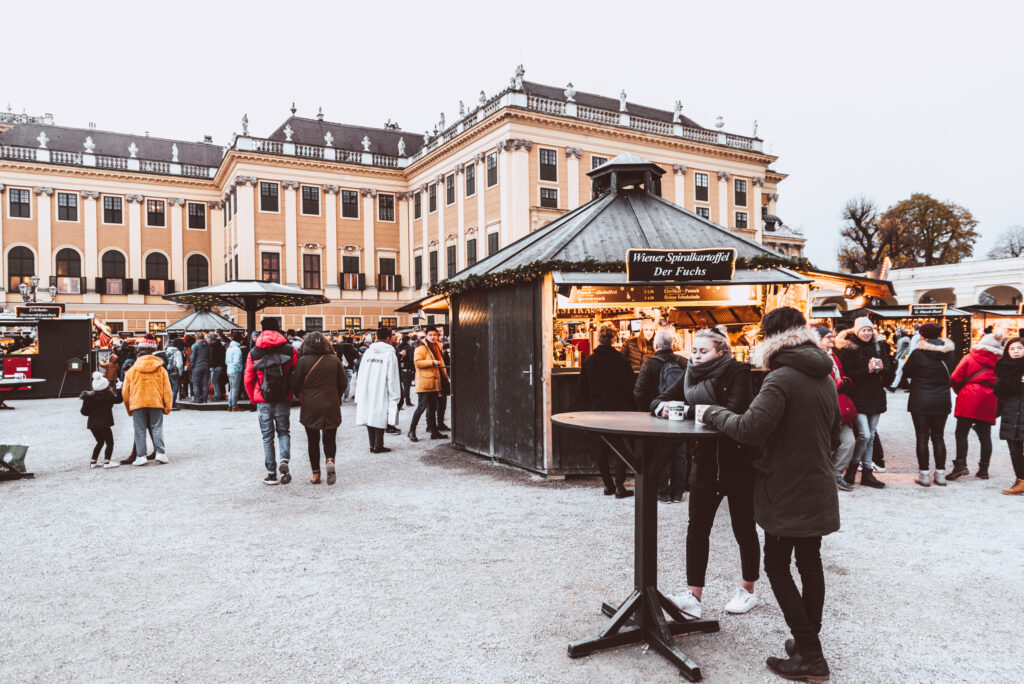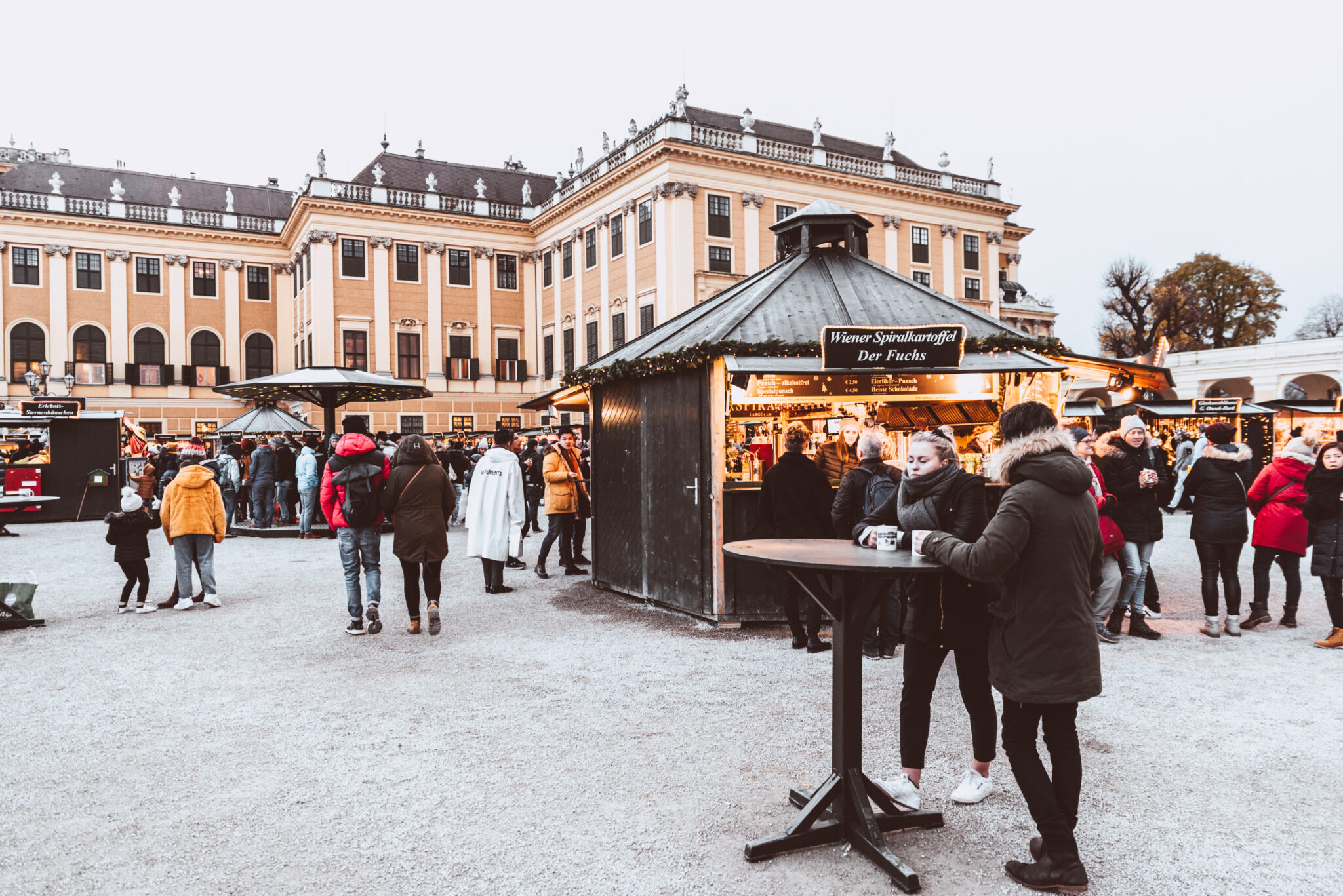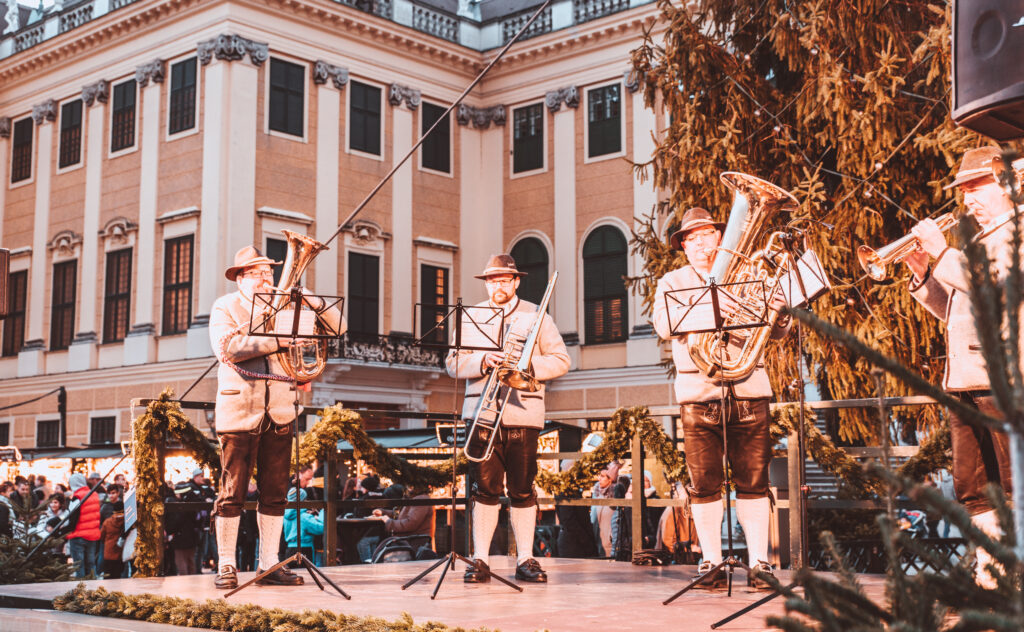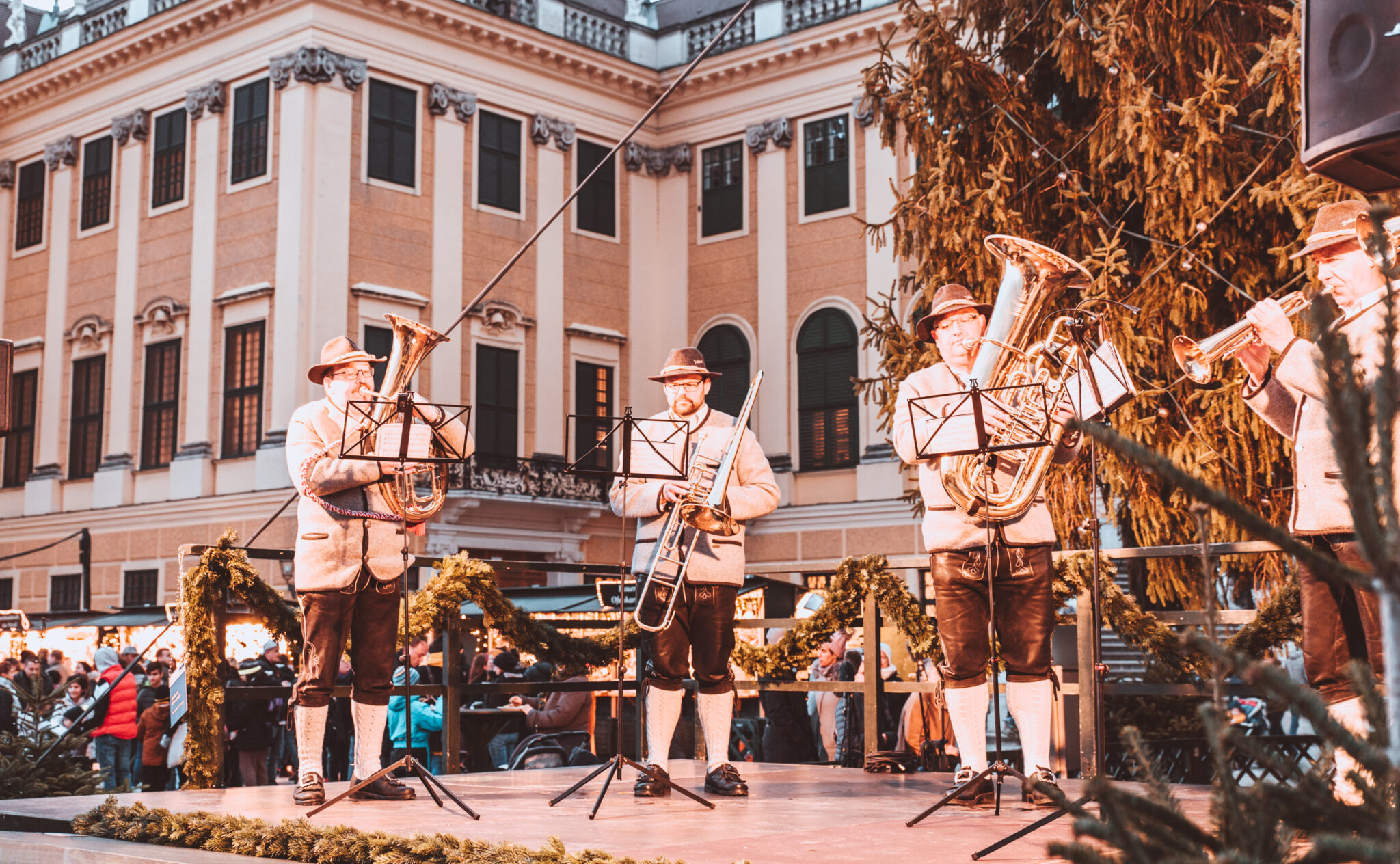 Situated a little outside central Vienna, it's easily accessible via the subway system, by tram, or by bus. But its distance from the centre of town does nothing to thwart the crowds, this is by far one of the most popular Christmas markets in Vienna.
Here you'll find the usual range of market goods on sale, all of high quality and the majority Austrian made. There are plenty of wine & punch stands, and you won't go hungry with the range of edible treats on offer either!
KARLSPLATZ CHRISTMAS MARKET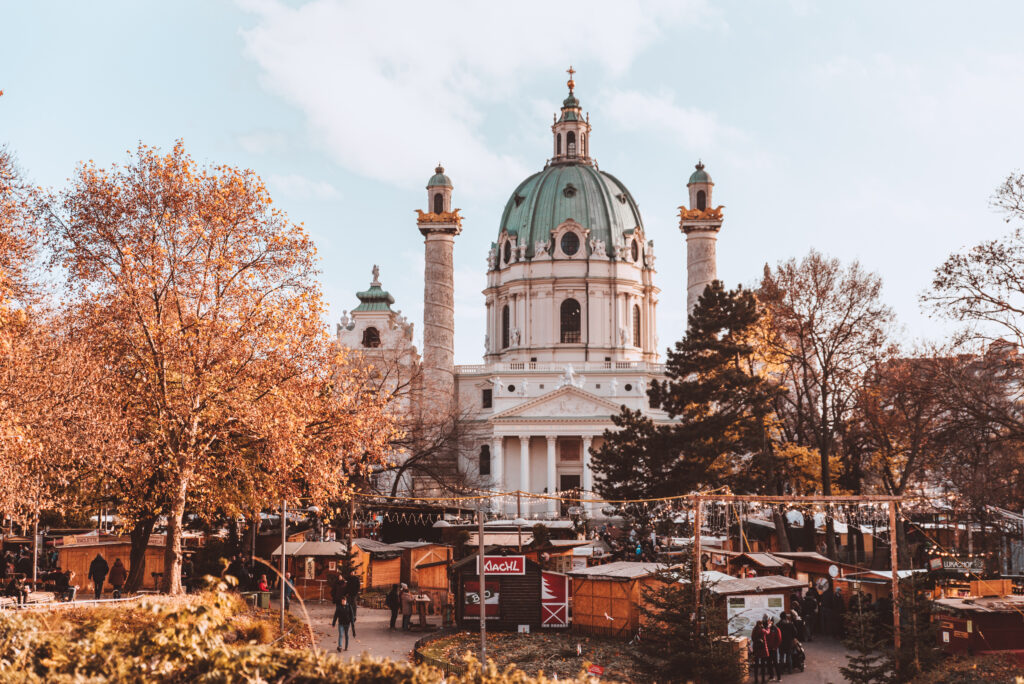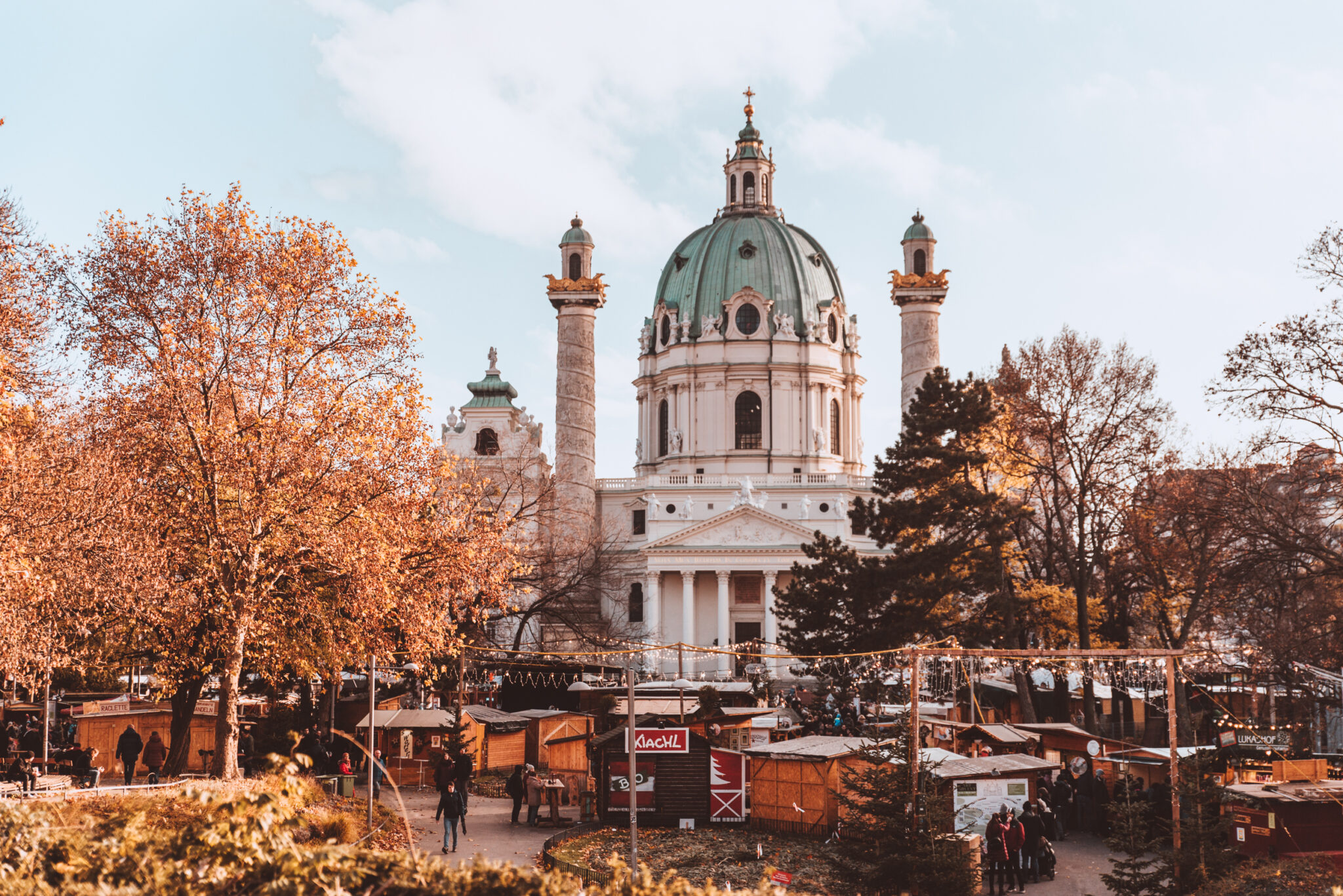 If you pressed me to pick a favourite Vienna Christmas market, I'd have to choose the Art Advent market at Karlsplatz. From the stunning surroundings (that are a little more natural than the other city markets) to the rustic cabins, and the handcrafted goods on offer – it manages to hold its own in a city full of grandeur.
Situated in the square, and framed by the 18th Century Karlskirche church, the Karlsplatz market is a family-favourite. Kids love the central area where they're entertained by a quirky carousel, pedal carts, a hay-filled play pit, and farm animals.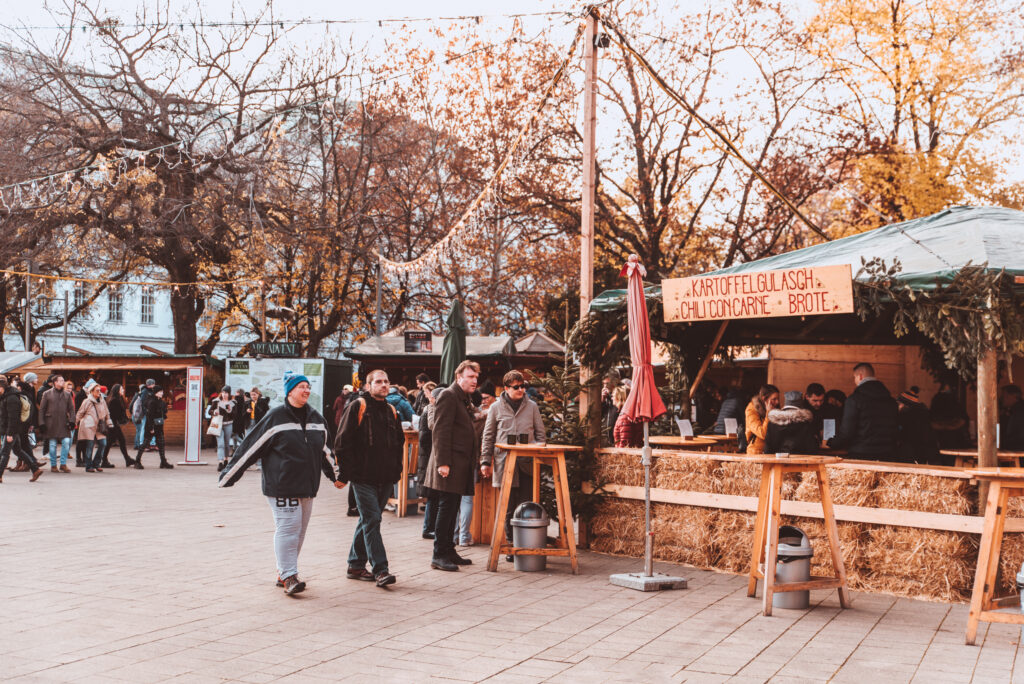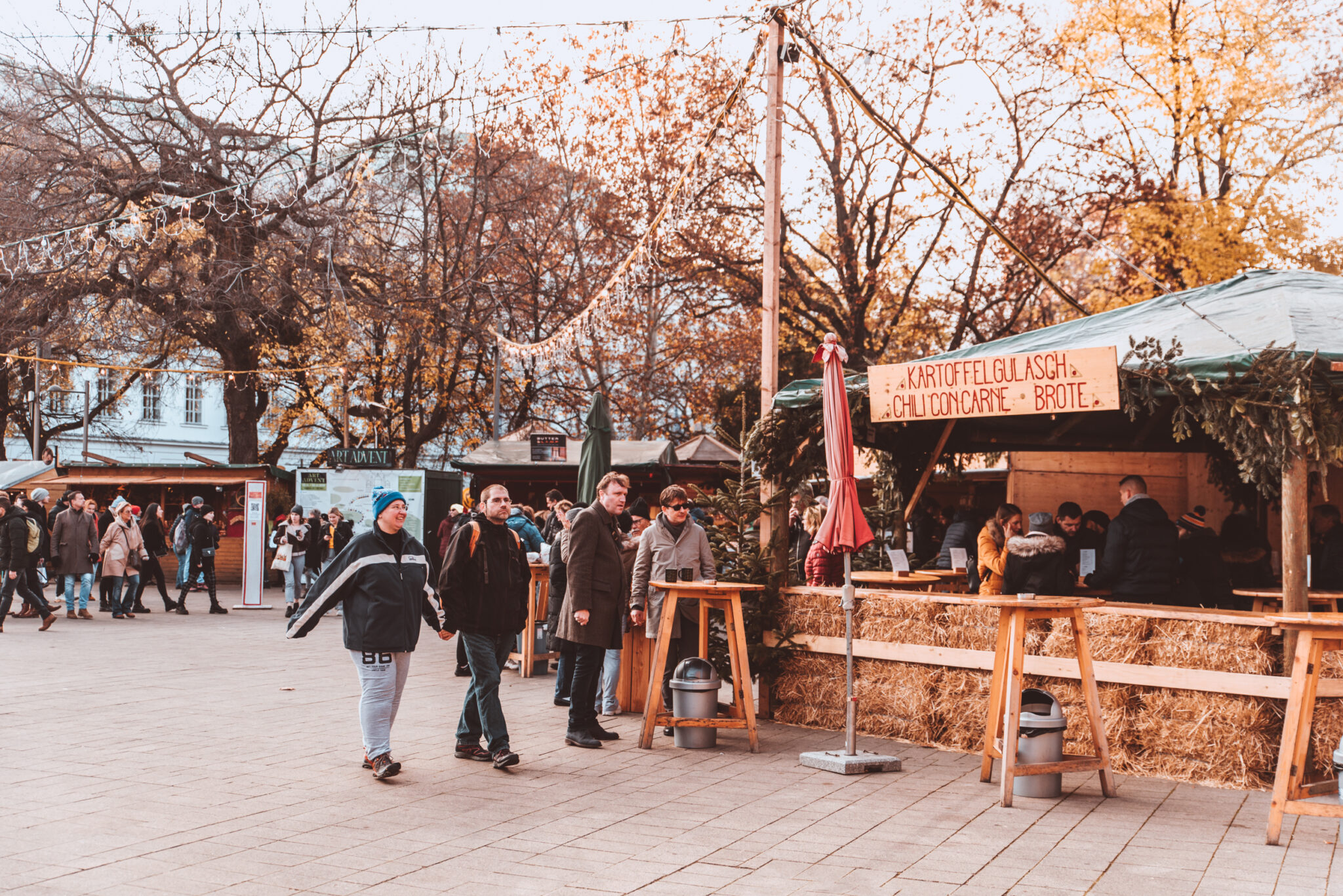 Cosy heated cabins will refill your mug with warm punch, and food offerings are organic and tasty – including some delicious vegan treats.
What helps the Xmas market at Karlsplatz to stand out, is the stringent application process that vendors must go through in order to have a stand. This ensures only the highest quality arts and crafts are on offer, and an added requirement is that the artisan themselves must be the seller (ie no third party vendors).
STEPHANSPLATZ CHRISTMAS MARKET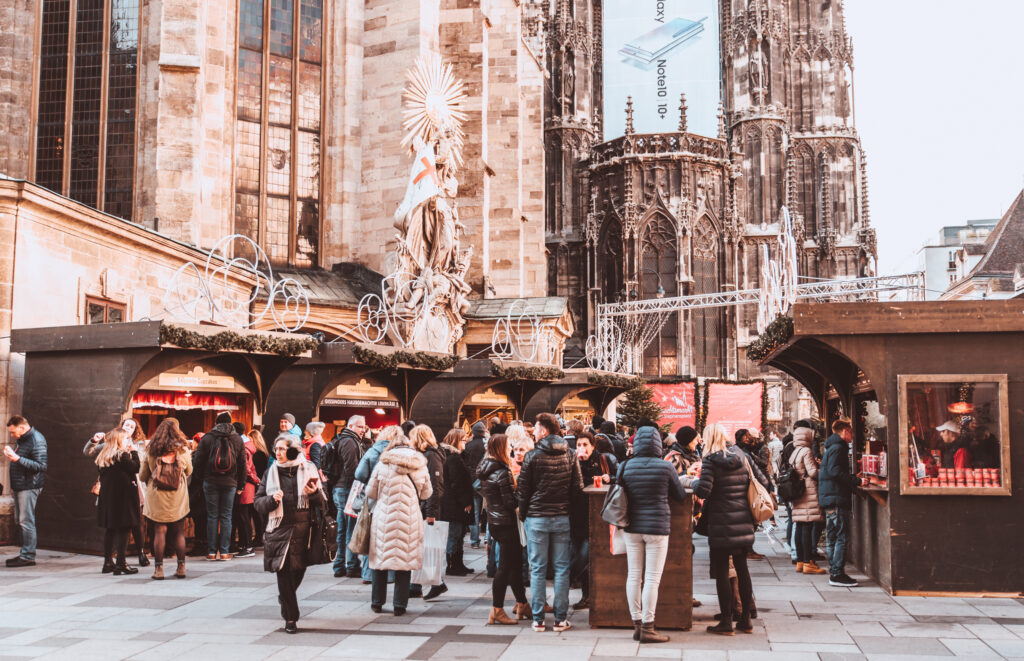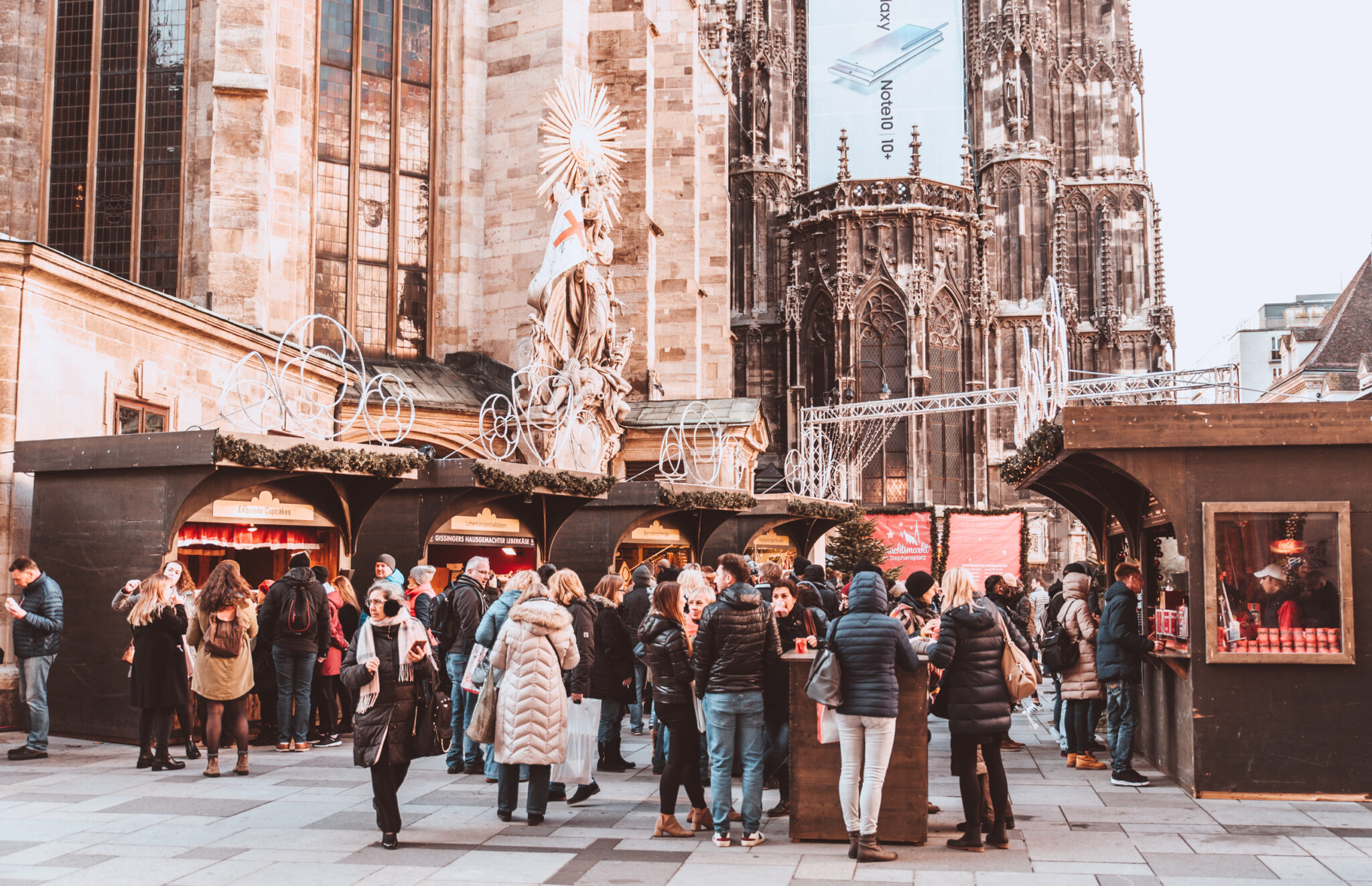 If I'm honest, I don't love the market at Stephanplatz, but its central location and lofty surroundings still make it one worth visiting. One of the busier markets, there are few stalls, but the surrounding boutiques make up for the shortfall.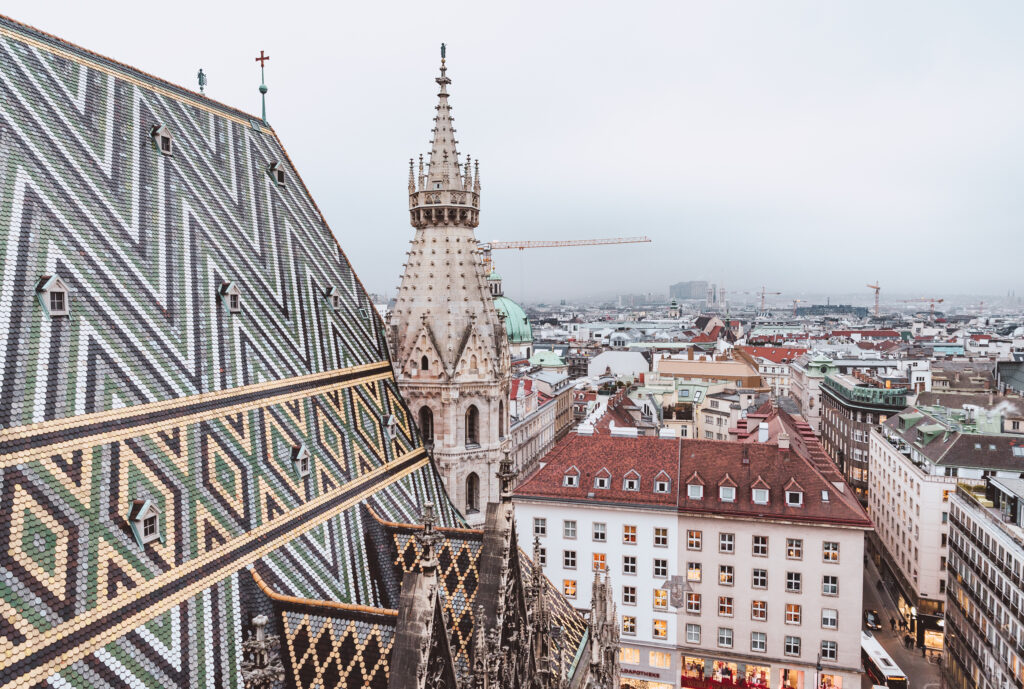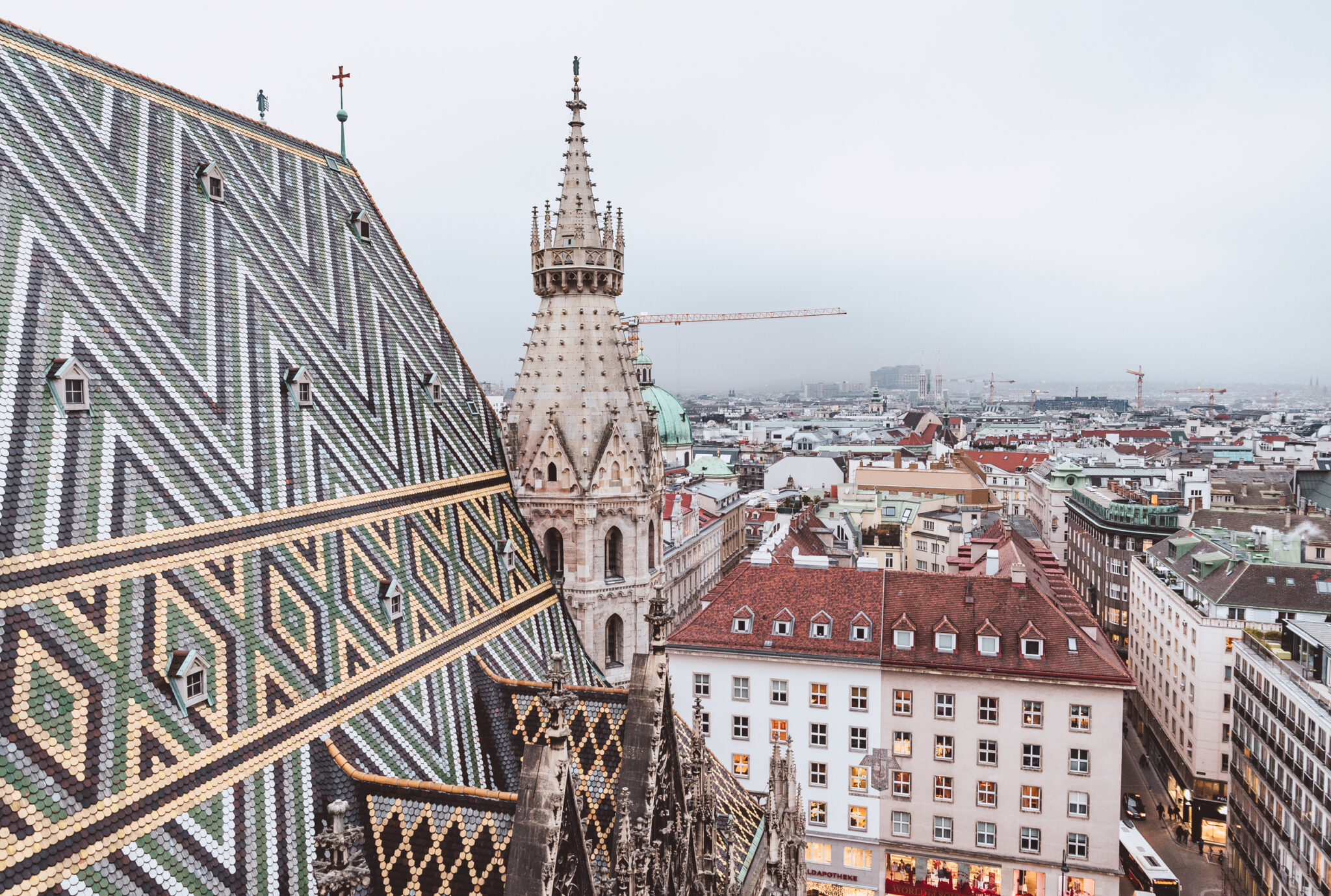 Combine your visit to this market with a trip up to the spire of the St Stephen's Cathedral. Doing so will grant you one of the best views in town. Once delivered to the top by a dinky elevator, you'll be able to take in the market below, the cityscape, and the intricately tiled roof of the cathedral itself.
Once back on the ground, warm up with a mug of punch and a gingerbread cookie from the curated collection of stands huddling at the base of the cathedral.
AM HOF MARKET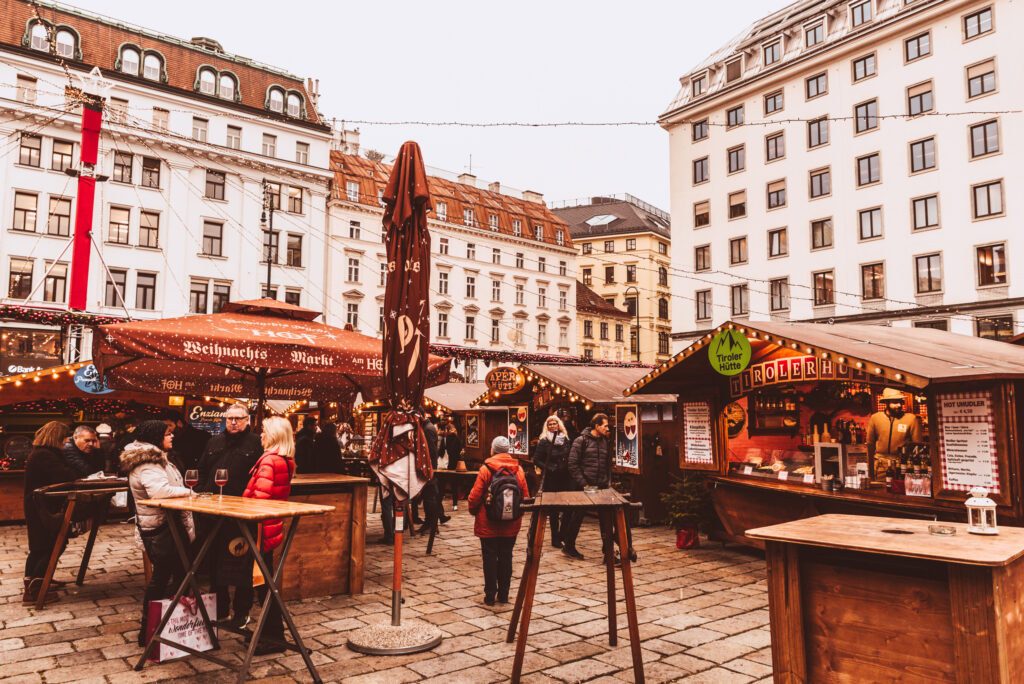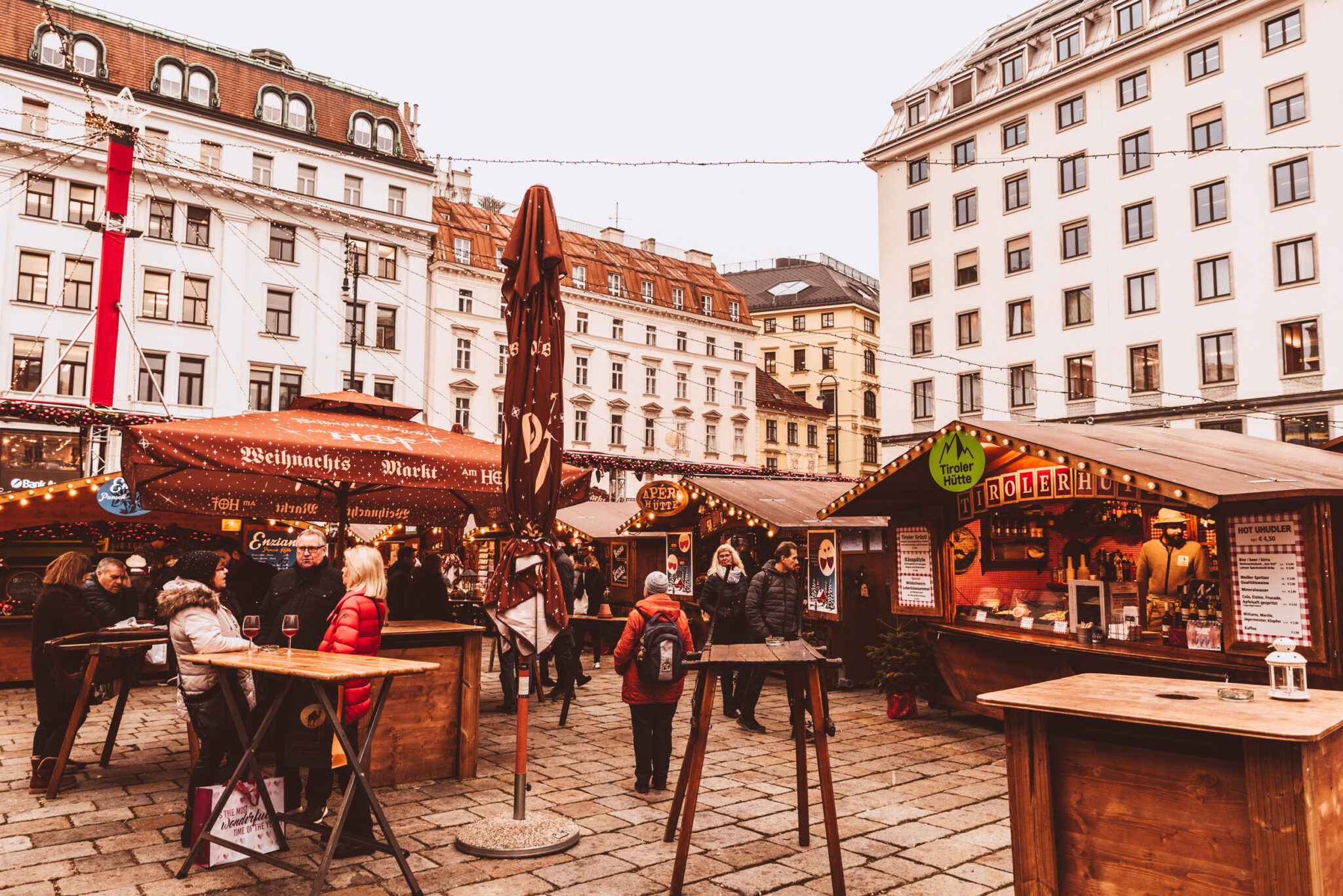 A short walk from the Stephansplatz market (which will take you past the baroque St. Peter's Church), the Christmas market at Am Hof offers a different experience entirely. Situated among some exquisitely decorated shopping streets, it offers a low-key shopping experience in a welcoming environment.
Settle into the champagne stall or pause over a punch in the main gathering area. There are treats galore, and it's clear the organisers of this market have a high standard when it comes to exhibitors.
Browse for Austrian wool-lined slippers, leather bags, handmade cards, real pashminas from Kashmir, and locally handcrafted jewellery. There are also all your usual stands selling traditional gingerbread cookies and tree decorations.
UNIVERSITY MARKET / ALTES AKH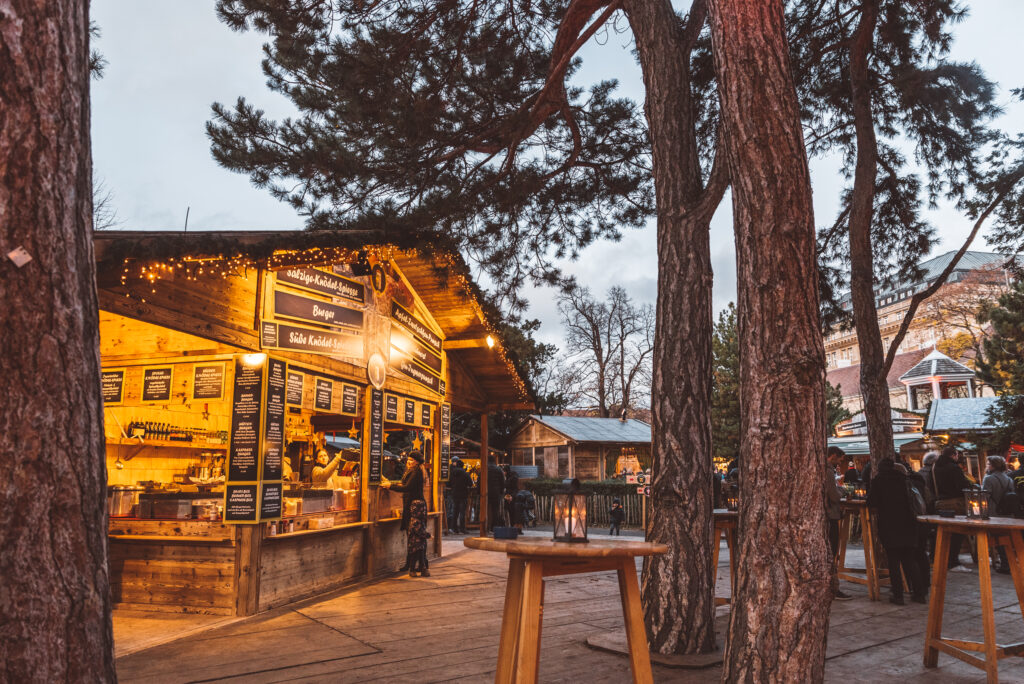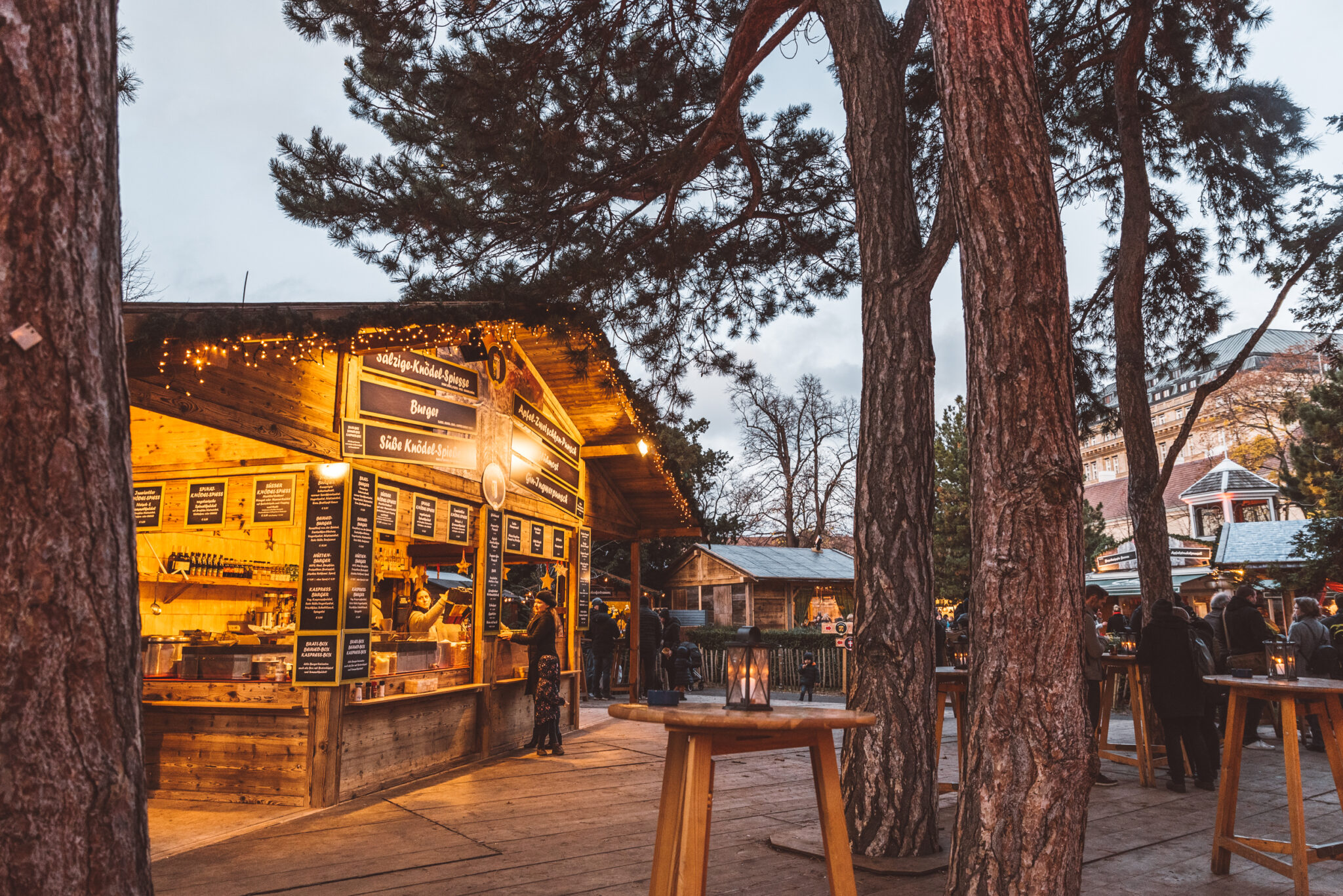 This discreet Xmas market is tucked away from the tourist's eye, and a little hard to find for the uninitiated. Situated in a sheltered courtyard, once you enter you're transported into a festive fairytale.
Kids seem to be especially well catered for at this rustic market, with pony rides, a colourful Christmas train, nativity scenes and a carousel to enjoy. Plus, there's a playground right next door should they tire of trailing you around the market.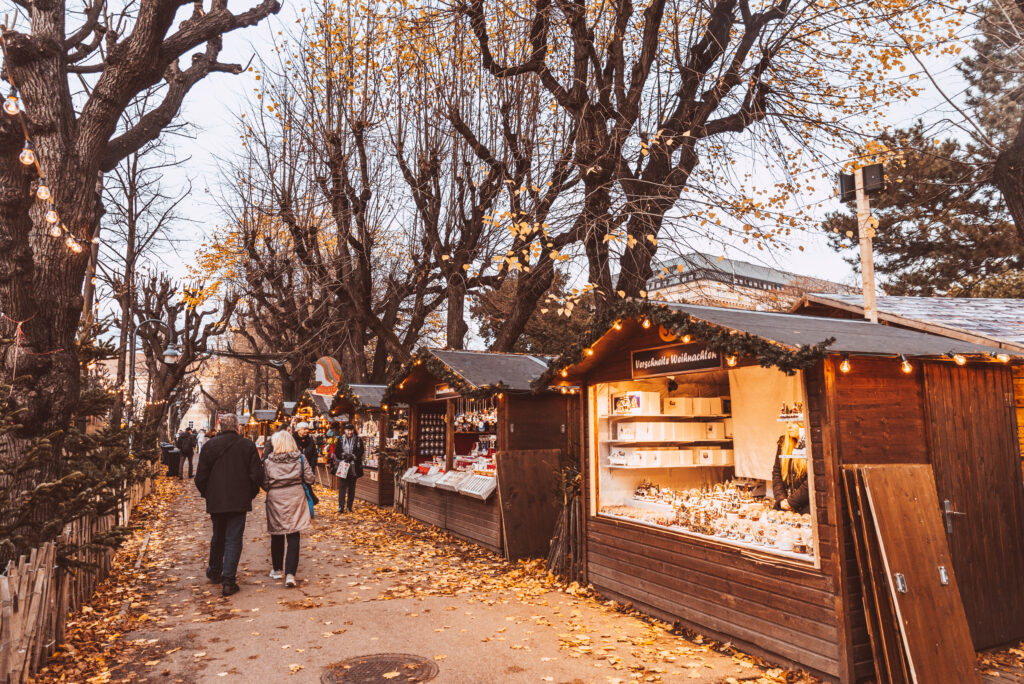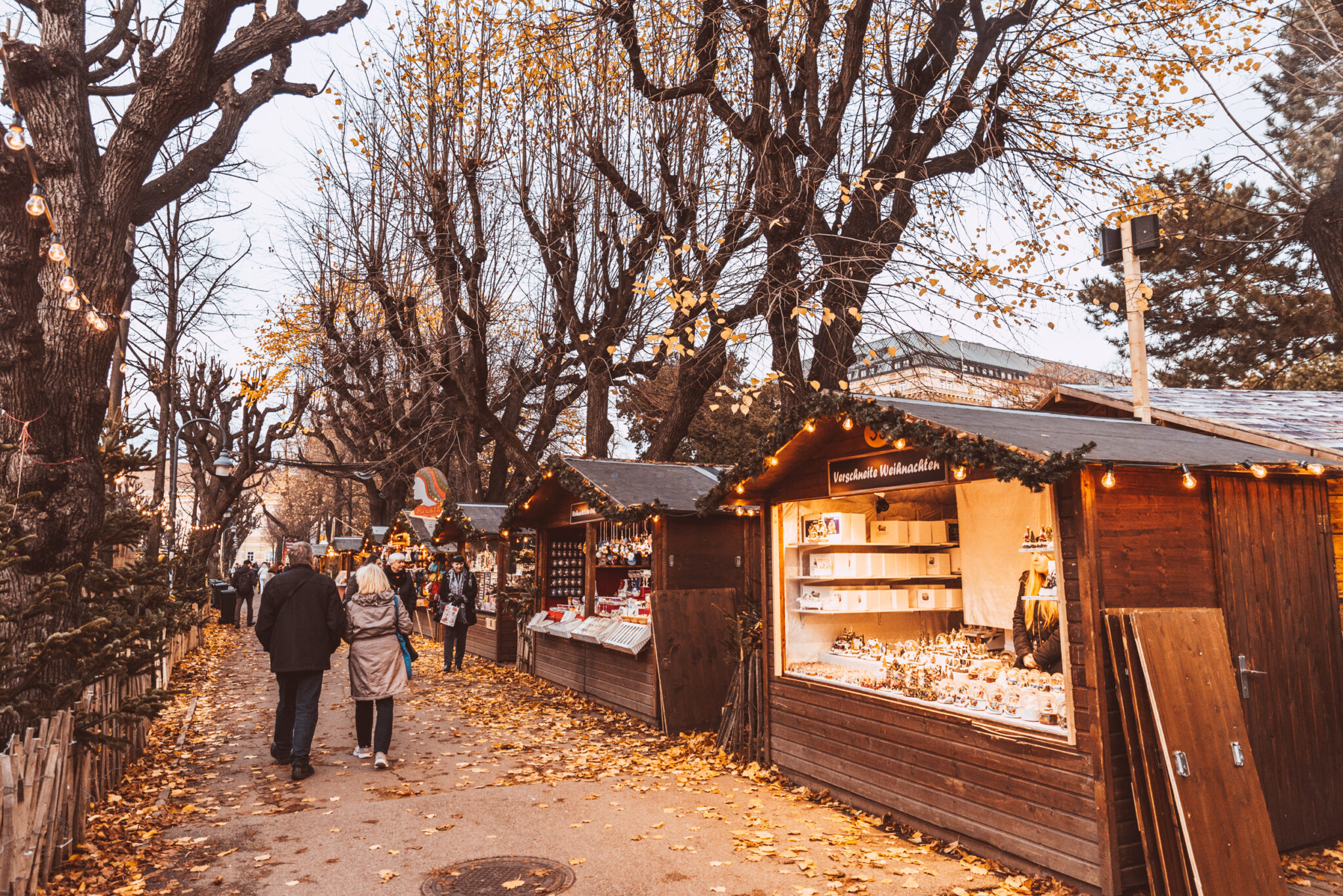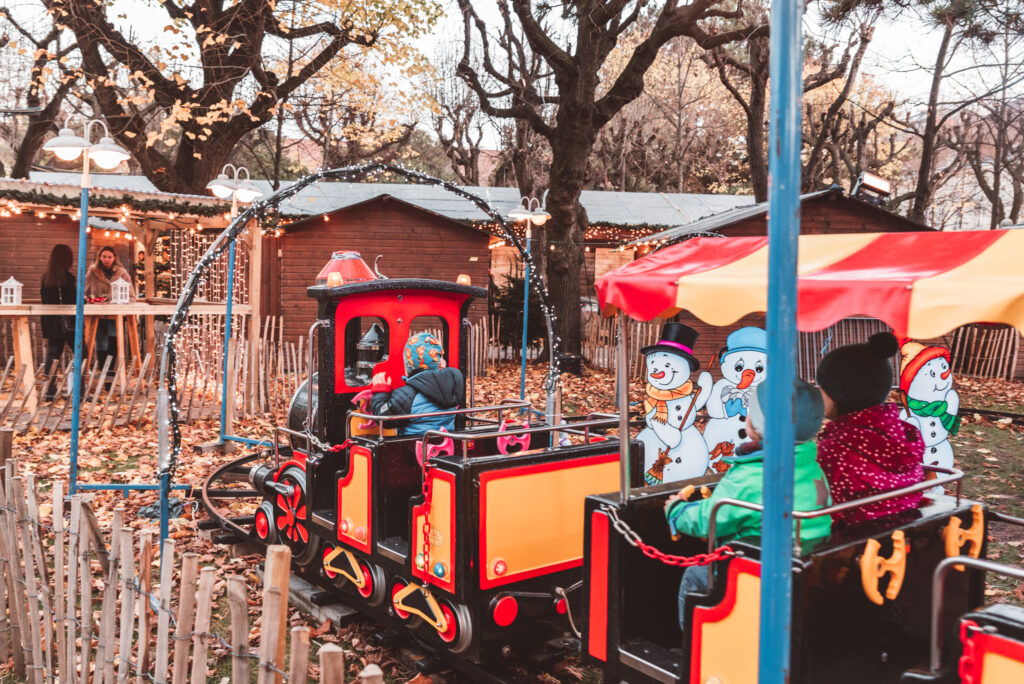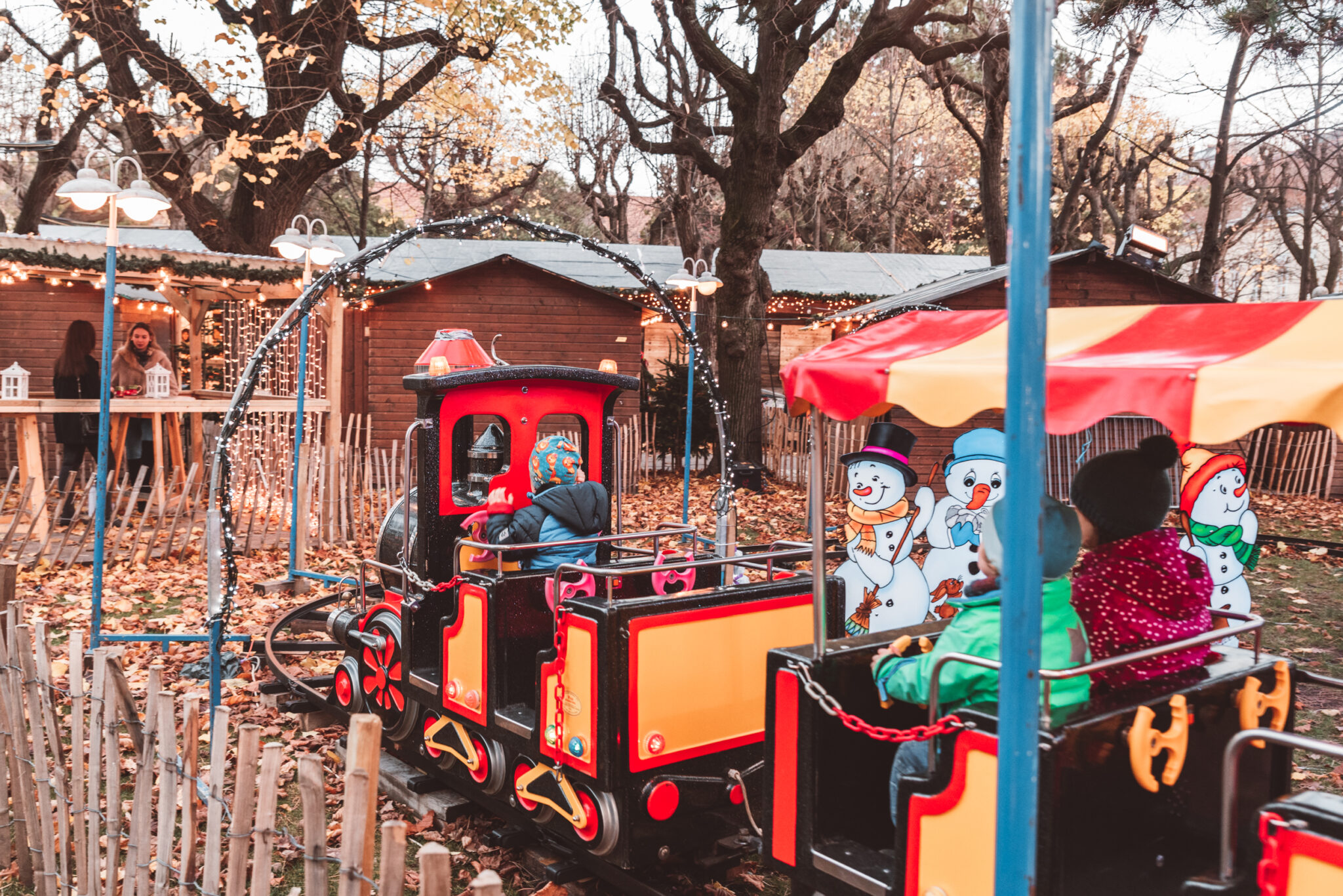 But adults aren't forgotten and this market has one of the largest bar areas I've seen at all of the markets. Wooden chalets were serving up every kind of flavoured punch, cider and mulled wine available, and it's an easy place to grab dinner on the go.
I didn't find the exhibitors here to be particularly different or engaging, but there's definitely plenty of range available to have a good browse. Be sure to also check out the amazing second-hand LEGO shop across the road where you can buy one-of-a-kind kits!
---
Vienna Christmas Market Map
Where are the Christmas markets in Vienna? They're mainly grouped in the central city, and you can reach them easily on foot or by using public transport. The only market that is a little further away is the Schönbrunn Palace Christmas market.
Click on the map of Christmas markets in Vienna below to bring up an interactive version.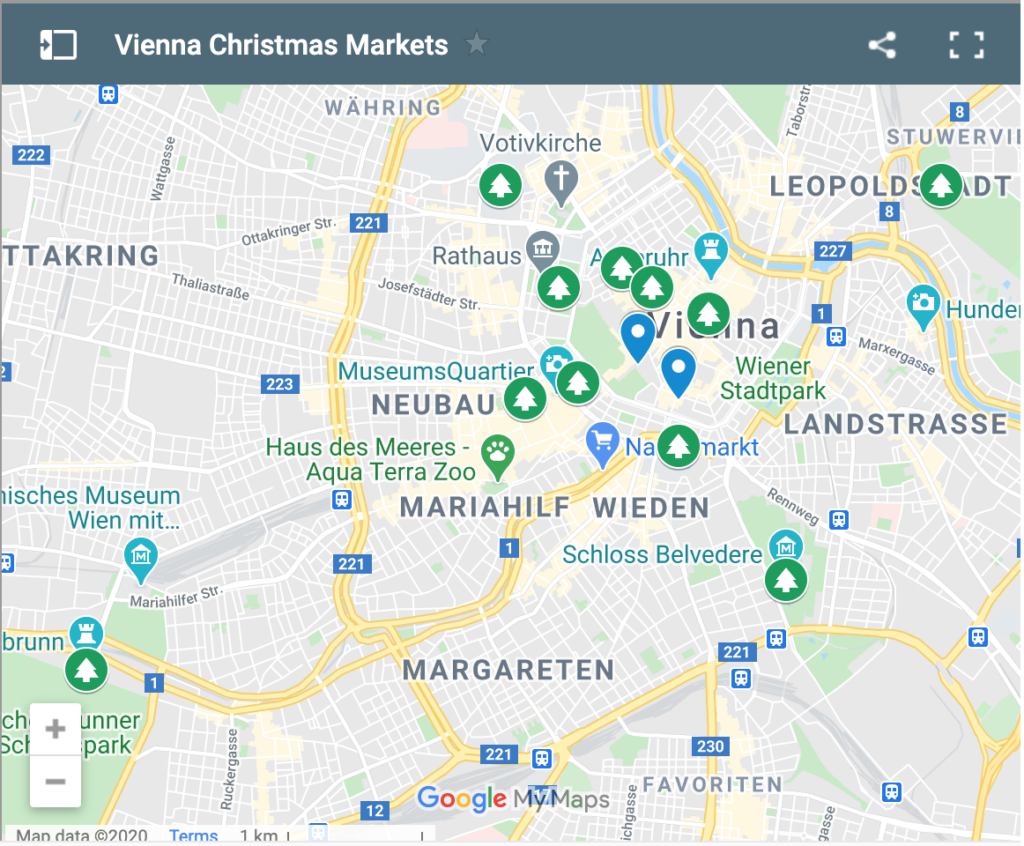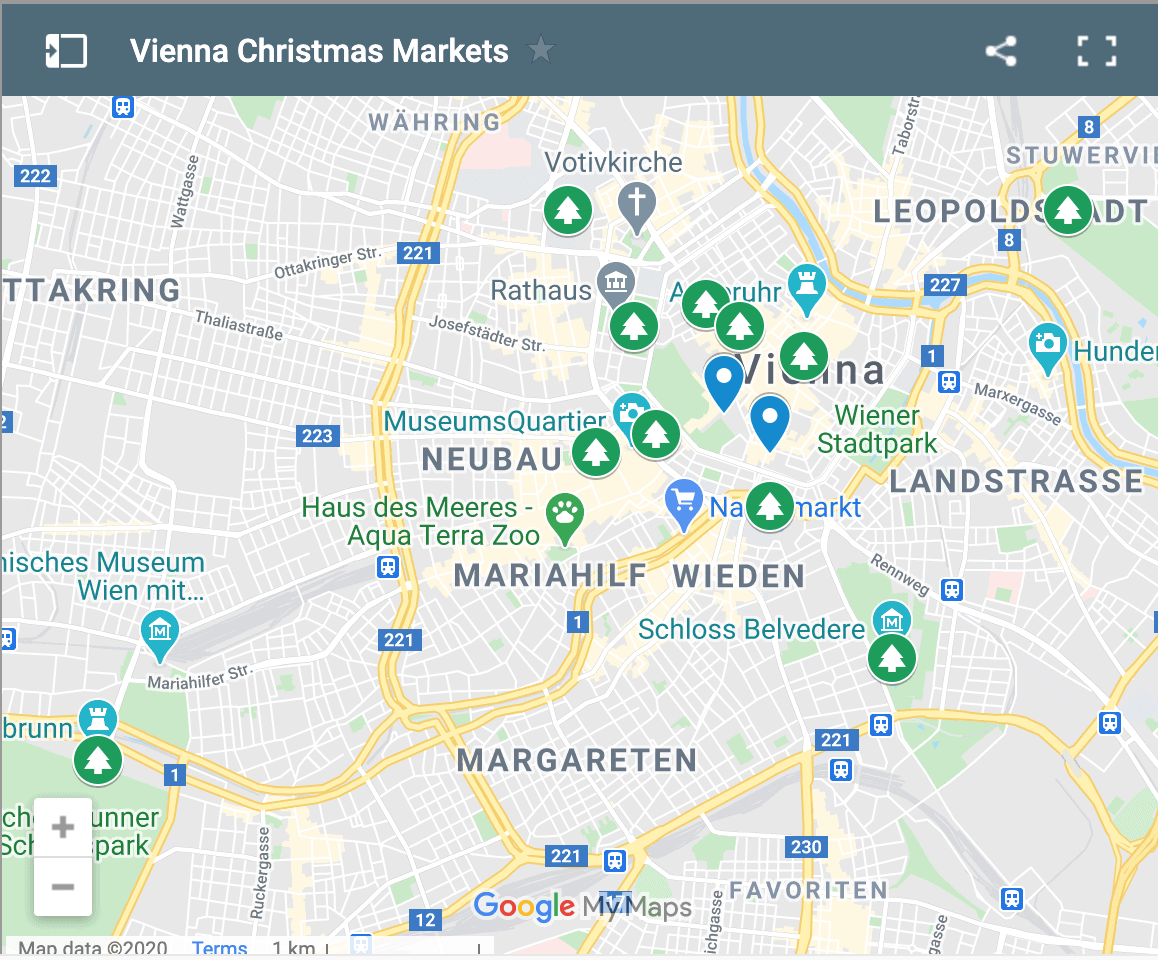 ---
What to Buy at the Christmas Markets in Vienna
Everyone is going to have different wants and needs when it comes to purchasing goods from the Vienna Christmas markets, but there are a few token gifts that you'd be remiss to overlook!
Snow Globes – Did you know that snow globes originated in Vienna? You can pick up an authentic part of this history by buying one of these fun & original snow globes. They're available at almost every Christmas market in Vienna.
Xmas Tree Decorations – Everything from delicate glass baubles to dried orange and clove string ornaments are available. Take some home as a lasting reminder of your time in Vienna during Christmas.
Children's Toys – From gemstone filled treasure chests to handmade wooden baby toys and engineer-designed mechanical toys, there's something for every young traveller to enjoy.
Woollen Goods – Feet feeling a little nippy? Never fear as you can find woollen socks and slippers galore at the various markets. Of course, there are scarves and hats too if you find yourself unprepared for the near-freezing winter temperatures.
Candles – One commonality of all the markets is the range of heavenly scented candles on display. Pick up simple beeswax taper candles, or splash out on some aromatherapy candles for your home.
Ceramics – From brightly handpainted teapots to refined and elegant dinnerware, you'll find a large selection of ceramics available. Why not pick up a gorgeous mug and have a daily reminder of the Austrian Christmas markets with your morning cuppa?!
---
What to Eat & Drink at the Vienna Xmas Markets
The markets aren't just a feast for the eyes, they offer a literal feast too, in the form of delicious snacks and beverages. Try some of the typical offerings below.
Punch (punsch) – An obvious choice, but a deliberate one. You simply haven't had the full Xmas market experience without having a hot mug of punch between your mittens. Flavours will vary and it's worth trying at least a few variations. Be careful that it does pack a punch though! Kinderpunsch is a non-alcoholic version available for children, drivers, or anyone who wants to partake, minus the next-day hangover.
Mulled Wine (glühwein) – Not as popular as punch, but a staple nonetheless, it's a warming drink that will get you into the festive spirit.
Krapfen – You'll know them as donuts, but they could take on several different forms – all of them delicious.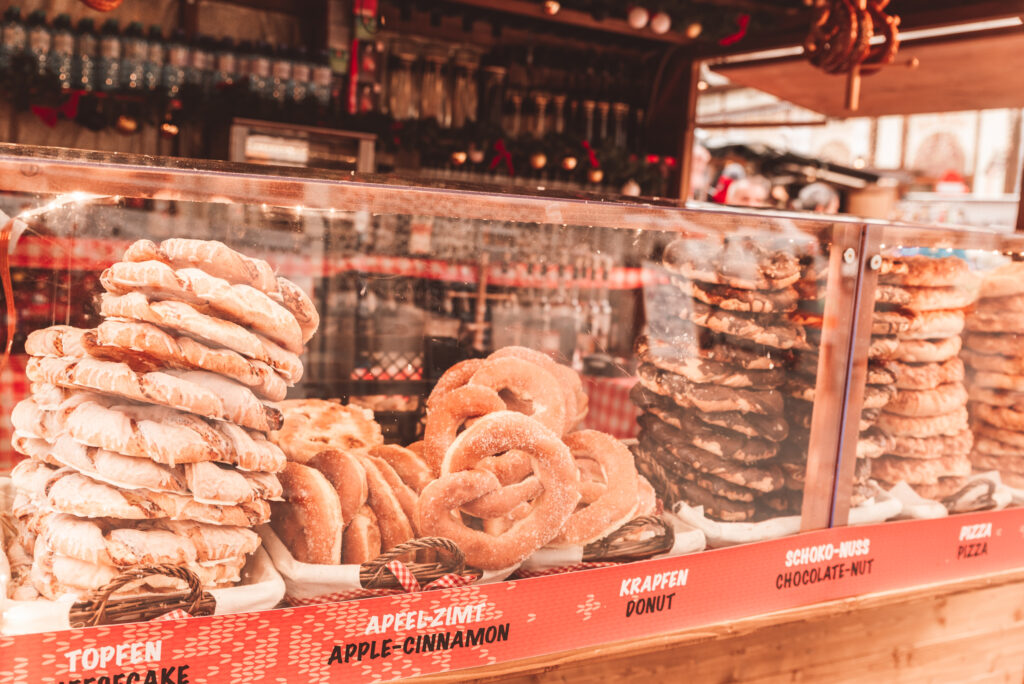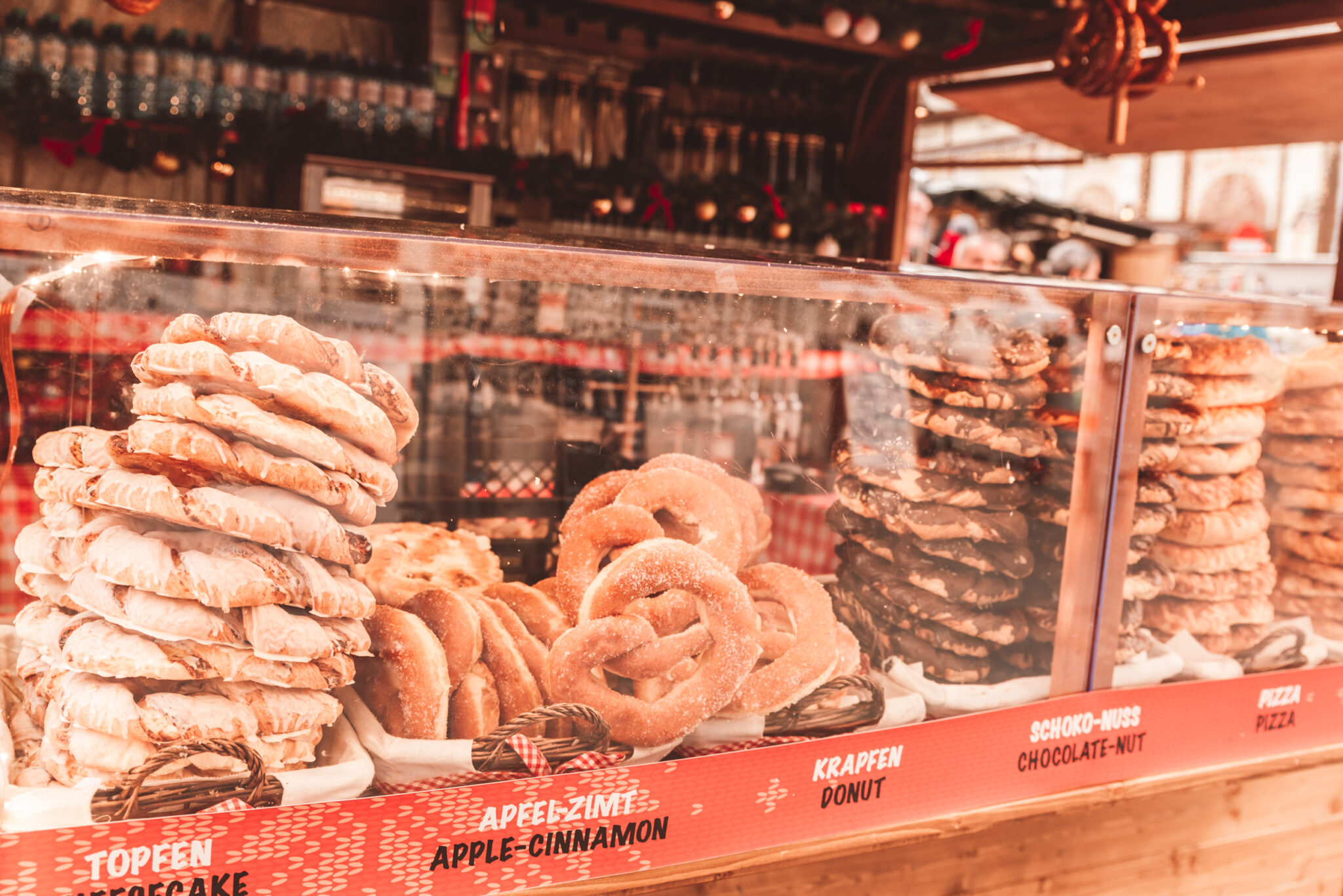 Bratkartoffel – Pan-fried potatoes never tasted so good as they do when eaten at a winter market.
Soup in Bread – Sound weird? It really is. But don't knock it till you try it. You'll be served up a whole round loaf filled with the delicious creamy soup. Just the thing to warm your insides.
Chimney cakes (baumkuchen) – Originating in Hungary, but loved everywhere, these warm baked cinnamon-spiced treats are too good to pass up.
Potato spirals – I waited in line about an hour at one of the markets for a cone of what are, essentially, just potato chips. But my goodness, it was worth it. Warm and crispy, and sprinkled with salt, they're the perfect winter treat.
---
Tips for Visiting the Vienna Christmas Markets
There's not too much you need to know about visiting the best Christmas markets in Austria. But a few simple tips will help ensure there are no nasty surprises.
Mug hire – When buying punch or mulled wine from the market stands you'll be asked to pay a 'deposit' for your mug. You can then refill this same mug many times. Simply return it when you're done and reclaim your cash, or keep the mug as a cute and inexpensive souvenir.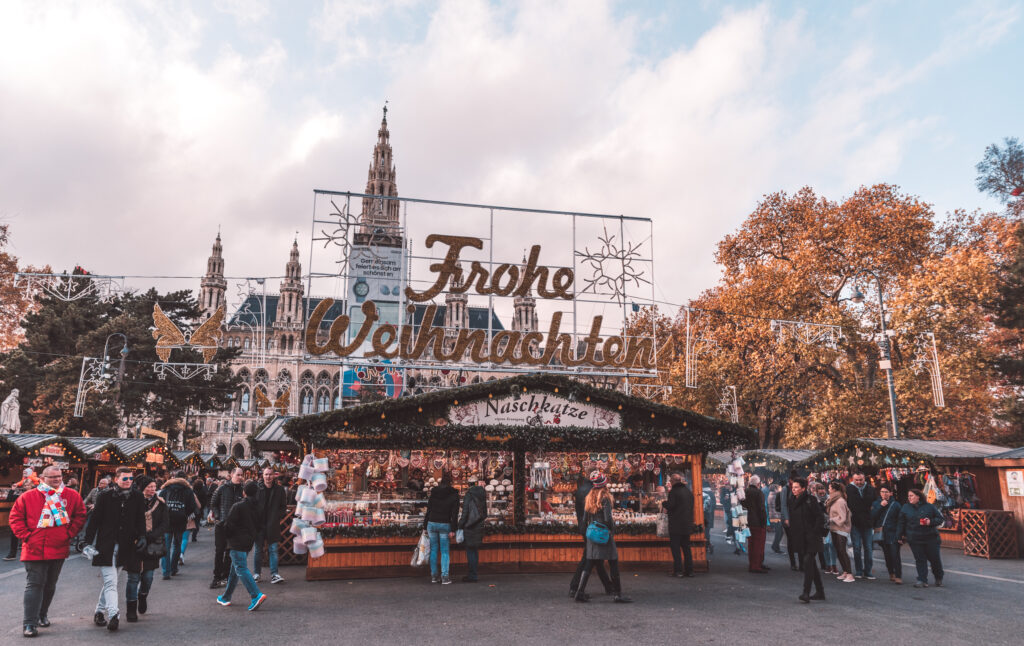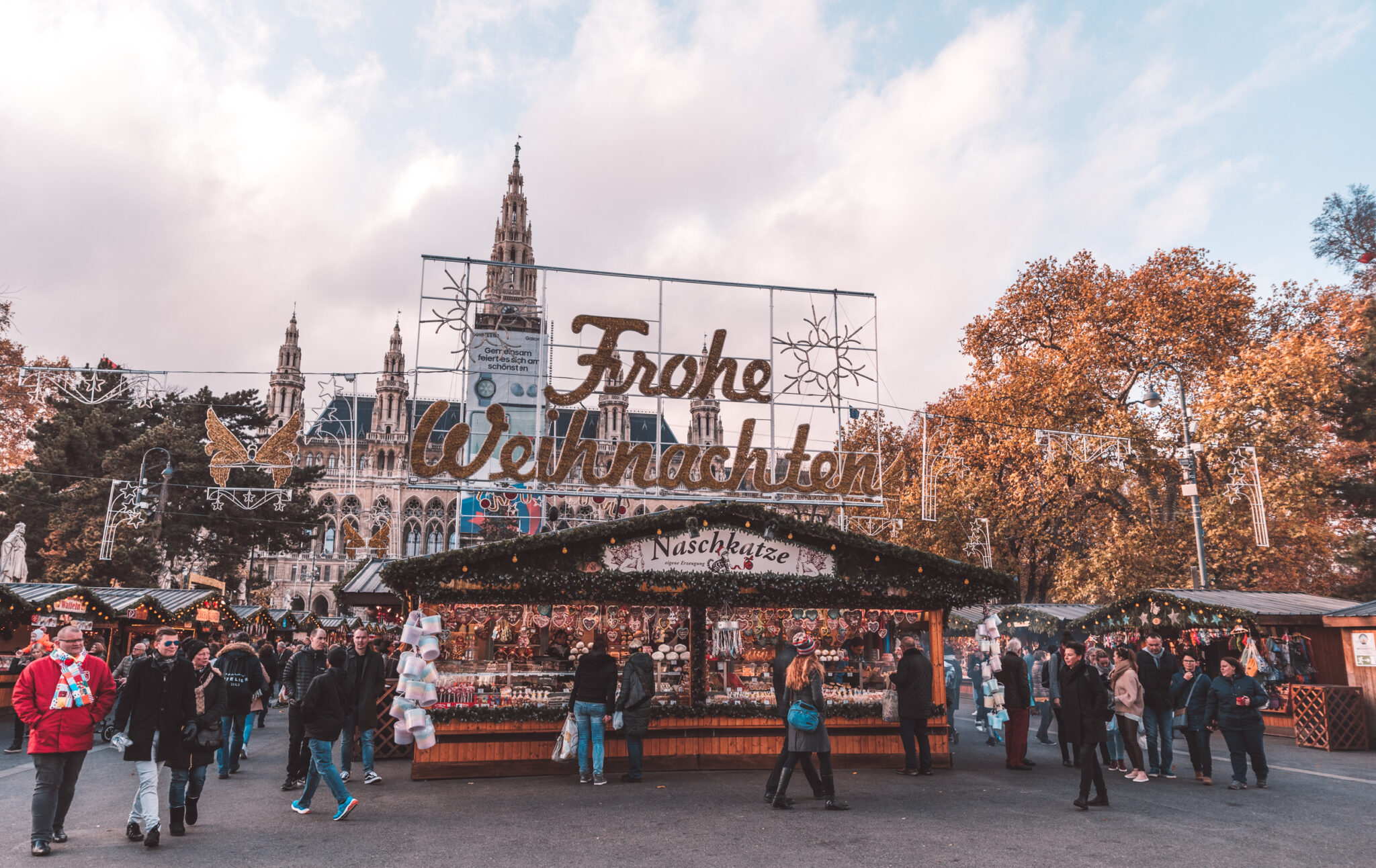 Take cash – Don't be caught short (like I was) when shopping at the best Vienna Christmas markets by making sure you have enough cash on you. Some vendors will accept cards, but many won't, so it's best to have enough on hand. Some of the markets have portable ATMs on-site, but they'll charge you more than your usual bank to withdraw cash.
Wrap up – You can always buy an extra scarf or hat (see above re what to shop), but it's best to come prepared for the cold. As the sun goes down, so too do the temperatures, so wrap up warm.
Wear comfortable shoes – Wandering around the streets aside, it's rare to see seats at the Vienna Christmas markets. High 'leaners' are a more common sight. So be prepared to spend a fair amount of time on your feet, and wear appropriate footwear.
Take a tour – Not confident to go it alone, or simply want an insider's take on the markets? Consider booking a tour before you leave home. Airbnb offers small group tours led by a local guide, like this Vienna Christmas Walking Tour, or you can browse the options below.
---
When to Visit the Vienna Christmas Markets
Most markets run from mid-late November through to Christmas Day. From the 26th December, many continue by morphing into winter / New Year markets.
December is the most obvious time to visit, however, it's also the busiest. So I'd suggest aiming for late November or early December to avoid the peak season.
This way you can enjoy the late Autumn colours around the city, take advantage of slightly cheaper airfares and accommodation prices (see below on where to stay), and get all your Christmas shopping done well ahead of time.
---
Other Things to do in Vienna in Winter
As well as the excellent Christmas markets above, there are a few other festive events and activities to enjoy around Vienna in winter.
VISIT THE WINTERMARKT AM RIESENRADPLATZ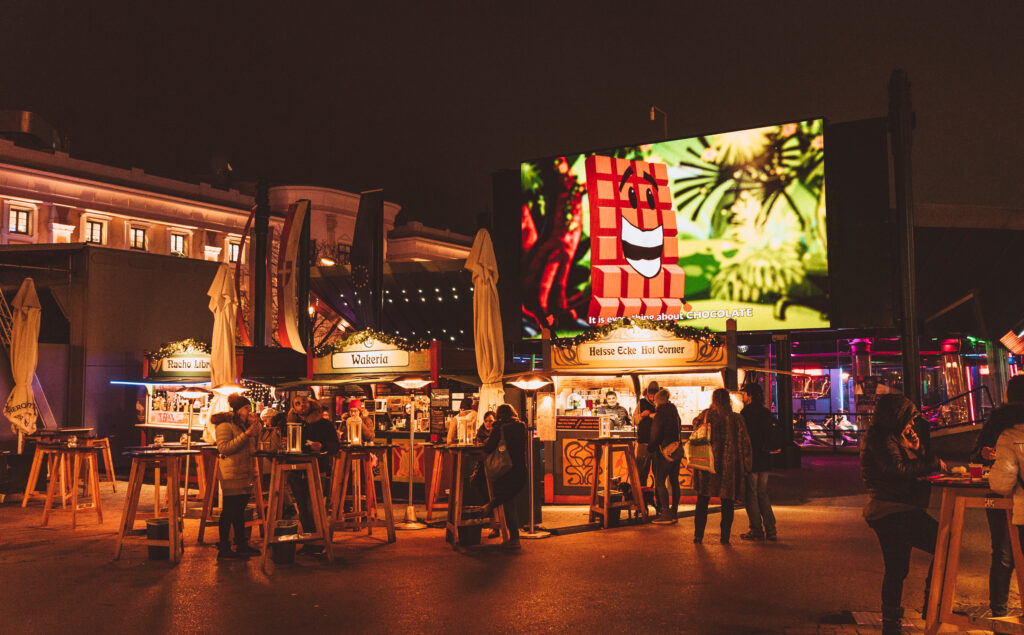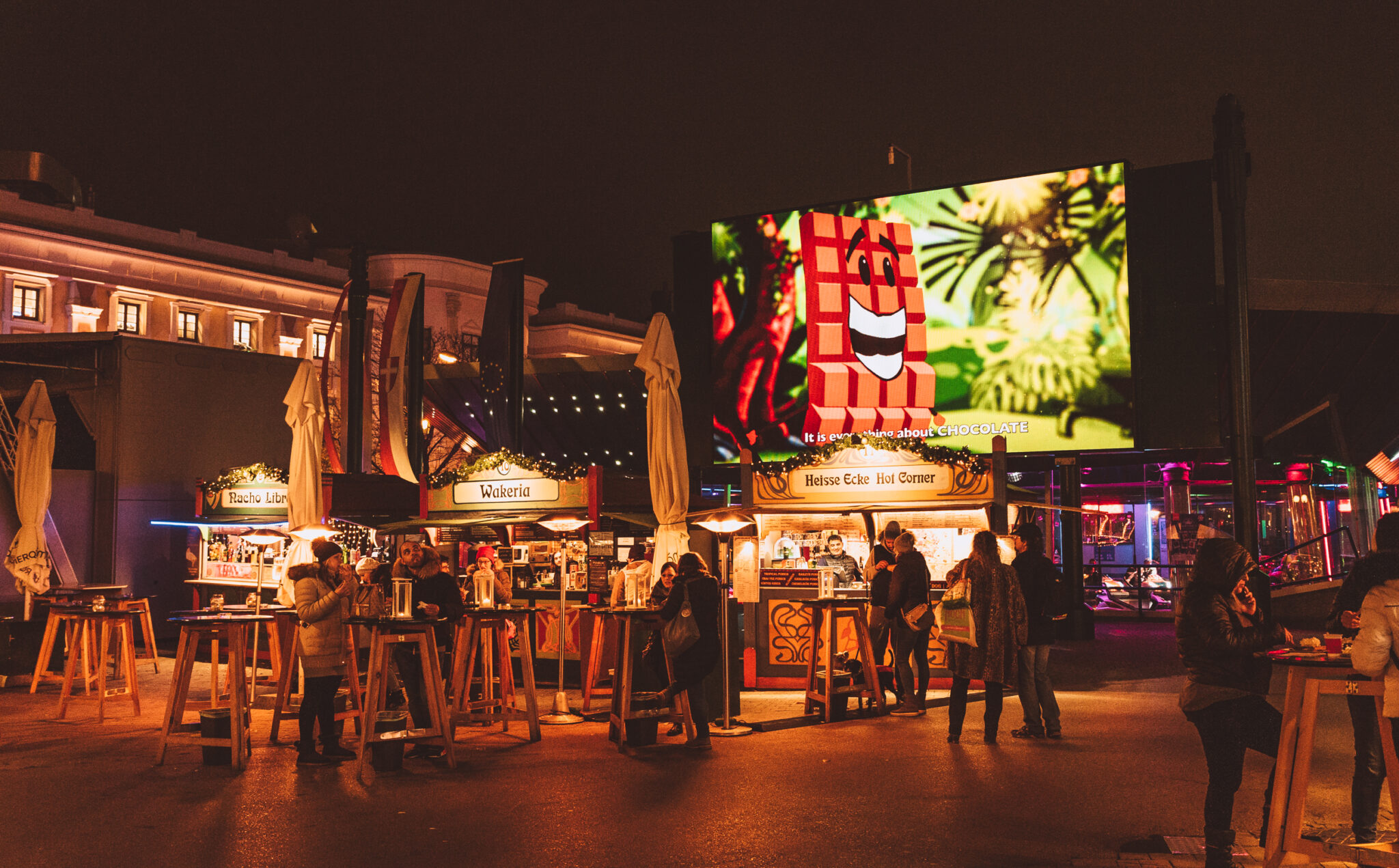 Not your traditional Christmas market in Austria, the Wintermarkt am Riesenradplatz is more like a Christmas fair or festival combined with an amusement park. If you've got little ones with you, this will probably be right up their alley!
Grab dinner at the market stalls and let the kids loose on the ferris wheel, dogem cars, or flying chairs. Meanwhile live entertainment will keep the adults entertained on Thursday, Friday and Saturday evenings. Also, keep an eye out for the annual Perchten Parade – a terrifying spectacle, but a memorable one!
SEE THE ICONIC 'BOW BUILDING'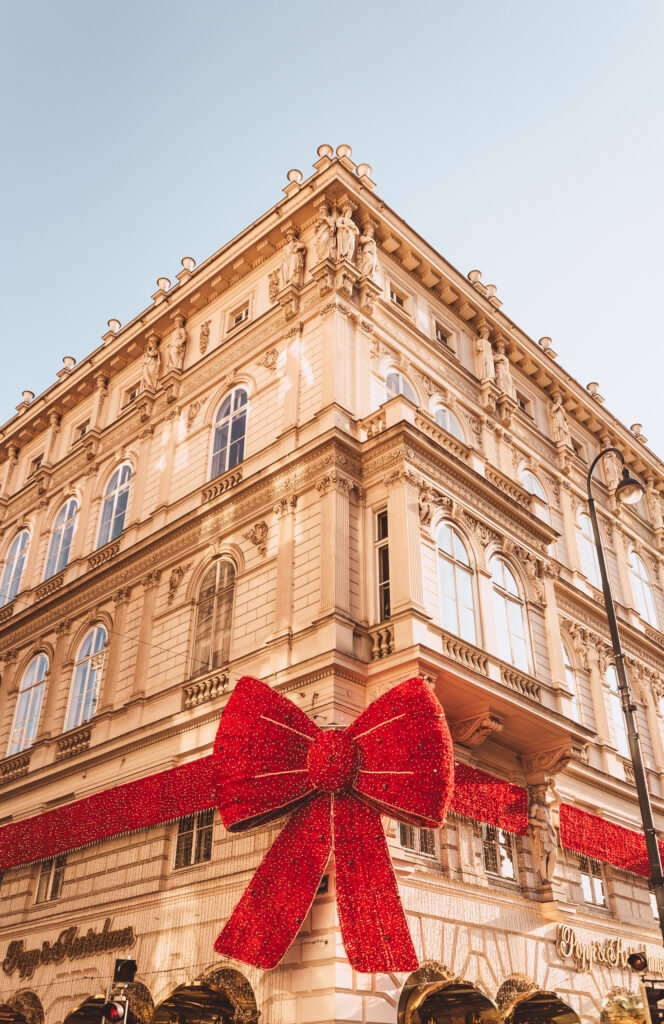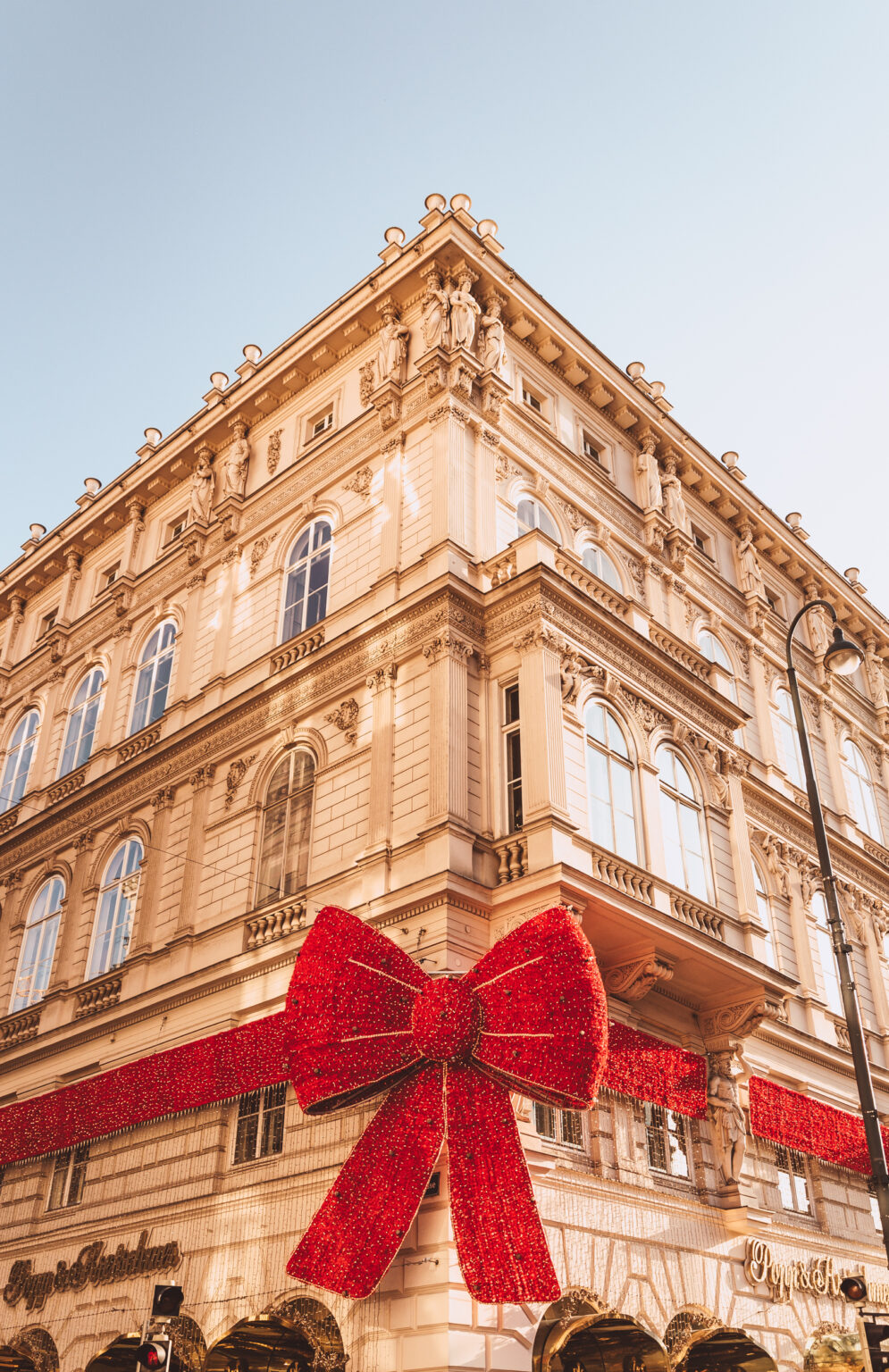 Come Christmas, luxury clothing store Popp & Kretschmer adorns their already pretty façade with a giant sparkling red bow. It's a fun and festive sight, so search it out at Kärntner Straße 51.
CAFÉ HOP AROUND THE CITY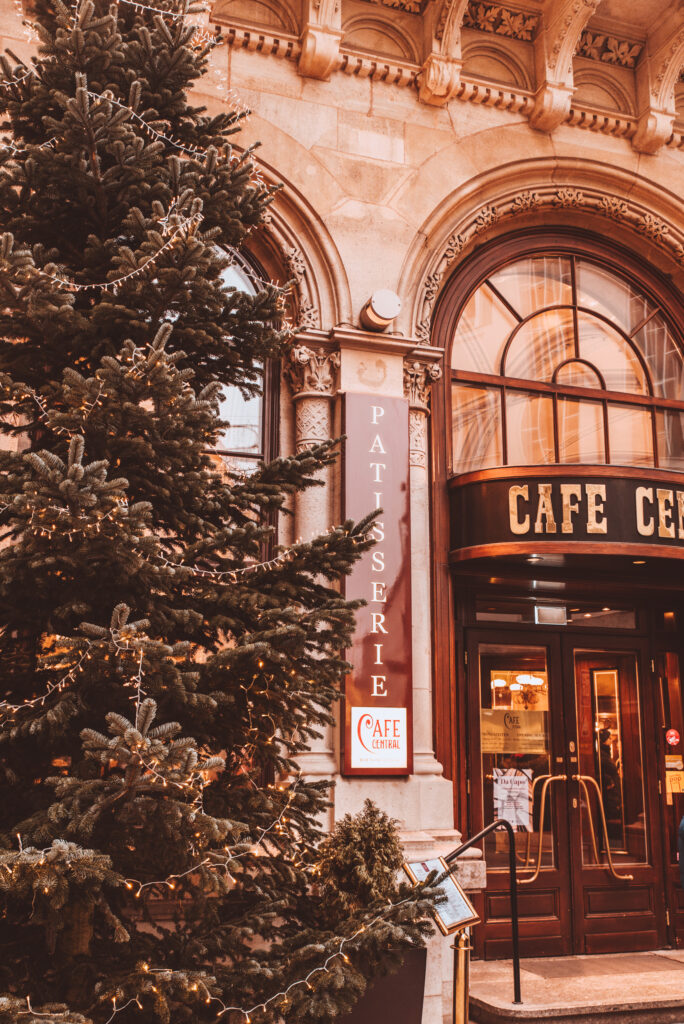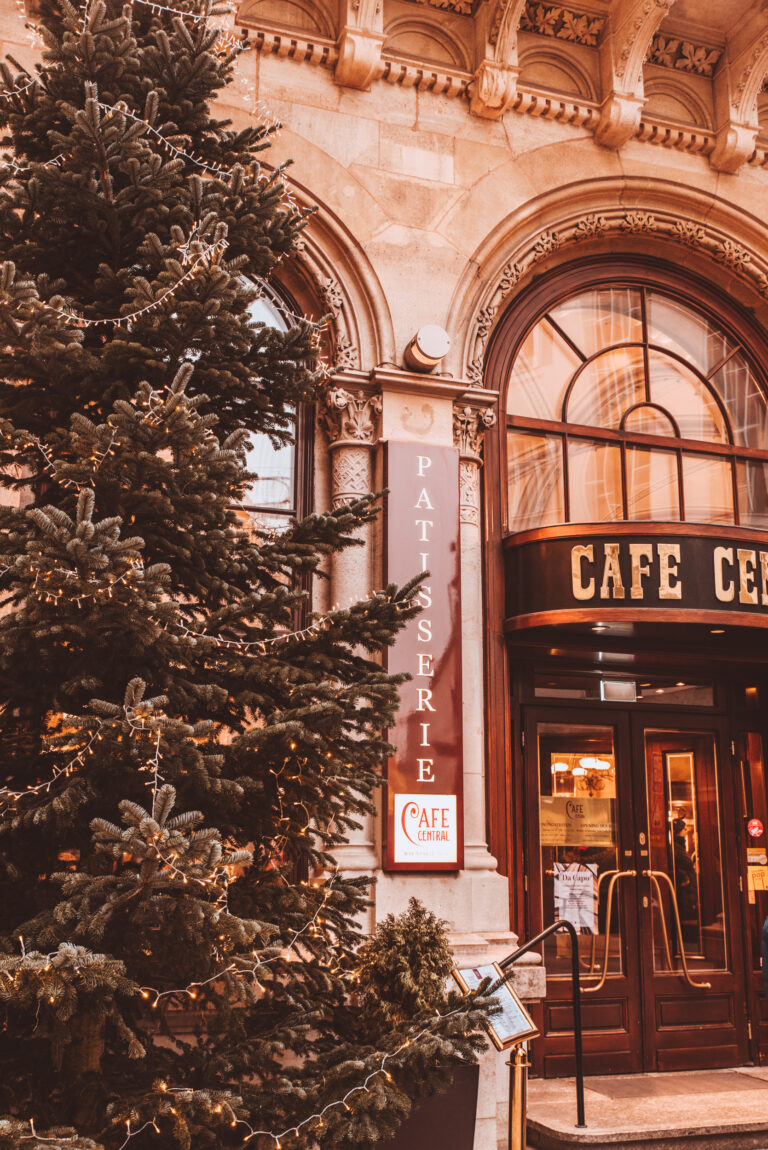 Ok, so Vienna's famous coffee & cake houses aren't only a winter activity, but you'll appreciate the warmth and experience all the more at Christmastime.
Head to one of the most traditional establishments such as Café Sacher, Café Central (pictured above), or Café Gerstner for the typical experience, or try one of the more unconventional establishments such as Vollpension.
STROLL AROUND THE CITY STREETS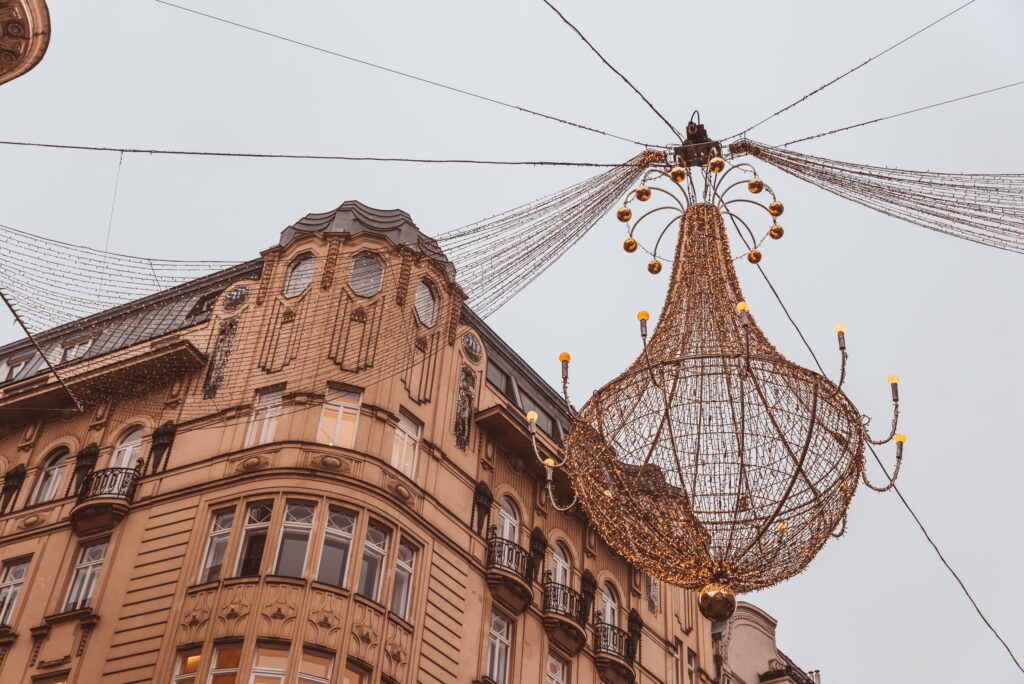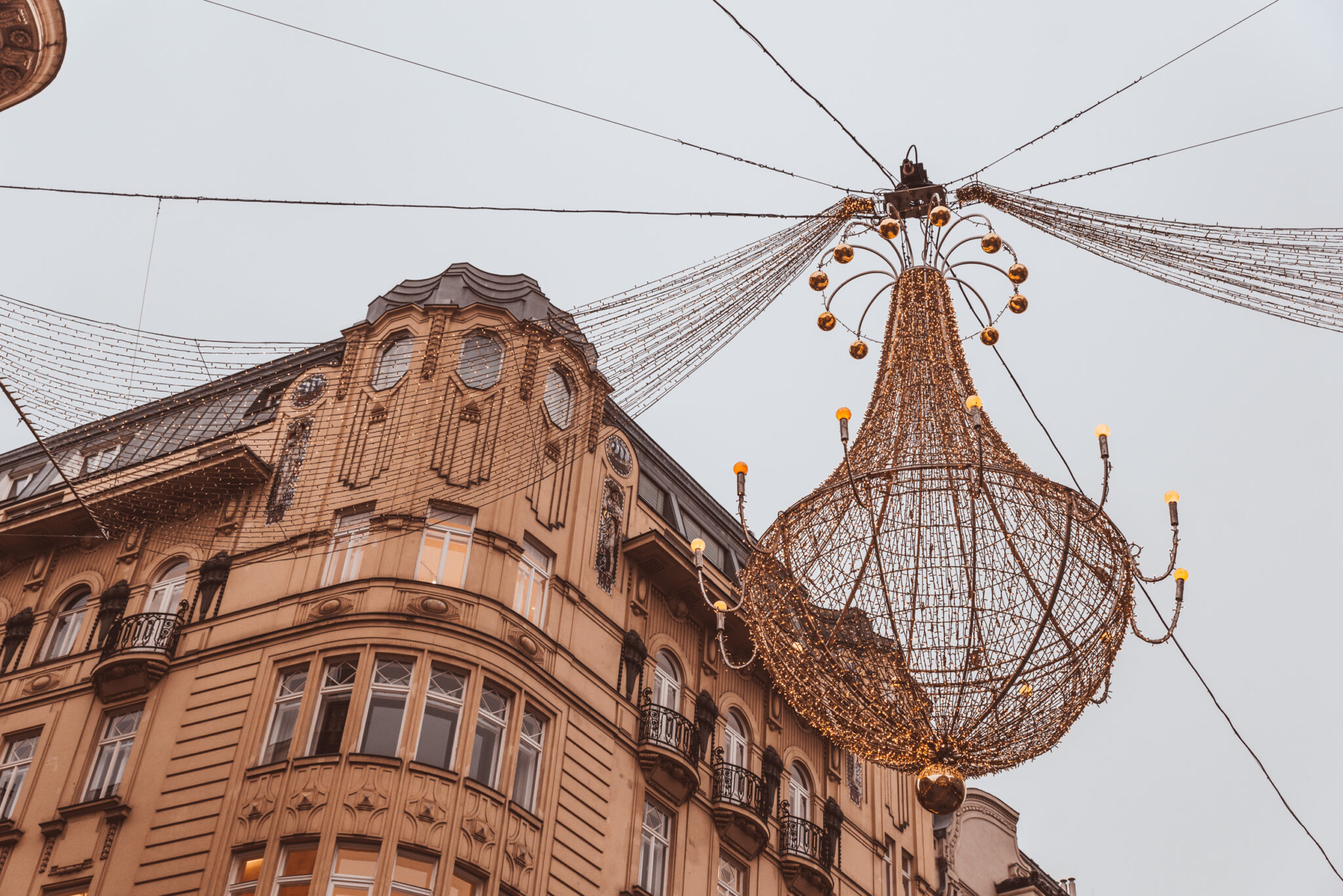 At Christmas, Vienna's shopping streets are lavishly decorated and a joy to wander around. The decorations vary throughout the city, so be sure to keep an eye out and choose your favourite style.
But also look beyond the twinkling lights to take in Vienna's fabulous architecture. It's truly like walking through an elaborate illustration.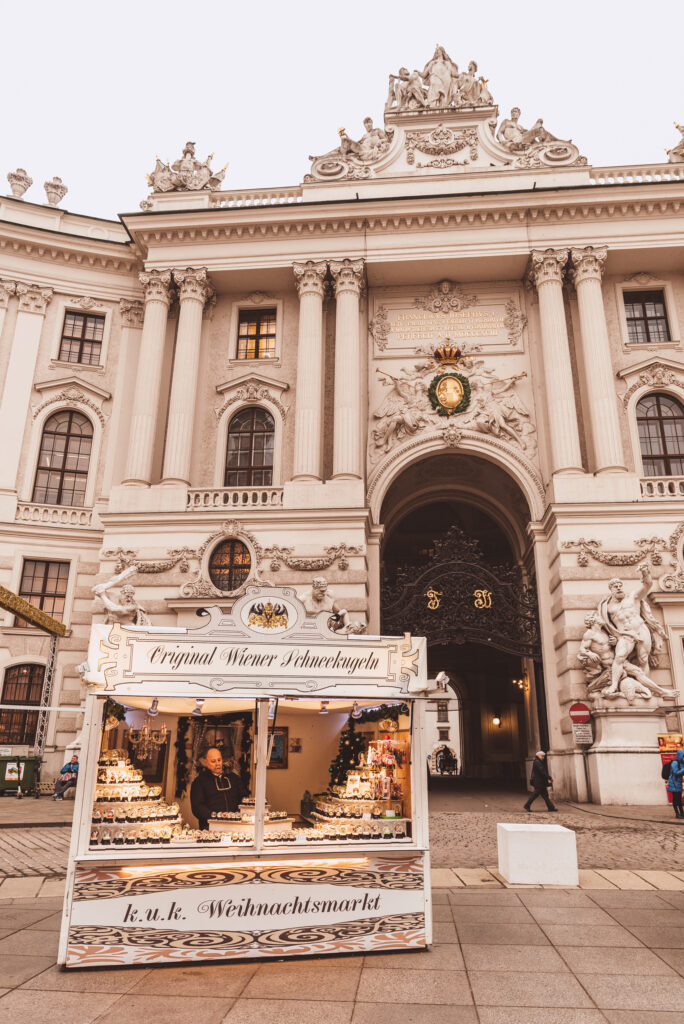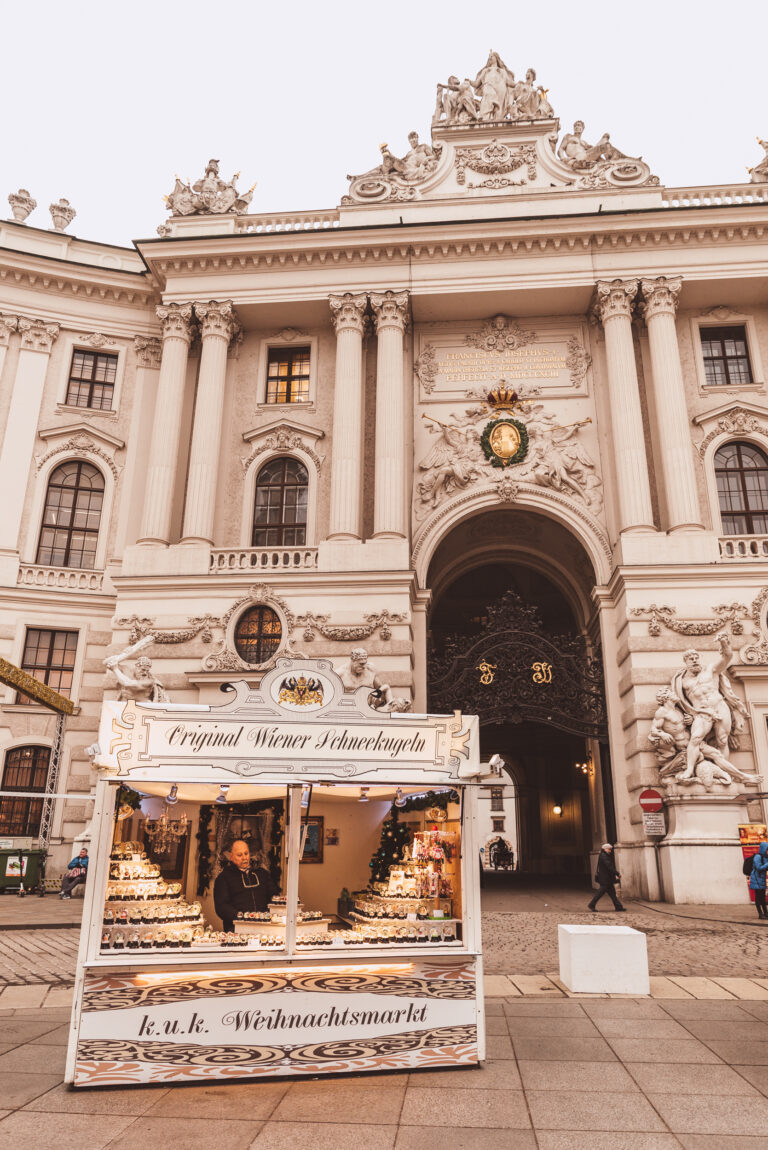 Grand palaces, towering cathedrals, and baroque buildings all fight for your eye's attention as you wander around the city.
VISIT THE IMPERIAL BUTTERFLY HOUSE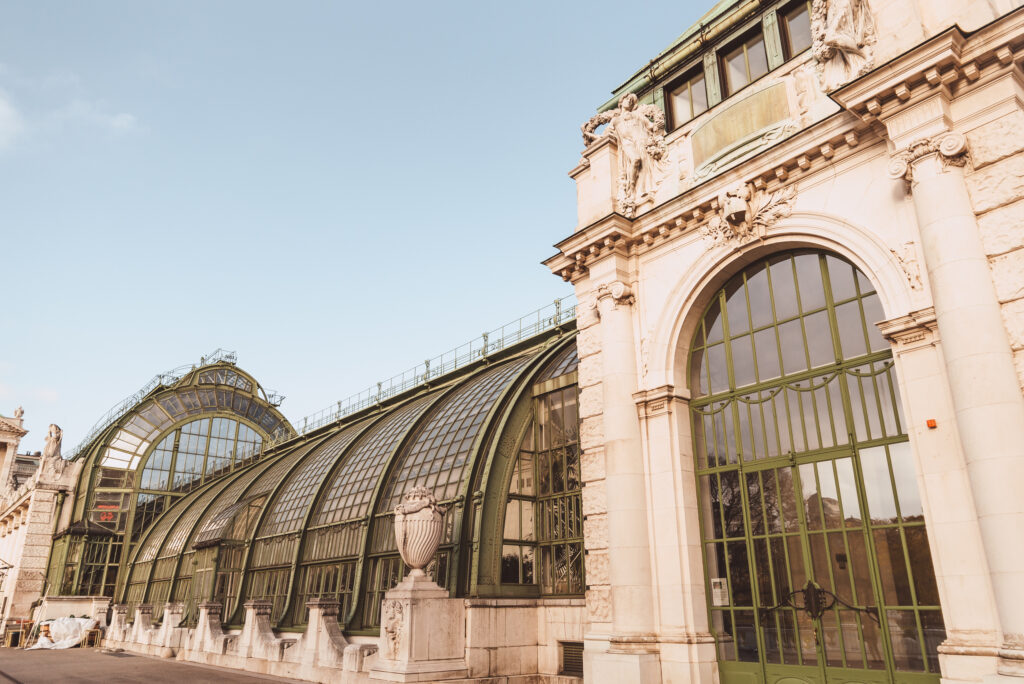 Not only is the Butterfly House a fascinating place to visit, but it also offers respite from the cold. The balmy 27°C temp, combined with the abundant greenery and exotic butterfly population, transports you to a tropical paradise.
Located beside the Burggarten, it's also just a short walk from the 'Bow Building' (above) and a hop, skip, and a jump from the Christmas Market at Maria-Theresien Platz.
---
Best Area to Stay in Vienna for Christmas Markets
Vienna benefits from a fantastic transport system which allows you to stay outside of the city centre and commute in if you wish. In saying that, the convenience of staying central is a major drawcard for most, as you'll also benefit from being in the heart of the action.
Here are my suggestions for hotels near Christmas markets in Vienna, Austria.
Unbeaten on location and elegance, the Park Hyatt Vienna offers a luxurious stay in the heart of the city. Walk outside the front door and you'll be greeted with the Am Hof market right on your doorstep! Stephansplatz market, Maria-Theresien Platz market, Spittelberg and The Vienna Christmas Dream are all just a short walk away also.
Check prices and availability here.
Upmarket and with a modern twist, this gorgeous hotel offers affordable luxury in the central city. Located just a short walk from the Karlsplatz Christmas market and Belvedere Palace, you'll have all the festivities right on your doorstep.
Check prices and availability here.
The perfect choice for budget travellers or those going it alone, the Hotel Domizil offers incredible value for money. The rooms exude old-world charm, and you'll be positioned just steps away from the Stephansplatz market and shopping streets.
Check prices and availability here.
---
Visiting the Vienna Christmas markets is a special experience that you'll cherish for years to come. From the uniquely authentic offerings to the tasty gourmet treats, and the festive atmosphere throughout the city, you'll want to come back time and time again!
Related Reading: Prague vs Vienna – Which City is Better or for Visitors?
Pin this for later!