Clap, clap, Bula! The half coconut shell holding my offering of kava is handed over. It's brown, tepid, and tastes like the contents of a muddy puddle. Although I'm in no hurry to drink it again, I'm careful not to offend the men who have made us welcome in their village. I respond with a smile and 'not bad' when asked how I like it.
We've been invited here to drink kava by the Village Chief – who moonlights as a Fiji village tour guide at the Shangri-La Fiji, where we're staying for the week.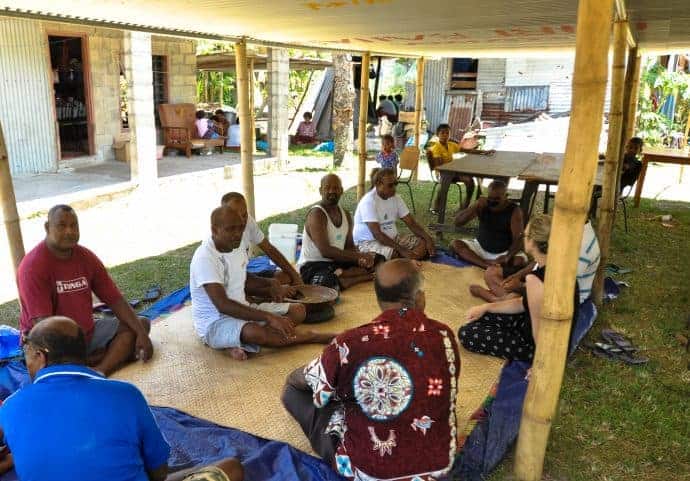 Today, there are only two guests on the tour – my husband and I. So instead of the usual rickety tour bus, we get shown around the island in a (mercifully) air-conditioned taxi.
Pacific Green Showroom
Our first stop is the light and airy showroom that showcases Pacific Green furniture. We are presented with a short video and learn that the unique and individually handcrafted furniture on display is not only beautiful; it's also extremely eco-friendly. They use only sustainable products, such as Palmwood – the hardwood of Palm trees that are no longer producing fruit.
Before Pacific Green started recycling palm trees, they would often end up in landfills on the island. Eco credentials aside, I'm also impressed that they help the local people and economy by employing only locals at the Fiji factory.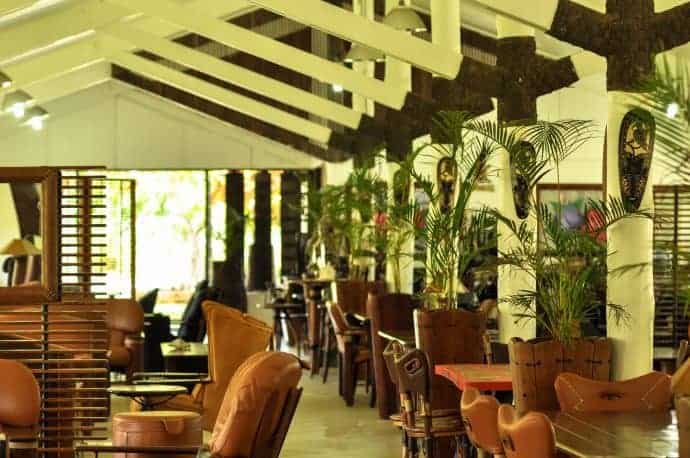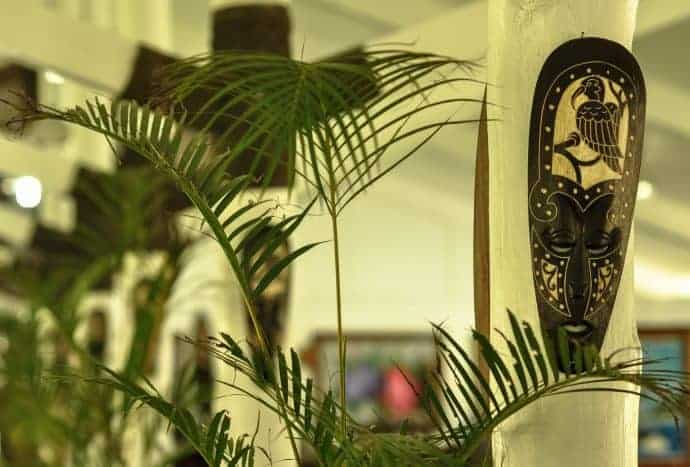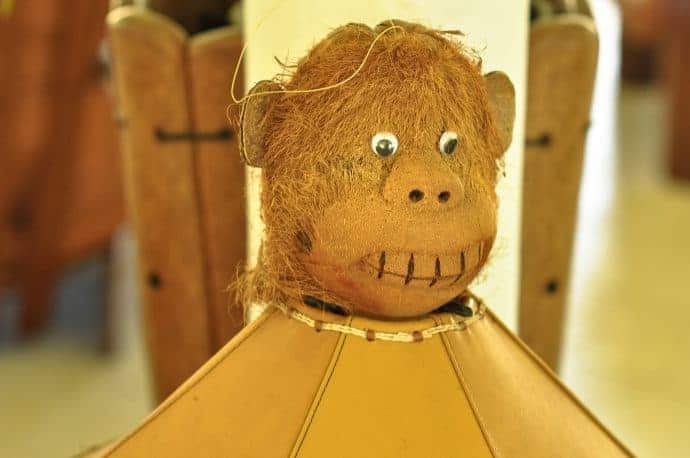 Fijian Village School
The next stop on our tour is the village school. Class is in full swing and our guide leads us to a small classroom at one side of the large rugby field. The teacher introduces us to the class of 5-6 year olds and explains what the children are learning.
Today, it is a lesson about traffic lights and road safety. There are no traffic lights in this village, so to many of the children, this is the first time they have become aware of the concept. She explains to us that before entering school, many children here don't have any education so there is a lot of catch-up work to do.
We present our gifts to the students and I immediately wish we had more to give. The adorable kids thank us by singing us a song that we recognise immediately – twinkle, twinkle, little star.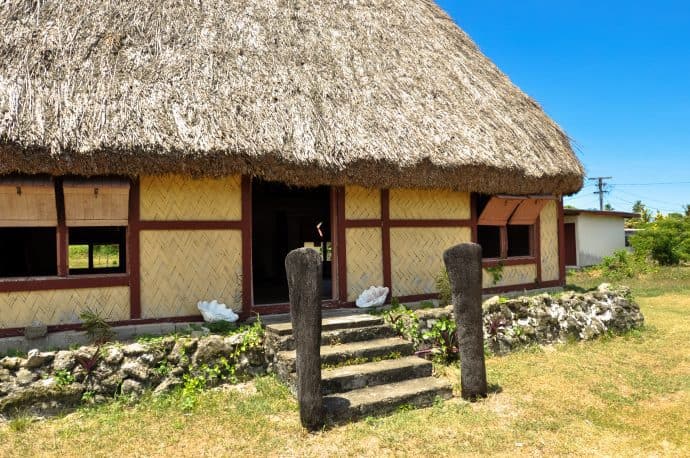 Fijian Village Life
From the school, we head to the Chief's village. He explains that it is one of the larger villages in this part of Fiji. It has a village kindergarten, community hall, and large bure – which offers a cool contrast to the scorching temperatures outside.
We wander through the village – past lazy dogs seeking shade under palm trees, and chickens running freely – to the village kindergarten. Again I'm struck by their basic (but cheerful) surroundings and I think of all the 'excess' our son has back home. I wish I'd had the foresight to bring some donations with us.
With some prompting from their teacher, the small group of children sing us songs. Some of the children are shy and others boisterous – one of the youngest boys is rubbing his tired eyes. We are told he's not kindergarten age yet, but loves to follow his sister here. I wonder what they think of these foreigners who come to visit…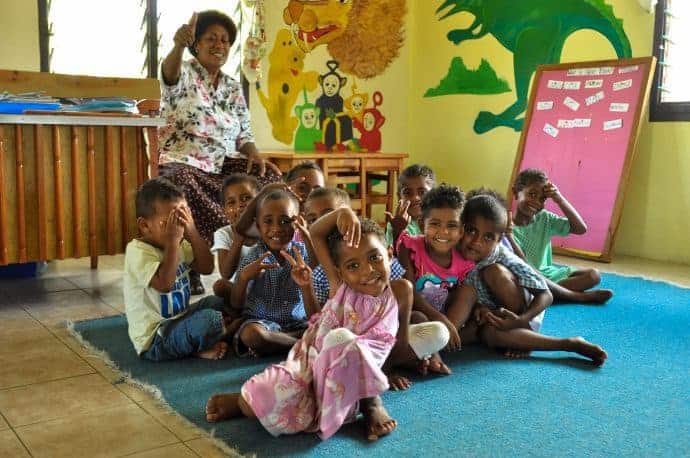 When we leave the kindergarten the Chief calls out to his sister-in-law to bring us fresh mangoes from the tree. They are deliciously juicy and ripe – nothing like the watery mangoes I've bought from supermarkets back in New Zealand. We then join the circle of village men sitting under a makeshift awning for some Kava. Behind our circle, I can see the women of the village preparing a meal in large vats over an open fire. Children play at their feet while they peel potatoes and chat animatedly.
We learn that the villagers here support each other, with those who work sharing their wealth and those who don't work helping out in other ways. No one is 'wealthy' here – but they are rich in community values and tradition. Thank you to the people of Fiji for being so welcoming and for giving us a glimpse into your lives. Bula!
Going on a Village Tour in Fiji? Here are a few things you should know:
Hats should not be worn in the village.
Women should wear clothing that covers their knees and shoulders.
Do not touch anyone on the head (including children).
Do not visit a village uninvited, and don't wander around on your own.
Always ask permission to take photos prior to taking them.
If visiting a school, take stationery supplies or something fun for the kids and/or teachers (this is not mandatory, but is always appreciated). Please do not take lollies (candy) due to high diabetes rates and low access to dentistry.
Be sure to check out my Fiji packing guide for more Fiji holiday tips!
Pin this!