Blue skies, golden sand beaches, perfectly positioned palm trees and Instagram-worthy sunsets – who wouldn't want to go on holiday in Fiji?
There's more to Fiji than its beaches though (as perfect as they are!). Our Fiji packing list has been designed to make sure you can experience the best of what the country has to offer – whether you're visiting Fiji for adventure or relaxation.
Read on to find out what to pack for Fiji!
---
What to Pack for Fiji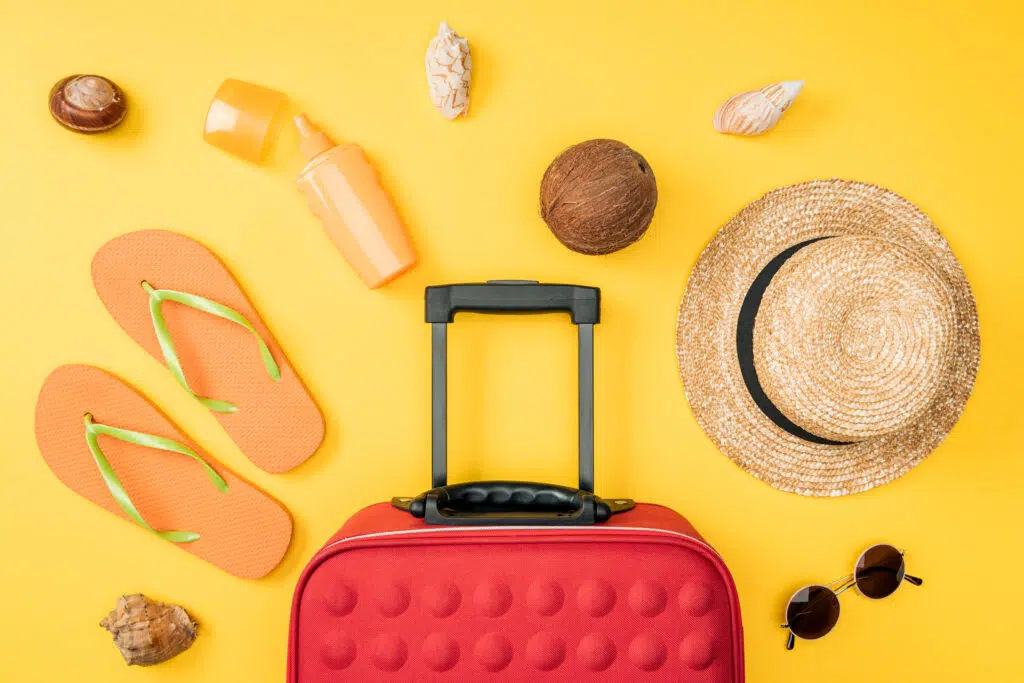 Hat / Sunscreen / Sunglasses
Sorry to be Captain Obvious here. However, the sun in Fiji can be especially fierce – so make sure you don't forget the essentials.
Sunscreen is pretty pricey in Fiji and you'll need to use a fair bit of it – just make sure it's a reef-safe variety!
Hats are a necessity on the beach, but if visiting a local village, ditch it in favour of sunscreen as it's considered insulting to Fijians to wear a hat in their village. Pack a foldable one so it takes up less space in your luggage.
Sunnies will be your saviour when you head out on the water – those sparkling waters deserve to be seen, not squinted at!
UV Protecting Swimming Goggles to protect your eyes while you're in the water too.
Insect Repellent
Trust me, you don't want itchy bug bites ruining your holiday! Insect repellents with DEET have been proven to be very effective against mosquito bites. But when used with sunscreen they can decrease the effectiveness of the sunblock by up to 40%!
I prefer to go for something with more natural ingredients, such as this one by Repel. Alternatively, if you don't dig putting anything on your skin at all, you could try a portable repeller or a repellant wristband.
Reef Shoes
Although the name is misleading (you don't want to be walking on the reef as it's incredibly damaging for the coral), reef shoes can come in very handy.
Grab a pair of inexpensive reef shoes for avoiding cuts from sharp rocks, lurking marine critters, or accidentally scraping your feet on live coral while snorkelling.
Snorkelling Gear
If you're staying at a resort, they will most likely have snorkelling gear you can hire or borrow, but it's impossible to know beforehand what condition it will be in. If you've got the space, I'd recommend taking your own so you're sure to have a set that fits – and you'll know it's clean!
Swimwear
With all the swimming you'll be doing – consider taking two pairs of swimwear if you hate getting into damp togs!
Although bikinis look great on the beach, they aren't so practical for water-sports like snorkelling or windsurfing when you'll be wanting something a little more… stable!
Stationery/ Gifts
If you plan on doing a village tour in Fiji or visiting a local school, it's a nice gesture to come armed with small gifts or stationery. If staying with a local, bringing some Yaqona (kava) will always be appreciated, as will stationery supplies for the children or teachers at the school.
First Aid Essentials
With any luck, you won't be needing this one, but simple first aid supplies can be hard to find in Fiji – and even harder on the outer islands! They're also pretty expensive.
So take some essentials with you such as panadol (paracetamol), band-aids and a tube of antiseptic cream or tea tree oil for cuts or mosquito bites.
Walking Shoes
There are some fantastic hiking trails and walks in Fiji that you don't want to miss out on because you don't have the right footwear! To make the most of the stunning waterfalls and national parks you will need footwear with good support and grip.
Casual Loose Clothing
While resorts are fairly laid back when it comes to their dress code, as soon as you leave the resort you should respect the customs of the local people and dress conservatively.
When visiting a village or a church, men should always wear a shirt, and women should have shoulders and knees covered. Loose, cotton or linen clothing will be more forgiving in the hot temperatures.
Tip: Don't take only casual clothes away with you as some of the fancier resort restaurants have a smart dress code.
Camera / Underwater Camera
You're going to want to take a few snaps of your Fijian adventures – so don't forget to bring a camera! Go the extra mile and bring an underwater camera to capture the beauty of Fiji's coral and colourful fish while snorkelling or scuba diving. I love my Sony A6000 as a travel camera as it's super light and compact – perfect for throwing in your beach bag!
For underwater snaps, you can't go past the GoPro Hero series. I have the GoPro Hero5 which is waterproof – meaning you no longer have to buy a separate waterproof housing.
Team it with a wrist strap for underwater adventures and you can keep your hands free for swimming, paddling or sorting out your snorkelling gear!
If you're travelling to Fiji with kids, you may want to look into getting an inexpensive underwater camera for them too. It'll keep them happily swimming and snapping fish for hours!
Small Umbrella or Waterproof Jacket
Fiji is not immune to the odd shower or full-on downpour, especially during the 'wet' season which runs from November to April. So take a small umbrella or jacket if you plan on getting out and about despite the rain.
Tip: Despite the name – the wet season is a great time to visit Fiji. It's quieter and you'll get some great deals on Fiji flights and accommodation. We visited Fiji in February and it only rained once – overnight!
Other Fiji Travel Tips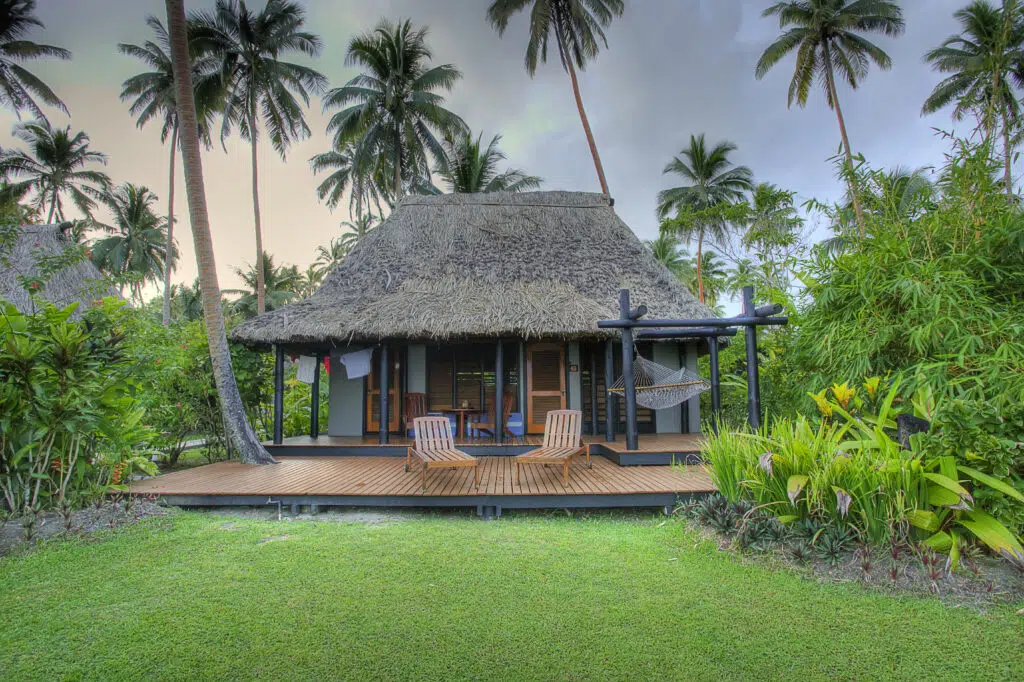 Keep in mind that domestic flights within Fiji only have a 15kg baggage allowance – so choose what to pack for Fiji carefully if you're transferring to a domestic flight.
Some food and alcohol can be brought into Fiji – but make sure you declare everything.
For more information on what can be imported, refer to Fiji Revenue & Customs.
Fiji power supply is the same as in Australia and New Zealand – three-point plug, 240 volts AC 50Hz. Buy a US adapter here.
Looking for things to do while you're in Fiji? Check out my experience of a Village Tour and Oolala Cruises in Fiji!
Pin this for later!