If you're jetting off to Europe sometime soon, it's likely that you'll want to stay connected online. It's important to be able to keep in touch with friends and family, send and answer emails and surf the internet without incurring unexpected data costs from your current mobile service provider.
The great news is, there is a way to travel without being presented with a hefty mobile phone bill at the end of your trip, and that is by using an Esim for Europe travel.
There are several Global eSim providers out there that cover almost all the European countries, therefore, it's easy to purchase a plan online to suit your needs and budget.
In this article, we will give you the low-down on the best ways to stay connected in Europe, show you the differences between buying a physical SIM v's an eSIM and let you know which countries the services are available in, the devices that eSIM's are compatible with and plan prices. Interested in finding out more? Read on…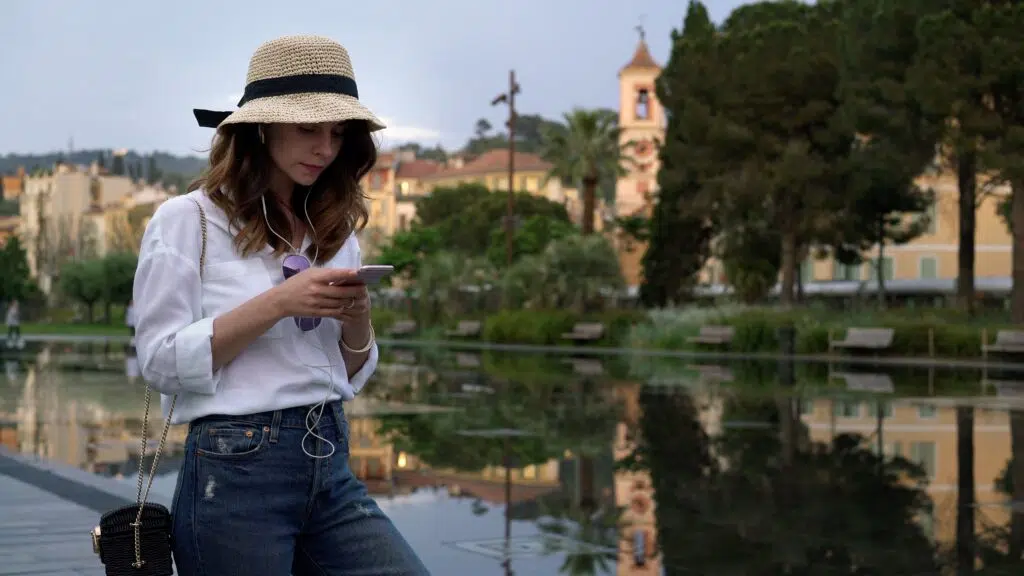 *This article is brought to you in collaboration with Holafly. Please see our full disclaimer here.
---
Why is an eSIM the best option to stay connected in Europe?
Previously when travelling to European countries for any length of time, you would either have to top-up data (very costly) on your current mobile phone plan, or it would involve finding a shop, navigating local language barriers, purchasing a physical local SIM card and inserting it into your mobile device.
However, today there is another, more convenient way to travel and stay connected. Most modern mobile smartphones and iPads are compatible with European mobile networks, but rather than having to find a shop and search for the best mobile carrier plans, many newer devices are equipped with digital eSIM capabilities and plans can be purchased online.
This means, if you're using a specific model of mobile smartphone, iPad or iWatch, you can simply log onto a website and purchase the best esim for Europe travel – no stress, no fuss.
It's a simple, easy to use process, with different data plans to suit your needs and you can even purchase your plan prior to getting on your flight to Europe, so that it's ready to activate and use as soon as you land.
Already Sold? Buy your eSim for Europe here!

Use code LELONGWEEKEND for 5% off
What does this mean?
It means no additional charges from your current mobile service provider, and you can budget accordingly depending on your level of usage, plus, if you are travelling to many European countries, the prices are the same for almost every country you visit!
The eSIM allows you to browse online like a local without ever having to worry about being charged for additional data usage, and you don't even have to remove your original SIM card, you just switch them over digitally from your device.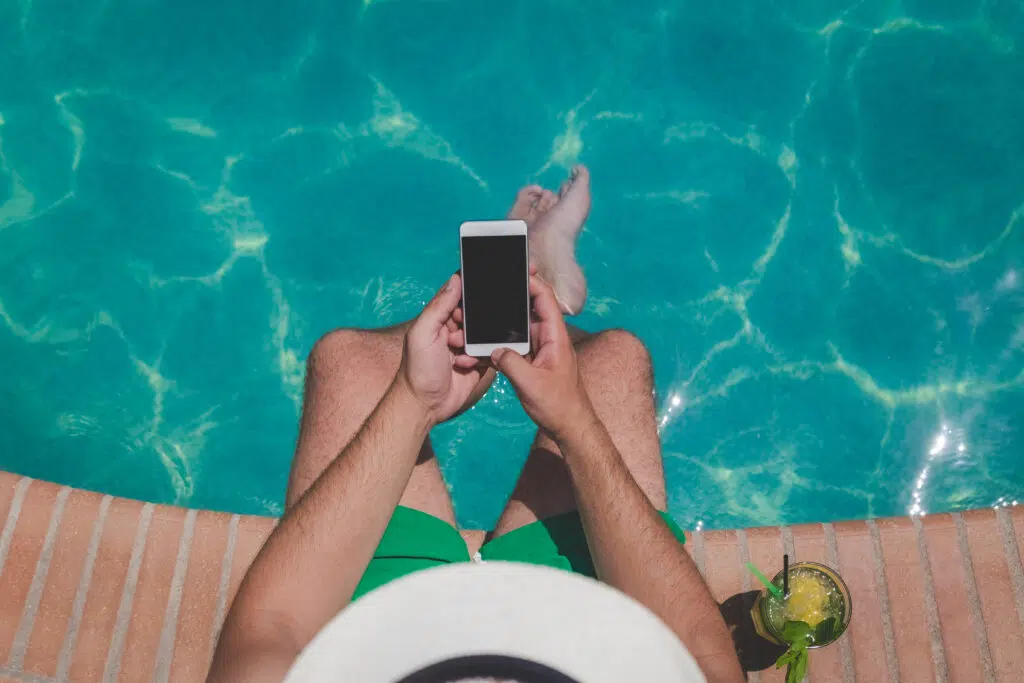 Realted Reading: Money-Saving Travel Hacks for Long Term Travellers
eSIM vs Physical SIM
If you have a mobile phone, you will likely know what a SIM card is. A physical SIM card is the small micro or mini card that slots into your device, assigning you a telephone number. It allows you to make calls, send messages, browse the internet and stream content within the limits of your monthly data plan.
Some phones are sold unlocked, allowing you to use a physical SIM card from any service provider, and others are sold with a carrier already in place as part of a package.
It sounds straightforward, but if you travel a lot, exchanging your current physical SIM card for a new one in every country you visit can become a bit tiresome.
Firstly, you have to find a store to sell you a new SIM, select a data plan from a local network provider and if you run out of data, it's difficult to increase it without purchasing another card. Not only that, but each country also has their own set of mobile carriers, so if you plan to move around different European countries, you will have to go through the entire process in every country you visit.
Then there are eSIM's. The eSIM technology is relatively new, and present in many newer smartphone and tablet models released from around 2019 onwards. There's no physical SIM card presence, with an eSIM, everything is done digitally as the capabilities are already built into your device.
You can select a Europe data plan through a provider to suit your needs and budget, purchase it online and scan a QR code and activate the plan on arrival at your destination. Simple!
As an added benefit, if your mobile device permits, you can purchase more than one eSIM plan at the same time and switch between them, allowing you to separate work and personal usage.
There are several companies out there that can help you find the best esim plan for the country you are visiting, and on return home, you simply switch back to your regular SIM and continue as usual!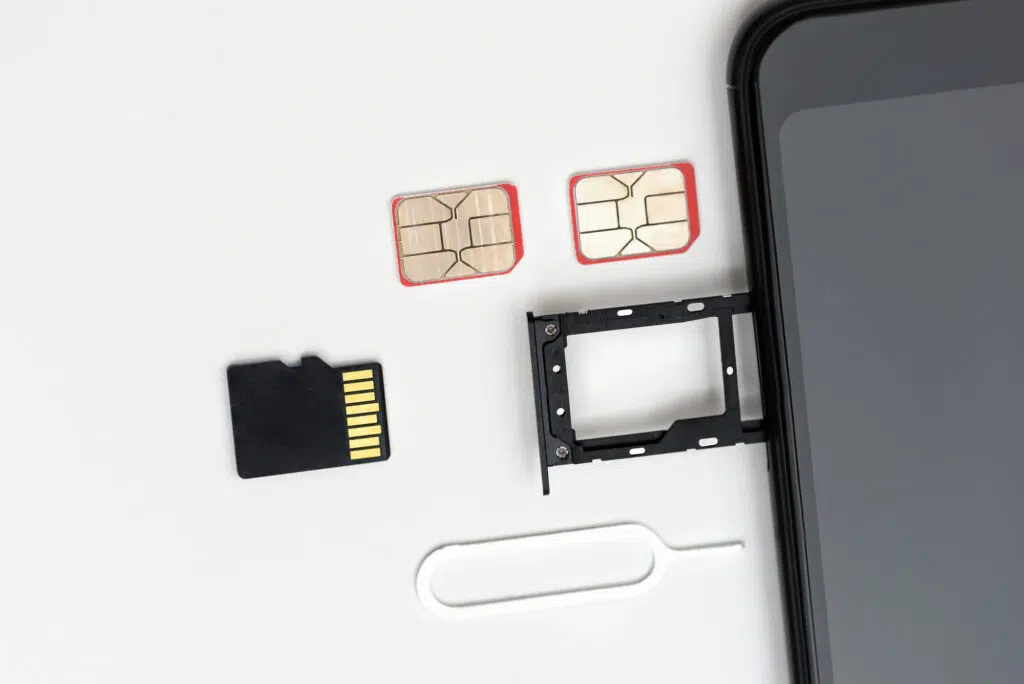 What is the Best eSIM for Europe?
Some of the best prepaid esim for Europe plans we've found are from Holafly. Their website is informative and easy to navigate, and you can purchase plans that suit your usage levels, so you always know how much you're spending each week or month.
Using an esim in Europe is easy, you just need to make sure your smartphone or tablet is compatible with eSIM Holafly, and you're good to go!
Why Holafly?
They have eSIM plans which cover 29 European countries, meaning you can seamlessly connect online when work or leisure takes you to a new city. Once purchased, the eSIM plans are delivered immediately to your device, then you simply scan a QR code before you depart on your trip and activate the plan as soon as you land.
Another benefit of using the Holafly eSIM is that you can keep your original WhatsApp number for calls and messages, and share data with family, friends or people you're travelling with. Your cellphone can generate a WiFi network and connect multiple devices together to make it happen!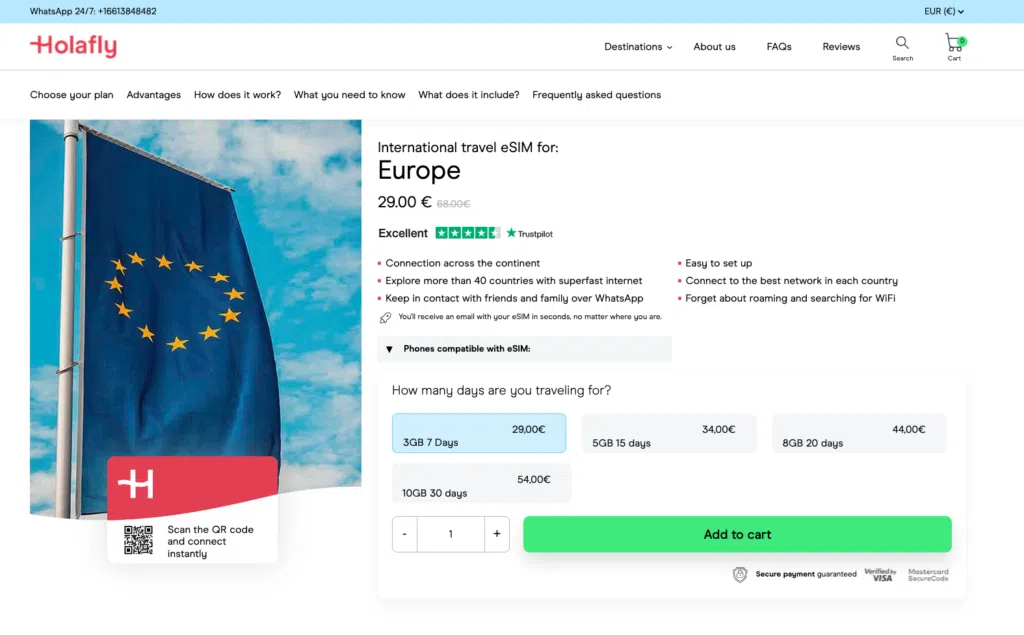 Phones Compatible with a Europe eSIM
It's important to realise that not all smartphones and tablets are compatible with eSIM's, so we've compiled a list below to show whether you will be able to purchase an Esim data plan Europe through Holafly for your current device.
Also, before purchasing, check that your phone is UNLOCKED and not tied to a specific mobile network provider.
Mobile Phones currently compatible with Holafly eSIM are:
Apple iPhone SE 2020
Apple iPhone XR/XS/XS Max 11, 11 Pro, Pro 11, Pro Max, 12, 12 Pro, 12 Pro Max
Apple iPhone 12 Mini
Samsung S20
Samsung Galaxy Z Flip
Samsung Galaxy Note 20 Ultra
Samsung Fold LTE
Huawei P40, P40 Pro and later models
Google Pixel 3, 3a (check as some don't allow eSIM's), 4, 4a and later models
Motorola Razr 2019/ Razr 5G (dual SIM) and later models
Oppo Find X3 Pro/ Oppo Reno 5A
About Apple Phones:
If you're using an Apple mobile device, you can use your regular SIM card and eSIM at the same time. Choose your regular SIM to make calls and SMS and Holafly's eSIM for browsing and data. Remember, if you leave your SIM card activated, your service provider may apply data roaming charges.
Apple iPad and iWatch models currently compatible with Holafly eSIM are:
iPad Pro 11- and 12.9-inches 3rd generation and later models
iPad Air 3rd and 4th generation and later models
iPad 7th and 8th generation and later models
iPad Mini 5th generation and later models
Apple Watch Series 4 upwards
---
How to buy a Europe eSIM?
There's no easier way to purchase an eSIM Europe data plan than via Holafly's website. Here are the simple step-by-step instructions to make it easy.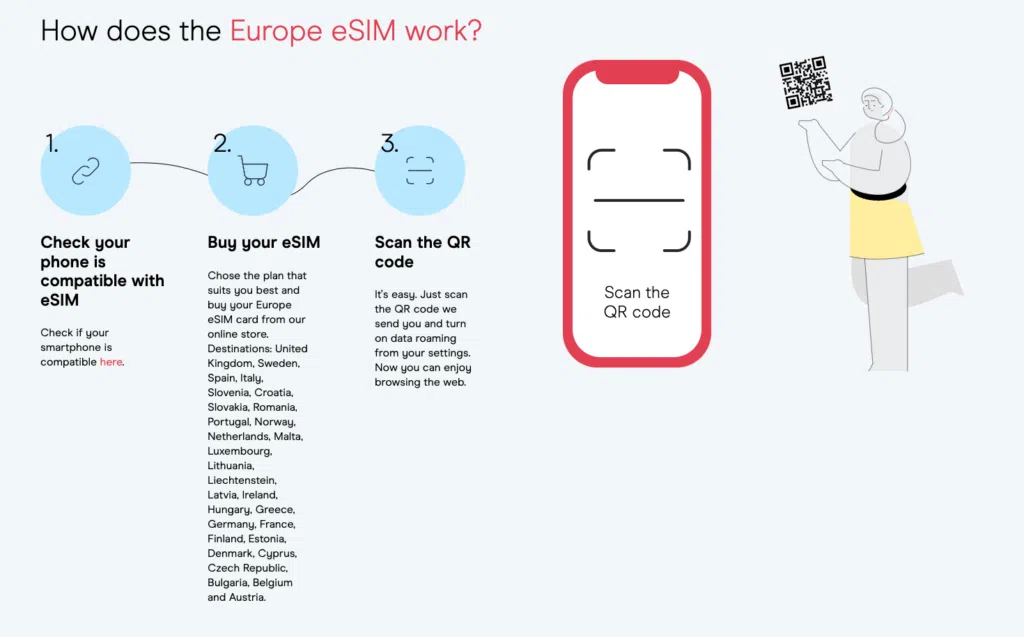 Check that your phone is unlocked and is compatible with eSIMs.
Check that the Holafly eSIM will work in the European country you are visiting (see list below)
Choose your data plan from 7days, 15 days, 20- or 30-day plans and purchase the one that suits your needs.
After purchase, you'll be sent a QR code, which you can print or open on your computer. On your mobile phone go to Settings > Mobile Data > Add Data Plan. Now you can switch between your SIM from your original provider and the Holafly eSIM!
Scan the QR code and turn on data roaming in settings. The QR code should be scanned before you depart, but don't activate it until you land in your destination country (Note: you will need internet access to activate the eSIM).
Be sure to take a copy of the printed QR code with you in case you forget.
Follow the easy instructions to download and activate, then you're good to go!
---
How Much Data Will You Need in Europe?
It depends really on what you plan to do. Will you just be using the data to check directions to restaurants and local tourist attractions, or do you need to work, download documents, or plan to watch movies and videos?
As we mentioned, one of the best esim providers for European travel are Holafly. They offer 3GB, 5GB, 8GB and 10GB plans with different durations and price tariffs to suit the length of your stay.
If you're simply planning to search for directions or send and respond to a few ad-hoc emails, the smaller data plans will suit. However, if you need to work or like to watch content on-the-go, choose one of the larger data plans, especially if you are staying in the country for a little longer than a week.
Top tip: If you plan to watch Netflix or movies and series from other streaming platforms, one hour of Netflix at HD quality can take up to 3GB of data in one go. Download any videos before you depart on your trip and watch offline, so it doesn't eat into your data!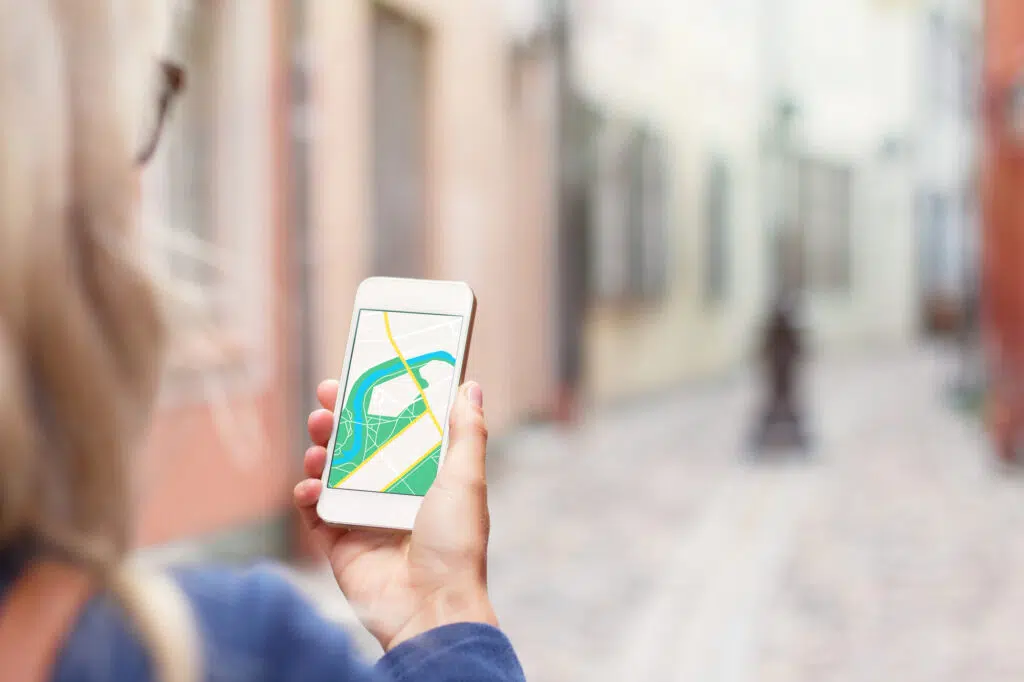 Best eSim Plans for Europe
Holafly's best esim for travel plans in Europe are as follows:
Duration: 7 days
Data: 3GB
Cost: $27/£21/€29
Duration: 15 days
Data: 5GB
Cost: $34/£26/€34
Duration: 20 days
Data: 8GB
Cost: $44/£34/€44
Duration: 30 days
Data: 10GB
Cost: $49/£38/€54
Use code LELONGWEEKEND for 5% off!
Currently, it's not possible to top up these plans, so you'll need to purchase a separate plan for the continuing duration of your stay if you exceed the data allocated.
Also, it's worth mentioning that the European eSIM only allows you to use mobile data, it doesn't include a local phone number for calls and messages, however, you can still use WhatsApp to keep in touch with loved ones.
Where can you use your Holafly eSim?
These are currently the 29 European countries where you can activate Esim roaming with Holafly:
Austria
Belgium
Bulgaria
Croatia
Czech Republic
Cyprus
Denmark
Estonia
Finland
France
Germany
Greece
Hungary
Ireland
Italy
Latvia
Liechtenstein
Lithuania
Luxembourg
Malta
Netherlands
Norway
Portugal
Romania
Slovakia
Slovenia
Spain
Sweden
United Kingdom
---
My Experience Using an eSim in Europe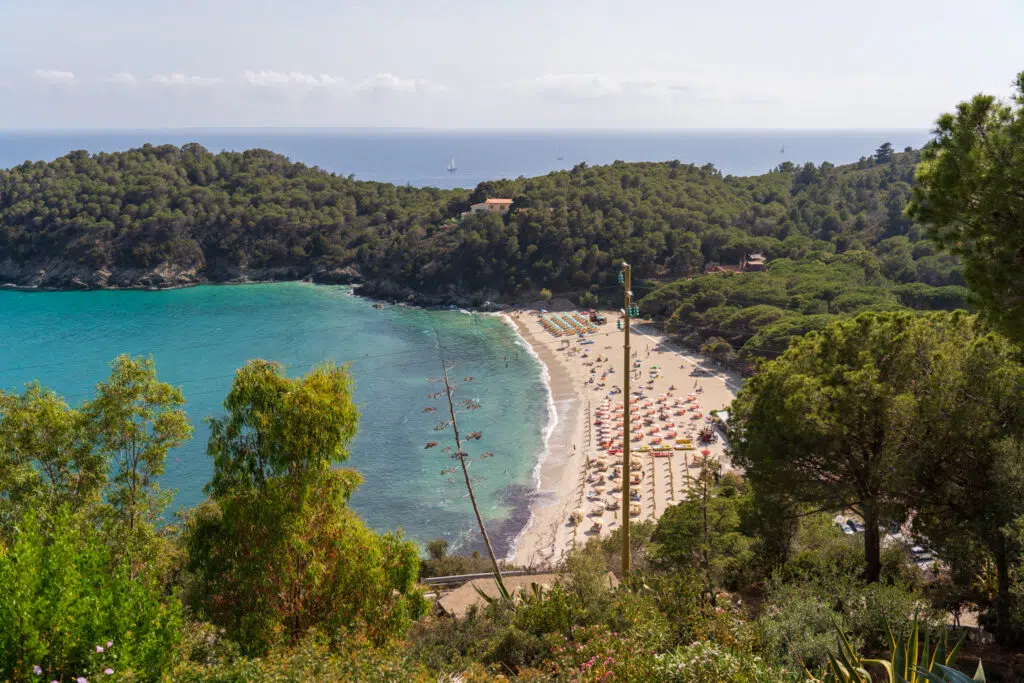 I recently tried out the Holyfly eSim on our trip to Italy. We were staying in a fairly remote area on Elba Island, so I was a little sceptical about how well it was going to work in such an environment. But after testing it out by switching between my usual network provider, and Holafly, I can say the eSim actually provided better coverage around the island!
It was super simple to set up. I just loaded up the QR code on my laptop and then scanned it with my phone camera.
Do be sure to follow all the instructions though. They're very simple and short, but I initially forgot one key step which was to turn on "roaming" for the Holafly eSim, which meant it wasn't working properly. As soon as I flicked this switch, it all started working just fine.
Honestly, it was so simple, I know what I'll be using on all of my international trips from now on! No more faffing about with physical sim cards, or topping up on the go!
---
Hopefully, now you have all the information you need for a seamless trip to Europe, without having to worry about SIM cards, data plans and additional costs. All you need to do now is enjoy your stay! However, if you do need any further information, all answers to FAQ's and live chat can be found on the Holafly website. Wishing you a pleasant trip to Europe!