Hurray, you've finally booked that yoga retreat you've wanted to go on forever! Only now you're thinking 'what on earth do I pack for a yoga retreat in… (insert lust-worthy destination here)?'.
I recently went on a blissful yoga retreat in the South-West of France and was embarrassingly over-prepared. If you're anything like me, packing normally entails throwing everything you could possibly need in a suitcase and hoping for the best!
But with a little forward planning, packing for a yoga retreat can be easy and efficient. Plus, with budget airlines offering super cheap base fares within Europe – it's in your best interests to pack light and avoid having to pay extra for a checked bag.
I've put together these handy packing tips so you can learn from my mistakes arrive at your destination relaxed and ready to explore! Read on to find out what to pack for a yoga retreat.
Yoga Retreat Packing List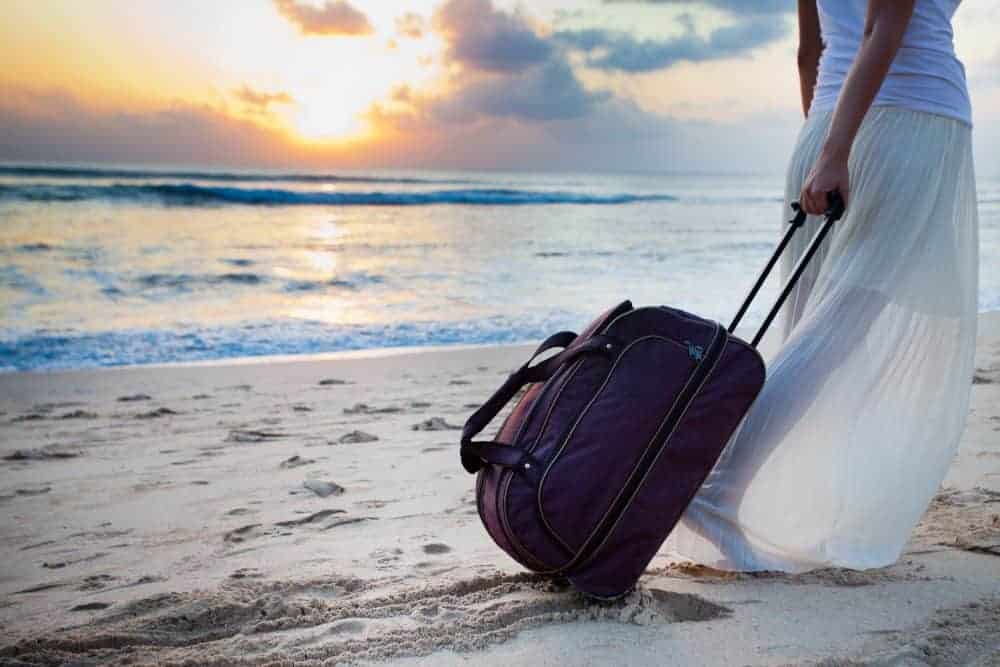 Travelling Essentials
Start with the basics – the things you always need at the top of your packing list when heading overseas (if your yoga retreat is local, you can skip this bit).
Passport – If you're an EU national you won't always need this if travelling within the EU, but it's still advised to have either a valid passport or national ID card with you. If travelling outside of the EU always take your passport.
Tickets/Boarding Pass – While most air tickets are electronic these days, train travel hasn't been so quick to catch up. Don't rely on the station being open to issue you with your tickets on the day you're leaving. If travelling with a budget airline, make sure you print your boarding pass and take it with you. In some situations, they will charge you a hefty fee for printing it for you at the airport (Ryanair I'm looking at you!).
Visa – I'm talking about the kind that will allow you to visit a country – not the plastic variety (although that may come in handy too)! If going to a yoga retreat in an exotic locale, you may need a visa to enter the country. If in doubt, check first.
If you're travelling long haul to your yoga retreat, check out these great tips for surviving a long haul flight!
---
Clothing
Less is more! You won't need as much as you think, so ditch the 'just in case' mentality and follow these guidelines when packing for your yoga retreat.
Undies – Pack a pair of undies for each day, plus a spare just in case your flight gets delayed (or you decide you're not quite ready to leave!).
Bras – Unless you're practising Bikram yoga or going somewhere particularly hot, one sports bra for every two days will be ample. As you'll mostly be hanging out in your workout gear, you can probably get away with packing just one 'regular' bra also.
Socks – Pack one pair of socks per day for walking, and to keep your toes toasty if visiting a cooler area.
Yoga Pants – One pair of yoga pants for every two days. Choose from one of the many sustainable brands on the market.
Lightweight Tops – Bring one per day. They're small and weigh barely anything, so you can get away with packing more tops than pants.
Waterproof Pants – I normally find yoga pants sufficient for walking, but if you're doing a lot of hiking and/or depending on the season, waterproof walking pants can be handy!
Layering Tops – Bring one or two for downtime and cooler days. Cardigan, hoodie, or jumper for layering over your lightweight yoga tops.
Shawl – A shawl serves a double purpose as you can use it to keep warm at the beginning and end of your yoga practice, as well as being a handy extra layer while out walking, or at dinner.
Swimsuit – Obviously you're only going to need this if your accommodation has a pool, or you'll be staying near the water.
Lightweight Rain Jacket – I always carry a lightweight rain jacket with me when I travel. It's nicknamed my 'lifesaver' as it's saved my skin on several occasions!
Dress – This is a great opportunity to pull out that summer dress you haven't had a chance to wear at home.
Other Items – I took a bunch of clothes that I didn't need. You'll find most people are happy to hang around in their yoga wear all day – layering up as needed. But, if you want to take an extra pair of pants/shorts and a top for casual wear, go ahead! Just don't go overboard.
---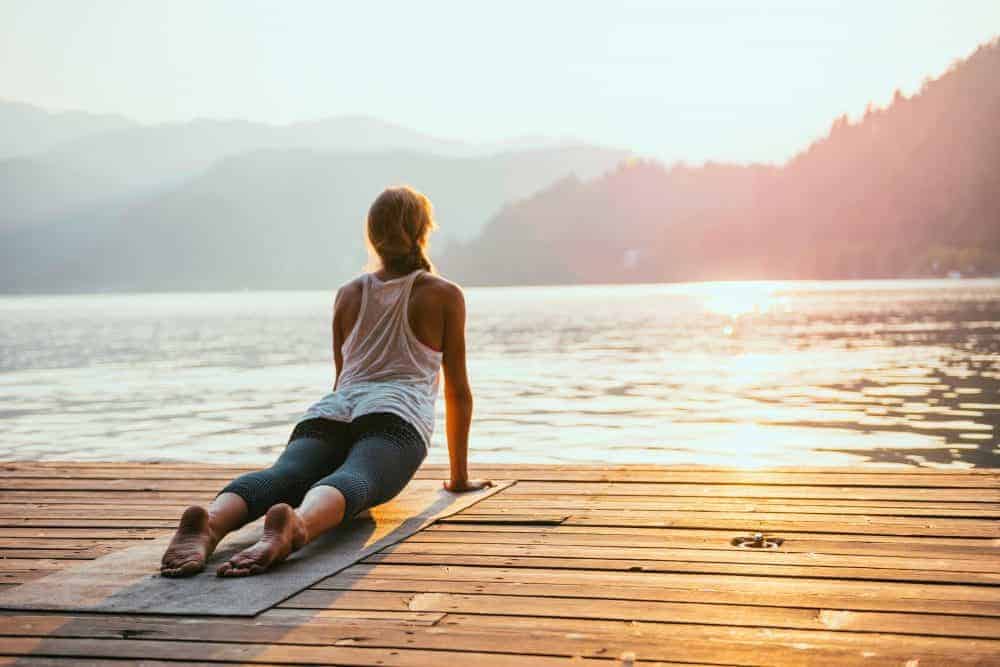 Footwear
A yoga retreat is not the time to bring your stilettos! Even the fanciest of retreats have a laid-back attitude to attire. Comfort takes priority when on a yoga holiday.
Walking Shoes – Most yoga retreats also offer walks or hikes in the surrounding areas. Even if they don't, it's a good way to explore. Sturdy and waterproof is best.
Flip Flops/Jandals – For downtime and/or relaxing by the pool, or at the beach.
Casual Day Shoes – Whether these are tennis shoes or sandals depends on where you are going, but I'm talking about shoes you can wear on the plane and for exploring when you get to your destination.
---
Toiletries
It's best to check with your retreat about what they provide their guests. In very remote areas, the retreat may even recycle the water and therefore require you to use the toiletries they provide.
The Basics – If not provided, take your own shampoo, conditioner, and soap. Remember to keep bottles less than 100ml so you can pack them safely in your carry-on!
Toothbrush & Toothpaste – Take a mini toothpaste to avoid clogging up your luggage.
Deodorant – Natural deodorants are best for you and the planet.
Minimal Makeup – This is the time to embrace 'au naturel' by ditching the heavy foundation. If you can't bear to bare, then a BB cream (with SPF), mascara and lip balm should do the trick. Or even better, get your eyelashes and eyebrows tinted before you go, and leave the mascara at home too.
Sanitary Items – Even if you're not expecting 'aunt flow' to pay a visit, there's nothing worse than being caught out in a foreign country. I recommend a menstrual cup as an environmentally friendly option.
---
Other Handy Items
Most yoga retreats will offer some downtime to explore the local area, or just relax by the pool. Here are a few handy extras you may need to make the most of your retreat.
Local currency for incidentals/optional extras like a massage or treatment.
Mobile phone charger.
A good book (or kindle).
Sunhat/Sunglasses.
Reusable water bottle.
Hair ties.
Contact lenses/glasses.
Bug repellant if travelling somewhere prone to mosquitos.
Paracetamol/band-aids/antihistamines/prescribed medications.
---
Optional Extras
Small travelling towel – Some of the more 'eco' retreats will only allocate you one towel for your stay, so it's handy to have a spare quick-dry travelling towel on hand.
Yoga mat – Check with your retreat to find out if they provide these first. If they don't, or you simply prefer to use your own, take along a lightweight eco yoga mat.
Camera & charger.
Small reading light – Rooms are commonly shared occupancy on yoga retreats, so pack a reading light so you can still read your book even if your roommate is an early bird!
Healthy snacks – Although I never felt hungry during my recent retreat, others said they were a little peckish at times. So if you're used to grazing during the day it would be wise to bring something with you (check what you can bring into the country).
---
What not to Pack for a Yoga Retreat
The key to enjoying your yoga retreat is to feel relaxed and comfortable. This goes for your surroundings, but also for your attire. Forgo the skinny jeans and high heels, leave behind the hair straighteners, and brush aside any self-consciousness.
Try to switch off from what's going on at home so you can make the most of your retreat. This means the laptop should stay at home too!
---
Pin It!