With seascapes to take your breath away and the charm of crumbling history, Napoleon's place of exile is spellbinding. Visiting Elba Island means drifting from azure waters to quaint restaurants and cellar doors for local wines.
When you've finished 'drifting', launch into adventure activities like mountain biking and scuba diving. Inland, lush forests cover mountains decorated by waterfalls and crisscrossed with walking trails.
The largest island of the Tuscan Archipelago is part of the largest marine park in Europe and, of course, famous for harbouring French Emperor Napoleon Bonaparte in 1814. History buffs gleefully trace his footsteps through villas, museums and endless stories.
You'll certainly work up an appetite for the gastronomic delights around every corner across the island, with lashings of Elba olive oil straight from the groves overlooking the sea.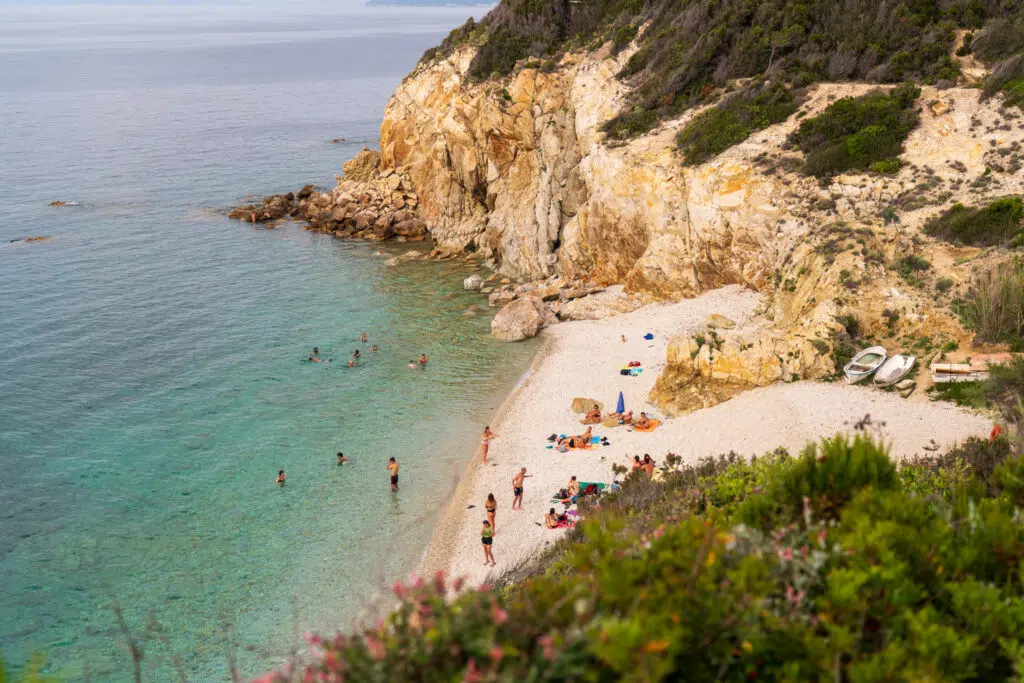 How to get to Elba Island
Located off the coast of Tuscany, most people reach Isola d'Elba by taking a ferry from the coastal town of Piombino in Italy. Four ferry companies – Toremar, Moby, Blu Navy, and Elba Ferries – offer multiple crossings daily to the island's three ports: Portoferraio, the main port, Rio Marina, and Cavo.
The trip typically takes about 60 minutes, depending on the specific route and weather conditions, and you can travel as a foot passenger, or with your car. In the summer months, when visitor numbers are at their peak, there are more frequent crossings. You can search for, and book fares on Ferryhopper.
For those who value speed and convenience, a small airport in Marina di Campo offers chartered flights primarily during the summer season.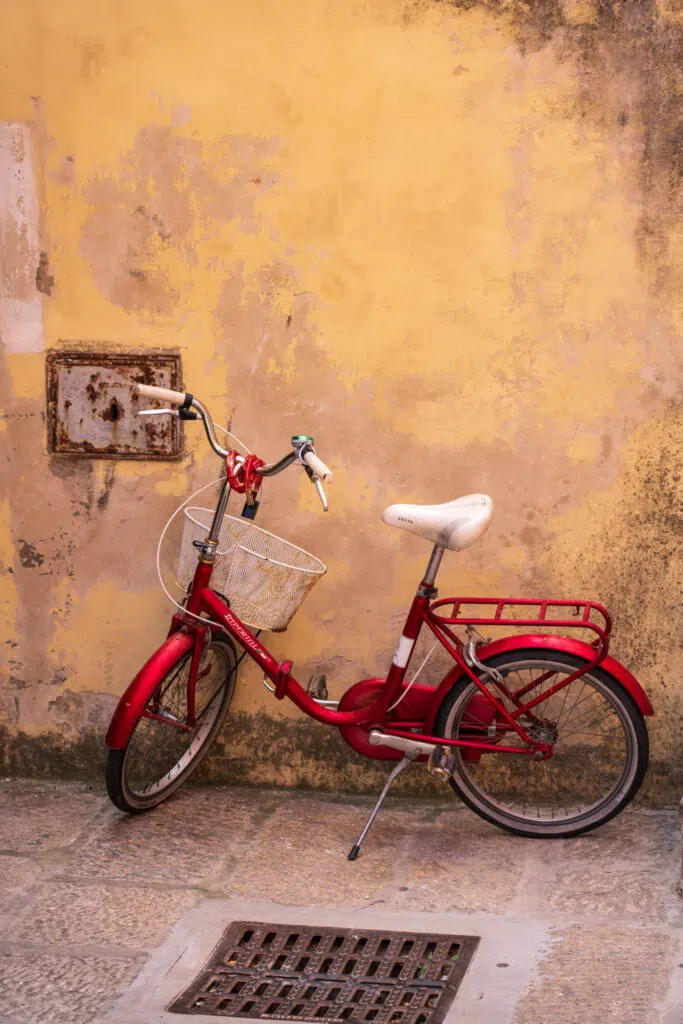 How Long to Spend on Elba Island
How long to spend on the Italian Island of Elba depends on what you're most interested in, and what you wish to experience (as you can see below, there's plenty to choose from!).
Generally, 3-4 days will provide a good overview of the island, allowing time to explore the main attractions such as the historic residences of Napoleon Bonaparte, the vibrant Portoferraio, and some of the best beaches like Sansone and Capo Bianco.
If you're keen on outdoor activities, such as hiking the island's trails, diving to explore underwater worlds, or visiting some of the more secluded beaches, a week-long stay may be a better choice.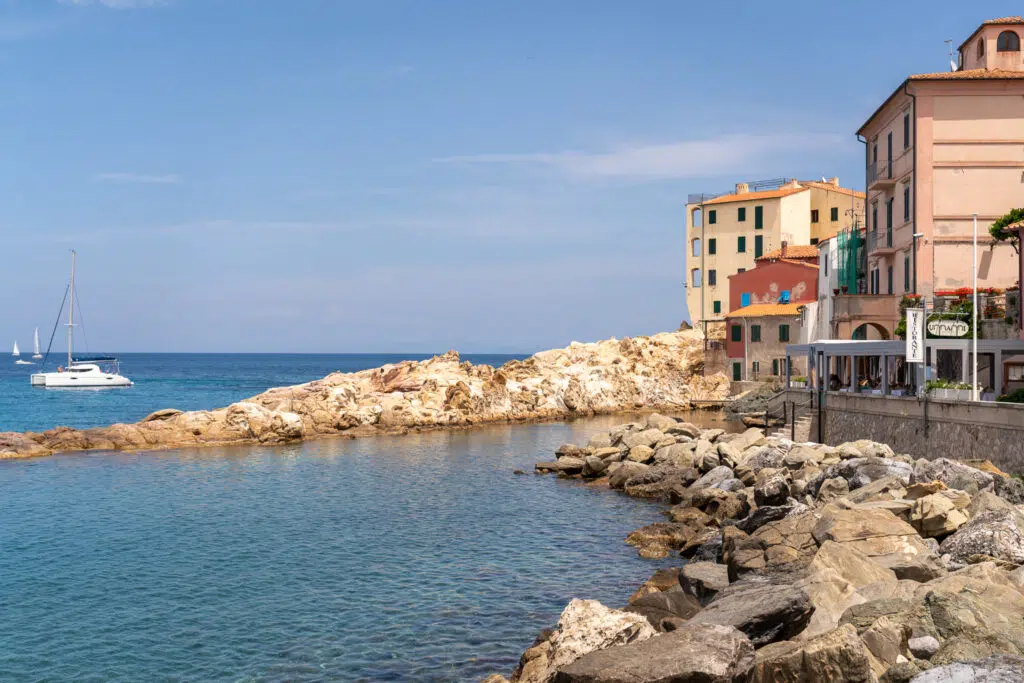 For those wishing to really experience the natural beauty and history of this island in more detail – or to simply enjoy a more leisurely pace – a longer stay of two weeks or so should do the trick.
Remember, Elba's charm lies in its diversity, and each visitor may find a different aspect to appreciate and explore.
How to Get Around Elba Island
Elba island, despite being Italy's third-largest island, is still fairly small, at only 224 sq kms, making it fairly easy to navigate. That said, when we visited in May the winding roads were already quite congested with bikes, cars, and buses, so I can't imagine what chaos would ensue come the high season! Alternatively, bikes are available to hire and Elba boasts a network of cycling trails that span its diverse landscapes.
There is also a public bus service, with routes connecting the major towns and some of the popular beaches. In summer, there's also a 'Marebus' service which provides access to less accessible beaches.
Finally, you can rent boats (without having to have a boat licence) to explore the coast, or jump on a group tour.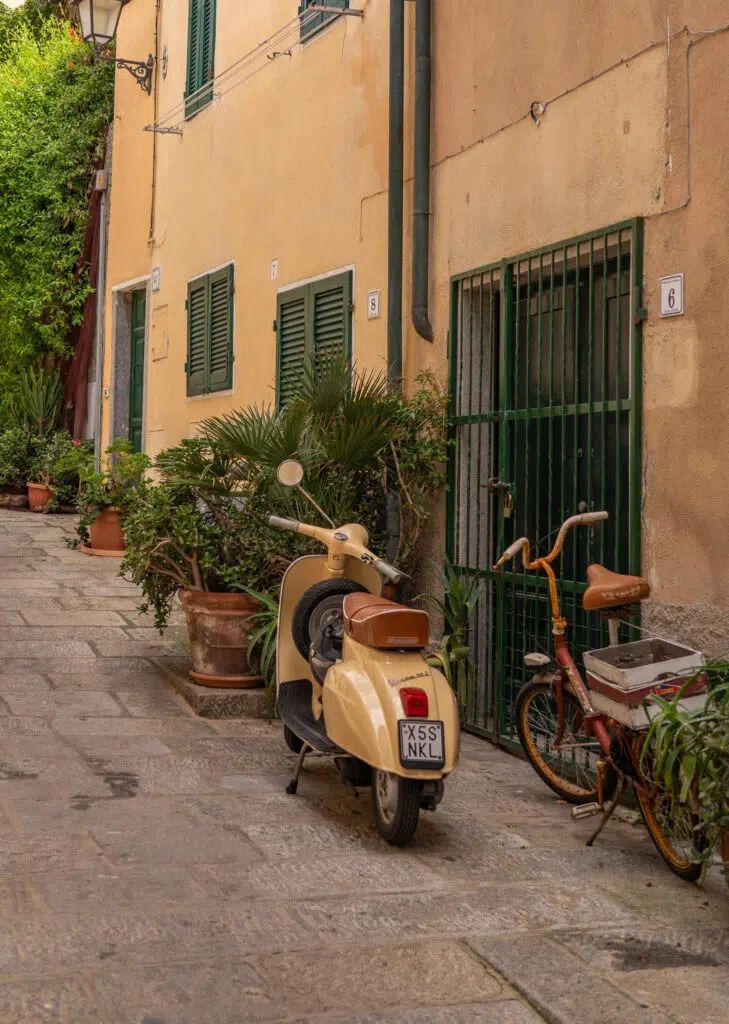 Where to Stay on Elba Island
This one will depend a little on how you plan to get around. If you're bringing your own car, or hiring one, the choice is yours. We stayed in Fetovaia and it had the perfect old-school Italian vibe, without being busy. If you prefer a buzzier atmosphere, perhaps choose Marina di Campo. And if upscale accommodation on a private beach is more your vibe, head straight for Biodola.
Hotel Hermitage is my dream Elba Island accommodation! It's a stunning property made up of private villas next to the most perfect bay. As an "all-in-one" resort, they offer boat rental, diving lessons, pilates classes, an onsite spa, and kid's facilities too.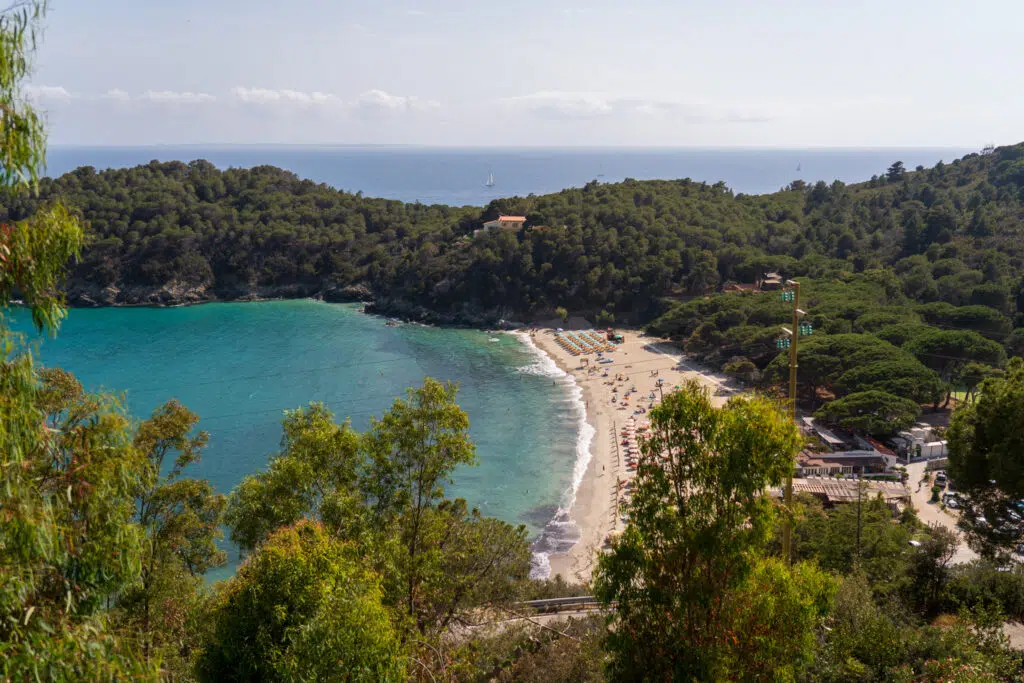 Simona Panorama is where we actually stayed and it made an affordable base in Fetovaia. We loved the incredible views, walking down to the beach, and the large balcony for dining al fresco. If you have kids, this is the ideal place to stay.
Hotel Montecristo is ideally located in Marina di Campo, with a wide beach, tours, and restaurants on your doorstep.
---
Things to Do on Elba Island
If you love an action-packed itinerary, you'll find it on Elba holidays. That is, if you can leave the turquoise water and your ideal spot on a ravishing beach behind.
Discover Portoferraio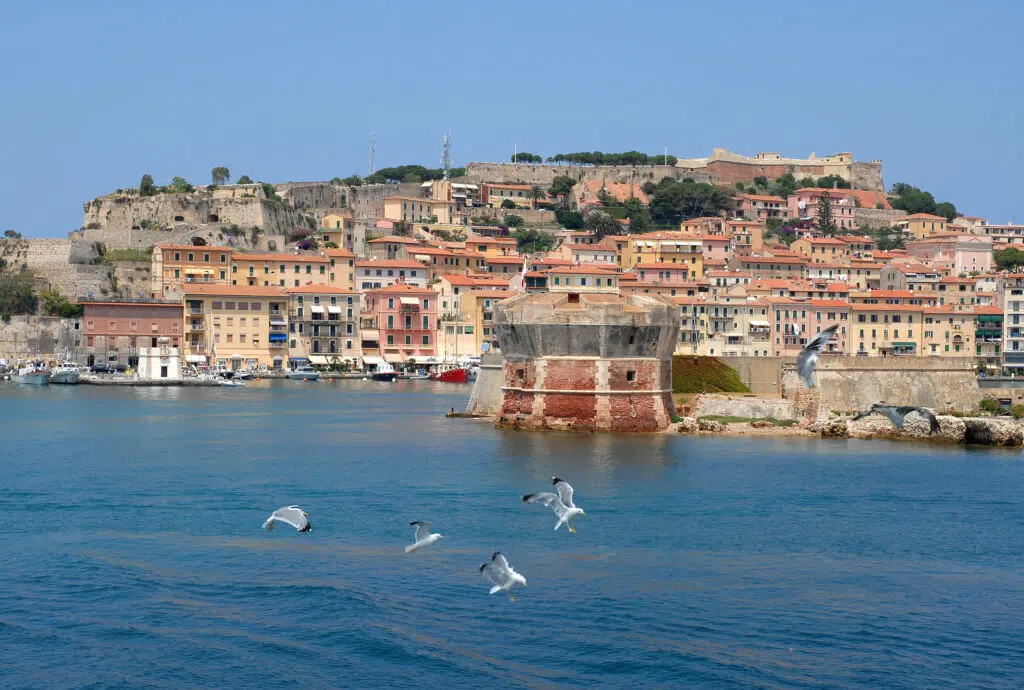 Catch a ferry from the port of Piombino on the mainland and you'll arrive in the capital of Elba in under an hour. Portoferraio traces its history back to ancient Greeks, but it's the city's imposing fort, commissioned in 1548, that you'll see on arrival.
Connected by dramatic walls and walkways, the Medici forts of Falcone, Stella and Linguella dominate a landscape trod by famous local Napoleon. For the best ocean views, get your camera ready for shots from Forte Falcone.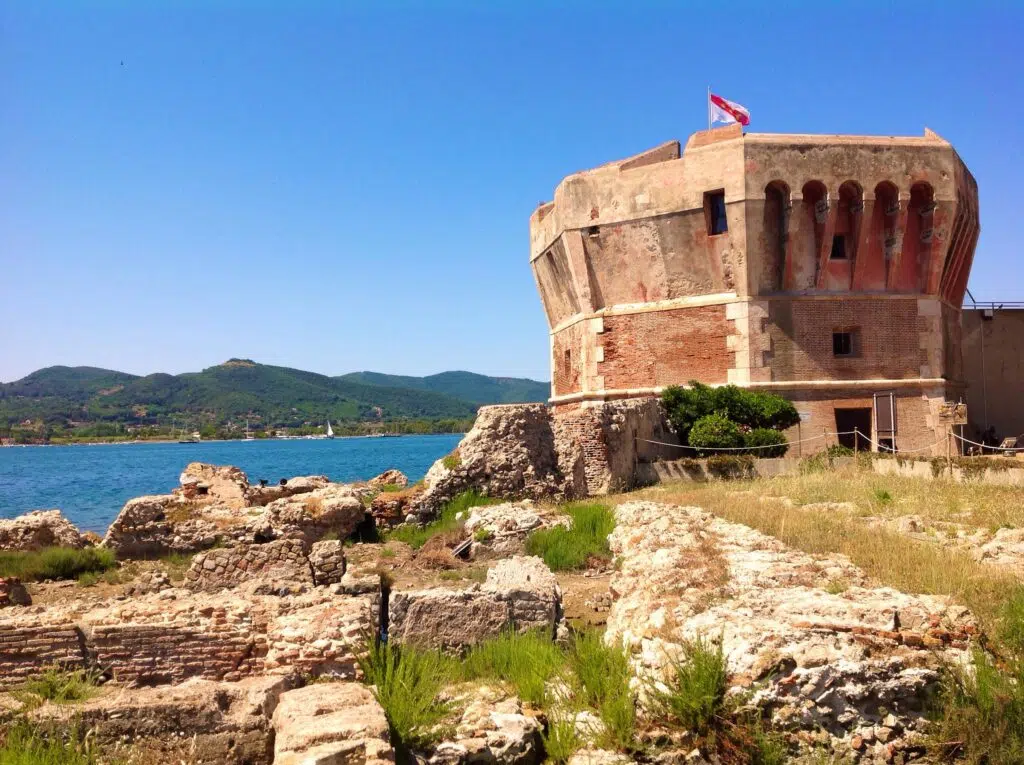 To delve into history, visit the Archaeological Museum in the ancient Linguella salt warehouses. From the maritime trade in the Tuscan Archipelago to weapons and vases, you'll step back in time from the 8th century BCE to the 5th century CE.
Pop next door to the ruins of the Roman Villa della Linguella. Day or night in the old town, expect to run into enticing drinking and dining options with enchanting views and oodles of charm.
Follow Napoleon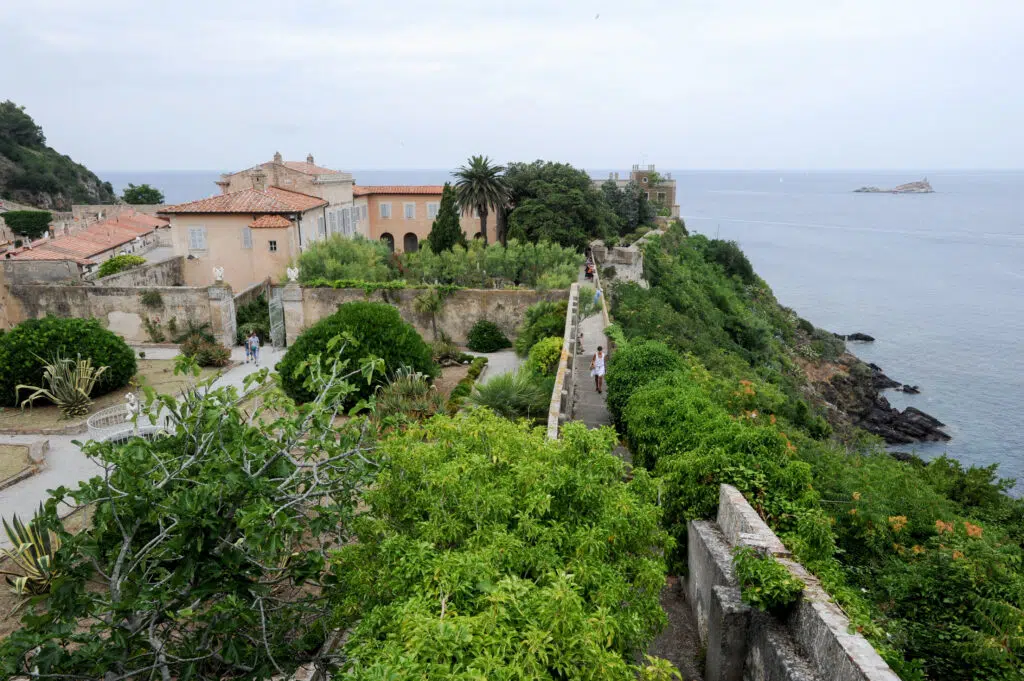 Walking in the footsteps of Napoleon is without a doubt among the top Elba highlights. Start at The Palazzina dei Mulini, translated as 'Little Palace of the Mills' and Napoleon's former residence between Forte Stella and Forte Falcone.
Picture yourself standing watch over the port as he once did from the strategic position. Then, admire antiques and furniture, along with works of art by Voltaire and La Fontaine in the library.
The Palazzina is part of the National Museum of Napoleonic Residences, also including Villa San Martino. As the Emperor's summer residence, it's located in the nearby countryside. See the neoclassical Demidoff Gallery decorated with 19th-century prints.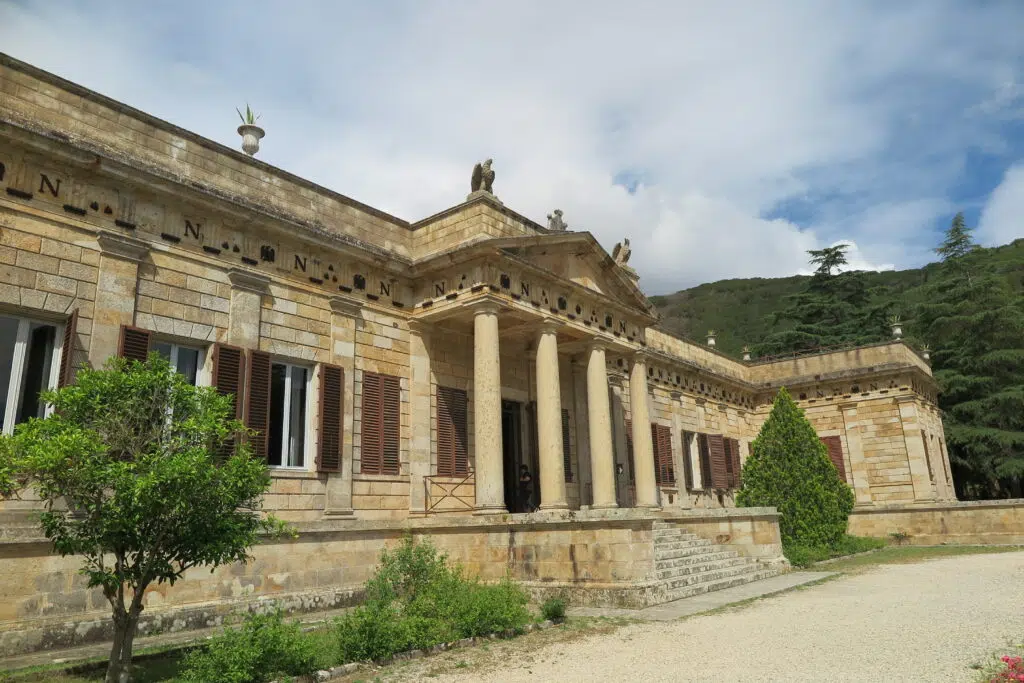 Arguably the highlight, the Egyptian Hall features a Zodiac on the ceiling and references to military campaigns. In the Room of the Doves, a painting symbolises his loyalty to his wife Marie-Louise of Austria.
Venture further across the island to see the hermitage Napoleon stayed at near the medieval Sanctuary of the Madonna del Monte, in Marciana. Framed by a chestnut forest, the sanctuary showcases a 15th-century Madonna painting and a 20th-century bell tower.
Back in Portoferraio – and if you just can't get enough of Bonaparte – head to the Napoleonic Museum of Mercy to see casts of his hand and face among religious objects and books.
Explore Parco Minerario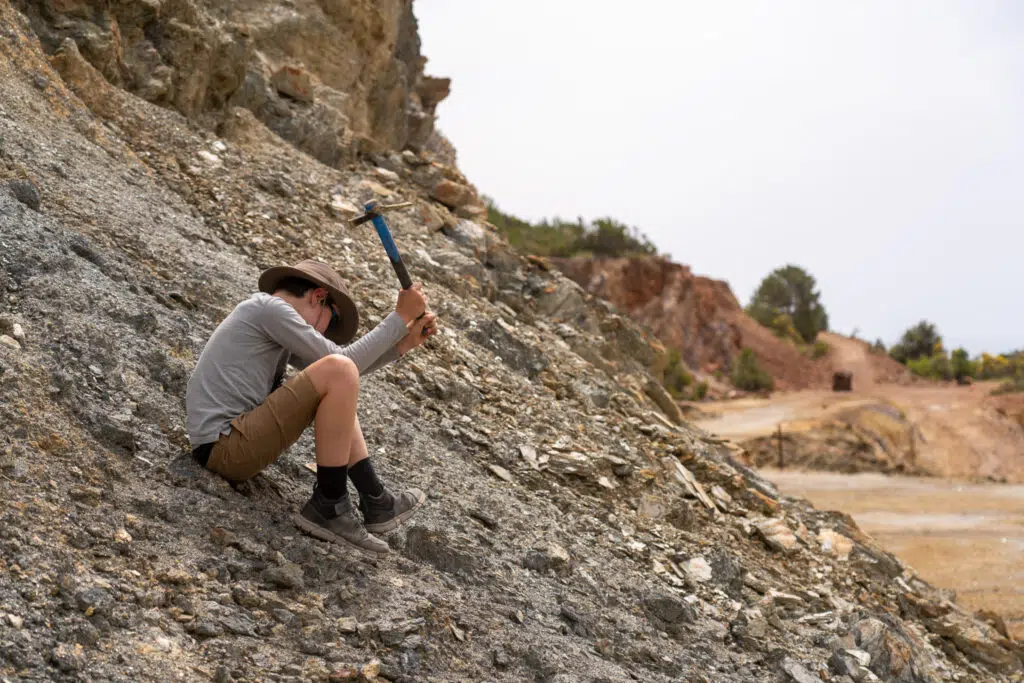 Highlighting about 3,000 years of iron ore mining and manufacturing, the Mineral Park of Elba preserves the culture surrounding it. This is an adventure for the whole family, with guides to show you around while getting to know the language of minerals.
Housed in the 18th-century Palazzo del Buro, the Mineral and Mining Art Museum in Rio Marina gets you started. 'Ooh and ahh' over local pyrite and hematite among collections of original mining artefacts.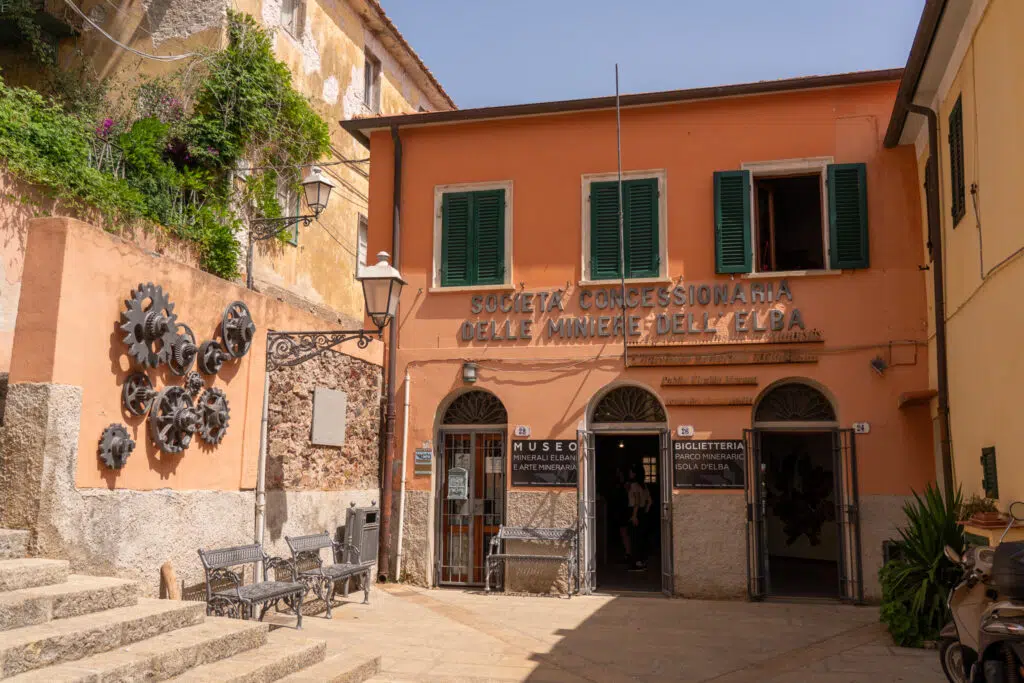 A fun way to see the mining areas, especially with the kids, is aboard the train (it pays to book in advance of your visit). Once inside the park, you can mine your own minerals to take home with you!
Otherwise, join guided walks of the Rio Marina and Rio Albano mines, where Mediterranean scrub blends with moon-like scenes left over from the era.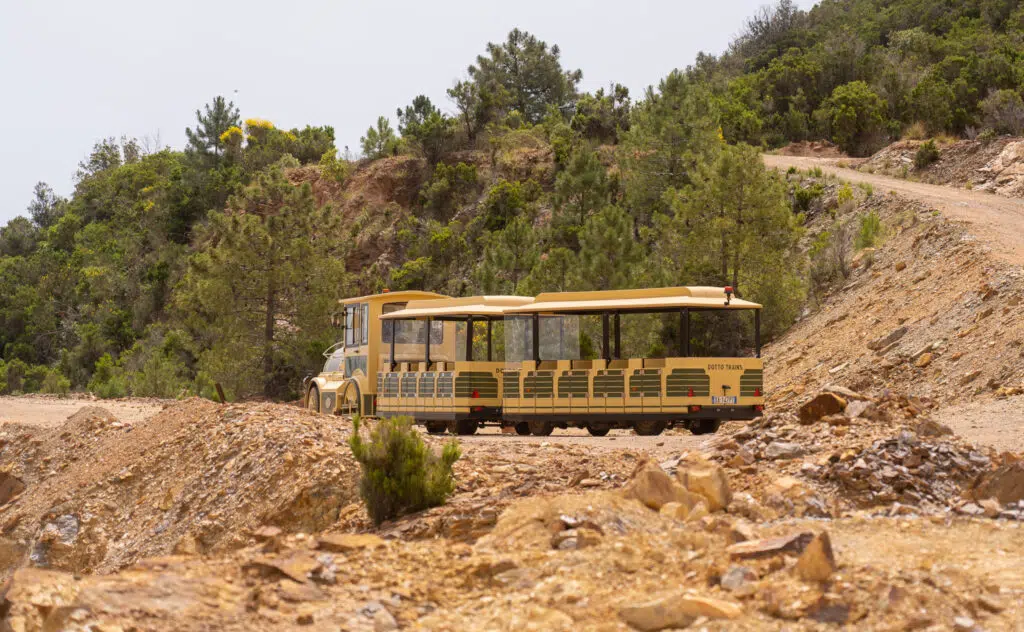 Snap some great shots of you with the red-coloured Cantiere delle Conche site as a backdrop. Valle Giove, otherwise known as Jupiter's Valley, is the largest site and features a giant amphitheatre of terraced steps.
Go Beach-Hopping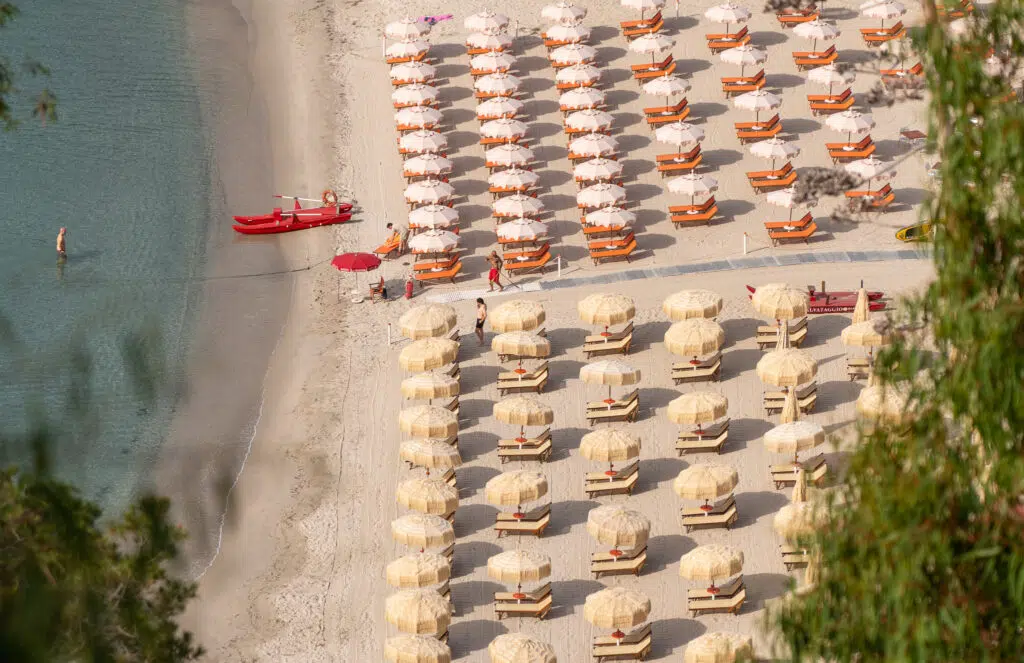 Lazing around on breathtaking beaches in Elba is a dream come true for water babies. Cavoli is among the most famous, with the energetic vibe of beach parties and holiday crowds. That doesn't detract from the crystal-clear water and the fun of diving off the rocks.
For golden sand framed by granite cliffs, choose our favourite, Fetovaia. This sheltered stretch is overlooked by Punta Fetovaia promontory and is ideal for pedalo rides and laid-back beach days.
While you're exploring Portoferraio, cool off at Capo Bianco on a backdrop of white soaring cliffs to match the pebbly beach. Photographers love Sansone's white rocks and pebbles offsetting iridescent ocean blues. Don't forget your snorkelling gear to explore rocky areas filled with colourful fish between lazy hours on the sunbeds.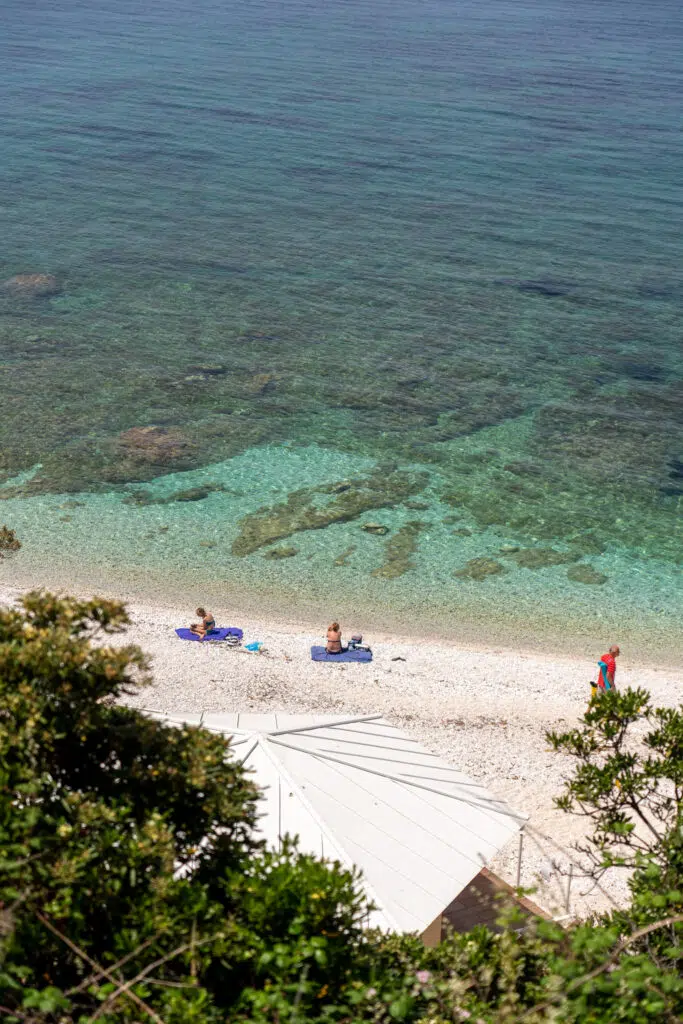 On the west side of the island, Chiessi Beach is a petite beauty of flat sunbaking rocks and fascinating underwater worlds. It's generally calm for relaxing floating, however, when the wind kicks up windsurfers flock here to take advantage of the conditions.
For action-packed adventures at your fingertips, choose a patch of sand at Marina de Campo, the island's longest beach. Shallow water attracts families with kids, along with guided kayak excursions, pedalo rides and an abundance of restaurants lining the sand.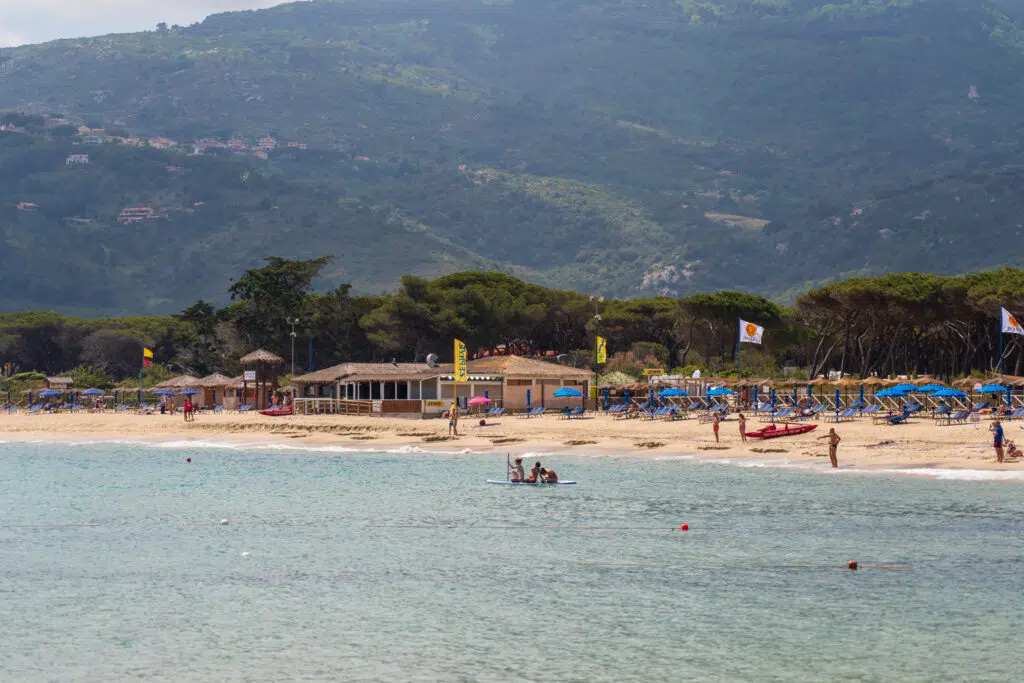 The second longest beach is Lacona, with water sports and a pine grove for shady picnics. But, you might prefer Laconella for a more peaceful slice of beachy paradise.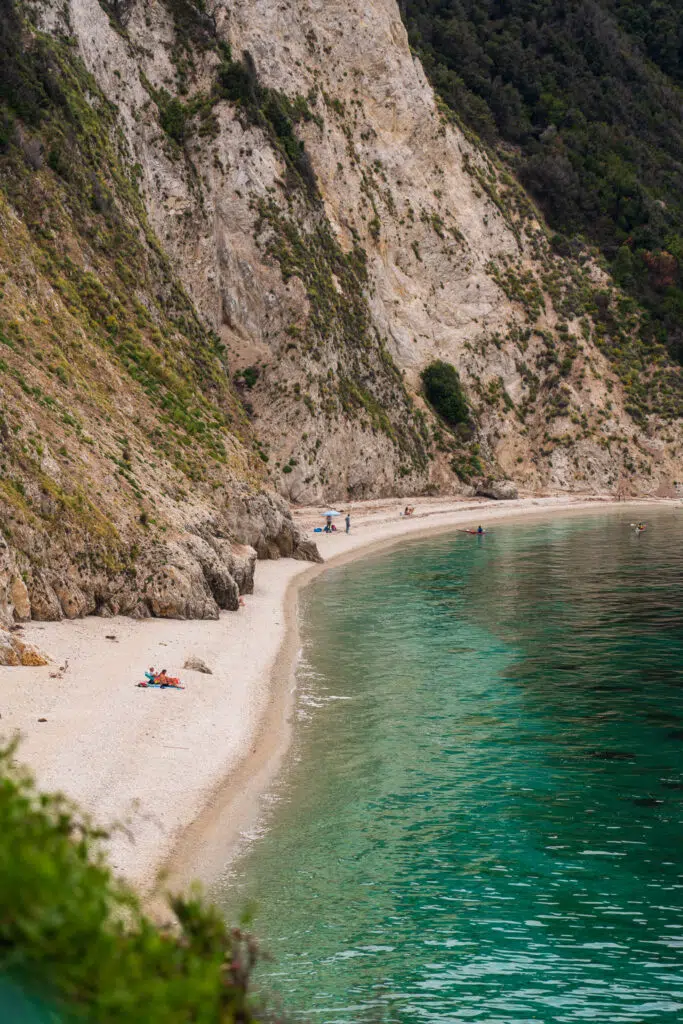 Finally, if you're looking for a beach nestled in nature, head for Spiaggia della Sorgente and Spiaggia di Sansone. Between them is the Sansone Reef Bar where you can sip on an Aperol Spritz with a beautiful view between swims.
Boating and Kayaking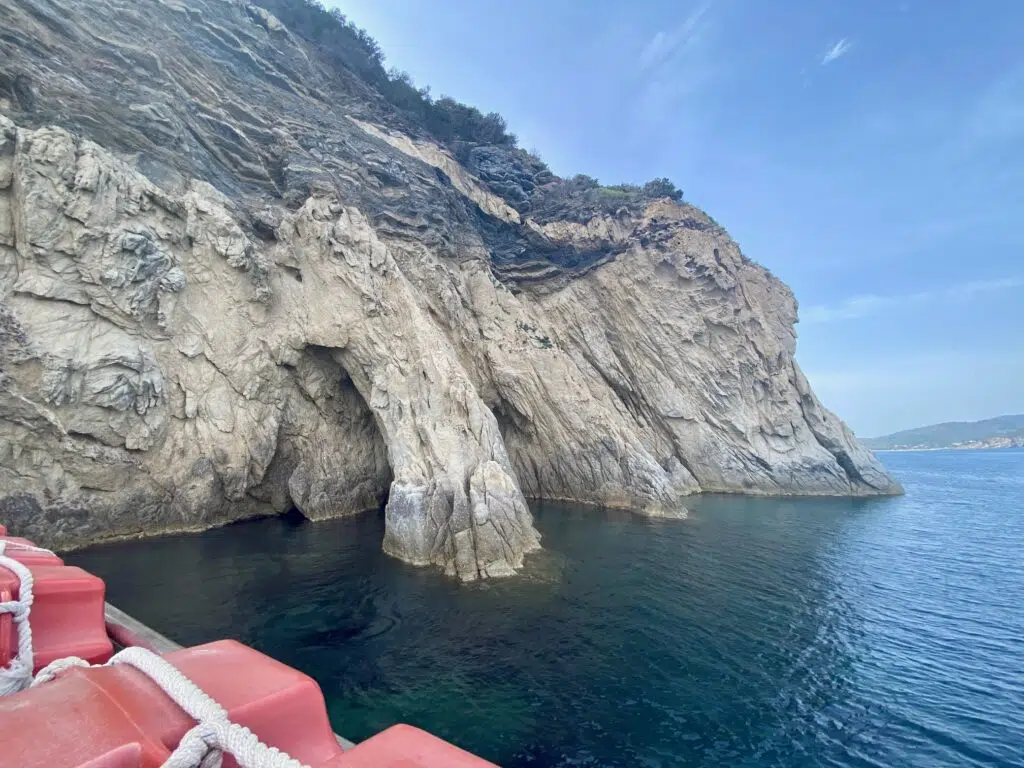 When it comes to what to do in Elba, there's arguably no better way to see the sights than hopping aboard a boat trip. Cruise along the coast with your camera at the ready for awe-inspiring scenes of dramatic cliffs and serene coves off the beaten path.
Half and full-day trips get you up close to Pomonte's shipwreck for snorkelling (this is what we did). Or, head out on a fishing boat to get first-hand knowledge from the seafaring locals.
You'll find plenty of options at the port of Marina de Campo. Choose tours that explore the bay of Galenzana, surrounded by forests and water so clear you'll see the multicoloured fish long before you dive in.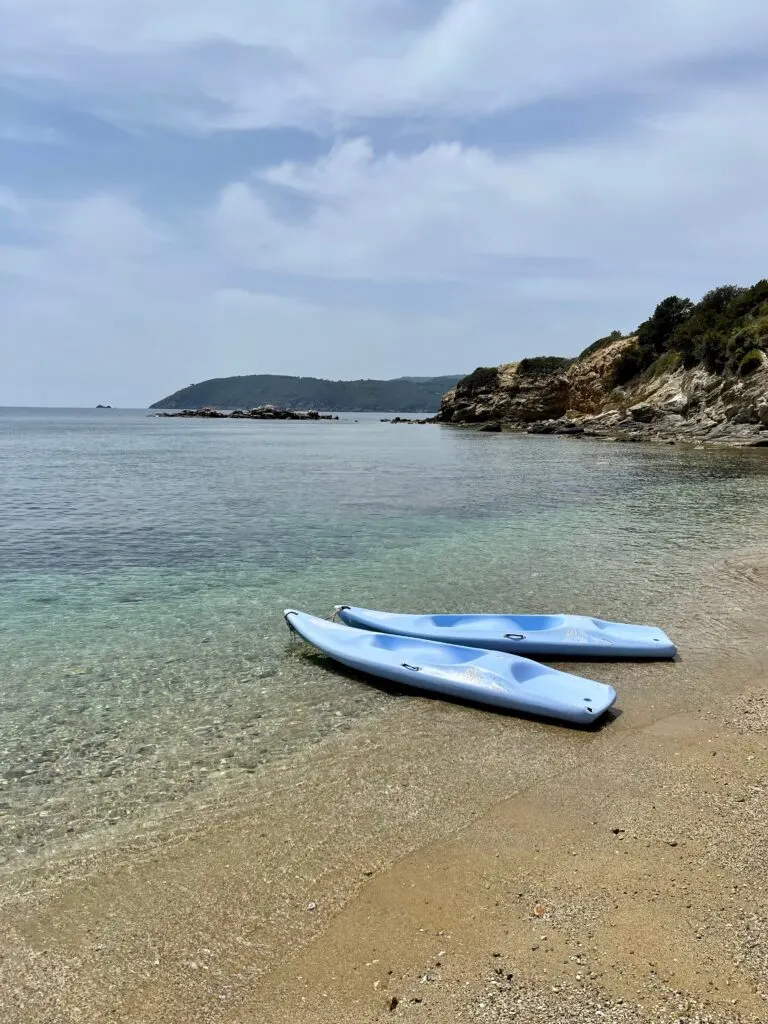 See the dazzling Grotta Azzurra (Blue Grotto), where sunlight creates otherworldly blues in the cave. If you prefer paddling, join a guided kayaking tour to delve into Vescovo Grotto and navigate the Gulf of Cavoli with views to Montecristo Island in the distance.
Catch the Cable Car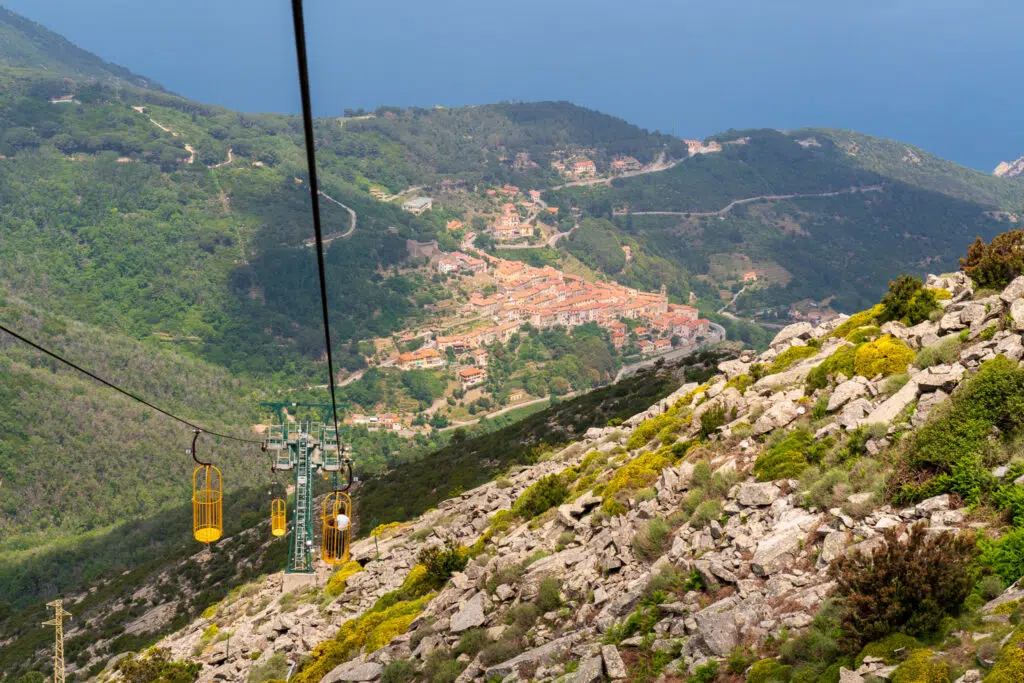 There's no shortage of bird's eye views on Elba Island. However, at 950 metres above sea level, Monte Capanne is the island's highest mountain and offers the best vantage point.
If sweating it out climbing the summit isn't for you, the Cableway of Monte Capanne is the way to reap the rewards without the hard work. Plus, kids and big kids alike love hopping aboard the bright yellow cable cars that look just like fantasy bird cages.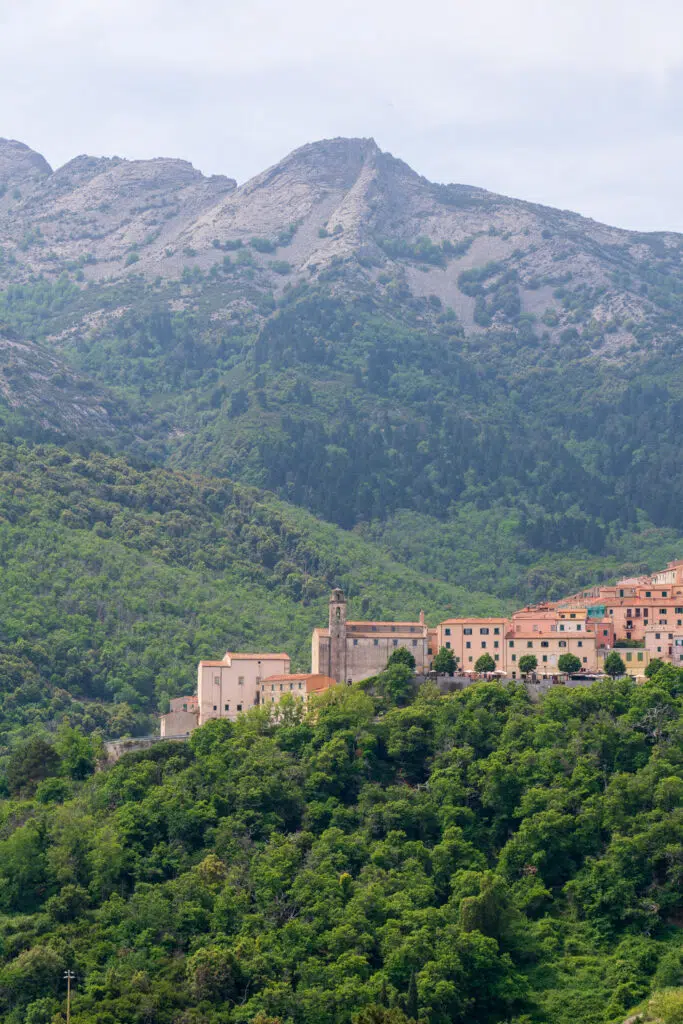 Over an exciting 20 minutes, gaze out over views of the Tyrrhenian Sea in the distance and green-tipped mountains. Keep an eye out for roaming wild sheep along the way.
When you reach the top, viewing platforms provide ideal vantage points to spot the islands of Montecristo, Capraia, Painosa and more. You'll take off from Marciana and stop for a drink from the bar at the top.
Diving Adventures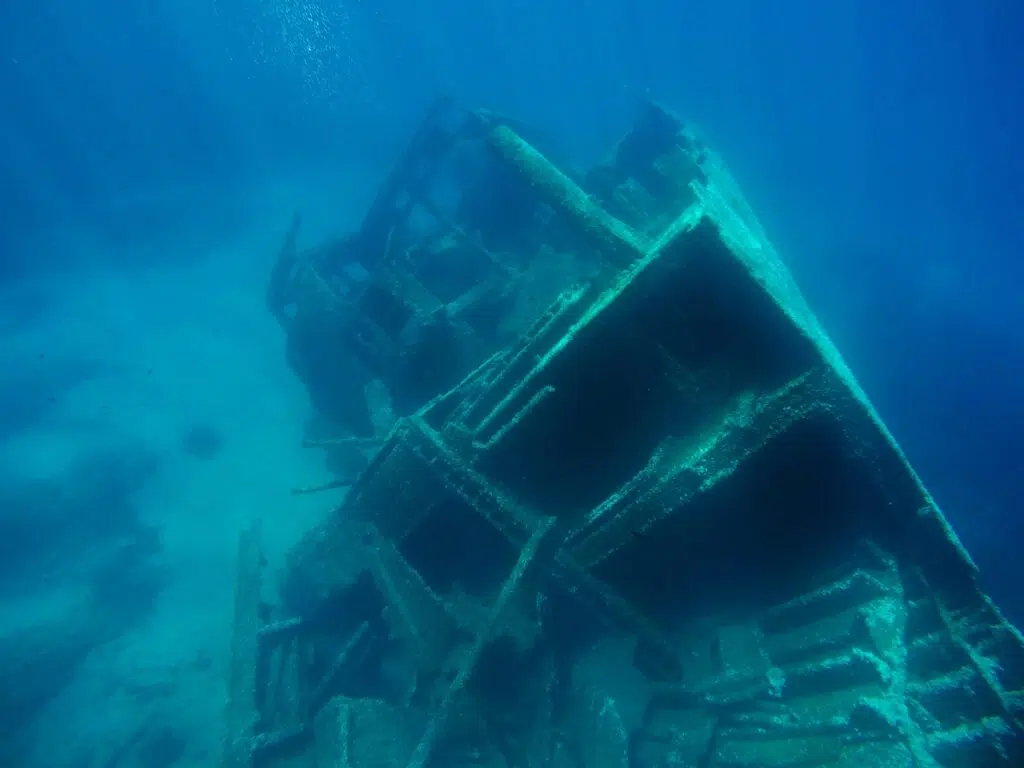 Whether you're a beginner or a pro, diving in Elba reveals a Tuscan paradise underwater. With warm water temps and fantastic visibility, the protected marine environment ensures incredible encounters with both manmade and natural wonders.
The Italian merchant shipwreck Elviscot rests off the shore of Pomonte for shore dives in shallow water. Though it's easy to explore with a snorkel alone, diving makes the most of sea creatures sheltering in the wreck.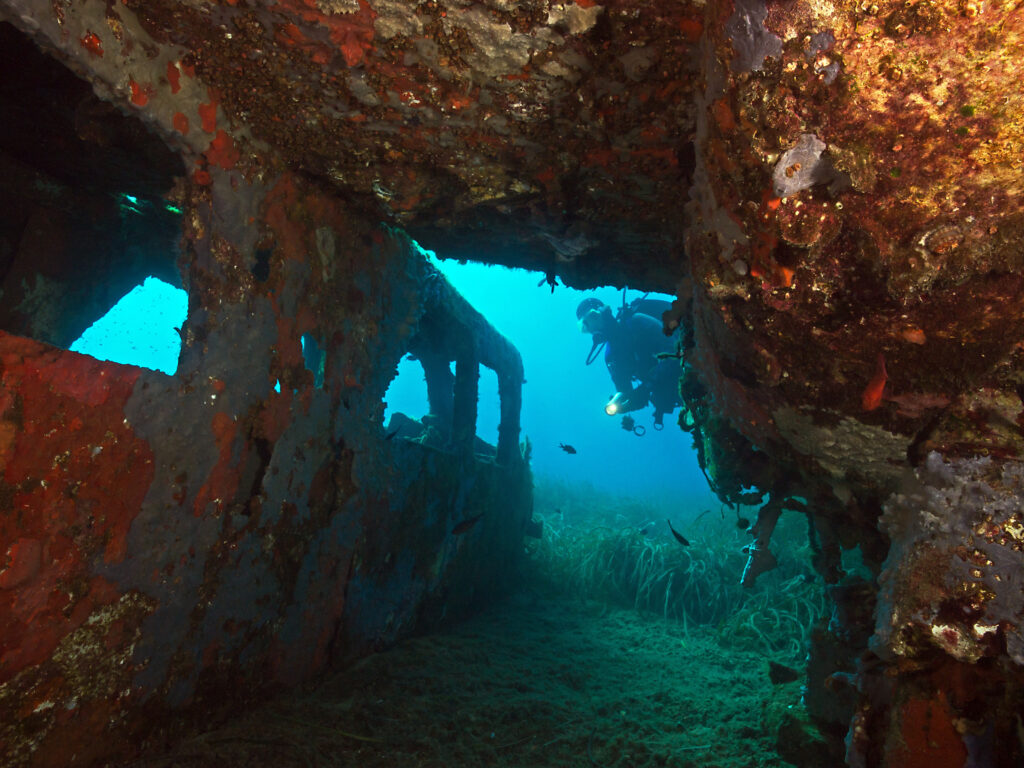 Nicknamed 'The House of the Groupers', the island's southern tip features dive sites adorned with huge rocks hiding groupers and steep walls home to moray eels and sea fans. Caves full of snapper and lobster greet you at the rock of Remaiolo in Capoliveri, while the shoal of Fonza delights experienced divers with red coral and yellowtails.
Resting in a prairie of posidonia in Punta Nera, the wreck of a small tourist plane lives again with molluscs and corals covering the cockpit.
Hiking and Mountain Biking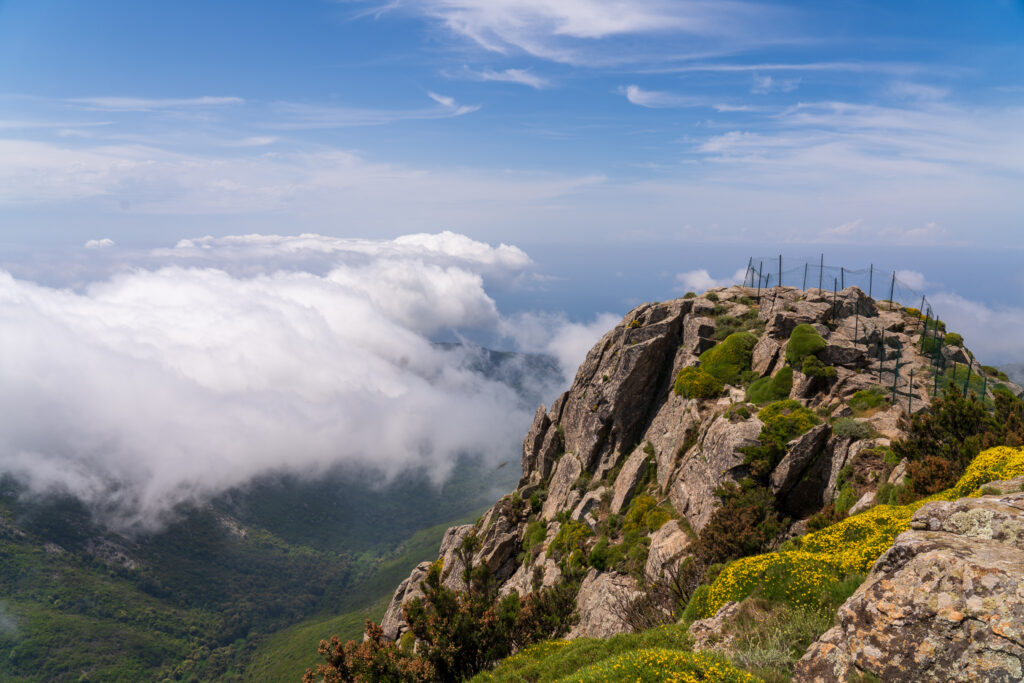 Don't forget your comfy walking shoes for endless ambling and energetic hiking in Elba. If it's views you're seeking, climb Monte Capanne for sweeping panoramas over the archipelago. On a clear day, it's likely you'll see as far as Corsica. Hiking trails crisscross through chestnut trees and Mediterranean scrub lined with rock formations, all ringing with birdsong.
Also part of the Archipelago Toscano National Park, the Butterfly Sanctuary trail begins in the picnic area at Monte Perone. Weave through pine forests exploding with wildflowers and Elban butterflies.
If hiking is your thing, take the challenge of the Grande Traversata Elbana, connecting most of the paths across the island and generally covered in three days with stops in Porto Azzurro and Procchio.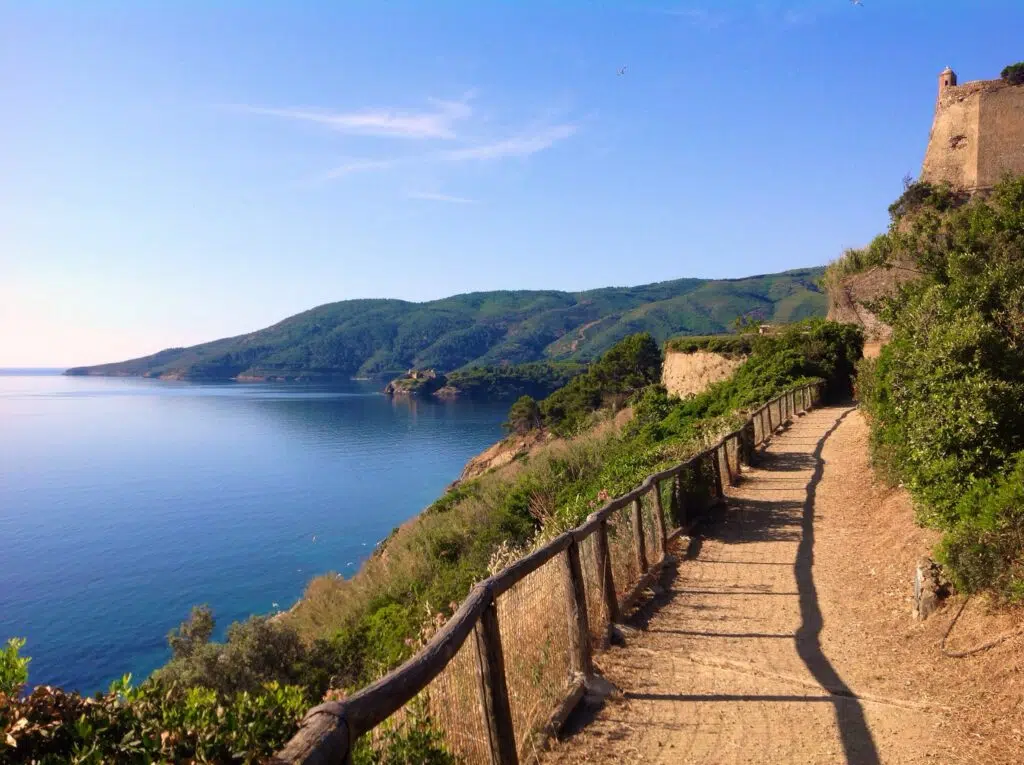 Two-wheel action is just as much fun, with forest paths and off-road mule tracks for mountain bikers. Take the easy option of the flat road route from Capoliveri to the Costa dei Gabbiani, stopping to see the ancient mines along the way. Hardcore biking enthusiasts love the dirt roads and winding paths on the way to Monte Perone and the small village of San Piero.
Visit Villages
Hire a car to spend your days meandering around Elba's picture-perfect villages. One such hilltop town is Marciana, with a history dating back to 35 BC.
Though it's just a few kilometres from the sea, lush vegetation ensures a mountainous atmosphere dominated by sites including the four towers of the 12th-century Pisan Fortress. Discover the Romanesque church of San Lorenzo and the church of San Cerbone.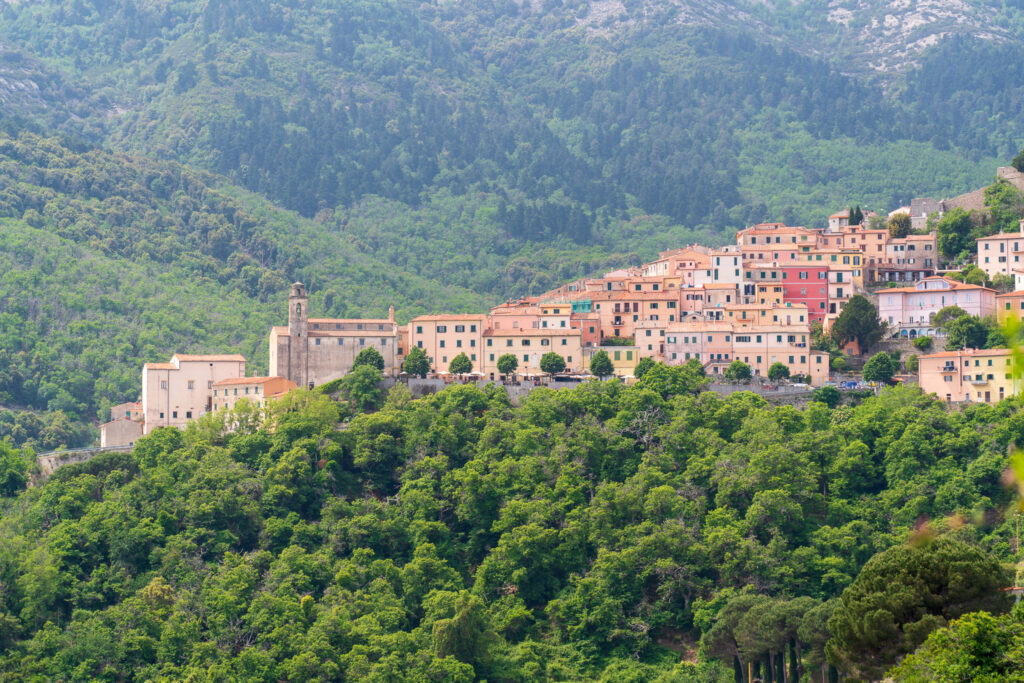 Closer to the coast, the seaside town of Marciana Marina shares the appeal of its hilltop counterpart. Call in for a stroll through the charming streets, and grab a brioche con gelato (gelato served in a brioche bun) from Gelateria la Svolta.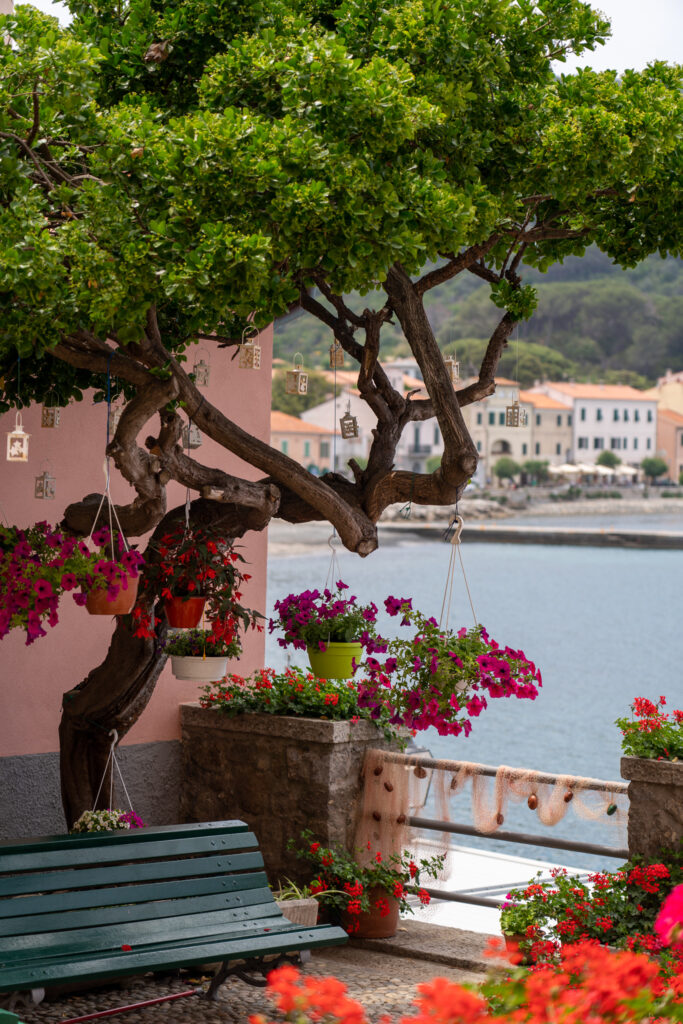 High above the sea, Capoliveri is another medieval marvel surrounded by charming vineyards.
Shop for artisan souvenirs in enchanting arcades and people watch from character-filled bars. Explore the ruins of the San Michele Church before heading back down to the coast and the nearby beaches of Barabarca and Calanova.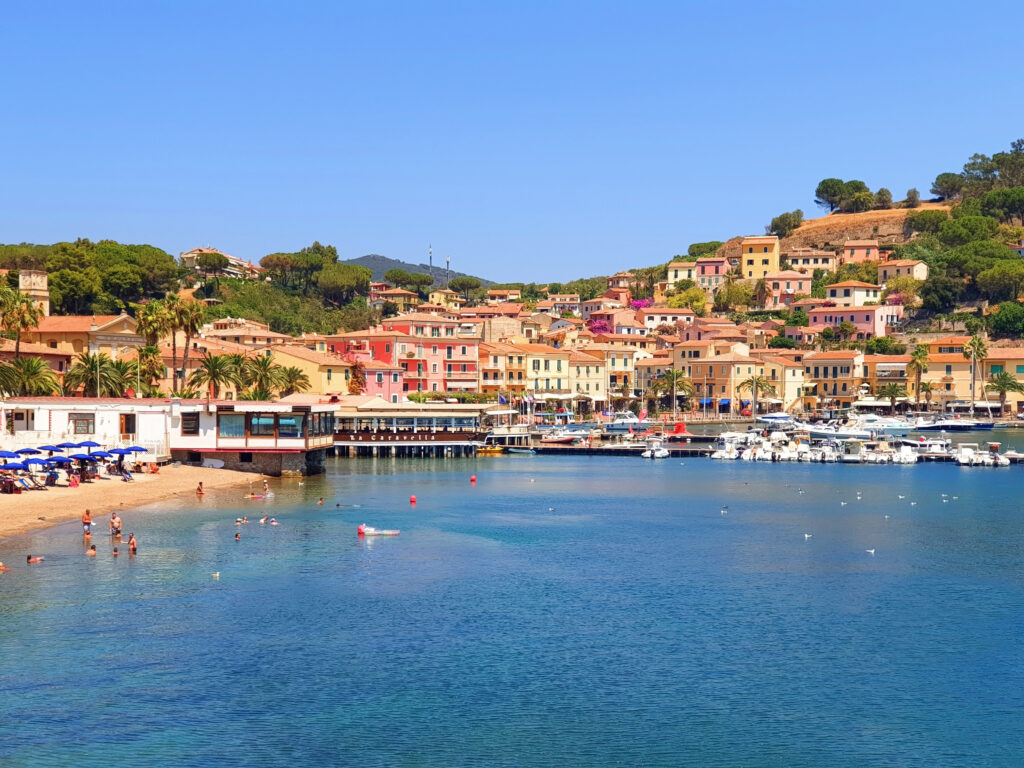 Love wining and dining? Developed at the foot of the Fortress of San Giacomo, Porto Azzurro is a hub of shops and restaurants amid historic sites, including the 18th-century Church of the Madonna del Carmine. Do yourself a favour and enjoy a meal at the vegan-friendly Magn'Etico Bistro tucked behind the beachfront promenade.
Wine and Dine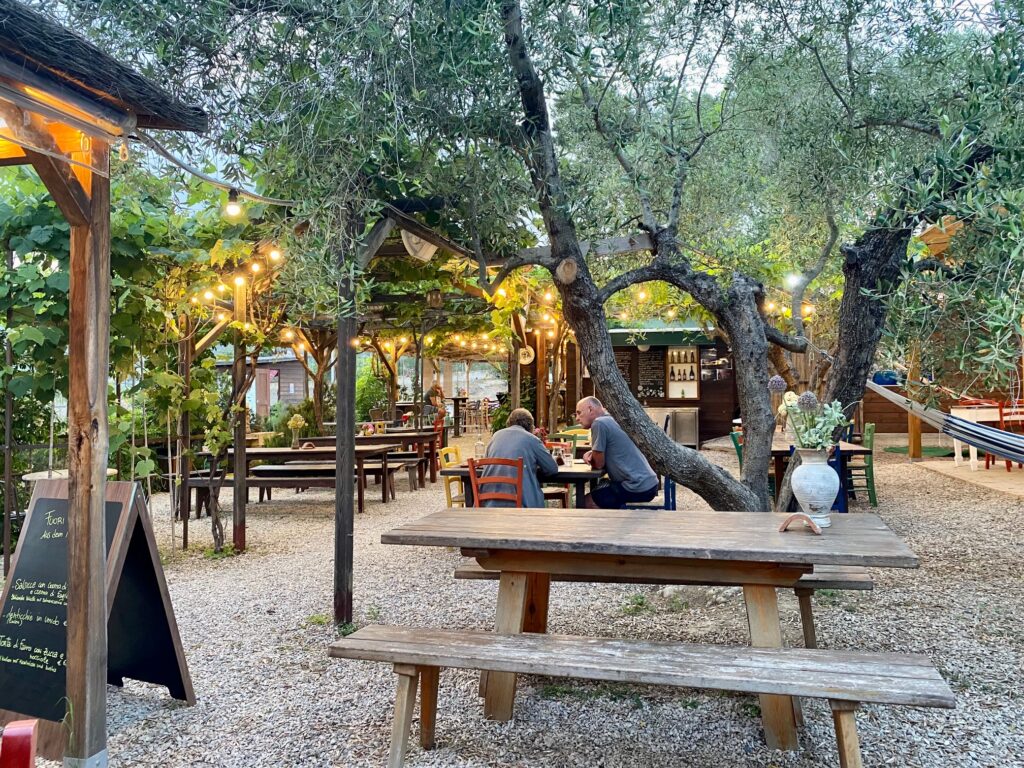 Hop on the foodie trails throughout Elba Island and it's not likely you'll ever want to hop off! From centuries-old red wine production to the exotic influences of migrants, your taste buds are in for a serious treat.
One of the quintessential dishes you must try is 'Gurguglione', a flavorful medley of slow-cooked vegetables including eggplant, zucchini, potatoes, bell peppers, and tomatoes, seasoned with aromatic local herbs. Also popular is 'Torta di ceci', a thin, crispy chickpea flour pancake known as farinata in other parts of Italy, a simple yet delectable staple of the island. And of course, there's focaccia for days…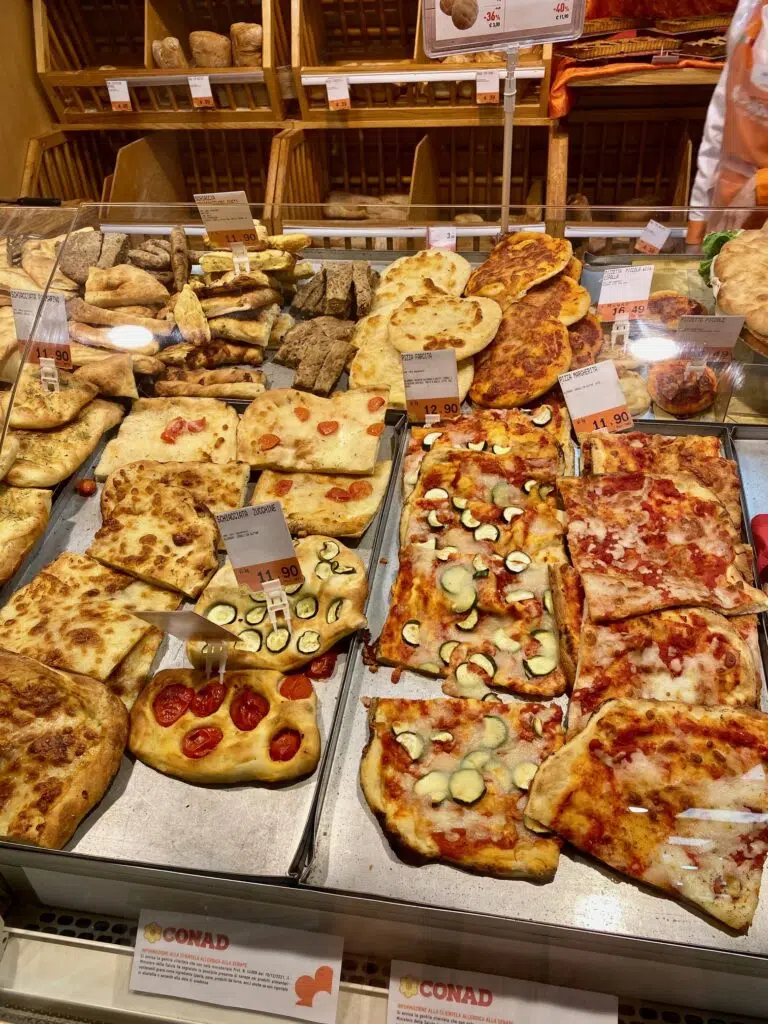 Snacks don't get much better than schiaccia briaca, a sweet cake found in most bakeries and, legend has it, a legacy from the Barbary pirates. Expect slices topped with raisins and pine nuts, with a hint of Aleatico red wine.
It's hard to miss the chestnut trees dotting the island and you'll enjoy the benefits of their fresh or dried offerings. They're used to create variations of the island's renowned honey, which also include eucalyptus and rosemary flavours.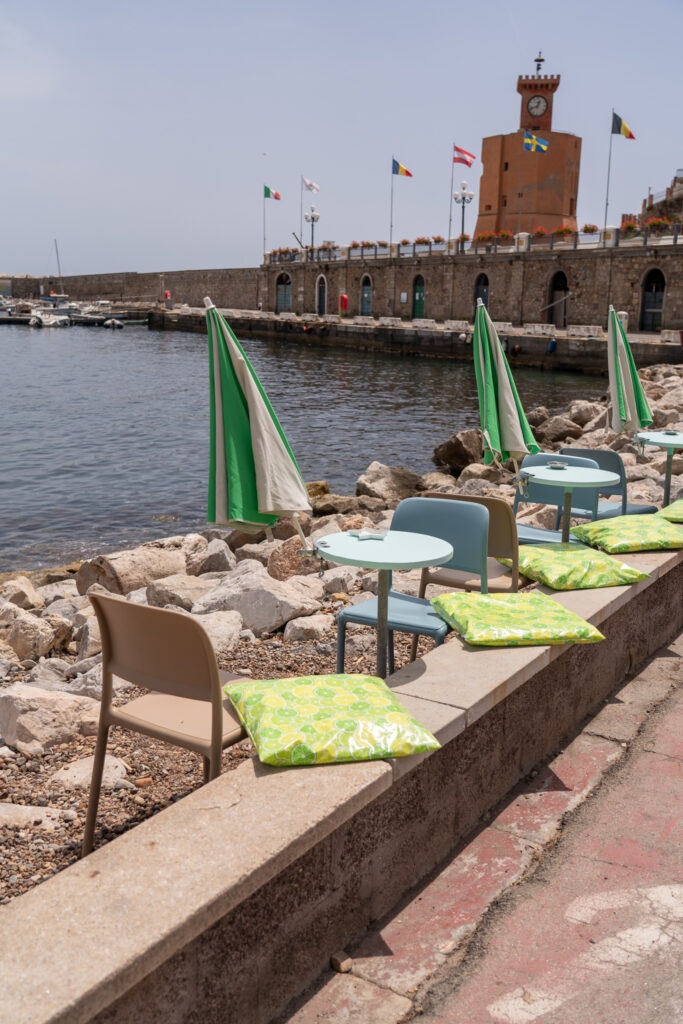 Artisanal gelato, a staple throughout Italy, is also widely available in a plethora of fruity and nutty flavours. And let's not forget the island's fresh, locally produced olives and honey, a testament to Elba's rich land and diverse plant life.
Some of the best meals we had on Elba were at Orti di Mare – an organic farm-to-table restaurant in a delightful rural setting near Lacona. And if you want to sample the island's wines, this Tuscan wine tour is the way to go!
---
The beautiful Island of Elba, Italy is one of those rare, magical places that offers a slice of something to suit everyone. From following in the footsteps of Napoleon Bonaparte to snorkelling with shipwrecks and relishing in the atmosphere of fun-loving beach resorts, there's an adventure to suit your mood.
Perhaps best of all, if that's to do nothing but soak up the sun within the sheltered embrace of idyllic Tuscan coves, the leisurely atmosphere of Italian sojourns permeates the Elban air.