This post was first published in 2020 and has been updated every year since.
Sitting high above the Luberon ranges you'll find an untouched area of Provence. An area of immense natural beauty, rich agricultural heritage, and unique gastronomy. Among this bucolic setting, in summer, you'll also discover a landscape laced with lavender.
The Sault lavender fields are so tightly intertwined with the agrarian backdrop, it creates a heady assault on the senses. Straddling three departments – Vaucluse, Alpes-de Haute-Provence, and Drôme – the Plateau d'Albion evokes the imagination with its intoxicating scenery, striking hilltop villages and surprising diversity.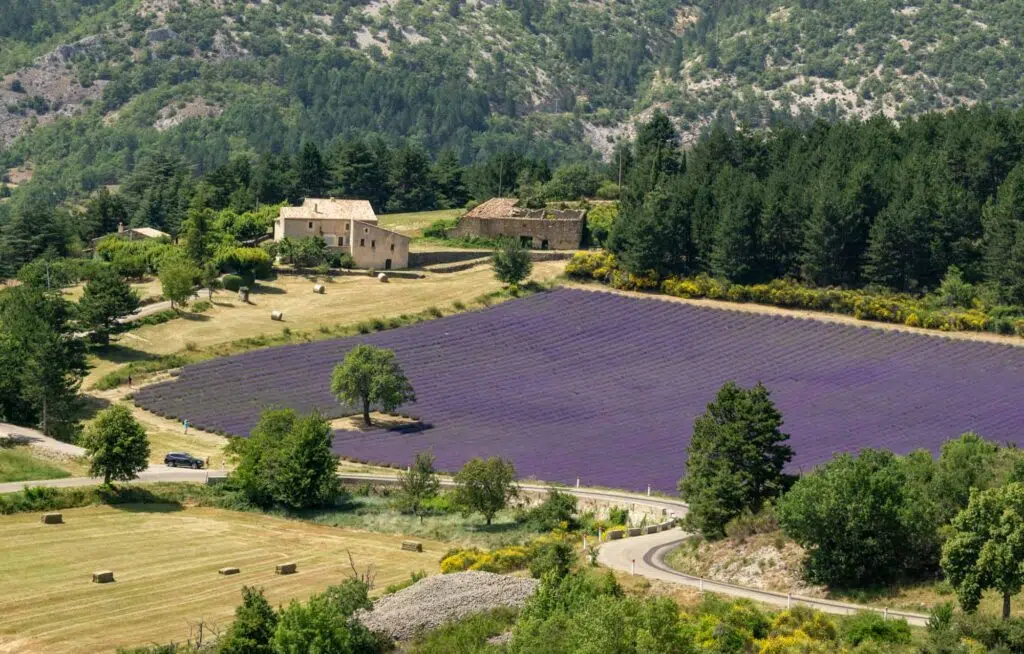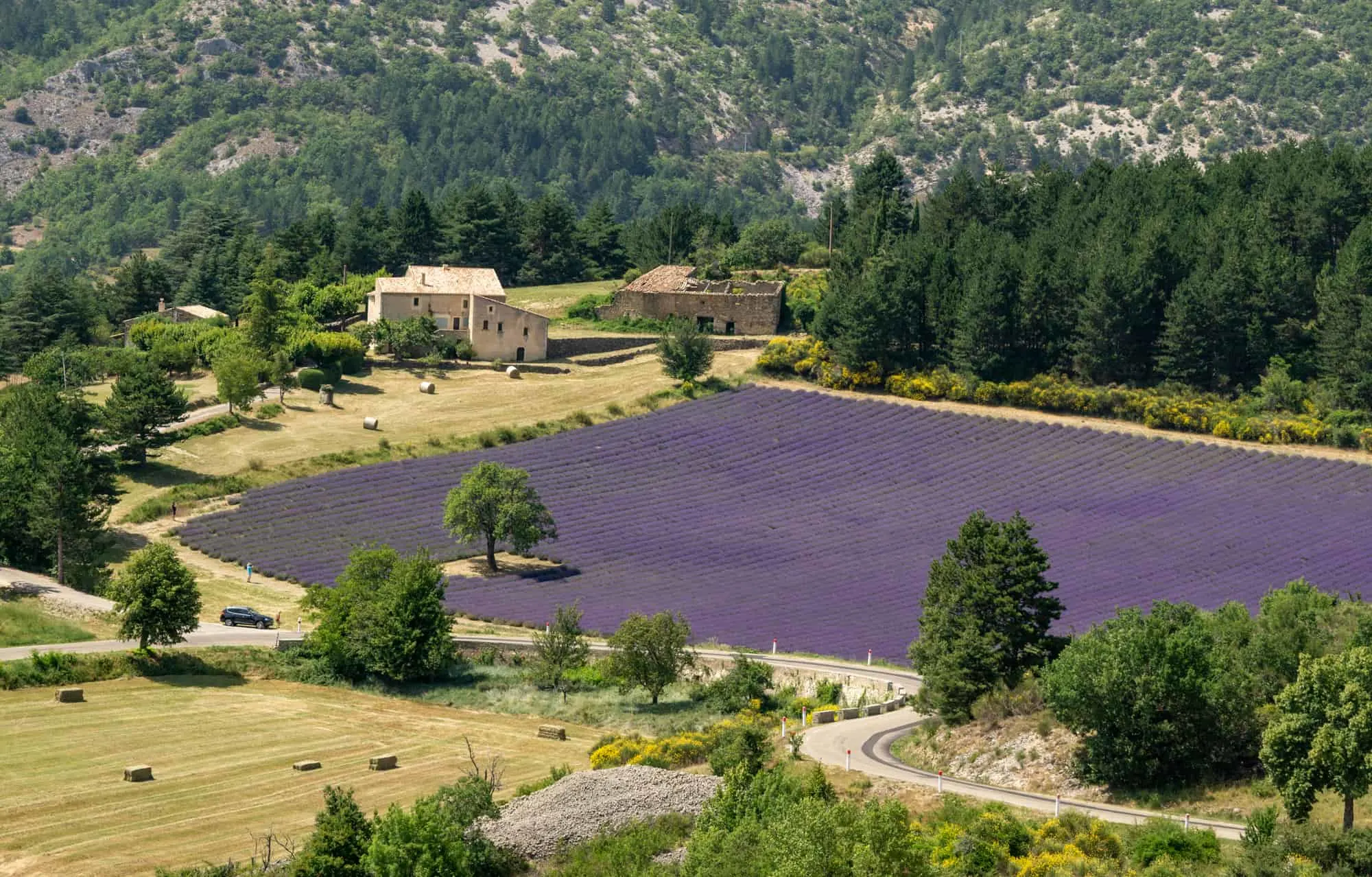 ---
A Guide to Provence Lavender
If you've heard of the lavender fields in Provence, you're probably most familiar with the names Valensole plateau and Luberon valley. Both areas are stunning for their lavender fields, perched villages and breathtaking natural scenery.
The Sault plateau is no different, except that it flies under the radar a little. Less frequented by the tourists that arrive in July, it's often seen as a 'last resort', where the lavender flowers later, and is therefore harvested later in the season.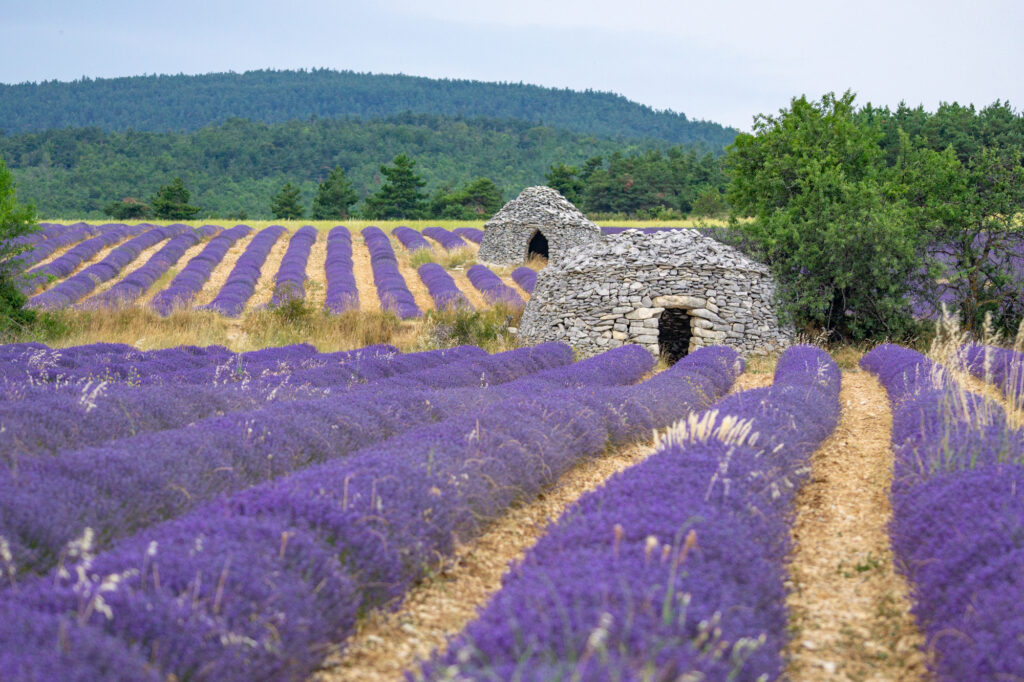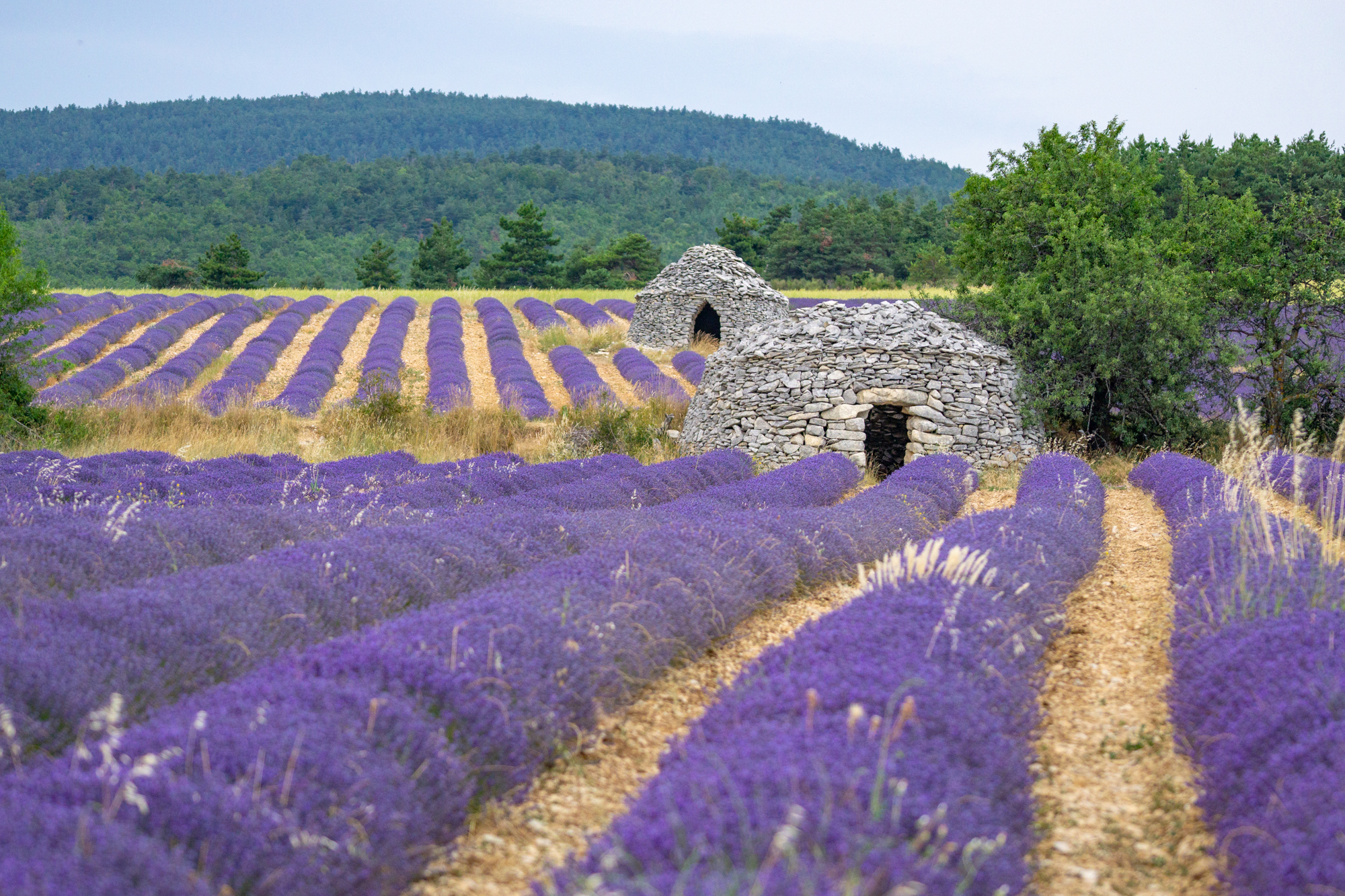 But as you'll see below, it's an area of immense beauty – albeit not as manicured. Sault has a bit more of a rugged and rural feel, but this doesn't detract from its appeal.
To read our full lavender guide to Provence, see this post. Or click here to read all our Provence lavender guides.
And don't forget to also join our Provence Travel Planning Facebook Group for regular updates on the current Provence lavender season!
One Day Sault Lavender Fields Itinerary
First of all, I'm going to start out with the disclaimer that you don't really need an itinerary to explore the lavender fields in Sault. They're so densely packed, you won't have a hard time finding them!
But, if you're short on time, or just like to plan (I get it!), the following itinerary will ensure you make the most of your time in the area.
It takes in wonderful lavender fields, distilleries, bories, and stunning villages. Let's get started!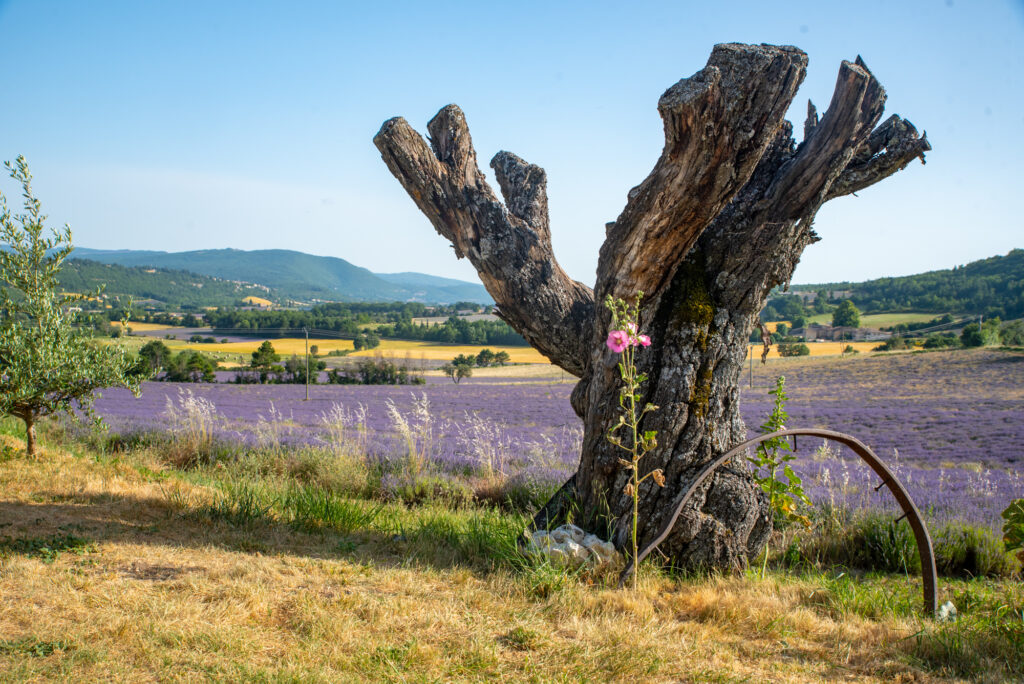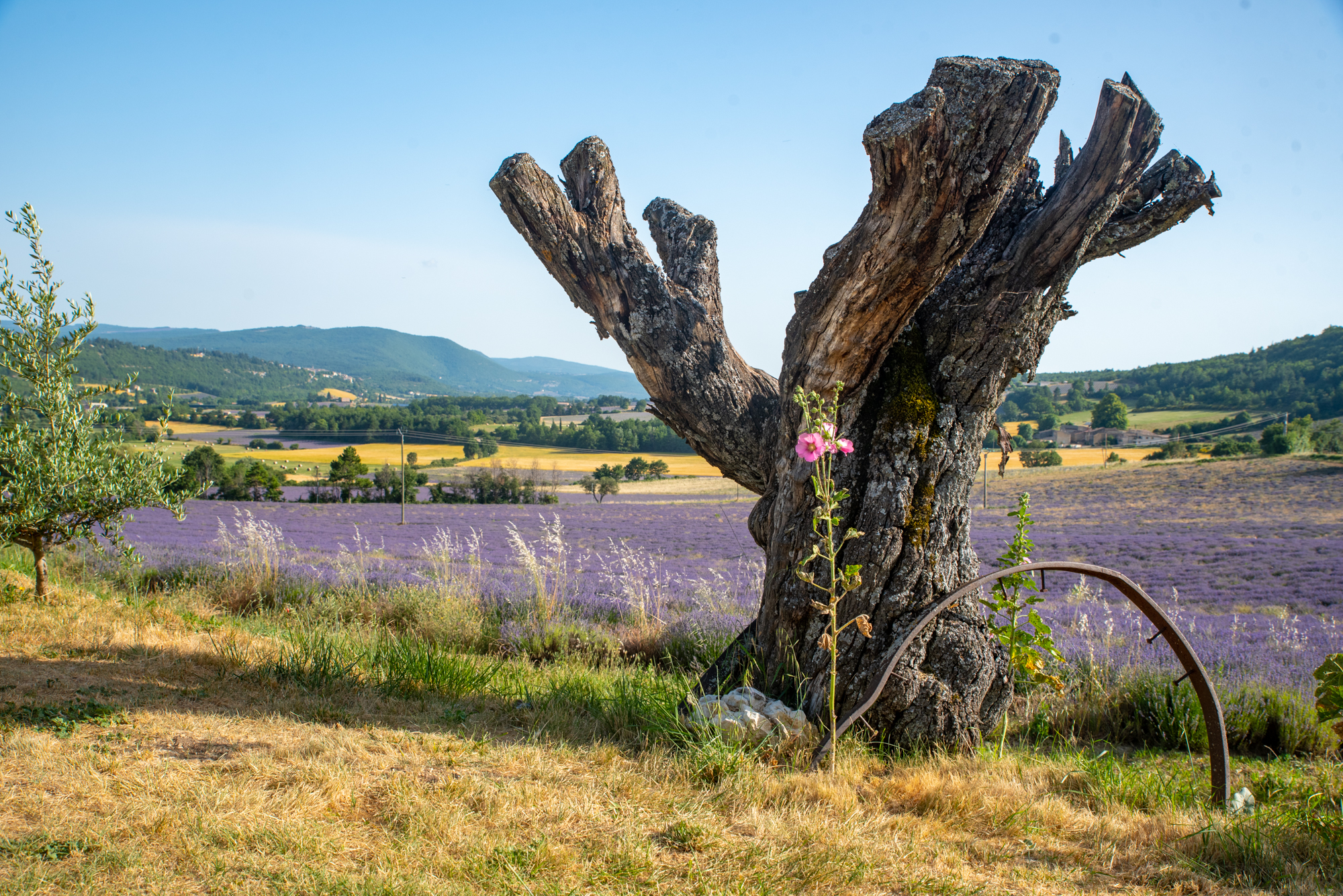 Map of the Sault Lavender Fields
This Sault lavender tour starts in the upper Luberon and continues into the Drôme department briefly before returning to Ferrassières at the end of the day. However, you could just as easily do it in reverse. Especially if you are coming from the North.
If you only have an afternoon up your sleeve, skip the first few fields and drive straight into Sault before hitting the fields in the immediate vicinity.
Click on the below map to bring up an interactive version to follow.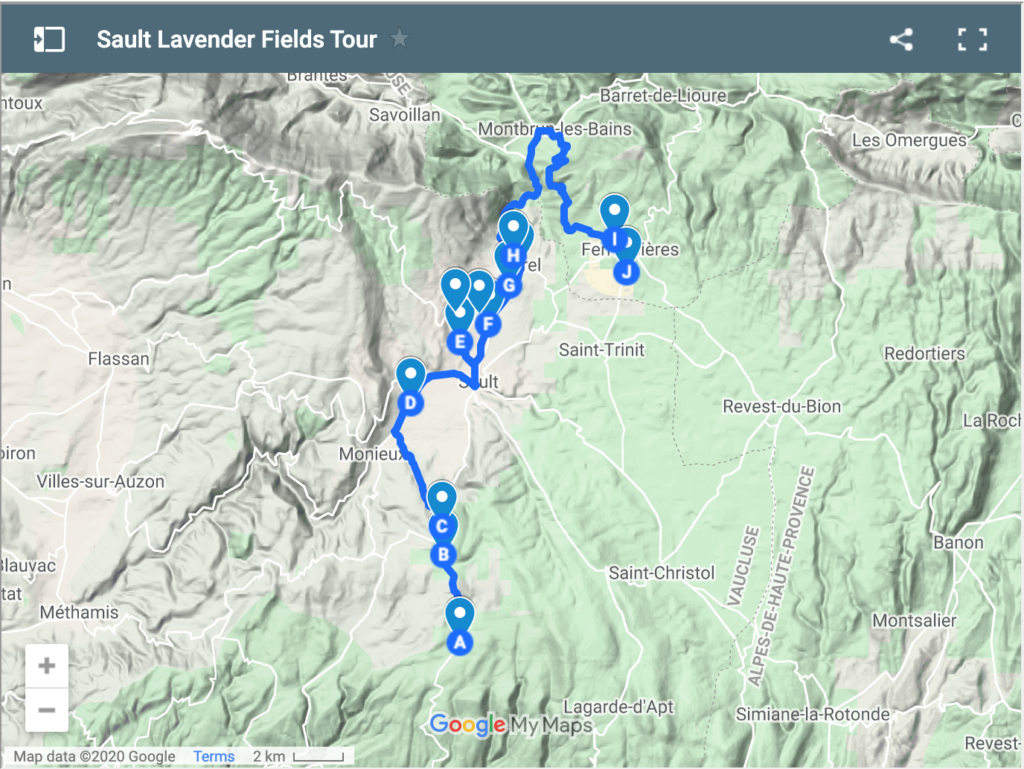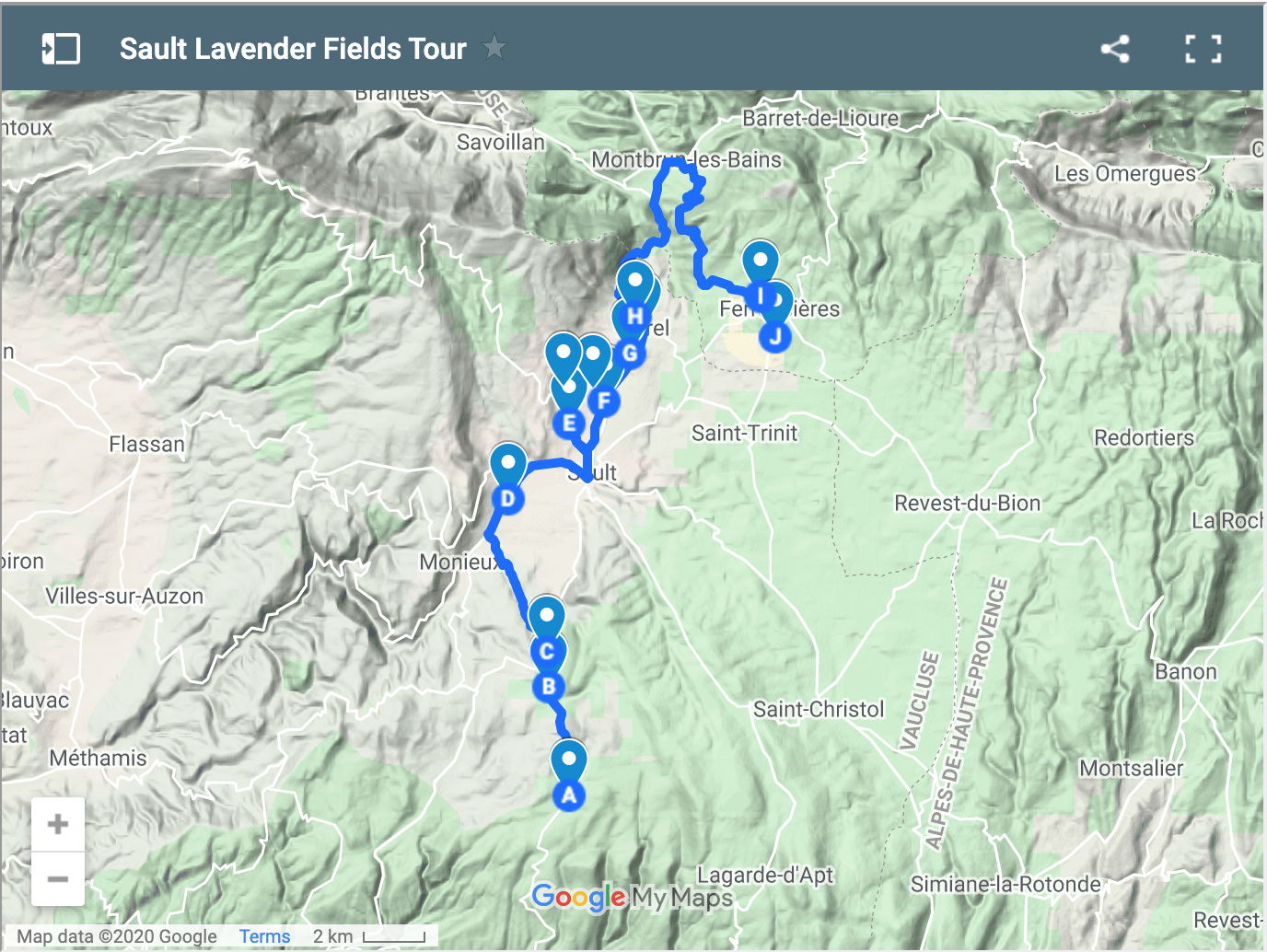 Start – Field #1 Lavender and Farm Stand
GPS: 44.00464, 5.39985
The first lavender fields you'll reach are expansive, and as your (potential) first glimpse of the purple crop, they'll stop you in your tracks!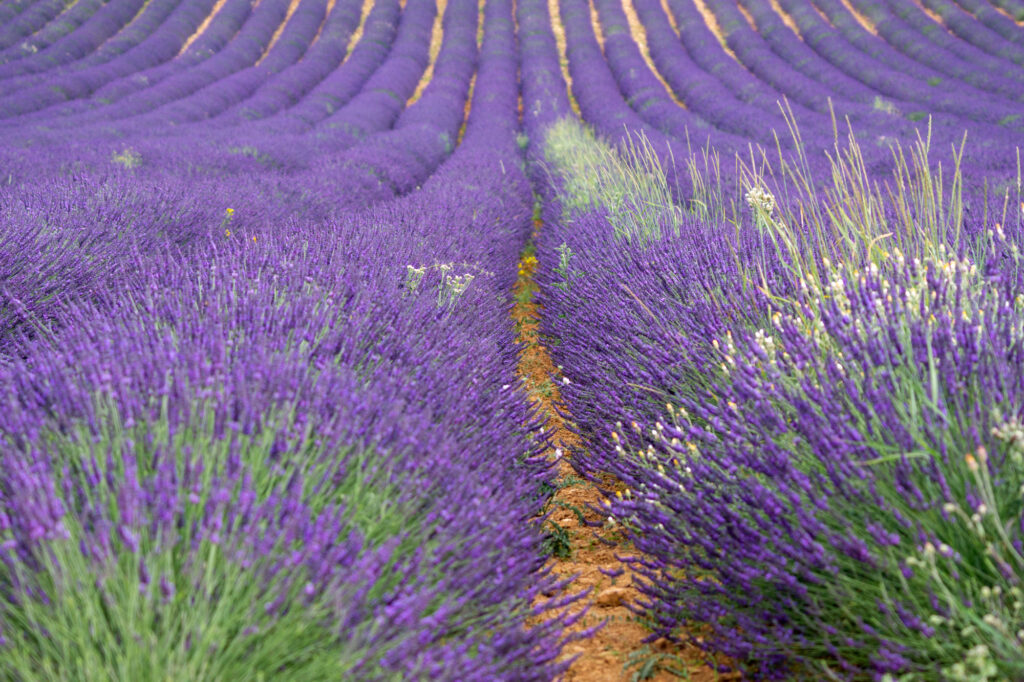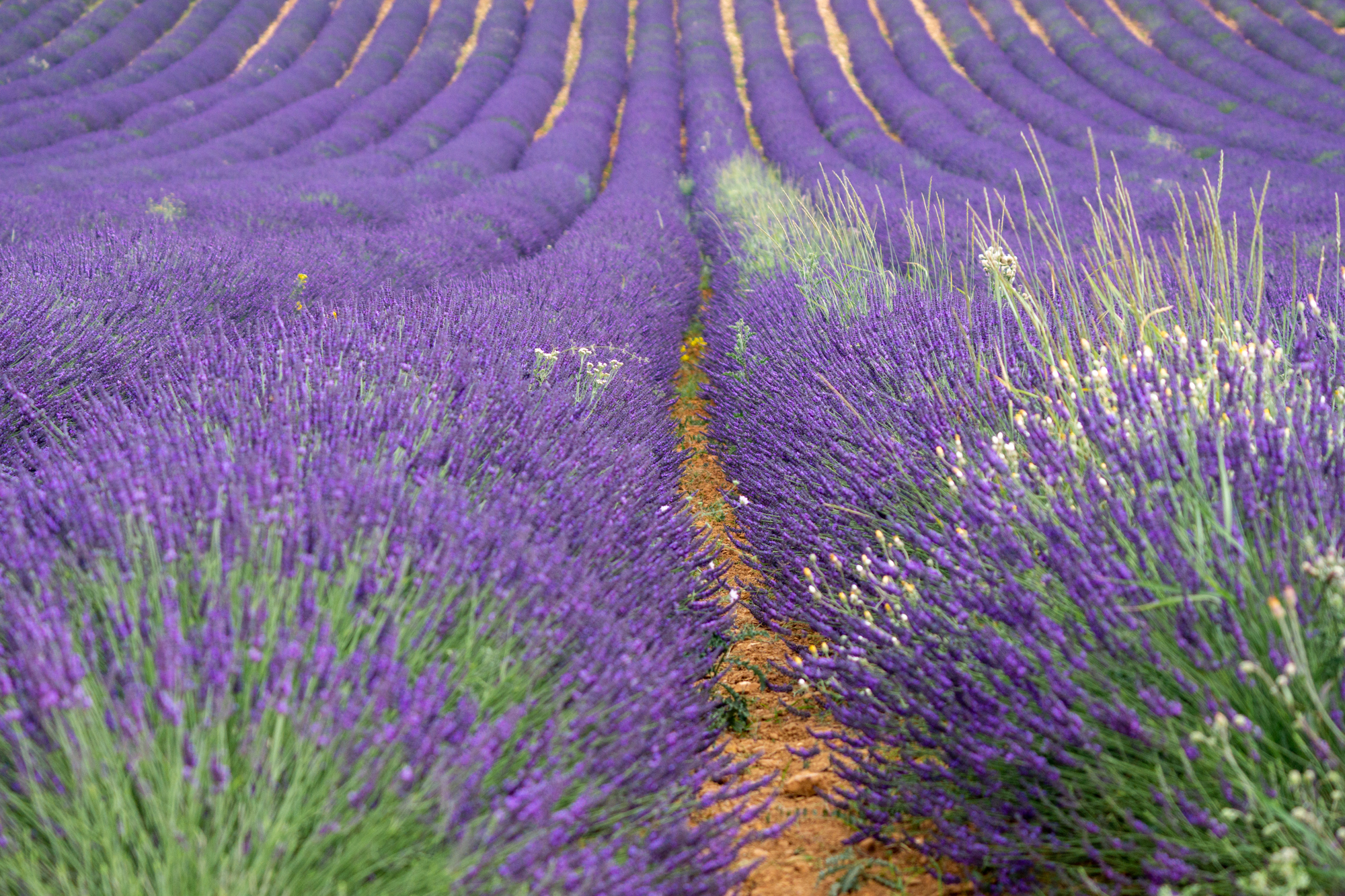 There's plenty of room to stop on the side of the road if you want to take a picture or two. And there's often a little farm stand nearby selling lavender products (and bouquets for the classic lavender fields portrait) from the local distillery.
Field #2 – House & Trees
GPS: 44.0336, 5.3924
This field isn't a 'must-see' but it was lovely enough for me to stop the car and snap a few pictures. There are a few fields here. First, on the side of the road you'll be parked on, there is a small rugged lavender field framed by trees. Looking in the other direction, you'll see a larger field with a house poking above the lavender.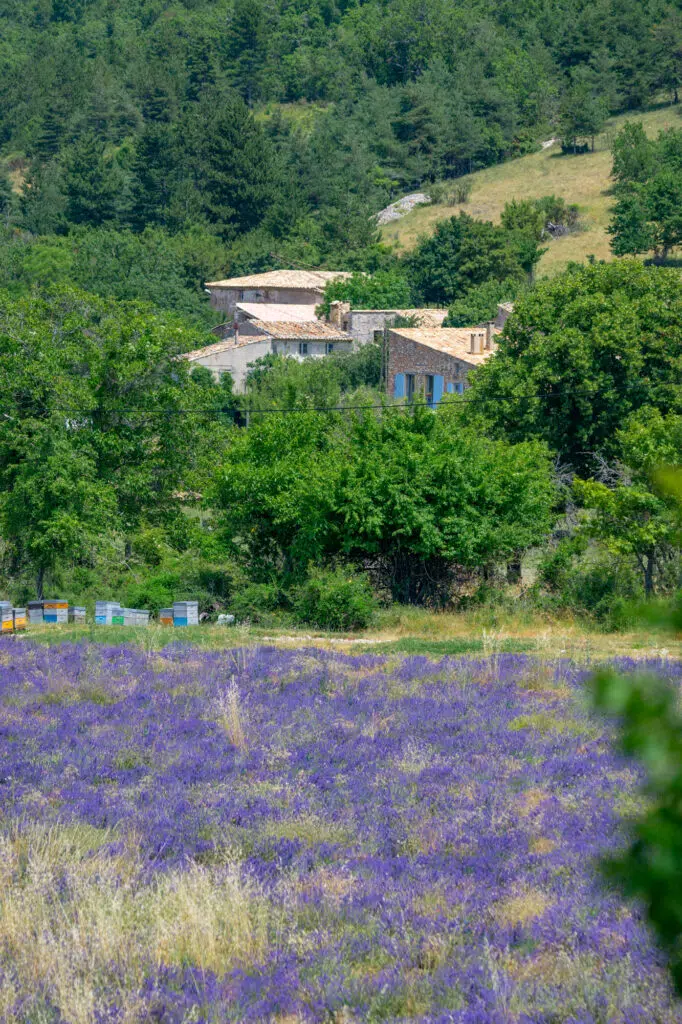 On the other side of the road is another large field, but it's difficult to access unless you drive to either end, as there are thick trees blocking the view.
Field #3 – Stone Tower
GPS: 44.0434, 5.3916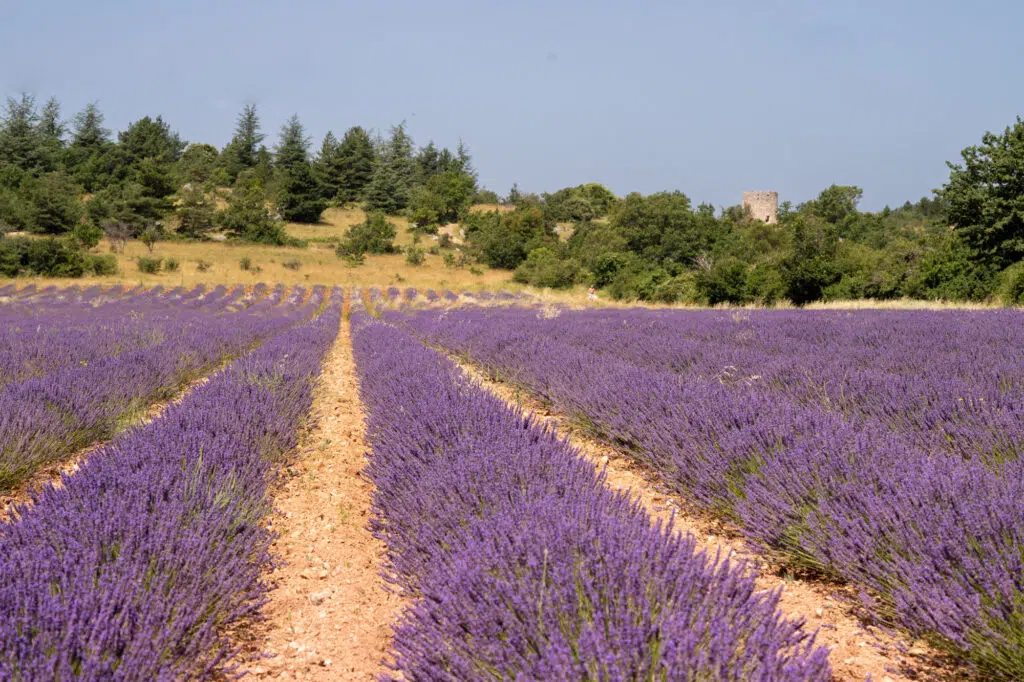 One of my favourite new discoveries this year was this lovely field located off the main road. The field is backed by a small hill laden with stone terraces and an old tower (possibly an ancient windmill).
In the other direction, you have a stunning view of the famous Mont Ventoux (see below).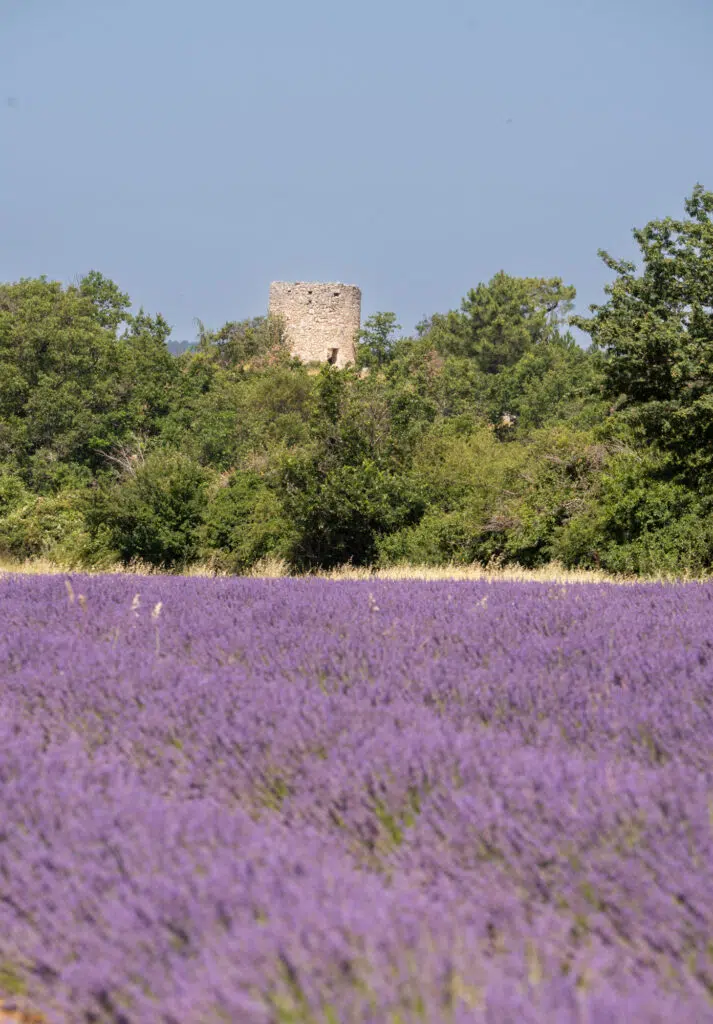 There is space to pull over on the side of the road, and a lovely big tree should you want to have a picnic in the shade.
Field #4 – Rolling Lavender with Hut
GPS: 44.08419, 5.3772
Opposite La Bastide des Bourguets (a lovely B&B in the area), you'll find this rustic lavender field with an old hut in the middle.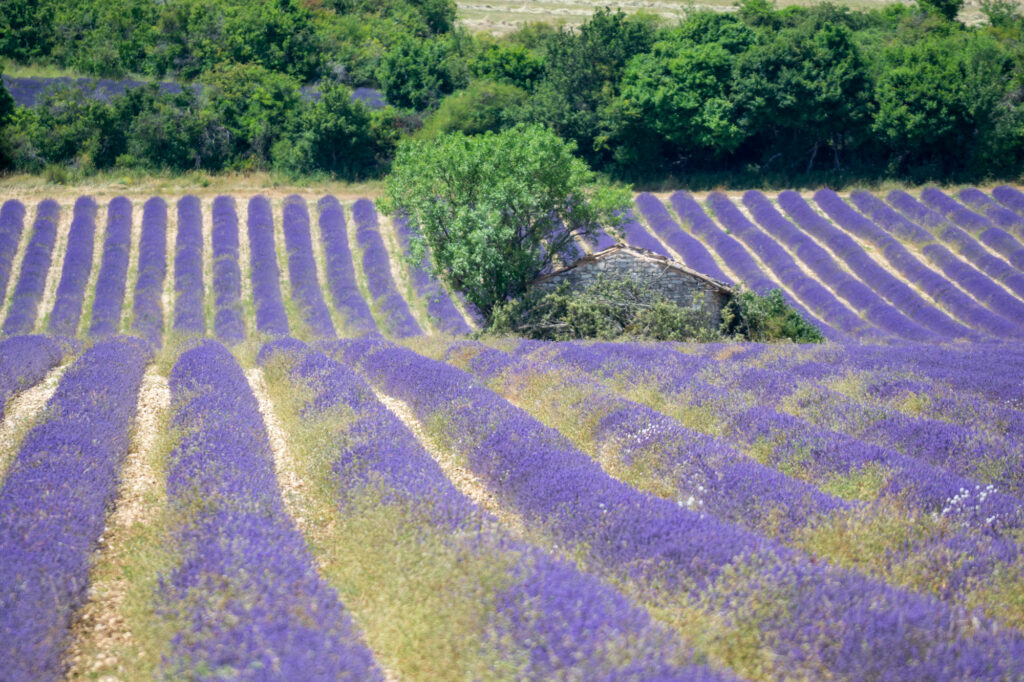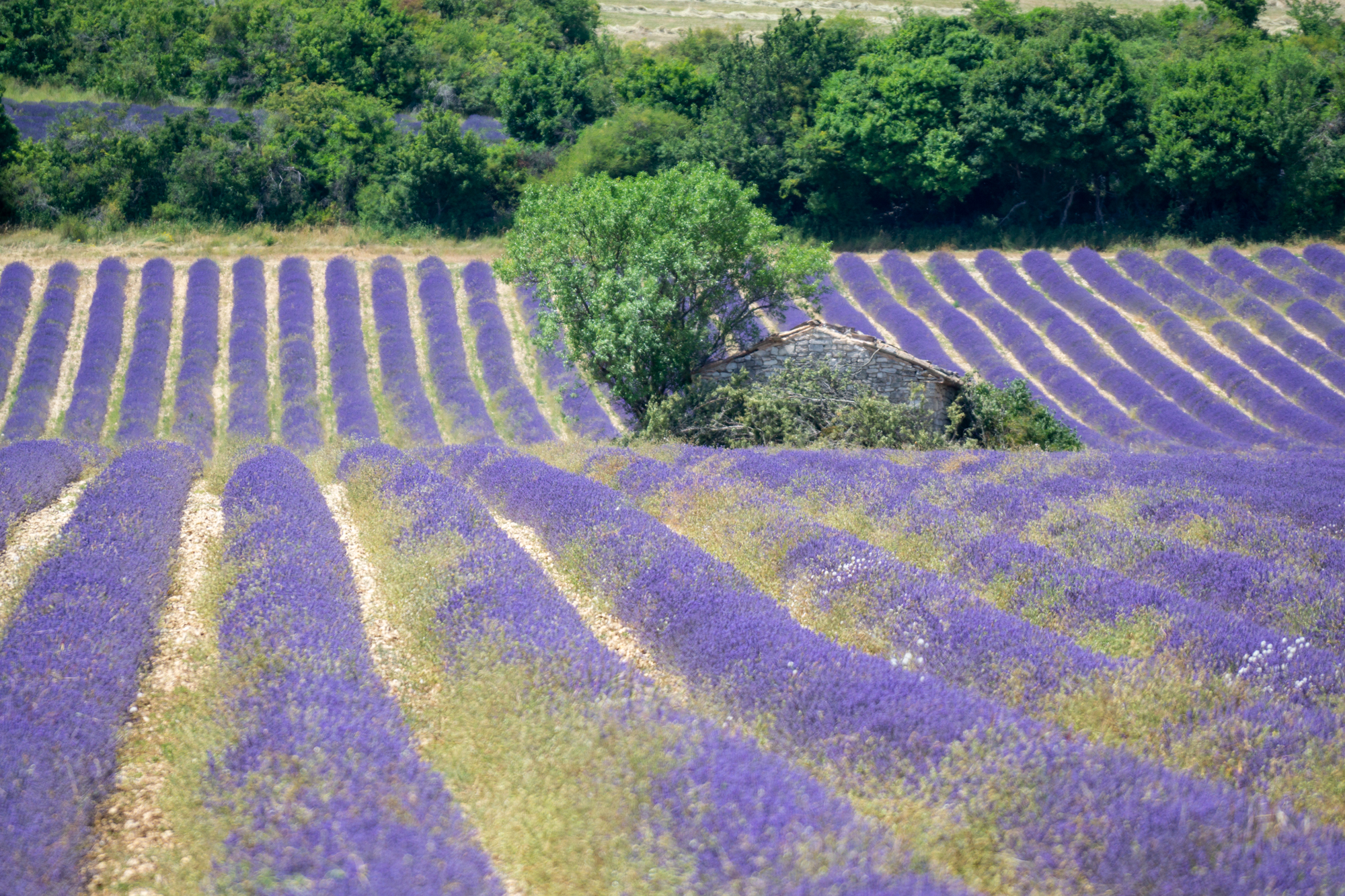 There's another field opposite this one, and you can visit the boutique at La Bastide to pick up lavender honey and other goodies made on their organic farm.
Village Visit – Sault
The village of Sault is at the heart of this lavender region. Sitting atop a rocky outcrop, it's reminiscent of the villages further south, in the Luberon, yet it has its own flair and flavour.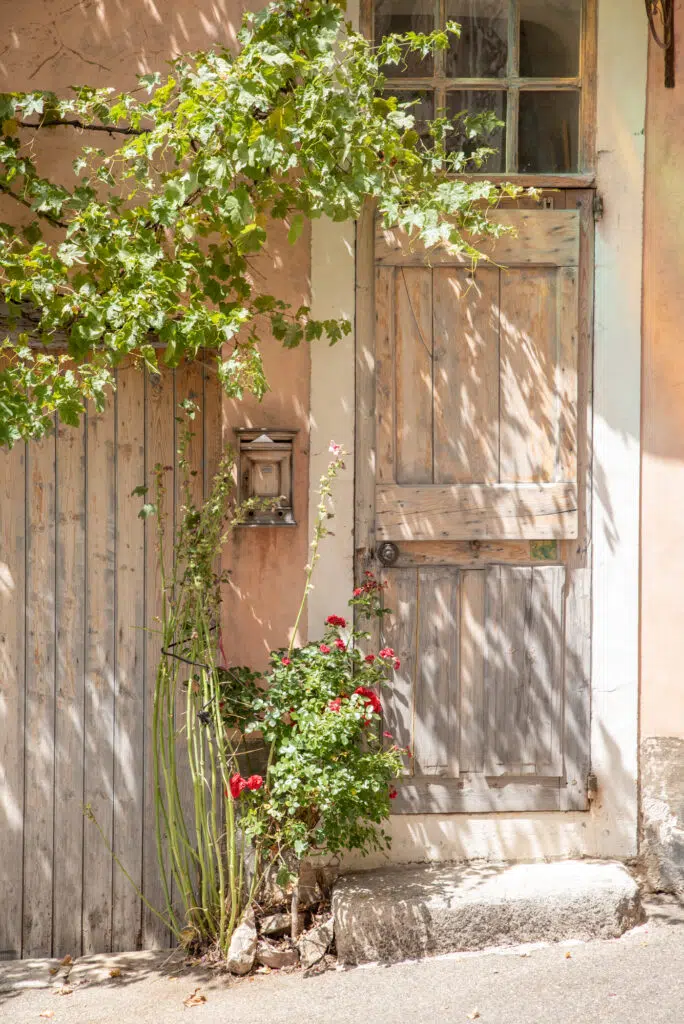 It's an enjoyable stop, especially if you're in need of lunch or a refreshing drink with a view. There are antique shops, simple museums and galleries to peruse, and plenty of shops centred around the local crop.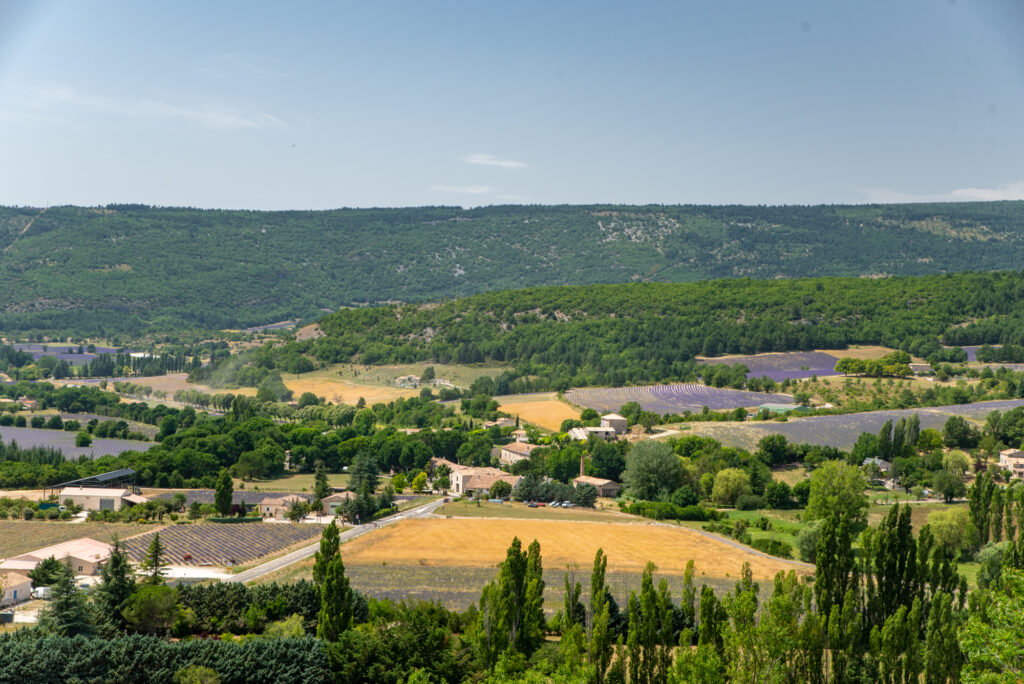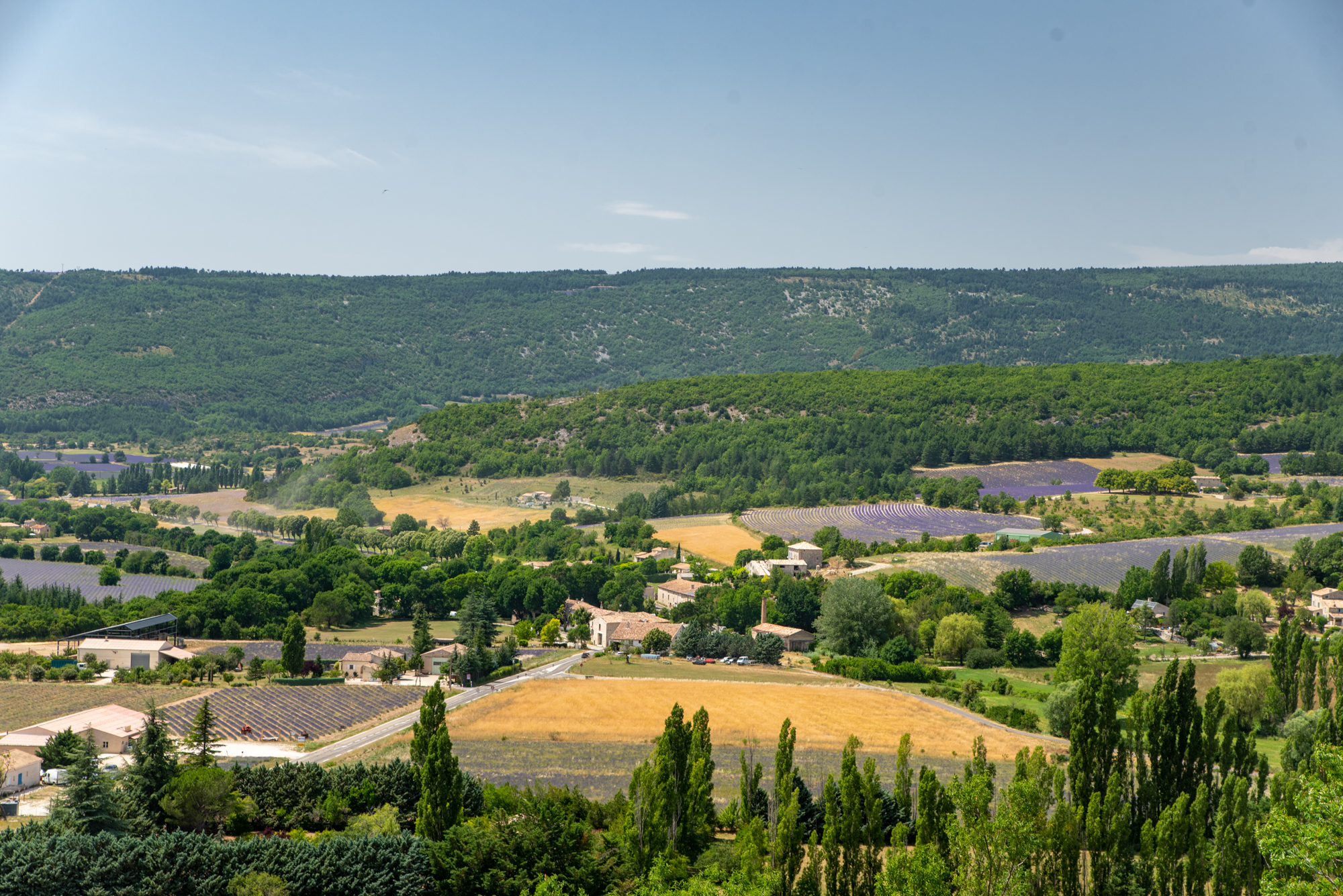 The annual lavender festival takes place in Sault every year on August 15th and it's a fun & entertaining experience.
Market Day: Wednesday
Pit Stop – La Ferme aux Lavandes
GPS: 44.1043, 5.3996
La Ferme aux Lavandes is a picturesque lavender farm at the foothills of Sault. Here, it's less about the expansive lavender fields (although they have those too) and more about taking the time to savour the experience.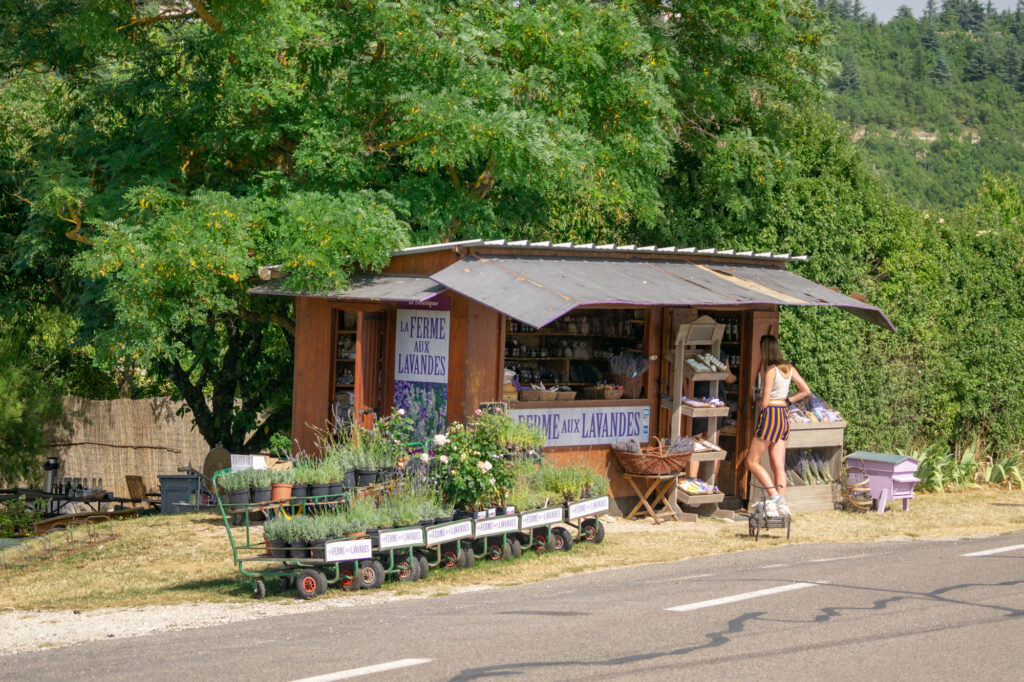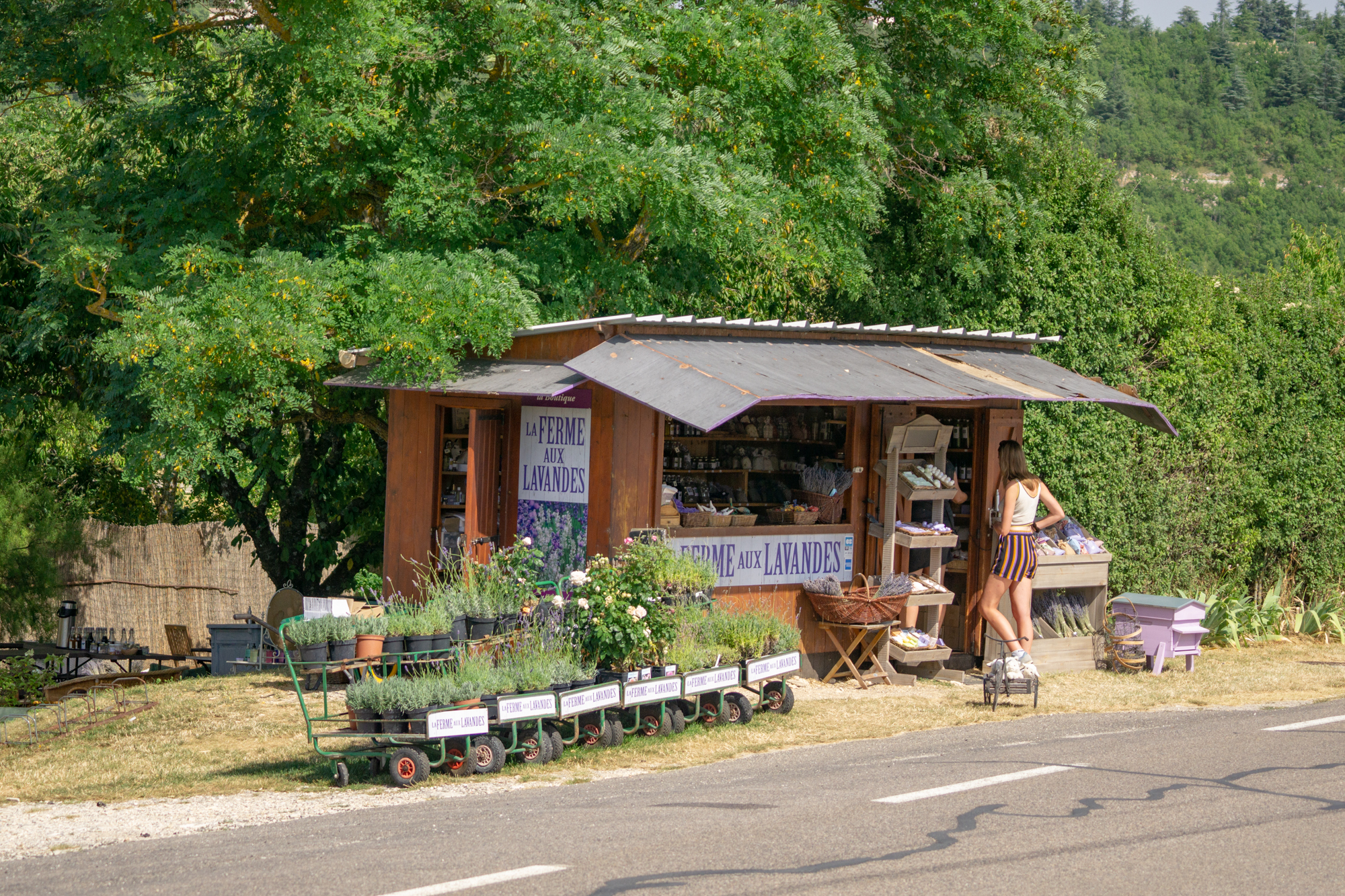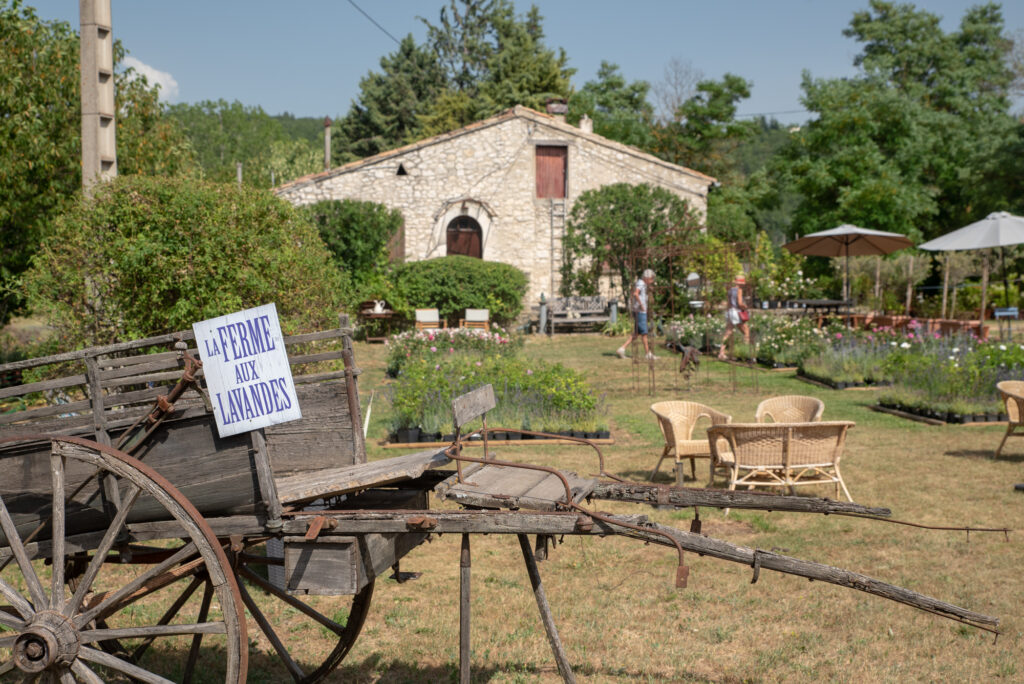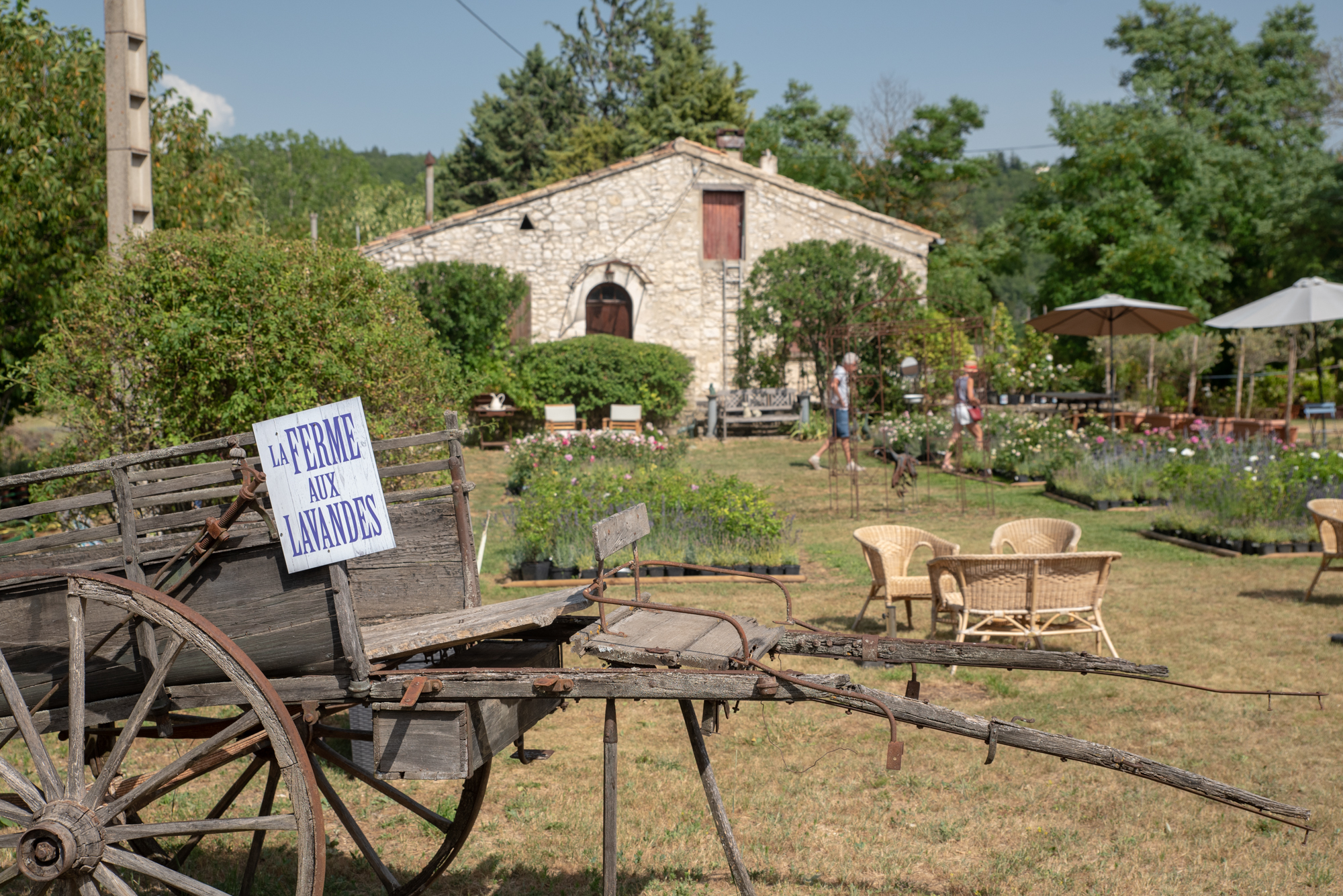 Stop by to take a peek around their delightful farm stand, buy some lavender plants for your garden, visit their animals, or simply relax in a sumptuous environment.
They've thoughtfully laid out chairs and loungers so you can take pause, or enjoy a picnic. Bring your own fare, or sample the range sold onsite.
Field #5 – Optional Extra Field & Farm Shop
GPS: 44.1139, 5.3975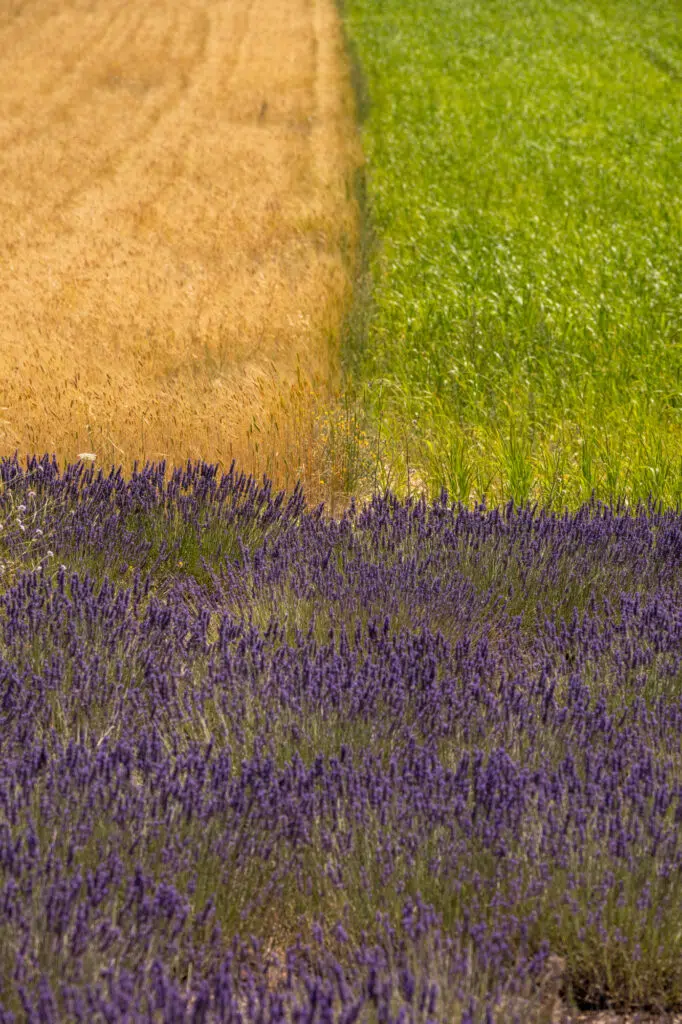 A little further up the road from La Ferme aux Lavandes, you'll find another distillery with a lovely boutique out front. Pop in here if you haven't already got your hands on some lavender goodies.
Opposite the farm shop, you'll find this view over the plateau which emphasises the various textures and colours of the area.
Lavender Walk
GPS: 44.1104, 5.4132
The Chemin des Lavandes is a signposted walk through the idyllic scenery around Sault. Park at the small car park (GPS coordinates above), and make your way down past field #6, all the way along Les Michouilles onto Chemin de la Grange Neuve, and down Chemin du Ventouret until you see the Chemin des Fontaines.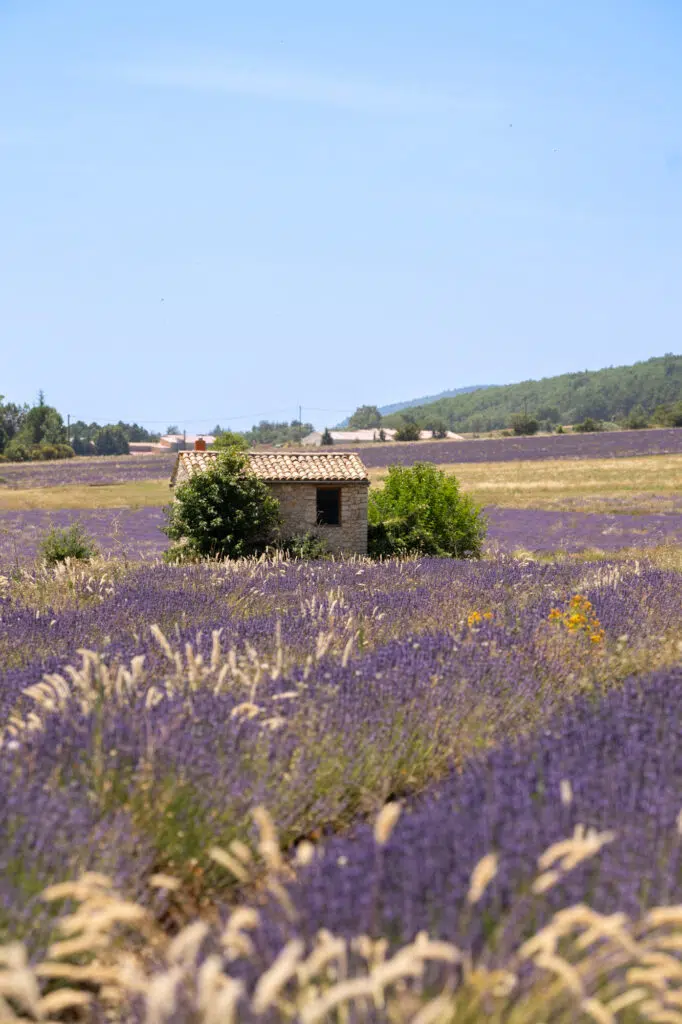 Your walk will be accompanied by many lavender and wheat fields along the way. There are information boards peppered throughout the trail too – although unfortunately, only in French.
At the end of Chemin des Fontaines, you'll find a small farm stand selling lavender products. Past this point, you're walking on a path through farmland under the shelter of trees until you meet Les Michouilles again.
It's a pleasant walk, partially sheltered, and fairly well signposted. But if it's simply too hot, or you'd prefer not to walk the entire route, most of it can be driven (except for the last leg).
The entire walk is 5.7km and takes between 1-2 hours.
Field #7 – Lavender framing the village of Aurel
GPS: 44.12324, 5.42262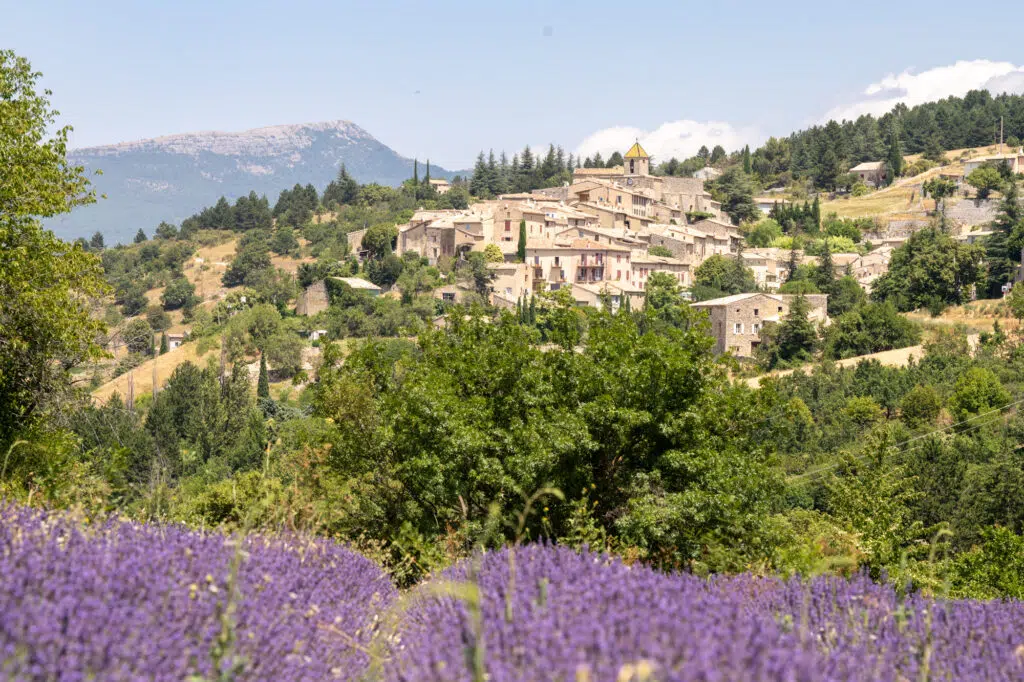 My favourite lavender field in Sault, this small sloping field perfectly frames both the hilltop village of Aurel, and the mountains in the distance. It's just picture-perfect!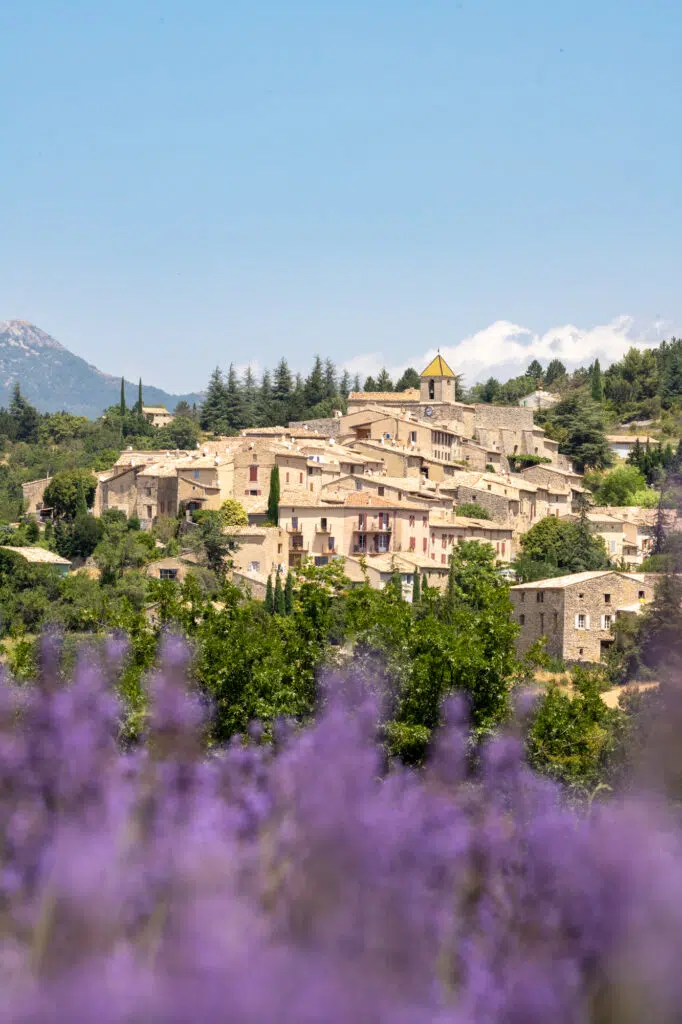 Be careful pulling over here, as it's on the junction of two roads. And you're bound to be a little distracted by the view!
Village Visit – Aurel
GPS: 44.1307, 5.4284
The petite village of Aurel overlooks the lavender landscape. A 13th-century church sits at the helm, and a cluster of houses cascades down the narrow streets towards the valley below.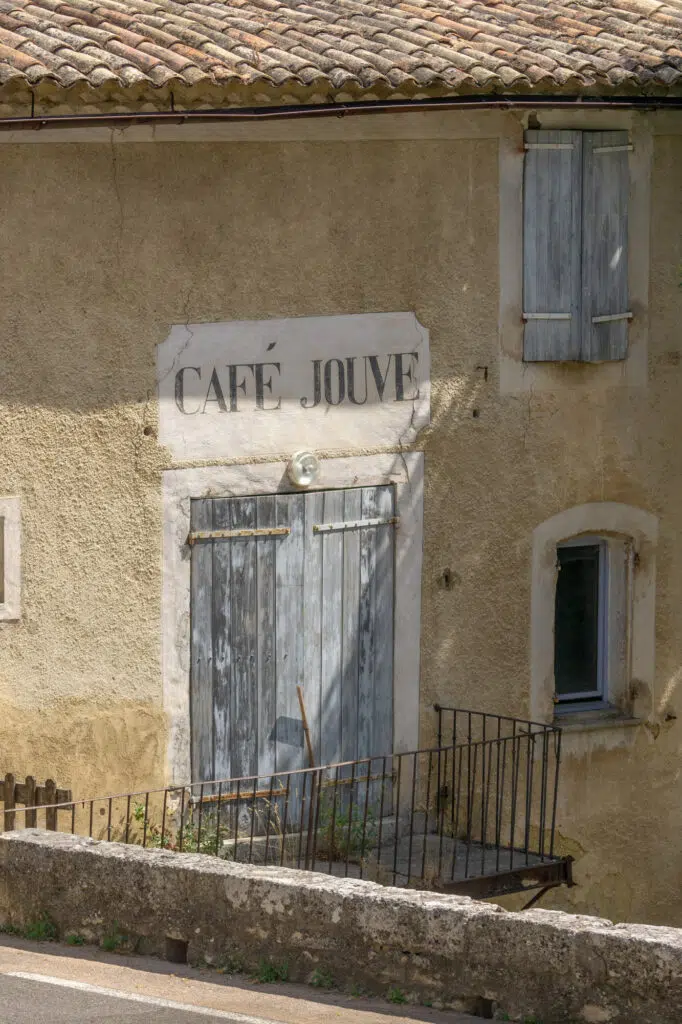 Just one restaurant and a little ceramics gallery reside in the village, so it won't keep you for long. But it's worth having a little ramble around regardless.
Field #8 – Lavender with a lone tree
GPS: 44.13286, 5.42452
The quintessential lavender field, this little gem below the village of Aurel is perfectly formed. Located on a gentle slope, beside a traditional farmhouse, its rows are interrupted poetically by a single tree.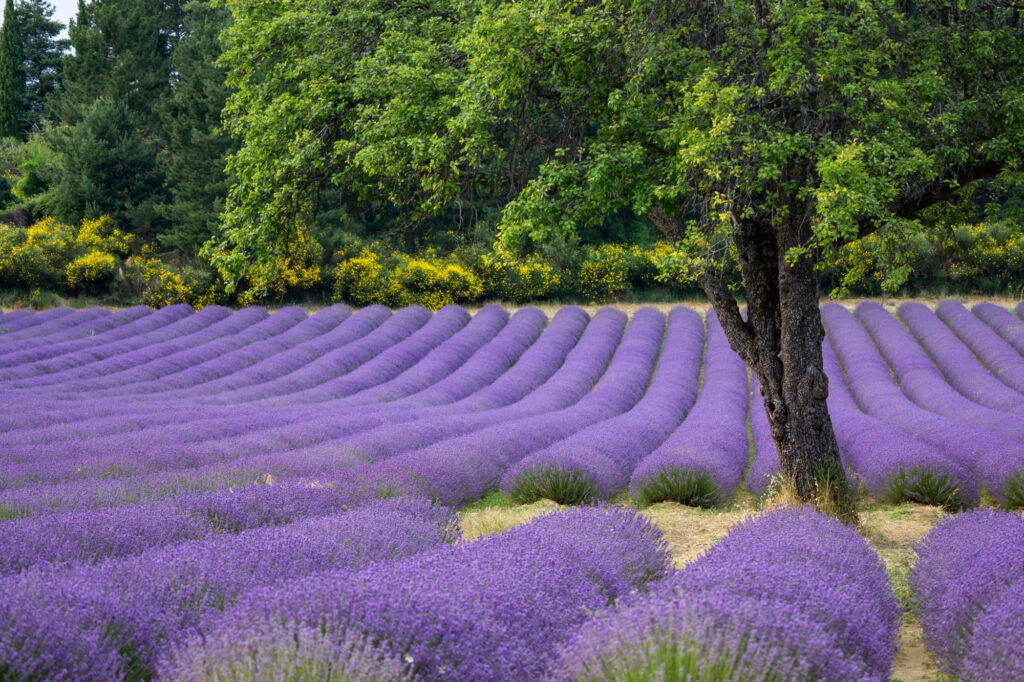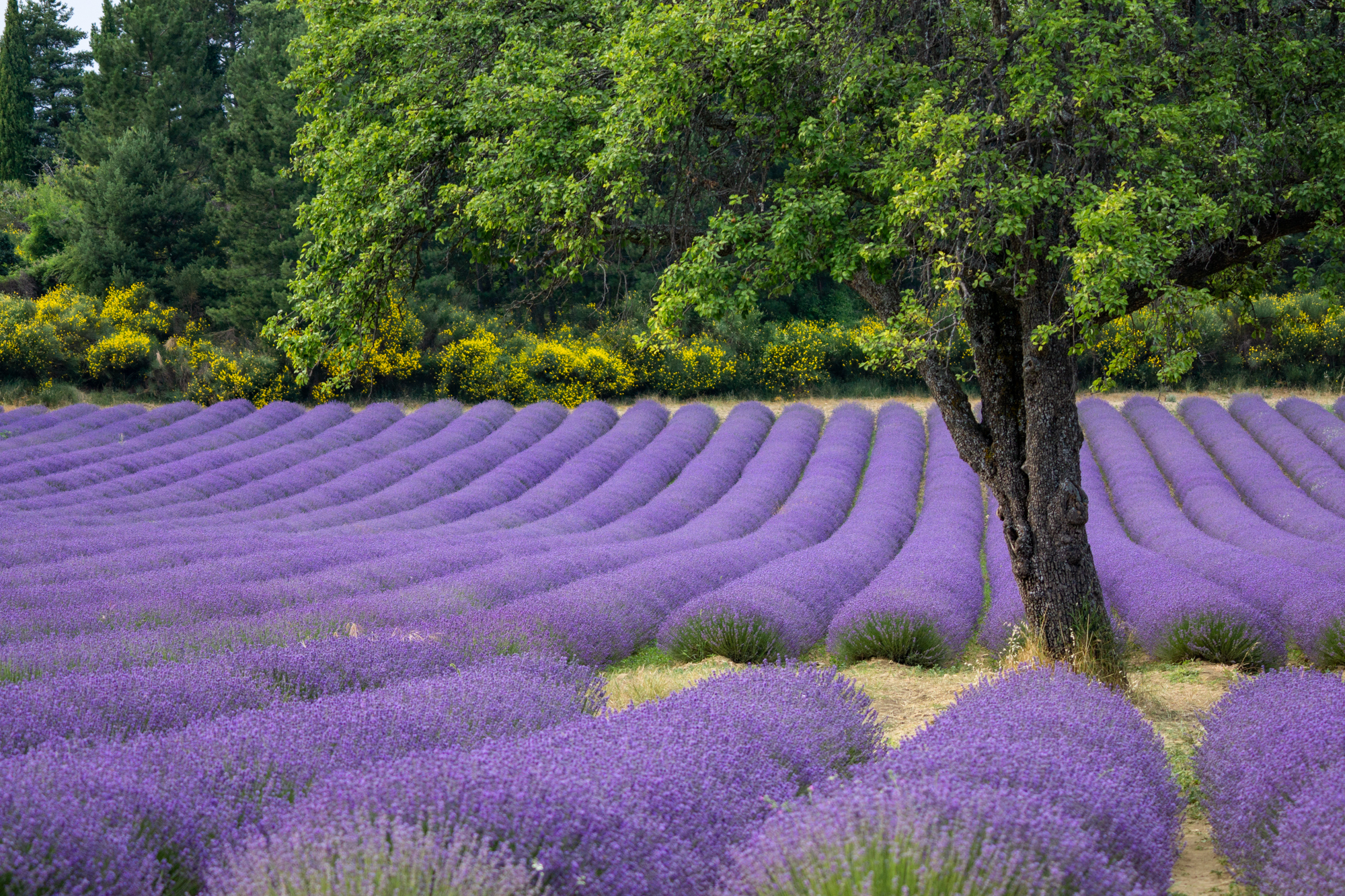 Sit in the shade here and have a rest, or simply stop to take in the view before continuing on your way.
Side note – from here, to speed things up you can either drive directly to Field #9 using your GPS to guide you, or take the scenic route I've drawn on the map above. If you have time, I'd 100% recommend the latter, as the scenery is dramatic.
Look out for the perched village of Reilhanette and the spa town of Montbrun-les-Bains (one of France's most beautiful villages) as you drive.
Field #9 – Lavender & Bories
GPS: 44.1383, 5.4711
Just north of Ferrassières, you'll find the Route du Plan flanked on both sides by lavender fields. This spot has two well-preserved bories in its midst, making it extra special.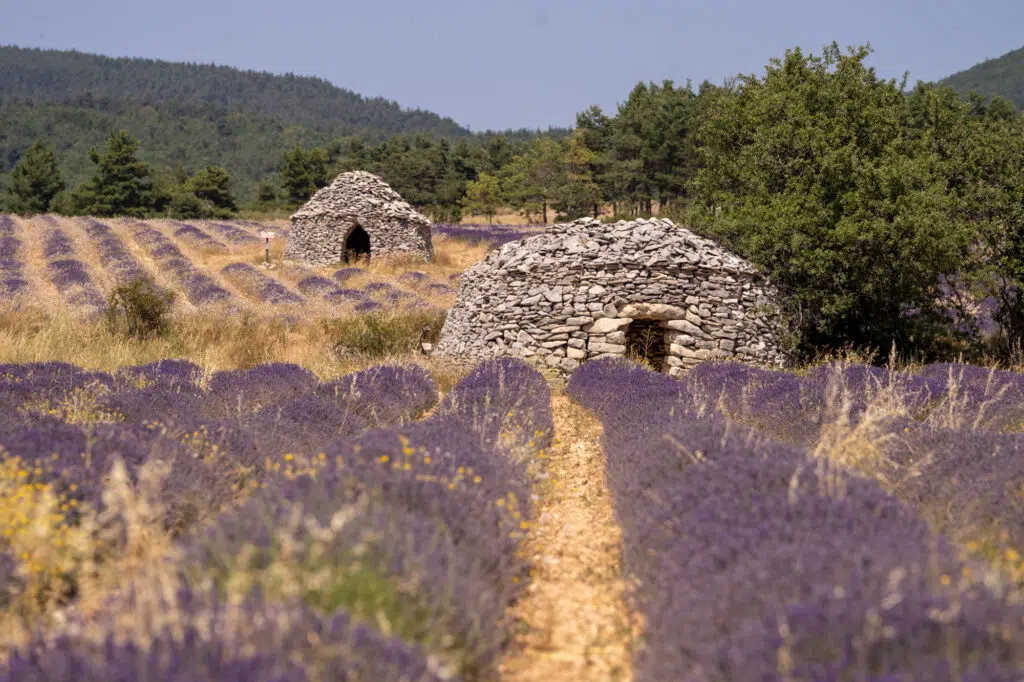 Pullover on the side of the road, but take care as there's a bit of a drop between the road and the gravel ledge in some places. The view from the side of the road is a winning one.
Field #10 – Lone Borie
GPS: 44.1277, 5.4765
This final field was one I passed on my way back home, but it tempted me out of the car once again. A lone borie this time, surrounded by perfectly groomed rows of lavender, and bucolic surroundings.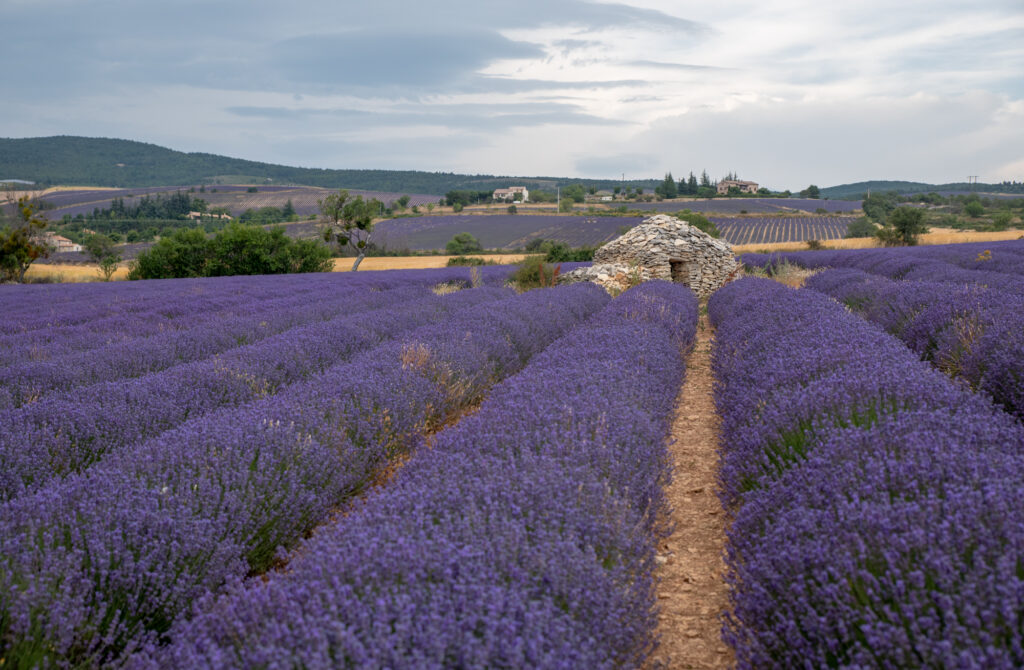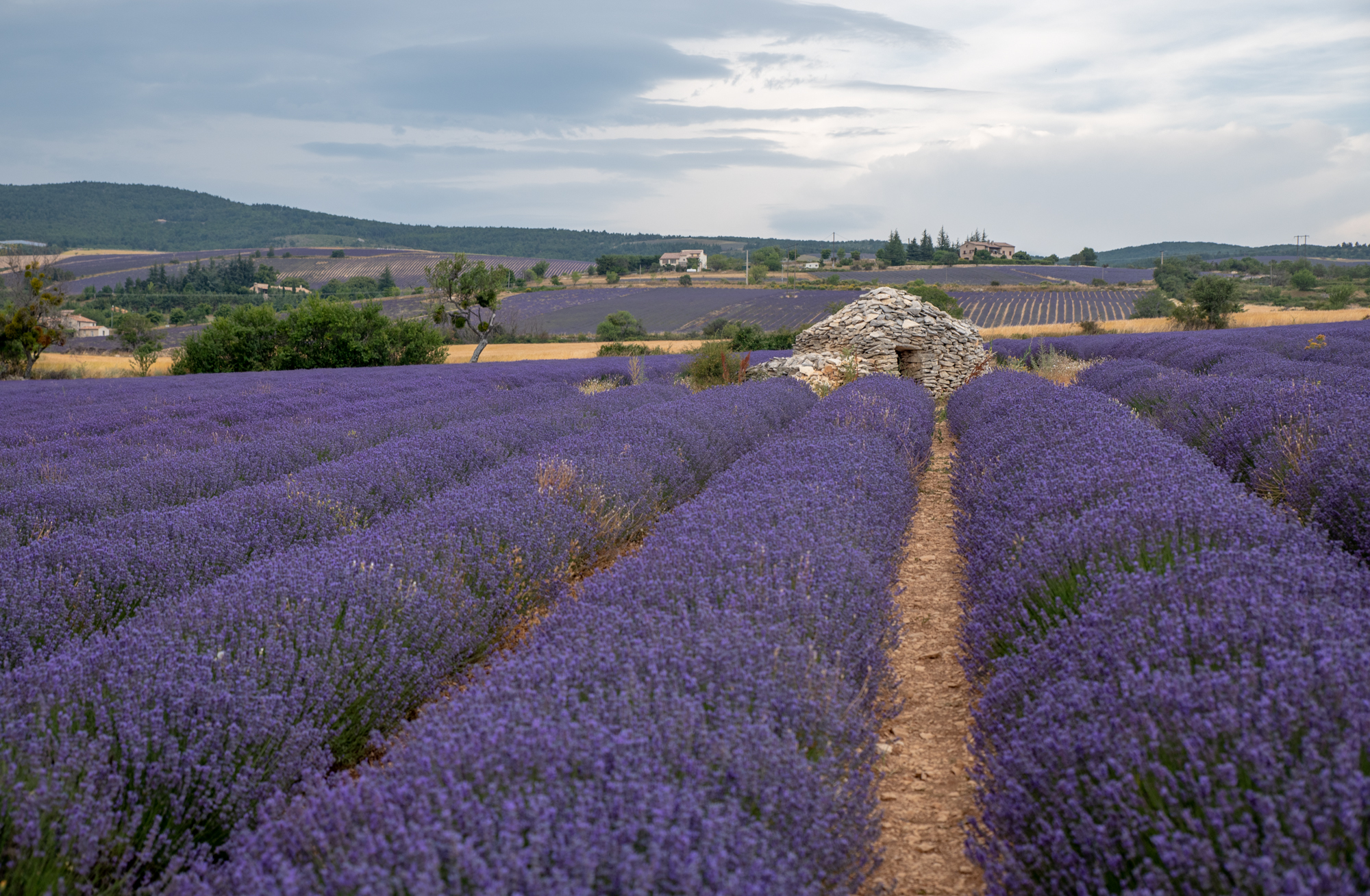 On the opposite side of the road, you'll find more lavender fields, with a larger stone hut sitting among them. But the field pictured above is the star of the show.
*2023 – the field shown above is now wheat, but you'll still find lavender on the other side of the road.
---
Tips for making the most of your Sault Lavender Tour in Provence
The Sault lavender normally blooms between early July to mid-August, but it can change year on year. Your best bet is to come in mid-late July for the best blooms.
The farmers generally start harvesting around the first or second week of August ahead of the Sault lavender festival on the 15th (some fields will be harvested earlier). But they normally leave a couple of fields unharvested as an attraction.
Remember that the lavender fields are in constant motion. Fields that look beautiful one year, may be neglected and overgrown the next, or even replaced with another crop!
When you're in the lavender fields, there often isn't any shelter, so be sure to wear a hat and sunscreen.
Bring plenty of water, and remember that even if you're planning on visiting the villages on this Sault lavender fields itinerary, you'll struggle to find somewhere to eat outside of regular meal times.
Check out this post for other lavender routes in Provence.
To keep up to date on the current year's lavender situation, be sure to join our Facebook group here.
Pin this for later!